Kotor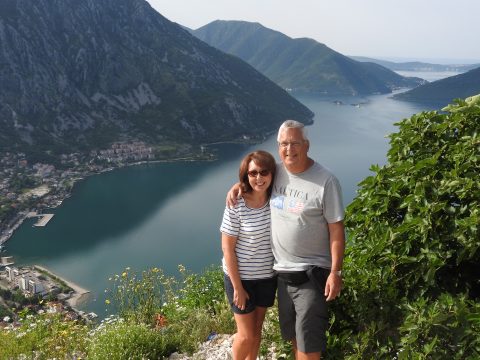 Following our few days in Zagreb, we flew down to Dubrovnik and took a bus to Kotor in Montenegro where we  spent 5 nights in a lovely flat at Pearl Apartments in the Old Town.
Kotor is a coastal town on the Adriatic sitting in a dramatic and secluded part of Kotor Bay. We planned to spend 2 days in Kotor itself and 2 days on tours but after a very long day touring the northern highlights of Montenego, we decided to sack the second tour and instead just visit Budva, the highlight of the tour we had planned to join, under our own steam.
Kotor and Budva both have very photogenic Old Town areas full of tiny streets and quaint squares with ancient churches, boutiques, bars and restaurants. Lovely places to spend a day or two.
Five nights were about right for us slow travellers but an overnight and a couple of days would be enough for most people  – indeed many will visit these 2 places and more besides in a one day tour from Dubrovnik – too much rushing about for us. Both places are chocolate box pretty and worth a visit….but ideally find a day to visit when there are no cruise ships visiting – the cruise crowds are horrendous!
Kotor town is fortified with the city walls climbing high above the town. For a small fee you can walk/climb  up the walls, a fair workout, for fabulous views over town – as below.
Day Trip to Durmitor National Park, Tara River Canyon and Ostrog Monastery
This was a very long minibus day tour leaving Kotor around 8am and returning early evening. This wouldn't suit everyone but we were a group of only 6 and with plenty of leg room and comfort breaks and stops for refreshments, it was fine. Indeed, breaks tended to be longer than they needed to be and in truth the tour could easily be shortened by an hour or more still giving the driver ample break time from driving.
Here are some pictures but the best of the pictures were probably not taken as the scenery  was fabulous from start to finish but of course it's almost impossible (for me anyway) to get decent photos from a moving vehicle!


  
Ostrog Monastery is a Serbian Orthodox Church and the most import pilgrimage place in Montenegro. Regarded as a "must see" of Montenegro, it was  the high-light of the tour.
The monastery is high up a mountain built into a vertical cliff face with 2 small churches built into caves. There's a  scary steep drive (they reckon proper pilgrims walk up barefooted but we didn't see any)  involving one hairpin bend after another. Thankfully there were very few cars about on the morning  we visited but  this must be a nightmare stretch of road when pilgrims come in their numbers which they clearly do from the stacks of foam mattresses that were being cleared away when we visited. There are plenty of opportunities to buy souvenirs and make donations to the church and given the numbers of pilgrims who visit, it's a shame that none is spent on refurbishing/rebuilding the disgusting toilets!
Tara River Canyon
The Tara River Canyon, also known as the Tara River Gorge, is the longest canyon in Montenegro. It is 82 kilometers long and is 1,300 meters at its deepest, making it the deepest river canyon in Europe.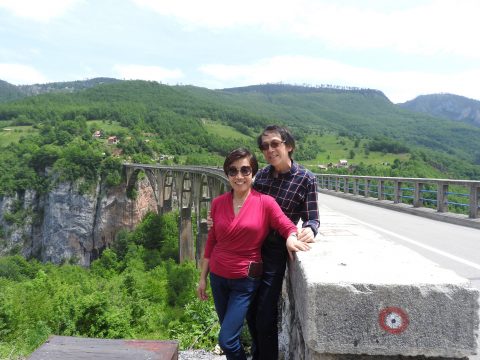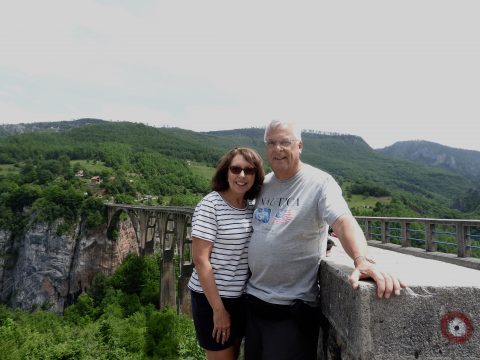 Durmitor National Park
This NP is in a beautiful mountainous region with glacial lakes and lots of opportunities for hiking , climbing and fishing. For me this place would have been worth a two day trip in its own right but in truth, whilst we stopped for an hour or so here, we had little time to do anything other than take a stroll down to a lake and take a few snaps.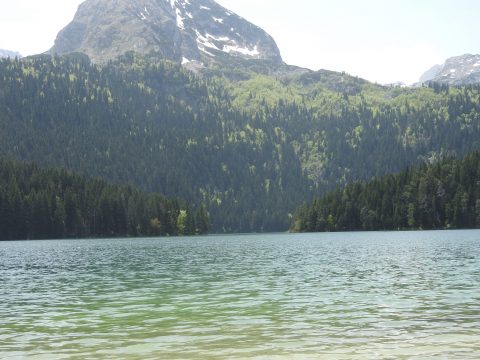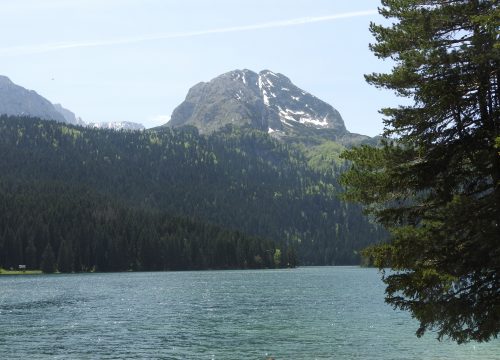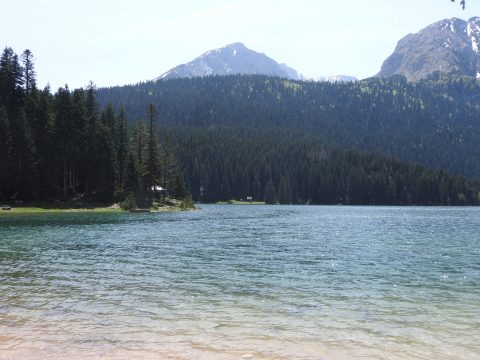 Perast
Perast is a small village just a few kilometres around the bay from Kotor. As small as it is there are the usual typical old churches and a lovely promenade lined  with restaurants.
A short distance out from the shore lie two small islands. Our Lady of the Rocks is an artificial man made island built by the dumping of rocks and wrecked rock filled boats. A church of the same name stands on the island. The second island also has a church, the Abbey of St George. Unsurprisingly there is a small fleet of boats based on the shore in Perast offering boat rides out to the islands.
Budvar
We originally planned to do a full day tour from Kotor to include Budva and various other places along the coast but decided against it – too much time on a bus! We had already spent a very long day on the Northern Highlights of Montenegro trip and didn't fancy more of the same. Instead we just jumped on a regular bus that took about an hour, spent a couple of hours wandering around, had some lunch and then returned to Kotor. A very pleasant day!
Budva is another coastal town a tad bigger than Kotor and probablly attracts more holiday makers as there are nearby beaches. Like Kotor there is a well preserved walled medieval Old City with a marina just outside the city walls with a pleasant restaurant lined promenade where we enjoyed a lunch of grilled fish in one of many fish restaurants. Also like Kotor, this is a place visited by the dreaded cruise ships but we were lucky – no ships on the day we visited and the town was very quiet.
We enjoyed our 5 nights in Montenegro. The countryside and coastal scenery is stunning, the climate is good with temperatures upper 20 degrees C in late May ( I wouldn't want to visit in the fierce heat of July and August although for me that applies anywhere in the Med or Adriatic. The people are friendly and the local food and drink is good with restaurants to suit all budgets and really nice bakeries everywhere providing inexpensive sandwiches and delicious fattening pastries and pies !
Next stop  Dubrovnik !