We landed at Denpasar Airport Bali from Yogyakarta around 4pm on Sunday September 27th. Our luggage came through very quickly for a change and after a brief stop to seize a rare opportunity to buy a bottle of wine in the airport (we had so far found alcohol, other than beer, difficult to find virtually everywhere in Indonesia) we were soon out to meet our driver who would take us to Gajah Biru (meaning Blue Elephant) Bungalows and Spa aka GB in the artists' village of Penestanan on the outskirts of Ubud.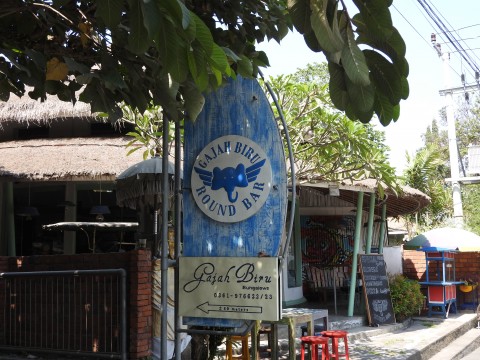 Ubud is a popular inland tourist destination famous as an arts and cultural centre and also as a centre for meditation, yoga and alternative life styles. From that description you can guess the place is full of art galleries, cultural sites, hippy types, spas and places to learn how to find oneself – whatever that means…
The journey from the airport took around an hour to a town which is surrounded by rice fields. We were warmly welcomed at GB with the customary cold towel and drink and quickly shown to our room which was more than acceptable being a large first floor room with a huge and comfy four poster bed with mozzy net, a nice dressing area and bathroom and with a mini bar that wouldn't break the bank. Beer and wine both on offer here at very reasonable prices. This was the first time we had come across a minibar with wine in Asia and Ann was made up – until she remembered we had decided to have a dry October which would start in a few days time!
The room had a super large veranda with a nice sofa for relaxing and a dining area where breakfast, made to order, was served each morning. The veranda was totally private and not overlooked at all and with beautiful gardens and pool – we loved the place from the outset. There were a few minor issues during the week but these were fixed immediately.
Gaja Biru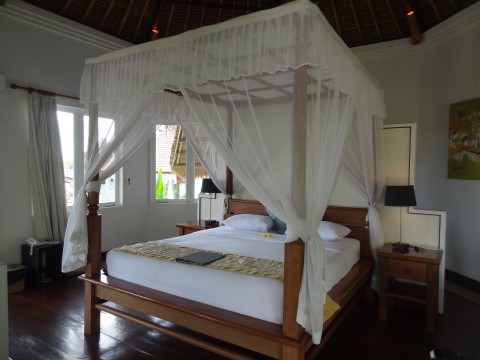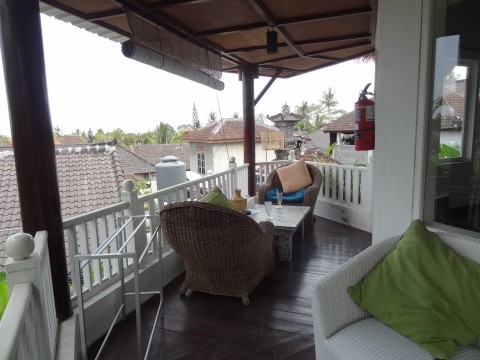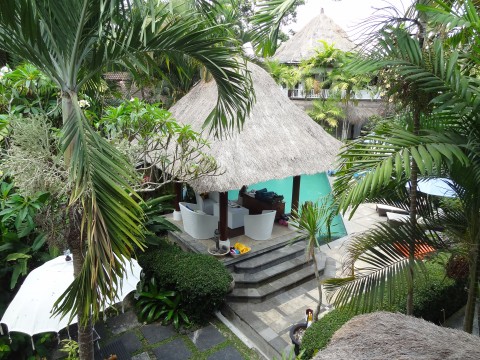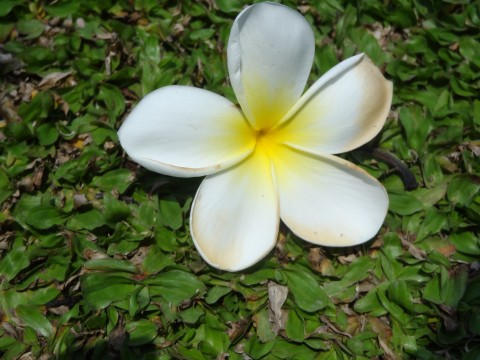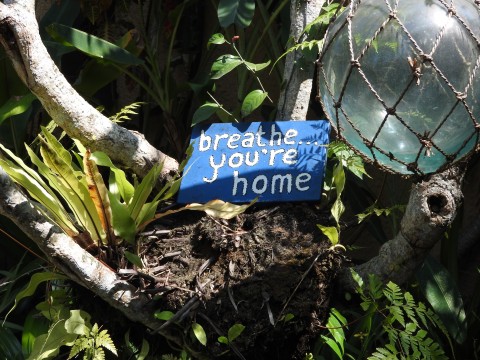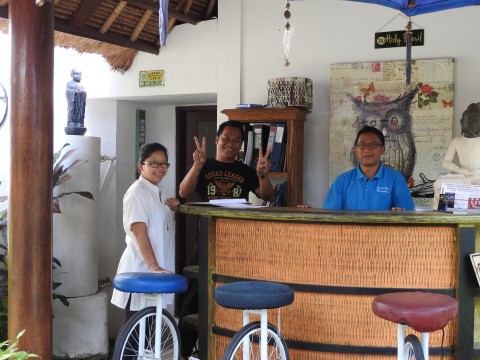 It's often the staff that make a hotel and this place is no exception. We thought the staff were excellent, always anxious to provide great service and always in a warm and friendly manner. We soon learned these were typical Balinese characteristics – they really are lovely people.
Having done a quick inspection of the room and completed our normal check on numbers of electrical sockets and the like (important given we have a laptop, 2 iPads, 3 phones and 2 cameras needing constant charging), we quickly dropped our the bags in the room and asked for a ride into town – there's a free shuttle to take guests on the 5 minute drive – very handy.
Ubud is very different from anywhere else we had visited in Indonesia so far. The town is a reasonable size but by no means huge but is busy busy busy with cars, motor bikes, tourists and small groups of men stationed seemingly every 30 yards along every street offering taxi rides. Despite all of this activity and heavy tourist stuff which normally we hate, we both immediately liked the place. On top of everything else, the streets are clean and litter free, a big plus against much of the rest of Indonesia seen so far where even on the beautiful Gili Air, littered roadsides and streets were the norm. Also, although there's lots of traffic in town, its not aggressive and it moves slowly and as the streets are only one lane each way they are not too difficult to cross.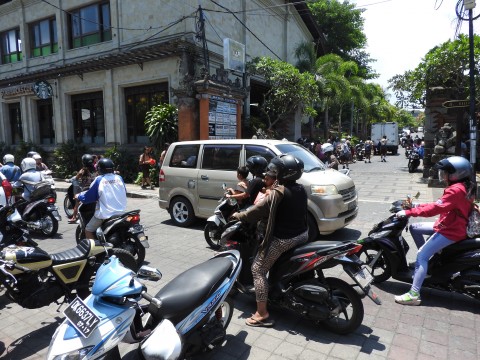 Our driver dropped us in town at the central market, a brilliantly colourful market and a lively place to wander around. The town is stuffed full of tourists of every nationality which again is quite different to most places previously visited in Indonesia where very often we have been almost the only white faces in town! This place is very popular with Australians, Russians, French and more.
After a quick walk around the market we carried on walking the streets and window shopping until round 5pm when we walked back to the hotel which takes about 20 minutes and went through our ritual of unpacking, putting gadgets on charge and checking emails.
The Gaja Biru's restaurant and bar, the Round Bar, is actually just outside the grounds of the hotel thus breakfast, which is excellent, is delivered to your room.
On our first night we enjoyed drinks and a complimentary dinner in the Round Bar courtesy of the hotel's charming owner Surinder, a much travelled Indian gentlemen married to a local lady Sumi. Surinder is both hotelier and entrepreneur running a business manufacturing, selling and exporting products made from re-cycled materials. Once you have been at the hotel for a couple of days you begin to notice pieces of garden furniture and quirky ornaments and other paraphenalia that he has made – very clever!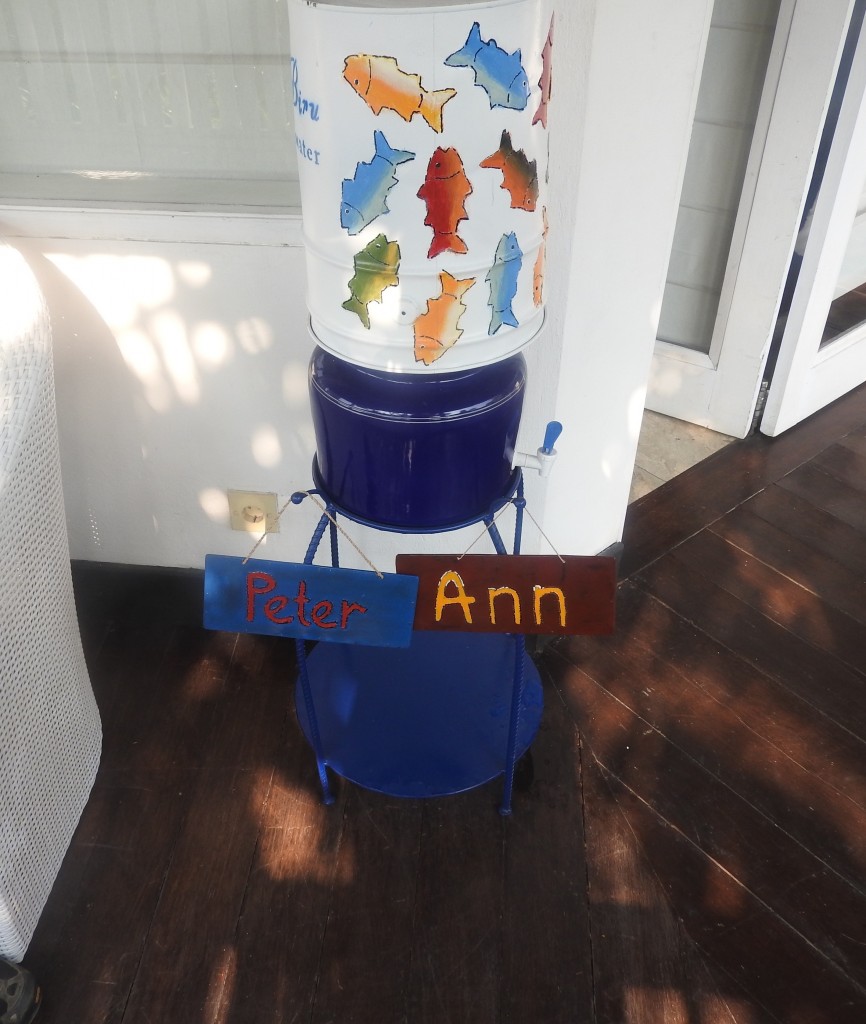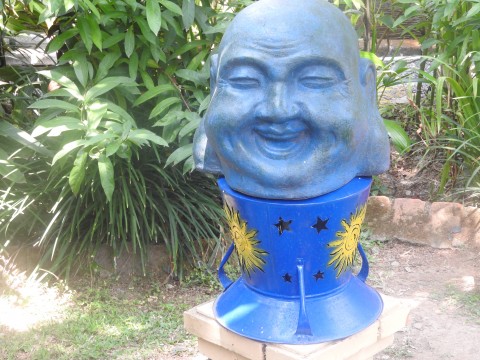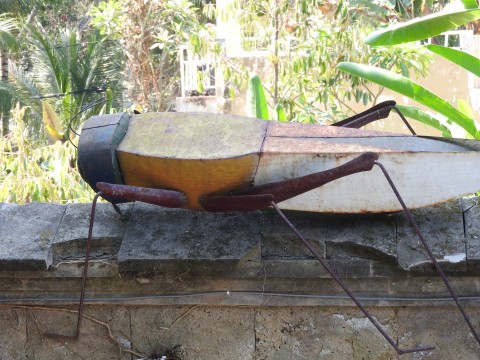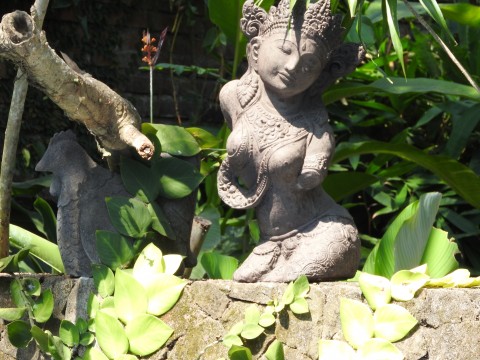 The restaurant is managed by Sumi and the food was very good indeed and excellently priced. As curry addicts we were delighted to find a few indian dishes on the menu as well as standard Indonesian food, pizzas etc.
The food was great and our choice of hotel looked good. Already we were thinking of extending our stay….
We were booked into Gaja Biru for seven nights which we thought would be a generous amount of time even though this week we would need to visit Denpasar at least 3 times to renew our 30 day Indonesia visa and to sort out a 60 day visa for our upcoming trip to Thailand.
The following morning after a leisurely breakfast, we met up with the hotel's driver Made to arrange our transport for the week. We had read that the renewal of visas in Denpasar was a pain not least because it needed 3 visits to the Immigration Office. Some people use visa agents as much as possible but that means entrusting them with your passport which we didn't much fancy. We arranged that Made would drive us into Denpasar first thing the following morning to take us to Immigration and then take us on a temple tour. We would need to return to Immigration the following day or the day after to have photos and fingerprints taken and then return a third and final time to collect passports with visas – not just a pain but a horrendous waste of time and expense for us!
Visa trips and a day out with Made sorted, we had what remained of the week to chill. We hadn't planned anything really except that we hoped to do a lot of walking and get to at least one of the traditional Balinese dance performances which take place nightly. We did both.
The week flew by with leisurely breakfasts, a lot of walking, window shopping, cheap massages (though not as cheap as Thailand) eating and drinking – at least up to Thursday when we went dry. We loved busy Ubud and there were lots of highlights, particularly rural Penestanan Village itself which is only a few minutes drive from Ubud but totally different.
Some of the highlights…….
Shopping
We enjoyed the shopping (can't believe I wrote that) even though we bought very little. Shopping is actually a very time consuming business here. Shopkeepers are stopping you constantly to say hello and chat and there are distracting photo opportunities every few yards. There are lots of little side streets with nice shops, cafes and coffee shops and with a stop for lunch the day passes very quickly.
The shopkeepers are friendly and of course you are constantly beckoned and asked to "just look" but it's all good fun and not in any way aggressive. The market, full of pictures, paintings, textiles, fancy goods, housewares, clothing, basketry, wood carvings and lots more has little of interest to us whilst travelling but we saw lots of stuff we could have bought for our place in Turkey had we a limitless luggage allowance. Like most places in S.E. Asia, prices are generally low for goods which are nice enough but mass produced in China or Vietnam or somewhere similar. However, Ubud is different in that in addition to the usual tourist tat shops there are many individual shops such as fashion shops, jewellers, galleries and the like, offering good quality Ballinese designed goods, original paintings etc at affordable prices. Ann loved it !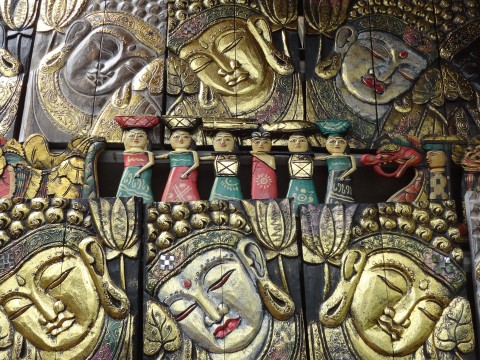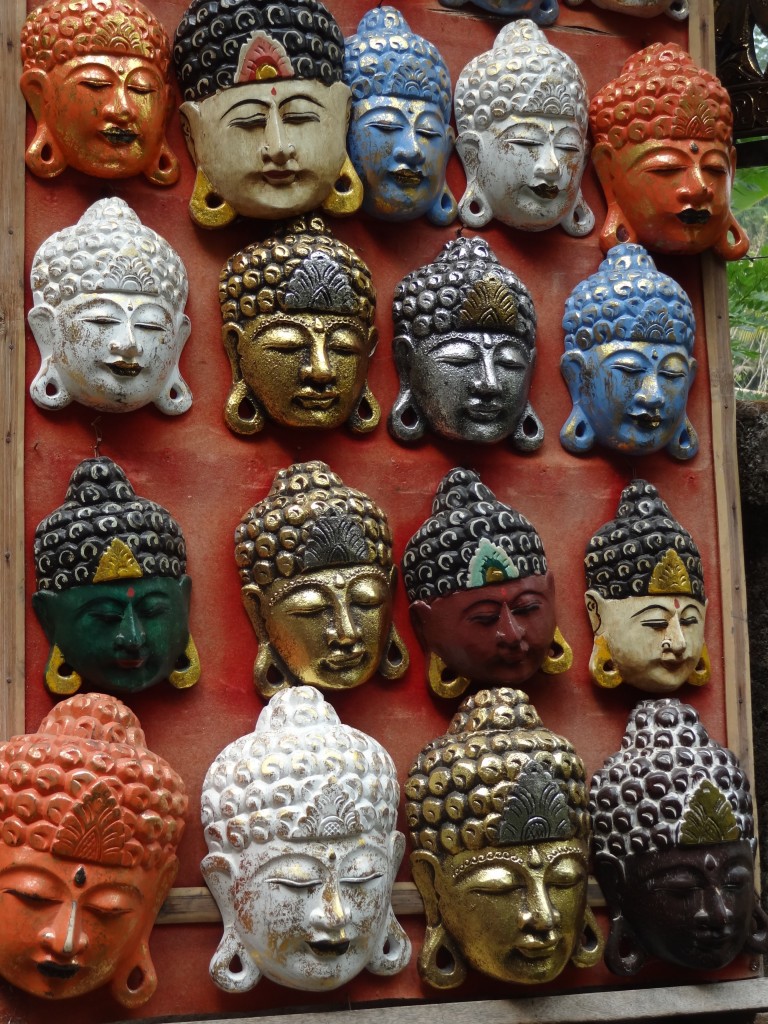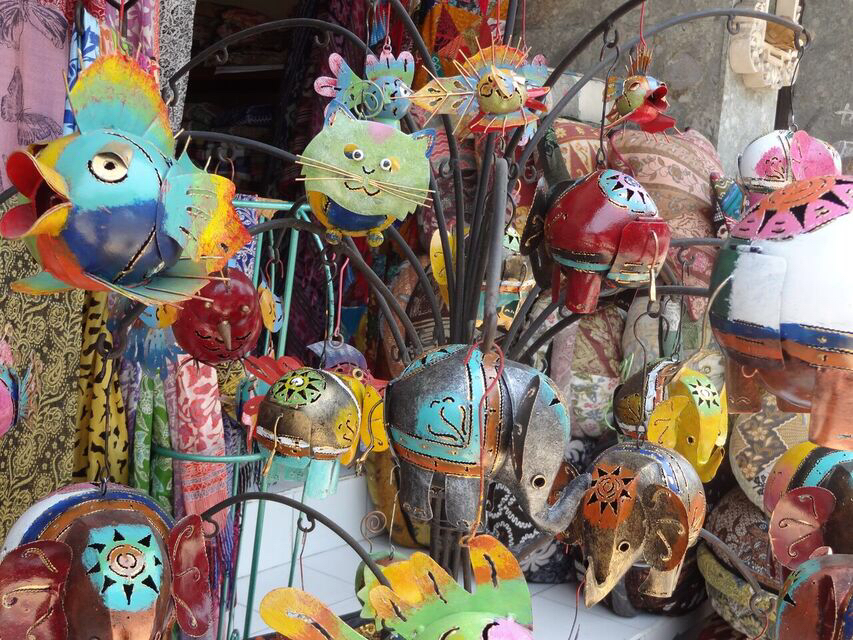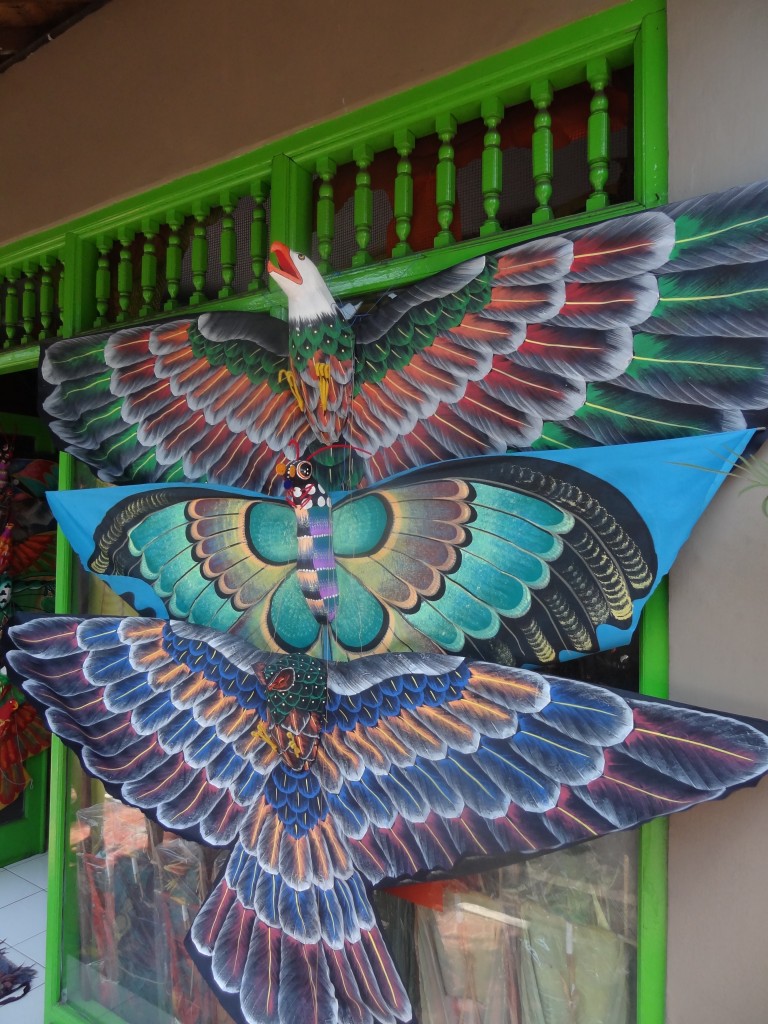 Temples, shrines and offerings
Religion is one of the most striking things about Ubud and of course temples are central to it. There are temples everywhere. It is said that there are over 10,000 religious sites on the island and you see these even in the most remote rural and mountainous areas. In town there seems to be a temple every few yards. They are all different and some are large and some are tiny. In addition hotels, many shops, restaurants and even offices have a small shrine and every house has a temple area at which to pray. The temples are for the most part quiet serene places but become hives of activity when a ceremony is being prepared or taking place.
Temples of any size usually consist of several buildings called pavilions and are surrounded by walls to keep out evil spirits with some kind of Guardian statues, usually warriors or demons, either side of the entrance way. Even the temples of large houses will consist of several pavilions each having its own use and again having "Guards" at the entrance and there will always be a shrine where ancestors can be remembered.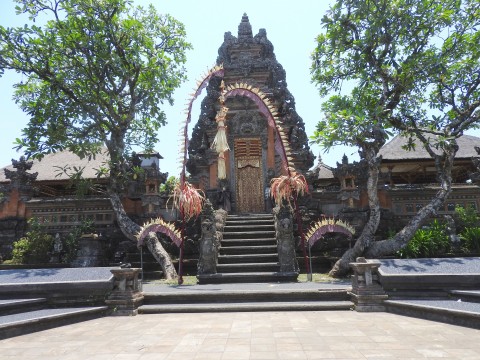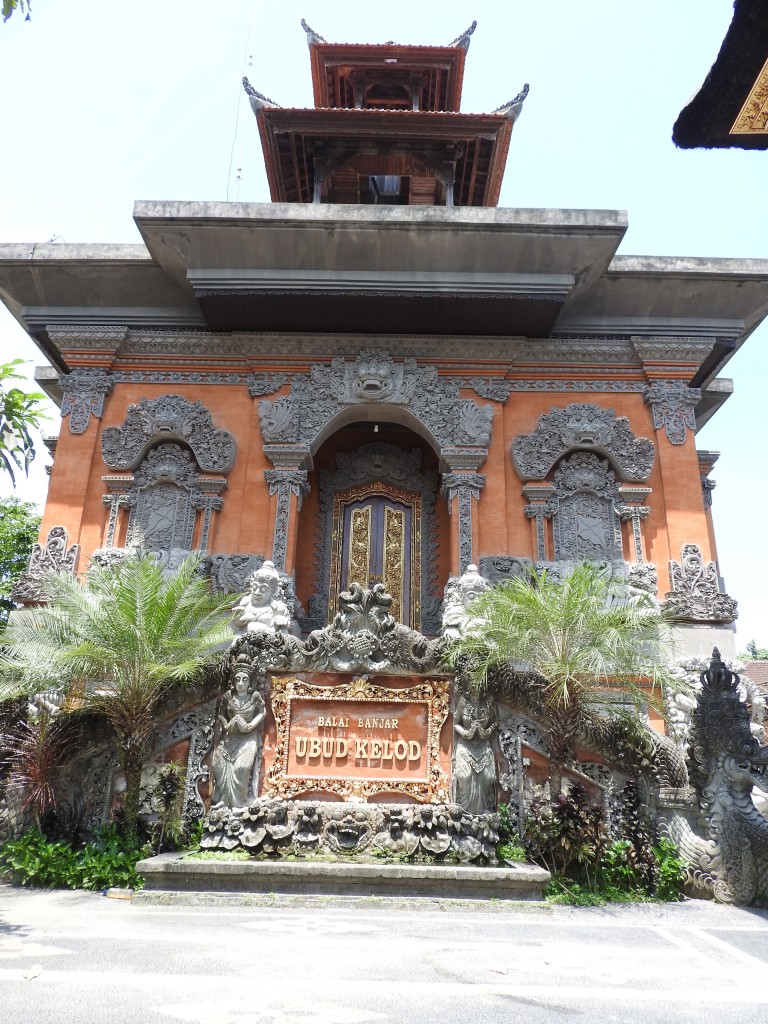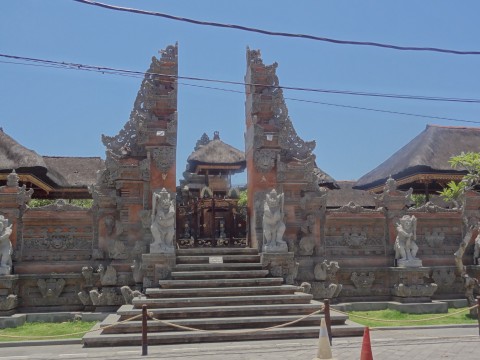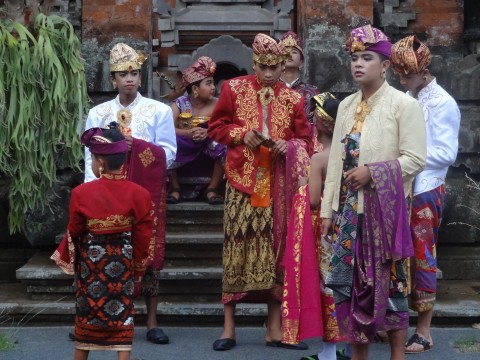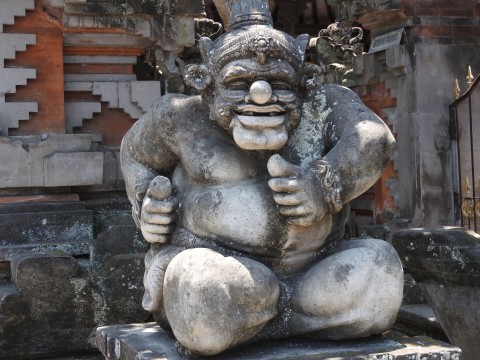 The Balinese are very devout people and Hinduism is practiced by 85% of the population (the figure for Indonesia in general is only 1.5%). No day goes by without making offerings to the gods and you see the offerings sat on the pavements, perched on walls or statues and adorning almost anything that has a ledge to hold something. They will be found at virtually every building in Ubud and will also be found on the edges of rice fields where offerings can be made with prayers for a good crop or for thanks giving.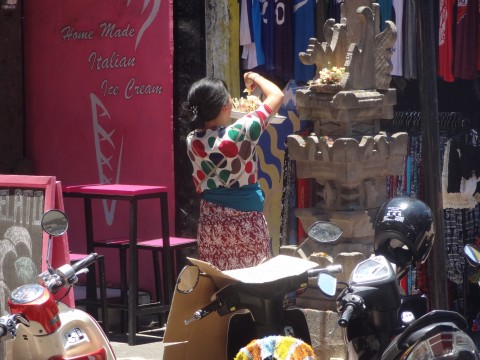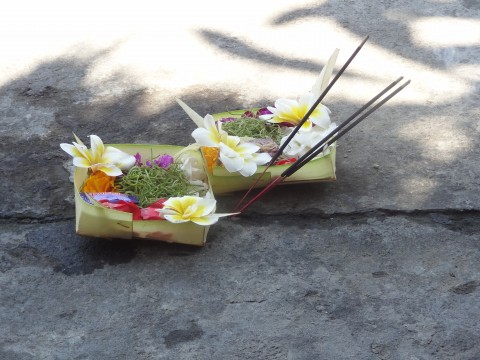 This tradition of offerings to honour the ancestors and gods and to ward off evil spirits is a very significant part of the life of Balinese women who can be seen every day sat outside their homes or places of work weaving the baskets or trays from palm leaves and arranging the offerings within them. The offerings will be placed with burning incense sticks, a prayer and some ceremony in various places and at any shrine in and around the building and the compound surrounding it and including the pavement outside the building. This ceremony will be performed every day by the wife in the household or by a designated person in a shop or restaurant, usually wearing traditional sarong and sash. The offerings are cleared away and replaced by new ones every day and of course all this ceremony and colour adds to the already colourful streets and also results in a very pleasant smell of incense wherever you go. What makes it so special is that these traditions exist and continue not because of tourism – the faith of the Balinese is at the centre of their lives and is clear to see everywhere in young and old alike.
There is always a ceremony going on somewhere here whether it is to celebrate a special religious day or just a family ceremony, wedding or funeral. Offerings for such ceremonies will be rather more substantial with people giving whatever they can and baskets of fruit, cigarettes, eggs, rice and other food beautifully packaged in baskets are the norm. Most days when travelling you will come across women carrying these baskets on their heads (the most sacred part of the body) to the temple.
Not only is religion a very time consuming business for the Balinese but it's also very expensive. The Balinese generally earn very little money but ceremonial dress and offerings are expensive and if there is a ceremony that a Balinese person must attend then he or she must attend and that will almost always mean taking time off work and losing wages.
Pura Tirta Empul Holy Spring
We visited several large and important temples on our tour with Made but this was the most impressive and a definite highlight of our week. A water temple built around a large water spring discovered in 962AD. At the front of the temple are bathing pools with the holy spring water spouting out of sculptured spouts under which the pilgrims will bathe moving along the pool from the first spout to the last. Behind the bathing pools is a large courtyard and beyond that the temple proper.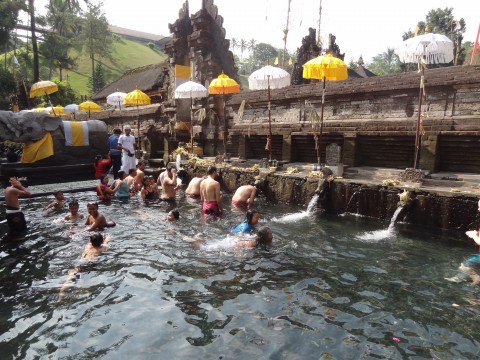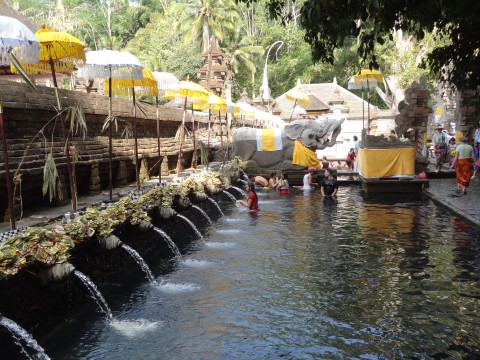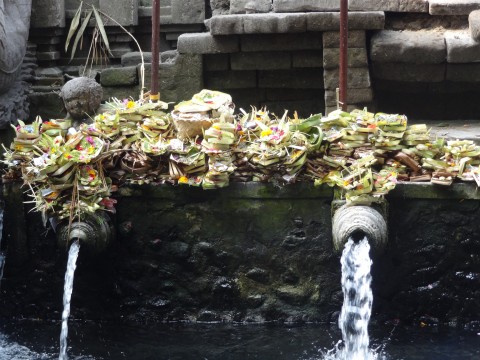 The temple is interesting in itself but we were lucky in that we visited on a day of Full Moon celebrations. Full Moon in Bali is a special holy day and hundreds of ceremonies take place all over the island. There is ceremonial dance and music and the proceedings involve offerings of food fruit and flowers. As you can see from the pictures the result is a fascinating riot of colour.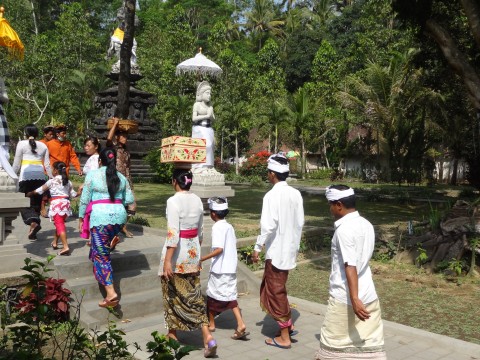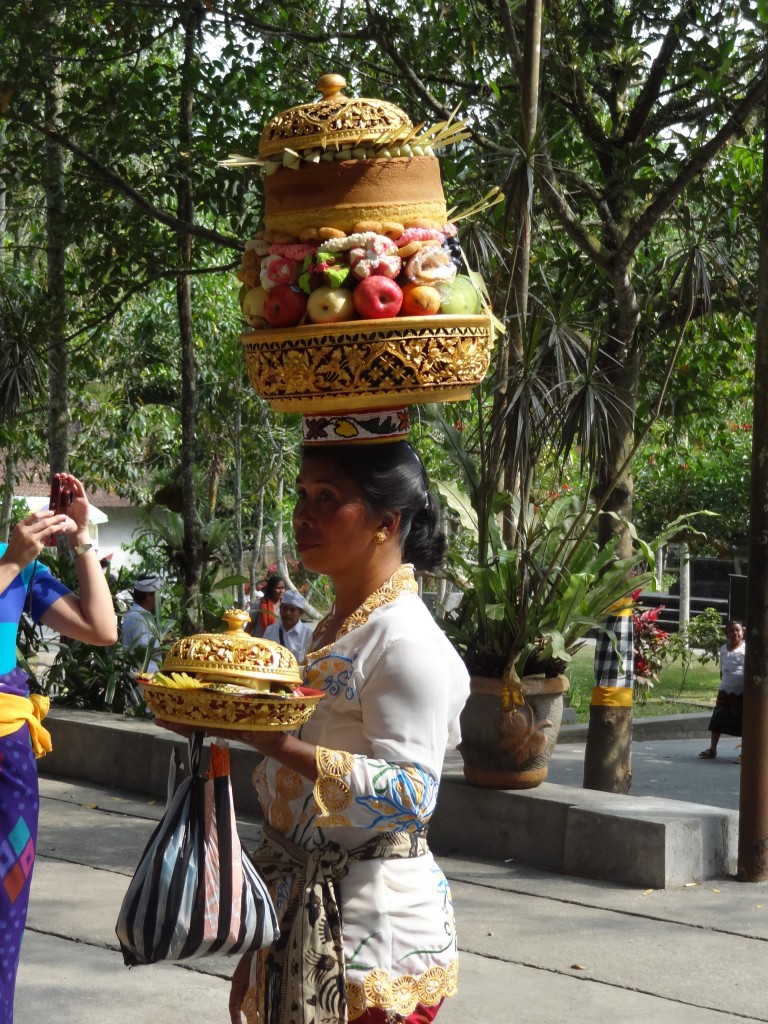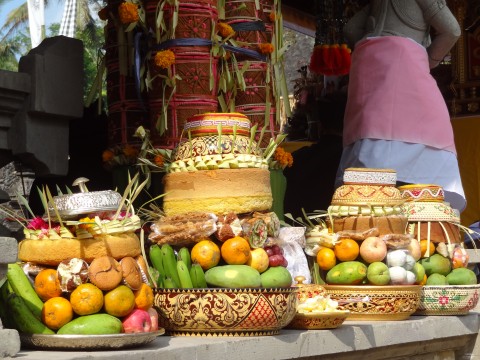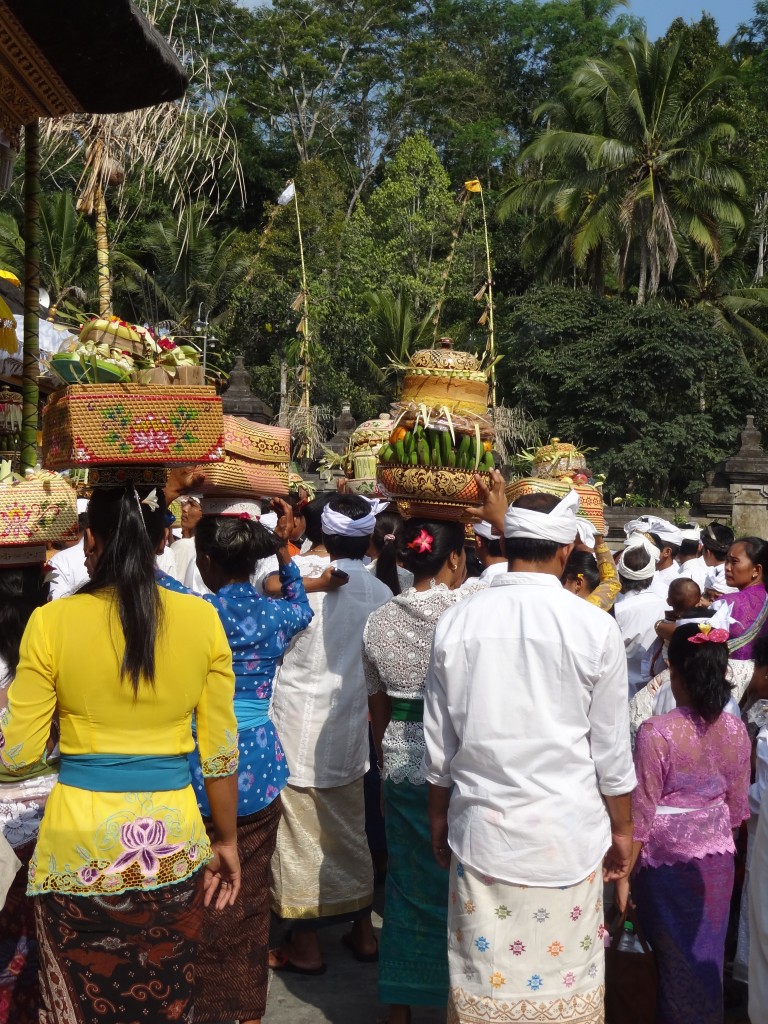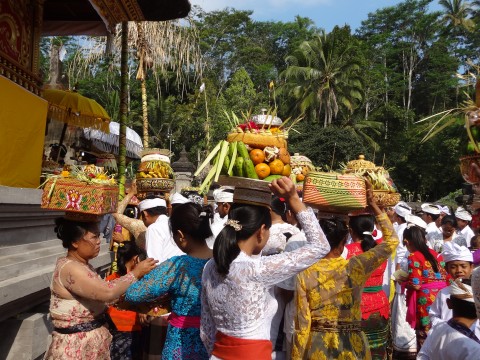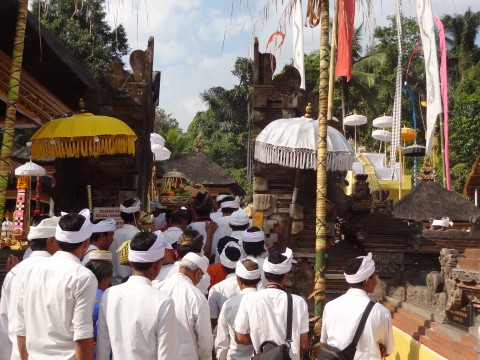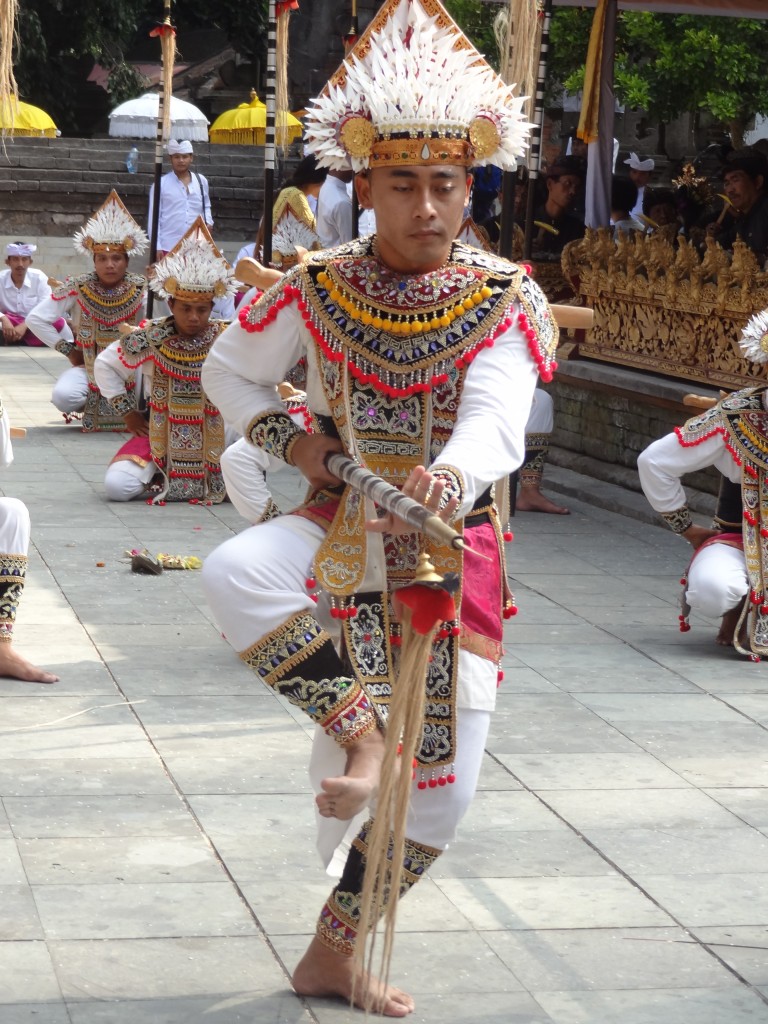 Penestanan Village
This is a lovely little village known as the Painters Village since the 1930s when it was home to a famous artist. There are still some arty businesses here but it's also known as a centre for yoga and meditation.
The village is largely residential with a few hotels, including Gaja Biru, some B&B type properties and some rental villas. There is a smattering of restaurants mostly of the local warung style selling local food and a few coffee shops and mini-markets with very limited stock.
Once you come off the main road from Ubud there are no roads as such and access to the aforementioned properties not on the main road and to the rice fields is via narrow lanes wide enough only for motor bikes and pedestrians. Thus everything that needs to be brought in must be carried or brought in on a motor bike.
The rice fields are being gradually absorbed as the village grows bigger and we saw a number of new properties in various stages of construction. Motorbikes ridden by men and loaded with bags of cement went constantly back and forth along the lanes whilst women, mostly middle aged, carried roof timbers balanced on their heads or pushed wheel barrows along carrying sand and building blocks. The women here seem to do most of the manual labour but we shouldn't have been surprised as by now we have seen women doing heavy physical work on road works and building projects in a few places in Asia.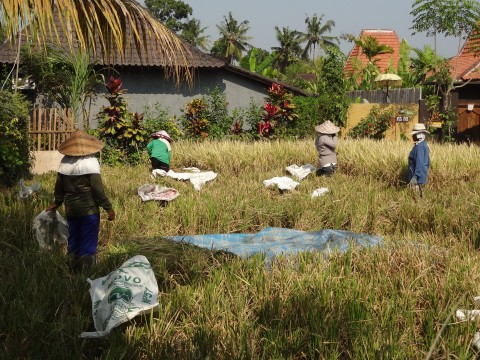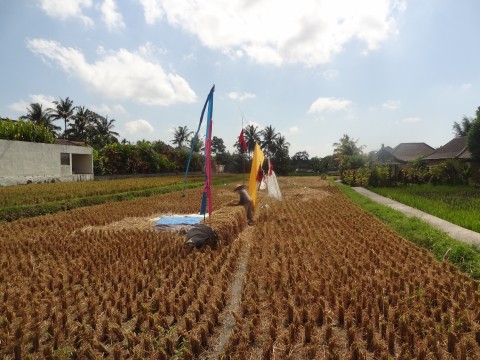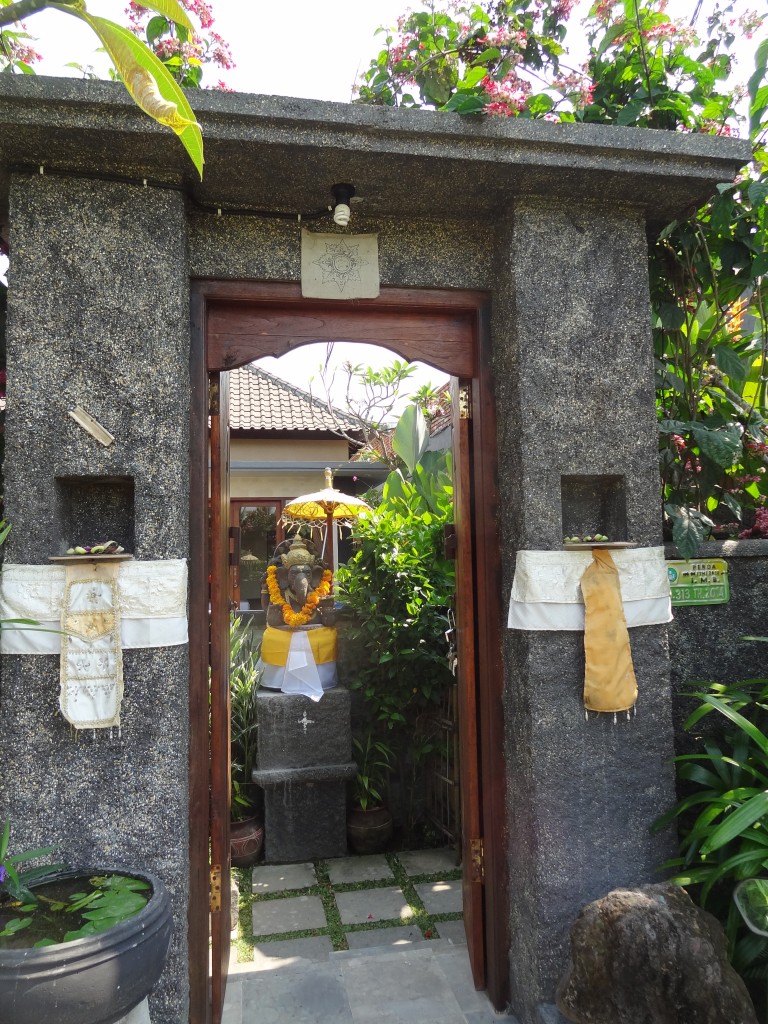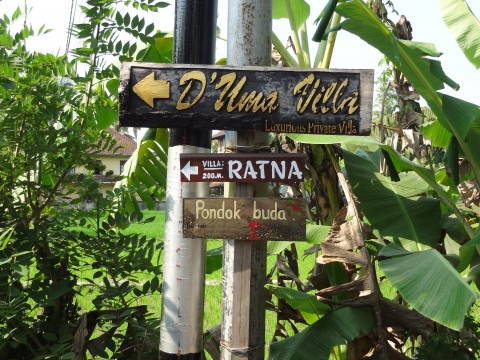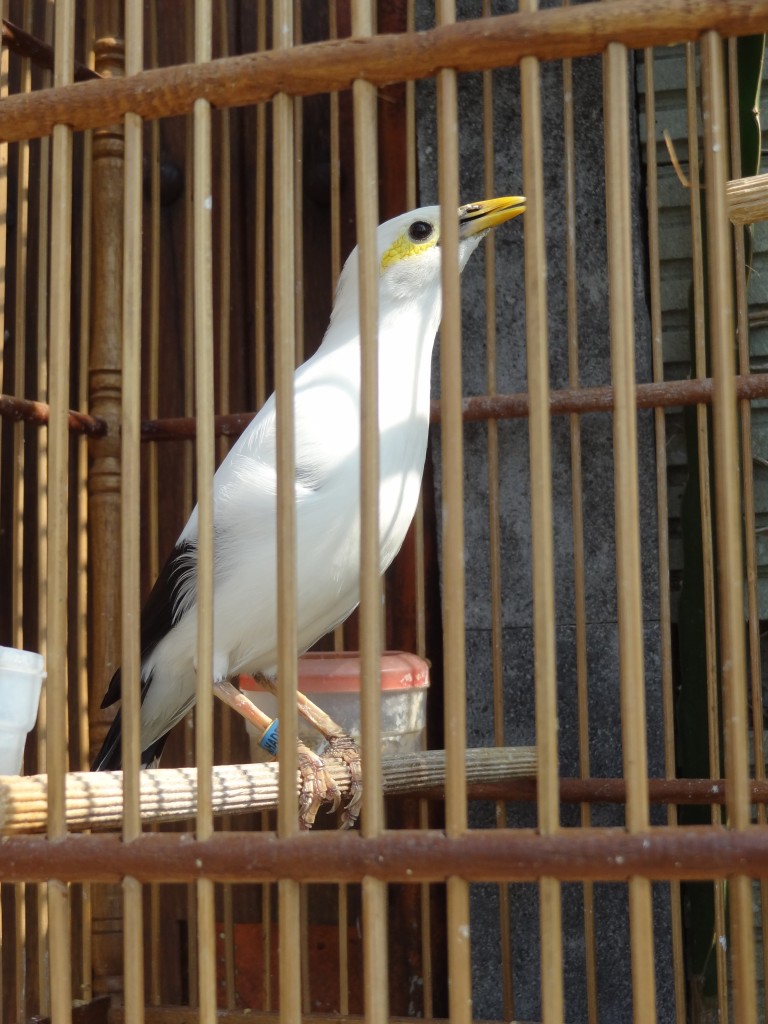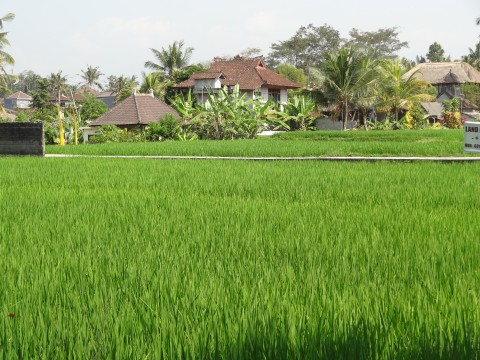 Lots of new villas being built around the village – how long before the rice fields are gone?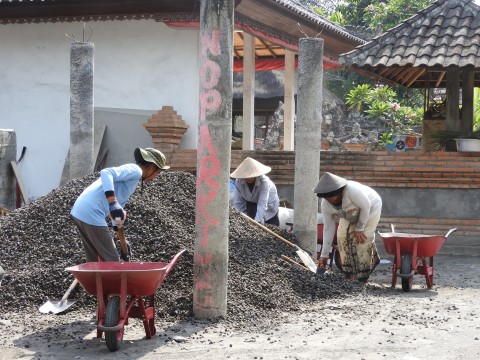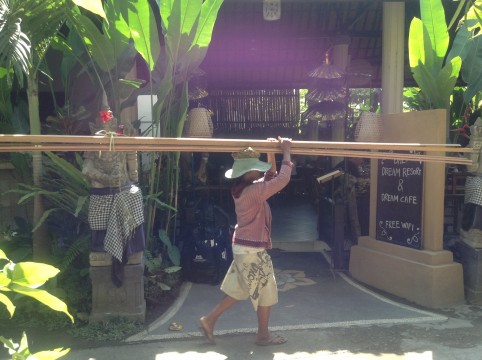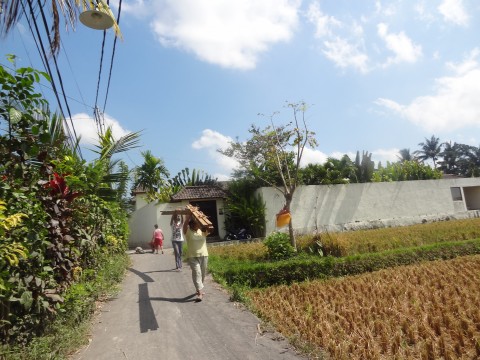 Penestanan is clearly a thriving and popular area. It's also clear that it will be a different place in 10 or even 5 years time as it becomes more developed but for now it's a really lovely area and it's great to just wander and explore around the lanes and between the rice fields to see where the paths take you.
We were booked into Gaja Biru for a week but after four nights we had decided to extend our stay for a few more nights. Sadly GB had no rooms available and so we booked into Bali Dream Resort only 150 metres away from GB down the lane leading into the rice fields.
We moved over to Bali Dream on Sunday October 4th for four nights. This is another super hotel with beautiful manicured gardens and 2 nice swimming pools. There are various room types but our budget gave us only a quite modest room albeit adequate for just a few nights. There is every comfort and the only downside was rather poor wifi reception in the room although it was good in the open Reception/Restaurant area. City had a match one evening whilst we were at Bali Dream and to the surprise of the overnight Security Man, we turned up at the restaurant at 4am to watch the game live on-line (I know we are mad!) – he seemed to be glad of the company but soon returned to his slumbers!
The restaurant here is very good serving an excellent breakfast and we had a couple of nice dinners here. The staff are fabulous – not just on Reception and in the restaurant but throughout the hotel including Housekeepers and Gardeners who all had a ready smile and a hello for you. We liked this place so much that we returned for a few days later in our trip !
Here are some pictures Bali Dream.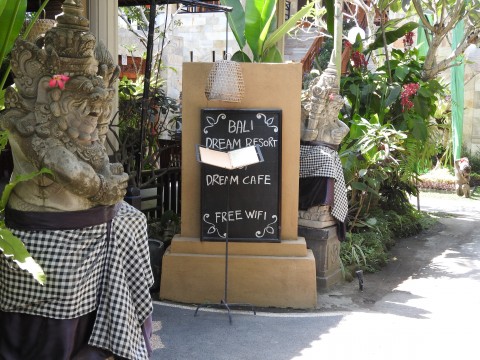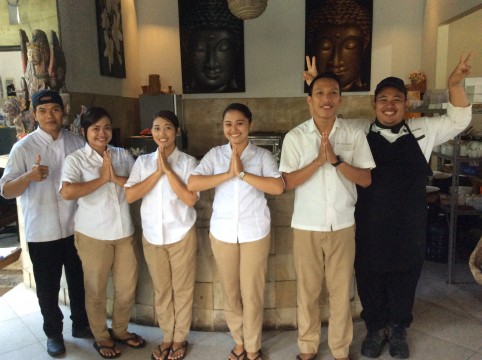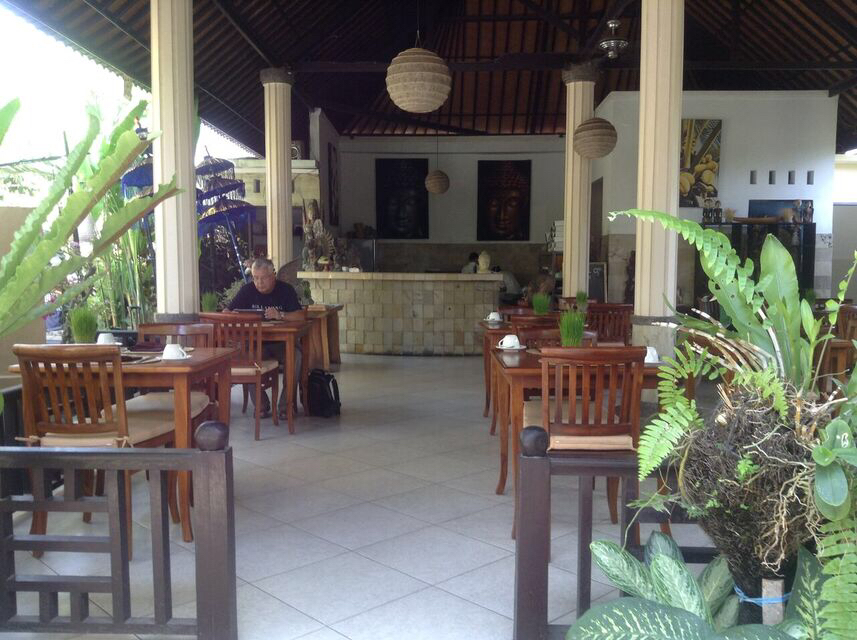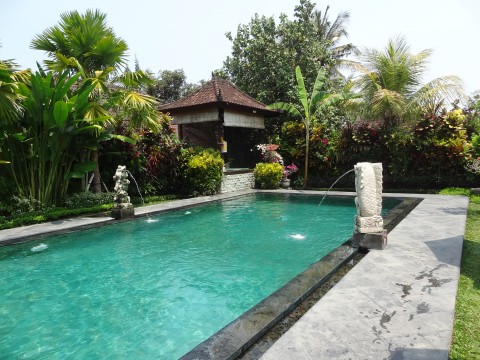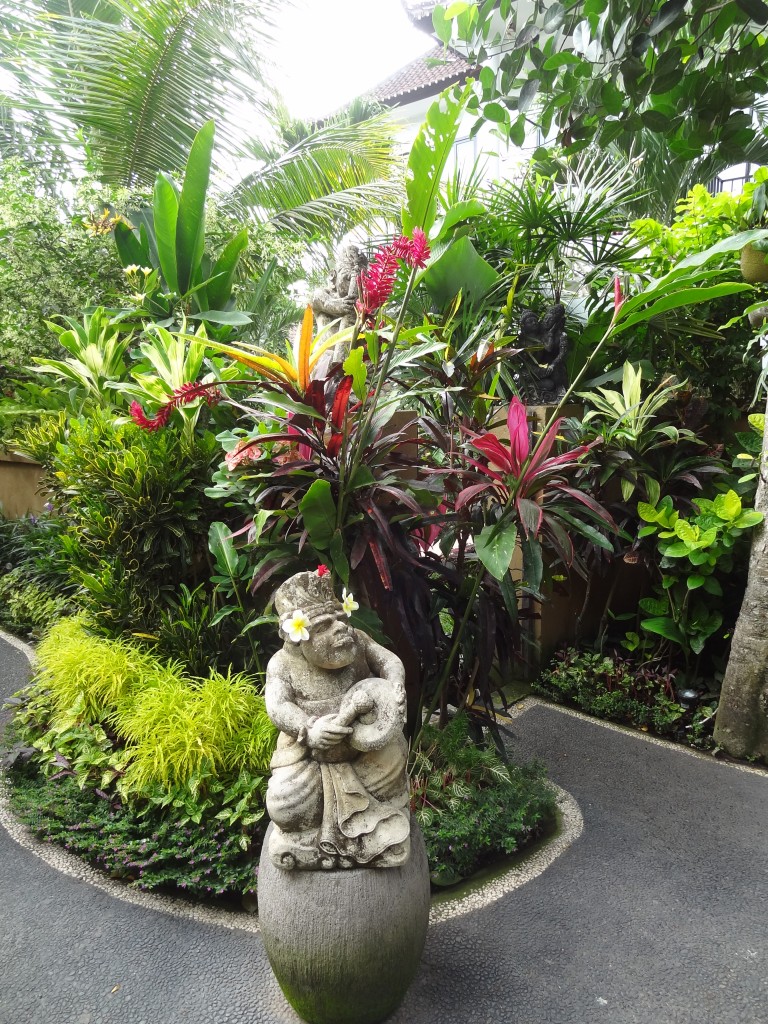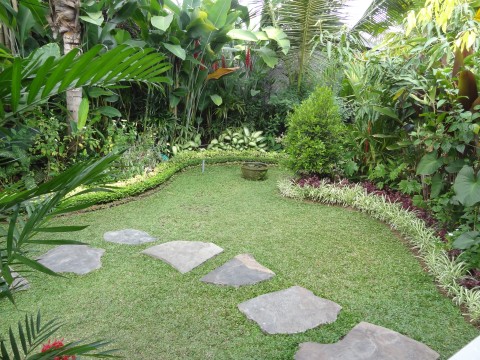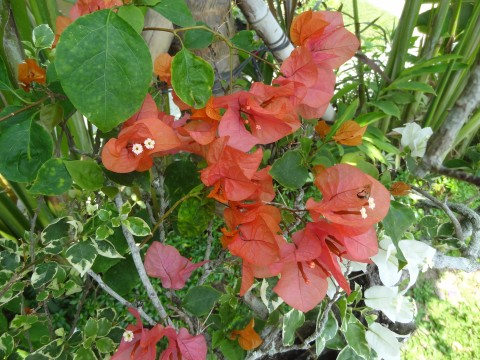 Rice Field Walk
There are a number of walks to be done around Ubud. This walk was recommended by the hotel but we somehow managed to go off piste and walk which should have returned us to the hotel after an hour or so became a three hour walk which ended in the centre of Ubud! This was a really nice walk through awesome countryside passing the odd farm, hotel, warung, coffee shop and artists studio and although its a popular walk there were very few other people around on the day we walked. Here are some pictures…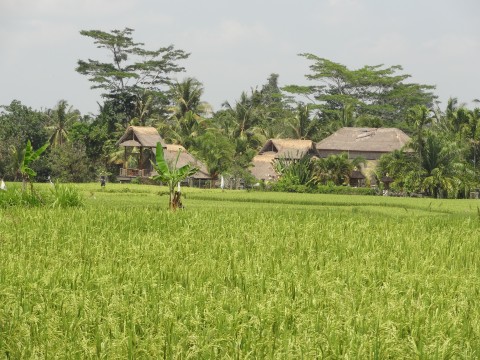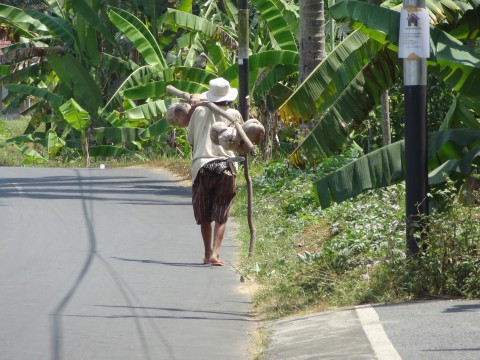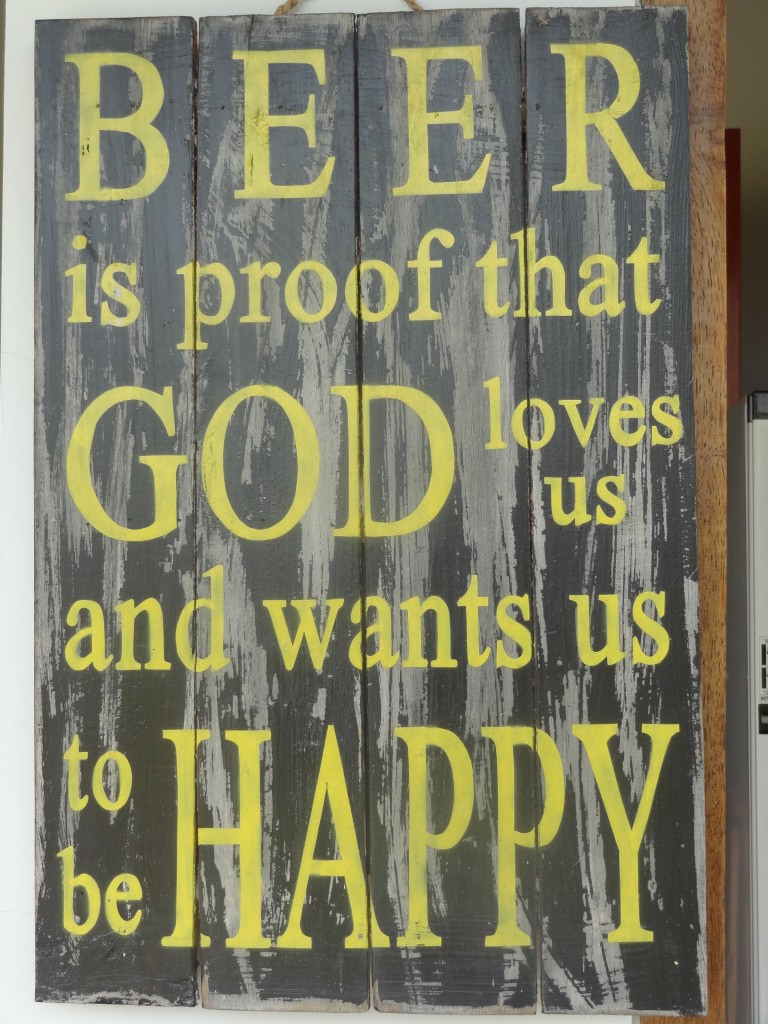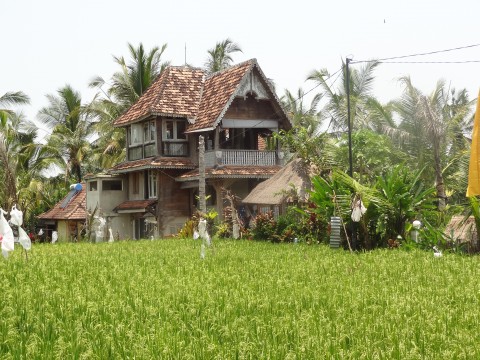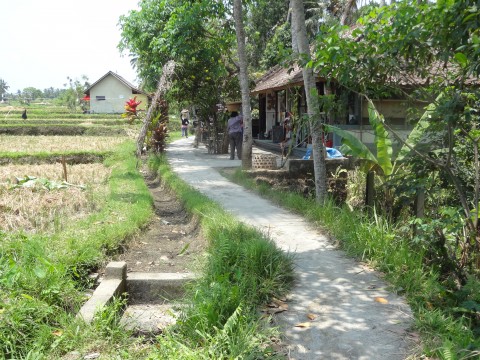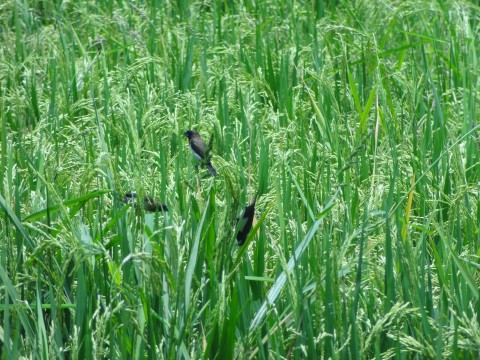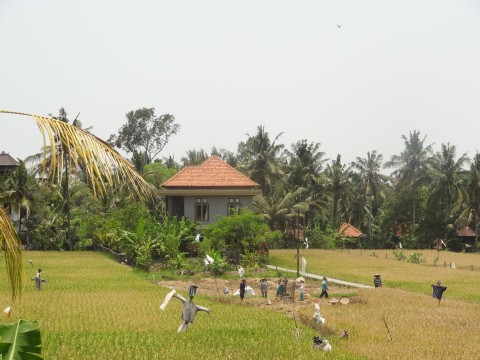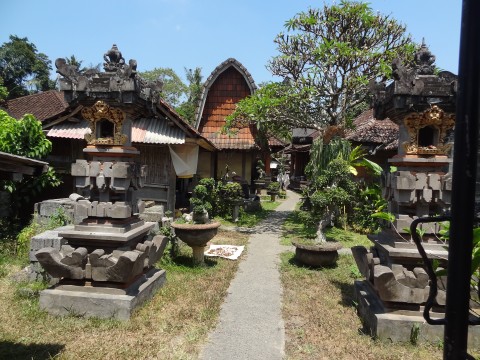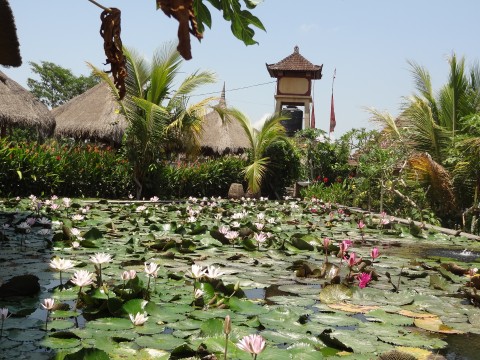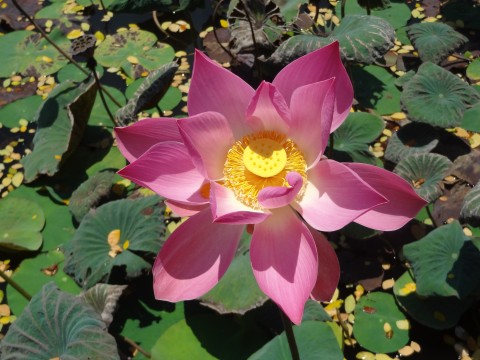 There are several traditional Balinese dance shows performed every night of the week at various temples in and around Ubud and at Ubud Palace in the centre of town.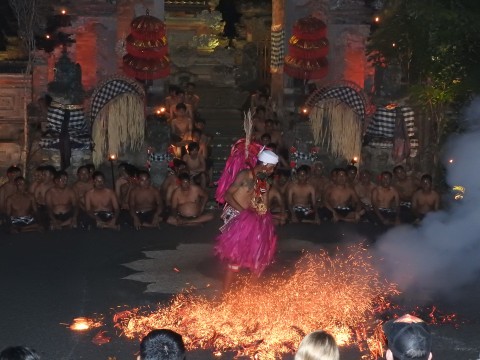 Permuteran
We left Ubud on Thursday October 8th for the 120 km drive to Permuteran on the North coast of Bali where we would stay for a week at Taruna Homestay. This is a scenic drive through mountainous rural Bali that can be done in two to three hours depending on how many times you stop for photographs and sightseeing. In the event our only real stop was at Ulun Danu Water Temple on Lake Bratan in the mountainous area near the town of Bedugul. The lake is an important water supply and so it's an important temple and offerings are made to Dewi Danu, the water, lake and river goddess. There was a ceremony just finishing as we arrived and so were not so lucky on this occasion, missing most of the proceedings.
A few photos taken en route to Pemuteran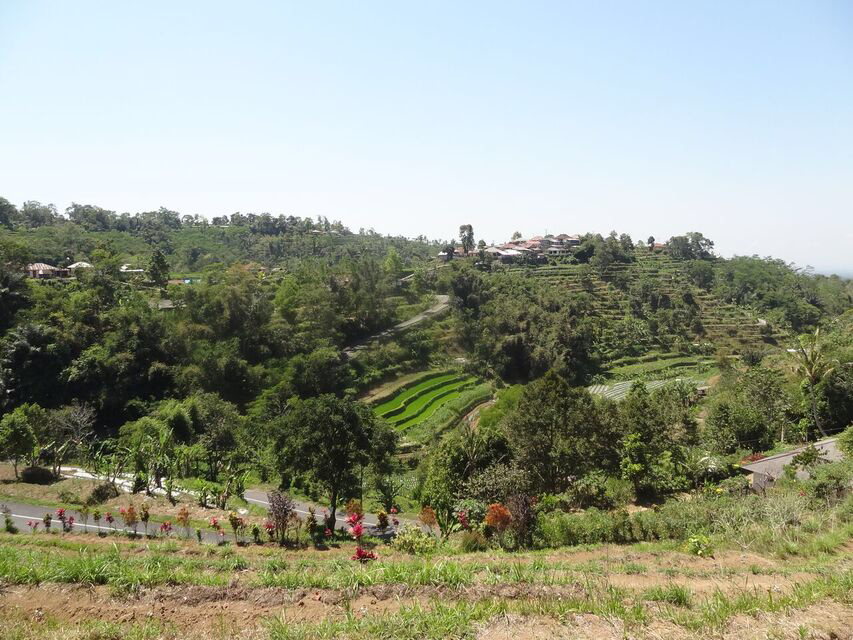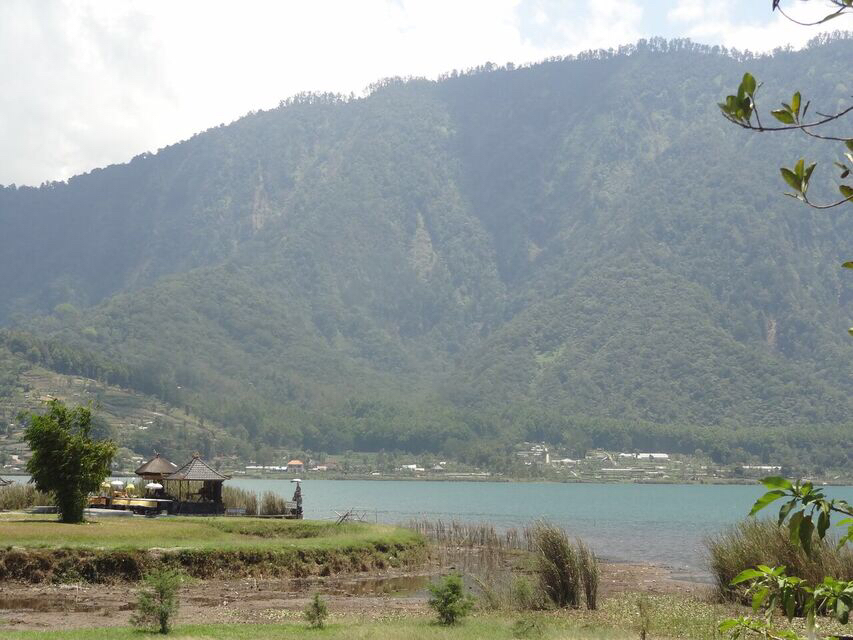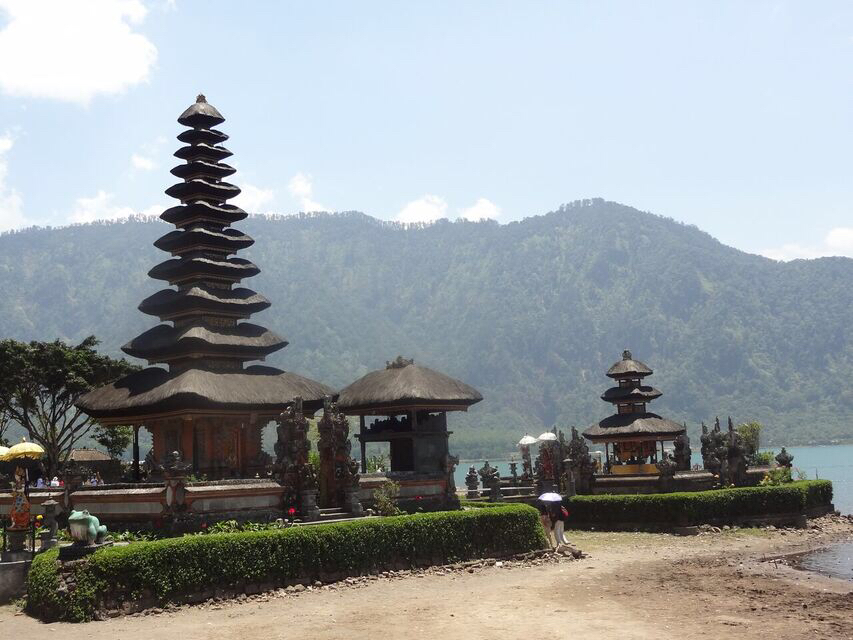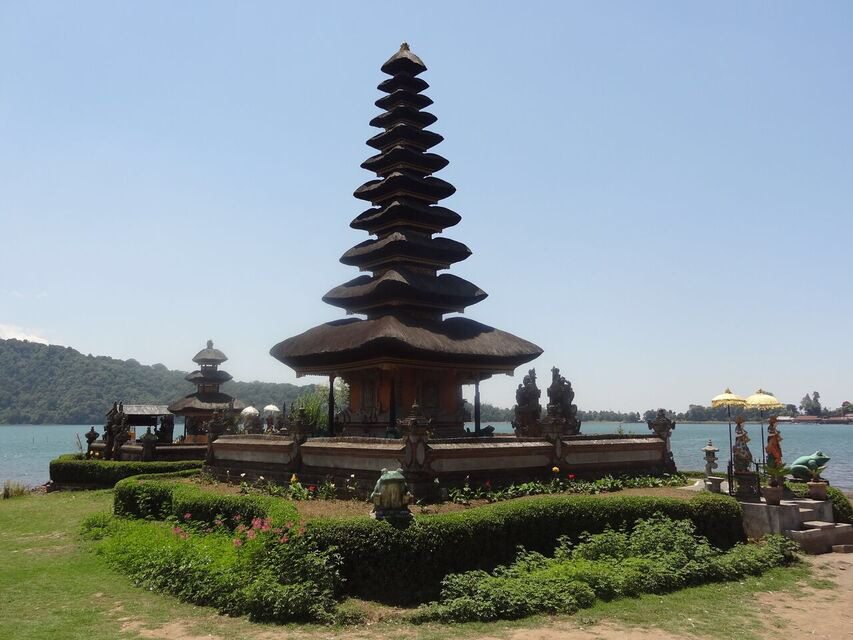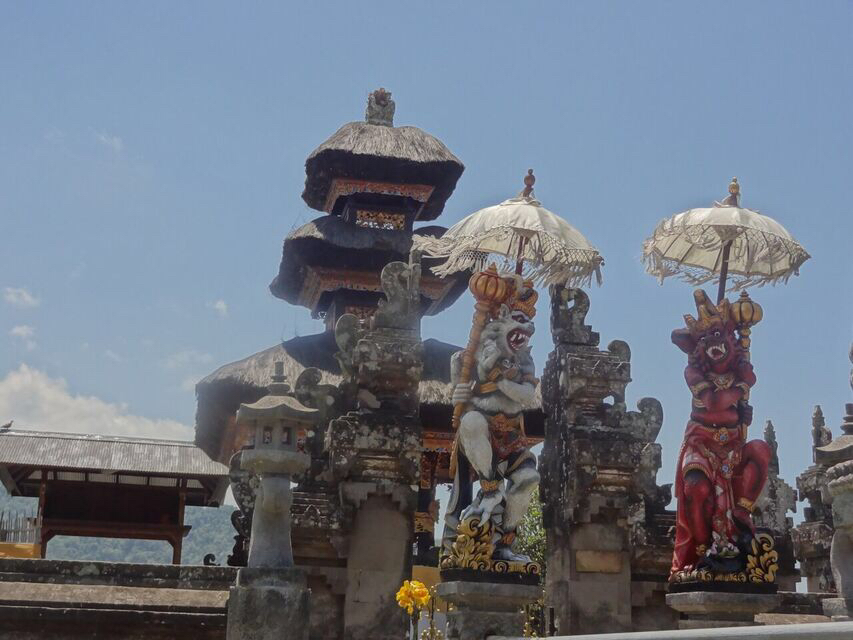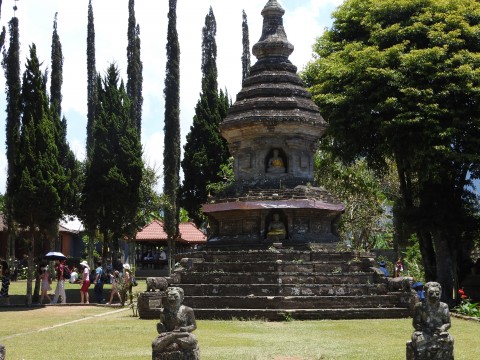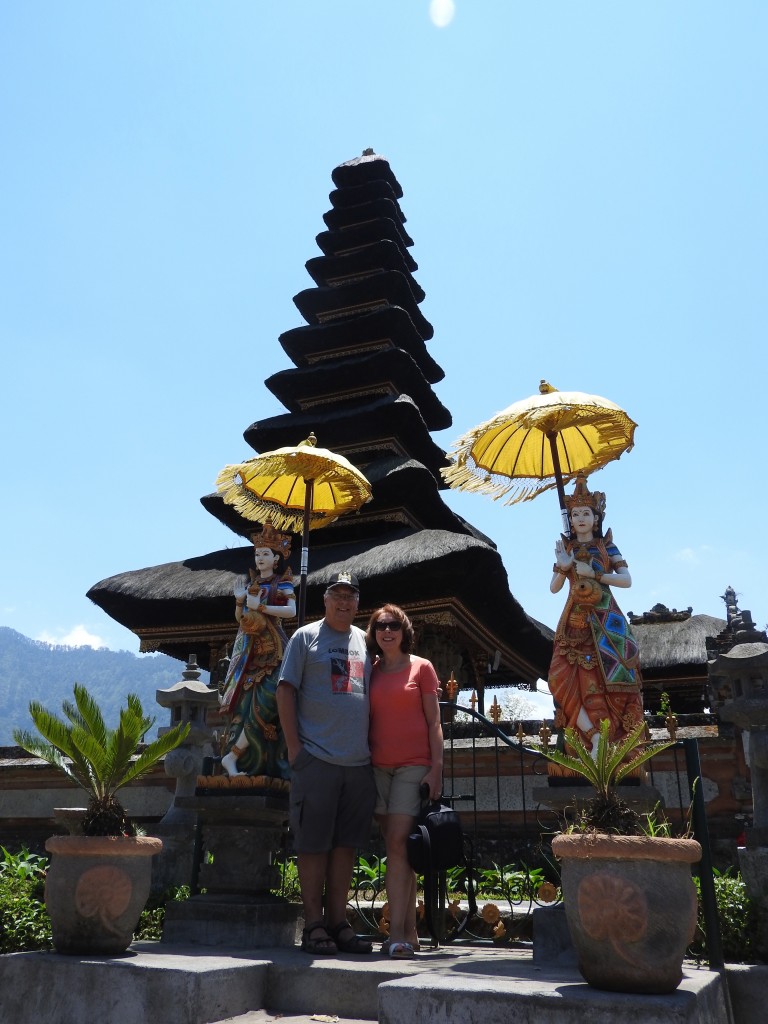 Pemuteran is small laid back fishing village on the north coast of Bali. As far as tourism is concerned it's a strip resort running 1km or so either side of the coast road. Virtually all of the hotels, resorts, restaurants and other businesses are on this coast road which has a surprising amount of traffic. It isn't the most attractive road.
The backdrop to Pemuteran is the mountain range that we had crossed and apparently there is good hiking to be had as there is in the West Bali National Park to the west but with temperatures hitting 30 degrees every day our boots stayed in the bag.
The main activity here is diving and snorkelling and with lots of dive operations here – there is a lot of marine conservation work going on here with a coral reef repair project ongoing just off the beach, Menjangan Island, part of the West Bali National Park, is a famous snorkelling spot a few miles away.
I'm glad to say that Taruna Homestay lived up to its excellent reviews. It's a homestay in name only in that its a family owned business but in truth this is a very nice hotel with spa. Great accommodation, beautiful manicured gardens with swimming pool and a very good restaurant. Lovely staff, eager to please as we find throughout Asia.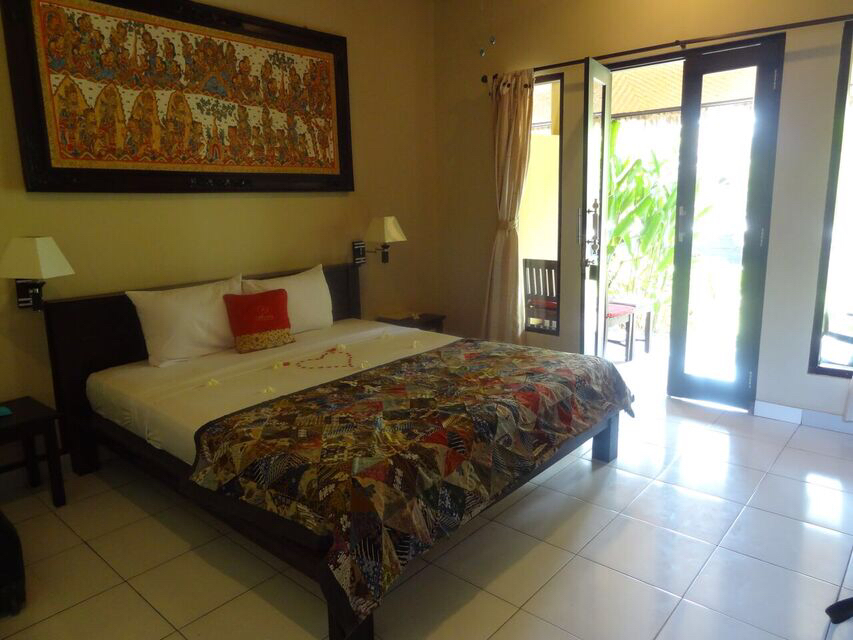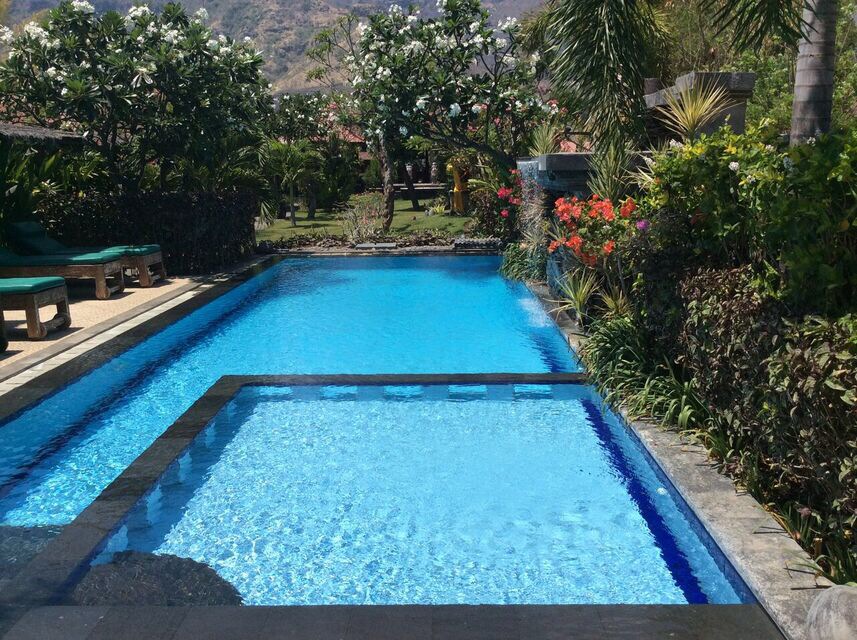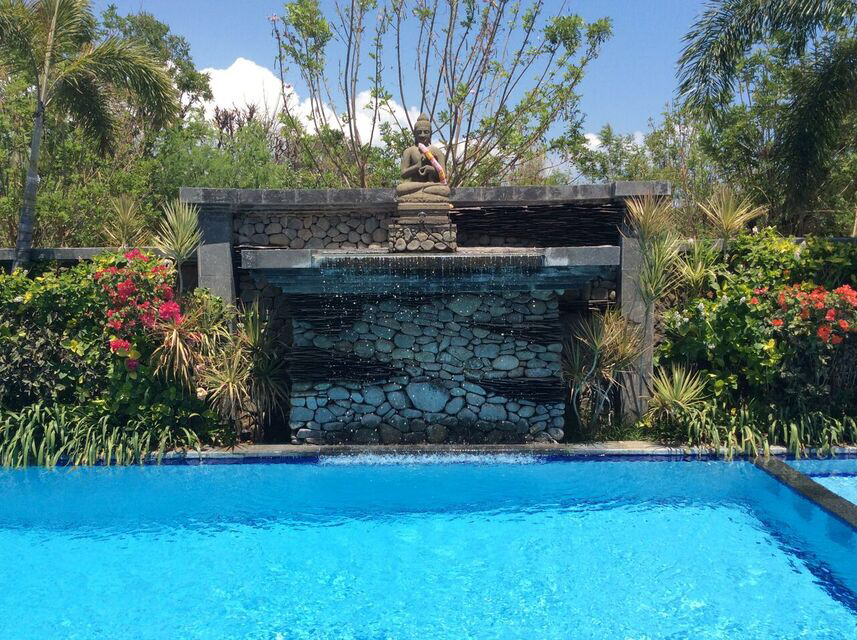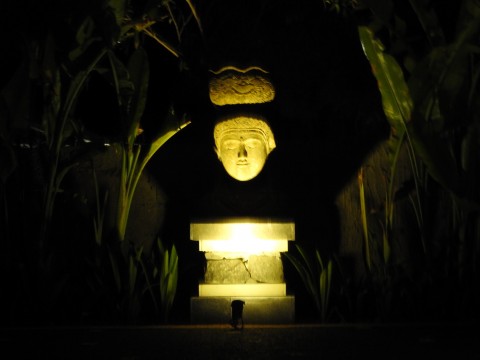 We had a standard room which wasn't overly equipped but still very comfortable with beds turned down by a housekeeper each evening with a mosquito killer plugged in and coil lit in the sitting area outside the front door.
We dined in the restaurant a couple of evenings and although it gets rave reviews, we were a tad disappointed with the local food which was toned down for westerns despite requests for "real Thai food." We found better and cheaper local food elsewhere – notably at Tirta Sari and Hungry Army Warung.
A major let down of Pemuteran was the beach which should have been beautiful and was in places but was mostly covered in litter washed in from elsewhere. Those resorts and hotels which have beachfronts clean their own frontage and so those areas are fine but it seems the rest is left untouched although someone said that it is cleared from time to time.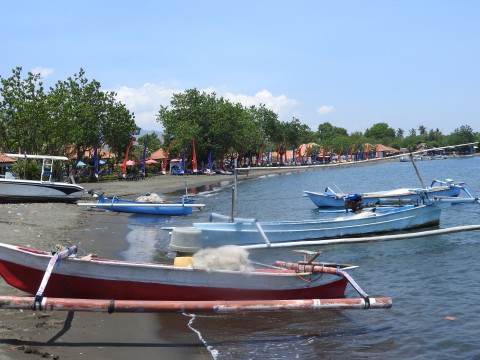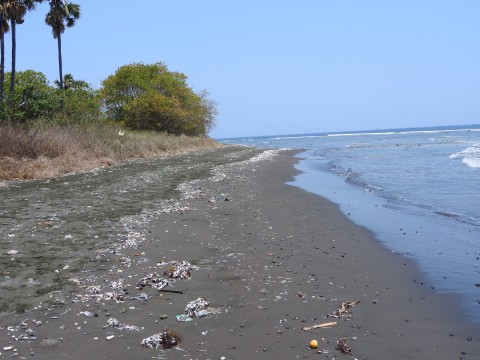 So our beach holiday in Pemuteran didn't occur on the beach! We spent most of our time by the hotel pool with daily excursions for walks, massages, lunch and/or dinner with an excellent snorkel trip to Menjangan Island. We took the trip with Sea Rovers, a very professional outfit and were lucky to have the boat to ourselves with just one other couple who were completing a dive course.
Menjangan Island
The snorkelling and diving here is regarded as some as the best in the world and after our excellent trip out to the Great Barrier Reef some months ago we thought we should give it a try. It wasn't the clearest day and we didn't see a huge variety of fish (and unfortunately no turtles) although the two divers on board were luckier. Nevertheless, we had a great day out with Instructor/Guide to ourselves.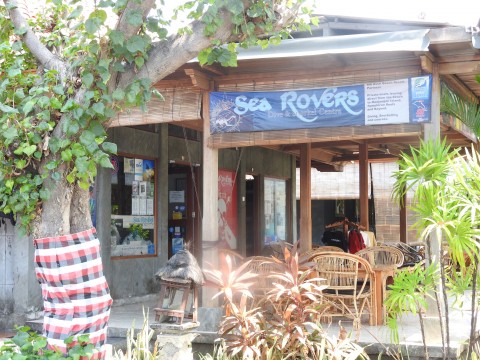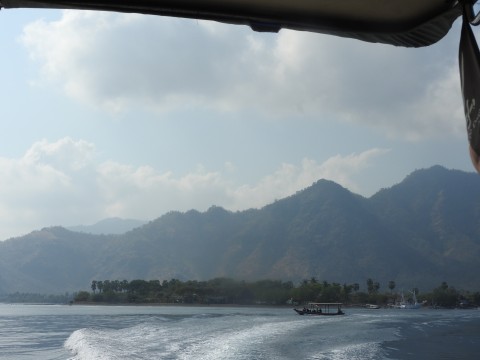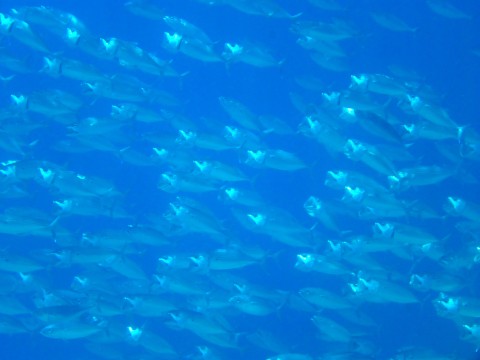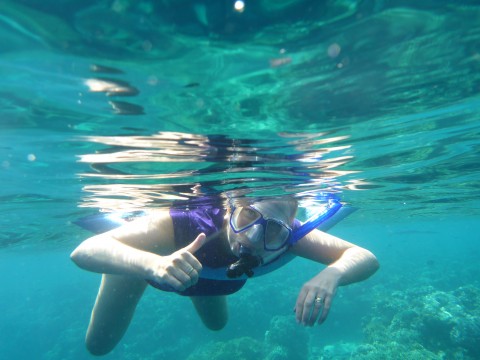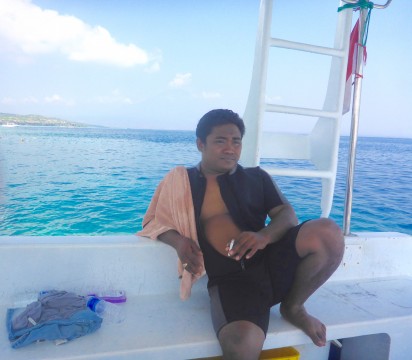 Here are a few more photos of our time in Pemuturan including a visit to a couple of local temples, both over-run by monkeys.
We didn't fall in love with Pemuturan as we have with many other places but it was certainly interesting and most interesting of all was getting a close up view of a Balinese cremation. The deceased, Wayan, was the cousin of our hotel owner and ran his own Homestay across the road. He had passed away a couple of days before we arrived in Pemuturan.
We thought it rather odd that total strangers should be invited to such a private gathering but it seems that the whole community and outsiders are welcome to attend and are even encouraged. Funerals are very expensive for the Balinese and it's often the case that the ceremony is delayed for quite some time after death. The body is buried and later exhumed when funds are available and even then the ceremony might well be a communal one for a number of deceased villagers who have died and been buried over a period. That wasn't the case here – apparently Wayan was quite well to do!
The ceremony is ultimately a happy occasion for the Balinese because it results in re-incarnation – the beliefs about death and the traditions that come into play are quite fascinating. There is loads of interesting stuff on the internet but there is a brief article about it here for anyone interested.
http://www.dailymail.co.uk/news/article-2396549/Sixty-bodies-burned-mass-cremation-Bali.html
The entire ceremony takes place over three days and involves lots of prayer, feasting, the cremation, returning the ashes to the sea and then a big celebration. We attended and followed only the procession for the cremation to the Temple of the Dead just outside the village and quite close to the sea. We were obliged to wear appropriate clothing which we already had by now having visited many temples but our hotel Receptionist kindly gave me the special funereal head dress which I didn't have. Quite a few other Westerners attended including a few random who just happened to be passing by and joined the throng – without the necessary garb of course.
The procession and cremation itself took perhaps two hours. Music was played throughout ( by the Guys wearing the purple shirts in the pictures below) and in addition, the Koran was read throughout by a group of Priests who took turns to sing the words into a microphone. It was all a bit surreal but even so Ann and I were not surprised to find a small group of street food vendors gathered under the shade of some trees nearby and not long after the procession arrived at the place a few small groups of people were tucking into lunch. The Thais just love to eat!
Once the cremation was done, most of the throng drifted away and we did the same. We were invited to attend the celebrations, feasting and dancing that would go on to 4 or 5am but we felt already that we had been intruding (eventhough we hadn't) and so we gave it a miss. It had been an interesting day….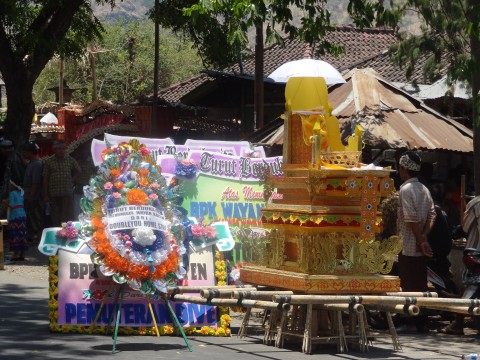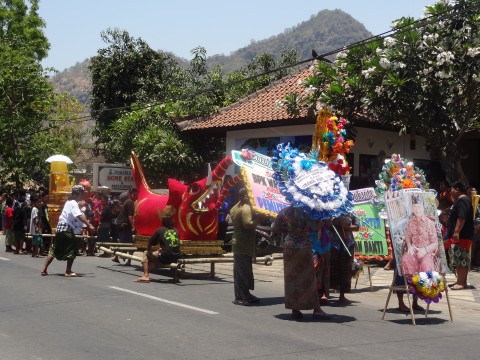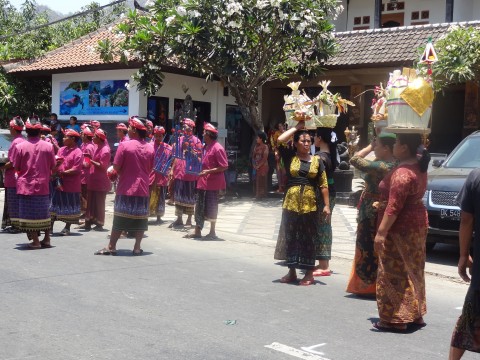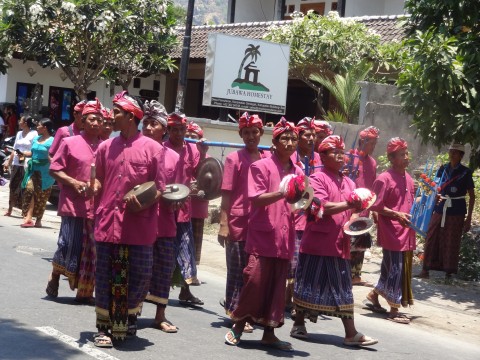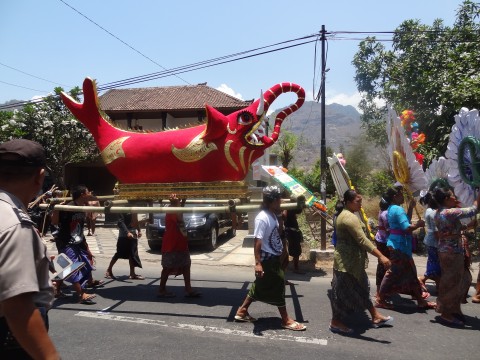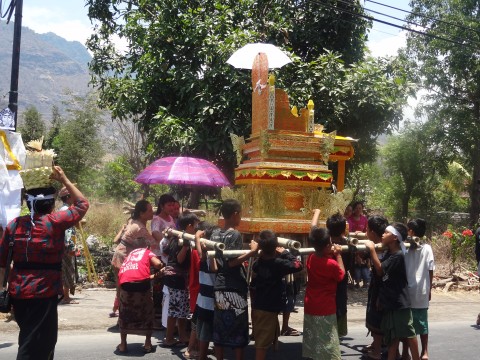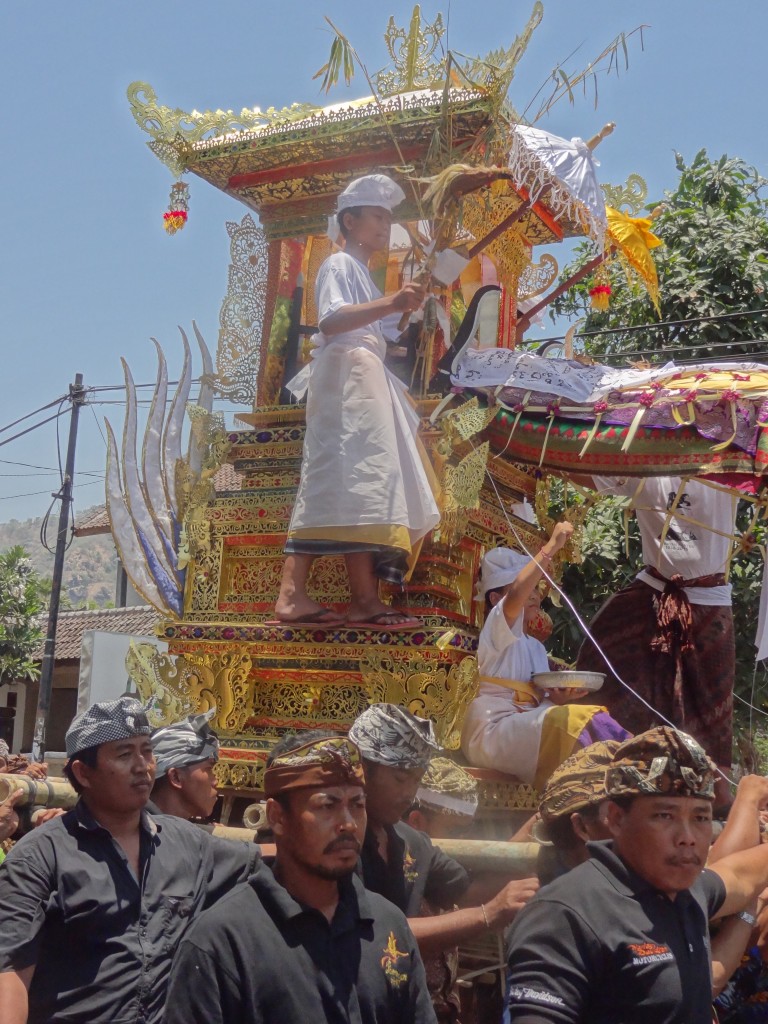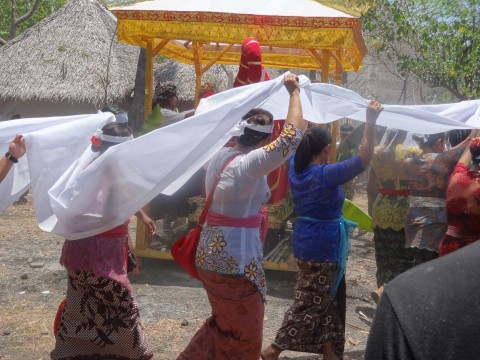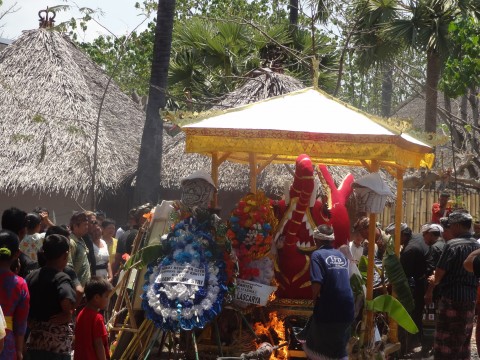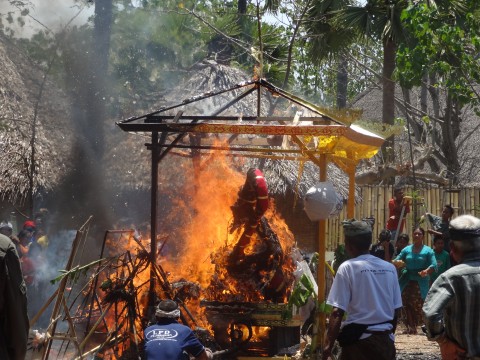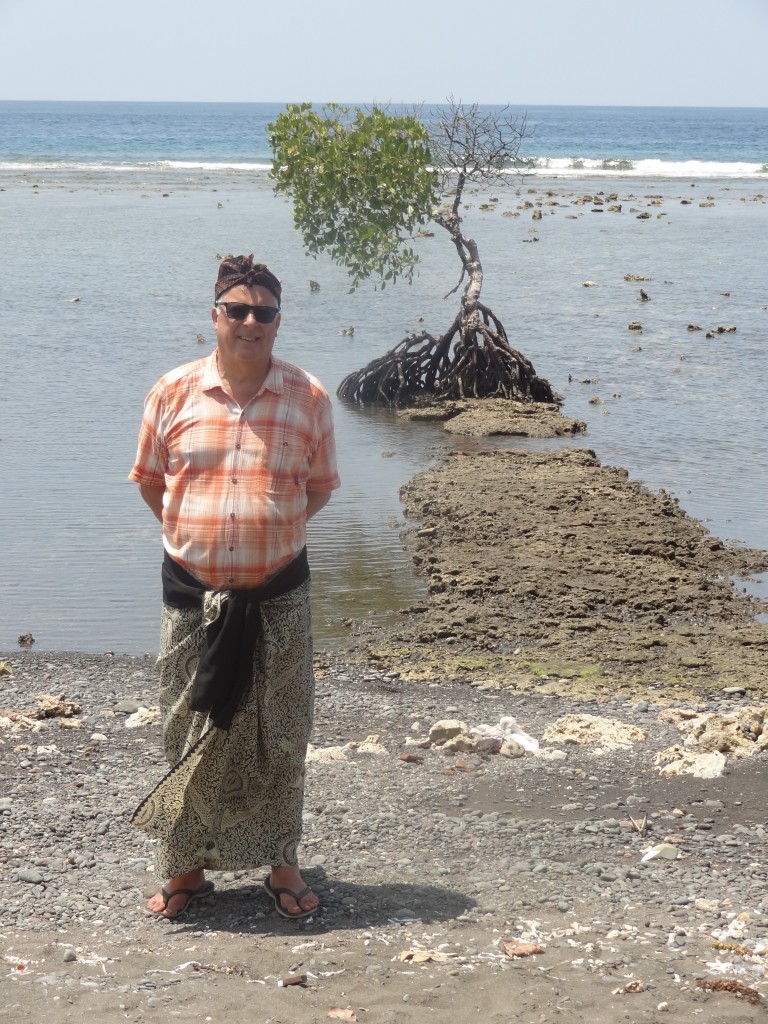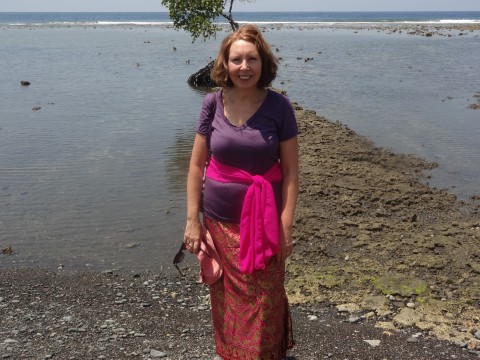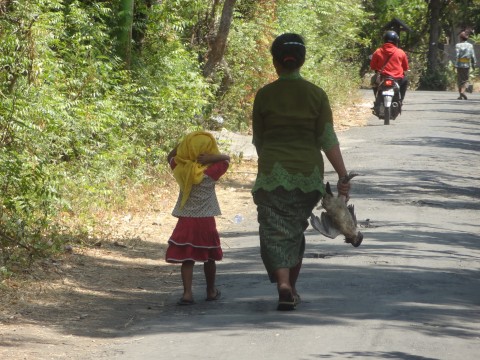 Pemuturan wasn't our favourite place in Bali and I doubt we will return unless the beach pollution is addressed – this seems unlikely as this is a common problem almost everywhere in Indonesia and there seem to be no signs that the Government will do anything to address the situation.
Amed
On Thursday October 15th we checked out of Taruna Homestay to travel the coast road east and then south down the east coast for about 140 km to Amed using the hotel's shuttle service. It was a nice drive which passed through a number of towns and past Mount Agung, an active volcano and Bali's highest mountain but the traffic was slow going through the towns and the journey took over 3 hours.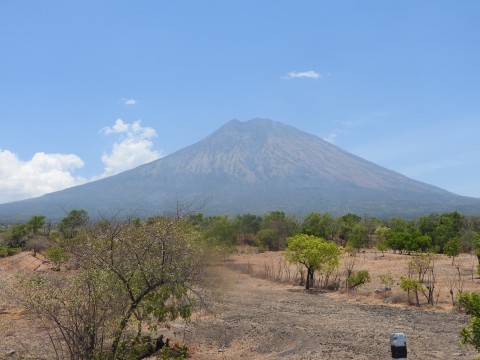 Amed is the collective name given to a string of seven small villages including Amed village itself. The area is still fairly new to tourism with the first tarmac roads laid as recently as 2000 and telephone lines installed in 2003. It's off the beaten track but popular with divers and there are plenty of hotels and dive shops catering to their needs.
We had booked a room at Arya Amed Hotel for 2 nights with a plan to move on to Sideman for a few days before a final week in Nusa Dua. In the event we loved Amed and decided to extend our stay for a few more days and then return to Ubud before going to Nusa Dua.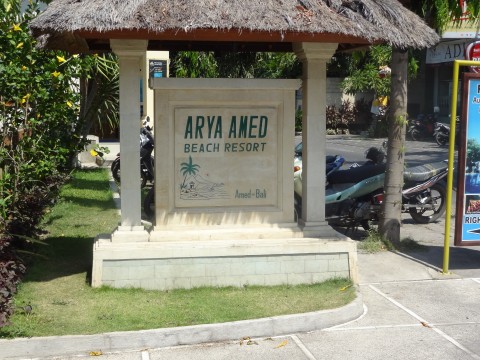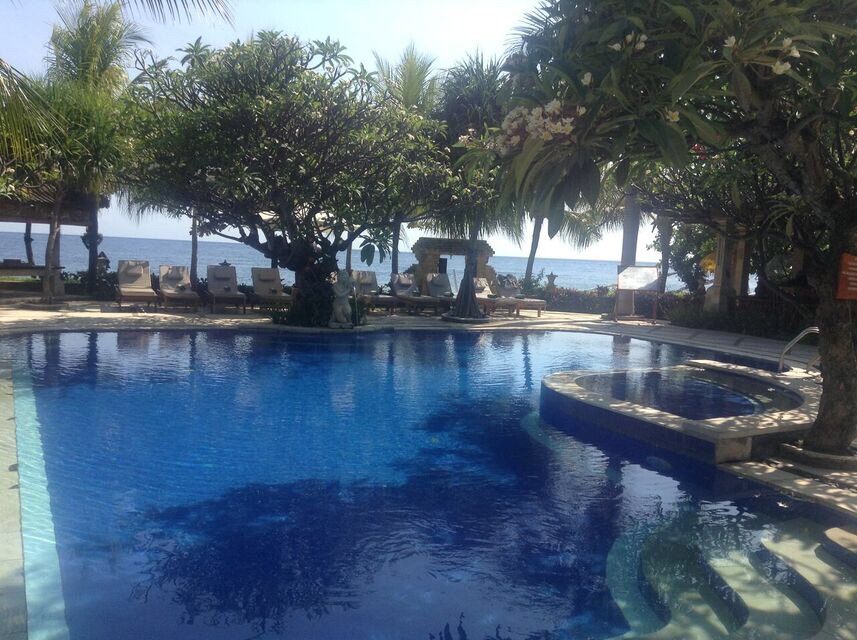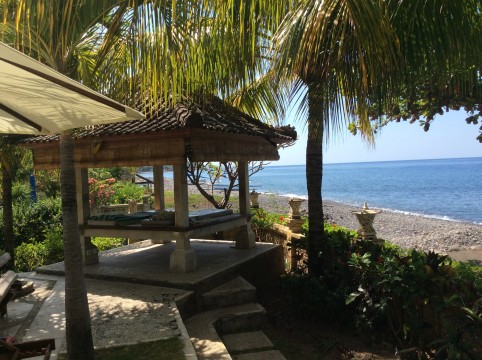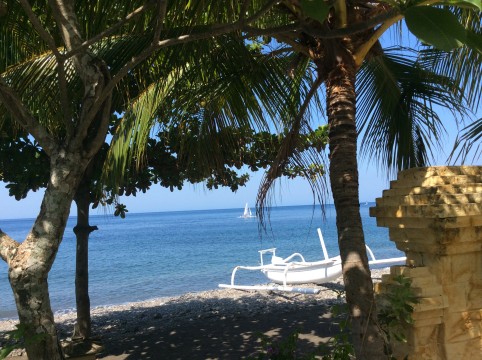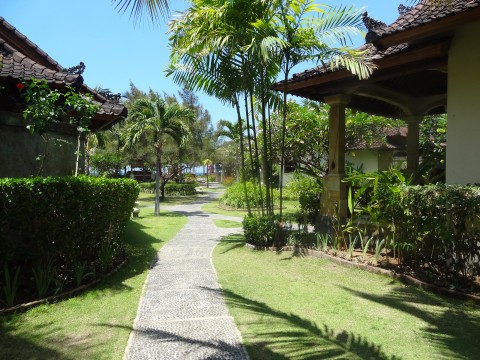 Arya Amed is in Amed Village itself. It's a lovely hotel with beautiful manicured gardens and pool with direct access to the beach. There's a nice poolside restaurant with good food and the rooms whilst not the biggest are more than adequate.
We stayed around the hotel for our first day venturing out only for a walk along the beach and an inspection of the village which didn't take long at all as it's tiny!
We were looking forward to snorkelling in Amed which has a reputation comparable with Permuteran with clear water and lots of fish but the beach in the area of the hotel is very stoney making it a tad difficult to get in and out of the water. After some research in the evening, the next morning after breakfast we got a taxi to the next village, Jemeluk, where we rented sunbeds for the day outside Coral Villa, a guest house which sits directly on the beach. This is a great spot. The Guest House has tables on the beach and serves good food all day and night; the beer is very cold and prices are cheap.
Best of all is the snorkeling. No boats needed here – you can walk directly out into the sea and have fish around you in a couple of feet of water only a few steps of the shore. There is good snorkelling to be had in various places off this stretch of coast, including at least one over an inshore wreck. We had a great day and wanted to experience more of it. We decided to extend our stay and as luck would have it Coral Villa had a room available for the following two nights. Sorted!
After our day at Jemeluk we returned to Arya Amed and then went out for dinner at The Grill, a place that gets rave reviews but we thought very average.
We checked out of Arya early the following morning. We had arranged for the same taxi to pick us up with our bags and take us back to Coral Villa – and made sure that he would give us a good rate and not let us down by promising him a trip to Ubud a couple of days later.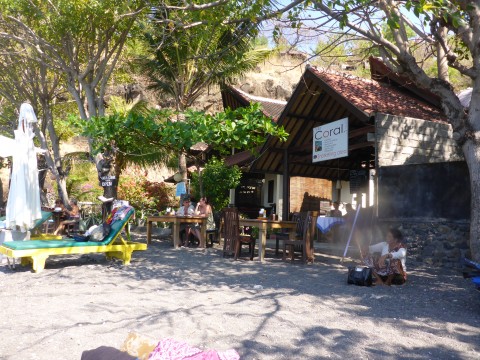 There followed two lovely days on the beach at Jemeluk – the first time we have spent two consecutive days on any beach in a long time. There isn't really a village, just the coast road with a few dirt tracks off it leading to houses or villas but it made for a pleasant alternative to a walk along the beach. Here are a few pictures of the beach and around downtown Jemeluk….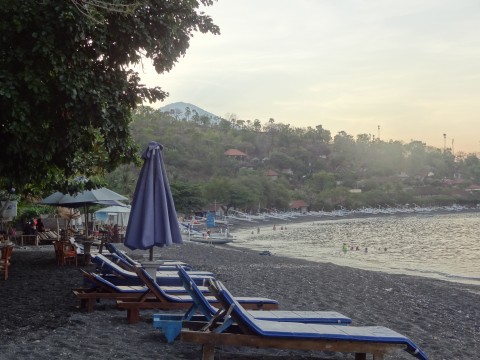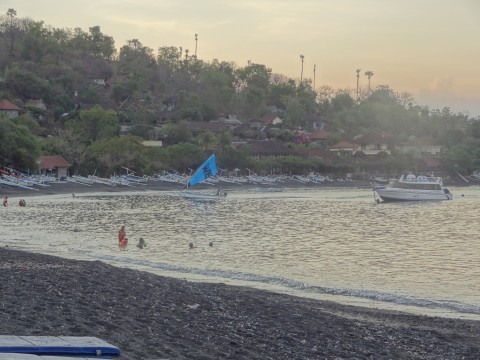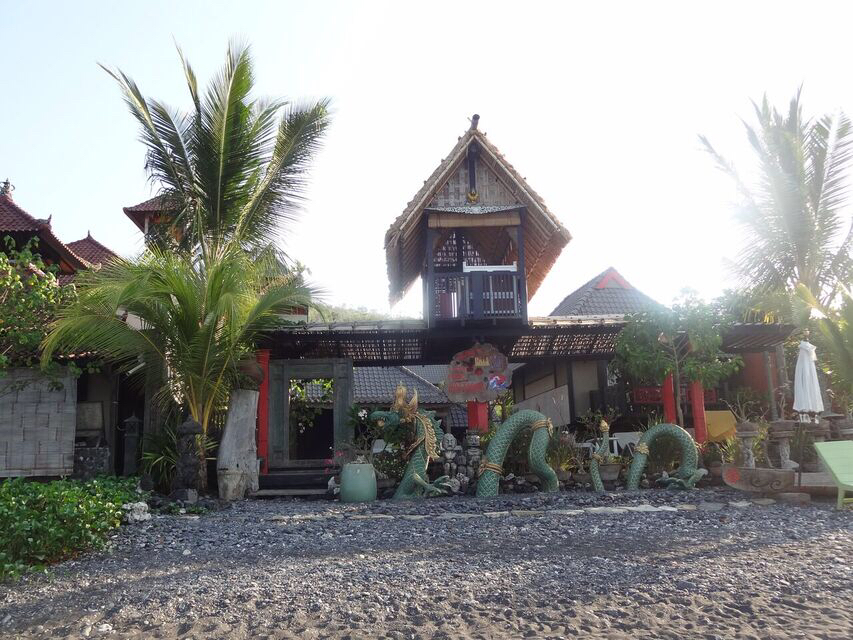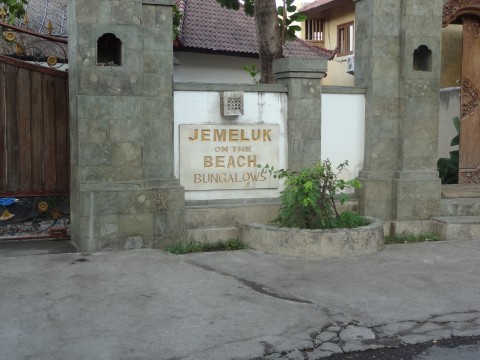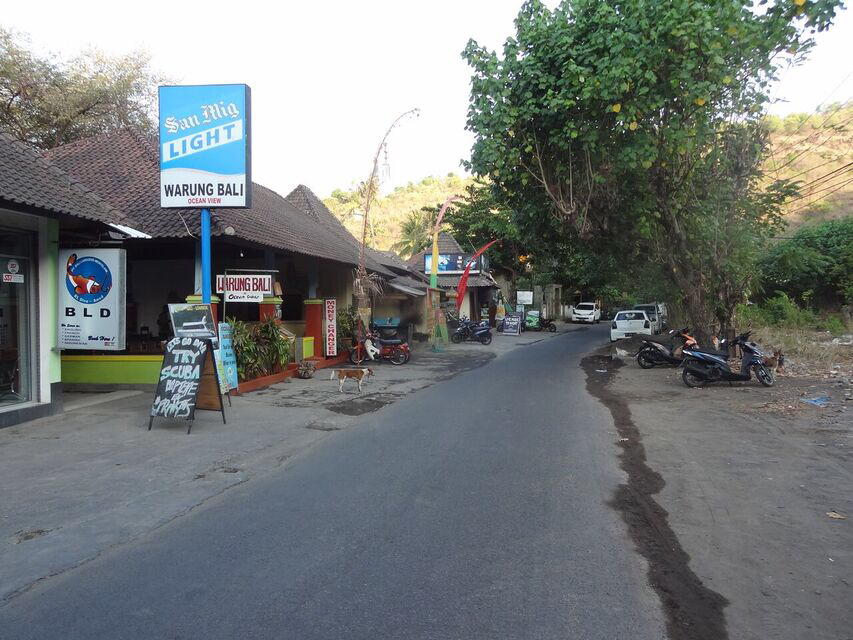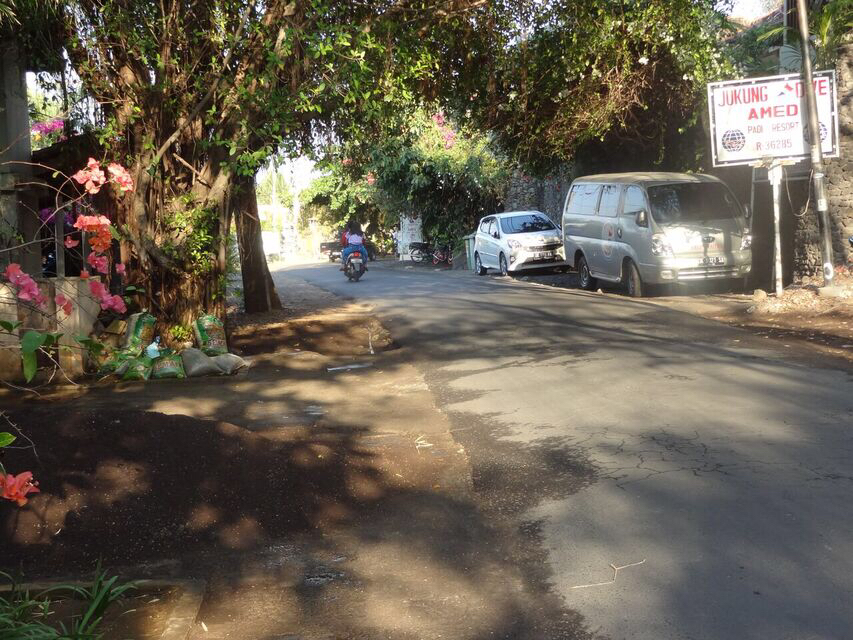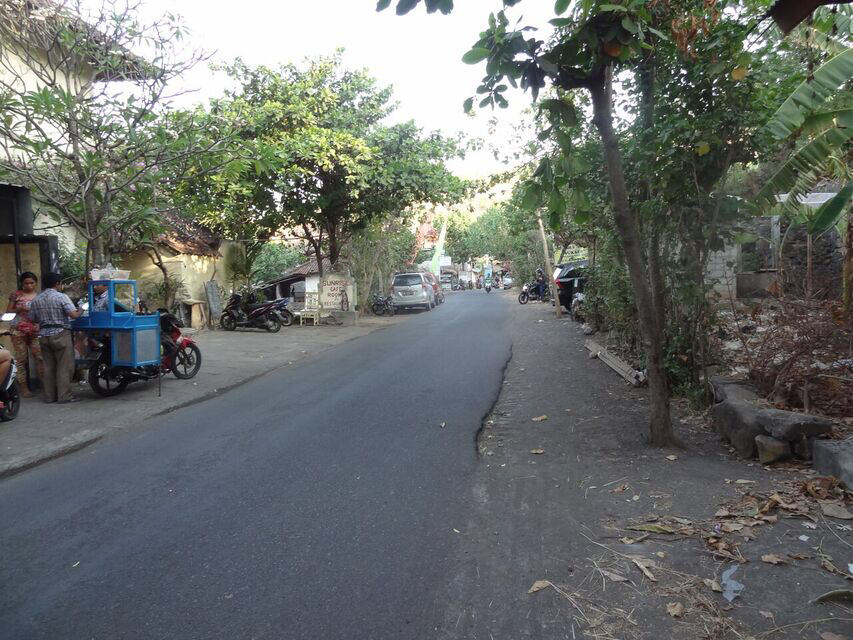 And here are a few underwater photos. There's no sunken wreck here but there is a sunken temple! The water clarity was much better than we had experienced so far on our travels and so there's quite a few pics…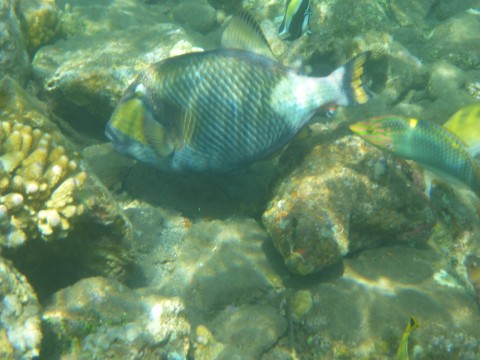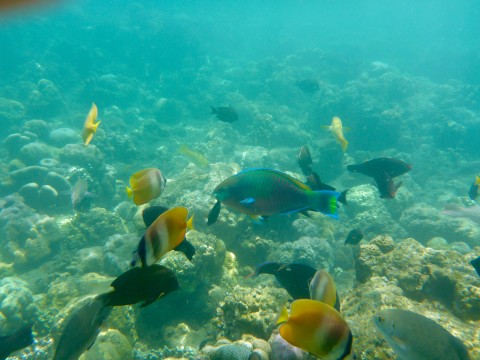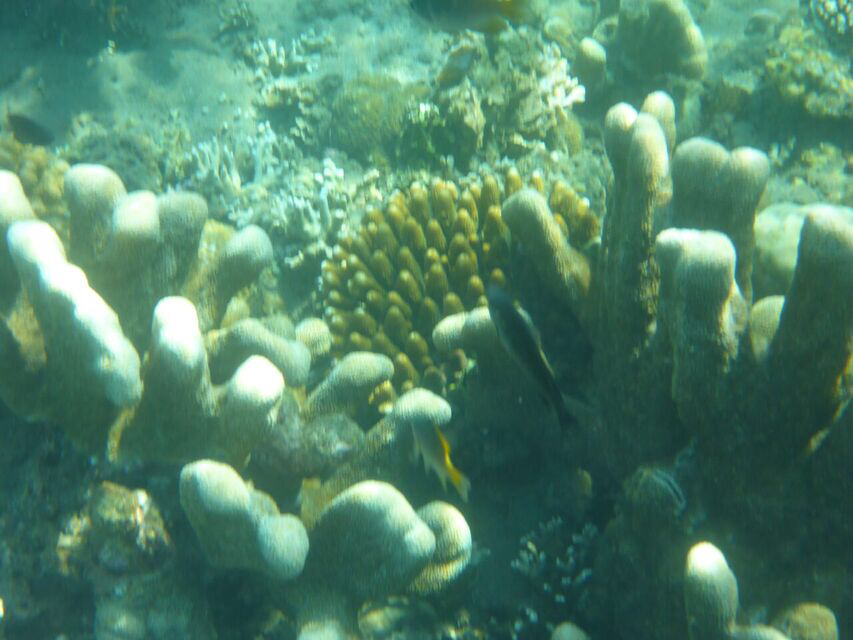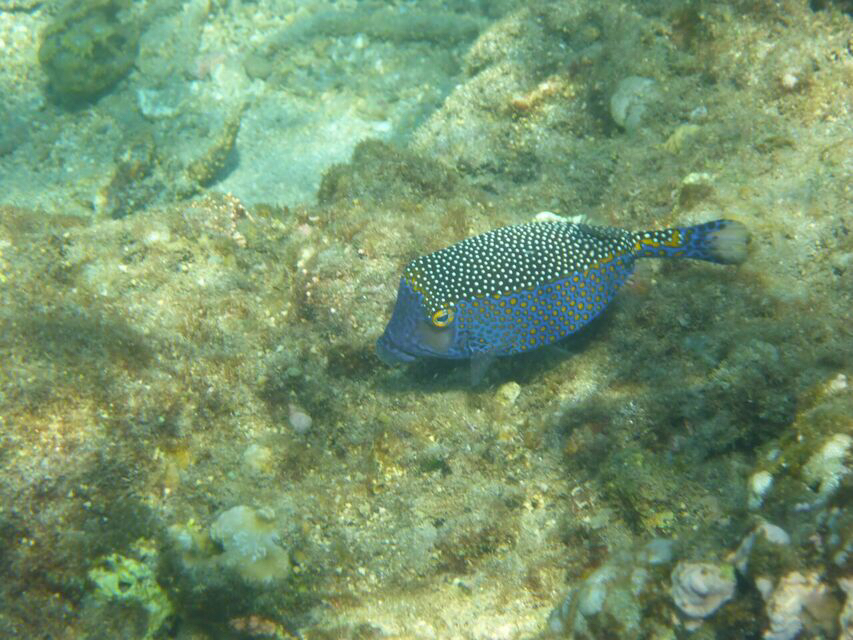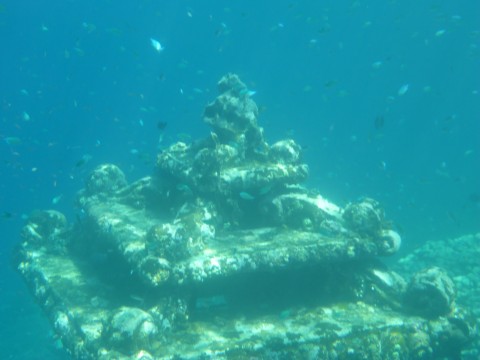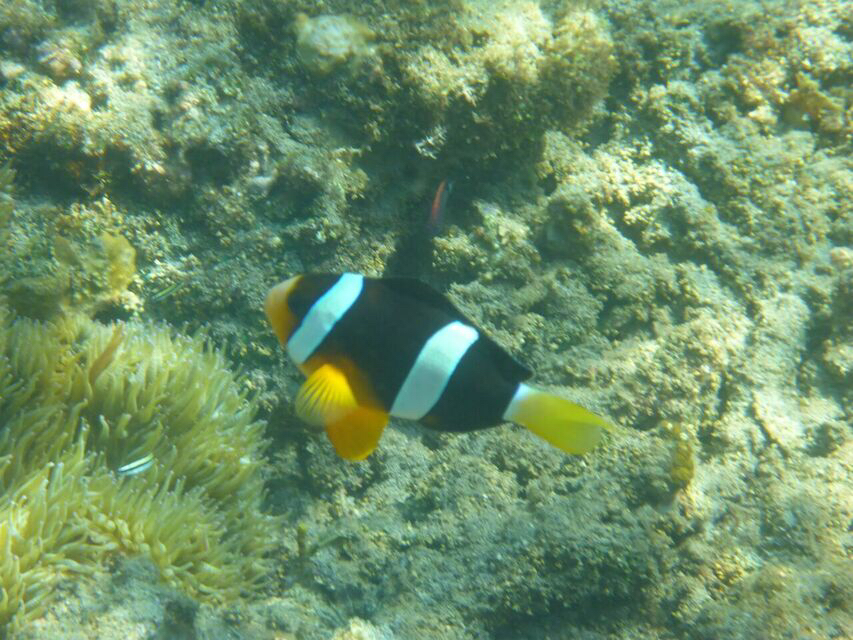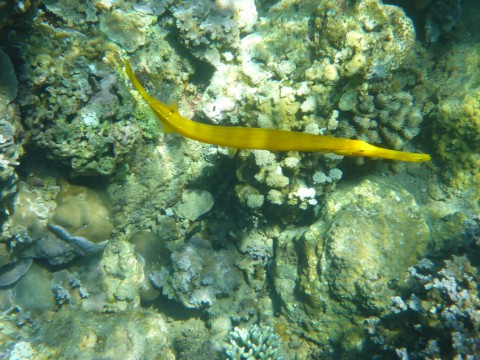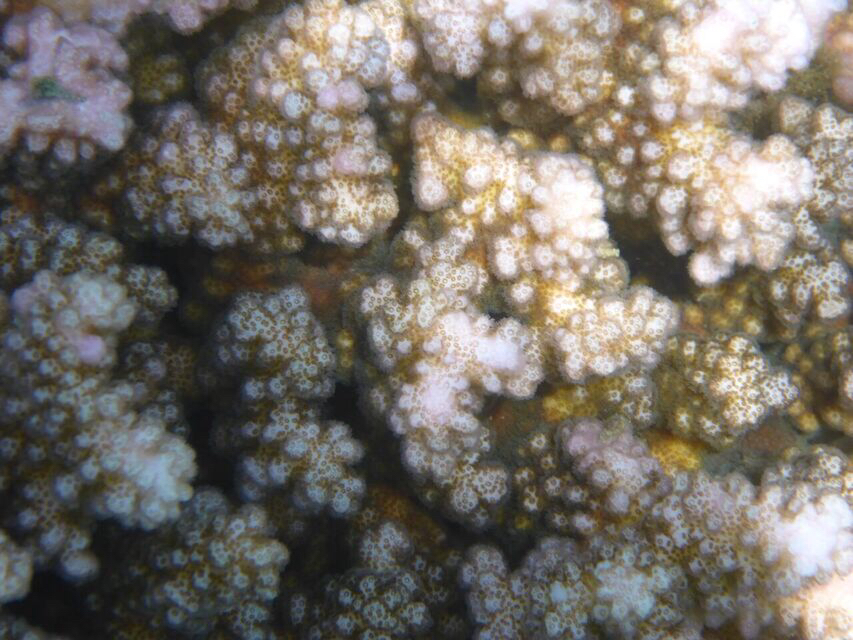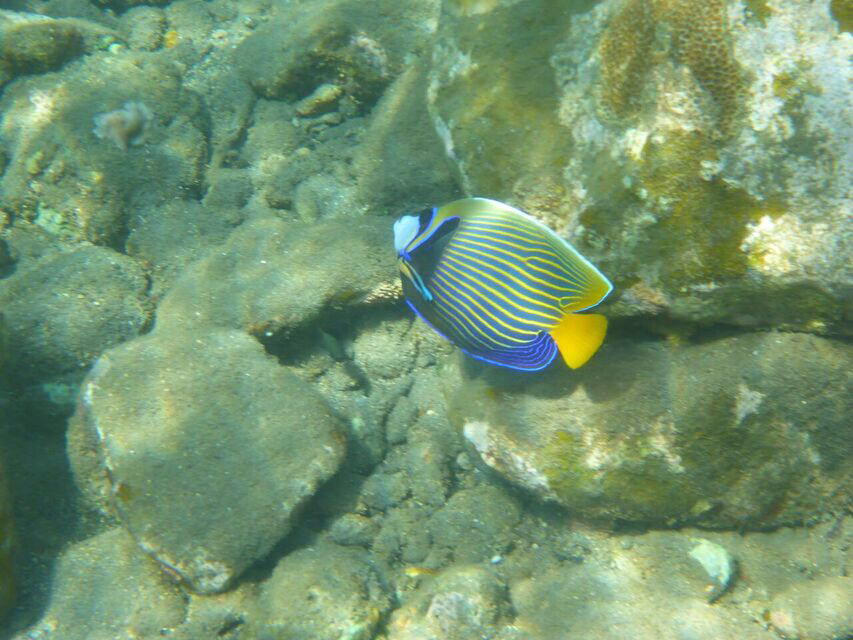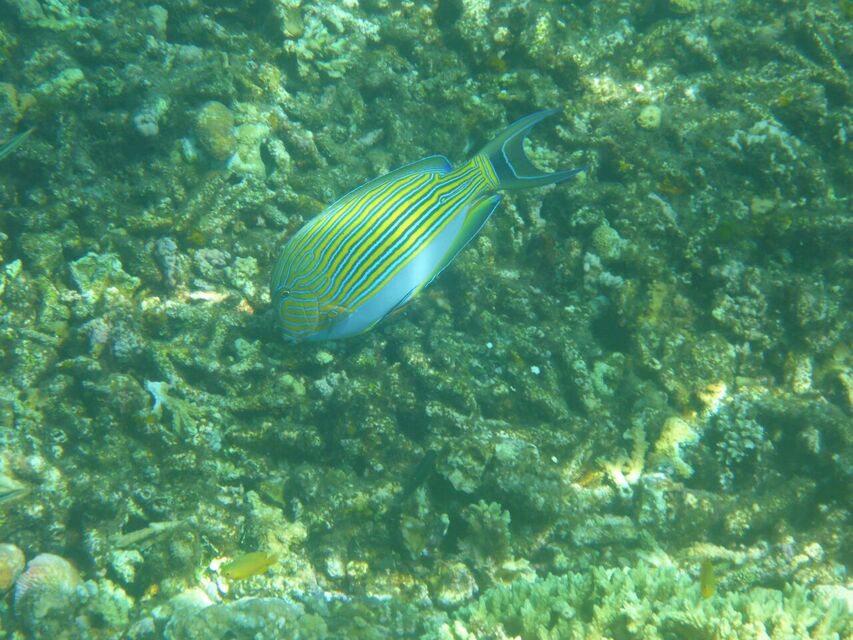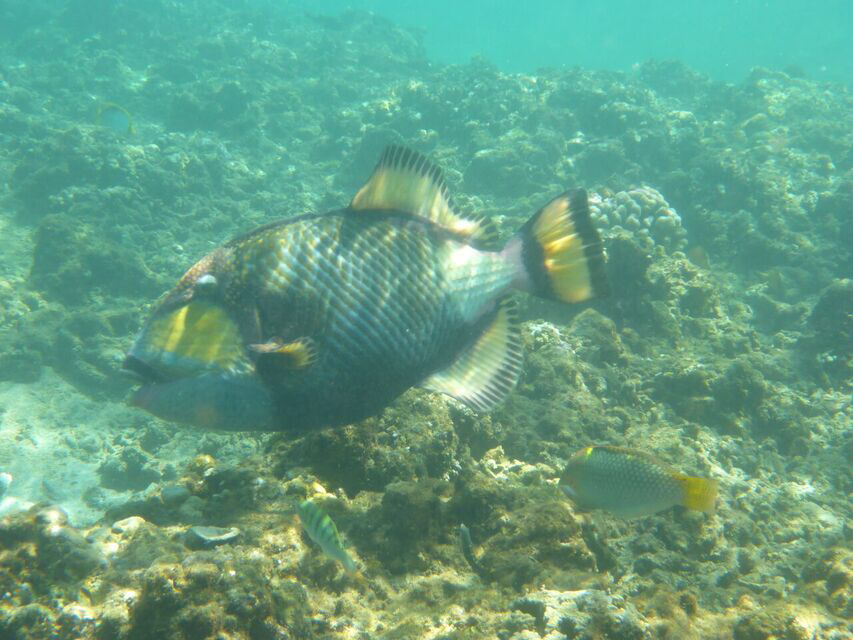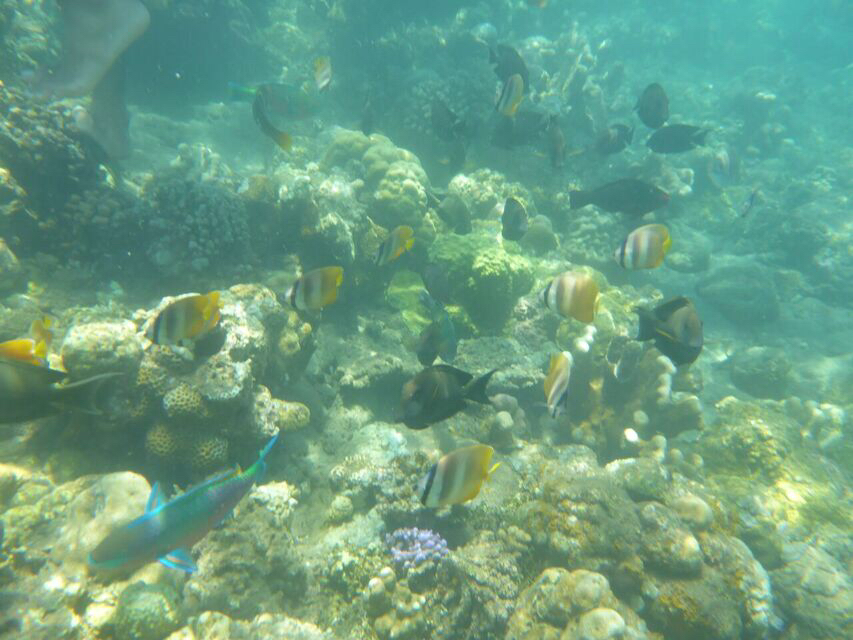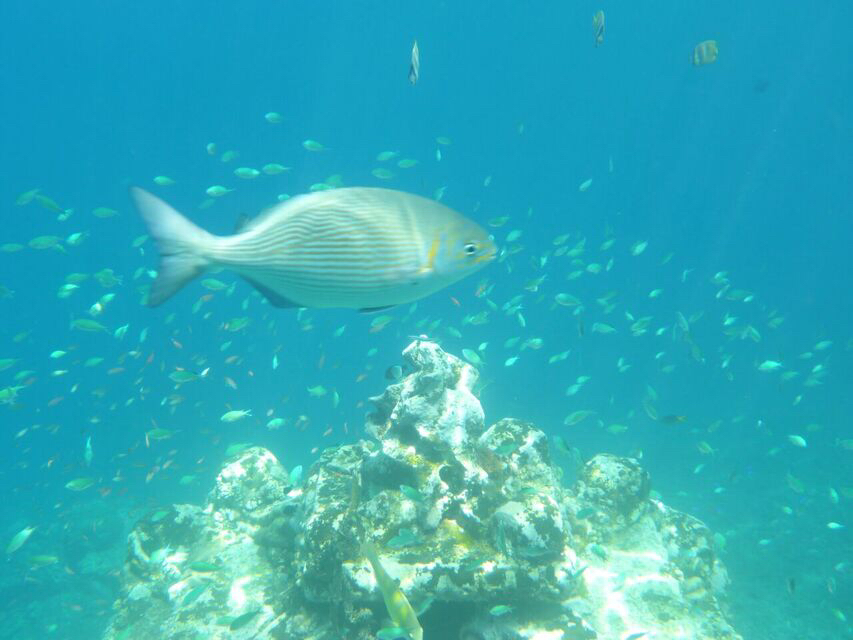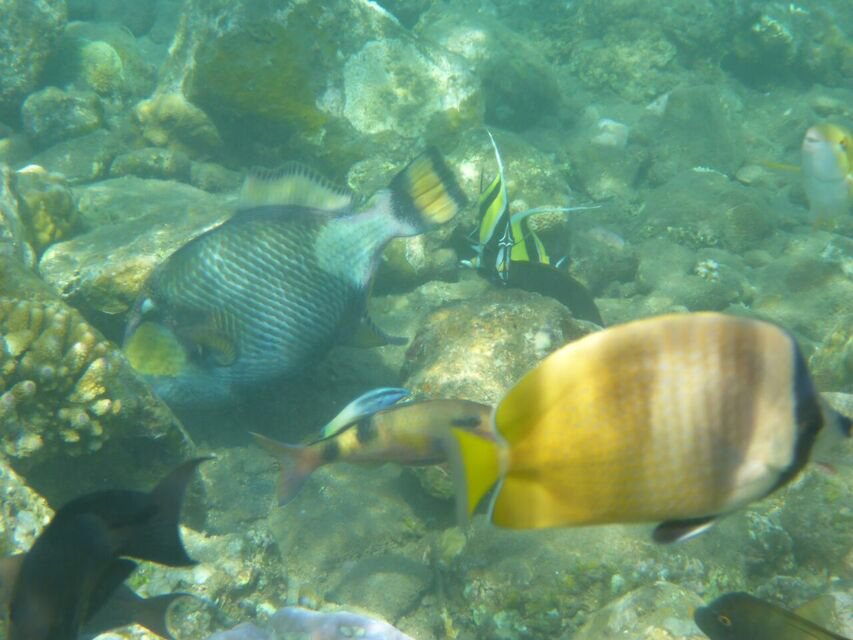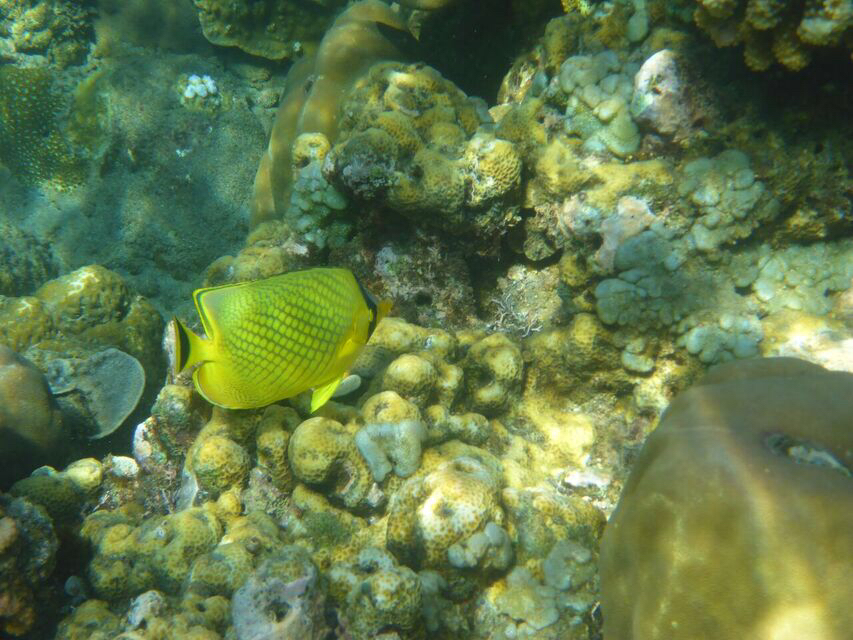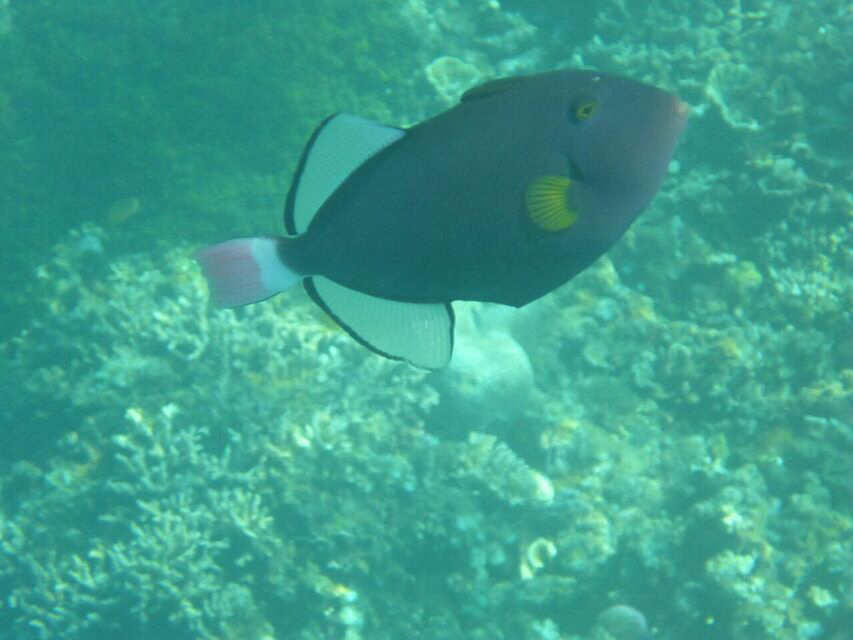 Nusa Dua
After two nights at Coral Villa, Amed, we returned to Ubud to be spoiled for a few more days at the lovely Bali Dream Hotel. The staff made a big fuss of the fact we had returned so soon and seemed genuinely sorry to see us go!
On 24th October we south moved to Nusa Dua, our final stop in Bali.
Not much to say about Nusa Dua really. Very unlike the places we have visited so far in Bali and not really our (my) kind of place. This is a five star enclave in the South of Bali, a very smart resort with wide avenues lined with manicured lawns and hedges which somehow reminded me of affluent parts of Florida we have visited. Immediately outside the "city limits, " just as soon as you pass through the large "Gates" into/out of Nusa Dua village, you find the more usual scruffy streets with local restaurants, street food vendors, motor bike repair shops and massage parlours seen everywhere.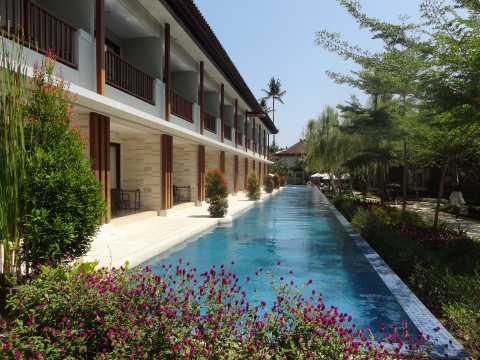 Needless to stay we didn't stay in one of the five star havens but we did stay in a very nice four star – The Grand Whizz, neighboured by the likes of Sofitel, Club Med and Westin, Grand Whizz is a contemporary spa hotel with all the facilities you might possibly need but with affordable prices. The place was full of Russians and Australians, with very few Brits.
I hadn't really been looking forward to Nusa Dua – I was expecting it to be a very westernised and sanitised and I don't think I was too wide of the mark. For the most part the beaches are clean and beautiful and of course the nearer you are to the hotels the cleaner the beaches. Every day there are teams of municipal workers wandering around cleaning up litter which they say mostly comes in with the tide ( but they say that everywhere – just whose litter is it!) and so its mostly very nice albeit the main beaches are covered by sun beds belonging to the posh hotels and the non-resident punters seem to be excluded from the best bits – we asked if we could rent beds for a day at a couple of places but it wasn't possible – maybe they thought we couldn't afford the food and drink on offer – they would be right 🙂
What there is here in Nusa Dua which we didn't find elsewhere in Bali was western standard retail therapy with a modern shopping mall, Bali Collection, a twenty minute walk along the beach from our hotel or a five minute ride in a free shuttle bus. We visited two or three times walking there and getting a ride back with our shopping bags. Its actually quite a pleasant place consisting of a number of buildings with the main building air-conditioned and so a good place to escape the thirty degree heat. There are shops of most persuasions with lots of eateries and a supermarket so with the free shuttle it was very handy to stock up on bottled water and beer letting the shuttle take the strain – as usual we continued to rely on public transport or taxis to get around.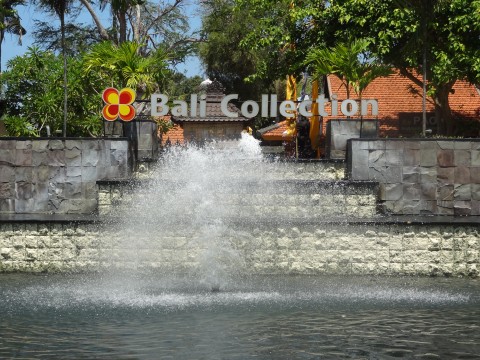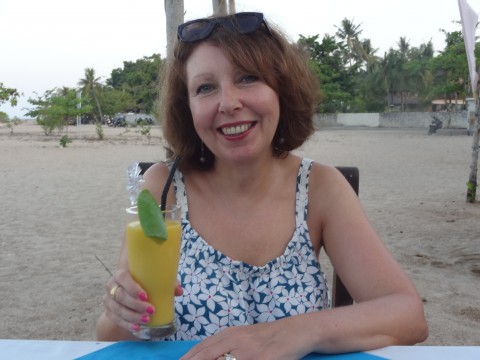 Nusa Dua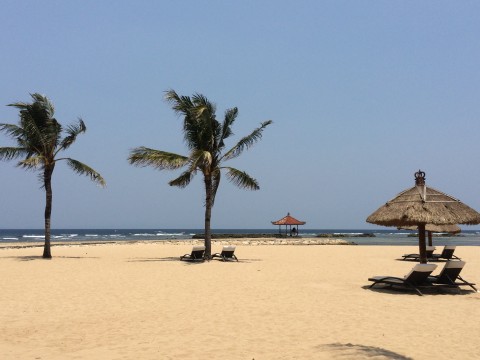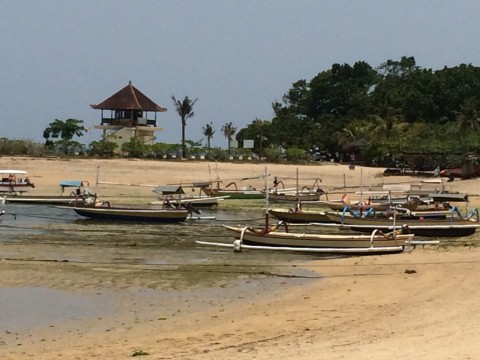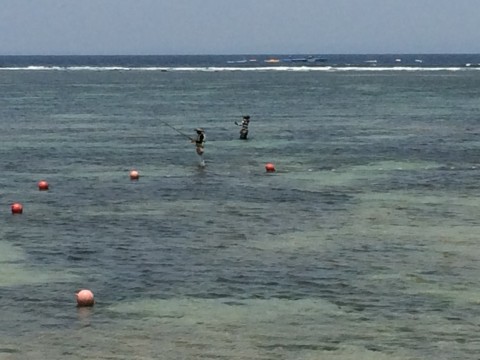 We spent a week in Nusa Dusa and apart from a brief visit to Kuta, Bali's premier resort town for Australians, for debauchery and a mess a place, we didn't wander far. Ann enjoyed Nusa and it a nice place with some very good restaurants – we tried a few – but I found Nusa Dusa a pretty soul less place. You could have been anywhere in the world, so no experience of the spirituality and beautiful traditions of Bali. Three days would have been plenty but the longer stay as always, did allow us some free days for planning, budgeting and writing up this blog – which is now only 3 months behind as I type this!
On October 31st, 35 days after arriving at Denpasar Airport, we left to fly to Langkawi. The next instalment will follow soon.