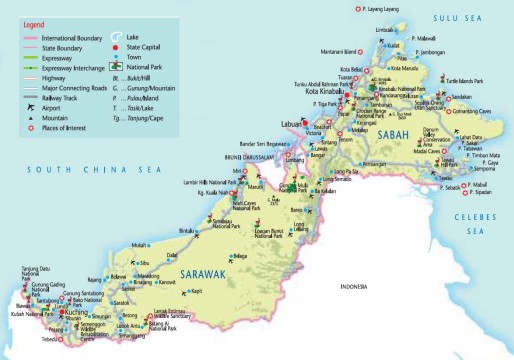 Following a pleasant few days in Kota Kinabalu, Sabbah, we flew to Kuching on 22nd August.
Kuching is the capital city of Sarawak with a population of around 600,000. It sits on the Sarawak River in north west Borneo and is the largest city in Borneo.
Sarawak was part of the Sultanate of Brunei 200 years ago but as a reward for help in putting down a rebellion, it was ceded to British adventurer James Brooke and the Brooke family ruled it as a private kingdom until the Japanese occupation of 1941. At the end of the war the Brooke family ceded Sarawak to the British Crown in 1946 and the British and Sarawak fought an undeclared war with Indonesia to keep Sarawak from being absorbed into Indonesia. The British gave Sarawak independence in 1963 and together with North Borneo, Sabbah and Singapore helped form Malaysia. Singapore subsequently withdrew from Malaysia  in 1965.
The name Kuching is believed to be derived from a Malay word which means cat and the city is often referred to as Cat City. Images and sculptures of cats in one form can be seen all over the city and indeed one of the city's main attractions is the Cat Museum!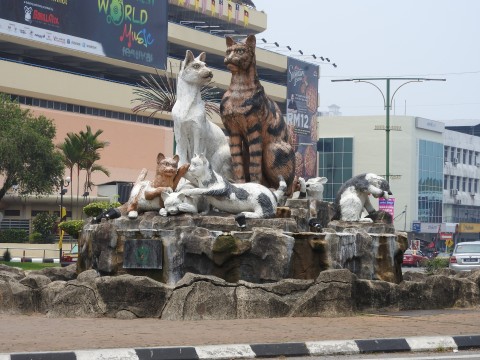 The city is the most cosmopolitan of all Malaysian cities and different to others. The ethnic mix is predominantly Chinese, Malay and indigenous Bidayah people (once mainly animist but now mostly Christian). There are also various Indian groups and Indonesians along with expats.
This is a very attractive city with its riverside setting and it isn't  a big city centre so its quite easy to get around. With such a large Chinese population, there's a big area almost exclusively Chinese but there is also a Little India. It all makes for a really interesting city and it was one of our favourite visits.
Apart from the attractions of the city, Kuching is gateway to north west Borneo with lots of National Parks to explore. We pretty much filled each day with trips to one place or another with a City Tour, Museums, a trip to Semenggoh Wildlife Centre, visits to local villages and a traditional longhouse and a day at Bako National Park.
We stayed at the Lime Tree Hotel for 5 nights and loved it. It's a modern hotel and our room was excellent. Service and food were very good and the staff were lovely .
Five nights in Kuching effectively gave us three full days. – we would have happily stayed for longer.
Some pictures of Kuching and our trips.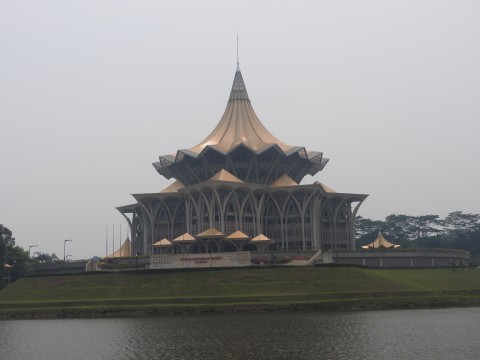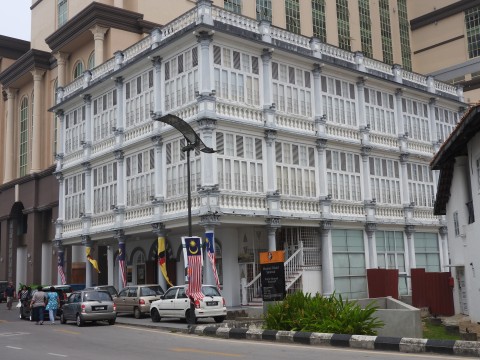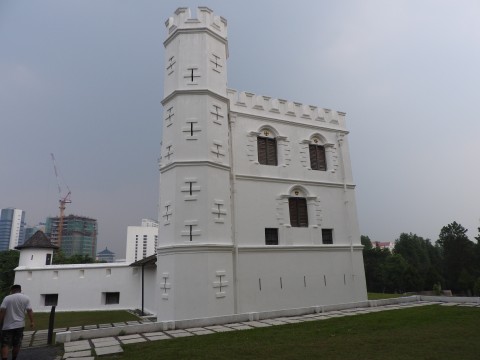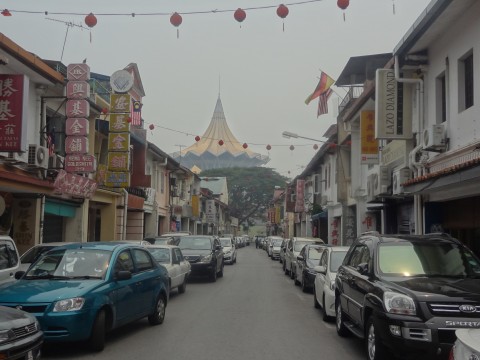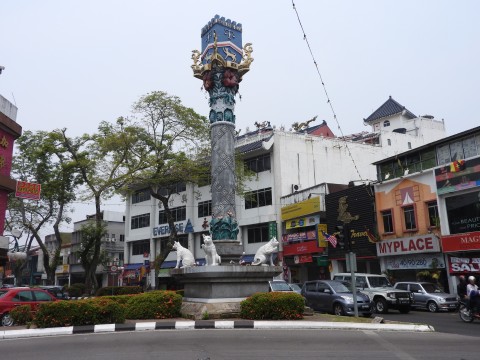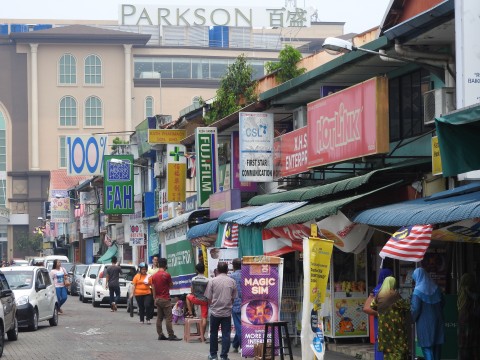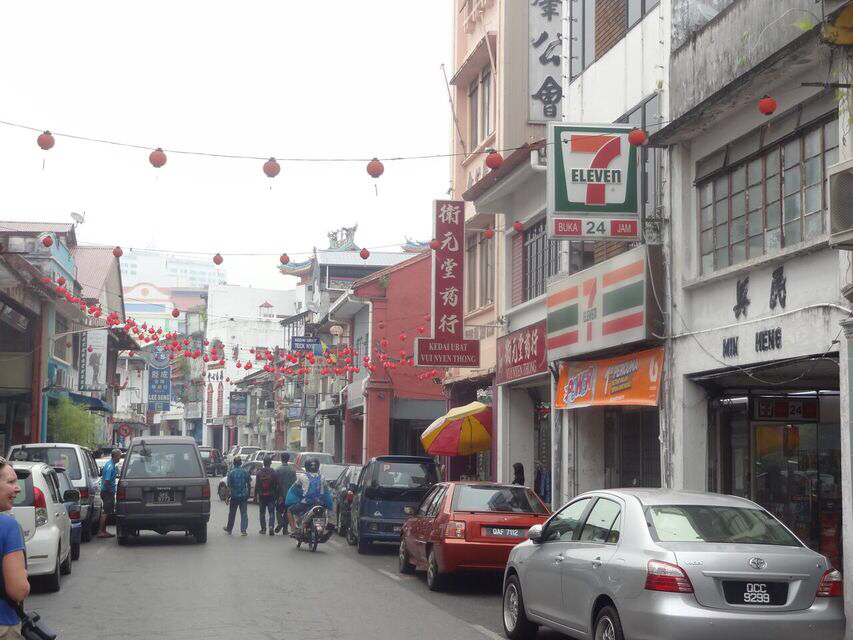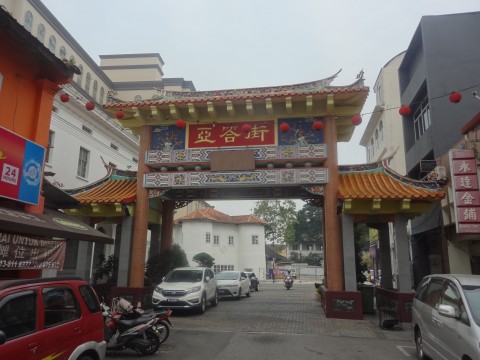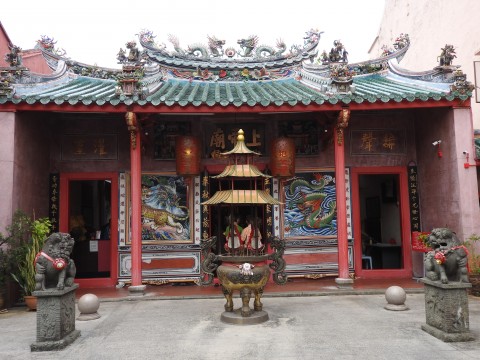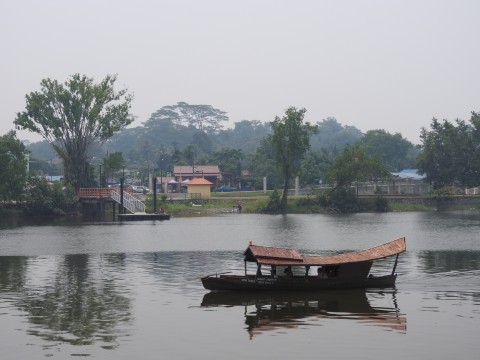 Semenggoh Wildlife  Centre
We hired a Guide and Driver  for the day to take us to Semenggoh Wildlife Centre and to one of the traditional longhouses in the area.
Established in 1975, Semenggoh is the biggest Orangutan Rehabilitation Centre in Sarawak and with together with  Sepilok the most well known. As for Sepilok , the Centre is not in itself an actual tourist attraction but exists as a sanctuary for orphaned and injured orangutans which opens its doors to the public as an educational process. In fact, this centre has been so successful in re-introducing orangutans to the wild that the capacity of the surrounding forests  to accommodate them has been reached and this centre now operates as a research and educational facility.
The Centre operates along the same lines as Sepilok with 2 feeding times a day at which visitors can hopefully see semi-wild orangutans, both adults and infants. However, the Centre does stress that sightings of orangutans are not guaranteed and especially so during the fruit season when the animals will often not visit the feeding stations as they can satisfy their needs from the forest. In truth, if orangutans don't turn up at the feeding station then that is regarded as a positive as it means the animals are fending for themselves and not relying on human support.
It so happened that our visit was during the fruit season. Our Guide Mr Lee picked us up in good time to get us to the Centre for around 8.30 as apparently, they are prone to start the feeding prior to the 9.00 scheduled time. In the event we could have stayed in bed as we didn't see any orangutans on this occasion despite the best efforts of a couple of  Wardens calling out to any orangutans in the area.  We left the centre around 10.15 am  to visit a longhouse a few miles away but Mr Lee offered to take us back for the afternoon feeding at 3pm – which was very good of him and over and above his contractual duty! We were in luck – a solitary orangutan turned up to feed.
Here are some photos :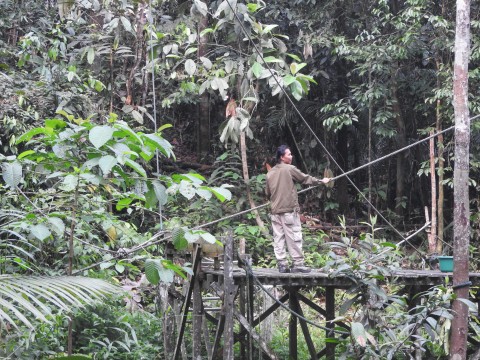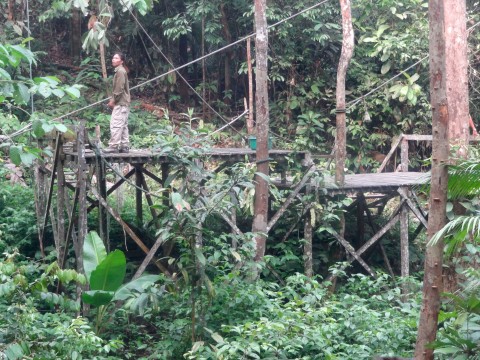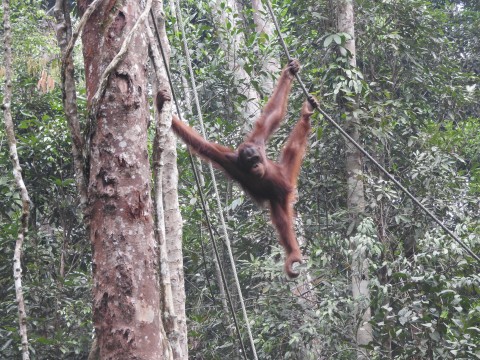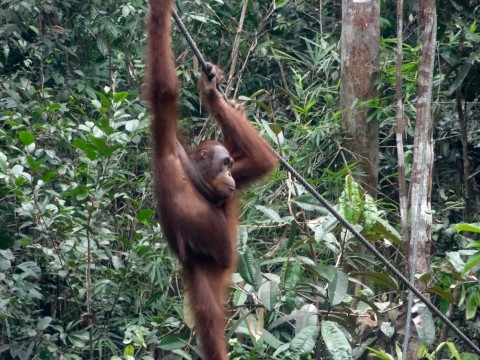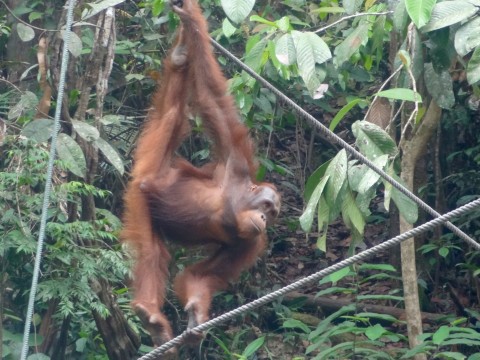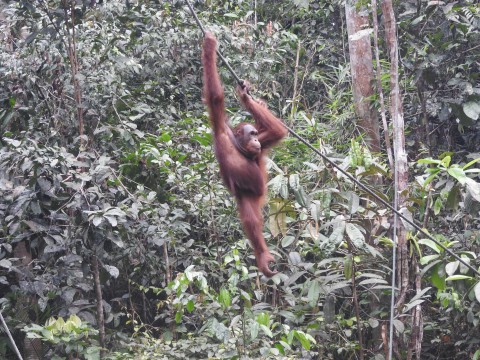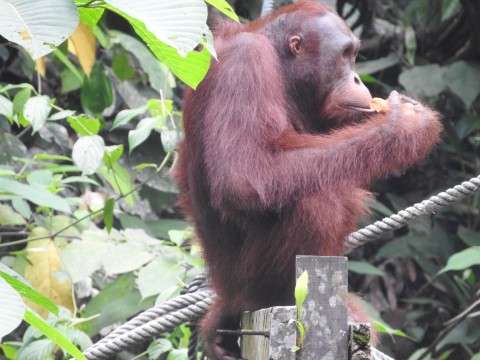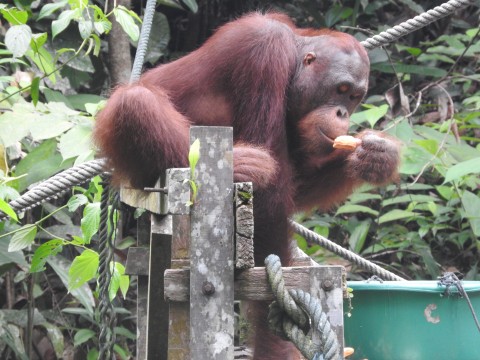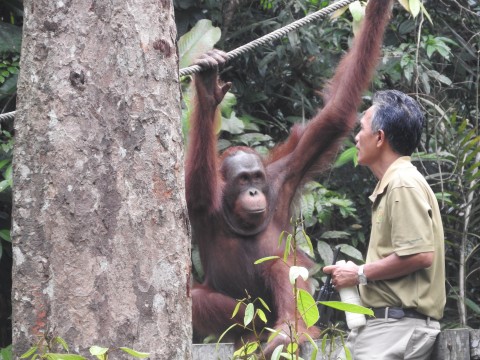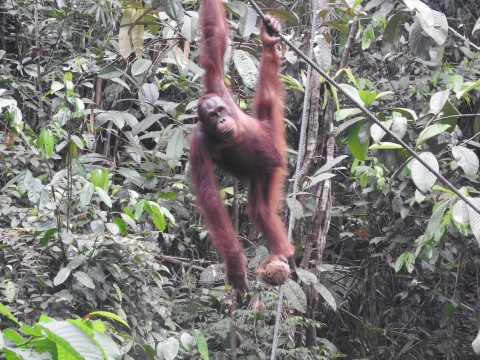 Once the ape had left the scene the crowd dispersed and we made our way back to our car with Mr Lee to return to downtown Kuching. However, a few hundred metres along the side road from the Wildlife Centre and we came across a couple of people staring intently into trees at the side of the road. We stopped and got out and spent half an hour or so watching two orangutans (40 year old father and son as it turned out) playing in the trees. A small crowd of a couple of dozen people gathered and eventually the Warden from the centre turned up with bunches of bananas and bottles of milk.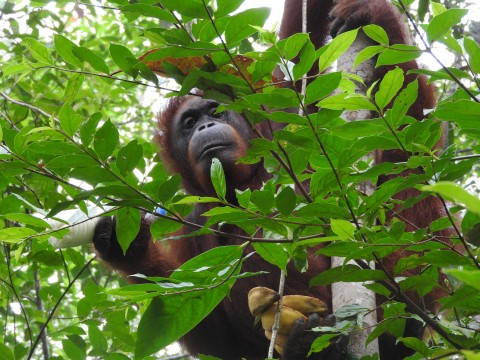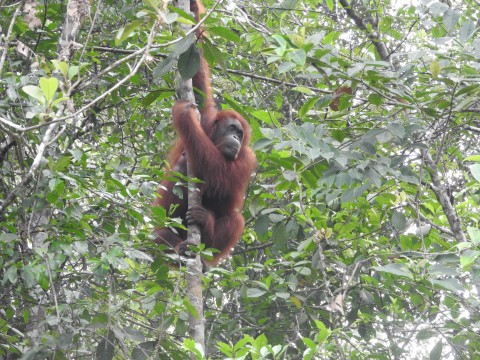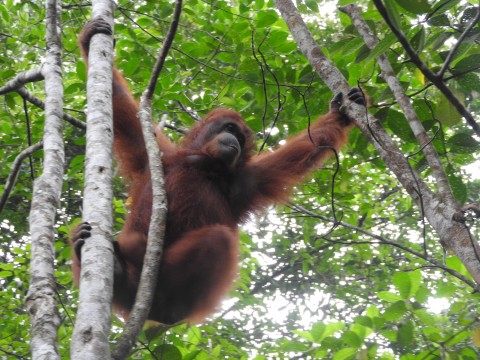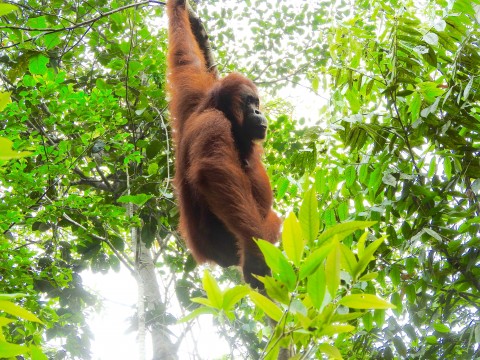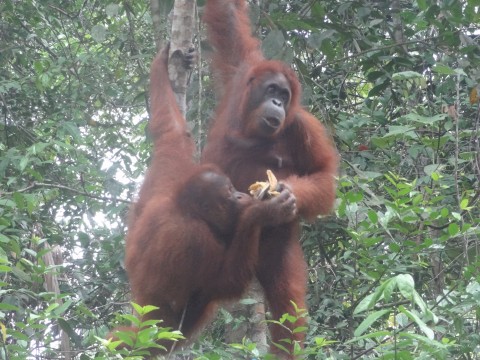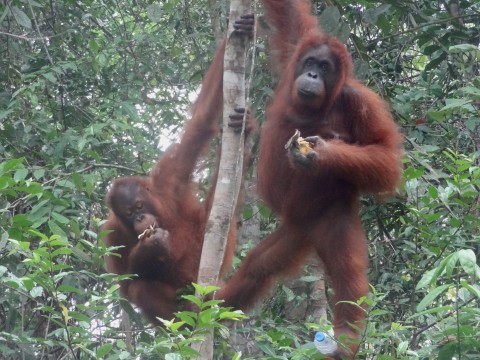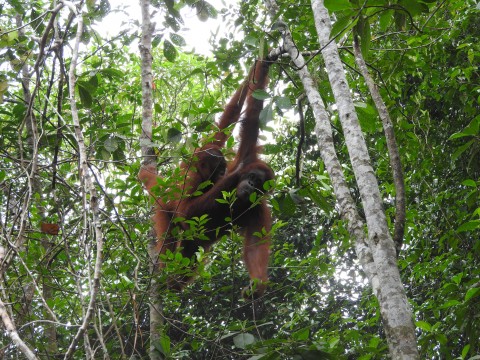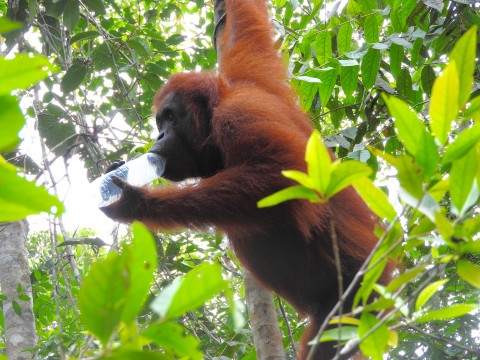 Anna Rais Longhouse
Following our fruitless visit to Semenggoh in the morning, we drove to Anna Rais Longhouse which is about an hours drive from Kuching. Longhouses are the traditional jungle homes of the bornean people built on stilts to accommodate many families they consist of a series of interconnecting "apartments" arranged in a line with a communal area along the length of the building. The longhouse we visited had been extended from time to time to accommodate more and more people. We were expecting to see one long building but in fact it is a collection of extensions added to extensions to create a hotch pitch of interconnected buildings. Whilst the original buildings are bamboo and timber built, recent extensions are of corrugated iron and more modern materials. There were very few people around when we visited as most people were out working the fields but it did appear that the residents were mainly older people. We were no sorry to miss the crowds as it's rather an uncomfortable experience to wander through such a small area full of people – a bit like a human zoo – and for this reason we avoid visits to touristic "tribal" villages.
Whilst this is the traditional style of house in Sarawak , this is the 21st century and so cars, motor bikes and satellite dishes sit alongside the older stuff.
It was an interesting couple of hours visit which included a short walk along and across  a jungle river. In truth it was a tad underwhelming but filled in a few hours until we returned to see the main attraction of the day, Semenggoh Wildlife Centre.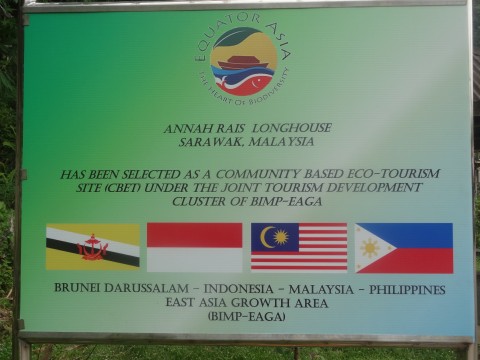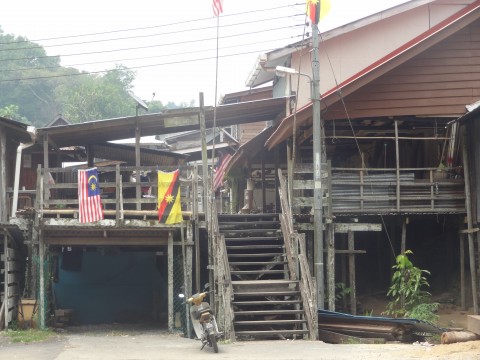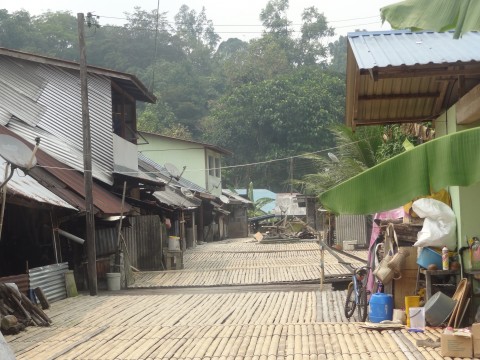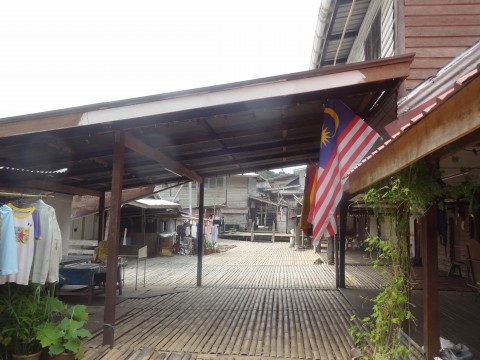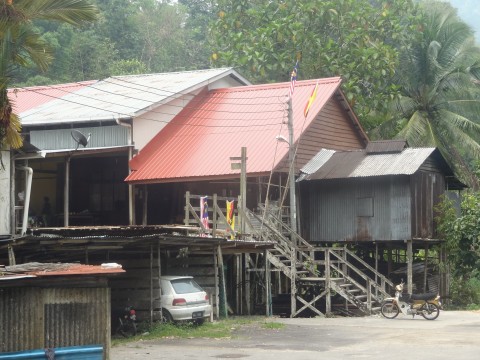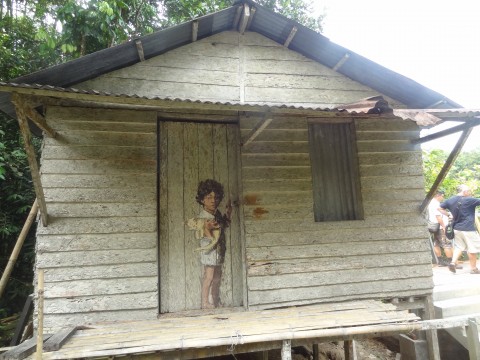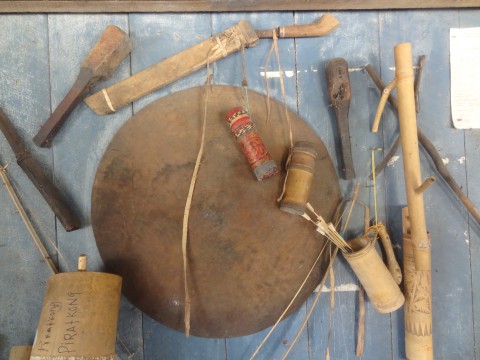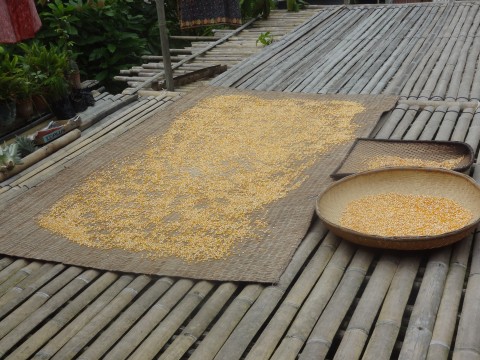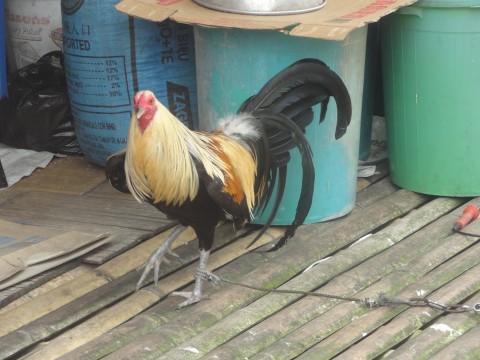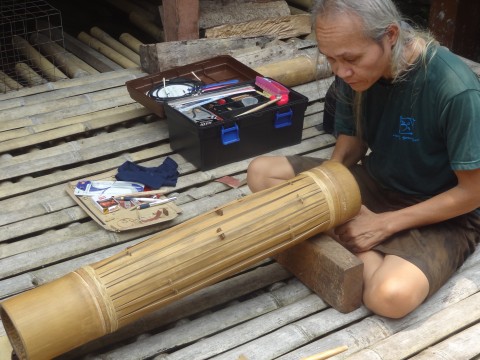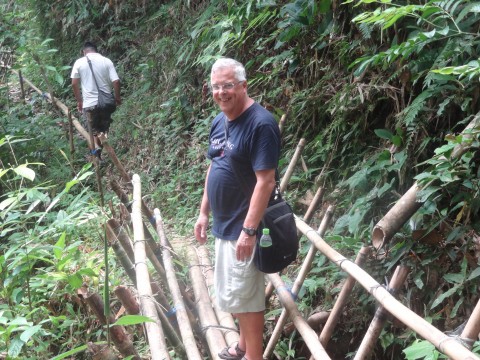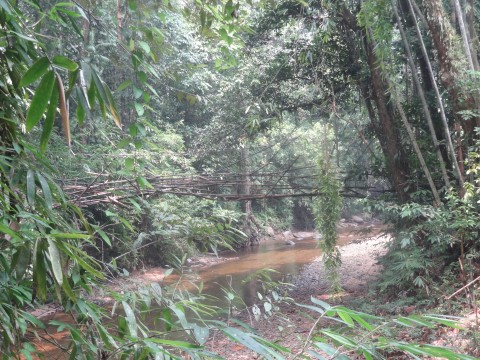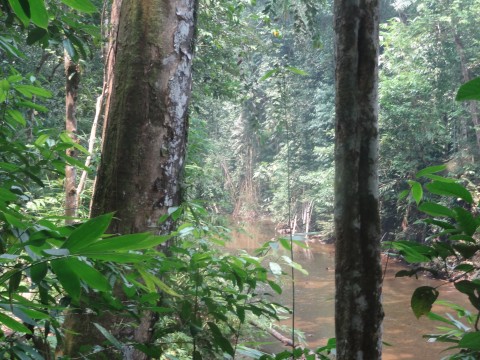 Bako National Park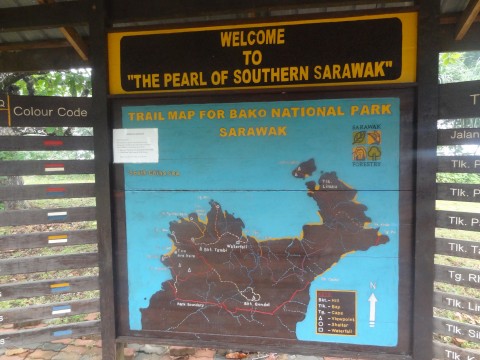 Bako National park was established in 1957 and is Sarawak's oldest national park and is around 37km from Kuching. The park occupies a 27km peninsular that juts out into the South China Sea and access is by boat. It is heavily forested and its coast includes rugged cliffs, secluded bays and mangrove swamp. It is regarded as the best place in Sarawak to see rainforest animals in their natural habitat.
Unfortunately, we awoke to a cloudy day which rather put the mockers on what is apparently a fantastic boat ride to the park –  we could barely see the shoreline! We didn't appreciate at that time that the cloud was actually the same haze that we had experienced in KL a week or so earlier – smog caused by illegal burning by Indonesian plantations. It would only get worse!
Mr Lee picked us up again at 8.00 on August 25th and drove us for an hour or so to the jetty at Bako village where he handed us over to a Guide who would look after us for the day.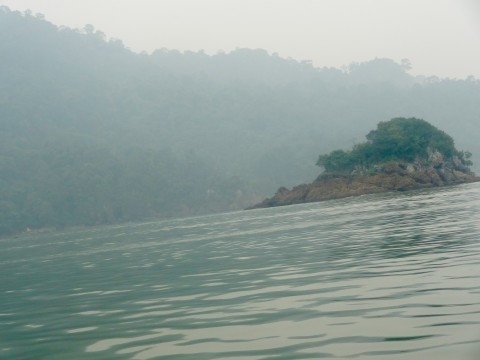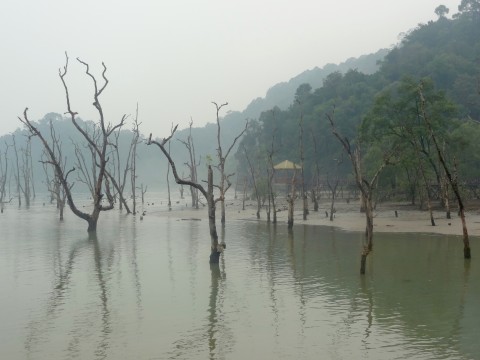 We spent the day walking the forest with an hour break for lunch at the Park Centre. The walking was pretty easy although with some ups and downs to get the heart pumping in places. Its possible to do an overnight stay at the park which gives much better chance of seeing wildlife  and given the chance we would love to do it. However , we had a truly fantastic day in the most incredibly stunning and interesting  environment that contains virtually every type of vegetation found in Borneo. And we were lucky enough to see some of  wildlife including 2 groups of  the rare proboscis monkey !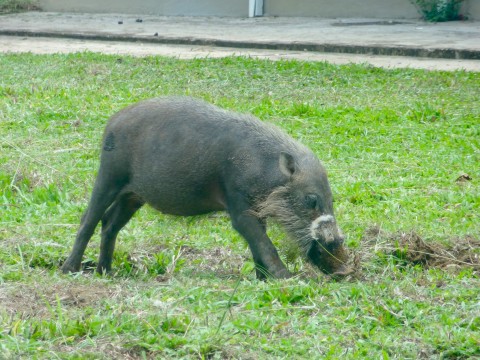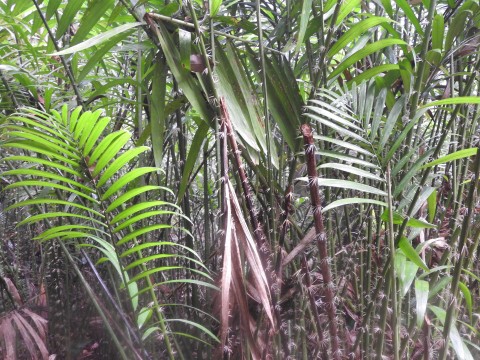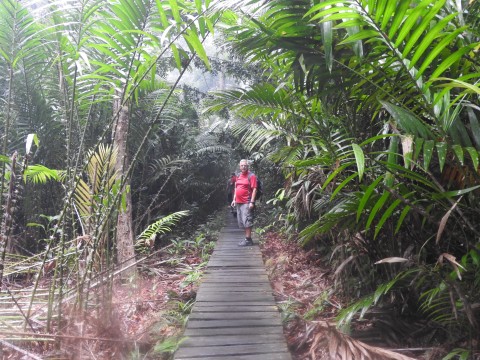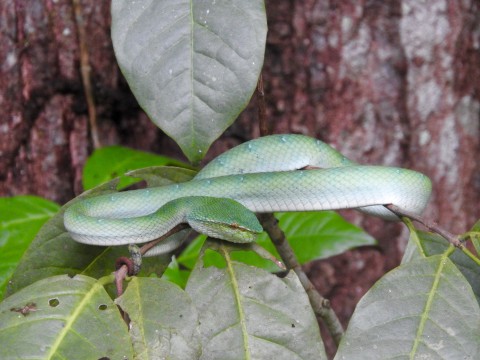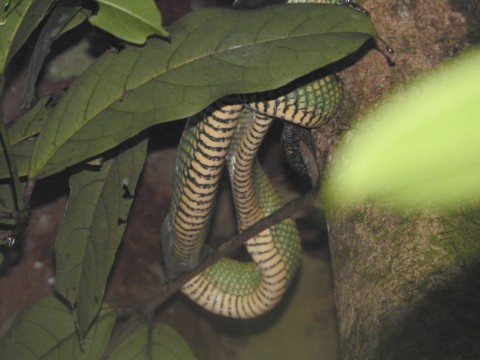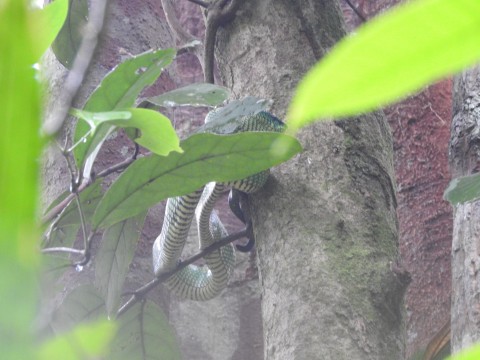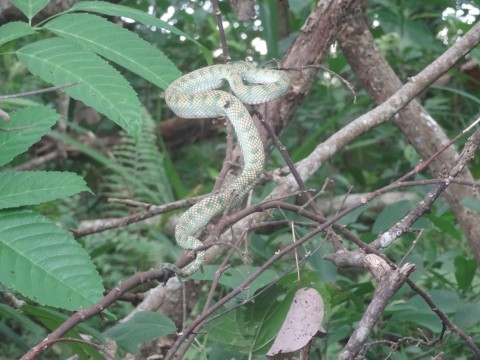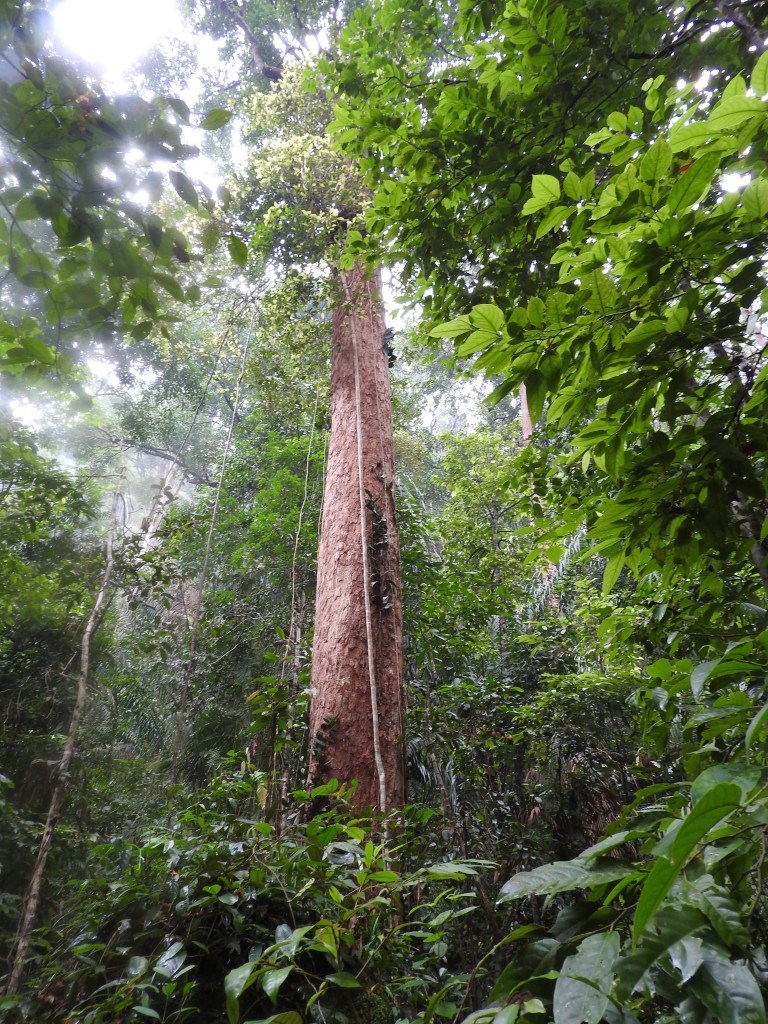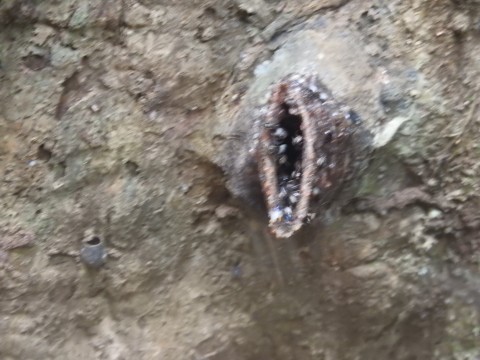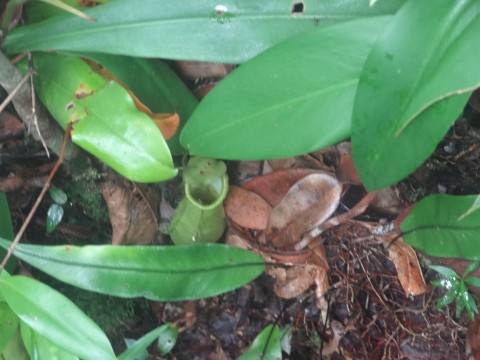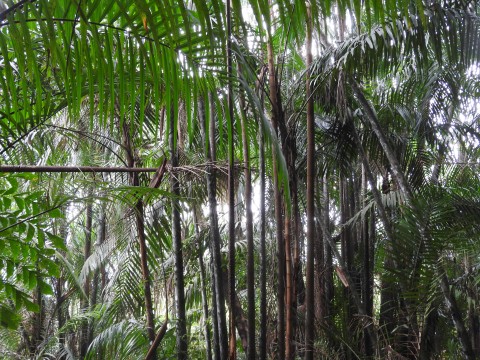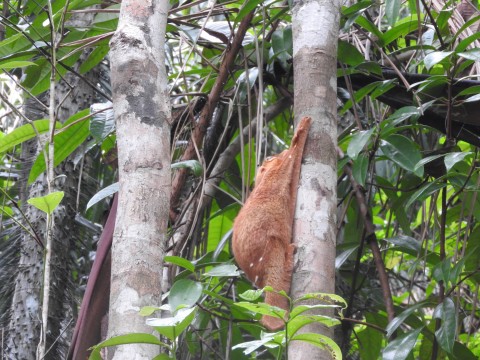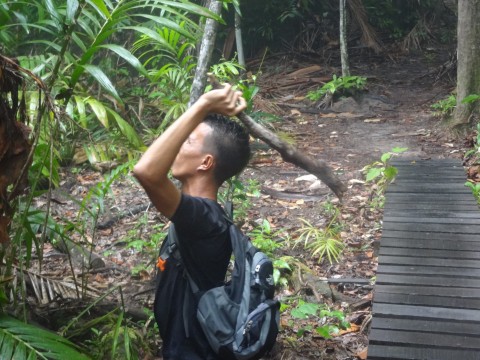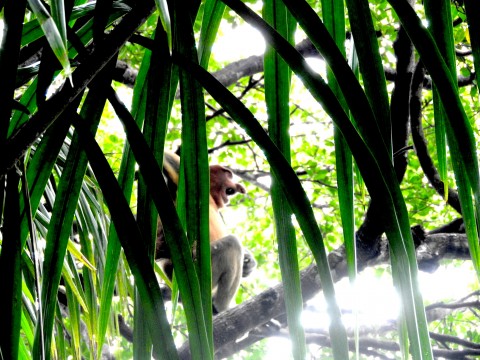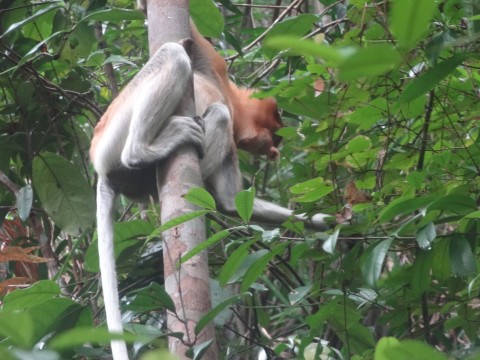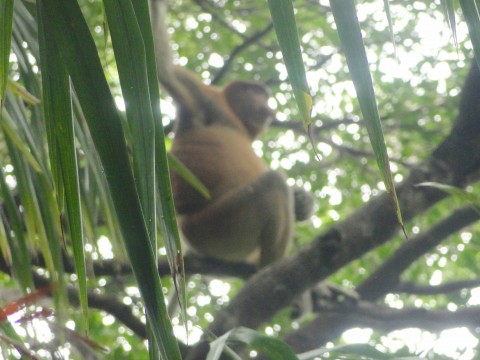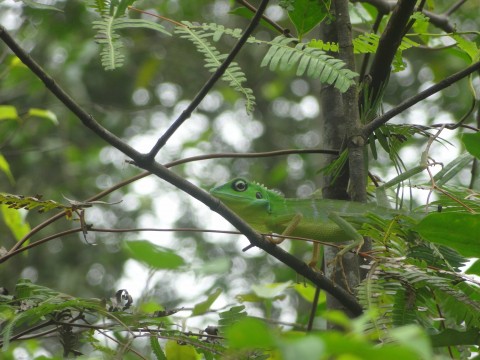 Our treck finished in a small cove and we were picked up at the allotted hour for our journey back to Kuching. The haze was still lingering but we did get a few photos of fishermen, boats and villages on the way back on the way back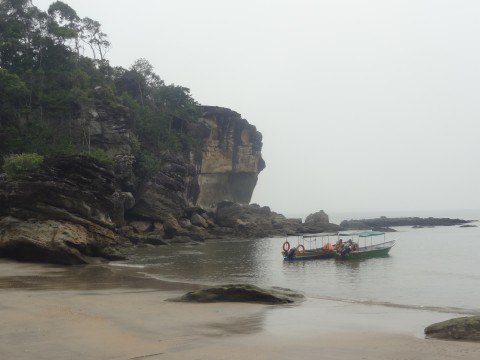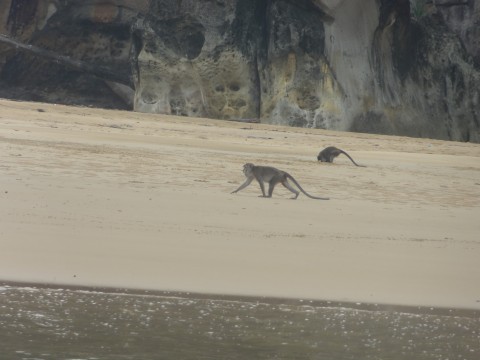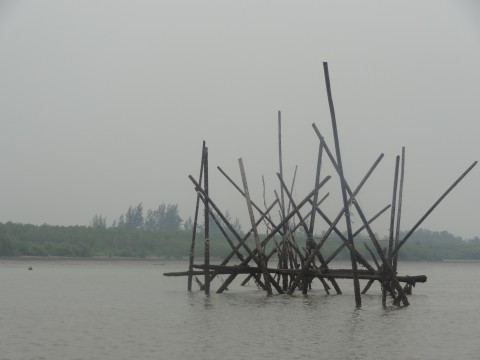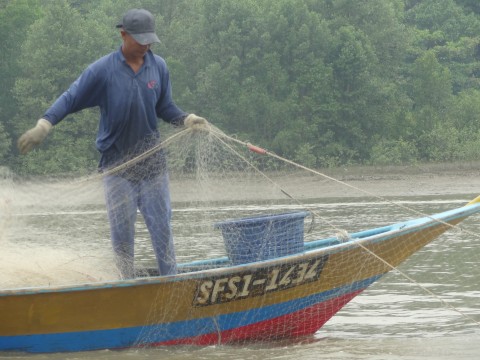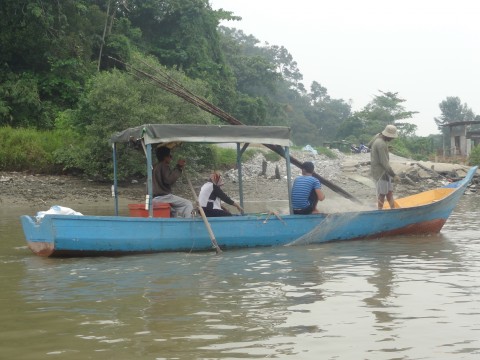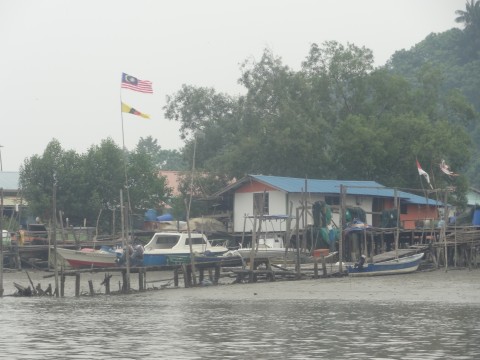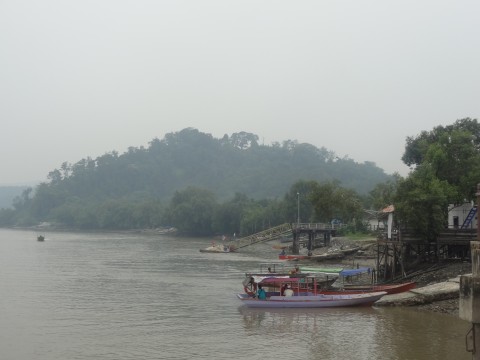 The Drunk Monkey
And finally, a few pics of what is currently our favourite bar in Asia. The Drunk Monkey in Kuching has a good selection of beer and a very very good whisky shelf which apparently changes constantly as malt whisky is very difficult to procure in this part of the world – they buy whatever they can when they can which makes for an interesting collection. They also have a fantastic collection of 60s, 70s and 80s music put together for the owners by a music mad customer who we met each time we frequented the bar – which was most evenings. To top it all, they don't provide any food but do have a dining area and food can be ordered from the menus of one of half a dozen neighbouring restaurants who will deliver a plated meal with all the necessary accoutrements.