Darwin
Our Queensland beach hopping came to an end on July 14th when we drove back to Cairns to return the hire car and to catch a flight to Darwin. We left Cape Tribulation around 09.00 and seemed to get back to Cairns in no time at all even allowing for a brief and final breakfast pie stop in Mossman. We actually had a few things to do on our final day in Cairns and we ticked these off one by one quite nicely.
Ann wanted to get her hair done before we moved on to Indonesia and as soon as she found an internet connection on her phone she found herself a hairdresser and made an appointment in Cairns for early afternoon. Once we got to Cairns, first stop was Pack and Send. We had decided to send home a number of books and other bits and pieces, including our beloved Garmin sat nav gadget. Whilst it's inevitable that we need to travel with a fair amount of kit for such a long trip as ours, we wanted  to reduce our luggage as much as possible.We have been travelling with 30kg each plus hand luggage and whilst this isn't a problem when you're travelling around in a hire car, it's a pain in the neck, literally, when you have to lug such a lot of luggage to/around/from airports. We had ditched superfluous/knackered stuff as we travelled but with the help of Pack and Send we got down to around 24kg each and I still got to keep my fishing tackle! We had called in to Pack and Send whilst in Cairns the previous week and within 20 minutes or so we were done and off back to the Pacific Hotel for our final night in Cairns. Once checked in and bags dropped in the room, we were back in our trusty Mitsubishi for a final drive to the Apex Car Rentals depot just a couple of Ks out of town. Apex kindly gave us a lift back to town, our chores almost done. Whilst Ann went off for her hair do, I found a bank to exchange some Ozzy dollars to USD which we would need later to buy visas for Indonesia and then I went for a haircut myself. All nicely coiffured we had a final mooch around the shops managing to resist a couple of urges to make purchases before returning to the hotel to change for dinner. This night we made the quickest decision on a restaurant ever and went to a well reviewed Italian which turned out to be excellent. The following morning, Wednesday July 15th, we checked out of the Pacific and took a short taxi ride to Cairns International Airport for a Jetstar flight to Darwin for our last few days in Australia.
Darwin wasn't on our original itinerary for this trip as it seemed so far out of the way up there in the Far North but having read TripAdvisor, Lonely Planet etc on the region, we decided to include a few days to visit a couple of the National Parks, Kakadu and Litchfield. This region is so big with distances so huge that you could easily spend 2 weeks in Northern Territory and still not see it all but a couple of days we gives a chance to see the highlights. Also, Darwin fitted in very well with our itinerary which would take us from Australia to the Eastern end of the Indonesian archipelago although later our plan to fly Darwin to East Timor was frustrated -more on that later.
Within  a couple of hours of  leaving Cairns on a Jetstar  flight we had landed at Darwin and with a 50 dollar return airport shuttle (why are these so much cheaper everywhere than the UK?)  we were dropped at our hotel within an hour of landing. The Mediterranean All Suites is a middle budget motel type property handily placed at the edge of the CBD. We chose it because the rooms appeared to be of a reasonable size and came with a full kitchen which would give us the opportunity to cook a meal or two for ourselves if we wanted to. It also has a swimming pool although we didn't get to use it.
We checked in, dropped the bags and went straight out to have a look around town. I must admit our first impressions weren't great but after a couple of days visiting Kakadu and Litchfield, we spent our last day in the city and definitely warmed to the place.
Our visits to Kakadu and Litchfield National Parks would involve long trips. It's possible to combine both Parks and more in a 2 or 3 or more day trip with overnight stays in the Parks but this would involve either camping or staying in hotel accommodation that didn't look great so we opted for day tours.
Next day, July 16th, we were up early to be collected at 5.30 am by Offroad Dreaming, one of many firms offering tours to the NT National Parks, for our trip to Kakadu.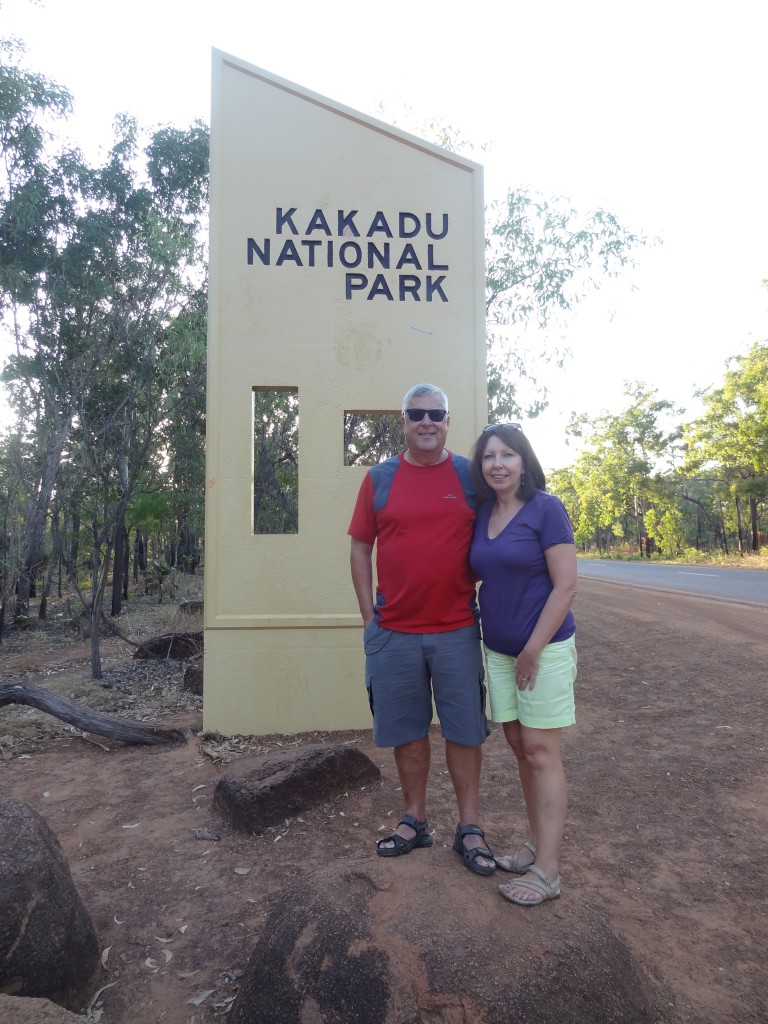 Our Guide for the day was Tanya who was excellent in terms of explaining what was what as regards the fauna and flora and the history of the park and the Indigenous people who still live there and on the adjacent aboriginal Arnem Land.
Kakadu National Park is yet another World Heritage Site. It is 170 kms from Darwin and is Australia's largest terrestrial national park covering almost 20,000 square kilometres. It's an enormous, biodiverse nature preserve which has the greatest variety of ecosystems in Australia including wetlands, savanna woodlands, mangroves, tidal mudflats, coastal areas, rivers, monsoon forests and sandstone escarpments. It's home to over 2,000 plant species and wildlife from saltwater crocodiles and Flatback turtles to hundreds of bird species. Aboriginal rock-art paintings dating to prehistoric times can be viewed at a number of places within the park.
The land has been continuously occupied for over 50,000 years by the traditional aboriginal owners who still manage the land along with the Government. The National Park was first created, after much negotiation, in the 1970's as interest grew in conservation and also the land rights of the Aboriginal people. Additional parcels of land have been added since the park was first created.
Our trip would start with a visit to a wetlands bird sanctuary which was a tad disappointing in terms of numbers and species of birds due to low water levels as Australia was in drought conditions at the time.
We then moved on to Ubirr Rock, an escarpment which looks out over the huge Nadab floodplain towards Arnem Land. This site is sacred to the aborigines and includes some of the oldest rock art in the world. This was a fascinating place. There are interpretive signs around the area but Tanya was excellent in terms of explaining some of the stories told in the pictures.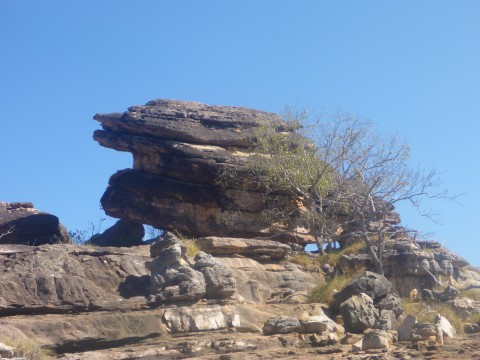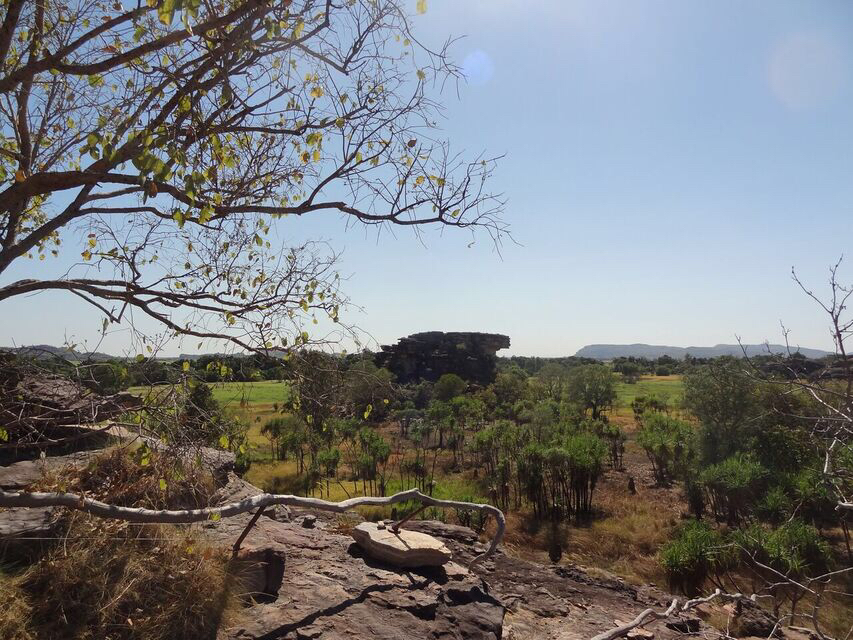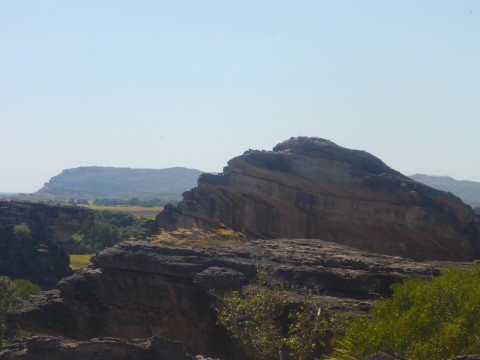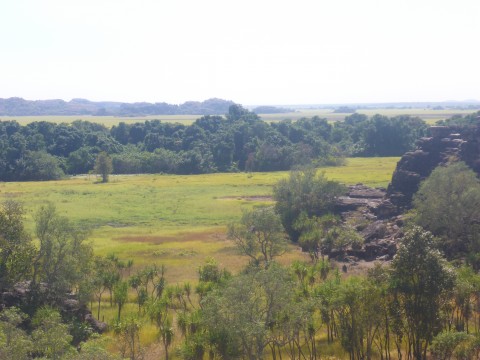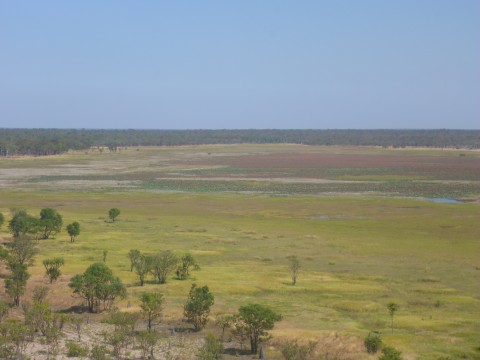 Some examples of the rock art at Ubirr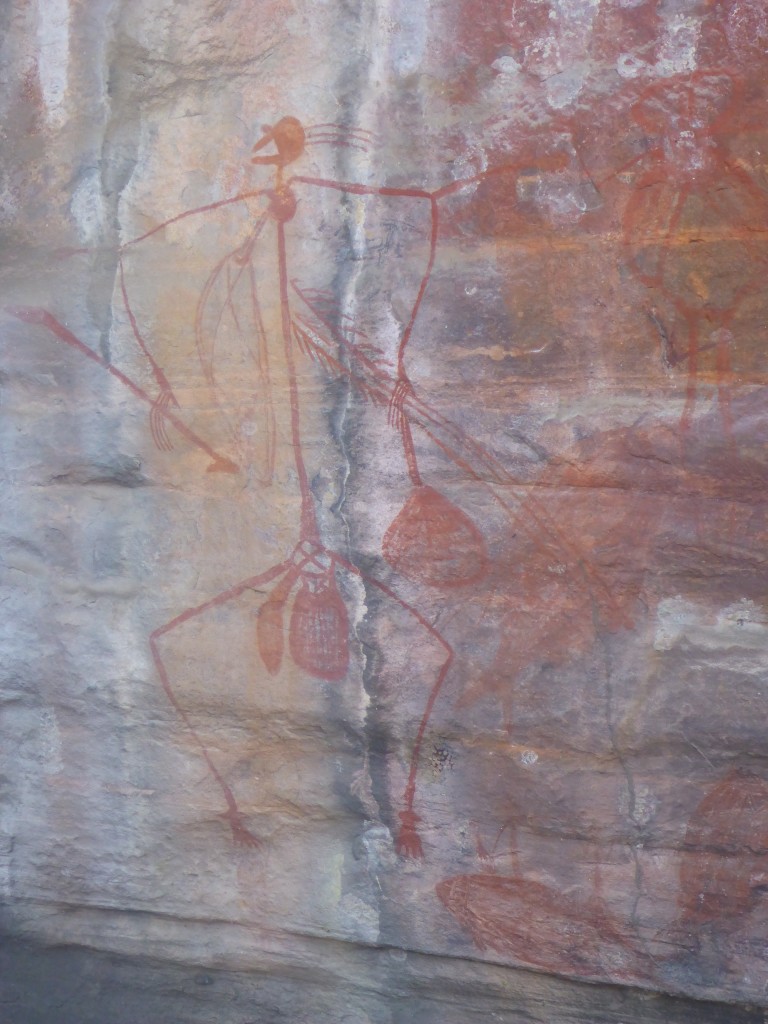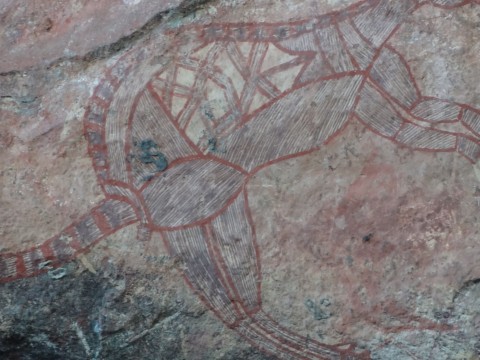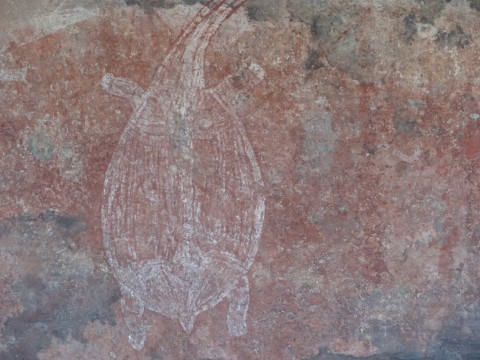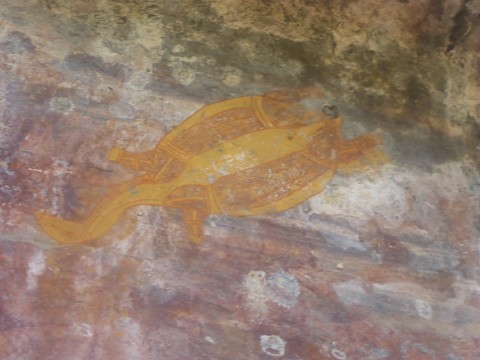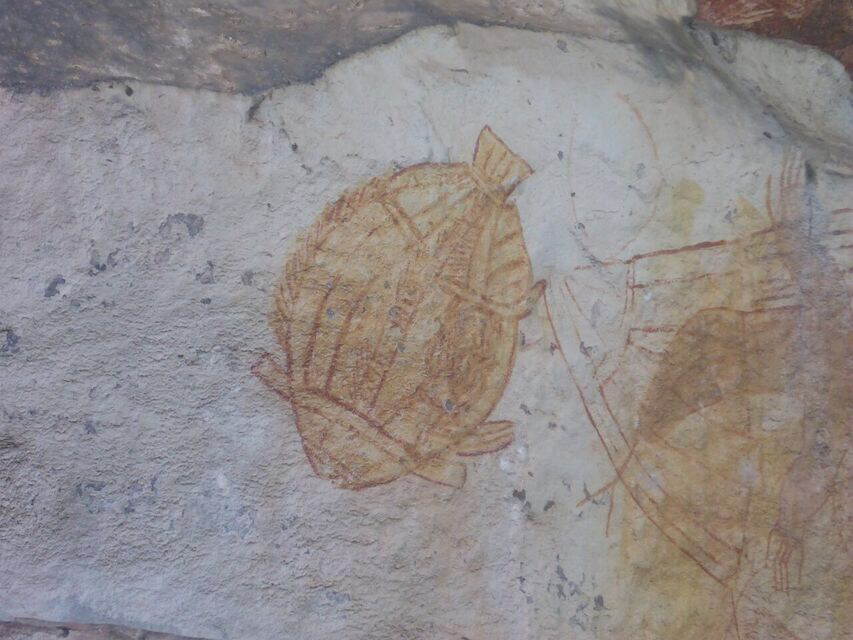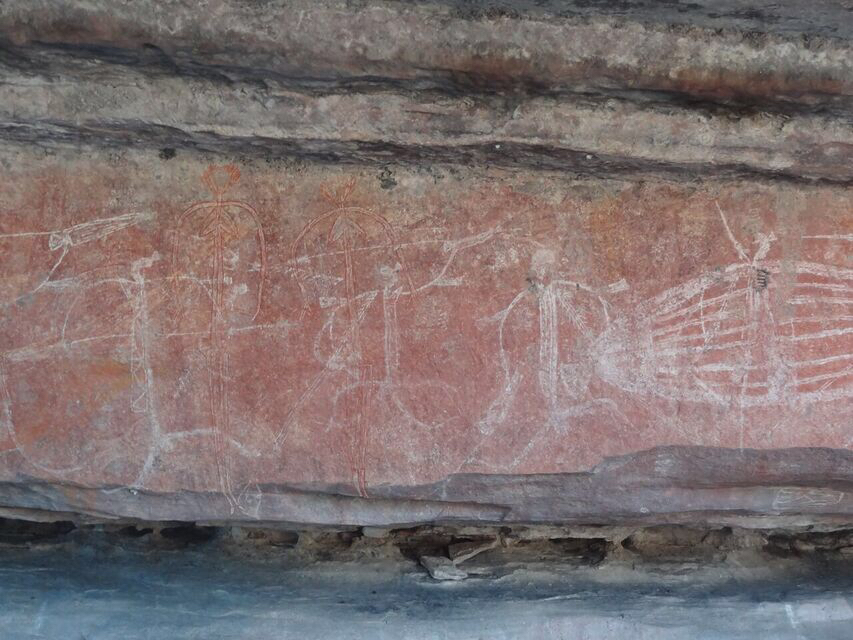 Next, following an excellent picnic lunch, we moved on to the East Alligator River to join the Guluyambi Cultural Cruise. The river is one of three Alligator Rivers erroneously named in the early 1800s by an English explorer who mistook the crocodiles he saw for alligators !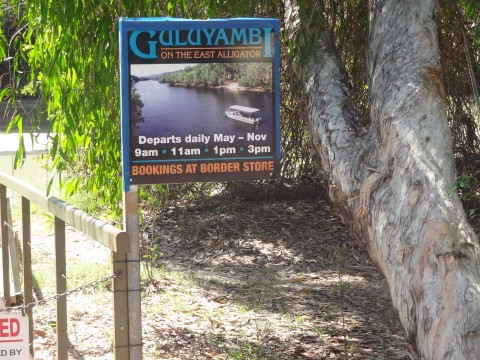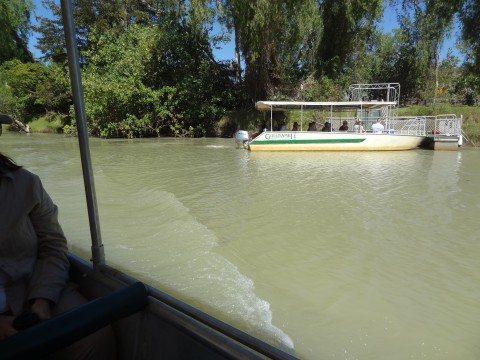 The firm running this cruise is aboriginal owned and the benefit of this is that access is gained to the aboriginal Arnem Land which requires permission from the aboriginal owners. The  cruise was first class and definitely another highlight of our trip.
Our aboriginal host, tour guide and boat skipper was Neville. He has a deep knowledge of the river and how the traditional aboriginal owners lived on and beside the river. He explained the history and culture of the people and how things are now in the modern world. His stories were both interesting and amusing but his commitment to the wellbeing of his people and the land is clear to see and he explained his dream that one day, in the area where we stood briefly on Arnem Land, a facility would be developed where visitors could spend time almost "on retreat" to give them a real understanding of the people and their history. As an aside, Ann and I were quite shocked at the ignorance of some of the Australians who were on this tour with us who seemed quite amazed at some of the things they learned on the trip .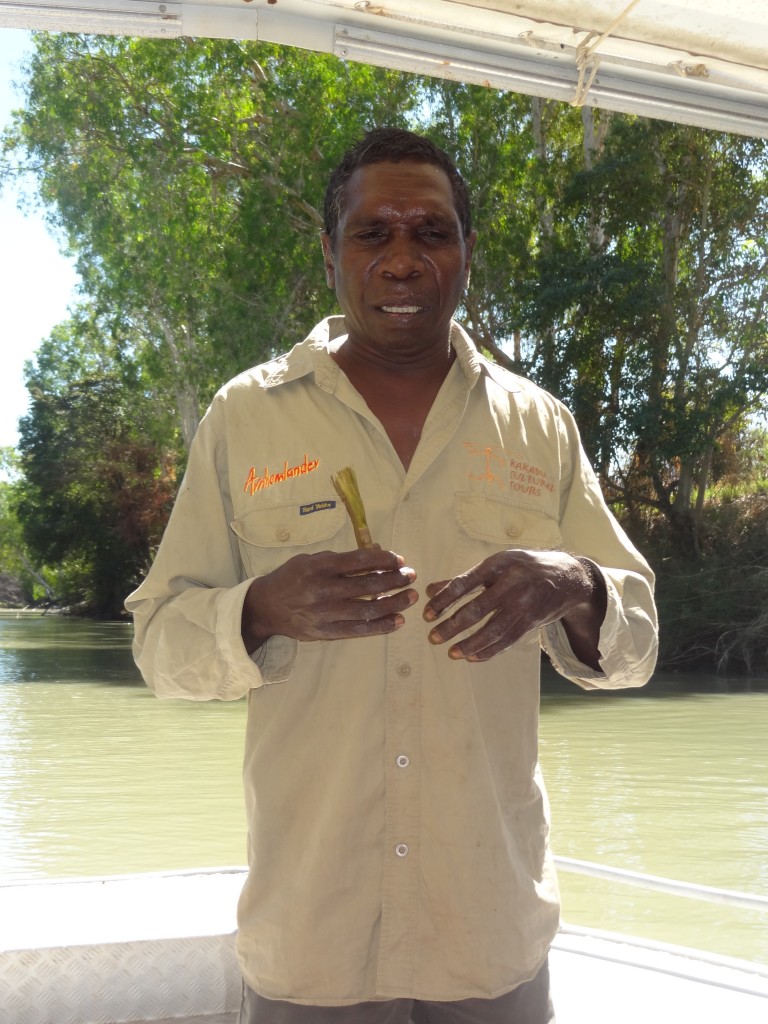 The waters here, like much of  the water in the north of Australia  are infested with crocodiles. Here freshwater crocodiles, found only in Australia, live in freshwater rivers, creeks and pools. They are shy creatures but can become aggressive if disturbed. Estuarine (saltwater) crocodiles live in freshwater and estuarine areas such as floodplains, billabongs, gorges, rivers and coastal waters. Salties are bigger and aggressive and have attacked and killed people in Kakadu.
Between the 1940s and 1960s crocodiles were hunted to near extinction for their skins but by 1971, both species were protected. The numbers of salties increased dramatically and waters previously safe are now not necessarily so and many need to be monitored and managed to ensure public safety.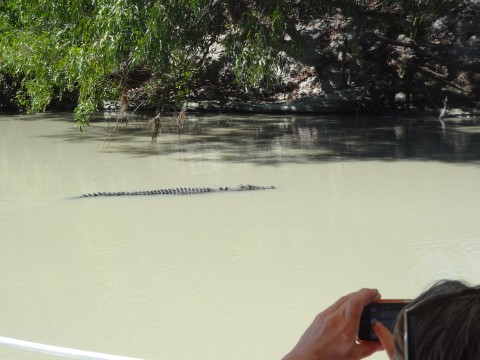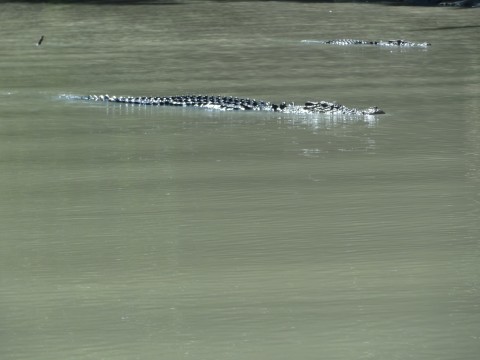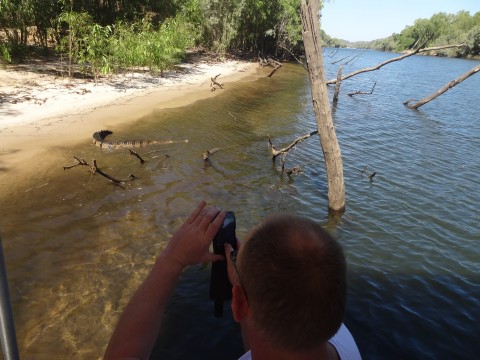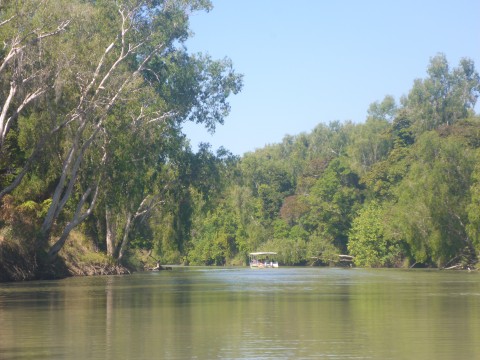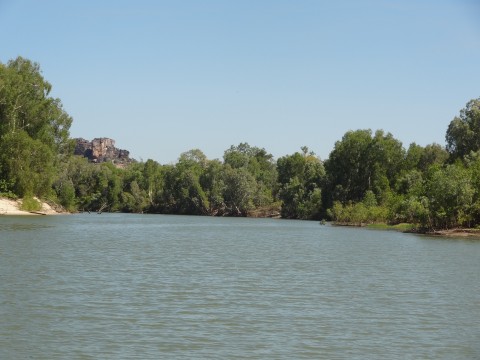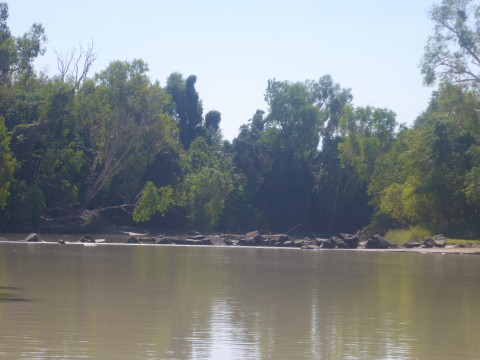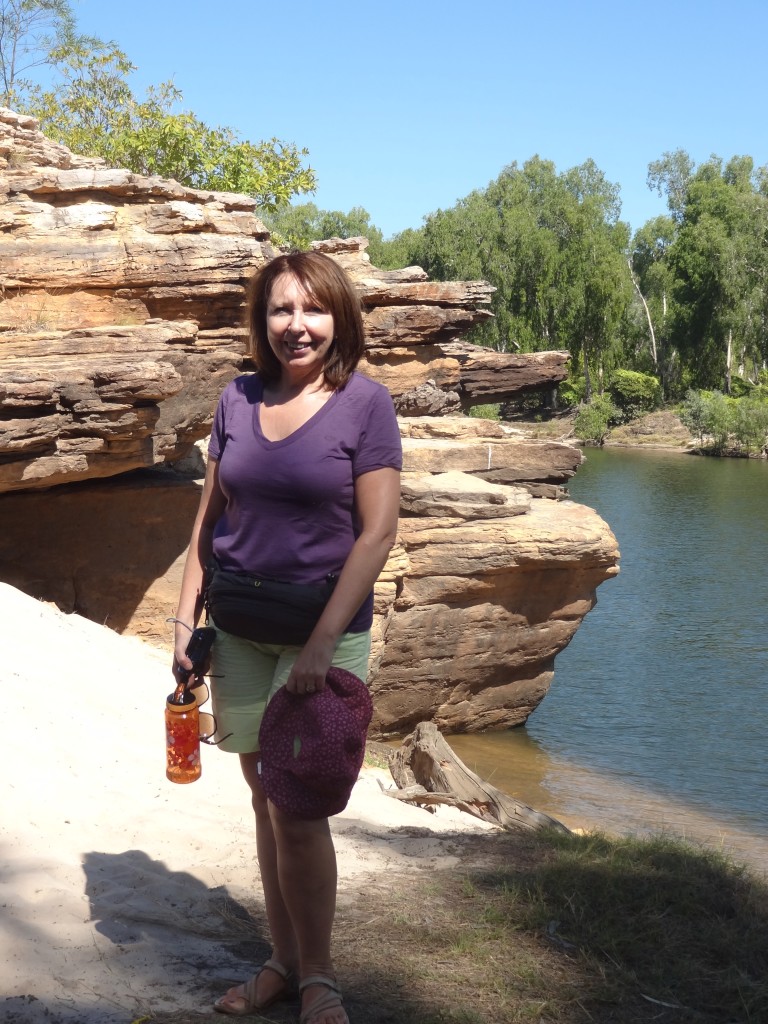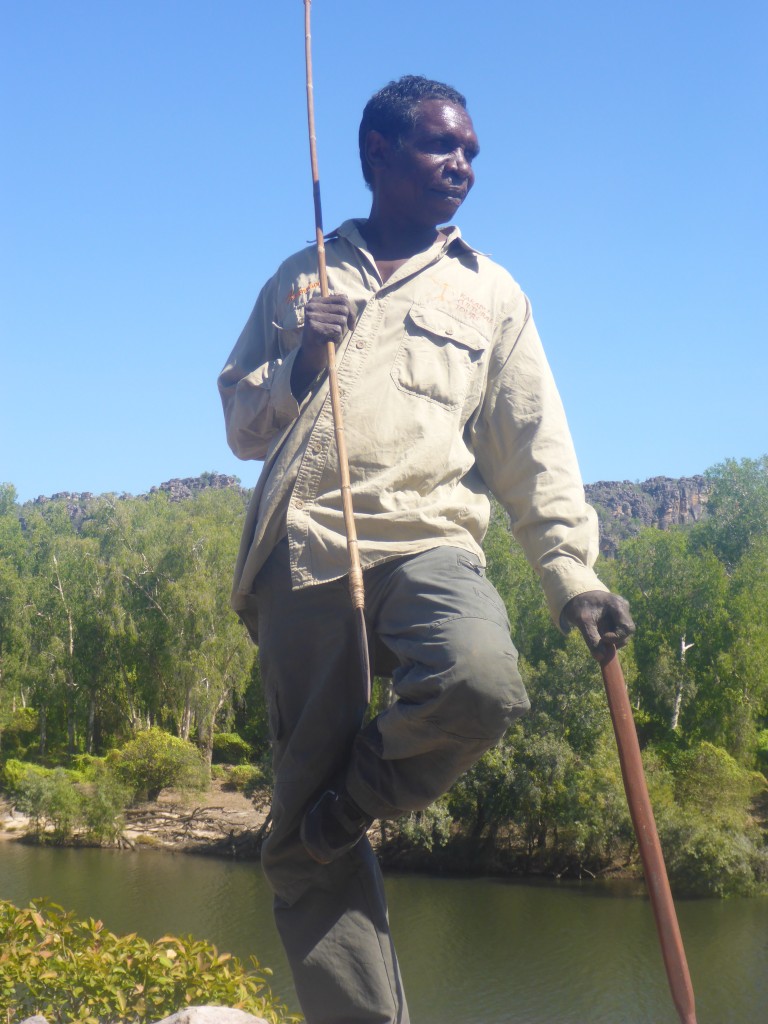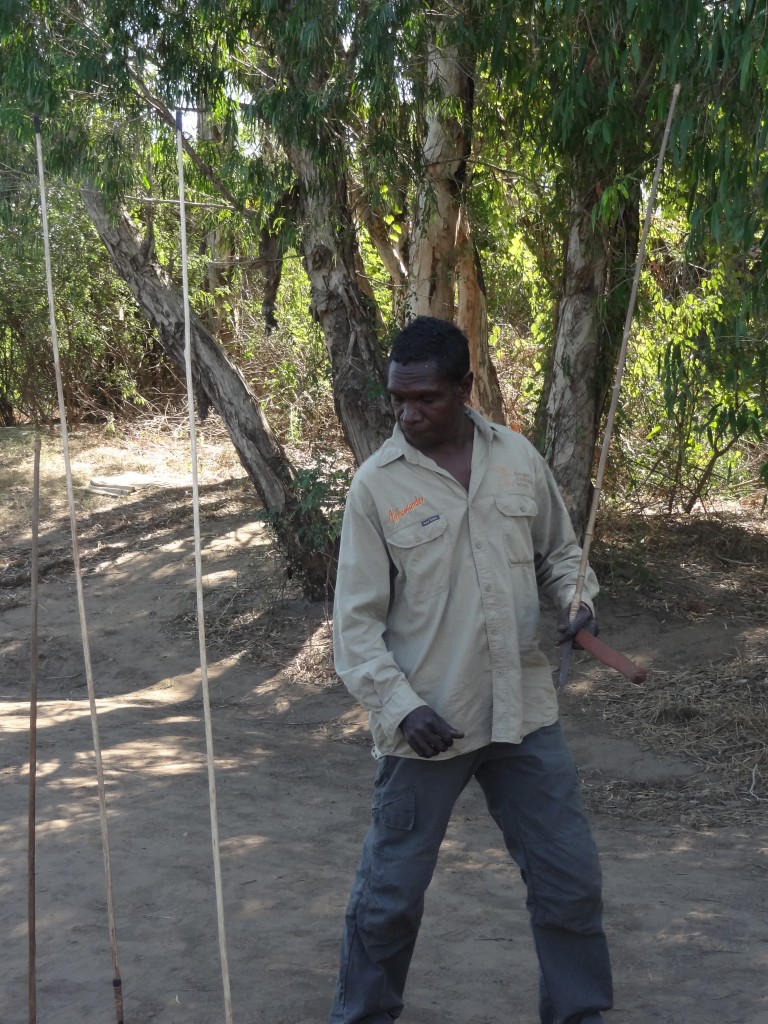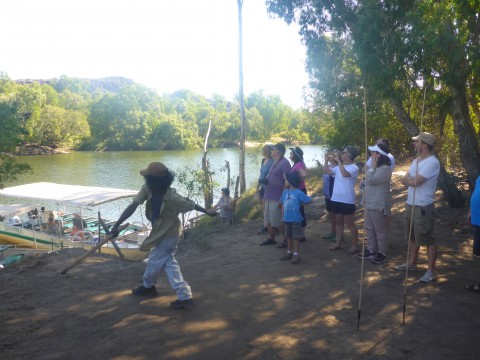 We got back to Darwin around 7.30 pm. It had been an excellent tour but we were shattered. We got Tanya to drop us on Mitchell Street which is the main street for bars and restaurants and went straight to a Nepalese restaurant. Nepalese is one of our favourite foods and we had spotted this place the day before. The meal was OK but only OK. Next day we were going on a trip to Litchfield National Park and we returned to the Mediterranean for an early night even though we would get a lie in tomorrow – we wouldn't be picked up until 7.30 am .
We used the same tour company for our Litchfield Tour. This time our guide was Lynne who  wasn't quite as bright and breezy as Tanya the previous day but had a great knowledge of her subject.
First stop of the day was at Batchelor, 100km south of Darwin and the largest town in the area with a population of around 500! There is very little to see here but we stopped to visit the small local history museum which proved to be mildly interesting. The town's history largely revolves around its role as an airbase supporting the Australian and US Airforces and also as the site of a uranium, mining and processing site following the discovery of uranium at Rum Jungle in 1948. The plant closed in 1971.
After Batchelor we visited the Cathedral Termite Mounds before we drove on to visit a series of waterfalls and swimming holes which without exception were picturesque but also crowded with families. We didn't swim because of the crowds but we did walk a couple of short trecks before enjoying a picnic lunch.
Termite Mounds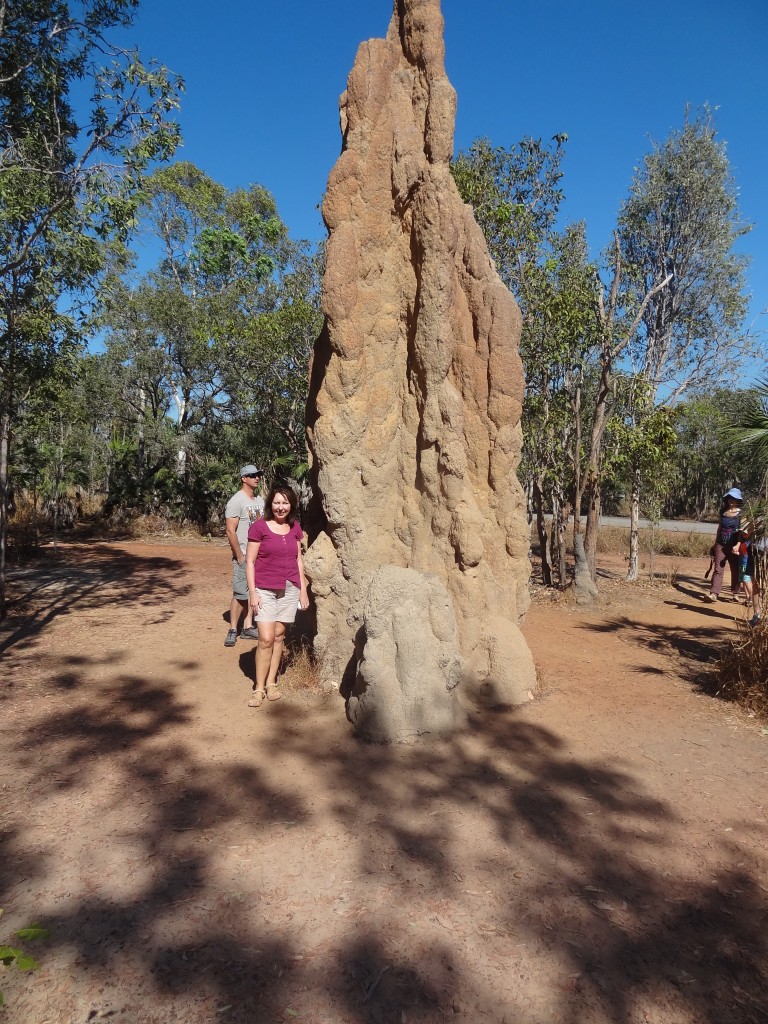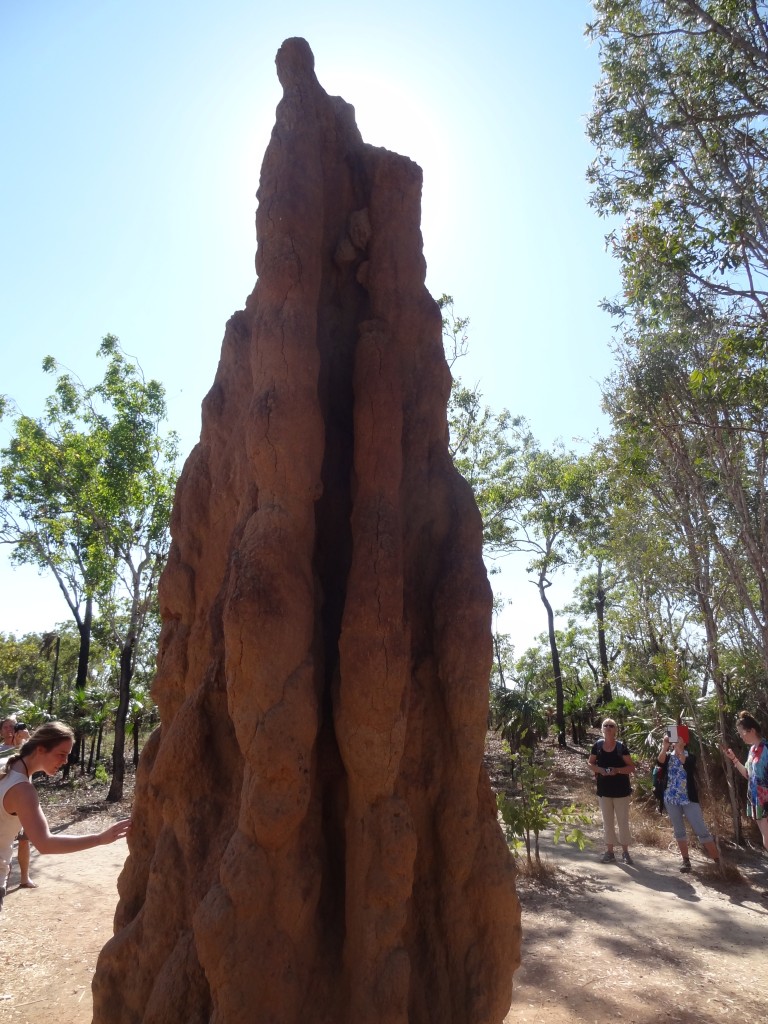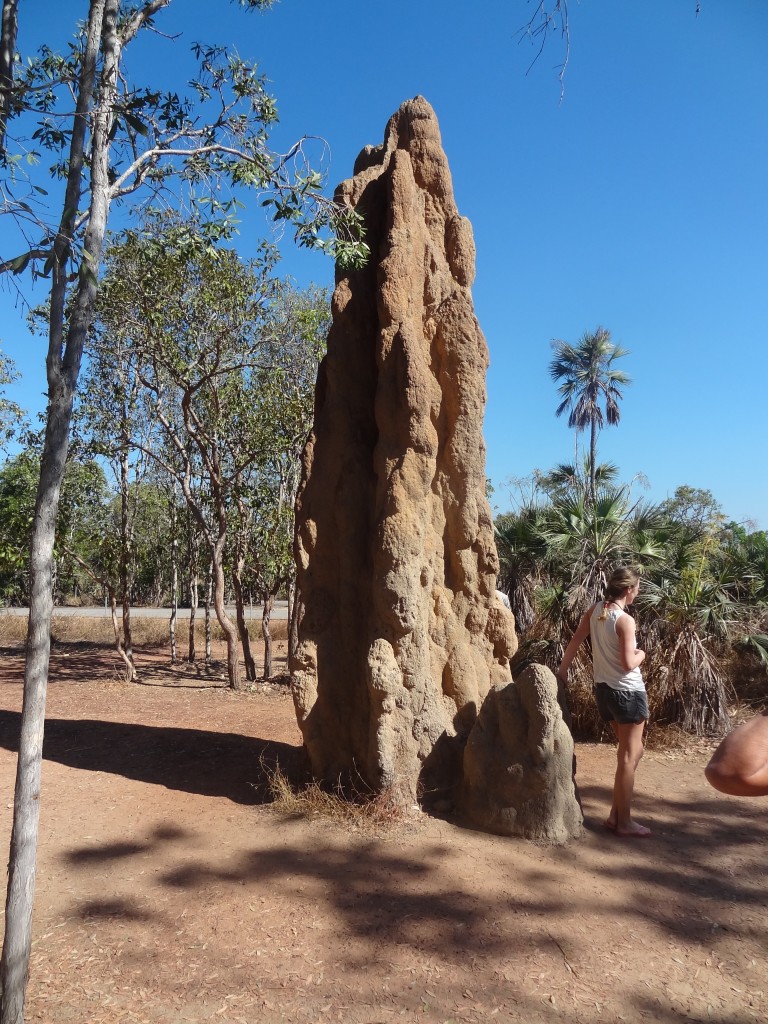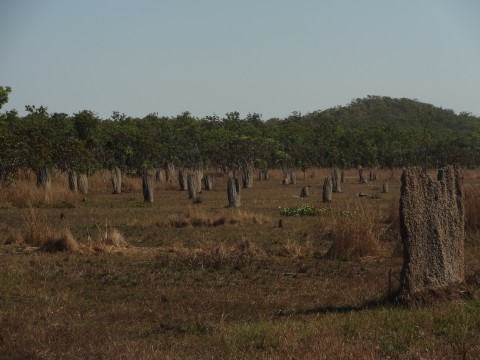 Waterfalls and swimming holes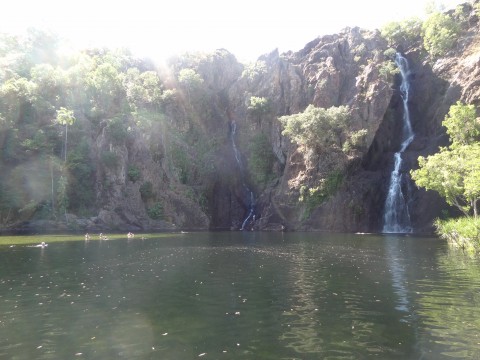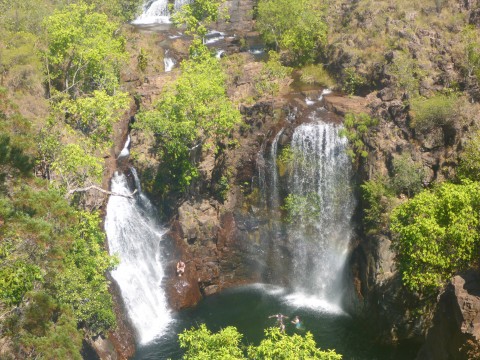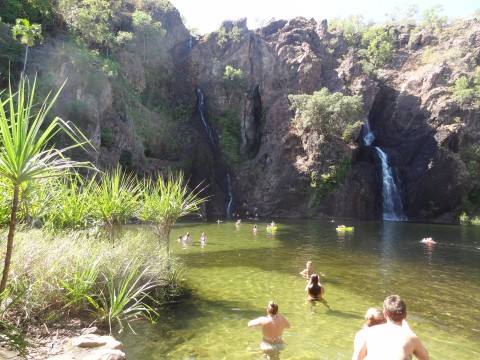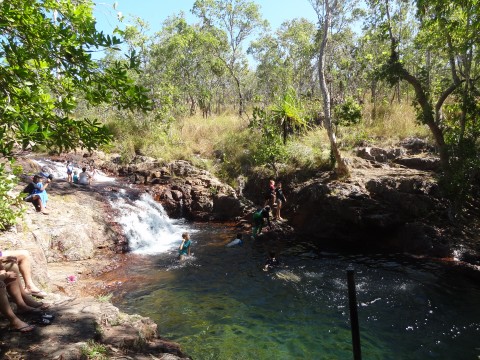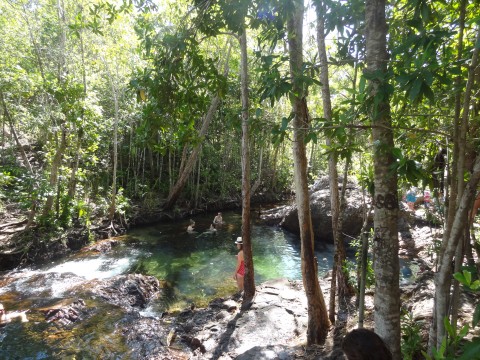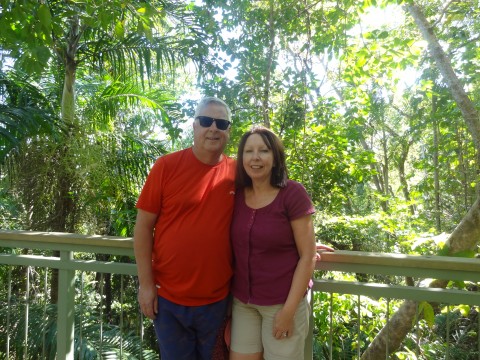 Following lunch our final destination of the day was the Adelaide River for a crocodile cruise. A very entertaining hour or two was spent on a boat learning about crocs and watching them jump out of the water for a meal on a stick. We saw well over a couple of dozen crocs, mostly big ones and all very active and very close up! Mine Host, Harry, was a very enthusiastic Guide and the font of all knowledge when it comes to crocs and he was also very entertaining. In addition to crocs, he also showed us some of the local birdlife and put on an unexpected show of hawks diving for food thrown in the air for them. An excellent tour !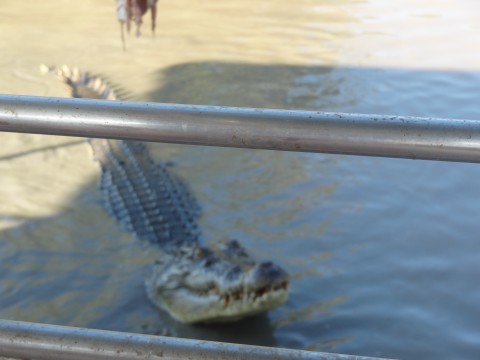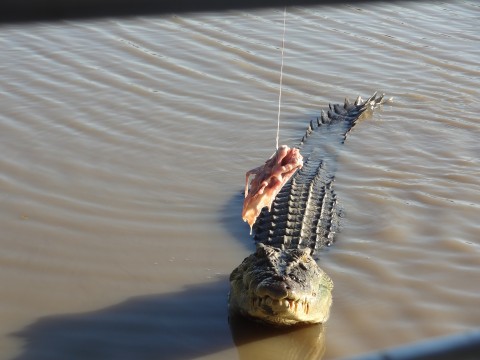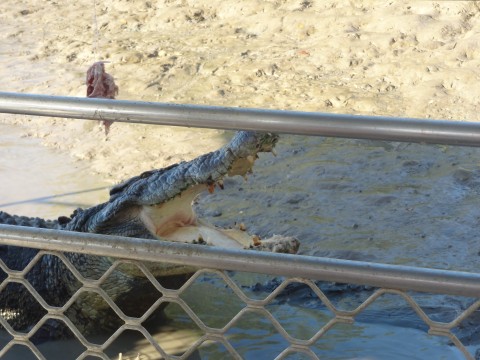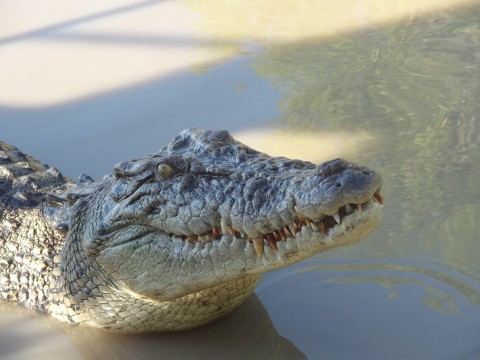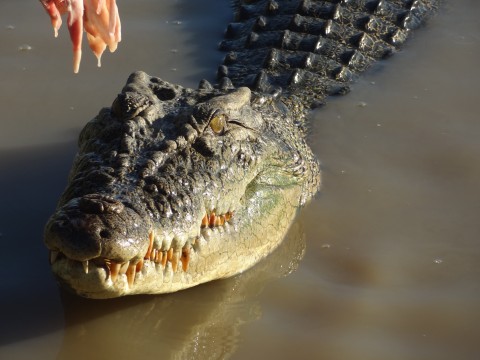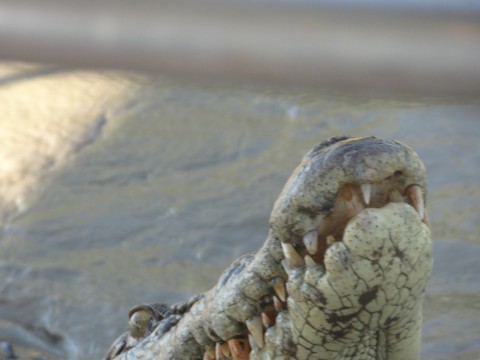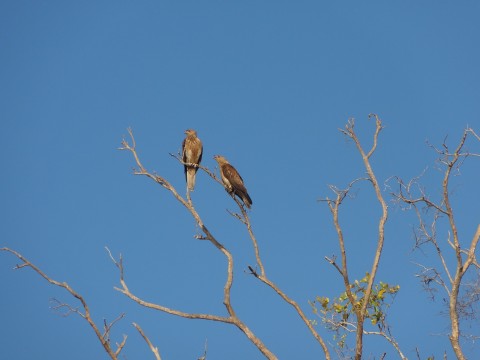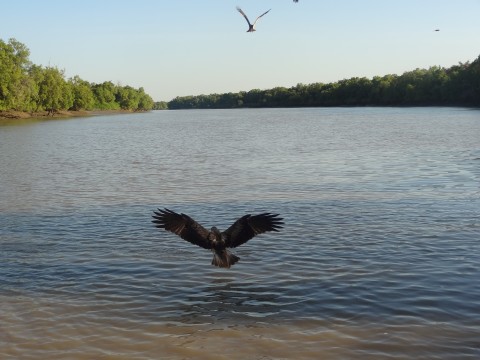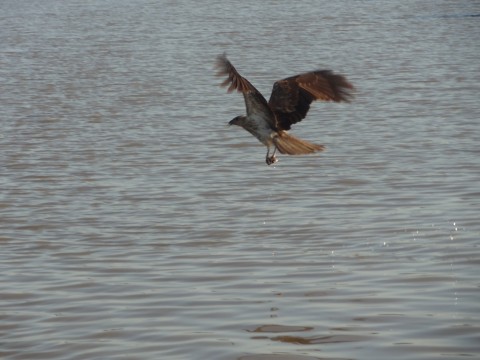 Both Kakadu and Litchfield tours had been excellent but although we were expecting Litchfield to be the better, we much preferred Kakadu because of the greater element of stuff relating to the aboriginies. The rock art had been amazing and it had been very interesting to be able to visit Arnem Land albeit briefly. We will look out to see if Neville succeeds in making his dream of a tourist/cultural centre on Arnem Land come true.
The next day, July 19, was our last day in Australia. We were to check out of the hotel at 10.00 but with our onward flight at 20.00, we had a few hours to kill! We spent an hour or two in a last wander around the shops and then walked down to the Waterfront where on a beautiful hot and sunny Sunday we found the place busy with folk enjoying the weekend.
Here are a few pictures of downtown Darwin and the Waterfront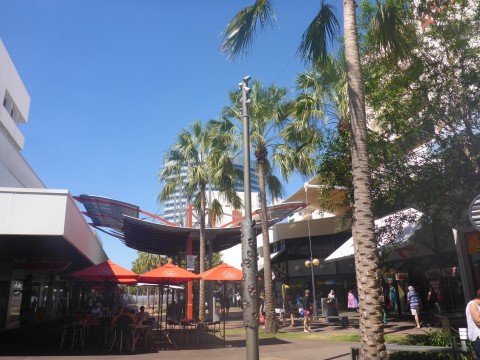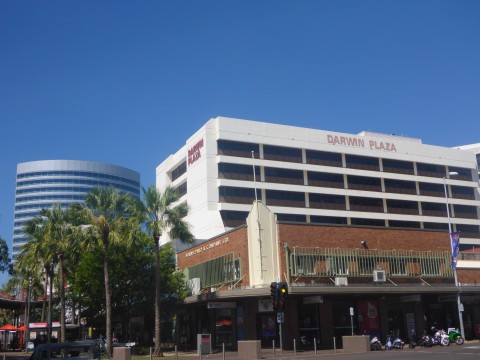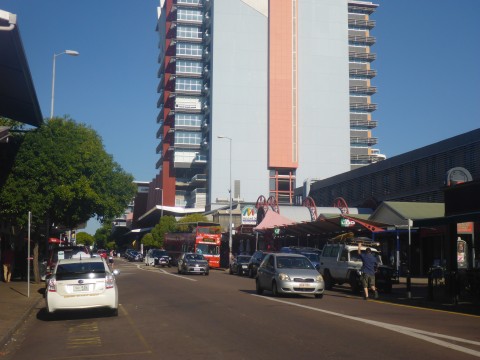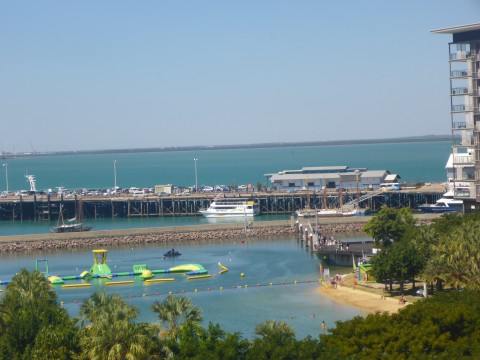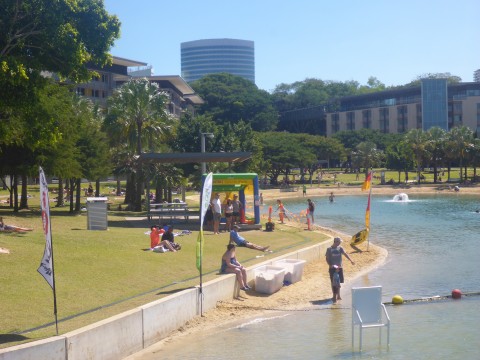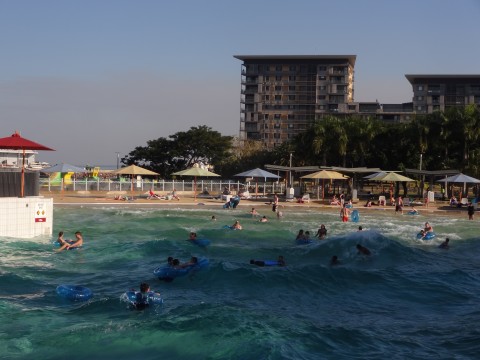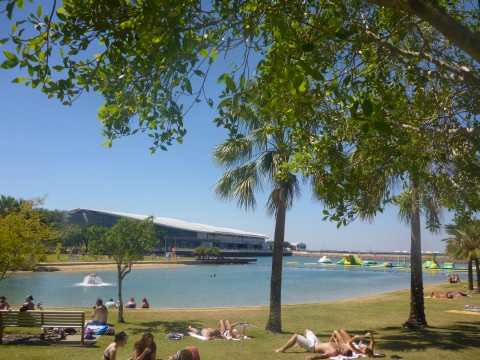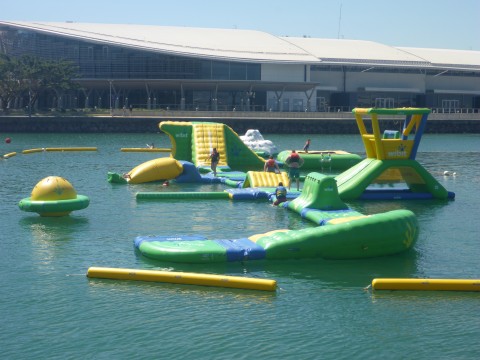 There was live music playing at the Waterfront, the swimming lagoon was full as was the wave lagoon and lots of people were just lazing around on the grassy areas or lunching in the many restaurants and bars. The place had a great vibe and we thought this part of town must be a cool place in which to live. We sat around watching the world go by before lunching at an Irish pub and then walking back to the Mediterranean where I spent half an hour speaking to my credit card company as my card had been rejected for a couple of transactions in the past few days. Seems someone in Peterborough had been trying to buy a camera with my details. The card was cancelled and somehow we needed to get a new one to us for our travels in Indonesia – what a pain!
Our shuttle pick up delivered us to the airport in good time and before we knew it we were on our AirAsia flight to Bali. We had enjoyed an amazing trip to Australia albeit scarred by the tragic loss of our Brian. We hadn't seen everything by a long chalk; people tell us how fantastic the West and South Australia are not to mention Uluru and Tasmania and perhaps we will return one day to see these places if we can ever manage to save the funds !