Totem poles greet you at Arrivals in Vancouver Airport
We arrived in Vancouver from Turkey on 24 June 2018. It was a long trip and arriving at our hotel around 11pm, we were more than ready for bed – almost! We popped out for a craft beer night cap and felt much better for it. A good start! The following morning we were up bright and early feeling fresh and full of beans – but our energy soon waned and it took a few days to get over our long journey .
We didn't have the best of weather for our week in Vancouver but we didn't have that much rain. The week was mainly cloudy with a few half days of lovely sunshine – it was never cold.
Here are a few pictures of downtown and around. The main shopping streets are smart and  filled with the top brands and lots of nice bars and restaurants and the waterfront area in particular is very attractive. But, like every major city,  you don't need to wander far from the smart areas before you find yourself in some pretty sketchy areas. There are many homeless people here and you see them sleeping on the streets everywhere. And inevitably there is a drink/drugs problem and on several occasions we saw guys totally comatose lying in the middle of the pavement in a busy shopping street with shoppers and workers just walking around them! Pretty grim!
Cannabis is legal here by the way. It's legal and supposedly regulated and there are many shops around town selling the stuff. The smell of weed is everywhere in the city – I must confess I rather like the smell as it brings back memories  but Ann certainly doesn't! Its hard to think this freedom of use doesn't  lead to some of the abuse problems.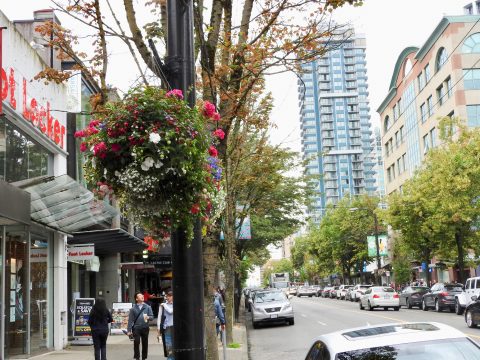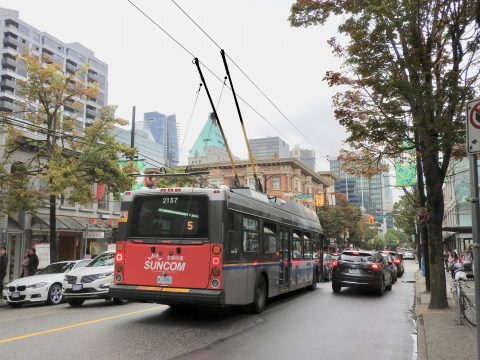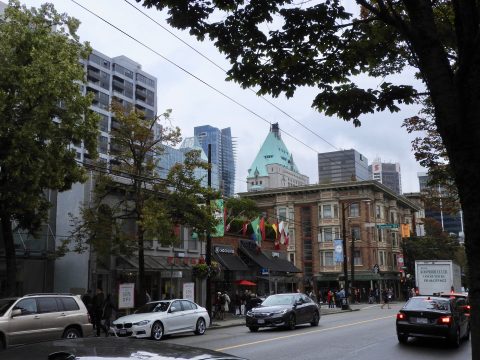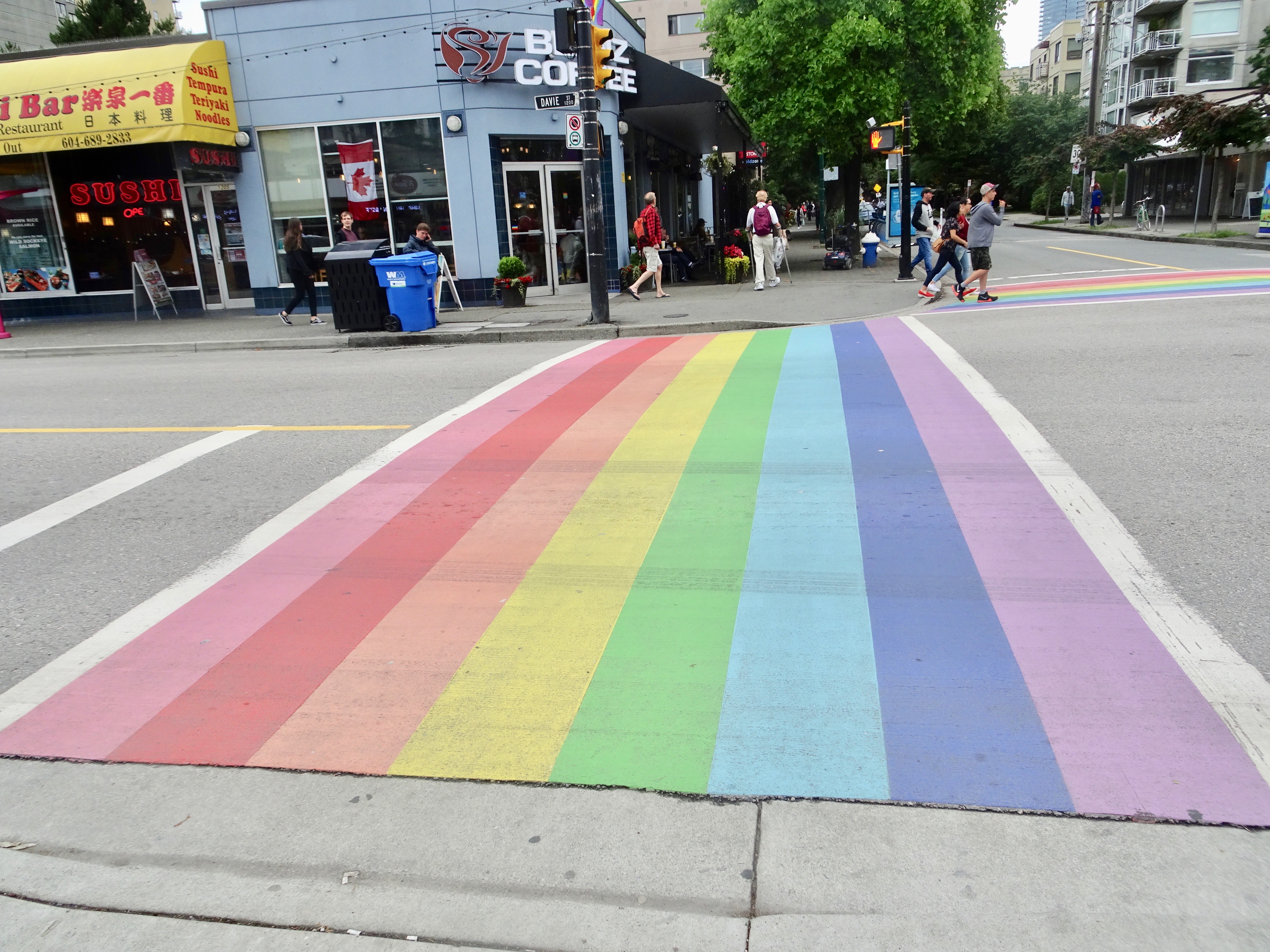 This is apparently the only permanent rainbow crossing in the world – slap bang in the middle of Davey Village where we were staying. This was a great place to stay – very handy for what we considered the 2 main attractions of Vancouver, Granville Island and Stanley Park and easy to get to Downtown and the main shopping areas. But there's definitely an edge to the area with some "interesting" characters. It all adds to the attraction for me.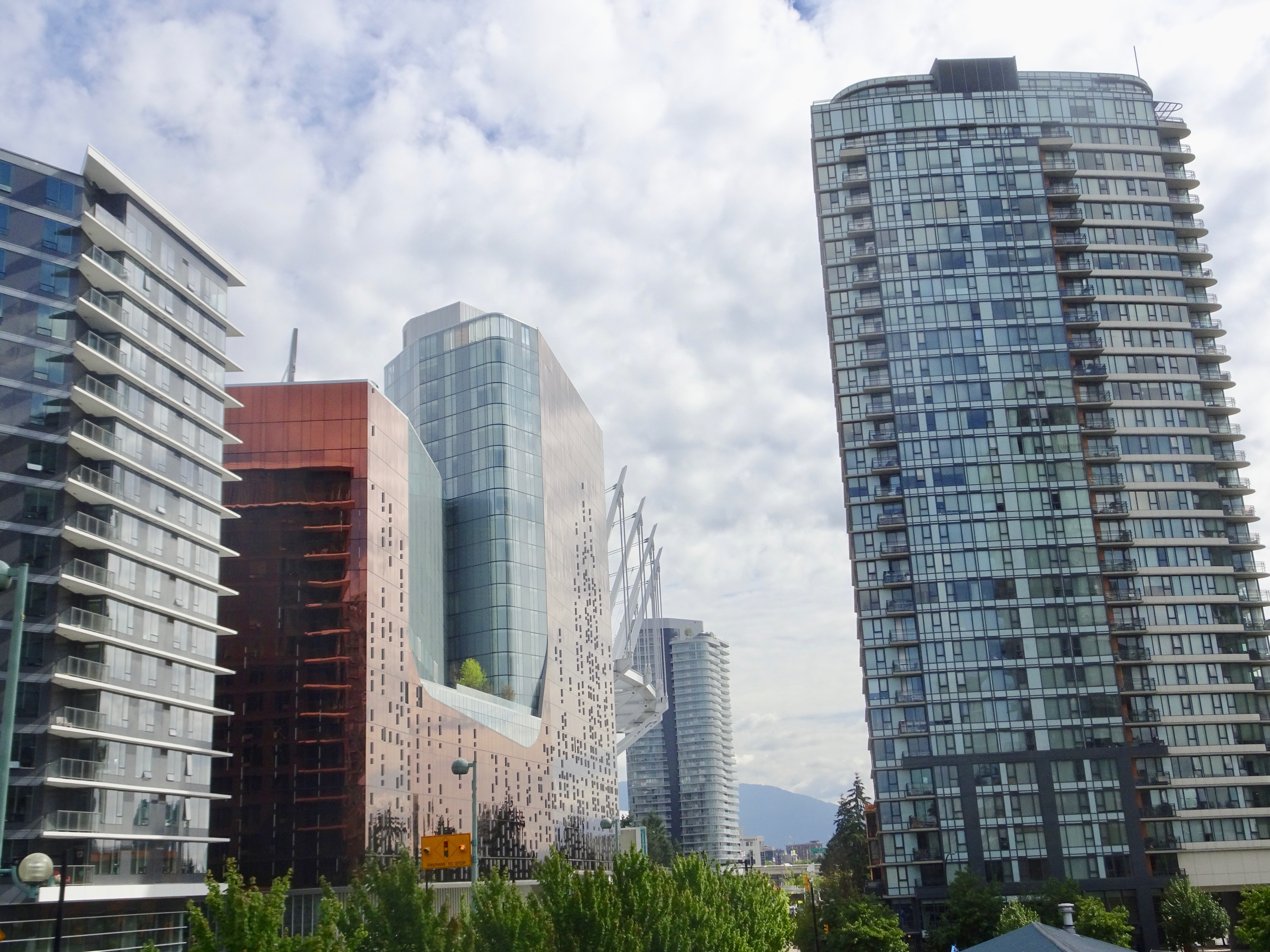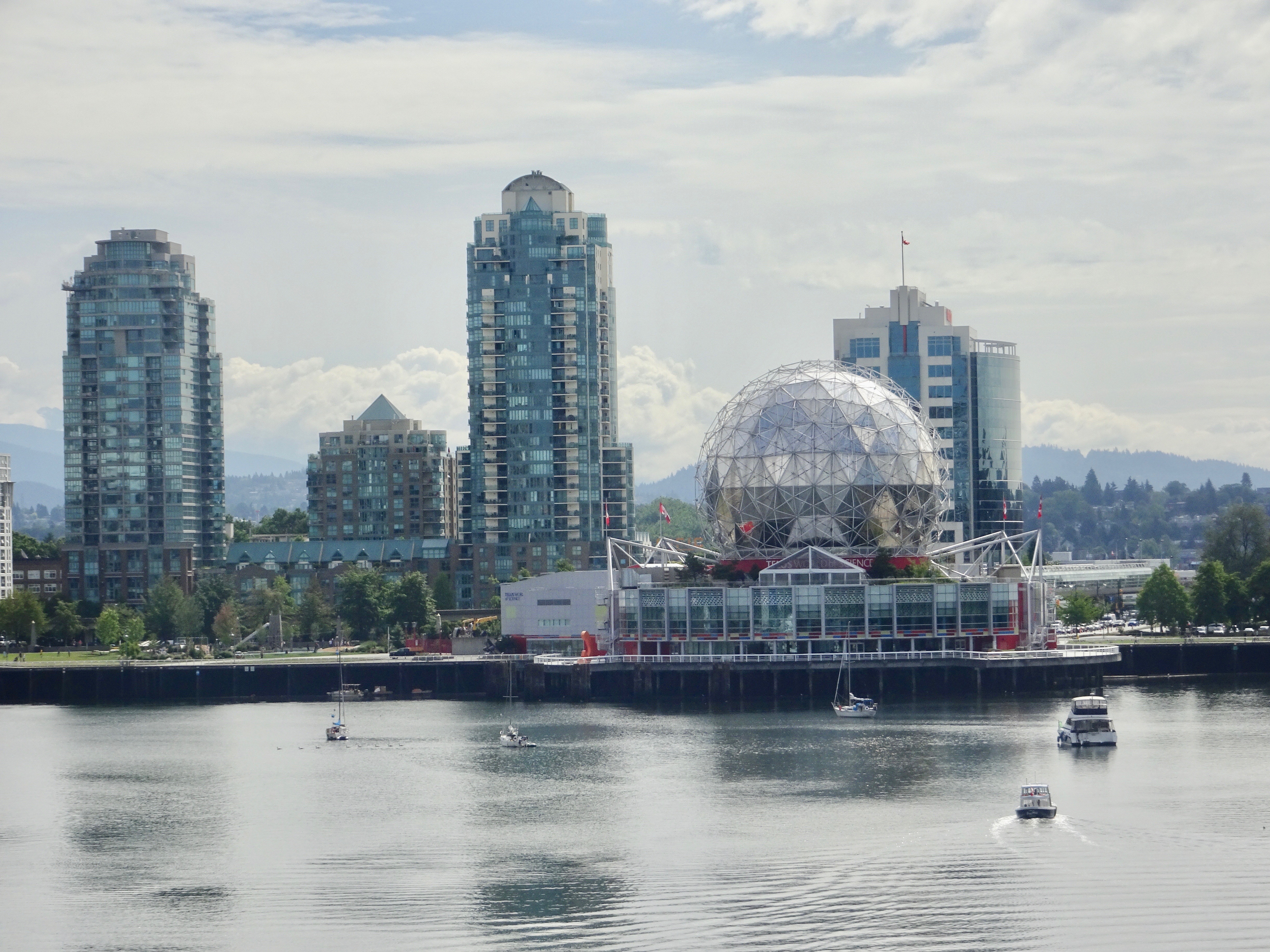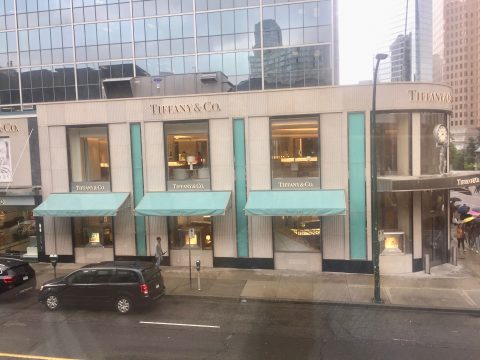 Vancouver is a super expensive place to live and to take a holiday. As you would expect there are many high end retailers such as this around but interestingly, as we saw recently in Florence and Venice recently, the customers frequenting and buying are very largely Asian tourists, mainly Chinese.
Stanley Park
This is North America's third-largest park and draws eight million visitors per year, many of whom cycle, skate or walk past you on the Seawall, a scenic, 5.5-mile path running around the park which is surrounded on three sides by water. It's fabulous that this is right next to the city centre, a brilliant resource for the populace which has many attractions including an Aquarium, walking trails, a mini train, places to eat, totem poles and places galore to enjoy a picnic. 
We had expected to spend a day or more in the Park but sadly the weather put paid to this and in the end we only managed a quick circuit of the circumference of the  park one morning before an afternoon in the pub watching World Cup footy on the TV! Belgium 1 England 0  ….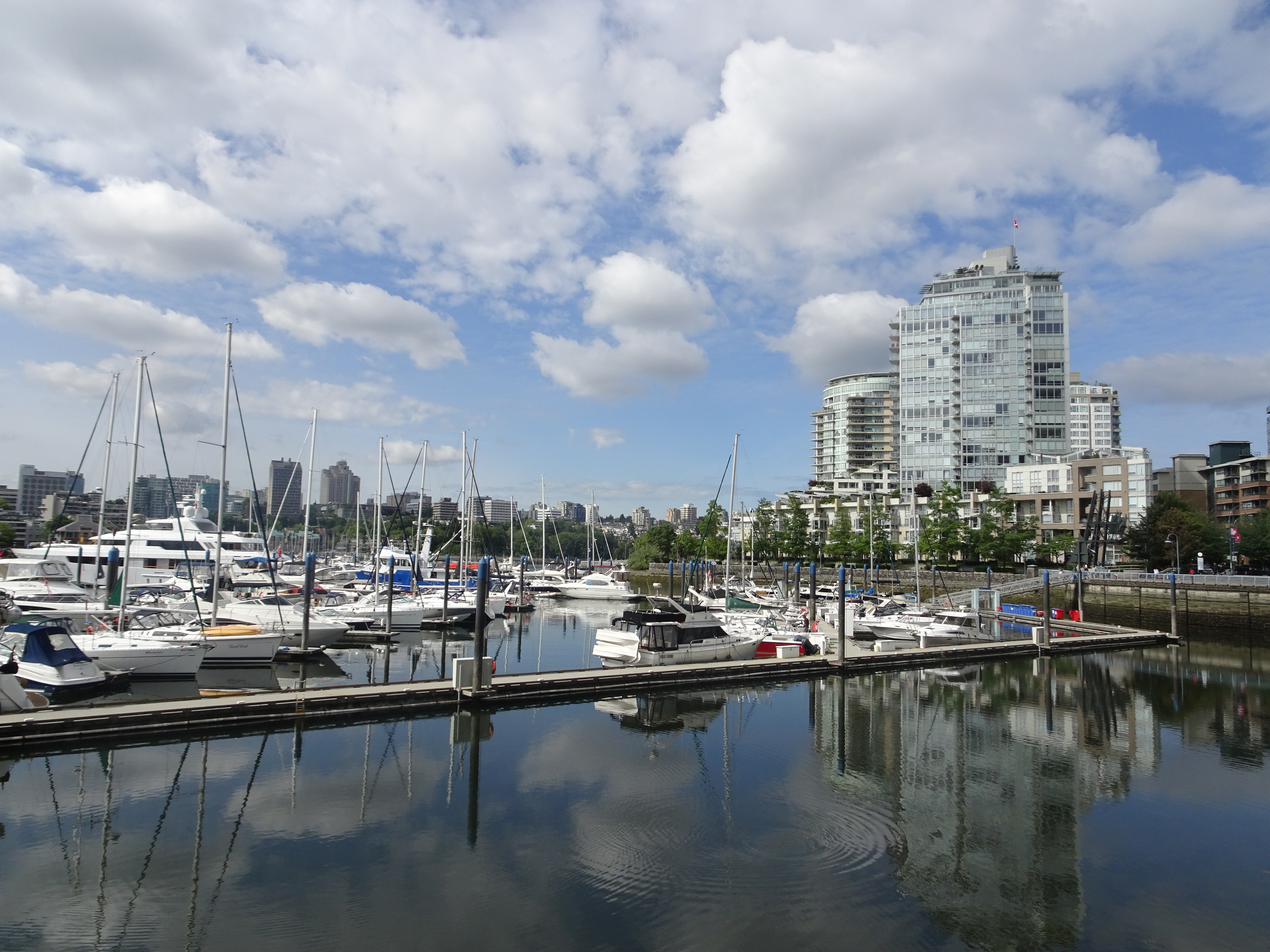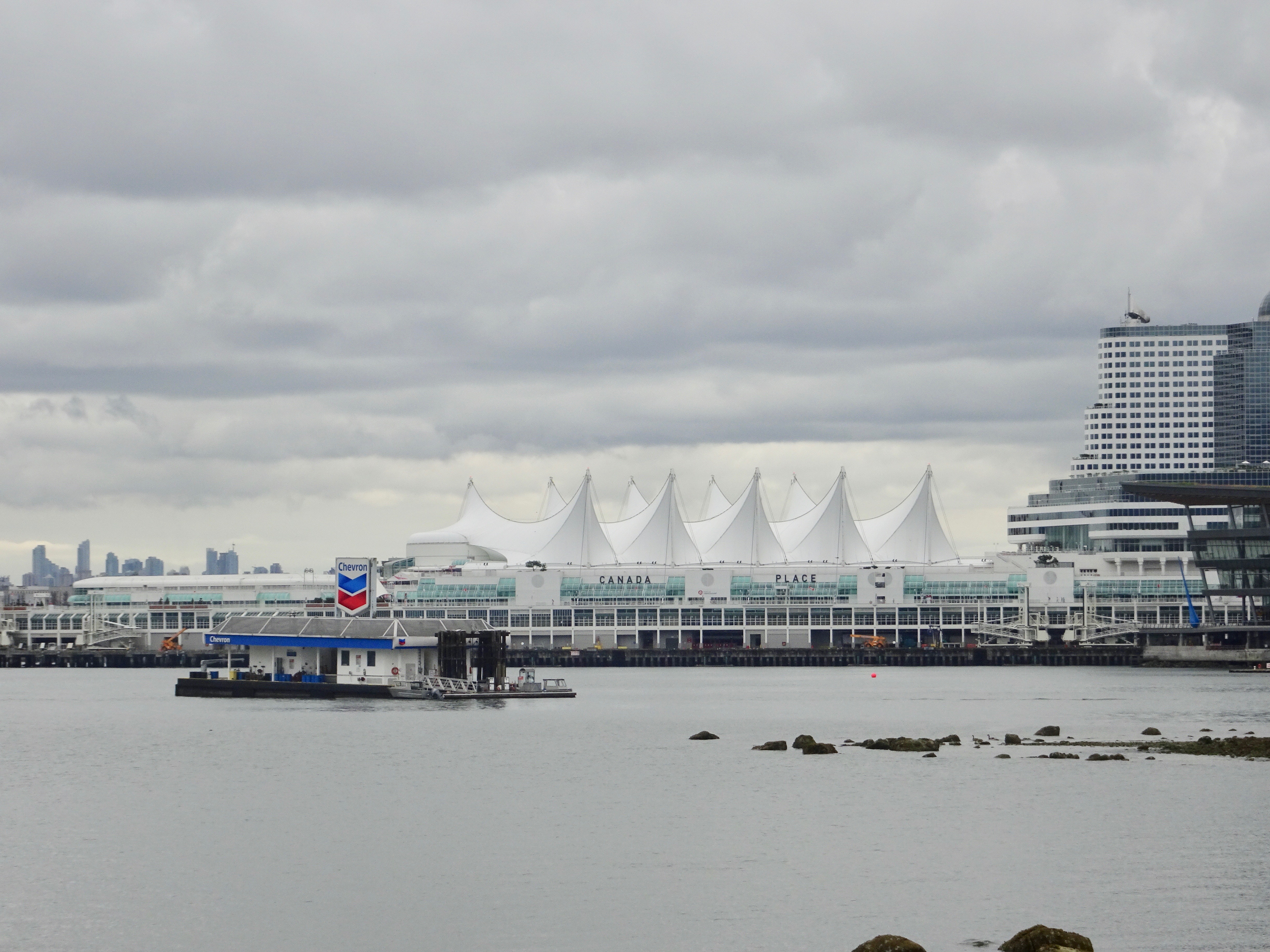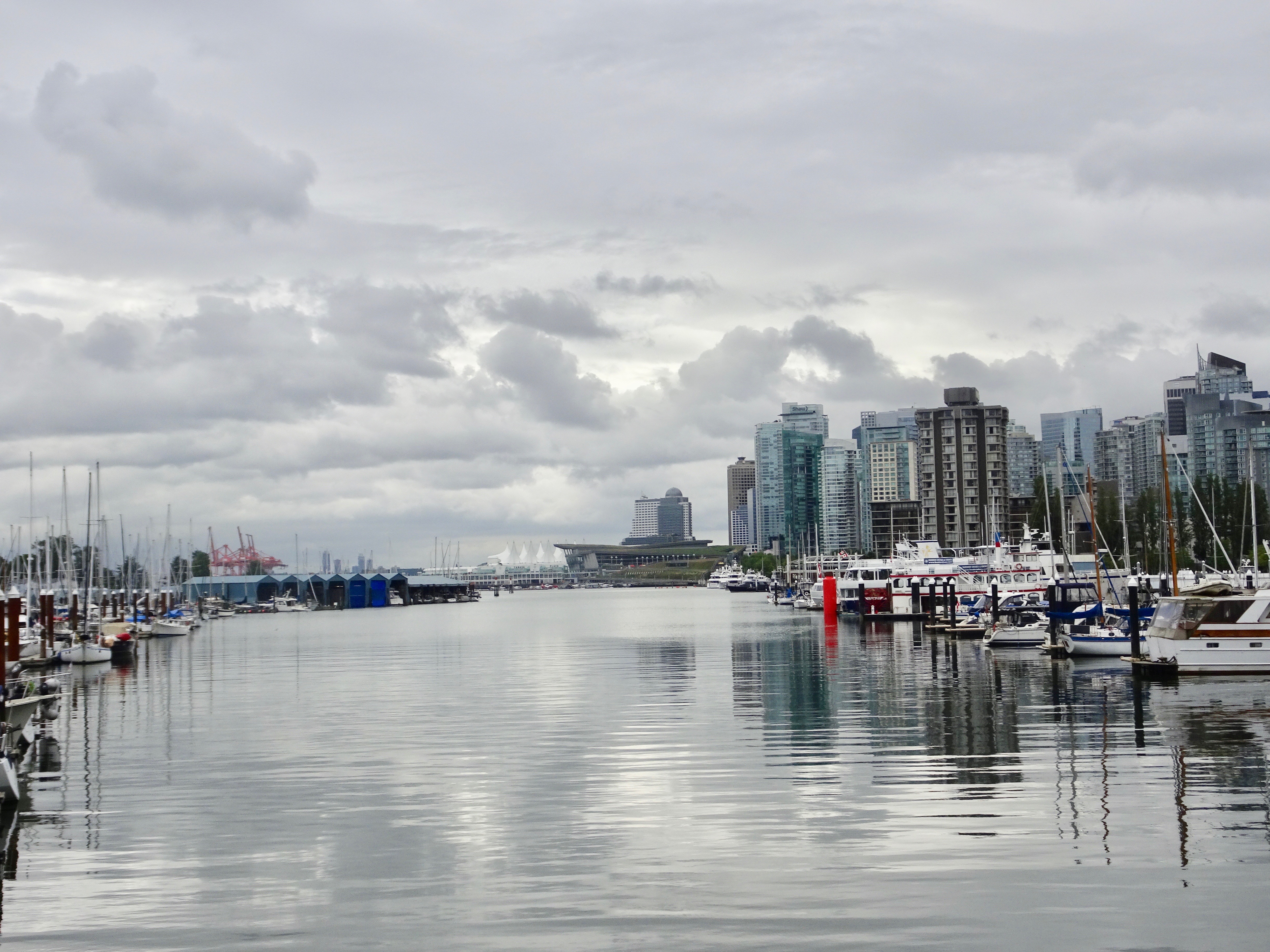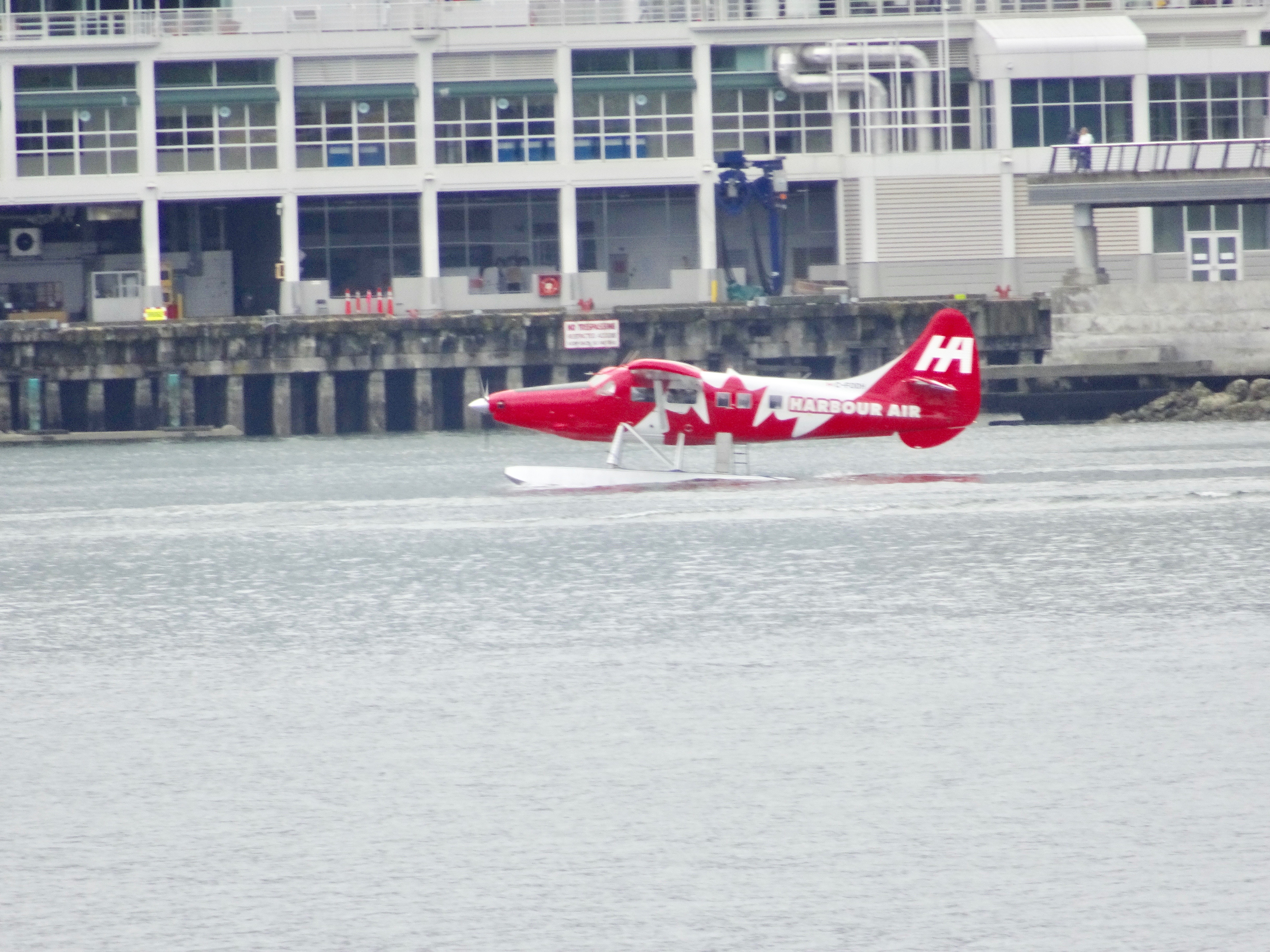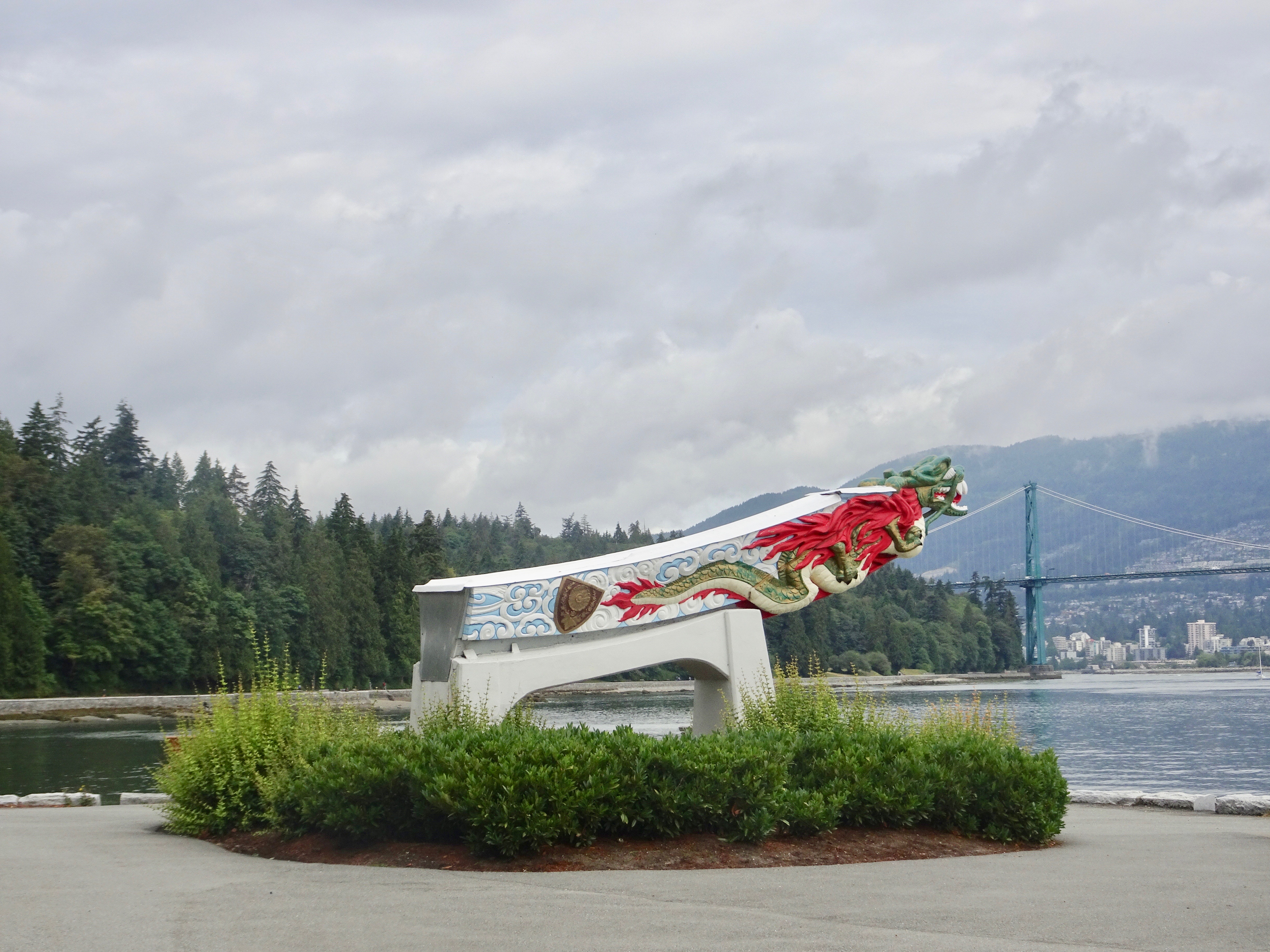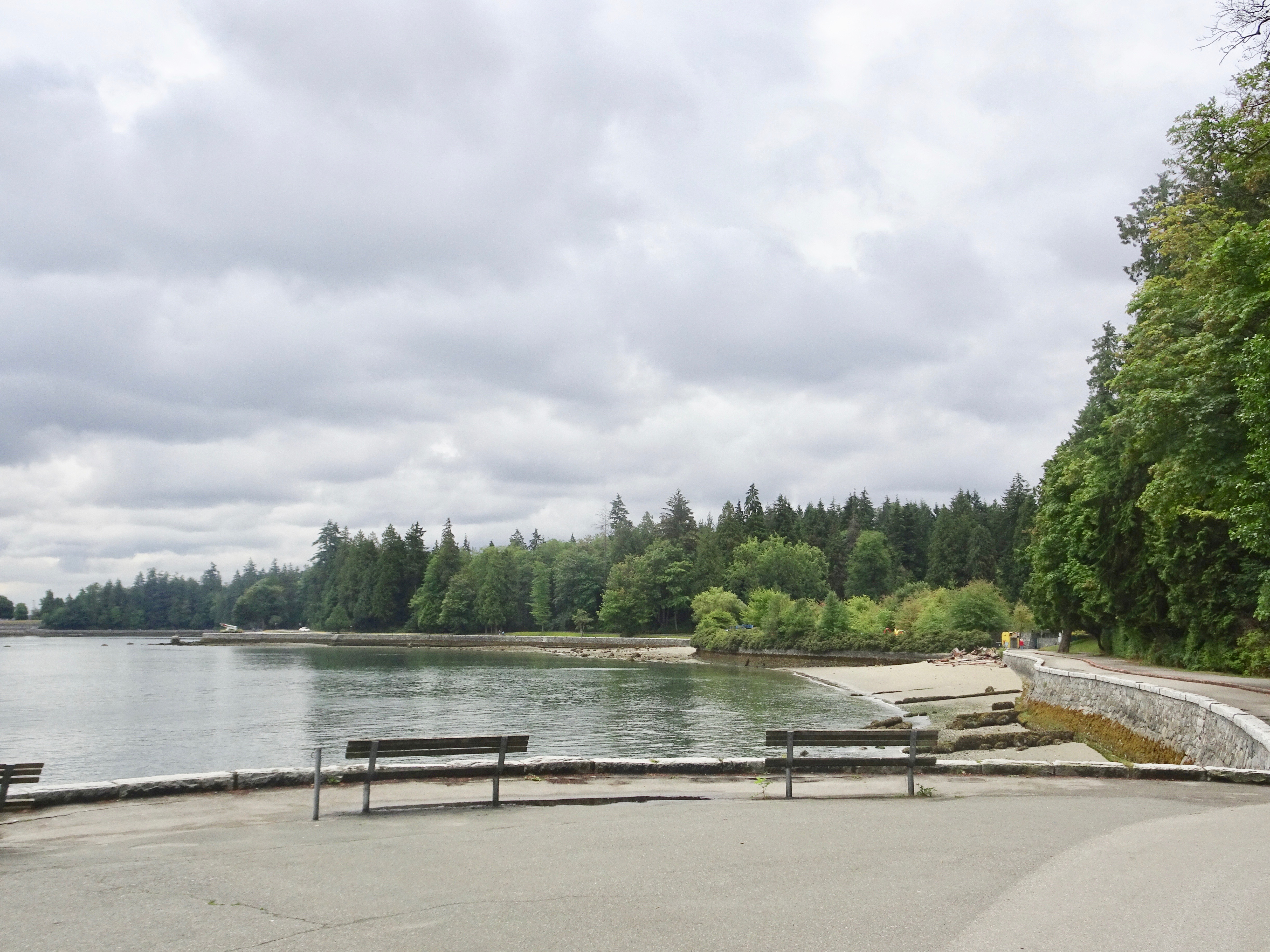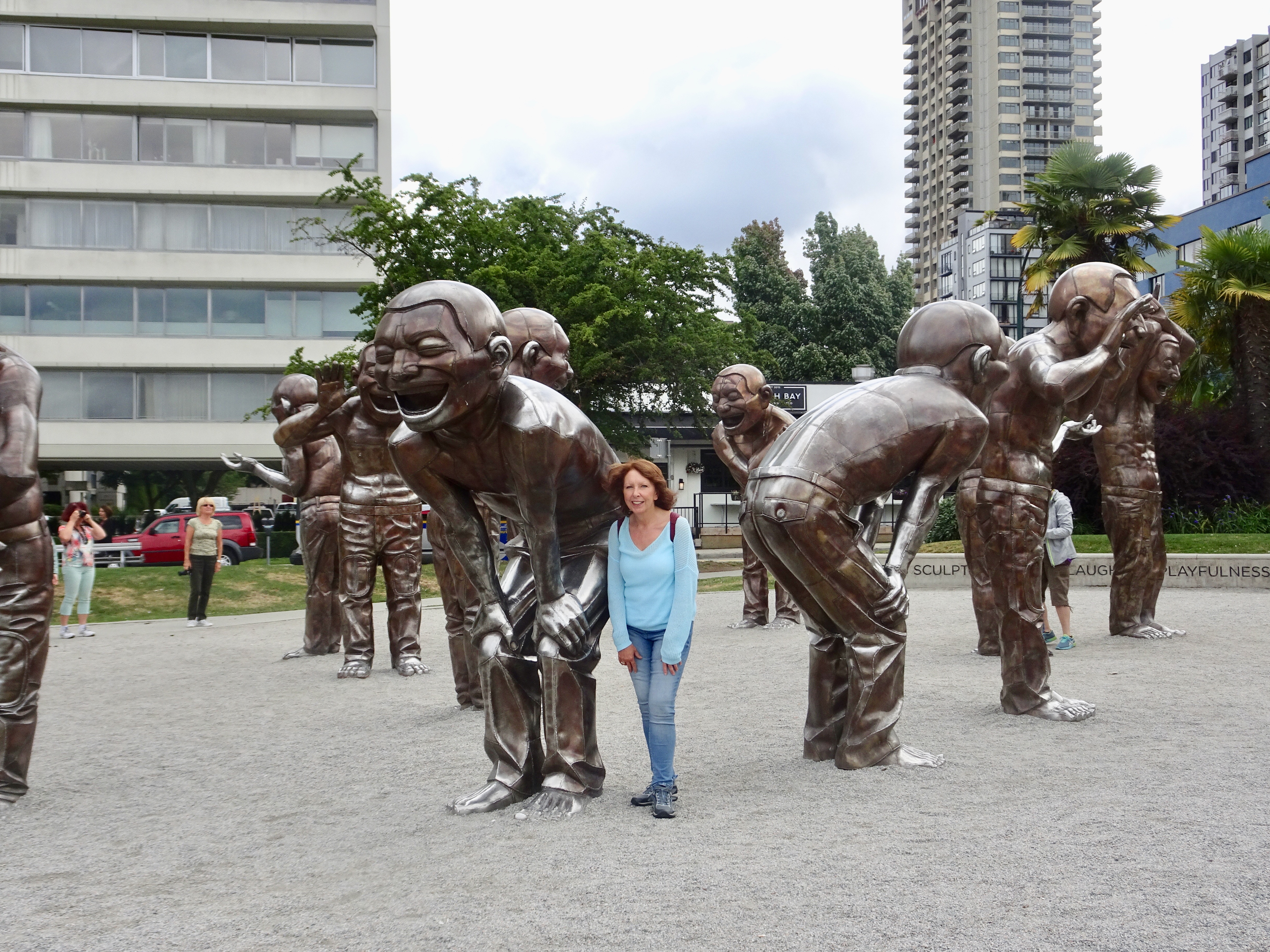 Glanville Island
The island is situated south of Vancouver city and separated from it by a body of water known as False Creek. It is reached from the city centre by public ferries but in truth this is is actually a peninsular rather than an island and can be accessed by car on the side furthermost from the city. With the waterfront lined with condos, restaurants and more, this is a fab and vibrant area to visit. We loved it!
The island  was once an industrial area but was left to become derelict for many years until the art community started to renovate and move into some of the buildings. The regeneration continued and it's now one of the top attractions of Vancouver with a famous 'must visit' daily fresh market with lots of special products – pies, confectionery etc and plenty of cafes and restaurants selling food of all kinds with several having tables overlooking the waterfront.
Quite apart from food, there is a brewery here, one of many micro breweries in town. But Glanville Island isn't all about food and drink. There are galleries galore here in and around the market and at least two theatres, one of which we visited to see an excellent Irish musical, Once! One of the best shows Ive ever seen!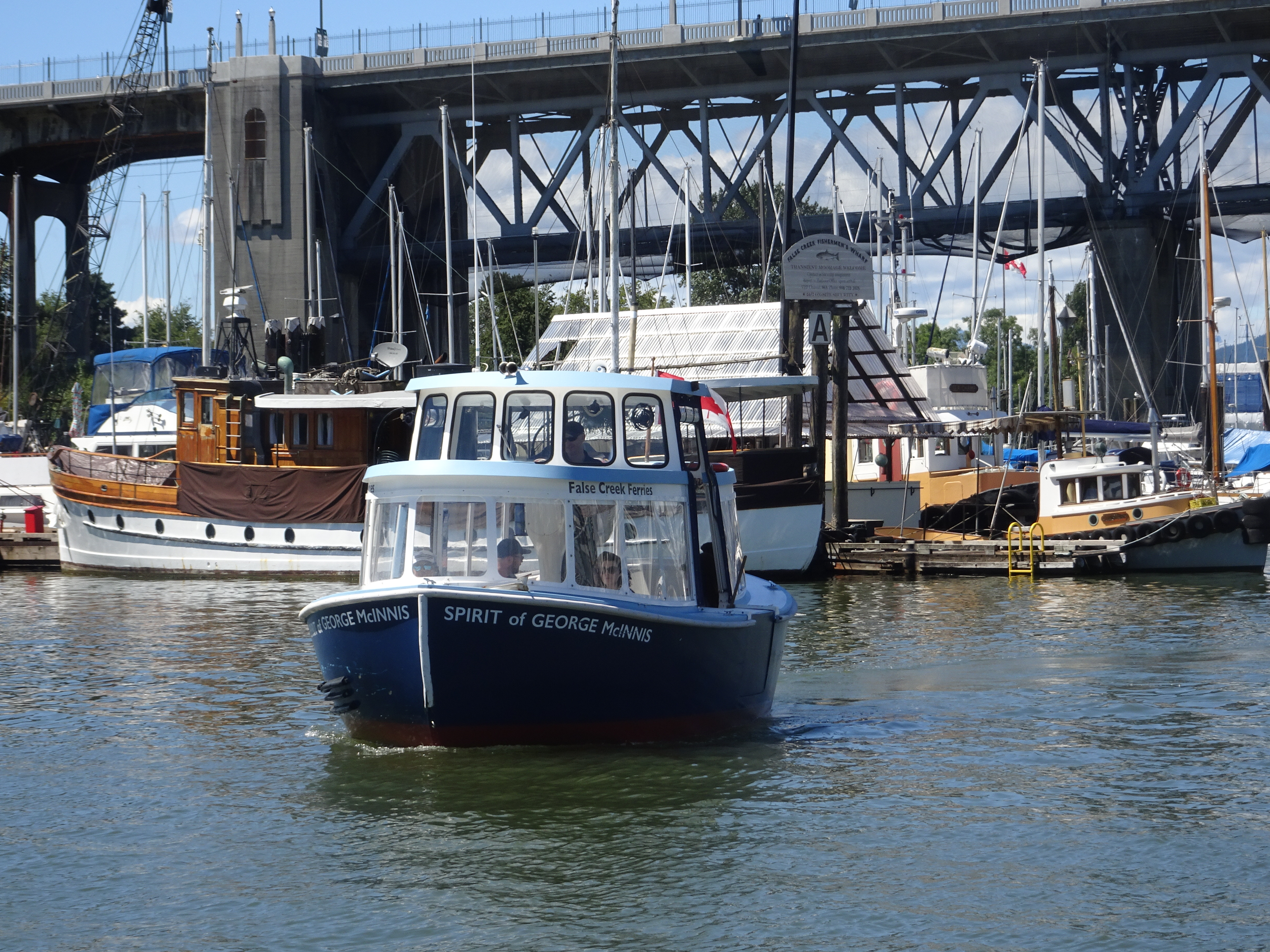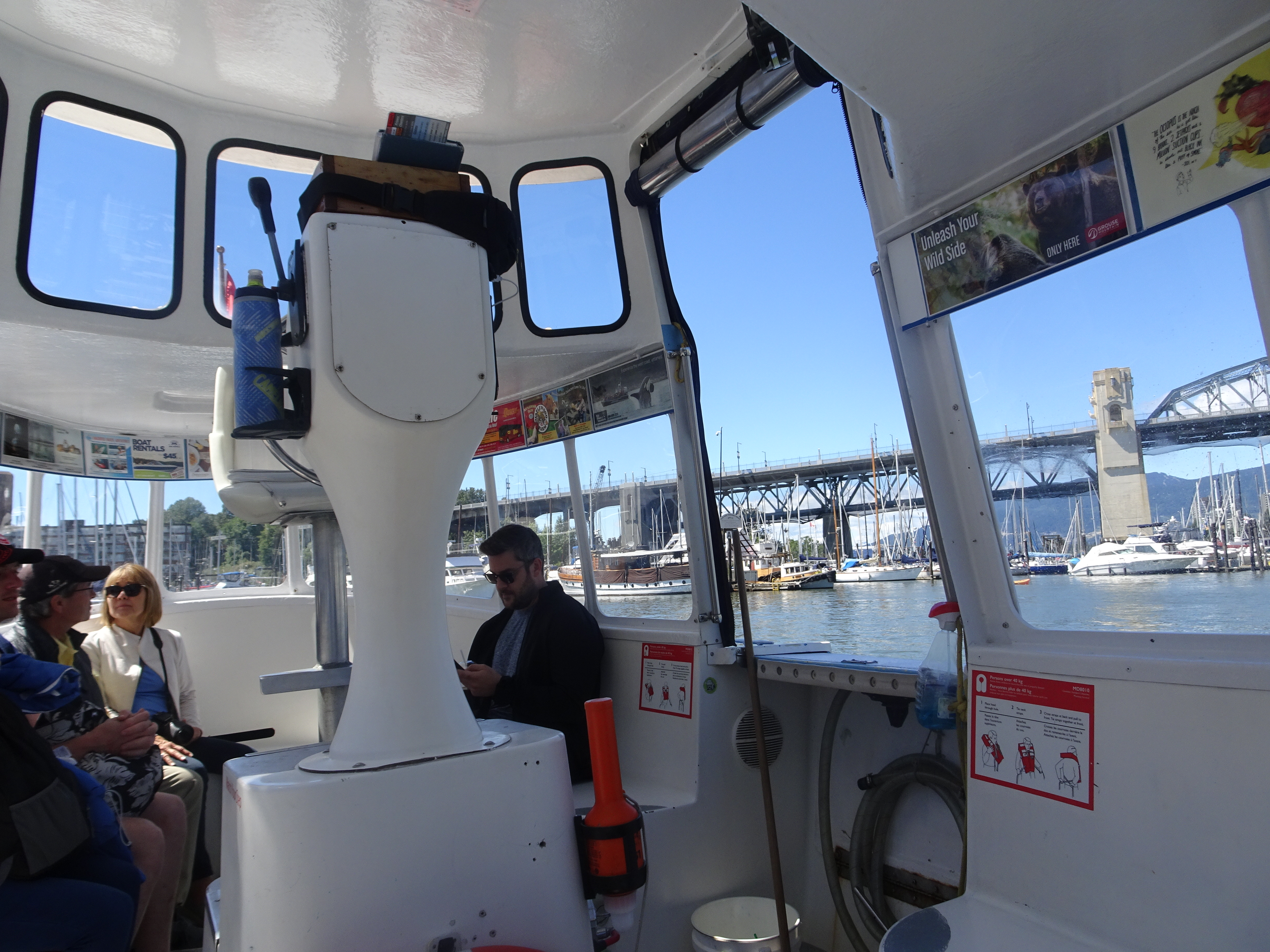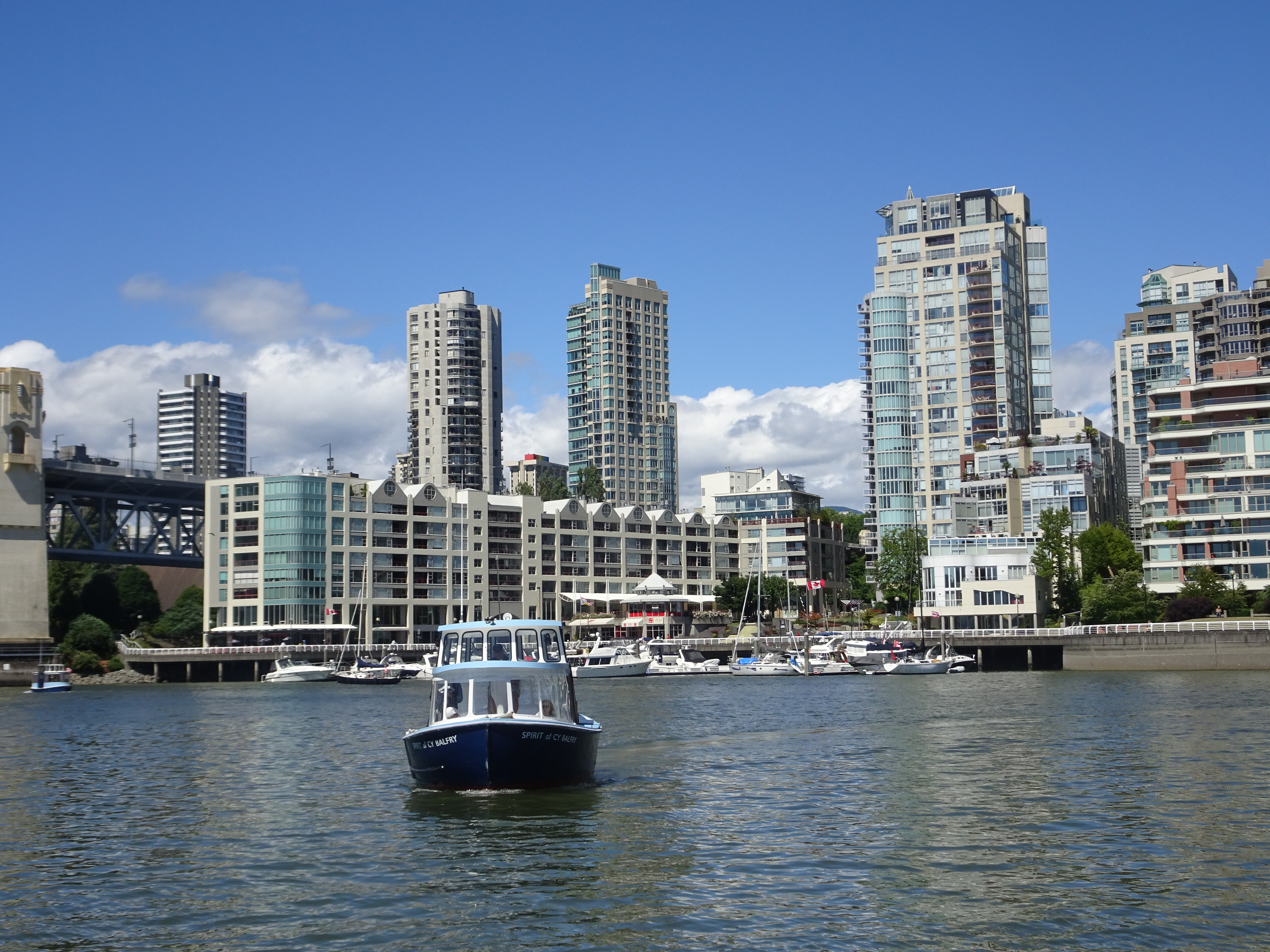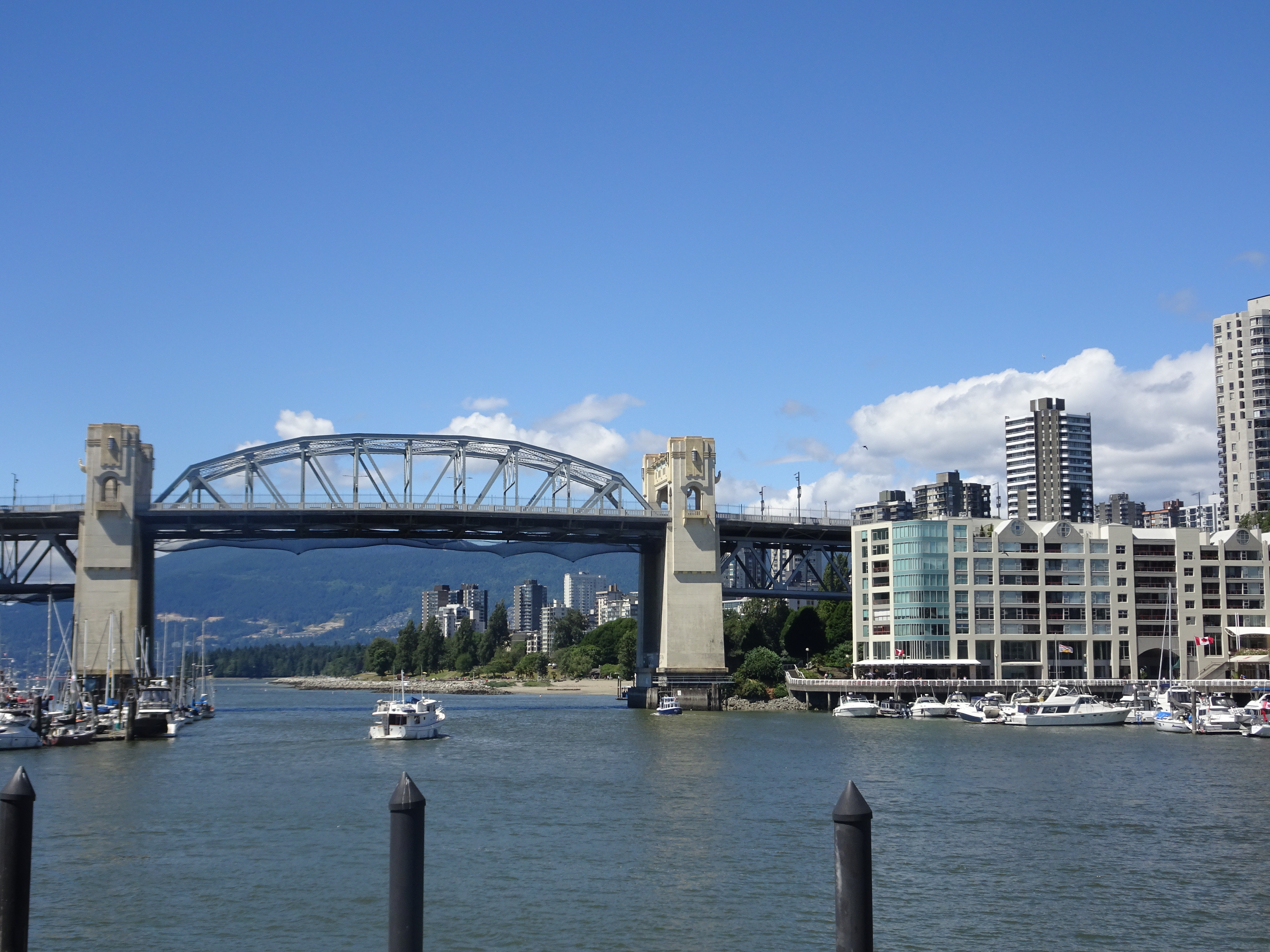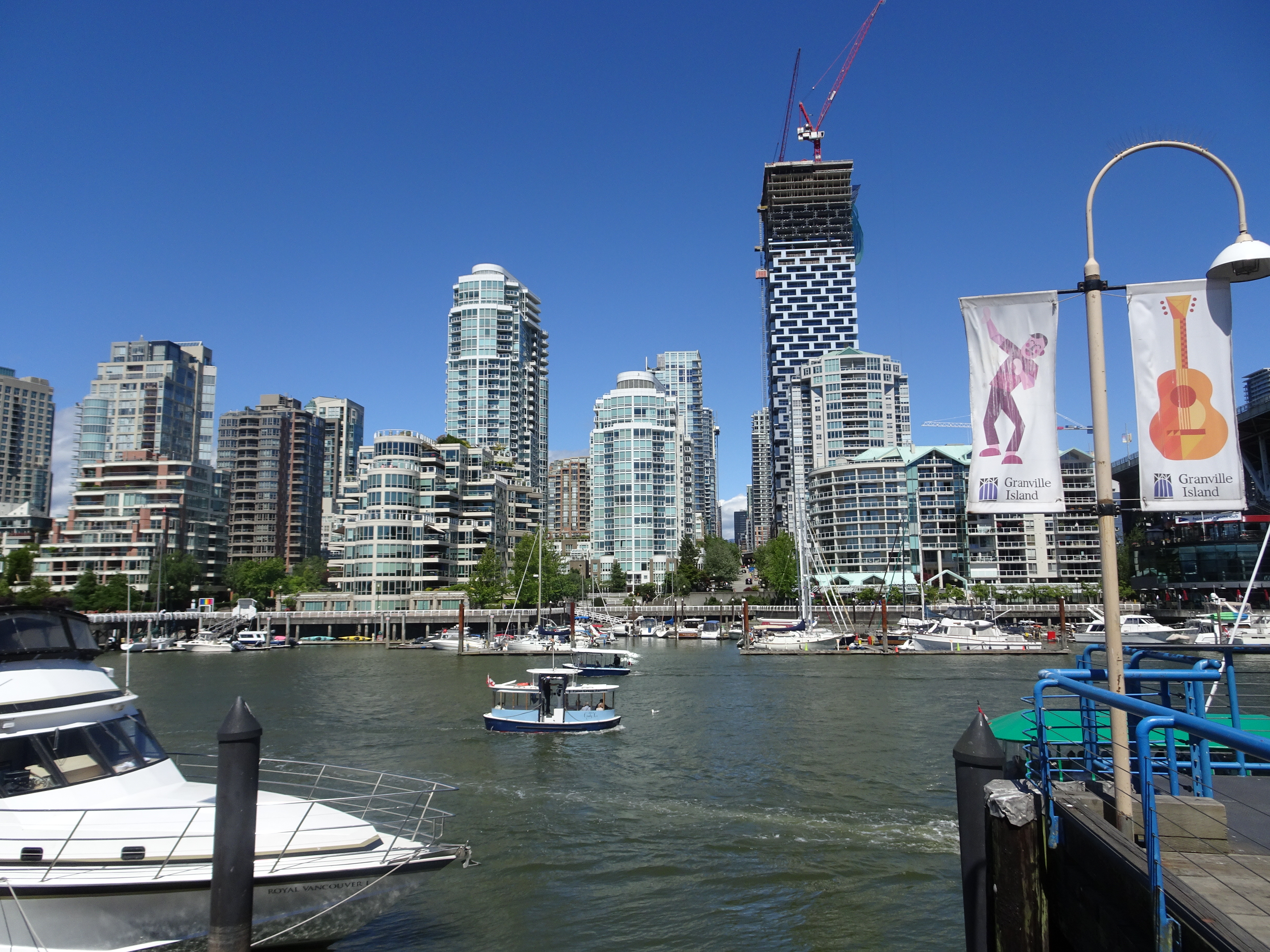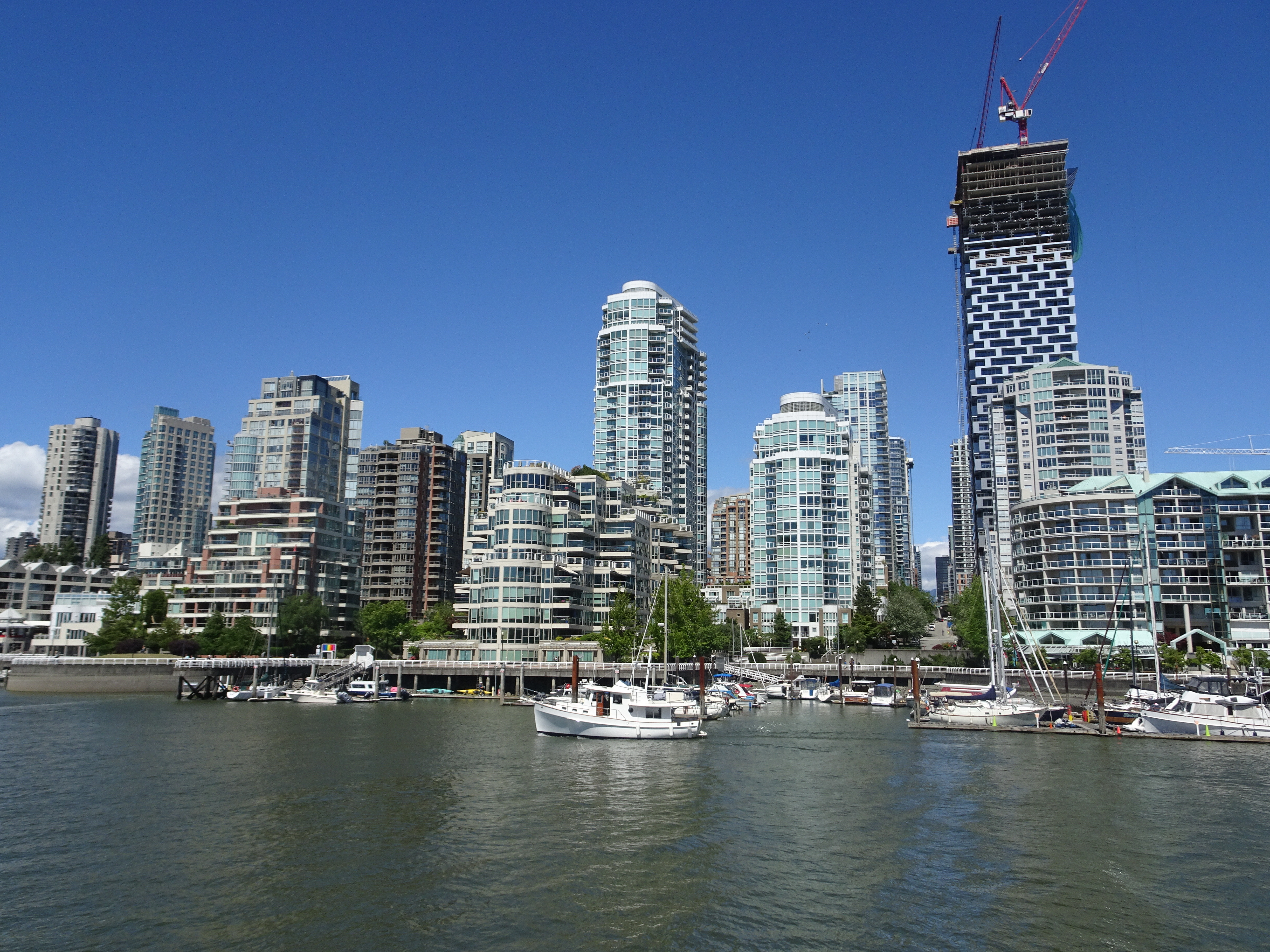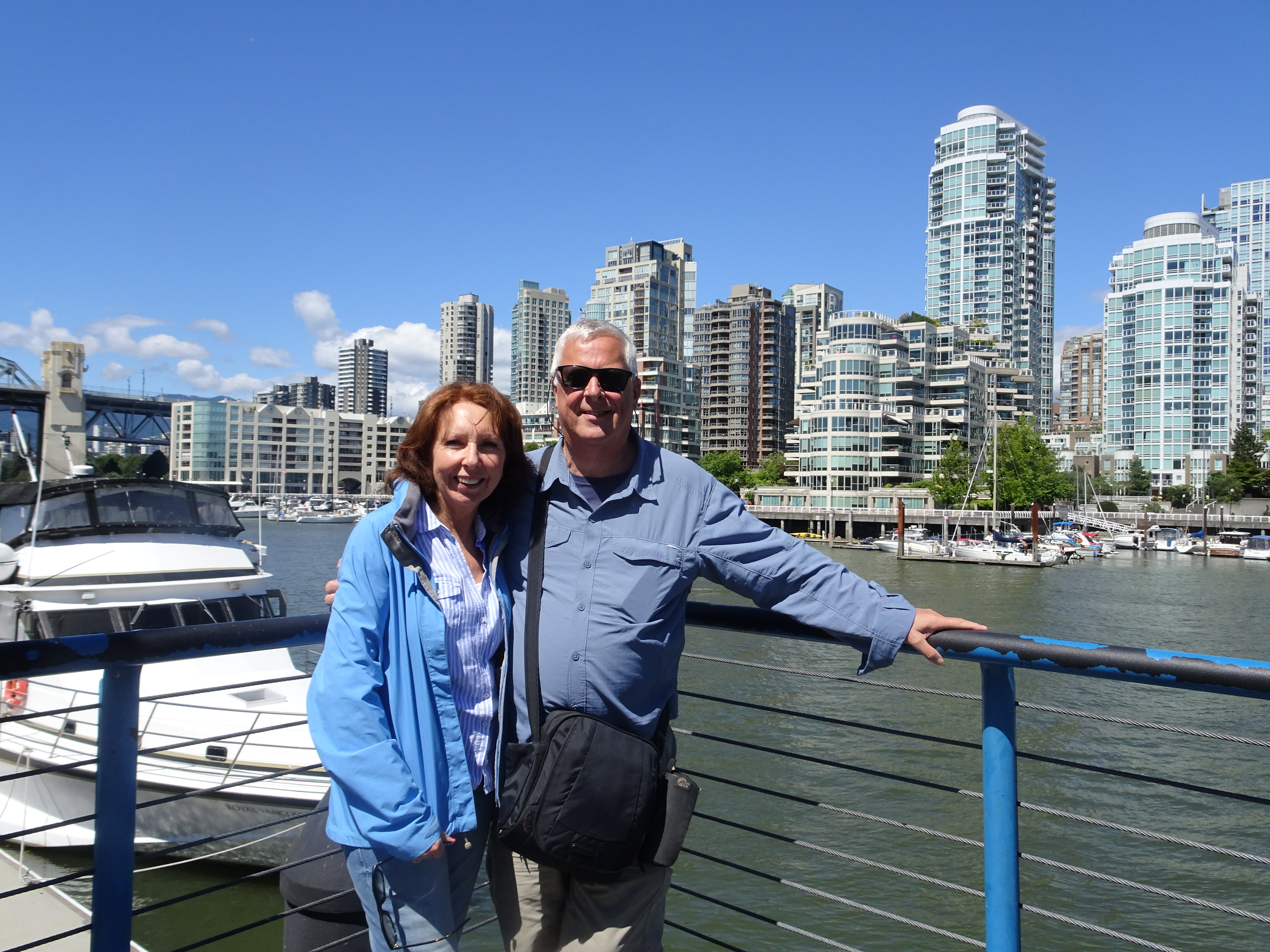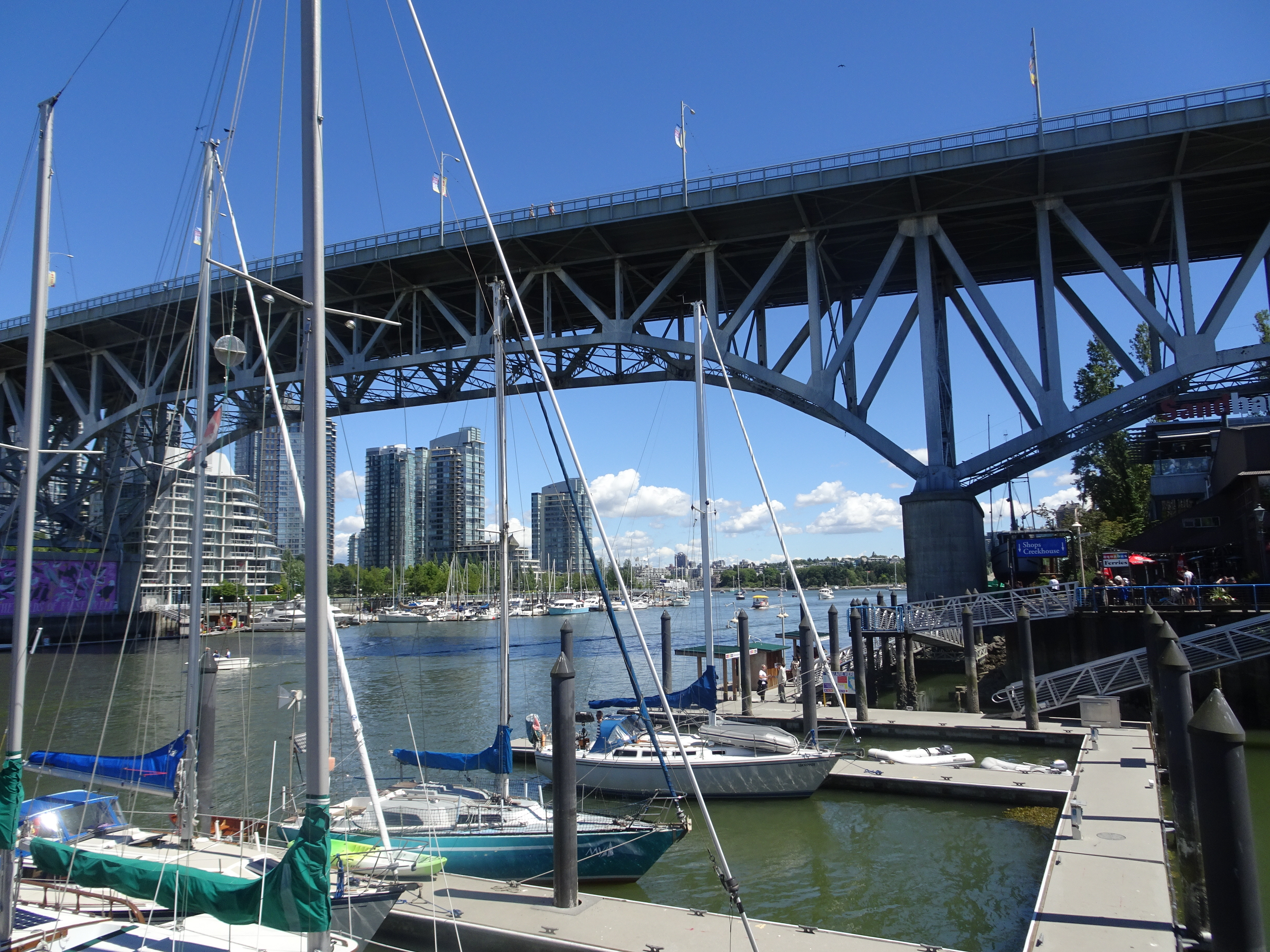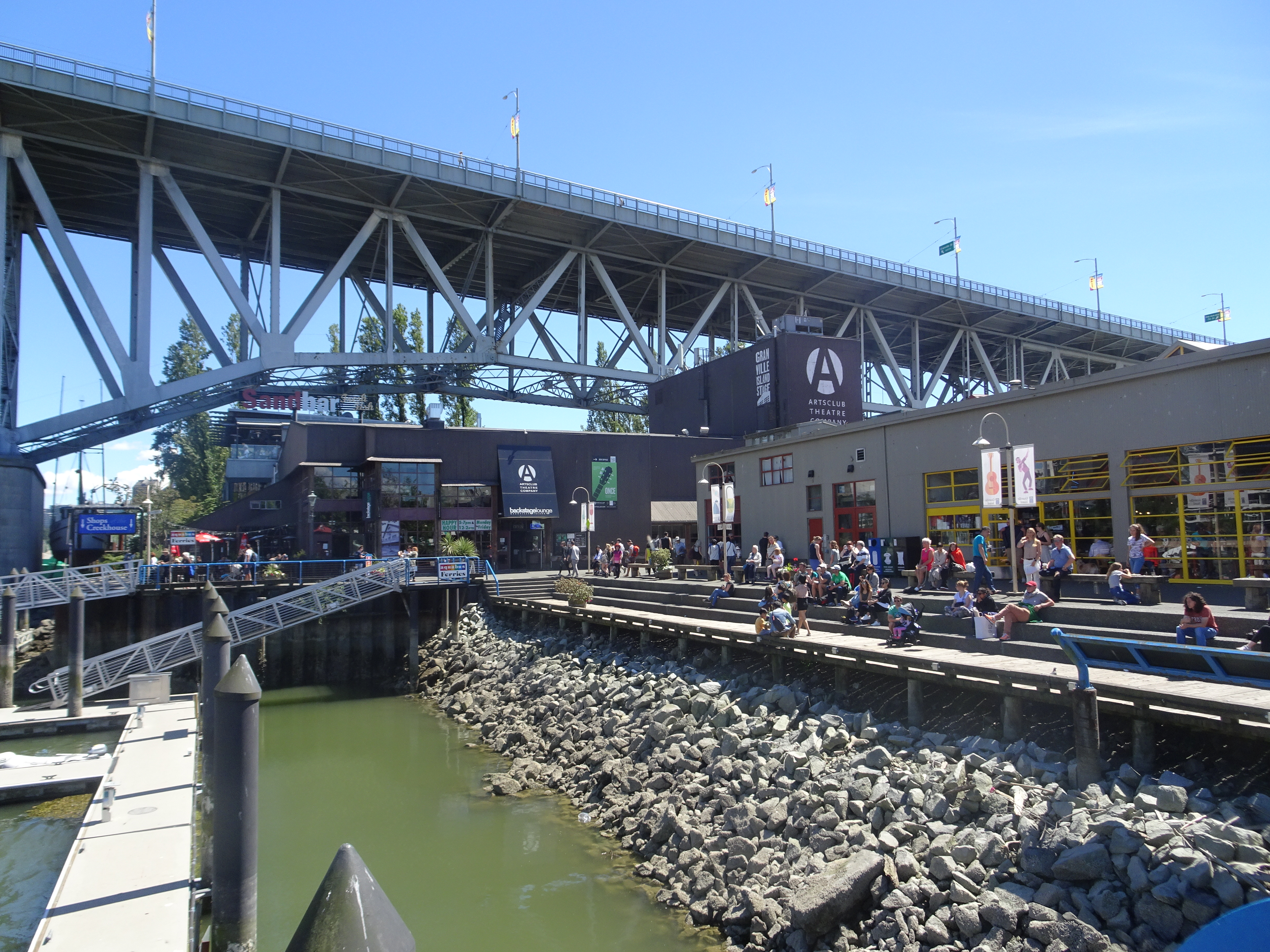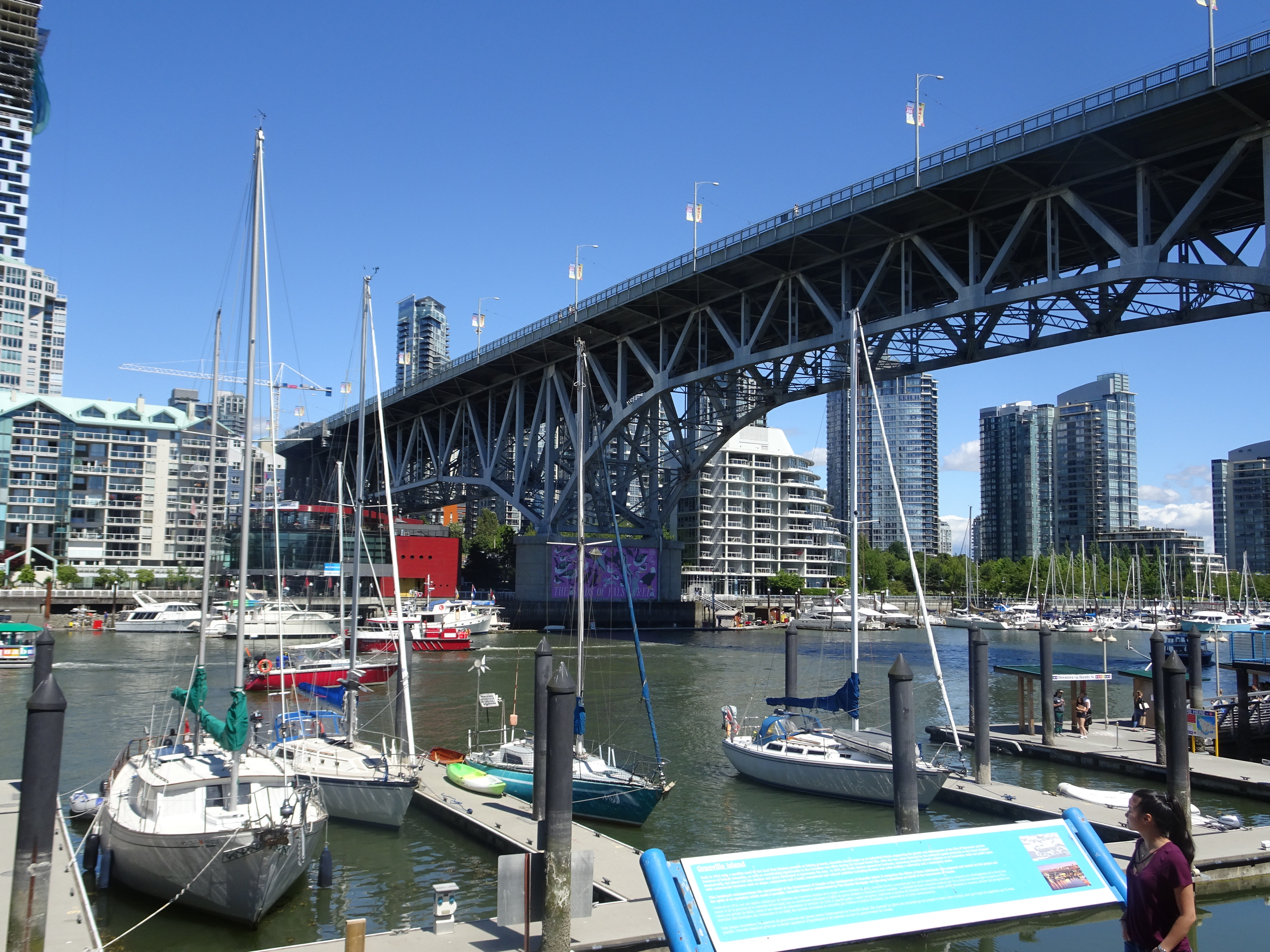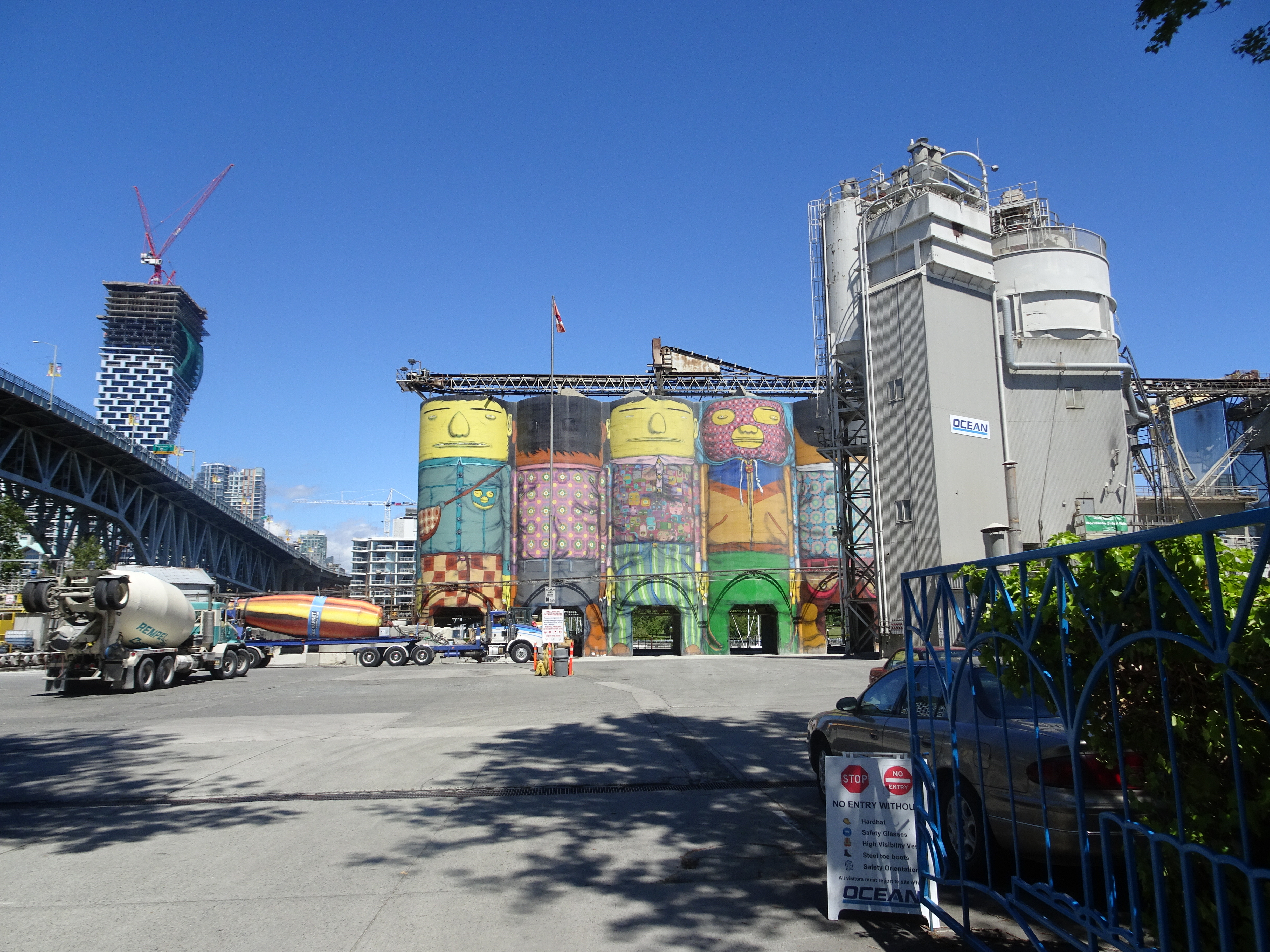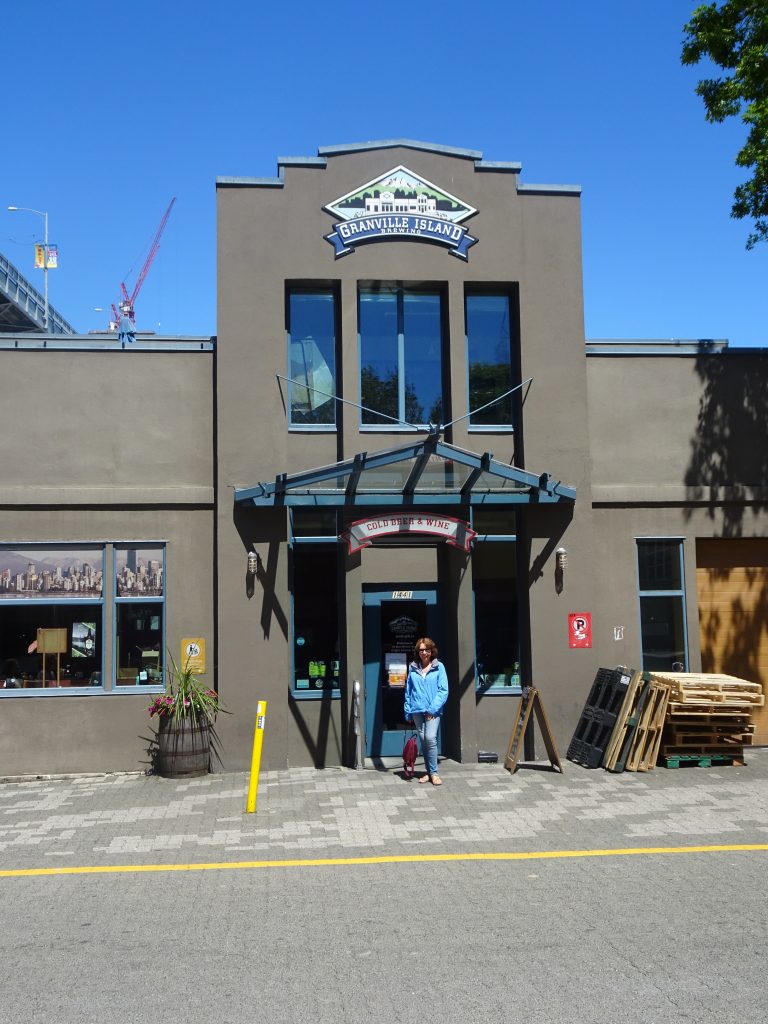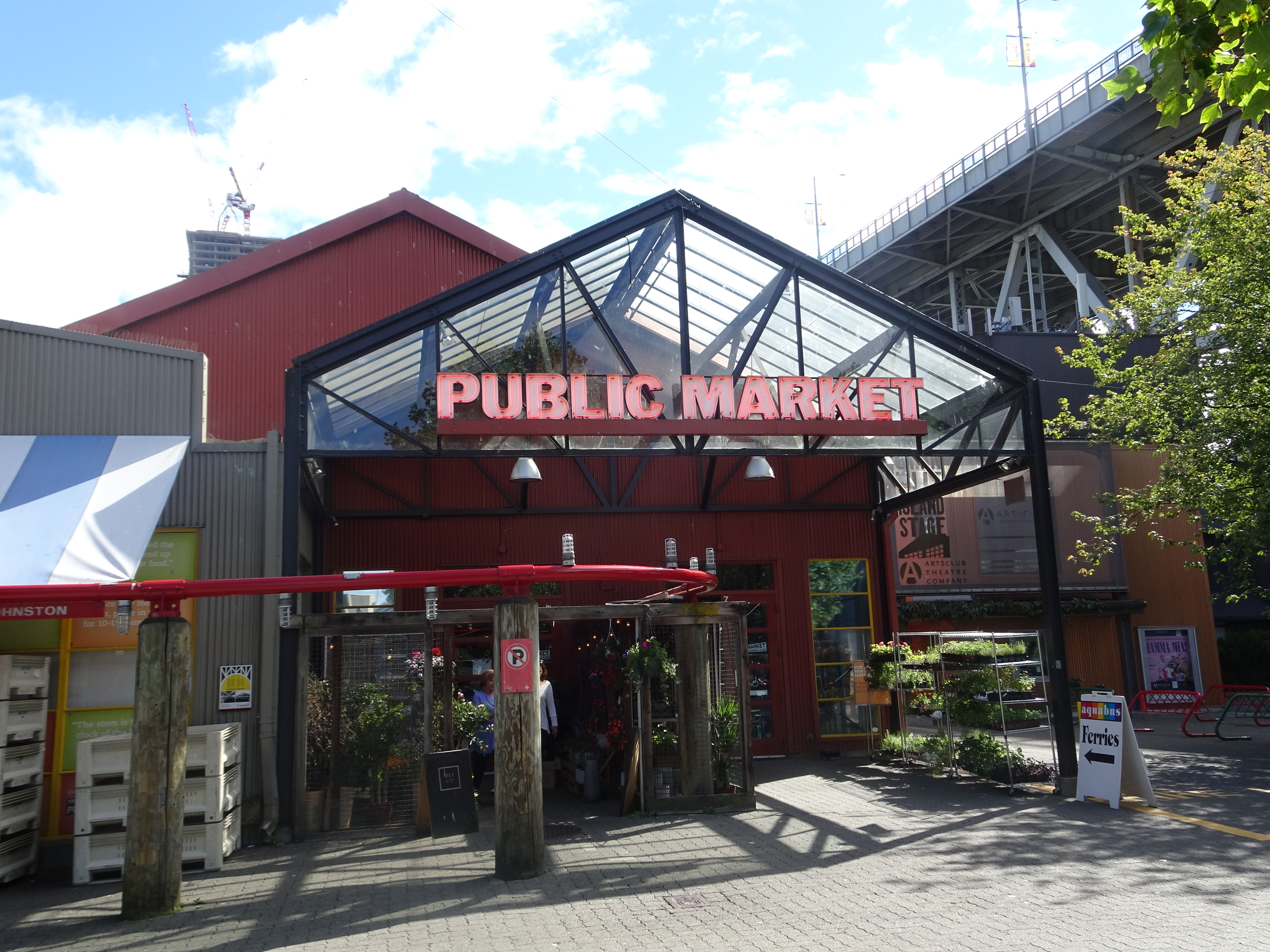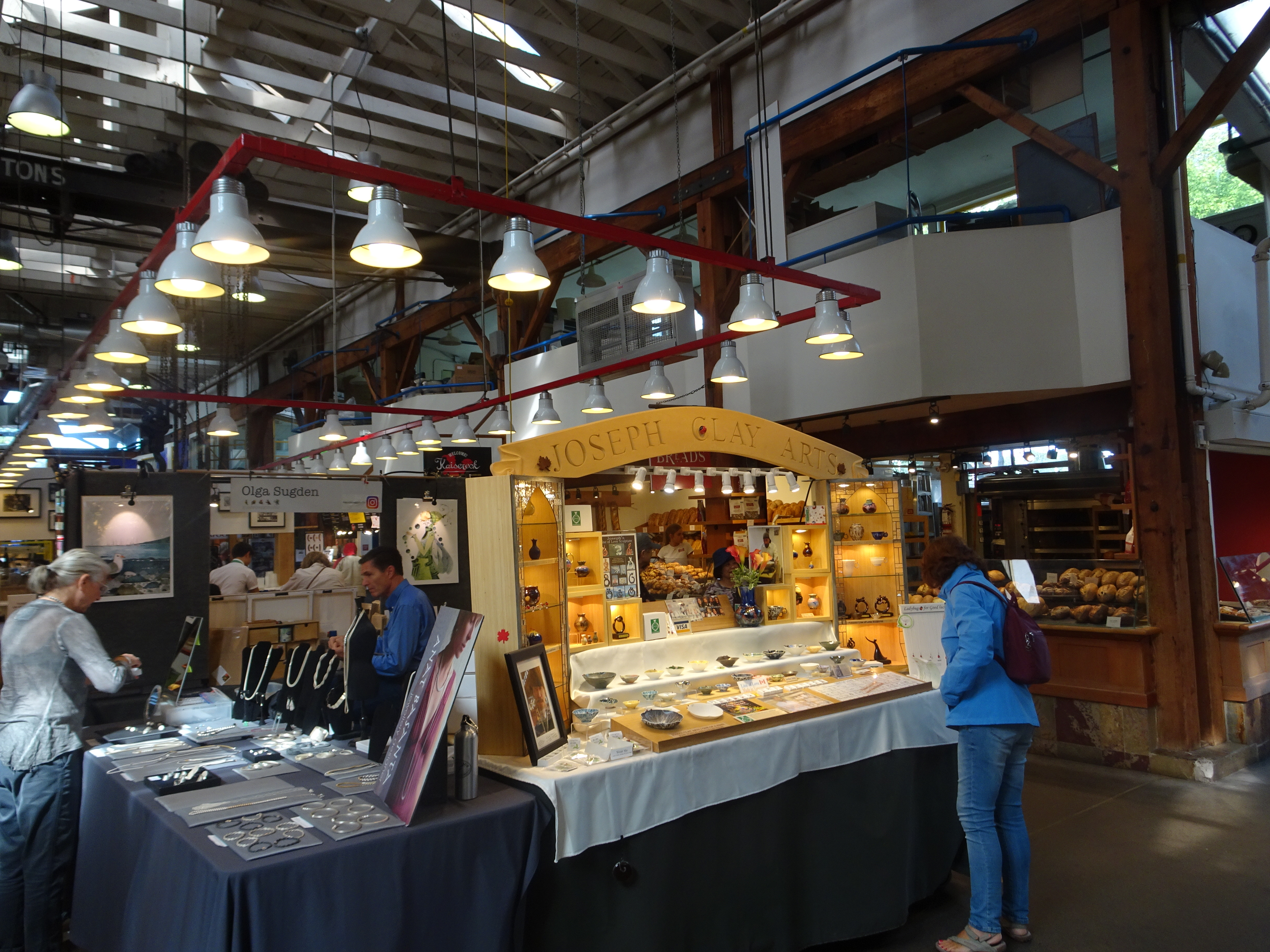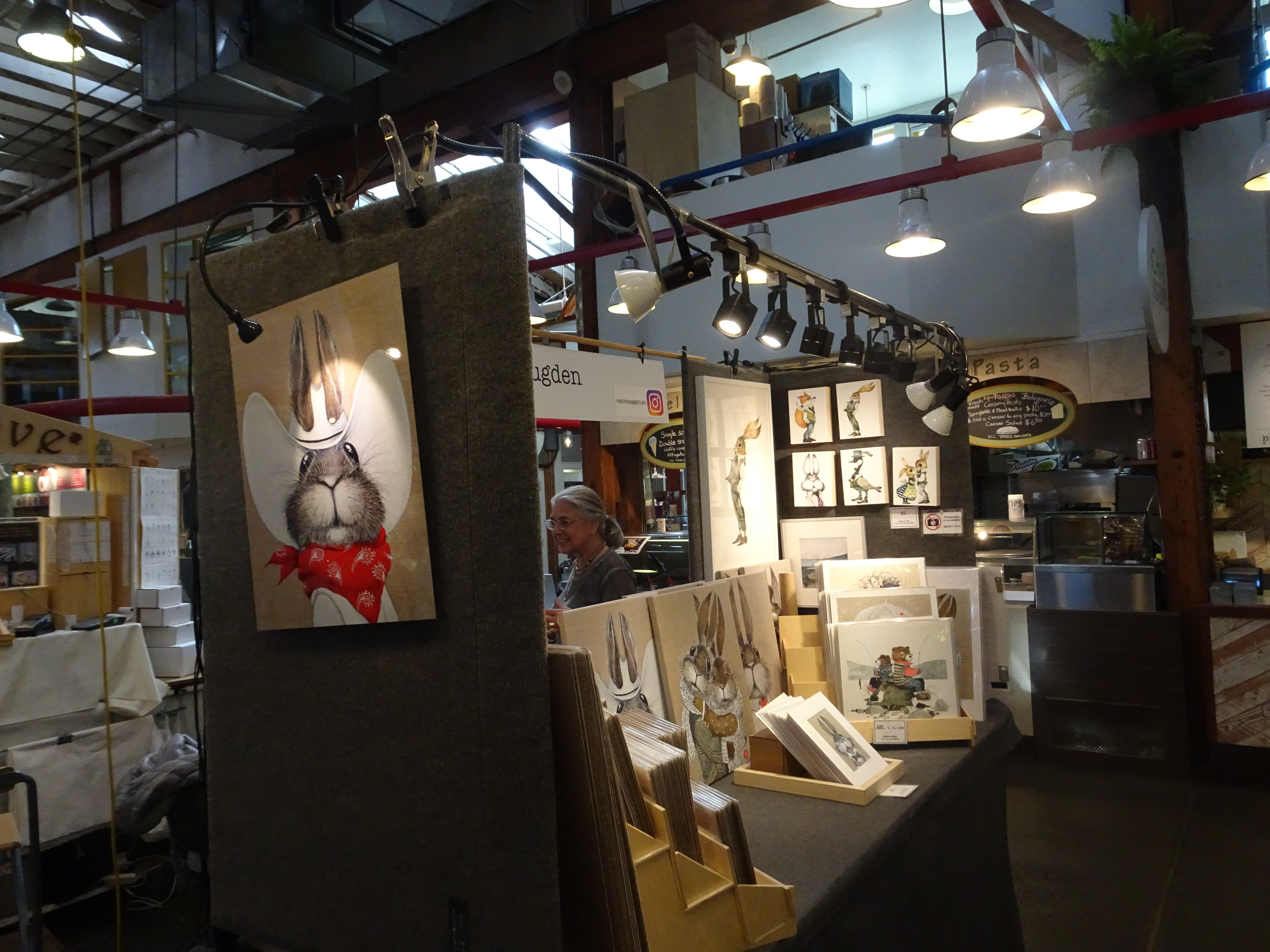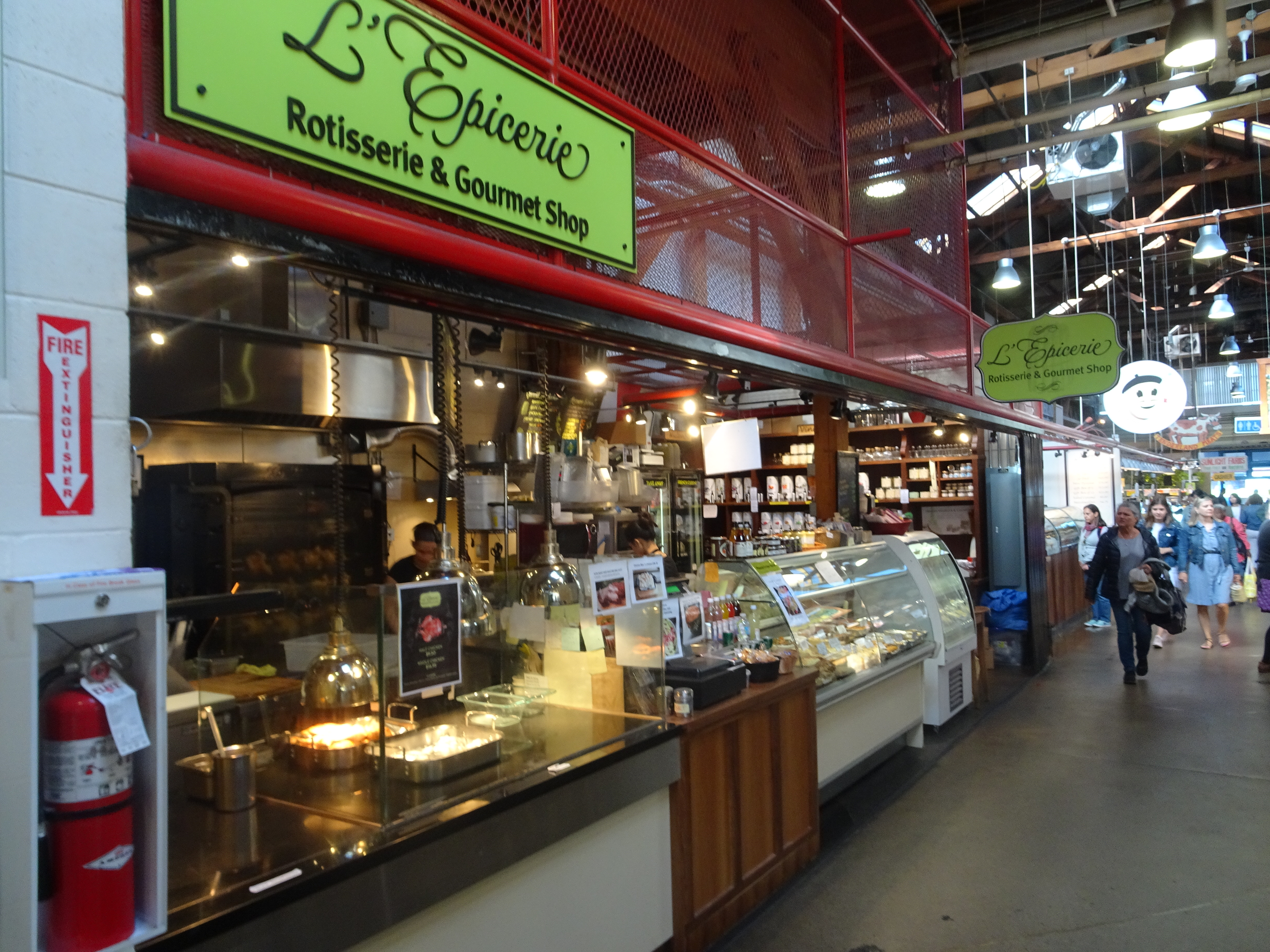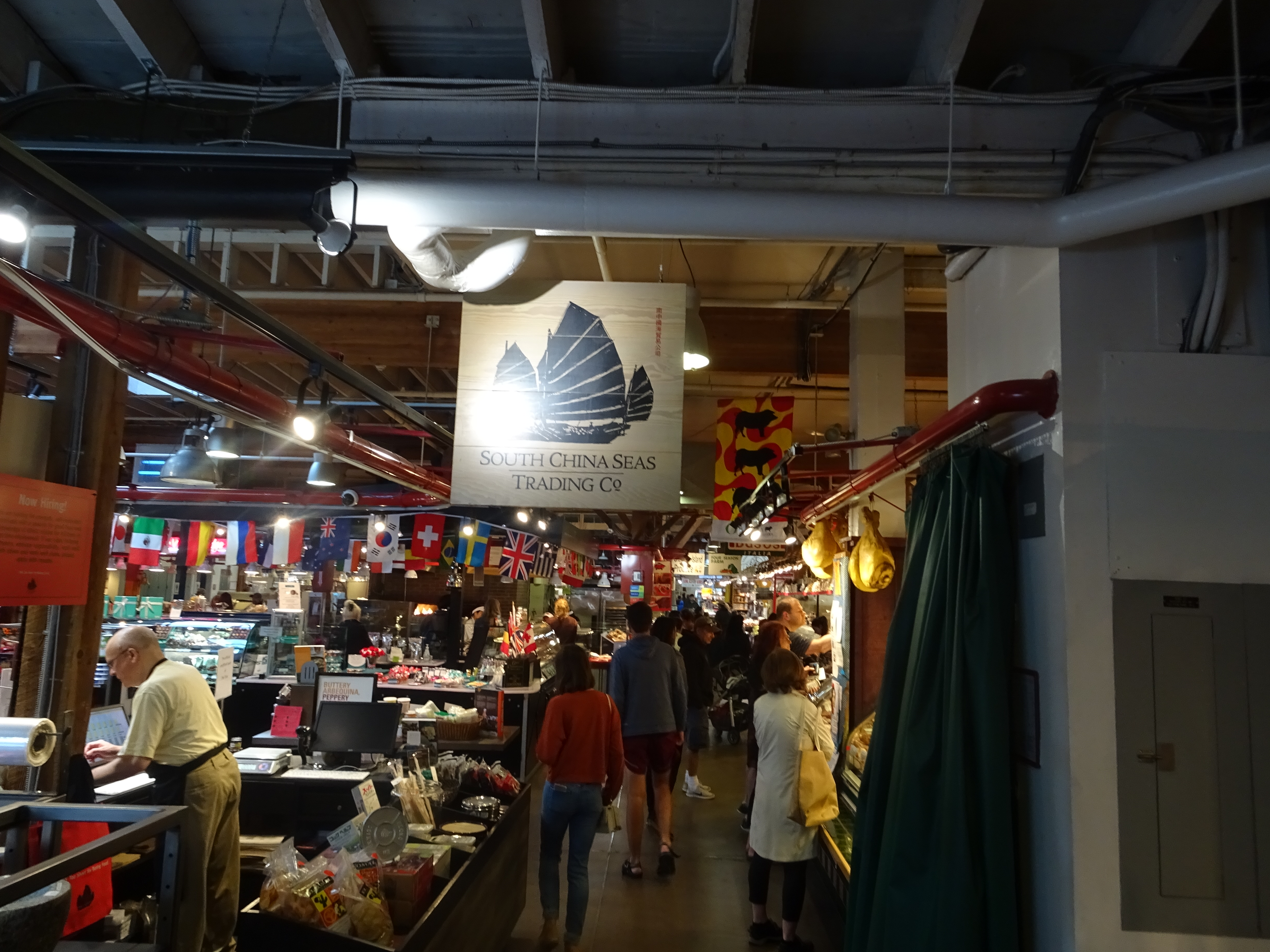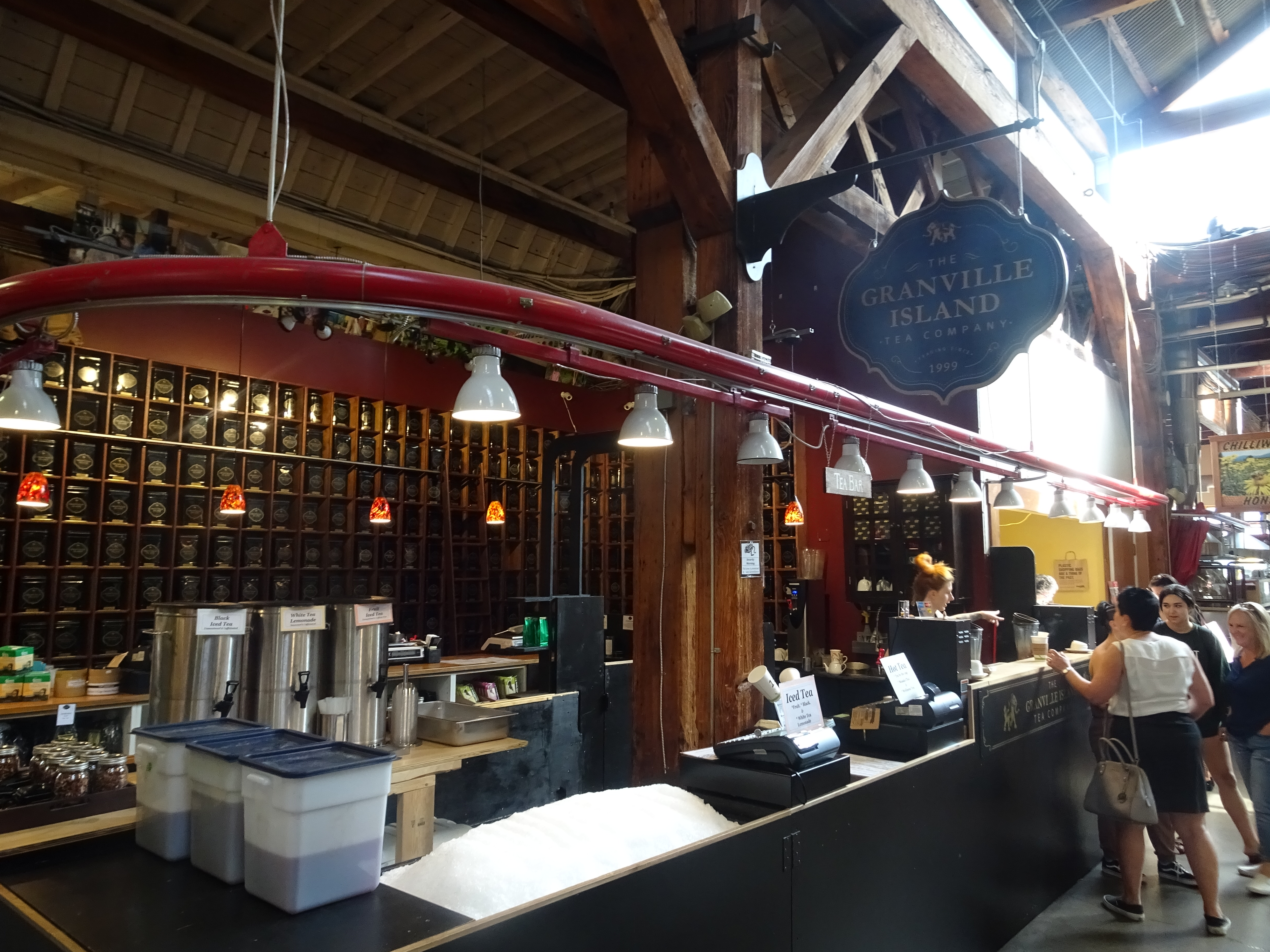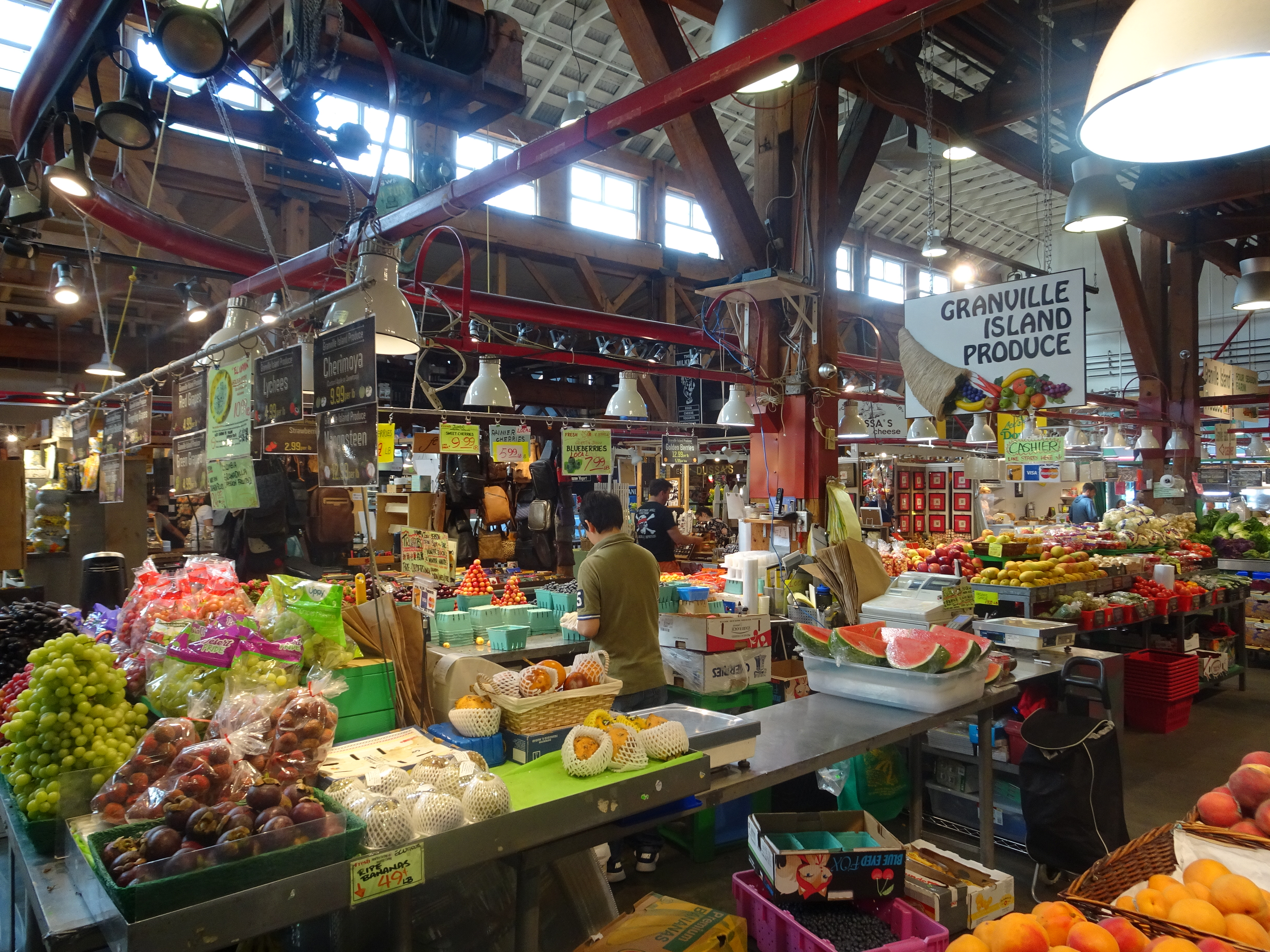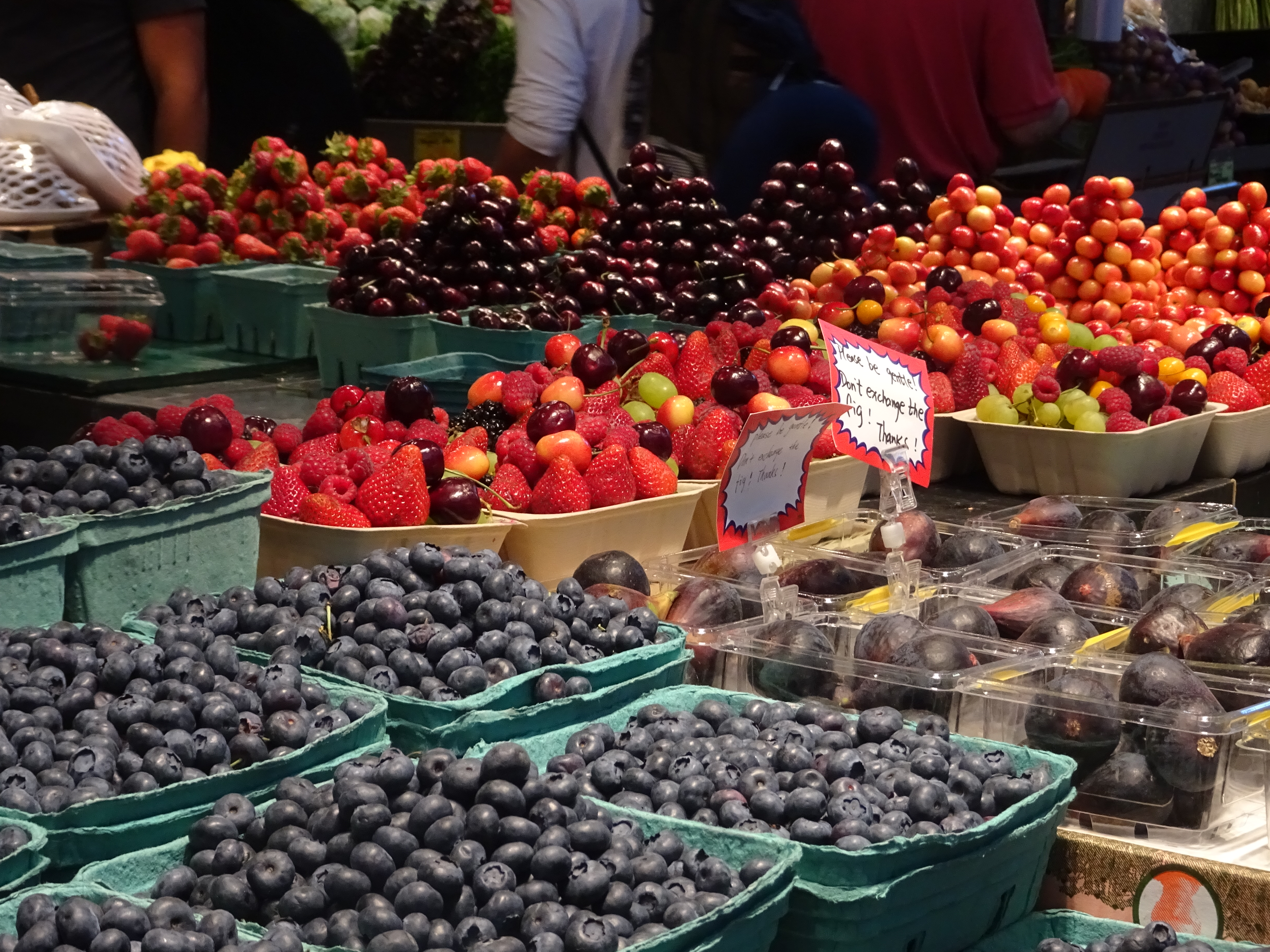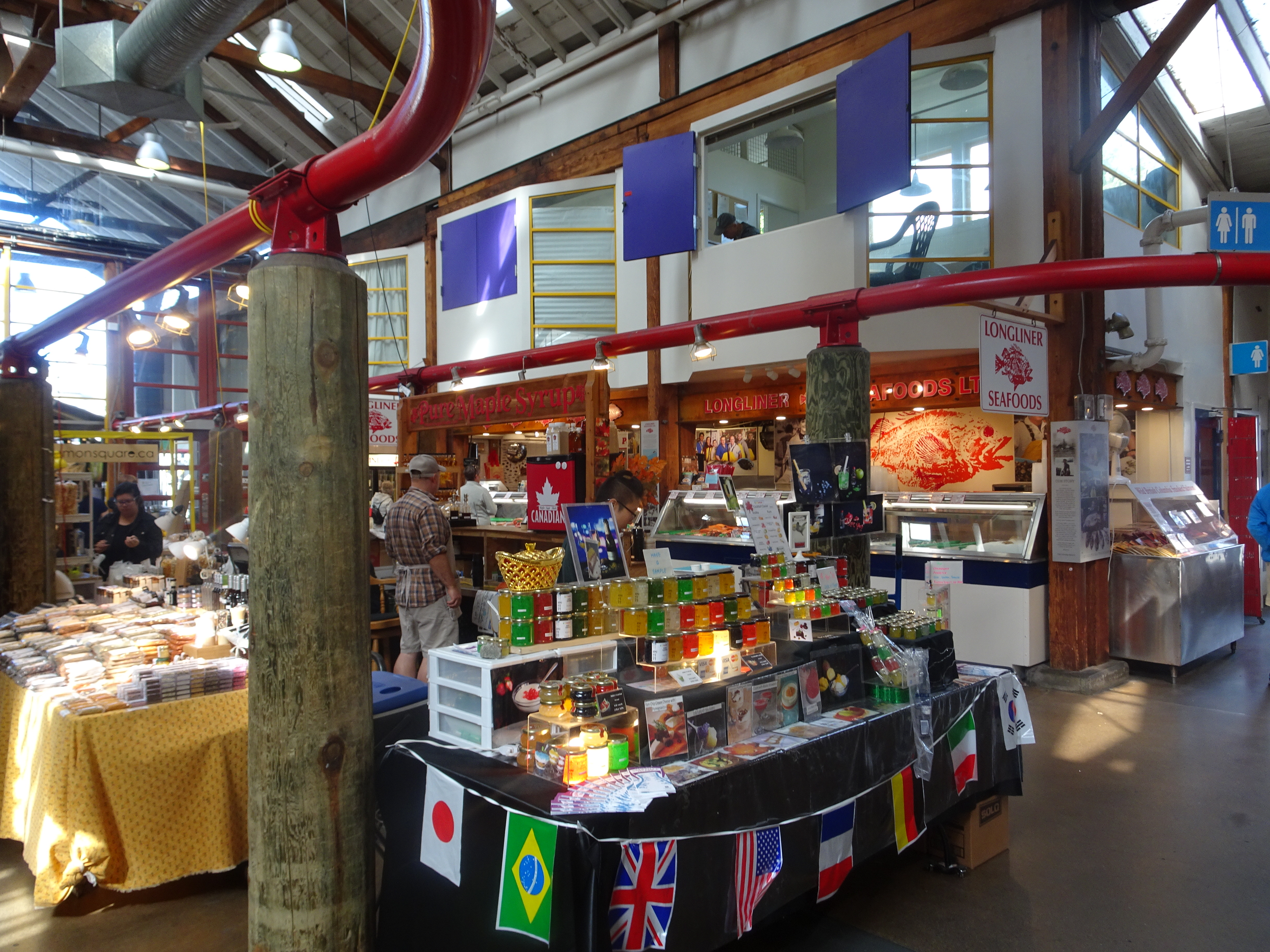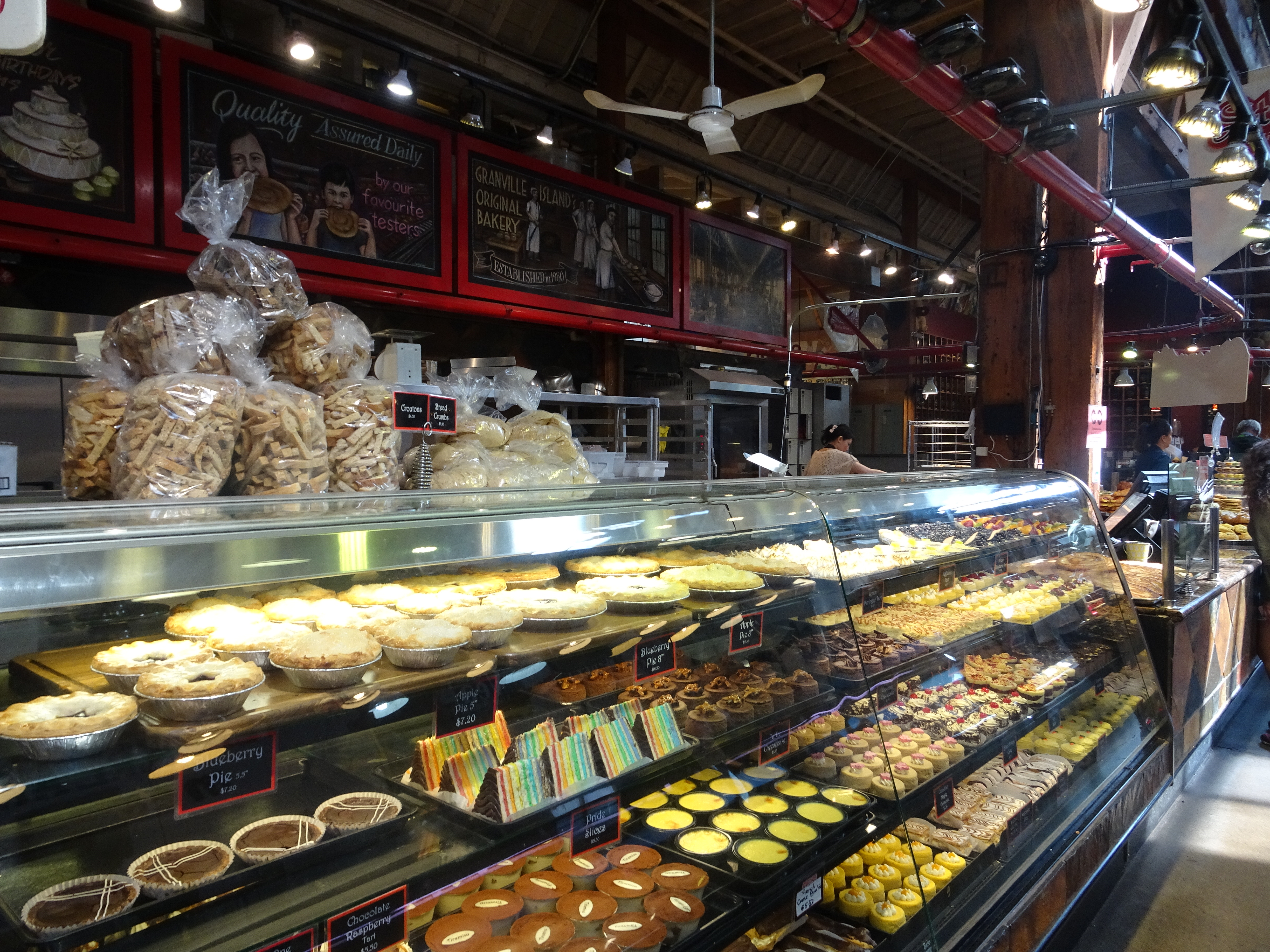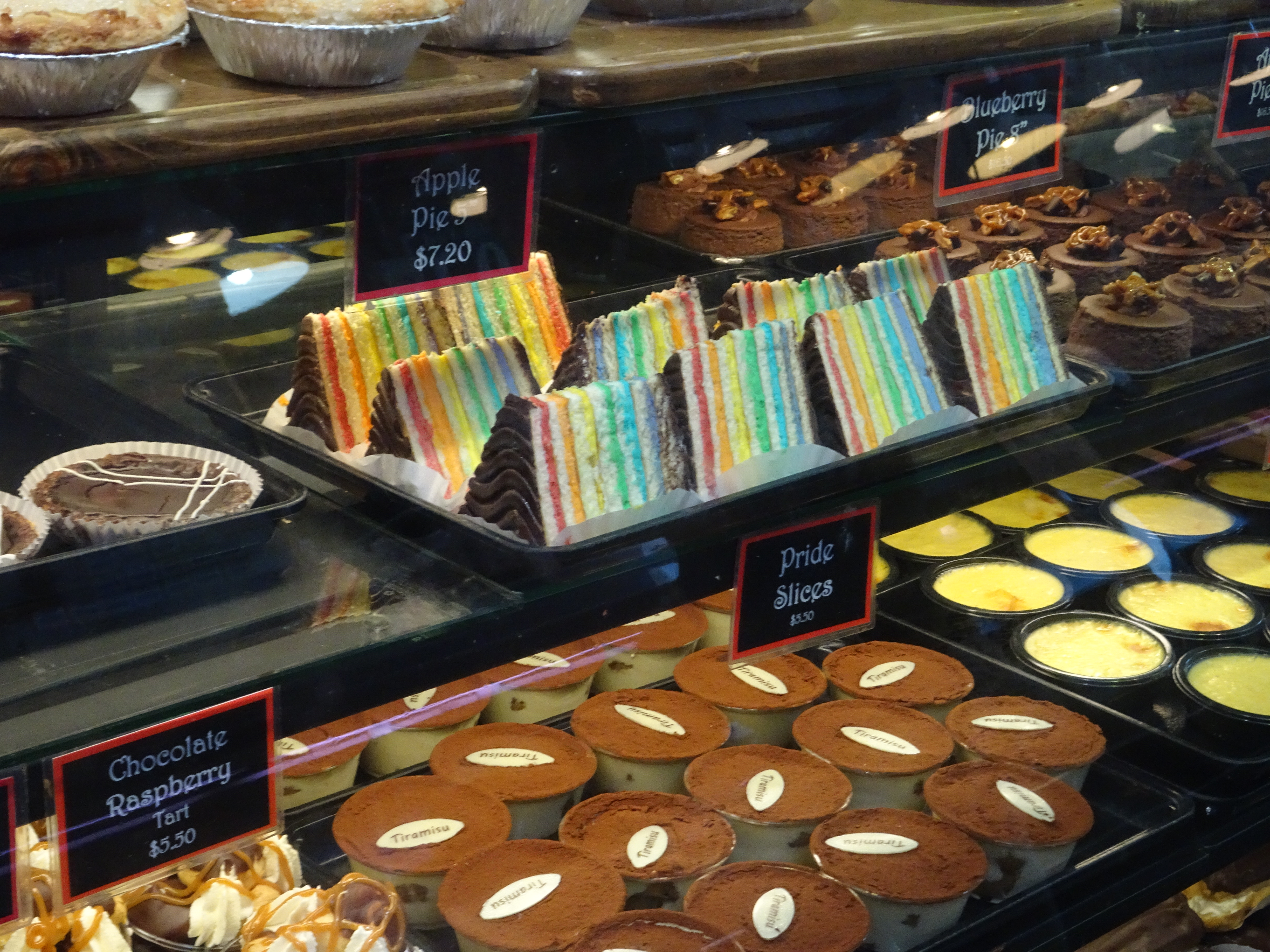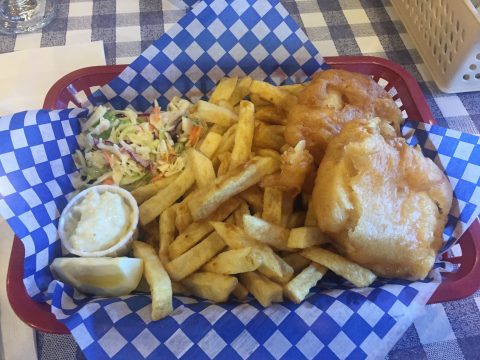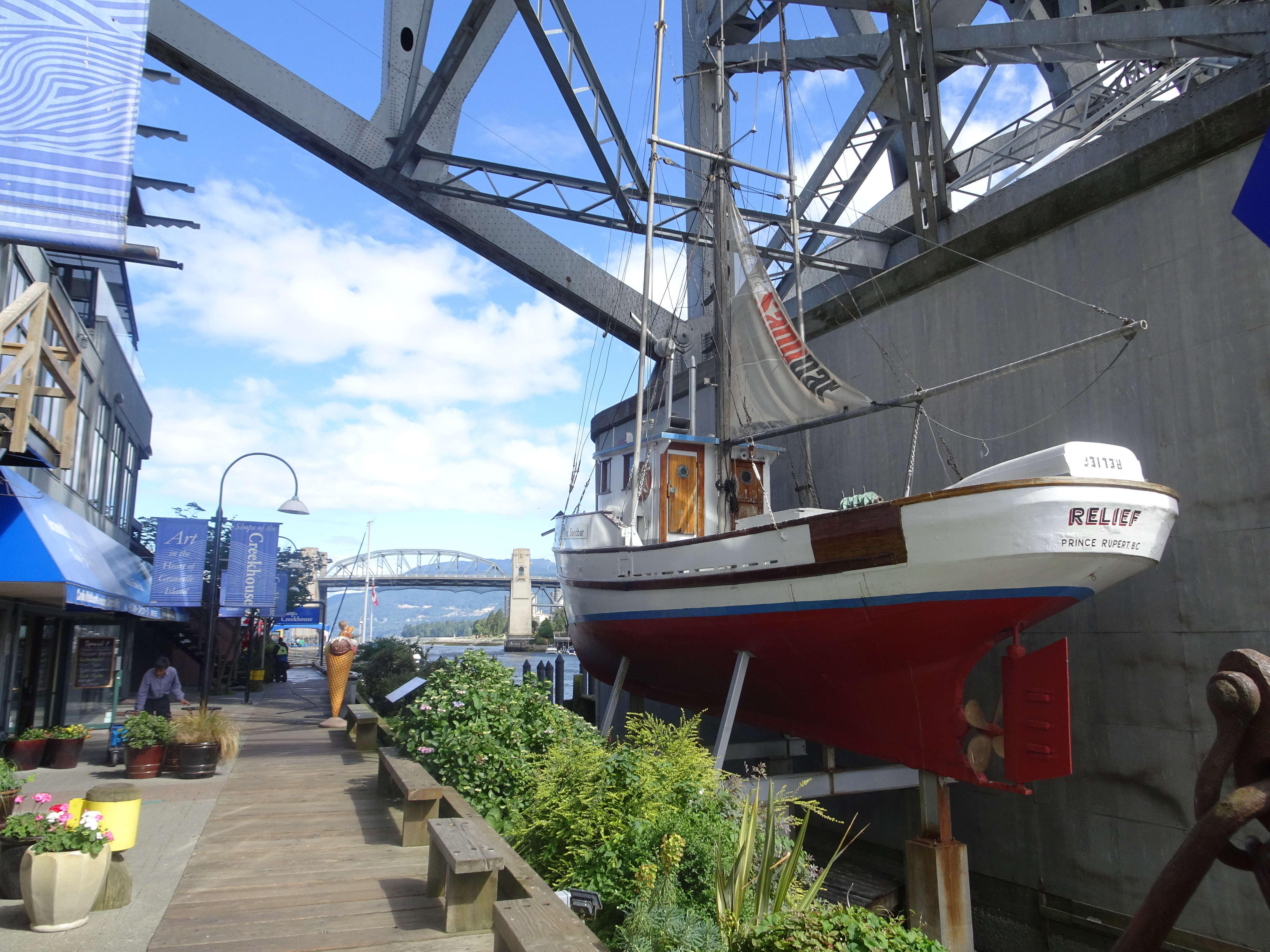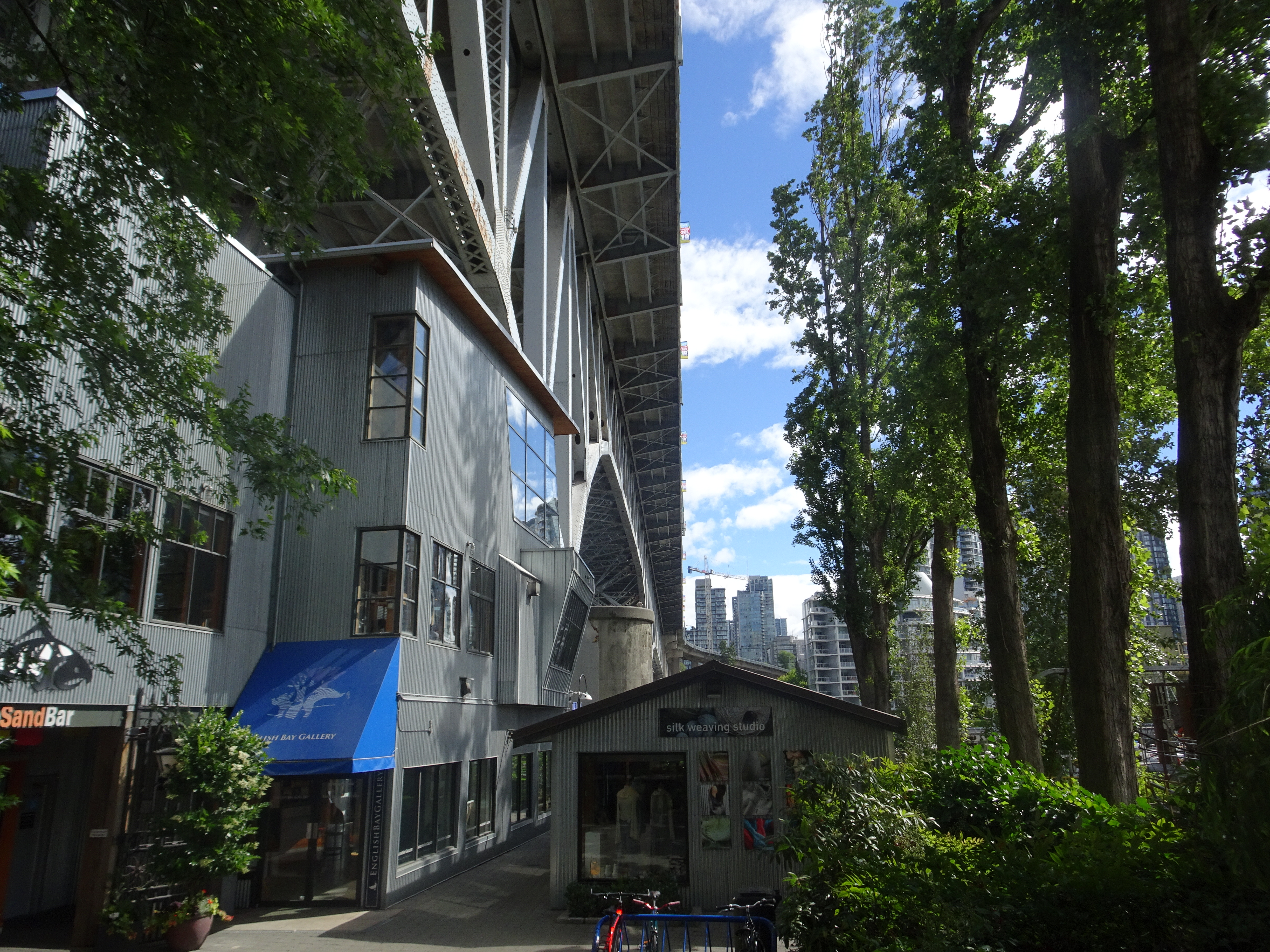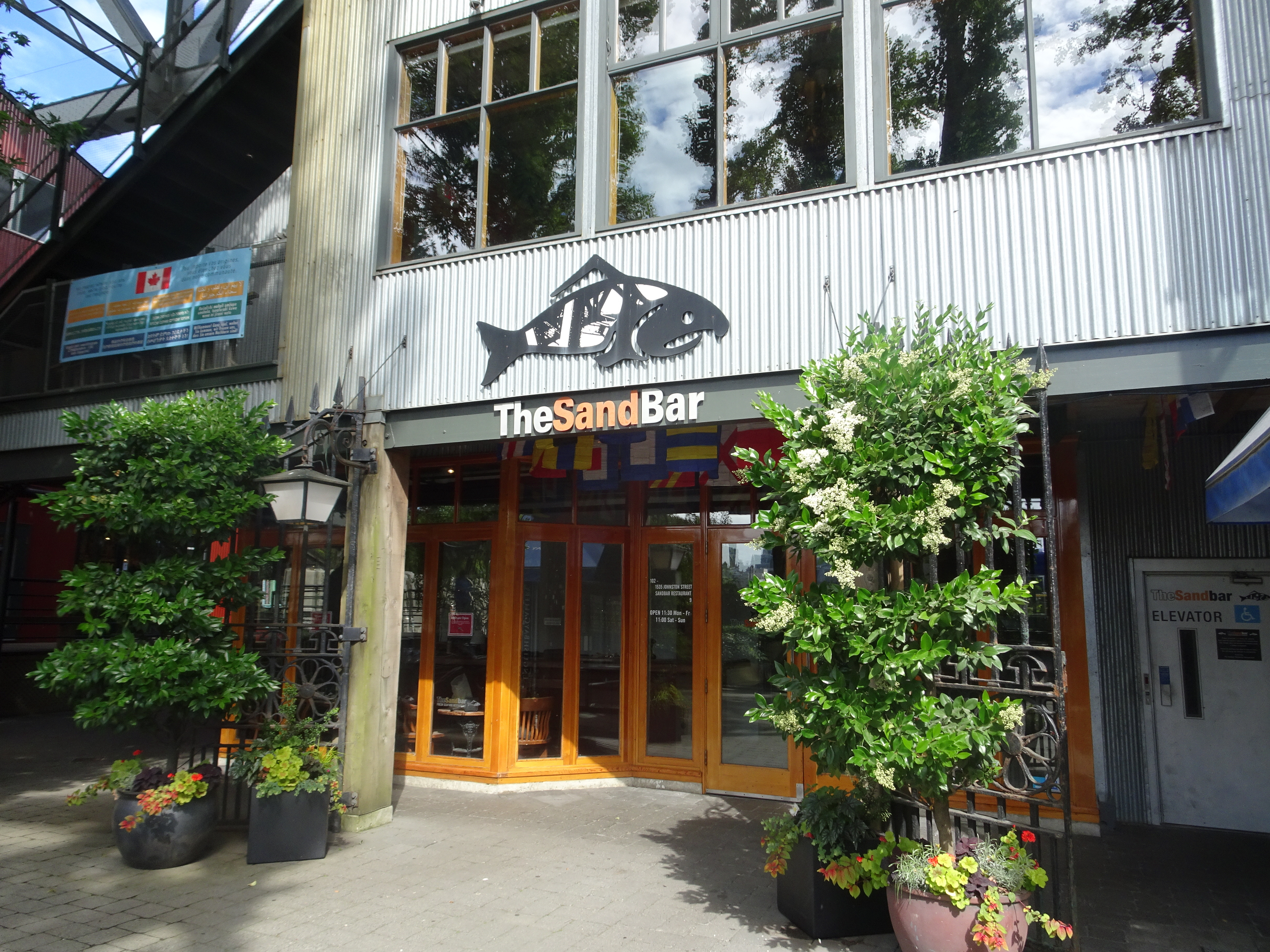 False Creek and Glanville Island at night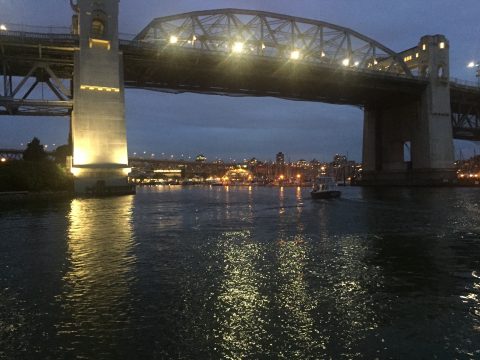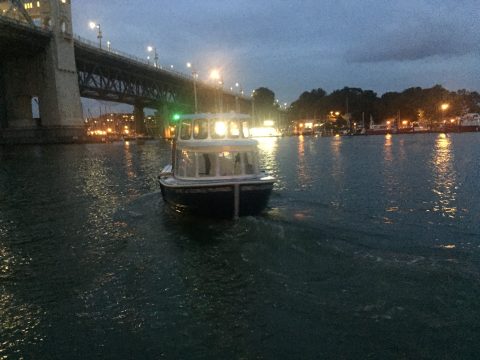 Gastown Area
This is an area full of history worth looking at if you are planning a visit.
Gastown is the original settlement of Vancouver, British Columbia, Canada. Today, it's a national historic site, at the northeast end of Downtown Vancouver, adjacent to the Downtown Eastside. Gastown is a mix of "hip" contemporary fashion and interior furnishing boutiques, tourist-oriented businesses, restaurants and nightclubs. Poverty is evident alongside upscale housing.
The area became known as Gastown because the first saloon here was started by Jack Deighton, known as "Gassy Jack" because he loved to talk — apparently for hours. There's a statue to him shown below.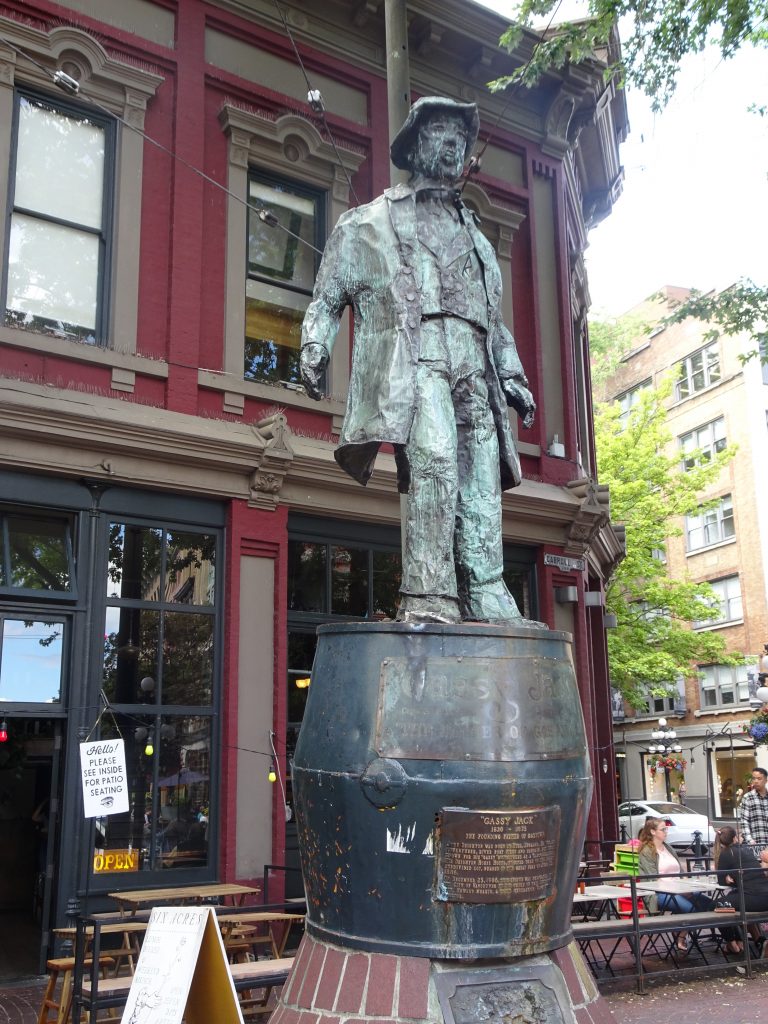 Underneath Vancouver there runs a series of steam pipes connected to a generating plant that provides heat to most of  downtown Vancouver and provides the steam for the whistles of the Gastown steam clock shown below. This clock isn't as old as it looks – it was built in 1977 and whistles on the hour to tell the time.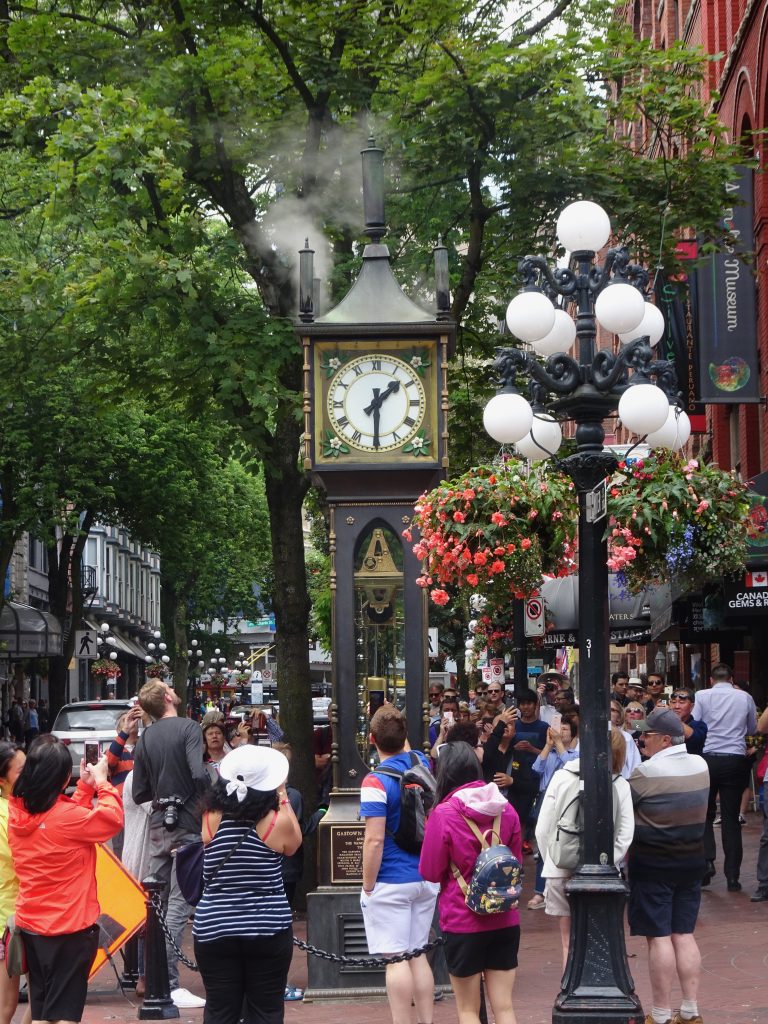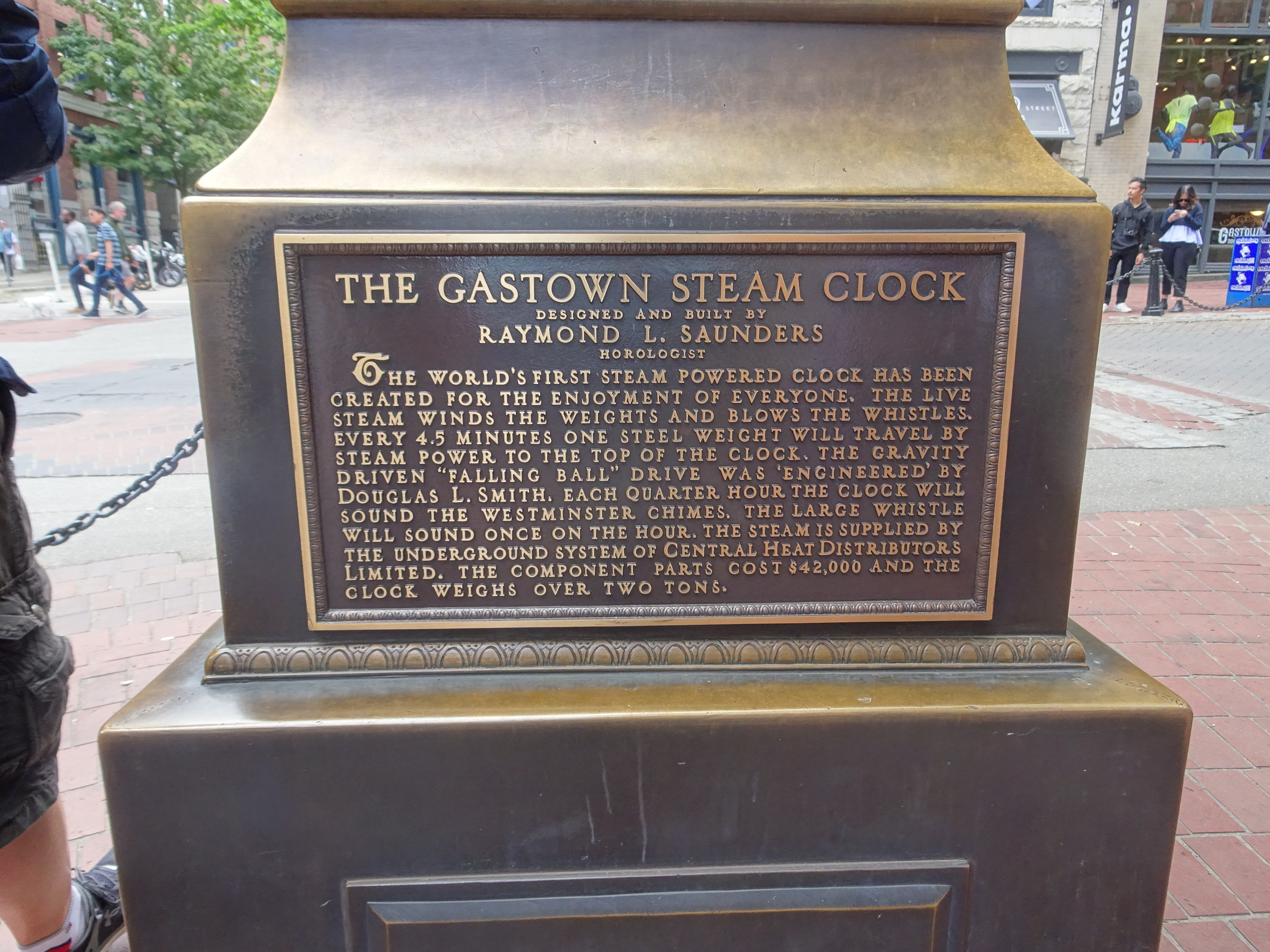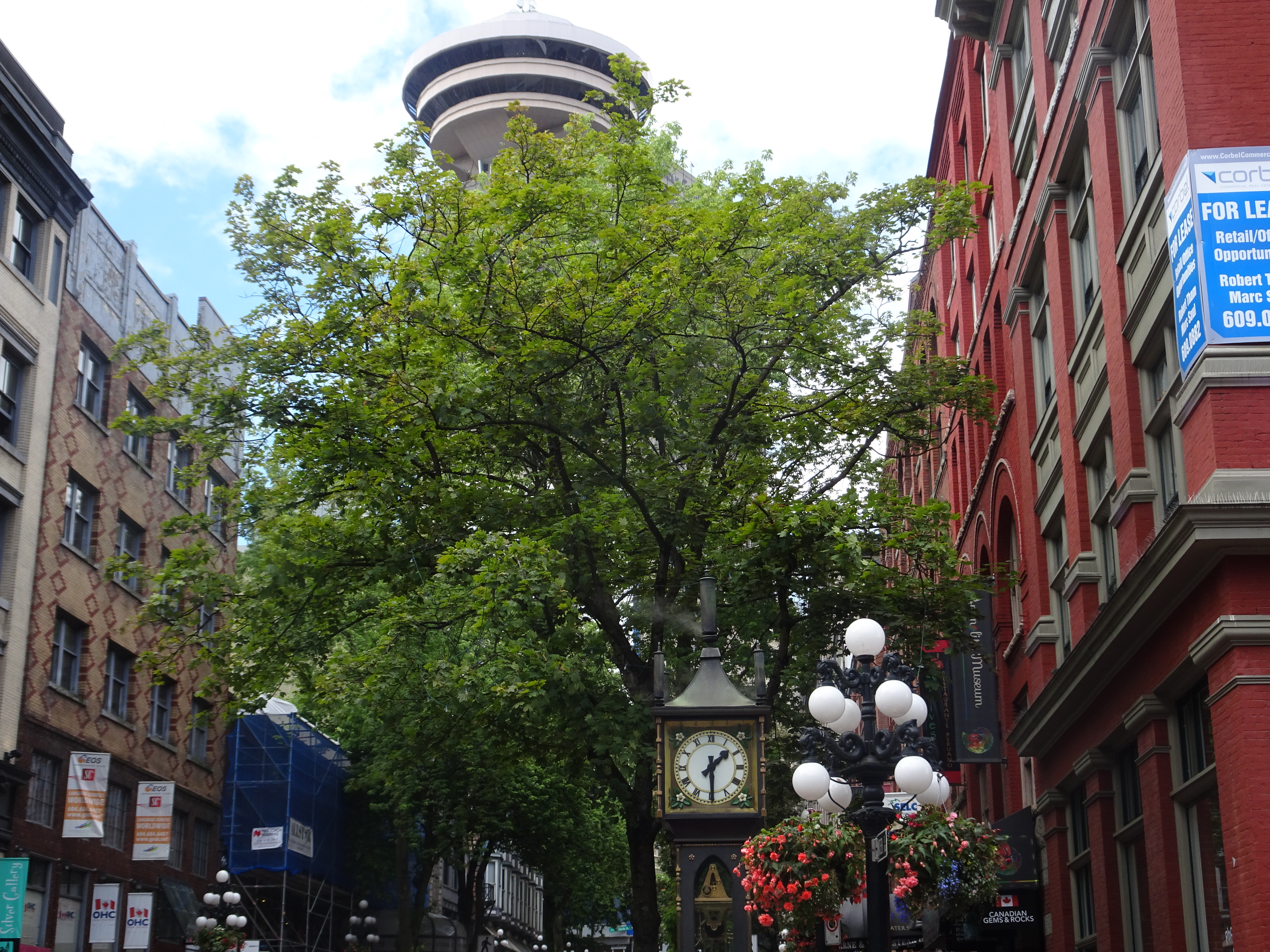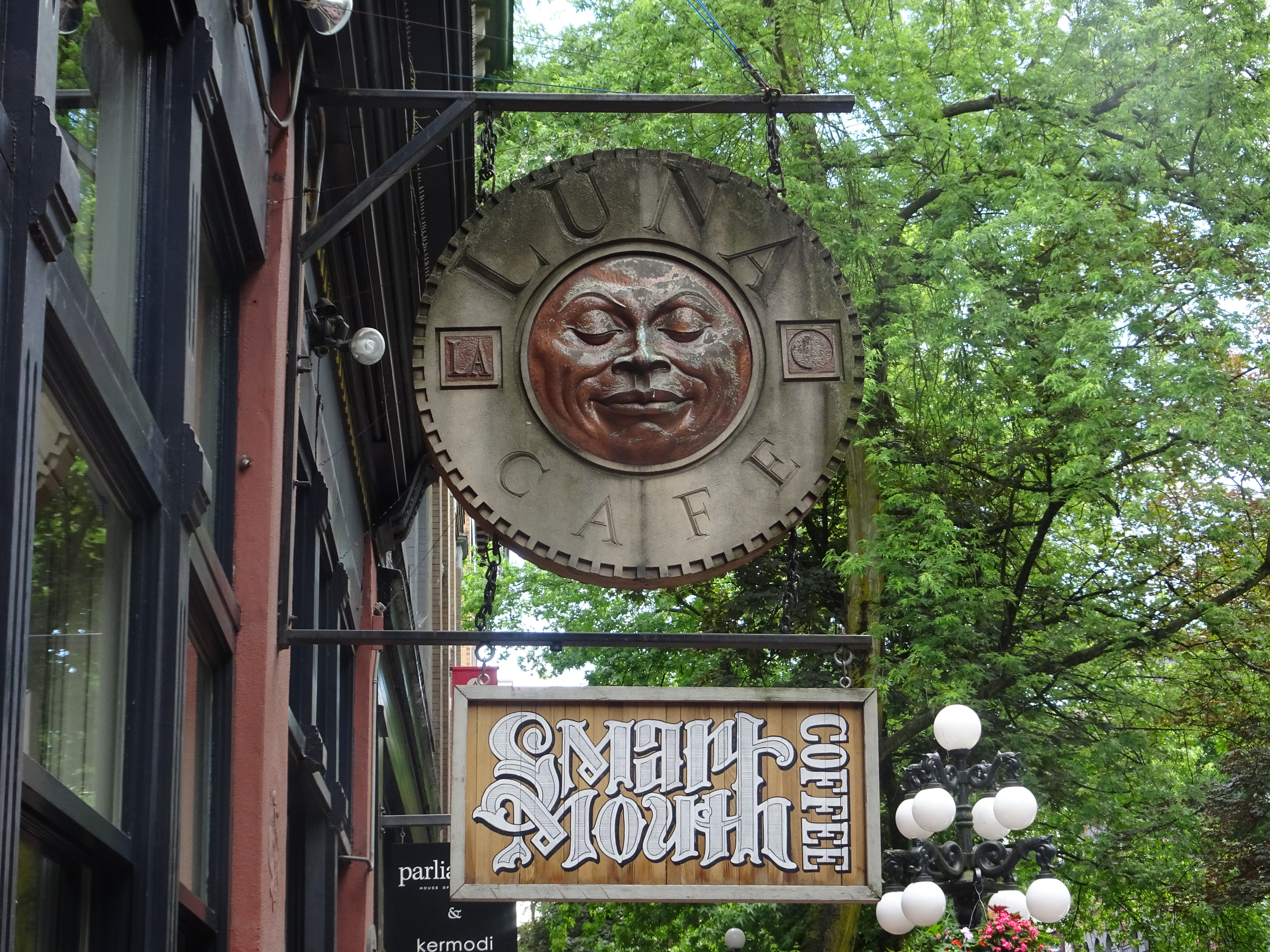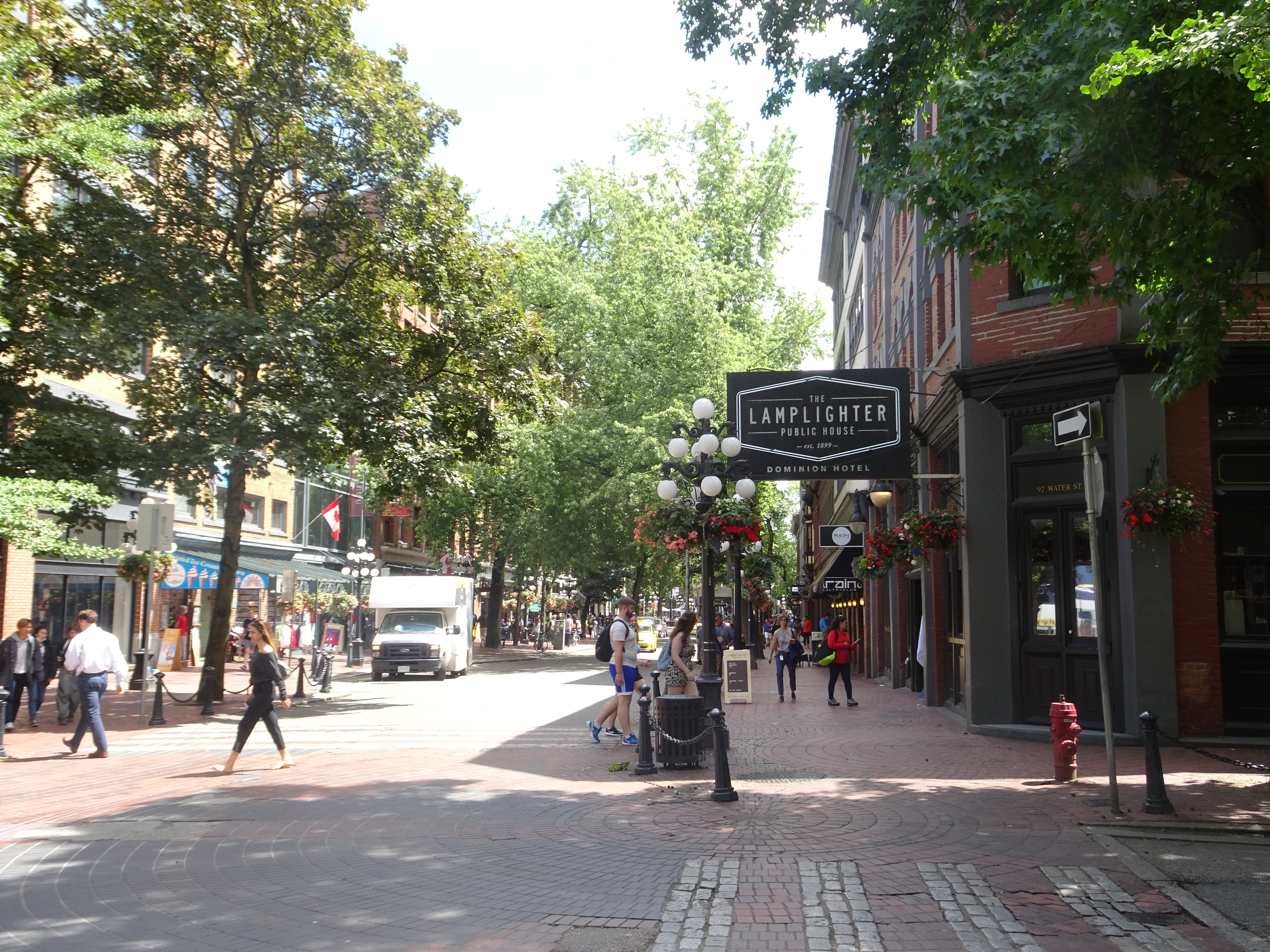 Canada Place
This is a landmark and iconic venue on Vancouver waterfront. Major events take place here although unfortunately there were none during our visit. Cruise ships arrive and leave from here and there are many such cruises with most seemingly headed for Alaska. This area is always busy and a great place to people watch and happily we had decent weather on the day we visited.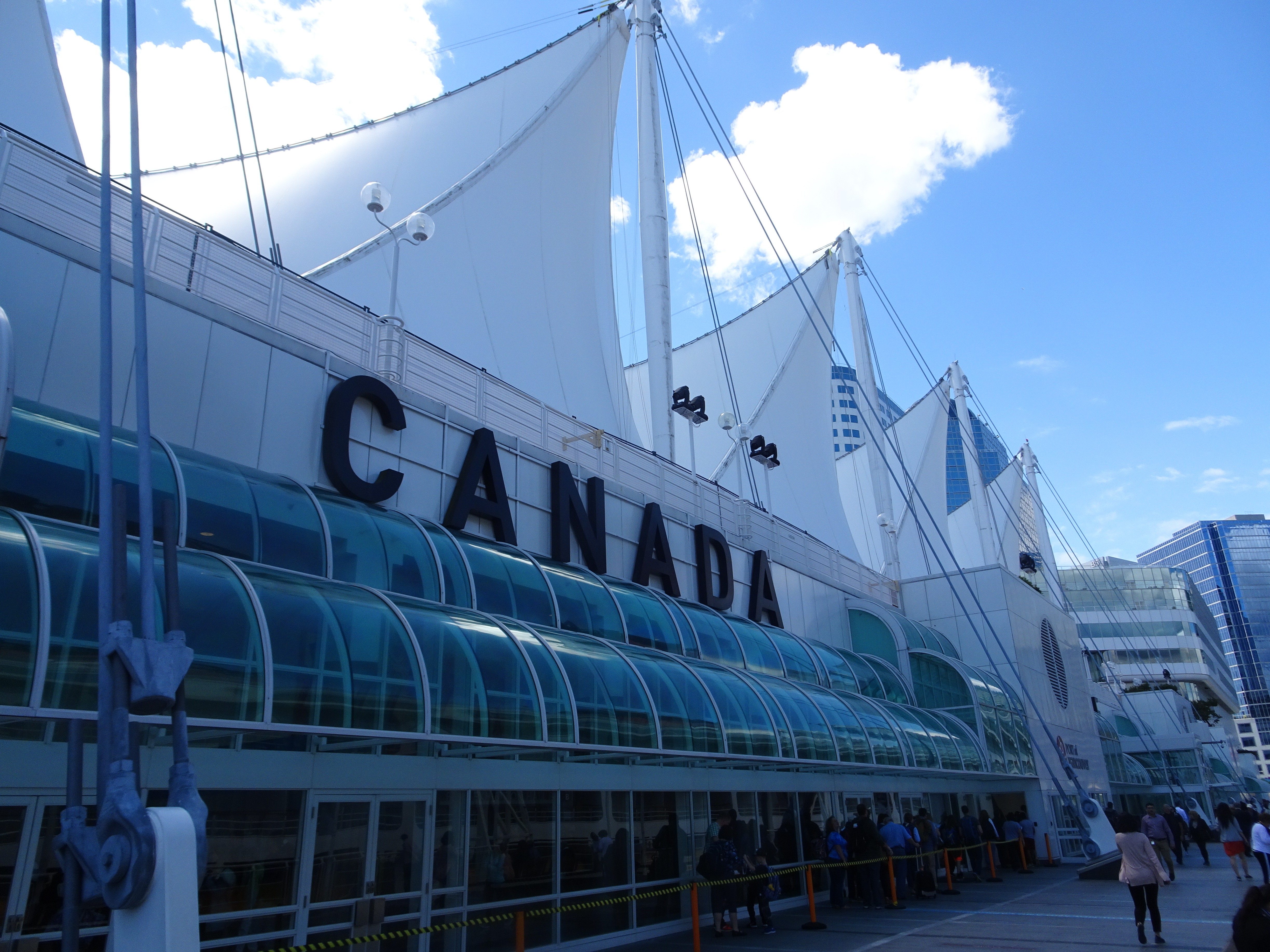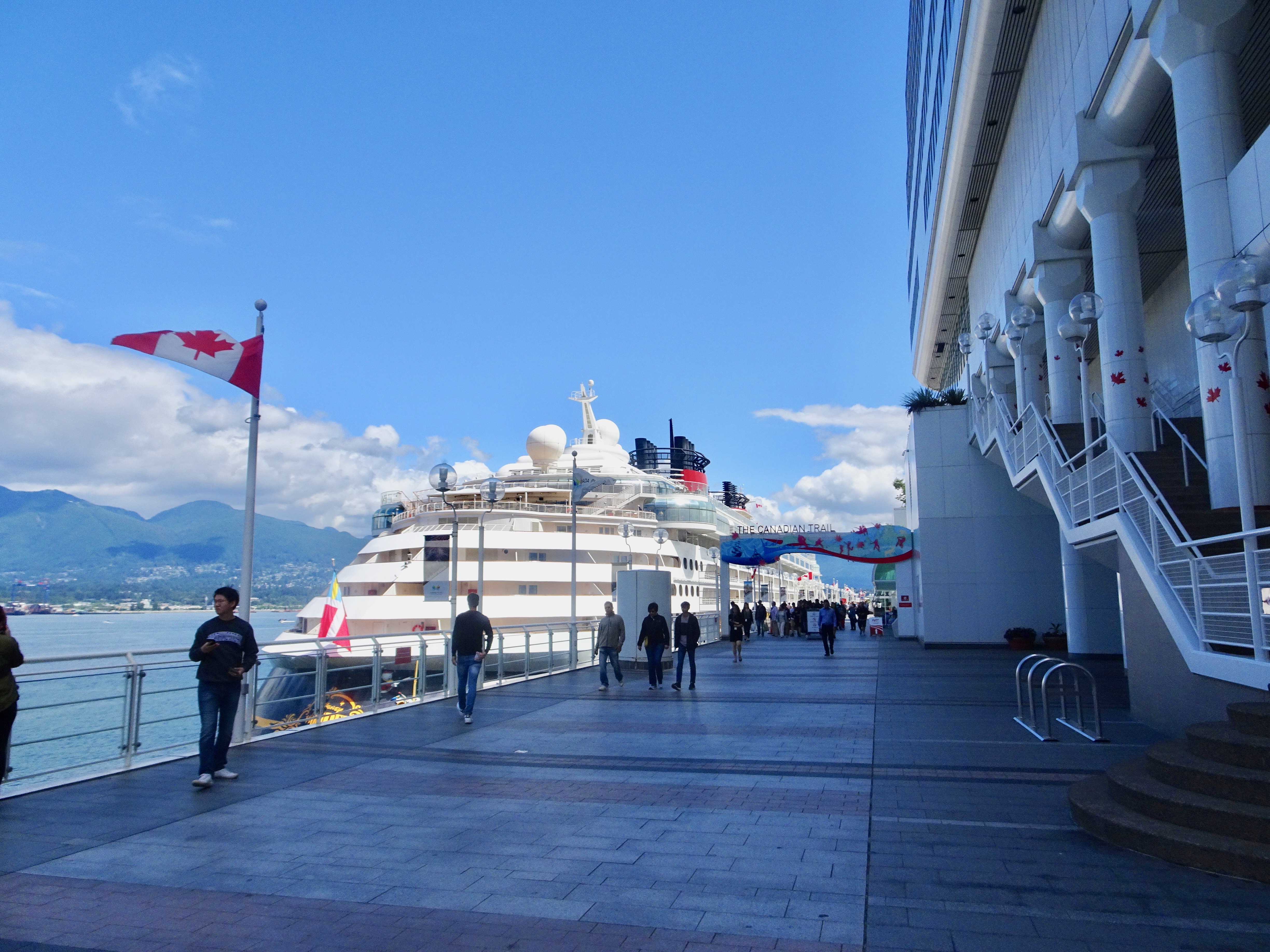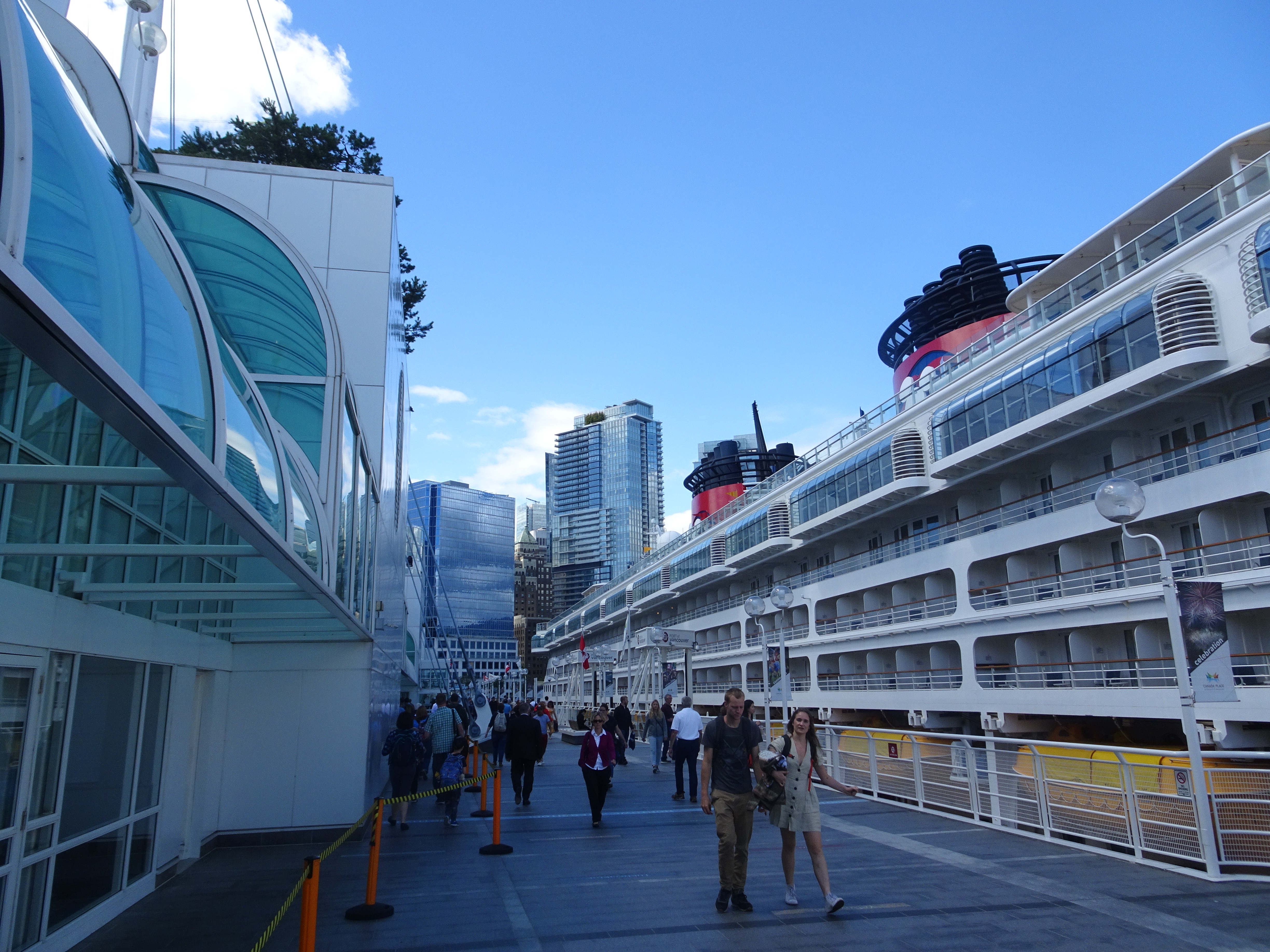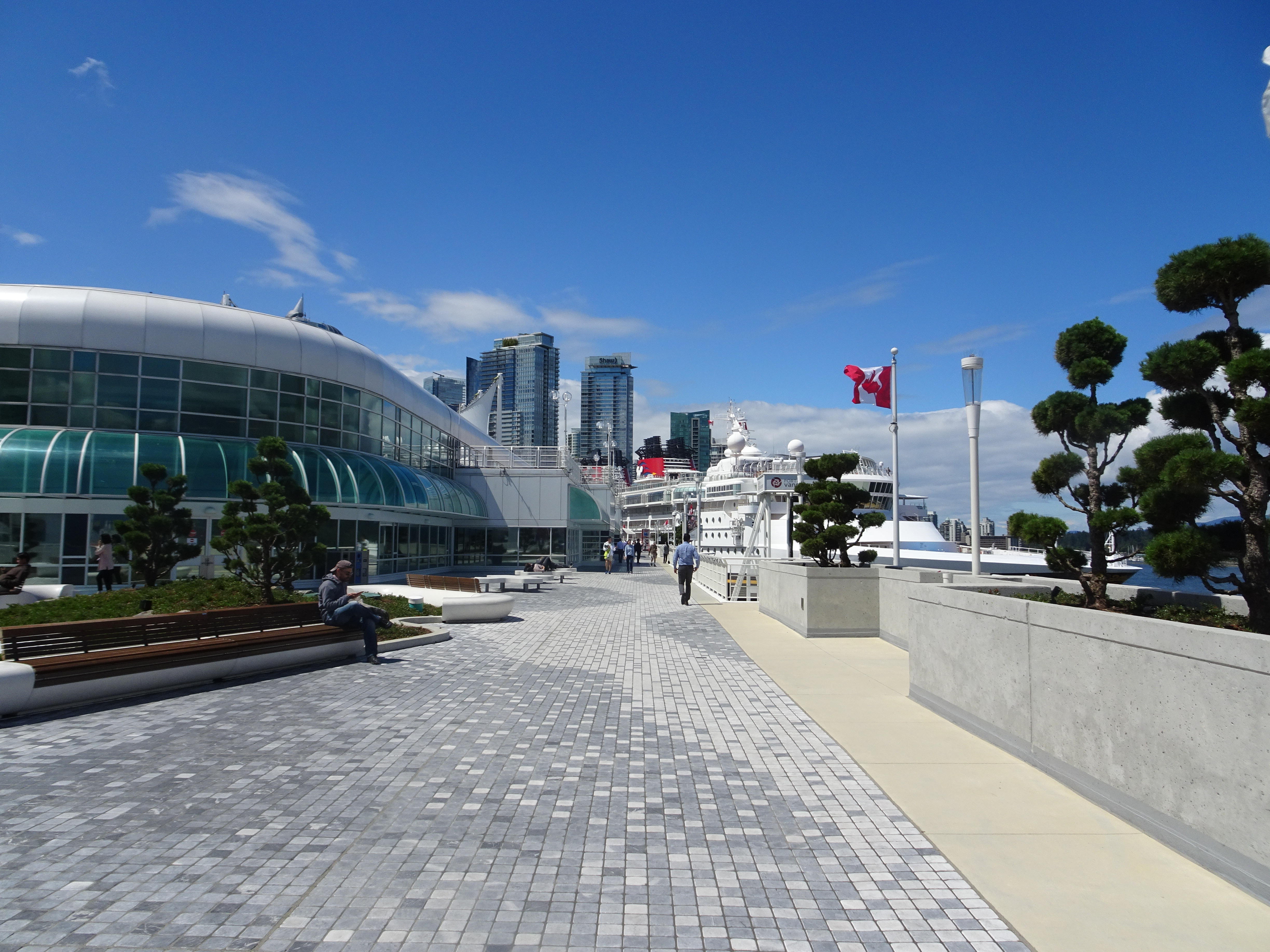 North Vancouver and Lynn Canyon
We were really looking forward to a trip across the river to North Vancouver. In the event, we woke up to rain on the day of our visit and almost canned the idea of a visit but decided to go as we could least have a look at the public market and maybe have lunch at Lonsdale Quay Public Market.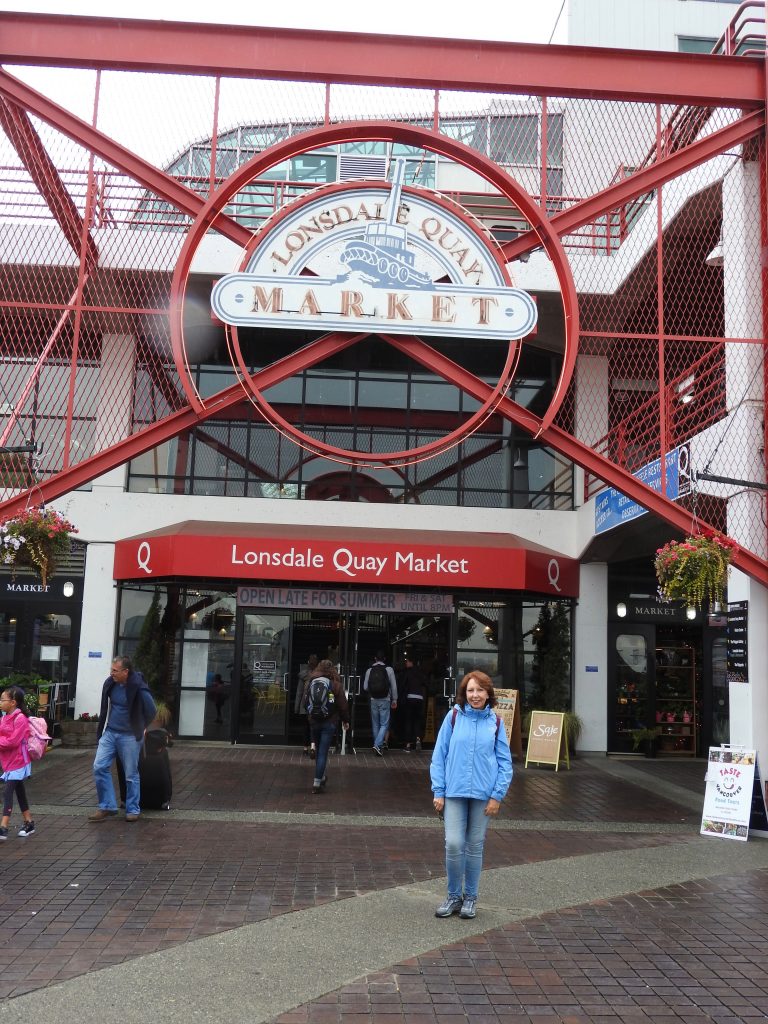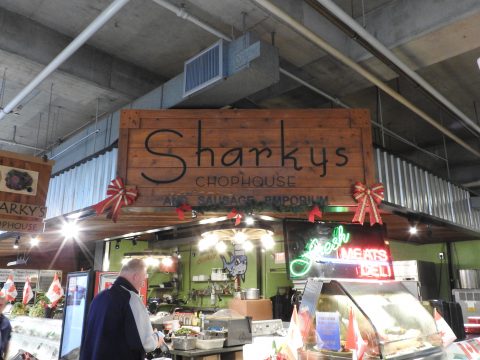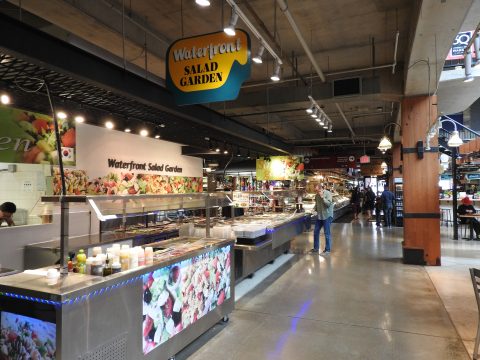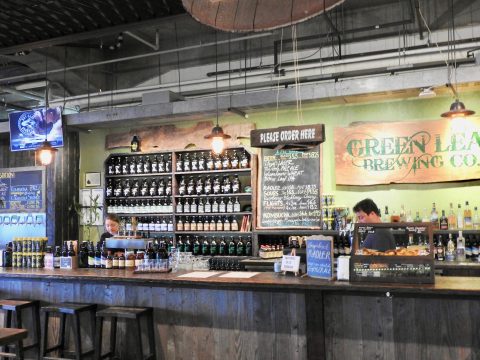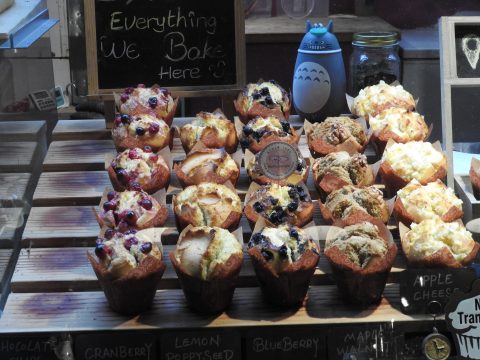 The market was OK but not nearly so large and impressive as Glanville Market. Having walked around we decided to go back to Vancouver but as we neared the ferry we noticed a bus heading for Lynn Canyon and despite the drizzle we decided to jump on board to have a quick look.
Thankfully the rain stopped by the time we got to Lynne Canyon and we managed a quick look at the Park Information Lodge and a short walk across the suspension bridge and along one of the trails for half an hour or so. This is a beautiful area and we were a bit gutted we couldn't do one of the day long trails in the area. Hey ho, it was back to the transit centre for the return ferry – but not before a quick pint of excellent IPA in the Green Leaf Brewing Co. Back in Vancouver, lunch was our first Indian meal for some time in the excellent Salam Bombay restaurant on the second floor of a non descriptive office block – a great place for people watching especially as were directly opposite the Tiffany Store which provided us with an amusing game of will she/won't she buy something. We could actually see the customers entering the store and then making their purchases inside – many did within the space of an hour and a half or so – and we were not surprised to see that the buyers were mainly Chinese.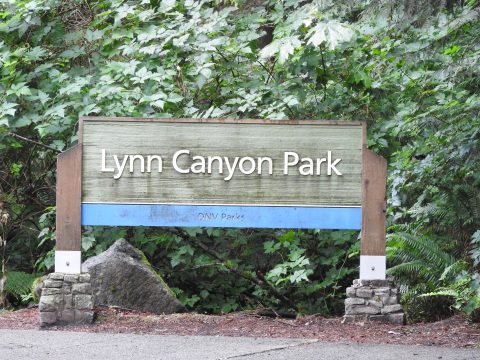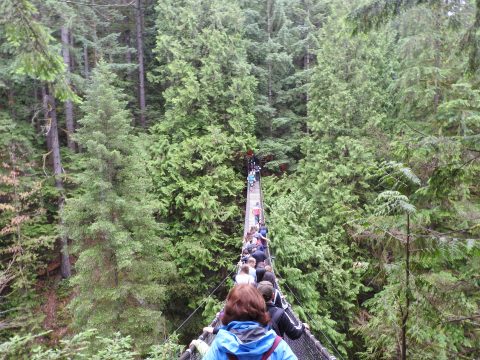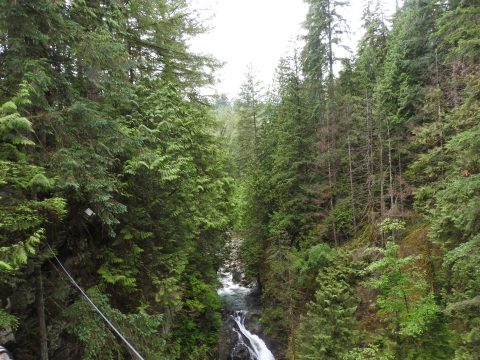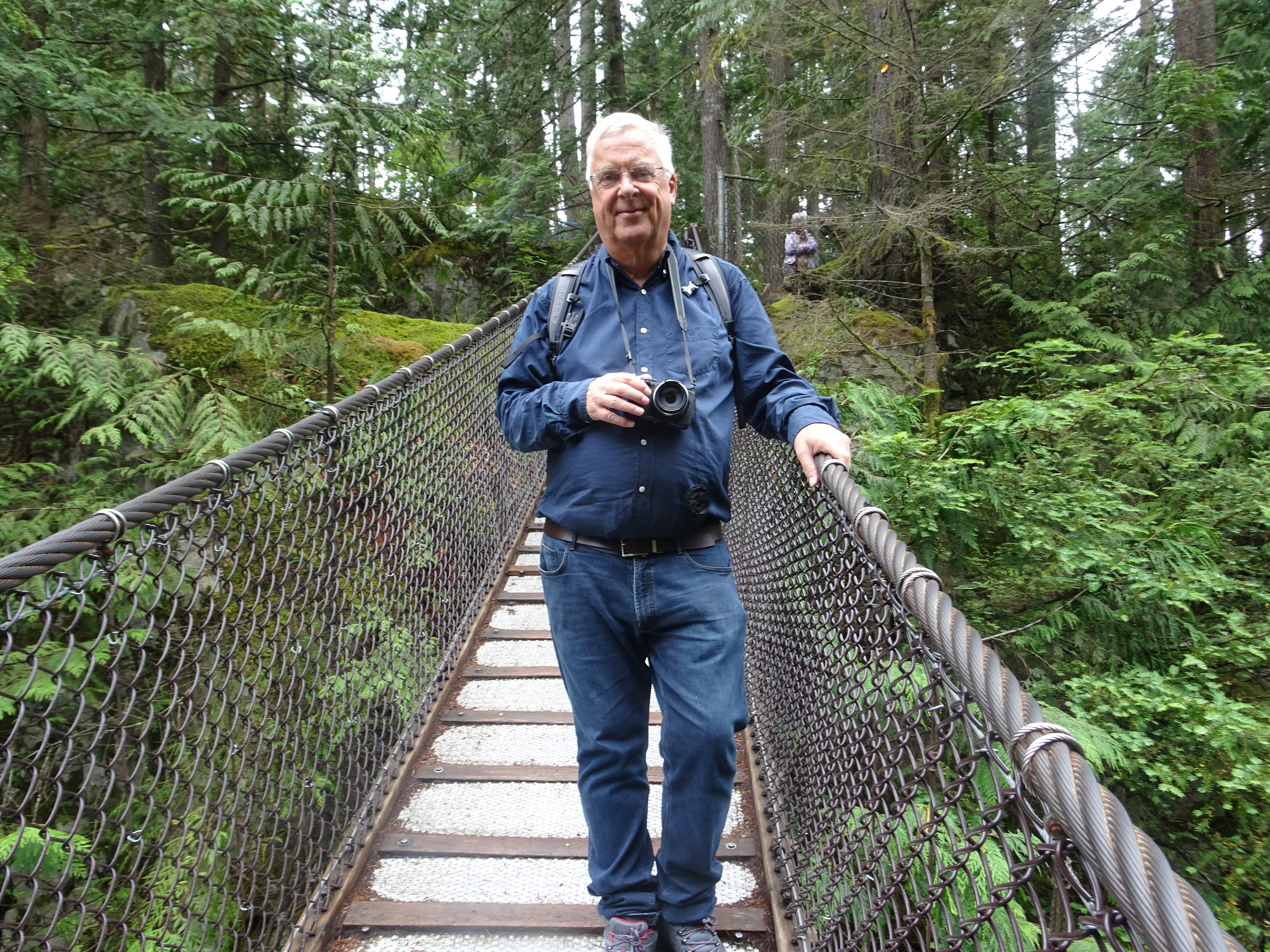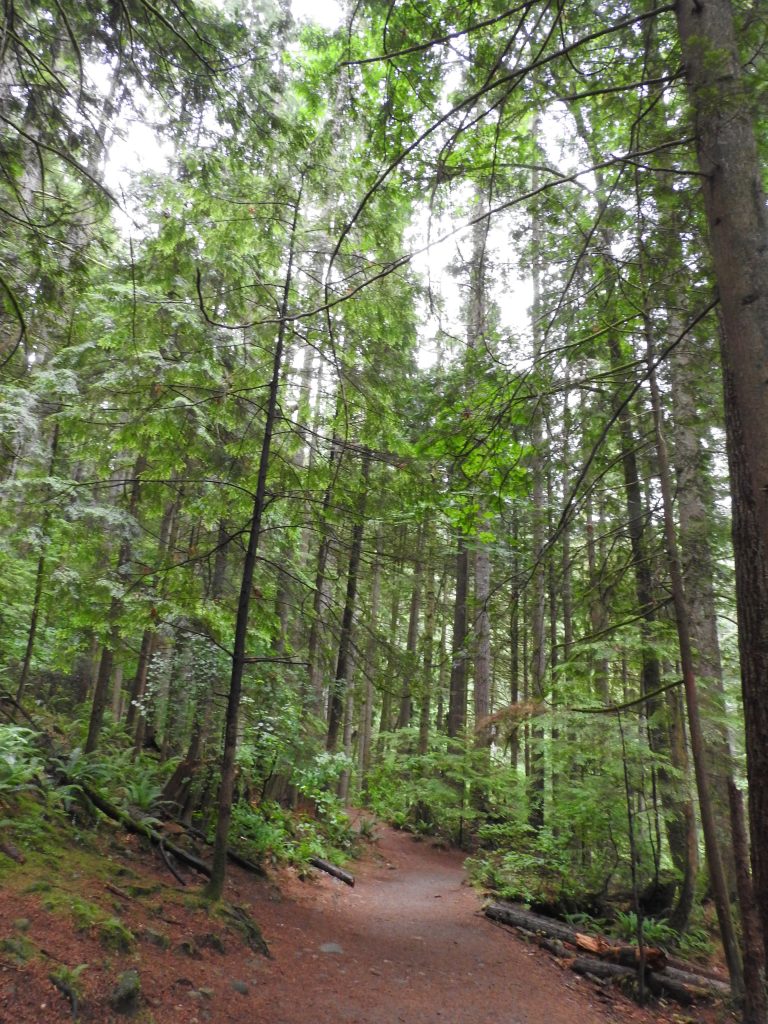 The end of a fabulous week came all too soon. A week just wasn't enough for us although it might well be too much for others. We shall just have to return one day.
Next stop Ucluelet on the West coast of Vancouver Island!