Turkey is the "world's largest museum" and even in Kalkan, our Turkish home town in an out of the way corner of Antalya, we have several ancient sites within an hours drive and many more within a few hours. Patara, only half an hour away, is perhaps the most interesting for us as it was the ancient capital city of Lycia and is still being excavated so that we get to  see more every time we visit.
We had wanted to visit Cappadocia for years and finally on Monday 16th October 2017 we left Kalkan for a 5 night trip along with 15 others and a driver, Murat, owner of Volume Travel, a local travel company.
The trip was organised by our friends Malcolm and Marion aka M&M, long term residents of Kalkan and serial trip organisers over many years.They had run this particular trip with Murat several times over the years but for one reason or another we had never been able to join it; either it didn't fit with our holiday dates when we were working or, since we retired, we were travelling elsewhere. This time, with lots of advance warning from M&M, we were able to plan our travel itinerary to be in Turkey at the right time.
One of the most visited areas of Turkey, Cappadocia is a sprawling area in the Goreme National Park area of Central Anatolia. The main attractions of the area are its amazing natural landscapes and its ruins created by many different civilisations dating back to pre-history.
M&M and Murat had put together a super itinerary involving tours of the main sites of interest, some excellent valley walks, a visit to a local pottery and a Turkish night with belly dancer and whirling dervish dancers. However, the main event was a hot air balloon trip over Cappadocia which is the way to see Cappadocia. Unfortunately I suffer from vertigo and am seriously troubled by heights – in truth I struggle to look straight down to the ground from the second floor of our apartment! I had no intention of taking a ride in a balloon but happy for Ann to do it – she couldn't wait!
Our base in Cappadocia was the Suhan Hotel in the city of Avanos but as Avanos is an eleven hour drive from Kalkan, around 750 kilometres, the itinerary included a stop off to visit  the Mevlana Museum at Konya and an overnight stay at  Aksaray.
Mevlana Museum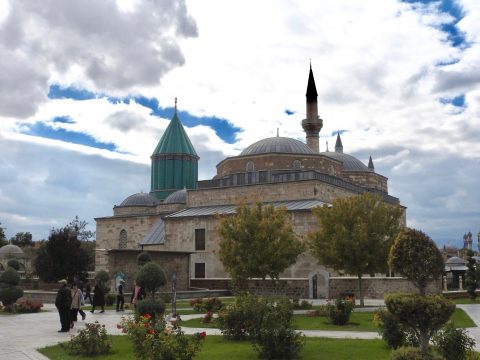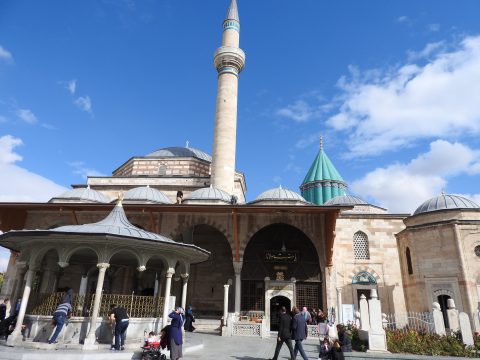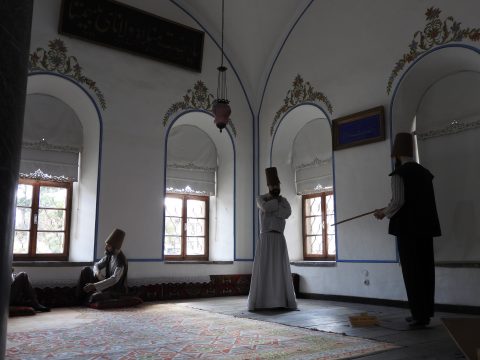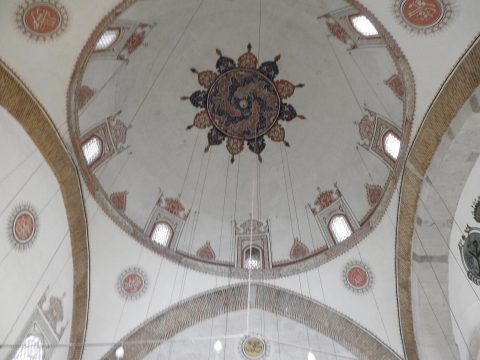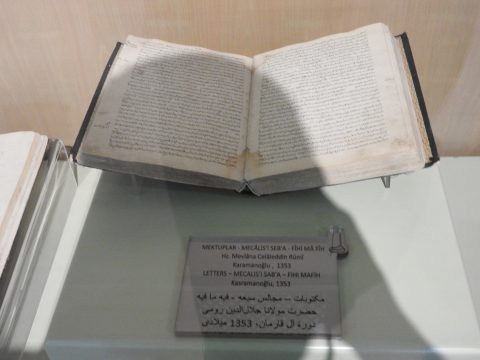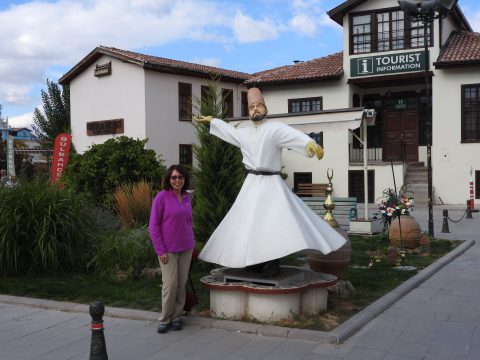 For Muslims and non-Muslims alike, the main reason to come to Konya is to visit the Mevlana museum, the former lodge of the Sufi sect, a branch of Islam whose followers performed the ritual spinning dance and were dubbed Whirling Dervishes. This is one of the biggest  pilgrimage centres in Turkey and most of the visitors by far are Turks. The site contains the tomb of the founder of the order along with  lots of ancient artefacts going back to the 13th century but for us it was only mildly interesting and rather underwhelming albeit provided a useful break in our long journey and happily on the day we visited we did not need to pay an entrance fee!
Our overnight stay at the Grand Saatcioglu Hotel in the centre of Aksaray was pleasant with a convivial dinner which for some of us went on longer than perhaps it should have with a tad too much raki consumed.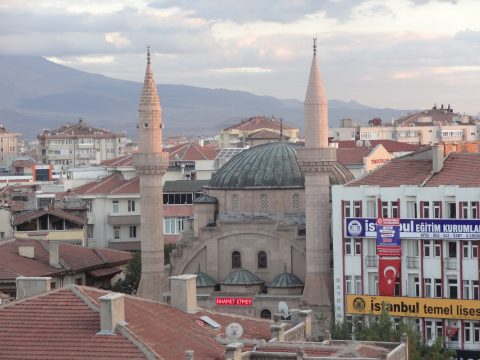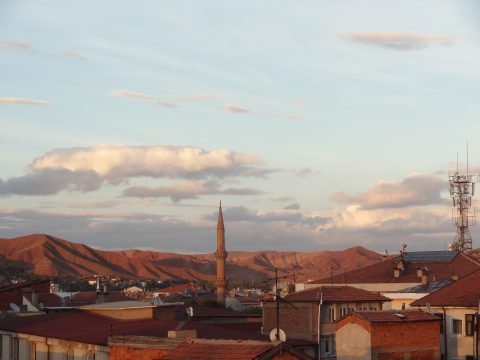 Selime Monastery
After our night in Avanos we stopped off at Selime Monastery for our first close-up experience of the amazing landscape and rock-cut structures found in Cappadocia.
The landscapes found here in Cappadocia were formed by deposits of volcanic ash, lava and basalt created  from multiple eruptions of three big volcanoes in the area millions of years ago. Subsequent floodwaters and erosion by wind and rain formed valleys, caves and  weird rock formations  of cones, pillars, mushrooms and "fairy chimneys" that can be seen today. The rock below the top layer of basalt is extremely soft, so much so that you can easily scratch it away even with a finger nail and so its easy to see how rain and winds have carved out these caves and shapes.
The soft rock created by the ash, called tuff – is tens of meters thick and since the area was first inhabited, by Hittites between 1800 – 1200 BC, rock dwellings, storerooms and churches have been carved out in the hillside by successive civilisations.
Selime Monastery is a huge structure carved into a hillside with several churches including one so big it's referred to as a cathedral. In addition to churches the site included dwellings, kitchens, storehouses and stables.
Over time, this was home to Hittites, Assyrians, Persians, Romans and Byzantines.
The churches are interesting with still some evidence of  religious and decorative frescoes but sadly most are covered in centuries of soot from fires and kitchens or  have been scratched off and vandalised over the ages.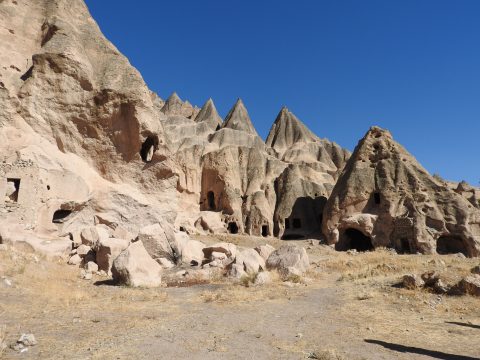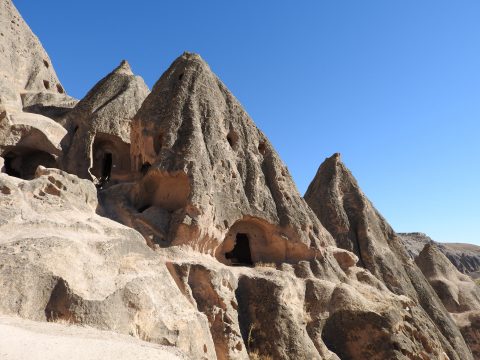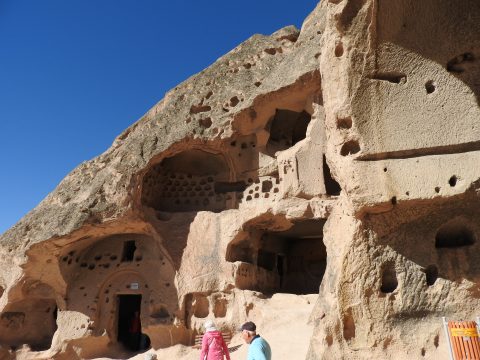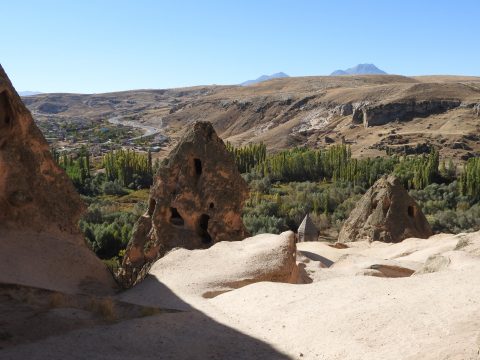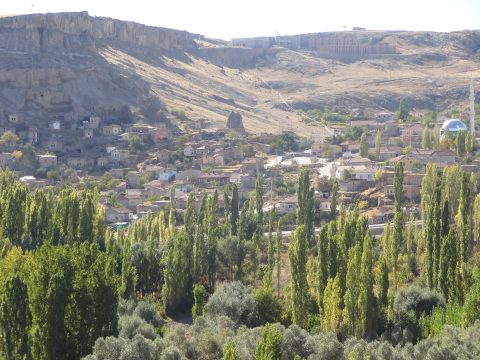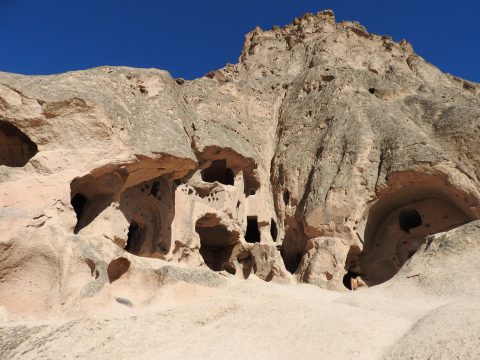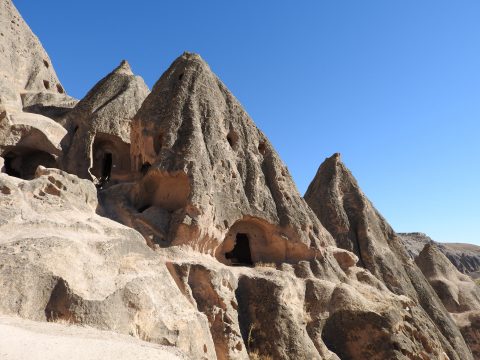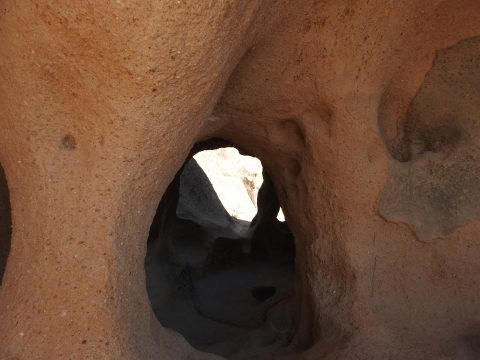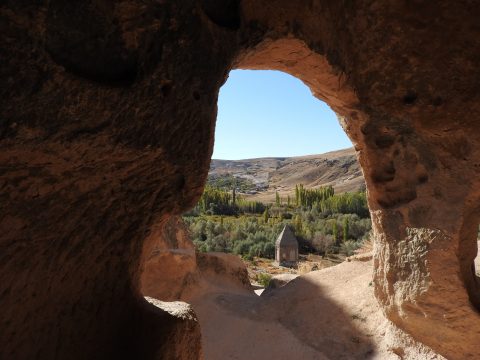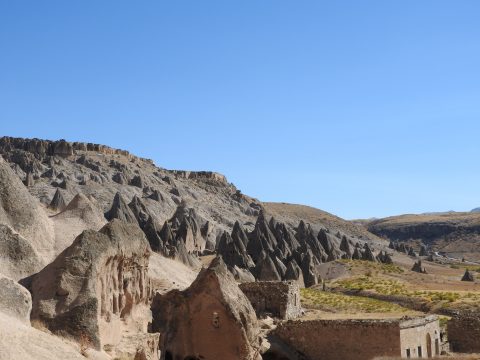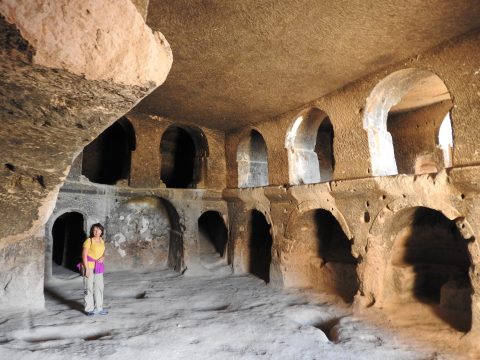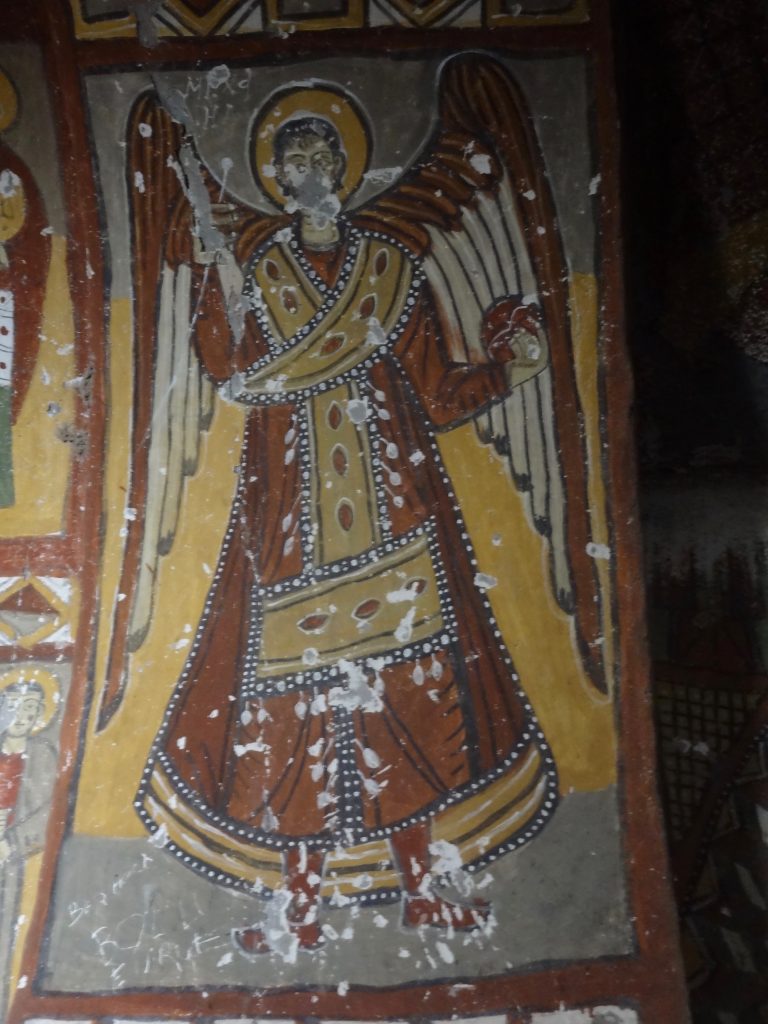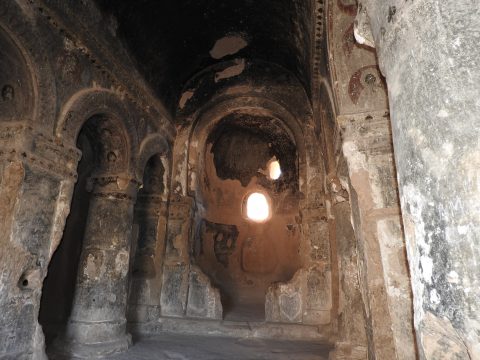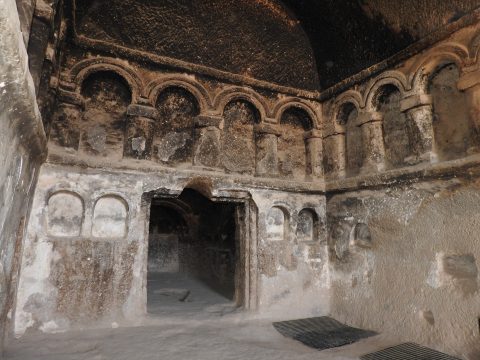 It's believed this site took over 200 years to complete and dates back to the 8th or 9th century.
It continued to be occupied for many many centuries and was expanded to accommodate more people as required. Around 5,000 people were thought to be housed here at one point but after the 11th century it became a caravanserai, a stopping place on the silk road where traders and their animals could stop over night on their journey. It was abandoned in the 16th century although small areas continued to be used by locals  for storage and some still are used to this day.
Kaymakli Underground City
This is one of over 30 underground cities dating back to the Hittite and Phrygians Periods around B.C 3000.
The underground tunnels carved in the soft rock were dug in this city to eight levels although only 3 or 4 are now accessible due to collapse. They provided refuge for the population to hide from invaders or from groups passing through to wage war elsewhere or simply travelling along the silk trail which went through the area. The cities contained living quarters, storehouses, stables and churches with entrancies/escape routes which could be sealed off  if enemies attempted to enter. In some cases there are tunnels as long as 5 kilometres  from one city to the next providing escape routes from invaders.
During the Byzantine era and the Arab-Byzantine wars (780-1180), Christians used the underground city to protect them from Muslim Arab persecution. After the region fell to the Ottomans the cities were used as refuges from the Turkish Muslim rulers, and as late as the 20th century the inhabitants, called Cappadocian Greeks, were still using the underground cities to escape periodic waves of Ottoman persecution.
We were given a very interesting tour by a local guide. Here are a few photos.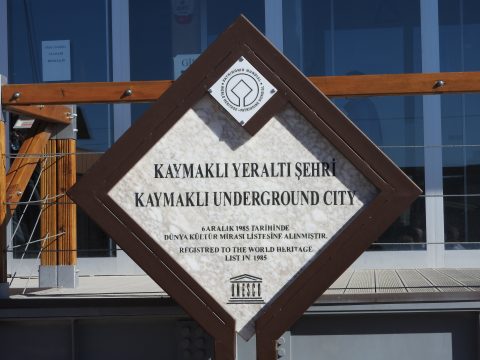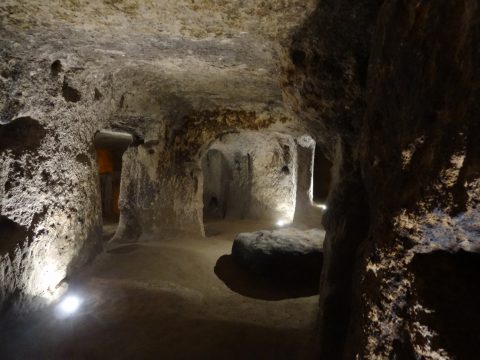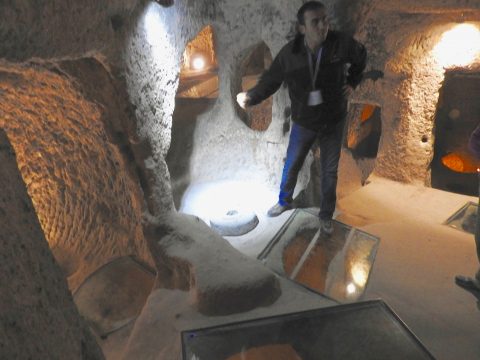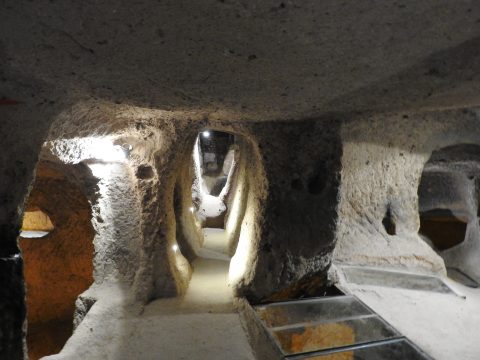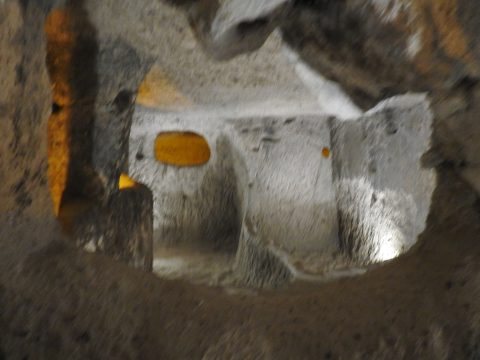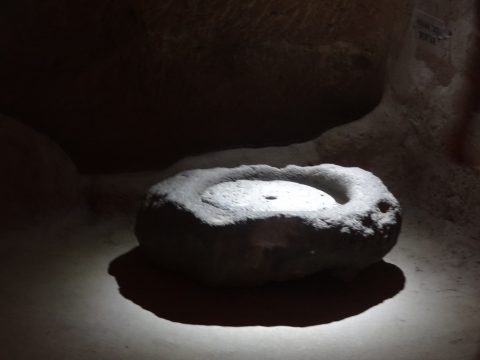 For our second, third and fourth nights we were based  in Avanos at the Suhane Hotel, a large modern purpose built hotel which looks amazing from the outside with super nice outside areas and impressive reception and bar areas. Unfortunately the rooms are tired and in need of upgrading and  fall  well short of the  supposed 5 Star status although more than adequate for us for only 3 nights. On the plus side, the food was fine and the staff are nice and the bar was amply stocked with beer and wine although a bar person did need to pop out to a supermarket nearby to buy tonic water! The hotel was fine for us but I couldn't recommend it.
On our first night at Suhane, Tuesday the 17th, an early night was necessary due to the fact that we would be awake at 4.30 in the morning to get ready to leave the hotel at 5.30 for the balloon trip. I had changed my mind regarding the balloon trip and decided to go for it. Actually I had changed my mind en route from Kalkan and in the end all but one of our party took the flight. It was an amazing experience.
All was fine and we were picked up promptly in the morning and transported a short distance to a restaurant near the balloon take off fields. We were given a simple Turkish breakfast and then bussed over to the take off area for a safety drill, pre-flight photos and a sales pitch for the in-flight video that would be taken.
Happily and surprisingly I had no pre-flight fears or even nerves and enjoyed every minute of the hour long flight which started  just as day was breaking around 7am. There were many many balloons taking flight one after the other but we were one of the first to go. We started with a fairly low  flightpath over a couple of  nearby valleys actually descending into the valleys and within touching distance of valley walls and towering pillars – quite amazing and surprisingly good fun with the pilot showing a high level of skill in manoeuvring the balloon. We then rose to heights of 1,000 feet and above to give us  great panoramic views over the area and the other balloons flying below us.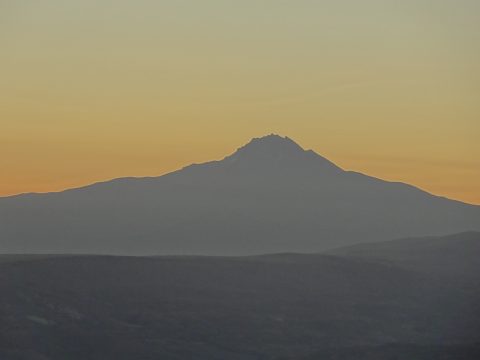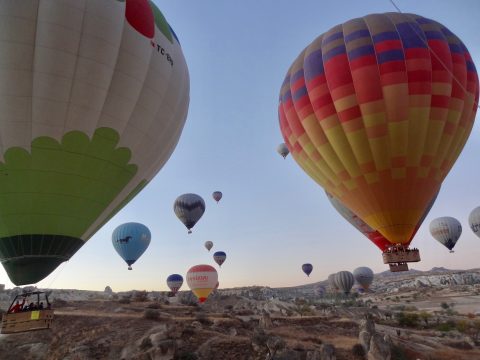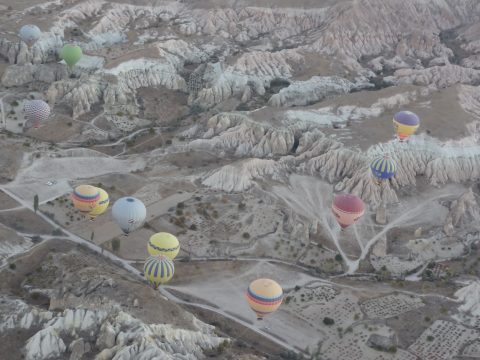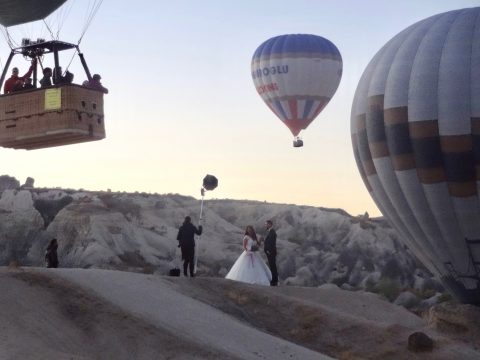 We were 12 persons in the basket all from the same group and enjoyed good craic with the pilot who spoke good english. Everyone was impressed (and relieved no doubt) with his handling of the balloon which he manoevered by ropes and pullies and increasing and decreasing the gas supply to the burner. An hour passed by quickly before we started our descent into a field with the pilot landing on a basket sized platform ready to be transported away – an incredibly accurate landing followed by the presentation of flight certificates and a glass of bubbly to all the passengers. A memorable trip indeed
The rest of the morning was spent sight seeing with an early finish following our early start in the morning. Later that evening we attended an excellent Turkish Night which included a nice dinner with inclusive and unlimited drinks with the usual traditional music and dancing including the obligatory belly dancer! Normally I avoid such evenings like the plague but this turned out to be a great fun night – and more than a tad boozy……
Our time in Cappadocia was otherwise spent completing a couple of excellent walks along the  Ilhere Valley which included lunch at a riverside restaurant and also Rose Valley. We also visited a number of other locations, including Goreme Open Air Museum a huge area with a mega collection of churches (although in all honesty we were already churched out by now  and Uchisar Castle which gave us a bit of a work out climbing to the top to be rewarded with some long distance views over the region.
Here are more than a few more photos of Cappadocia
Ilhara Valley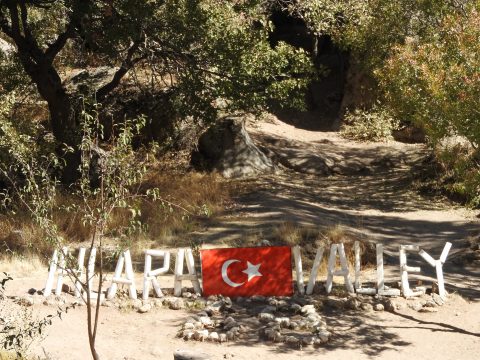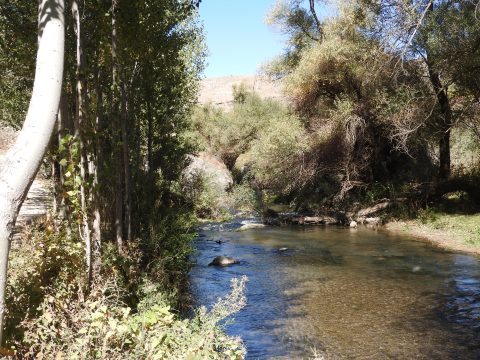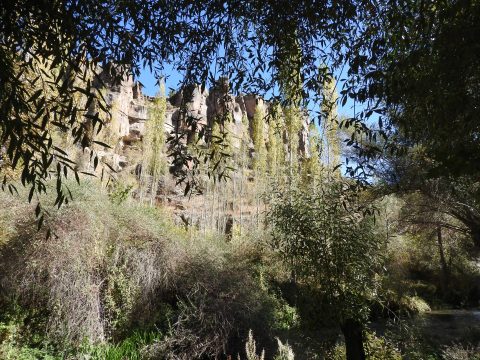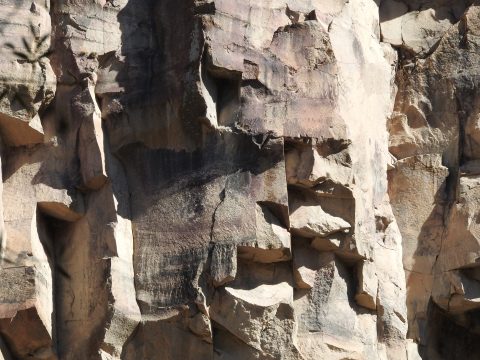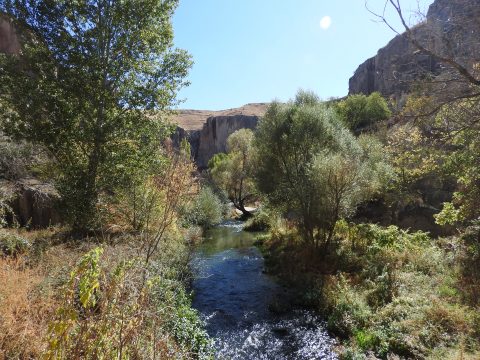 Uchisar Castle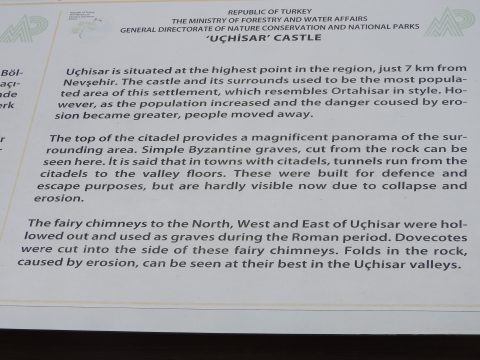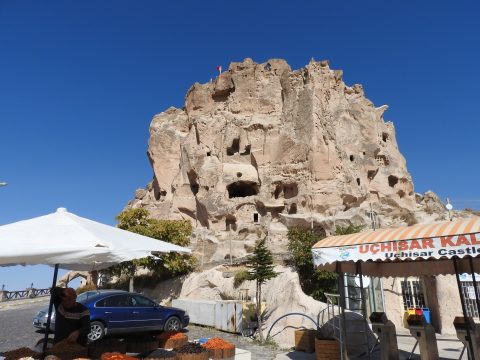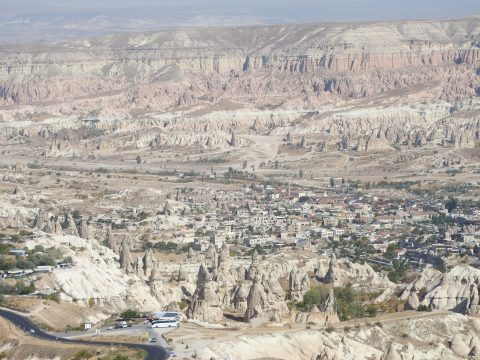 Rose Valley
Sultanhani Caravanserai
We set off on our return journey early on Friday 20th October driving firstly to the town of Sultanhani on the road to Konya to see a large 13th century caravanserai which was the biggest in Turkey built on the trade route leading to Persia.
From Sultanhani we travelled west through some fantastic scenery with a lunch stop at a service station high in the Tauros Mountains which are an "extension" of the Himalayan mountain chain that stretches across all of Asia. In Turkey the Taurus mountains stretch along the southern coast dividing the Mediterranean coastal region from Anatolia. After lunch it was a two hour downhill drive south to the coastal resort of Side where we broke the journey with a pleasant evening, dinner and an overnight stay.
The following morning we continued on our journey back to Kalkan calling at Phaselis,  an interesting Roman port city  built on three bays with the ruins of the city including an aqueduct, theatre and baths remaining. We had only an hour or so for this visit but we will  return visit to investigate some more.
With a brief stop for a lunch of baked trout , we were back in Kalkan late afternoon  in good time to see City beat Burnley 3-0 at the Etihad. All in all a great trip and highly recommended if you can make it – Im sure M&M will be running this one again!
And finally, a BIG THANK YOU to M & M for arranging this trip which was one of the most enjoyable and interesting we have ever been on. We can't wait to do another!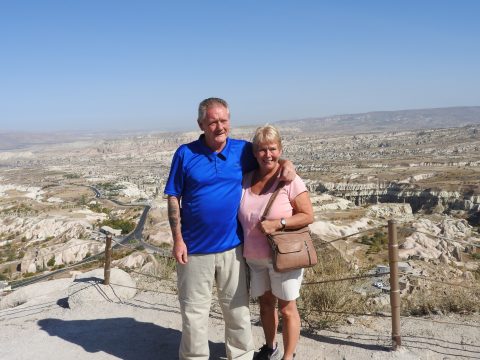 PS This post was put together in December 2017 following our trip in October. My memory isn't what it was and we visited so many places and took so many photos that there might well be some in accuracies as for some reason my camera GPS wasn't always working!