Gijon (or Xixon in the local language) was originally a Roman settlement and has a rich history from Roman times through to the 16th C when it became established as a port and in more recent times. There's still  evidence of the Roman history including Roman baths although we didn't get to see them – coming from a place where Roman ruins are everywhere we get a bit blasé about them unless they are exceptional.
This is  the largest town in Asturias in northwest Spain, a seaside town sitting on the Cantabrian Sea and so has a maritime and fishing history and today is a departure point for cruises. However, the town doesn't always get a great write up as it's also an industrial region producing iron, steel and chemicals – and coal is exported from here. And its not the prettiest in terms of aesthetics – there are plenty of old churches but otherwise the architecture is less than impressive with areas of modern-ish high rise flats and offices mixed in with older commercial and government buildings. So we did think twice about visiting  – but we did visit and we are glad we did – although its fair to say we see no reason to return!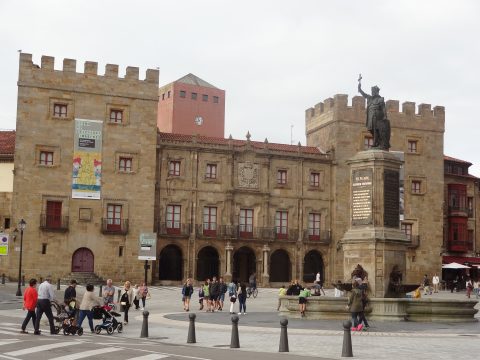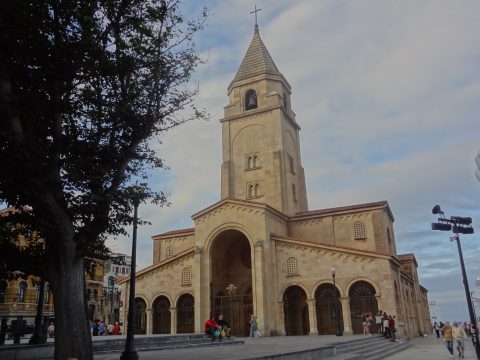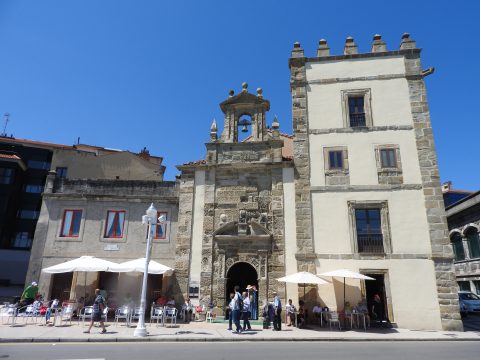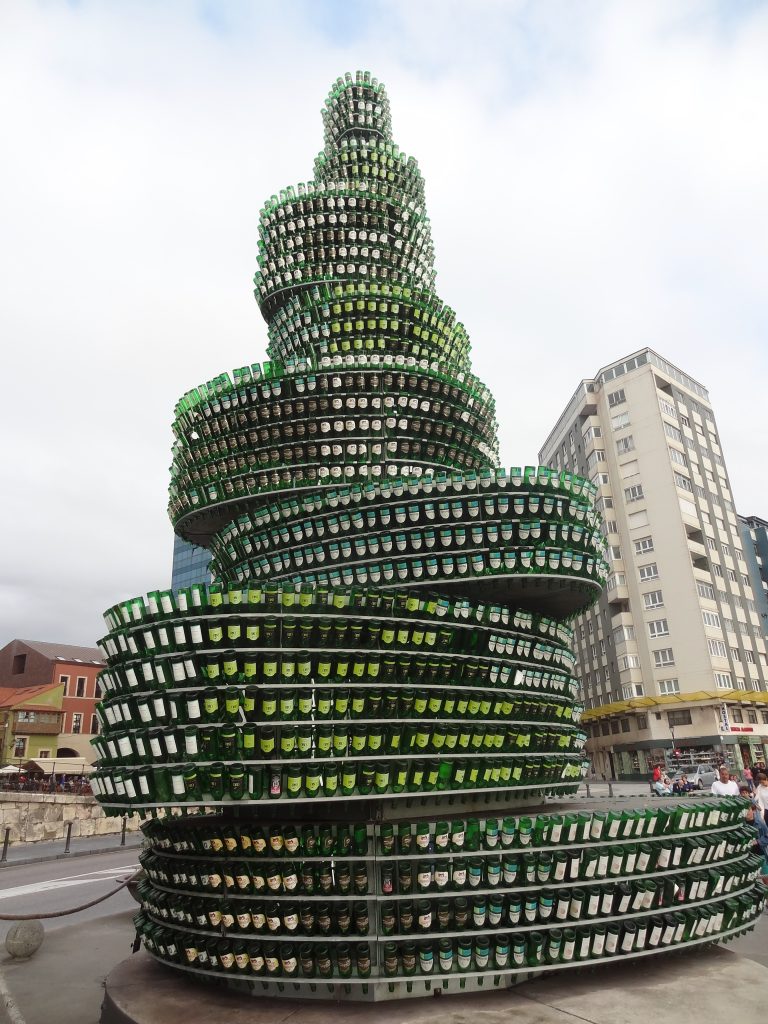 We liked the place albeit's  its a working city with a definite working class feel to it – maybe that's why we liked it. It's  grittier than other Spanish cities we have visited – definitely grittier! And with  Festival taking place at the time of our visit, it was fairly lively and the cider was definitely flowing!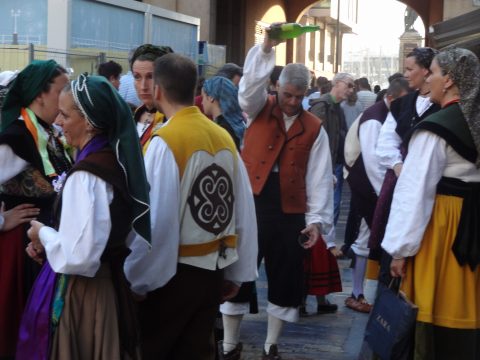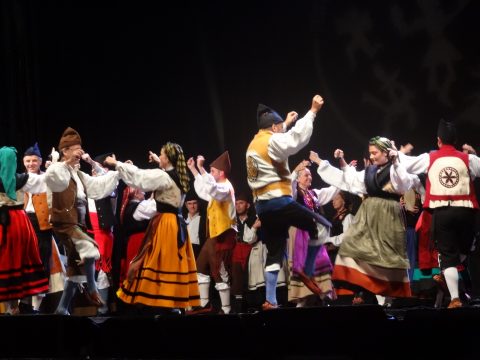 The people of the Galicia and Asturias north west corner of Spain are of Celtic origin (no they are not immigrants from Ireland or Scotland) – they have their own language and music and bagpipes are a traditional instrument. You probably know already that Gijon is the home of the International Bagpipe Museum – unfortunately we missed it….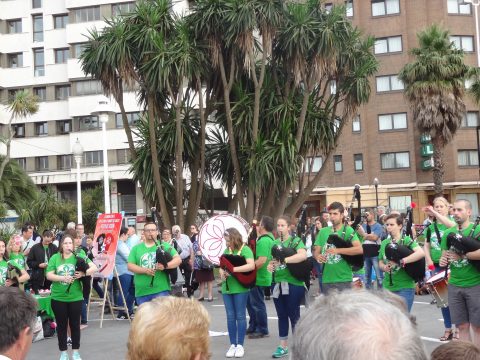 As always the historic quarter, the original village named Cimadevilla, is the highlight with its narrow streets and little squares littered with bars and restaurants, standing on a peninsula leading uphill  to a park, Cerro de Santa Catalina with a massive and monstrous abstract concrete statue representing I know not what. There are great views to be had from here but keep on walking around the peninsula and you arrive back on the mainland and the main promenade overlooking the main beach, Playa de San Lorenzo. The beach is 1.5 metres long and great for families although its not our kind of beach – just too crowded although, to be fair, this was early August, peak holiday time.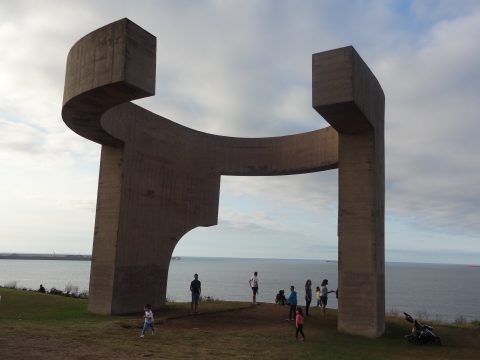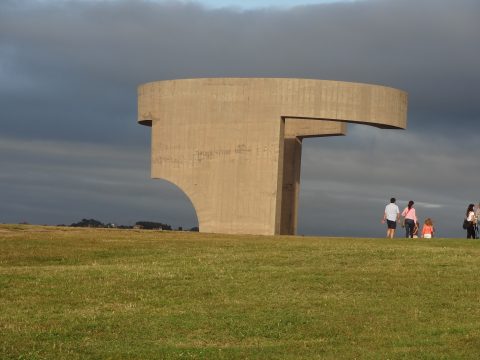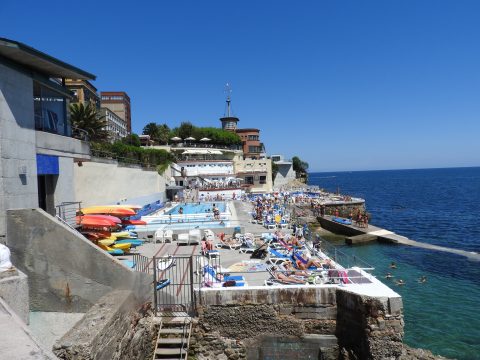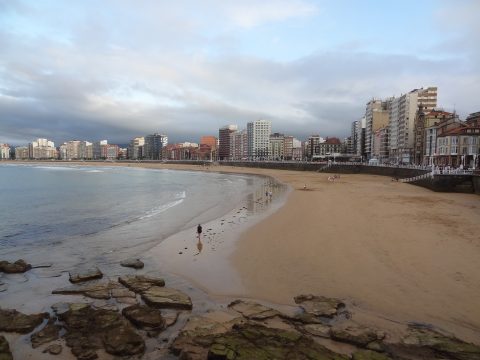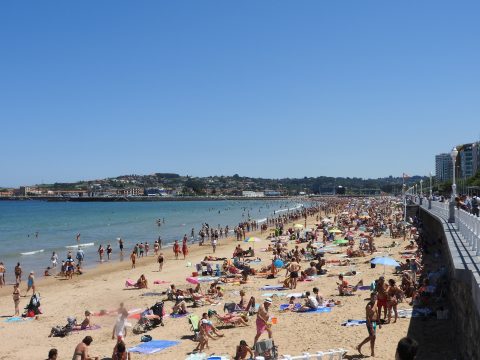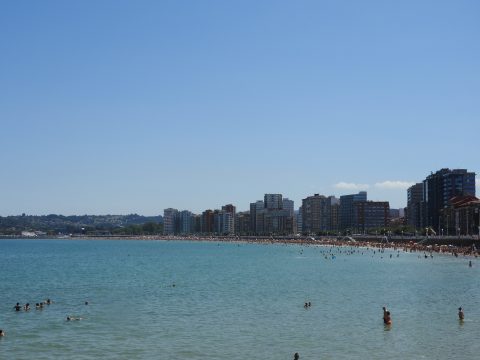 Beyond Playa de San Lorenzo there are walkways giving great sea views with various sculptures to be found along the way including Monumento a la Madre del emigrants – a memorial to the Asturias emigrants who left from here for the Americas and other parts of Europe. This was really lovely walking and a highlight for us.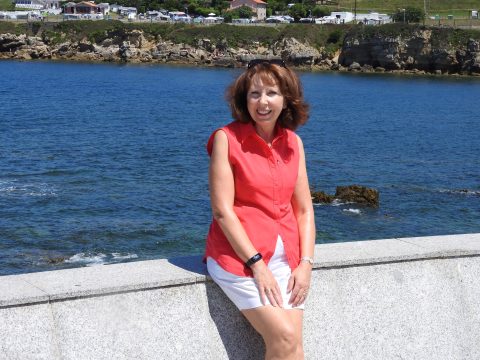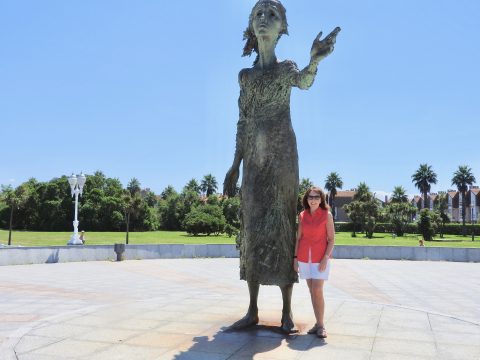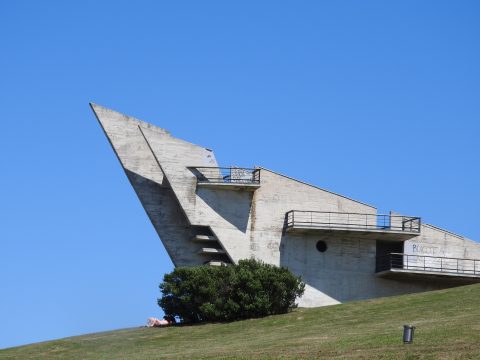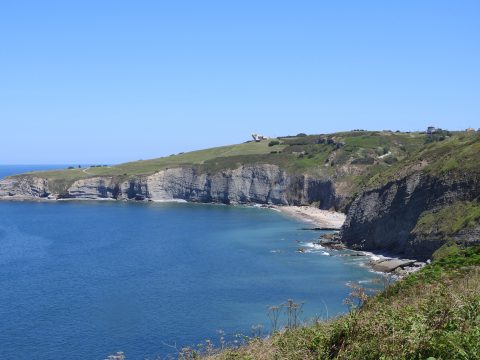 The people here were very friendly but it's a very Spanish resort and there's very little English spoken.  There was some kind of Festival taking place while we visited and it was clear how important music and dance and drink is to the locals. Again like elsewhere in the region, food here majors on fish,seafood, meat and cheese. Seafood platters alongside hearty stews like Fabada .Fabulous.
The local tipple is cider, of course and at the time of our visit, with the festival on, there was a lot consumed. Its importance is honoured with a cider bottle tree in Cimadevilla.
This is another place that isn't exactly on the standard tourist trail unless you are actually touring. – what I mean is that it really isn't a destination in itself for overseas travellers.The weather in this part of Spain, in the entire region really, is less predictable than elsewhere in Spain. It's a very green area as a result of high rainfall – the weather wasn't great during our visit although we did have one nice day. The climate along this coast attracts predominantly Spanish tourists who visit in July and August to escape the high temperatures elsewhere in Spain. It's quite different from many of the many Spanish towns and cities we have visited by now but we liked it – a lot!