Apart from a two week  holiday I spent in France over 30 years ago, this was our visit to the land of cheese and wine. A two month visit would doubtless be more than enough time for most people to travel the length and breadth of the country but of course we travel slowly and so our plan was to make our way leisurely from Spain, through South West France  and along the south coast into and around Provence and finally down to Antibes on the Cote D'Azure. This would likely be the first of several trips to France and already we are planning another.
After 5 nights in Girona we hopped onto a Barcelona/Paris train heading for Perpignan in the Languedoc Roussillon region of France en route to the small seaside visit of Collioure.
A 40 minute ride got us the 100 or so kilometres from Girona to Perpignan. The train was excellent, a high speed and very comfortable double decker train travelling Barcelona to Paris with loads of luggage space. I had been a bit worried that the train would be packed and that we might struggle with all our luggage but  happily our seats were on the lower deck and there was luggage space aplenty. With 2 cases and 2 back-packs, luggage space is a constant concern and I think that things might have been be a tad more difficult had we been travelling later in the summer.
The subject of luggage is a thorny issue. Keeping our luggage volume and weight down is a constant problem and the fact is that we just carry too much stuff although it's difficult  to manage this when travelling through different countries in different seasons. At this point in the year, coming out of winter and into spring, we need gear for wet and dry and warm and cold but we have decided that soon, once the weather improves, we will ship some stuff back to Blighty to lighten the load.
One of the great things we have found travelling around Europe so far is the fact that in most towns and cities the railway station and bus stations are in close proximity to each other, if not actually integrated on a single site. Perpignan is one such place with the bus station Gare Routier  adjacent to the main SNCF (train) station.
Everything was going to plan. We had the option of bus or train for the second and final leg of our journey from Girona to Collioure and had decided to take the bus simply because the bus station was nearer to our digs in Collioure. Within minutes we were on a €1 bus to Collioure. Quite a relief for me as I do get stressed about missing connections….
This €1 bus service is great allowing a €1 ride to anywhere on the bus route. This cheap subsidised fare philosophy seems to apply across much of southern France and it may apply throughout the country for all I know but it's apparently a government initiative to open up travel into and out of the rural villages for the people of France. Many of the local TER trains also have €1 fares and travel generally in France is fairly economical even on the regional services and especially when trains are booked in advance and/or on-line.
We arrived at Collioure after a 30 km one hour bus ride in late afternoon sunshine – all good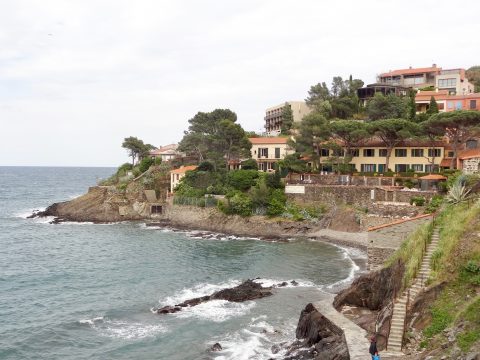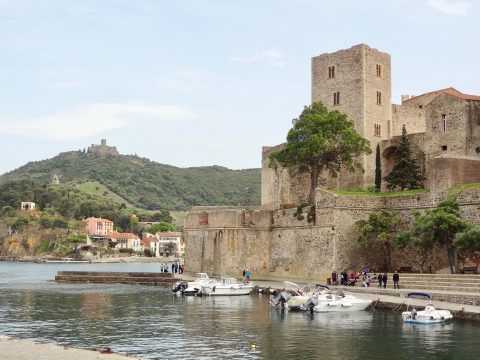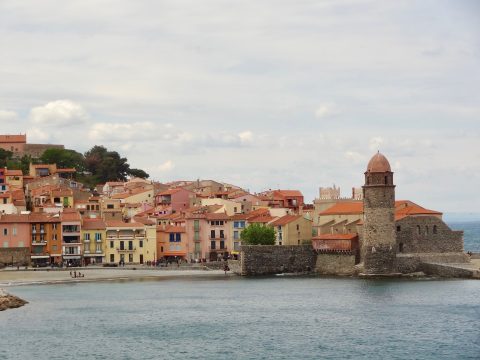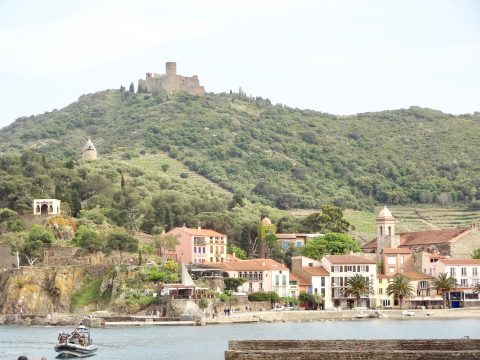 Collioure is a lovely seaside resort lauded as a jewel of the Mediterranean. The town is in a hilly area  near to the border with Spain and is a Catalan town even though it's been French since the 1600's. Like much of the rest of this Eastern part of France, the culture, food etc is an interesting mix of  Catalan and French.
There's bags of history to this part of the world and Collioure has its share of it. There's evidence of Greek and Roman times and later  the Knights Templar, Cistercians, Dominicans etc during the religious wars. The place is dominated by an old (1500s) fort high on a hill above the town and there is also an old windmill adding to the scenery. I shall leave the reader to google for more information.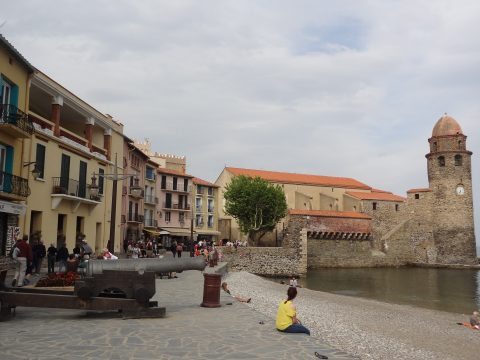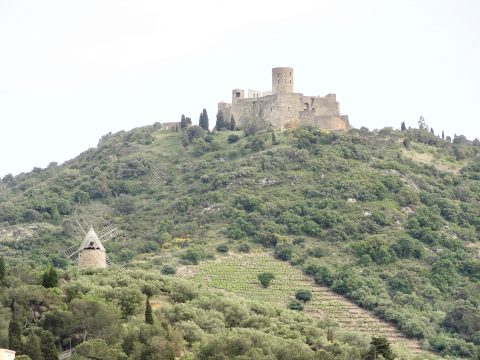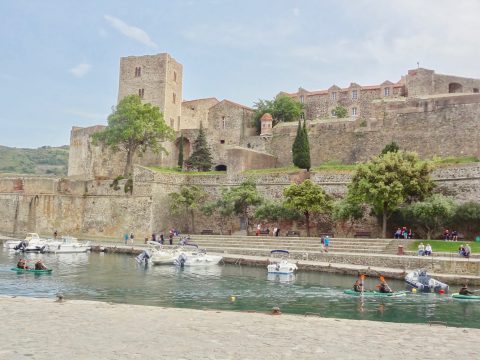 This is a small town with a small promenade featuring a couple of bar restaurants overlooking a curved central bay.Around the corner from this central bay , around a promontory on which stands a chateau , lies another pretty  bay where the main village sits .This is a much more lively and attractive area with old narrow streets , nice shops and restaurants , boulongeries and charcuterie . Anchovies feature heavily here and there is at least one shop selling virtually nothing but (expensive) anchovies and products derived therefrom.Collioure was once a fishing village catching mostly anchovies and sardines and whilst the fishing boats are now gone elsewhere to bigger ports , there is still a small anchovy packing business here.
The town is famous as a  centre for art with many famous painters  having visited and worked here following Matisse who came in the early 1900s drawn by the light, colours and the varied subject matter waiting to be painted. It is known as the City of Painters and of course there's an Art Trail. The place is full of artists studios with every opportunity to buy a painting or two. Again there's loads of stuff on the web for anyone interested.
Collioure is undoubtedly a pretty place and we had a very pleasant first evening wandering around town in the evening sun. Our rental apartment was very handily placed just one block back from the seafront. It wasn't the best rental we had booked but it was adequate for a few days with a decent balcony to give us some fresh air. Except that we quickly realised there was no wifi -aaaagh!
Booking a place sans internet was a schoolboy error on my part when it's so crucial to our lives travelling. We are very dependant  on the www as apart from managing our own Turkish apartment lettings we are constantly developing, reviewing and fine-tuning our itinerary and booking and re-booking accommodation. But no internet was especially problematical this week as City were playing the Rags on our second night in town – we usually watch the footy on-line! Luckily we managed to find a pleasant cafe bar with a very accommodating owner who kindly switched one of his TVs over from the ubiquitous rugby. Actually there was a rugby match showing at the same time and just before kick off  the quiet cafe suddenly became packed with locals. The locals watched the match, most of them nursing a single small beer or glass of wine throughout the 80 minutes of play and then disappeared immediately the match was over. It felt rather odd that the two of us were the only ones sat watching a live Manchester derby in a place that was packed with men and boys but no one else showed any interest whatsoever in the football. In the event the match turned out to be a boring 0-0 with Mourhinio parking the bus to nullify the efforts of our Boys in Blue.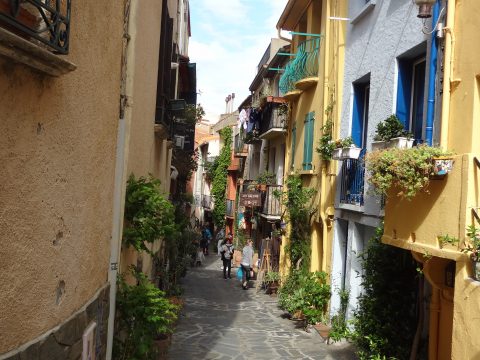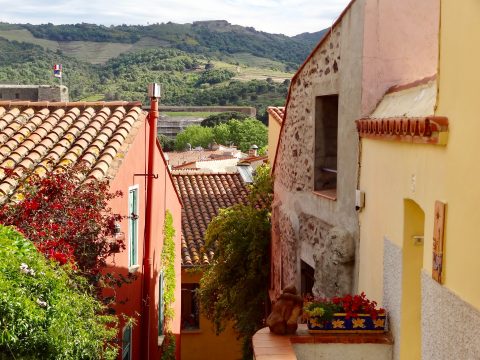 Having arrived at Collioure in sunshine, it was downhill from there. We awoke the next morning  to a wet and windy day and we were forced to stay indoors for a few hours although eventually we managed  to get out to explore late morning – thank goodness we had packed fleeces and waterproofs – in time to see the fag end of the weekly market as the traders made a start on packing up for the day. We were looking forward to the local French markets and Collioure was the first one we would visit. However on a wet and miserable April day  the  market  was a sad affair, rather depleted  and decidedly underwhelming although it's  said to be excellent in decent weather later in the year.
Although the weather improved on our last day in town, we definitely didn't see Collioure at its best. I'm sure its absolutely fabulous in the summer but absolutely packed also. There is very little parking in the town itself  and traffic is apparently a nightmare. Methinks it unlikely we will return –  definitely not on Ann's list of "places we loved and must return to".