After an all too brief return to Kalkan for 6 weeks or so in March and early April, we returned to Spain on 10th April 2017.
We didn't really want to leave Turkey. The tourism industry in the country was on its arse due to terrorist activities elsewhere but Kalkan is a small village a world away from all that stuff and we love it more and more every time we return.
However, we thought that Valencia was quite special. We stayed in a lovely spacious apartment in a typical old building in a perfect location in the Historical Centre. The building is in a street full of identical buildings some of which have been redeveloped and some of which haven't. There is plenty of graffiti around but strangely the street art seemed to add to the charm  of the place. "Our" building  was unremarkable from the street. Neither the outside nor the inside communal areas had been tarted up and there was no lift – something that by now we seek out when booking accommodation in old multi-storied buildings. However, the apartment itself had been beautifully restored and furnished by the owners who initially lived in it themselves but now live in another apartment across the street. The flat was very well kitted out and with super hospitable owners, its highly likely we will return one day.
Son Richard and girl friend Laura joined us for a few days and loved Valencia from the moment they arrived.
Valencia has everything we needed and liked. Grand boulevards  and squares with some serious period architecture alongside a historic centre with typically narrow streets lined with boutiques, bars, restaurants and clubs with lots of interesting little squares here and there .
There is no shortage of museums and other places of interest with a nice cathedral and the stunning Church of San Nicolas. In truth by now, after quite a long period in Spain, we were already becoming picky about which museums, cathedrals and churches we would visit but the Church of San Nicolas is very special and definitely a must see and the Cathedral and Basilica are also worth a visit.
Valencia Cathedral
The cathedral dates back to the 13th century and is a mix of styles. It contains, amongst other things, a chalice which is claimed to be The Holy Grail.
The Basilica
The Basilica built in the Baroque style is rather plain from the outside but  lavishly decorated inside with an impressive frescoed dome.
Church of San Nicolas – El Carmen district
This is an incredible place to visit although it appears nothing from the outside with access being down a small alleyway – its easy to miss it even when you are searching it out. Founded in the 13th century with later additions, as always, this is a mix of Gothic, Baroque and Rococco styles. There are newly restored areas and the plasterwork and especially the painted ceiling is truly amazing – and apparently larger than the Sistine Chapel.
The shopping here is so good that even I enjoyed it. There are independent shops, high end and not so high end, a bakery on every corner and a great central market for fresh food shopping. Add to that our favourite department store, El Corte Inglese with  great shopping for clothes and an excellent  food hall and we needed no more.
Central Mercado
Mercado de Colon
This  market, quite some distance from the old City is contained in a market building built in the early 1900s but recently restored. It's a lovely building with attractive brickwork and lots of structural metal and glass. This was a market proper in the day but now comprises a collection of cafes and restaurants with  various retailers and florists. The only purveyors of fresh produce that we spotted were a rather fancy fishmonger and a similarly expensive looking charcuterie.
National Museum of Ceramics
We are not great visitors of museums except for those said to be exceptional of their type. This wasn't one such but we were intrigued by the amazing building itself which is covered in alabaster carvings. As luck would have it, admission was free on the day we were passing and thankfully so as the exhibits themselves were rather underwhelming.
Gardens of Turia
As ever we did a lot of walking in Valencia which is a very green city with parks and green spaces everywhere. We didn't get to see them all by any means but we did see and walk the length and breadth of the Gardens of Turia, a 9 kilometre ribbon of greenery created from the dried up bed of a river that was diverted  following major flooding in 1957. The gardens snake their way through the city toward the sea providing  a corridor of  open recreational space for  the people of Valencia. There are numerous playgrounds and sports areas, fountains and well-trimmed arty gardens. The river bed is always full of people as there is something for everyone, with sports pitches, pathways, cycle tracks, roller skating, skate -boarding etc and zillions of places to sit and people watch and/or enjoy a picnic. There's also an Oceanarium – the largest aquarium in Europe, not to mention the Bioparc – aka a zoo !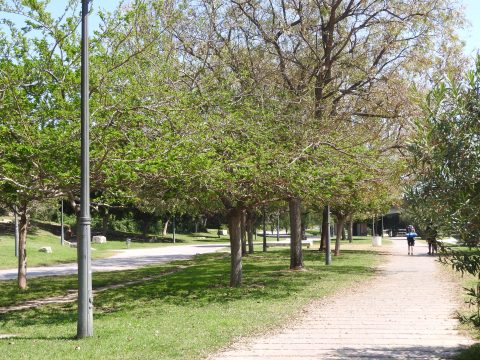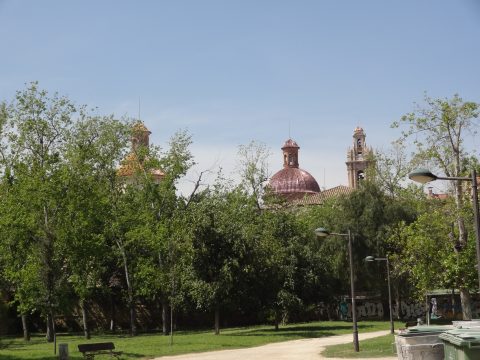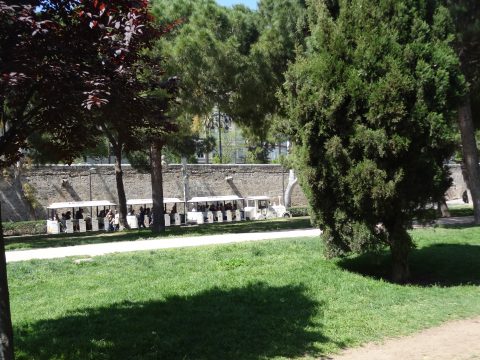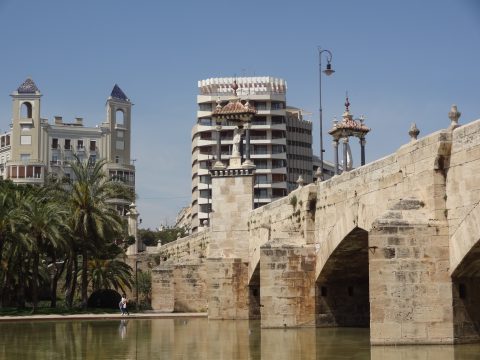 The Turia Gardens are also a major cultural centre for  Valencia housing the Palau de la Musica (concert hall) and the City of Arts and Sciences which sits right in the river bed. Lots to see and apparently there is almost always some kind of fair or festival taking place here for added interest. The City of Arts and Sciences comprises some beautiful modern buildings as you can see.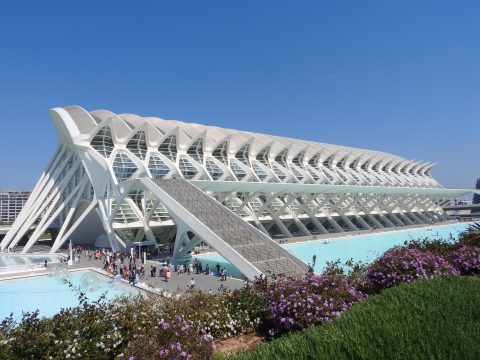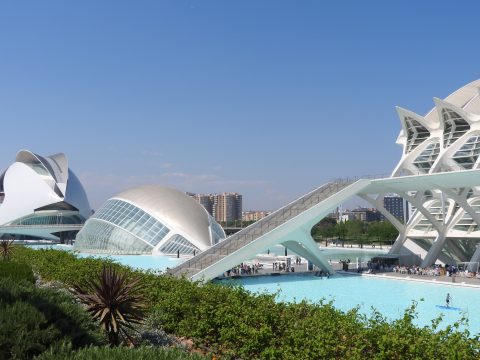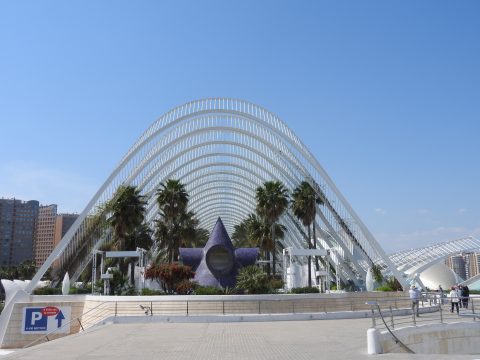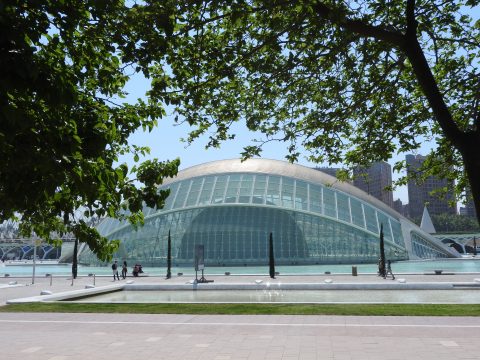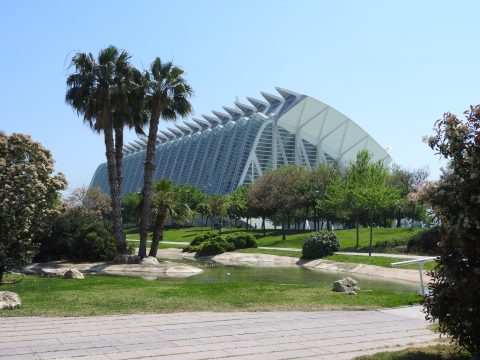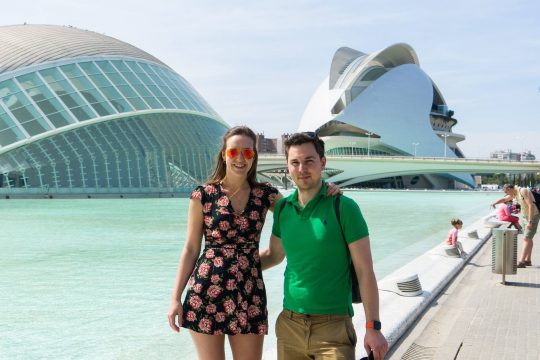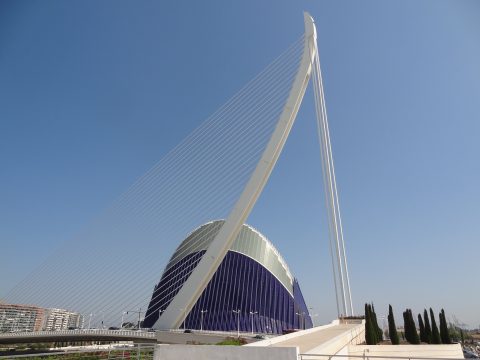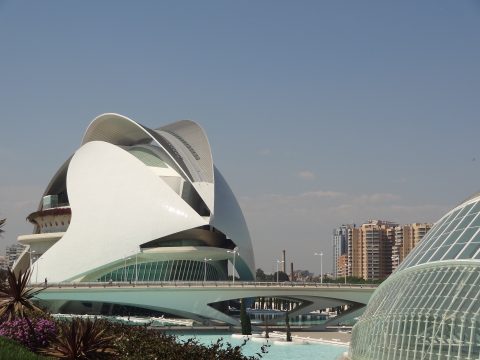 We stayed in Valencia for a week but left with still a lot to see. A good excuse to return sometime when the opportunity arises. We liked the city a lot and it's definitely a place where we would consider settling down if and when we grow up .
A few more random snaps