Following 3 months in Turkey from August to November 2016, we needed somewhere to over winter. We planned to return to the UK for the Christmas and New Year period and stay with our kids but we had no home to go to as such as our house in Bolton is still rented out and will likely continue to be for another year at least.
An ideal solution, for me at least, would have been a return to Asia for a few months of sun and cheap living but we did want to be home for Christmas and so we decided upon Spain as a  more practical and affordable solution. We had several time-share weeks that needed to be used
(before they expired) and we worked it so that over the period December to March with almost 3 weeks at home over Christmas, a combination of time-share and rental properties enabled us to spend a very pleasant winter in Spain. Better still, because of the proximity to the UK and Ireland, various friends and family came over to  join us at various times.
Actually our period on the Costa Del Sol was an eye opener for us. We had never really visited the area before except for an occasional holiday in Marbella and Puerto Banus when our kids were small. We certainly didn't expect to enjoy our stay so much on a coast commonly regarded as a downmarket coastal strip of concrete full of Brit friendly pubs and fish and chips cafes in the Blackpool genre.
Whilst we found that there is certainly no shortage of the aforesaid British pubs and cafes in some of the resorts, most of these are closed over the winter despite the fact there is still a fair number of resident Brit expats and visitors around. And occasionally those pubs were handy to visit on occasion to watch live footy on TV when we were struggling with poor wifi at our accomodation.
Over the 3 month period December to March we spent a month in Nerja, a week or two or more in Calahonda, Belamadena, La Cala and Malaga and we also visited Marbella and Seville for a few days and we enjoyed them all. We were pleasantly surprised to find some good walking, albeit mostly urban walking but with lengthy boardwalks and promenades. For example, we could walk from Cala to Torremelinos in one direction and to Fuengerola in the other direction, a distance of around 20km and most days we would walk from 5 to 10 miles or more.
Everywhere , without exception , we could find inexpensive tapas restaurants in areas where we heard relatively few British voices and the  efficient and cheap train and bus services meant that we could have regular days out at little cost.
Malaga became a favourite and we visited several times and stayed over on occasion including a pre-Christmas get together with brother Mike and sister-in-law Lynn. We loved the architecture, the bars and restaurants and the atmosphere , especially at Christmas was lovely.
Here's a few photos from our time on the Costa Del Sol
Benalmadena
Benalmadena Pueblo
Playa de Calahonda/La Cala
This stretch of cost is between Fuengirola and Marbella. We liked it a lot staying in the timeshare resorts of Macdonalds Dona Lola and Los Mimosas
Marbella – a day out from Calahonda
Malaga
We visited Malaga a few times twixt December and March 2017  and the city has become one of our favourites. A pre Christmas visit when we met up with my brother Mike and sister-in-law Lynn was especially nice but we find the place great whenever we visit. Its a decent size city with a nice historic centre packed with tapas bars and restaurants. There's some very good shopping with a trip to our favourite store El Corte Ingles compulsory on every visit!
Nerja
Nerja seems to be the "go to" resort for many holiday makers visiting Spain including several of our friends who visit regularly. We had never visited and so we decided to round off this trip with a months stay in an apartment just above Burriana Beach. The apartment was in a very good spot only minutes from the beach and its bars and restaurants and a similar distance from decent supermarkets. Nerja centre was 10/15 minutes walk.
We chose our apartment well, very spacious and well kitted out for self catering. Wifi was good and Sky Sports for live footy was a bonus.
We enjoyed mostly decent sunny weather except for a few stormy days but February  is out of season and  many of the bars and restaurants were still closed. Nevertheless we found sufficient eateries to keep us happy  and were lucky to visit at the time of the annual February Carnival, an excuse for the locals to dress up and have a big drink! We were surprised to find many more expat Brits, French and Americans (and beggars) here than we had  in the other parts of Costa Del Sol although its certainly more authentically Spanish with much fewer ex-pat bars and cafes further down the coast. It's certainly true to say that this is a very attractive town with nice beaches with some nice walking with one of the very pretty white villages, Frigiliana, only 6 kilometers away. The Balcon de Europa area of the town centre shown in the first few photos below is especially nice and a great place to sit and people watch in the February sun albeit this particular area was plagued with beggars at the time of our visit.
We enjoyed our stay in Nerja although we didn't feel the love sufficiently to want to return in a hurry.
The Town
The Beaches
Really nice beaches here – especially off season – and perhaps more especially in wild weather !
Carnival
A Weekend in Seville
One of the great things about staying on the Costa del Sol is the easy access to Malaga with its great transport links to the rest of the country. You can seemingly get anywhere by bus, train or plane and we took the opportunity to make a short trip by train to Seville. Sorting out train tickets was a doddle and we booked a decent hotel in the city centre, Las Casa de Los Mercaderes. The journey itself was very pleasant with comfortable seats and we got to see  some lovely scenery we would never have seen had we travelled by car. We stayed only for 2 nights/3 days and unfortunately Ann wasn't very well on one of the days . So time was very limited but  we saw enough of the place , including a few hours in the Cathedral and Alcazar , to decide that we would return and rent an apartment for a much longer stint in 2018. Here are some photos….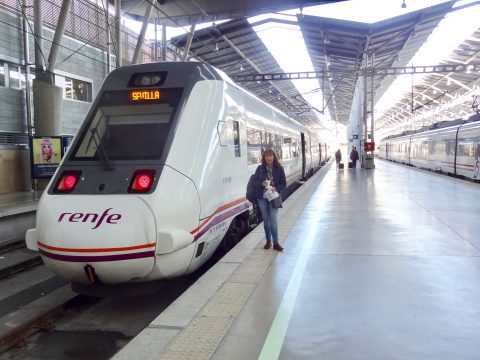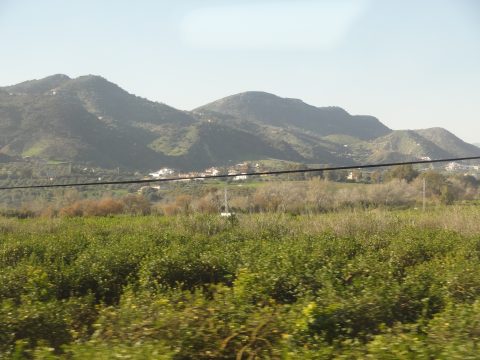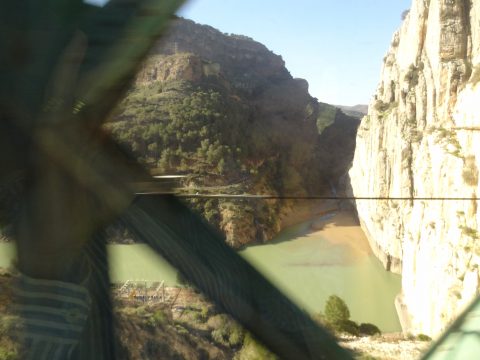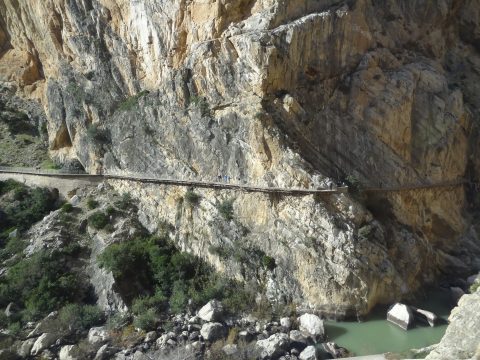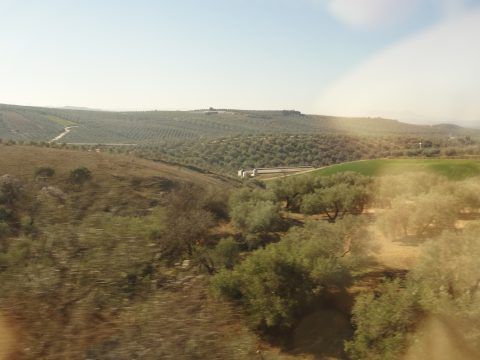 Seville
Madrid
Following our time on the Costa Del Sol we ended up with a couple of days in Malaga where we met up with friends Brian and Carl and then flew to Madrid for a couple of nights before our flight back to Turkey.
Madrid was very much a flying visit and the weather was grey and drizzly  but nevertheless we enjoyed our couple of days which included a visit to the Bernabeu Stadium to watch Real Madrid v Las Palmas which ended up 3-3 with Bale sent 0ff – a great night out.  We also walked a lot and got to visit the Royal Palace and  other attractions and found some excellent tapas bars close to our digs. A culinary highlight , whilst not  fine dining , was the Mercado de San Miguel, a covered market full of top quality tapas bars selling all kinds of tapas and drinks.Very lively at any time ( we went more than once in 2 days)  and a great place to wander around grazing and trying different things.Here are some snaps….