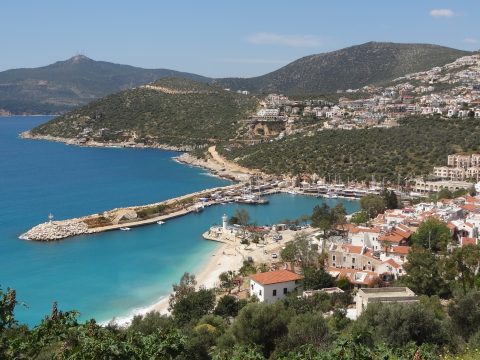 We flew from Bangkok to Dalaman via Istanbul on 25th February. Our Asian travels were done , at least for the time being. It's 13 months since we left Istanbul in January 2015 and we have had an amazing time but it was good to be back home. The  weather is perfect, sunny with temperatures low to mid 20s centigrade and the town, for me, is at its best, very very quiet with very few tourists about. We will be here until mid May when we move north to Bodrum for a few days before leaving Turkey for Croatia and Montenegro.
This would be the first time we would stay in our apartment for more than a couple of weeks and we were looking forward to it. We did intend to use some of the time to travel but we enjoyed our time in Kalkan so much that we couldn't be bothered going anywhere other than Bodrum except for a few shopping trips to nearby Kas and one overnight trip to Fethiye which is about an hour away.
We had some major home improvements done at the apartment over winter 2014 and this was our first time back since then. This was the first time we had seen the finished article  and we were generally delighted with the work done – it was like a new apartment – but inevitably there was a snag list to be drawn up and tackled.Also inevitably Mrs E  found other improvements to be done and purchases to be made to improve the look of the place and add to the creature comforts. Unfortunately none of this was in the budget but hey ho……
Needless to say a few jobs  remained outstanding even when we left Kalkan on 18th May but this is Turkey after all and the jobs will be done sometime – possibly, hopefully.maybe before we return in September.
We enjoyed this first long stay in Kalkan very much. If it were not for the Turkey visa rules which currently allow a maximum stay of only 90 days, we would happily stay longer.     Although we did get a few stormy days here and there we found the end of February onwards to be an excellent time for walking with everywhere quiet and green and with lots of spring flowers to be seen.
For anyone interested, there is superb way-marked walk, the Lycian Way, which stretches around 540 km from near Fethiye to Antalya passing through Kalkan on its way. There is some fabulous walking to be done from Kalkan and there are one or two walking groups in the town run by ex-pats who welcome visitors.Unfortunately Ann's knee was taking its time to recover following a nasty fall the night before we left Bangkok and so serious walking was out of the question for us on this trip.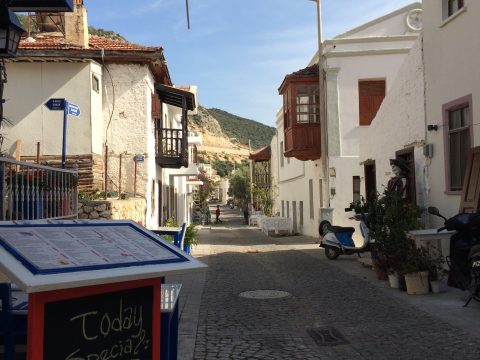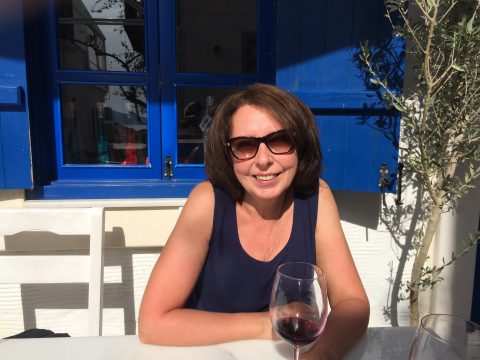 The apartment is in a quiet residential  district of Kalkan and although there is a shop and a couple of restaurants and hotels, all were closed for the winter. No worries, although serious walking was out of the question, an almost daily leisurely stroll into town  for mooching  shopping and the occasional lunch was a very agreeable way to spend our days.
This is a great time to visit. Kalkan town itself is very very quiet indeed with most shops other than supermarkets and builders merchants closed – the latter because November to May is the only time when construction work is allowed in Kalkan so this is the busiest trading period for the building supplies shops. The same goes for restaurants with only a handful of "proper" restaurants open (Salonica, Aubergine and DoyDoy from memory) although almost all the locantas, eateries selling "local" food, remain open for the locals. This suits us fine. We didn't expect to eat out a great deal and even when we did it would usually be in places where the locals eat – one of the pleasures of Turkey, especially out of season when the restaurant owners have time to natter.
So the period February to May 2016 in Kalkan was spent doing nothing much at all other than a little bit of walking most days and some work on the garden which needed clearing out and re-planting in places. We also spent a lot of time with Tamer, our Property Manager, getting  various works done in time for our first letting Guests of the season in mid May – forgive the plug but the place will still be available for letting in the future – see www.kalkanseaview.com if interested.
Here are a few photos of this visit to Turkey:
Kalkan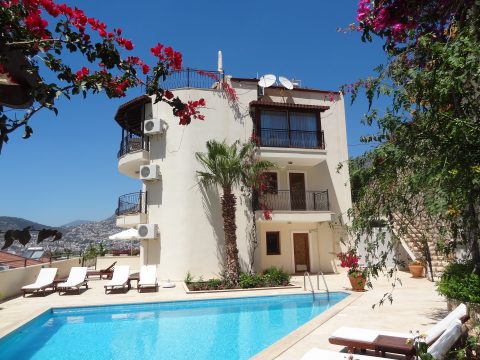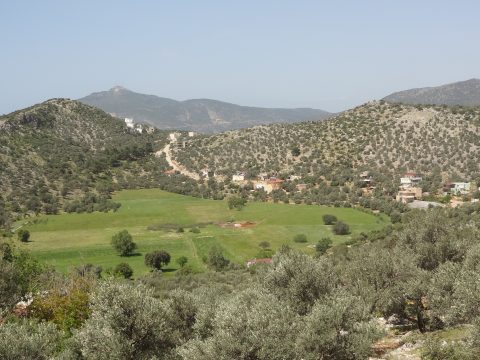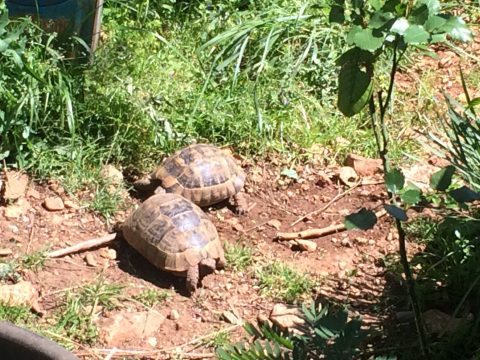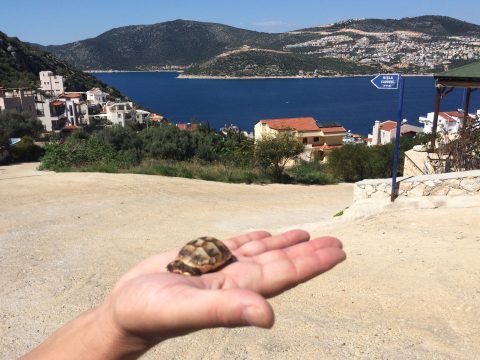 KAS
Kas  is a small town along the coast around 26 kilometres from Kalkan. The drive takes around 20 minutes but we invariably take a dolmus (local bus) which enables us both to enjoy the stunning views which many say are reminiscent of Italy. The bus ride costs less than £2 per person each way.
Kas, like Kalkan, is a fishing, sailing, diving and tourist resort and like most other places in the region there are lots of Roman remains to be seen in the town and the area. We find it a great place to find stuff for the apartment if we don't want to travel further afield to the bigger Fethiye and usually we aim to get there in the morning, spend a few hours shopping and mooching and then enjoy a nice long lunch with a bottle of wine before returning home. Its a pretty, unspoilt town and  there are interesting boat trips to be had along the coast from here, including the Greek island of Meis, which usually start with a coach ride from Kalkan.
Fethiye
Fethiye is a port city around an hour or so from Kalkan. Its the biggest town in the region with a population over 140,000 and is a proper working town that is therefore "open" all year around which means that it is generally busy whatever time of year you visit. The harbour area and a shopping area next to it is particularly attractive with lots of restaurants and shops and boat trips to be had to and around outlying islands. Again  like many of the towns in this region , there are plenty of Roman and Greek remains to be seen.

Bodrum and the Bodrum Peninsula
We spent our last few days in Turkey at Gumusluk on the Bodrum Peninsula, not an area we have visited before.
Bodrum
Bodrum itself is quite a big town with a nice old castle and lots of history. It comprises a big marina lined with shops, restaurants and cafes and a market area. It's a pretty town and we had great weather to see it at its best. There was a public holiday on the day we visited with events, markets and exhibitions (vintage VWs was one) taking place and a big stage being set up for music that evening. Vendors selling flags (the Turks are fiercely proud and love their flag which is seen everywhere) and other stuff  were doing a good trade. The town was busy with tourists and locals alike even though later, outside of Bodrum itself, the resorts were quiet like Kalkan.
Gumusluk
Gumusluk is a small fishing village on the Bodrum Peninsula  standing on the site of the ancient Greek city of Myndos and still referred to as Myndos on some street signs. There is a lot of evidence of the ancient city around the place and remains of paved areas and buildings can be seen in places in shallow water areas near the seashore and particularly in a shallow stretch of water which separates the town from a small island, Rabbit Island, just off shore. You can actually walk out to the island from the town along a submerged ancient street/footpath.
The town itself is very small with a population of only a few thousand and is spread over a largish area. The touristic area is, of course, at the seaside end of town with the harbour overlooked by Rabbit Island. The seafront part of town stretches less than a kilometre with a dirt street running either side out from the central harbour area. The street is lined for the most part with fish restaurants and cafes but with very few shops other than a couple of  small supermarkets and a few shops selling pottery, jewellery, textiles, beach goods and the like.
Although the town is undeveloped and actually quite scruffy in places with a very ordinary short and narrow dark sand beach, it does feel rather upmarket and the fish restaurants here are eye wateringly expensive although thankfully we did find an affordable one just away from the seafront. Balic Pirsime Evi is actually run by the owner of the town's fish market. It's very popular and does excellent fish and seafood (pick your own to be weighed) and super  mezze dishes  including many we have never seen before .We would return to Gumusluk just to eat here -we ate here three times in five nights !
We stayed 5 nights at the Gumusluk Otel which describes itself as a boutique hotel and is only a very short walk, less than 50 metres from the sea. The accommodation was good and the hotel has nice gardens with a  pool and  restaurant that serves an excellent Turkish breakfast. The Clientele were virtually all Turkish people when we visited and in fact we got the impression this was largely a resort for fairly well to do Turks.
There's really little to do in this small village other than walk, swim, hang around on the not so brill beach and generally chill out. However, even without a car its really easy to get around the peninsula using the excellent and cheap local buses .
We visited most of the other resorts on the peninsula, albeit briefly, during the course of our short stay and really enjoyed our visit to the area. The peninsula has some stunning scenery and the bus is a good way to see it – some of the  roads up and down hills are hairy to say the least.
We liked some resorts more than others but most were far too built up for our liking with resort beaches lined with huge numbers of sunbeds reminiscent of the Italian Riviera and with jazzy bars and restaurants often aimed at  an altogether younger party crowd. However, without exception, they were all very quiet at the time of our visit; the tourist season was definitely starting later this year!
Here, in no order, are some photos of our travels around the peninsula visiting Gumbet, Bitez, Tutgutreis, Yalikavak, Torba and Turkbuku.
Gumbet
Bitez
Turgutreis
One of the biggest towns on the Bodrum Peninsula
Yalikavak
The most upmarket town on the peninsula with plenty of expensive restaurants.
On 23rd May we flew from Bodrum via Istanbul  to Zagreb, the capital of Croatia .We will be returning to Turkey in September.