We flew from Phuket to Koh Samui on 13th January 2016. Our first stop for 7 nights was at the Secret Garden Beach Resort at Bang Rak a small on the beach resort with bar/restaurant literally on the beach. This place was very acceptable and although the rooms were a tad small, they had all the necessaries. Bar and restaurant prices were good and there was live music at weekends with decent good hot/cold buffet.
Bang Rak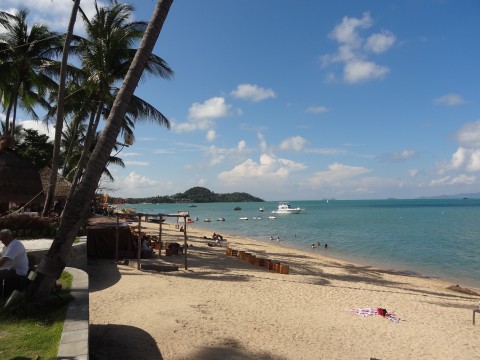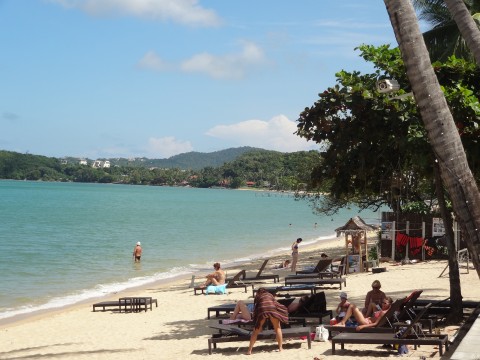 Secret Garden Beach Resort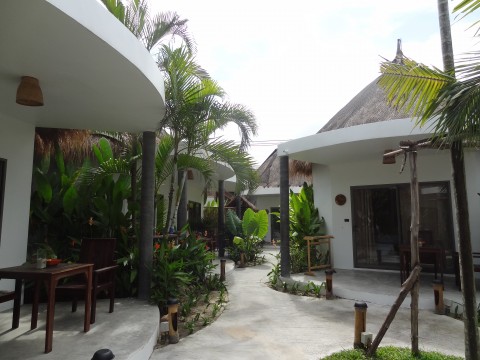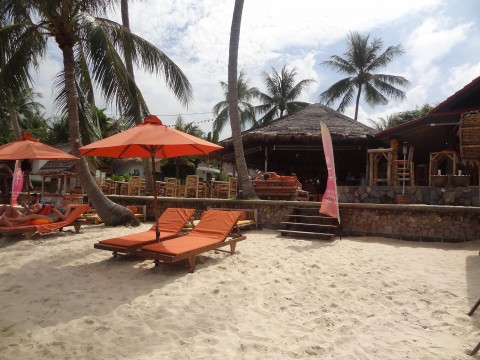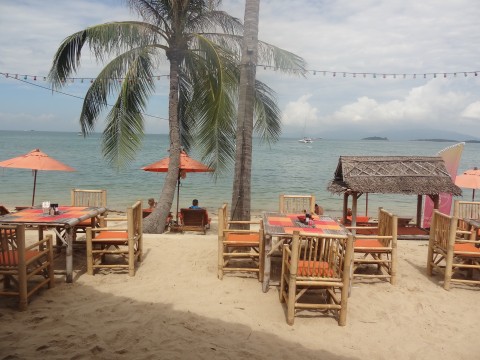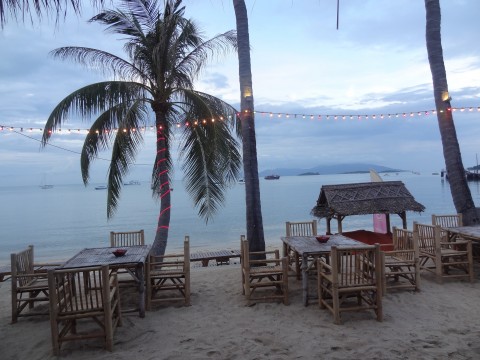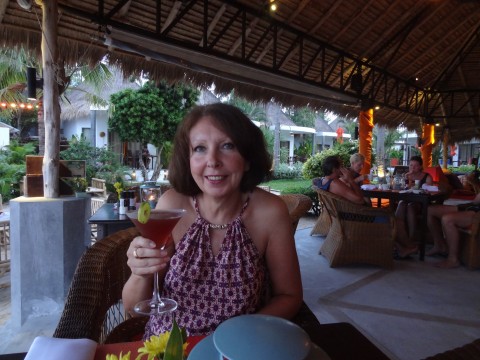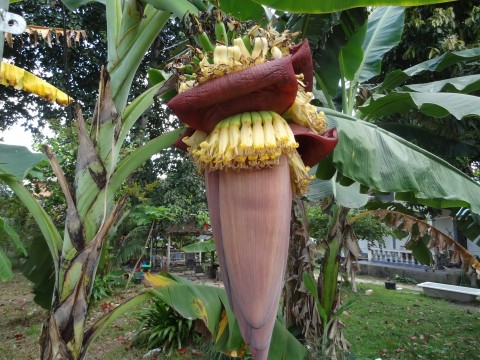 The weather wasn't perfect for our first week on Samui with the odd heavy shower from time to time but that didn't stop us doing quite a bit of walking  – there was always somewhere to shelter if the heavens opened.
On a particularly grey day we decided to walk to Wat Phra Yai, known in English as the Big Buddha Temple. This is a Buddhist temple on Ko Phan a small island offshore from the northeastern area of Ko Samui only a few kilometres from the airport and connected to Samui by a short causeway. The temple is home to a giant, 12 metre high gold-painted Buddha statue, one of Ko Samui's main tourist attractions.
Halfway to Big Buddha we were be-friended by a timeshare tout and fearing an imminent downpour and a drenching we allowed ourselves to be persuaded to accompany him to a timeshare presentation in return for drinks, the usual offer of a chance to win a week's holiday and a lift back to our accommodation. The promise of a lift back was quite appealing and so we took advantage of the offer and went along for a presentation. Five minutes into a 90 minute sell, it became clear to the salesmen that we probably knew more about how timeshare works than he did and we were quickly gone with a free tee-shirt as our prize!
With the sky clearing, we asked to be dropped at our original destination, Big Buddha.
Big Buddha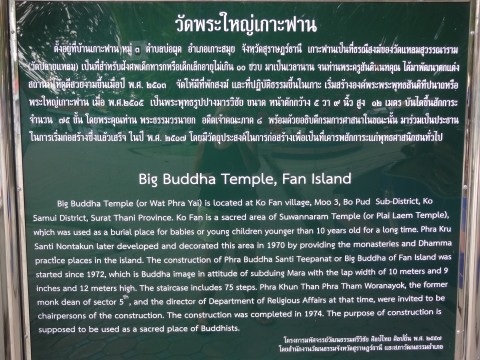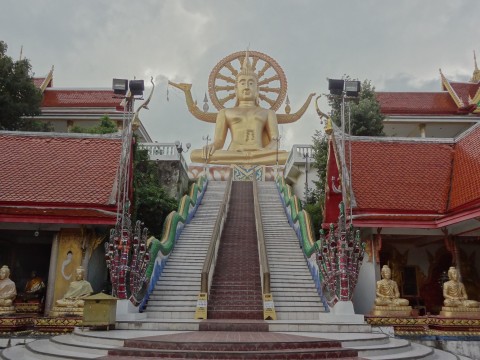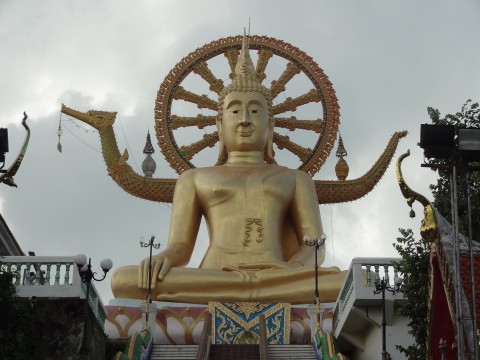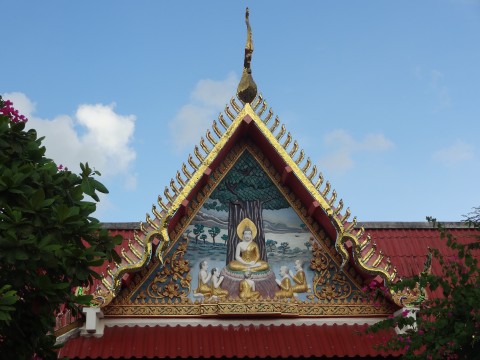 Another popular place within easy reach of our hotel was
Fishermans Village , Bophut
Fisherman's Village at Bophut was a few kilometers anti-clockwise on the main circular road which goes around the island. Its a small village just off the main drag and so away from the traffic but with a long main street which for the most part is lined wall to wall with bars, restaurants and shops selling the usual tourist goods. It made for a good walk from Bang Rak and a pleasant place for lunch. On Friday night, the main drag becomes a very popular walking street.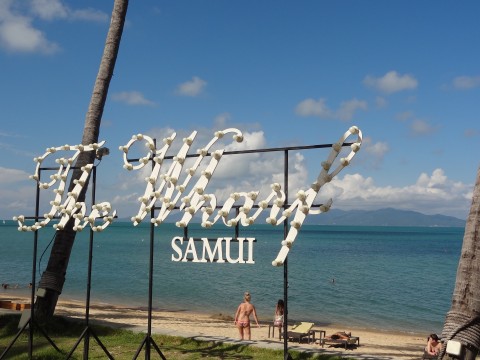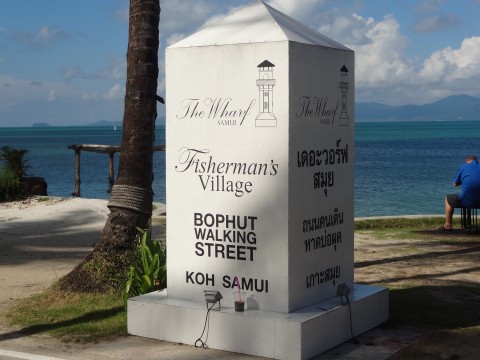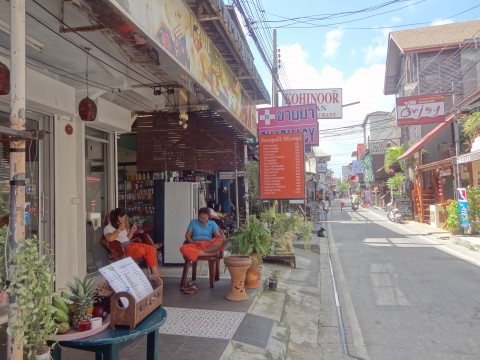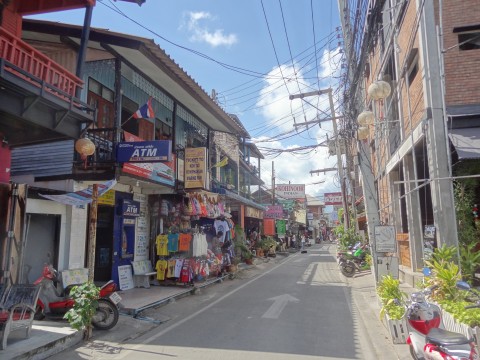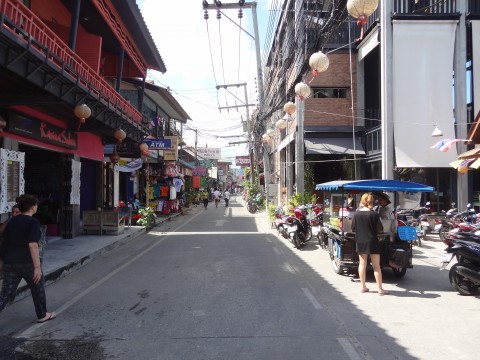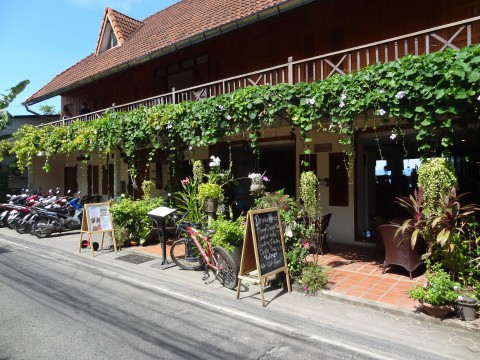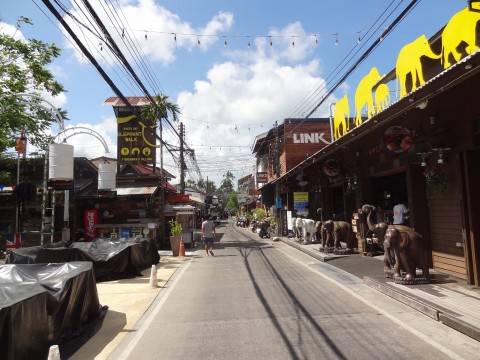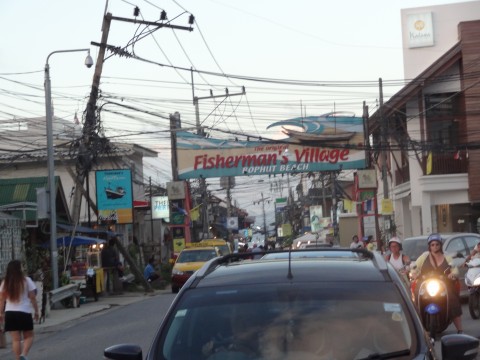 Mae Nam Beach
After our stay at Secret Garden, our next stop was at Wazzah Resort Bungalows outside the village of Mae Nam, still on the north coast but east from Bang Rak along the coast road.
Unfortunately, despite glowing reviews, our accommodation here was awful. It's fair to say the accommodation was cheap but that was no excuse for the poor accommodation. After 2 nights, with no other (better) rooms available we left the place despite a refusal to refund the rent we had paid in advance. Happily, in the event, the hotel subsequently relented and agreed a full refund by which time we were well ensconced in the very comfortable Amarin Hotel on the main road in the centre of the village in a deluxe room at £20 per night. The Amarin was excellent with lovely staff and very good rooms in a great location only a short walk to the beach but for some reason the hotel appeared to be almost empty whilst other more expensive hotels seemed largely full.
We enjoyed our stay in Mae Nam. A nice village with a night market on Thursday night but also some nice shops and restaurants including the excellent Fish Restaurant and a gapped Turkish restaurant, The Roman. The beach is quiet and although it's narrow it made for some nice walks.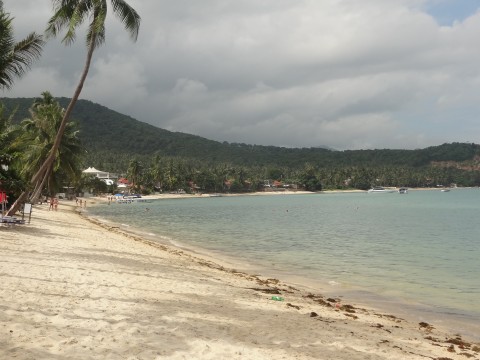 Mae Nam's small Night Market  takes place on Thursday evening on Soi 4 in the small China Town area. As always there is good food to be found and dinner can be had for less than a fiver for two including a beer apiece.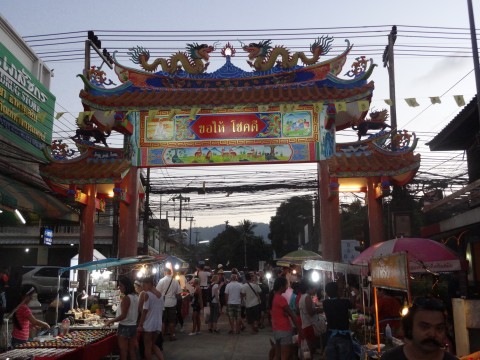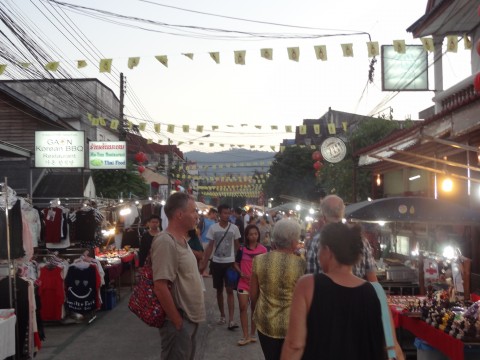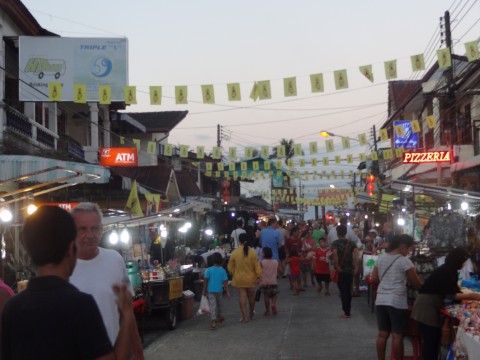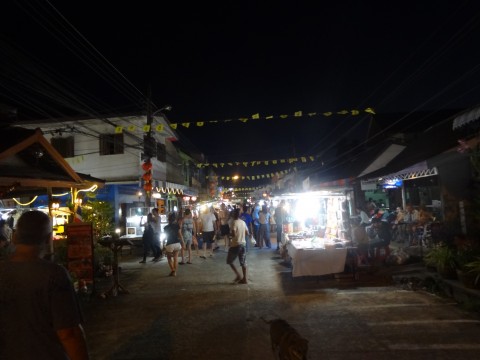 Nathon
Nathon is a former capital of Samui on the west coast, a tuk tuk ride of about 30 minutes from Mae Nam costing little over a pound each. It's a busy fishing town and is a ferry port for ferries going to other islands and to the mainland. We needed to visit as Nathon has an Immigration Office and we needed to extend our 30 day visa which turned out to be probably our easiest visa extension completed within half an hour in a single visit!
A few pictures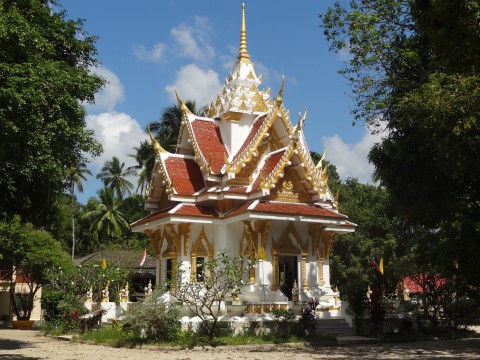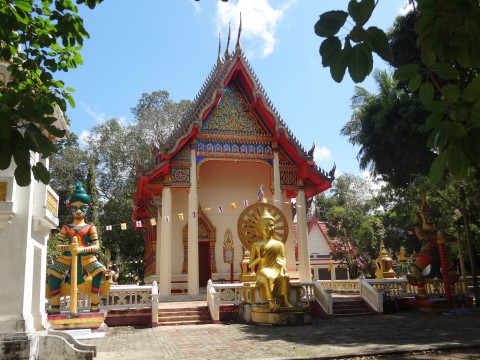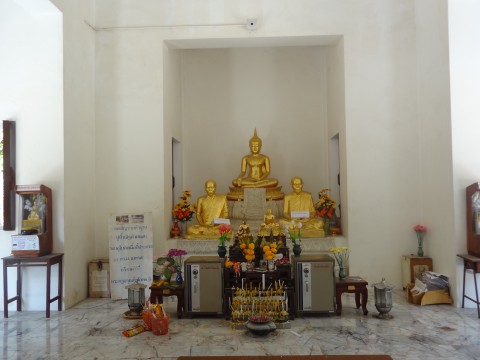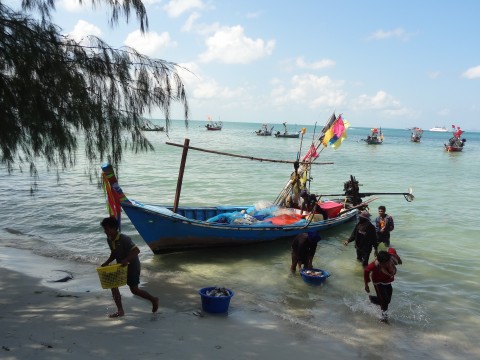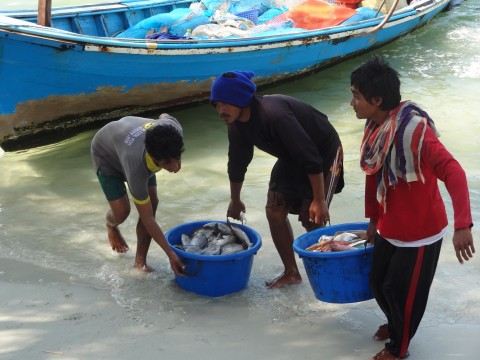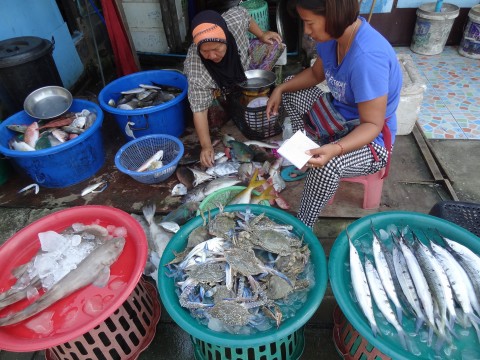 On the 1st February we should have started a 10 day excursion by ferry to Ko Phangan and Khao Toa but storms started to brew a couple of days before and although some ferries continued to sail, most were cancelled for at least one full day. We heard nightmare stories of the ferry crossing and decided against it. We cancelled our reservations for Koh Tao in time to get a full refund but our Phangan Hotel offered us an alternative stay anytime within the next 12 months which we may or may not take up.
Lamai
Having cancelled our Phangan and Ko Tao trips we decided to spend a few days in the lively resort of Lamai before flying back to Bangkok for a night en route to Kanchanaburi, location of the famous Bridge on the River Kwai, one of the places on our original itinerary which we had abandoned. We stayed in a small apartment at Chaulty Towers in Lamai, a place run by a very very affable Englishman, Steve and his Thai wife
Whilst the weather didn't improve much (see the waves in the picture below), it did stay dry for most of our short stay in Lamai and we had a very enjoyable few days in a resort which has lots of bars, restaurants and an unbelievable number of massage places and its very own very naughty area with girly bars and more!
Lamai Beach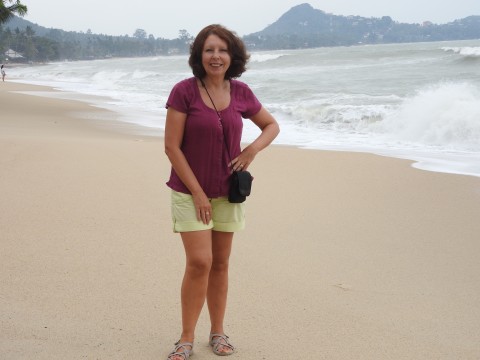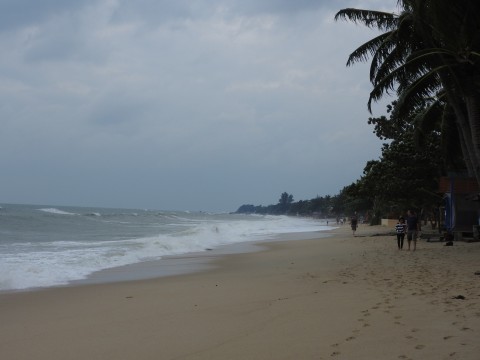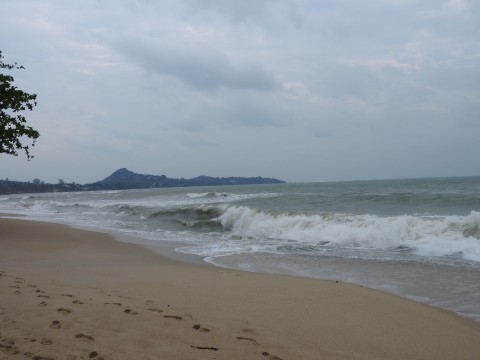 And Town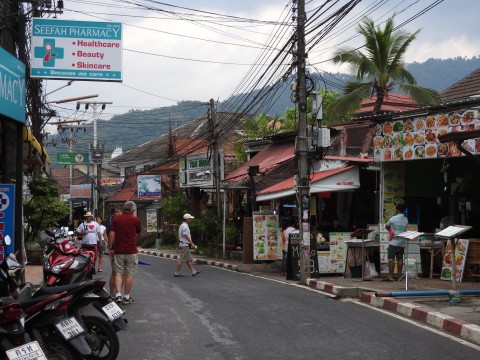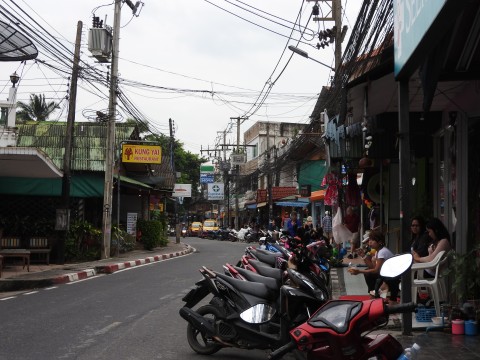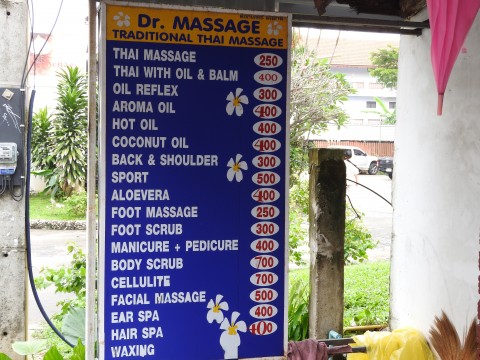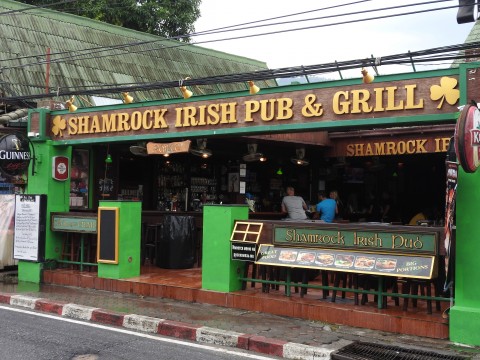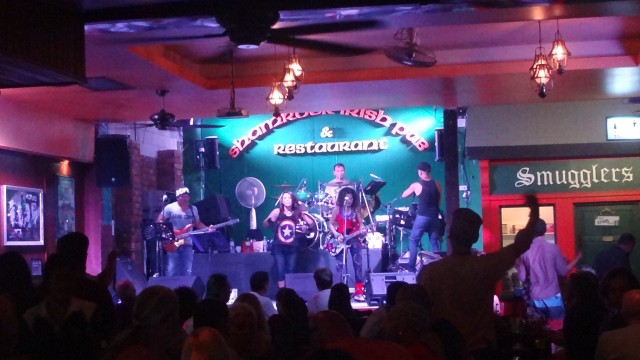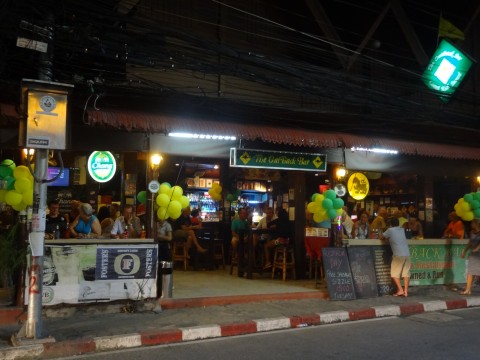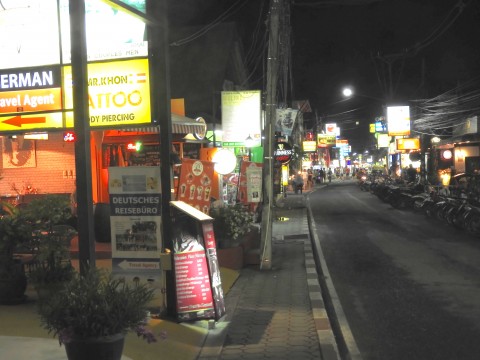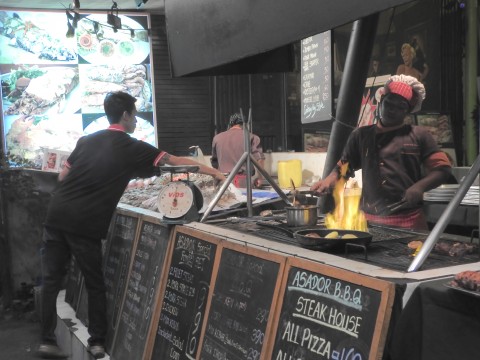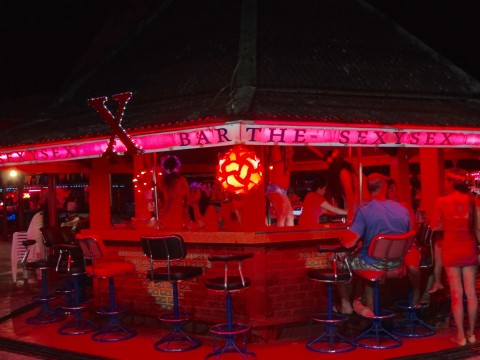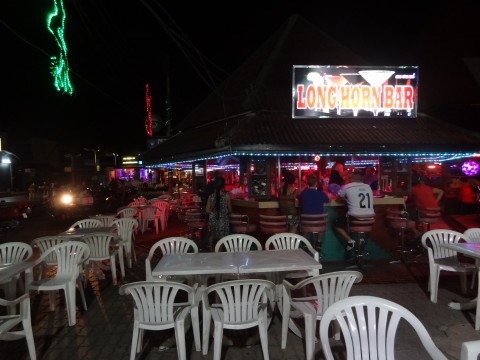 Chaweng
Chaweng is the biggest and busiest resort on the island and as it's only a short distance from Lamai we had a day trip there by tuk-tuk. Again the place is full of shops (and at least one mall) restaurants and bars and whilst we didn't hang around until the evening, the place is said to be much more "in your face" than Lamai.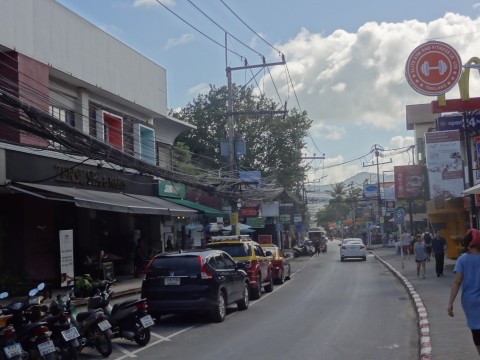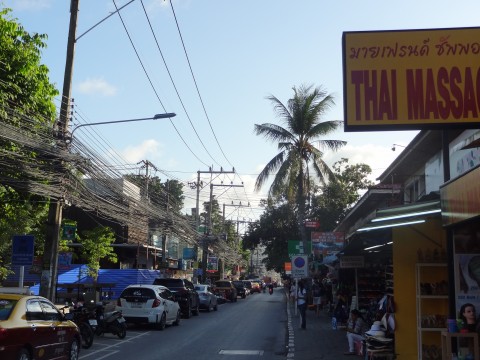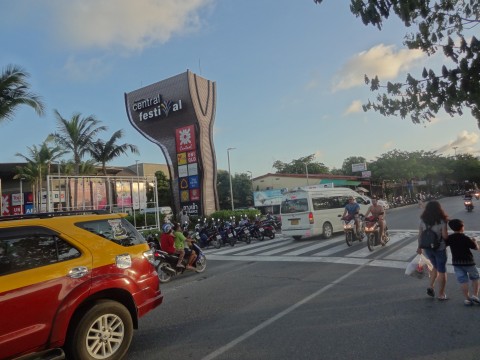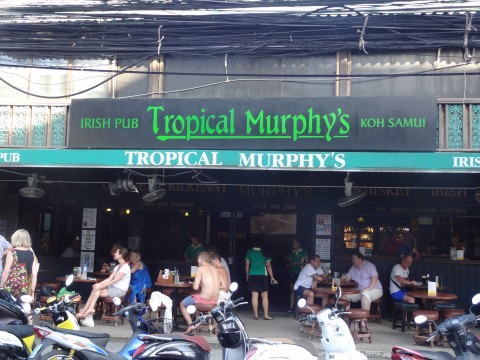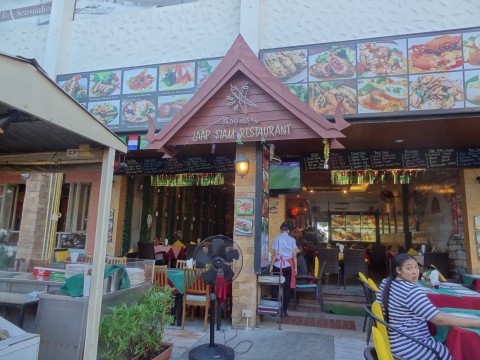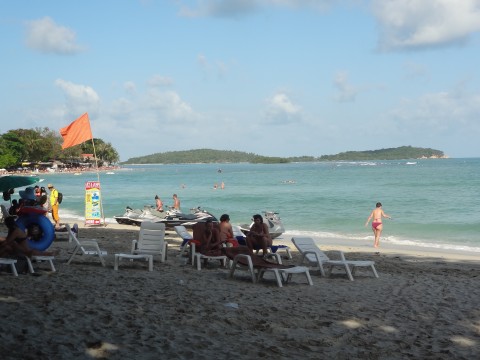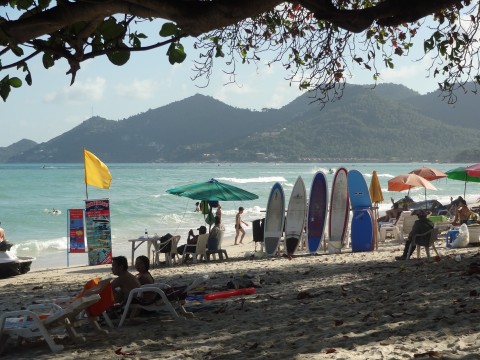 At the end of our stay in Lamai, we left Ko Samui for Bangkok on 12th February and stayed at the Red Planet Hotel in the Surawaong District. This turned out to be a good choice with the Silom district and also the infamous Patpong red light district only a couple of hundred yards away. We had Sky Train stations nearby and the Chao Phraya River was only a 20 baht tuk tuk ride away with the main Railway Station Hua Lamphong also a cheap tuk tuk or taxi ride away – a great spot.
On 9th February we left Bangkok for Kanchanaburi. Pictures taken in Bangkok will be included in a later post when we return to BKK at the end of our Asia trip before returning to Turkey.