Our travels after Northern Thailand were mostly to beach resorts and most posts will be brief  and largely photographic  – I'm typing this no less than 6 months in arrears and if I'm not brief I fear I'll never finish!
After Northern Thailand we had decided to visit the bigger islands in the south that we hadn't visited before. Apart from anything, Ann was keen to ditch self catering for a while and enjoy being waited on over the Christmas period. Phuket and Samui Islands also Hua Hin on the mainland, are all potential candidates for a future winter retreat for us away from the UK winter and they are all fairly cheap to get to from Chiang Mai so we thought we would visit all 3 places
(and more besides).
We flew from Chiang Mai to Phuket on 19th December .
We had decided to stay at  a couple of different places on Phuket that seemed both popular but quiet. Our first choice, Yanui Beach in the far South of the Island, definitely hit the spot.
Rawai Beach
Rawai Beach is the town nearest to Yanui Beach where we stayed at the Windmill Hotel over Christmas and New Year. Rawai Beach itself is nice enough but it's not a swimming beach, lined  as it is with speed boats, long tail boats and fishing boats .
I guess you could call Rawai a working beach. At one end stands Rawai Pier with a small scruffy market and several fish restaurants on either side of the beach road with some of those on the beach side nothing more than seafood shacks. At the other end there is a Sea Gypsy Village with maybe ten or a dozen or so fish restaurants on the sea side of the road.
Boat trips to Phi Phi, James Bond and other Islands can be booked at any number of kiosks and Tourist Offices along the beach but we declined the many offers we had. There are hundreds of boats and thousands of tourists descending on these beaches daily and it didn't sound an attractive proposition to us.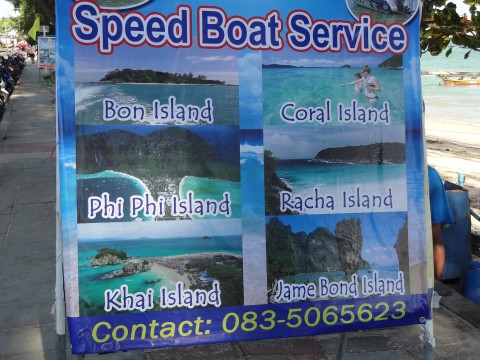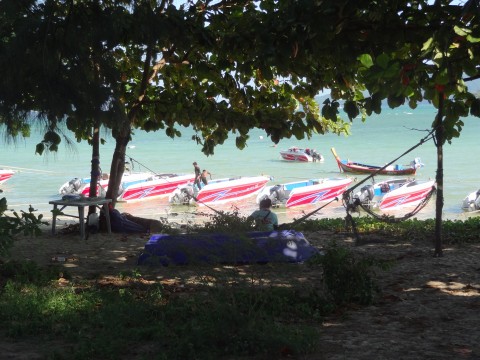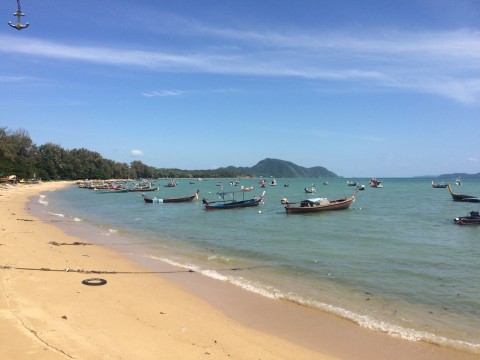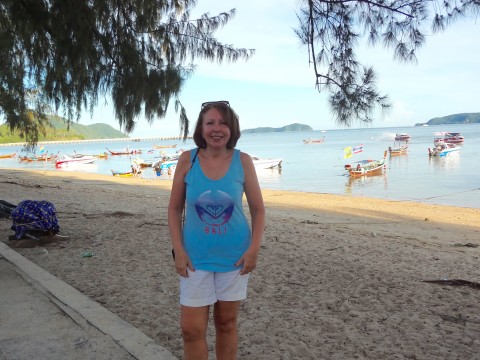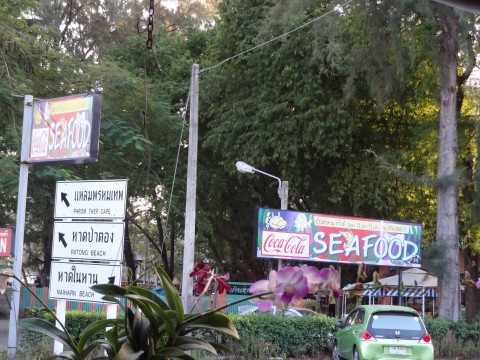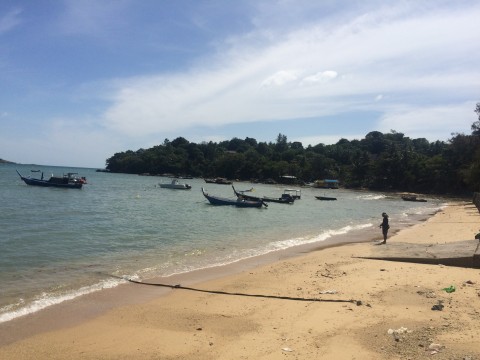 The roadside opposite the beach is lined with restaurants, bars and massage parlours some nice but some a tad scruffy but there are also  a number of modern and attractive residential/rental condo developments along the beach. A pleasant stroll of 20 minutes or so would get you from one end of the beach to the other though with temperatures every day in the mid 30s we would usually stop for a drink at some point along the beach.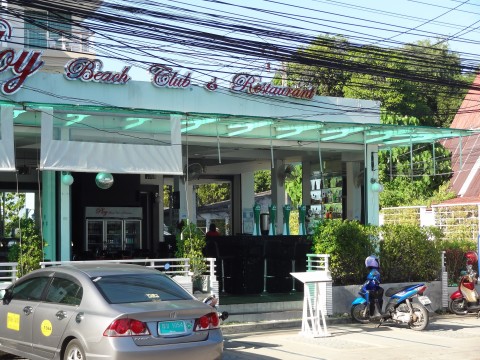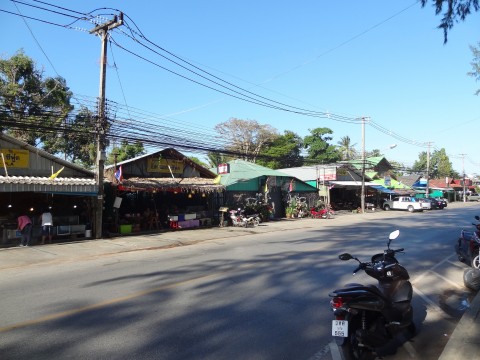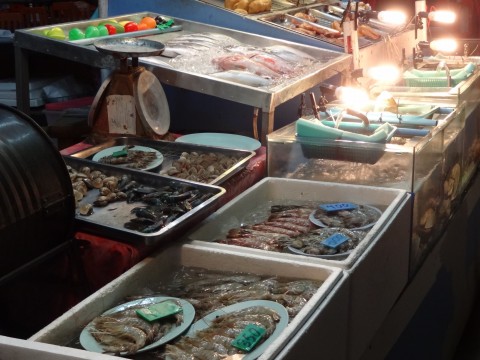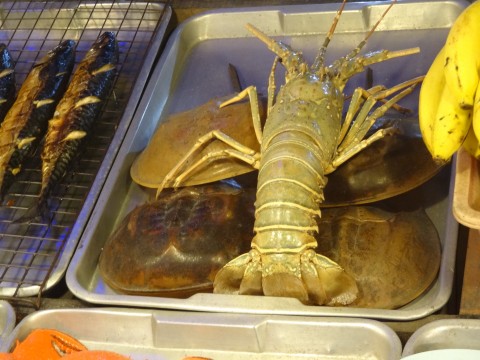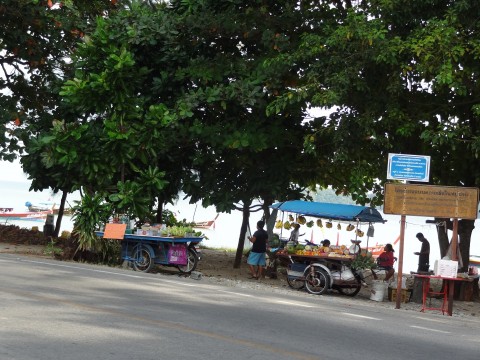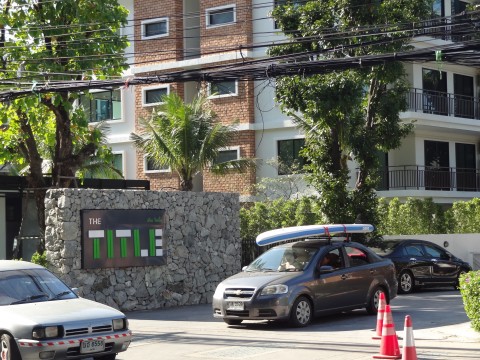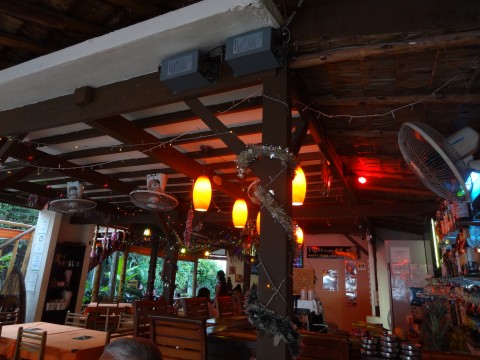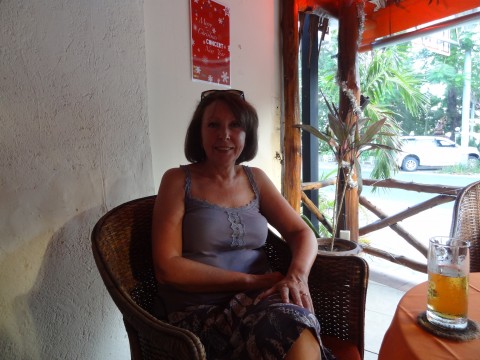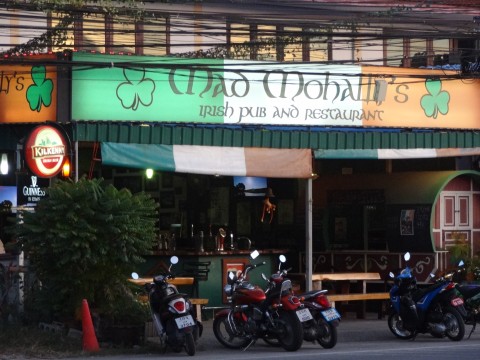 Yanui Beach
Pretty Yanui Beach is small and secluded. Only 5 minutes drive or 20 minutes walk from Rawai Beach it stands between two promontories, Promthep Cape and the Windmill Lookout which provide stunning views of the beaches below and the islands beyond. There is a Life guard in season but the beach is nicely undeveloped with only a few operators renting beach cushions umbrellas, snorkel gear and other stuff and selling cold drinks and snacks. There are a couple of restaurants across the road .
The beach is apparently a great place to visit out of season when it is usually deserted – but not to swim as there are some difficult currents and no life guard.
Our hotel, the Windmill, is the only one in the immediate area and handily placed only a couple of hundred metres from the beach. A perfect spot.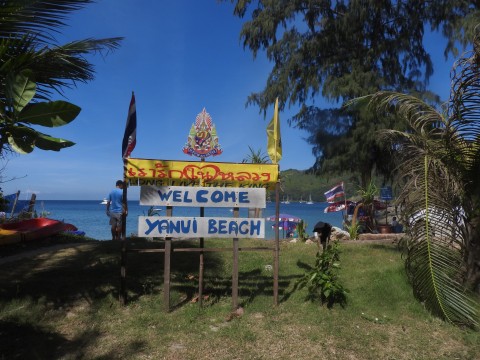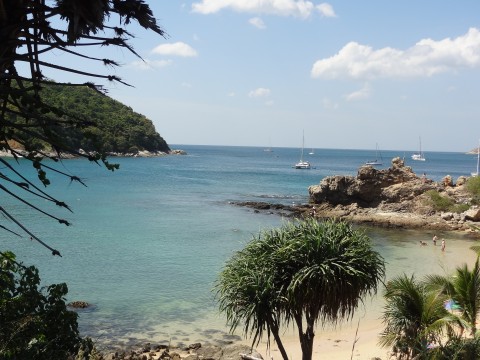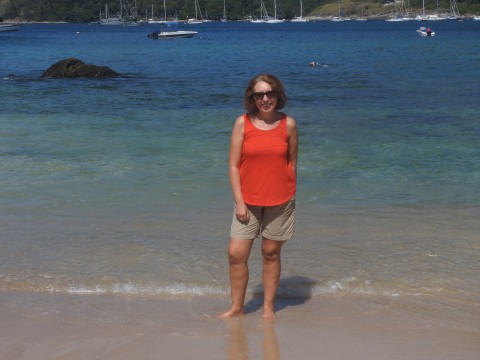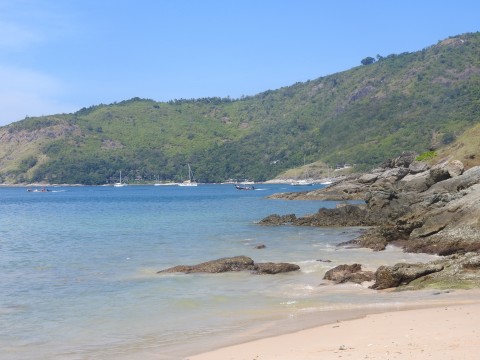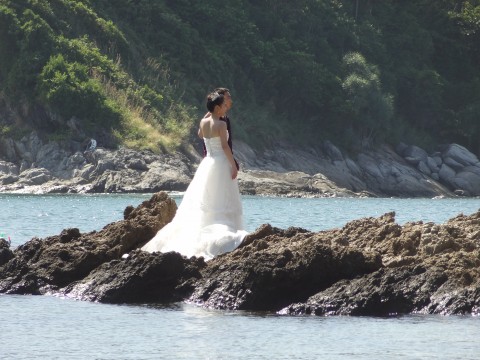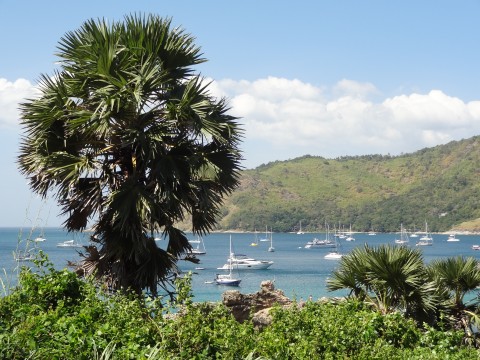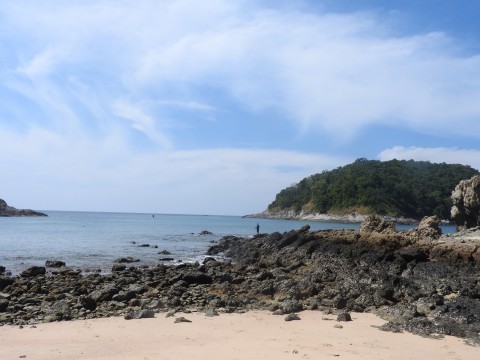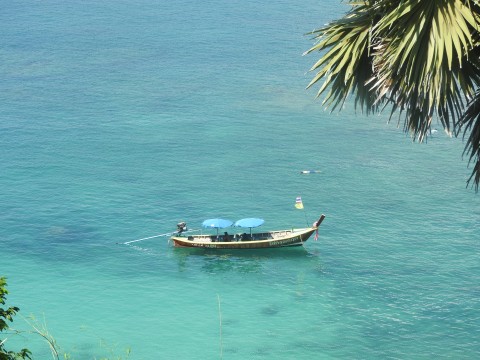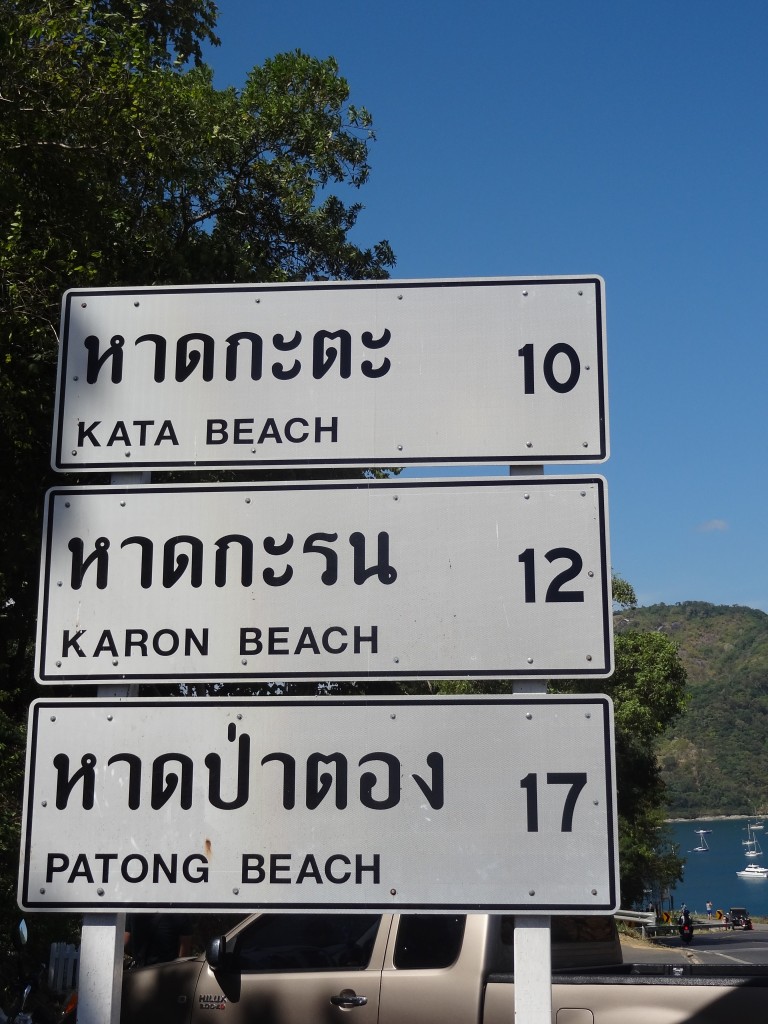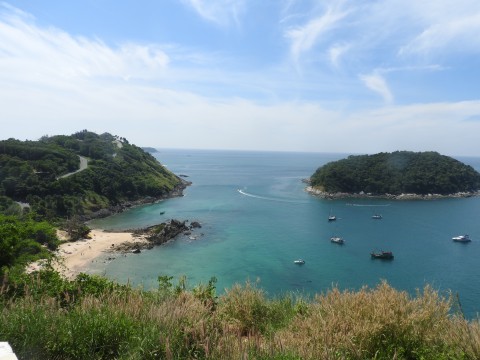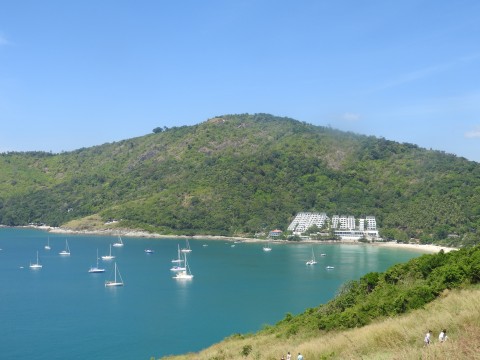 Promthep Cape
This promontary above Yanui gives fabulous views but is always busy with coaches, full of tourists back and forth constantly. Their is a shrine here along with a lighthouse, memorials, shops and cafes.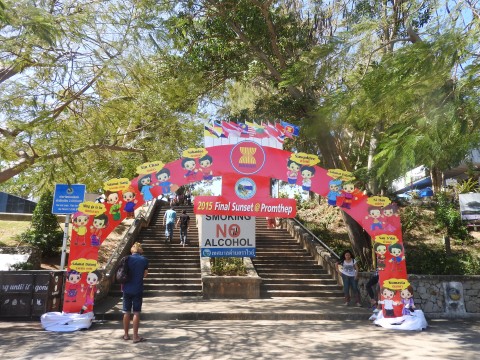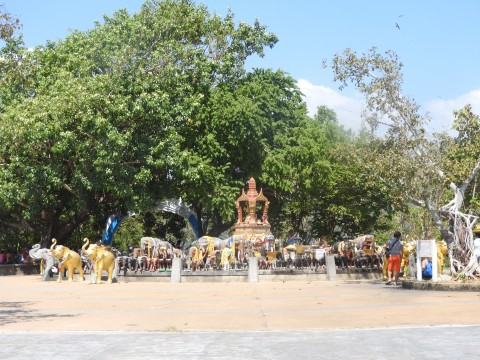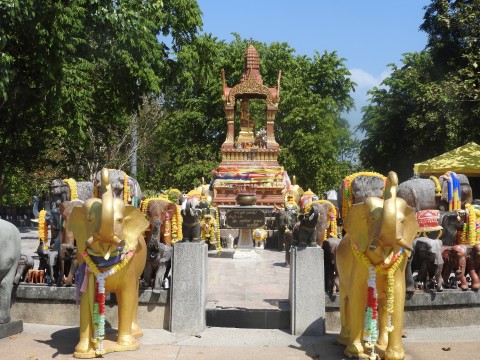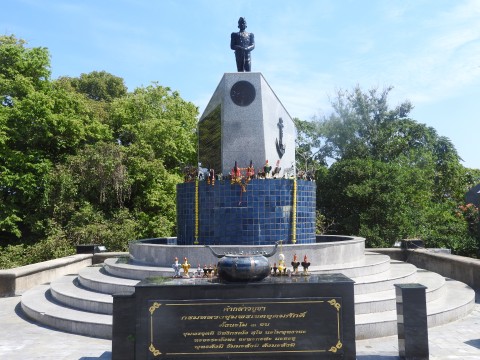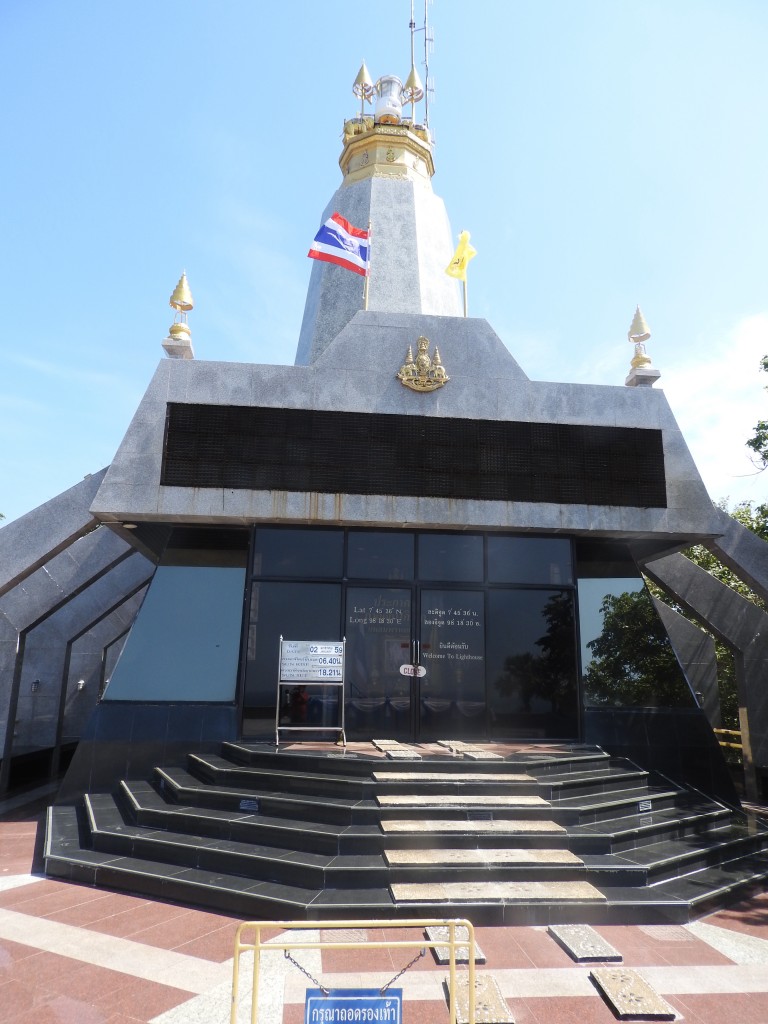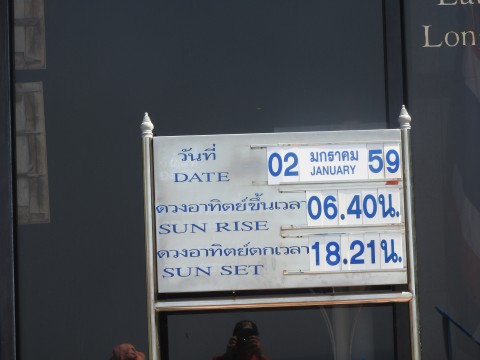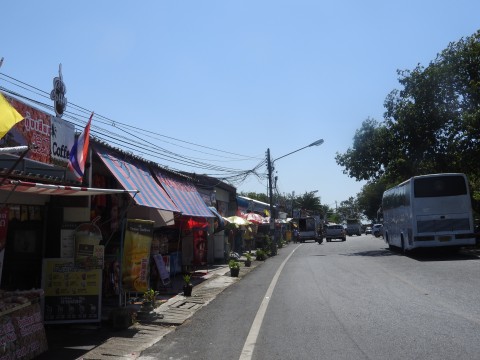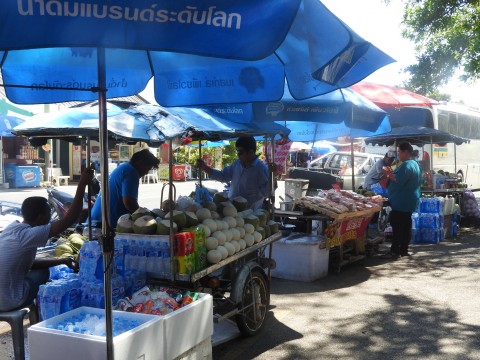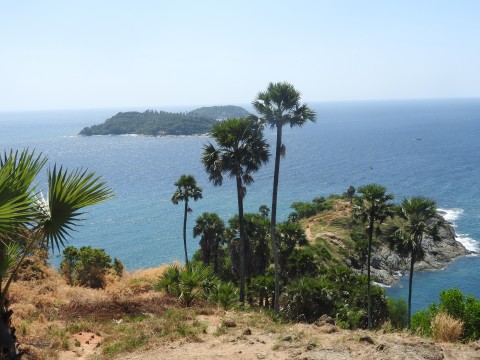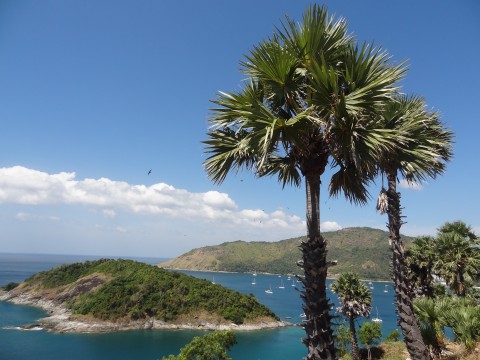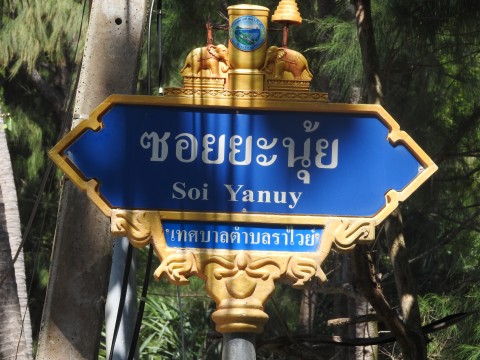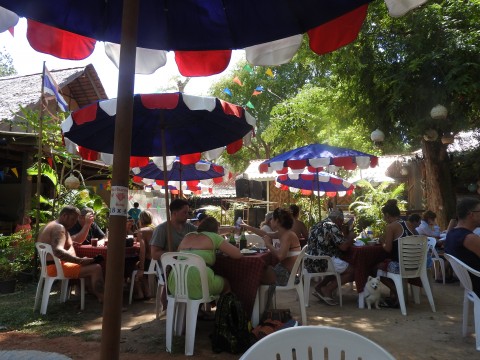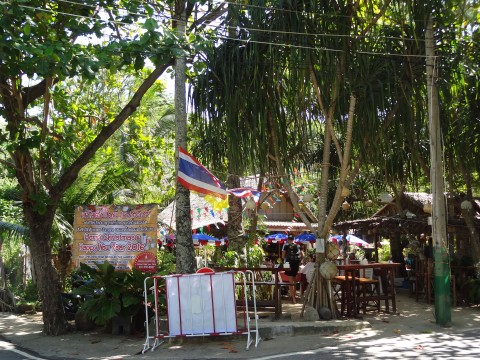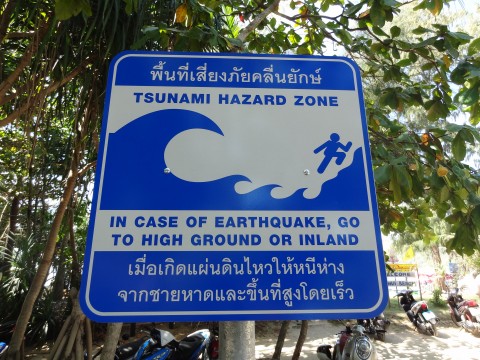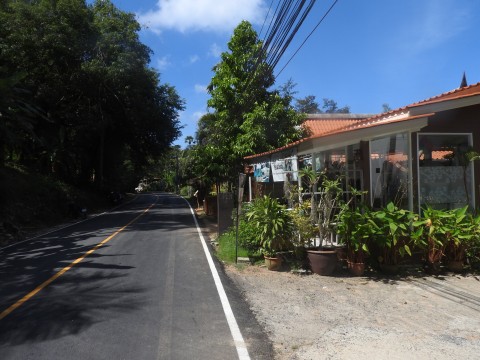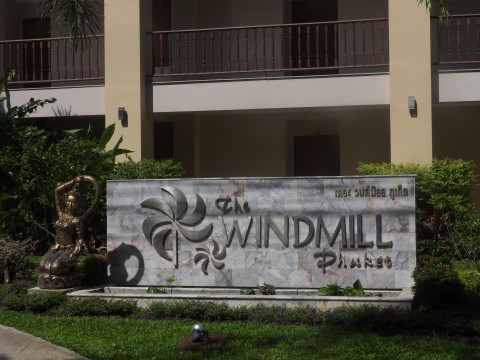 We booked 2 weeks at the Windmill Hotel and were not disappointed. The room was large with cool marble floors and marble bathroom and the bed was comfy. There was a large flat screen TV, good wifi and a full size fridge with an inexpensive minibar. We had a large balcony overlooking the large swimming pool with views otherwise of jungle and the sea beyond with  a small development of half a dozen villas being built beside the hotel.
The service and standard of food served in the hotel's restaurant was very good indeed. The hotel is owned by an Englishman, Richard and his Thai wife who runs the kitchen – both Thai and Western food is tasty and inexpensive and with a very good breakfast included in the rate, we would survive on 2 meals a day in an attempt to keep the calories down and lose a few pounds, a plan destined to fail due to lack of any significant exercise in the hot sun!
The restaurant food is of such quality and value that there are a number of expats living in the area who seem to use the restaurant for both breakfast and dinner and many of the customers attending an excellent Christmas lunch were expats with Thai Partners.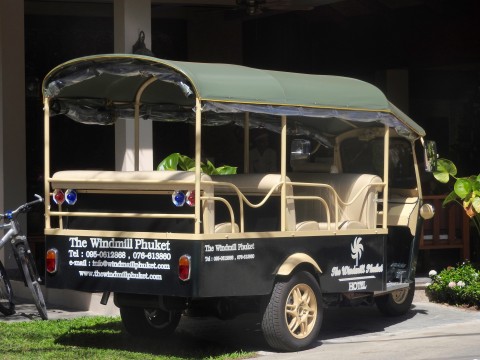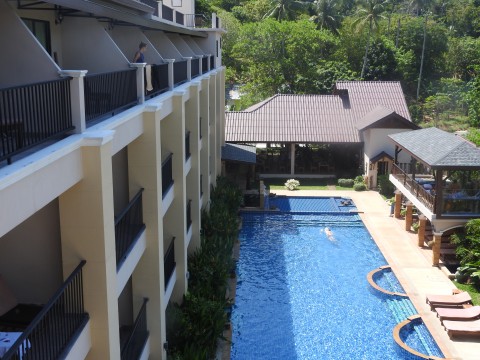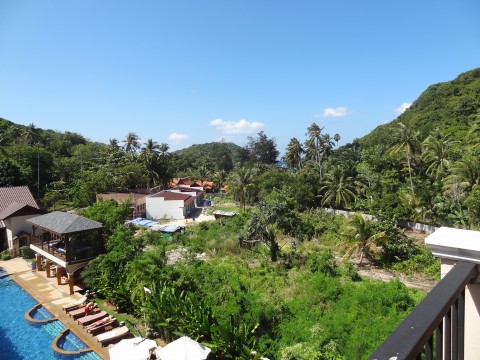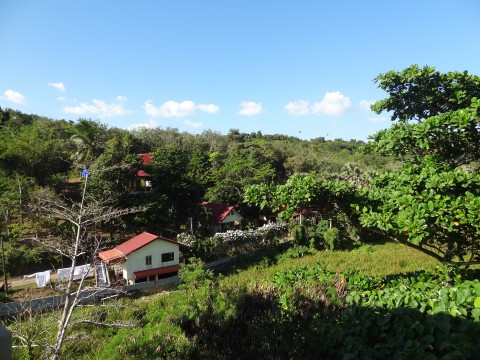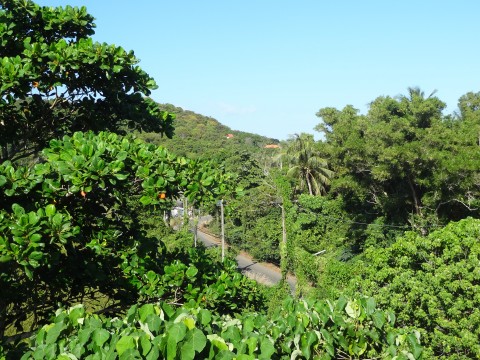 Christmas and New Year at the Windmill
We chose to stay in a hotel rather than an apartment over the Christmas and New Year period to enjoy the  festivities without having to fend for ourselves. We chose well. Christmas lunch was excellent with a traditional meal with all the trimmings and more – all at a very budget friendly price under £20 per head including wine! We enjoyed a lovely afternoon followed by a snooze before waking up to FaceTime with Matthew, Richard and Siobhan who were enjoying Christmas lunch at Matthew's house.
New Year's celebrations were a bit of a damp squib. A buffet dinner was on offer but wasn't really advertised until a day or two before New Year and so numbers were a lot fewer than at Christmas and were mostly families with small children. We enjoyed the meal and then retired to our room seeing the New Year in a deux…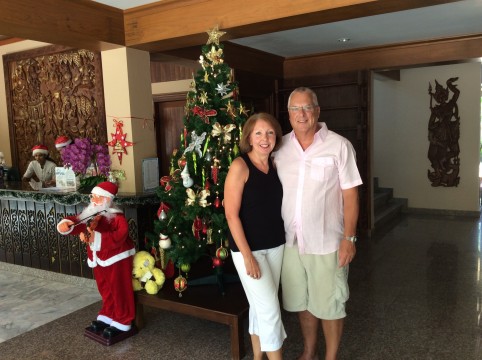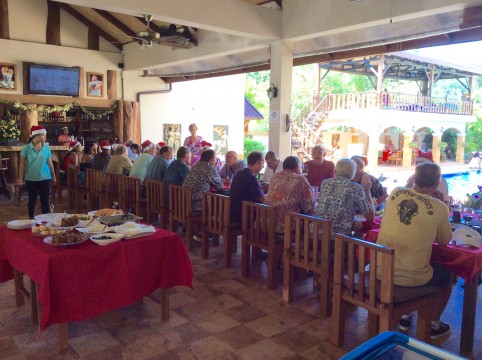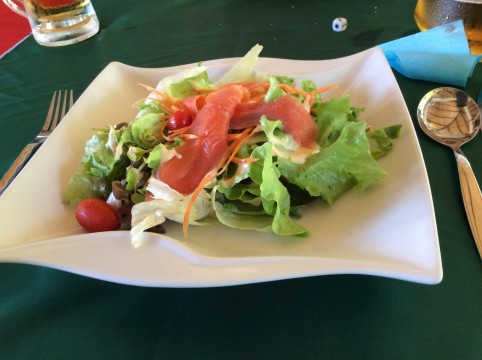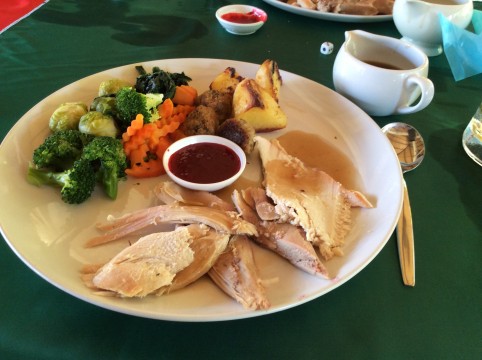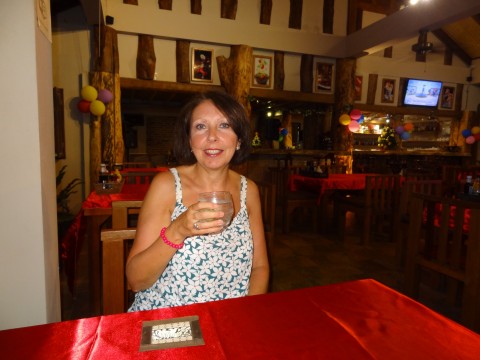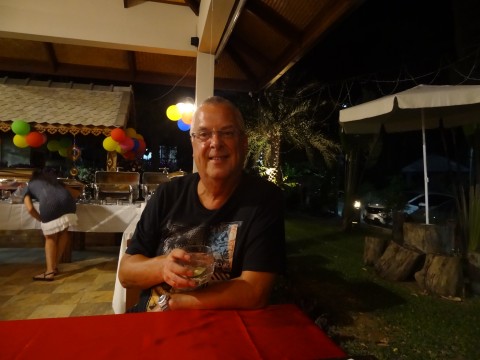 Nai Harn Beach
Nai Harn is a short distance from Yanui Beach as the crow flies but is a walk of about 5km. We walked there from the hotel but caught a taxi back!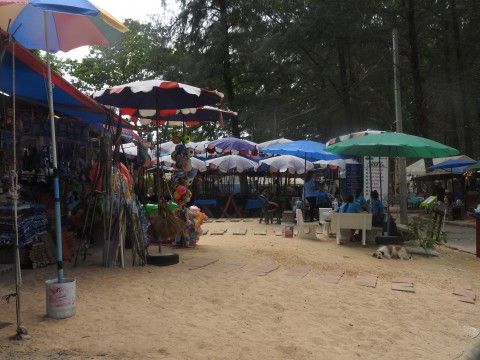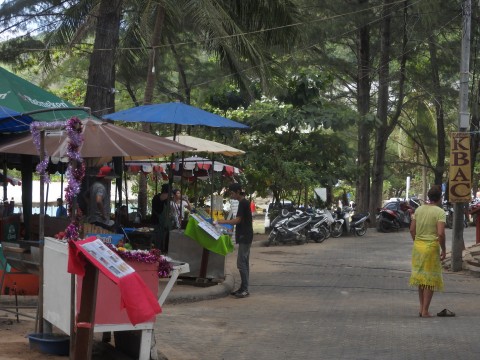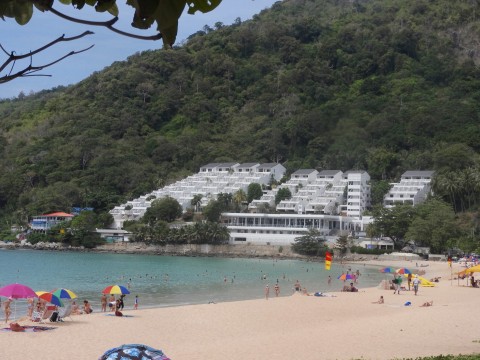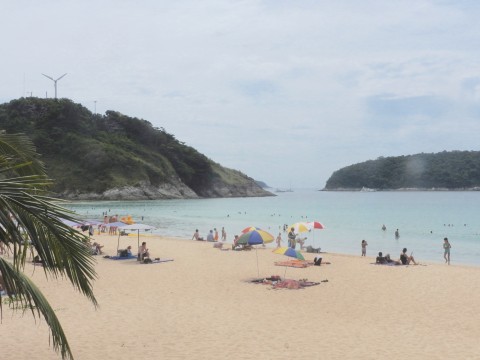 The beach is quite a bit bigger than Yanui Beach and more developed with a couple of big hotels nearby and lots of timber built restaurants all selling the same local food and lots of shops selling the same tee shirts and tourist stuff nestled in trees at the back of the beach. A few stalls sit on the  beach itself selling drinks and snacks. On the road leading to the beach there are street vendors selling fruit and snacks and a taxi place.
Although  bigger and busier than Yanui, it is nevertheless a lovely beach.
There is a large ornamental lake overlooked by a temple at the back of the beach which somehow seems  a little out of place in an area which is off the beaten track with no proper town or even village and only a few houses and hotels in the immediate area.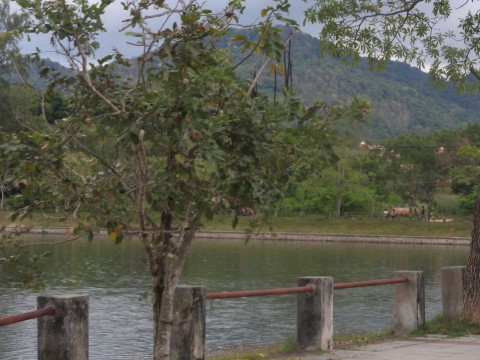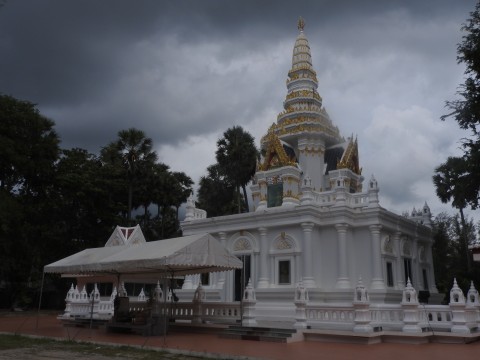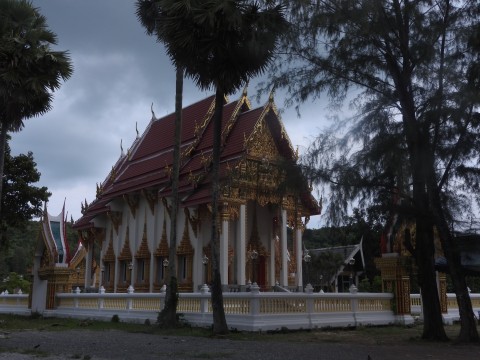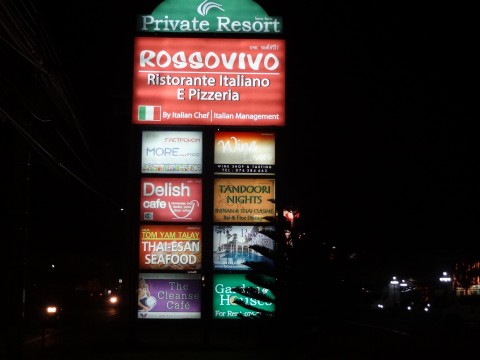 Friday Market
On December 28th we could no longer resist the urge to try the one and only Indian restaurant in the area and decided to walk the 6km from Rawai Beach up to Chalong – we also walked back! The place was quite small but fairly busy with every customer an ex-pat. The food wasn't quite Indian as we know it but it did the trick for us. En route to the Indian we came across this market which we think is a Friday only market for locals.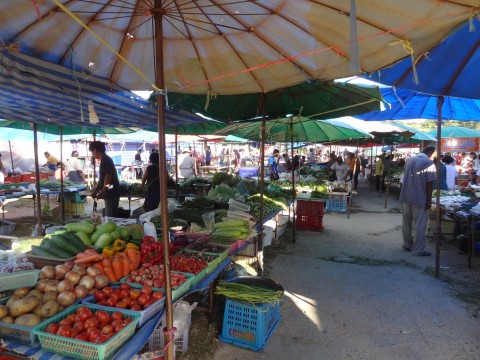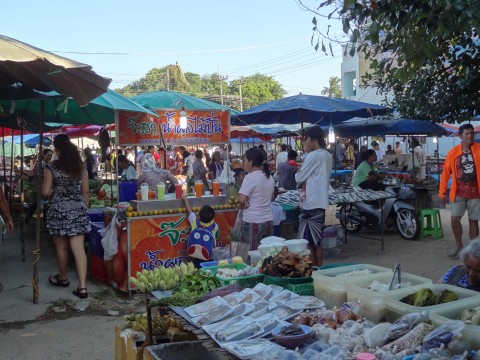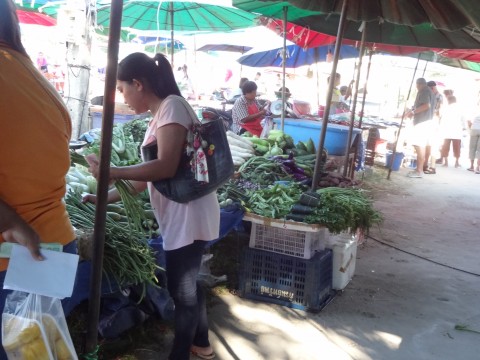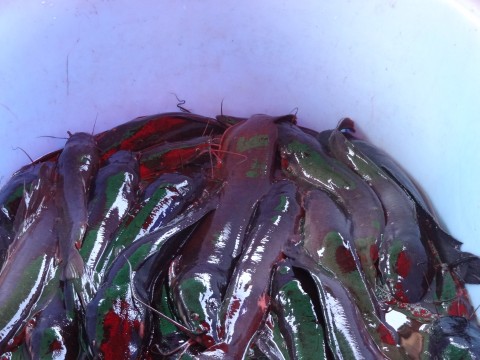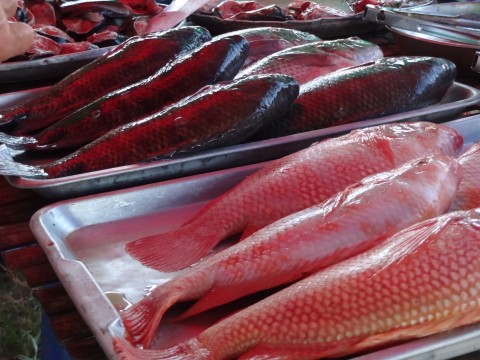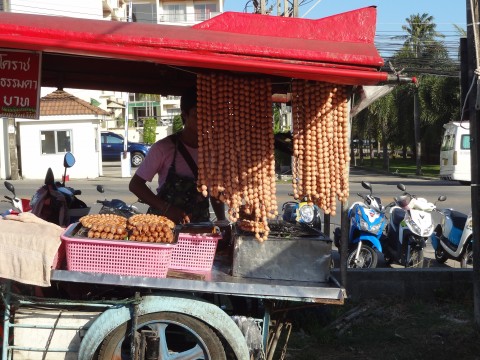 We had an excellent 2 week stay in Yanui and Rawai Beach. The hotel and its location were so good that we didn't often wander too far away except to do some walking or try a few different restaurants – favourites were Coconut Paradise and The Islander which we discovered only a few days before we left – a bar run by ex-pats for ex-pats providing some excellent western and local food and colourful language we hadn't heard the like since we last went to watch Man City!
Kata Beach
Next stop after Yanui/Rawai was Kata Beach which runs into Karon Beach with Patong Beach beyond.
We stayed at Mountain Seaview Apartments, a really nice small block of apartments perched  on a hill with views over the sea which is owned and run by a helpful Australian and his Thai Partner. There is no restaurant or pool here but residents have access to the facilities of CC's Hide Away Hotel across the road which has a nice pool and shaded area for sitting and a bar and restaurant with a Happy Hour that works for both food and drink. Nice food too! The only downside was the challenging hill climb necessary to get up to the place but we soon got used to that and didn't need to trouble the hotel's shuttle service to/from town which we could have used had we needed it.
There isn't a great deal to say about Kata. Its much bigger and much more touristic than Rawai with some very large resorts along the beach road. Its a beach resort which seems to be a very very popular place with Russian holiday makers. The beach was almost always packed and watching the crowds watching the sunset stood on the waters edge was quite amusing.
We spent most days here by the pool as it was just too hot to do any serious walking during the day. We got into a routine of walking into town around 4 or 5pm, jwalk a few kms and then go  for dinner. There is certainly no shortage of restaurants here and we tried Turkish (good) and Indian (so so) as well as local food. Probably our favourite place was a small local place near the apartment where the 2 of us dined for £6 or £7.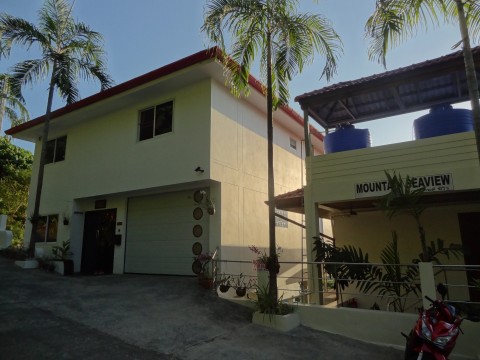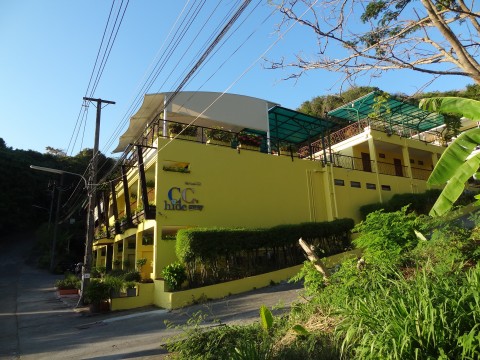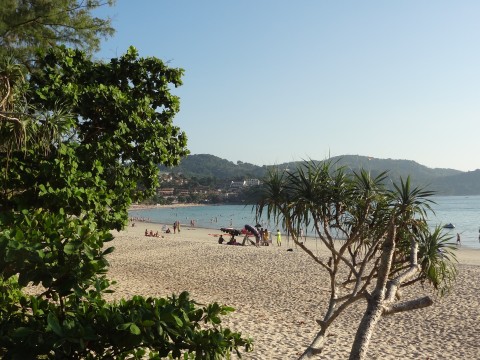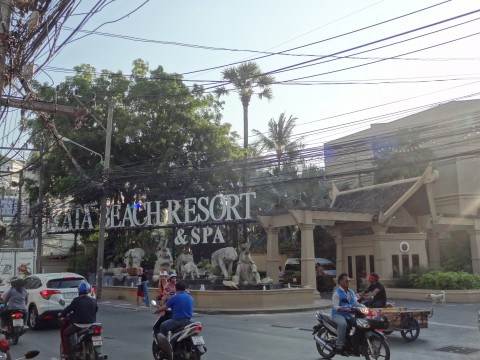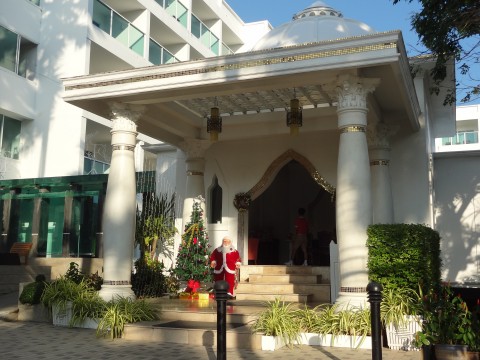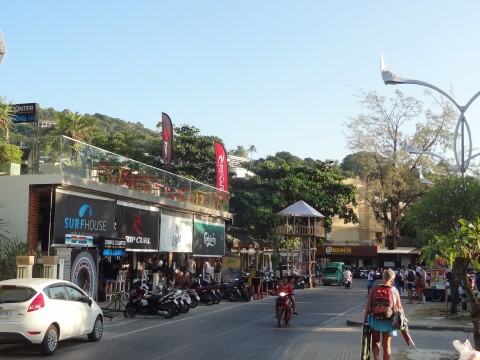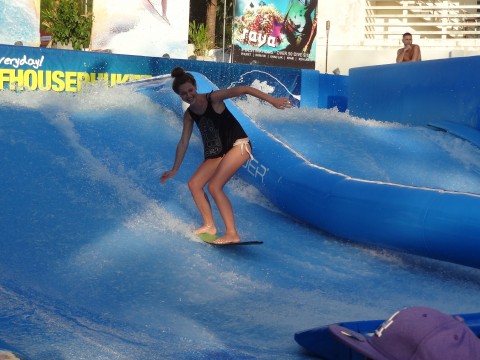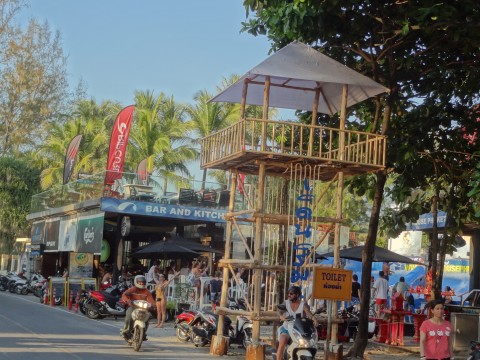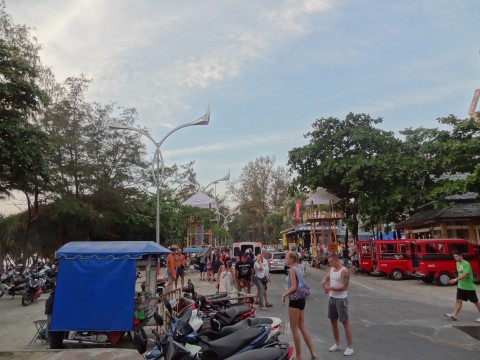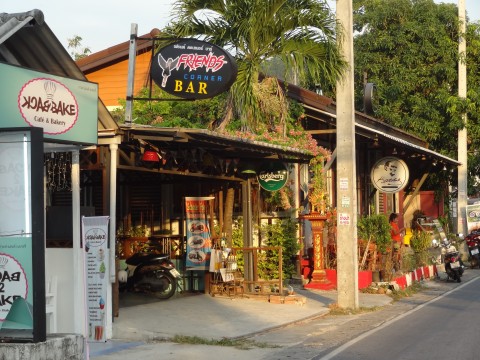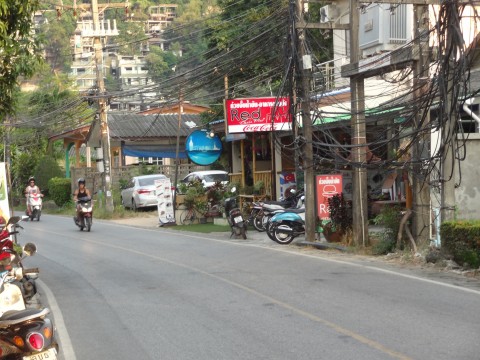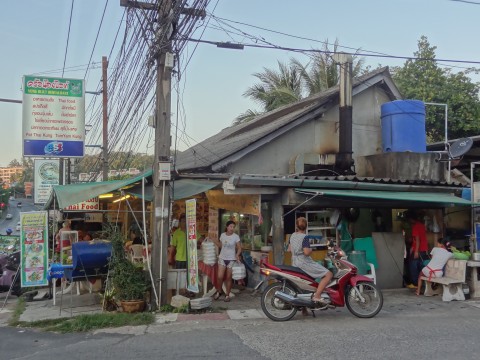 Patong Beach – Shopping Malls and a Walking Street of GoGo Bars and Ping Pong Shows
Patong Beach has a reputation as a wild  "Party Central" and as such is definitely not  our scene but it was only a short taxi ride down the coast so we thought we would have a look. We didn't linger long. After wandering  around the very large and flash Jungceylon Mall, more of an air conditioned street than a mall, we walked down Bangla Road which is the walking street where all the action is and then along the seafront. We found a highly recommended Indian Restaurant, Arabia, but left disappointed after a very average curry. Home to bed!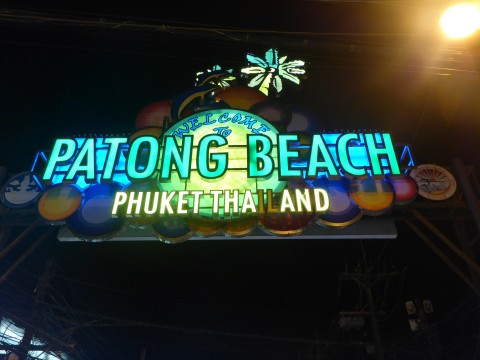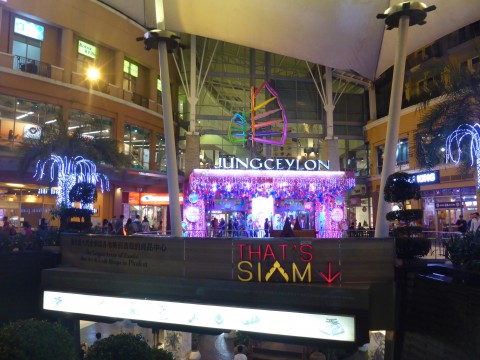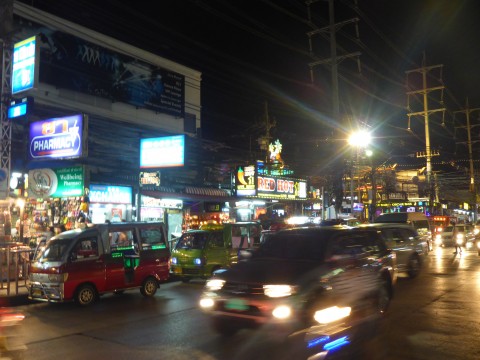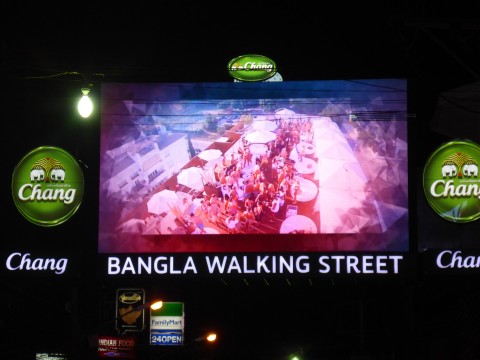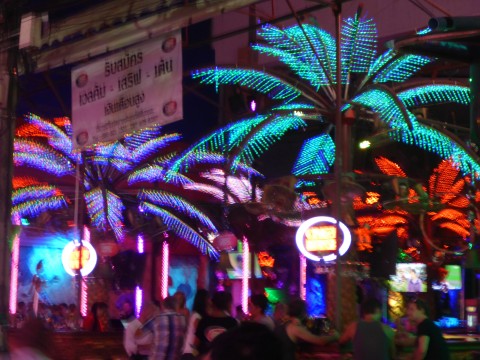 We spent  7 nights on Kata Beach and then moved onto our final stop on Phuket, Phuket Old Town.
Phuket Old Town
We decided to visit Phuket Town because we had read that it's quite different from the beach resorts and an interesting place to see because of its restored Old Town area with its Sino-Portugese shophouses and several mansion houses. We had read one review saying the place is reminiscent of George Town, Penang and it is albeit on a much smaller scale as the re-developed part of the Old Town currently covers only 3 or 4 streets although we saw a lot of work going on which hopefully means more is due to be restored. The other reason we visited was to do some shopping – Phuket Town is a big place and has several malls.
This was a nice change after beach resorts. We stayed 3 nights at Baan S, a pleasant enough hotel with all the facilities we needed and with a great location right on the edge of the  Old Town with its shops and restaurants.
Luckily we arrived on Sunday afternoon and so were able to visit the Sunday Market/Walking Street, probably the best one we have visited .
On Monday, after a lie-in, we took a taxi to Central Mall where Ann managed to buy a few bits and pieces over the course of several hours. Dinner was at the excellent Kopitiam restaurant not far from the hotel on Thalang Road in the Old Town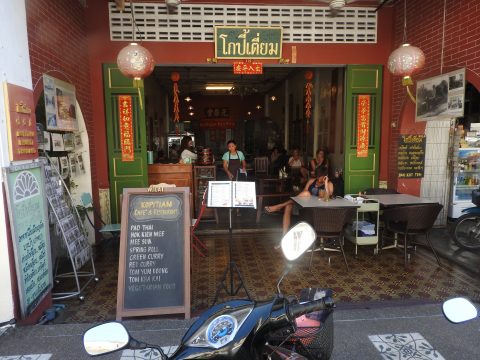 Ann was determined to make the most of the retail opportunities and so on Tuesday we tackled the shops around the Old Town and happily she was able to find a few more bits and pieces  that she "really needed". Following a late lunch we took a tuk tuk to Robinson's Department Store for a look around and to escape the heat and where lo and behold we found a Boots The Chemist which added another 2 or 3 kilos to our baggage!
Here are some photos taken around the Old Town area.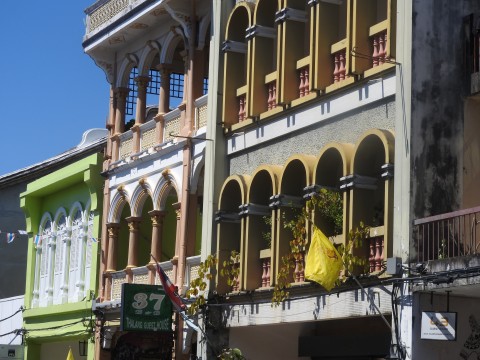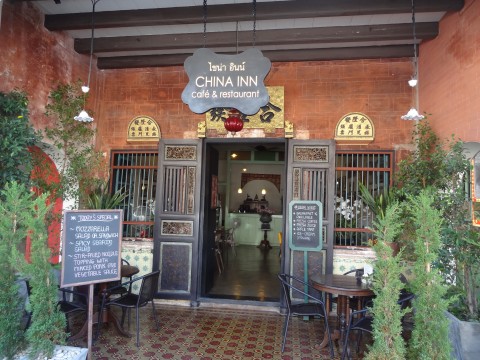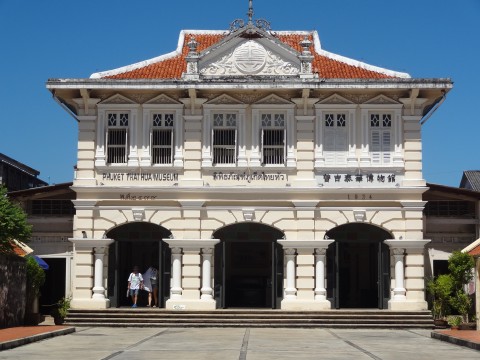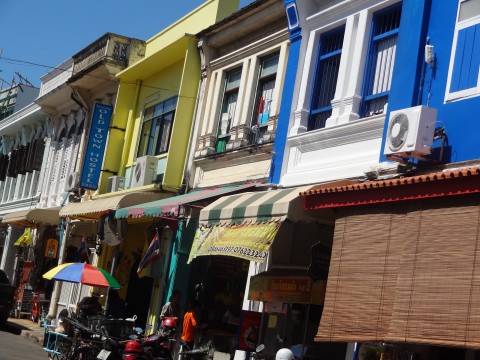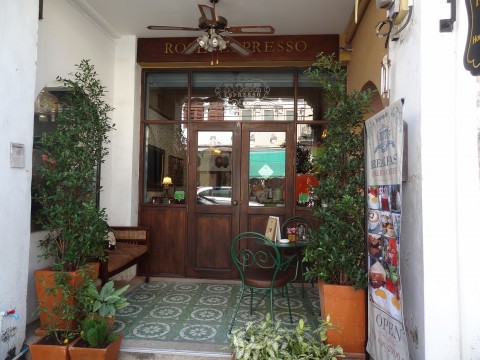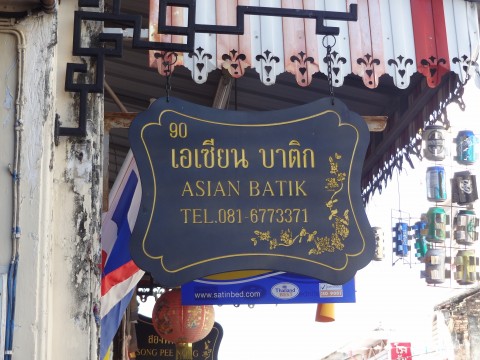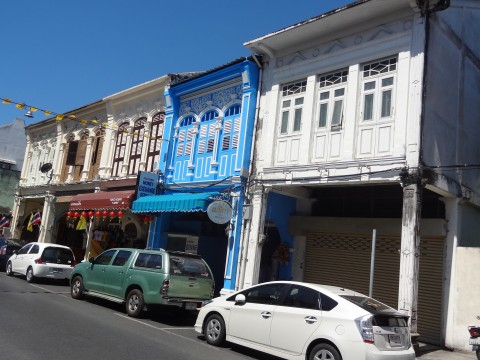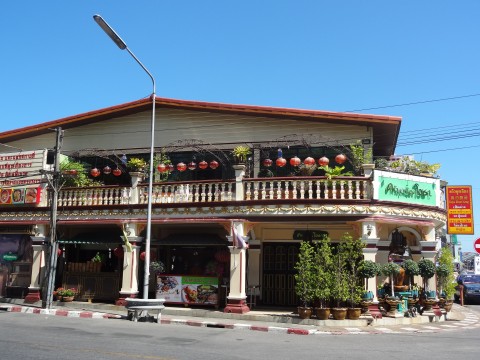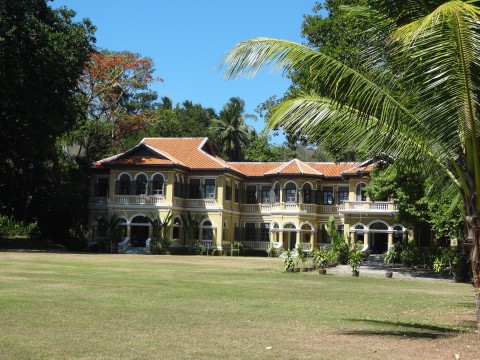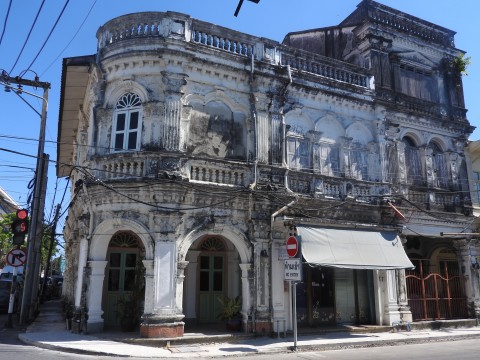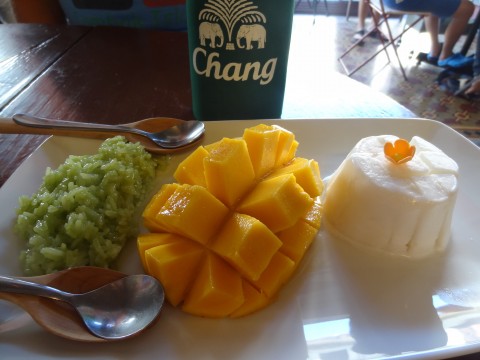 Sunday Walking Street
This night market takes place in the Old Town on Thalang Road, a beautifully renovated street only a short walk from our hotel. It's a family orientated market and we visited on what seemed to be a special "Childrens' Day"  when there was lots of stuff happening for kids with a free trampoline, loads of free entertainment and games with prizes. It's a very busy place but there's a great atmosphere and the food is incredibly good and as always incredibly cheap. Definitely our favourite night market so far.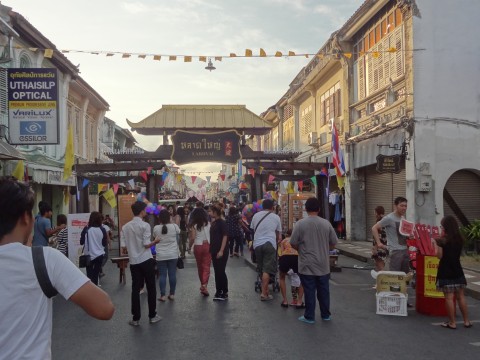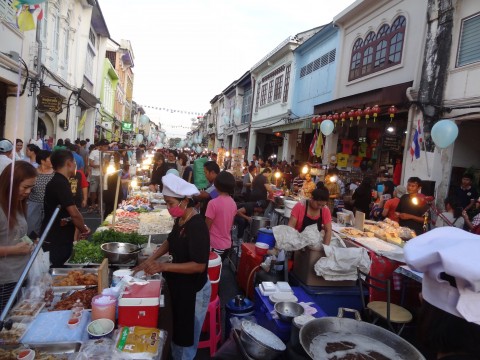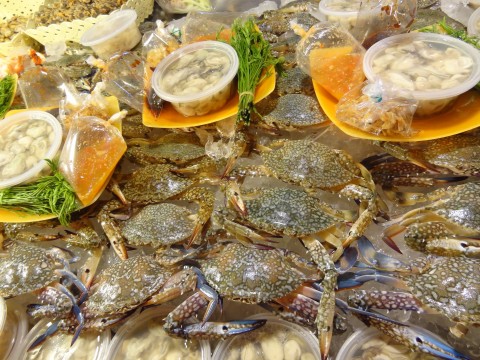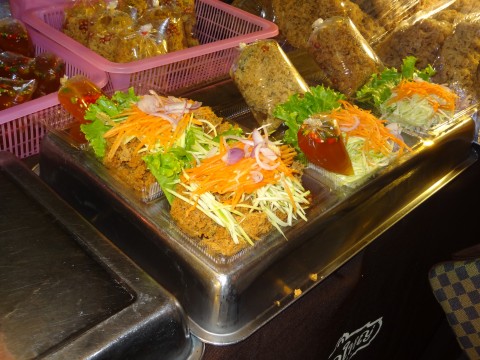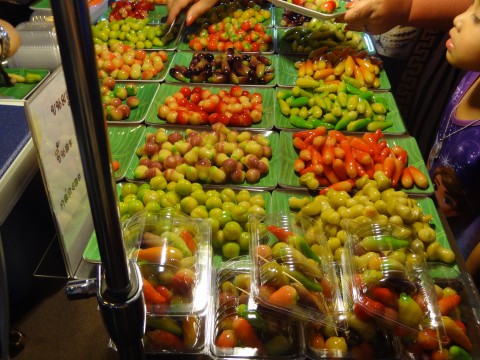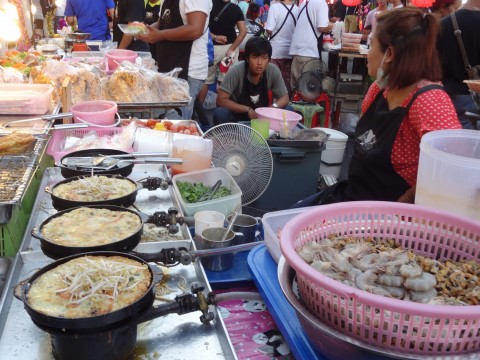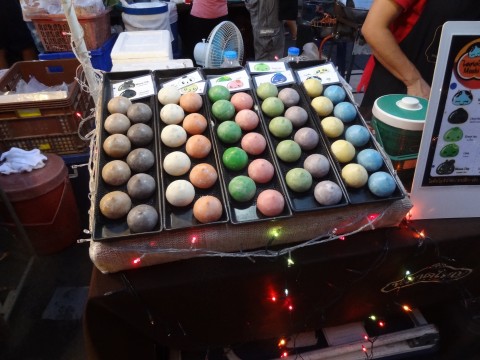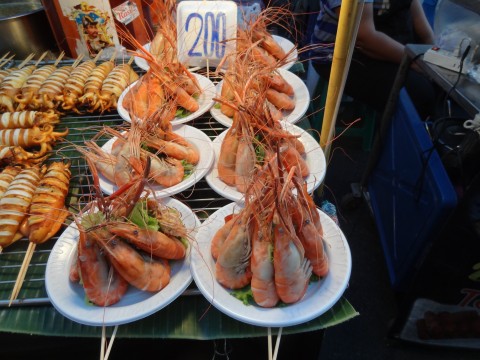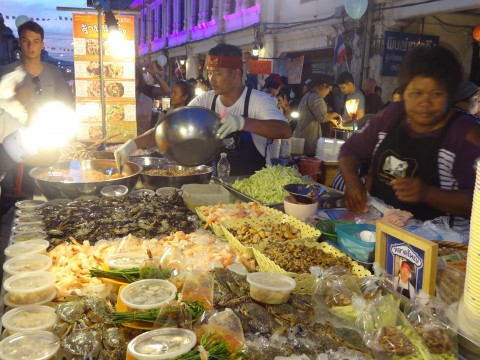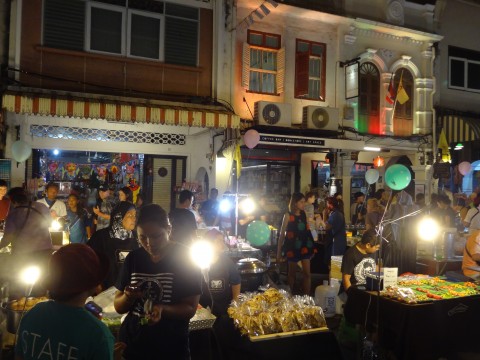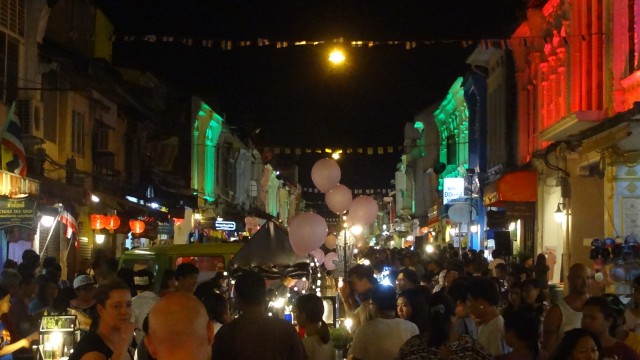 Our final day was spent in similar fashion with a lie-in, followed by shopping with an early night for an early flight to Koh Samui the next day.
This was planned to be a short post but hasn't worked out that way. Sorry! If anyone is still visiting this blog I promise the rest will be less wordy and more pictures…..
Next stop is Koh Samui.