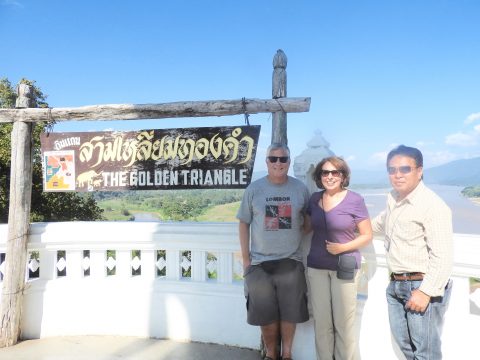 The Golden Triangle is in the far North East of Thailand and is the point at which three countries meet – Myanmar (Burma),Thailand and Laos. It is so named because the area was once the largest area in the world for illegal opium production. Although no longer the largest producer, the trade is still significant and apparently increasing along with the money laundering activities that go with it.
Like Mae Hong Son and Pai, this is another far flung area well away from any large cities which is becoming more popular with travellers who have the inclination to visit. There are any number of travel companies and agencies offering tours to the Golden Triangle but we had  a Guide, Joy, who knows the area intimately.
Driving directly from Chiang Mai to the Golden Triangle takes over four hours and so too far for a day trip. We opted for a an overnight stay in Chiang Rai which is just over an hour from the Triangle. Chiang Rai is the largest city in the far north of Thailand with a population of around 70,000. A standard organised tour would include visits to hill tribe villages, elephant camps and possibly tiger "sanctuaries" but we chose not to visit these places when we came to finalise our itinerary for the trip.
We had spent the first three days of the week commencing 7th December with Joy and his wife Goy travelling the Mae Hong Son Loop. On Thursday 10th we set off for the Golden Triangle. This would be a long day with a lot of driving but no hardship as the scenery for the most part is through a picturesque mountainous region.
After  a coffee break at Thaweesin Hot Springs  (totally underwhelming), our first proper stop was at Baan Dam, the Black House, near Chiang Rai.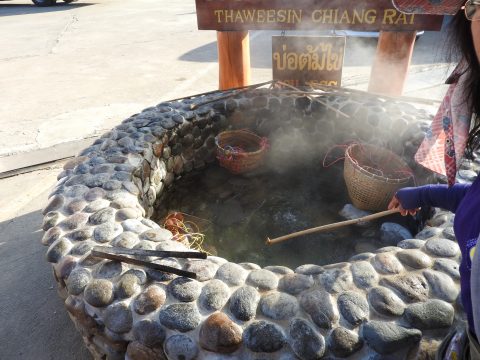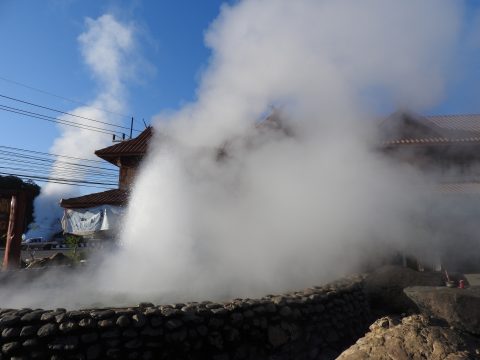 The Black House is a weird but interesting place. Various buildings with interesting architecture are dotted around quite a large site and contain a large collection of art exhibits created by a single artist.
Thawan Duchanee, a local Thai artist now regarded as a Thai National Artist, developed a style of work representing the darkness of humanity.The exhibits are mostly coloured black and red and more than a little macabre as the artist is fond of using bits of animals, skulls, skins and other parts in his artwork. The buildings themselves are adorned with animal parts and apparently you can buy products made with animal parts, such as crocodile handbags, in the souvenir shop! We spent an hour and a half or so here but could easily have spent longer – there is a lot to see. Here are some pictures …..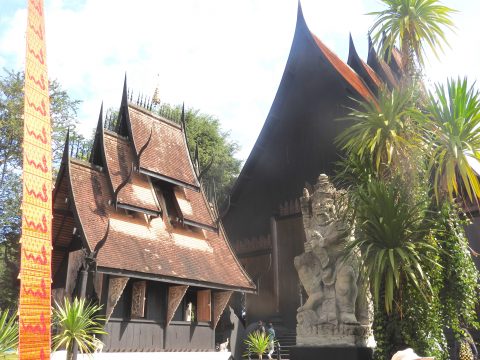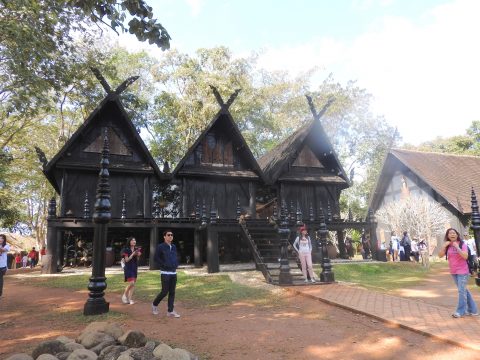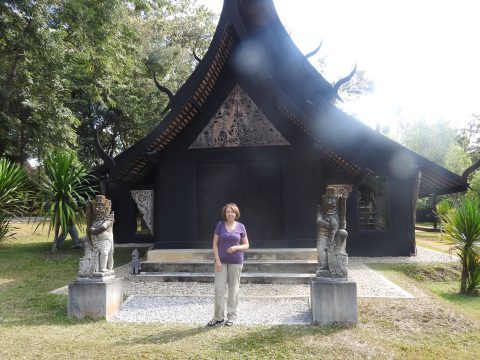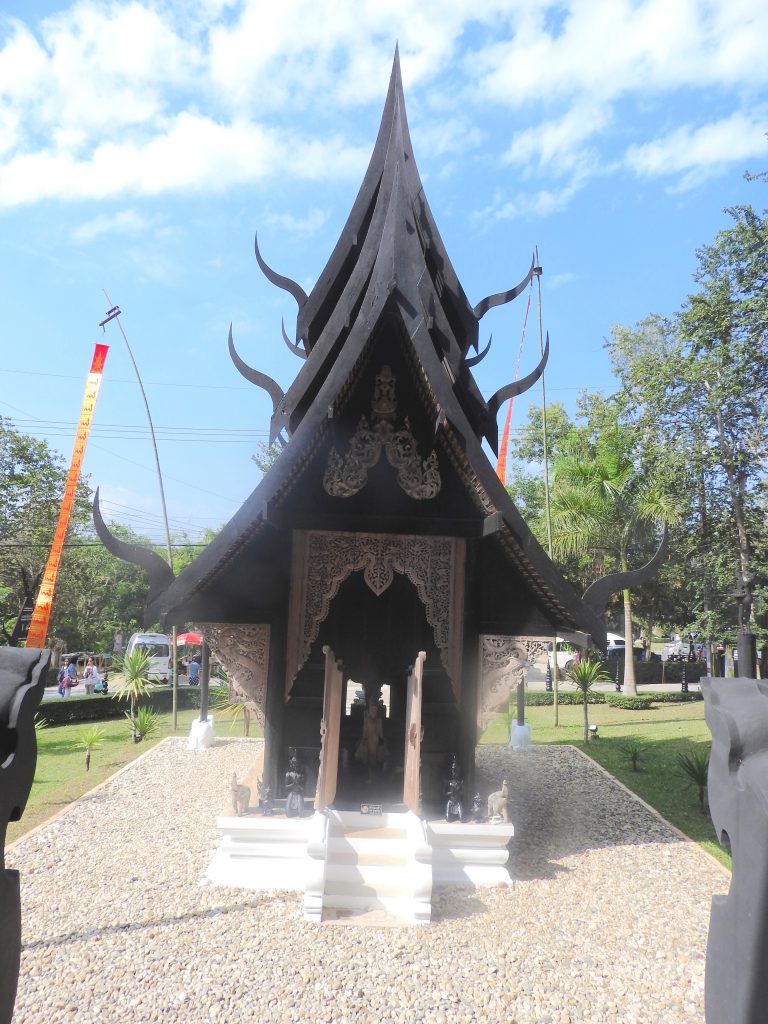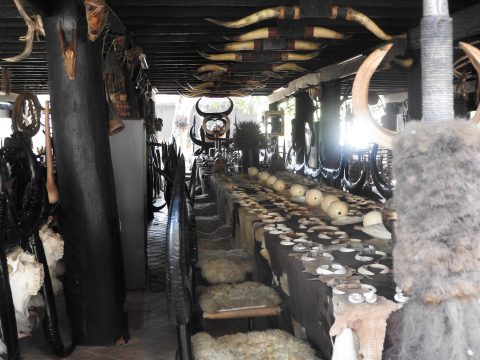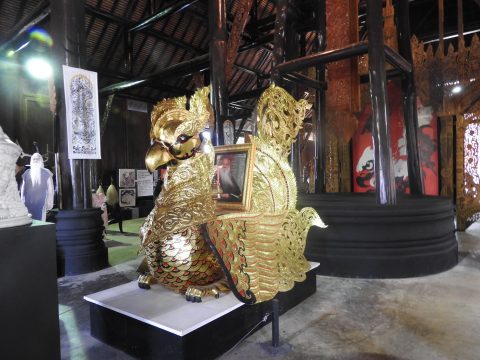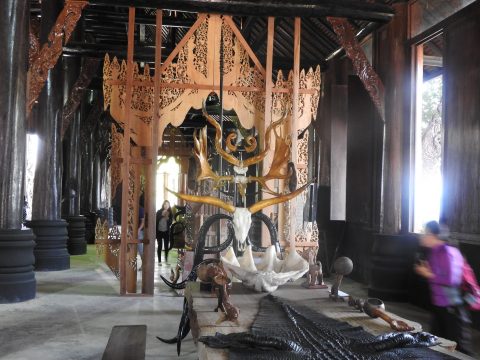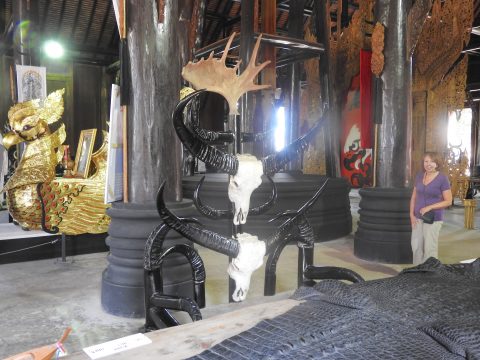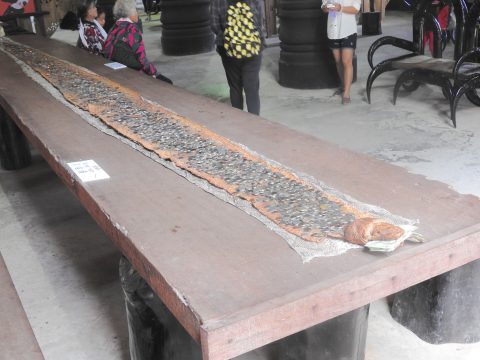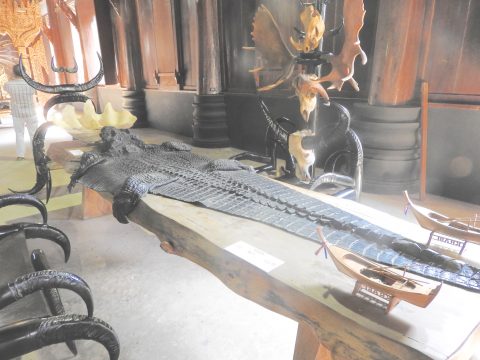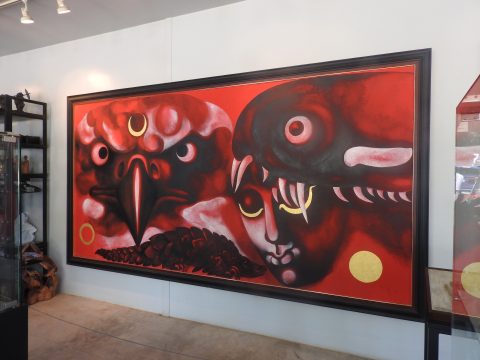 Next stop was Mae Sai, the northern most city in Thailand where there is a border crossing  into Myanmar much used by Westerners on a visa run. Not an especially interesting town but there's a busy market and the town is apparently a shopping paradise for precious stones and jewellery – the wealth perhaps not un-connected to the main trading in this Golden Triangle area. There is an unusual temple high on a hill with views over the border crossing to Myanmar. The Scorpion Temple includes some interesting statues including memorials to King Naresuan famous for beating back several Burmese invasions and killing the Burmese Crown Prince in a duel back in the day. As a reminder to all concerned, a giant scorpion statue stands facing Myanmar in a threatening pose.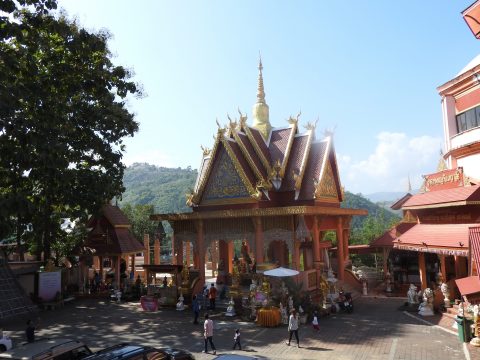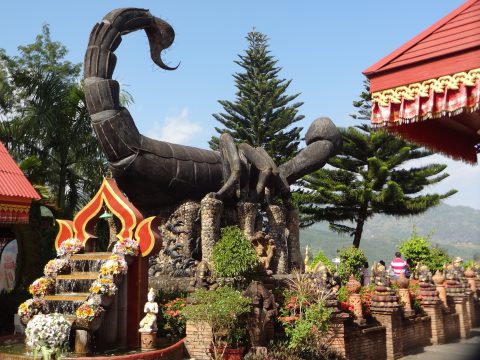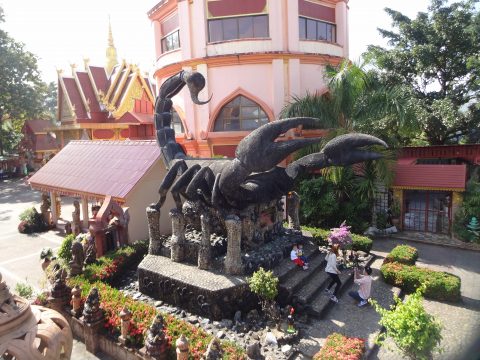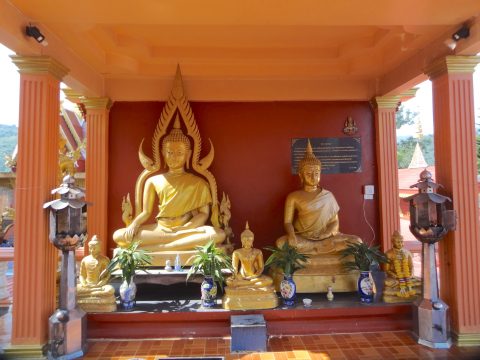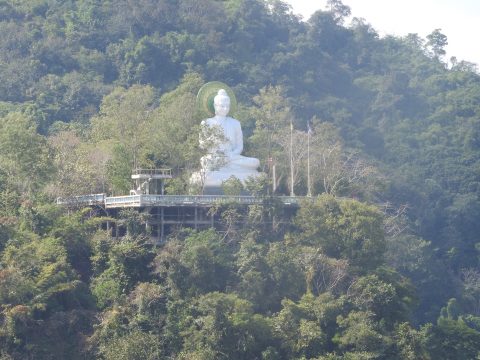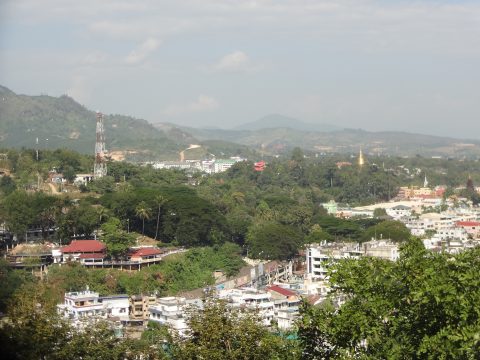 From Mae Sai our next stop was the Golden Triangle, the point where Thailand, Myanmar and Laos can be seen from a viewpoint over the confluence of the Mekong and Ruak Rivers.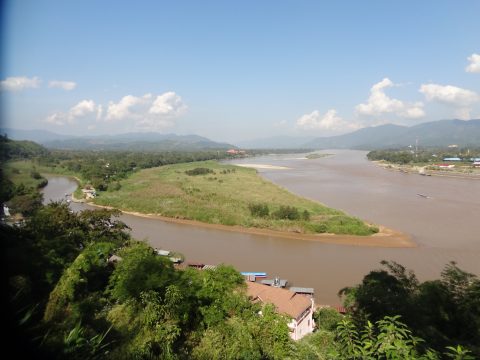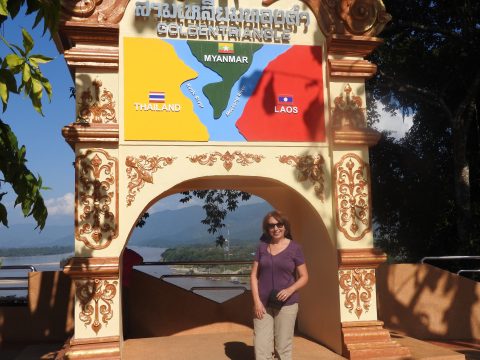 After a break here it was on to Chiang Saen, home to a big golden Buddha, actually a rather tacky looking Buddha in a  tacky touristic place packed with Thai and Chinese tourists on the day. From here we took a short boat trip on the Mekong with a brief stop on Don Sao Island Laos – actually a large Laos island on the river – for an opportunity to buy Snake Whisky, luggage, handbags, tee shirts and other Laos souvenirs  and to be badgered by Laotian kids begging for money.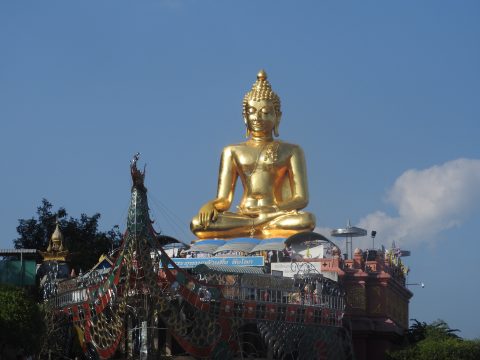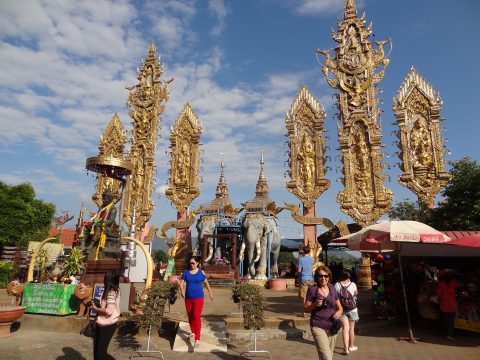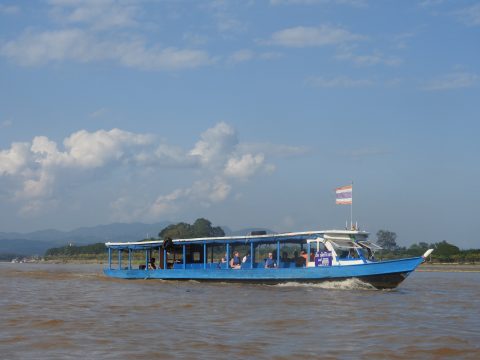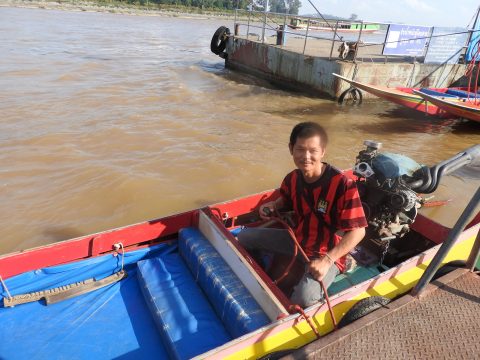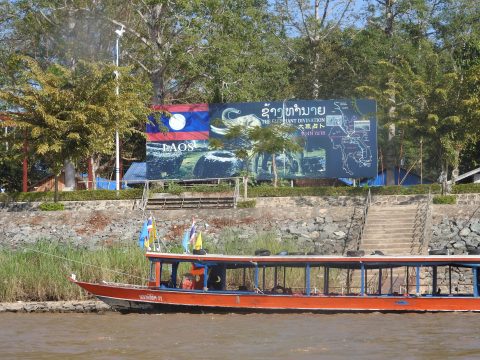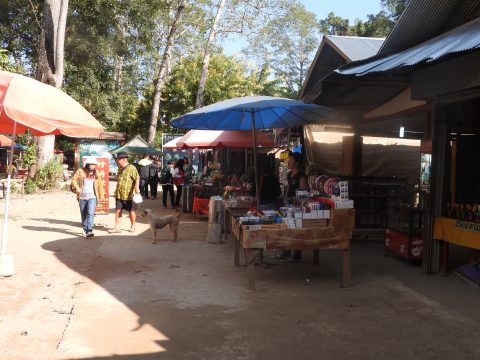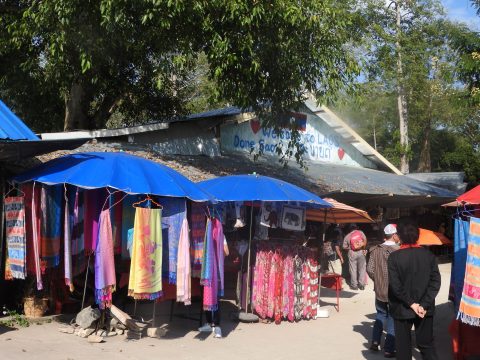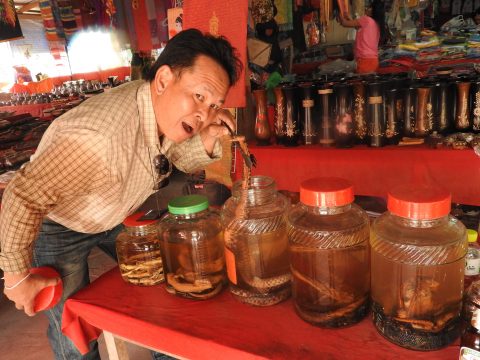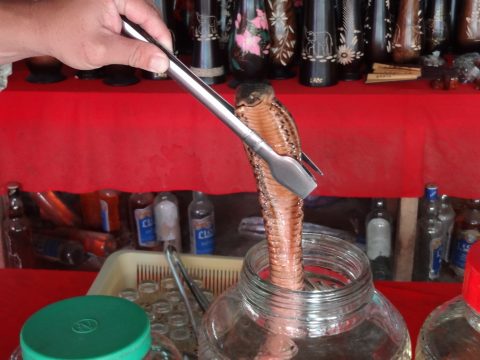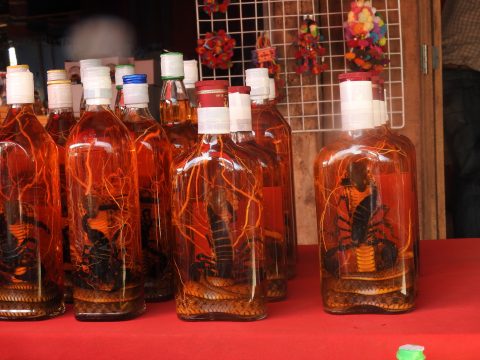 The constant badgering by stall holders and begging kids was rather tiresome and so we didn't hang around in Laos for long. We had a short ride upriver where Laos has an economic zone which houses, in an area which is totally rural, the Romans Casino. The casino sits in the Golden Triangle Special Economic Zone created when Laos agreed a lucrative lease with a chinese gambling operation to build and run the casino.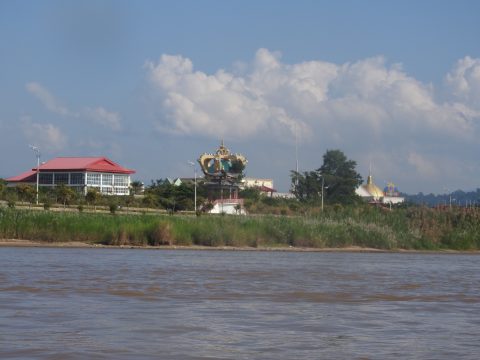 Chinese love gambling and since casinos are illegal in China, high rollers flood over the border to gamble here in an area which is rife with drug trafficking and other illegal activities. Inevitably the colossal amount of money washing around in the area doesn't exactly stifle the already high level of corruption in this part of Asia where the Chinese are investing more and more, building dams, rubber plantations and casinos along its borders. The building of dams to generate electricity in the upper Mekong is controversial since the river runs the entire length of this region from China through Myanmar, Laos, Thailand, Cambodia and Vietnam providing water and food to the people. The impact on the control of the water flow from the upper river by the Chinese will inevitably impact countless people who live on the river.
After our interesting boat ride we hit the road for Chiang Rai, a drive of an hour or so. We had booked a room at Nak Nakara Hotel which was quite a bit over our budget but recommended by Joy and we didn't really fancy any of the budget alternatives. It was a good choice with a nice room and a very good breakfast.
We arrived in Chiang Rai at dusk dropped our bags and headed out for dinner. This was one of very few occasions where we hadn't researched eateries in advance. We had Tripadviser to advise us but it was difficult to get our bearings in the darkness and we headed for one and then another restaurant which we failed to find. Thus our only evening in Chiang Rai was spent wandering the streets until after over an hour or so, desperate, we stopped at a burger joint consisting of a few tables and benches and a couple of wooden cabins, one a bar and the other the kitchen. It turned out to be a great pick as we had the best burgers we have ever eaten anywhere! Amazing !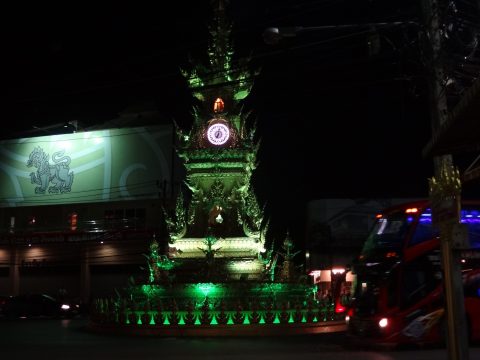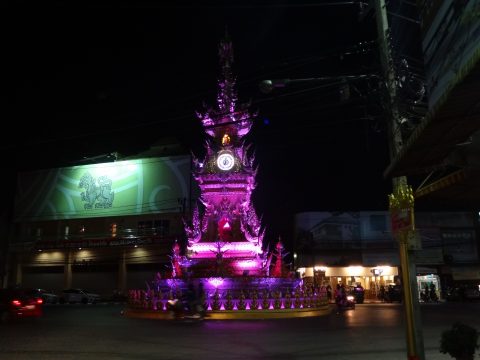 After a comfortable night and an excellent breakfast at Nak Nakara, we had quick look around some Chiang Rai temples which, frankly, we found unremarkable – maybe we were getting templed-out! We  then made our way back to Chiang Mai via the famous White Temple , a visit to Doiluang National Park and then a lunch stop  before the final stretch to Chiang Mai.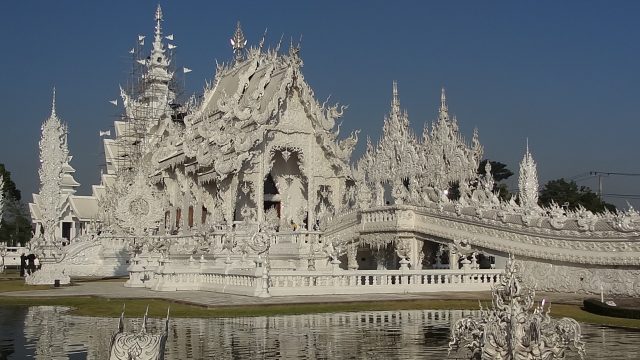 Wat Rong Khun , more popularly known by Westerners as The White Temple was built in the late 1990's on the site of an old temple of the same name which had fallen into disrepair due to lack of public funds. A Thai artist agreed to re-build a temple to his own design and at his own expense and the White Temple is the result. The temple was opened to the public unfinished and is still unfinished. An earthquake caused damaged in 2014 but the damage repairs and work carries on and is not expected to be completed for at least 50 years..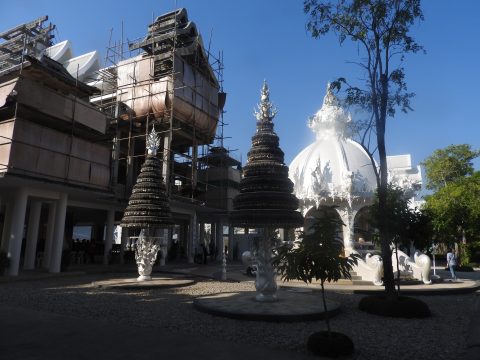 This is an awesome place to visit. It's very big and very white! The white cement render has slivers of mirror set into it so it is ultra shiny in the sunlight – striking to say the least. Each of the buildings and various features, for example the bridge by which the main building is accessed and the "Sea of Hands", are symbolic. An explanation as to their meaning and significance can be found via google.
The White Temple is really quite extraordinary and is considered to be an outstanding example of modern art.It has become the Artists life work and he believes it will give him immortal life. When it is completed will include a centre for learning and meditation .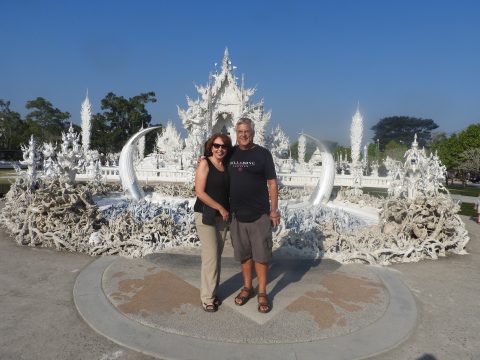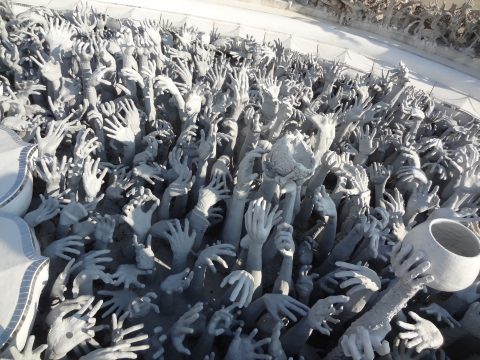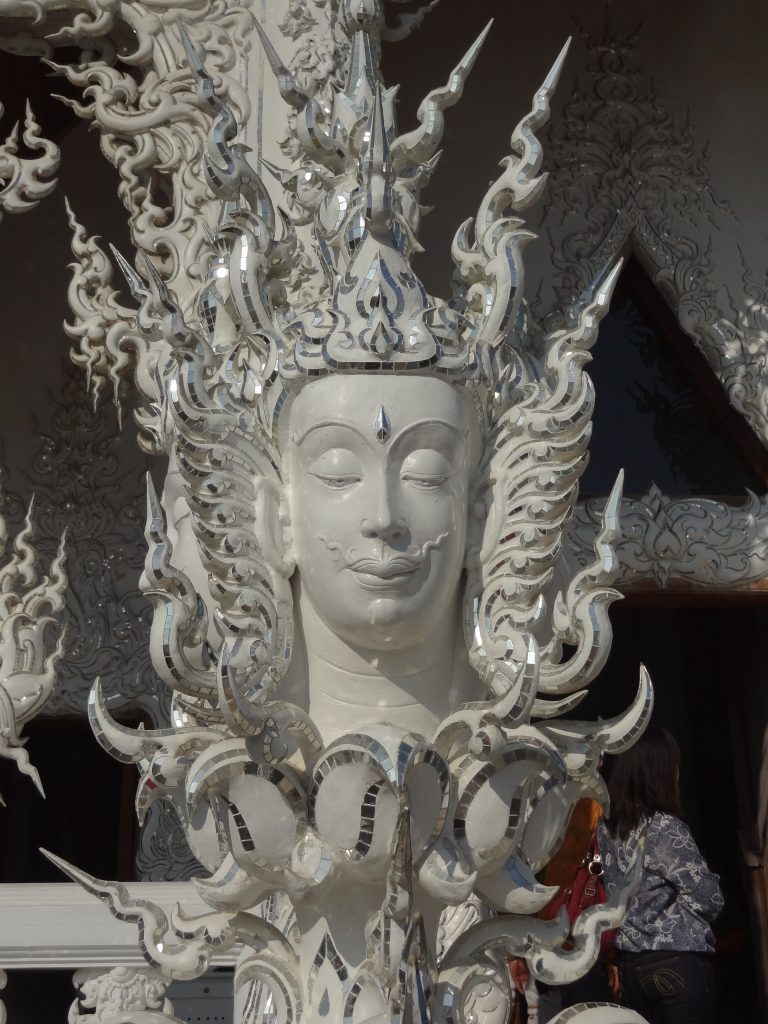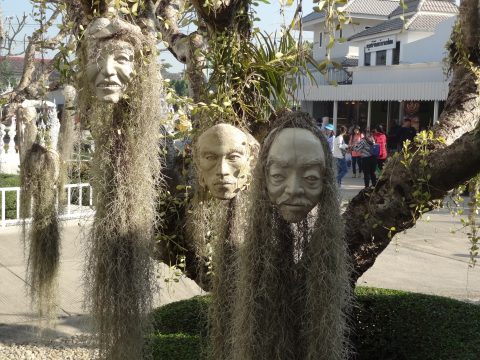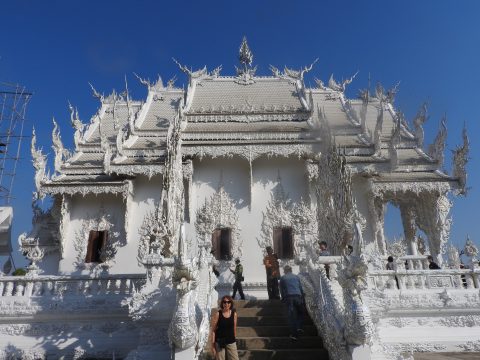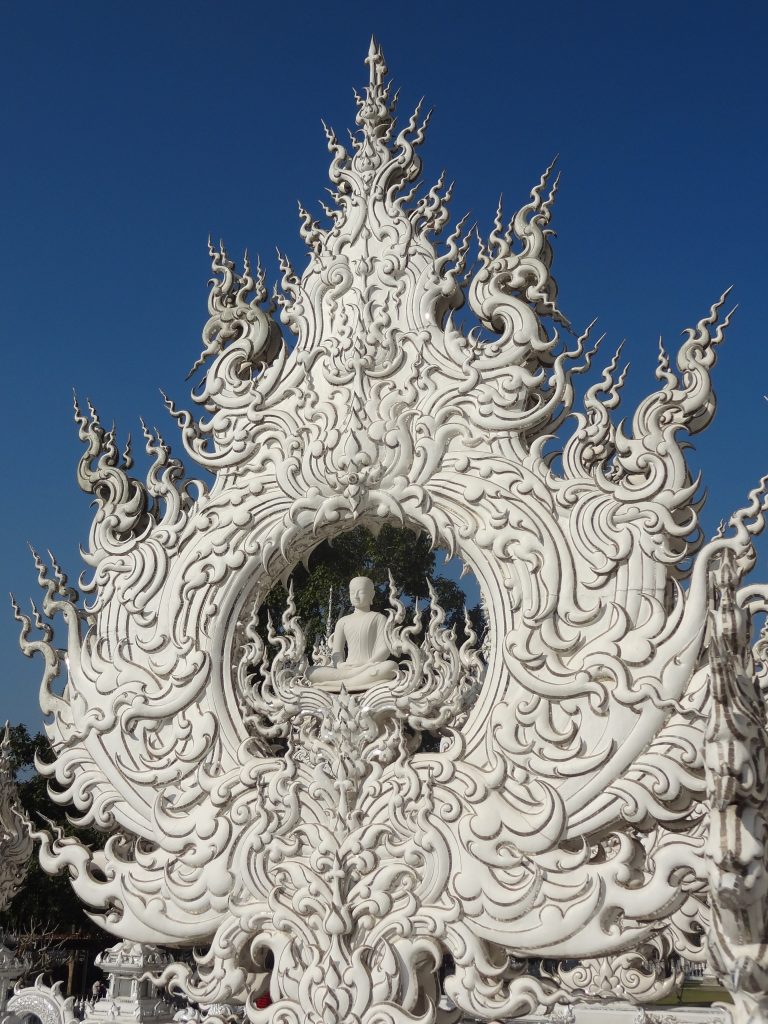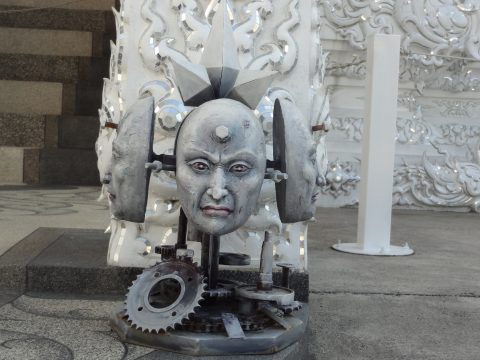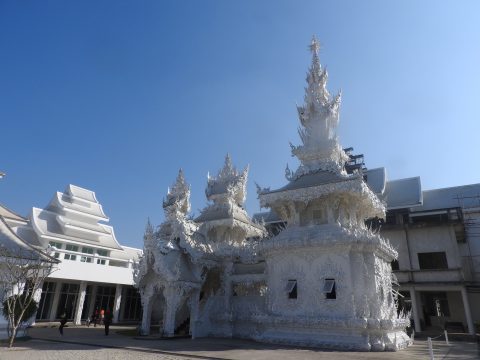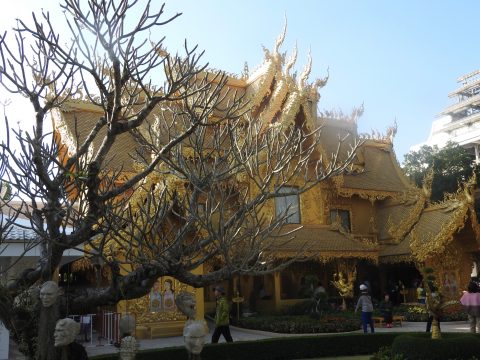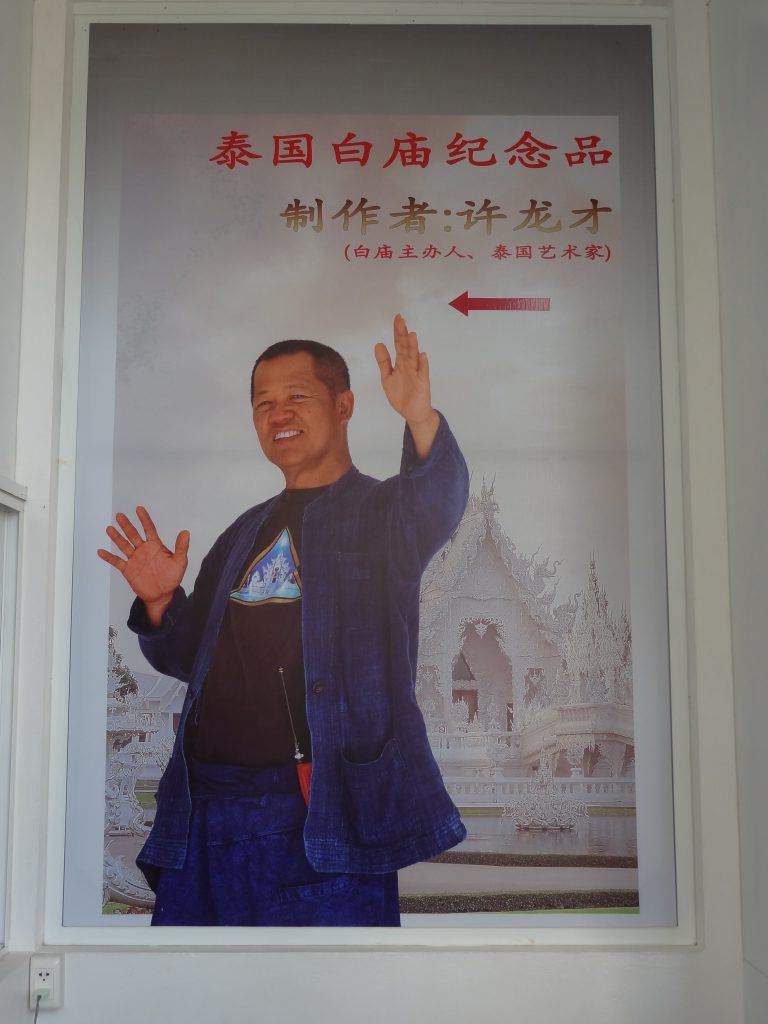 After a couple of hours at the White Temple, ahead of schedule we drove on  to Doiluang National Park. Joy had never visited this place himself but had heard it was good and was keen  to take a look to see if it was place that he could add to his tours.We agreed and were glad we did as this is a lovely forest park with lots of walking trails including an uphill up-river climb past a series of waterfalls. Unfortunately the walk turned out to be longer and tougher than we had expected and running out of time, we had to give up and turned around half-way (we think) before we reached the end of the track.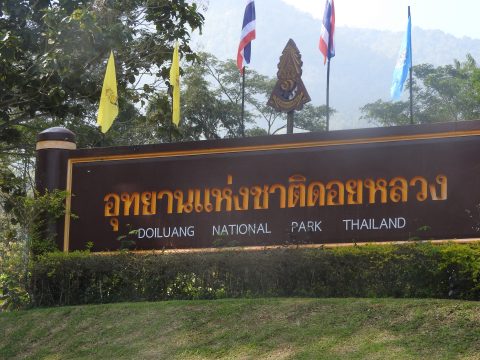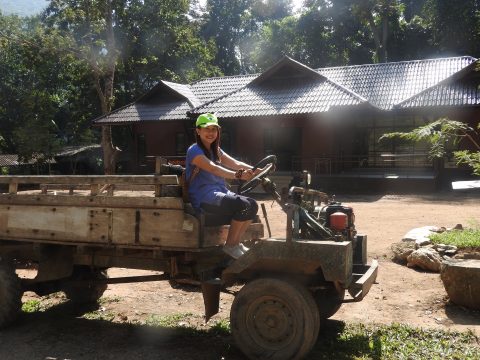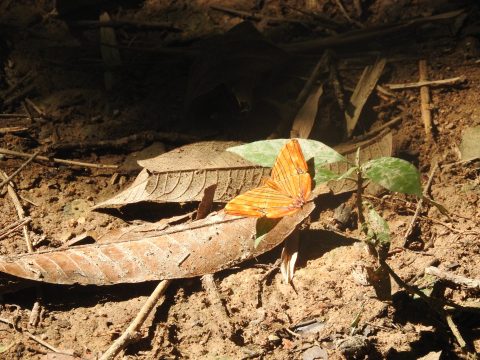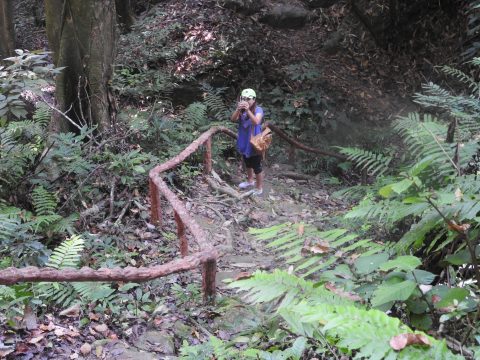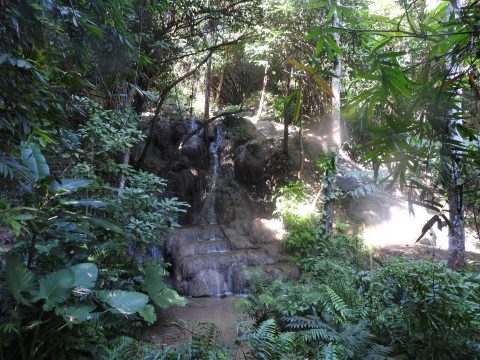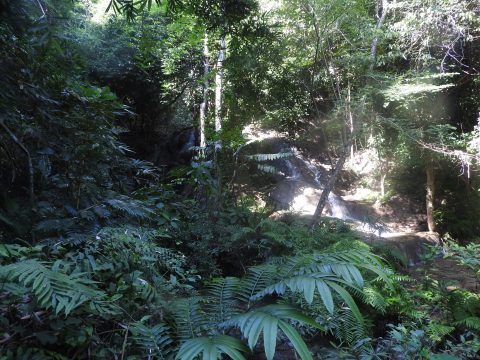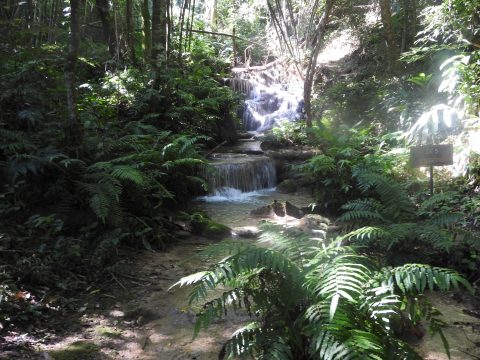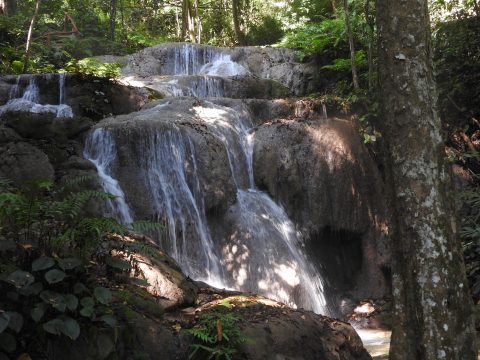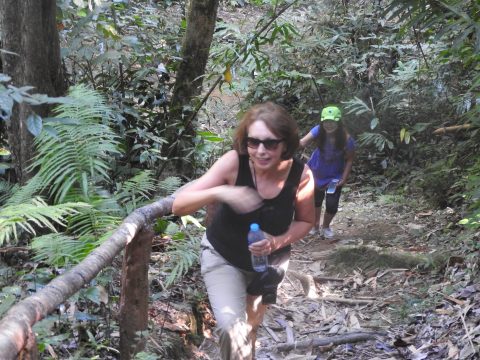 Our final brief lunch stop was at Phayao. Joy wanted to drive us around a very large and beautiful lake but for some reason many of the roads had been cordoned off. Joy and Goy went off for lunch but Ann and I didn't want a big lunch and ended up with a beer and a packet of crisps sat by the water  watching a fisherman work his way around the lake with his net.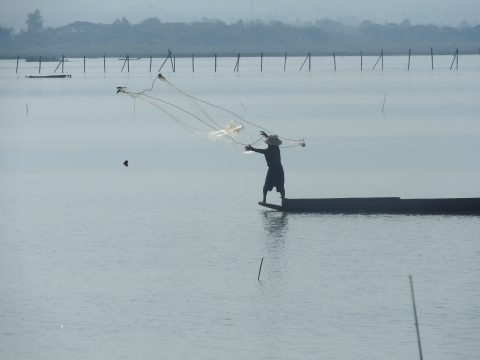 As we were sat enjoying our beer, crowds of Bike for Dad bikers started to arrive in numbers apparently getting  ready for the off.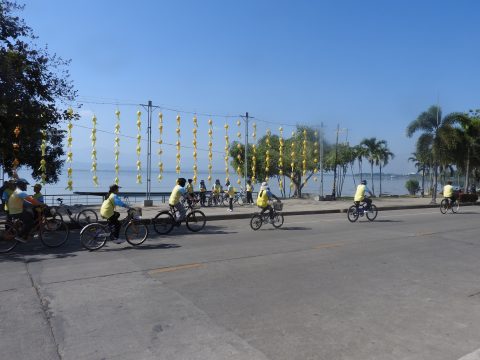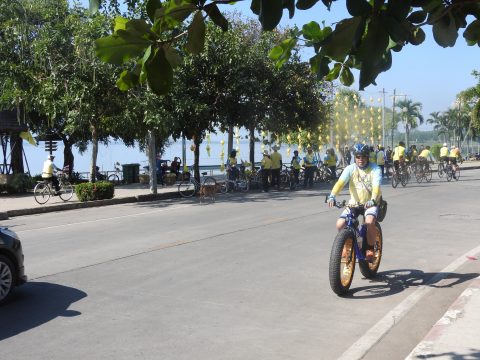 Ever since we arrived in Thailand, even for the first time back in September, we had seen hundreds, thousands, of men, women and children wearing yellow tee-shirts emblazoned
" Bike for Dad". It turned out that this week was the culmination of  the "Bike for Dad" Event,
a mass bicycle ride taking place all over Thailand to celebrate the King's 88th birthday.
Today, Friday 11th December, the Crown Prince was leading over 100,000 cyclists around Bangkok with hundreds or thousands of other rides taking place in cities, towns and villages all over Thailand. It's estimated that well over the 600,000 registered cyclists took part! Chiang Mai was grid-locked for hours.
Joy eventually dropped us off around 6pm. For a final time we walked down to Nimmenhaemin for a few beers at the Kamrai bottle shop followed by a curry. Tomorrow we would leave Chiang Mai and move out into the countryside for a few days of R&R at Baanpong Lodge about an hours drive from Chiang Mai.
Baanpong Lodge
Baanpong Lodge is a small hotel on the edge of a tiny village Ontai in the San Kamphaeng area outside Chiang Mai. It's a rural escape which seems to be popular with Thai and ex-pat families living in Chiang Mai and it's popular for cycling, walking, climbing and chilling out. We were there to chill and do a bit of walking and thats pretty much what we did.
This is a rural area with small villages nearby but with several surprisingly large Temples. There's a man-made lake quite close which is popular with the locals for fishing but with a long period of drought the water level was low for the few fishers we saw but adequate enough for the water buffalo. Here are a few photos….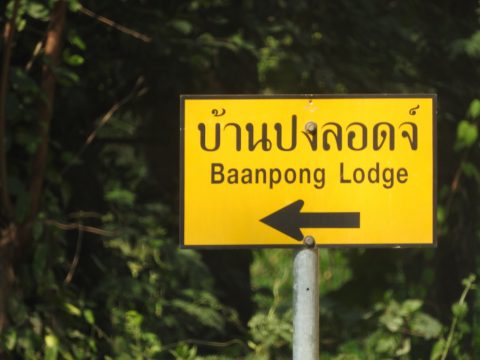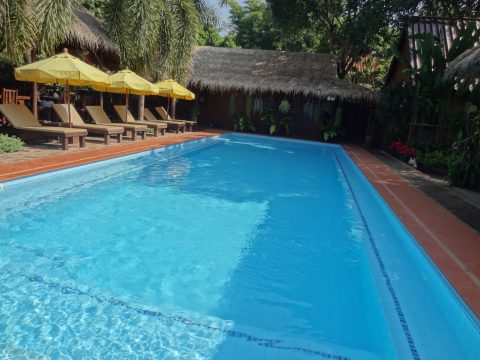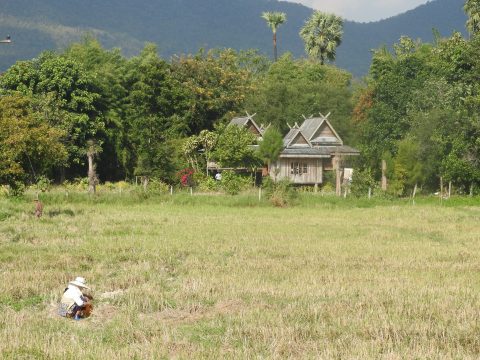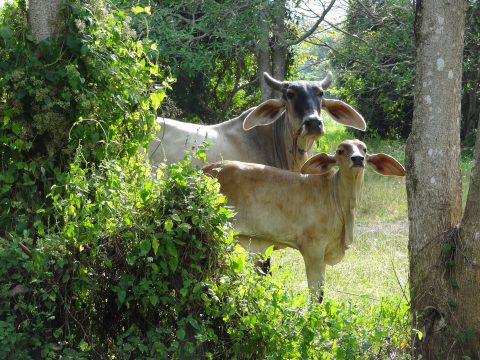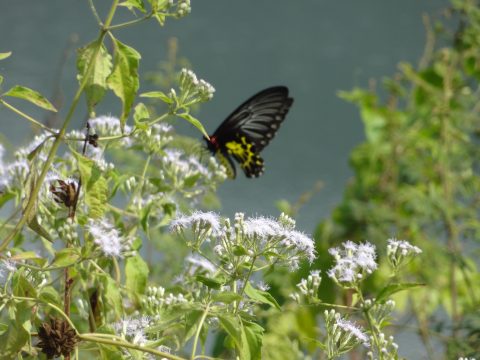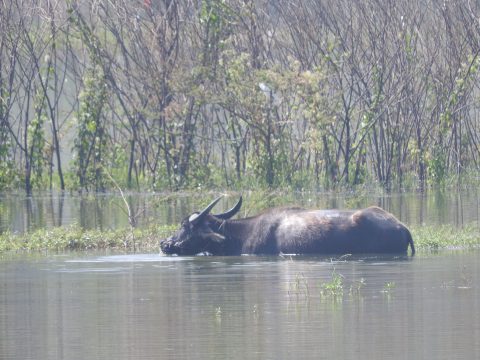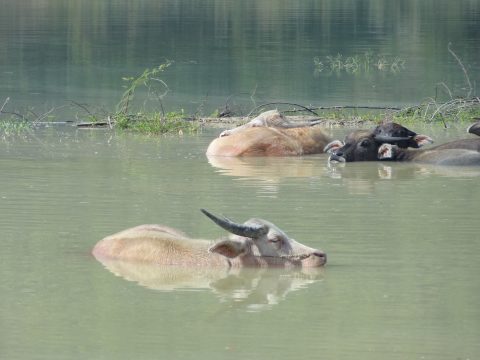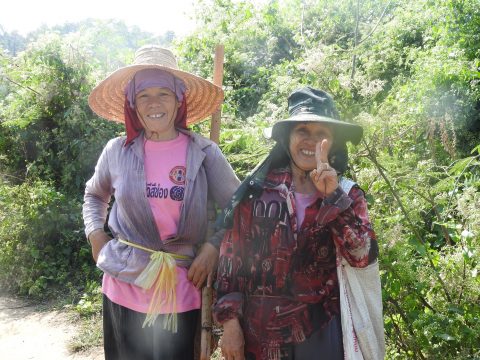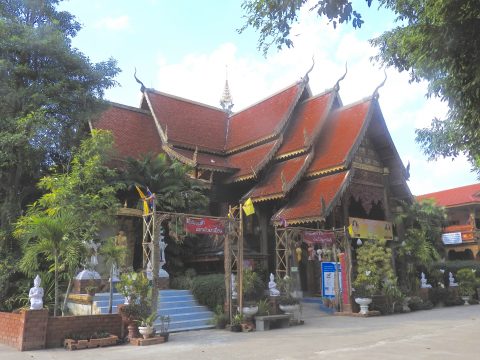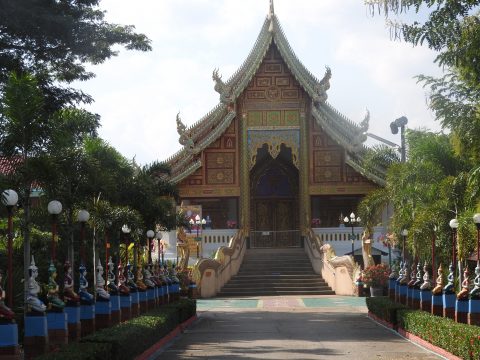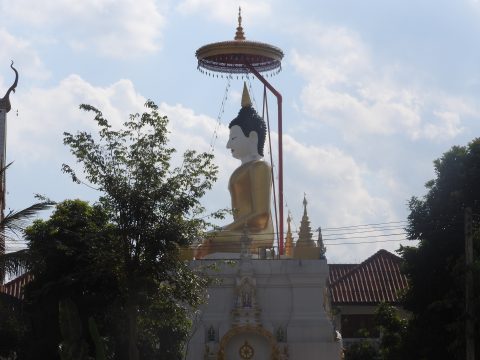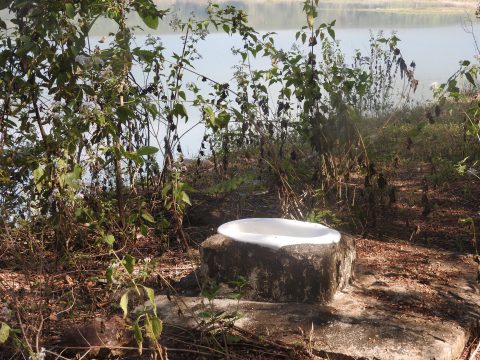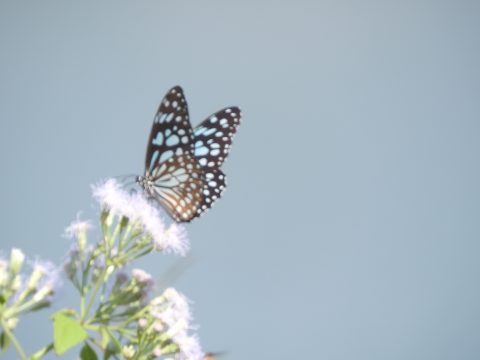 After 5 relaxing days at Baanpong, we left on 19th December to fly South to Phuket Island .We had spent 20 days in Northern Thailand and had very much enjoyed our time here but we were now looking forward to spending Christmas by the sea.