d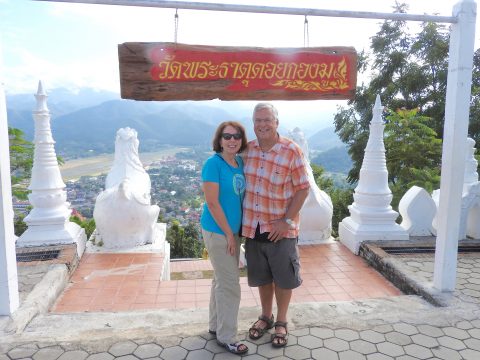 The Mae Hong Son Loop is approximately 600KM long and is a circular route around the north west of Thailand which starts from Chiang Mai and takes you through Mae Hong Son Province ending back at Chiang Mai. It has been a hippy trail for some years and many do the trip by bus or on motor bikes; we don't do bikes and the bus journey didn't sound great travelling up and over mountains on a route that includes 762 curves. We decided that, as for a few other places, we would get the best of this trip by using a local guide. There is no doubt you see and understand a lot more when you have a guide who speaks the language and lives the culture and so we researched the various forums on the area to find some recommendations. We found that a guide named Pronchadin Potiya aka Joy regularly gets rave reviews from his western clients and so we contacted him. Happily he was available at the time we wanted to travel and he helped us develop an itinerary that would suit us – we would visit those places which were "must see " for us and swerve those places which for us were "mustn't sees" – touristic hill tribe villages and animal "attractions" – elephant camps and dodgy tiger "sanctuaries."
At 7am on Monday 7th December Joy picked us up at our apartment in his nice big 4×4 vehicle. The vehicle was spotless and he had thought of everything to ensure our comfort for the day with cold water, refreshments etc. Joy was accompanied by his wife Goy ( yes, a double act, Joy and Goy!) who would act as Driver's Mate. Joy is a charming bloke, intelligent and very knowledgable with excellent english and a great sense of humour; Goy is equally charming but has virtually no english but we enjoyed her company nevertheless.
Doi Ithanon National Park
Doi Ithanon is in the Chom Thong District of Chiang Mai Province a two hour drive from Chiang Mai. It is the highest mountain in Thailand at 2565m. The park is a popular tourist attraction for Thai and overseas visitors although the cooler weather at this height means that the magnificent views are often shrouded in mist and cloud – as they were when we visited. Nevertheless its a beautiful place and it would have been nice to have had more time to do some exploring. It's a 2 hour drive from Chiang Mai and most people visit as a day trip and spend several hours here but we had a 200km 4 hour drive on to Mae Hong Son and so our time was limited.
At the foot of the mountain are two impressive chedis (shrines), one built in 1987 in honour of the 60th birthday of the King and the other built in 1992 honouring the 60th birthday of the Queen. The chedis face each other and each is reached by a long flight of steps – very impressive. These chedis are furnished with some magnificent statues and tiled murals on walls and ceilings and they stand in beautiful manicured gardens although even at this lower level mist ruled out any good photos.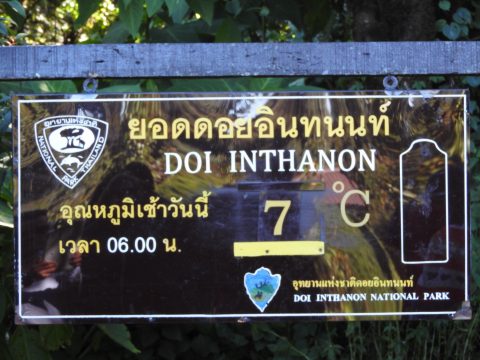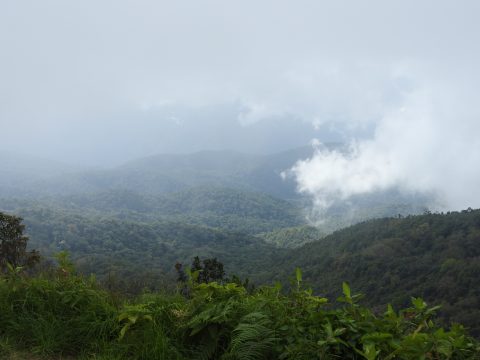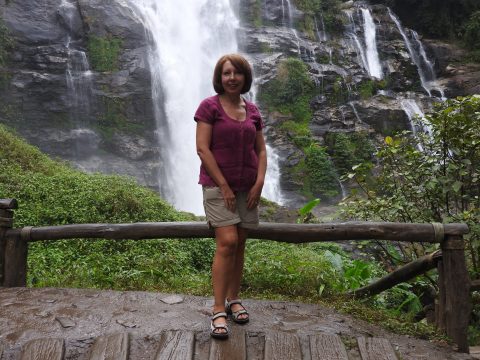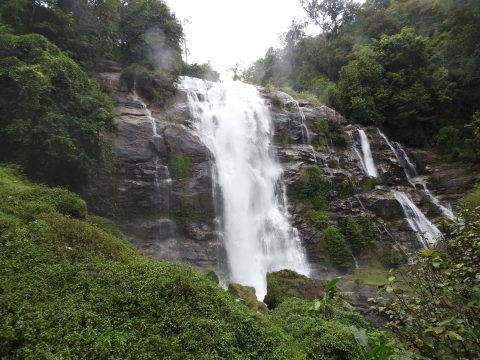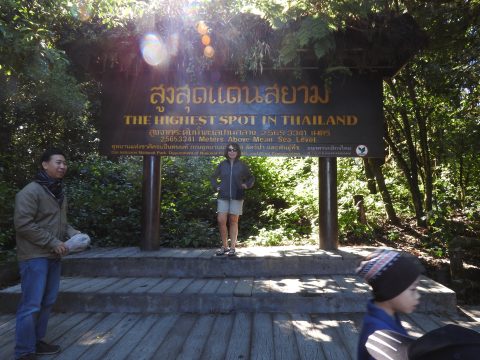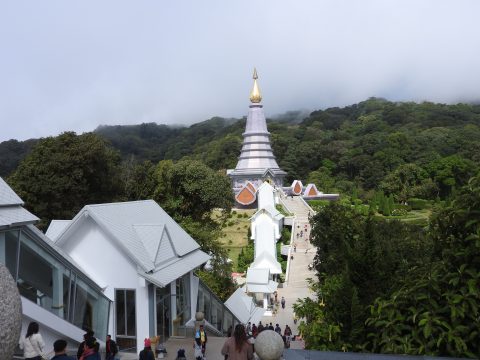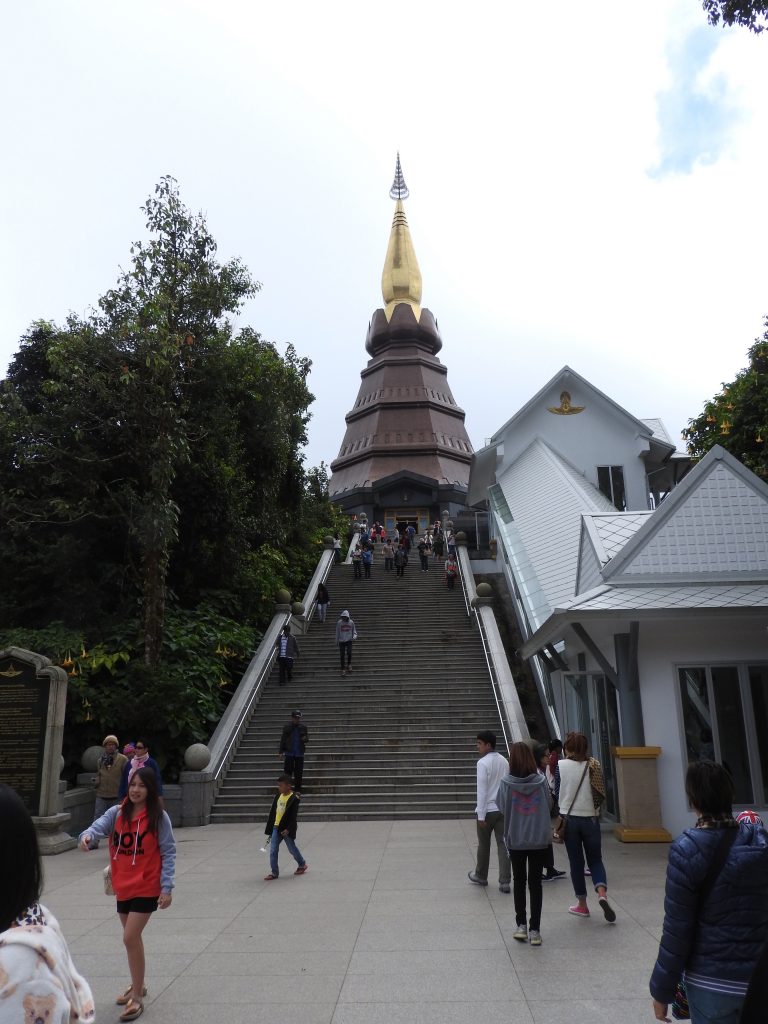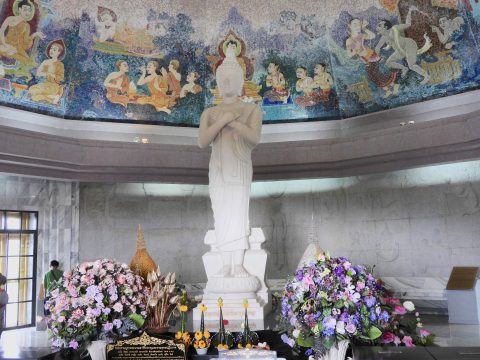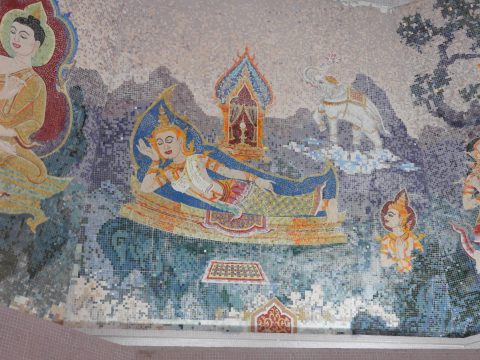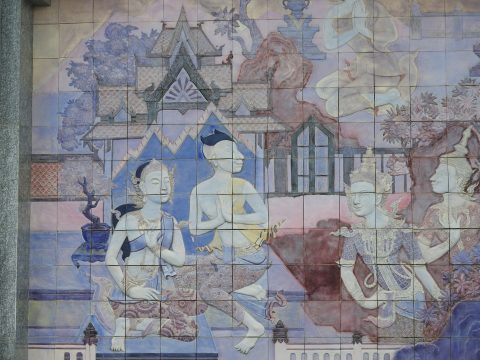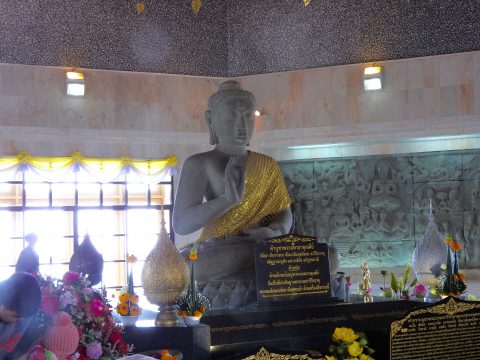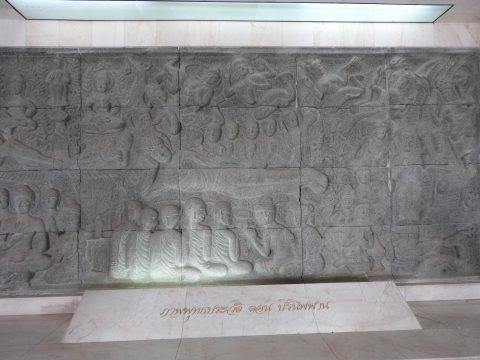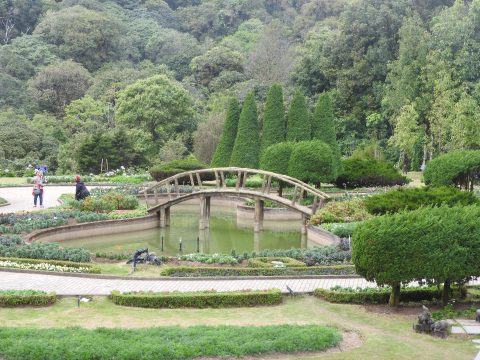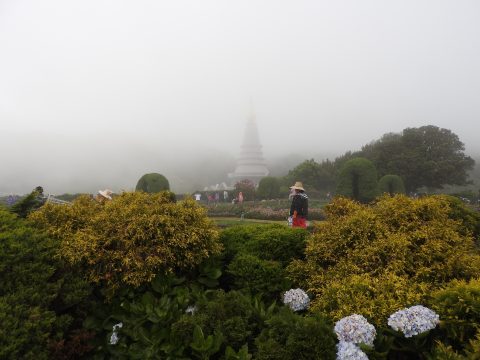 The scenery is awesome here and the area is popular for trecking. Here are some pictures of the scenery en route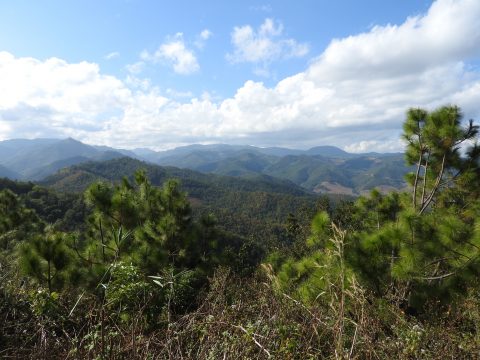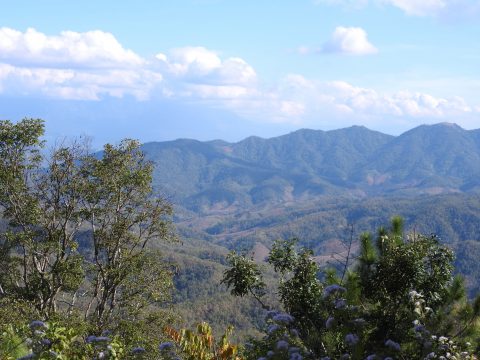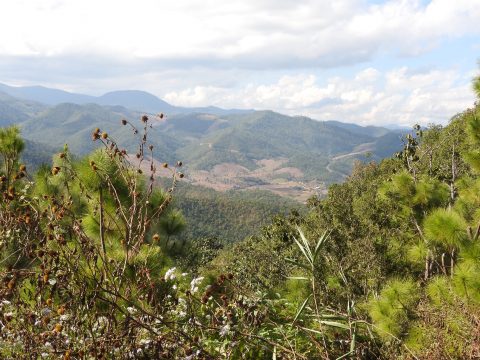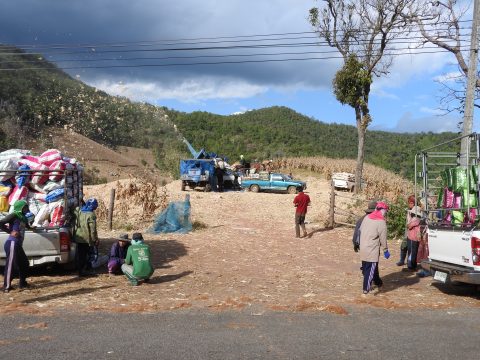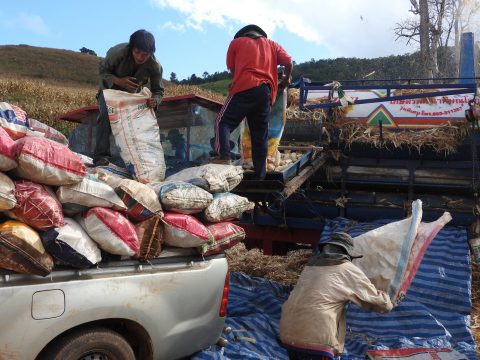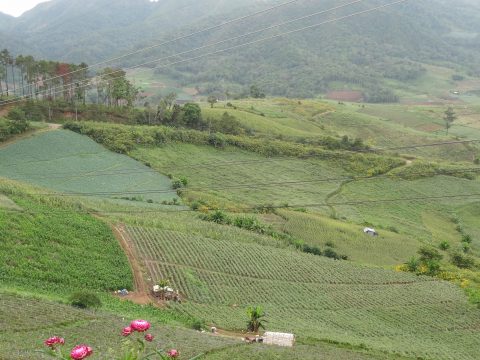 Mae Hong Son
Mae Hong Son town is the capital of a Province of the same name sitting in the north west corner of Thailand in a remote valley near the Burmese border surrounded by mountains. This was a former staging post for the Japanese in World War II when they carved a road through in preparation for their planned invasion of Burma. The place didn't become truly acessible until the late 1980s when a sealed road to Chiang Mai was built.
It is a very nice laid back town centred on a lake lined on one side by a street of restaurants which becomes a walking street at night with lots of opportunities to buy street food and clothing and knick knacks made by hill tribe people. On the opposite side of the lake stand several temples built in Burmese style on a large site. Each temple comprises several buildings and chedis and in some cases it's difficult to fathom out where one temple ends and the next one begins.
The place is pretty enough during the day but becomes magical at night when the walking street comes to life and the temples are lit up along with the over sized plastic water hyacinth floating in the lake.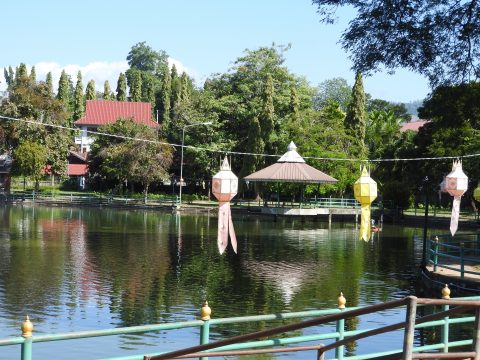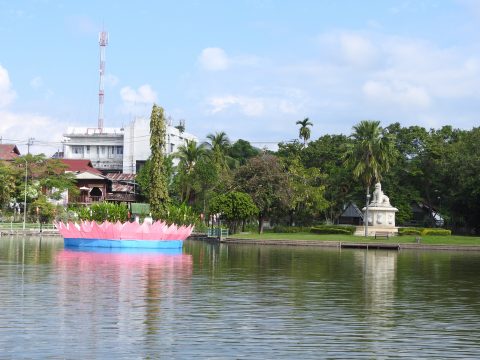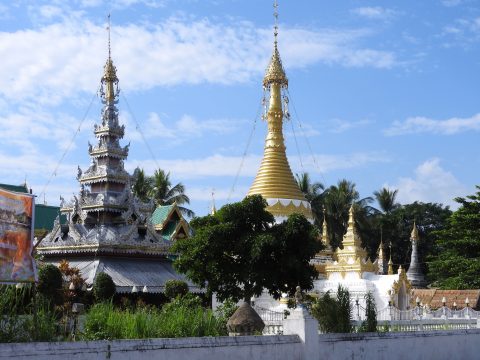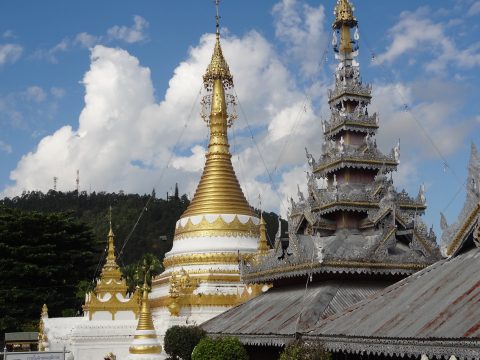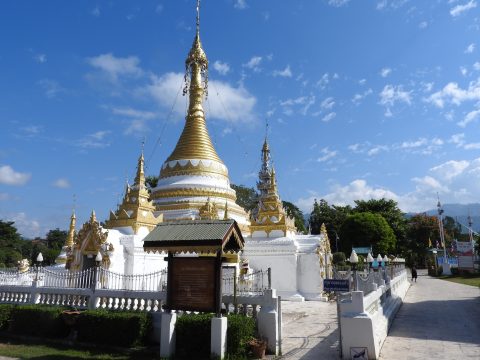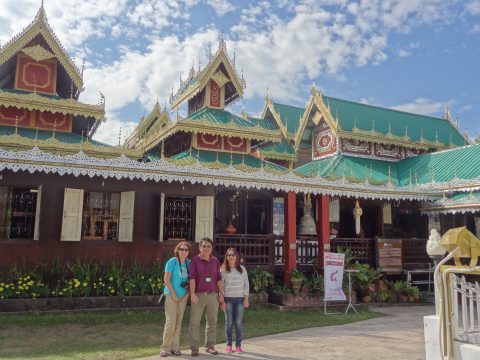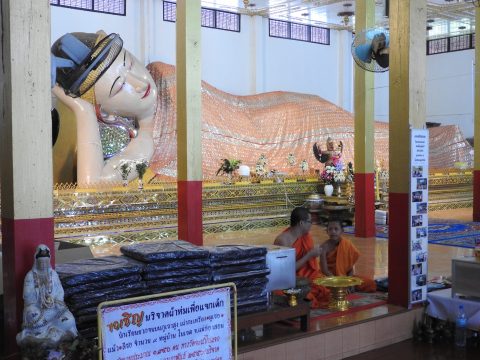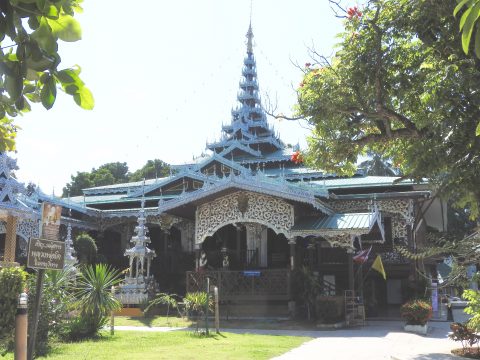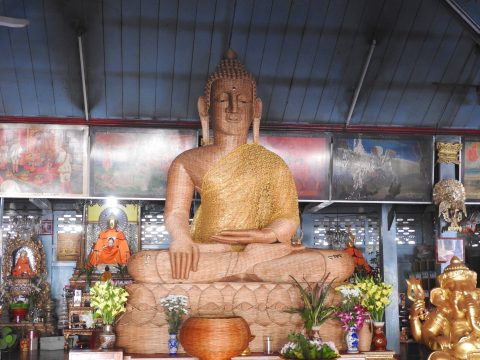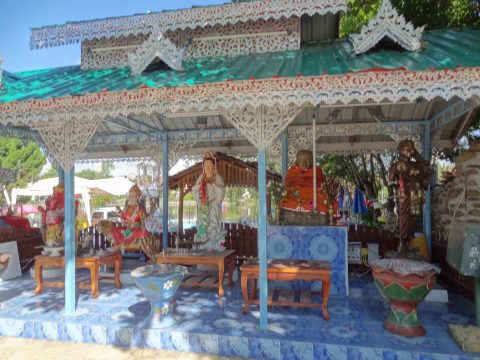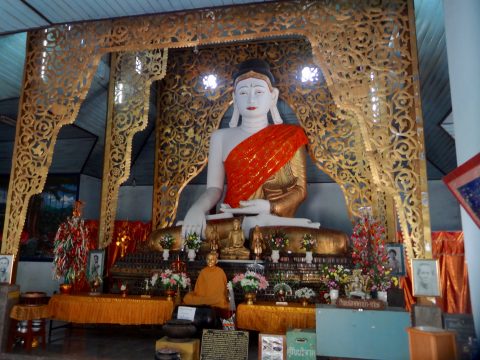 A few night time snaps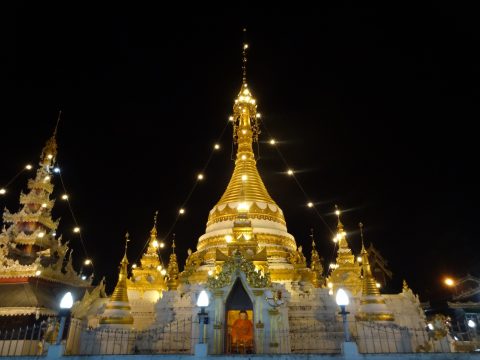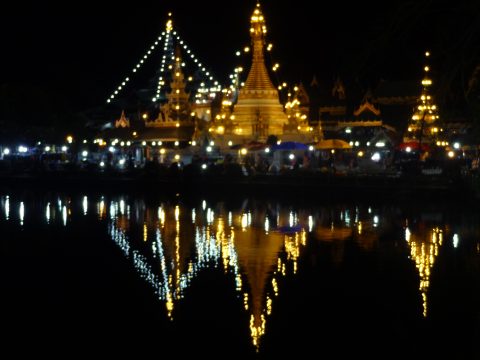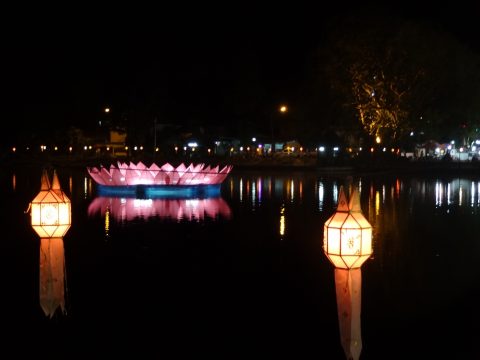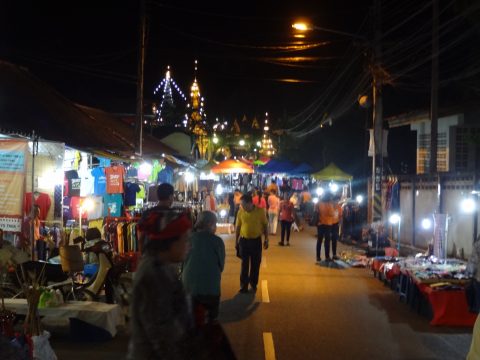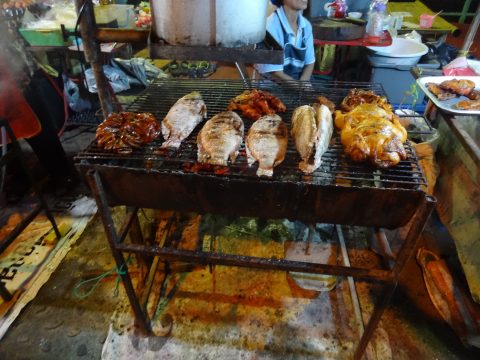 Standing on a hill looking down on the lake and the town stands another temple. We called to have a look as we were leaving town.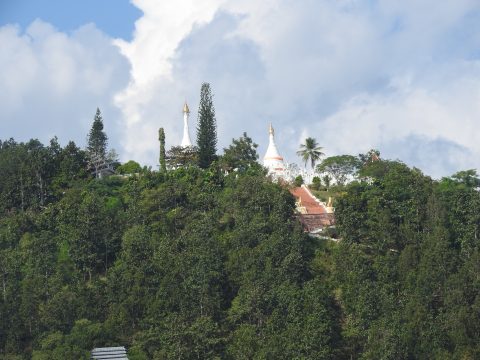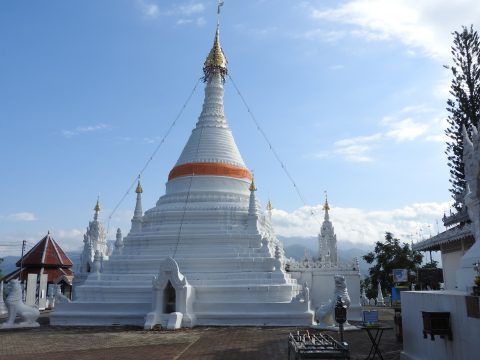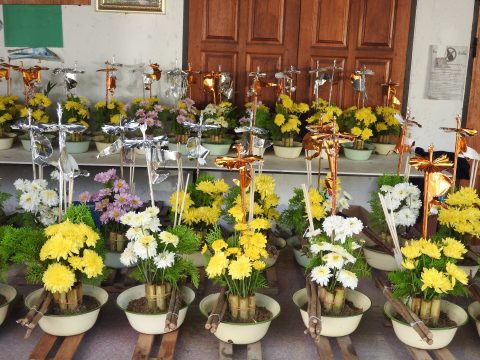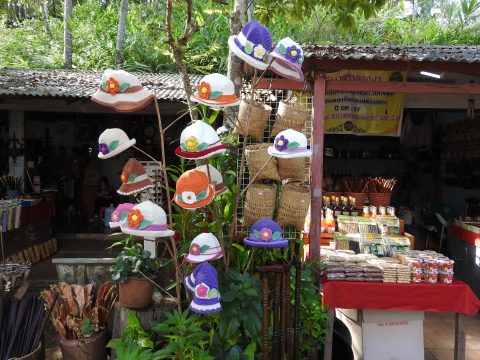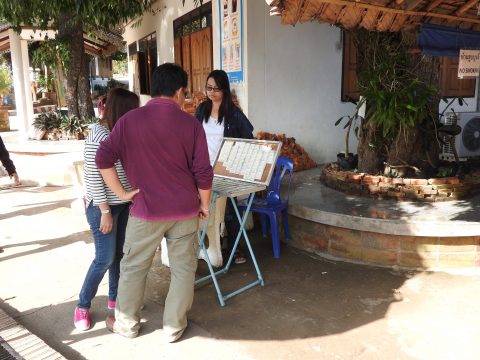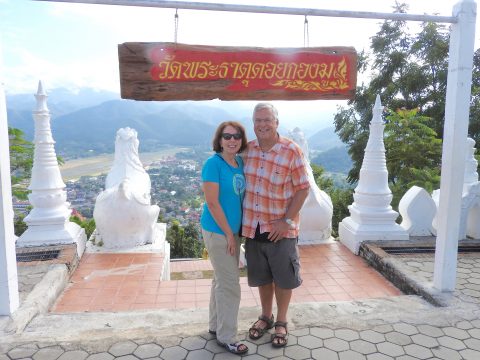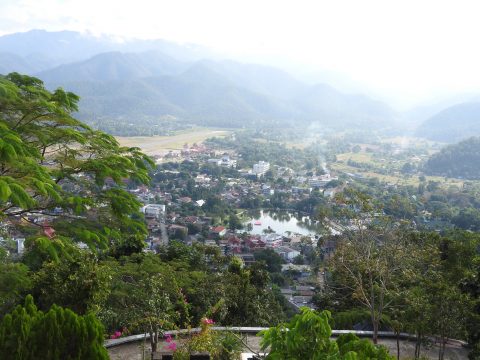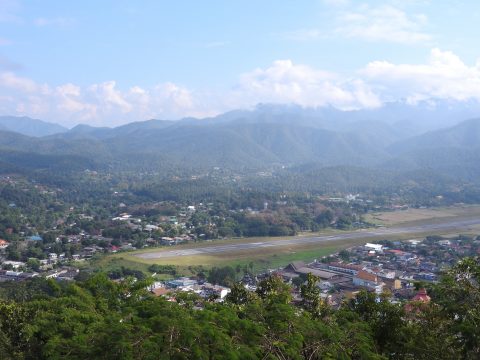 We stayed only one night at Mae Hong Son, at Point Villa with an OK room but inedible breakfast. It would have been nice to stay longer in the town and we would definitely return if we ever get chance. We really enjoyed the laid back atmosphere in the town and the fact that it isn't massively geared up for western tourists. We didn't get much time to interact with the locals but they do seem shyer than Thais we met elsewhere but friendly enough all the same.
On December 8th, after a wander around the market and temples of Mae Hong Son, we set off around noon en route to Pai. It's a 3 hour drive from Mae Hong Son to Pai and we would travel through some magnificent scenery over a range of mountains quite close to the Burmese border in places – but there would be a few stops along the way and the first stop was only an hour or so after leaving Mae Hong Son.
Tham Pla Ranger Station at Pha Sua National park sits in a mountainous forested area and is a popular attraction for locals with a nature trail which leads to a hollow cave with a connecting pond and streams which hold large numbers of a carp like fish which according to legend belong to the guardian spirit of the forest. The park is set in gorgeous countryside and the teeming numbers of fish in the river, quite large due a constant stream of fish food fed to them by tourists, is impressive. In addition to bags of fish pellets, as always there are opportunities for purchases of fruit, food and drink and souvenirs.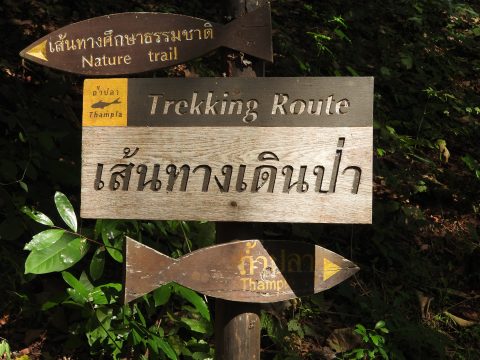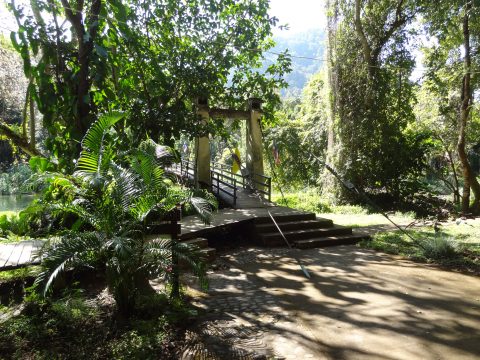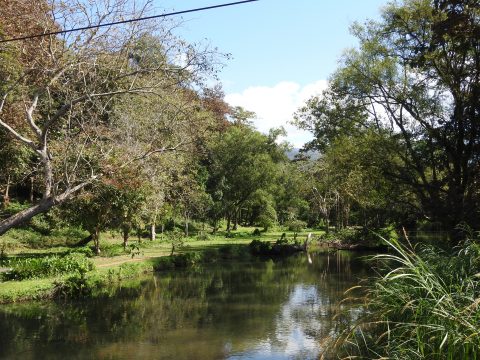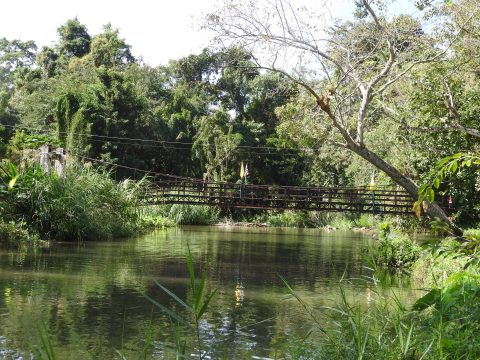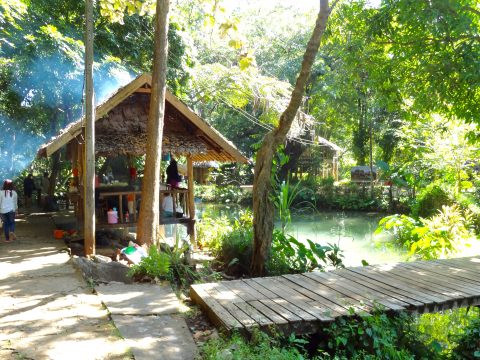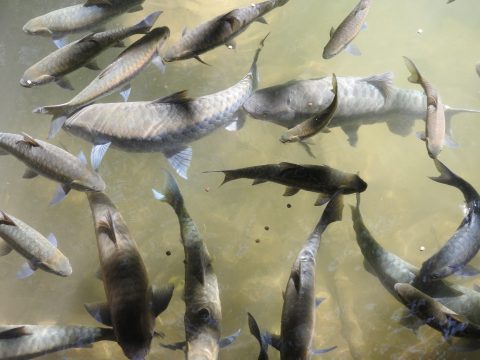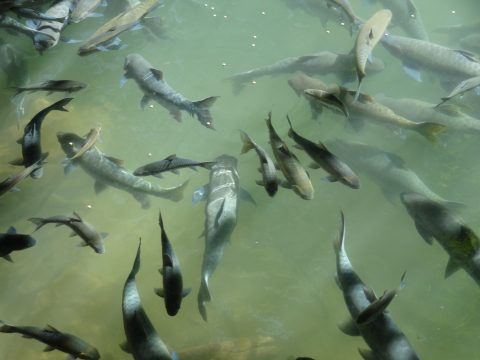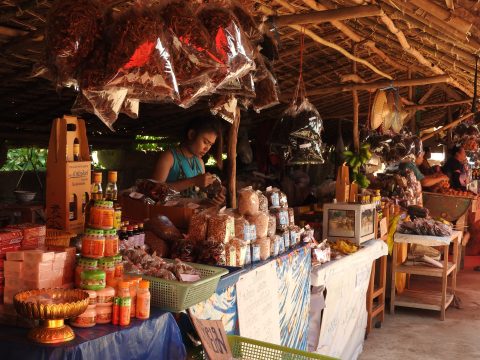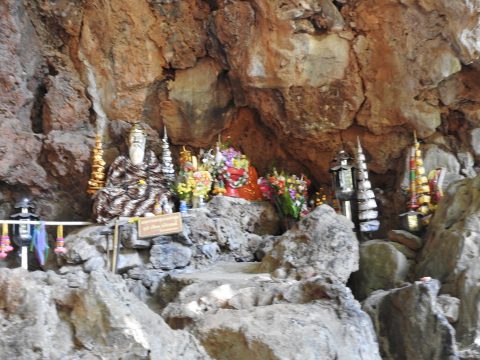 After an hour or so we got back on the road but soon stopped briefly at what apparently is one of Joy's favourite eateries in the area. This was quite a large restaurant given we were in a small hamlet in the middle of nowhere and it was really quite busy being one of few stopping places on the road from Mae Hong Son to Pai. It was definitely a locals' place and definitely not a place that Ann and I would have chosen had we been on our own. The food was "so so" and we didn't eat much but the entertainment was good and largely provided by a waitress who ran around the place serving at table at 100 miles an hour carrying a baby on her back!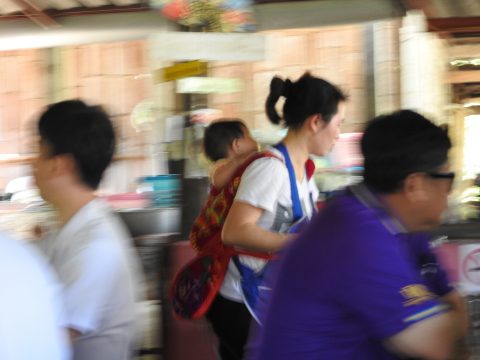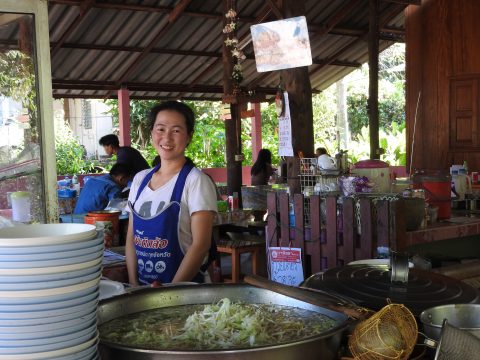 From time to time during our days with Joy and Goy we would come by roadside markets and would invariably stop to buy snacks or fruit. These markets would often be miles from anywhere and often, like this one pictured below, at scenic viewing points high in the mountains. The women and children in the pictures below belong to the local hill tribes many of whom are the descendants of Burmese, Tibetan or Chinese people who left their homes to flee conflicts of one kind or another in their own countries. They are wearing thanaka which is a yellowish paste made from tree bark and worn as a sun screen. When I googled this, it references Burmese women, not too surprising as this area is very near to the border with Burma (Myanmar) but we saw women wearing this stuff in towns and cities in other parts of Thailand. Unlike most Westerners, Thai people don't like to be exposed to the sun. Indeed many women in the cities use whitening products to give them a fairer complexion and a more western look.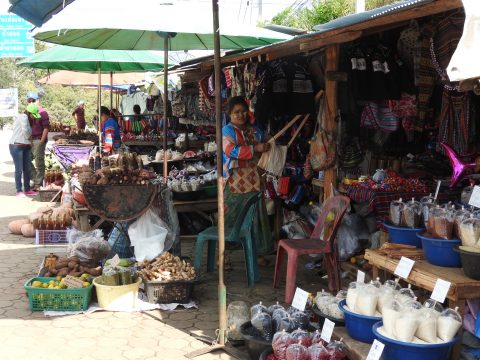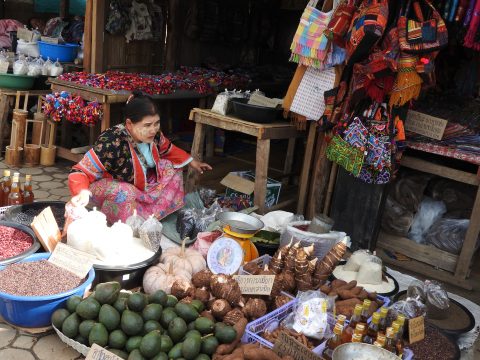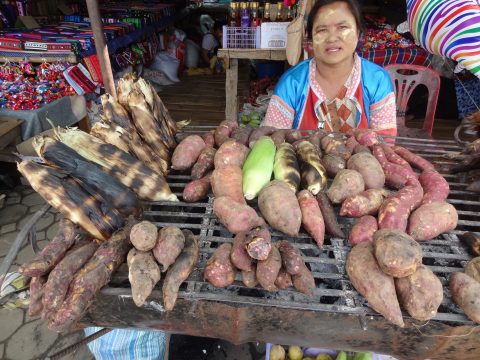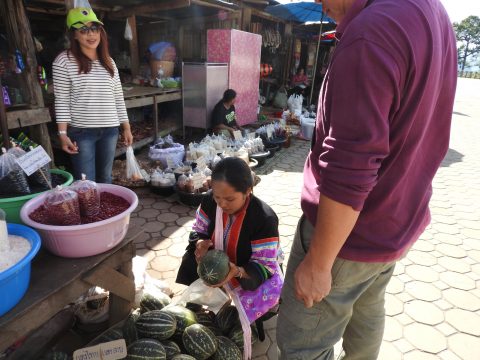 Our final stop of the day was at Lod (or Lot) Cave near a small town Soppong about an hours drive from Pai. This is quite a large and impressive cave system of around 1.5KM long with heights of 50 meters in places. It's full of interesting limestone stalactites and we quite enjoyed it although we wouldn't usually bother with visits to caves!
There is a small river flowing into the caves and this provides access via a raft which is pulled in and then punted a short distance. Once inside the cave, you dismount and then climb through the different levels of the caves by timber stairways which would give any Liability Insurer palpitations! In the event we spent about an hour and a half in the caves and escaped unscathed and with lots of photos. Here's a few: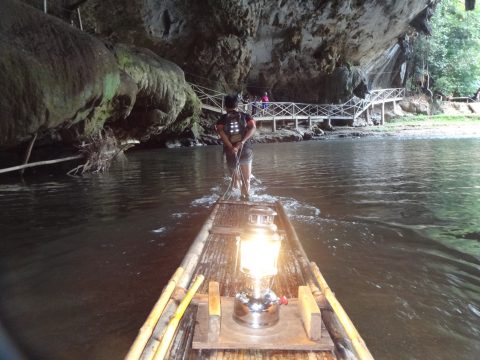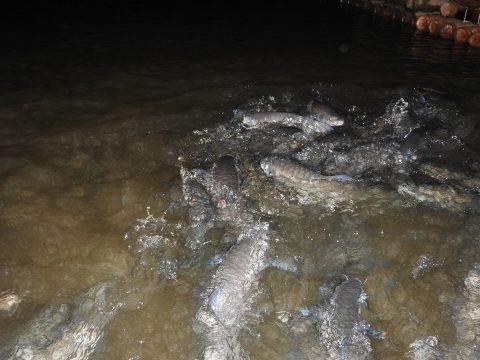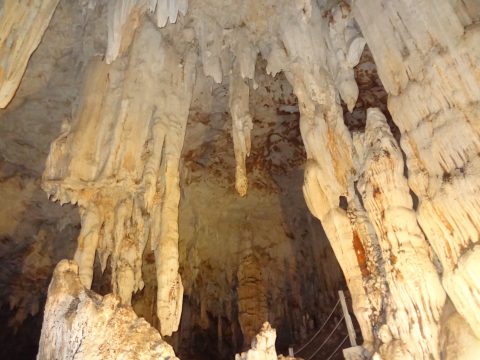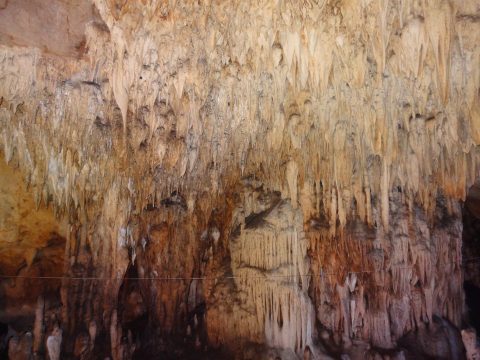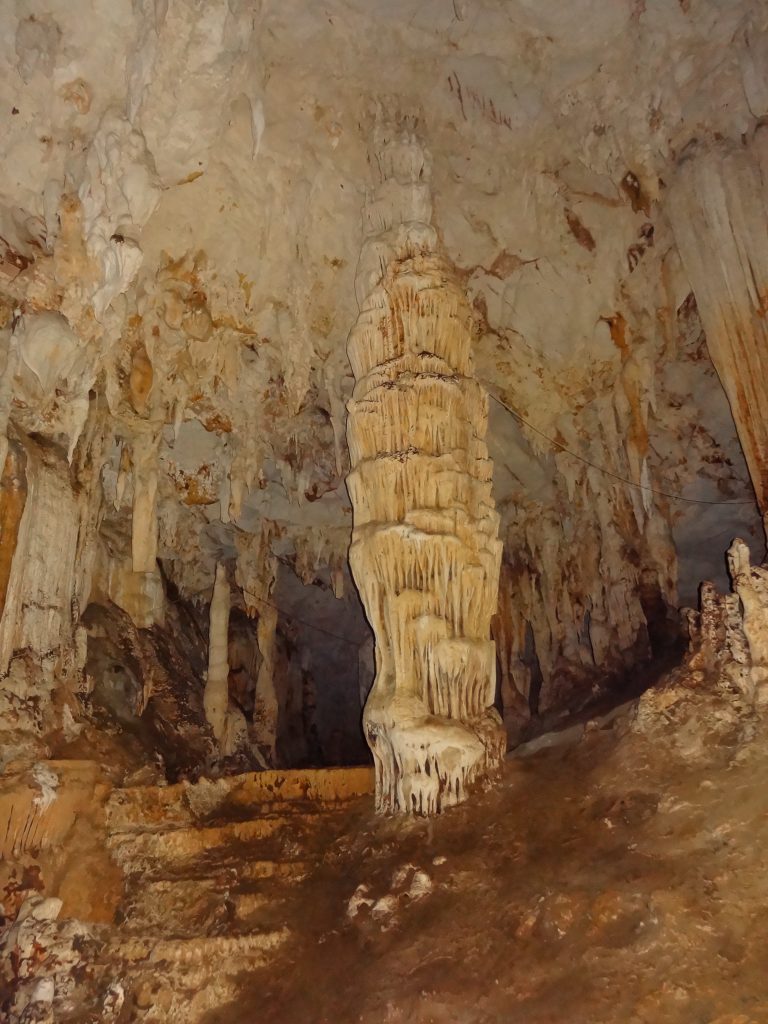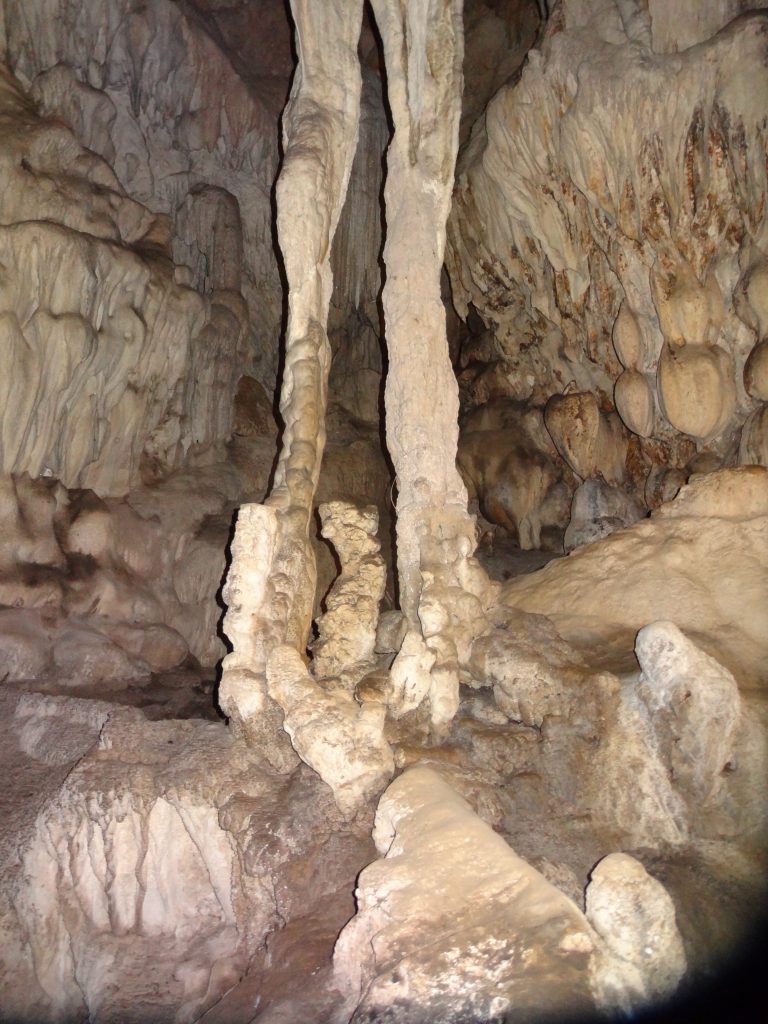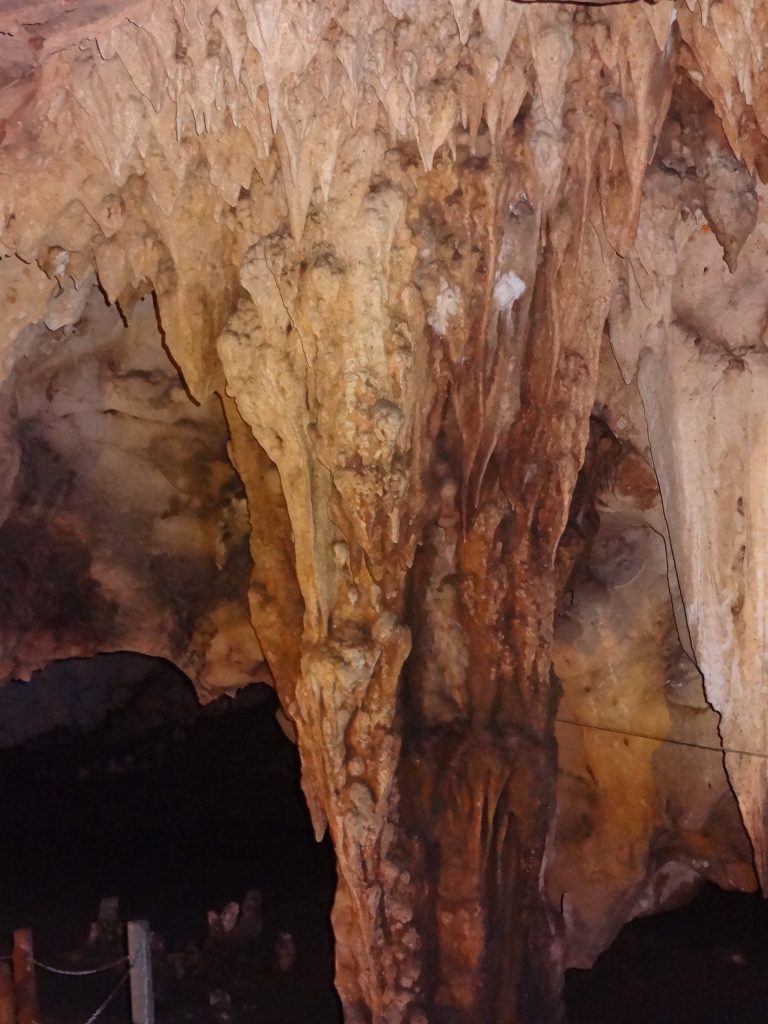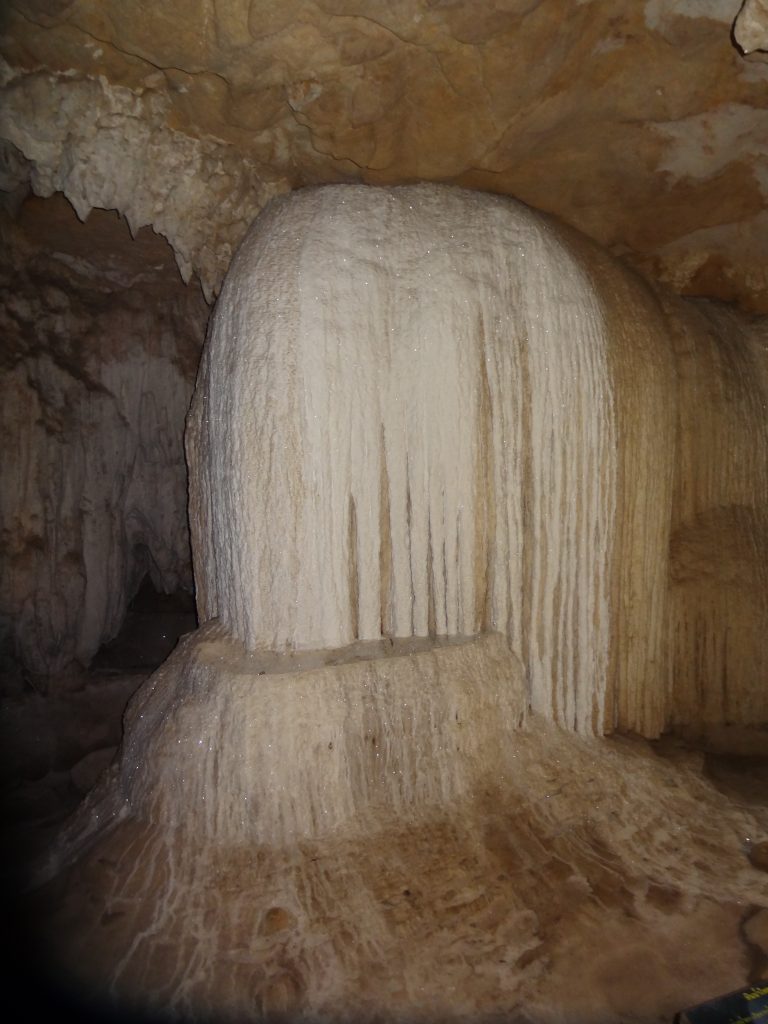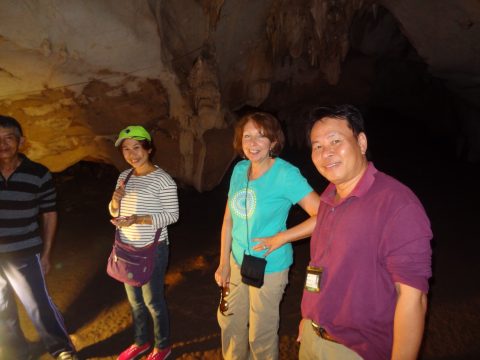 After a couple of hours at Lod Cave we got back on the road for the final stretch of our journey to Pai. There is nothing in between the two towns other than the odd farm but we stopped once or twice to take snaps and the one hour drive took nearer two.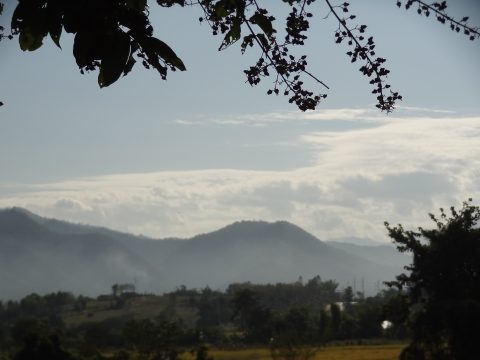 Pai
Pai is a small town with a population of just over 2,000. It's 146km north west of Chiang Mai on the Pai River near the Myanmar border. The town is probably the most popular destination for hippies and back-packers in Northern Thailand and there are apparently lots of folk who visit for a day or two but stay for weeks and months or forever as did Connor at the guest house, where we stayed. We have seen it described both as a hippy hell and a hippy heaven and in truth I wasn't particularly looking forward to it as it sounded very much a kids' scene but in the event we liked the place although we were there for only a few hours in the evening and a tour of the highlights of the region the next morning.
We stayed at Oasis, a £10 per night Guest House run by a very affable English owner named Connor. At these prices the place is popular with back-packers but the accommodation whilst definitely not fancy was clean and well kitted out with kettle, fridge and mosquito net and we wouldn't hesitate to use the place again. Connor is the font of all knowledge on matters Pai and gave us plenty of tips on places to visit in the area before kindly driving us the short distance into town for dinner on his motor bike and side car, leaving us with the offer of catching up with him in his favourite bar for a drink and a lift back at the end of the night.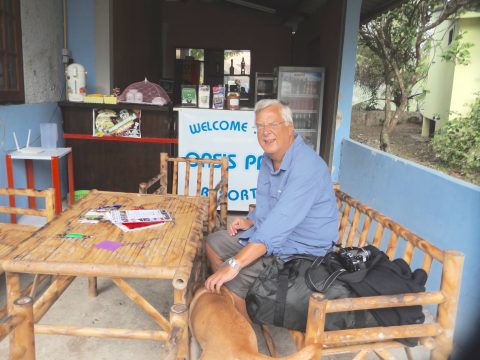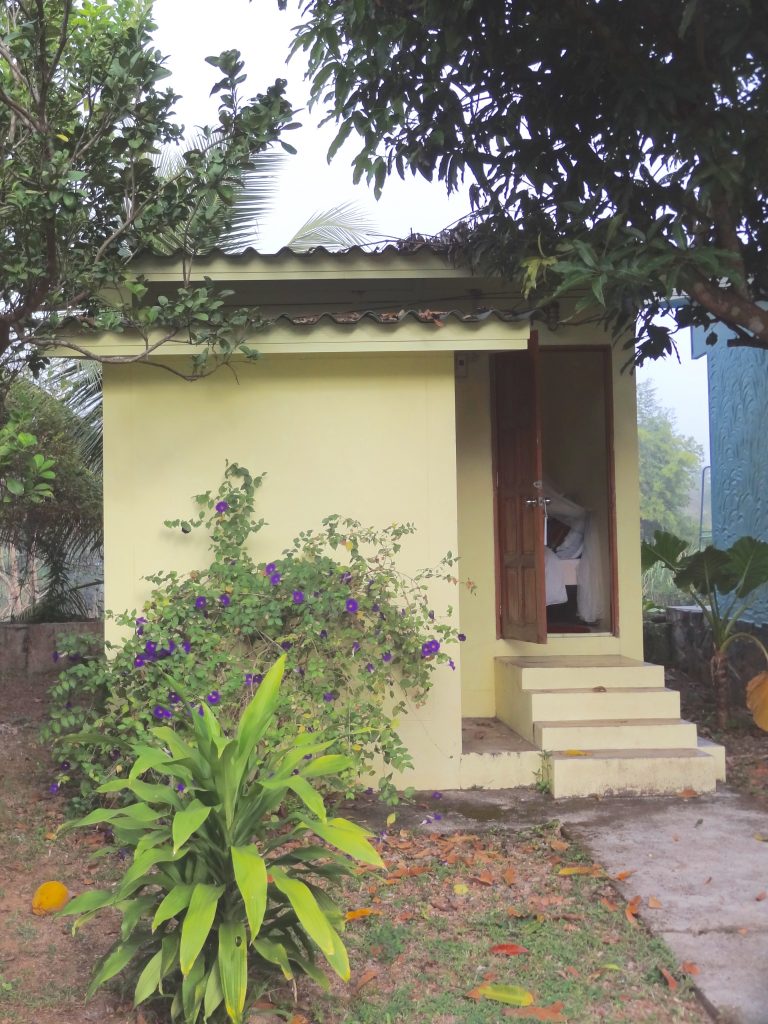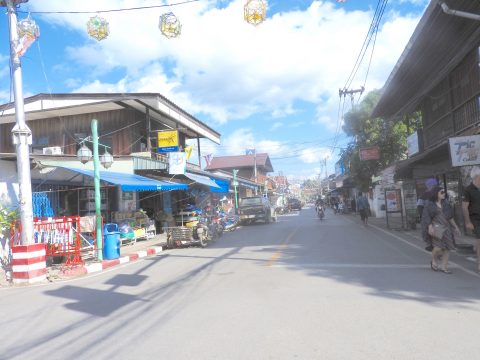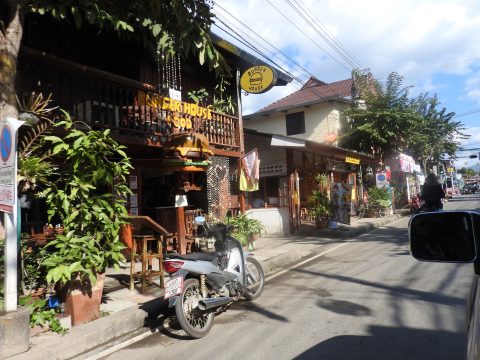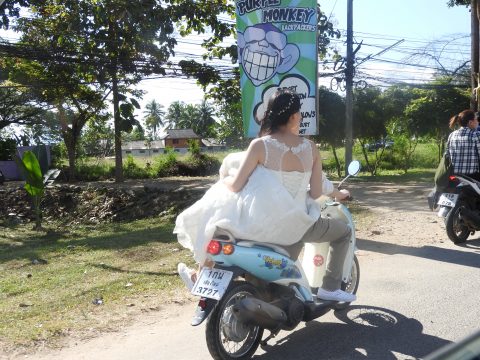 The town is full of back-packer accommodation, bars cafes and restaurants with lots of trendy places with stuff geared towards Westerners – organic food stores, chinese medicine practitioners, yoga places and the like. The town apparently does get wild but ours was the briefest of visits and we thankfully missed the excess partying, although I did see illicit substances changing hands albeit discretely, despite the potential death sentence for those caught. In truth, on the evening we were in town it seemed very quiet once we had got away from the walking street and the restaurant/bar where we had dinner, said to be one of the best and most popular places in Pai, was almost empty.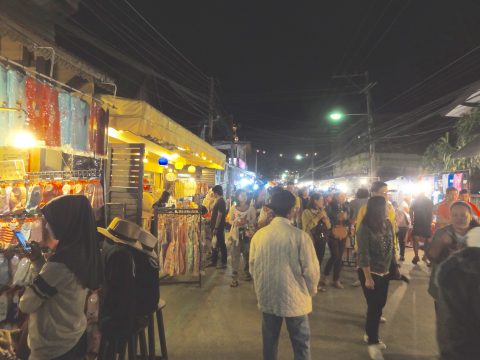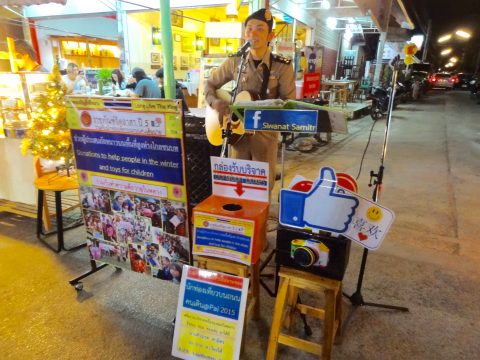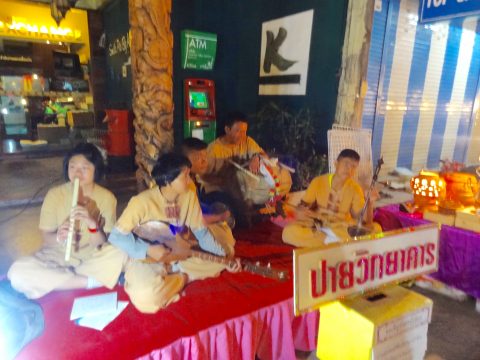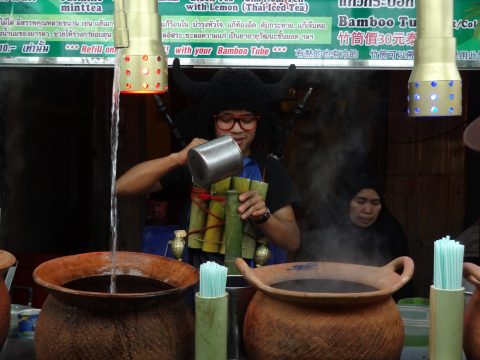 Like Mae Hong Son, Pai is a town that would be good to return to for a longer visit. Usually on our travels we have deliberately travelled slowly to allow the odd day or two or more here and there to do absolutely nothing other than to chill out and get the feel for the place. We didn't have this luxury of time on our hands to hang around on this tour but the "must sees" of Pai are actually outside of town and we visited them all except some waterfalls which were apparently down to a dribble because of the prevailing drought conditions.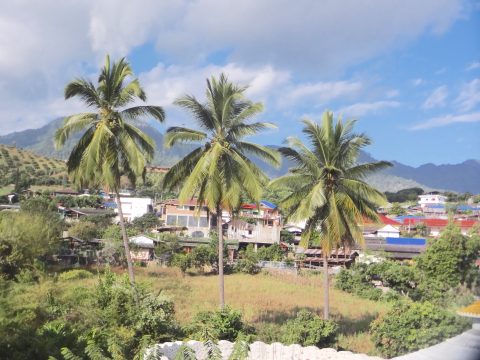 SHANDICUN CHINESE VILLAGE
We set off from Pai around 8.30am on the 9th December on the final leg of the Mae Hong Son Loop back to Chiang Mai but first we called at Shandicun, a Chinese village and Cultural Centre on the outskirts of Pai.
Shandicun is a real living and breathing Chinese town whose inhabitants are mostly Yunnanese Chinese whose grandparents crossed the China-Thai border to escape the Communist Party of China back in the days of Mao Tse Tung. Many others came due to involvement in the opium trade that once flourished and it was suggested to us, still exists to some extent.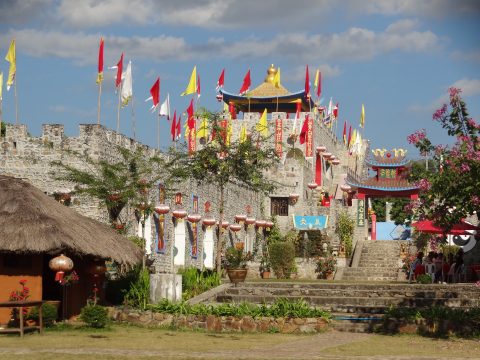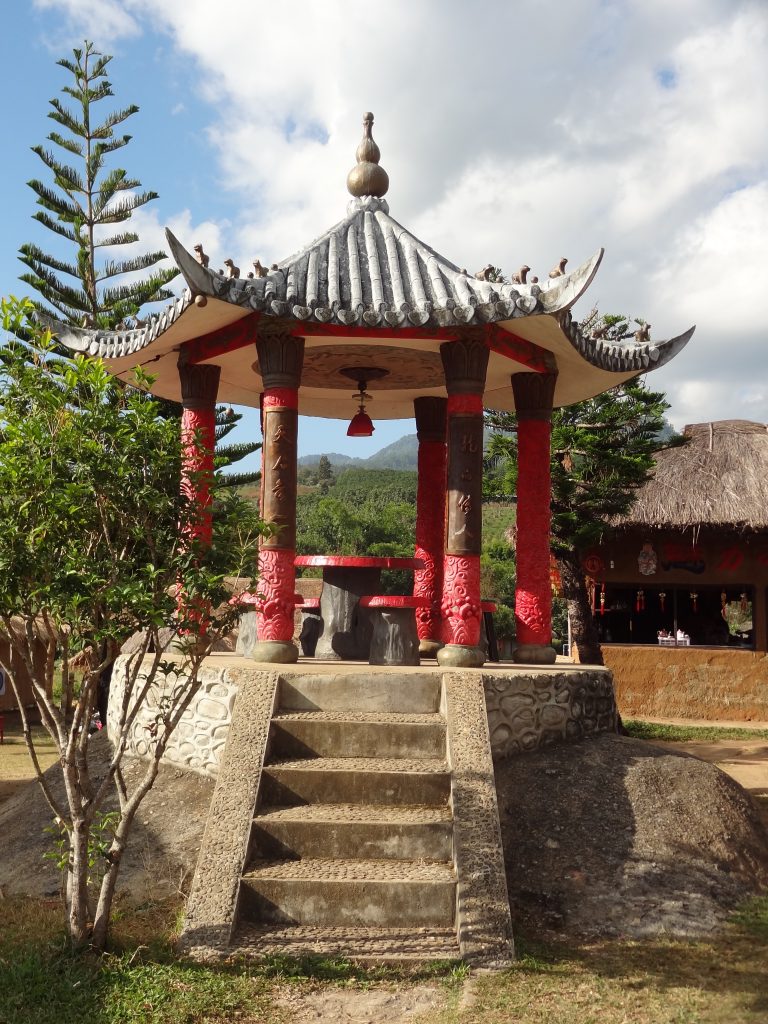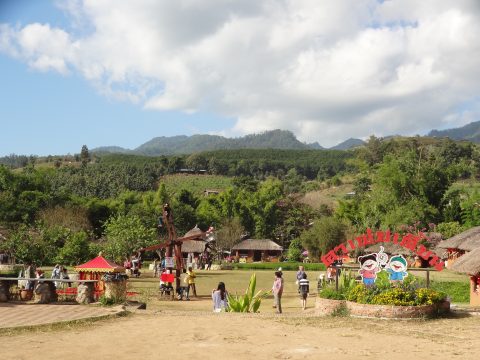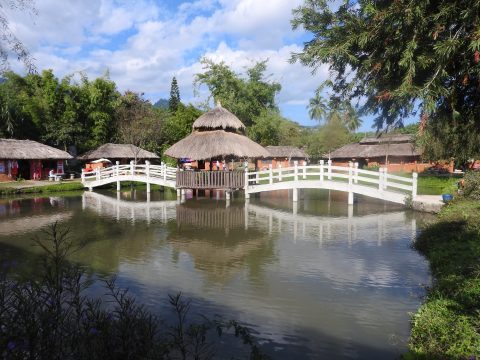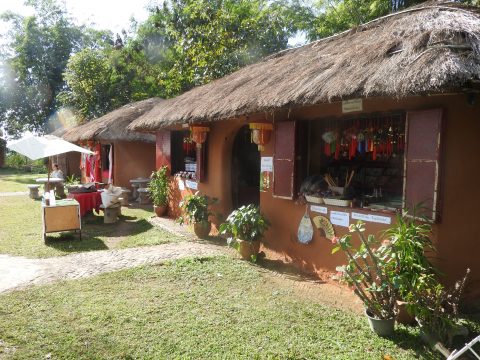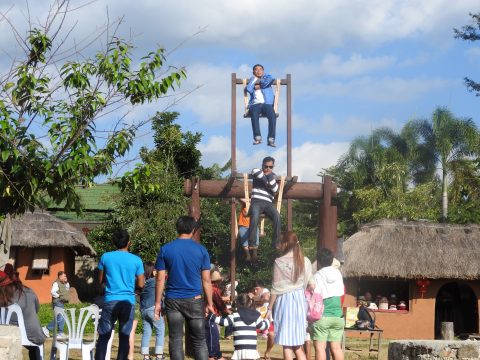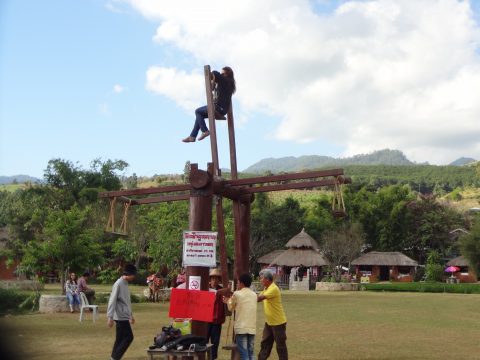 The modern generation of these Yunnan people now are Thai citizens and can speak Thai and Chinese fluently. The Thai Government has turned the village into a tourist attraction and its a little like a small Chinese themed Disneyland without the rides. There are a few restaurants in the village selling authentic Yunnanese food and lots of tiny shops mostly selling Chinese tea. A few shops sell traditional Yunnan costumes and if you don't want to buy you can hire costumes for 100 baht and have your pictures taken in them – see the pictures below.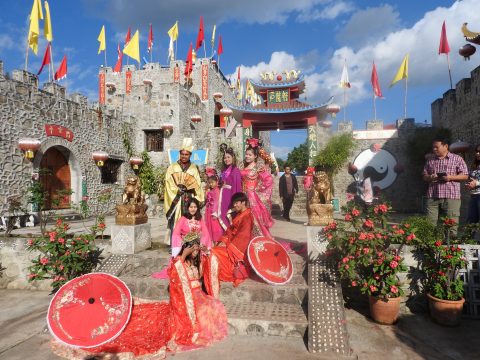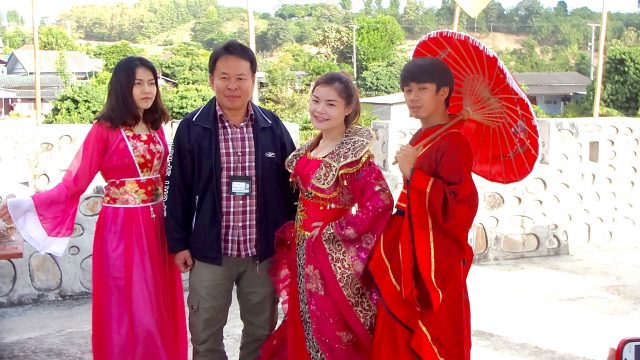 Shandicun an interesting from the point of view of the history of the place and the local Chinese people. There is a small photographic "museum" recounting the history but it's cheesy in the extreme. I doubt we will return.
We left Shandicun late morning and after a short drive stopped south of Pai at Pai Canyon. The drive as ever, presented a photo opportunity every few hundred yards but Joy was happy to stop whenever we wanted which we did quite a few times to watch farm workers in the field harvesting the rice or corn.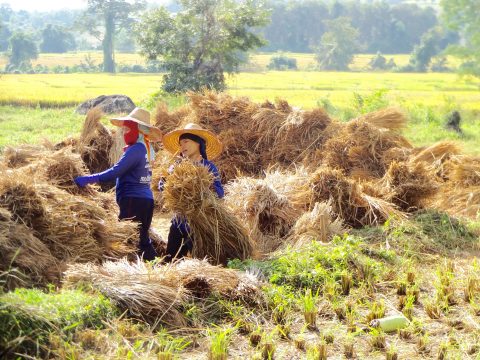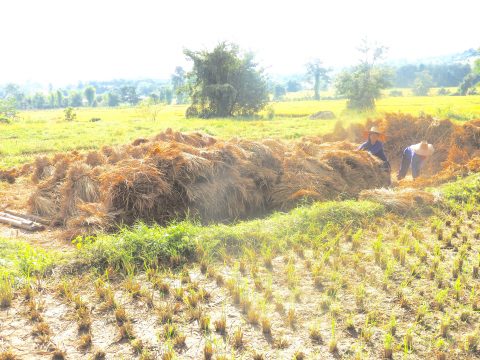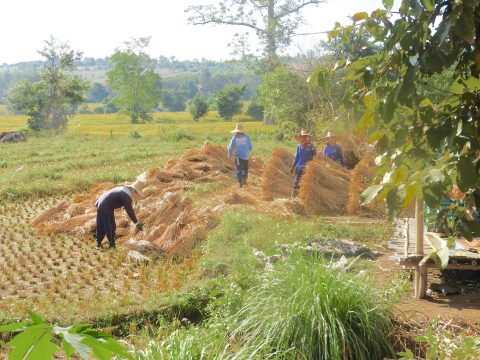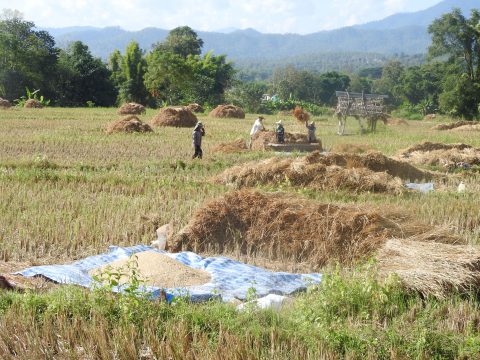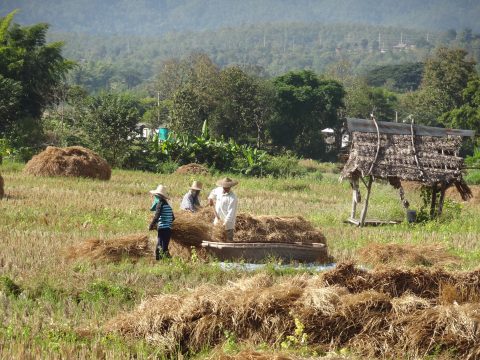 Pai Canyon is a popular Pai attraction around 10k from Pai on the road to Chiang Mai. The canyon consists of a high narrow path which has been left after thousands of years of erosion have eaten away the land either side of the path. In true Thai style there no railings to be seen anywhere and so its only the bravest of the most surefooted hikers that will walk this trail. Pretty scary!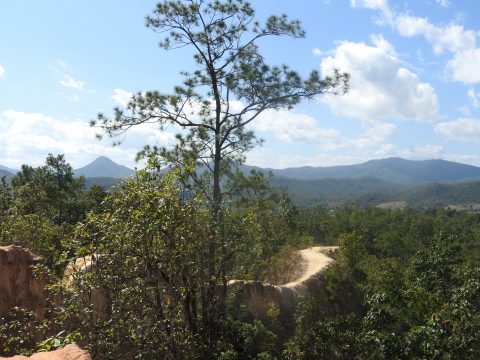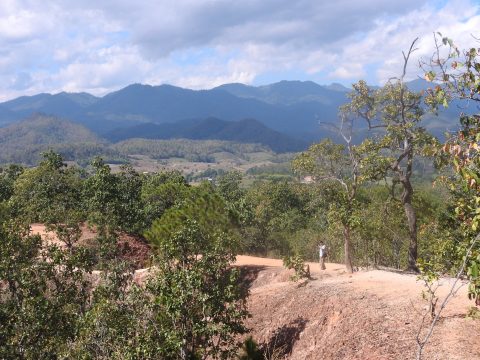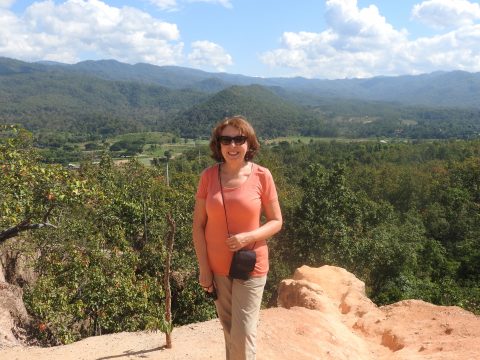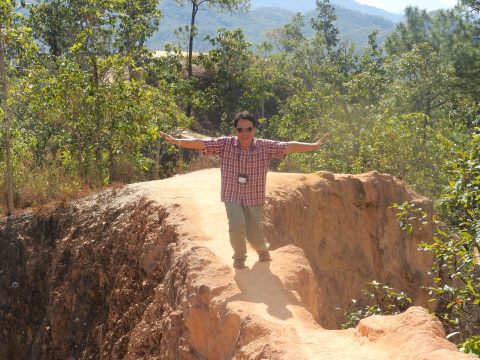 Next stop on the route was Wat Phra That Mae Yen a temple set on a hill on the south side of Pai. The temple itself was actually closed but the main attraction here is a huge white Buddha that is reached by over 400 concrete steps. Amazing views to be had here and of course we took a few snaps.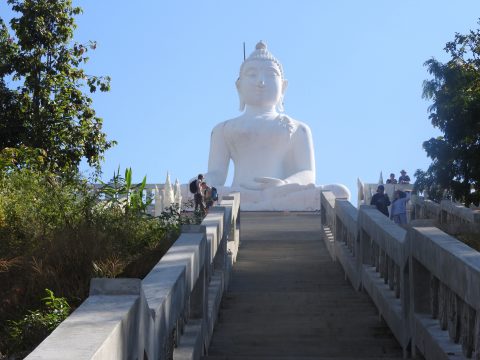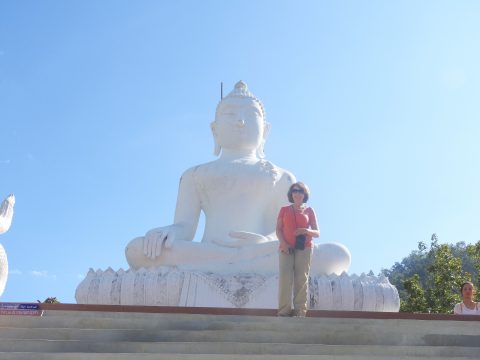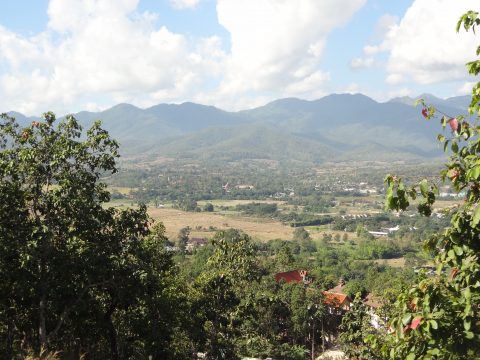 After our visit to the Temple on the Hill, it was time for a refreshment break – coffee and cake at Coffee in Love, a very popular tourist honeypot on the Chiang Mai road. This place is very much geared up to tourists with Coffee in Love T-shirts and mugs and the like with cake and cookies all labelled and packaged with "Coffee in Love" packaging. They were certainly doing a roaring trade when we visited but the attraction for us were the gardens and fabulous views to be seen from the place.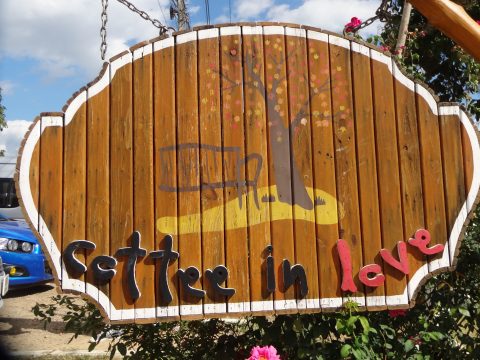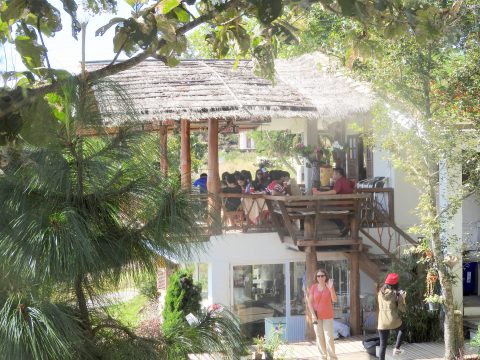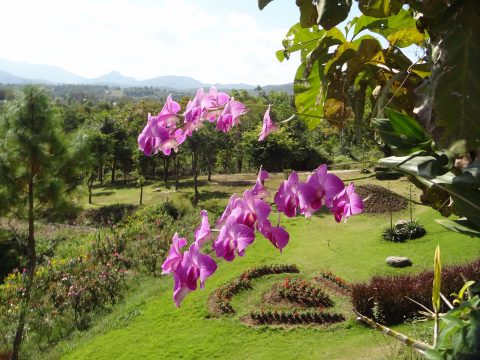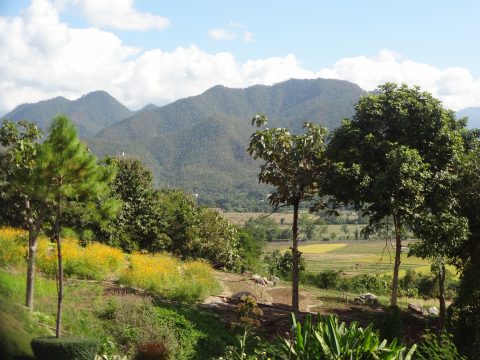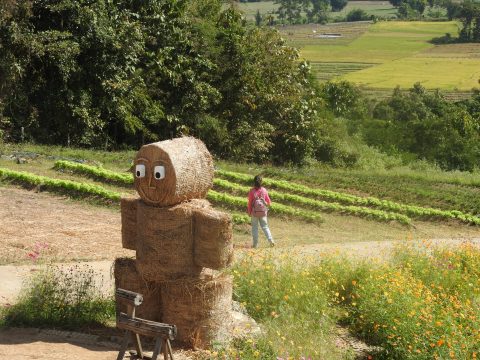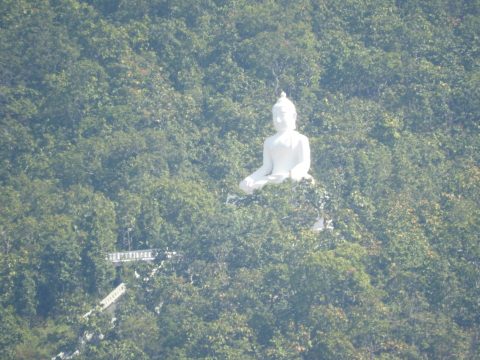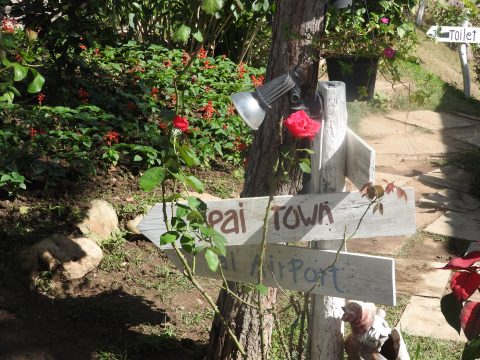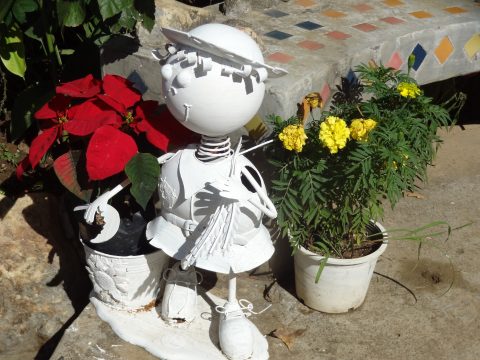 After leaving Coffee in Love, we stopped again within minutes to buy some last minute snacks before getting back on the road. We stopped at Love Pai Strawberry Cafe another very popular stop for tourists which is more than a cafe selling all kinds of strawberry goodies – cake, jams, sweets, wine and of course Love Pai Strawberry memorabilia. And strawberries! All grown on site.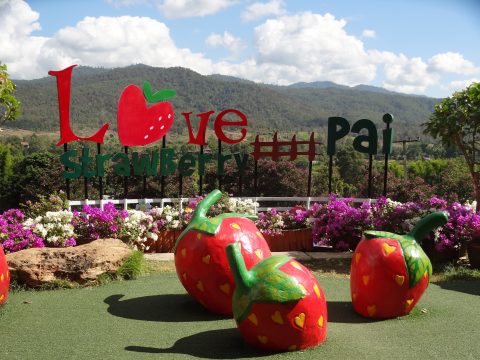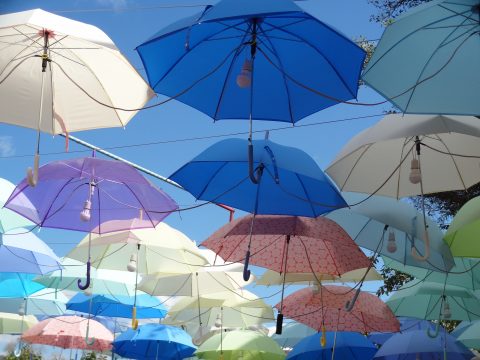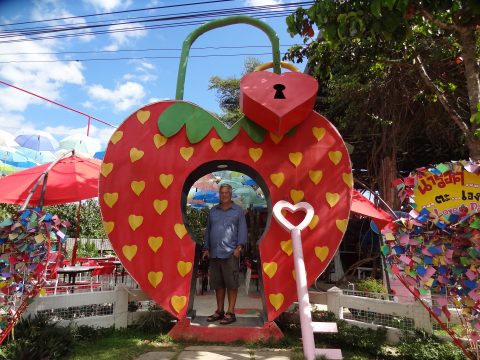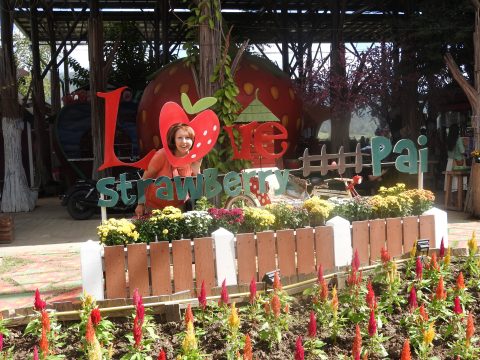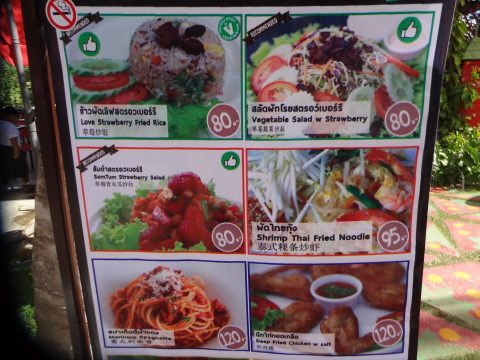 Our final stop before leaving the Pai area for the last leg of our journey back to Chiang Mai was at the Memorial Bridge over the River Pai. It's quite an impressive bridge but it isn't the original. The original bridge was timber built by the Japanese using local forced labour and elephants. The bridge was intended to aid their advance towards Burma.
The Japanese burned the bridge at the end of the war and so the present iron bridge isn't a replica as such but commemorates the history and is now a pedestrian bridge and a favourite attraction of Thai tourists.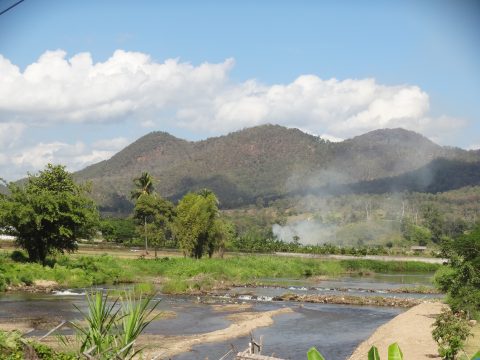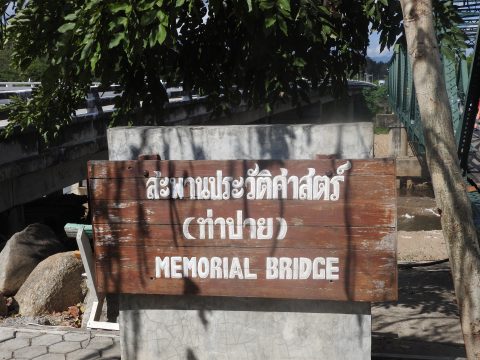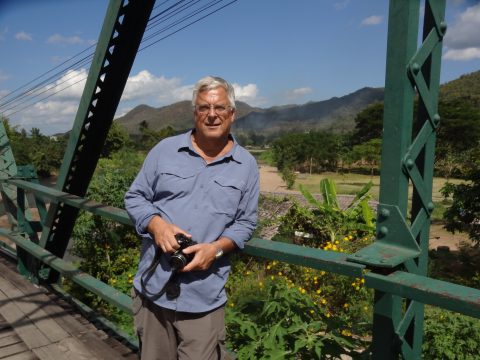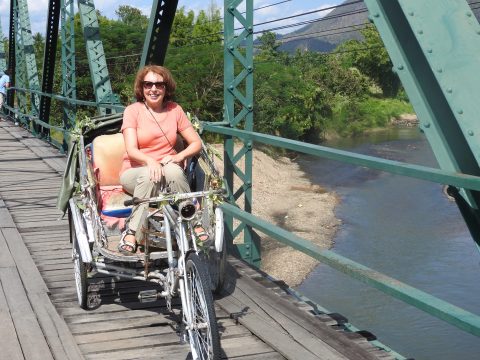 The two and a half hour drive back to Chiang Mai was uneventful but unfortunately took over four hours when we found ourselves in horrendous traffic jams on the outskirts of Chiang.
Joy eventually dropped us off some time after 5pm. We were knackered and hungry. Refreshed with a quick shower we walked down to Nimmenhaemin for some street food and a few beers at the Kamrai bottle shop and then returned to the flat for an early night. Tomorrow morning we would continue our travels with Joy and Goy to the Golden triangle in the far north east of Thailand.