Chiang Mai in Northern Thailand is regarded as one of the most liveable Thai cities for westerners due its laid back atmosphere, climate and affordability. There are said to be over 40,000 foreigners settled in the city many retired and many are digital nomads or working in tourism or teaching.
The city had always been a "must visit" since we first started planning this trip. Plan A had us travelling by train and bus from Bangkok to Chiang Mai and Northern Thailand stopping off at various places en route and then on to Llaos. In the event, weary of moving from place to place every few days, we cut Laos and Cambodia from the trip and decided to spend a full three months in Thailand starting with 3 weeks in Northern Thailand before travelling to Phuket to spend Christmas and New Year in a hotel and then on from Phuket to Koh Samui, then Bangkok and finally to Hua Hin. Whilst in Northern Thailand we travelled the Mai Hong Son Loop and the Golden Triangle – separate posts for these – and spent 5 nights in a small rural village in the San Kamphaeng area 30km outside Chiang Mai.
Chiang Mai is the largest and most culturally significant city in Northern Thailand. It is the capital of Chiang Mai Province and was a former capital of the Kingdom of Lanna (aka the Kingdom of One Million Rice Fields, 1296–1768), which became a state of the Kingdom of Chiang Mai from 1774 to 1939. The city flourished as a major religious, cultural and trading centre in its early history until 1556 when the Burmese invaded and ruled the state until 1785 when they were expelled and Lanna again became part of northern Thailand. (All per wiki, of course).
The city is 700 km  north of Bangkok and 300m above sea level and almost 70% of its area is covered in mountains and forest – this area has the highest mountains in the country. The city sits in a fertile valley astride the Ping River, a major tributary of the Chao Phraya River which runs through Bangkok. To the North of Chiang Mai a mountain range separates the country from Myanmar (Burma) although in places the River Kok forms the boundary.
The population of Chiang Mai Province is around 1.5M with less than 200,000 within the Old City. 80% of the residents  are local people with the rest being Thai Nationals and foreigners who have moved to the city to work or retire. The vast majority of the population of CM Province work in agriculture planting fields, raising animals and hunting. In addition, there are estimated to be around 200,000 hill tribe people of several tribes occupying hundreds of hill tribe villages in the mountainous districts surrounding Chiang Mai.
The hilltribe people mostly work in agriculture but some make a living from cottage industries trading and selling "ethnic" goods and many of the villages have become tourist attractions.
We deliberately avoided these villages as we feel uncomfortable in what feels like a human zoo but many of the villagers are seen selling their goods on the markets in the city.
The city was built as a square walled city surrounded by a moat. Quite a bit of the 4 corners of the city wall and some other parts remain intact as does the moat. This city centre, within the moat, is known as the Old City.
There are 4 main gates into the Old City which is crisscrossed by main roads east to west and north to south but then veined by smaller streets and narrow lanes which are fabulous to just wander around and explore. Here you can see Thai families going about their normal daily lives   some still living in old traditional houses built of teakwood. You can also see Temples – the Old City has more than 30!
On November 30th Rob and Ann kindly drove us to Langkawi Airport to set off on our 3 legged  journey to Chiang Mai .We would fly Langkawi to Singapore, Singapore to Bangkok Dom Mueang and finally on to Chiang Mai. We were up and about soon after 5.00 am and it would be a long day even if all our flights left on time as we wouldn't arrive at Chiang Mai until  8.45pm.
We left the apartment at CHOGM Villa at 6.30am to get to the airport in good time for our 9am flight. Rob and Ann were as surprised as us that the airport wasn't even open when we arrived around 7am but we found that although the building was in darkness and the entrance doors closed, the doors were actually unlocked and other travellers were already waiting inside. The airport gradually came to life over the next hour and our flight left pretty much on time as did, thankfully, our subsequent flights. The journey which we had definitely not looked forward to turned out to be not so bad after all!
We were met at Chiang Mai Airport by Richard Katze an American from whom we had rented an apartment for 2 weeks. Richard has a portfolio of condos and rental houses which are mostly rented by people for a minimum of a month and usually much longer – Chiang Mai is a place that seems to attract people who visit for a week or two and stay for much longer and others who move to the city on a permanent basis to become part of the ex-pat community that has developed over  the years. We were lucky to find an apartment available for only 2 weeks and at a very good rate.
Chiang Mai Airport is quite close to the city centre and we arrived at the apartment which is in a condo building named Sritana2 quite close to the Old City. The building and its reception area aren't the prettiest but there is good security and we were impressed with the apartment itself which is actually two apartments knocked into one with a very large bedroom, including a sitting area with flat screen TV, a living room/kitchen dining room again with another large flat screen TV, a bathroom with a separate area with a washing machine and a balcony – always a bonus.
Our Chiang Mai Apartment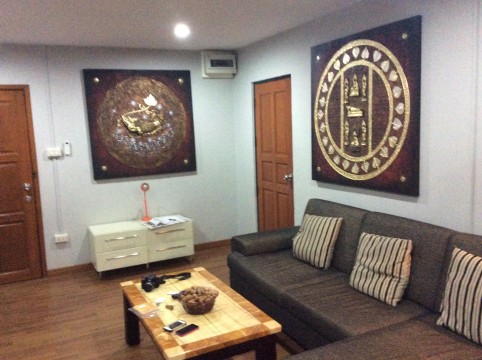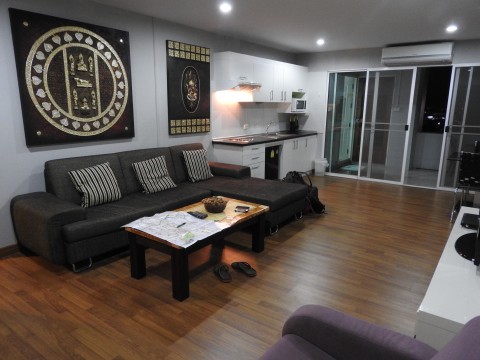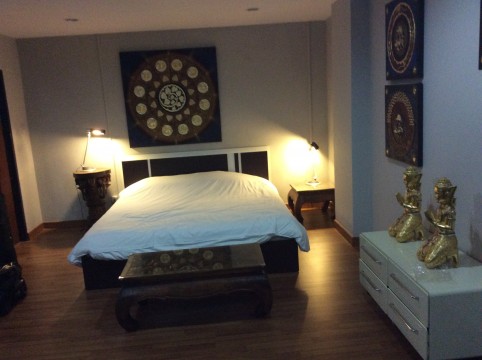 The apartment is in a great spot with plenty of bars, restaurants, 7/11s and massage places within 100 yards. It is only 15 minutes walk to the moat surrounding the old city and an even shorter walk in the opposite direction into the heart of the Nimmanheiman Road area –  Chiang Mais trendiest neighbourhoods. Chiang Mai is in the most mountainous area of Thailand and the view from our 15th floor apartment was of forest covered Doi Suthep Mountain with its famous Temple, Wat Phra That Doi Suthep.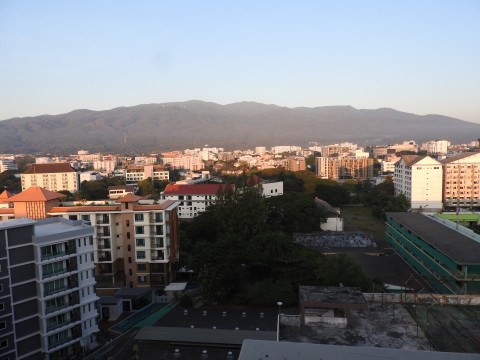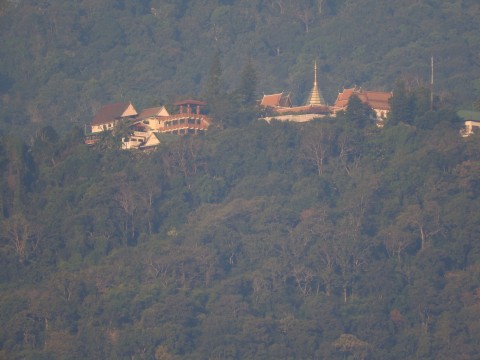 On our first evening, after a long day, we were too tired to go exploring a new city in the dark and so popped out  to look for something to eat nearby .We found what looked to be a decent Mexican restaurant around the corner and after a quick bite and a beer we retired early.
The following morning, our first day in Chiang Mai, we were up and breakfasted at a reasonable time to go exploring. We headed for the Old City knowing that we would pass a shopping mall where we planned to buy SIM cards for our phones. The mall is only 5 minutes walk from the pad and we soon had our SIM cards sorted and then had a brief look around what is the oldest mall in Chiang Mai. In truth its not the smartest mall but it has a good variety of  shops including a department store, restaurants, a pretty good (and cheap)  food court, massage places and a cinema. The basement was a big surprise with a nice (and cheap) food court (cheap as in mains under £1 each) and an excellent supermarket of a quality comparable with Booths or
M&S  at home. There was a big range of fresh produce, meat and fish and lots of premium and imported products with an extensive bakery, brilliant delicatessen and a very good wines at spirits department. Topps Market became a regular stopping off point for shopping en route home from the city.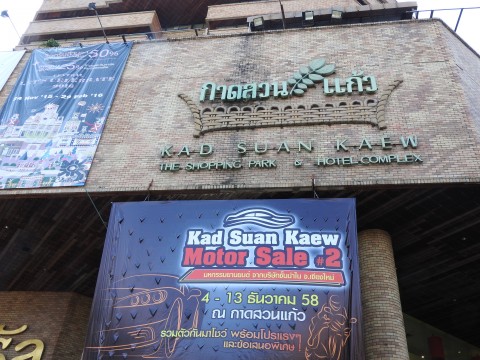 Several Events of one kind or another took place on the forecourts of the mall during the period of our stay – one week a food festival, the next week a tattoo fest with dozens of  stalls set out each with a tattoo artist or two  tattooing a never ending queue of  folk waiting to be indelibly marked – we had seen something similar during a visit to Ubud, Bali a few months earlier
With SIM cards sorted we carried on our walk to the Old City. We had bought a Nancy Chandler Map of Chiang Mai which is a  large scale (but not to scale) map of the city inside and outside the walls with an even larger map of the Old City inside the moat showing points of interest Temples, markets, restaurants, museums etc in a schematic form. This map is generally regarded as the best tourist map there is of the city and it did indeed serve us well but it didn't help us achieve the  strategy we devised to ensure we saw every corner of the city. We planned to visit  a different quartile of the map each day and to visit all the "must see" attractions in that part of the city. In the event we walked  into the city most mornings around 10.30 ( unless we called for an excellent breakfast at Amazing Sandwiches on Huay Kaew Rd which we did a couple of times) and walked for several hours each day until the heat got to us (30 degrees plus each day) and/or we got tired and/or hungry when more often than not we called a stop to our walking for the day and sought out somewhere for lunch. In the end we came to the conclusion that it was a pretty tall order to see every nook and cranny of Chiang Mai and we gave up trying. On the plus side, it means there is still plenty to see when we re-visit which I'm sure we will do.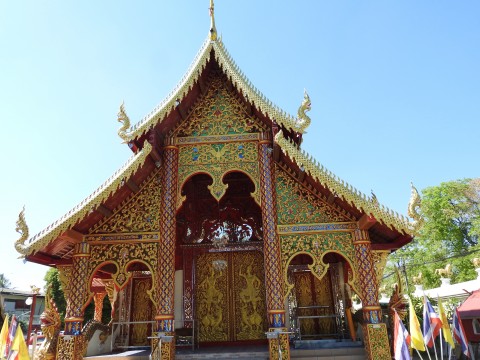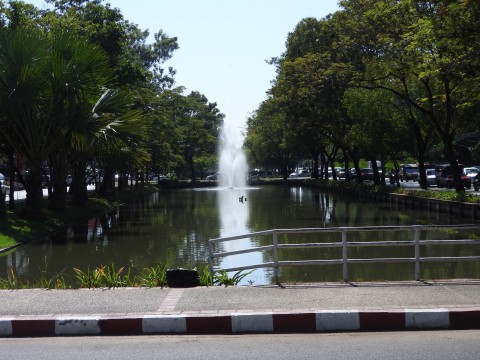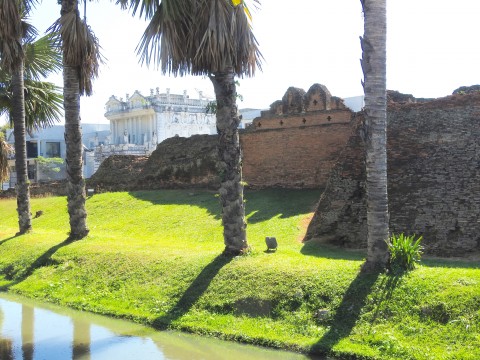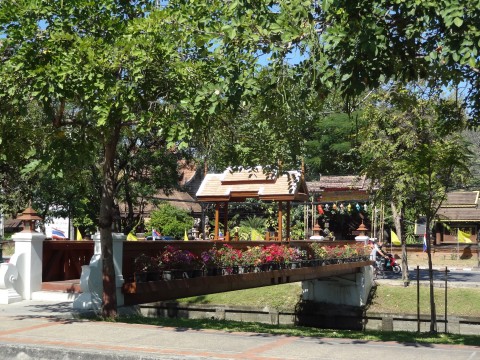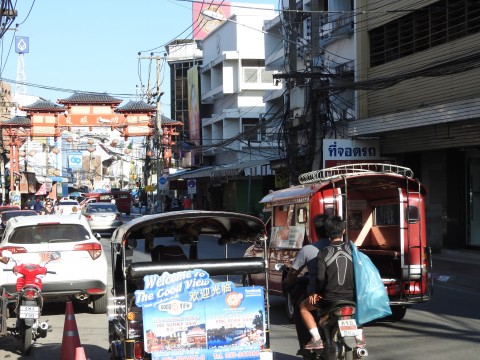 Getting around Chiang Mai
The city is very walkable and its easy to walk your way from one side of the city to the other along the main streets although it's much more fun to wander along the side streets getting lost as we did frequently. However, if you are in a hurry or if the weather is too hot, a songthaew ride anywhere in the Old City is only 20 baht (around 40 pence).
A songthaew, pictured above, is  a passenger vehicle adapted from a truck fitted with two bench seats good for eight or more passengers with more standing on a little platform at the back hanging on to hand rails. No Health & Safety here! Some songthaews ply a regular route like a bus which stops when you flag it down, others act as taxis and you negotiate a fare and have the vehicle to yourself. You can hire one with a driver for the day for a very reasonable sum.
The tuk tuk in the middle of the picture would be more expensive than the songthaew, nearer to the price of a taxi (of which there seems to be very few in Chiang Mai) but still good value in westerners terms.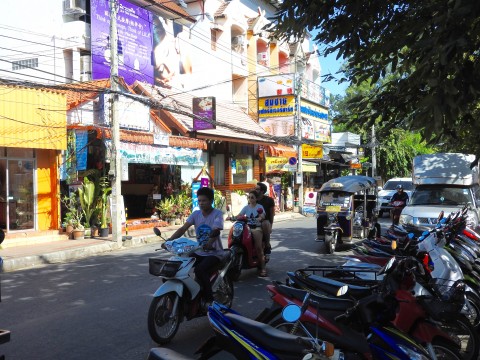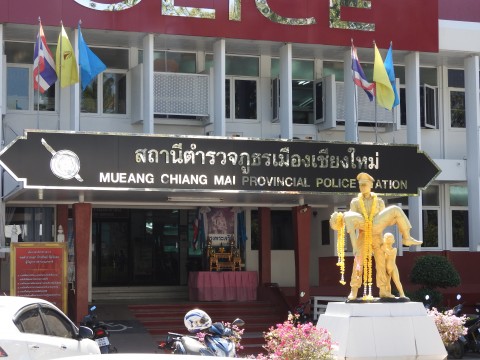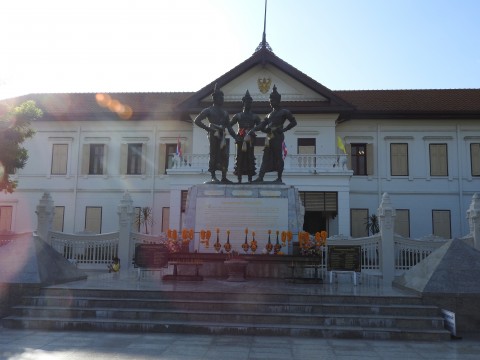 There is so much for the tourist in Chiang Mai that it beggars belief. For culture vultures the old city itself and its exterior is full of impressive temples ,museums and historical buildings and it seems that there is always some kind of celebration or festival going on religious or otherwise.
Shopping 
There is everything shopoholics could wish for in Chiang Mai ranging from very trendy high end (local) designer clothing and designer jewellery  to shops selling inexpensive ethnic goods and those selling cheap fake branded clothing. Those so inclined could spend several days  wandering around the Old City and its shops and several more exploring areas outside of the Old City such as the trendy Nimmanheiman area. In addition there are several malls outside the city including the recently opened Maya Mall with nice shops and a wonderful basement supermarket and food hall only 10 minutes walk from our apartment.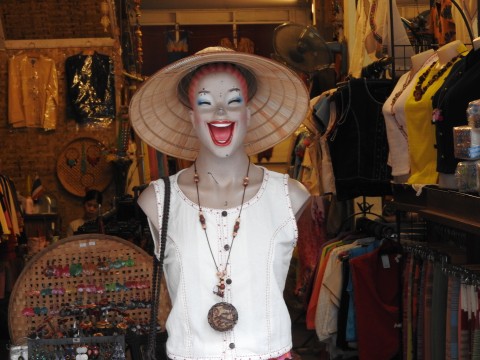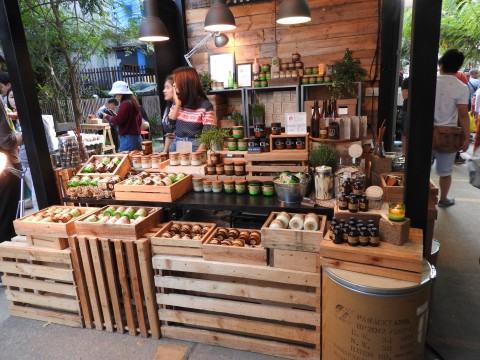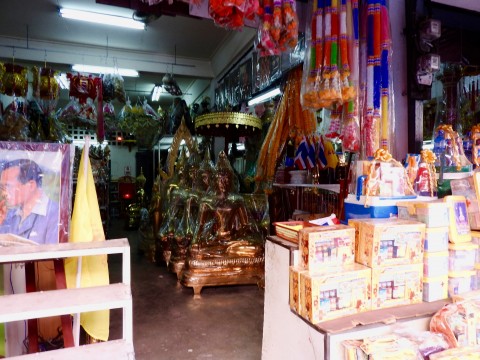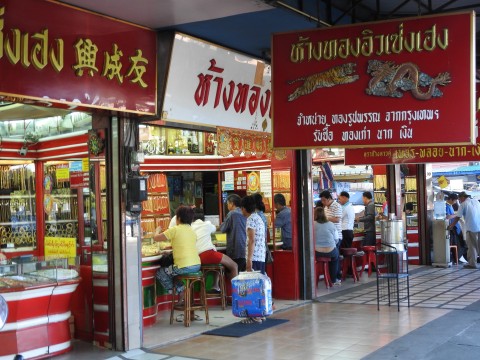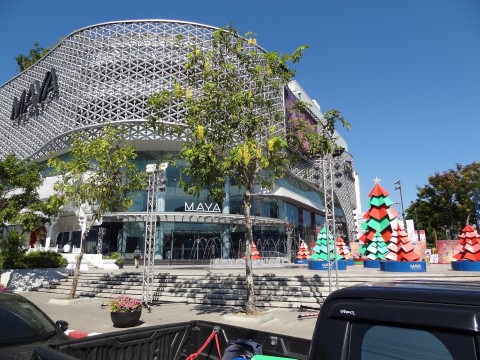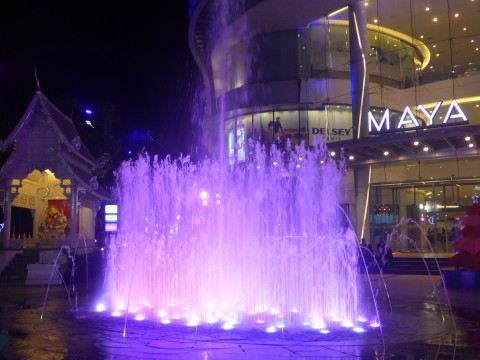 MARKETS
Markets are without doubt the most popular places to shop for both locals and visitors. In fact markets are central to life in Thailand  – and Chiang Mai has them in spades.
Warorot Market, was the first market we visited. It is a big market outside the Old City, down by the Ping River. It's an everyday market for locals but a fascinating place for tourists to wander around and stuff can be bought here more cheaply than on the more touristic markets.
The market is partly covered and partly open and you can find almost anything you could possibly need including clothing, home goods, flowers, herbs, spices and food including some (to us) unusual foods – for example, fried earth worms. We also saw, next to live fish and eels, live terrapins and birds (in bags!)  – apparently some Thais eat them and some are bought to release after prayers to obtain merit from Buddha or from ancestors – we saw this done in Vietnam a few years ago.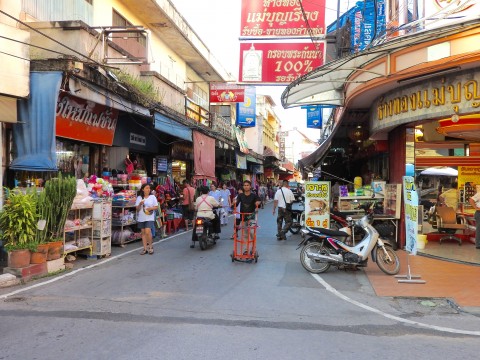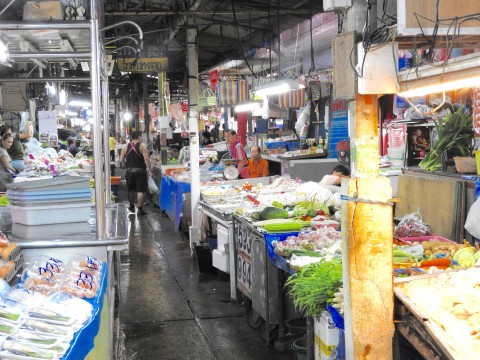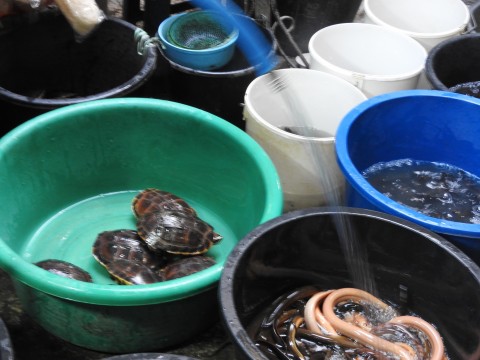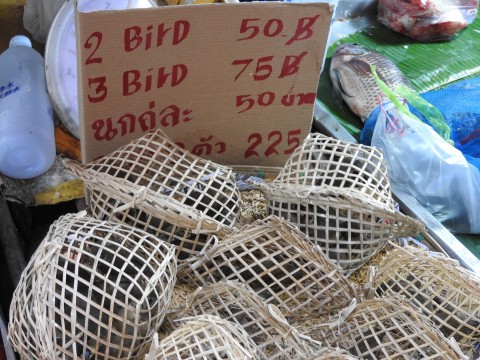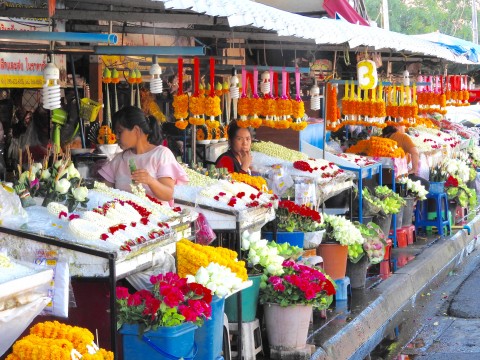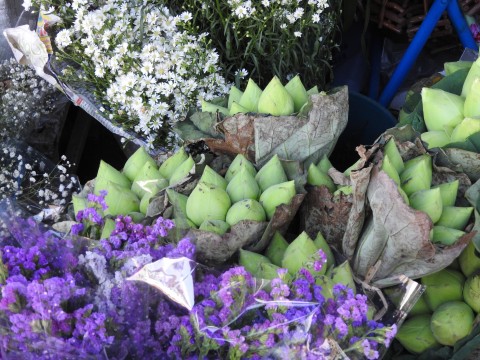 The Chiang Mai Night Market or Night Bazaar is in itself one of the city's main attractions.
The Market operates very evening of the year in an area which during the day is just a normal street with shops, restaurants etc. The place comes alive around 4pm when hundreds of  stall holders and workers wheel out their metal stalls lining them up side by side on each side of the street. The market covers a wide area outside the old city walls, between the old city and the Ping River and stretches through several blocks, including a small red light district lined with bars and massage parlours with Bar Girls constantly beckoning passers by to come for a drink or "massage massage".
Quite apart from the usual stalls the Bazaar includes several arcade type buildings specialising in different goods, for example one is dedicated to handicraft goods and antiques whilst another specialises in upmarket clothing. Designer goods can be found here  – some the real thing  (apparently) but mostly fake.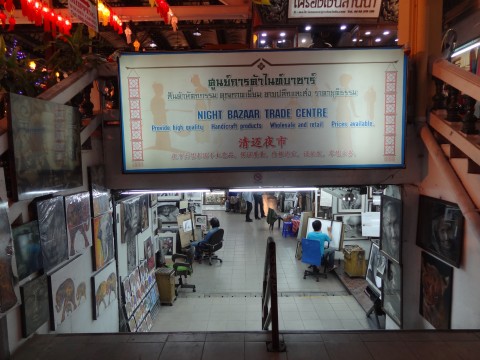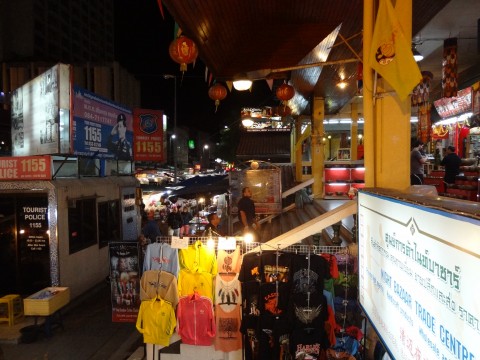 And there is certainly no reason to go hungry when shopping in the market, the area includes dozens of restaurants and many many street food stalls, a large Food Court not to mention the nearby Anusurn market which, in addition to its market stalls, contains many restaurants and bars including O'Mally's Irish Pub!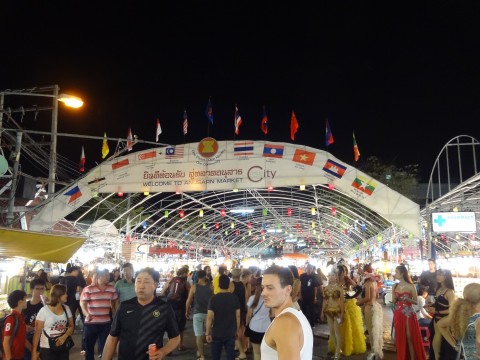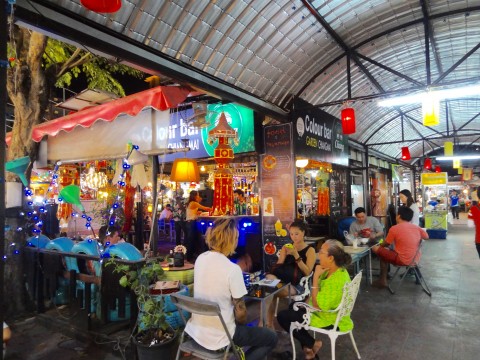 There is also a very interesting and entertaining Sunday Market (or Walking Street) every Sunday right in the centre of the Old  City. Starting at the Tha Phae Gate at one end, the Sunday Market extends for roughly 1km down the full length of Ratchadamoen Road. Stall holders start to set up their stalls mid afternoon and by 6pm everything is up and running.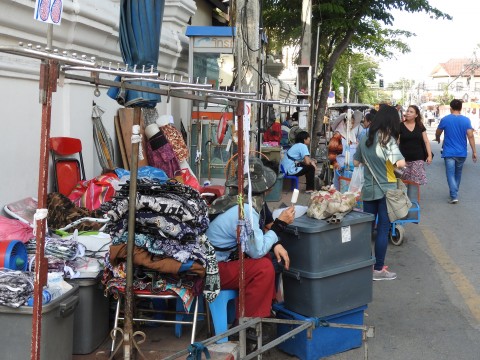 The Walking Street attracts thousands of shoppers and becomes absolutely packed with bodies – an interesting experience which some enjoy and some don't but it's a market everyone should visit at least once when in Chiang Mai. There is an amazing number of stalls offering an amazing range of products and of course a lot of it is tat but there's a lot of different stuff to be found here and some of it is actually very good and/or unusual. And as always, there is no need to go hungry – there are food stalls galore offering good food for next to nothing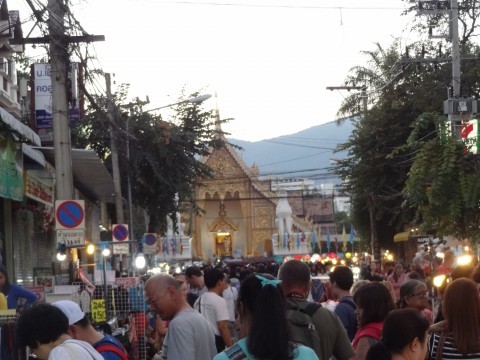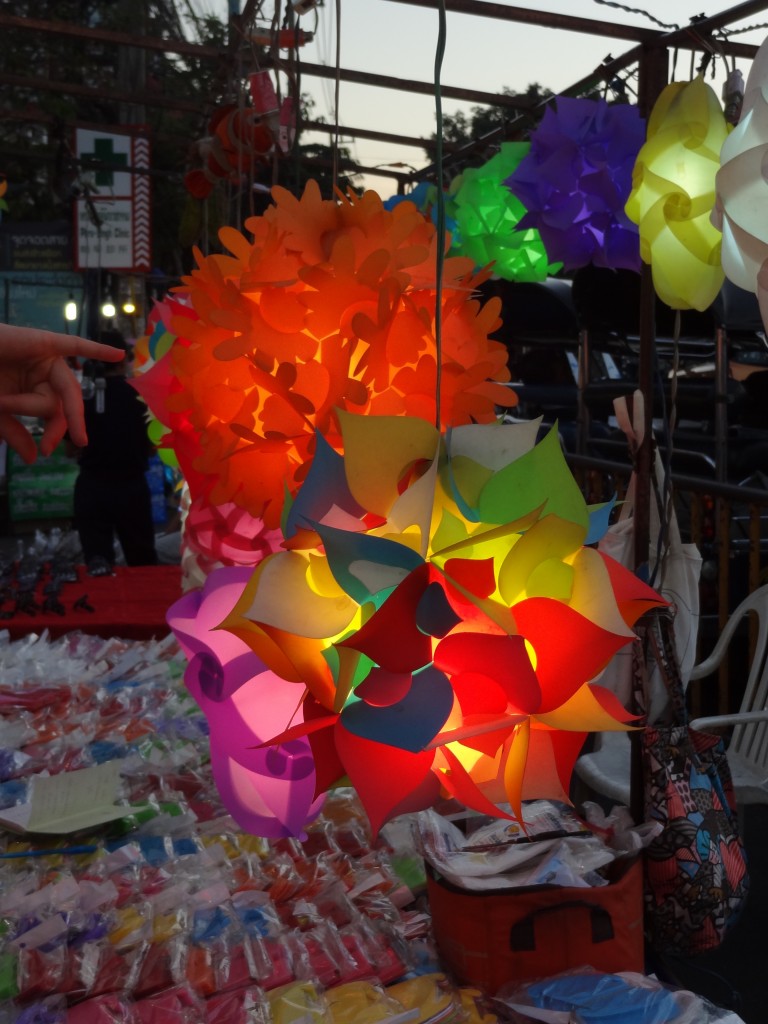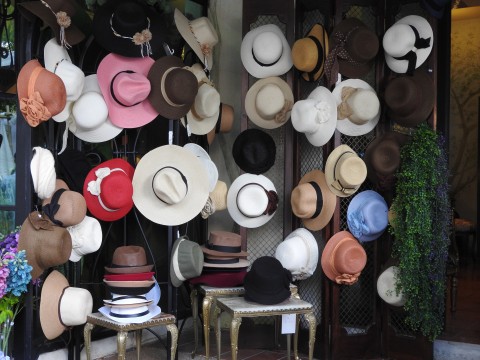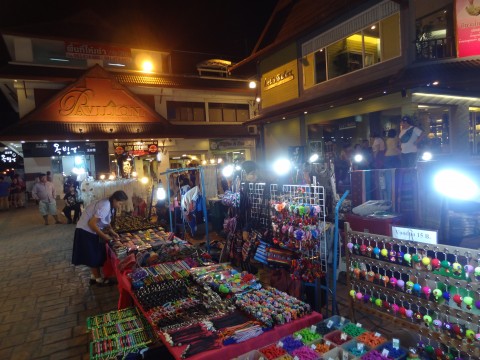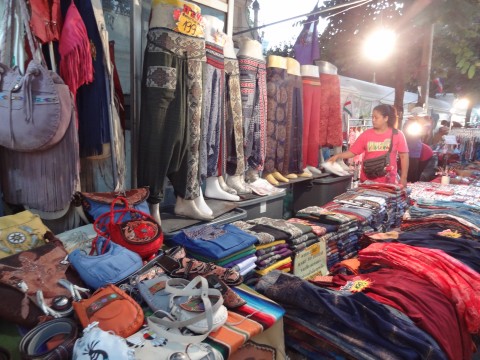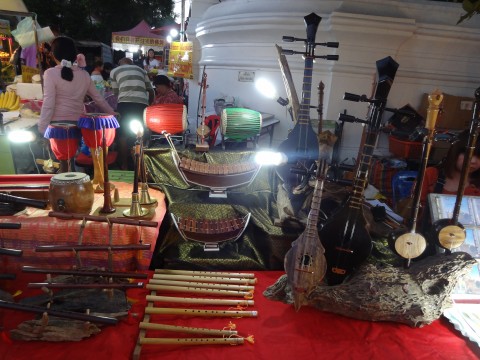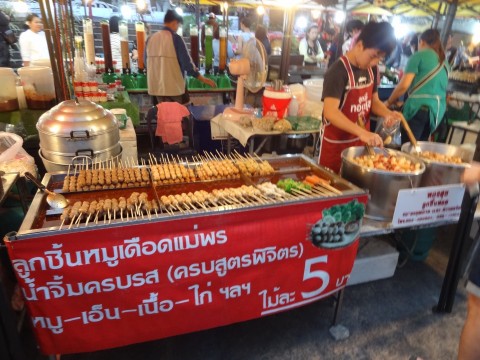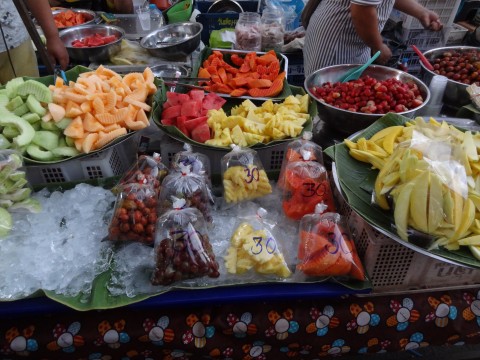 EATING AND DRINKING 
Foodies are well catered for everywhere in Chiang Mai with even the smallest and most basic looking places offering good local food. Some places specialise in only one dish but there's something to suit all tastes with hundreds of cafes, bars and restaurants in the Old City.
The restaurant and street food available in Chiang  Mai is generally regarded as some of the best and cheapest in Thailand – we struggled to spend the equivalent of £10 on a main course for 2 with drinks in a downtown restaurant or bar. We didn't have a bad meal anywhere and many places, even the most unlikely looking, offer cookery classes which are very popular.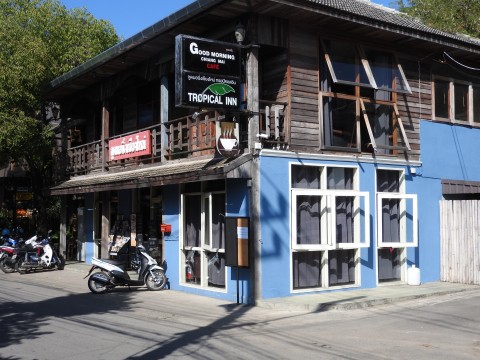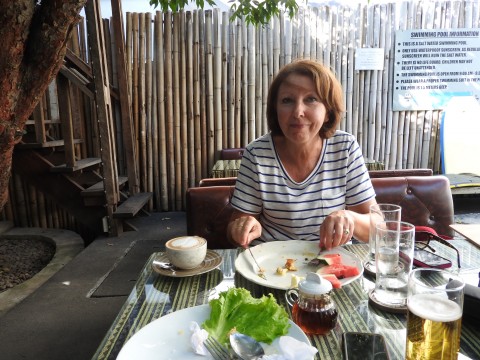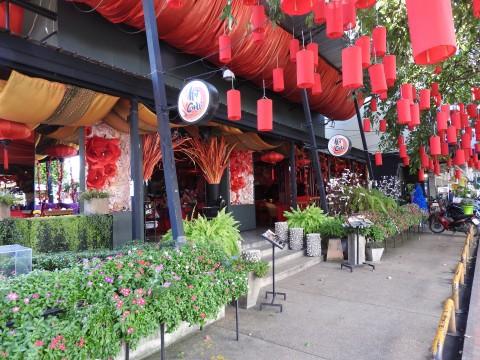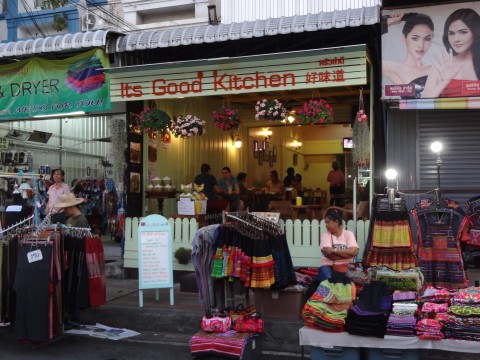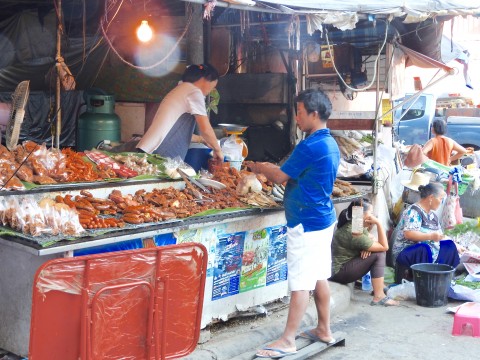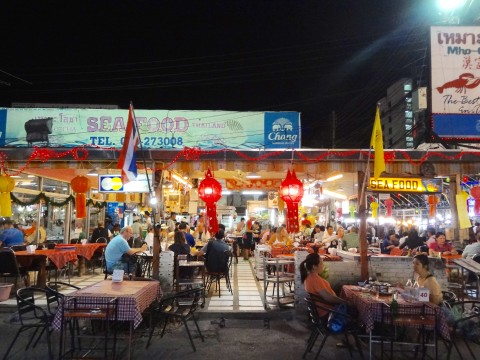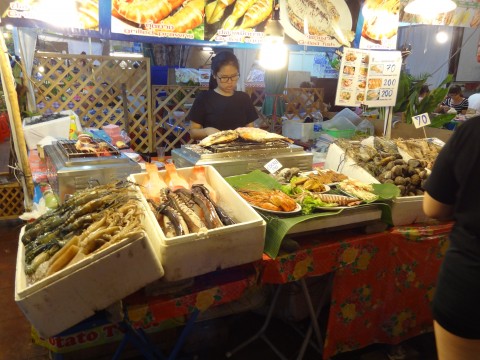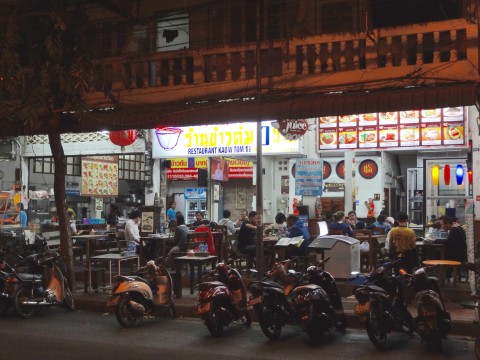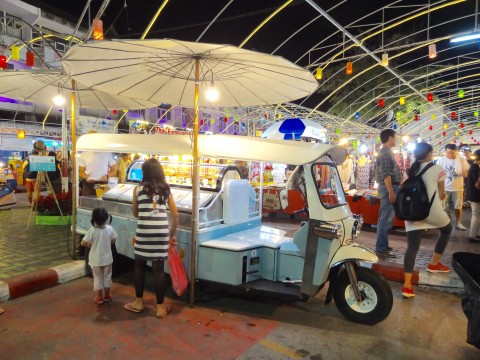 Temples
Apparently there are over 300 temples in Chiang Mai with many in the Old City. Some are over 600 years old, as old as the city itself .
There seems to be a temple on almost every corner and indeed there are many which stand next to each other. Some are very large and some quite modest but even some of the very large ones are hidden away in the back streets and need to be sought out.
Here are a few random photos – a small selection (honest) of what can be seen in Chiang Mai – except for the famous Wat Phrathat Doi Suthep which is covered in a separate post.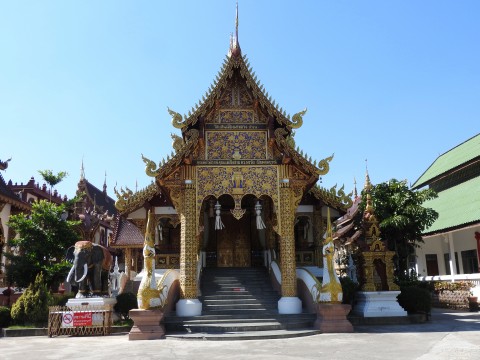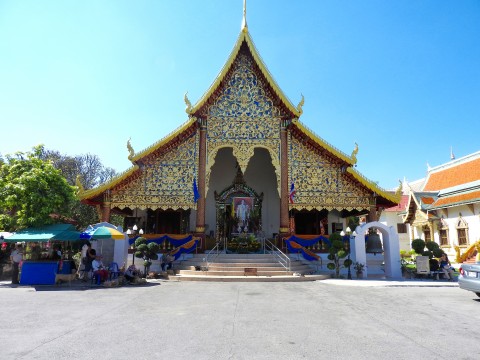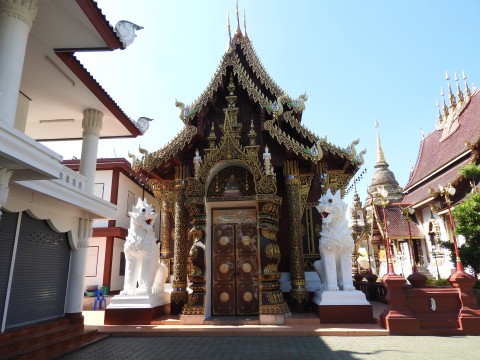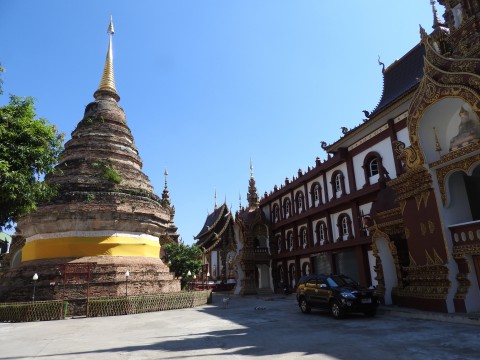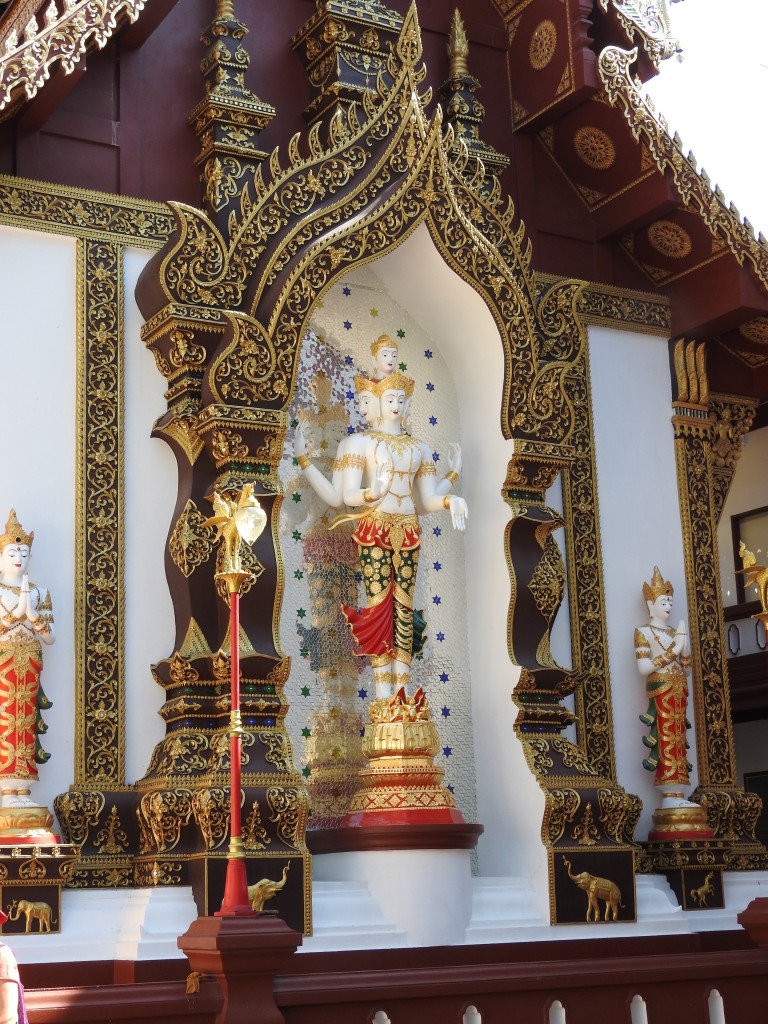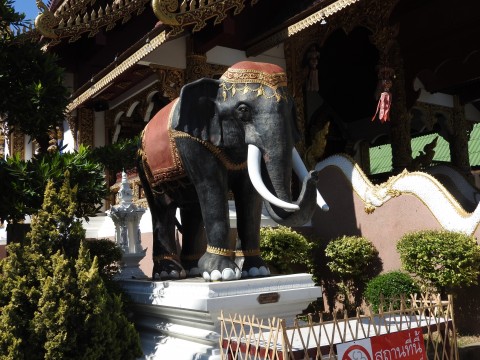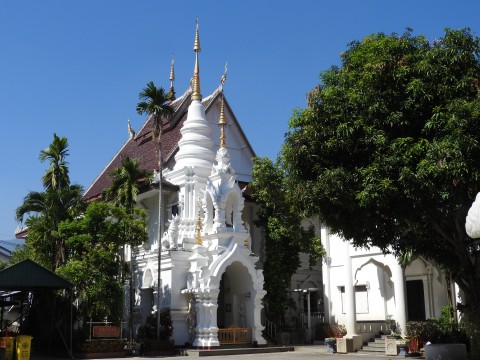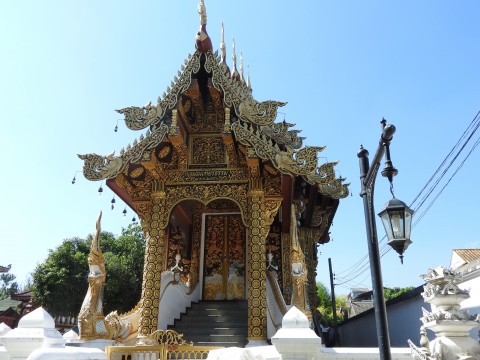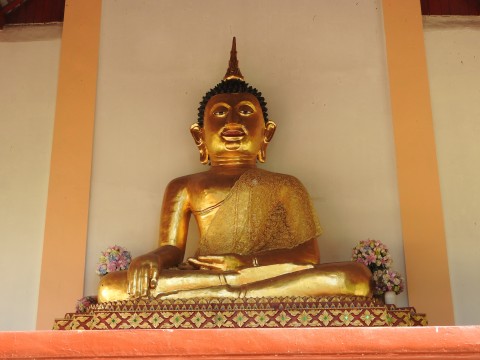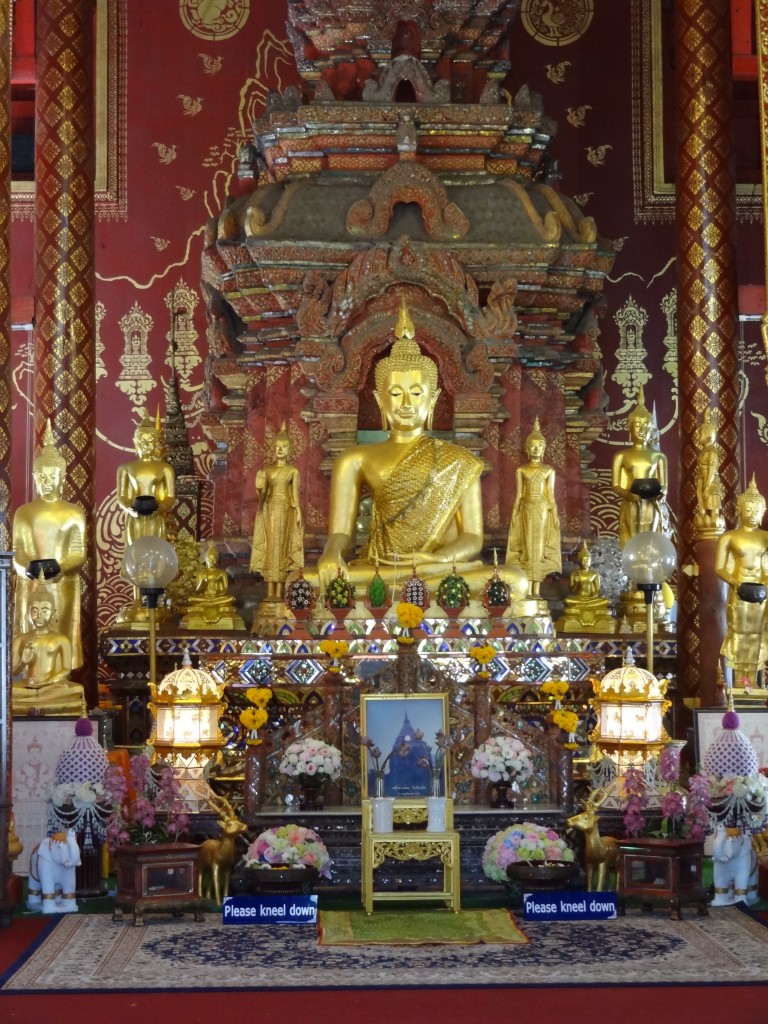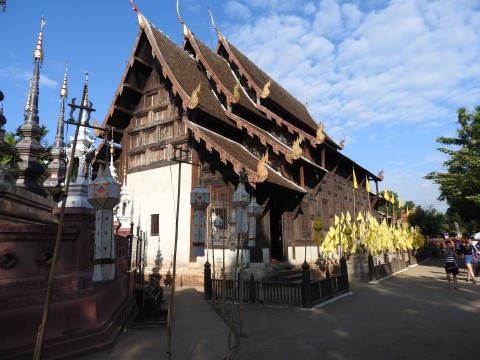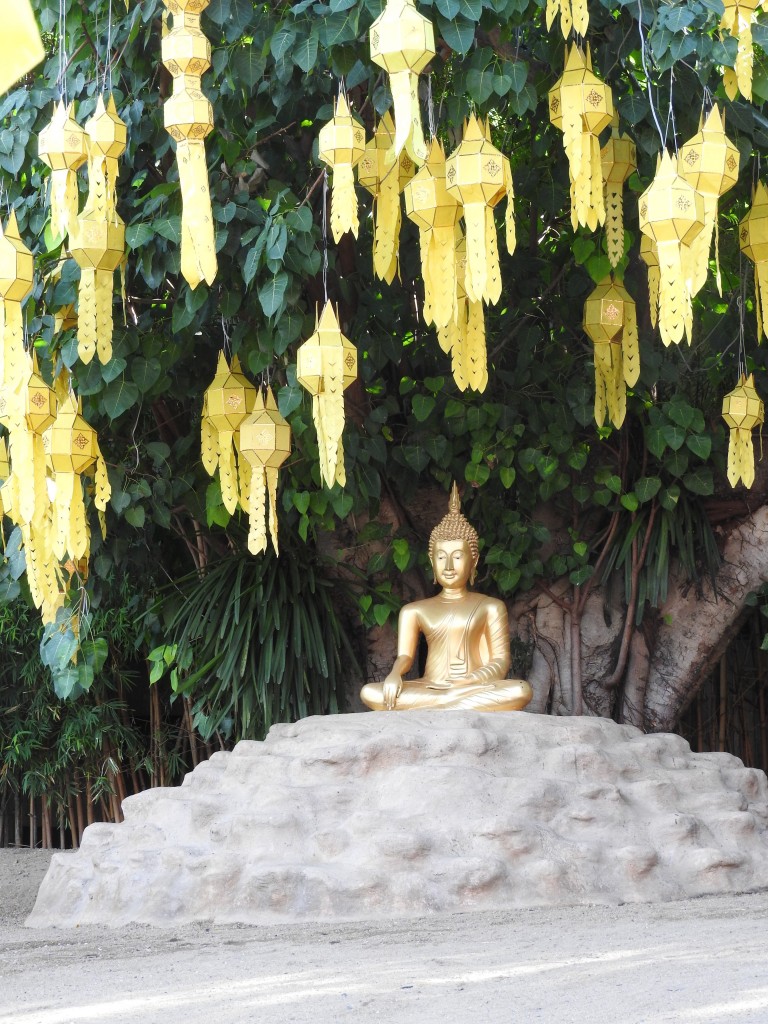 Suan Buak Haad Park
For those hankering for some open space in the city, Chiang Mai has only one small public park within the city walls. Suan Buak Haad Park provides a small but nice area of greenery with ponds and a kids playground plus food stalls .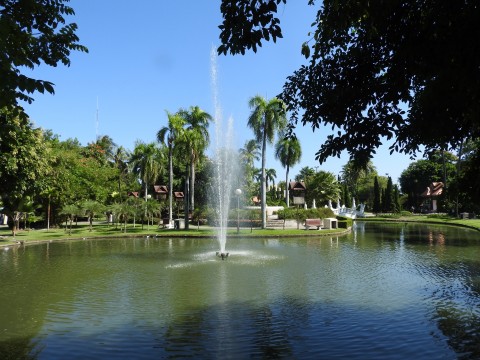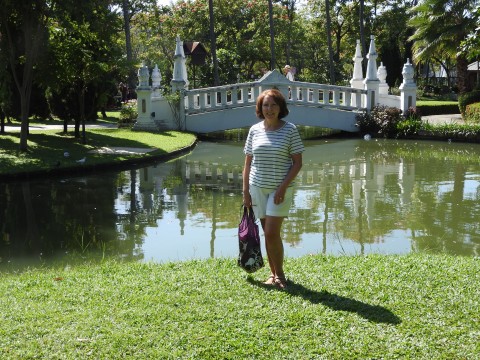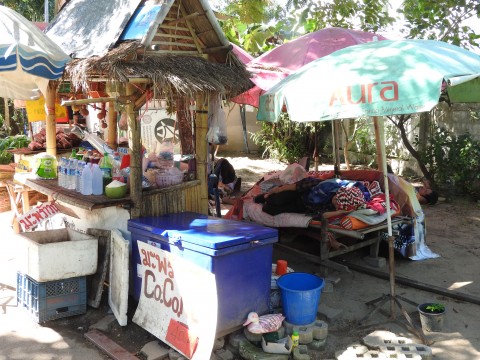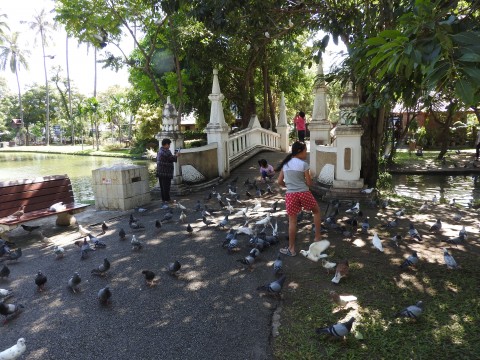 Away from the city, the mountains of rural Northern Thailand are close by with a number of National Parks and botanic gardens to visit and a 200 acre zoo presents opportunities to get up close to animals such as elephants and tigers for those so inclined. There is also serious tracking to be had and an entire travel sector seems to exist to provide travellers with treks and tours to visit the hill tribes living in the highland villages away from the city – often with a return journey which involves, at some point, a ride down a river on a bamboo raft.
NIMMANHAEMIN ROAD (AKA NIMMAN)
Heading out of the apartment in the opposite direction from the old city a 10 minute walk brings you to the lively and trendy Nimmanhaemin Road area. It doesn't look that fancy at first sight because most of the buildings are rather old but many have been renovated or refurbished with new shop fronts housing boutique shops, restaurants, cafes, galleries and spas. There are specialty shops selling hand crafted goods, housewares, jewellery and artwork and Nimman Road itself  is also known as "Coffee Street" due to its numerous coffee shops many seemingly permanent home to people who make their living on-line. The cafe/coffee culture here is such that there are websites devoted to it.
In addition to the high street shops of Nimman, Maya Mall provides has some nice (and expensive) stores along with a fab supermarket and food court in the basement. Food court prices are only a tad higher than much of  the street food and so its a great place for lunch – or even dinner.
We  loved Nimman and spent quite a few evenings there starting off  with a few drinks at the Kamrai bottle shop which is an off licence with a terrace with chairs and tables in front next to the pavement. The clientele is a mix of locals, expats and travellers and with bottles of beer starting at around £1, you needed to get there early to secure a chair!
There always seems to be something going on in Nimman and on our first weekend in town it was some kind of art and design festival – essentially lots of food stalls and stalls selling clothing, pottery, jewellery and lots of other stuff with live music in the background. A really great and friendly atmosphere here – and the food was excellent. Here are some photos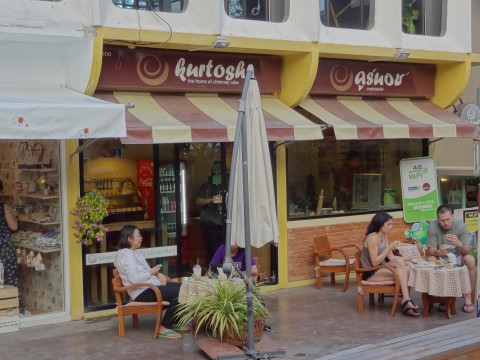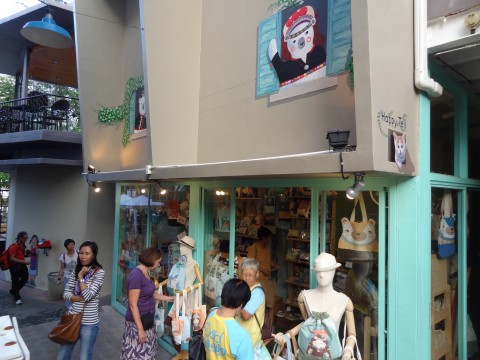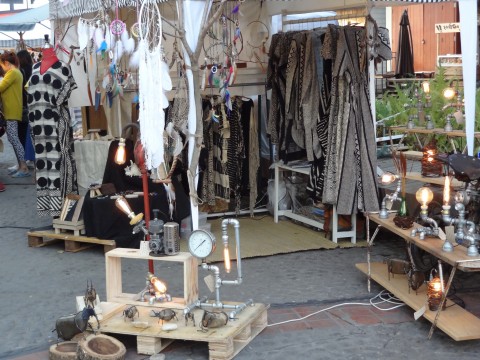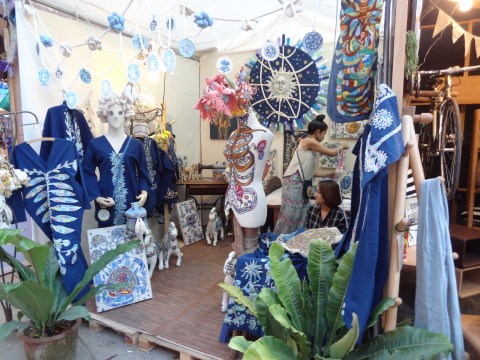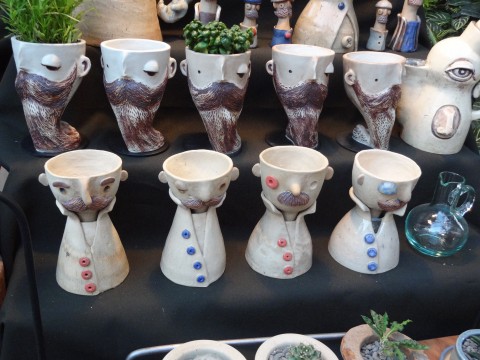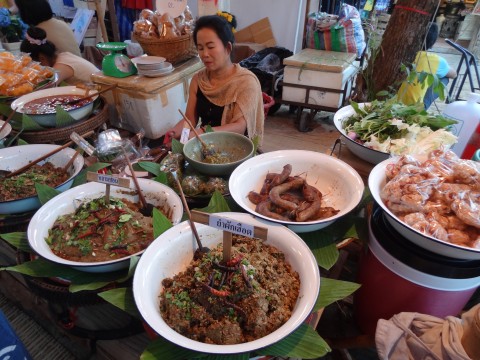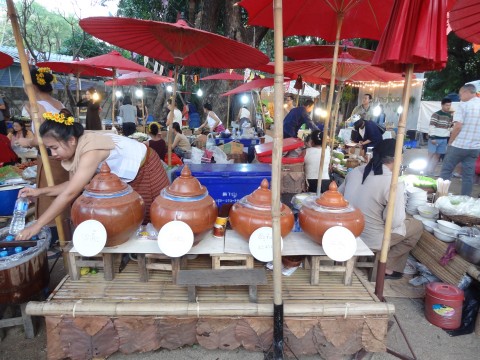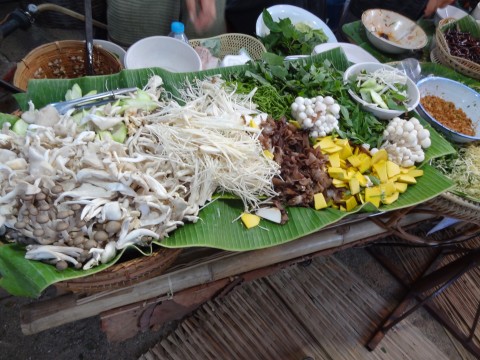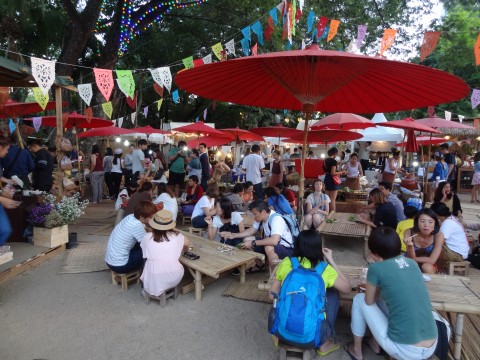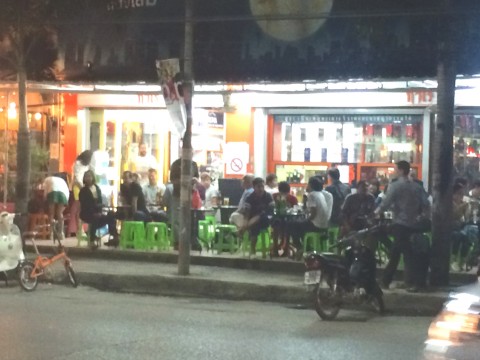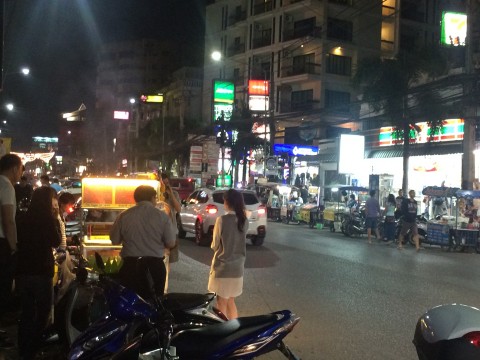 Whilst we had booked the apartment for 2 weeks, our 2nd week was  largely spent away from Chiang Mai itself with a 3 day/2 night trip to the North West of Thailand  travelling what is known as the Mae Hong Son Loop followed immediately by a 2 day 1 night trip to visit the Golden Triangle in the North East  where the borders of Thailand, Myanmar and Loas meet.
See separate posts.
Here's a few more random photographs in case you haven't seen enough!
Coffee shops
Coffee shops aren't exclusively in Nimman. The Old City has plenty too…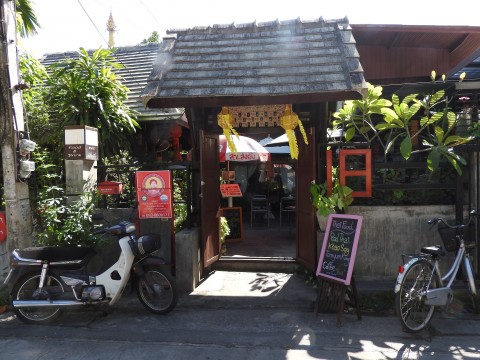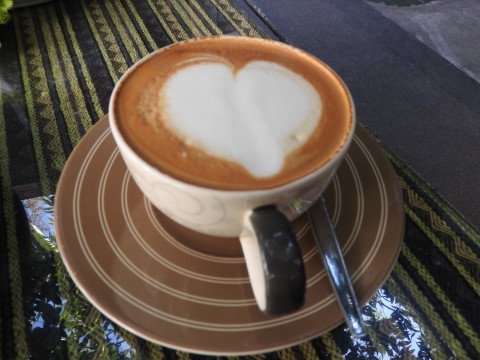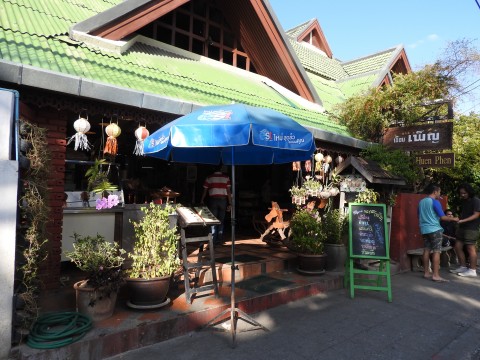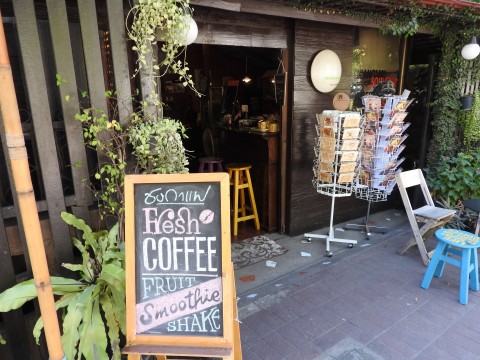 Massage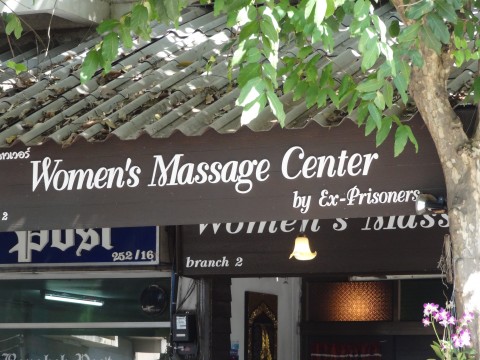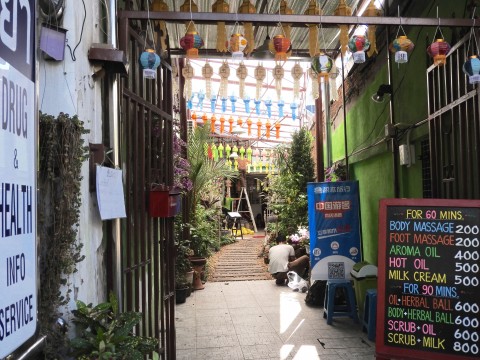 Street Food