This is by far the shortest by  of our posts because there is little to tell  – Langkawi was a rest break for us . We went there to do absolutely nothing – and that's what we did!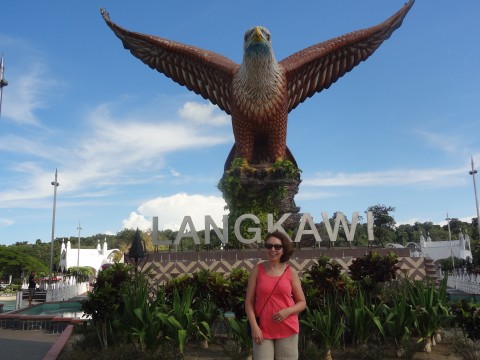 We really knew nothing of Langkawi before our trip other than it is an apparently beautiful and  romantic island popular with  honeymooners. The island lies 30km off the south coast of Peninsula Malaysia, north of  one of favourite islands, Penang and is part of an archipelago of  99 islands, all but 2 uninhabited. Lots of opportunities for island boat trips including ferries to Penang which we intended to visit.
We had decided to visit  Langkawi when planning this trip because we thought it would be a good place to rest up  for an extended period after 8 months of constant travel before we moved on to Thailand. Also, we had read that the island was popular with ex-pats because of it's laid back island life style and cheap cost of living (due in part to its duty free status) and part of our thinking was that this might be a good place to spend the British winters in the future – the Malaysian Government has an initiative said to be aimed at attracting ex-pat retirees although the reality is that what's on offer isn't so attractive. November was also a decent time to visit weather-wise as it was just coming out of the rainy season.
We left Bali on 31st October 2015 on a flight to Langkawi via Kuala Lumpur. We were sad to leave Bali which we had loved (mostly) but looking forward to an extended period of idleness. By now a tad weary of  moving from place every few days we had already concluded that we much preferred to stay in places for extended periods of weeks rather than days and as a result we had decided  to cut Laos and Cambodia from this trip in favour of a longer trip to Thailand as  both countries involved a lot of tedious and arduous travel if we were to do them justice. They are now on the back burner for another trip.
We had found a nice apartment to rent on the outskirts of Kuah in a residential development known as CHOGM Villa so named after the Commonwealth Heads Of Government Meeting  held on the island in 1989. Kuah is the main town on Langkawi and the capital of the region.
The apartment turned out to be excellent , very spacious and well kitted out with a large living/dining area, two big bedrooms and bathrooms and a large balcony. We loved it from the minute we walked in. The development itself is also excellent with an absolutely fabulous and huge swimming pool, a small gym and gardens. The grounds are beautifully maintained and there is full time security with a manned security gate at the entrance.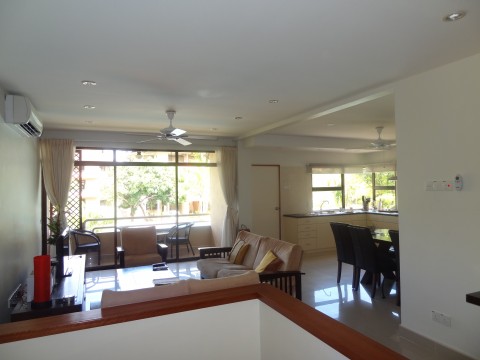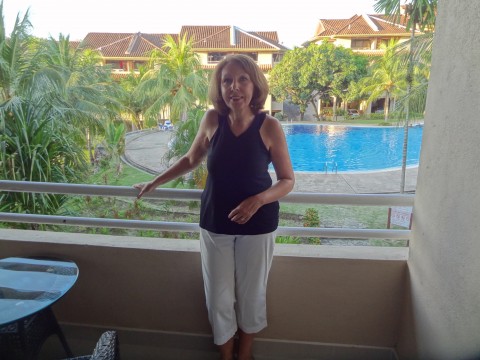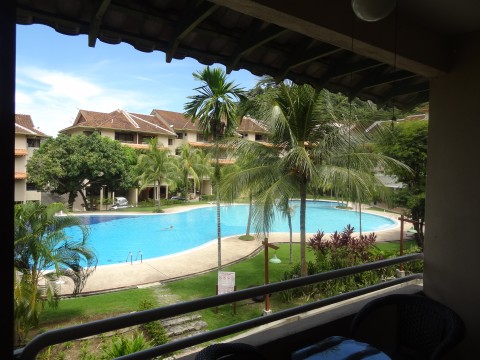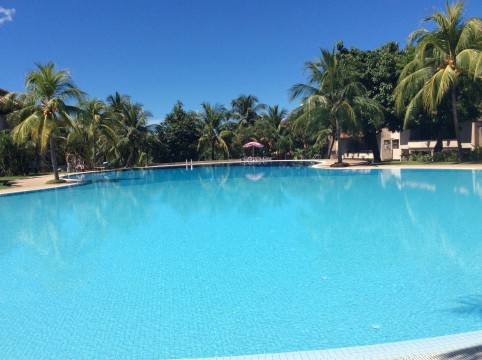 Langkawi is a beautiful island, part of the Malaysian State of Kedah which is the state adjacent to the Thai border. Much of the landscape is the same we had seen previously in Southern Thailand with karst limestone cliffs and islands. There are lovely beaches and rivers and extensive areas of mangrove rich with wildlife; the interior is mountainous and covered in rainforest  and so there are plenty of beauty spots ,waterfalls and the like to visit.The island was declared a Geopark by UNESCO in 2007 and is known as the Jewel in the Crown of  Kedah.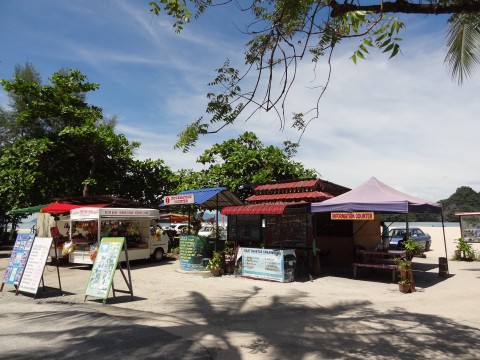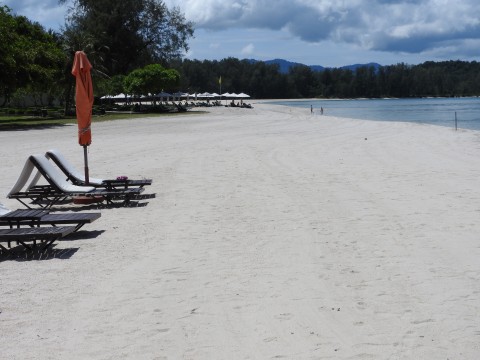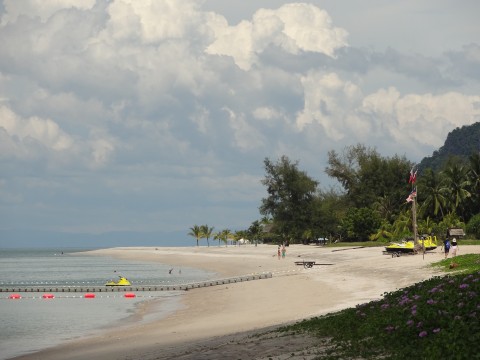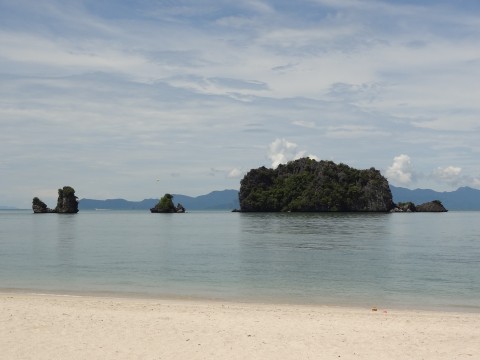 The island  is small at around 18 miles by 9 miles with a circular road which mostly follows the coast. There is no public transport so the options are rental cars or taxis but as we love walking and were staying only 10 minutes walk from town we walked most of the time and took  taxis when we wanted to go places too far to walk, returning with shopping etc. We actually walked much less than we planned to – the constantly high temperatures – 30C plus and high humidity levels were definitely not conducive to walking. In fact whilst Ann spent hours by the pool each day, I couldn't hack it and sat on the fan cooled balcony reading and writing up on this blog.
We found Kuah Town itself a very dull place. The island is predominantly muslim and the local restaurants and shops are geared at the muslim community. There is very little to attract western  tourists in the town itself. Langkawi describes itself as a duty free haven for shoppers and we had expected to find all manner of stuff at bargain prices but bizarrely the duty free shopping, apart from a couple of malls, consisted of  shop after shop  selling identical stocks of beer, wines and spirits, (cheap) luggage, chocolate and  kitchenware – pyrex galore – with a few stand alone perfume shops! All a bit weird to us westerners but ferries full of Malaysian tourists flock to the island on ferries and leave fully laden with pots and pans and boxes of cheap chocolate!
With a well equipped kitchen in the apartment we cooked most of our own meals because we enjoy cooking but dining out is so cheap here that we dined out a fair amount. Like many places in SE Asia, there is a mix of nationalities here but Malaysians predominate with  populations of Chinese, Indians and others. Most of the restaurants are pretty basic local affairs and whilst we did try one or two, hygiene is a concern. There are  a few decent restaurants, mostly chinese and indian but also some serving European food, nothing that would be regarded as fine dining but of course we were not looking for high end restaurants on our meagre travellers budget! A couple of chinese restaurants recommended to us, favourite haunts of expats, were particularly good -for example, Wonderland has very basic premises and facilities  but is clean and hugely popular with an excellent multi plate meal for two with fresh seafood  and a couple of Singhas coming  in at under a tenner.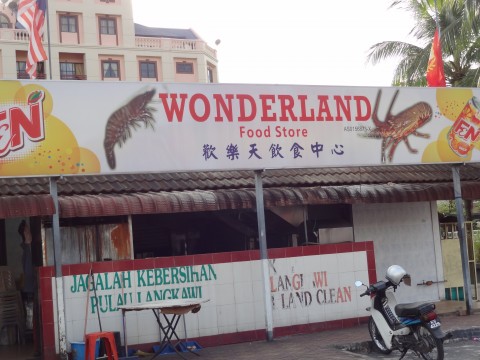 Some of the better restaurants are outside of the town and we tried a few, including a couple with Jacqui a lovely English lady and neighbour and semi-resident at CHOGM who befriended us and with whom Ann shared the swimming pool most days.
We did very little on Langkawi, as per the plan. There are plenty of man made attractions, cinemas, Underwater World, cable car rides, golf and the like (our Host Rob's main business is organising golf trips around Malaysia) and plenty of trips  to waterfalls, beaches and beauty spots in the mountains. Certainly no shortage of things to do on a family holiday but we had done plenty of this over the past few months and so passed on most of this although we did hire a car and driver for a day on one occasion and took a tour of the island stopping off to see the highlights  including Pantai Cenang, Langkawi's largest beach town which is an altogether  livelier and more attractive place than Kuah and much more geared up for western tourists and ex-pats lots of bars, restaurants and shops – even a modern shopping mall!
Another outing was on a boat trip arranged by Rob and his partner Ann, a lovely Dutch couple. This was a full day trip on a sail boat named Stardust, into the Geopark around the coast of Langkawi and some of the nearby islands. We were in a group of perhaps a dozen people mainly friends and family of our Hosts. The trip included opportunities for swimming, kayaking and the chance to ride in a salt-water "jacuzzi"  – also  a visit to a fish farm and to watch eagles feeding – which apparently isn't strictly allowed!  All in all an excellent day out during which  we consumed more than enough of an excellent buffet lunch with unlimited beer and wine.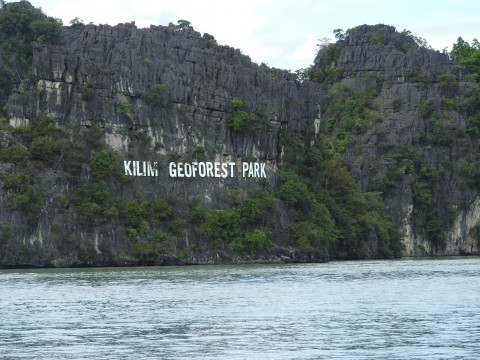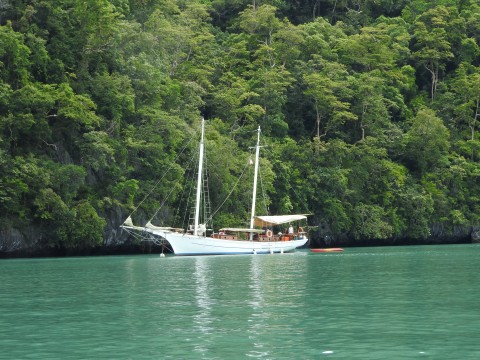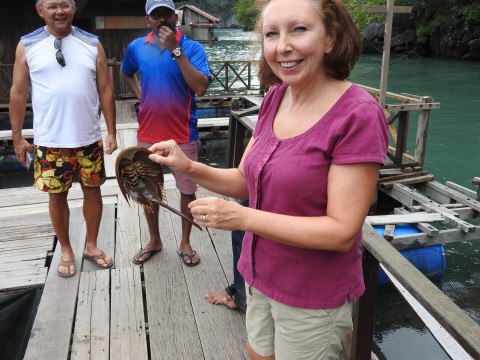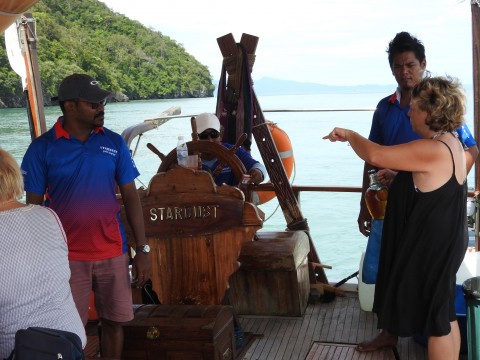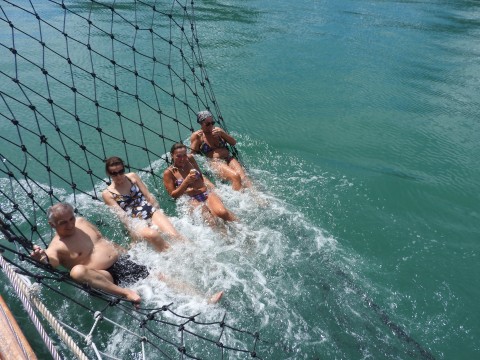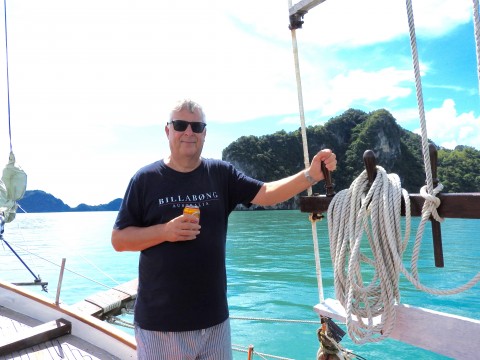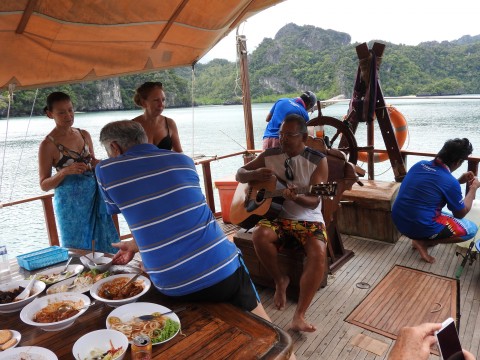 The one trip we had been looking forward to was a side trip back to Penang but in the event the reviews of the ferry trip didn't make it sound so appealing and so we didn't bother.
And there it is. An uneventful visit to Langkawi but our objectives had been achieved. We had enjoyed a good rest after months of constant travel and we were able to cross Langkawi off our list of possible winter retreats!
On 30th November, Rob and Ann gave us a 6.30am lift to the airport to catch the first of the three flights which would get us to Chiang Mai in Northern Thailand that evening. It would be a long day…..