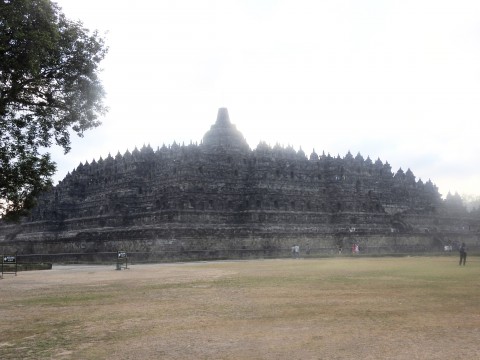 On Friday September 25th, our driver Decky picked us up from our hotel at 3.30am for the 40km drive to Borobodur. We thought this a tad early for sunrise around 5.30 but Decky explained that we would be getting a special pass to get early entry before sunrise and before the crowds arrived – and we would need to queue to buy tickets.
Manohara Hotel is on the edge of Borobudur Temple site and entry was via the hotel where we paid for our entry ticket and collected a torch – its not a huge distance from the entrance to the Temple but it was very dark on a night when cloud cover meant no moonlight.
The hotel sold a package including entry ticket, loan of the torch and a snack breakfast with hot drink on exit. Cost was under £10 – expensive by Indonesian standards because of the Temple's World Heritage status.
We reached the hotel within 45 minutes, bought our tickets and reached the Temple itself around 5am. The temple sits on top of a hill and has impressive views of the surrounding countryside. We were by no means the first to arrive but there was plenty of room for everyone and we soon found a good place to park ourselves to wait, in hope, for sunrise. Actually, given the cloud cover we were expecting to miss out on seeing the sunrise but the cloud largely blew over and we did get a sunrise of sorts which gave us some quite atmospheric photos with the low mist that was hanging around. Later we felt quite lucky about the weather because once the cloud cleared and the sun shone brightly, the light was quite difficult for photography – thus the dodgy photo above, taken as we were leaving in bright sunshine. We were also chuffed that we had such an early start as decent photos would have been difficult with the crowds that started to pour in post 6am.
First a few facts about Borobudur Temple courtesy the inter web, followed by some snaps.
The Temple is of uncertain age but thought to have been built in the 9th century over a period of between 75 and 100 years. This puts it 300 years older than Angkor Wat.
The building is essentially a huge pyramid decorated with miles of relief panels and 504 Buddha statues although some of the statues are missing and some are broken.
There are 72 Buddha statues seated within 72 perforated bell shaped chedis
The site was abandoned in the 14th Century possibly because of the Javanese conversion to Islam. It was re-discovered in 1814 at a time of English rule of Java and has undergone several restorations since, the most significant between 1975 and 1982 by the Indonesian Government and UNESCO.
The Temple is still used for pilgrimage by Indonesian Buddhists once a year.
Borobudur is Indonesia's most visited tourist attraction.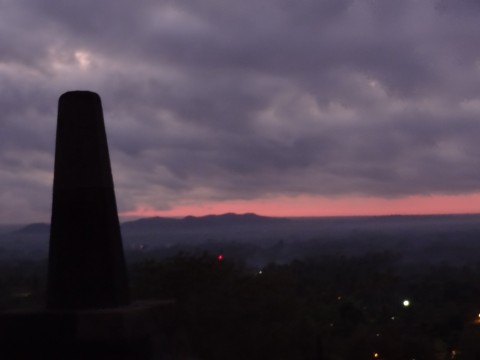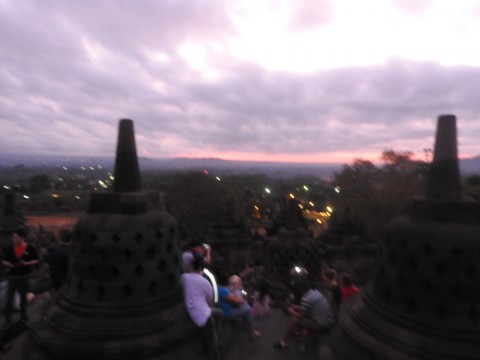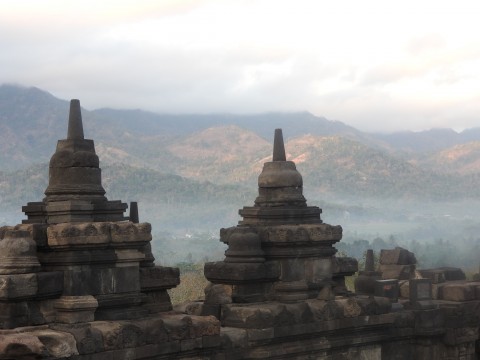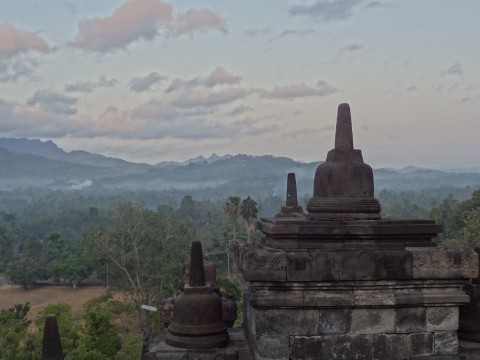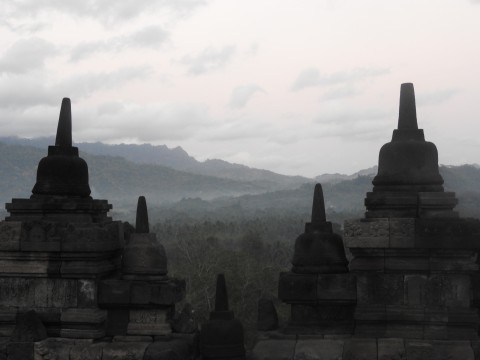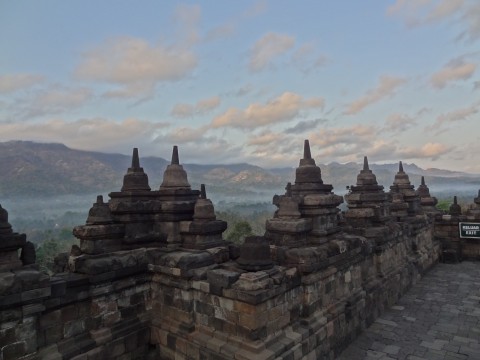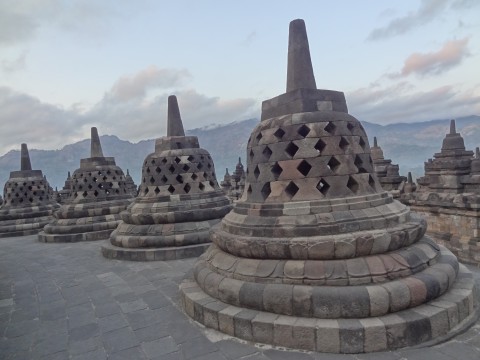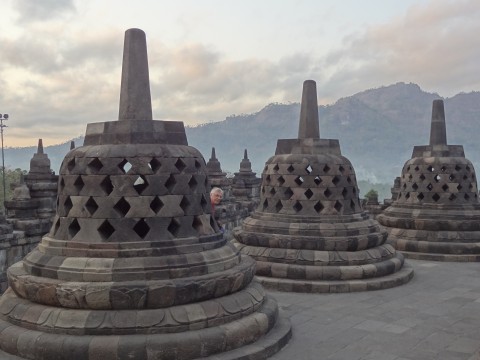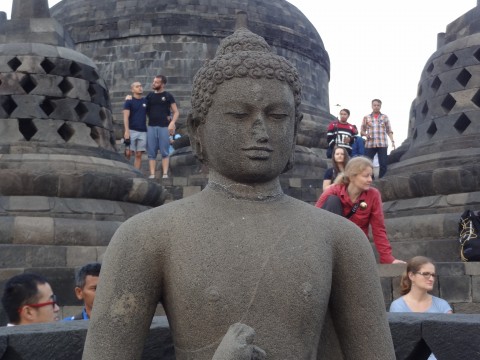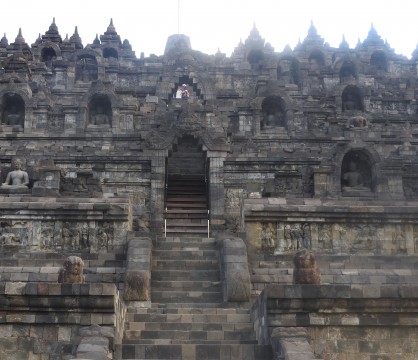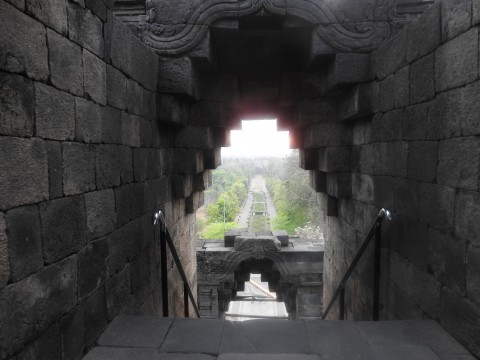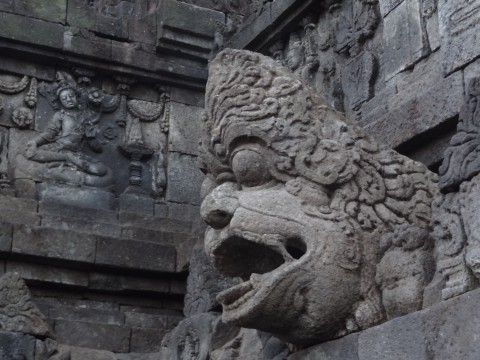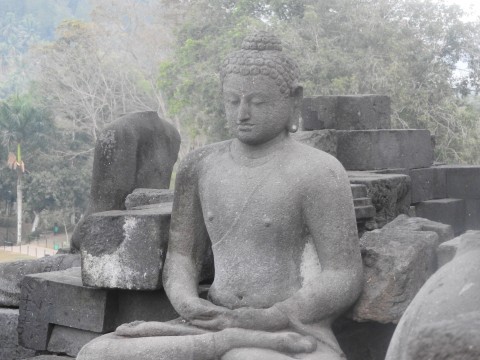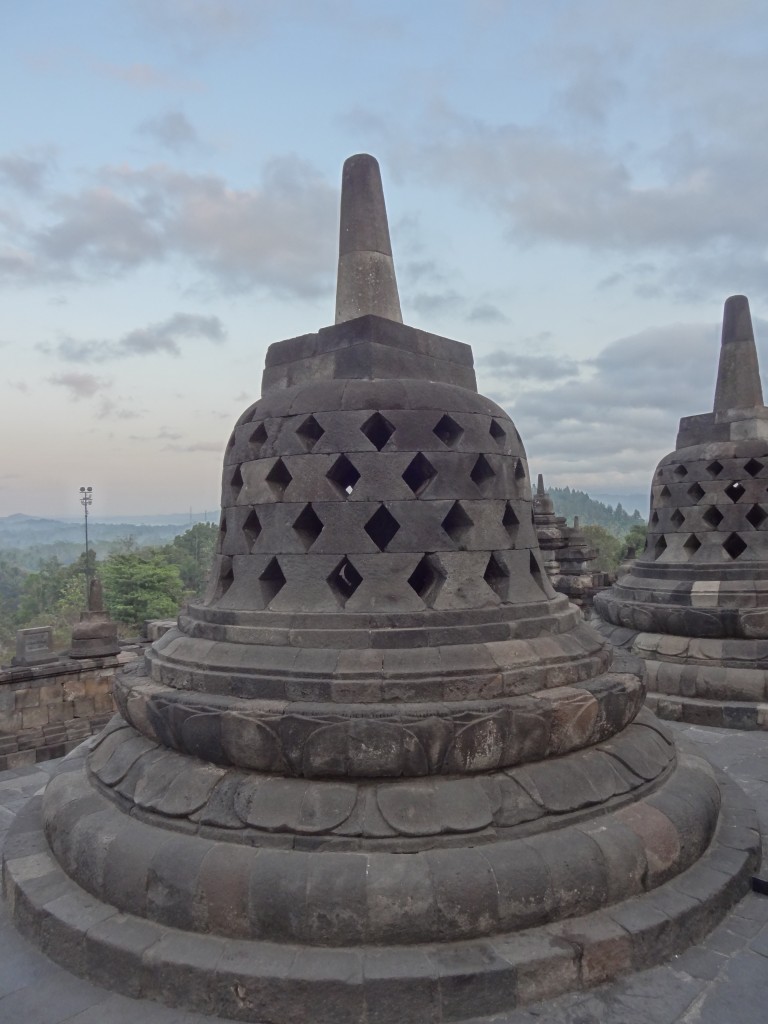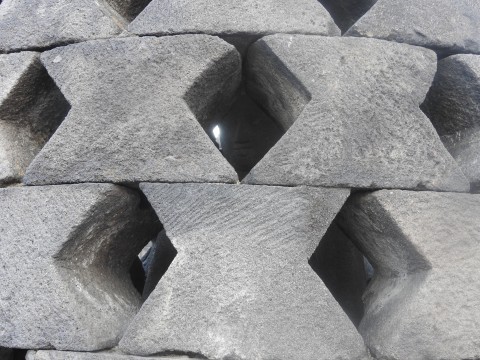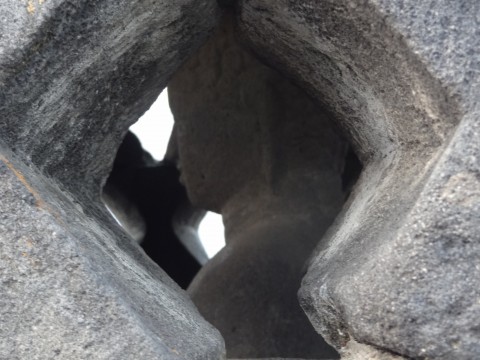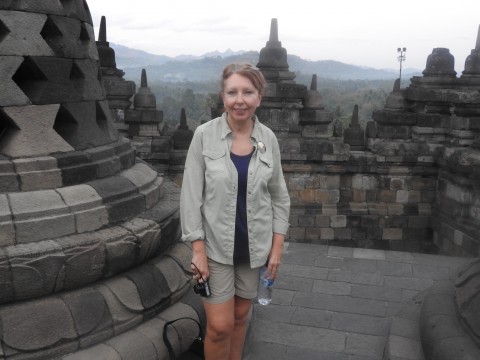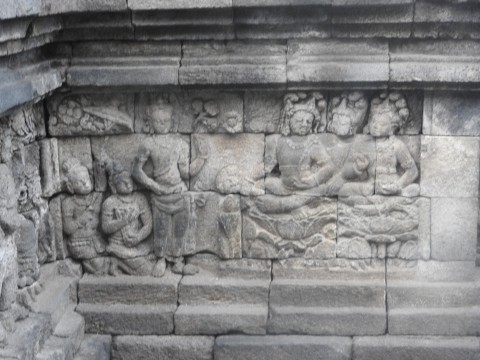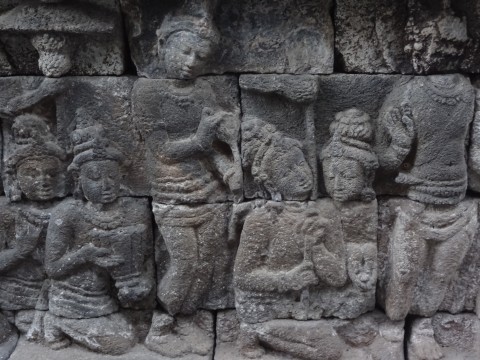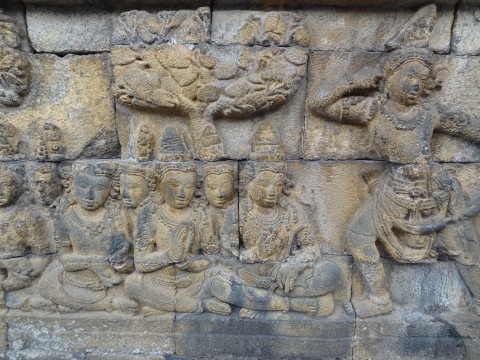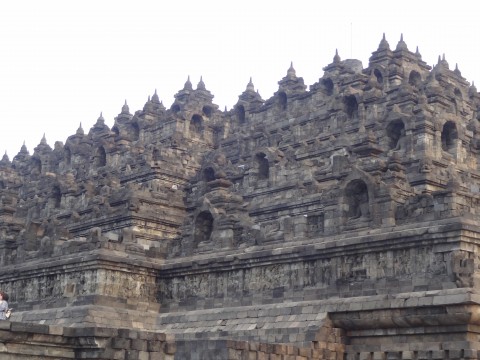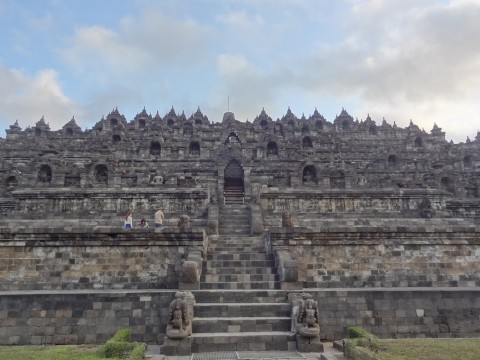 Borobudur is the largest single Buddhist structure on earth and whether you are into temples or not, you can't fail to be impressed with it. We left the Temple around 7.15 when already the crowds were streaming in – if you are planning to visit then be sure to book for the early entry. We had a quick coffee and pastry and then headed off for Prambanan calling at a couple of smaller temples en route – Decky was anxious to give us bang for our bucks!
Candi Sambisari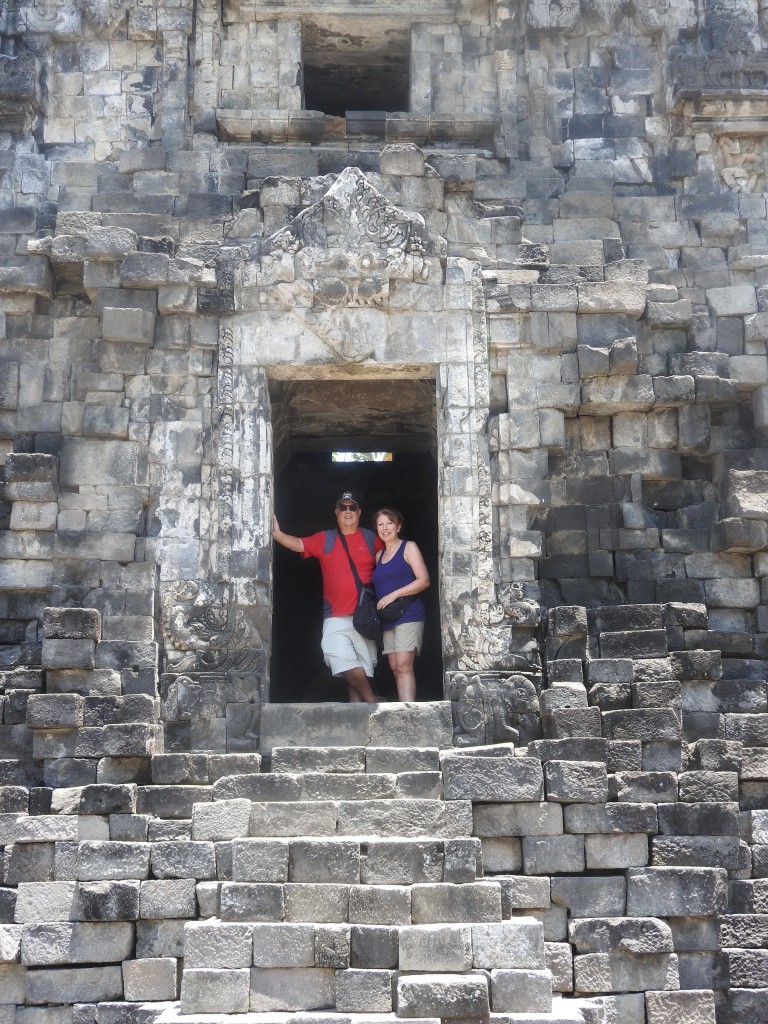 This is a modest temple when compared to Borobudur and Prambanan but it was en route between the two and its interesting in that it was built as a Hindu temple in the 9th century but at some point became buried in volcanic ash from nearby Mount Merapi and was only discovered in 1966 by a farmer working on the land. The site was excavated and reconstruction works completed in March 1987. This is Indonesia's most significant find in recent years.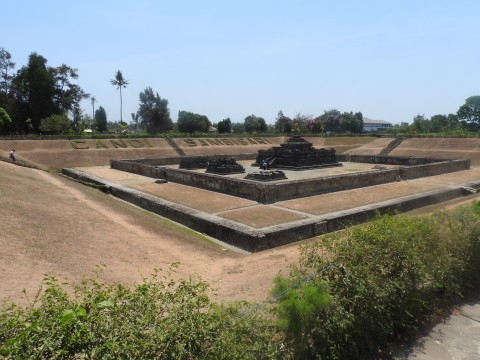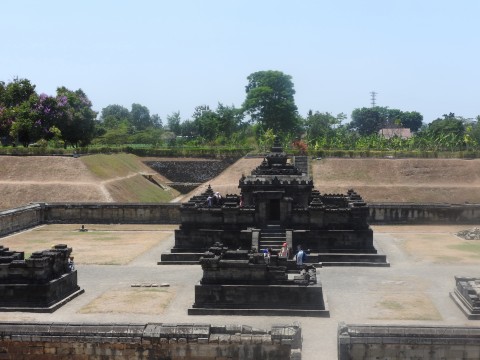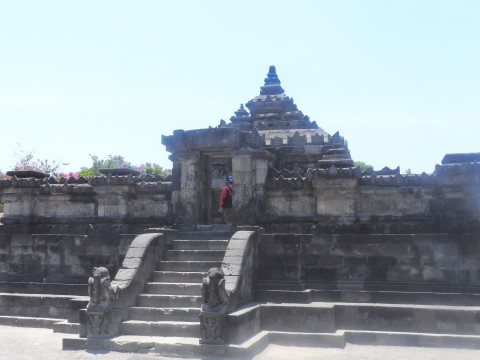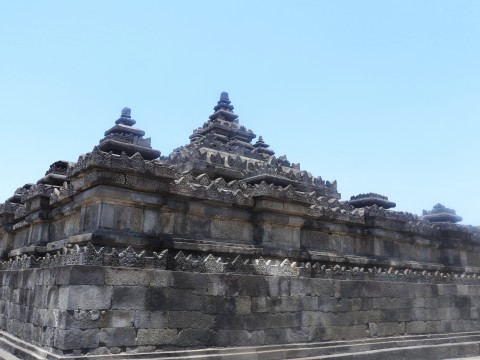 Candi Sari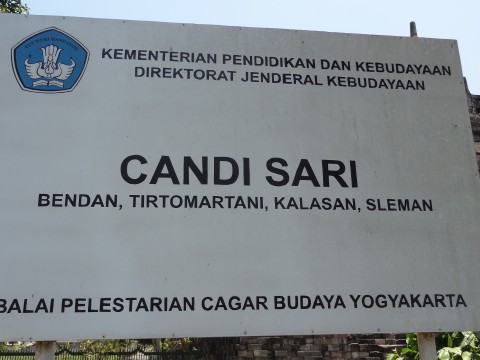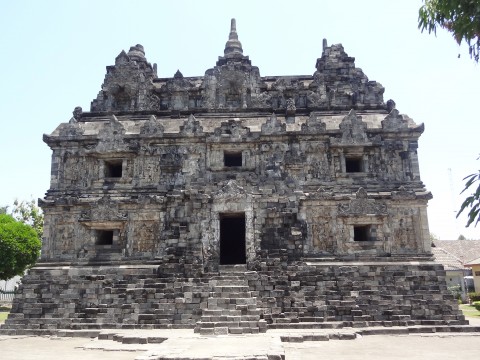 Like Sambisari, Candi Sari is very small in comparison to the others and perhaps not worth a visit for its own sake but both were en route to Prambanan and Decky quite rightly thought it worth stopping a few minutes.
Sari was built in the 8th century. Originally a 2 storey Buddhist temple building with timber beams and floor. Its thought this was a monastery for monks who served at larger temples nearby. The ruins were discovered in the 1920's and reconstruction completed in 1929/20 but is incomplete as there are parts missing, apparently. Small it might be but the building decoration is ornate and impressive.