We left Padang, Sumatra on Wednesday September 23rd and arrived at Yogyakarta Airport at around 4pm for a four night stay at the Gallery Prawirotaman Hotel. We were picked up by the hotel's limousine and checked in half an hour later, welcomed with cold drink and cold towel.
Gallery Prawirotaman is a 3* but felt more like 4* hotel as its quite new with large well furnished rooms, nice staff and everything you expect in a modern hotel, including fridge and good wifi plus a big TV ( although sadly no live Premier League footy). The included breakfast was awesome and there is a pleasant top floor bar with happy hour and a nice swimming pool which we didn't get round to using much but it was usually empty. Whilst is some some distance from the city centre, it was convenient for what we wanted to see. All in all great value for money and recommended.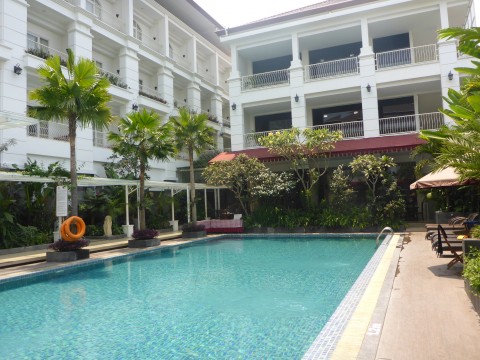 Like most people, the reason for our visit to Yogya was to visit the Borobudur and Prambanan temple complexes. We have enjoyed visiting temples in Asia as they are a big part of the rich tapestry of colour but we are certainly not temple addicts. However, there are places where the temples are the main attraction and the temples of Borobudur and Angkor Wat stand out as must visits if in the areas. Since we were travelling south down the Indonesian archipelago we had to pass through or over Java to get to Bali. We were unlikely to pass by Java again any time soon and since Borobudur gets a great write up as the oldest and biggest Buddhist temple in the world, we thought we would call in. There are also good trecking possibilities to be had here but that would have meant extending our visit by at least a couple of days which was problematical for us.
We did look at flying to Jakarta for a few days and then catching a train to Yogy (a long journey) but we really didn't fancy Jakarta and whilst we got all excited about what is said to be a scenic train journey, we were getting conflicting views on this. So we took the easy route and bought Garuda flights Padang to Yogya.
Four nights at the hotel effectively gave us 3 full days in Yogya, 1 day for temples, 1 day for other sightseeing – if any, and a day for R&R by the pool.
Since its customary to visit Borobudur for sunrise, the early start means that with a car its easy to visit both the main temple sites in a day even though the places are 50km apart.
Soon after we arrived at the hotel on Wednesday evening we phoned a local english speaking Driver, Decky, to arrange a tour for the Friday. The day would involve an early start for sunrise at Borobudur followed by a visit to Prambanan, another large temple site. That done we retired to the bar for a drink and a snack followed by bed!
The following day, Thursday September 24th, after a leisurely breakfast, we strolled around the neighbourhood of the hotel, window shopping and sussing out places for dinner. The main attractions, palaces etc, were closed for Ede celebrations and so it was quiet and there was little to be done. We lunched at the impressive Via Via around the corner from the hotel and then allowed a tuk tuk driver to persuade us to take a tour of the streets which in the heat of the day was the best way to do it.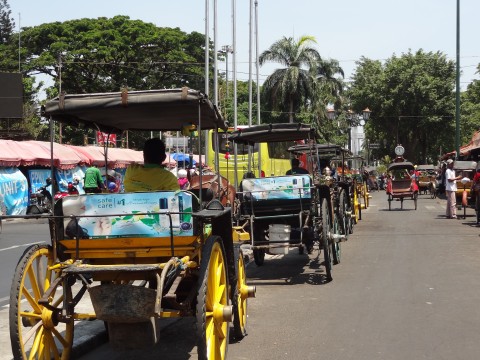 Eventually Mr tuk tuk dropped us in the Malioboro shopping district which was packed with shoppers and folk dining.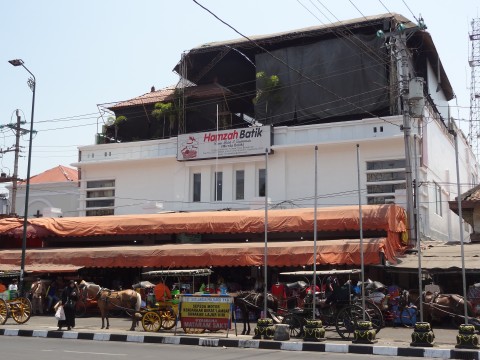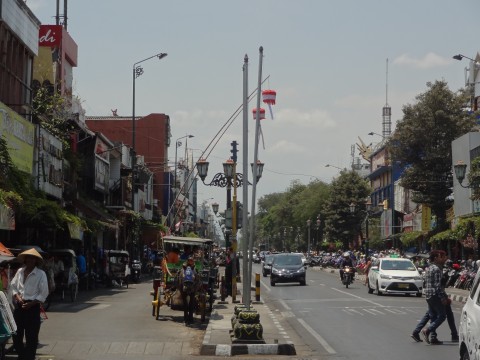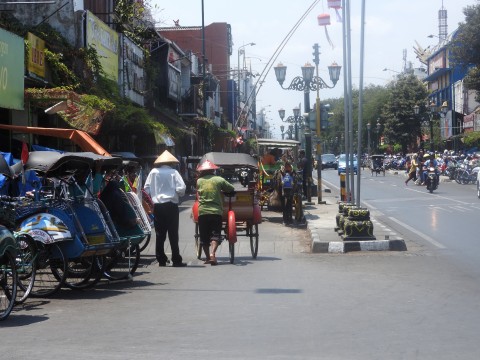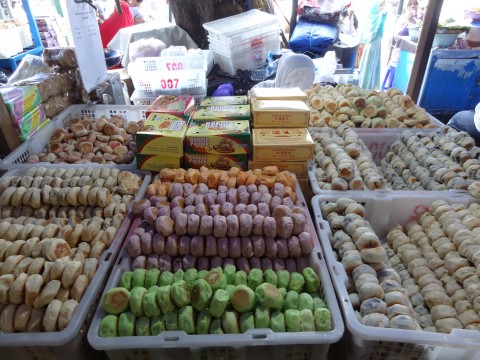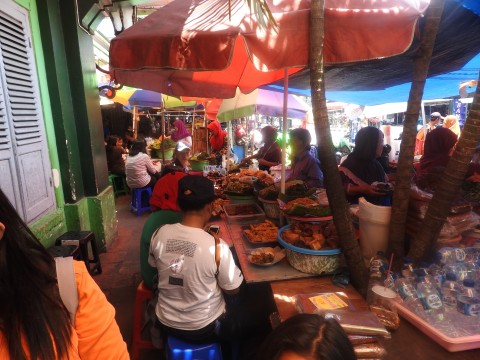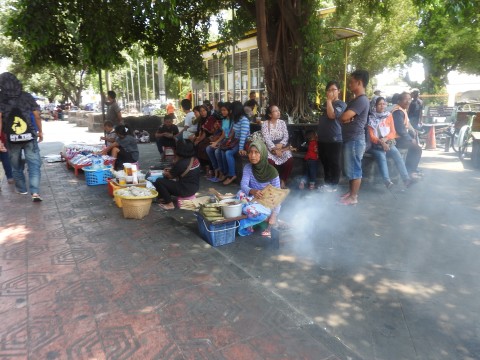 Thursday evening, after an average dinner at EasyGoin' Mexican restaurant it was early to bed – we had to get up well before dawn to be picked up at 3.30 am for our Temple tour. As is often the case when you need to be up especially early, we didn't sleep very well!
Friday was our Temple Tour for which see separate reports.
We were woken from our slumbers on Friday night when an earthquake shook the building. The shaking probably lasted only 15 seconds but seemed a long time and we could here the sound of breaking glass elsewhere. Once the shaking stopped Guests poured out into the corridors and were ushered down the stairs by staff who all seemed very relaxed about matters. We hung around the ground floor of the building for 10 minutes or so until the building was declared safe and then returned to our beds.
On Saturday, exhausted from the previous day's excursions and lack of sleep due to the earthquake, we did absolutely nothing other than sit by the pool at the hotel although as ever free time means a budget update exercise and more internet research for our journey ahead. We dined at Via Via again that evening and again fairly early to bed as the following morning we would need to pack and check out around 9.30 to leave for our flight to Bali.