After an unscheduled week in Bangkok we returned to Medan on September 11. We had booked a night at the Grand Aston Hotel again and we were looking forward to it but unfortunately our flight was delayed and we didn't arrive at the hotel until 10pm. We hadn't eaten since an early lunch in BKK and we were hungry but room service came to the rescue with sandwiches and we got to bed about 12.30.
We were to travel through Sumatra with LiteNEasy Tours, a guiding company based in Bukittinggi West Sumatra that we had chosen after much internet research. The company and its owner Fikar get consistently excellent reviews and we were able to agree an itinerary that met our requirements at the right price. Fikar agreed to drive and guide us personally but for the Northern Sumatra part of the tour we would have Fikar and one of his guides Andres in addition. Fikar's professionalism and attention to detail is outstanding and when he is travelling away from his home patch around Bukittinggi he likes to double up with a second guide as a contingency plan just in case of unforeseen events. Travel around Sumatra is fraught with difficulty and there are frequently long delays due to small earthquakes, landslides, floods and roadblocks caused by breakdown or overturning of overloaded HGVs. Fikar's base in Bukittinggi West Sumatra is a distance of over 600 km and even without roadblocks is a drive of over 14 hours. There is only one road and several places present bottlenecks with potential for incidents and so when starting a tour from Medan, Fikar aims to be in Medan 2 days before the start of the tour to allow for delays. To prove the point, his journey north to meet us was delayed for several hours in a queue of traffic several km long following the turning over of an HGV.
Next morning, after a fab breakfast, we checked out at 09.30 just as Fikar and Andres arrived to pick us up. With introductions done we hit the road. Our trip would take us South from Medan via Berastagi to the famous Lake Toba and Samosir Island, major tourist destinations for Indonesians as well as Malaysian and Singaporeans. From there the journey goes on to West Sumatra to visit the various highlights of that area. The end of our tour would be Padang, a large seaside town on the coast where we would stay for 2 nights before flying to Java.
Berastagi lies in the Karo Highlands 70km South of Medan. It's a pretty scruffy place by Western standards but then that goes for just about every town here. It is a decent sized town with a population of around 45,000 and its economy is based on tourism and agriculture with a fruit and vegetable market selling local produce – passion fruit, mandarins, avocados, cabbage, carrots, peas and a host of other stuff. Tourism stems from the proximity of two volcanoes overlooking the town, Mount Sibayak and Mount Sinabung, popular with hikers.
Traffic was horrendous as we were leaving Medan and continued to be slow through the suburbs but eventually we got away from the city traffic and with a brief lunch stop to break the journey we arrived in Berestagi mid afternoon.
Downtown Berastagi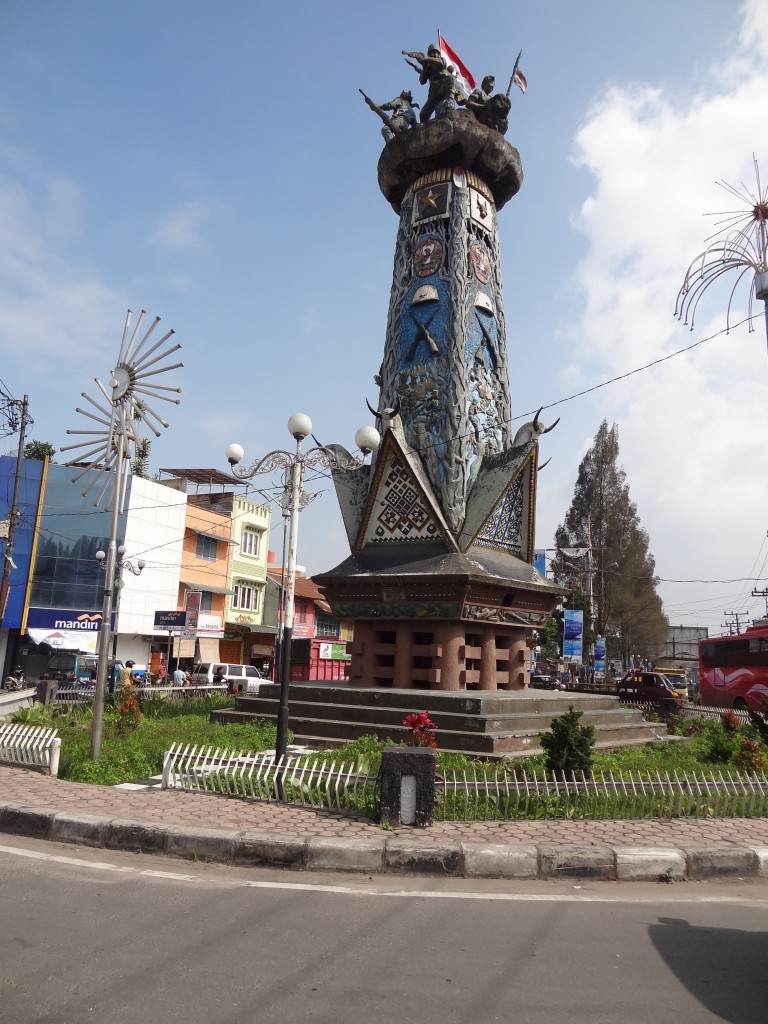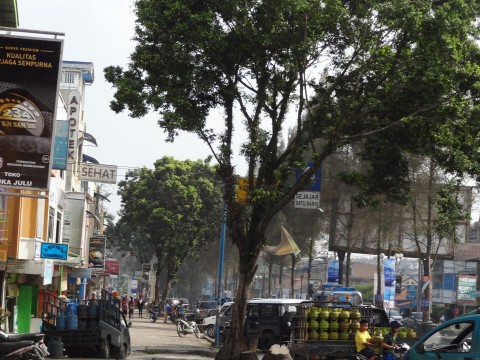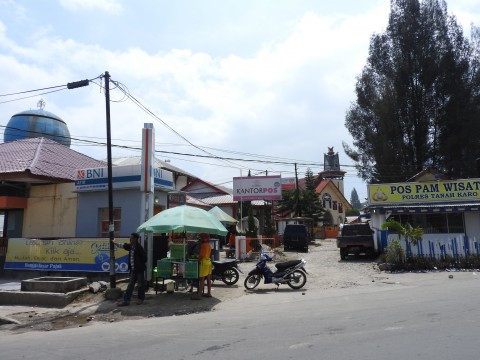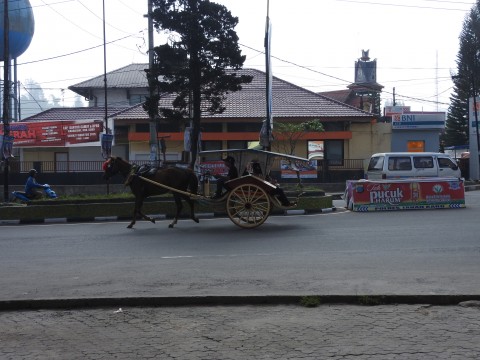 Taman Alam Lumbini
First stop in Berastagi was a golden Buddhist temple and garden complex. This stands outside of town and down a pretty rough track which is apparently kept rough to deter tourists! It wasn't on our original itinerary and I think we visited only because we were ahead of time.
This is quite a new temple built in a Burmese style but although its all nice and shiny it isn't as impressive as the Temples we had seen in Thailand the week before. However, it is interesting that there is a mix of religions here with Buddhist Temples, Mosques and quite a few Christian churches around. In addition, we learned that the local Batak people hold animist beliefs.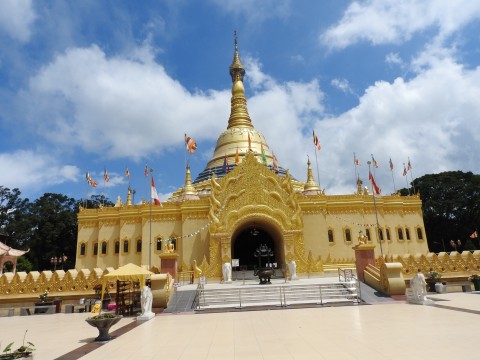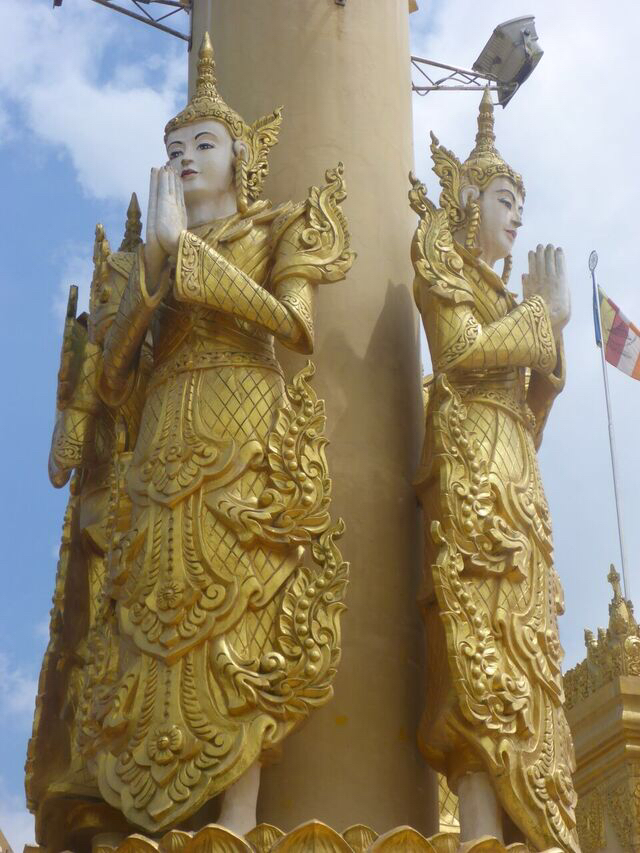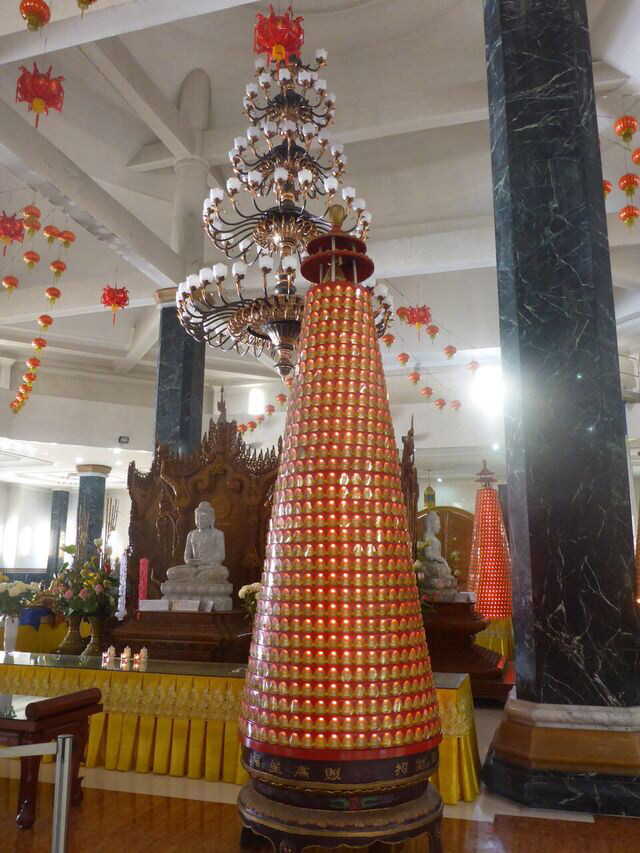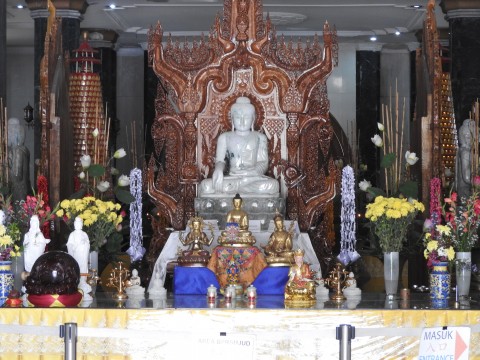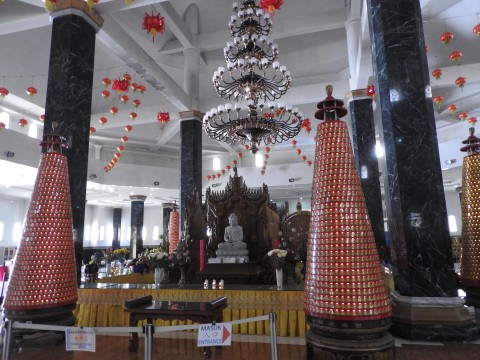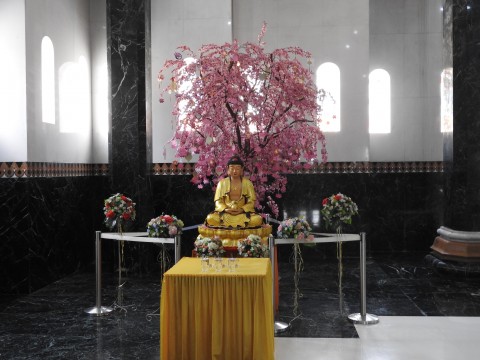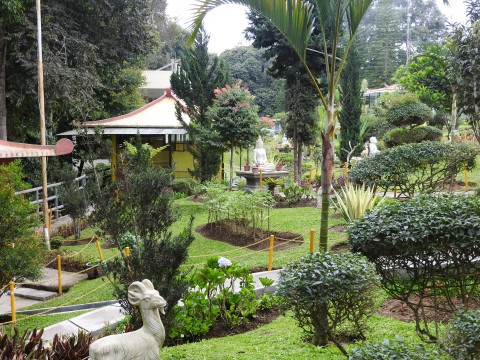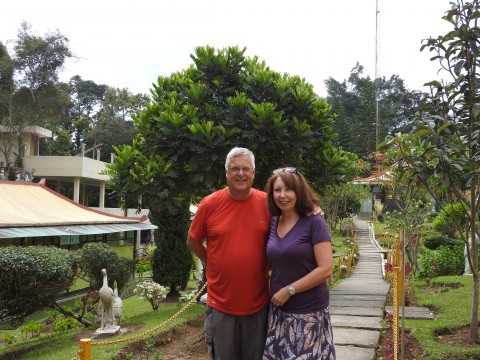 Berastagi Market
After the temple visit we drove back into town for a walk around the fruit and vegetable market, sampling a few things we have never seen or heard of before let alone eaten. For example snake fruit which we have since discovered is the fruit of a type of Palm which is native only to Sumatra and Java. Nice it was too.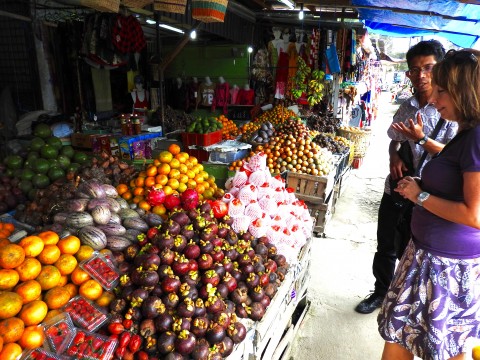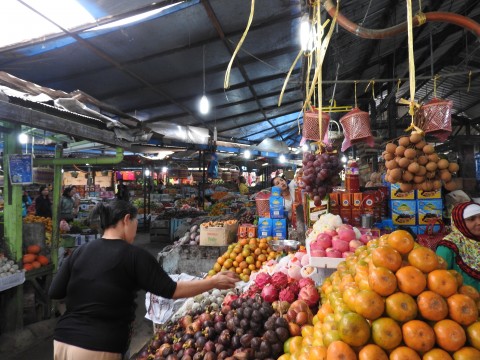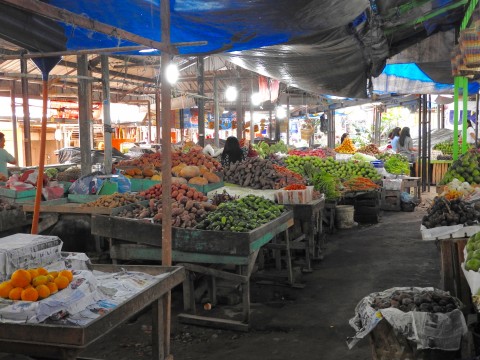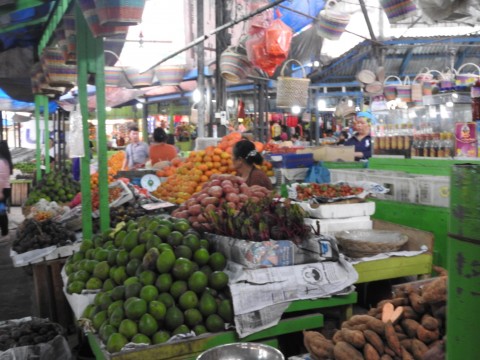 Whilst wandering around the market we seemed to become the centre of attraction with everyone wanting to say hello and particularly a group of young girls who became very giggly in our presence and asked if they could have a photograph taken with us. We obliged of course…
The people here are typically very warm and friendly and love to say hello and more if they have any english. But then again we have found this everywhere we have travelled so far.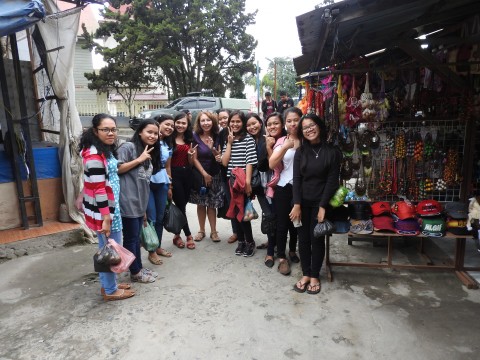 After the market we called at a local shop to get new Indonesian SIM cards and then Fikar and Andrés dropped us off at our hotel around 5pm. We would be left to our own devices each evening and Fikar recommended we eat in the hotel rather than use the local restaurants. Having seen the local restaurants, we weren't going to argue!
The Mutiara was one of the best in the area according to Fikar but we had been a tad concerned as we had seen some pretty awful reviews in recent times. This is a big hotel with perhaps 150 rooms, 5 minutes or so outside town. But it was very quiet and only around 25 rooms were occupied. Having seen the poor reviews we had asked to be upgraded to the best available room and this was done at no extra cost. We were given a suite with two double beds, a large bathroom and balcony overlooking lawns. It's fair to say the room was tired as was the rest of the place but nevertheless this was a very pleasant place to stay with lovely staff as ever and decent food albeit both evenings we dined in a massive restaurant that probably doubled as a ballroom with only 2 or 3 other tables occupied as most of the Indonesian guests seemed to prefer to eat out in the local restaurants. Overall we were very pleasantly surprised with all aspects of the hotel room, service and food – especially the hotel grounds which comprised lovely gardens with a very attractive large and very clean swimming pool. The gardens had lots of nice features including an outdoor gym for those so inclined but unfortunately we only had time to look around. 
The Grand Mutiara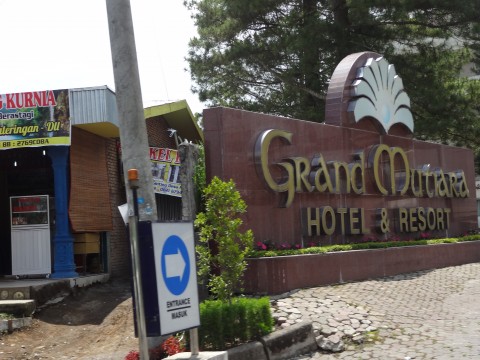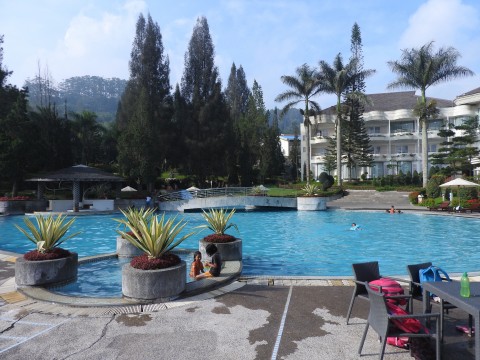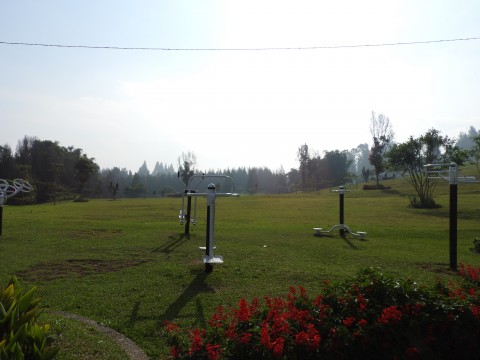 Mount Sibayak
The following morning we set off at 9am to drive over to volcanic Mount Sibayak.
Sibayak hasn't erupted for over a century but it's activity level in terms of steam vents and hot springs is apparently increasing thought to have been triggered by the activity within Sinabung and/or recent earthquake activity elsewhere in Asia.
Mount Sinabung was dormant for 400 years until an eruption in 2010 followed by 2 more in 2013 with a further 3 in 2014. A total of 16 people were killed in one of the 2014 eruptions and thousands were evacuated – many people still haven't been re-housed and further eruptions in 2015 mean that tented villages remain in the town housing evacuees. This at September 2015. We saw Sinabung still rumbling and spewing out smoke and the volcano is no longer open to walkers.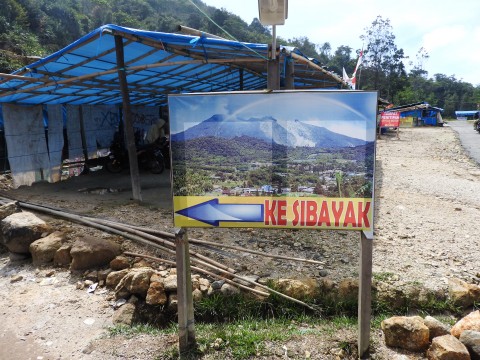 Fikar drove us to within an hour and a half of the summit of Sibayak and we walked the rest of the way to the top with Andrés. This wasn't difficult hiking though it was steep and muddy in places and there were places we needed to scramble and pull ourselves up by tree roots etc. We enjoyed the climb very much. With the heat we needed to stop frequently for water and to take photos of the stunning scenery although unfortunately once again, as in Borneo and Penang, our photography was frustrated by the forest fire smog. On a good day we would have had a perfect view of Mount Sinabung but the haze meant we couldn't get a decent photo although smoke can clearly be seen coming from the top.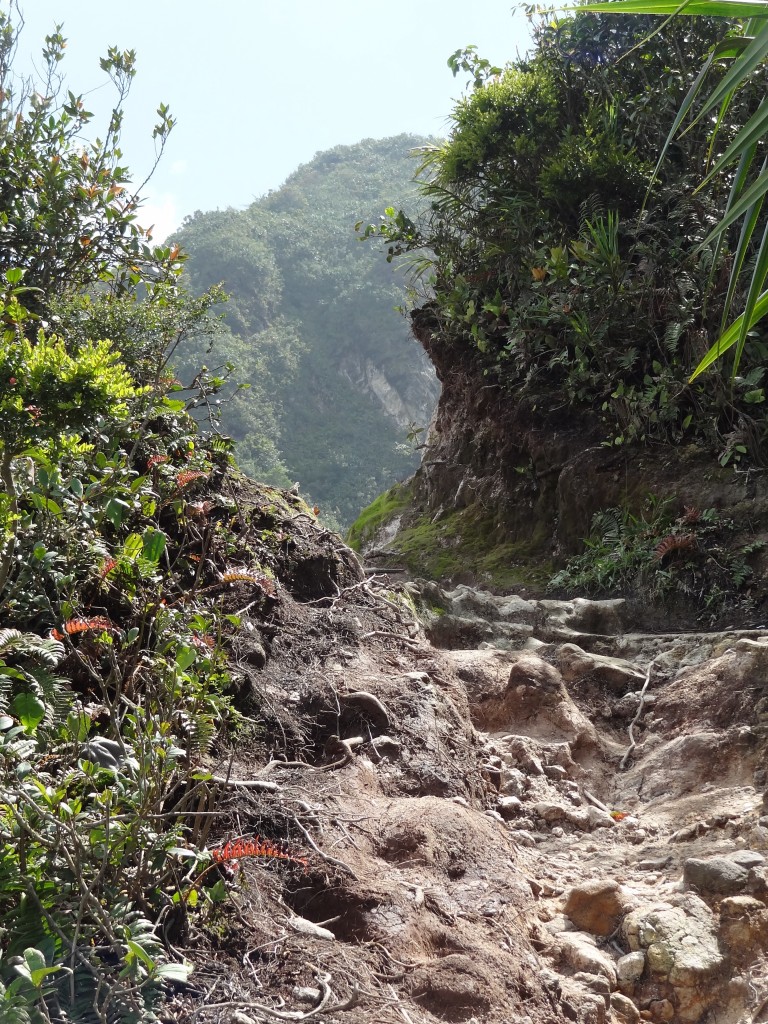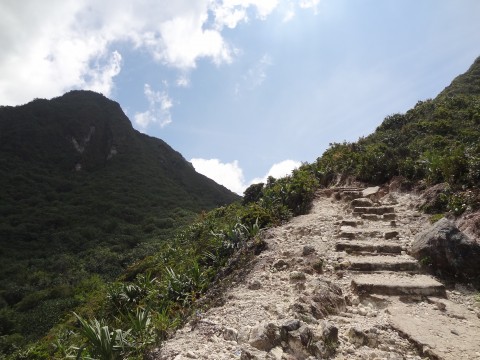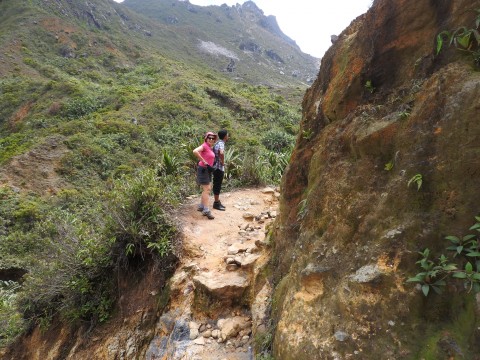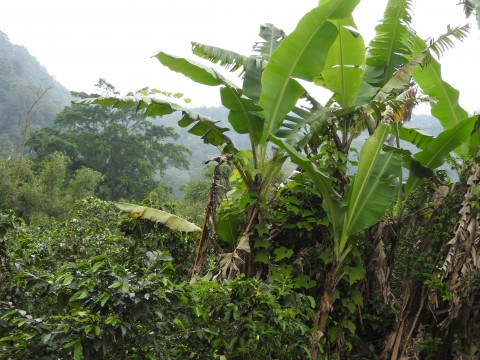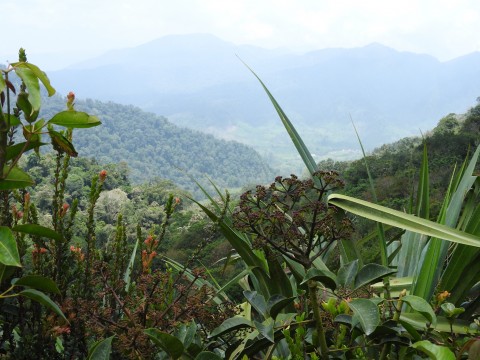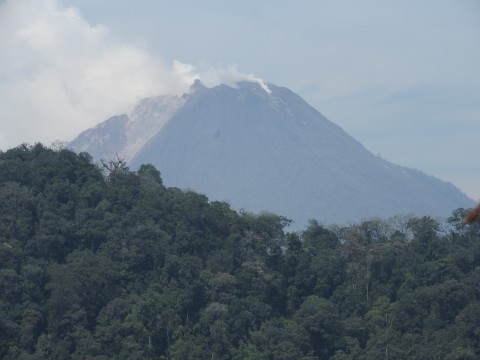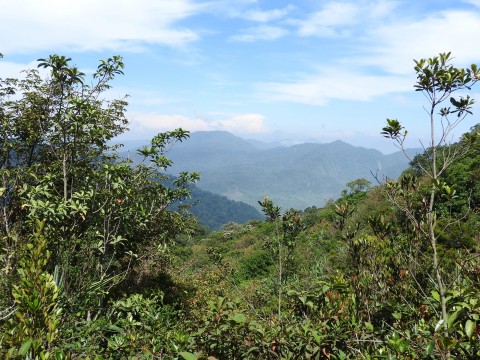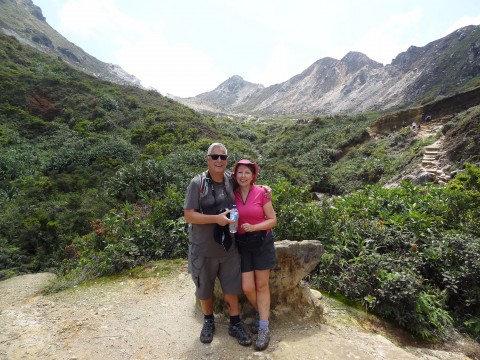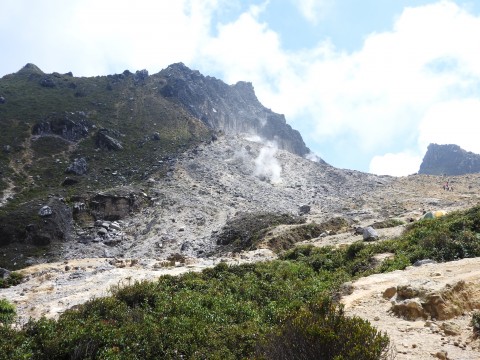 There were lots of other folk walking up with us, mostly young Indonesians from Medan out on a day trip. Most of them said at least "Hello, where are you from?" with several of them asking to be photographed with us. By now we are getting used to our new celebrity status!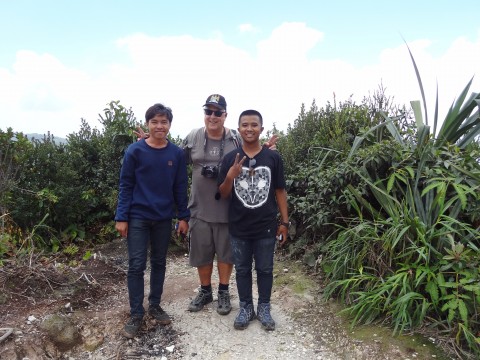 Passing some campers en route, surely not a great place to camp given the constant stench of sulphur, we reached the summit above the water filled crater similar to the Kelimutu craters in Flores, around 11.30.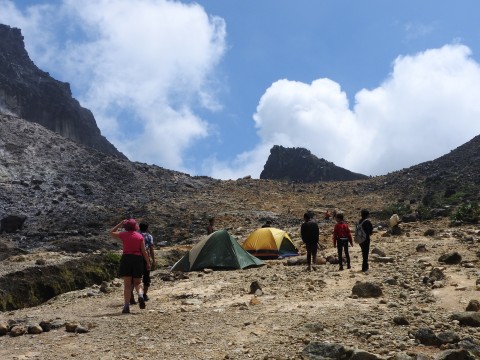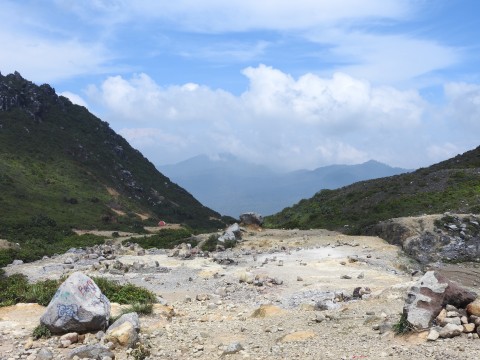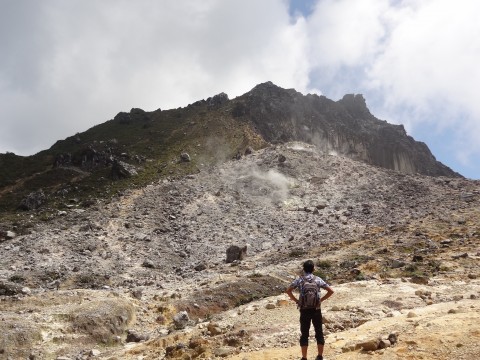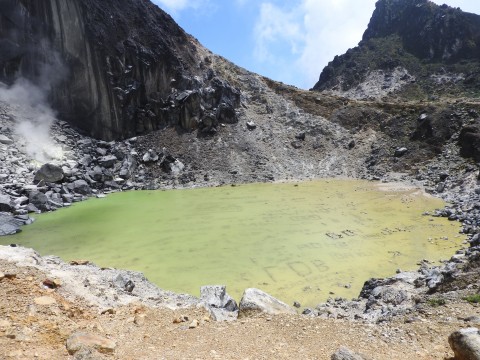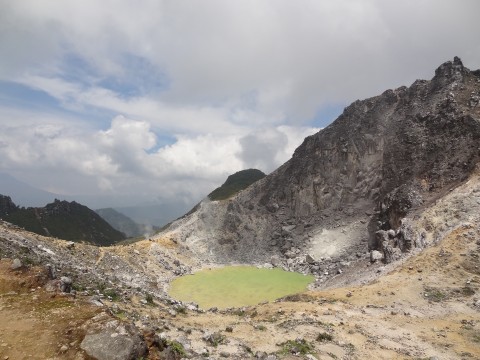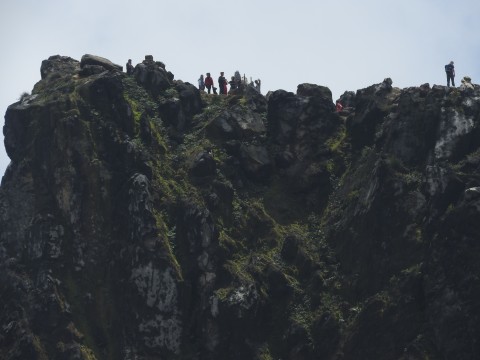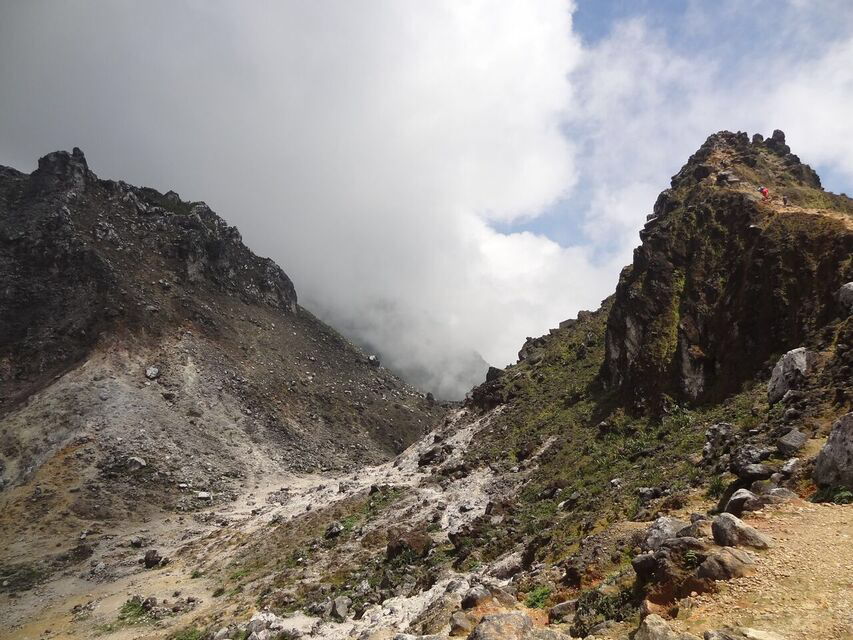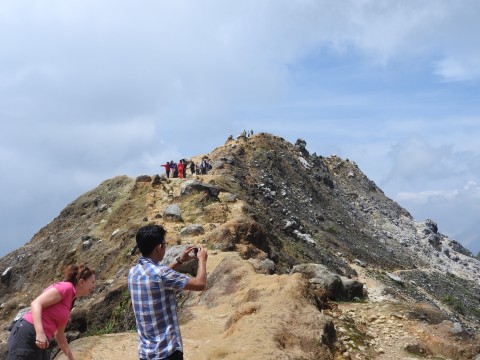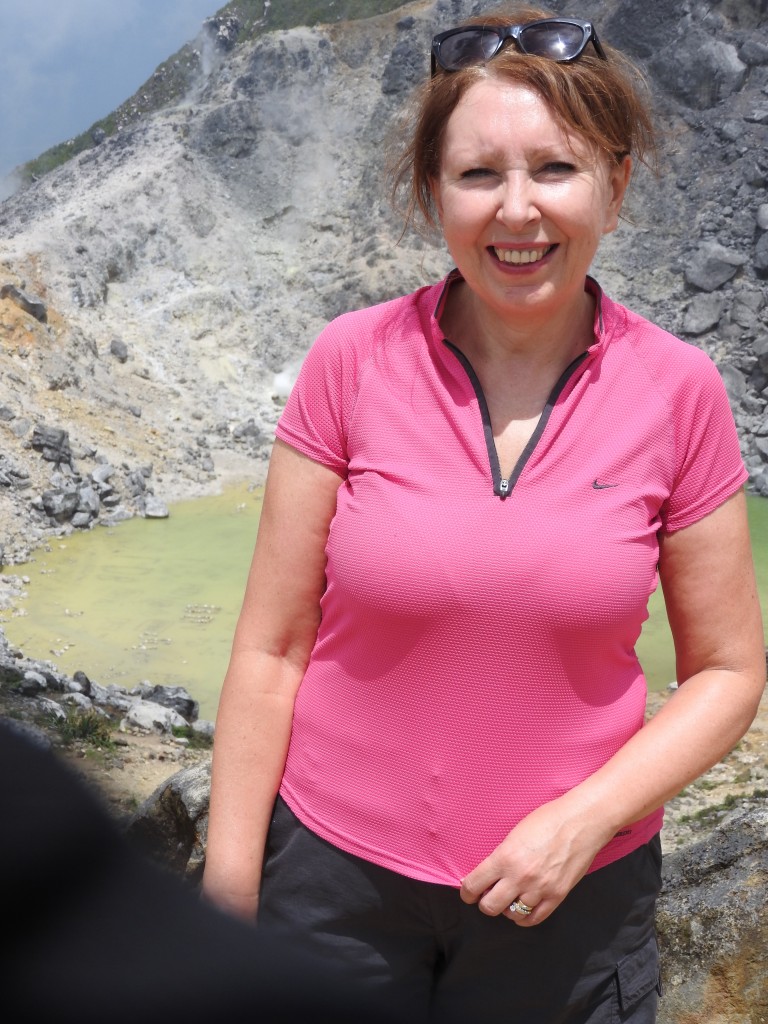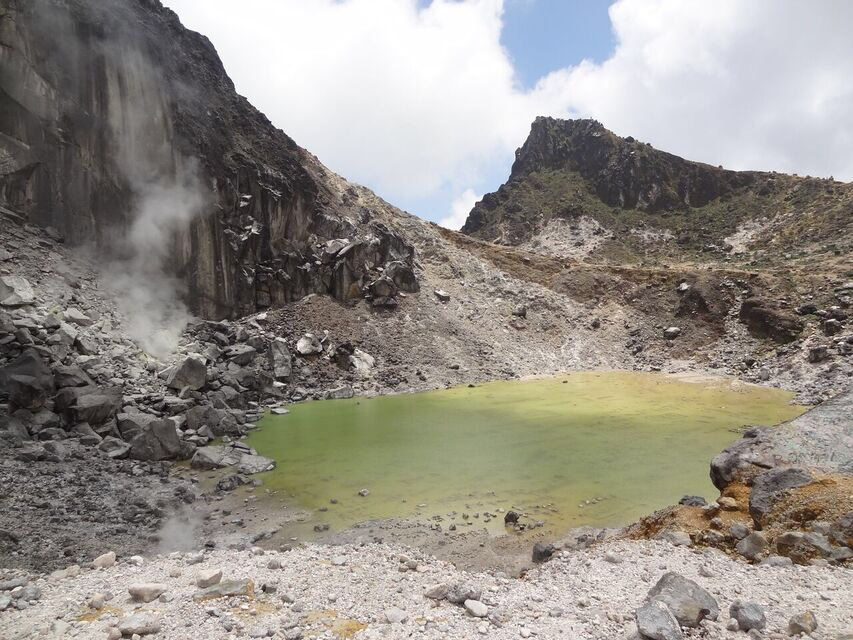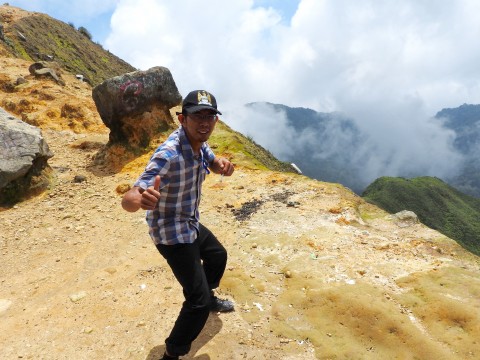 We hung around taking photos and chatting to people for 15 minutes and then made our way back down via a slightly more circuitous route stopping to have a look at some of the gas vents We were back down the mountain to meet Fikar around 1.30pm.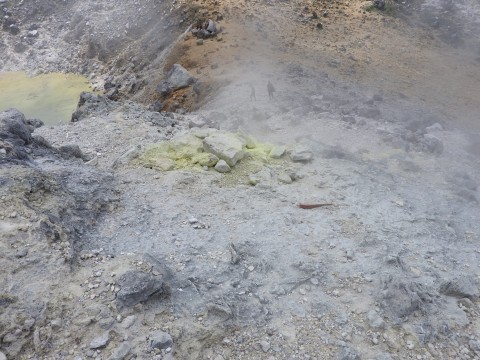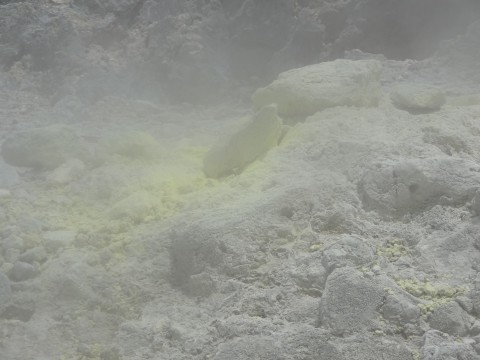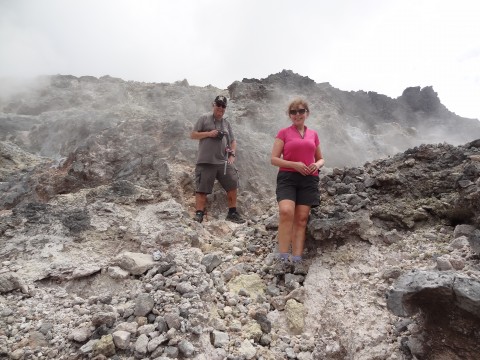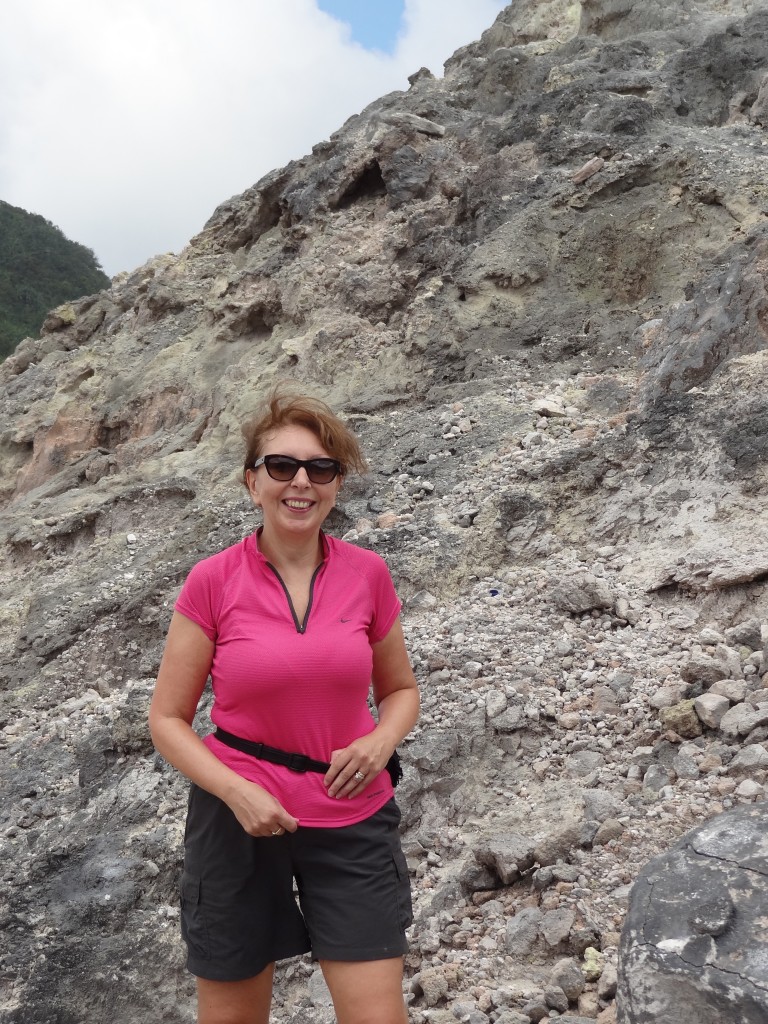 Lunch today was a local restaurant well known to our Guides – grilled fish with sambal, rice and veggies. And Bintang of course. Excellent! We then did a scenic drive around the area including a local beauty spot, Gundaling Hill, with the idea being to take some panoramic pictures above Berastagi. In the event, the smog meant that scenic photos from the lookout point were out of the question. Disappointing but still we got some nice pictures of the countryside around the area if not from above it!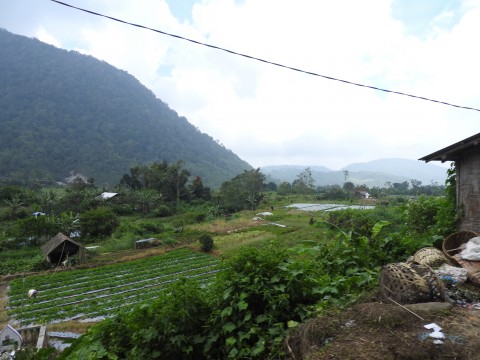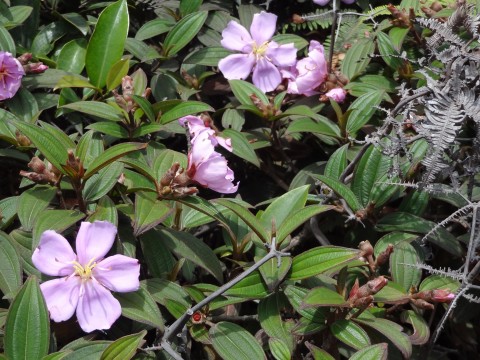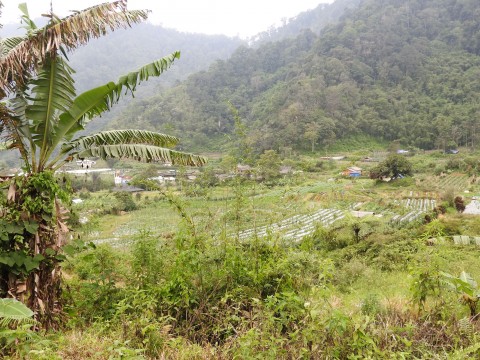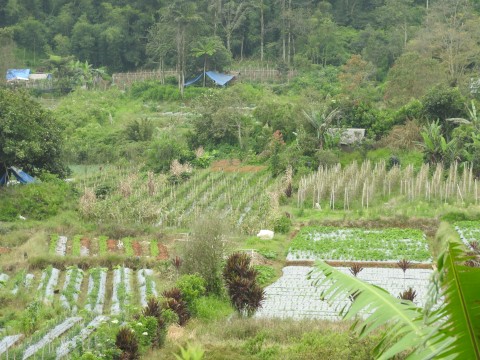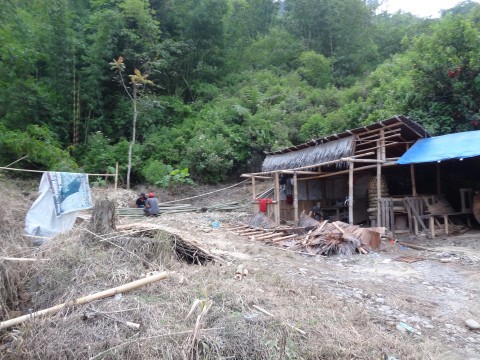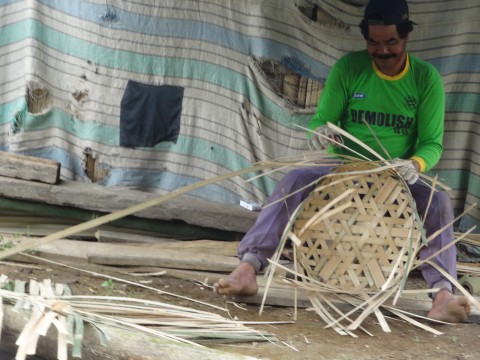 The Boys dropped us back at the hotel around 4.30 pm.We were keen to get back to try to suss out the likelihood of being able to watch Crystal Palace v Man City on TV that evening. The likelihood turned out to be nil but thankfully we still have access to on line footy and so we were able to watch via iPad using 3G as the hotel wifi, decent in the lounge/dining room, is non-existent in the rooms. Result 0-1, a great result for us with Chelsea losing again…
Berastagi to Lake Toba
Next day, Sunday September 13, we set off for Lake Toba stopping en route to visit Dokan Village, a traditional Batak village in the Batak Highlands South of Berestagi. Batak is a collective term given for a number of different ethnic groups or tribes in Central North Sumatra. A little like Flores, these different groups have their own individual but related languages and traditions. Some of these different groups can understand some of the languages of the other groups but not all and so as always Bahasi Indonesian is used as a common langiuage when needed.
At Dokan the local people although part of the wider Batak culture apparently prefer to be referred to as Karo rather than Batak. The touristic attraction of this village is the traditional Batak houses that remain here. These are homes built of bamboo and timber gathered from the jungle and whilst there are several Batak villages in the area there are few remaining traditional Batak Houses with high roof and featuring a buffalo head at the top of the roof – the official emblem of Batak Karo and a symbol of strength seen throughout the village. These houses can stand for more than 200 years as the bamboo becomes preserved by the smoke constantly wafting through.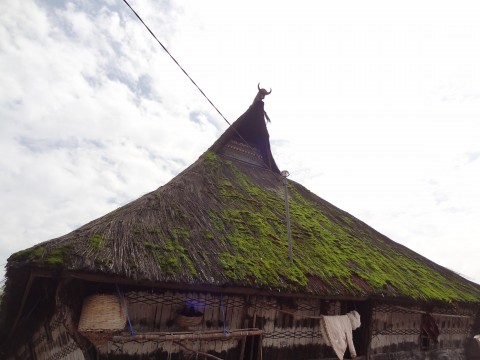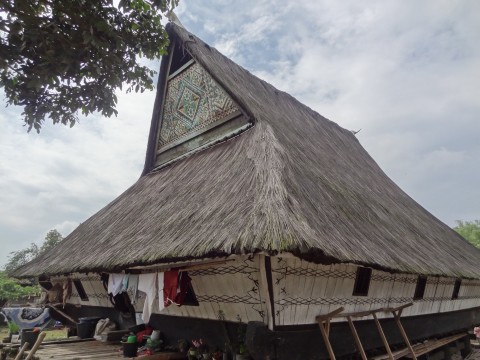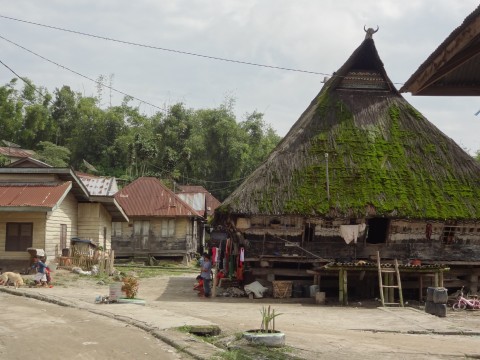 There are five of these traditional houses at Dokan still occupied as homes. In return for a small "donation" visitors are welcome to go inside one of these houses which house 5 or 6 or up to 8 families related by blood or marriage, each with its own kitchen area with hearth for burning wood fires for cooking. There is a "living" space next to the kitchen and each family seemed to have a wardrobe and area to store things but there was little or no privacy.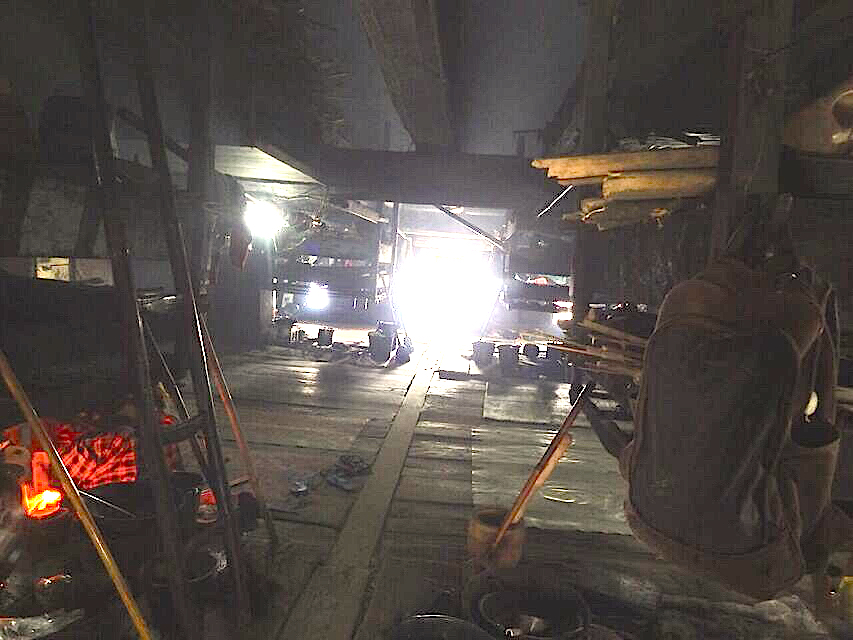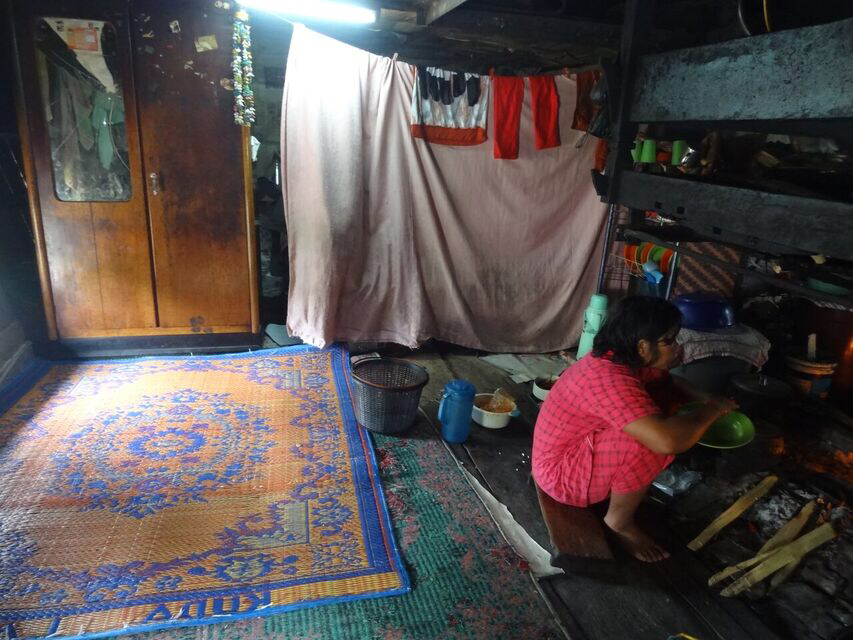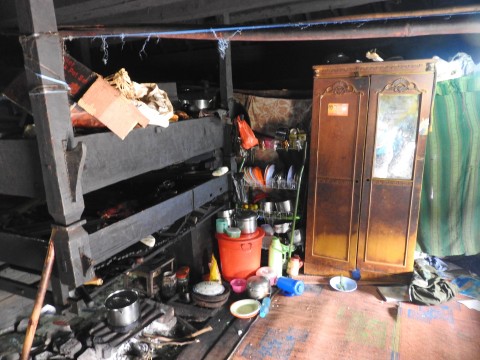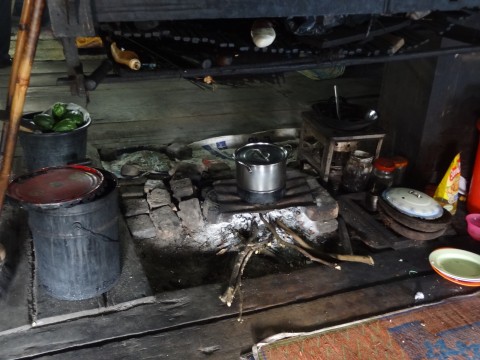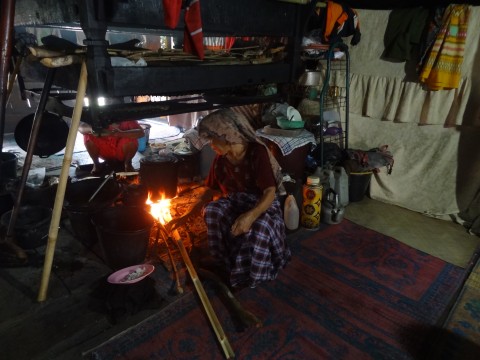 The rest of the villagers live in much more basic homes, some more basic than others as can be seen below. We saw here as everywhere that whilst the local people are as poor as poor can be, it's the norm and they think nothing of it and they go through life with a smile on their faces.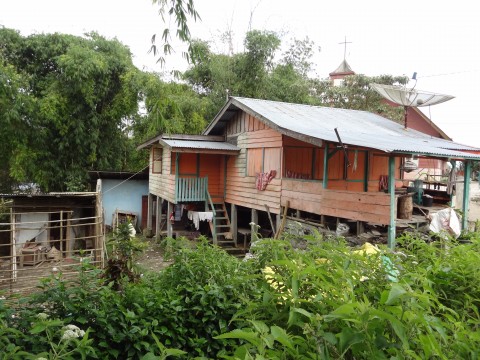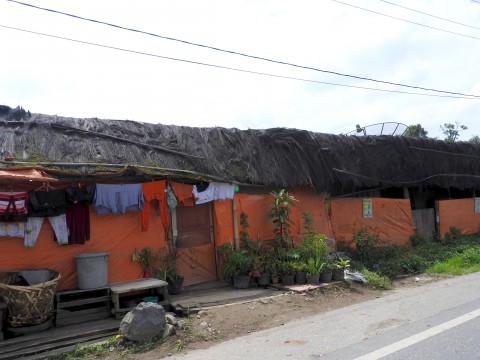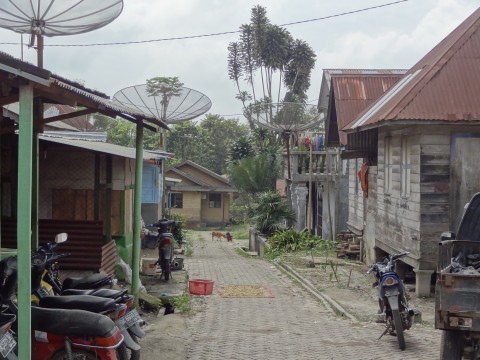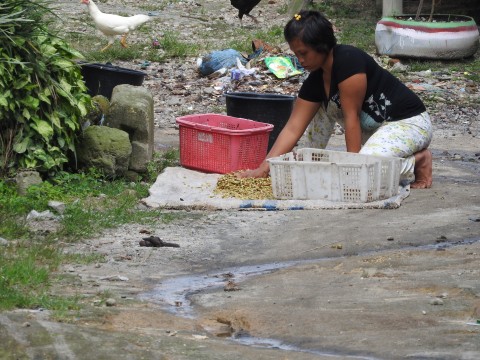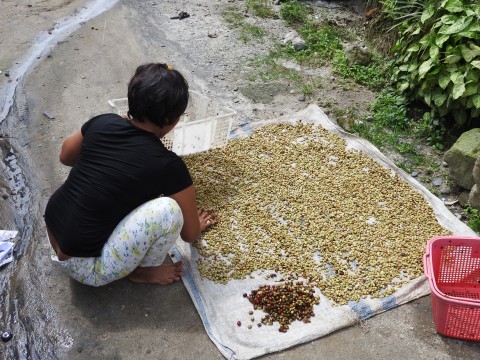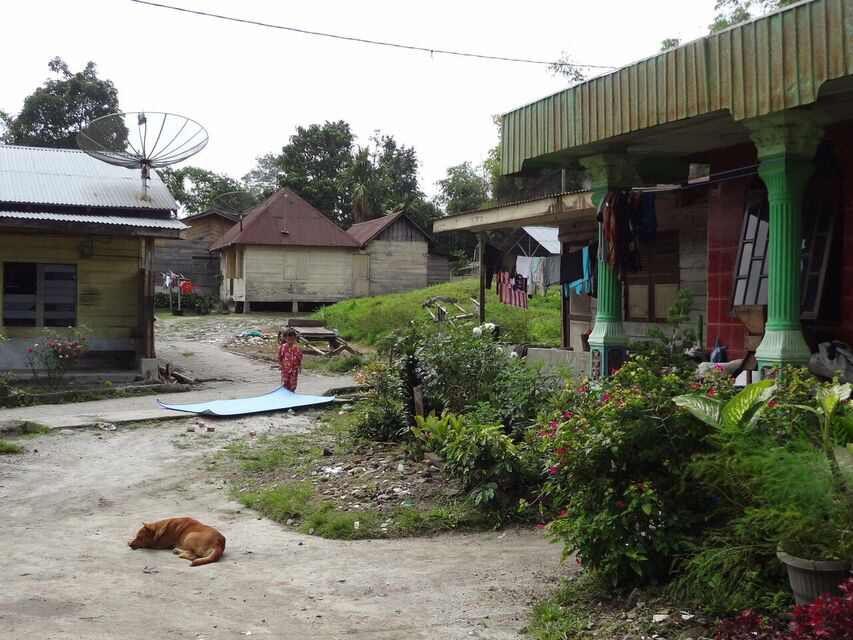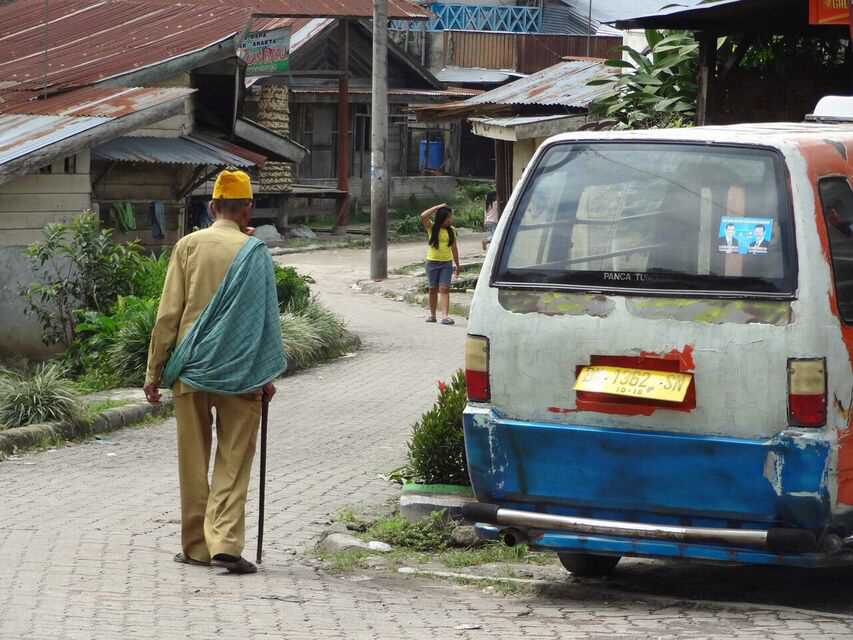 We left Dokan to continue our journey towards Lake Toba. The scenery here is absolutely stunning with mile after mile of greener than green hillsides covered with fields of produce of all kinds.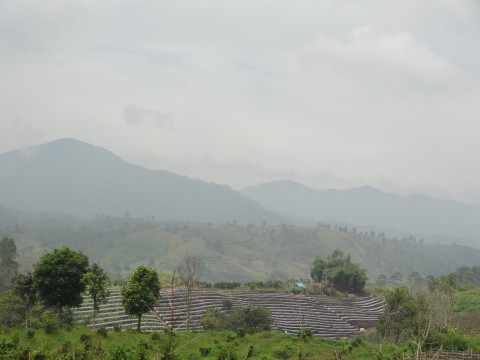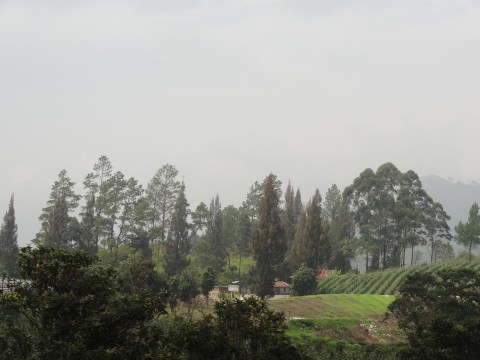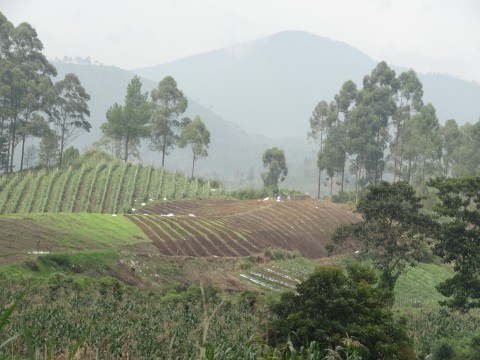 We passed through several small and usually scruffy villages and this being Sunday we heard hymns being sung in outside services at some churches whilst services were finishing at others and we came across congregations leaving church with women smartly dressed in brightly coloured "Sunday best" clothing. It was all very picturesque although seemed a little odd in a country which of course is predominantly Muslim.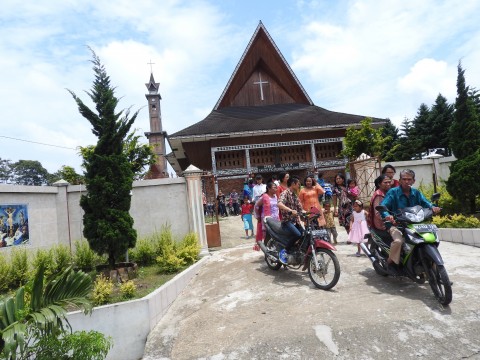 Our next stop was Sipisopiso waterfall which with a drop of 120 metres is the highest waterfall in Indonesia. The waterfall is the outfall from an underground river which comes out of a cave in the Lake Toba caldera and falls down to the lake level. The viewing point for the waterfall is on a hill across from the waterfall and also gives a lovely view of the Lake – or it does when the sky is clear. On the day we visited the lake could barely be seen because of smog!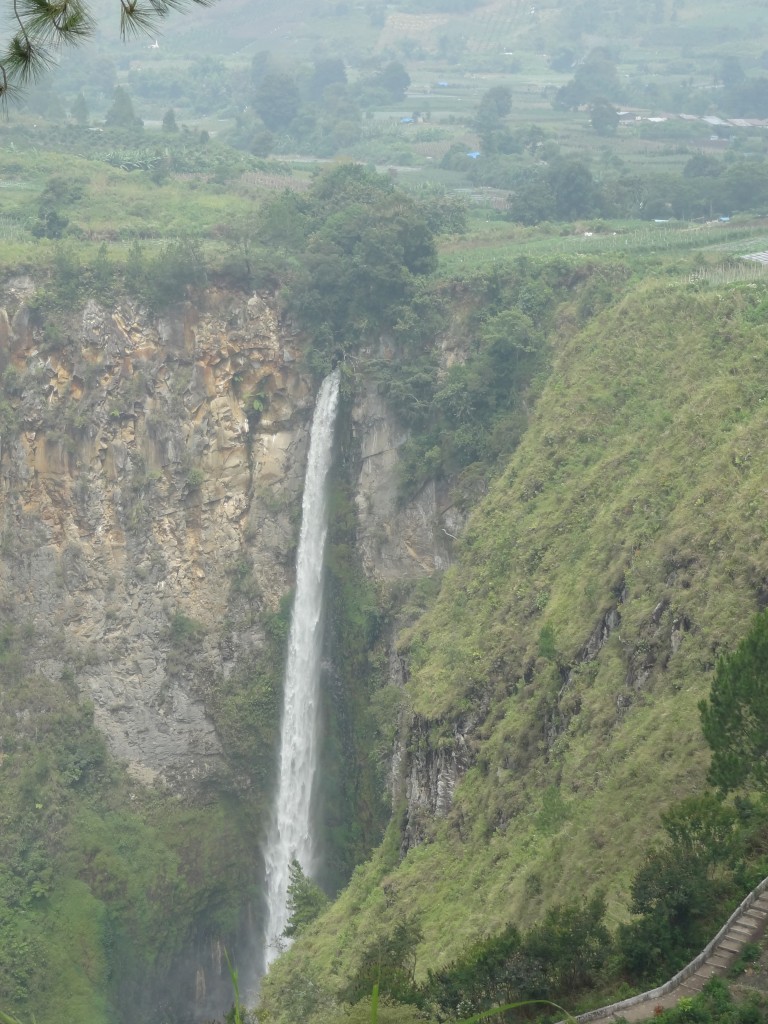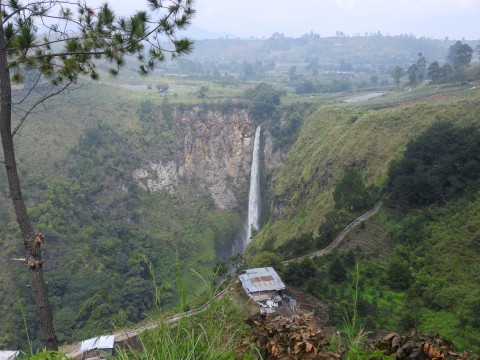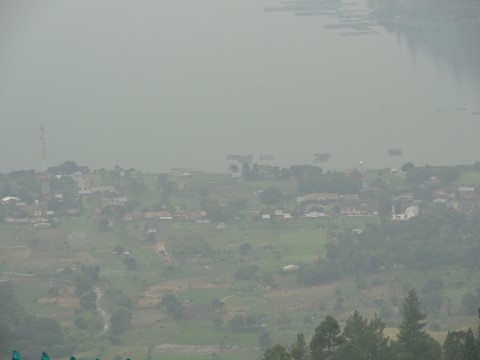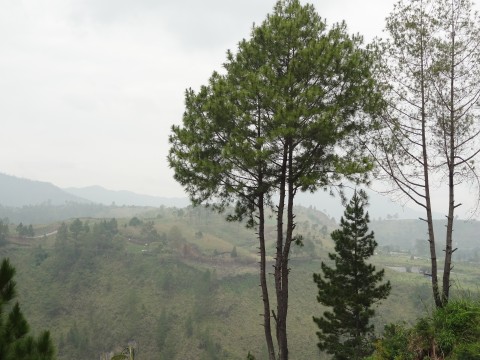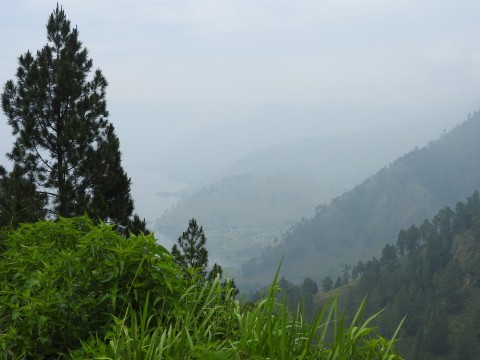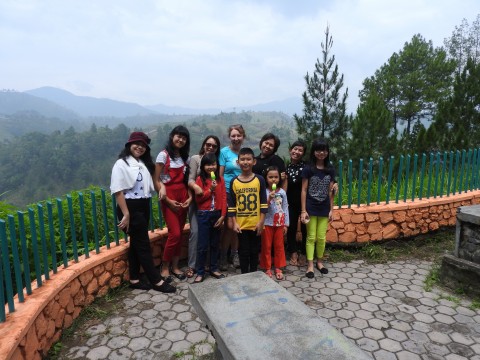 Smog notwithstanding, the place was busy with locals and visitors from Medan (including yet another group who wanted their photograph with us) and indeed a few Europeans.
As always wherever there is some kind of tourist attraction, there are plenty of shops catering for folk with the usual tourist tat, tee shirts of the " I Love Sipisopiso" variety etc and cafes selling local food.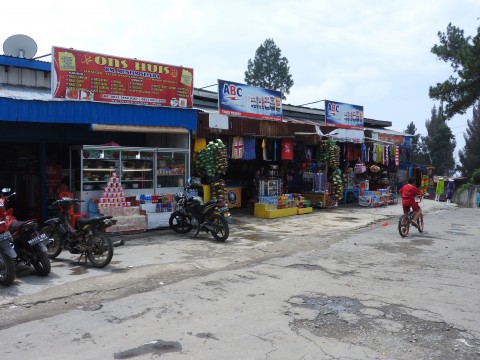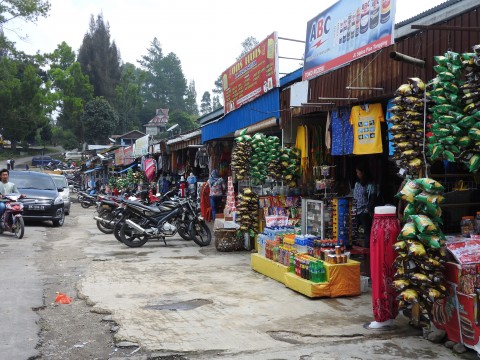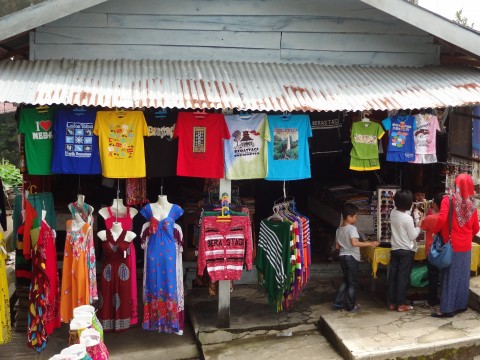 After an hour or so at Sipisopiso we left to drive on for another hour to our lunch stop at Simarunjung Village. This is a regular spot on the tourist trail to Toba as there is a very nice restaurant at which to enjoy lunch with another great view of the lake – or it would have been a great view had it not been for smog. The food was good – beef rendang for me and sweet and sour chicken for Ann.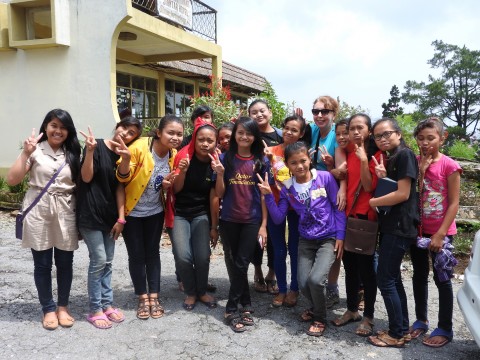 Our final stop before reaching Lake Toba was at Pematang Purba a village where we visited restored tribal houses of the Simalungun Batak chiefs. These tribal houses are now a museum. Among the tribal houses is a long house of the Batak chief. The house stands on poles and was built of solid teak with roof gables ornately decorated with designs in red, black and white, the traditional Batak colours. The house consists of living quarters, with cooking area and sleeping quarters with apartments for each of the chief's wives.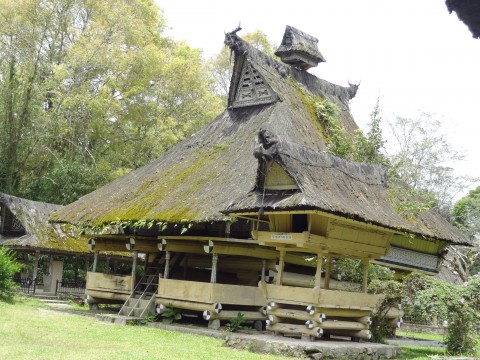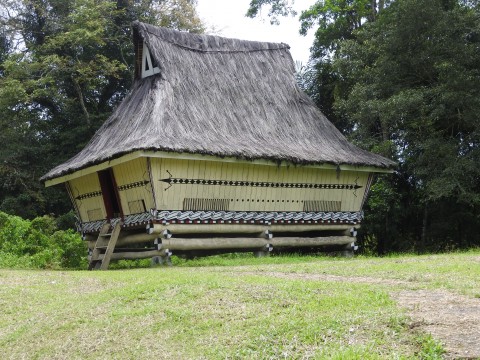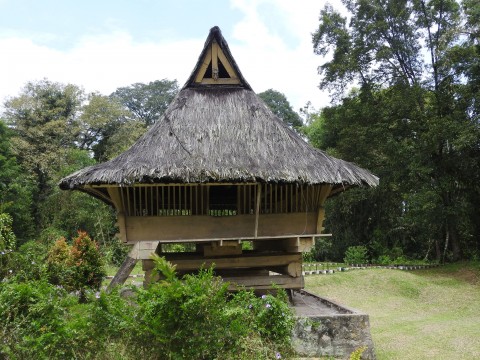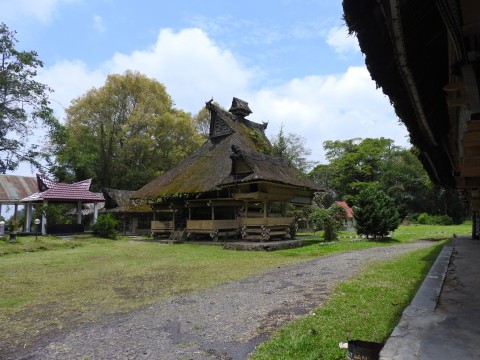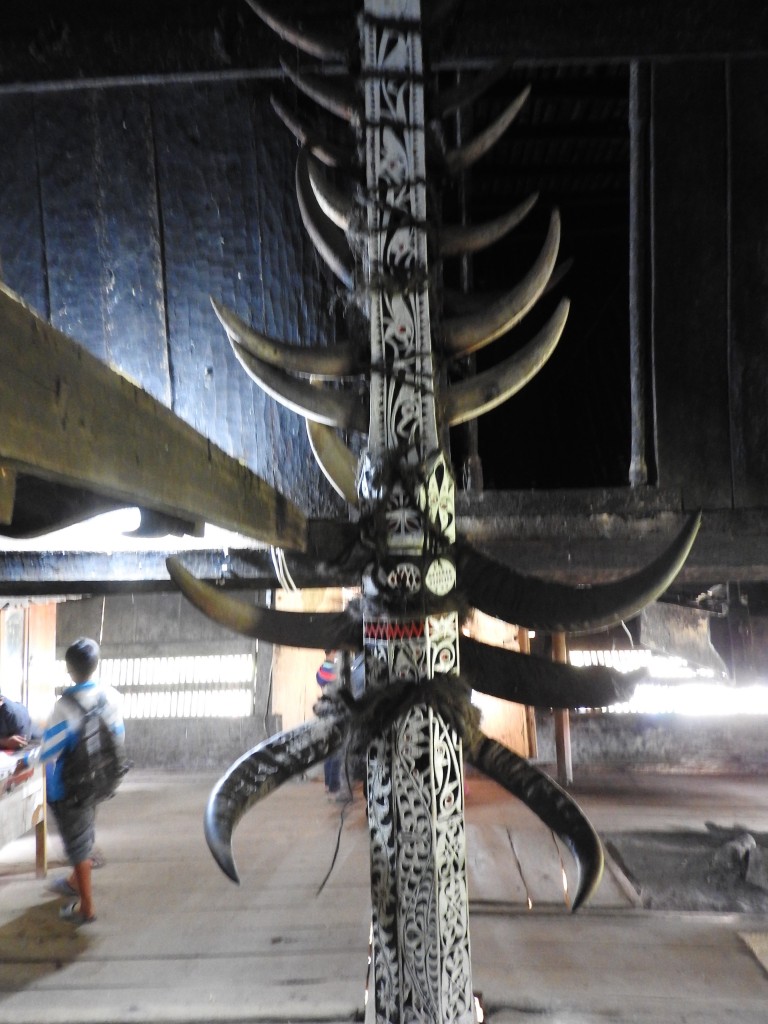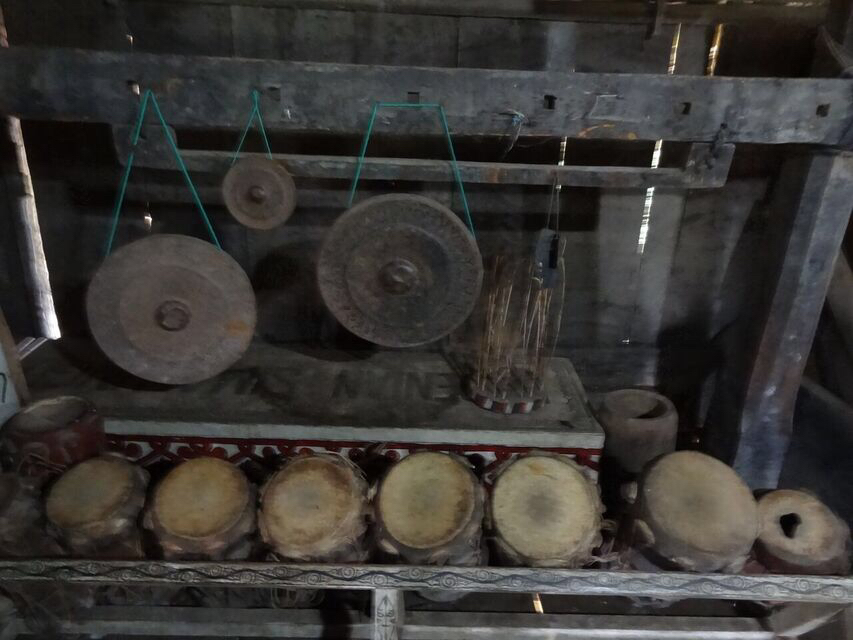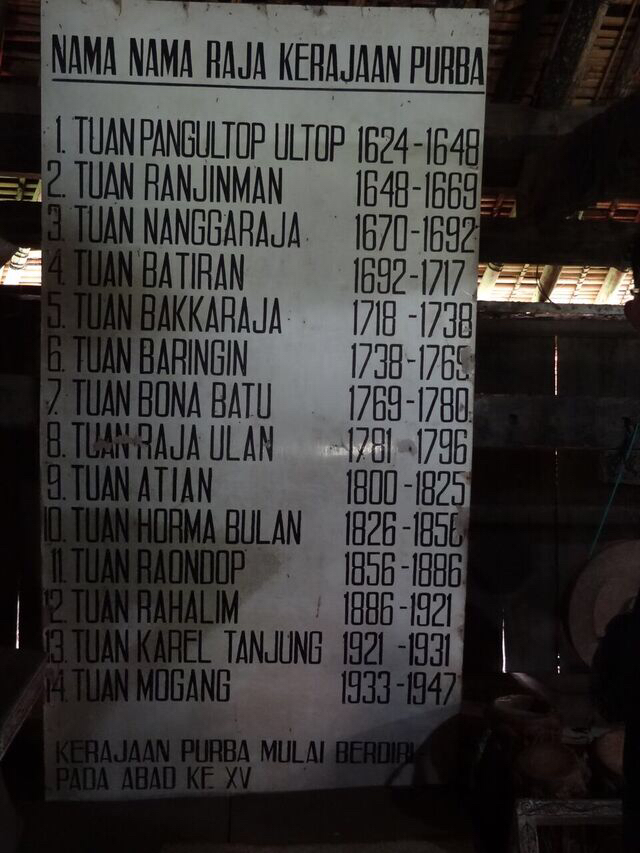 After half an hour we drove on to the village of Tigaras to catch the car ferry over to Port Simanindo on Samosir Island where we e would spend 2 nights.
We were in good time for the boat and spent 15 minutes watching some local men fishing in the lake from a jetty with small fish pens alongside them. The fish pens belong to local people whose houses overlook the lake and are essentially mini personal fish farms – very handy when someone fancies a fish supper!
Tigaras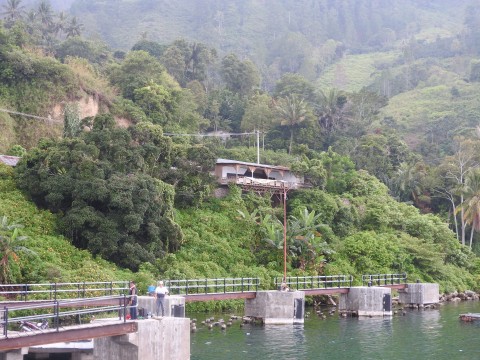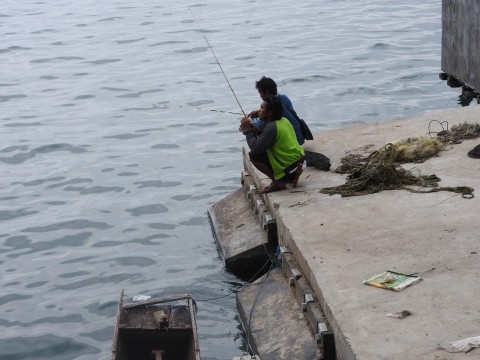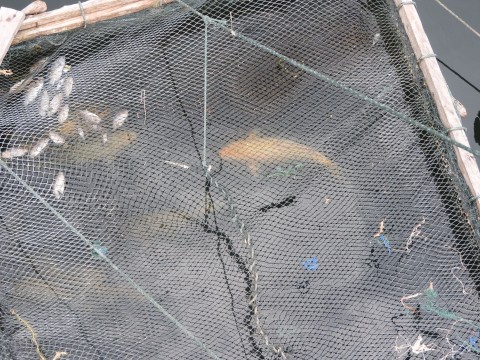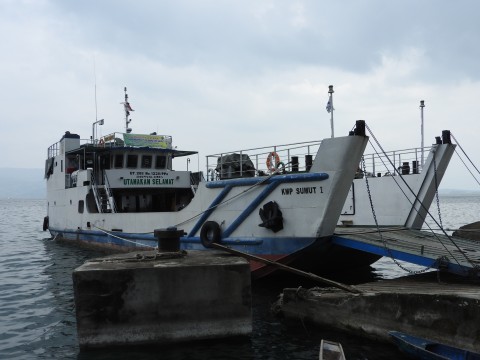 Lake Toba is an immense volcanic lake covering an area of 1,707 km² with an island in its centre. Formed by a gigantic volcanic eruption some 70,000 years ago, it is probably the largest caldera on Earth. Some studies say it might have been associated with causing previous ice age/climate change and the largest human population bottleneck ever. Genetic estimates suggests that there were only a few thousand individuals that survived its catastrophic eruption.
The island in the middle of the lake – Pulau Samosir – is as big as Singapore and was joined to the caldera wall by a narrow isthmus, which was cut through to enable boats to pass; a road bridge crosses the cutting.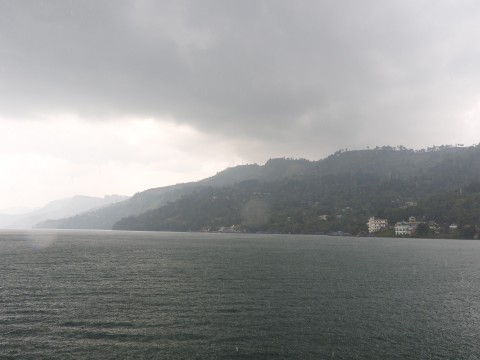 The ferry ride is less than half an hour but we couldn't get any decent photos from the boat as the heavens opened with some serious rain just as we got onto the boat and throughout the journey. Luckily the rain stopped just as quickly as we disembarked on Samosir Island at Simanindo, north of Tuk Tuk which is one of the larger towns on the island. Within a few minutes we had arrived at our accommodation, MAS Cottages right on the edge of the lake.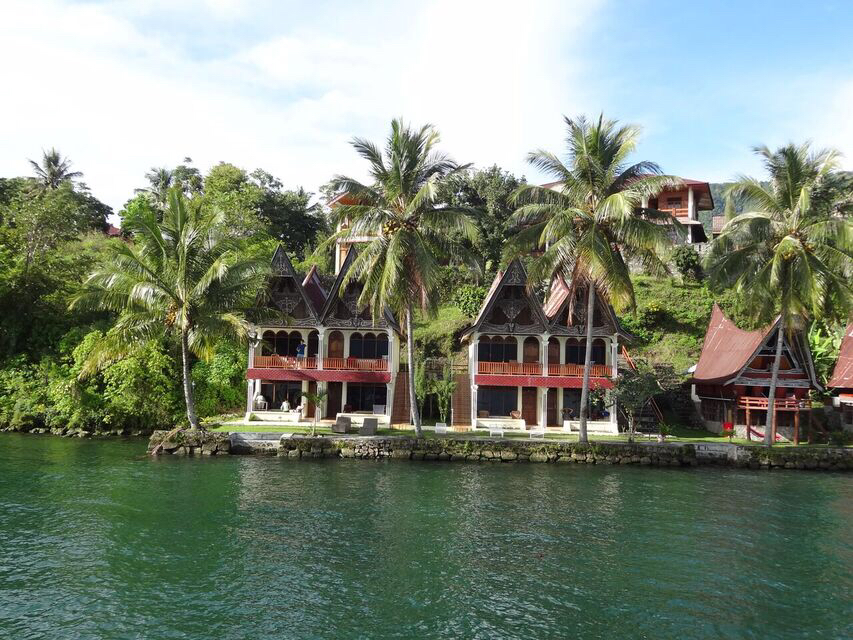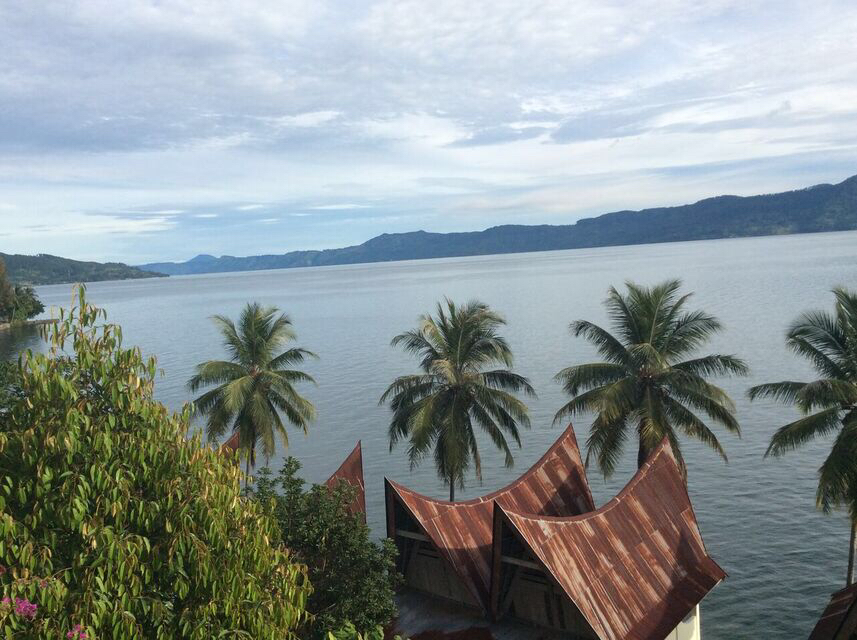 Ann had booked this accommodation only a few days ago having read some poor reviews of the hotel specified in the original tour itinerary. MAS is a little bit away from Tuk Tuk but we were not too fussed at being away from the town and our room was perfect with a lovely view over the lake and with excellent reviews. At around only £13 a night with American breakfast an additional £1.70 each, it was great value.
Fikar and Andrés left us to our own devices for the evening as they were staying in Tuk Tuk at the hotel originally booked by them but they didn't leave until they saw that we were happy with our room. Super service!
Dinner was a meal of grilled fresh fish from Toba Lake and very nice too. It had been a busy day and we retired early, well and truly knackered.
Next morning, Monday, we were picked up around 9.15 am. The weather was much better with barely any smog and what smog there was seemed to clear as we drove north towards Simanindo village where we would see some traditional Batak dancing.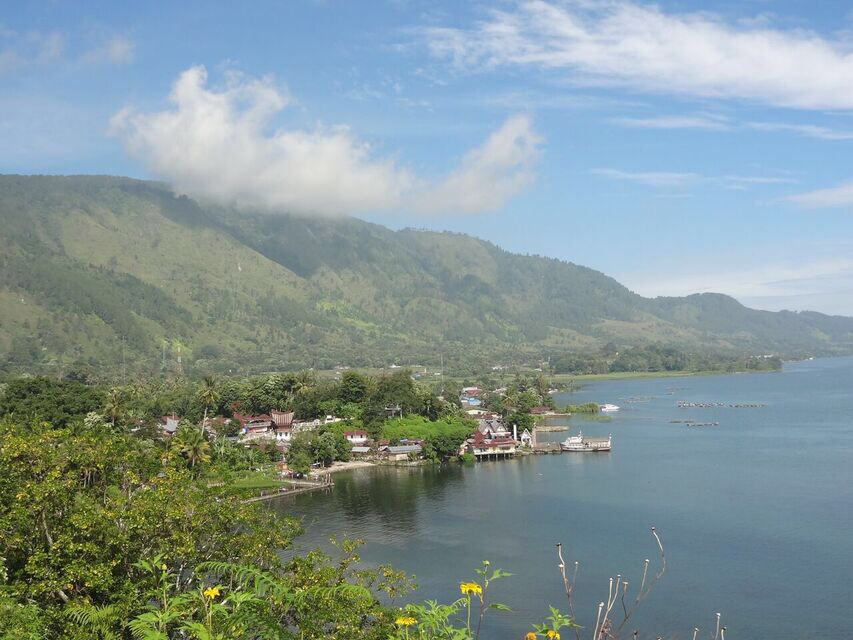 Below are some photos of the scenery en route to our first stop of the day, Simanindo. The traditional Batak houses shown are real homes – not tourist attractions!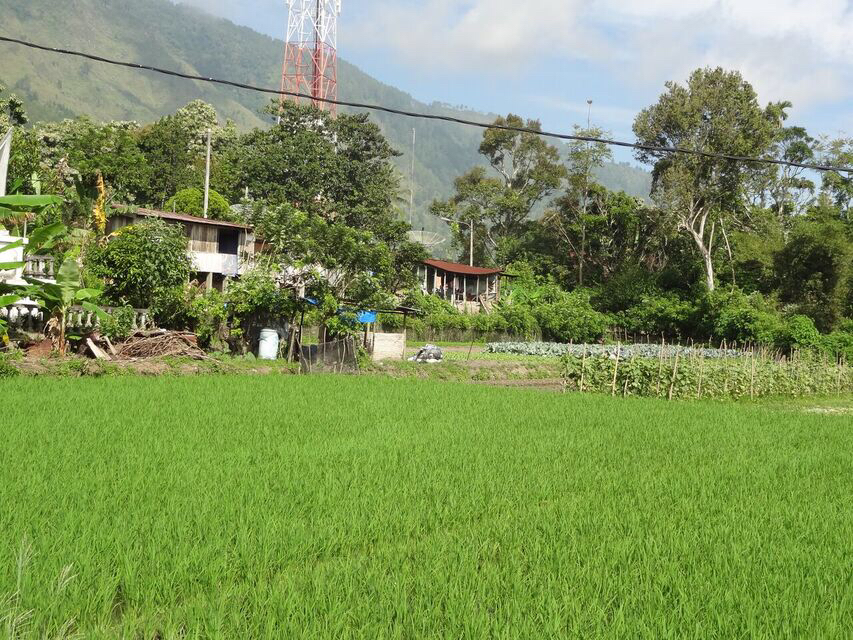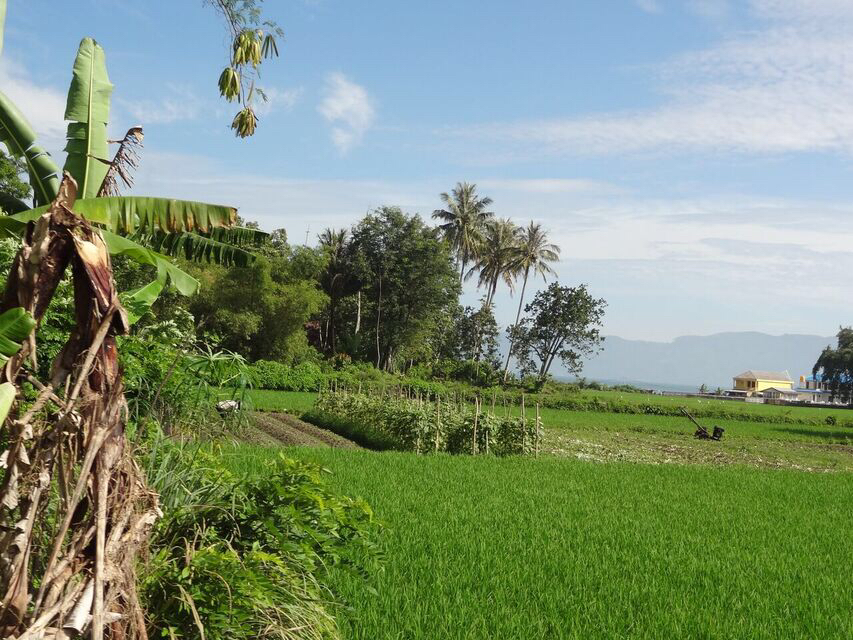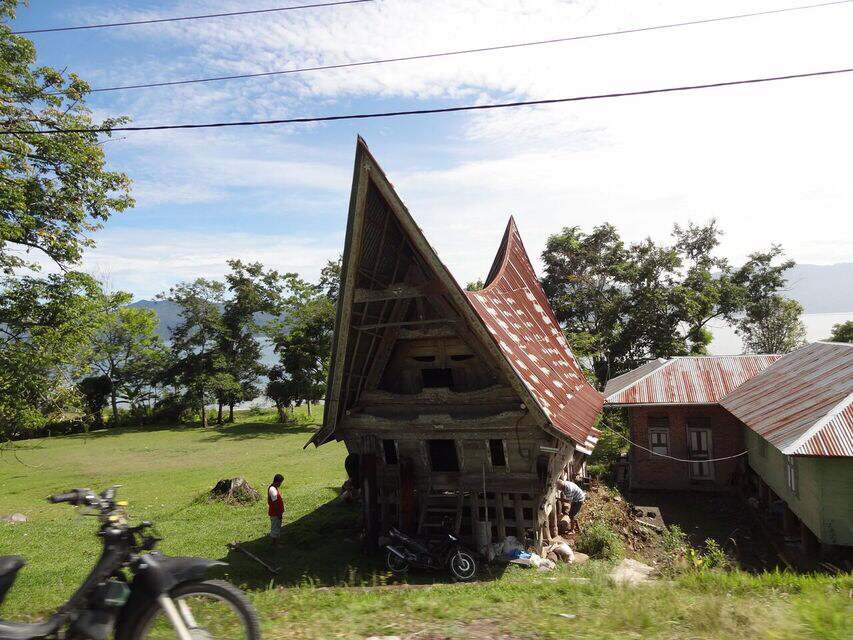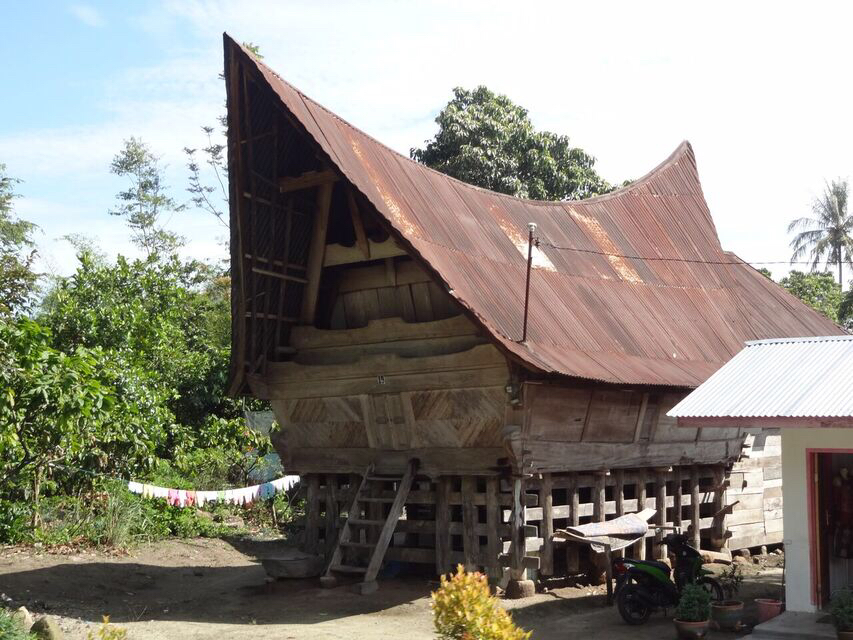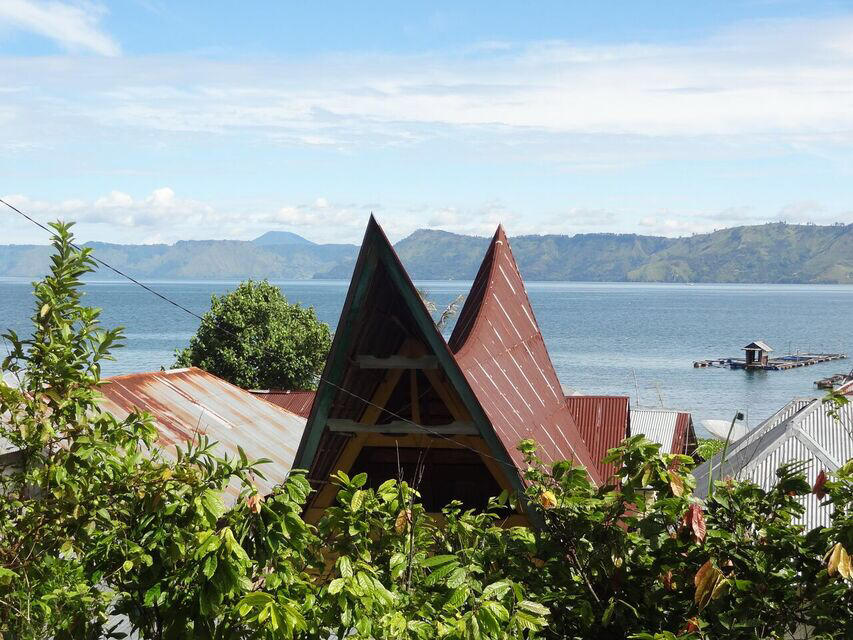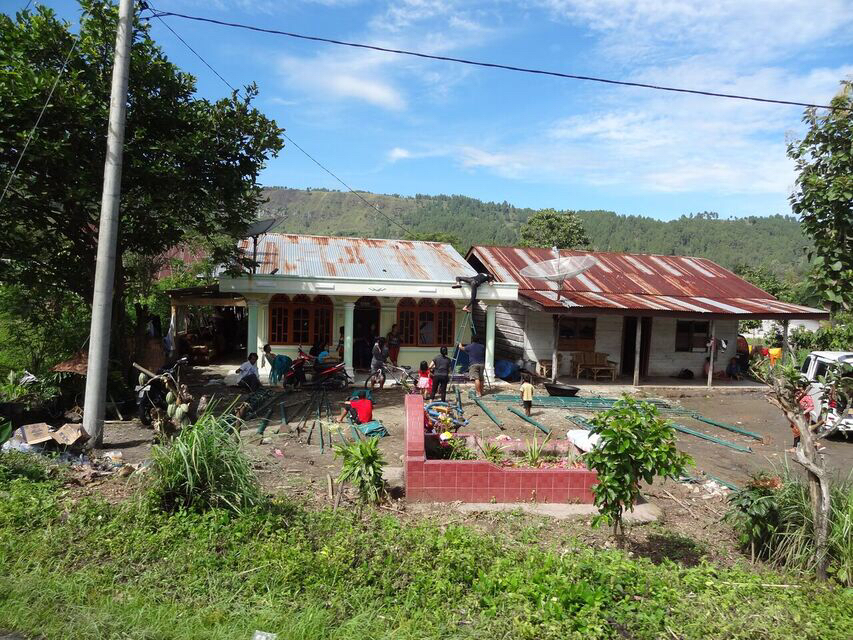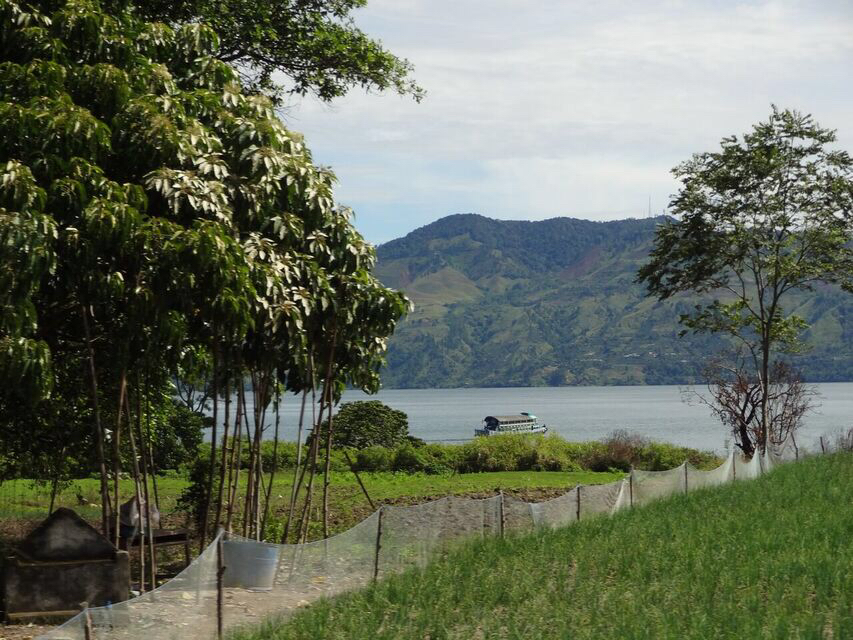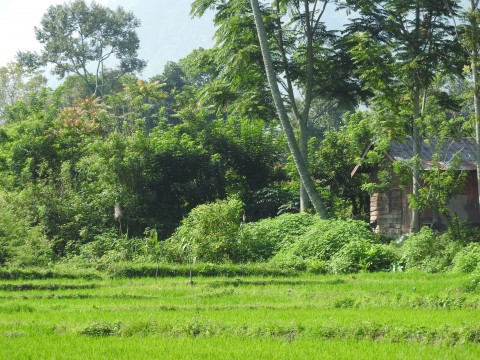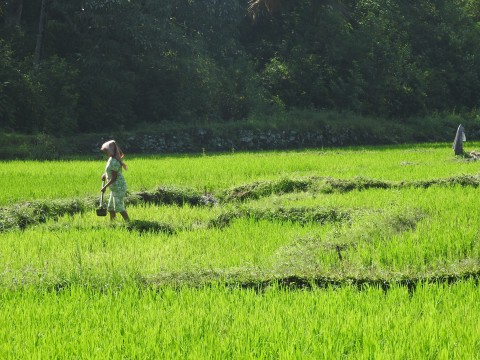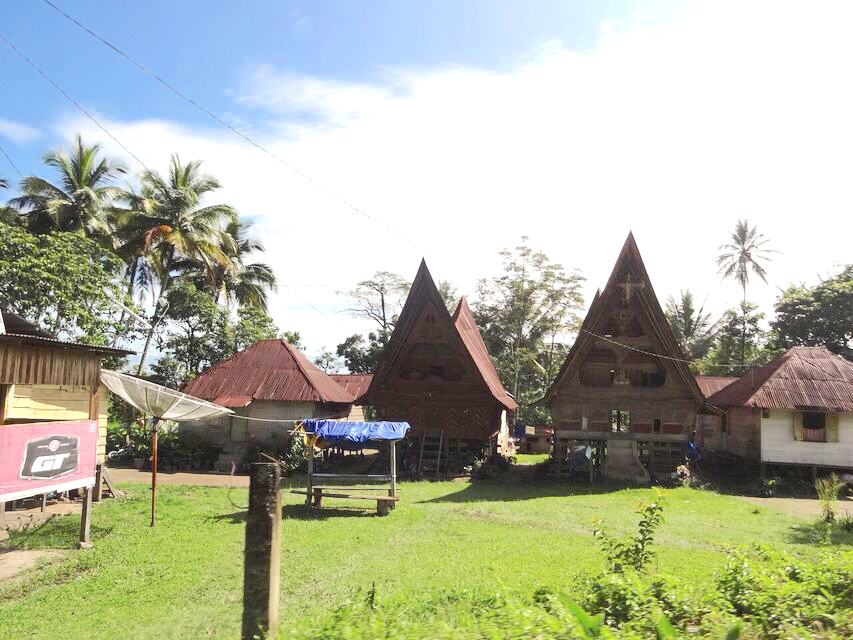 The Batak culture is very strong in Toba and Samosir is considered to be the centre of it. The people are often referred to as Batak Toba or just Batak – this is the largest of the 6 Batak ethnic groups. Even when people leave Samosir to live elsewhere in Indonesia they retain their Batak Toba culture as do their offspring. The people are know as being good musicians and very strong in their beliefs and they are mostly Christian.
Simanindo village is around 15km from MAS Cottages on the northern tip of Samosir Island. Its a very nice traditional village with a small museum housed in a renovated batak house that was once home to the king of the area and his 13 wives. The traditional houses were built without nails and the distinctive saddle shaped roofs are thatched with palm sugar fibre – the thatch is replaced with tin in modern renovations.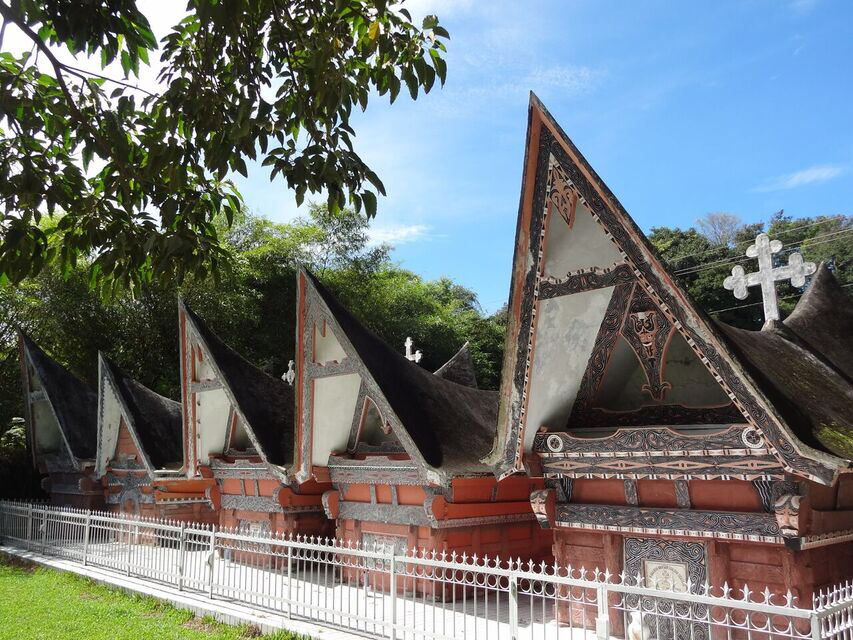 Huta Bolon Simanindo Batak Museum
The Huta (Village) Bolon Simanindo, once the home of Batak King Raja Sidauruk and his 14 wives, was restored and opened to the public as a museum in 1969. The museum houses a royal boat and a small collection of tapestries, cooking utensils, masks and weaponry.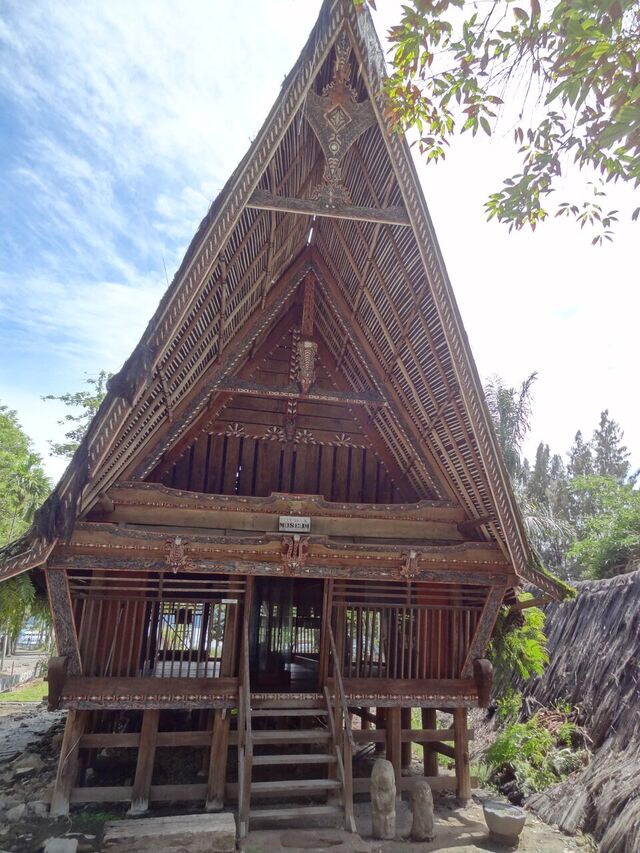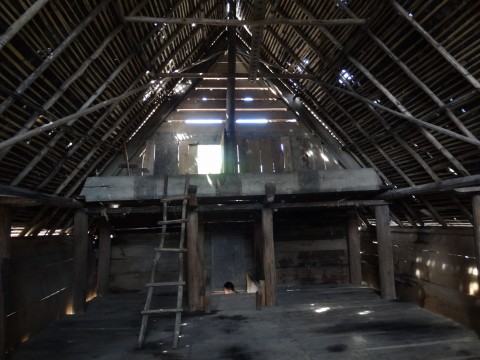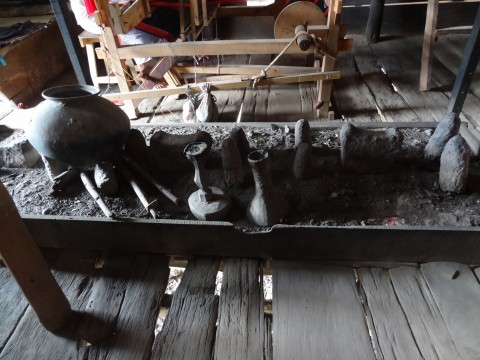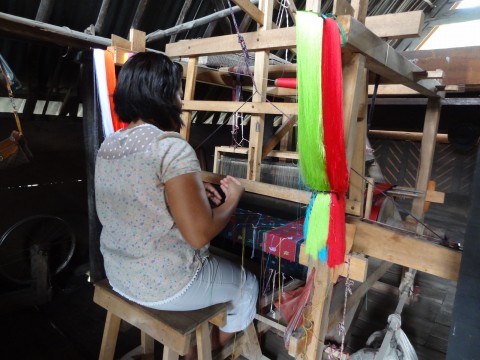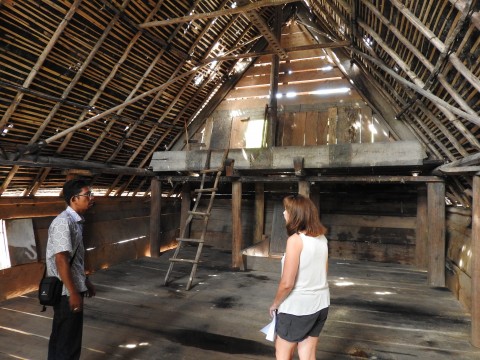 There is a daily cultural performance with dance enacting some traditional stories and illustrating some of the old Animist traditions that are still alive and well. The audience is given a crib sheet to understand the meanings of the various parts of the dance and ceremonies and of course audience participation is encouraged at the end with donations welcome! An interesting and colourful half hour or so.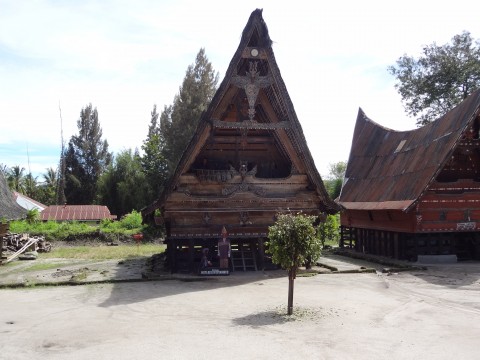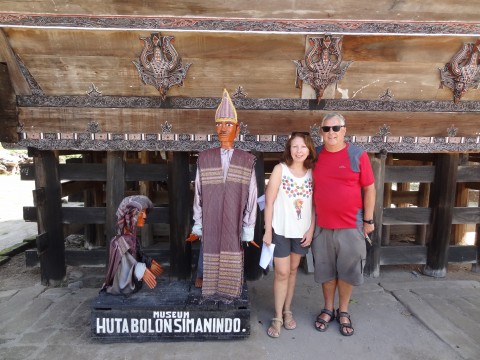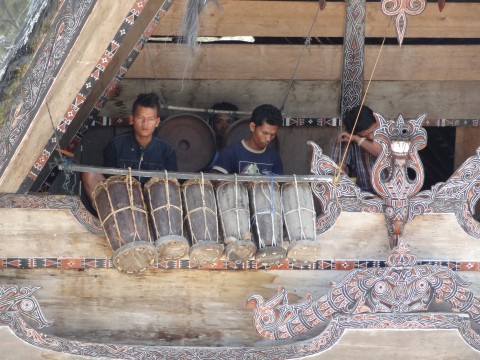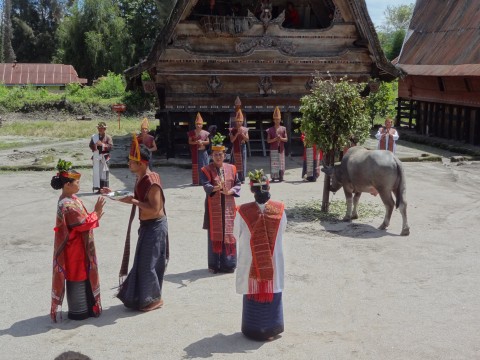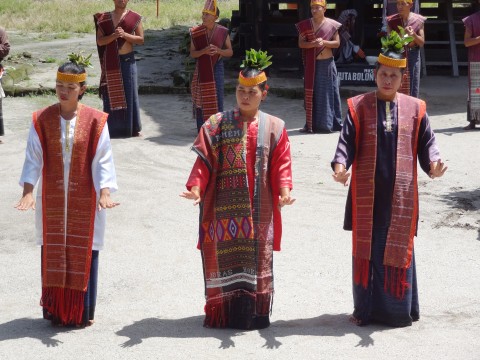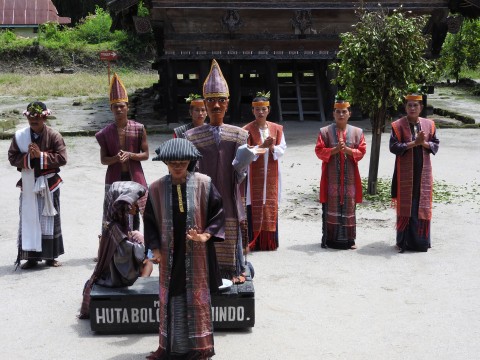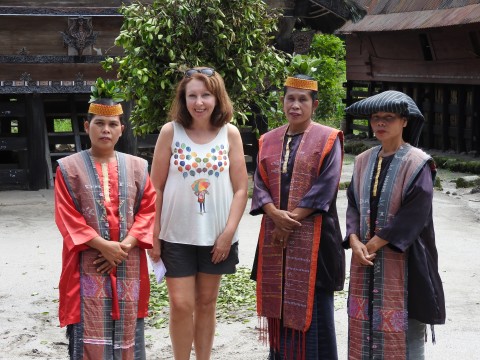 At the end of the performance we strolled down to the waterfront for a look around and then drove on to Ambarita Village.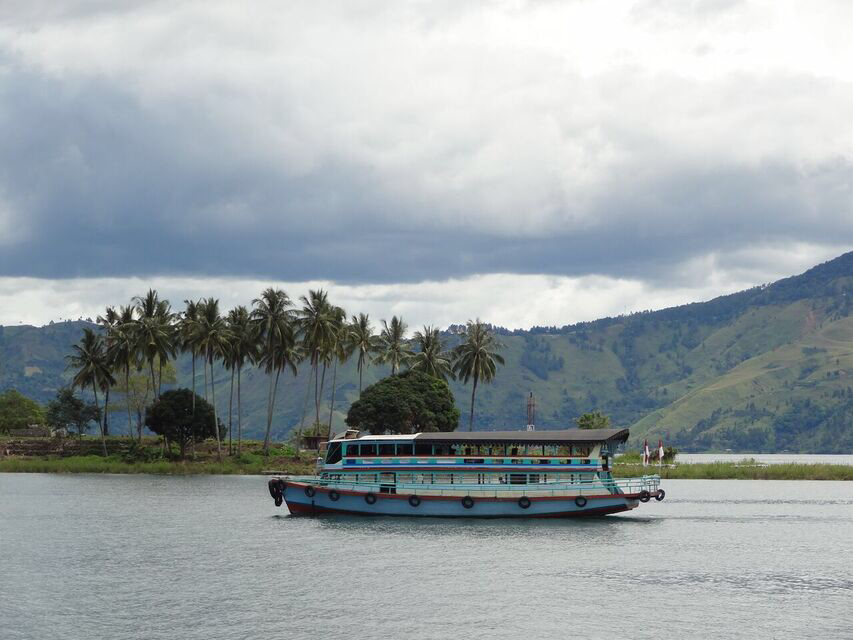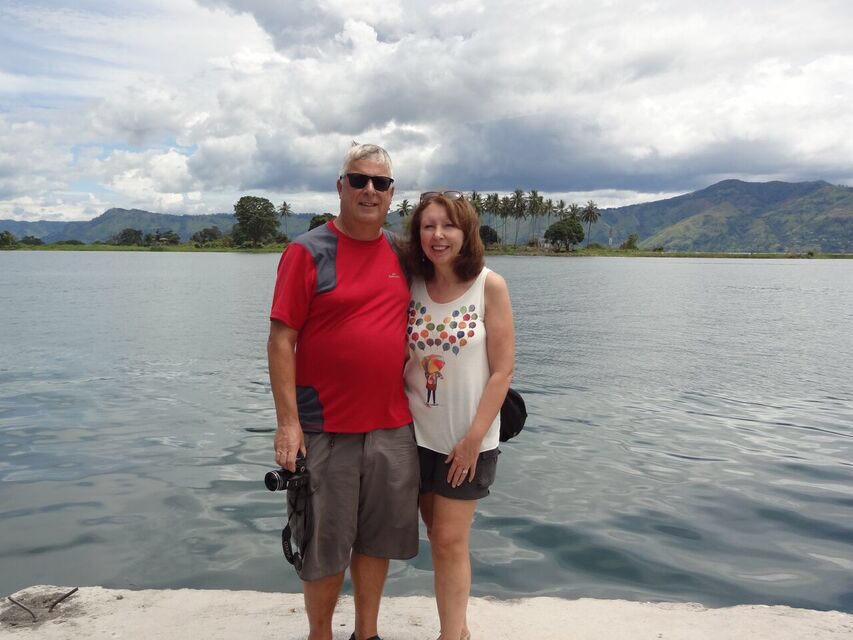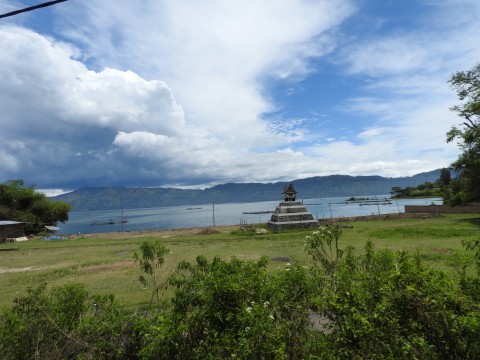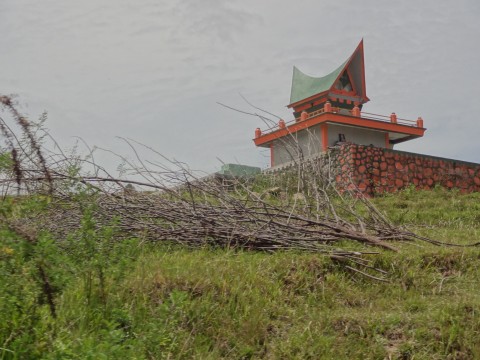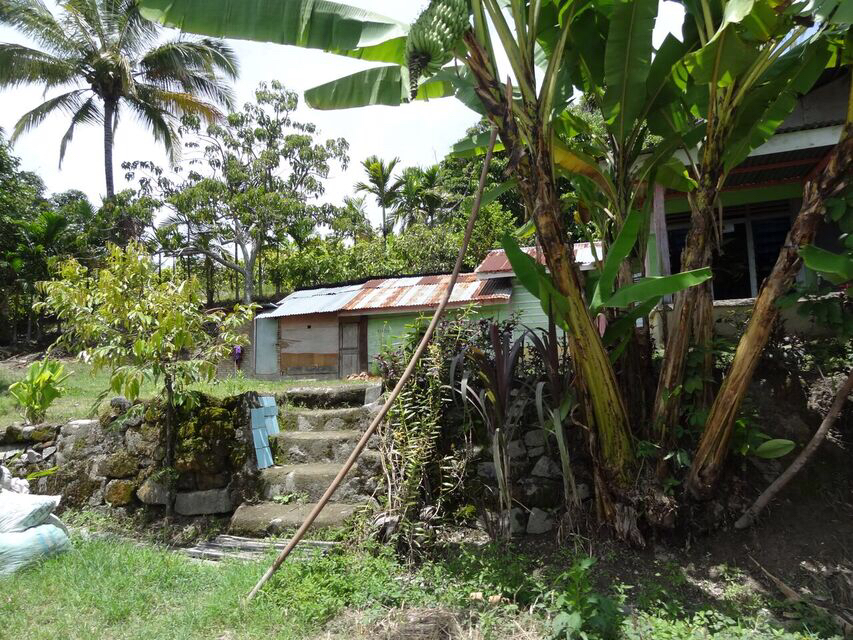 Ambarita Village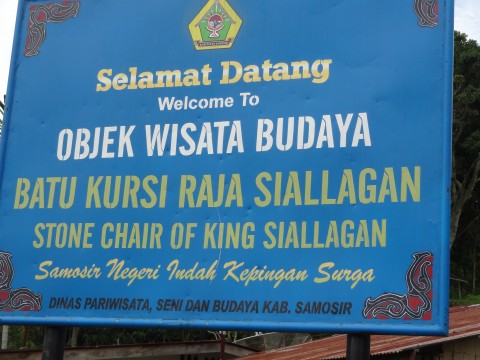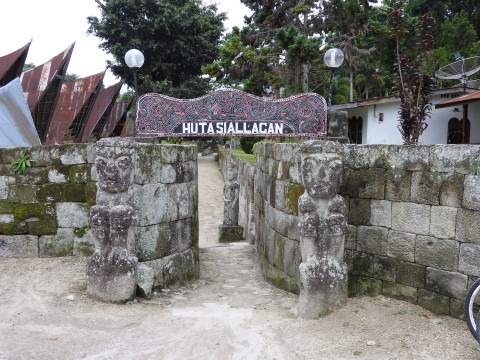 Ambarita village is a small ancient Batak tribal village just north of Tuk Tuk originally a kingdom in its own right. It is often called the Ambarita Stone Chair Village due to its historic relics from the pre-Christian era.
In ancient times a form of cannibalism was practised when enemies who had been captured or villagers who had erred would be tried by the King and neighbouring dignatories sat as a council in stone chairs which are found in the centre of the village. The ultimate punishment was execution and there is an execution area close to the stone chairs: Andres explained how the execution would take place – without too much gory detail the victim would be drained of blood which would be drunk by the King who would also eat the heart. The corpse would be beheaded, the remaining flesh distributed amongst the villagers and whatever remained of the body would be thrown in the lake. The Guides clearly enjoy recounting this story but the details seem to vary by Guide!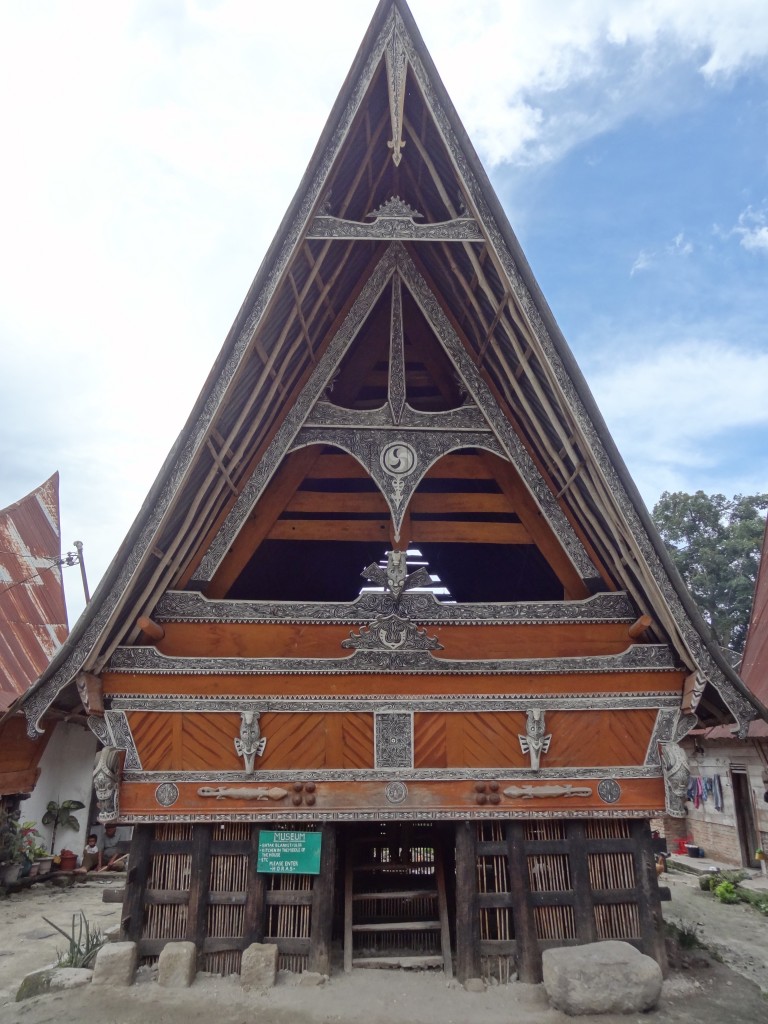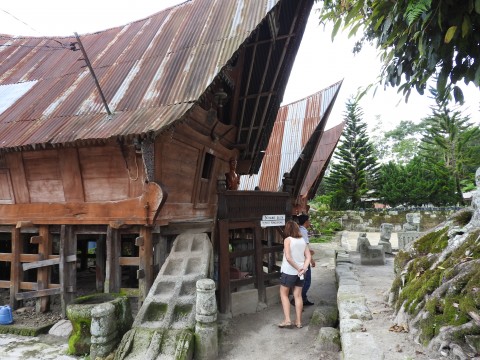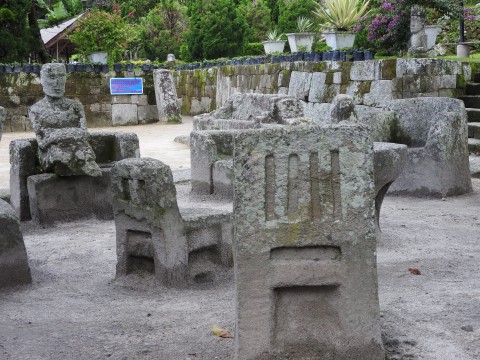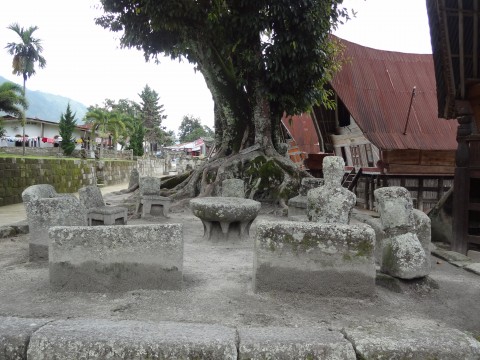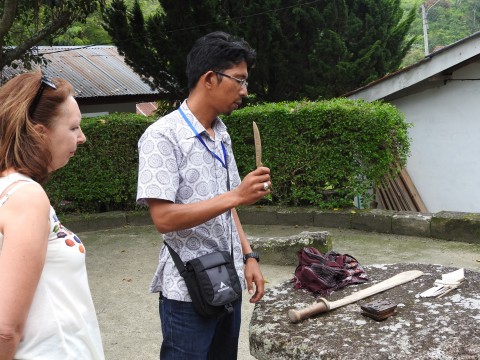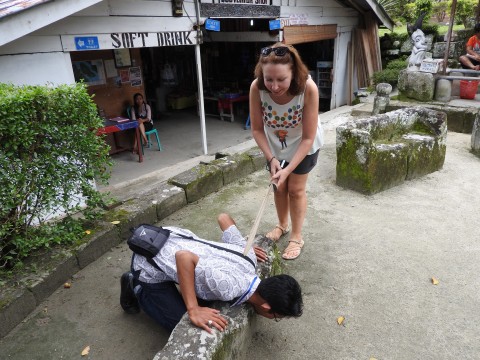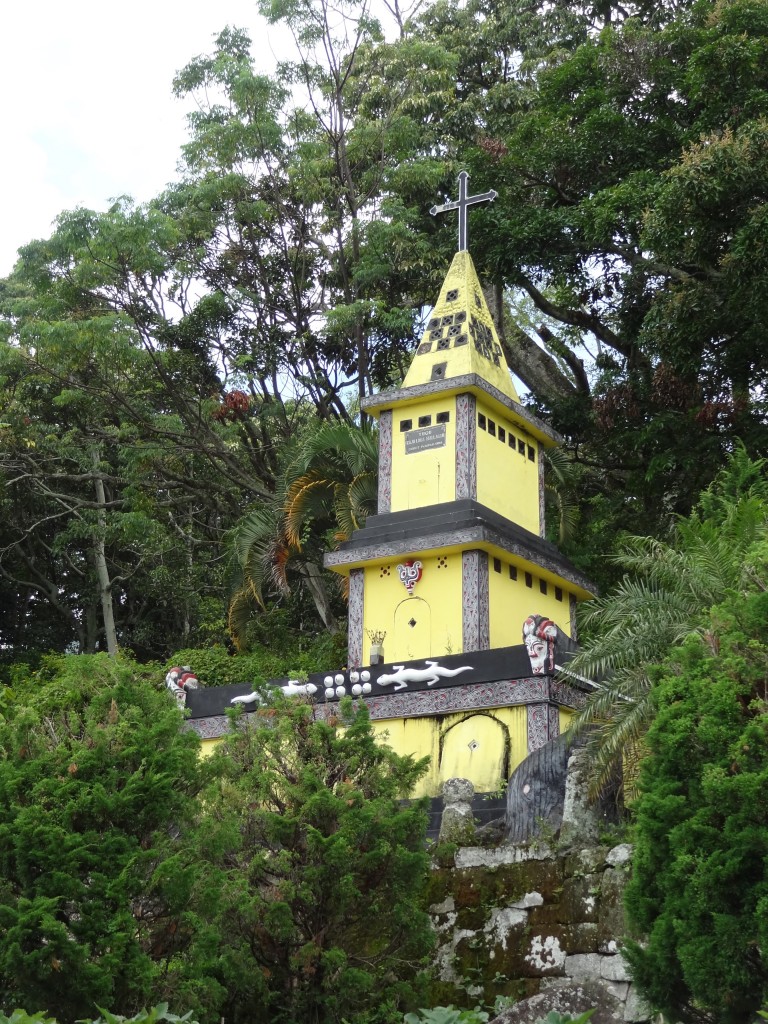 Finally we visited Tomok village. This was the biggest village with tourist shops selling the usual stuff but there are also some Batak Traditional houses along with the tomb of the last king of the area and his wife and tombs of his descendants. This was another place where a crowd of Indonesian tourists asked to be photographed with us – how could we refuse….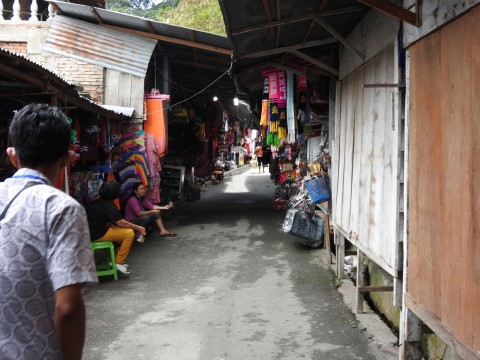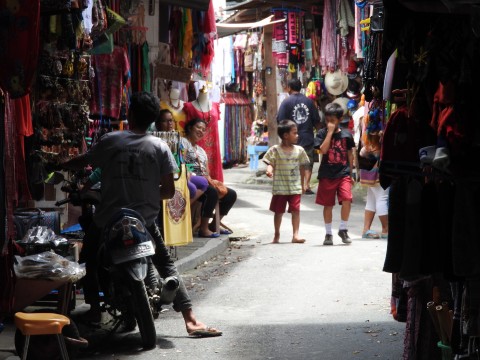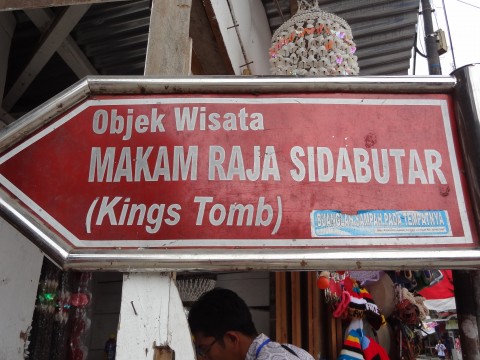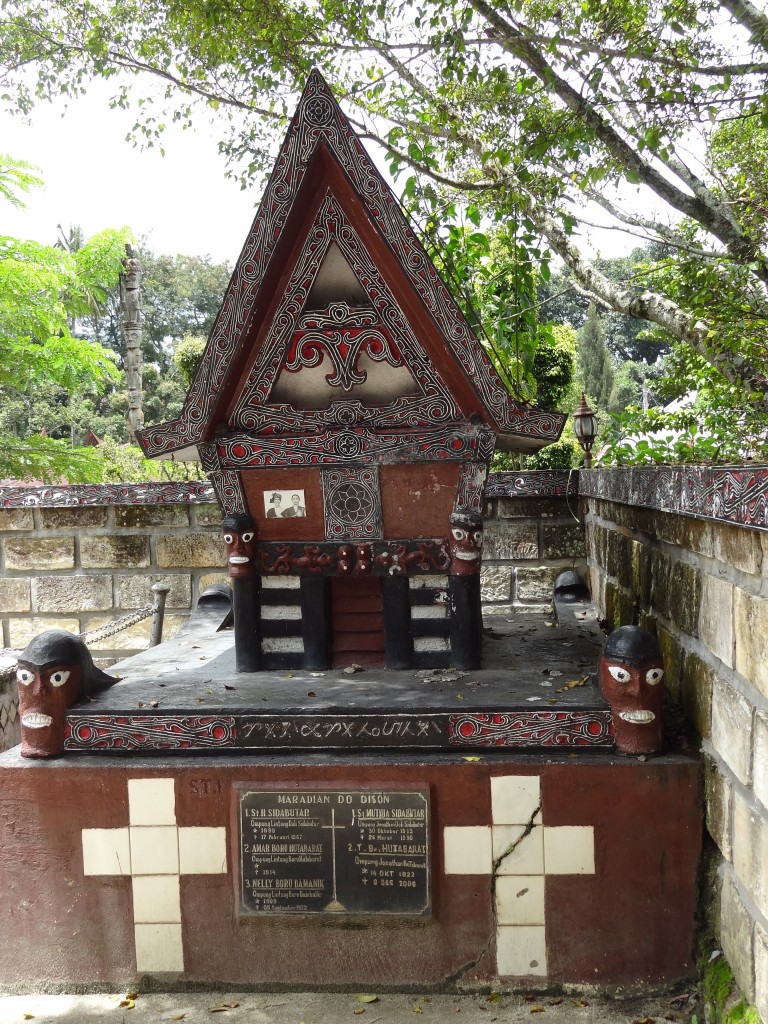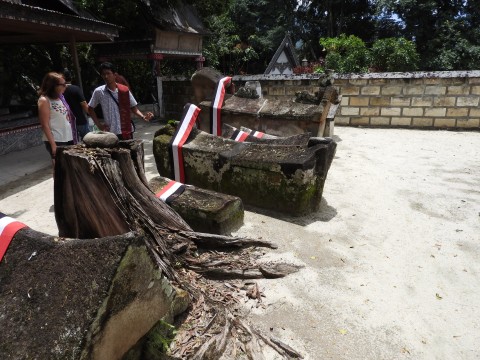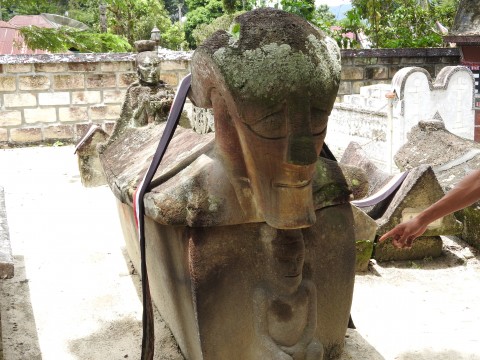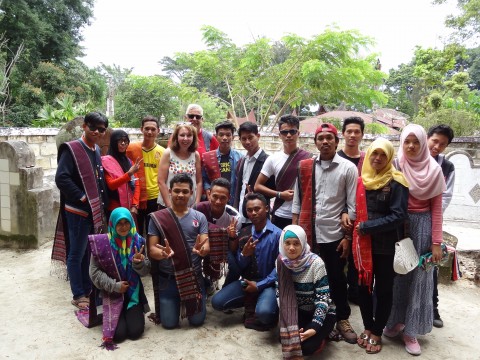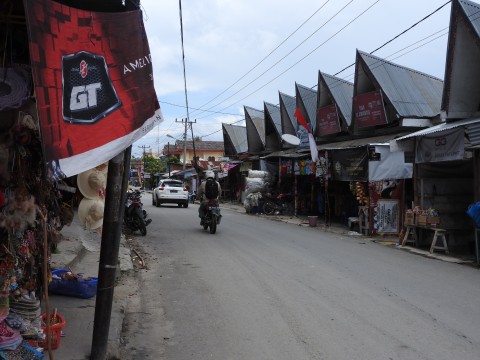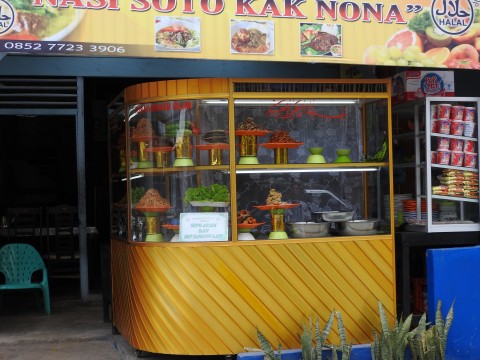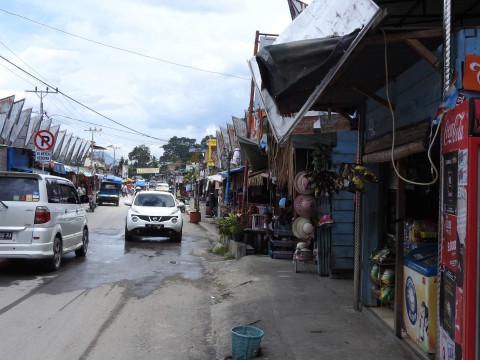 We dined local again on our second and last evening – a very good chicken curry – followed by several hours of blog catching up over a few Bintangs!
We were very happy with our stay at MAS Cottages and wouldn't hesitate to recommend to people who don't want to be in the centre of Tuk Tuk. Accommodation, service and food were all good.
Next morning, Tuesday, we had an early banana and toast breakfast and checked out at 8am in time to catch a ferry which was calling to pick us up at the hotel waterfront at 8.25. Such service! The ferry would take us to Parapat which is the the main ferry port for ferries to Samosir Island. We could have taken a shorter ferry crossing but Fikar had been concerned about the reliability of the ferries and rather than take any chances of our being delayed and suffering discomfort he actually travelled over from the island the night before to ensure no issues arose that would have had a knock on effect on the rest of our itinerary. What a professional!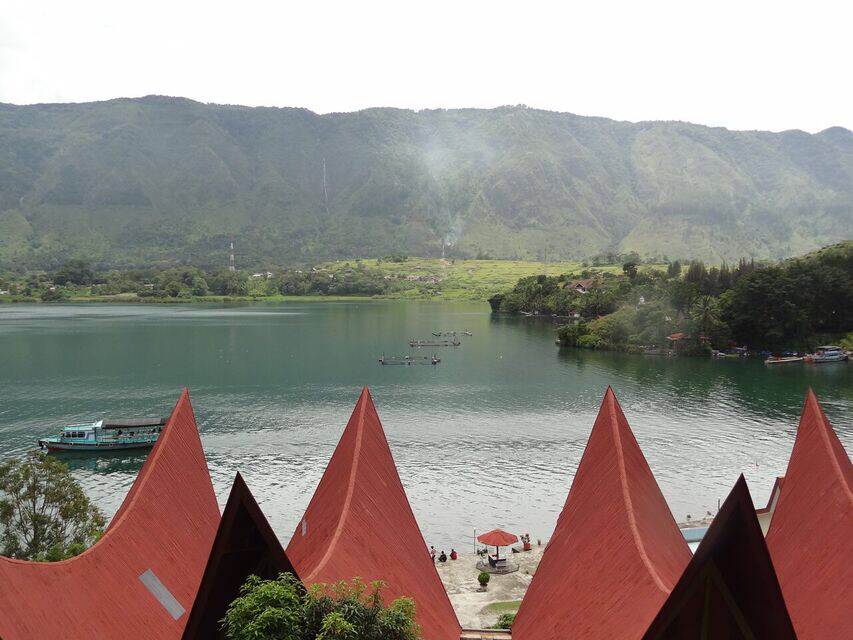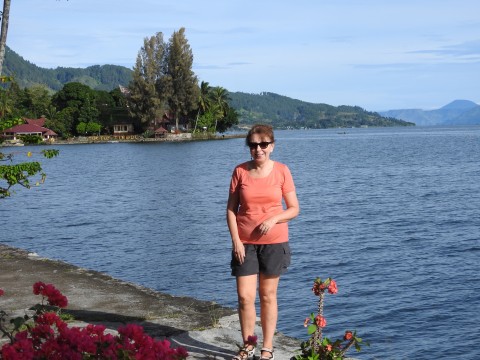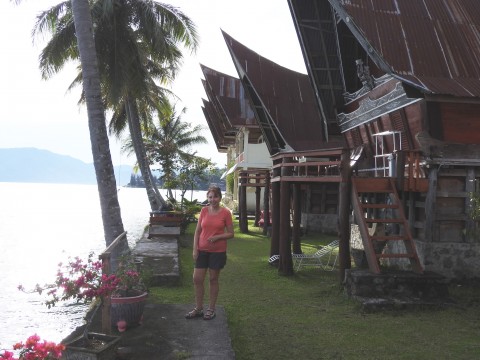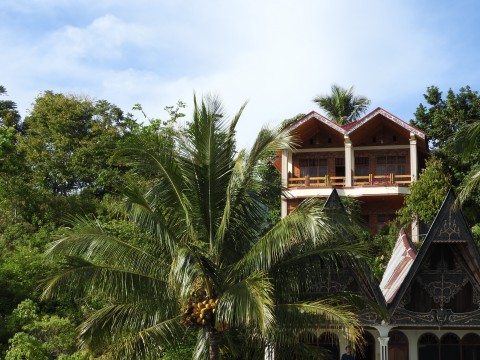 So we took the ferry with Andrés. This morning was the best weather we had since we arrived. No haze! We immediately spotted Mt Sinabung with a huge plume of ash issuing from the top and later saw on the news that lava flows were occurring and that the ash flume had reached around five kilometres. We are awaiting further news.
Ferry ride to Parapat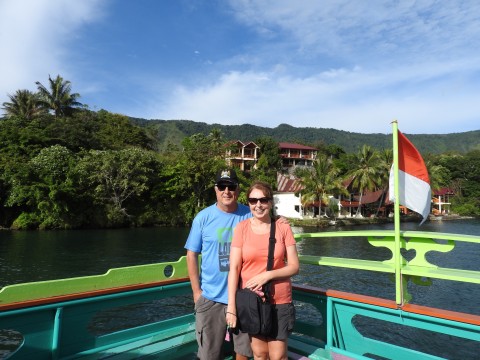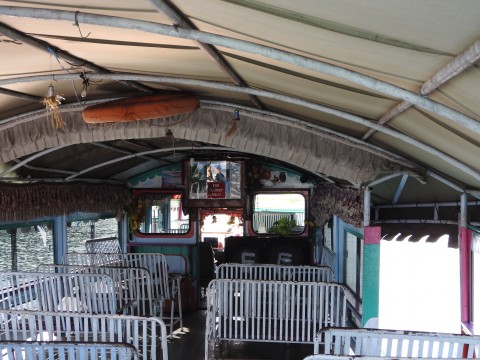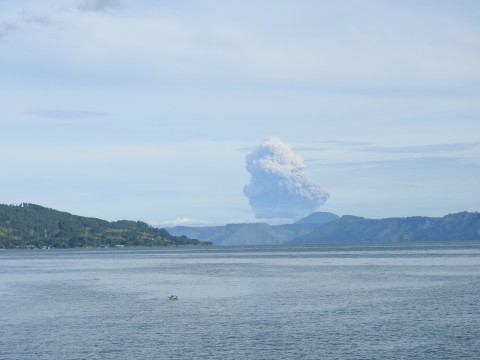 The ferry trip to Parapat was a highlight and gave us some good photos but also provided us with yet more evidence of what a small world we live in when we ended up chatting with a Turkish man from South East Turkey who know some friends of ours in Kalkan. Spooky!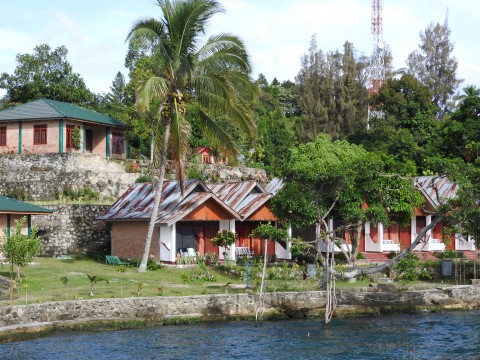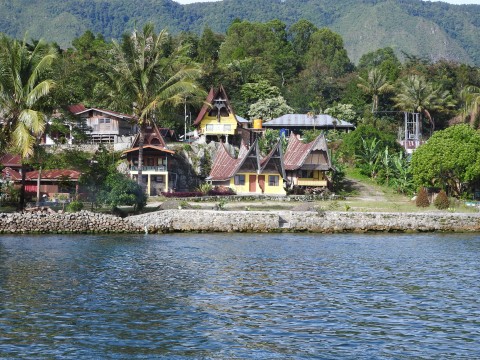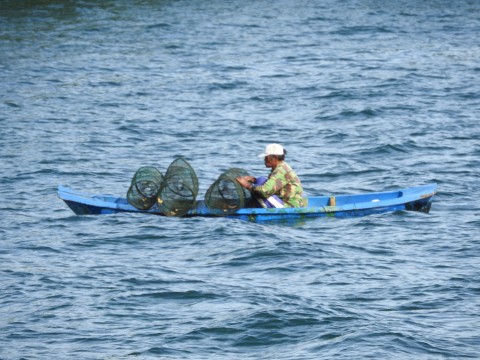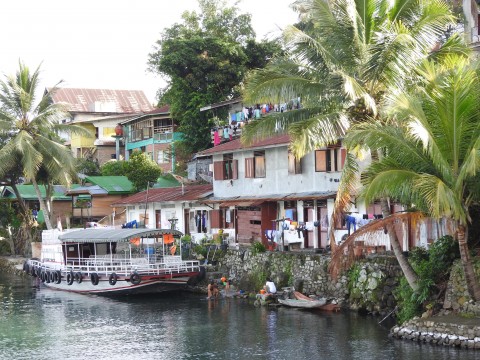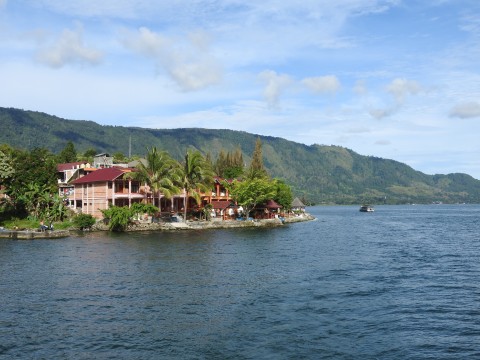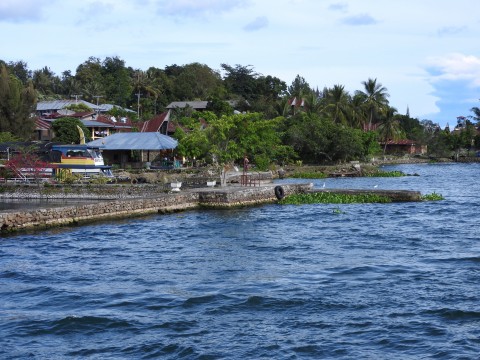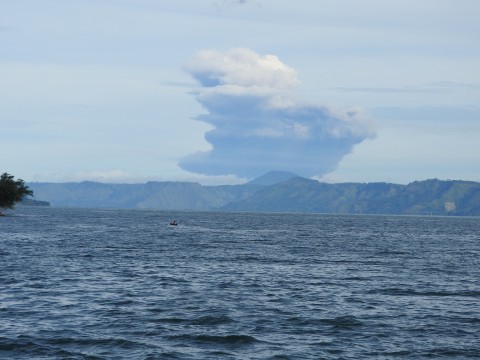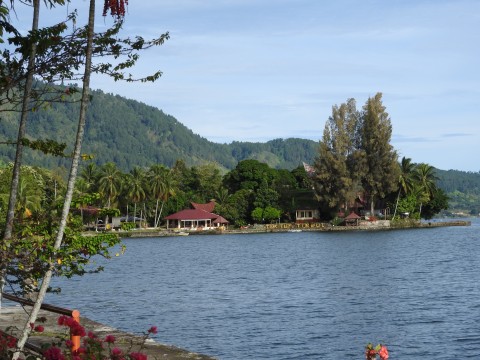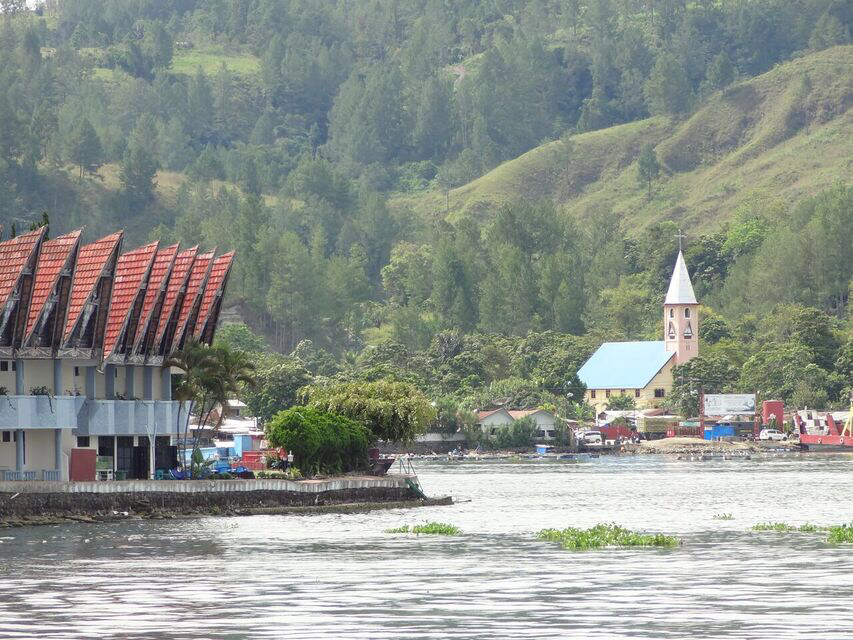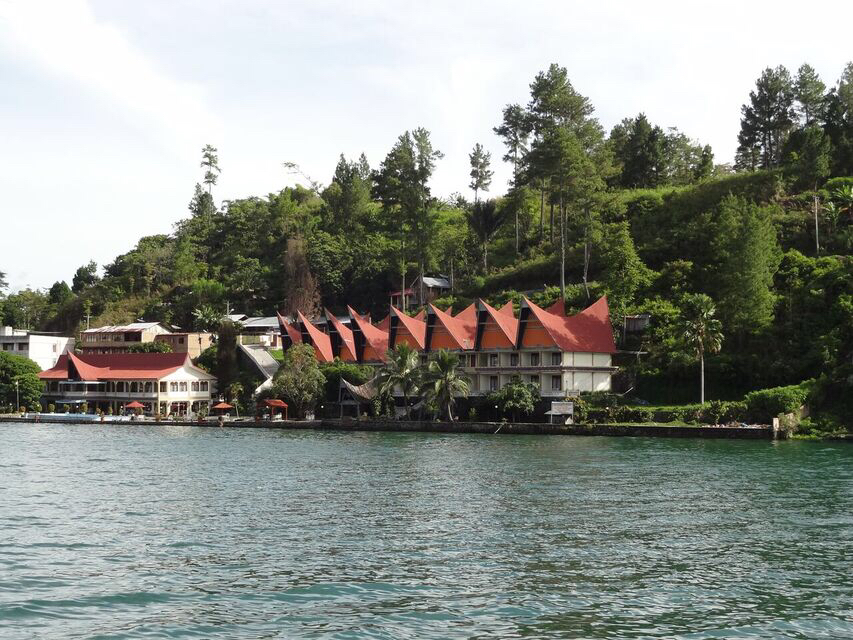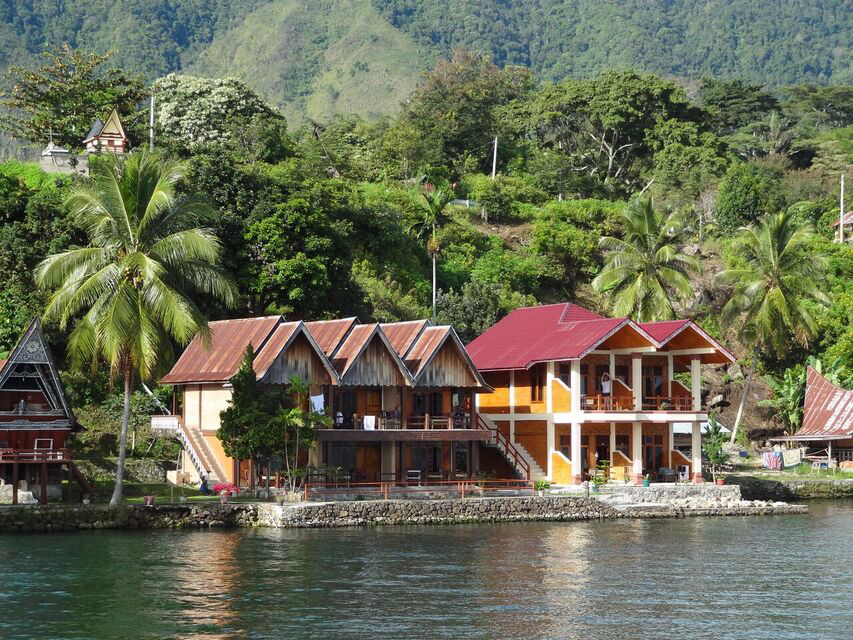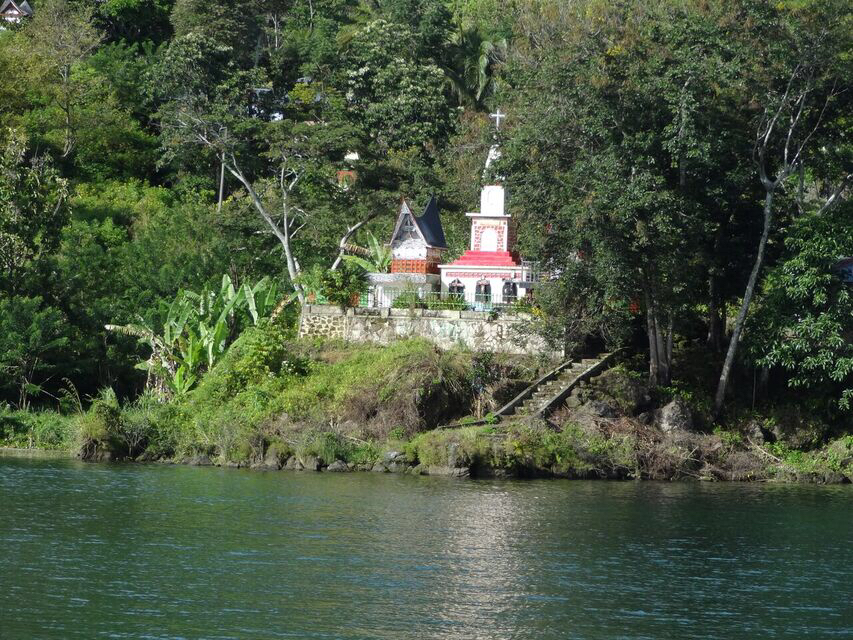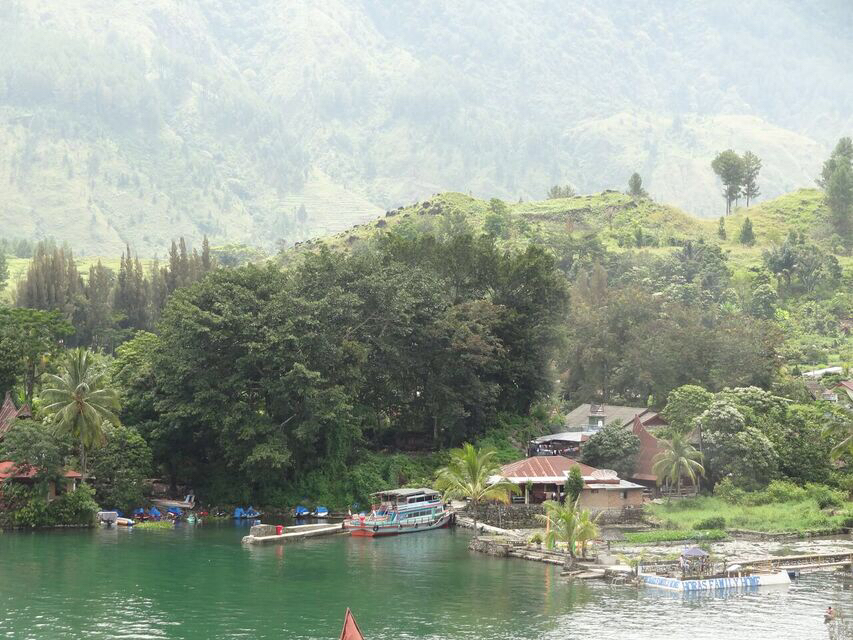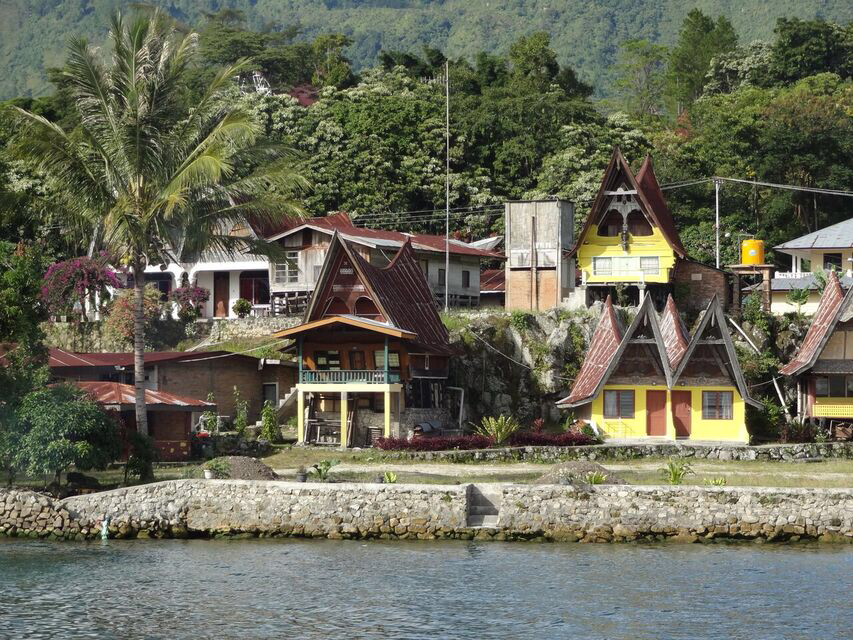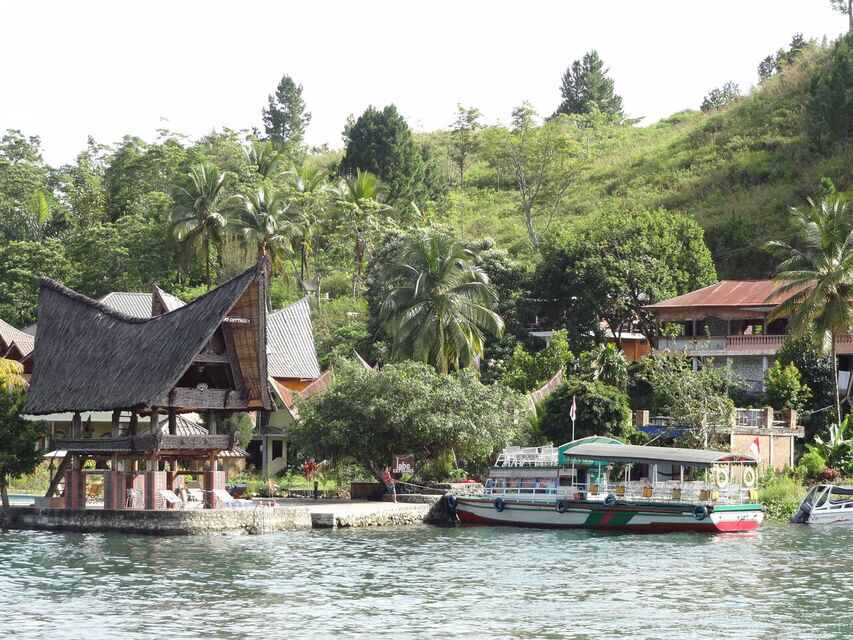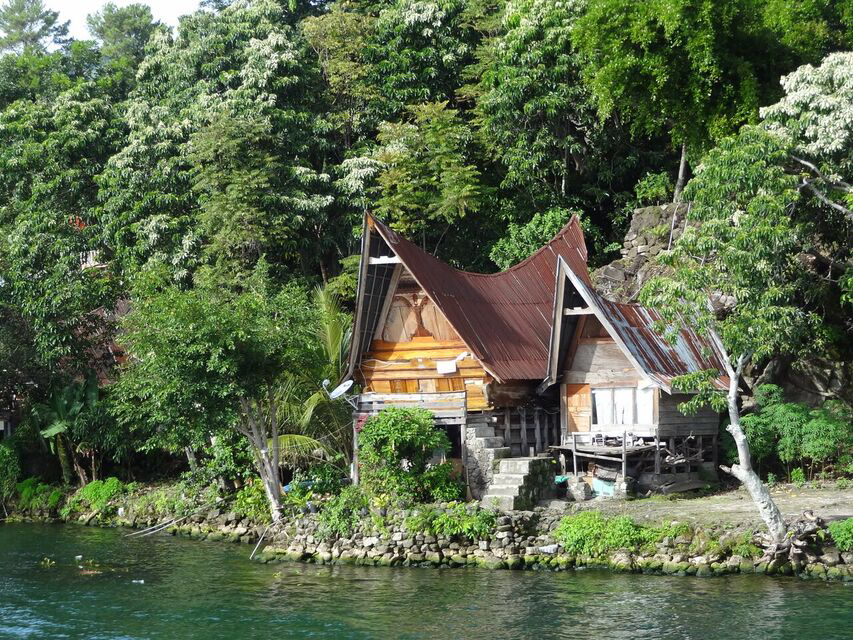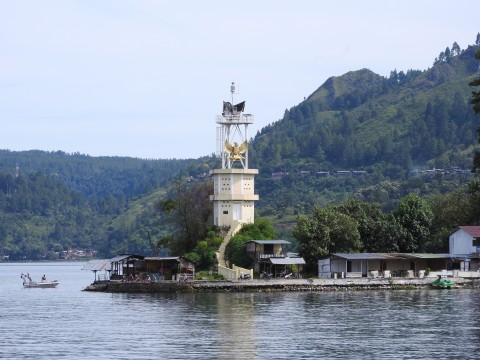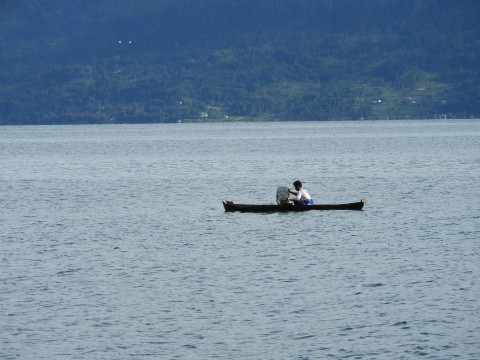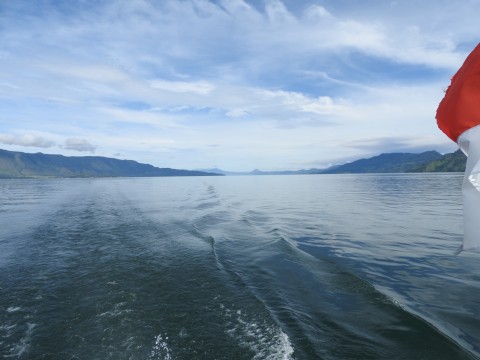 We landed at Parapat at 09.30. Parapat makes its money via tourism with the ferry services and accommodation etc and from fish farming and agriculture. It's a busy place and didn't strike us a a place to hang around and we didn't. Fikar was waiting for us and swiftly whisked us away on our journey South to Bukkittingi.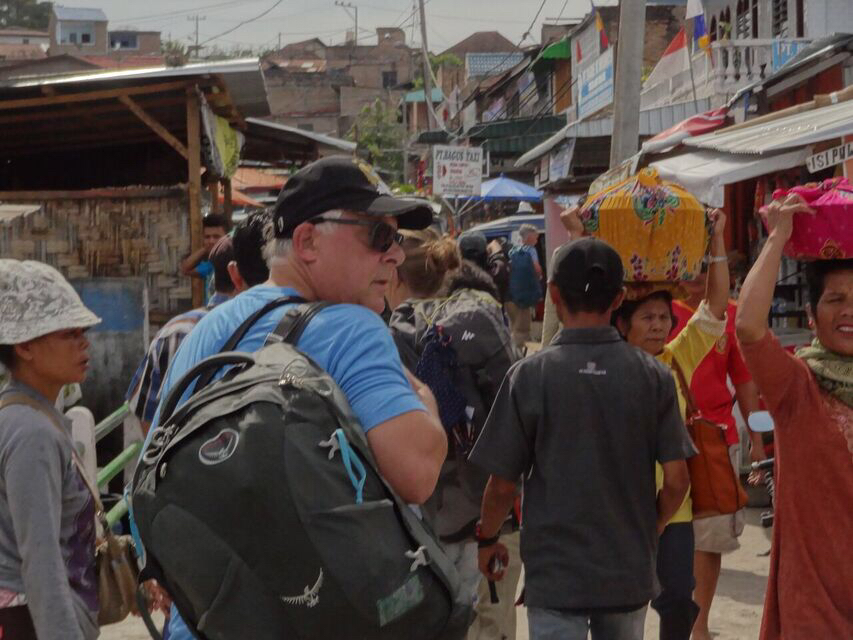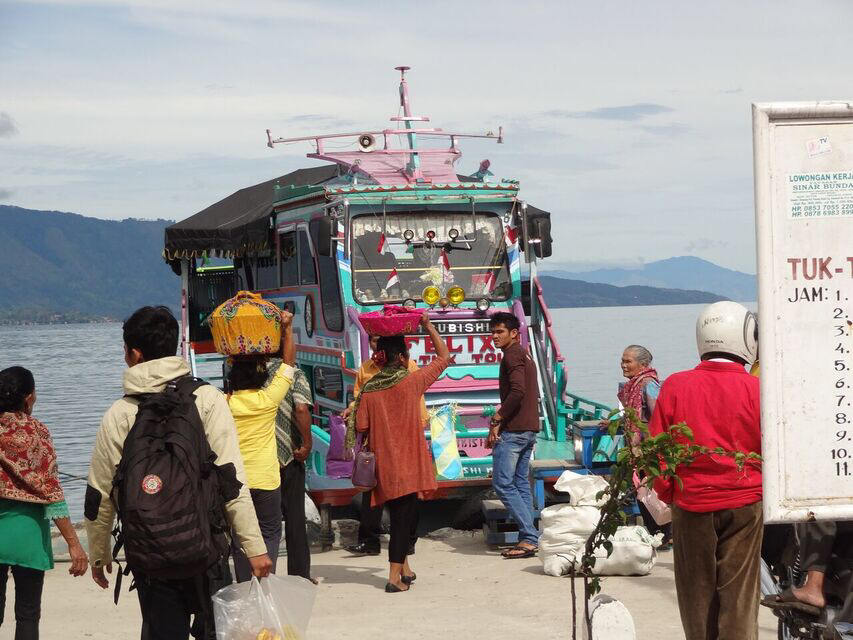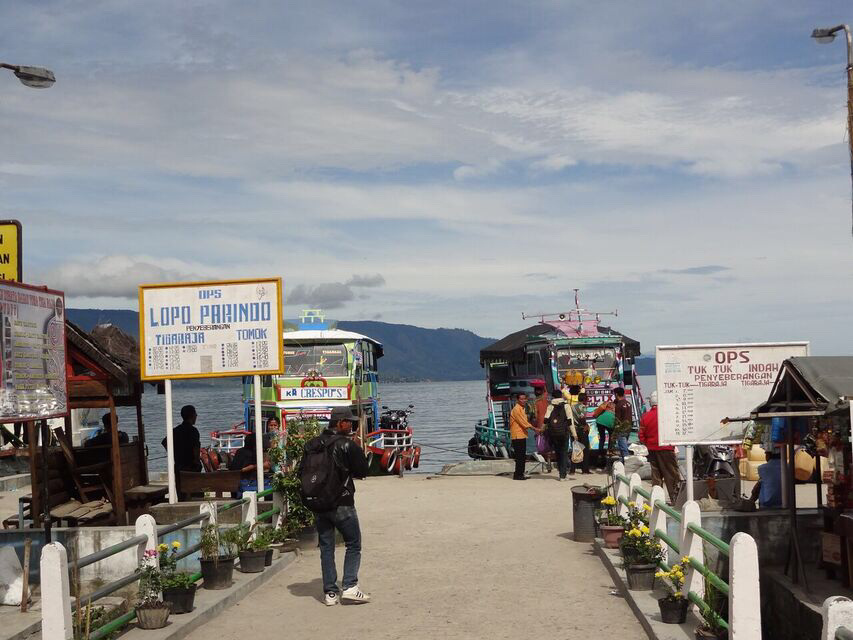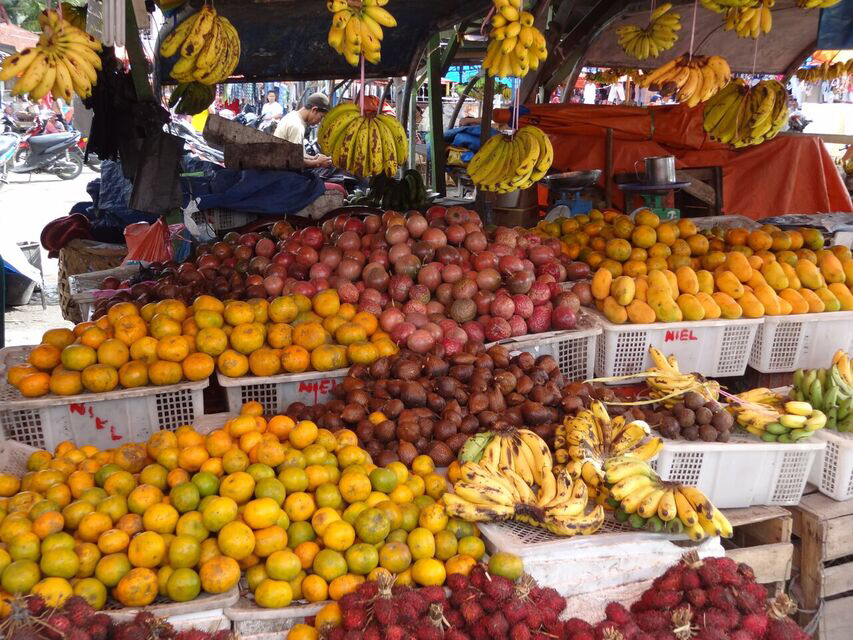 We were continuing our journey South by road which doesn't seem to be a much travelled path. The roads are atrocious and most people seem to choose to travel back to Medan and then fly down to Padang if they wish to visit West Sumatra as we planned to do. Parapat to Bukkittingi is a drive of around 15 hours but this was all part of the experience for us and we were taking 2 days to complete the journey – nevertheless, I didn't envy Fikar the driving.
The drive south isn't exactly full of "must see" tourist attractions but you do get to travel through goodness knows how many towns and villages and get to see life as its lived in Sumatra. We stopped overnight in a town called Padang Sidempuan but it was almost dark when we got there and only just daylight when we left so we didn't see anything of the town. We stayed in a surprisingly modern hotel, the Mega Permata and dined alone in the hotel's restaurant.
Here are some photos taken of towns, villages and markets along the journey to Bukittinggi.
September 15th
South of Lake Toba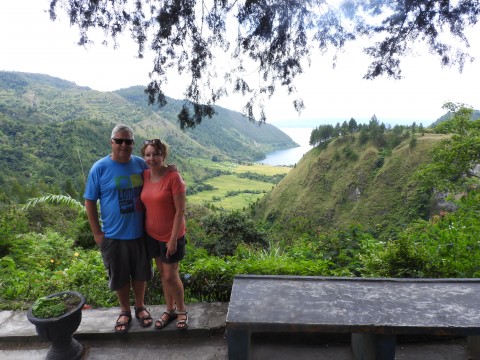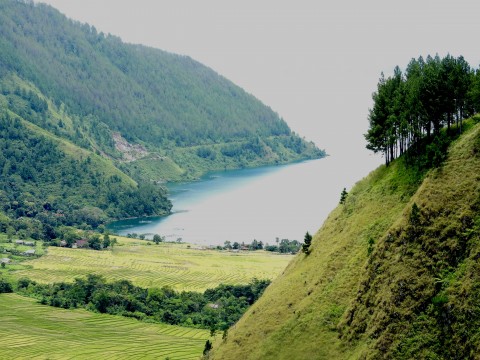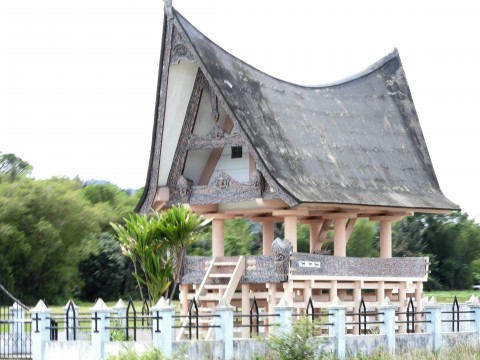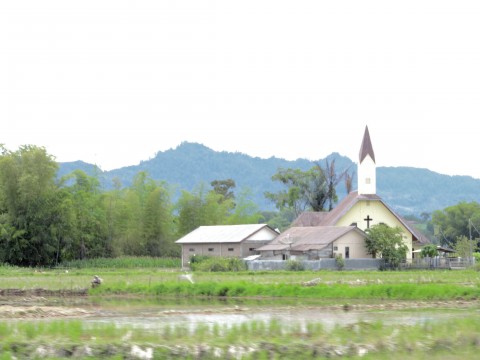 Belige Town and market – a Batak town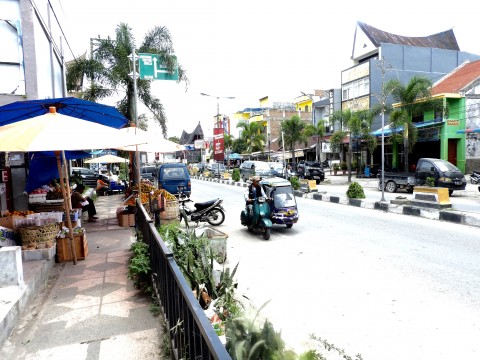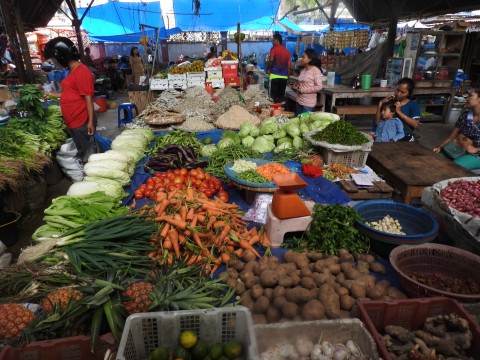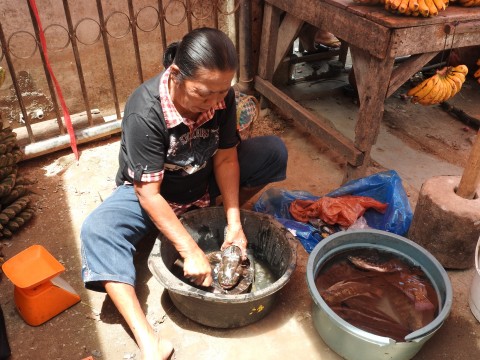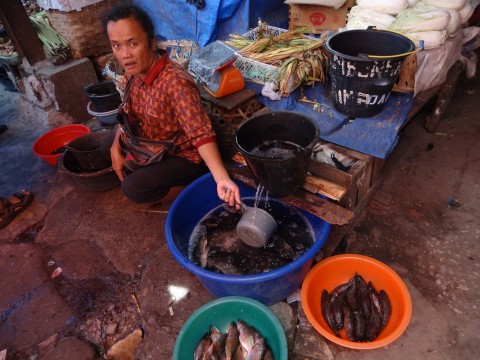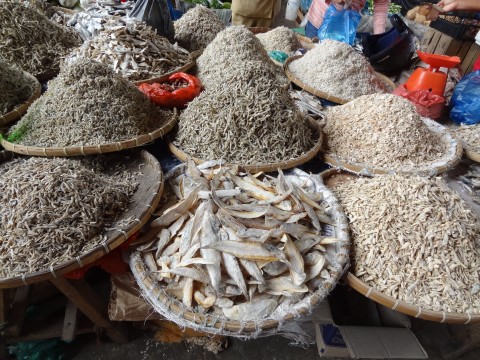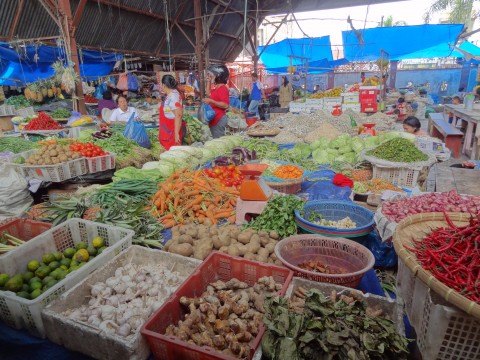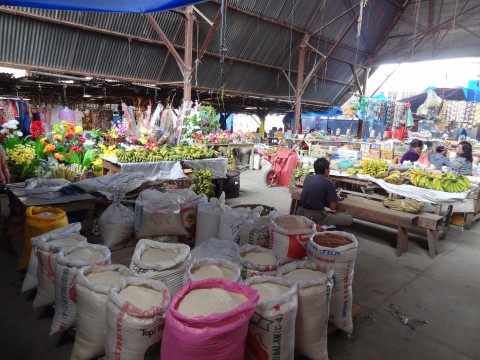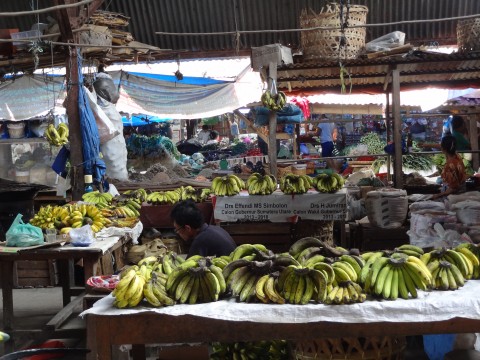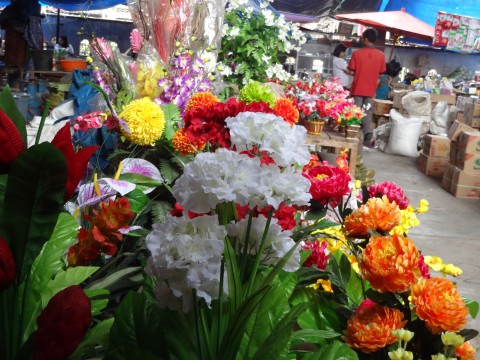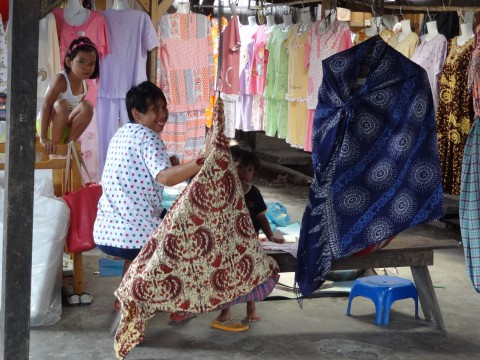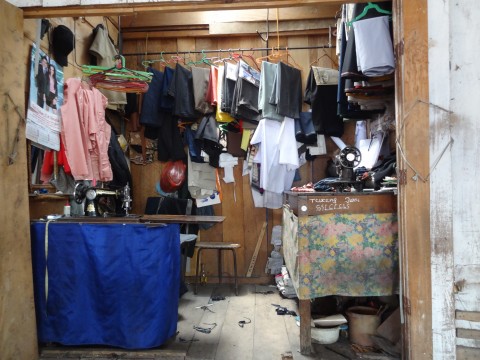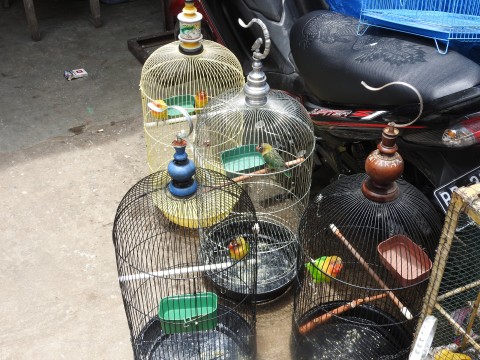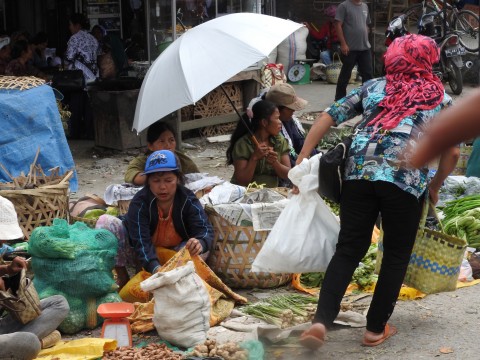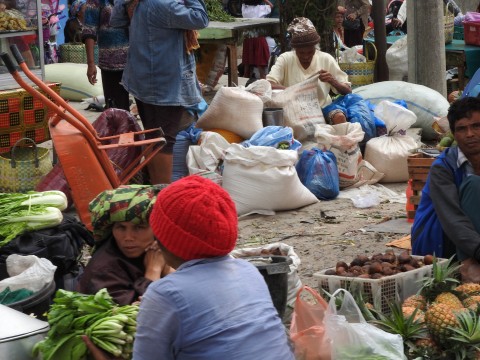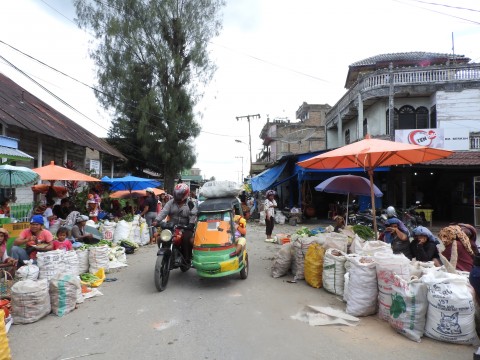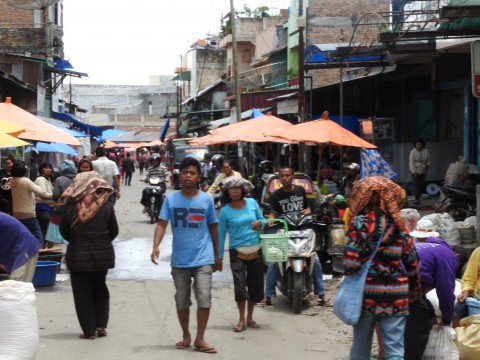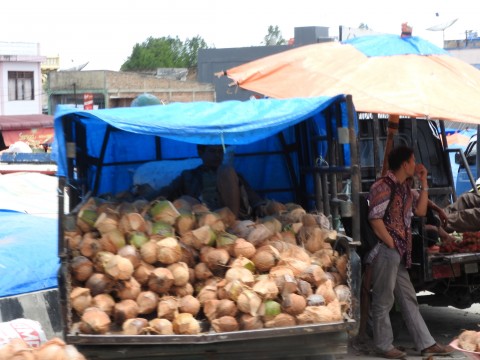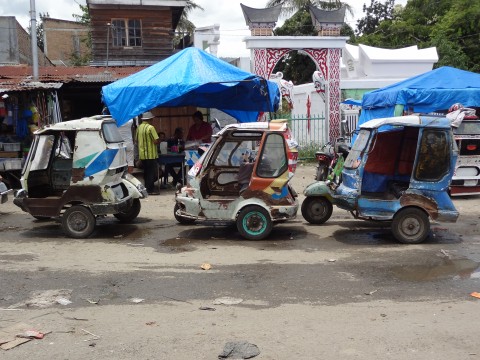 September 16th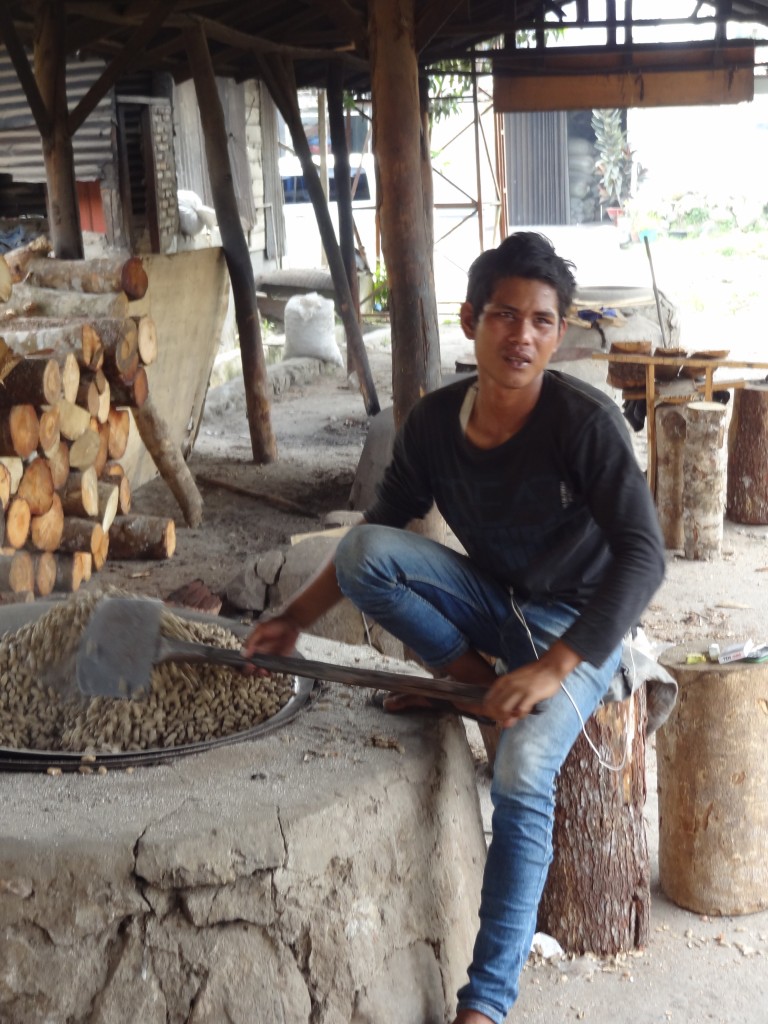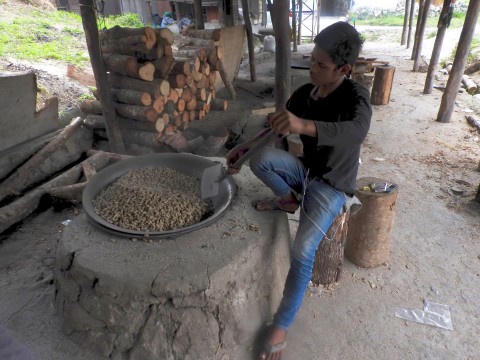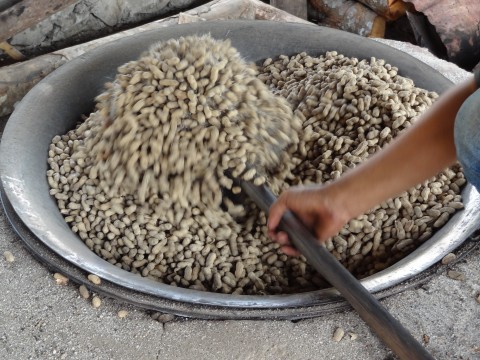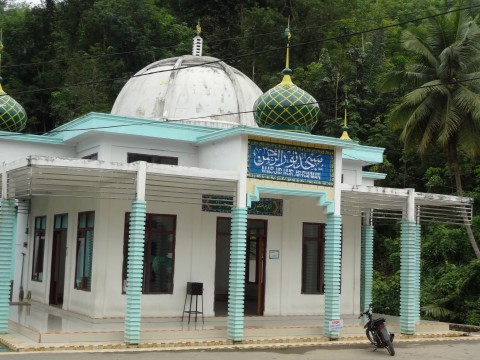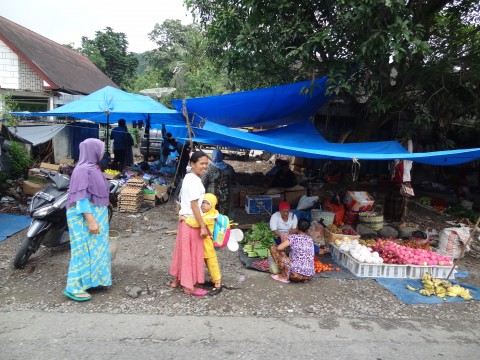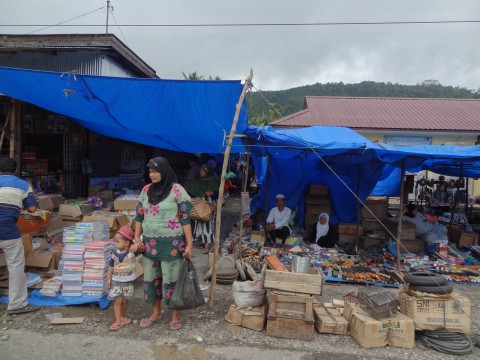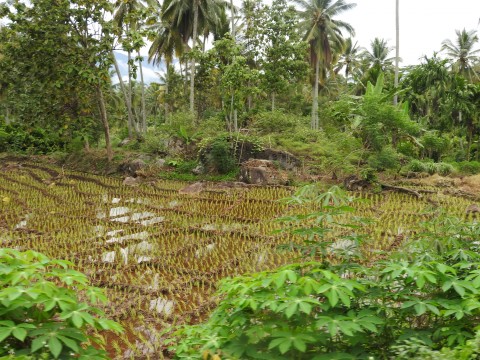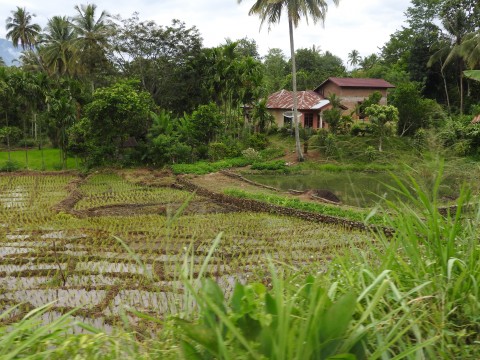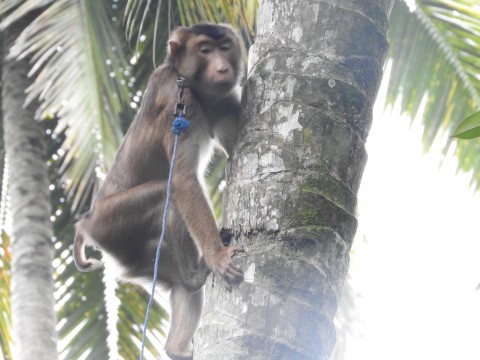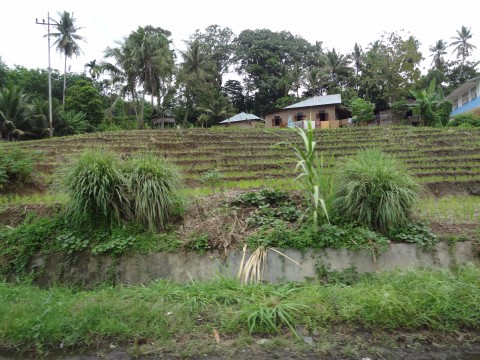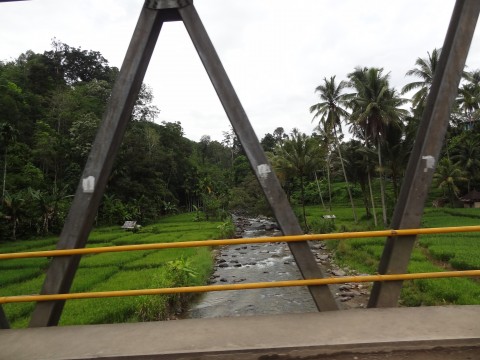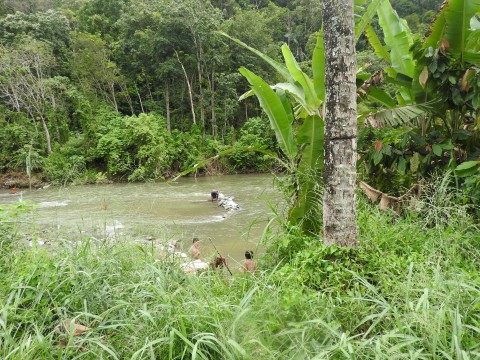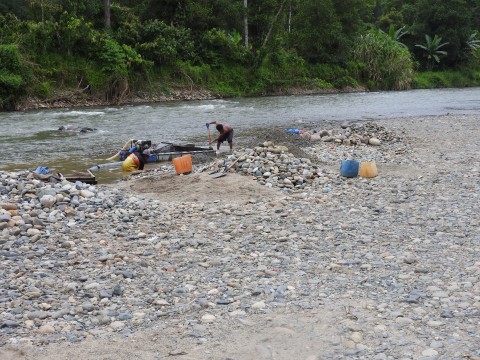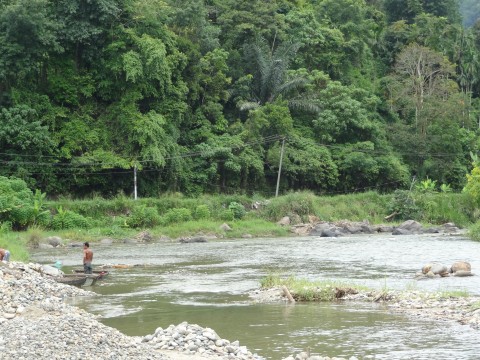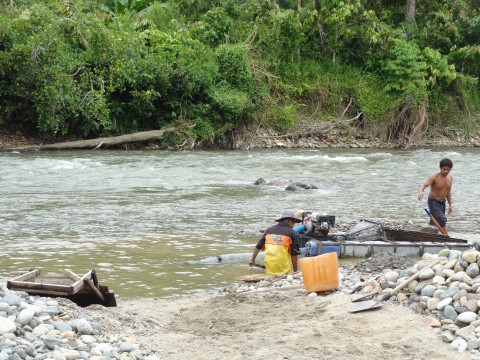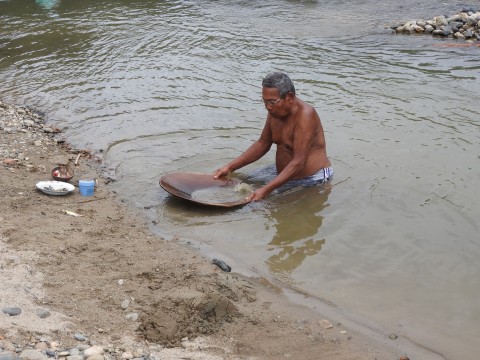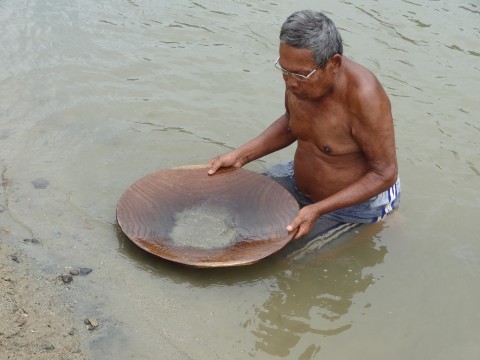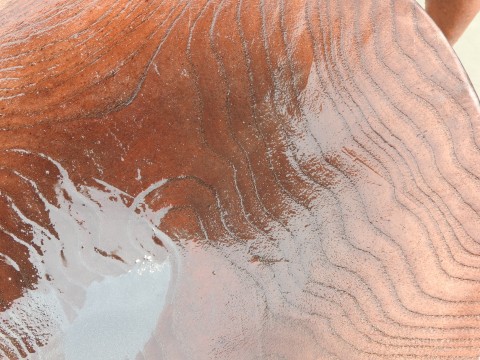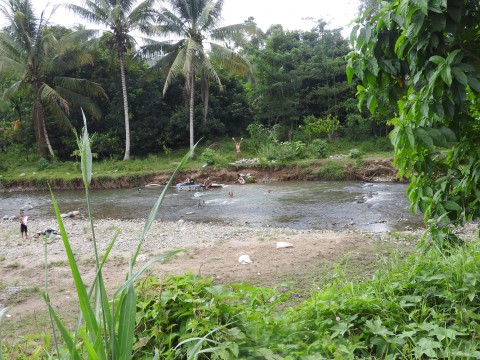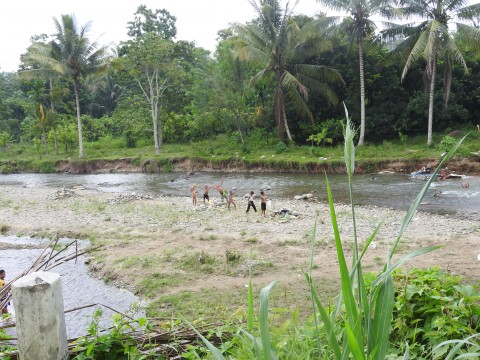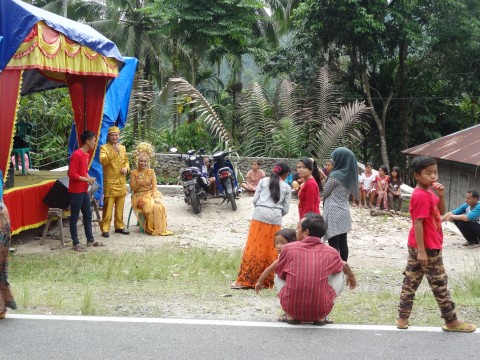 And then we came to this. The Equator at Bonjol !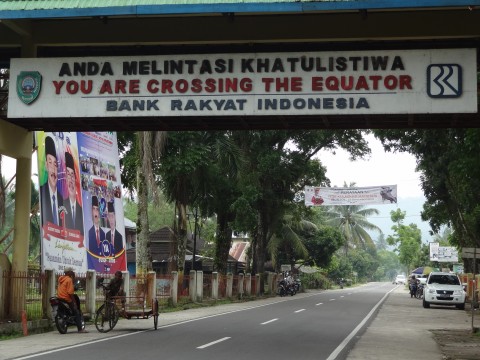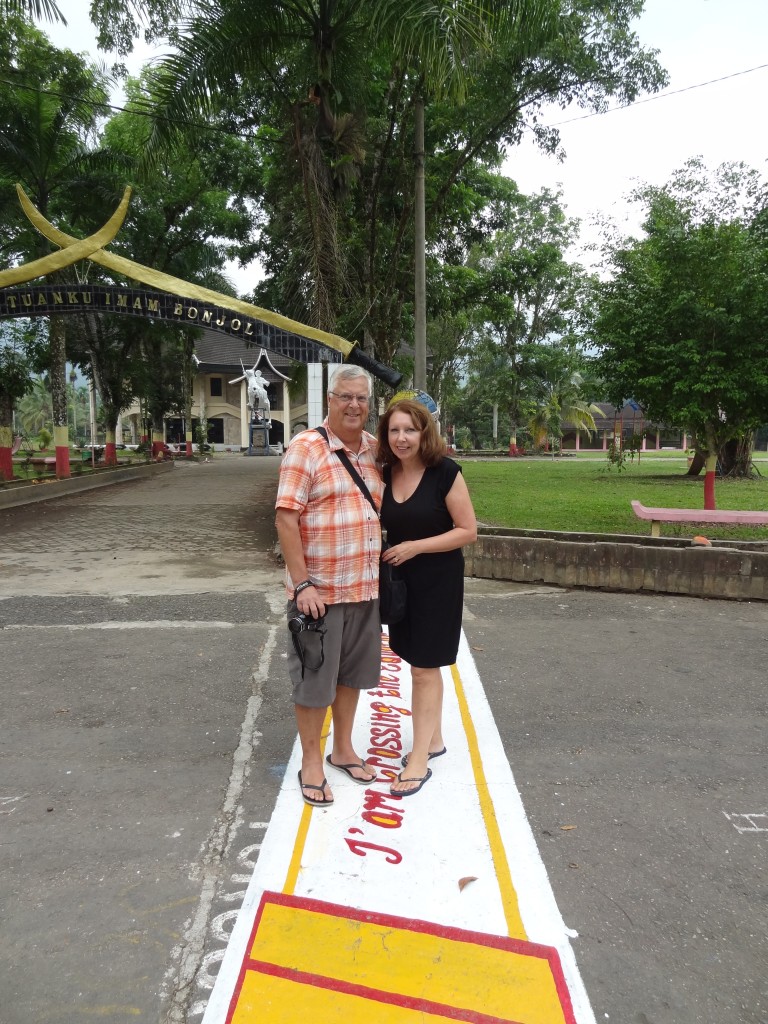 September 17th -19th – Bukittinggi and West Sumatra
We arrived at the Hills Hotel Bukittinggi just as dusk fell on September 16th. It had been a long day with a lot of driving. Fikar and Andres were now back in their home town and for the rest of our tour Fikar would be our Driver and Guide – Andres would have a couple of days off! We said our goodbyes to Andres and arranged to meet Fikar at 9am the following morning.
The Hills is a very nice hotel and we had a lovely room. Fikar had recommended the hotel and as always recommended we eat in the hotel as it would be "safer." The large dining room was lovely but like our hotel in Berastagi a week or so ago, we were virtually the only people eating in the hotel even though the hotel was fully booked. The food was ok but the service dire but we demolished a bottle of wine and a couple of beers and were happy enough in our luxury room – especially as we would spend our next night in a homestay in the middle of nowhere. However, that evening with the haze situation worsening by the day, we made a decision to cut our tour short.
Our planned itinerary took us to the Harau Valley East of Bukittinggi for two nights at the ABDI Homestay followed by two nights at another homestay at Maninjau Lake, West of Bukittinggi. Unfortunately both of these locations are all about scenery. They are both rural retreats quite a distance from any major towns and the haze situation was deteriorating and especially in rural areas. Actually by now the haze had become a major issue across Asia and especially Borneo, Singapore and Malaysia and on the 17th the Indonesian Government decided to act and arrested over 50 executives from 7 major companies involved in the illegal burning that was causing the haze. The arrests were good news but didn't change our situation and so we decided to cut our visit to Harau Valley down to one night and to cut out Maninjau Valley totally and to go instead, directly to Padang on the coast and stay there for three nights instead of the two nights we had pre-booked. Hopefully Padang would be haze-free and if not we were at least in a large city and could find some attractions to keep us amused. We didn't expect any return of accommodation costs or guide fees for curtailing our trip and Fakir was very understanding of our position.
The following morning, September 17th Fikar picked us up from the Hills Hotel and off we went East towards Harau Valley. En route we would visit Pagaruyang Palace and possibly call at a few other beauty spots depending on the haze situation!
West Sumatra is the land of the Minangkabau people an ethnic group indigenous to the Minangkabau Highlands of West Sumatra. The people are known as Minangs and their culture is both matrilineal and patriarchal, with property and land passing down from mother to daughter, while religious and political affairs are the responsibility of men, although some women also play important roles in these areas. Today 4.5 million Minangs live in the homeland of West Sumatra, while about 4.5 million more are scattered throughout many Indonesian and Malay peninsular cities and towns.
Fikar is a Minangkabau and is very proud of the fact. He is a very wise, intelligent and charming man and passionate about the wellbeing and welfare of his compatriots. He does a lot of work in his community helping poor people in one way or another and he is quite a special person. He would make an excellent politician and I suspect one day he will be. He is great company to have on a trip such as this.
Pagaruyang Palace is about 50KM or one and a half hours drive from Bukittinggi and is the royal palace of the former Pagaruyung Kingdom, located near Batusangkar town, West Sumatra. It was built in the traditional architectural style but is actually a replica of a previous building that was destroyed by fire in 2007 and which itself was a replica of a replica! The palace has been destroyed by fire in 1804, 1966 and 2007. The latest fire resulted from a lightening strike and the 100% timber building was totally destroyed along with virtually all of the contents including museum artefacts – very few museum pieces were rescued.
Although today there is no king or royal family residing in this palace, since the Pagaruyung Kingdom was disbanded in 1833, the palace is still held in high esteem among Minangkabau people. It is a huge building with amazing ornate architectural features and we were lucky enough to be able to get a guided tour by an Official Guide.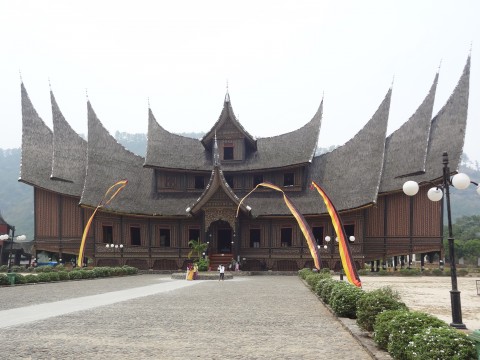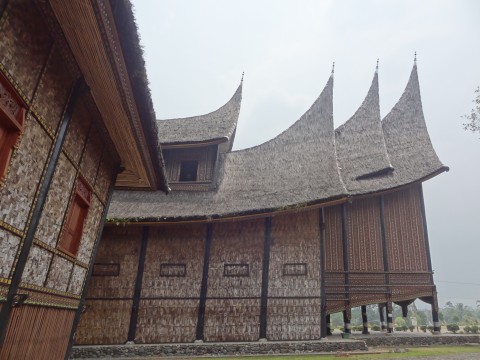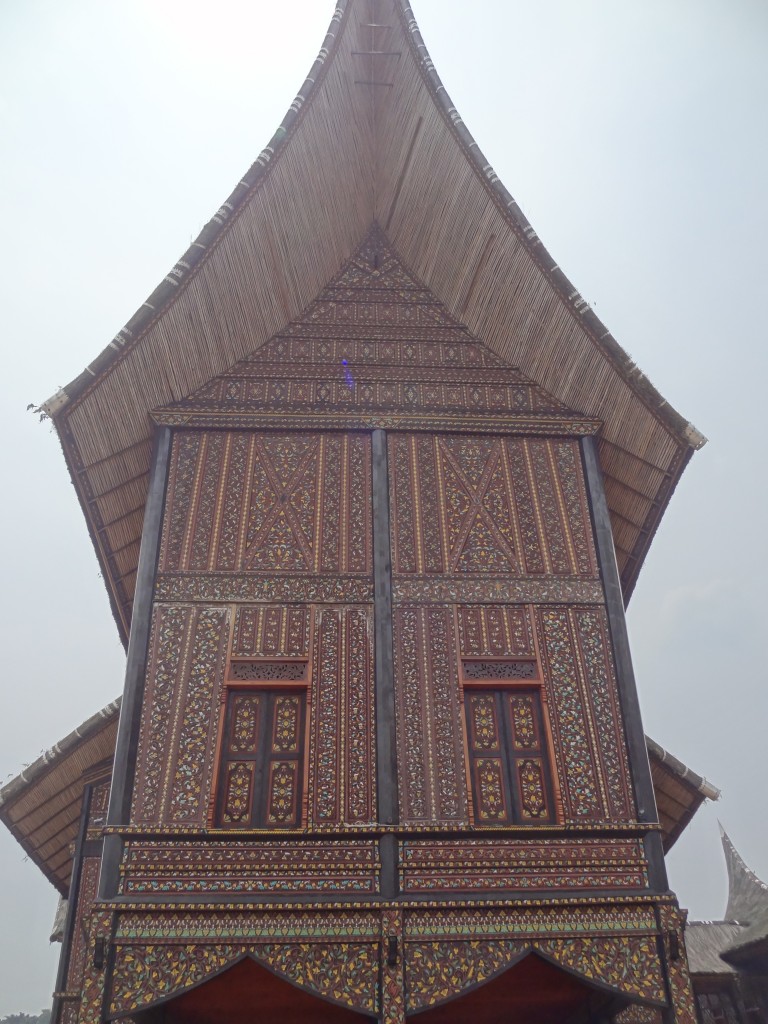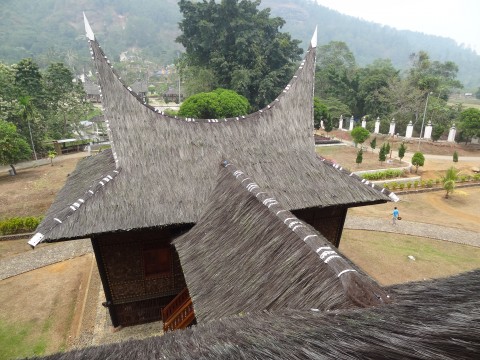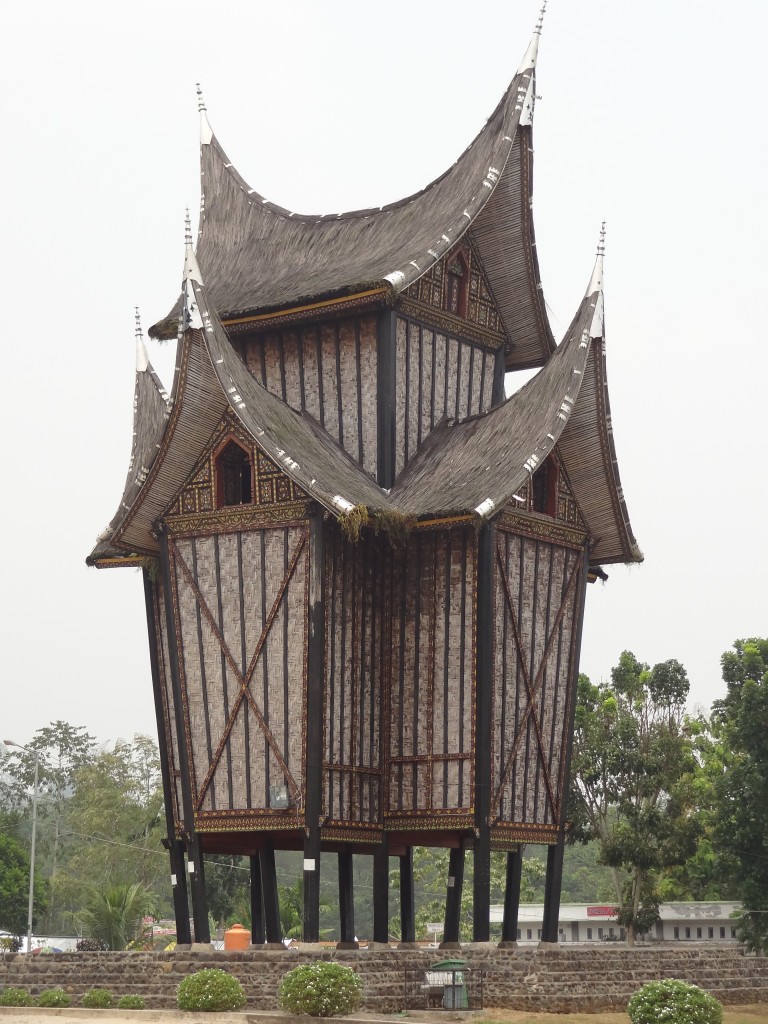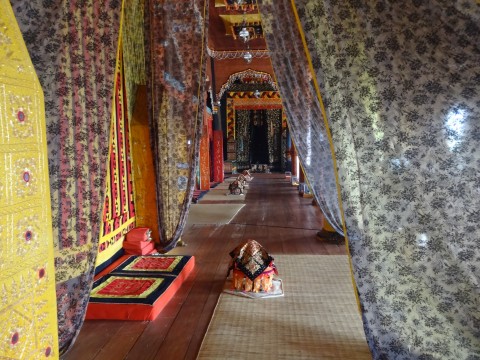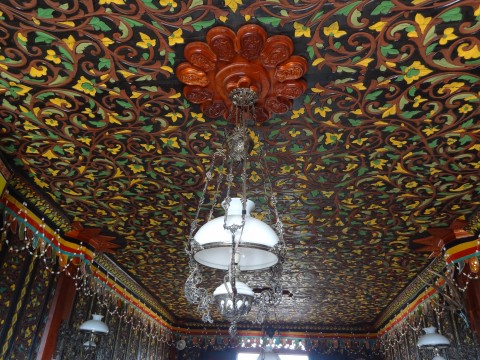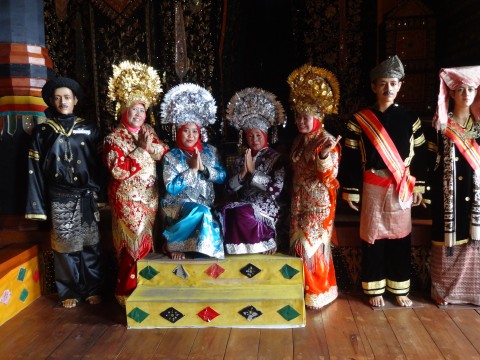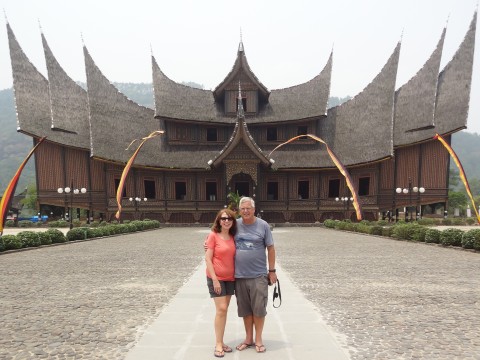 After Pagaruyang Palace we continued East toward Harau Valley calling to look at several historical traditional houses most of which had been extensively renovated and were occupied by wealthy business. We passed through glorious countryside and whilst there are a few photos below, we didn't bother with photos for many places as the haze was just so bad. Here are a few pictures..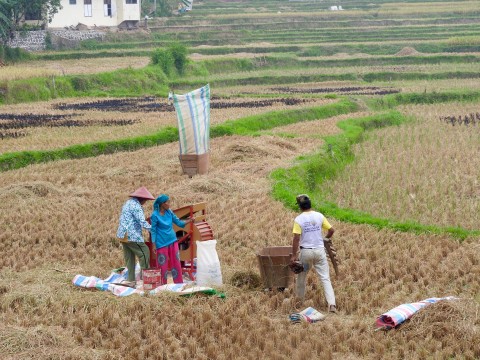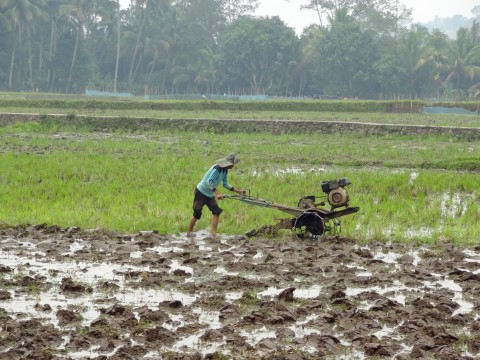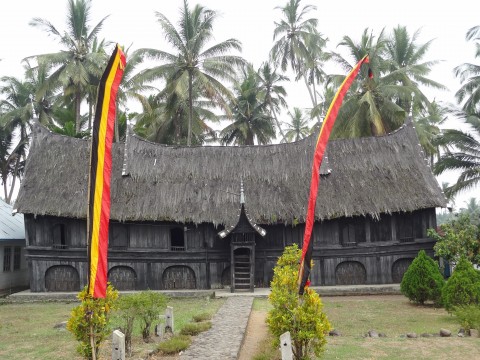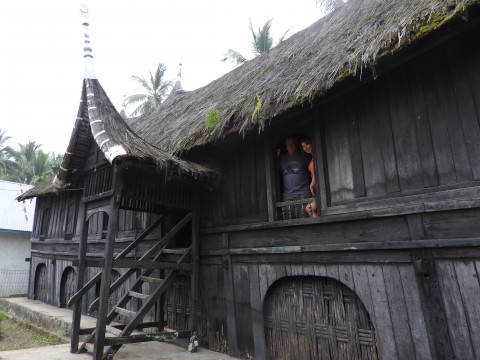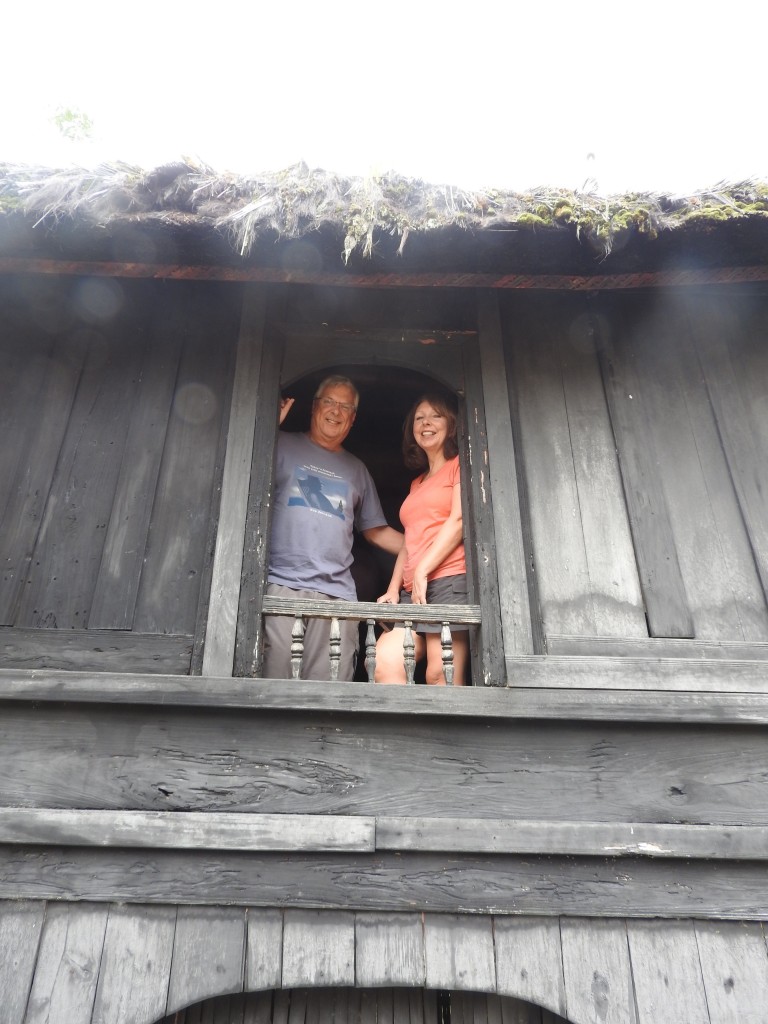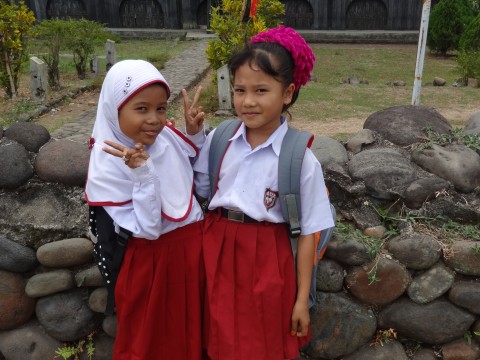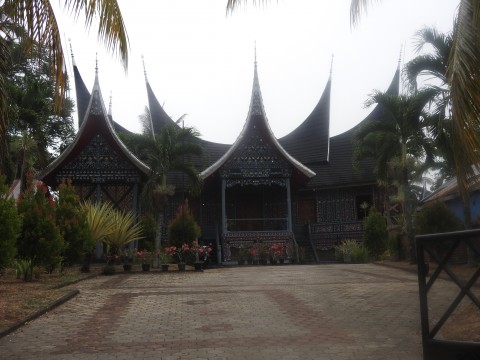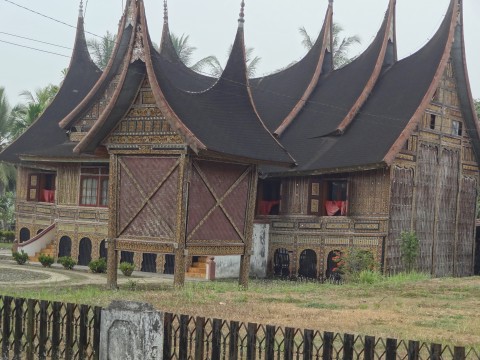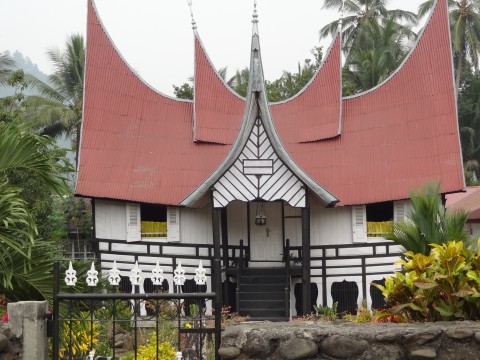 Harau Valley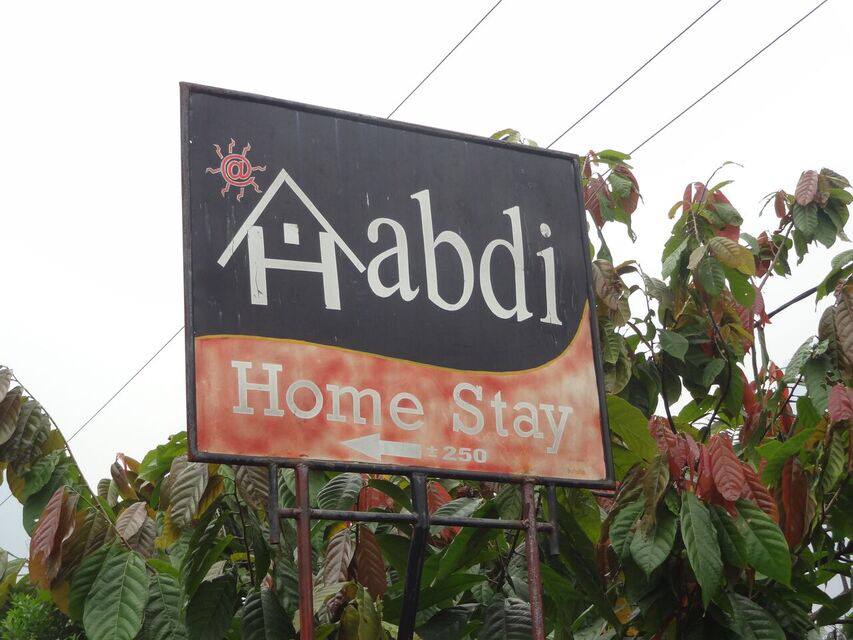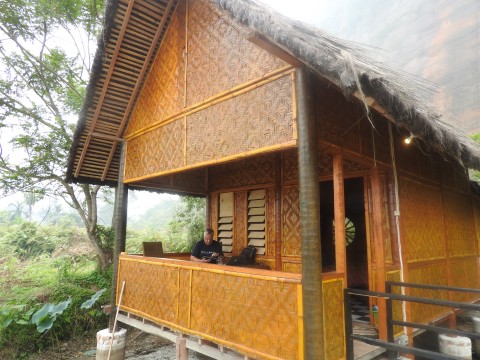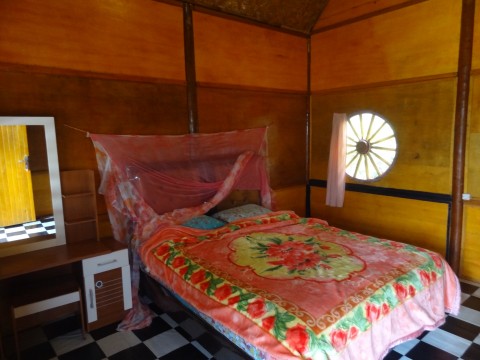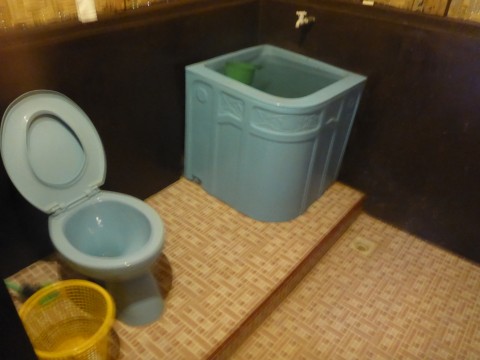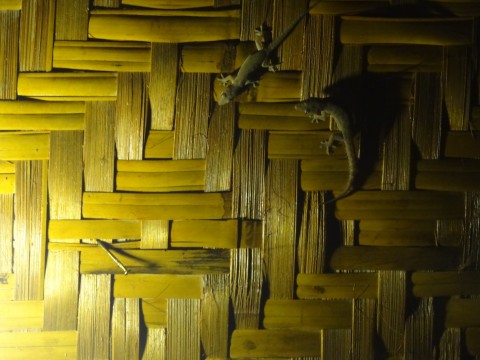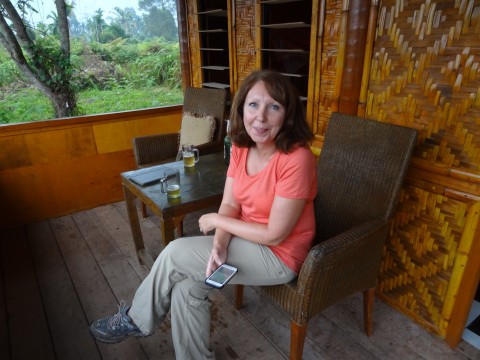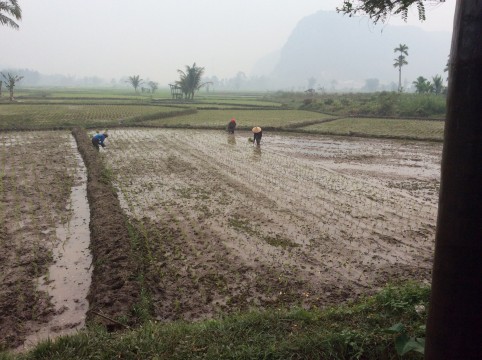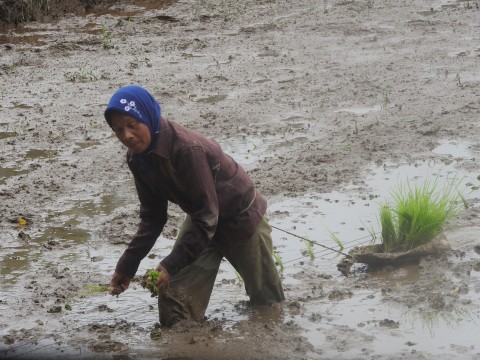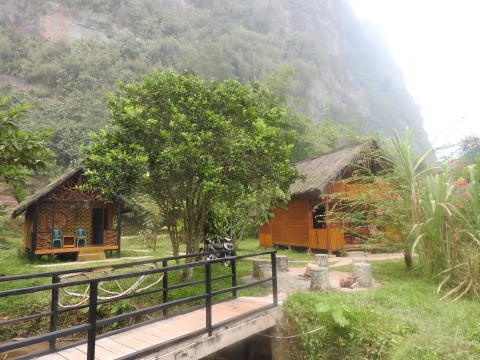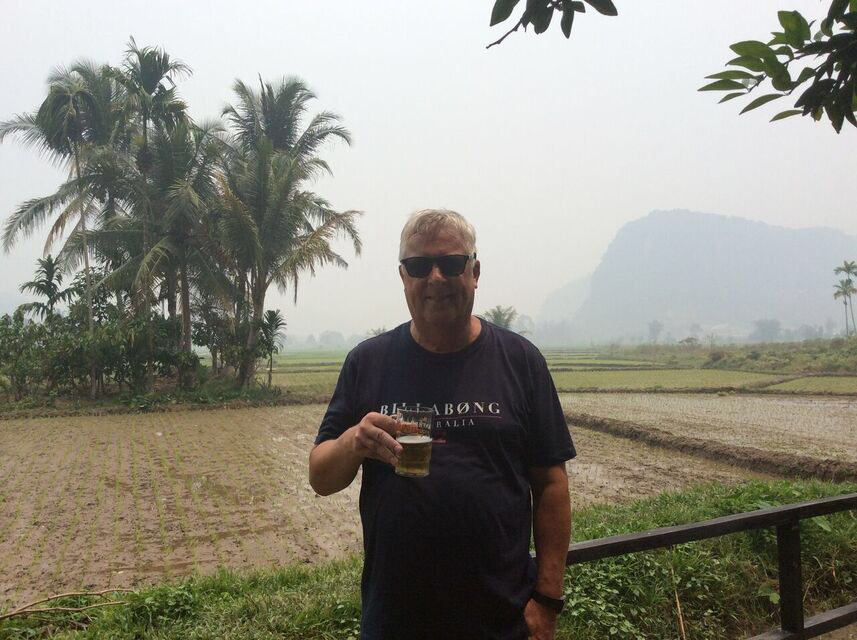 Whilst our homestay accommodation was definitely basic, it was perfectly clean and we were quite comfortable. Inevitably there were mosquitos around but we had the necessary sprays and didn't suffer any bites.
We stayed only one night but actually this turned out to be such a lovely place, even in the haze, that we wished we had stayed for two nights as originally planned. ABDI is run by a husband and wife Ikbal and Noni helped by their extended family. Our evening meal of beef rendang and chicken rice and vegetables served at the family bungalow was excellent and there was a plentiful supply of Bintang in the fridge. We chatted with Ikbal for an hour or two and he told us about his business, his ambitions and life in the Harau Valley. A very pleasant evening.
The homestay has half a dozen or so bungalows but we know that more are planned. With limestone cliffs at the rear, inhabited by gibbons, the homestay is otherwise surrounded by rice fields with the local village about 15 minutes walk away. Fikar dropped us at the homestay late afternoon on the 17th and picked us up mid afternoon on the 18th, my birthday.
On the morning of the 18th we were awake early to the sounds of the jungle and the ever present cockerels. After standard breakfast fare of pancakes with fruit, we went walking through the valley with Ikbal's brother in law.
The scenery is astounding even in the haze and the walk took us through rice fields, around the edge of the town and up into the hills to a waterfall with swimming hole where we found a couple of dozen or more kids and their teachers having a whale of a time on an out of school trip. The kids were great and we had a good natter with one of the teachers who spoke very good english.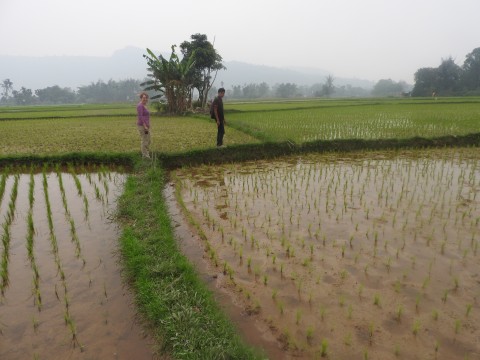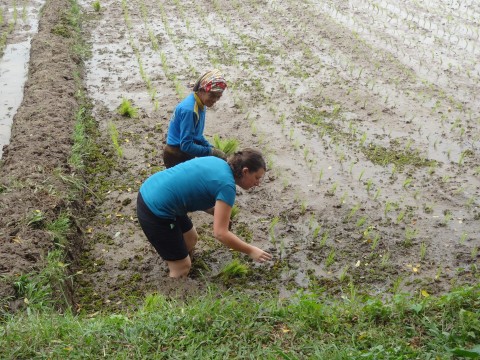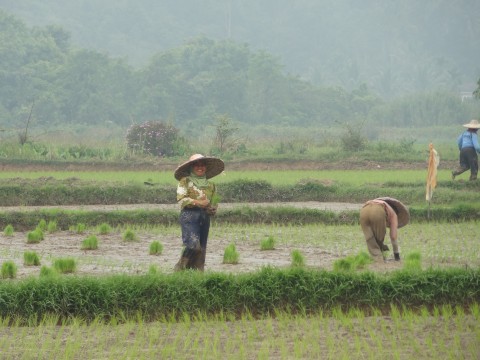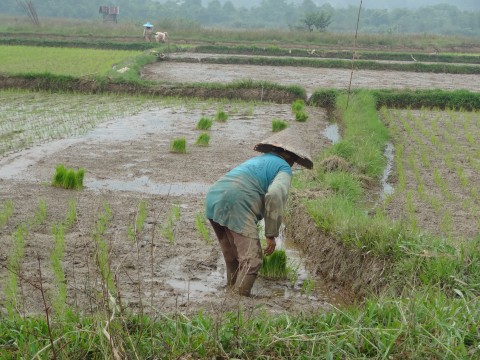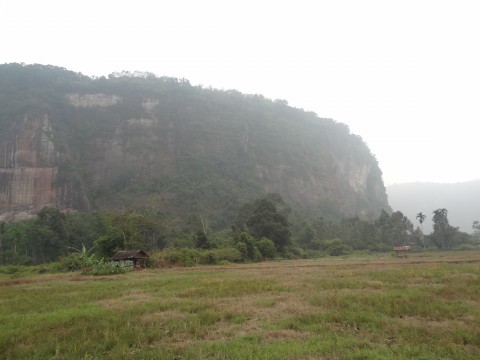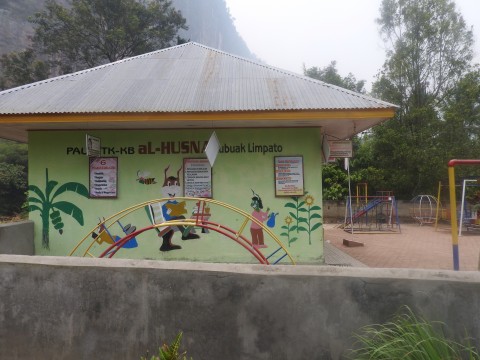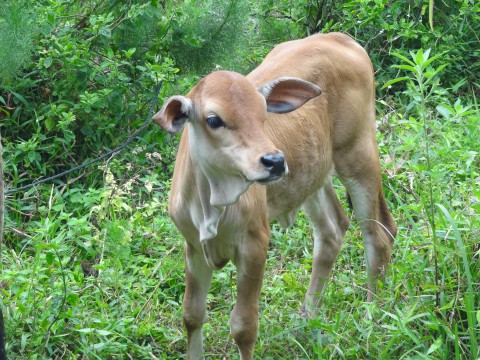 The cow above was tethered at the side of a rice field but we saw a number of animals being moved/transported during our brief stay in preparation for the Muslim festival of Eid al-Adha.
Eid al-Adha commemorates the willingness of Ibrahim to sacrifice his son Ishmael as an act of obedience to Allah – and Allah's mercy in putting a lamb in Ishmael's place at the last moment. Muslims believe that the very moment Ibrahim raised the knife, God told him to stop, that he had passed the test and to replace Ishmael with a sacrificial ram. The animals we saw were being prepared for sacrifice following which the meat would be distributed to the villagers – each family would receive a kilo of meat.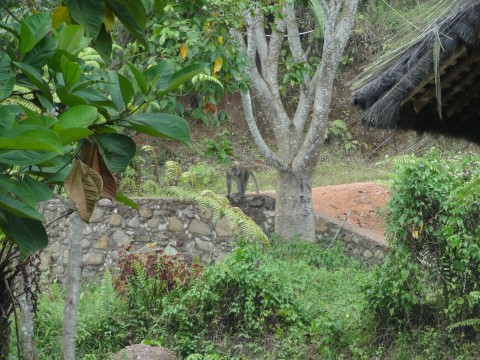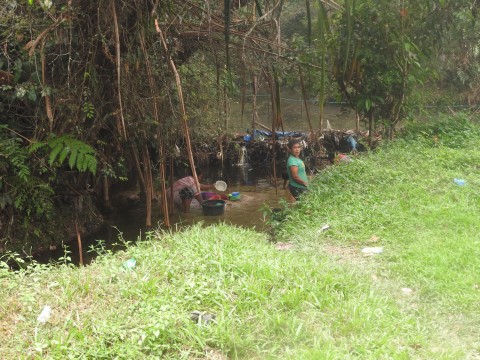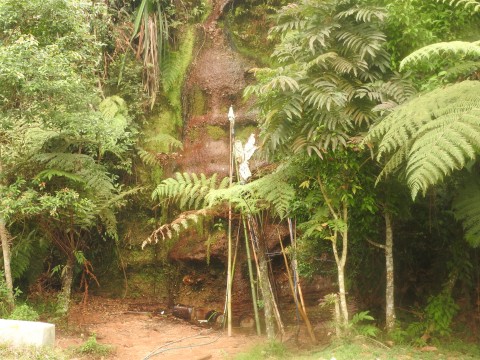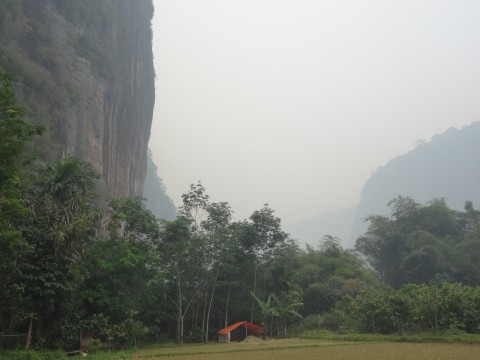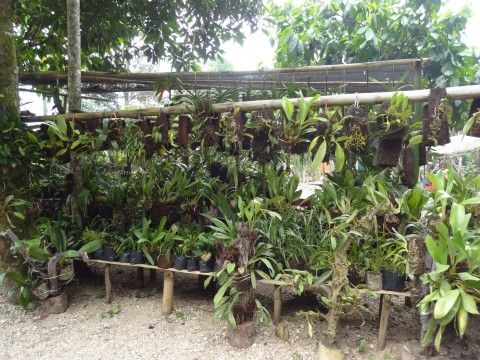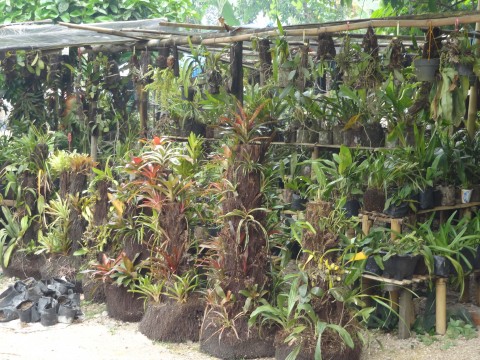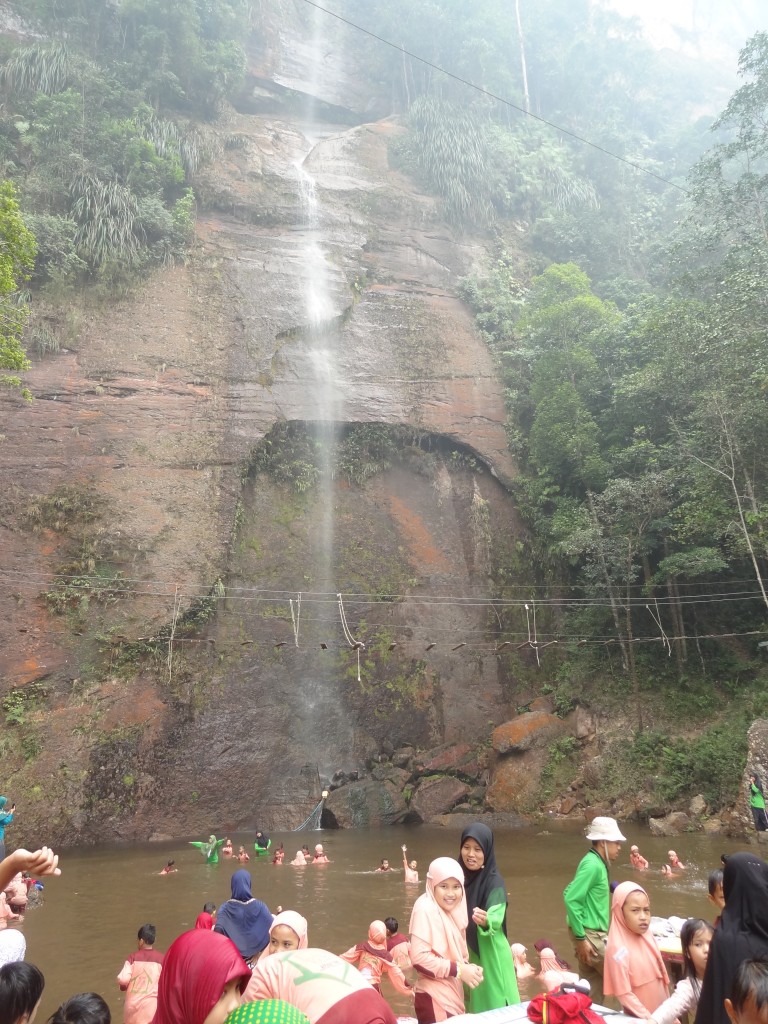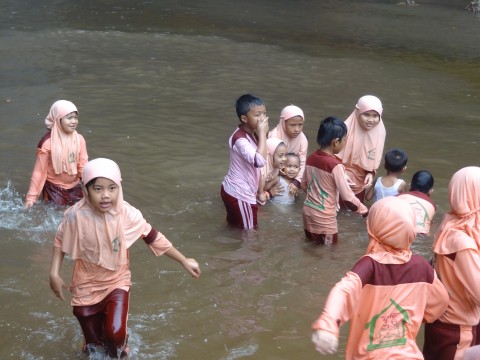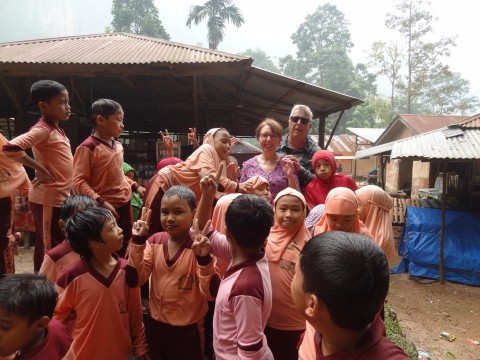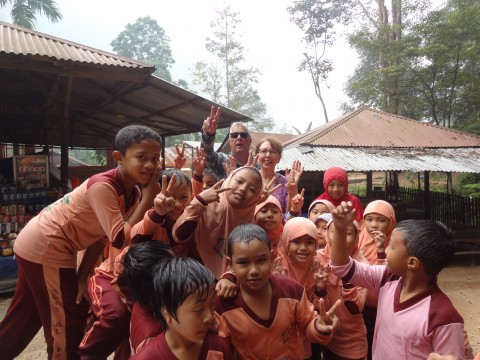 Mid afternoon on September 18th, Fikar collected us from ABDI Homestay for our return journey to Bukittinggi where we would stay for one night before the final leg of our tour. The haze was getting worse.
We were back in Bukittingga around 6pm. The Hills was full and so we had booked into the Treeli Hotel for the night. The hotel was fine, albeit much smaller than the Hills, with a very good breakfast provided in the rooftop restaurant overlooking haze bound Bukittinggi!
That evening Fikar came into town and treated us to dinner for my birthday celebration, at Cafe Turret just across the road from the Treeli and very nice too.
We left Bukittinggi around 10.00am on 19 September heading for Padang where we would part company with Fikar and spend 3 nights at our own leisure before leaving for Yogyakarta. However, we had one more place to visit en route, the Pacu Jawi at Tanah Datar, West Sumatra.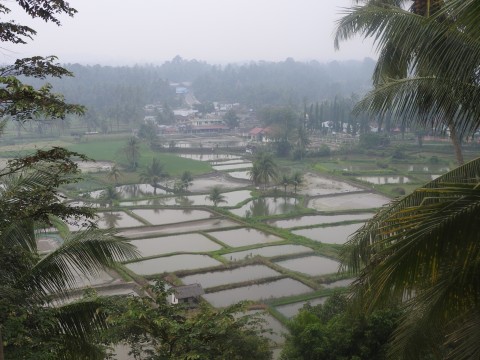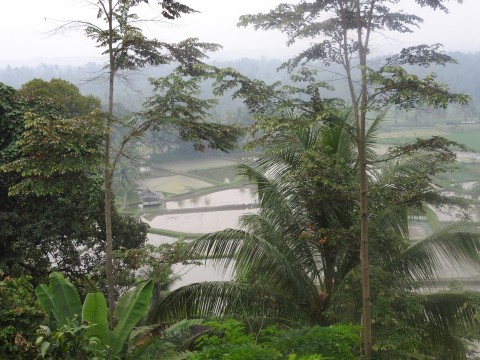 This is an annual cultural event which takes place over 3 or 4 weekends annually in a muddy field in West Sumatra.
Pacu Jawi, simply translated as Cow Race, is an event that's been around hundreds of years. It is a celebration of the rice farmers after the harvest season for entertainment.
Each jockey rides with a pair of cows held together by a wooden harness contraption on which the rider stands whilst holding the tail of each cow. The cows will start running along the 20-30 meter long muddy field once the jockey bites the tip of their tails, one after the other.
We saw quite a few races but didn't see any pair of cows with rider actually reach the finish line. Most fell off the "carriage" within yards of the start, some made it half way or more and for quite a few the cows ran in opposite directions making the jockey fall face down in the mud. Many went off the field entirely. The better the cows "perform" the better the price that will be achieved when the beasts are sold at the end of the race day.
There were very few Westerners present and Ann and I became the centre of attention for many of the locals but the event as a whole is great fun with a carnival atmosphere with mini fairground rides for toddlers, candy floss, sweets and all manner of fast foods available. There was also some traditional dancing taking place in a large open covered tent which was interesting with an accomplished "Lead" dancer inviting others in the audience to dance with him, imitating his movements which were often of an arabic twist holding a plate in each hand as if he were plate spinning. I am not sure if this was purely entertainment or if there was an element of competition in this dance but one by one the dancers withdrew and at the end of the performance a couple of Guys wandered round with cardboard boxes asking for "donations" ! I have a video of this if I can work out how to get it onto this blog. In the meantime, here are a few pictures….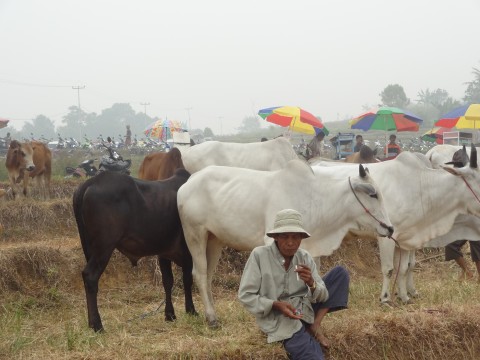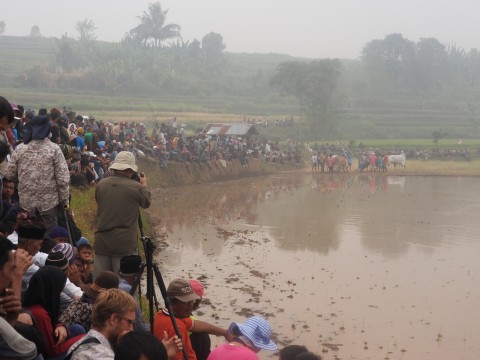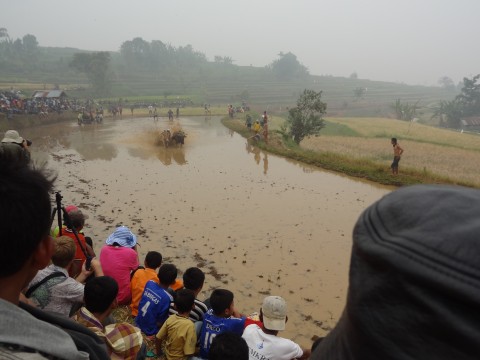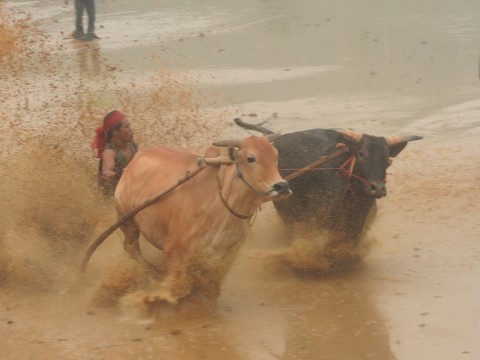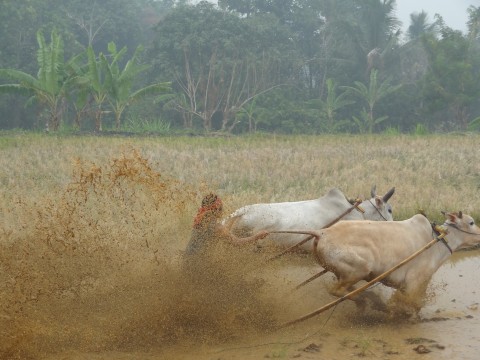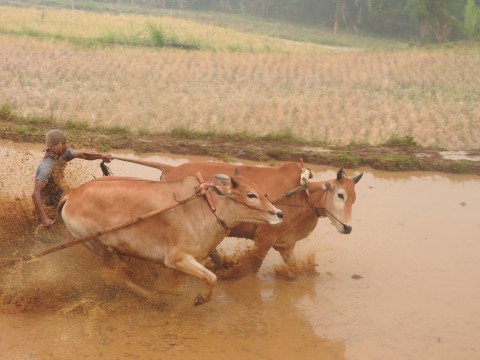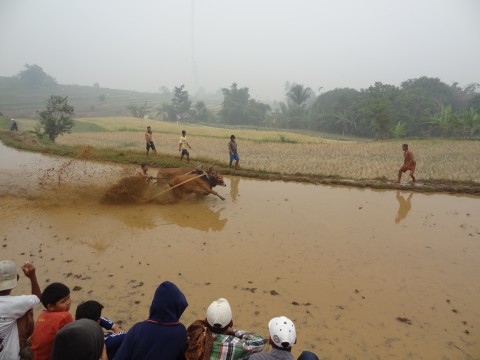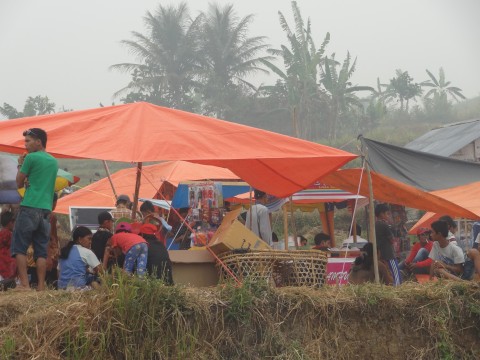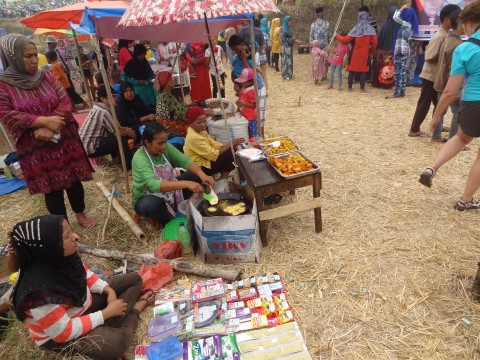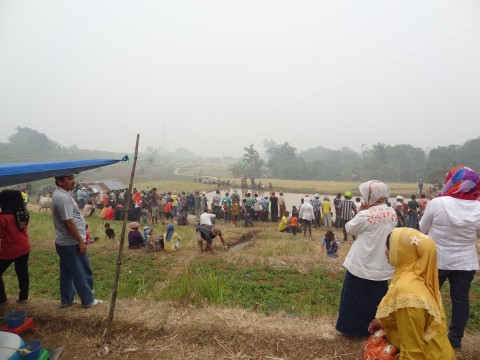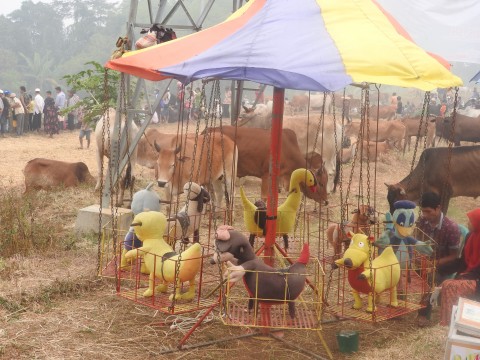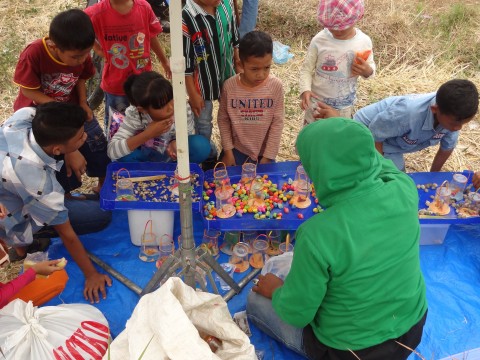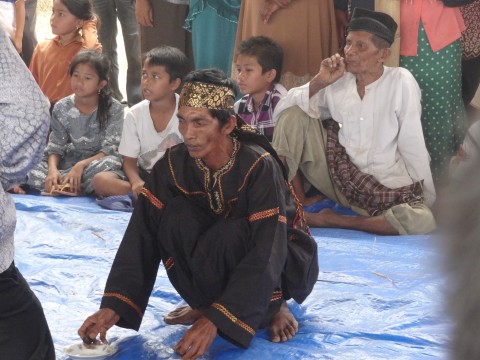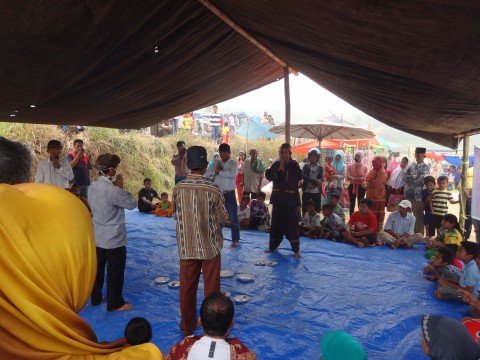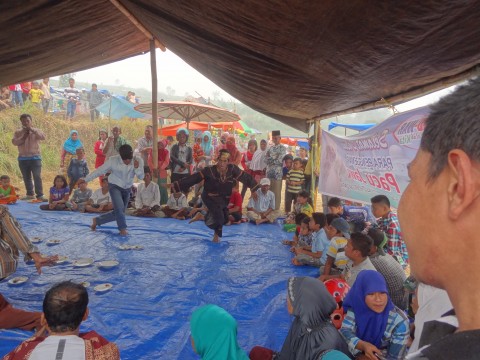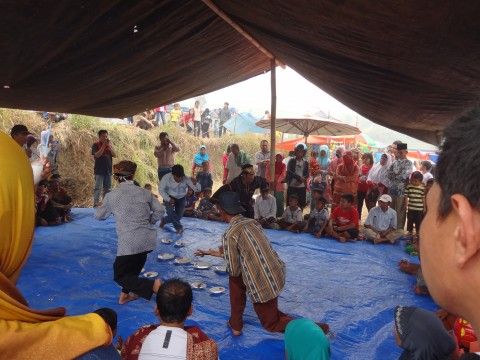 After a couple of hours we hit the road driving west through many small towns and stopping only for a quick coffee break.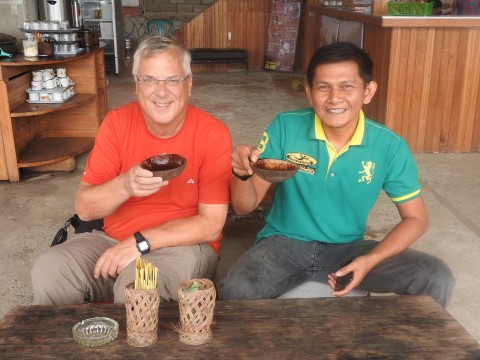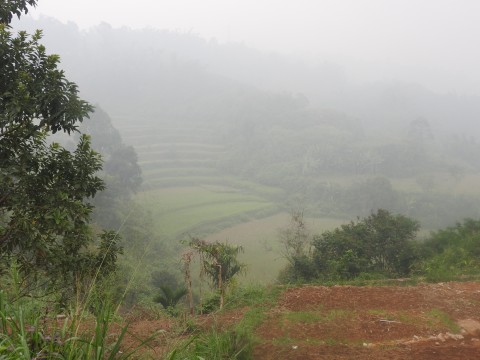 The haze became worse as we travelled west and at times it was like driving through thick fog – a shame given the lovely countryside we were travelling through.
The last hour was desperately slow as we hit heavy traffic once we got into the suburbs of Padang.
It was almost 5pm when we arrived at Padang and Fikar still had to drive back to Bukittinggi. He dropped us off at our hotel and we said our goodbyes. It was a shame that we had needed to cut short our tour but there was little point in continuing as conditions continued to deteriorate. Notwithstanding, we had enjoyed a wonderful 9/10 days with Fikar and Andres and given the opportunity we will not hesitate to use their services again if we get chance to visit this wonderfully colourful area again.
Ann and I spent should have spent 1 night in Padang but in the end spent 4. Unfortunately we found the place very like Medan, un unattractive dirty city with very little going for it as far as tourism is concerned. We spent our entire time holed up in what fortunately was a very nice hotel and ventured out only for a breath of air and bottled beer from time to time. Im afraid we found nothing to like about the place and with Medan it currently stands equals our least favourite city.