On Friday 4th September, within a little over an hour of booking our flights to Bangkok at Medan Airport we were on the plane and 2 hours later landed at Bangkok. Of course we had taken the flight on impulse and had done no research on Bangkok but we had stayed there for a few days in 2013 and so as soon as we landed at Don Muang Airport we got onto the internet and booked a hotel room in the Sukhumvit area of the city where we had stayed on our previous visit. Sukhumvit is a great area with lots of restaurants and bars but also very handy for the Skyrail and underground systems making it easy to get around the city.
We got a taxi and arrived at the Continent Hotel about an hour later – pretty good going as this was Friday afternoon rush hour and the Bangkok traffic, always heavy, was horrendous. The hotel isn't big but its fab and all the better as we got a free nights stay using some Hotels.com reward points. The room came with breakfast, access to the hotel's swanky rooftop bar with free cocktails available until 7pm and late check-out. We were checked in around 6.45pm and quickly up to the bar to grab a couple of free drinks and then a few more. We had been up since 5am and after a busy and stressful day we were well and truly knackered. We decided to eat in the hotel via room service.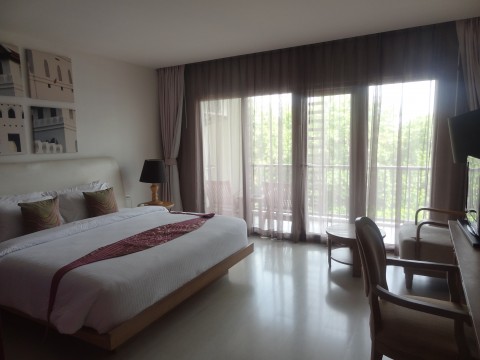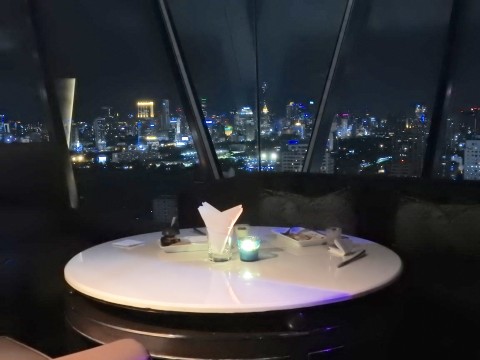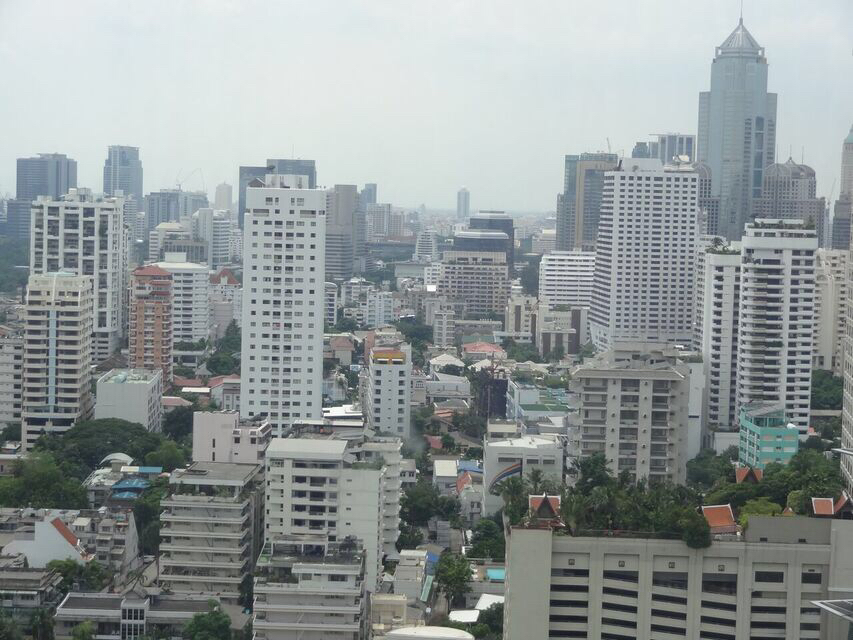 The Continent is a very nice hotel. The rooms are great and the breakfast superb and we contemplated staying there for at least a couple of nights. However, the best rate we could get was way beyond our budget so we decided to go for somewhere completely different and found a nice hotel, the Navalai River Resort, down by the Chaophraya River and not far from but not too near the Khao San Road, a popular area for backpackers.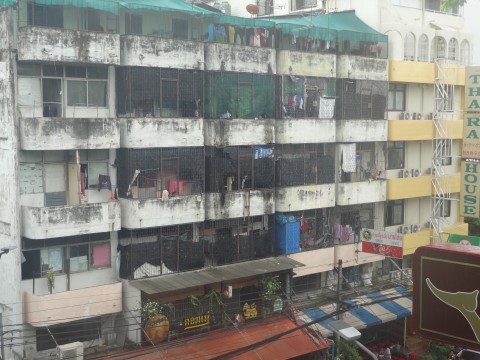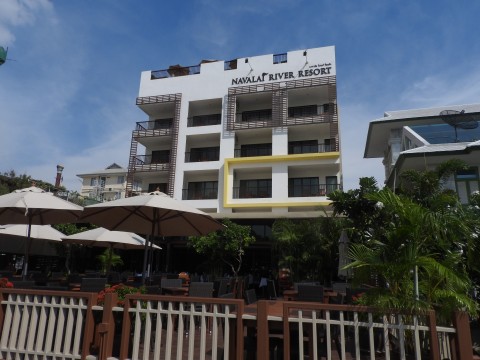 On Saturday morning, September 5th we checked out of the Continent late morning and took a 40 minute (120 baht) taxi ride to the Navalai arriving soon after noon. This is another nice hotel and we booked in for 6 nights again with special rates courtesy of hotels.com. Our room was ready when we arrived and so we were able to check in immediately.
The room was fine but at the end of our stay we felt the hotel fell short of the rave reviews we had read. However, the hotel is in a great spot literally on the river with access to the river itself with a river taxi stop alongside the hotel restaurant which is open-aired at the rear.
Also, there's a riverside pathway and its possible to walk along the river north or southwards directly from the back of the hotel or access the Khao San Road area via the front of the hotel.
We dropped our bags, picked up a map from Reception and went straight out to explore. We set up walking southwards along the river and after a couple of kms came to a bridge and took a left turn away from the river and towards the Temple of the Standing Buddha, or so we thought.
After 10 minutes walking someone said hello from behind us and asked us where we were going. This is the usual approach from taxi drivers and so we anticipated a sales pitch but this fellow suspected, quite rightly, that we didn't know where we were heading – it seems we were walking into a cul de sac occupied by University buildings. He told us that he worked for a Tourist Information Office that we had just walked past and he recommended a few tourist attractions that we should be able to visit in an afternoon tuk tuk tour of the area. He also explained, to our delight, that this day, September 6th, was a special Buddha Day in Bangkok and on this day all tuk tuk rides were limited to a maximum fare of 20 baht (less than 40p) and this essentially meant that we could hire a tuk tuk for the day for the princely sum of 20 baht. This was by decree of the government who compensate the tuk tuk drivers by issuing free gasoline vouchers! Also, on this day each year, there is another government tourist initiative in which the local fashion industry holds a one day promotion in which manufacturers open their doors to foreign tourists selling their made to measure garments at rates usually reserved for Thai wholesalers – I could have a made to measure suit at a rock bottom price!
As luck would have it, a tuk tuk was stopping nearby just as we were having this conversation. Our new friend called the driver over and instructed him to take us on an afternoon tour visiting the Standing Buddha, the Marble Temple and RAM Tailors, an apparently well known quality tailoring company in the fashion district of Bangkok. All this for 20 baht!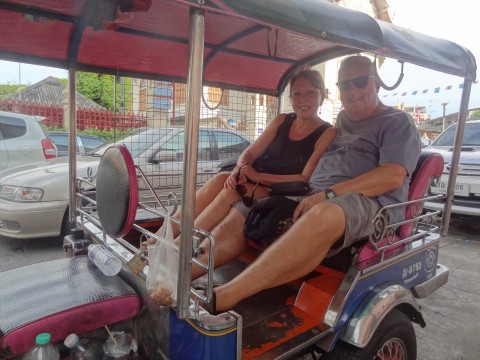 The Standing Buddha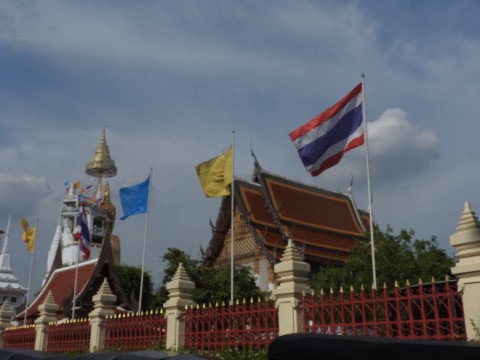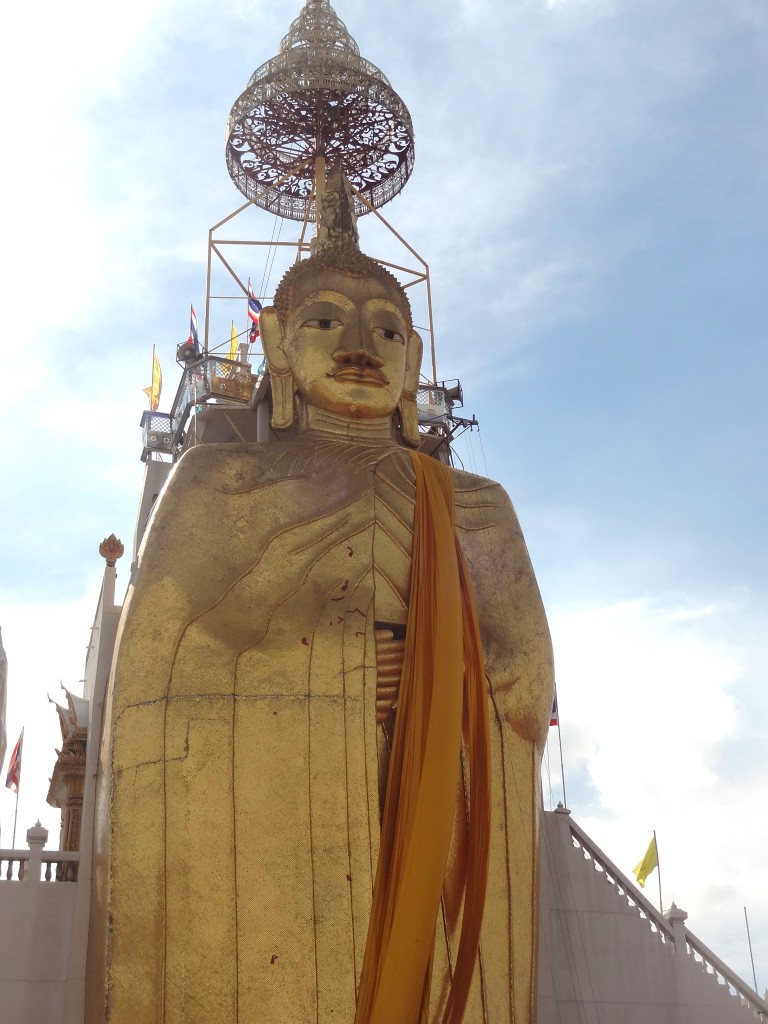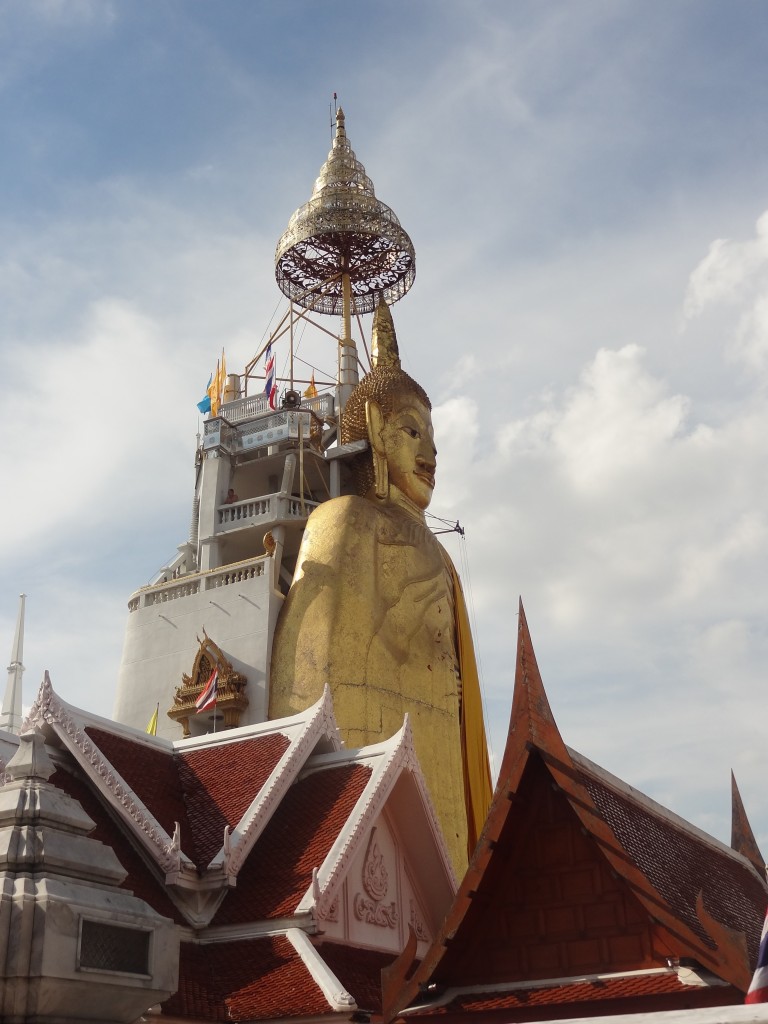 The Marble Temple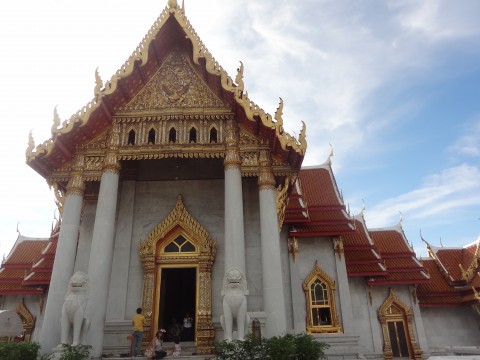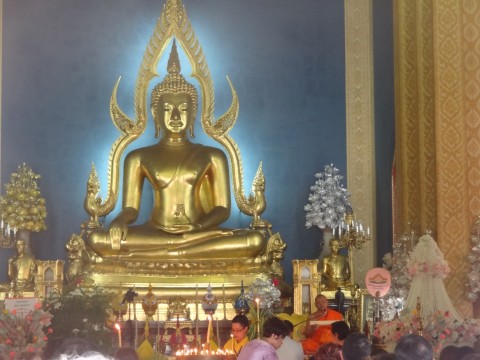 So we ended up having a very full afternoon visiting two temples and spending an hour or so at RAM Tailors shop at which I allowed myself to be persuaded to be fitted for a shirt which would be delivered to our hotel 36 hours later. The shirt was indeed delivered on time and fits perfectly but I do consider myself lucky that I only ordered a cheap shirt because I have since read that many western tourists have been badly let down by this same firm failing to deliver or delivering shoddily made suits !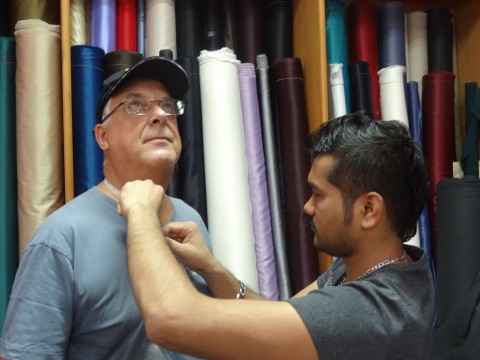 Following a very pleasant tour our tuk tuk dropped us at our hotel and we went for a stroll around the area nearby and enjoyed a couple of beers in a street bar watching the world go with a steady procession of hawkers selling all manner of goods and food including the ubiquitous fried insects on sticks. We then went for our first massage in Bangkok before returning to the hotel for a very average dinner, our first and last meal in the disappointing hotel restaurant.
The following day, Sunday, we decided to visit China Town which we had read was particularly lively on a Sunday. There is also Little India nearby and so we thought we do both and have a curry lunch.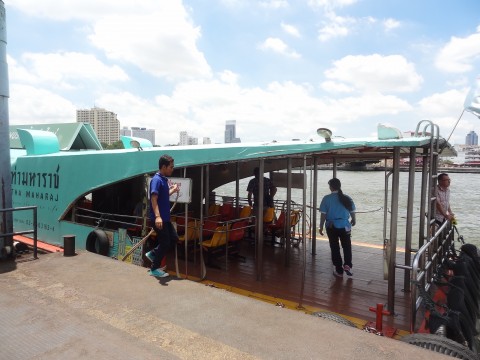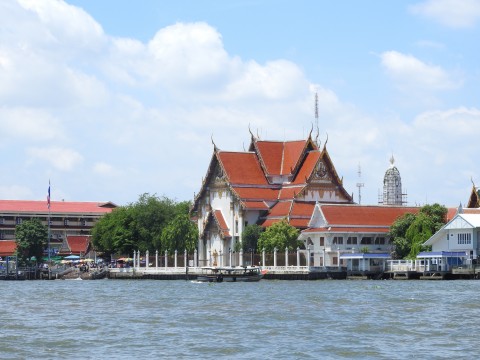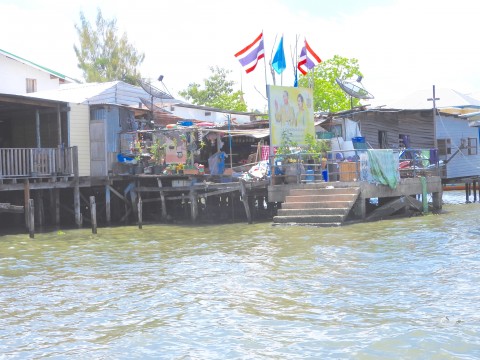 China Town and Little India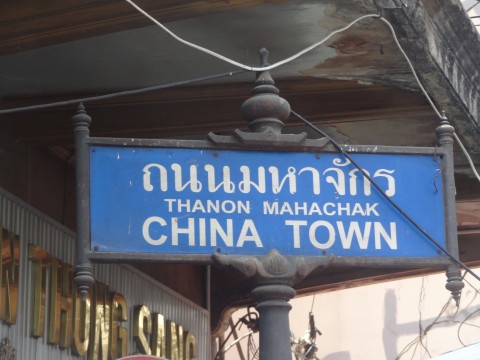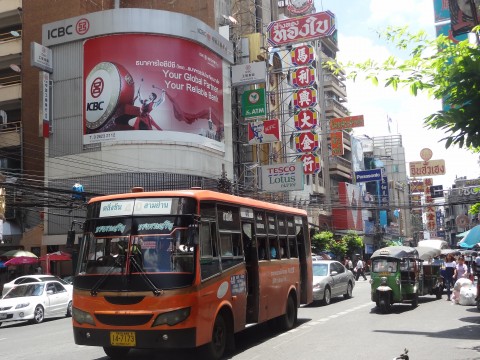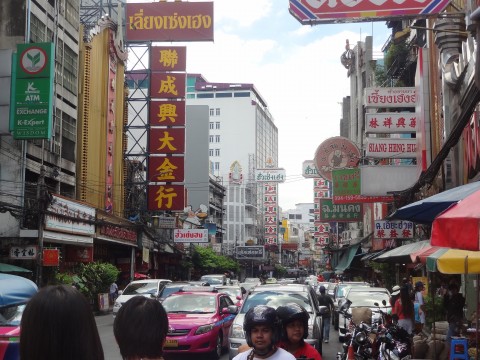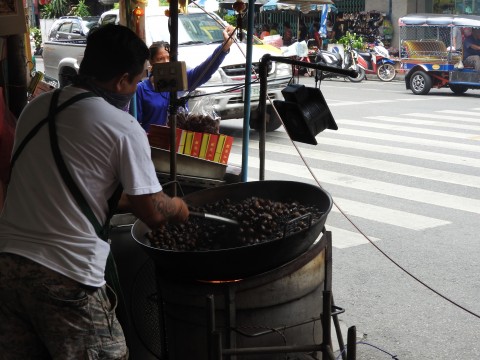 We caught a water taxi to travel 3 or 4 stops down river to China Town for a paltry fee of a few baht. China Town seems to go on forever and comprises street after street of wooden shophouses, many of them gold shops, with the pavements almost entirely lined with market stalls selling food and all manner of goods. Side streets are full of street markets and eateries and the place was absolutely heaving with people – its very easy to get lost here and we did once or twice.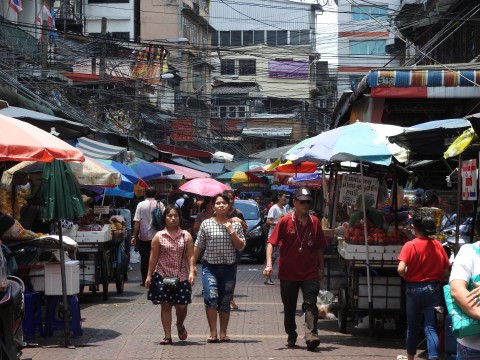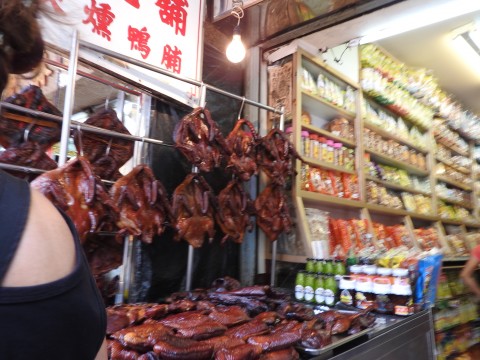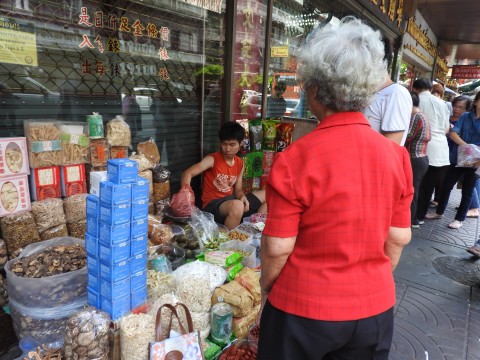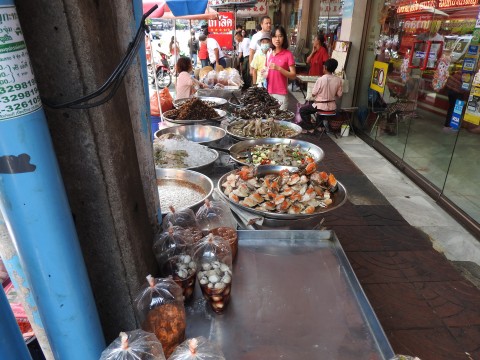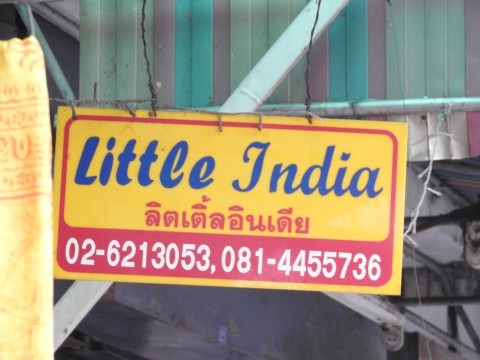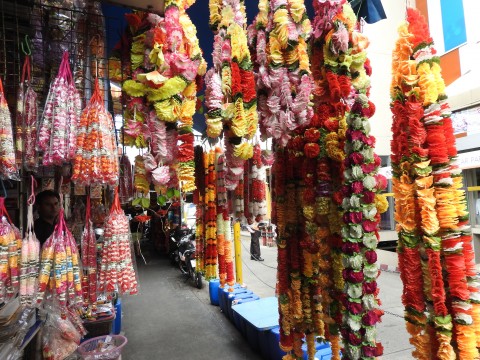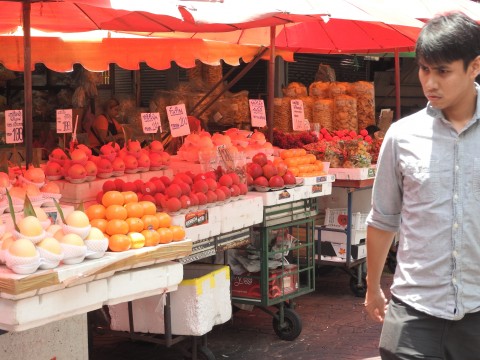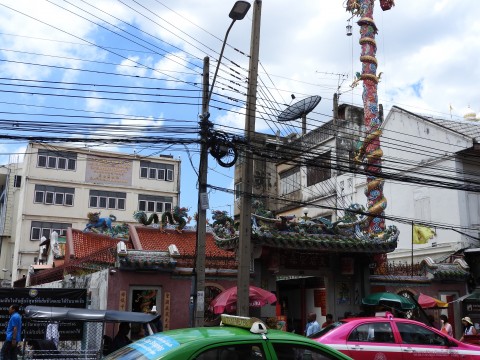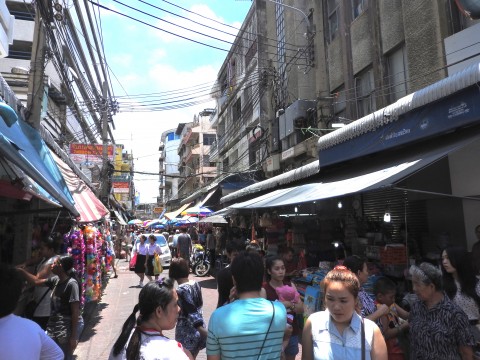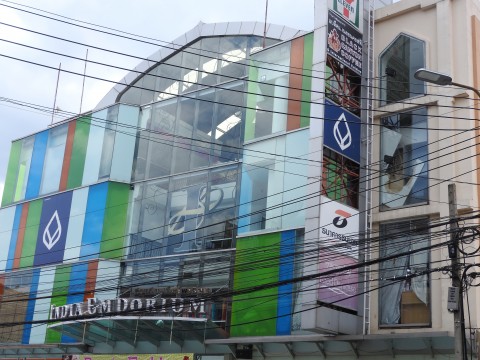 After an hour or two wandering around China Town we set off heading for our curry lunch but even with a decent map it took us ages to find Little India and when we did we found the restaurants were very much rough and ready local sweet centre type eateries and in truth were a tad too rough and ready for us.
We returned to China Town and found Shangri-La restaurant where we enjoyed a very pleasant Chinese meal before catching a water taxi back up river to do some more wandering around the streets near the hotel.
Our week in Bangkok continued in similar vein spending most of our time in the neighbourhood around our hotel and the Khao San Road area – we didn't even venture into the city centre proper as we had been before and found more than enough to entertain us locally. The only exception was a day trip to Ayutthaya, the ancient capital of Thailand.
We were pleased to be able to visit Ayutthaya as this was on our original S.E. Asia itinerary which had included Northern Thailand, Laos, Cambodia etc which we had postponed in favour of a more leisurely itinerary which would give us a full 3 months in Thailand. We decided to focus on Thailand on this trip as we saw Thailand as being a more likely spot for us to spend a UK winter month or two each year in retirement. We always hoped that the discovery of a good place to hole up in January and February might be one of the bi-products of our long trip around S.E. Asia. Already we have found several such places!
We booked a one day tour with Tong, a well known Tour Guide who we had used for a city tour on our previous visit to Bangkok. This would be a private tour with an English speaking Guide, a comfortable limousine and Driver. Our trip included a visit to Bang Pa-In Royal Palace, known as the Summer Palace formerly used as such by Thai Kings. It was originally built in 1632 but fell into disuse and was restored in the 1800s and most of the buildings are of that period. It is still used occasionally by the King for banquets.
Ayutthaya, founded in 1350, is one of Thailand's most important and popular tourist attractions. It was the second capital of the Siamese Kingdom and flourished from the 14th to the 18th centuries, during which time it grew to be one of the world's largest and most cosmopolitan urban areas and a centre of commerce. Ayutthaya was strategically located on an island surrounded by three rivers connecting the city to the sea. This site was chosen because it was located above the tidal bore of the Gulf of Siam as it existed at that time, thus preventing attack of the city by the sea-going warships of other nations. The location also helped to protect the city from seasonal flooding.
The city was attacked and razed by the Burmese army in 1767 who burned the city to the ground and forced the inhabitants to abandon the city. The city was never rebuilt in the same location and remains known today as an extensive archaeological site – a new capital was built down river at Bangkok about 80 kms away. The Ayutthaya historical park is in part a UNESCO World Heritage Site. It's a very large site with the ruins of many temples and palaces, some of which have been restored but many clearly showing the destruction caused by the Burmese with, for example, many Buddha statues completely destroyed or heads removed. There are clearly Khmer influences in some of the architecture with features similar to some that can be seen at Angkor Wat in Cambodia.
Our Guide for the day was Onn and he was excellent. He speaks very good english, has bags of energy, enthusiasm and knowledge which he was bursting to share with us. He also has a great sense of humour and was excellent company on the day. It was a very full day -here are some pictures:
Bang Pa-In Royal Palace
A big site with many buildings and extensive gardens but unfortunately we had only an hour to squeeze this in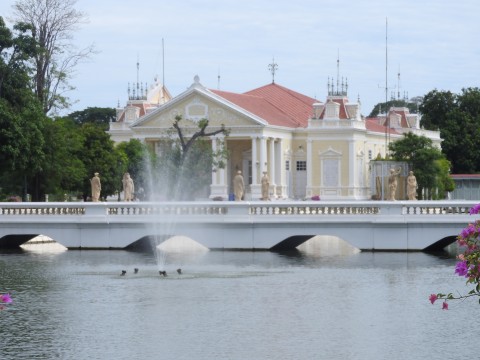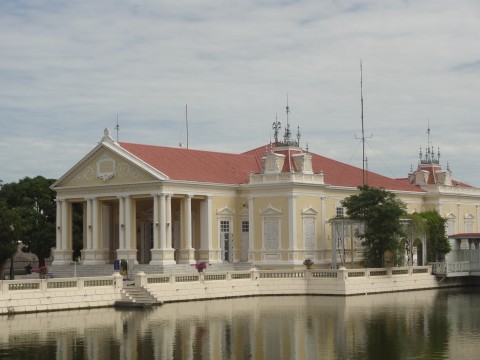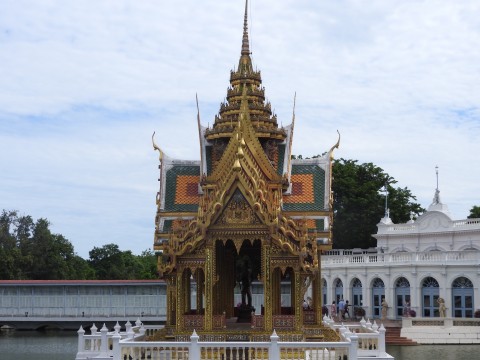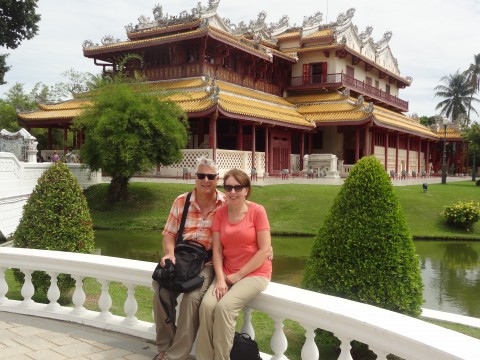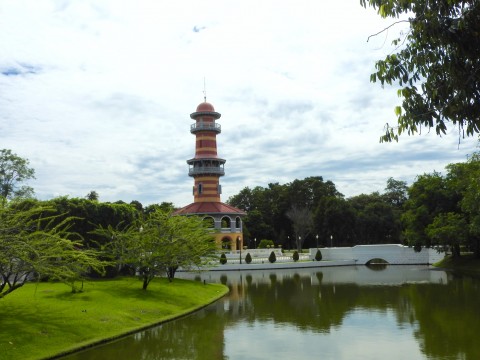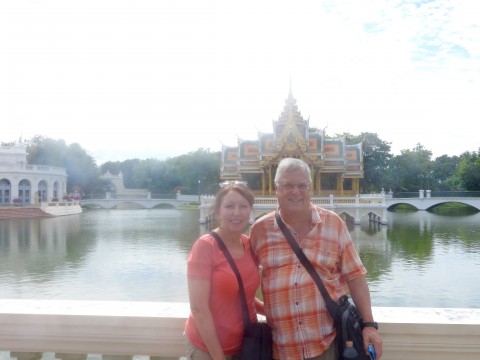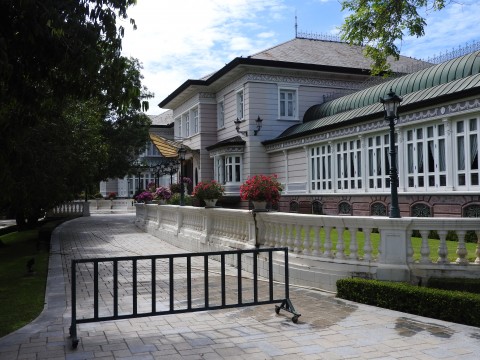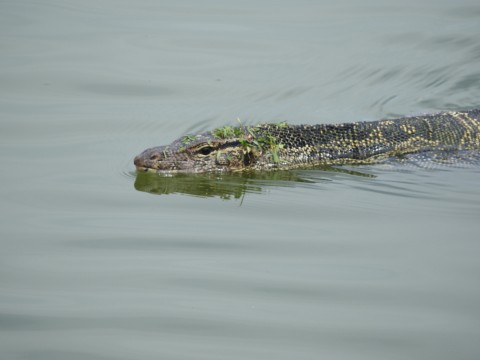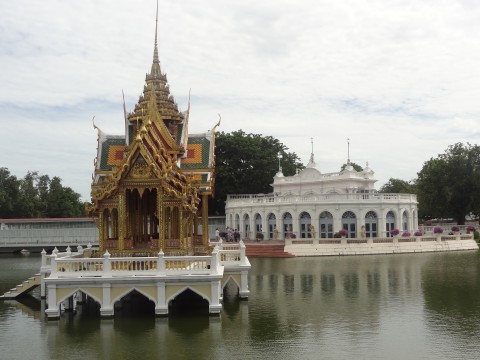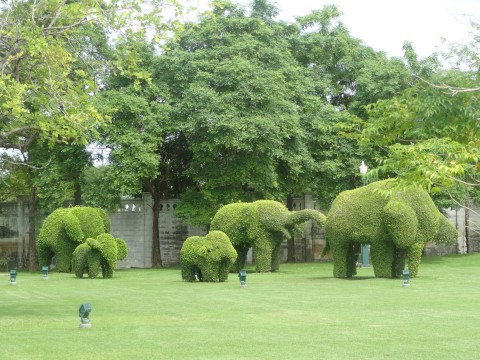 Ayutthaya
This is a huge site and would be better visited over a couple of days. We had only a few hours but got to see plenty including some from the river as we moved from one area to another boat and somehow fitted in a visit to an elephant camp which we really hadn't expected. There is a rich history to this area and our Guide was the font of all knowledge. I'll not try to summarise it here – the reader can easily google it if so inclined. Here are just a small selection of our photos:
Wat Yai Chaimongkon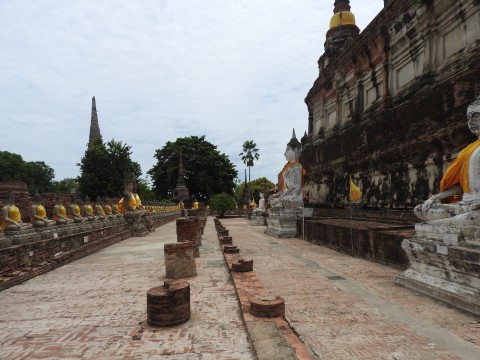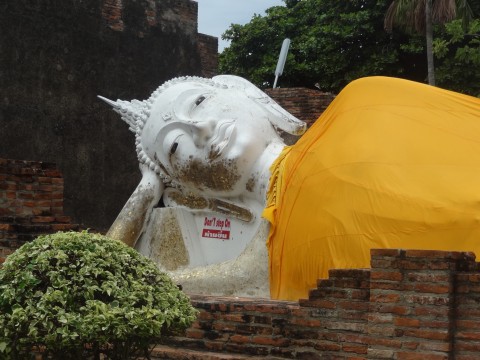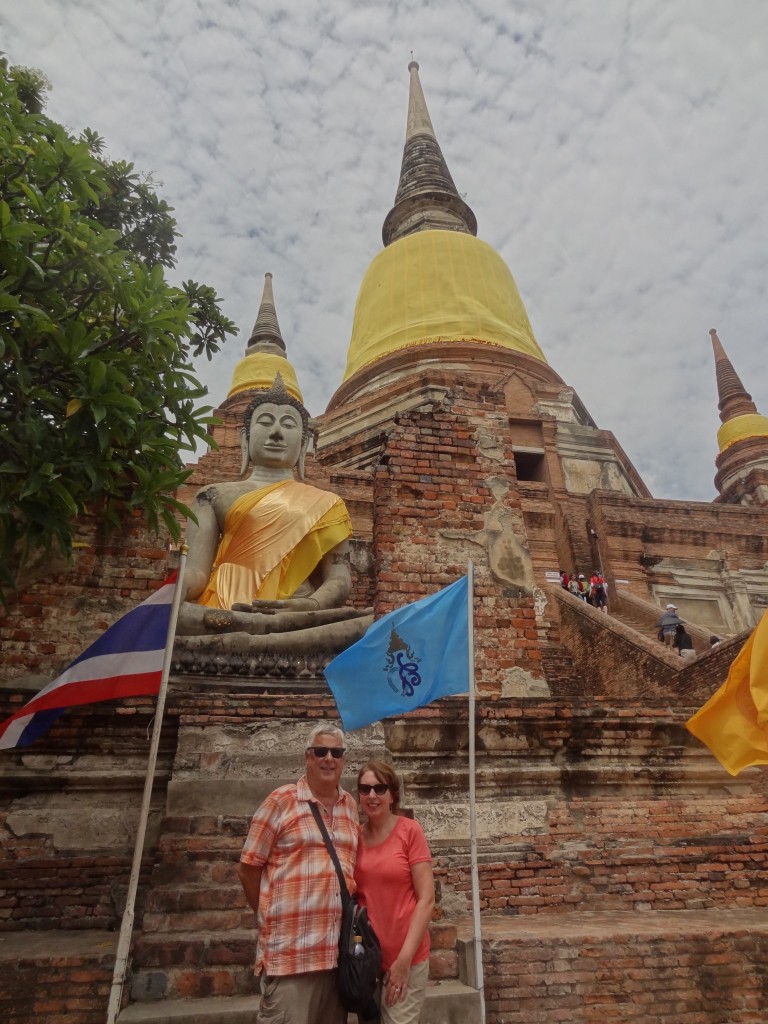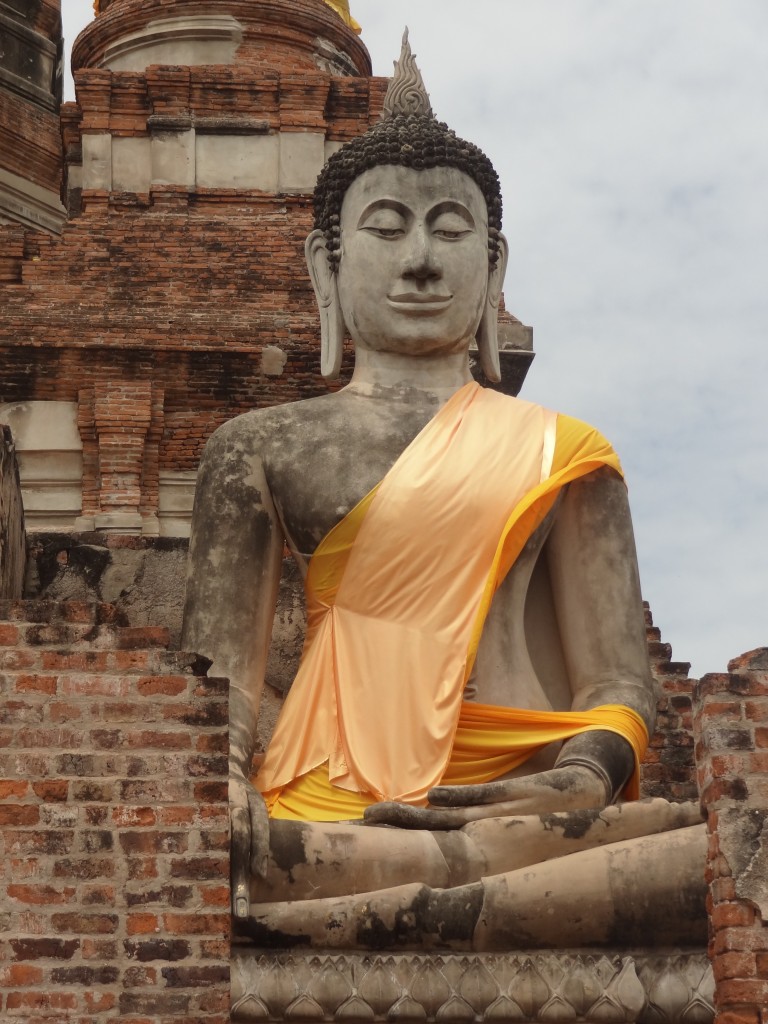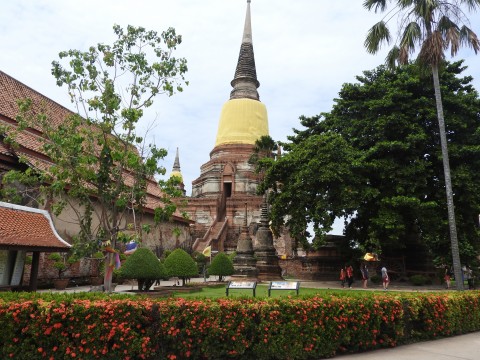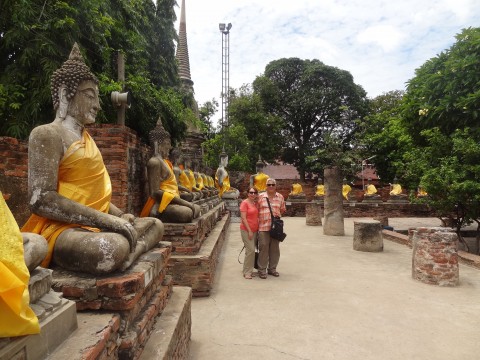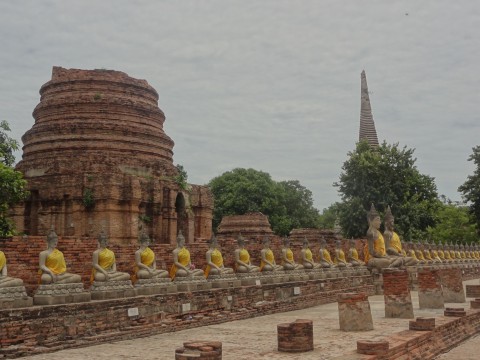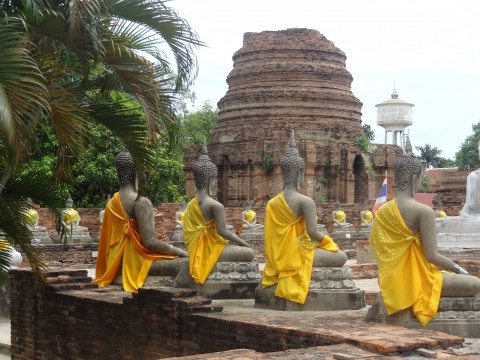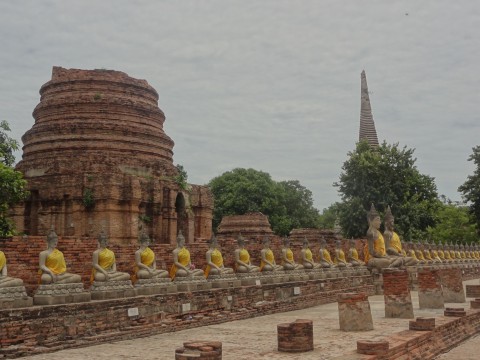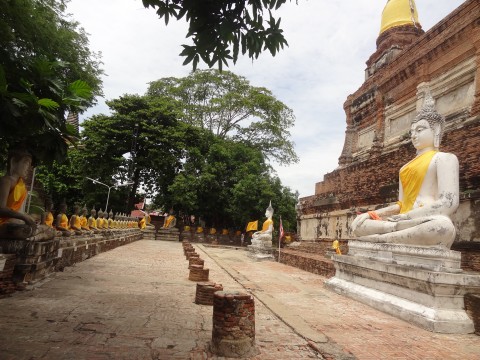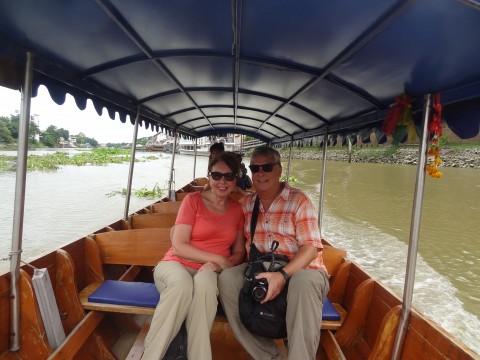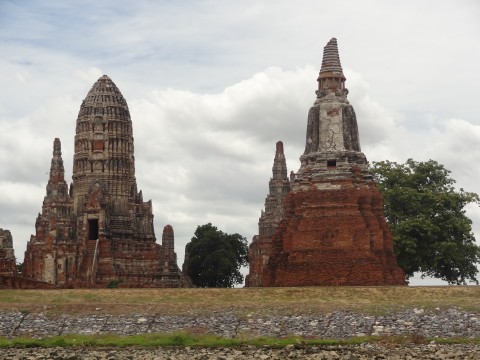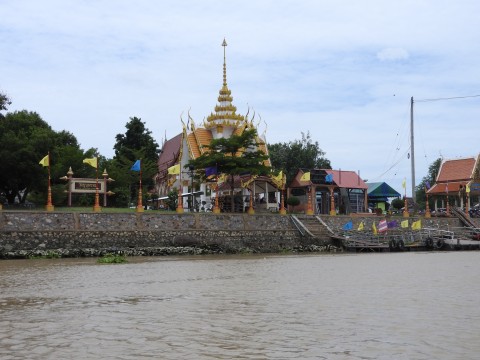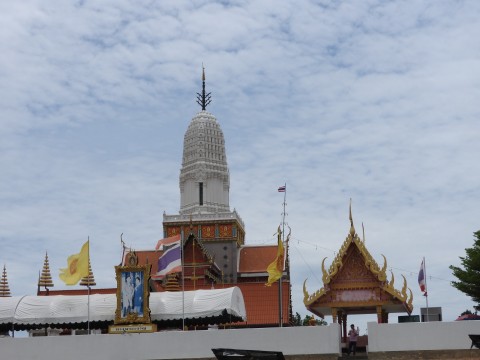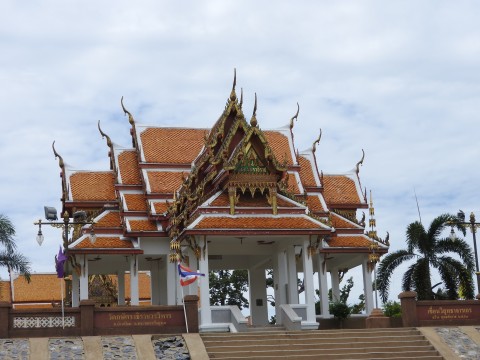 Wat Phra Mahathat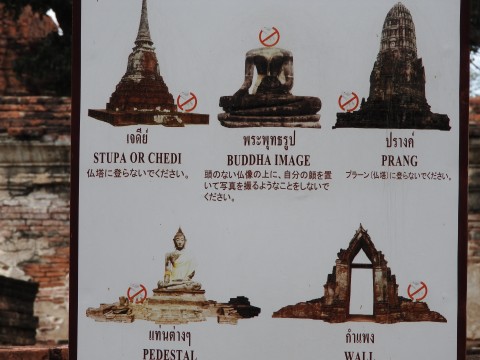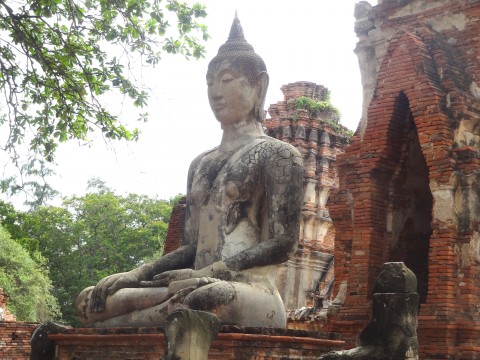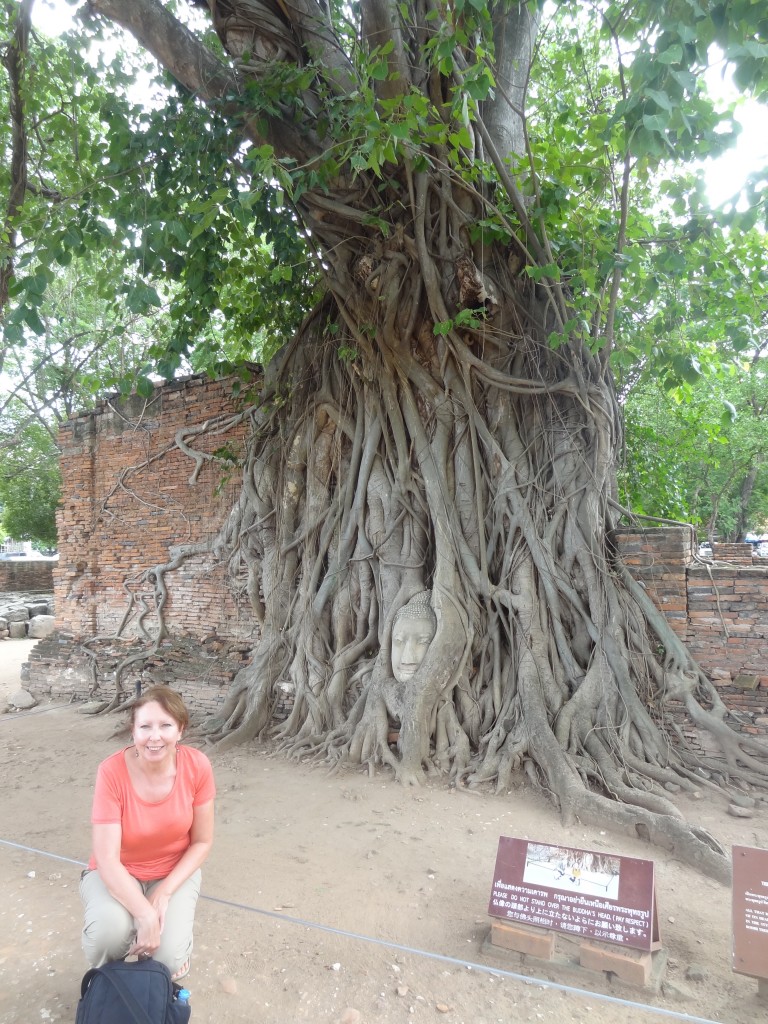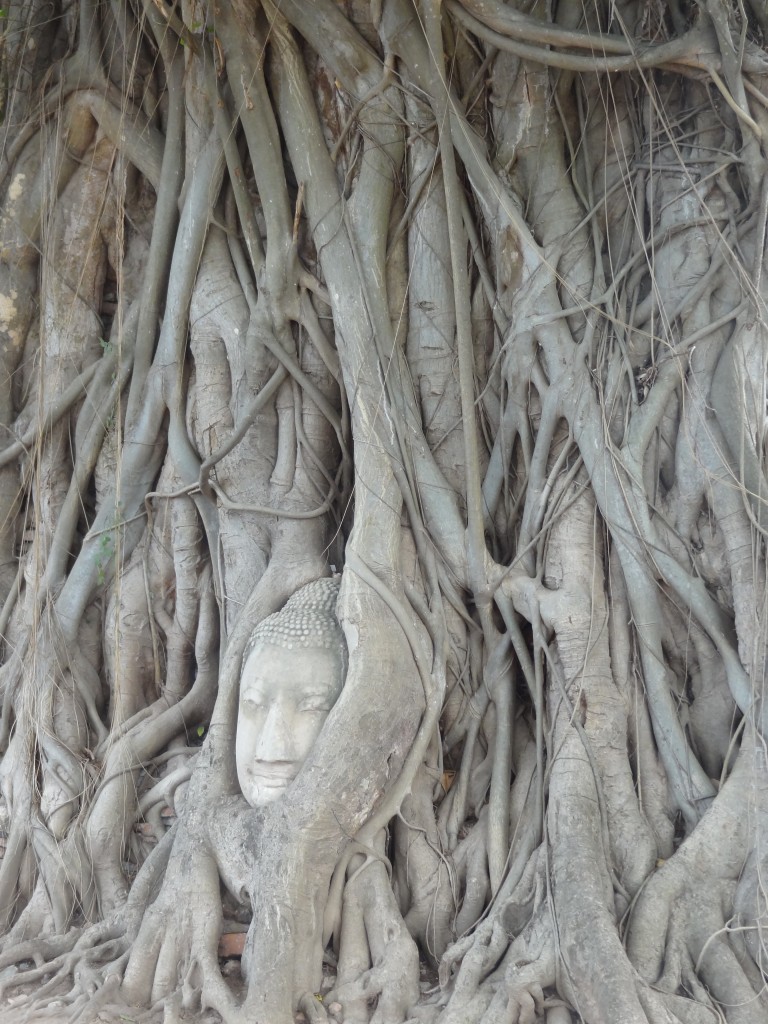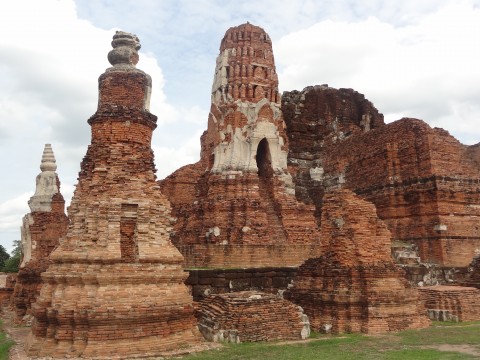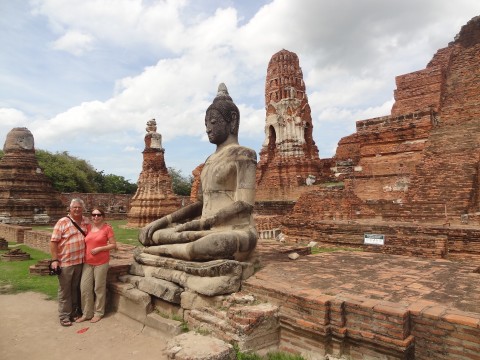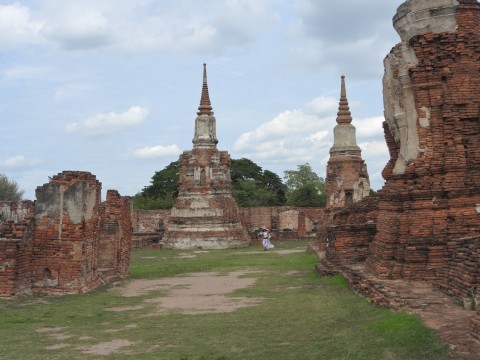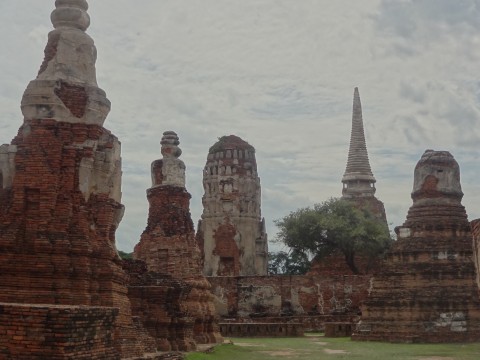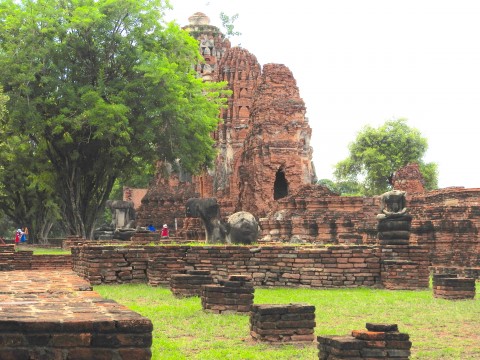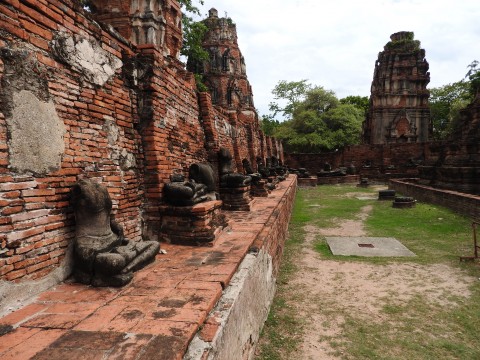 Phra Nakhon Si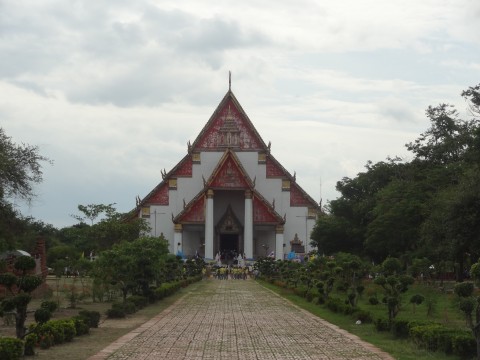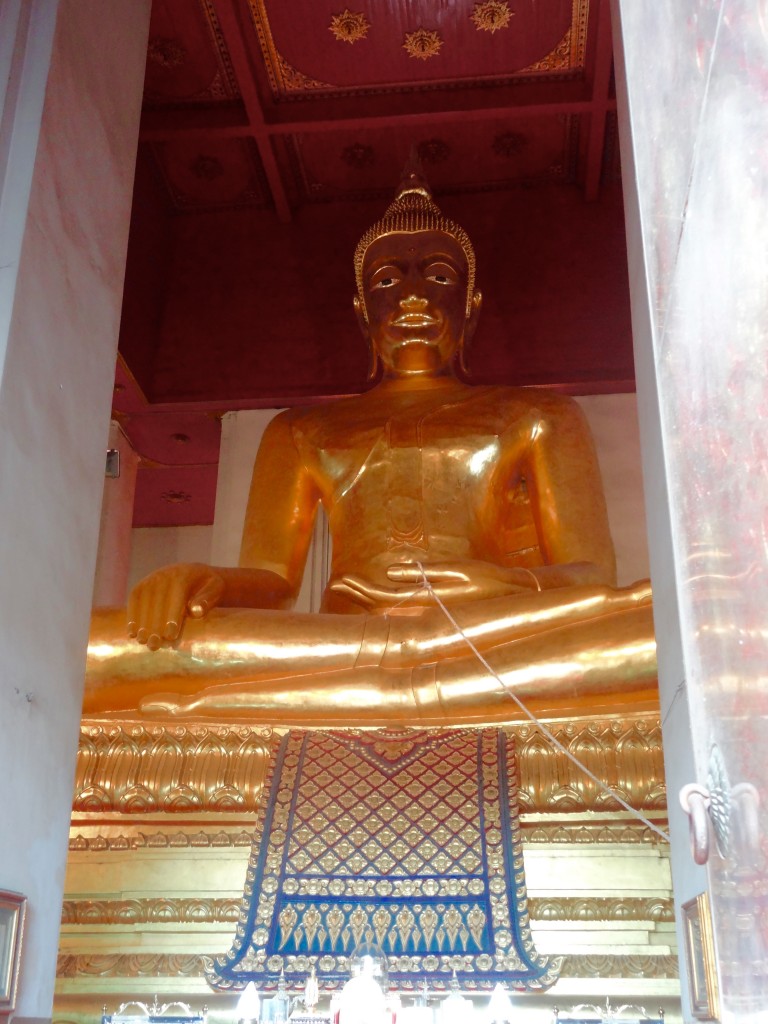 Wat Phra Si Sanphet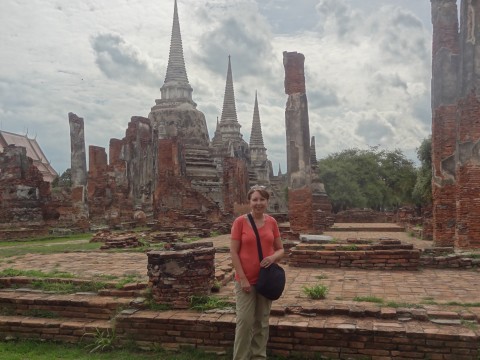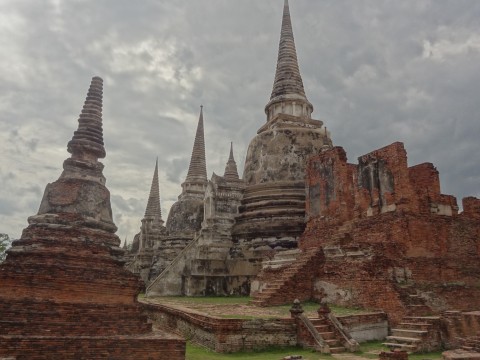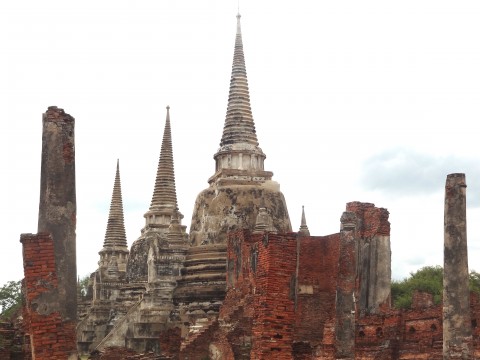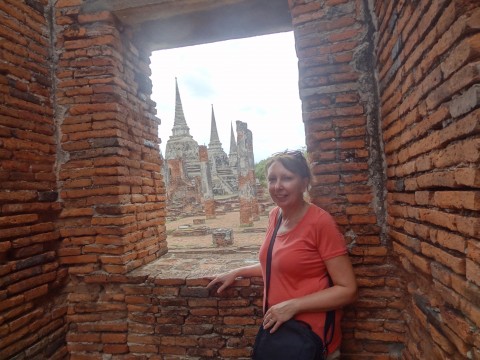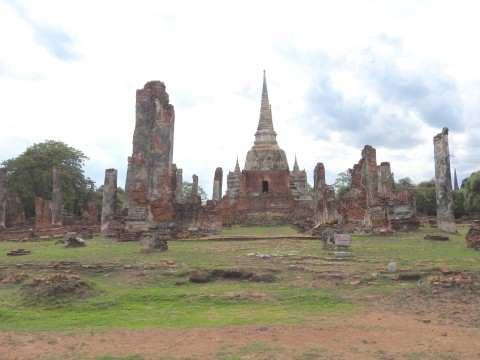 Phra Nakhon Si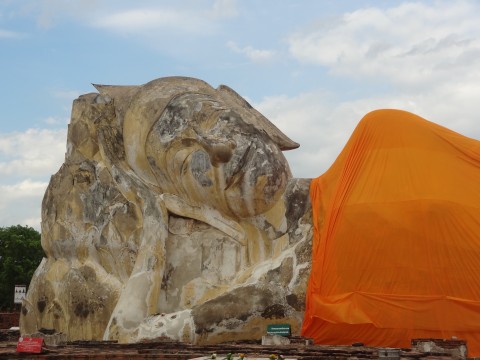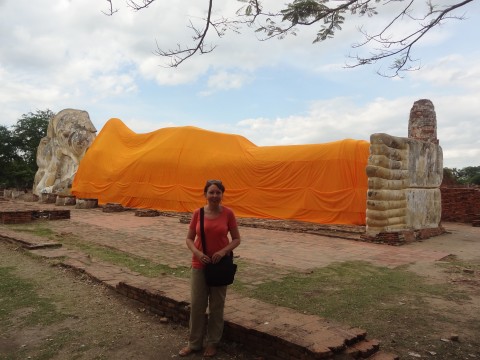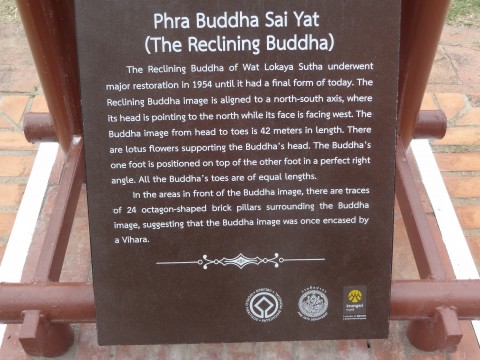 Wat Chaiwatthanaram, Ban Pom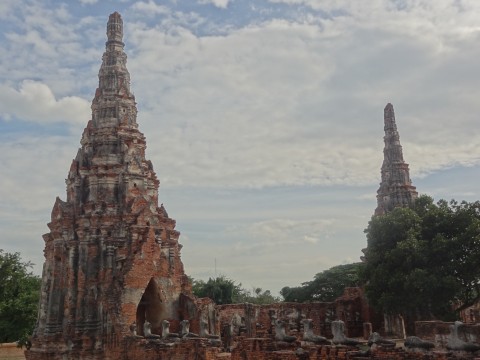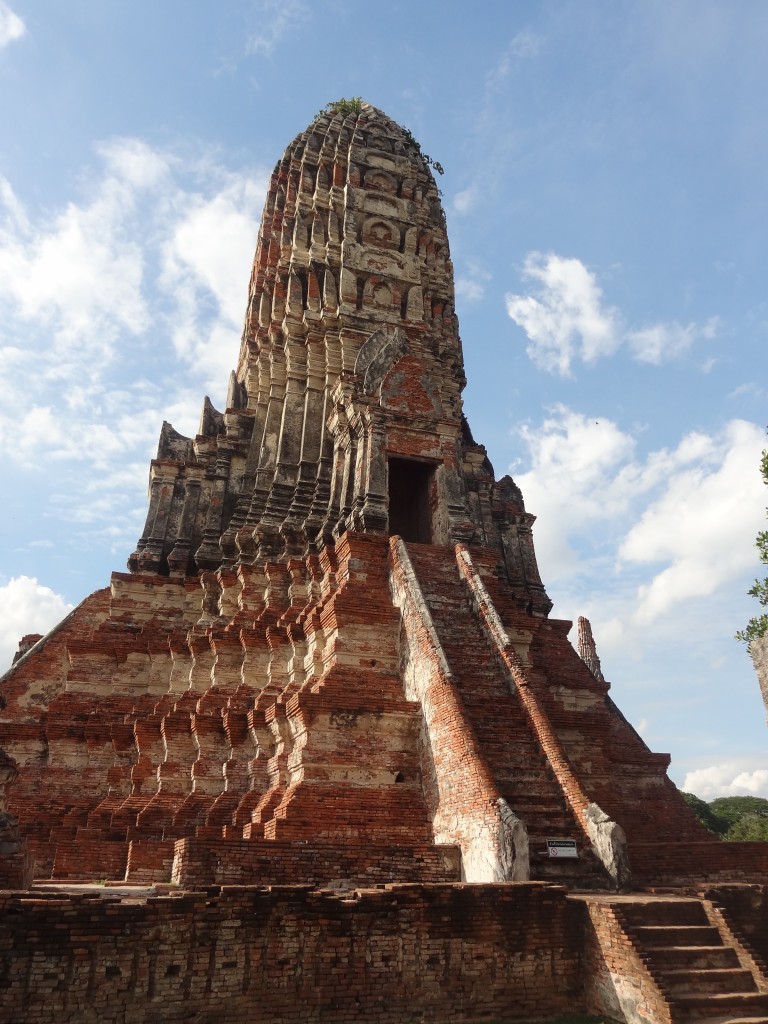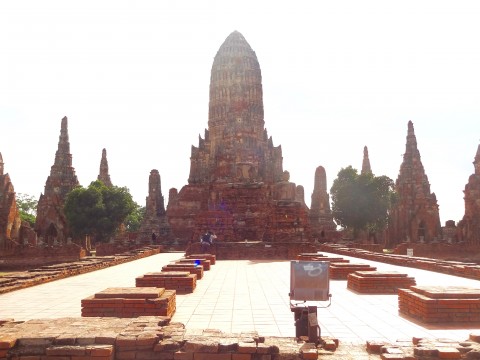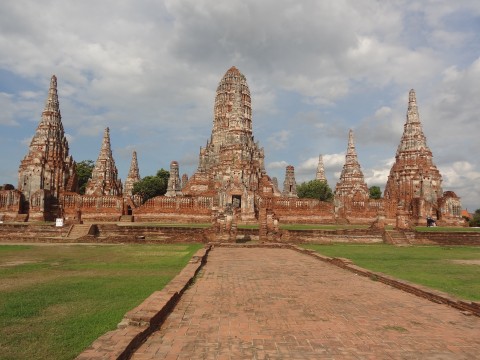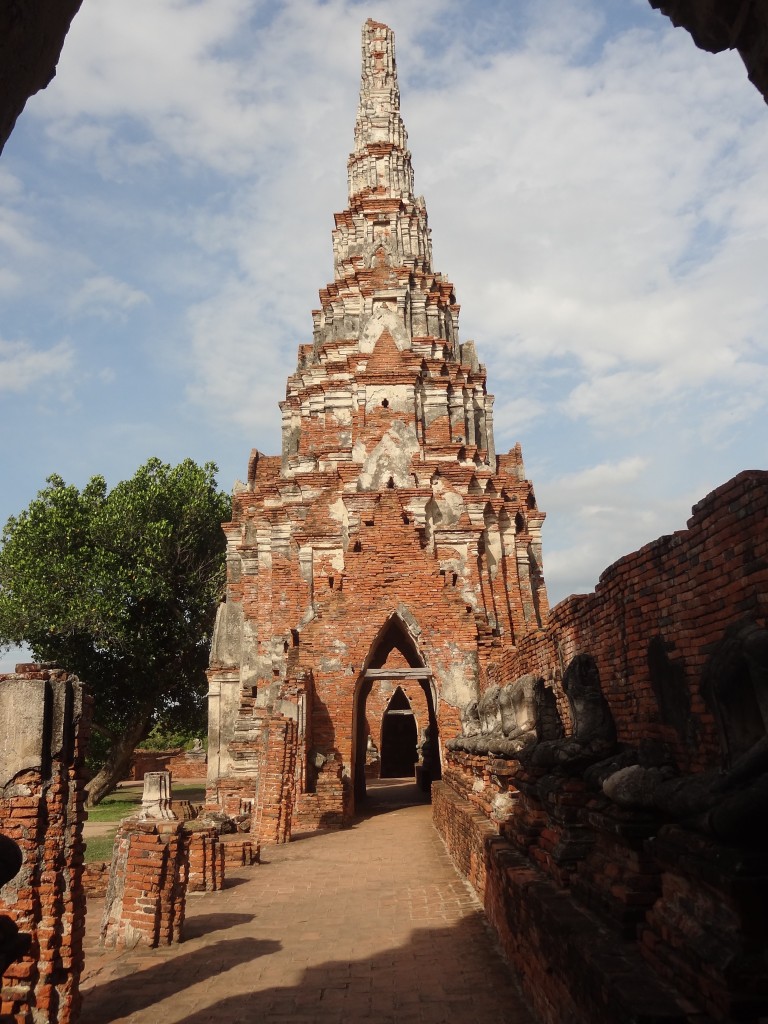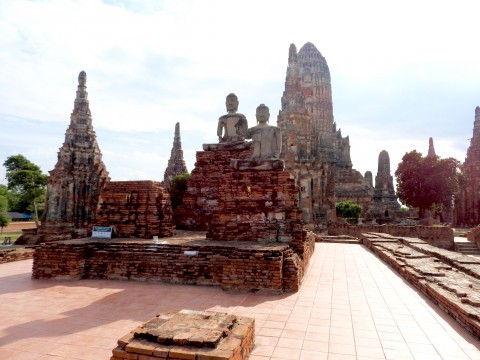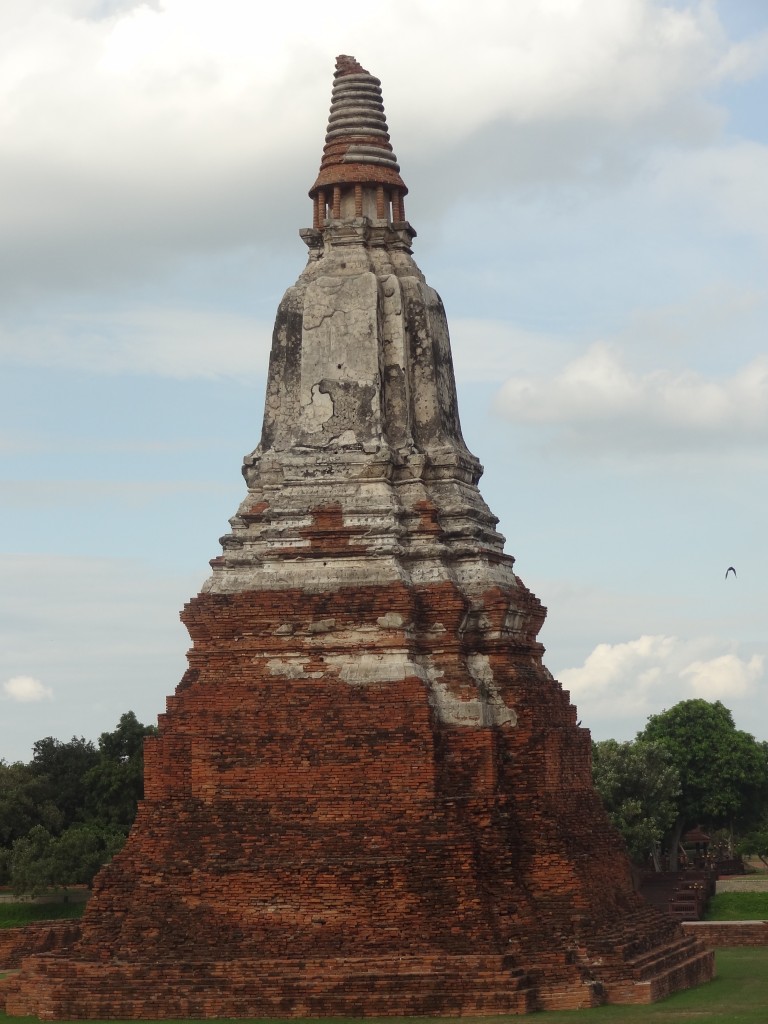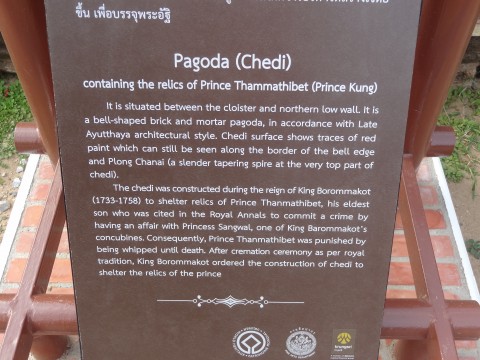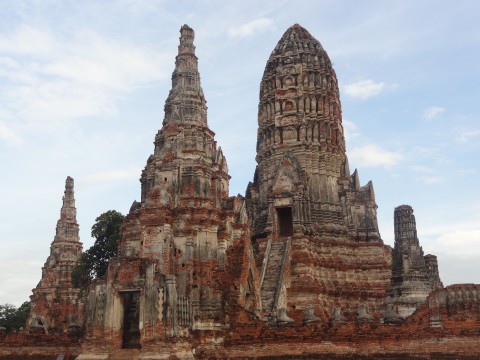 Elephant Camp
We made a brief stop at an elephant camp in between temples. We avoid animal "attractions" but were ok with this place where the elephants seemed to be happy and well cared for :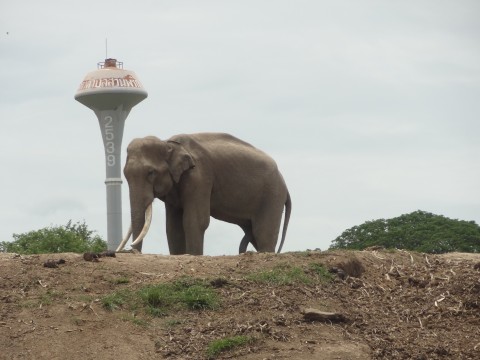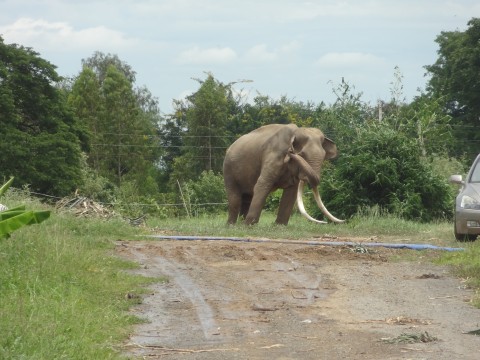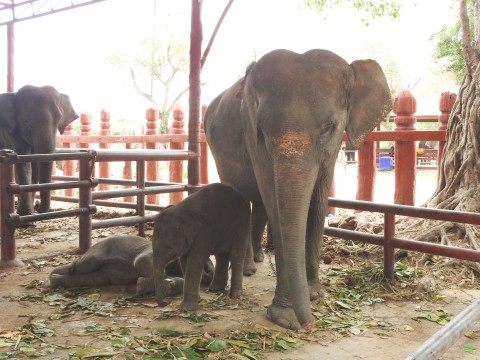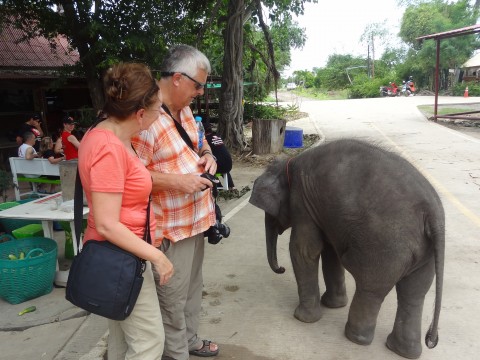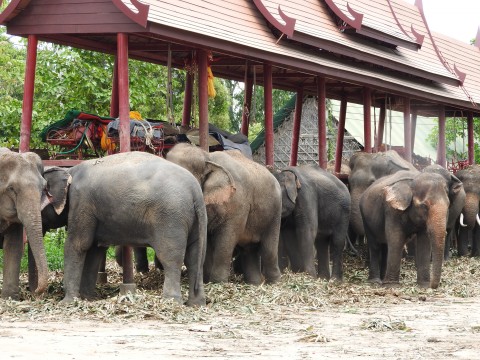 We didn't visit half of the temples of Ayutthaya but its fair to say we saw enough in 4 hours or so. After a long hot day we returned to the hotel for a shower and then went out for dinner at Ranees Restaurant just off the Khao San Road. Speaking of which, here are a few photos…..
Khao San Road area – by day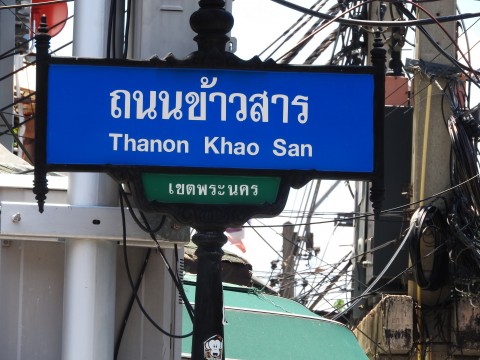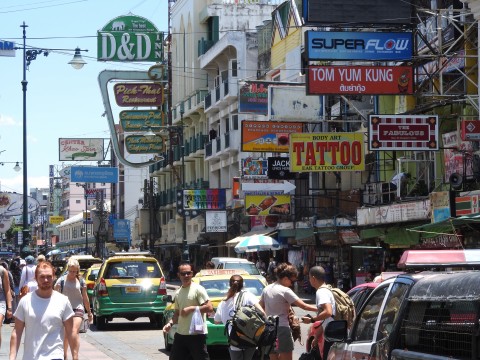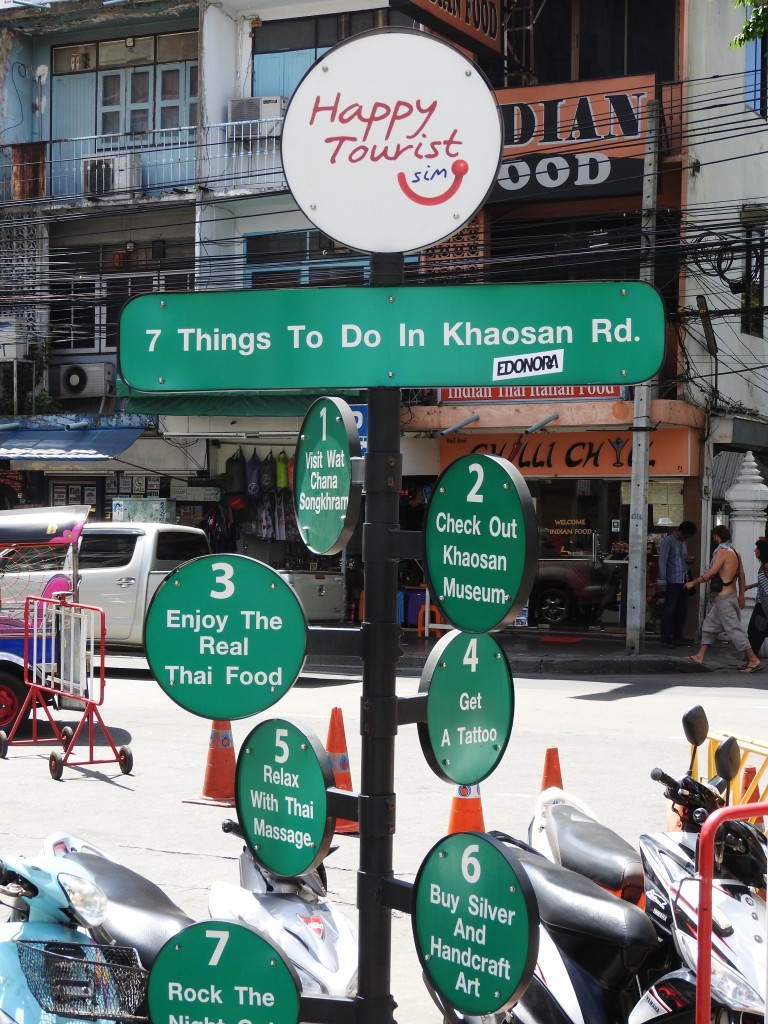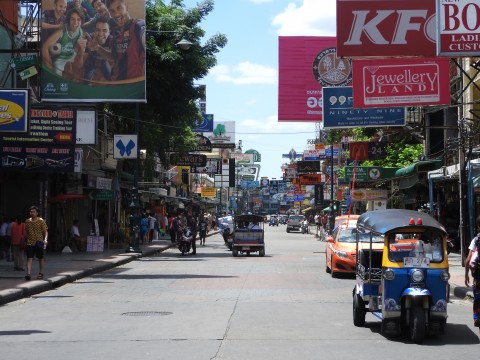 and at night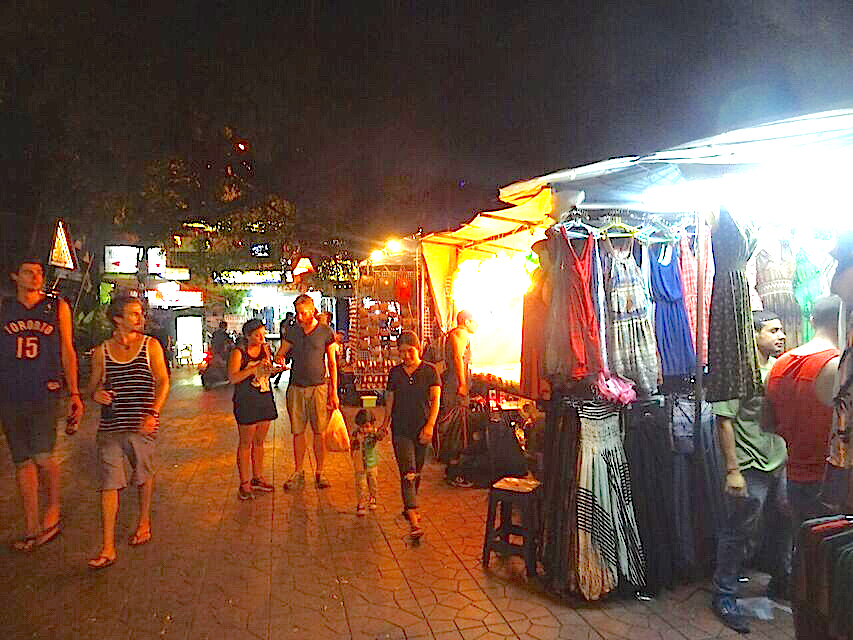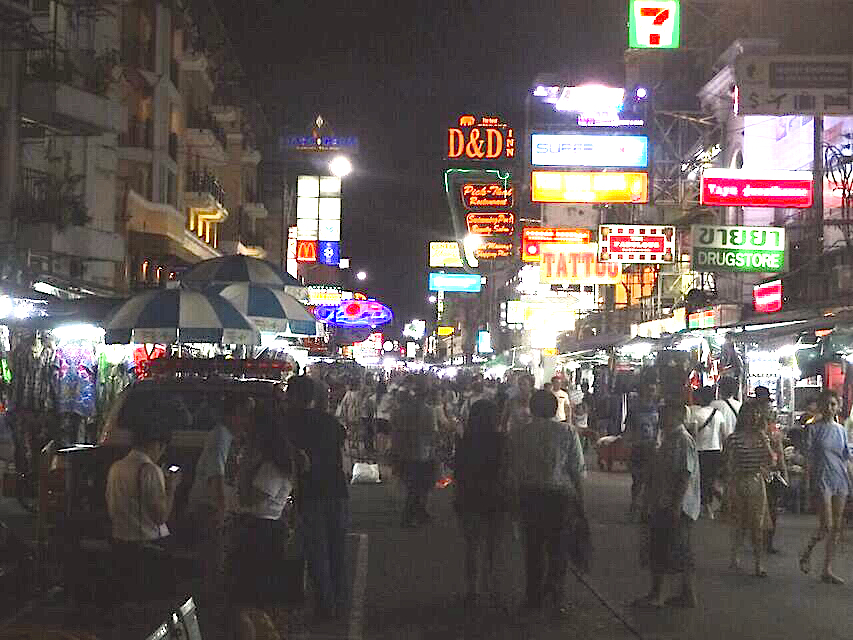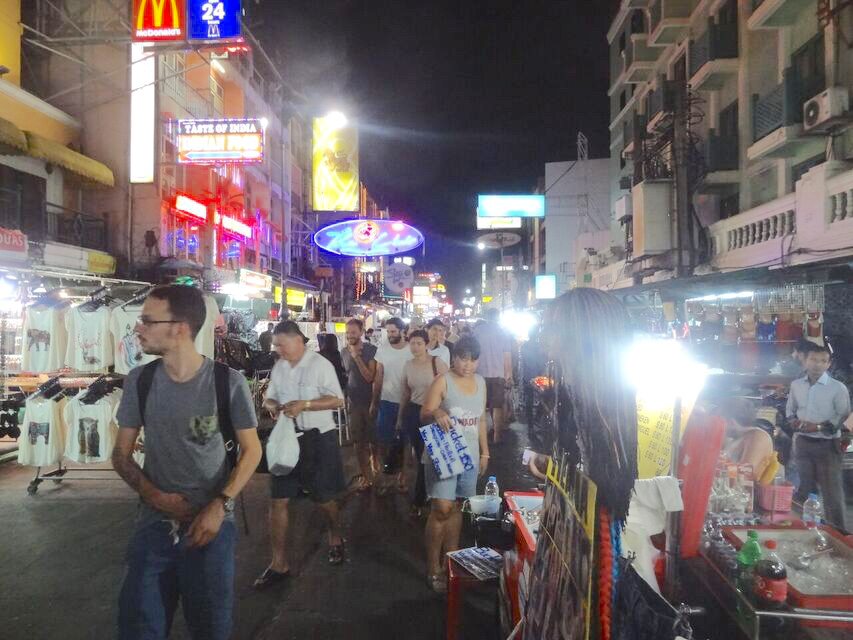 And a few more photos round about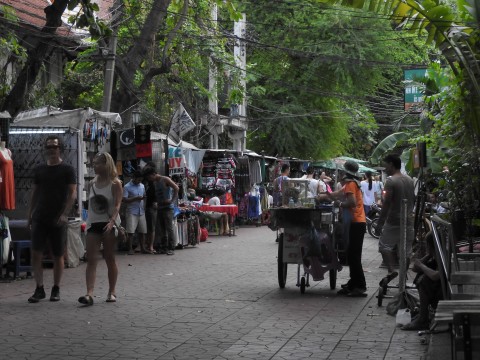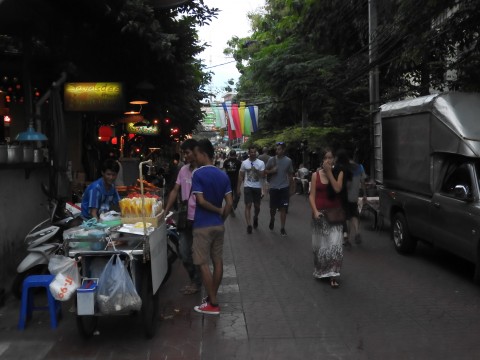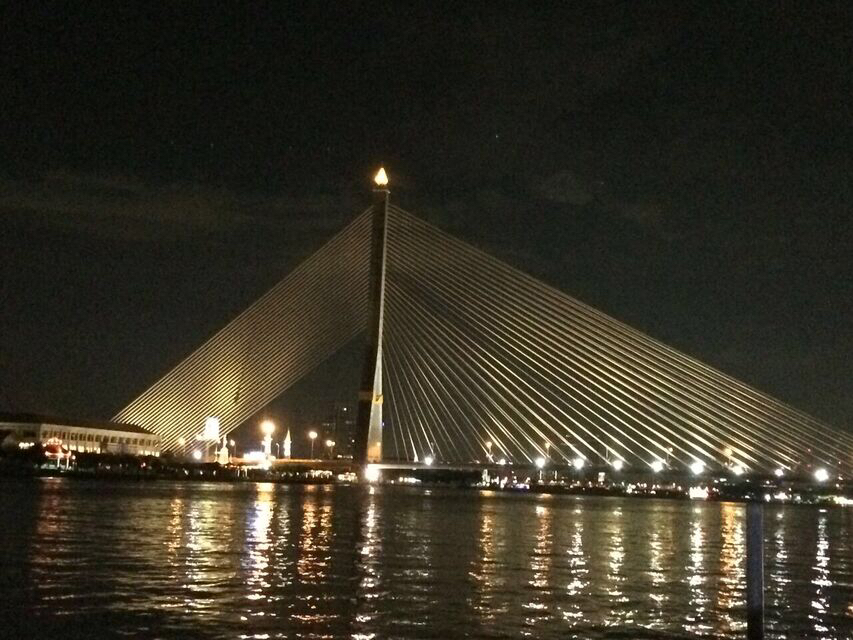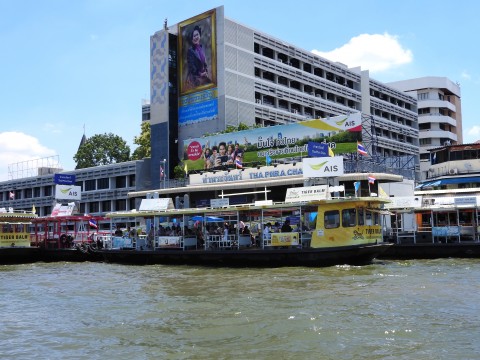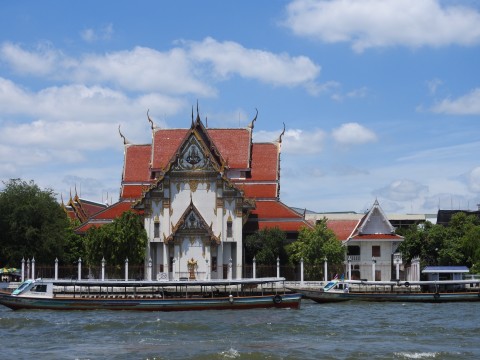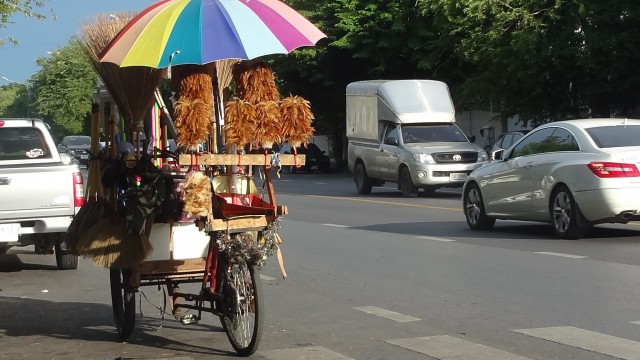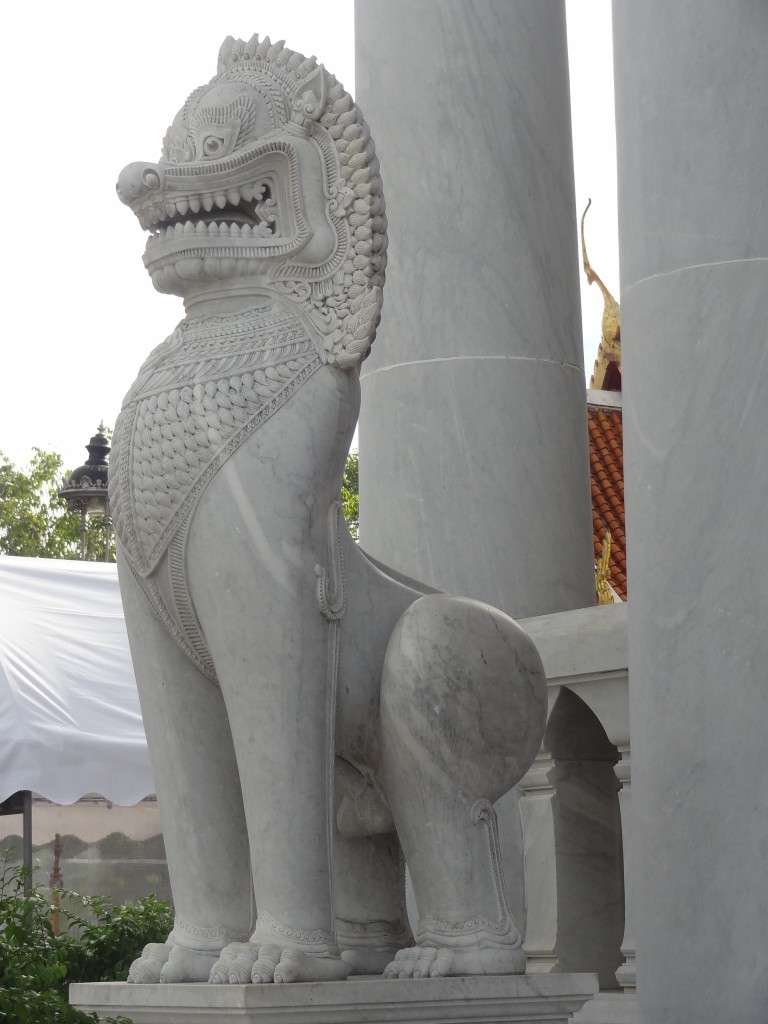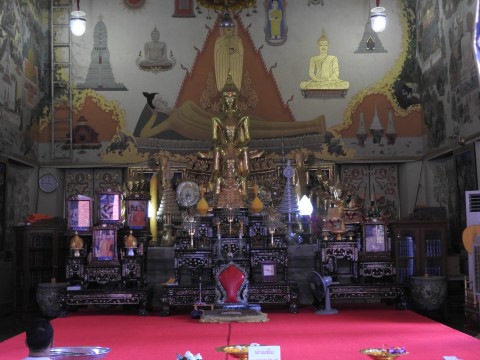 Our unplanned week in Bangkok turned out to be one of our favourite visits. We will definitely return. The only downside was that our 60 day visa for Indonesia which we had done so well to get so quickly in Penang was now "expired" as we had left the country from Medan for Bangkok. We would now have to re-enter Indonesia on a Visa On Arrival and renew it in-country or do a visa run within 30 days.
We left Bangkok on Friday September 11 to return to Medan for one night before setting off on our Sumatra Tour the following day.
Subsequent to our un-scheduled visit to Bangkok of September 2015 , we subsequently re-visited on 2 or 3 occasions during this same trip whilst travelling firstly to Kanchanaburi and then Hua Hin and for a final stay of few days before we left Thailand for Turkey in February 2016. Some more photos including Chinese New Year Celebrations follow.