Medan is the capital of North Sumatra and Indonesia's fourth biggest city with a population in excess of 2 million. The traffic was such that it felt like everyone of the 2 million had a car and was driving it around the city during our visit.
We had never heard of Medan until we decided that we wanted to visit Pulau Weh which is in the far north of Indonesia. The only flights to Weh go from Medan which is also the gateway to North and West Sumatra that we planned to travel and so it was a no brainer that we needed to visit.
We took the short flight to Medan from Penang on September 2nd to stay 2 nights at the 5 star Grand Aston City Hall Hotel in central Medan. Although 5 star quality, prices were 3* star giving great vale for money. Two nights would give us a day to look around the city itself and from what we had read, one day would be plenty to see all the attractions of a city in which the No 1 attraction on Trip Adviser is the Airport Railink!
The flight was uneventful and we arrived on time and soon had our luggage. The rail link terminus in the city looked to be some away from our hotel but we had read that the going rate for a taxi into the city centre was modest at around 150/200,000 Indonesian Rupiah and on the strength of that we declined the hotel's offer of a 400,000 IRP transfer. Happily we managed to negotiate a taxi ride for 170,000 IRP which is around£8 – not bad for a journey that took the best part of an hour.
The ride into town was straightforward passing through rural bits and then non-descript suburban sprawl until we neared the city  when traffic reduced us to a slow grind for the last few km. Eventually the taxi pulled into the driveway at the entrance to the hotel's large car park where we were  stopped for a security check (including a quick check of the boot of the car) before we drove on to  the hotel entrance where bellboys quickly took hold of our luggage whilst we paid the driver and walked through the airport style security scanner into the very large and impressive Reception Lobby.
The Grand Aston occupies a very grand building and is a big modern hotel. Very smart indeed. Our room was lovely and so spacious that  it felt like a suite – in fact it might have been a suite!
It was early evening by now and already dark. By the time we had unpacked we couldn't be bothered  going out and ended up having a room service dinner which took ages to arrive but was pretty good when it did.
The following morning, following an excellent breakfast, we left the hotel to walk the city centre. The only attraction of any interest to us within the immediate area of the hotel was the Tjong A Fie Mansion, a restored heritage mansion which had belonged to a famous wealthy Chinese businessman in the city centre. We decided to pay a visit to the mansion and then take refuge from the heat in  one of  the modern air conditioned shopping malls.
Our city walk didn't last very long at all. The streets are largely one way with three or more lanes and traffic is heavy and moves at speed; we didn't see anyone else walking and it seems that like  most  places in Asia that we have visited, everyone who doesn't drive a car rides a motor bike! Heavy incessant traffic is one thing but on top of that its difficult to find a safe place  to cross the streets as pedestrian crossings are totally ignored. Consequently you are forever  taking your life in your hands – and it's pretty scary!
It took us ages to to walk one or two blocks and so it was very frustrating and very hot and uncomfortable. Even walking along the pavement was tricky as there were gully covers missing everywhere and so you had to concentrate on where you stepped to avoid a fall. After half an hour or so of this, quite fed up, we came across a couple of tuk tuks parked up doing nothing and although the driver didn't speak a word of English we showed him a map and agreed a fare with one of them to take us to the mansion house. We knew that the mansion wasn't too far away but had no idea if the fare was reasonable but it equated to less than £2 so we went for it. We had read never to trust taxi and yuk tuk drivers here and never to tip them as they are almost certain to have over-charged us. The  ride to the mansion house seemed to take ages and we began to wonder if the driver had understood where we wanted to go but eventually he pulled up and we got out. He indicated that he would wait outside for us whilst we visited  the house but we decided to pay him off and send him on his way – he looked quite disappointed which made us think that he had indeed overcharged us on the trip and was hoping to milk us further! Out of curiosity I checked the fare later and he had indeed charged us over the top – possibly by as much as 50p:)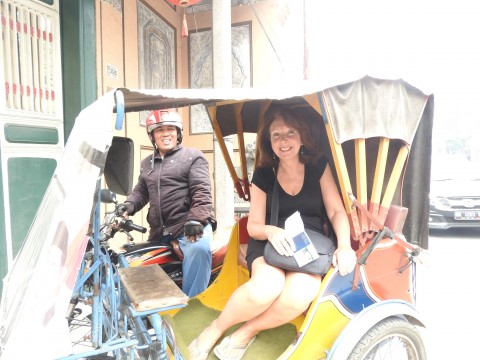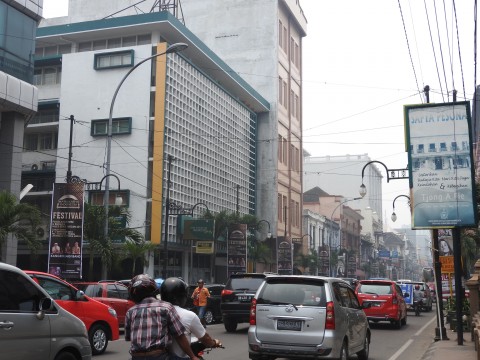 A few photographs of the Tjong A Fie Mansion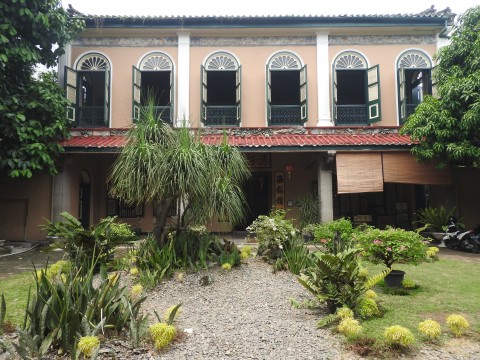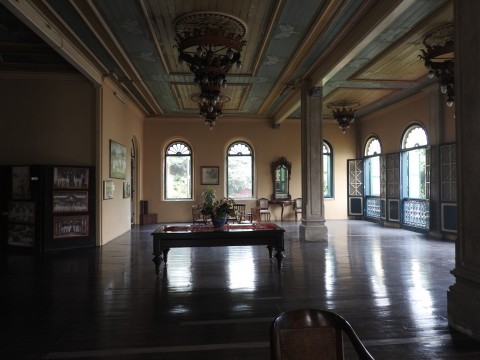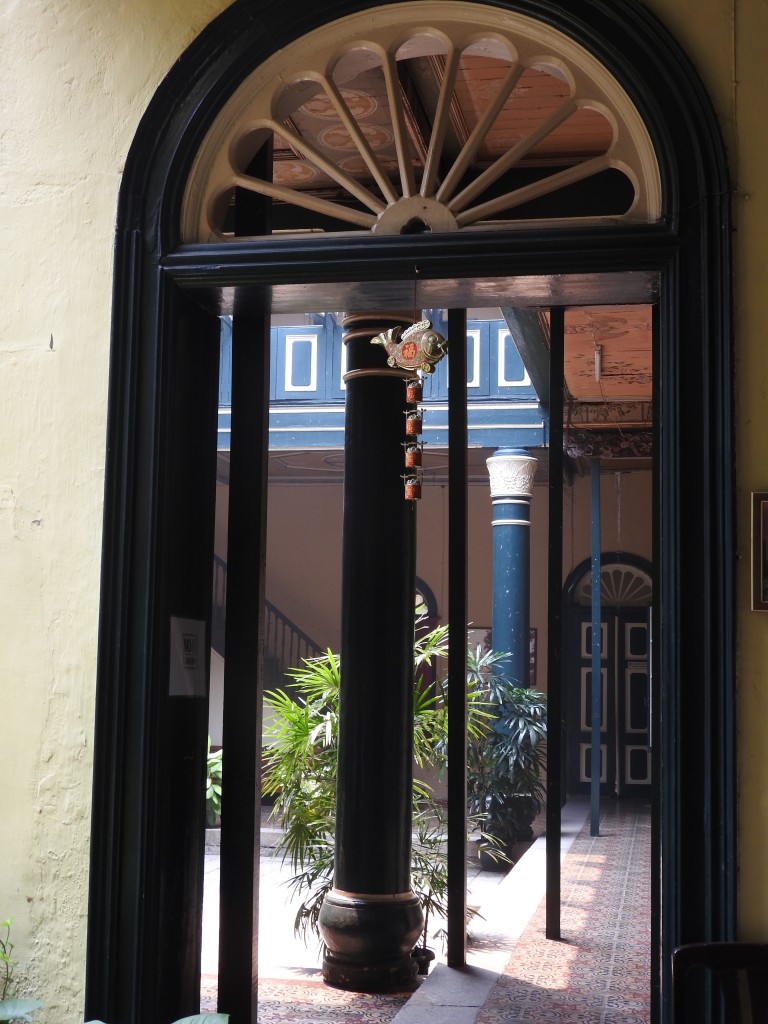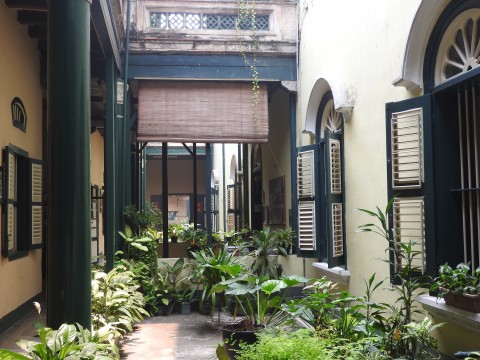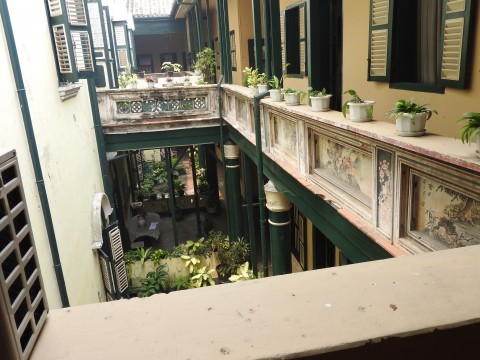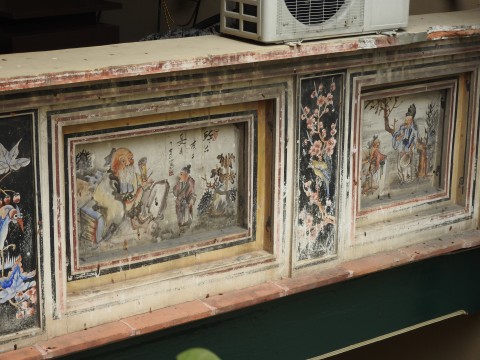 There was no one else around at the mansion when we walked across the small courtyard and into the building and paid our entrance fee of a couple of £s to one of two women sat behind a desk.
It's true to say we weren't terribly excited about another visit to a restored Chinese mansion so soon after visiting two of them in George Town but in the event the tour was quite interesting and perhaps more interesting than the others with a pleasant Guide explaining in good English what was what. At the end of the day the Mansion is essentially a museum like the others but is perhaps more interesting because the exhibits of furniture, possessions and particularly family photos etc belonged to someone who lived not too long ago – a very successful and philanthropic businessman who was born into poverty in China but eventually employed over 10,000 people in various businesses and did lots of good stuff for the people of Medan. It seems all the more interesting because he has  descendants who still reside in the city and were/are actually involved in the restoration/upkeep of the building.
We had decided on Healymacs for dinner – an Irish Bar selling beer and western food  would hit the spot after 6 weeks solid of rice and noodles. The pub is in a shopping mall not far from the hotel and certainly within our normal walking distance but after our earlier experience of trying to cross streets we grabbed a taxi and arrived within minutes for the minimum taxi fare of 25,000IDR.
Healymacs is Medan's No 2 of 290 restaurants in Medan according to Tripadviser which probably says more for the general quality of eateries in Medan rather than the quality of Healymacs but the bar was great with friendly staff and football on big screens. It's quite a big bar but it was virtually empty when we arrived and the staff seemed overjoyed that we had turned up. Luckily we were just in time for Happy Hour and enjoyed steak and guinness pie and a couple of half price jugs of beer for a few £s. It was cheap and became even cheaper when the Manager for no apparent reason generously knocked 10% off the final bill when we went to pay!
We returned to the hotel for a nightcap in the lobby bar which is rather plush and would have had a really nice relaxing ambience if it wasn't for a live band singing very loudly.
Anyway we enjoyed our drink and then returned to our room for an early night. The following morning we needed to be up and away early to get back to the airport 2 hours ahead of our 8.50am flight to Sabang. We would miss the Grand Aston's fabulous breakfast! Dam!
We had booked a 7 night stay at Freddies on Pulau Weh months ago and were very much looking forward to it. Freddies is a small beach resort run by South African Freddie and gets rave reviews due in no small part to Freddie himself who is apparently a terrific host who cooks  fabulous food. Freddie had already impressed us with his service and kindness when we struggled to book our flights on-line – he bought the tickets and emailed them to us saying we could pay him when we arrived!
Given this would be a week spent on a beach with not a lot else to do other than swim, snorkel and fish, we decided to travel light with just backpacks. We would stay for another night at Grand Aston on our return before we moved on for our tour of Sumatra and so we left our 2 big bags in the hotel's luggage room.
We left the hotel at 6.30am on Friday 4th September in heavy rain but thankfully there was very little traffic on the road and we got to the airport in good time. In the event, we could have had a lie in and then breakfast before setting off because our flight was delayed due to the bad weather .
The weather had deteriorated as we drove towards Medan Airport and we were not too surprised that our flight would be delayed. In fact most of the flights were delayed and some were already cancelled. The Garuda Airlines staff made encouraging noises but the flight was delayed and delayed again until it was finally cancelled around noon. Storms were blowing across Sumatra and ours was one of quite a few cancelled but what's worse was that the forecast for the next few days showed no improvement and so we had a decision to make – go back to Medan and stay another night in the hope things would improve or change our plans. We didn't dally. The prospect of an awful drive back to Medan and then another day or even longer in that dreadful city wasn't attractive and so we decided to change plan. We scanned the departure board and the Garuda and AirAsia flights for an alternative flight and found an Air Asia flight to Bangkok leaving at 2.30pm. We had visited Bangkok in 2013 and I loved the place but Ann didn't and so I was a tad worried about it. Anyway, time was very tight and we couldn't dither and we decided to go for it. We quickly cancelled our Sabang flight at the Garuda desk and legged it across the airport and down a level or 2, found the Air Asia sales desk and bought tickets on the 2.30 flight. It was a bit of panic to say the least as the desks were all busy when we arrived but we had tickets sorted within half an hour and within 20 minutes of the gates closing. We made the gate with 15 minutes to spare and sent a message to Freddie to explain our situation. We wouldn't be getting to Sabang this time but offered to pay for the accommodation given the late  cancellation – we had already paid him by bank transfer for the flights he had booked for us. Freddie was philosophical about things , refused to accept any payment and wished us well. Hopefully we will get another chance to visit some time.
So next stop is now Bangkok and not Pulau Weh! We were not sorry to leave Medan – we just didn't like the place and could find few redeeming features other than the people who are charming. Its a difficult place for Westerners to tour but I guess we might have felt differently had we hired a private Guide.