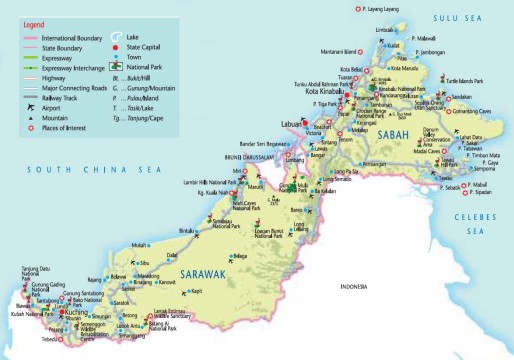 We left KL for Sabbah in Malaysian Borneo on 16th August. We flew to Sandakan Airport heading for Sepilok, about an hours drive away, to visit an orangutan rehabilitation centre and then south for further opportunities to see more apes and other wildlife.
Sandakan is a nice small airport and like other airports we visited  has an airport taxi service so that standard fares are charged and enforced by the operation of  a coupon system. You go to a taxi desk and pay a fixed fare depending on your destination. You are given a voucher to hand to the taxi driver leaving the driver no opportunity to over charge the customer. This is a really excellent  system for travellers with absolutely no idea of the language who is normally at the mercy of unscrupulous drivers of whom there are many!
We bought our taxi voucher and within a couple of minutes we were on our way to Sepilok Forest Edge Resort where we would stay for two nights before moving on to the Kinabatangan River.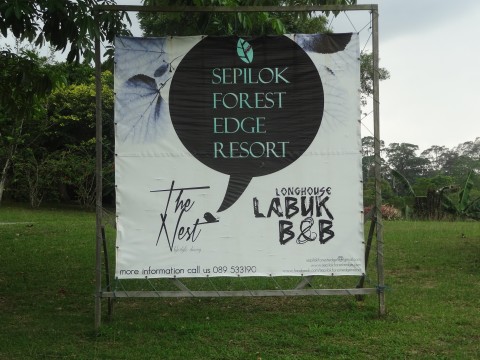 We were greeted with a welcome drink and soon we were shown to our Superior Bungalow .The weather is constantly hot and sticky here and our bungalow was the one furthest from the Reception/Restaurant area, a good few hundred yards uphill and downhill and I was grateful for the fact that the hotel staff looked after the movement of luggage!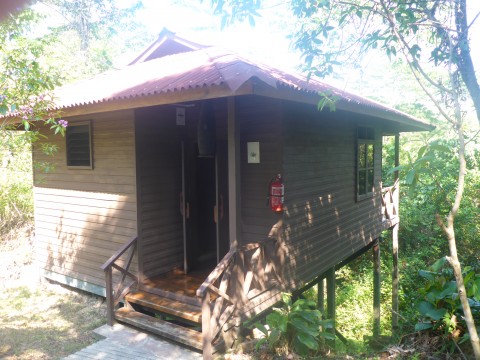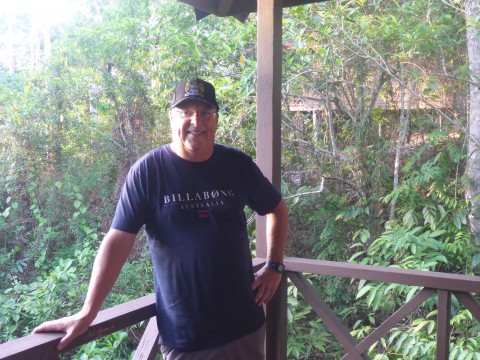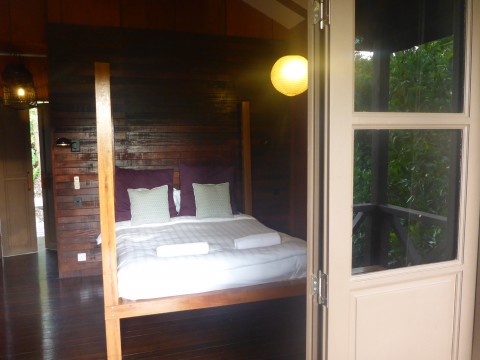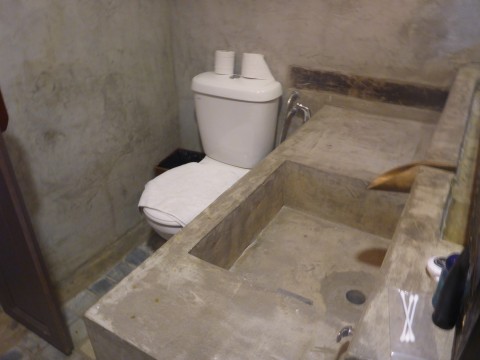 By now we have stayed in a few rural timber bungalows and although very basic this was one of the better ones. The unit had both aircon and a fan and a generous number of sockets for charging our numerous toys. Surprisingly it didn't have a mosquito net but we carry our own around. There was a balcony overlooking the forest and whilst we didn't see any resident wildlife other than birds we did have some resident bats which we didn't actually see but saw the evidence of them each morning with bat s*** on the balcony.
We spent our first evening with a pleasant dinner and then sat with a bottle of wine catching up on research for a couple of hours before watching City v Chelsea – we won 3-0 so it was a good day all round.
The following morning we were up reasonably early to get breakfast and get away by 8.30. Our trip to Borneo was all about wildlife ,of course and particularly orangutans and our first stop of the day was the
Sepilok Orangutan Rehabilitation Centre – SORC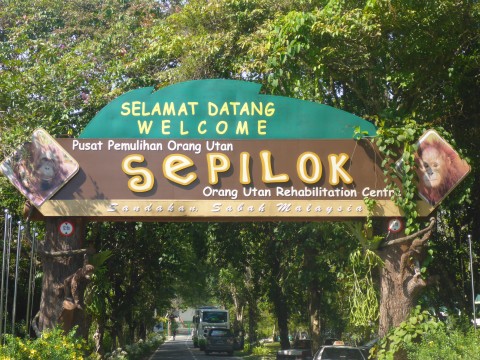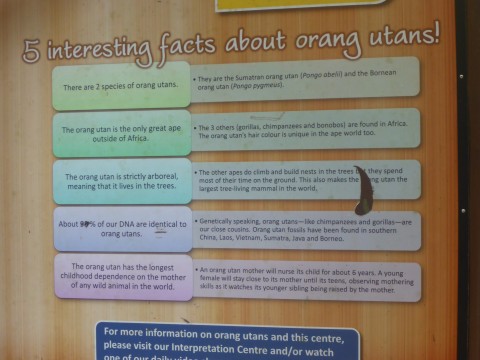 SORC, only a short walk from the resort, was established in 1964 and  is funded by the Sabah Government and its  aim is to return orphaned, injured or displaced orangutans back into the wild. Many orphaned orangutans have successfully undergone the process of rehabilitation and been released into the Kabili-Sepilok Forest, a jungle reserve rich in tropical rainforest and mangrove swamp. The centre also exists to teach the world at large about this endangered species and so is open to the public to view the animals in the wild. The  orangutans are fed twice a day at a feeding station which usually but not always enables visitor to view the animals from a safe distance.
We were very lucky – several orangutans  came to feed at the time of our visit. Here are some pictures……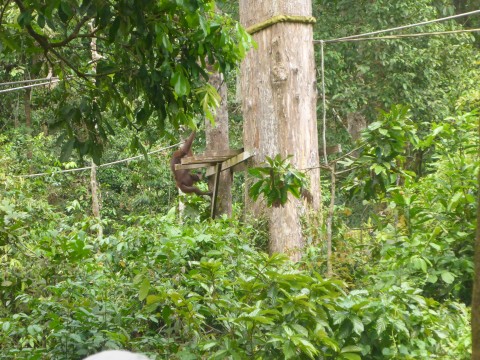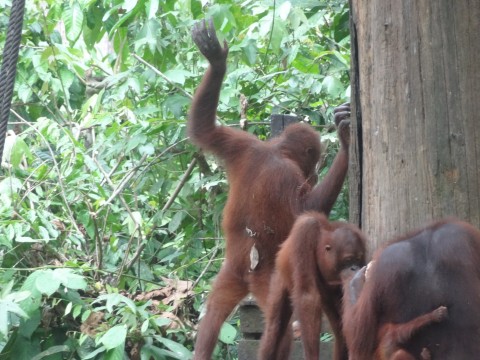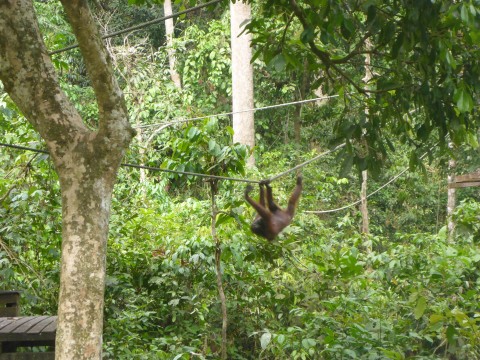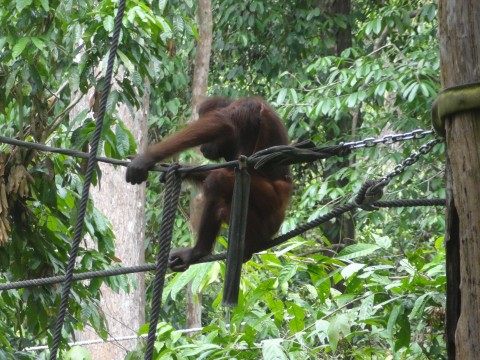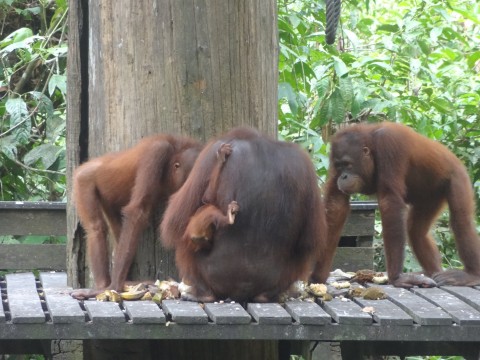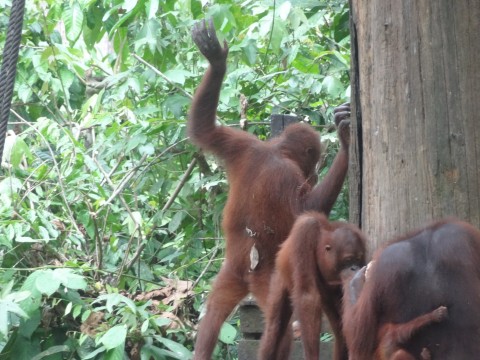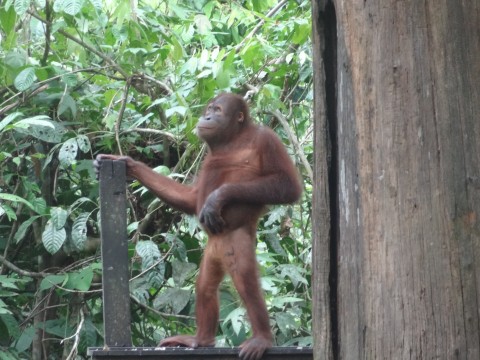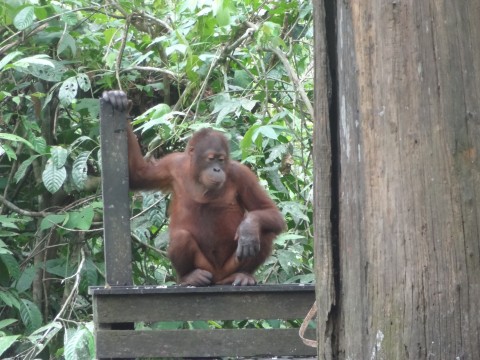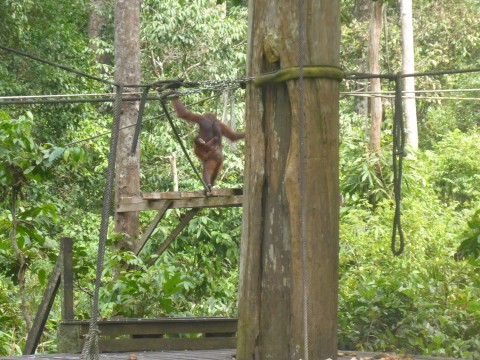 No sooner had the orang-utans finished feeding and left when a group of macaque monkeys descended on the platform to finish off the fruit.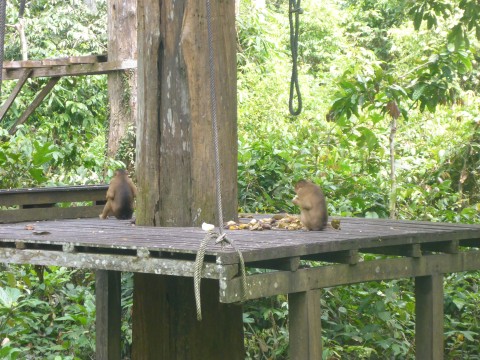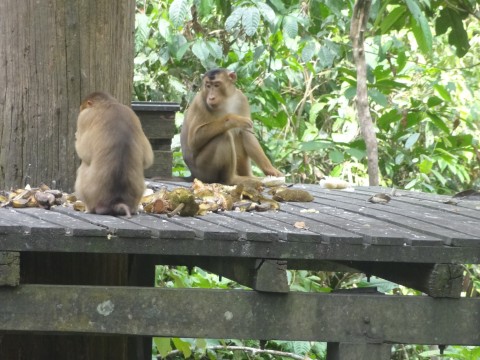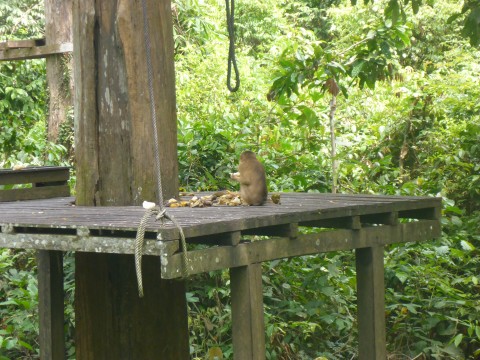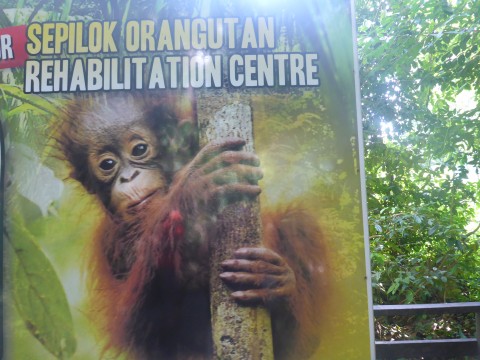 There is a nursery here for orphaned orangutans which provides an excellent viewing area behind glass and quite close to the animals. We managed to get a few pictures but unfortunately we missed their feeding and the best chance of good pics. The ropes and timber frames are provided to help the apes learn to climb!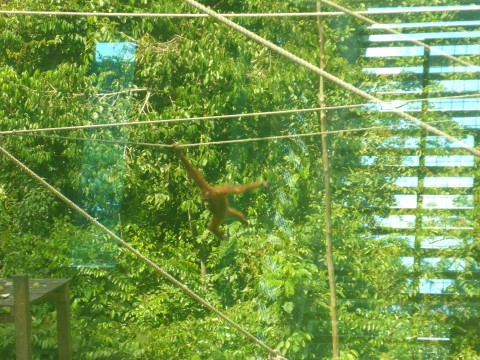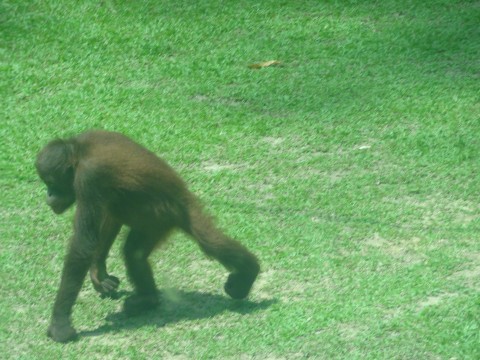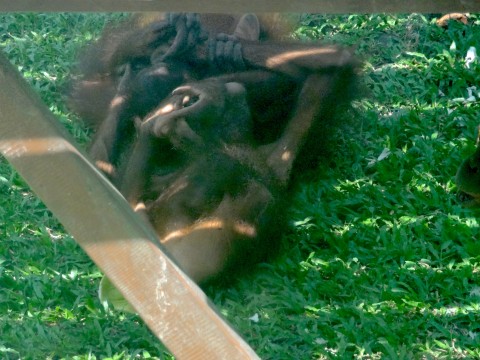 Bornean Sun Bear Conservation Centre
Sun Bears, sometimes referred to as honey bears because of their fondness for the stuff, are the smallest bears in the world whose survival has been threatened by habitat loss, illegal hunting and through killing and capture for the illegal pet trade. Following our visit to SORC we walked over to the Sun Bear Conservation Centre which is pretty much next door.
The Bornean Sun Bear Conservation Centre was established in 2008 to give captive bears a better future, through rehabilitation, education and research. Once the bears have adapted to the forest, they may be released to the wild. For those that cannot be released – sick or too old, the centre provides them with an improved long term living environment.
The global sun bear population has declined by at least 30% over the past 30 years and is continuing to decline at this rate. In Sabah, sun bears are now a totally protected species – the same status as orangutans and Sumatran rhinoceros.
As luck would have it, we met with the founder of the Centre who explained the plight of these animals and explained the issues involved. The photo below explains the issues better than I can.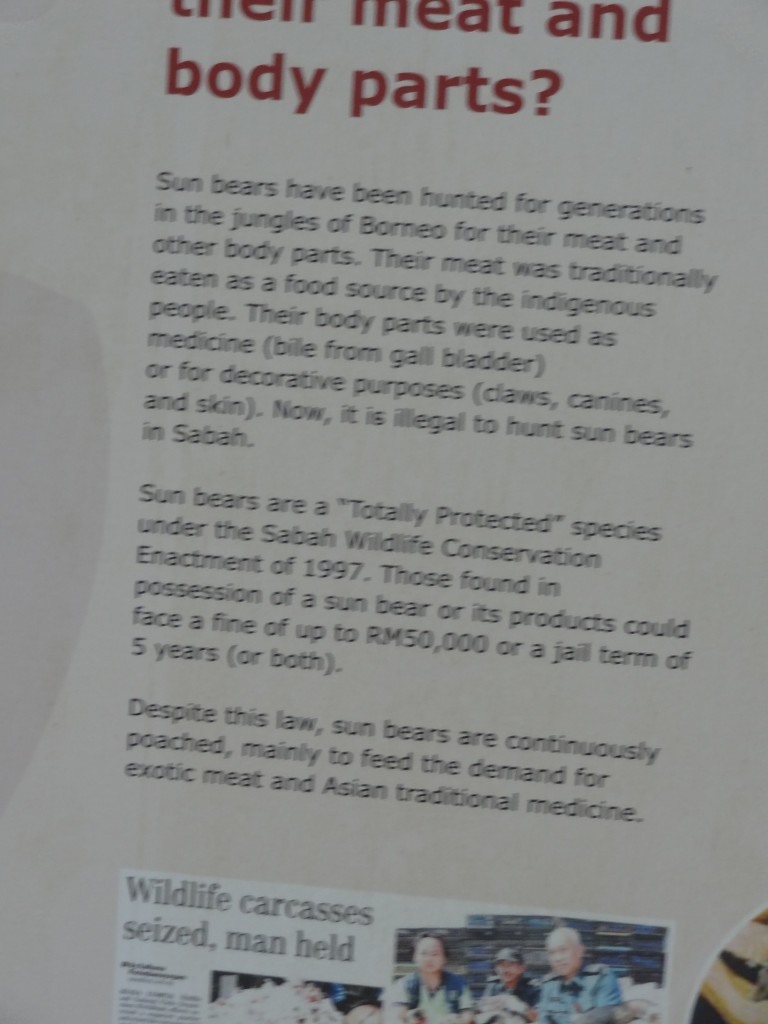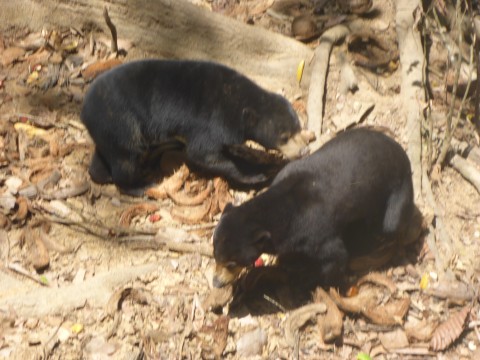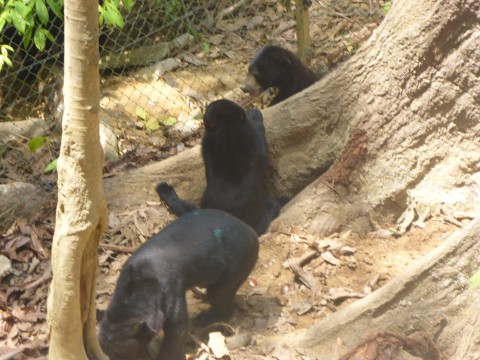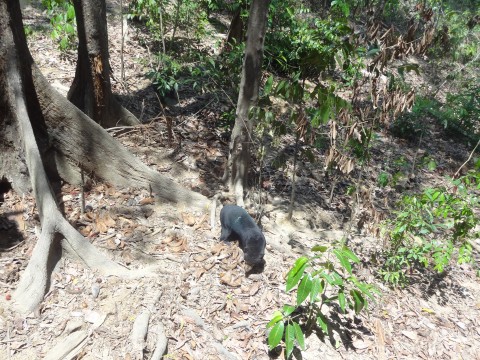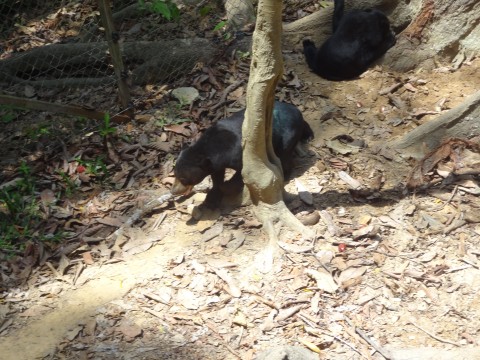 Rainforest Discovery Centre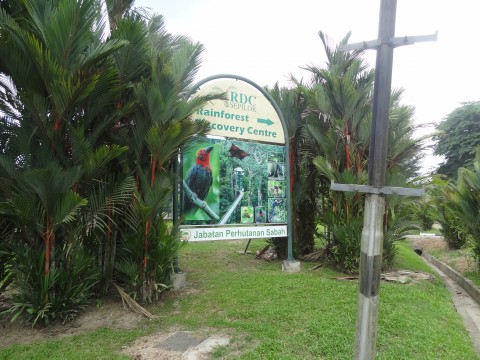 Following our visit to the Bear sanctuary we returned to the hotel for a late quick lunch and walked a couple of kms or so to the Rainforest Discovery Centre.
The RDC is an environmental education centre managed by the Sabah Forestry Department and whilst its purpose is an educational centre for students and teachers it is open to the public.
The centre provides an opportunity for the public to get up close to the jungle with interpretive jungle nature tracks and a canopy walkway and there is a Visitor Building with lots of information about the fauna and flora of Sabah.Its a really nice place to spend a couple of hours and we did but sadly we went at totally the wrong time to see any wildlife. Nevertheless, there is a very interesting and enjoyable plant discovery centre and we took a few snaps while walking around.
Following quite a long and busy day in the Borneo heat, we enjoyed  a few beers and a nice dinner and retired early. We could lie in tomorrow as our transport to take us to our next destination was not expected until noon.
Kintabatangan River
Kinabatangan River is the second longest river in Malaysia at 560 metres and is known for its remarkable wildlife. The wildlife persists despite the massive areas of jungle that have been cleared for palm oil plantations in recent decades leaving only a fairly narrow corridor of jungle either side of the river which ironically makes wildlife spotting easier than it otherwise would be as the wildlife has been driven to live in this riverine corridor. This loss  of habitat has a big effect on number and variety of fauna but recent years have seen the development of protected areas and the Palm Oil Growers are apparently becoming more cooperative in preservation or even reinstatement of some jungle areas previously cleared.
We stayed one night at Greenview Homestay which sits on the riverside at Sukau. We had booked a package whereby we would be collected from our Sepilok accommodation and taken to Sukau for an afternoon boat trip with a second trip after nightfall. After a  third early morning trip and breakfast the next day we would be taken to the airport for our next flight. All good and everything worked like clockwork.
After our previous experience of homestay accommodation in Flores, we were fearing the worst  of Greenview but it actually turned out to be pretty good. The room was definitely basic even though it was one of their best but it was clean with a tiny but reasonable bathroom with a kind of shower – rubber hose stuck on the end of a pipe fixed to the wall – but very good freezing cold air con. Staff were very nice and the Guide we had on the river was excellent.
The boat trips were good and especially so as there were 2 or 3 boats with only 6/8 people on each boat. We didn't see a great deal of wildlife unfortunately but sailing down the river late evening in the dark and then again around 5am searching for wildlife was actually quite exciting  and quite a thrill when we did see something. We did see a few orangutans albeit they were at the very tops of some very tall trees and largely hidden by vegetation and so it was impossible to get good photographs but we also some proboscis  monkeys, the ones with long nose and pot belly. These monkeys are unique to Borneo and were once widespread but de-forestation has driven them to quite unique habitats, particularly mangroves and riverine forests. However, they also shy away from human presence and so they are being pushed into smaller and smaller pockets of  jungle. In the circumstances, we felt lucky to see  them even if it was from a distance and with little chance of a great picture. Other creatures spotted on the river were macaque monkeys, a small crocodile and various birds, hornbills and others including a sleeping kingfisher on our evening trip. Below are a few of the pictures we did manage to get….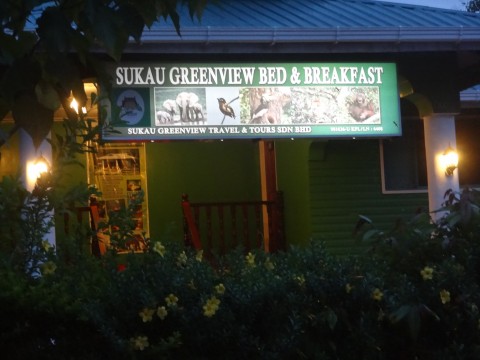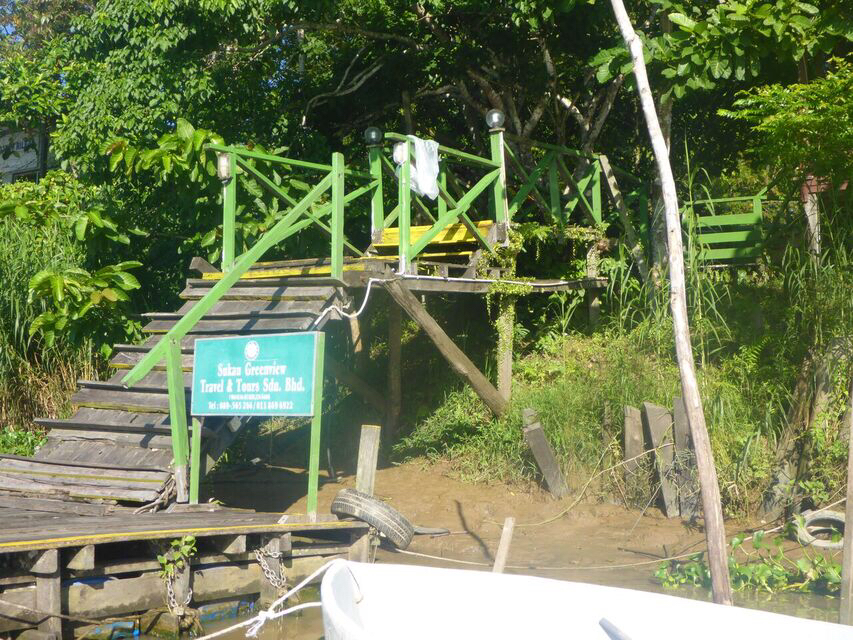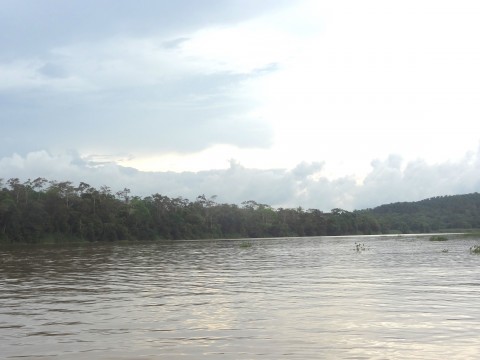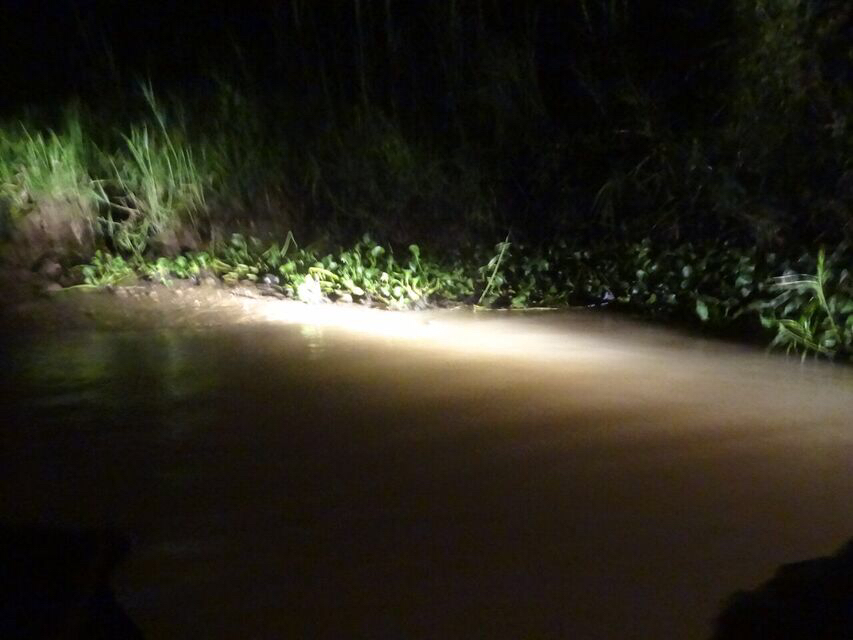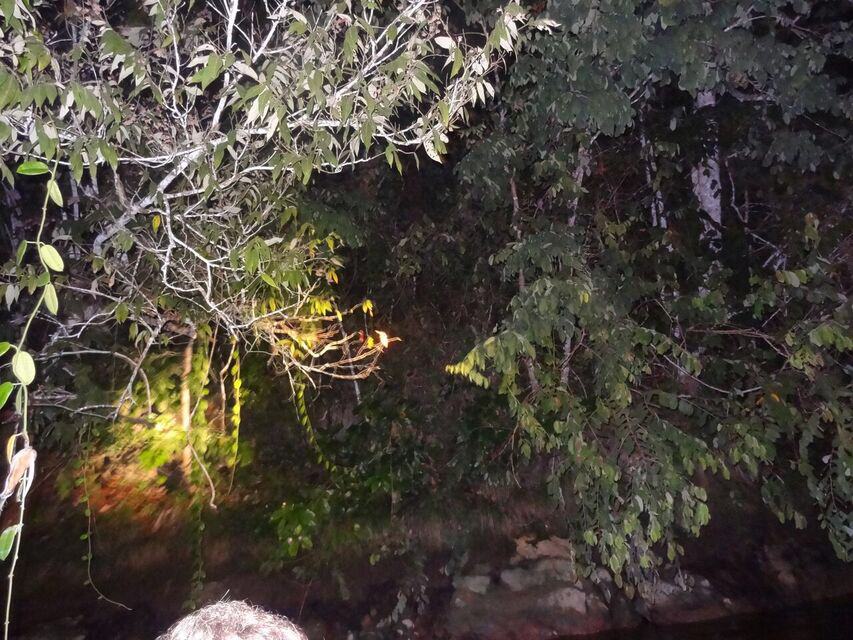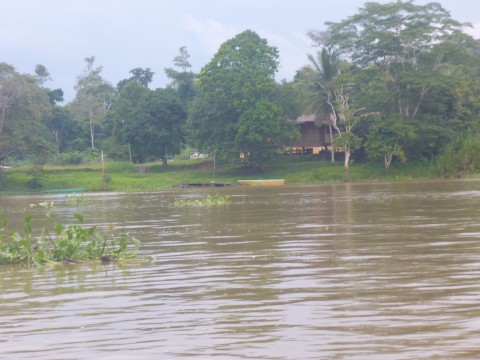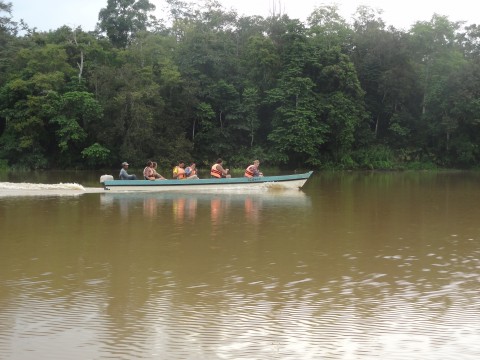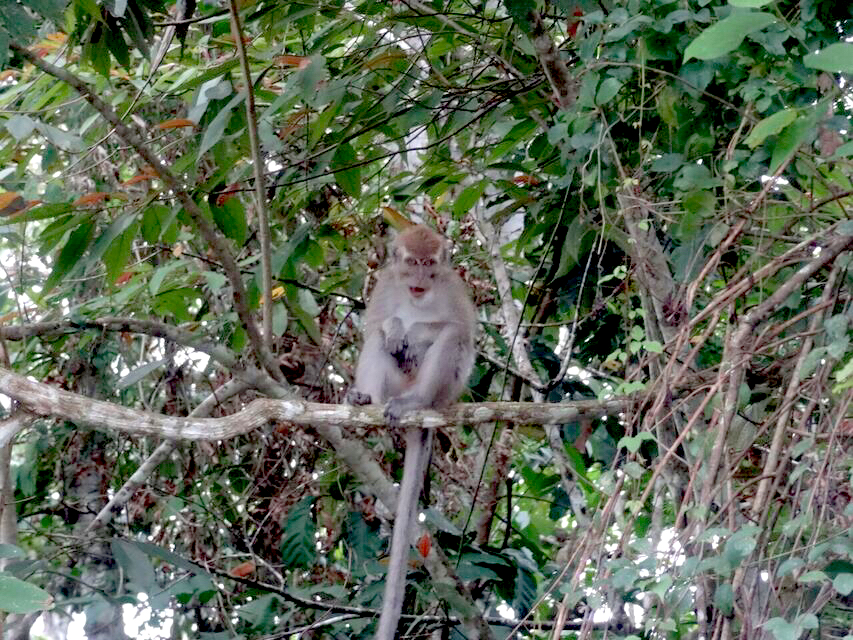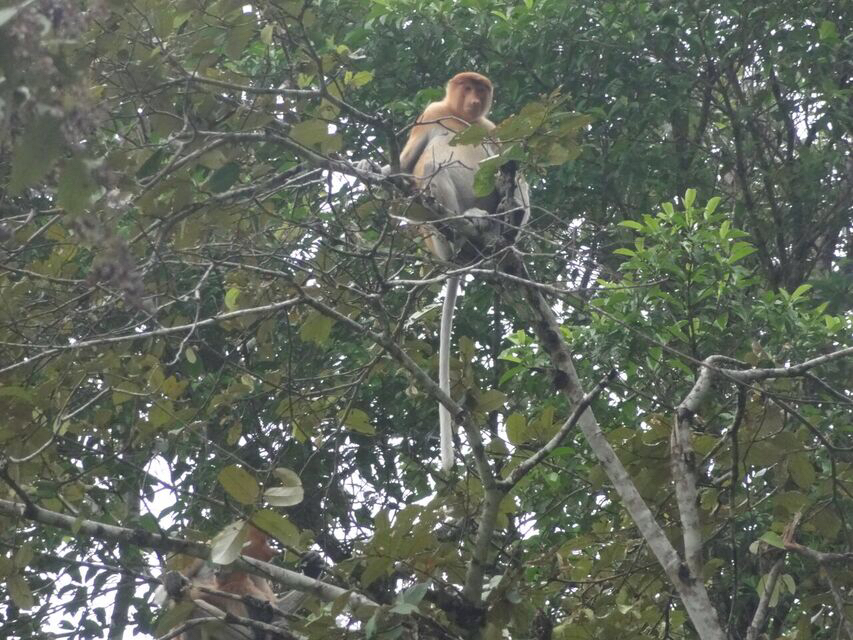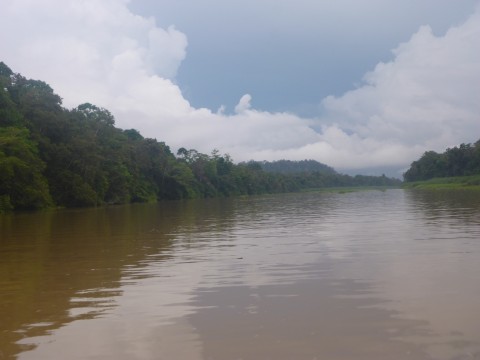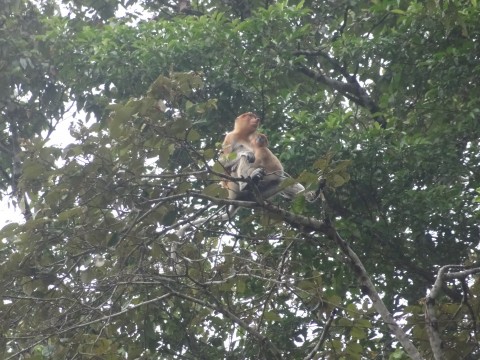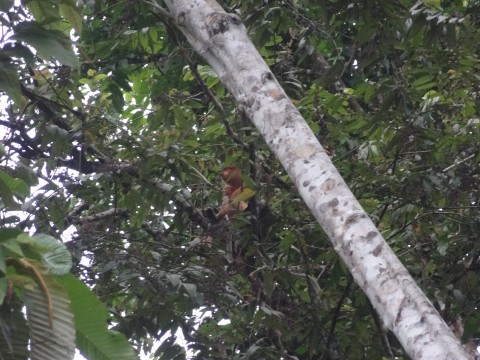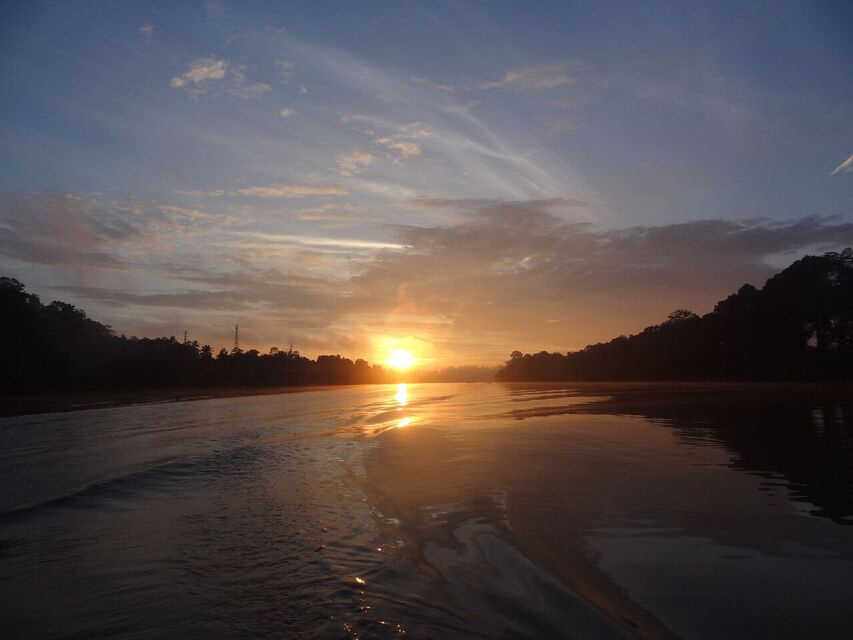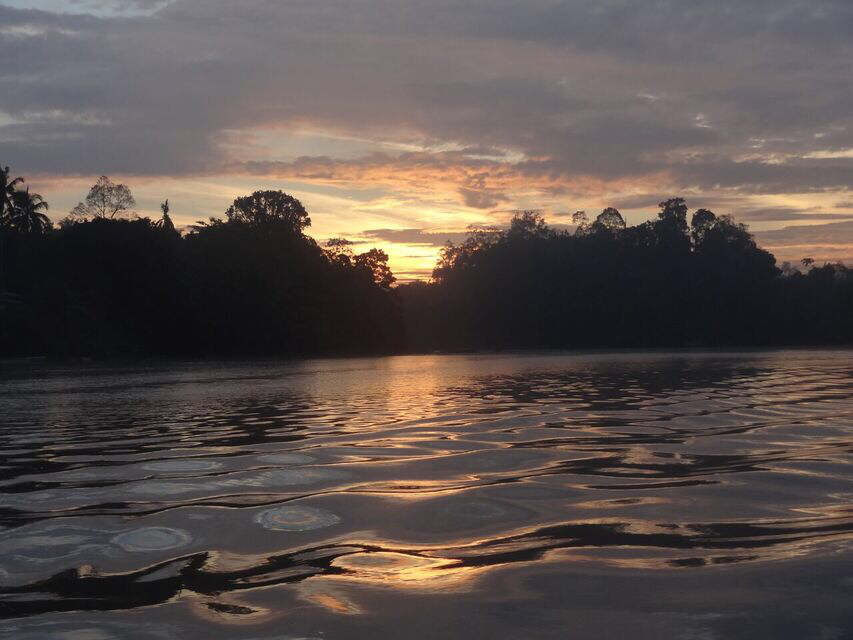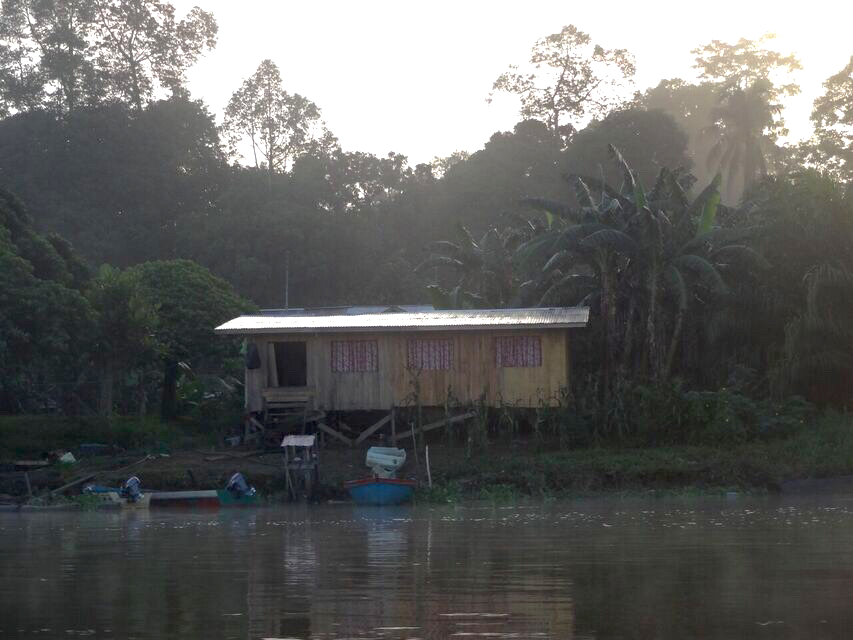 On 19th August ,following our early morning boat trip, we left Greenview Homestay and returned to Sandakan Airport to fly to Kota Kinabalu
Kota Kinabalu
Kota Kinabalu aka KK is the capital of the state of Sabah and sits on the north west coast of Borneo on the South China Sea. Apart from being a tourist destination in its own right it is a gateway to other places in Borneo and particularly Kinabalu National Park and Mt Kinabalu which is a popular destination for walkers, climbers and an area with some of the richest flora and fauna in the world. We didn't get to visit the park on this visit but hope to return sometime.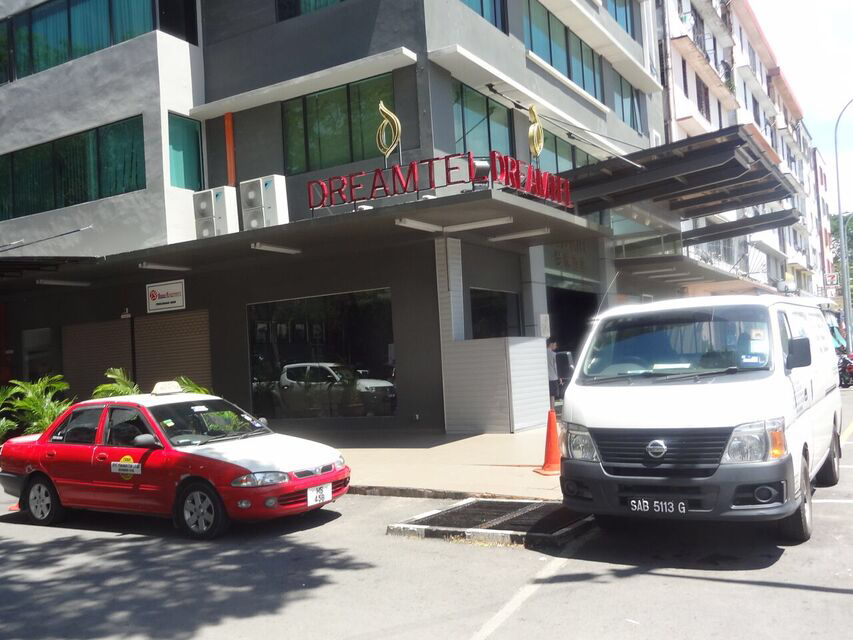 We stayed 3 nights at the modern Dreamtel Hotel and enjoyed our time here. Its a fairly modern city with very few old buildings due to intense allied bombings in the Second World War which brought about the surrender of the occupying Japanese. The infrastructure is good and the city seems to be thriving with various construction projects ongoing at the time of our visit .However  there does seem to be an over supply of shopping malls – we visited three malls – good places to escape the heat – which were far from fully occupied and yet another one is nearing completion nearby! Strange.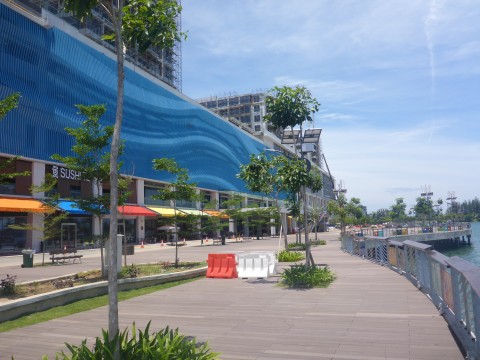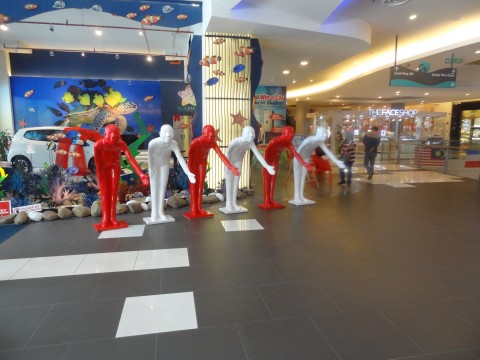 This is a very cosmopolitan city. The population  is a mix of native ethnic groups, Malay, Chinese and lots of other immigrants including Indonesians, Indians and some ex-pats and of course the culture, shops and restaurants reflect that. As you might expect there are colourful markets with an unbelievable range of produce, much of it unknown to us and a nice waterfront area with restaurants and bars. However, most of the attractions of the town, even the beaches, are actually outside the city itself. With only 2 days here we decided to stay put in the city for a lazy couple of days before getting back on the wildlife trail.
Here's a few snaps taken in town.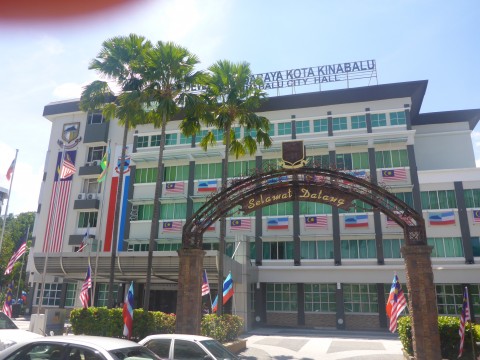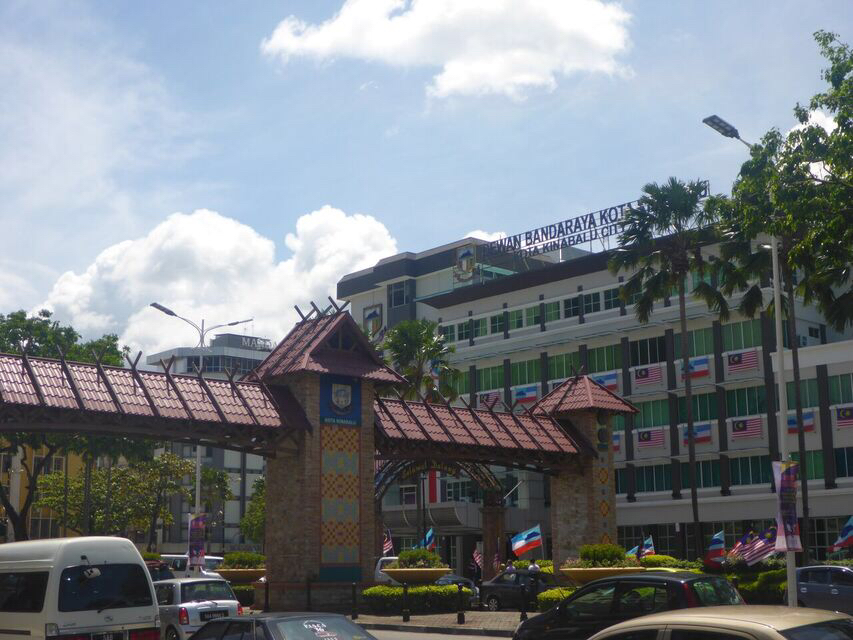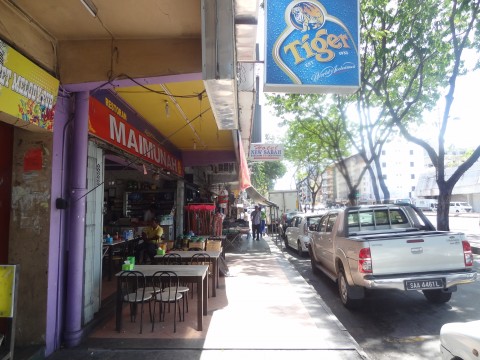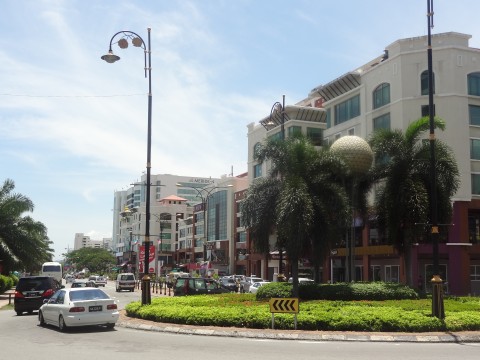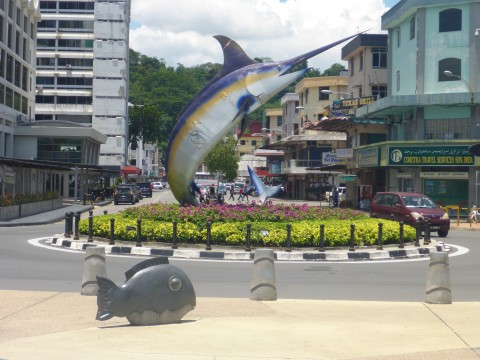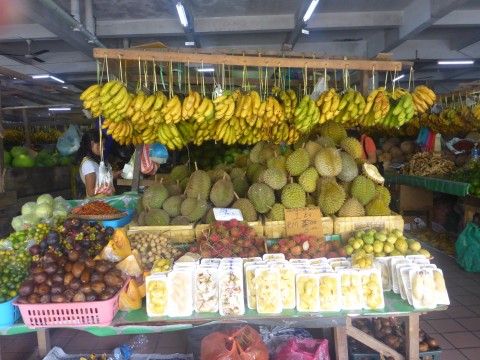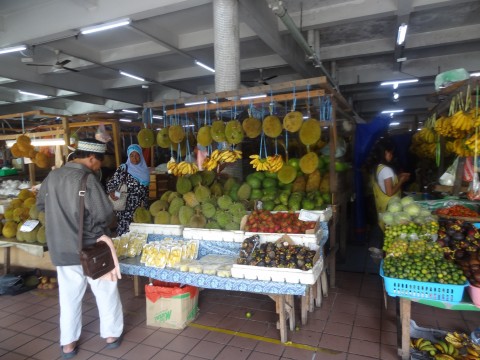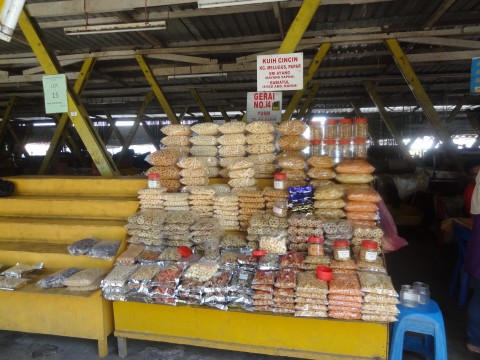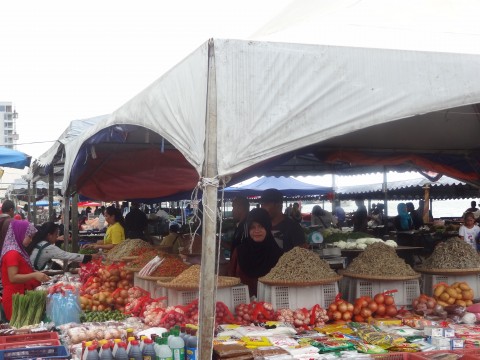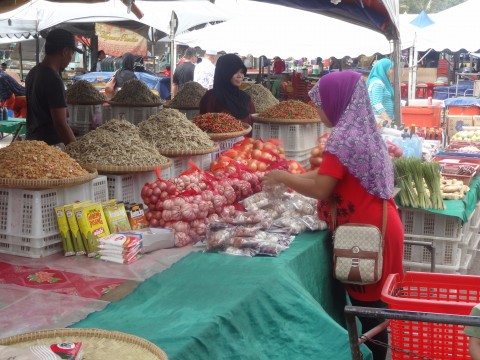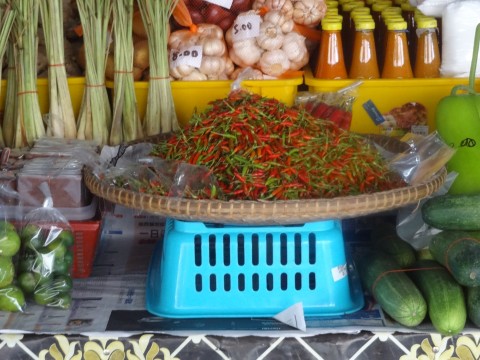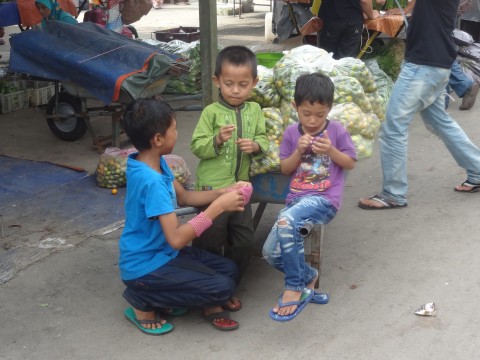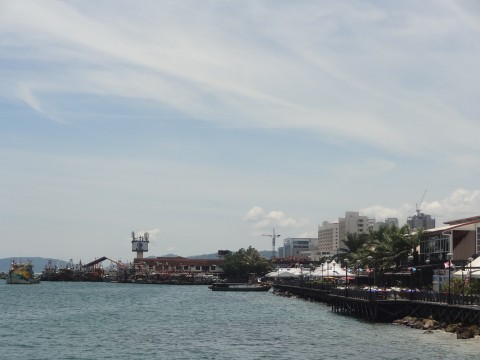 Kuching
Kuching is the capital city of Sarawak with a population of around 600,000 . It sits on the Sarawak River in North West Borneo and is the largest city in Borneo .
Sarawak was part of the Sultanate of Brunei 200 years ago but as a reward for help in putting down a rebellion , it was ceded to British adventurer James Brooke and the Brooke family ruled it as a private kingdom until the Japanese occupation of 1941. At the end of the war the Brooke family ceded Sarawak to the British Crown in 1946 and the British and Sarawak fought an undeclared war with Indonesia to keep Sarawak being absorbed into Indonesia. The British gave Sarawak independence in 1963 and together with North Borneo , Sabbah and Singapore helped form Malaysia .Singapore subsequently withdrew in 1965.
The name Kuching is believed to be derived from a malay word which means cat and the city is often referred to as Cat City and cats in one form or another can be seen everywhere in town!
The city is the most cosmopolitan of all Malaysian cities and different to others. The ethnic mix is predominantly Chinese , Malay and indigenous Bidayah people (once mainly animist but now mostly Christian). There are also various Indian groups and Indonesian along with expats.
This is a cityvery attractive with its riverside setting and it isn't  a big city centre so its quite easy to get around.With such a large Chinese population , there's a big area almost exclusively Chinese but there is also a Little India. It all makes for a really interesting city and it was one of our favourite visits.
Apart from the attractions of the city , Kuching is gateway to North West Borneo with lots of National Parks to explore. Unusually for us we pretty much filled each day with trips to one place or another with a City Tour ,Museums , a trip to Semenggoh Wildlife Centre , visits to local villages and a traditional longhouse and a day at Bako National Park.
We stayed at the LimeTree Hotel for 5 nights and loved it. It's a modern hotel the room was excellent.Service and food were very good and the staff were lovely . Five nights here effectively gave us three full days. – we would have happily stayed for longer.
Some pictures of Kuching
Semenggoh Wildlife  Centre
Bako National Park