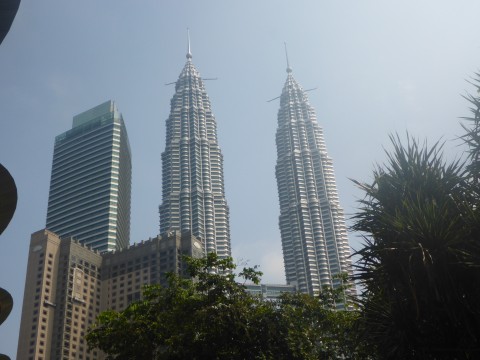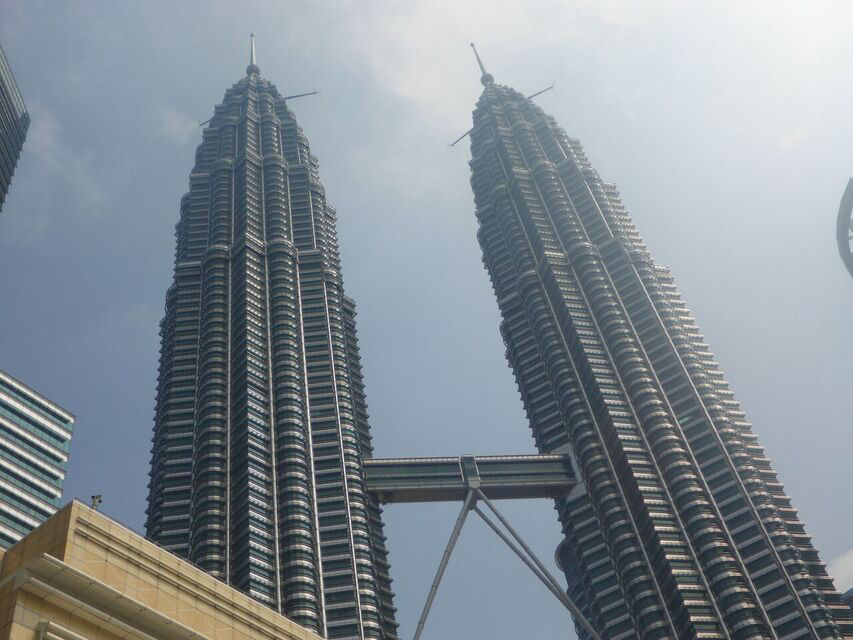 Following our tour of Flores and Lombok, our next destination was Malaysian Borneo, Sarawak and Sabbah. Since we had to pass through the Malaysian hub of Kuala Lumpur, we decided to stop off a few days to have a look.
This is our first trip to Malaysia and we were very much looking forward to it. Although Peninsular Malaysia is the biggest part of the country in terms of size we had no plans to travel any further than KL on this trip – we would save that pleasure for another time.
Malaysia is another Asian country with a colourful history due in no small part to its geographical location, easy access by sea from the rest of the world, proximity of the Spice Islands etc. The Portuguese, then Dutch and then the British have all played their parts in the history of Malacca and the Peninsula and the development of modern Malaysia. Four states which were ruled by the British combined to become the Federated Malay States in 1895  but became independent of Britain in 1957. In the 1960's Sabah, Sarawak and Singapore joined the Federation with Singapore later withdrawing in 1965.
The country is a mix of indigenous Malays 60%, Chinese 25% and Indian 7% of the total population and inevitably from time to time, there have been tensions, religious and political conflict between the different groups with the most  recent serious conflict taking place in 2001 when Malays and Indians clashed.
We arrived K L after an uneventful flight from Lombok late afternoon on August 13th. We collected our bags, bought new Malaysian sim cards for our phones and took a taxi to our hotel downtown. The journey started in daylight but no sooner had we left the airport when the sky became black with rain clouds and the heavens opened; the journey to the hotel took around an hour in torrential rain, tropical and spectacular electrical storm. It didn't look too promising but in the event we were fortunate to see no further rain during our visit.
Malaysia is not a poor country by Asian standards and the infrastucture, roads, bridges, telecoms etc etc are good, a legacy of British rule. Inevitably there is a lot of evidence of the British connection and not only in terms of infrastructure; Malaysia uses standard business practices as used in the UK  and the legal system is largely based on the British common law system.
Our hotel, Hotel Transit, is on one of the main drags through the city and thus easy to find. It's  fairly central being only a few minutes from Merdeka Square (Independence Square), China Town and Little India and less than 10 minutes walk to Bukit Bintang, the main area for shopping and entertainment. The famous Petronas Towers are a 5 minute cab ride or half hour walk away.
The Hotel was luxurious in comparison to our previous  homestay accommodation with all the mod cons we could wish for. It's a budget end hotel but its fairly new and our first impressions were favourable with bell boys aplenty opening our taxi doors and getting our bags out of the car within seconds of us pulling up outside. The excellent service continued throughout our stay with exceptionally friendly and helpful reception staff. Friendly people and great service has already become a common theme for us in Asia.
After unpacking our bags, we headed out to have a wander round. Blimey it was hot and after an hour os so we were pleased to find ourselves in the air conditioned comfort of the Pavilion Shopping Mall. The mall has a food court covering 6 themed  floors with a "food street" at ground floor level. We had a cold beer but couldn't decide on where to eat at the mall and so we went wandering Bukit Bintang and eventually settled on some Western comfort food  at the Outback Steakhouse .
We had two full days in KL and would happily have stayed longer if we had time. We liked the place a lot but we actually saw few of the city's  main attractions due largely to the oppressive heat and humidity which were such that it was physically impossible to rush around from attraction to attraction as we might do in more temperate climes. So we would sightsee for an hour or two maximum and then return to the hotel or wander around a mall to enjoy the air conditioning.
During our couple of days here we visited the Petronas twin towers although we were unable to go up the towers as the day was fully booked out – it was also very cloudy and with some haze and so we consoled ourselves in the knowledge that conditions weren't great for great photos! The Towers are certainly impressive at 378 metres  linked by a skybridge, 170 metres above street level. These were the tallest buildings in the world for 6 years  following completion in 1996 but has been overtaken by several other buildings since then.
Whilst we didn't get to go up the towers, we did get to visit its impressive theatre to see the Malaysian Philharmonic Orchestra playing the music of Queen supported by a very good American singer and band. A jolly good show indeed !
Our days otherwise were spent wandering the city including the extensive China Town, Little India and Merdeka Square. We also spent some time mooching around the Bukit Bintang area which is mad busy both day and night. This includes the  Pavilion Mall with a large  range of shops including the high end fashion houses of Chanel, Gucci etc., jewellers such as Tiffanys and and Harrods. This is the only mall we visited in KL. It was very smart and a nice place to visit and shop (or window shop in our case) and enjoy a grab a meal – we had our first TGI Friday dinner for donkey's years  here !
Here are some photos. In many cases, photos are a tad grey due in part to cloudy conditions but also, although we didn't appreciate it at the time, due to haze pollution resulting from illegal burning in forests and peatland in Sumatra and the Indonesian part of Borneo. This problem goes back decades but 2015 was particularly bad – more later.
Petronas Towers and the KL Convention Centre Development area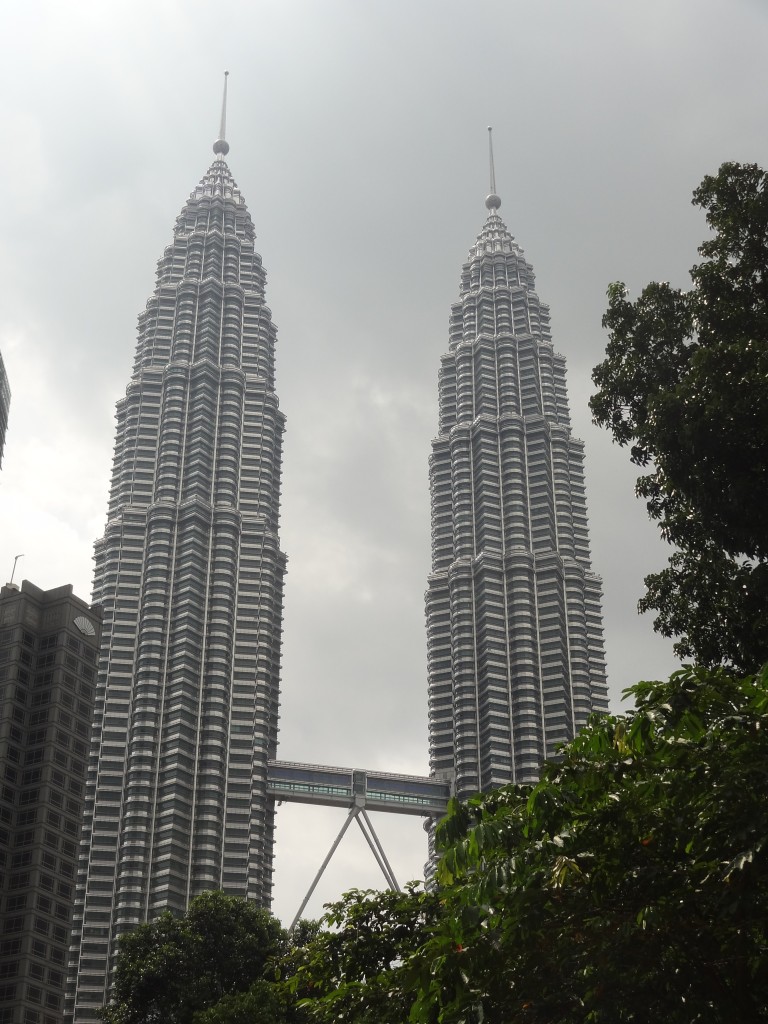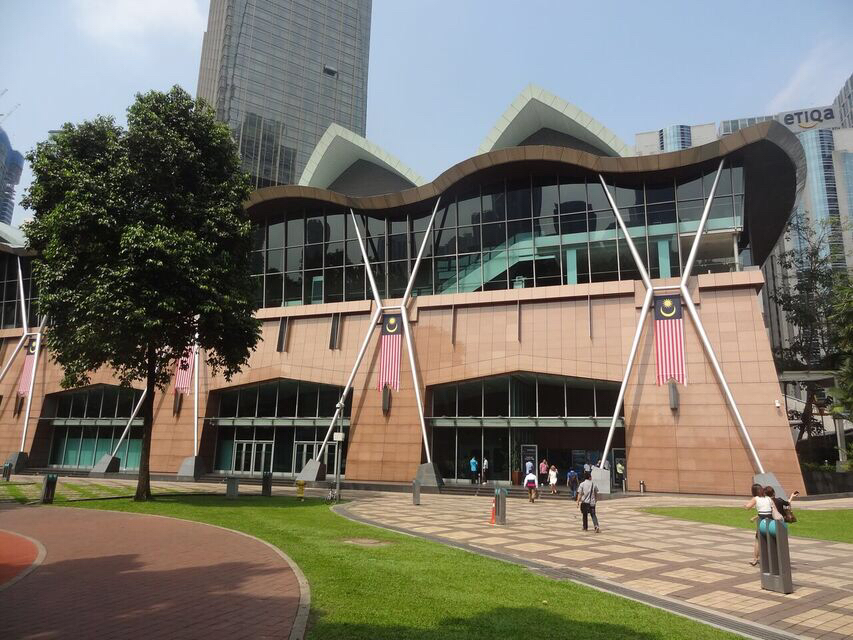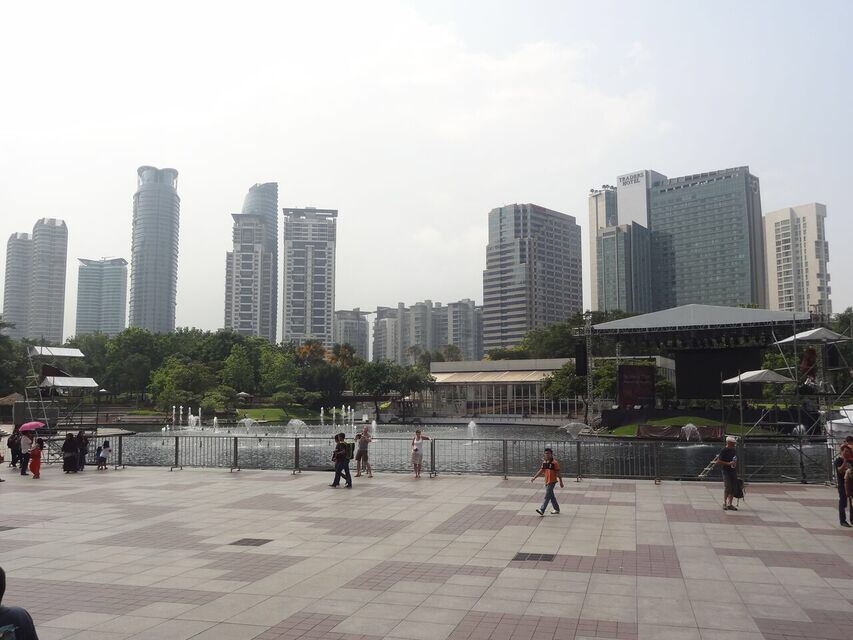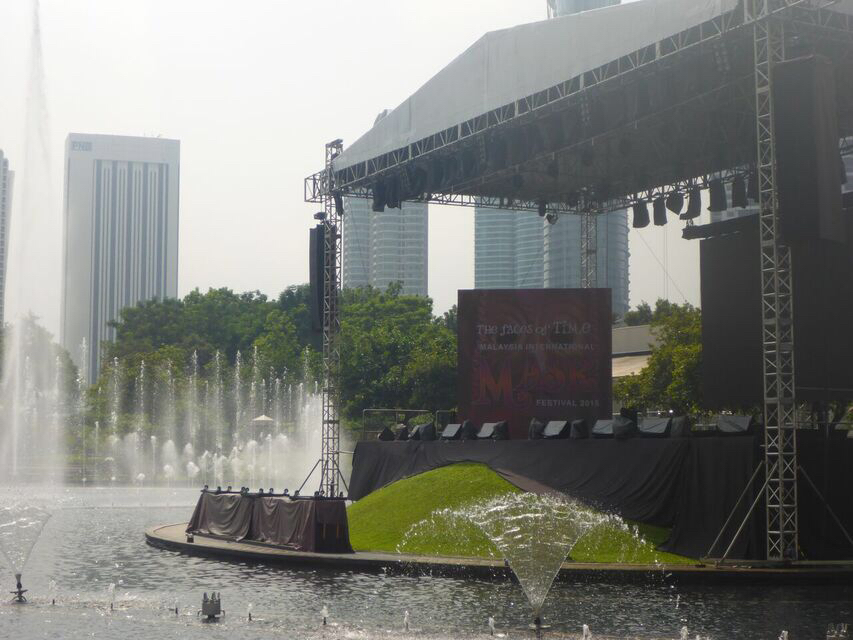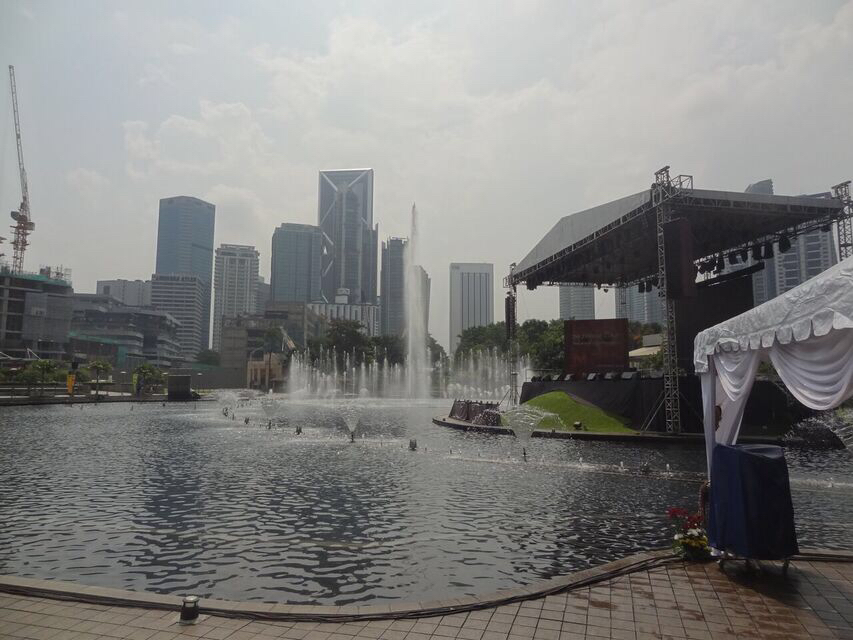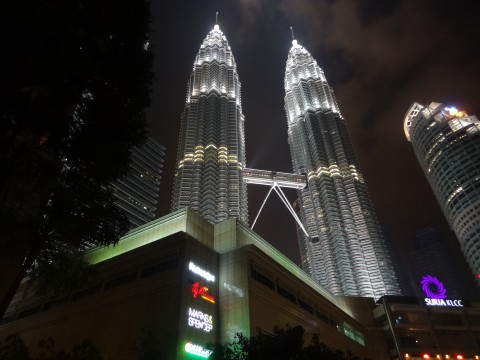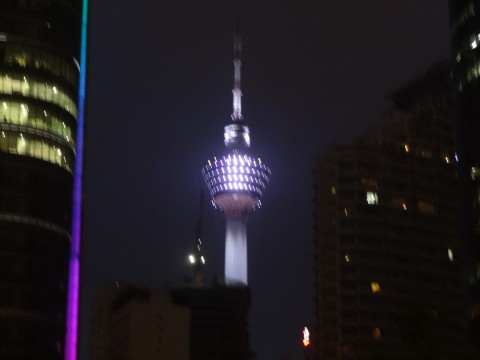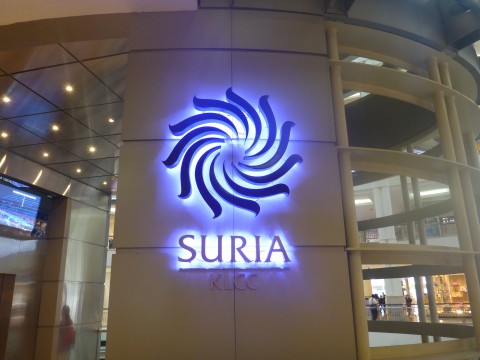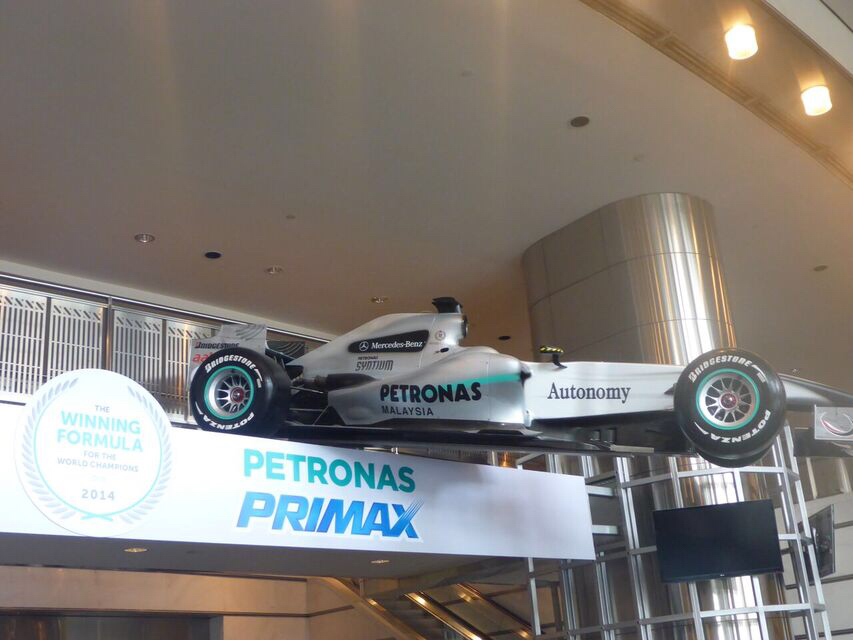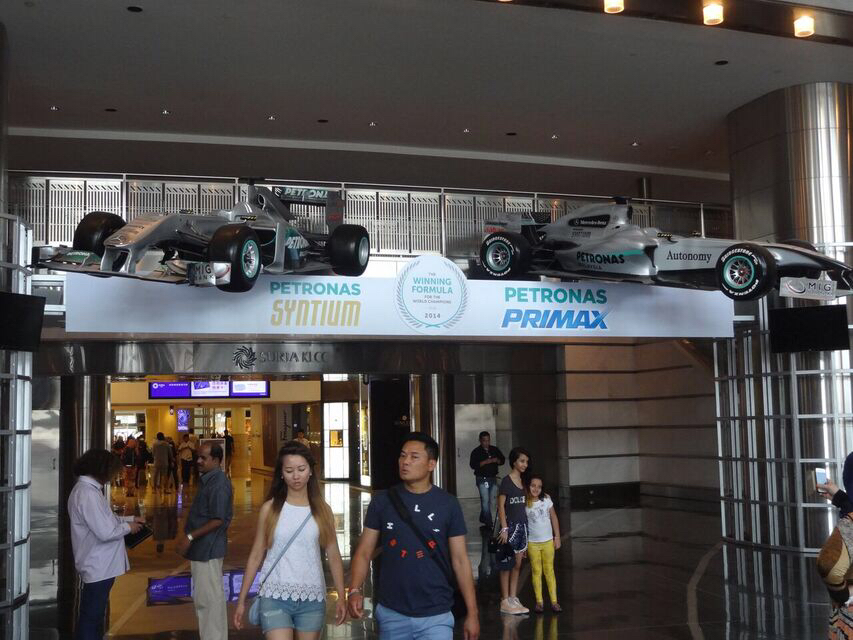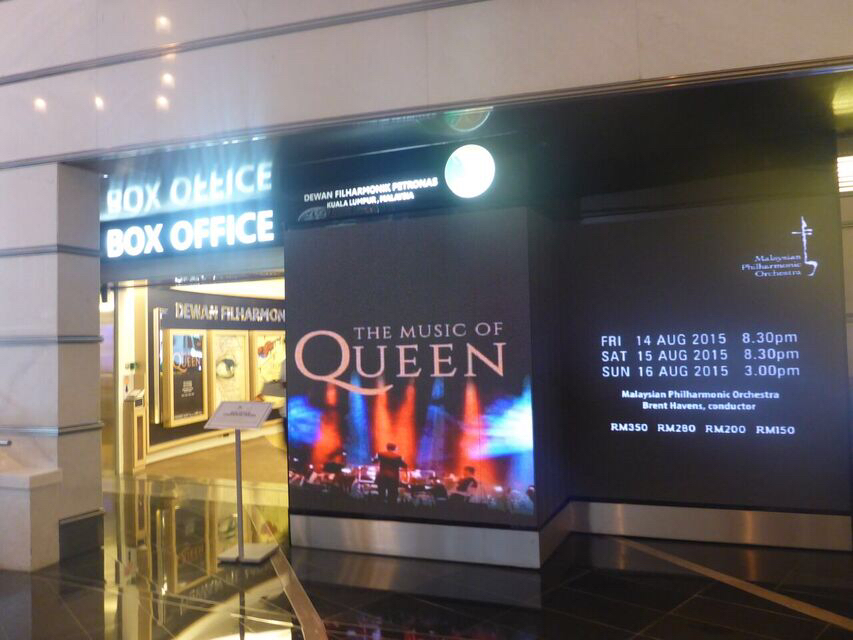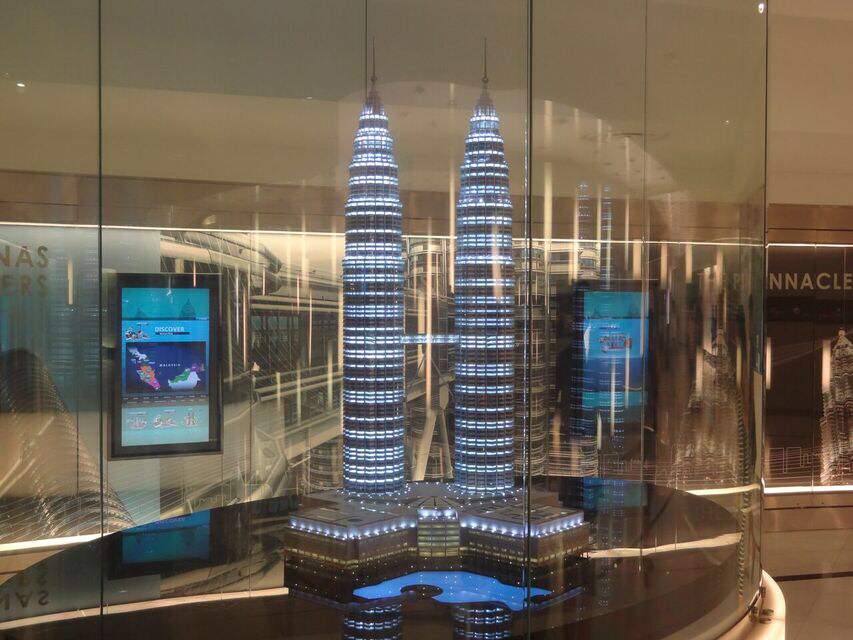 KL Street Scenes, including Bukit Bintang and the Pavilion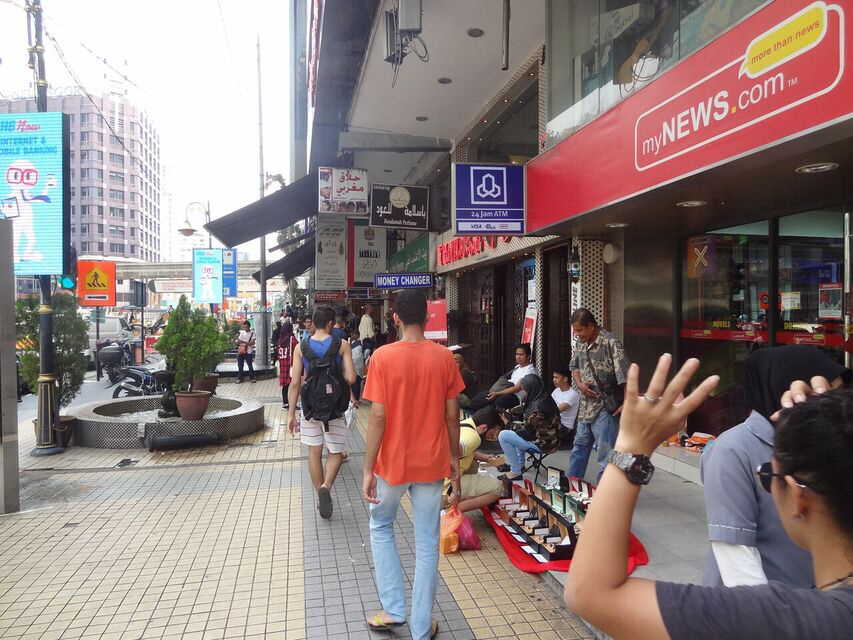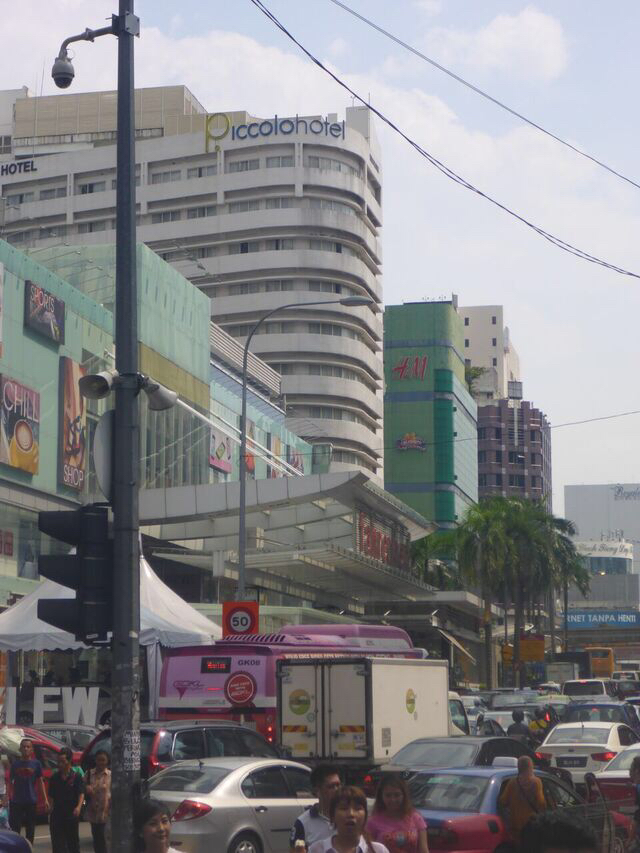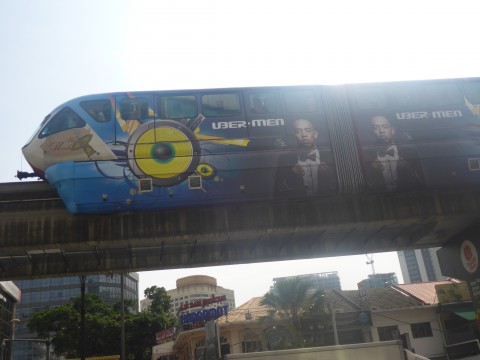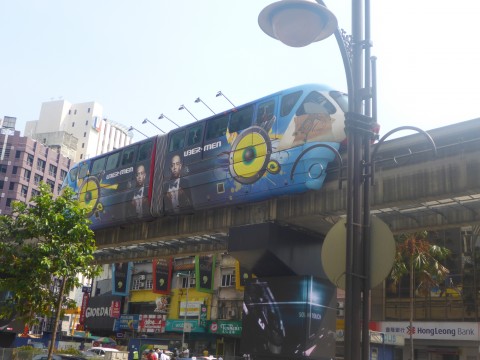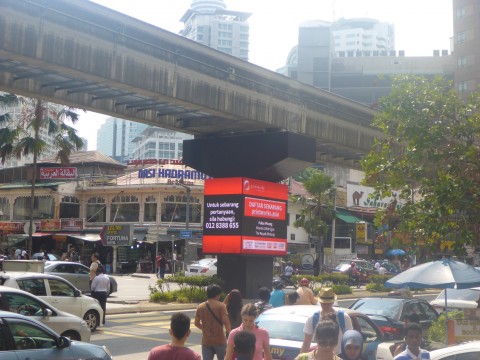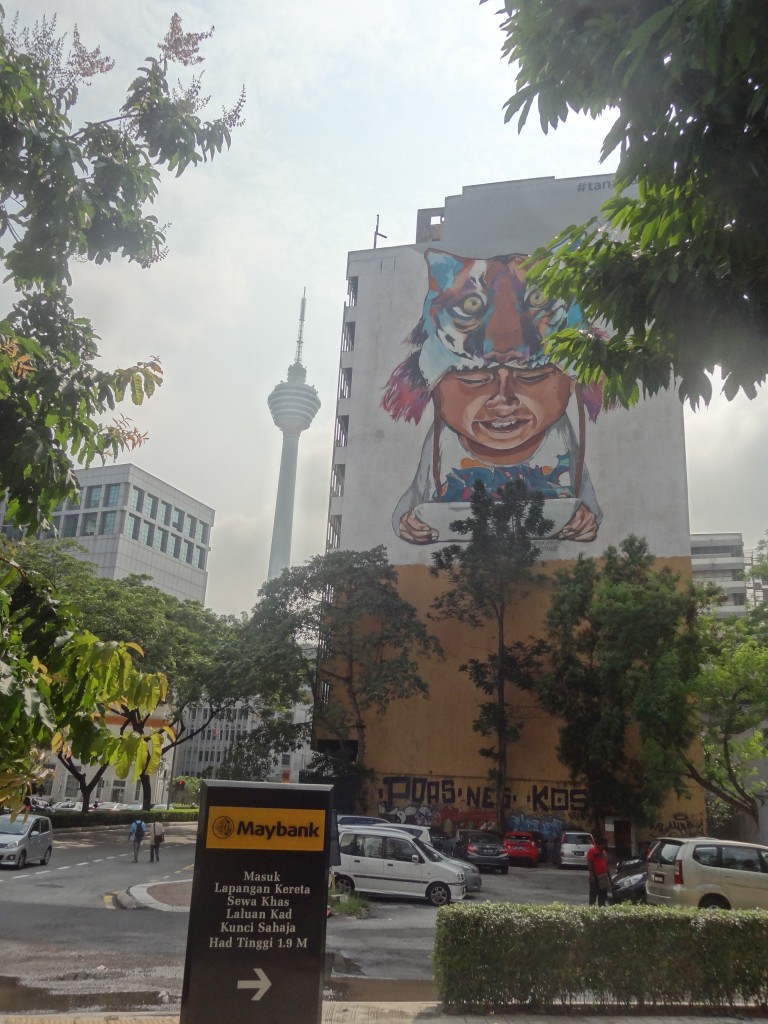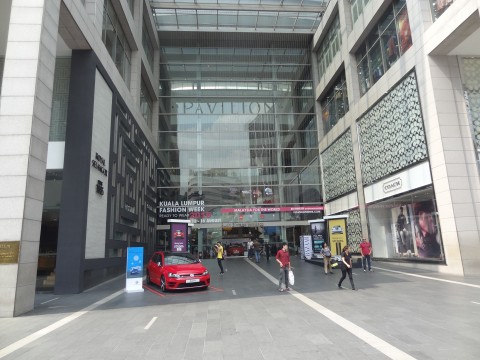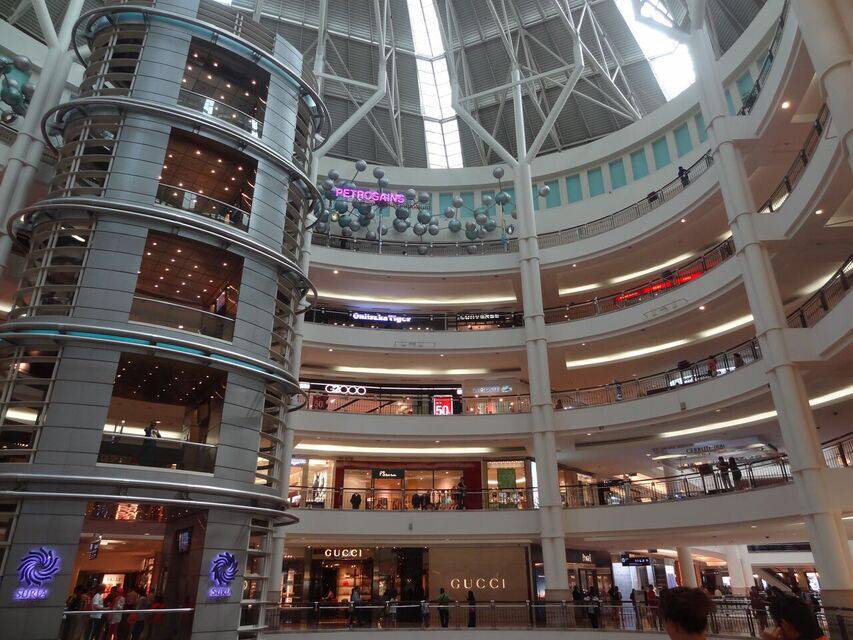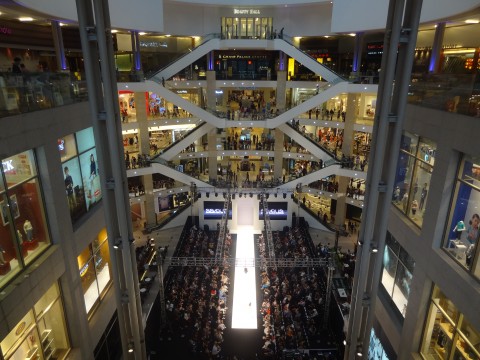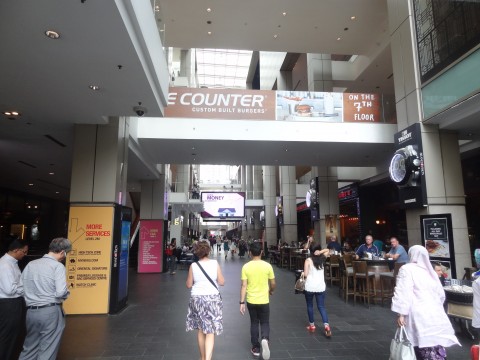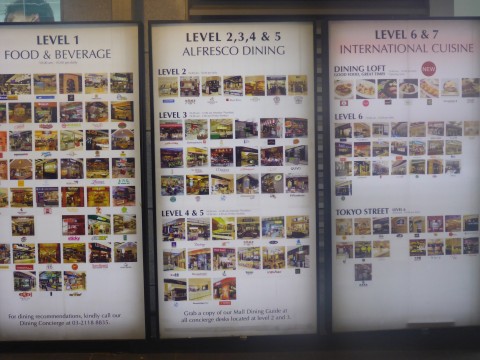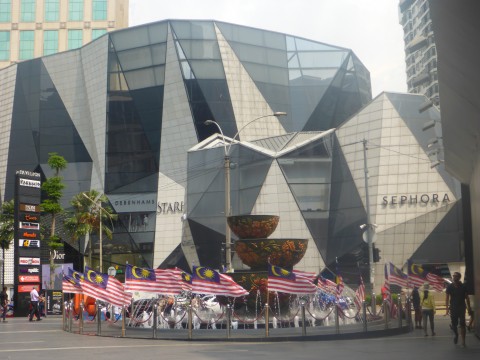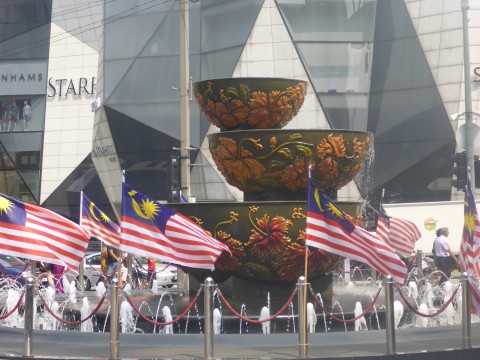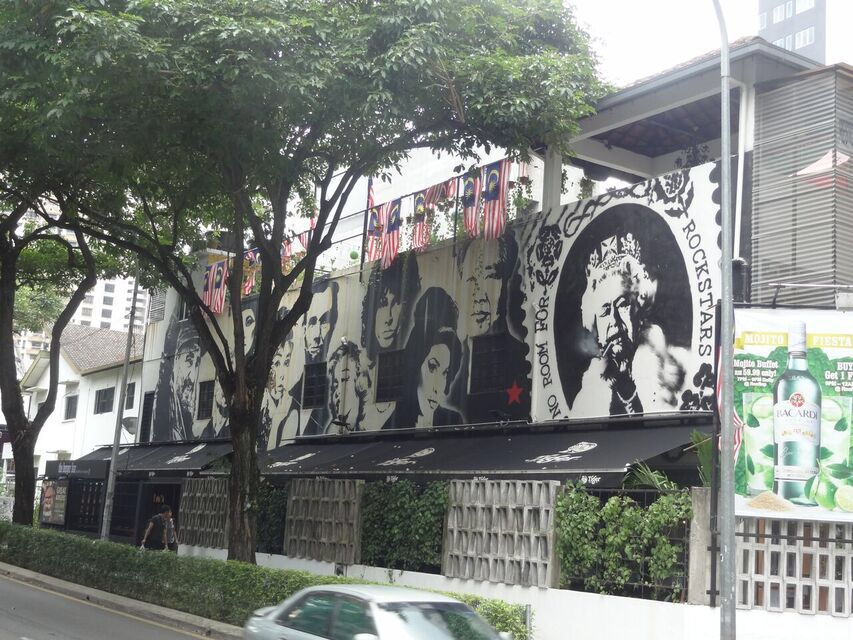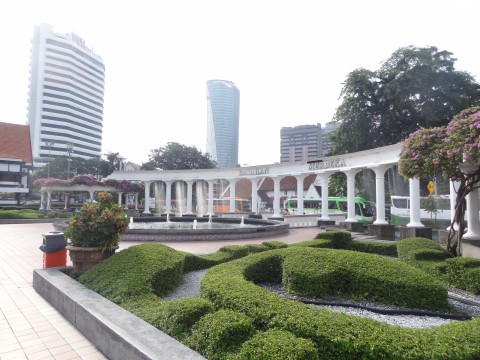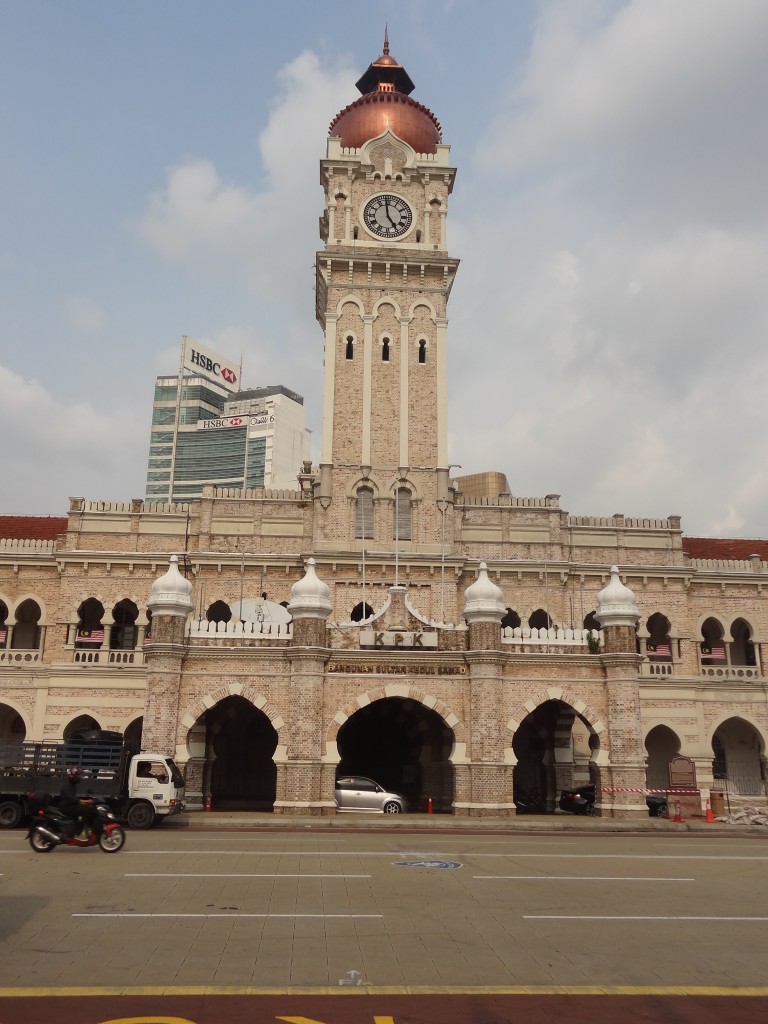 Little India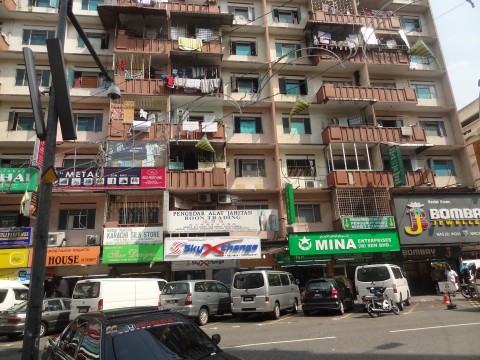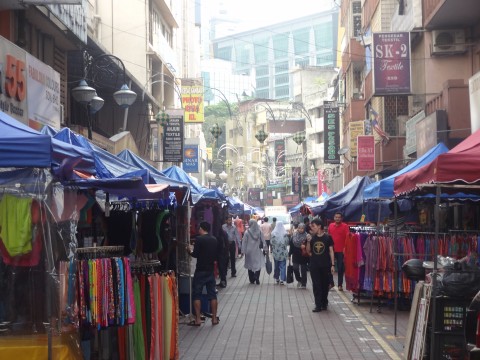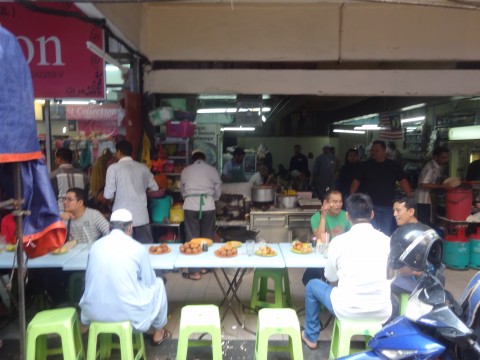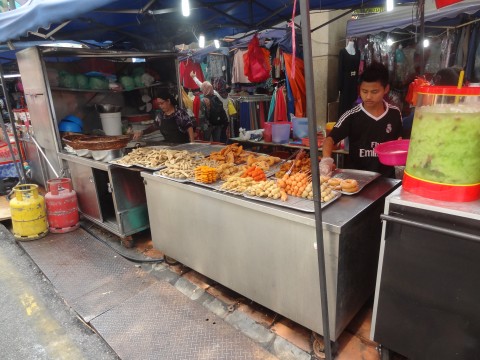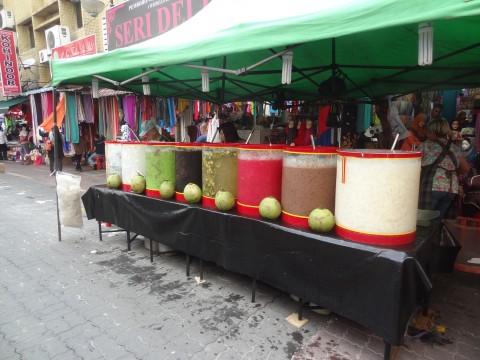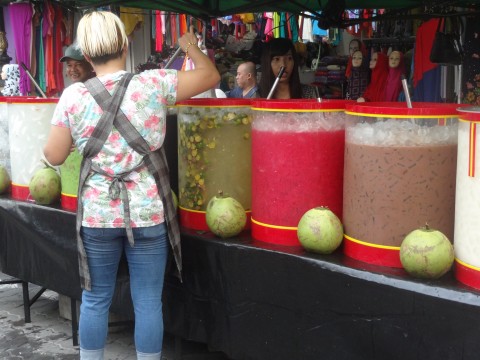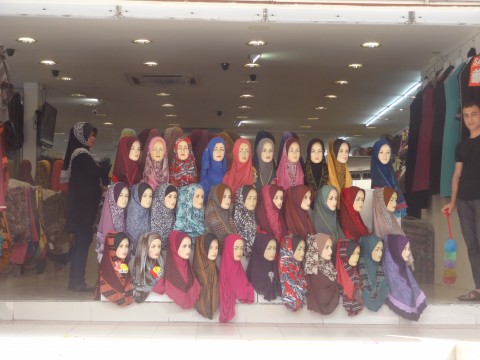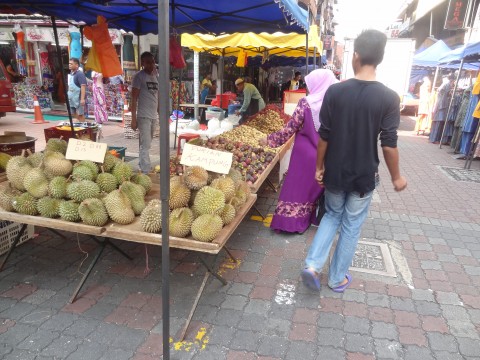 China Town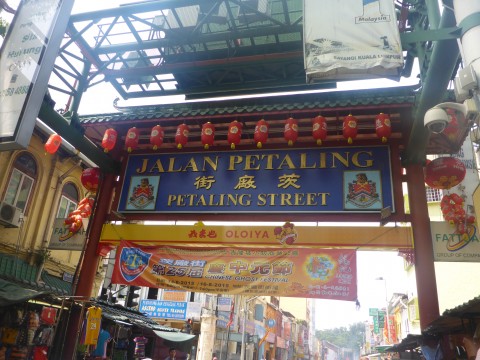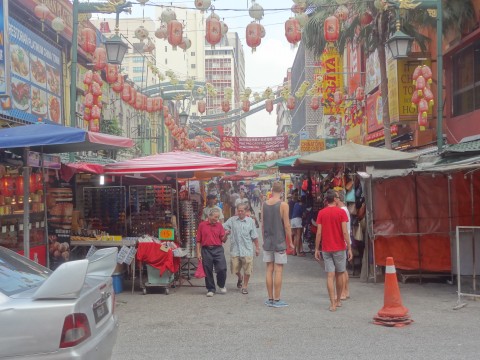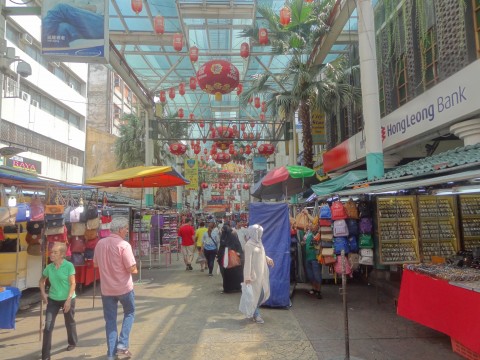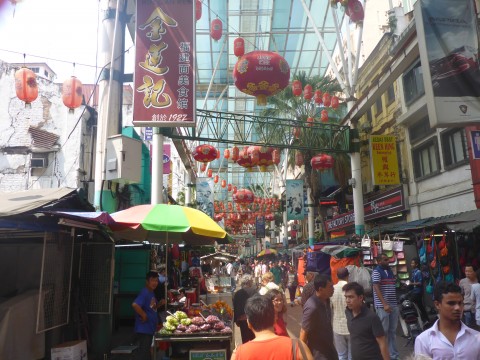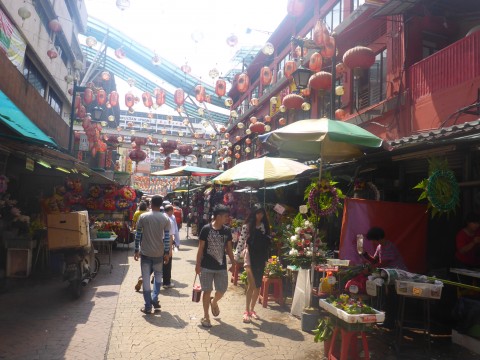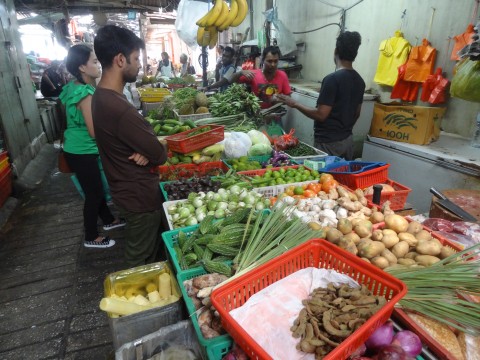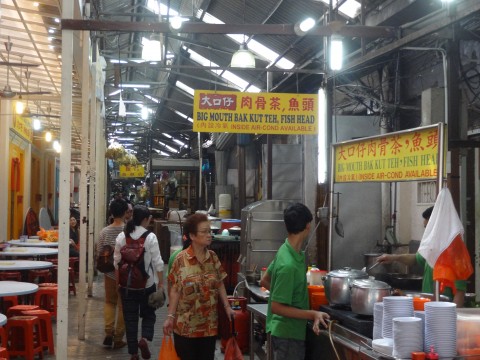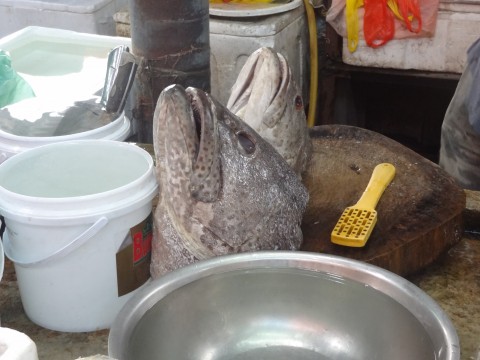 There is so much to see here in KL and the area around it that there was no way we would do more than scratch the surface in a couple of days. Definitely a place to re-visit if we get the chance.
In the meantime, next stop Borneo!