SENGGIGI
Following our travels along and around Flores, our next stop was Lombok, another island in the Nusa Tenggara Province and the island immediately to the East of Bali.
The island is much less developed than Bali and those in the know reckon its like
the Bali of 25 years ago. If you plan to go then don't leave it too long as there is
already some quite extensive new development work going on here which will
eventually change the character of the place.
We stayed for 4 days in Senggigi on the west coast followed by 3 days on Gili Air, one of 3 small coral islands just off the coast.We then had 3 days in the south of Lombok at Kuta which is undeveloped but lauded as the most beautiful part of the island with staggeringly beautiful beaches and some Gili Islands of its own.
We arrived at Lombok's Pulau Airport about 9.30pm following our journey from Labuan Bajo. Unfortunately for some reason there are no flights from LB direct to Lombok and it's necessary to take a flight to Denpasar, Bali and then take a further flight over to Lombok. This is quite a palaver but thankfully it isn't an expensive flight and in cost terms is comparable with the alternative mode of transport, public ferry or private boat. We spurned the latter having read a number of tales of horrendous crossings on dodgy boats on choppy seas.
We stayed 5 nights (4 days)  at Sunset Lavinia Hotel which sits on a hill
overlooking Senggigi town. There are only 5 rooms at the hotel which is run by Maya, a Indonesian woman from Jakarta and her English husband Dave from Leicester. A great couple and fantastic hosts.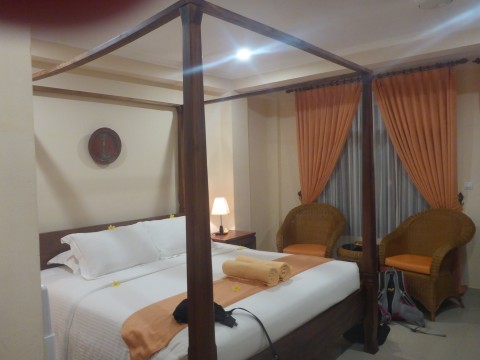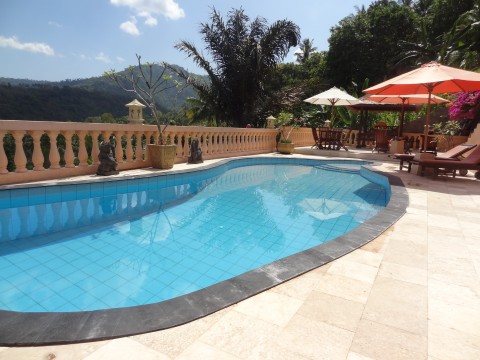 We picked this hotel despite the fact it was well over budget as it seemed to stand out from all the others in town with consistently excellent reviews. The Owners really go out of their way to make their Guests' stay as enjoyable as possible and their young staff are amazing. Nothing is too much trouble. They arranged our airport transfers, transfers to Gili Air and then to Kuta, stored our big bags whilst we travelled over to Gili Air and back and sorted out our telephony issues getting our phone and internet service re-charged for us. This was a great place to stay and we both rate it as one of the very best hotels we have ever stayed in. We spent the vast majority of our stay at the hotel  and dined at the hotel 4 out of 5 nights as Maya's home cooking was so extraordinarily good. We hope to return.
So we didn't do a great deal during our stay at Sunset Lavinia but went into town a couple of times for shopping, lunch and once for a massage – excellent at 120,000 rupiah – about £3 an hour!
Senggigi is apparently the most developed resort on the island with plenty of hotels, restaurants bars and spas but although we were travelling in peak season, the place was far from crowded.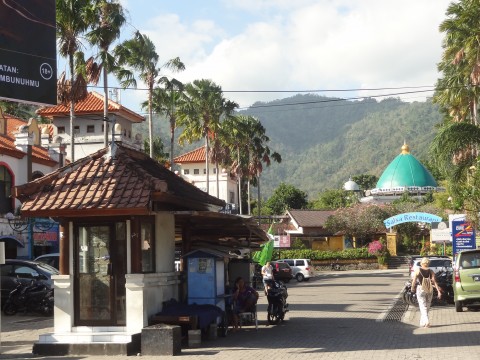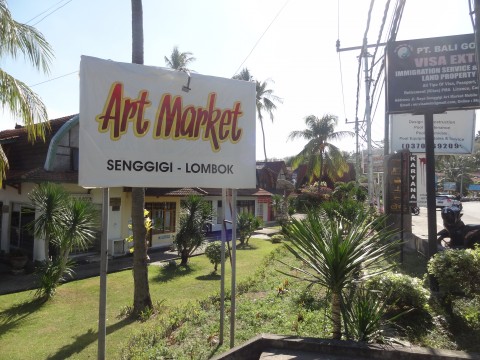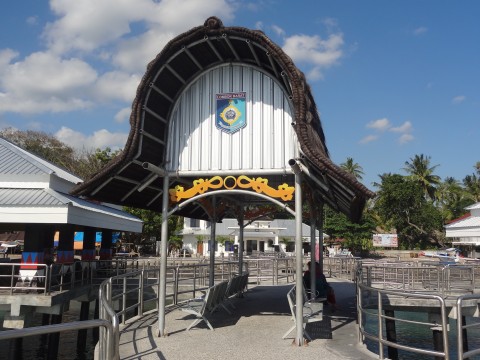 There's a lovely beach with beachfront fish restaurants and you can dine whilst watching a line of fishermen in chinese style conical hats standing up to their waists in the sea with very long fishing poles and all the while hawkers walking the beach selling their sarongs, beads and trinkets, thankfully in a friendly non aggressive fashion.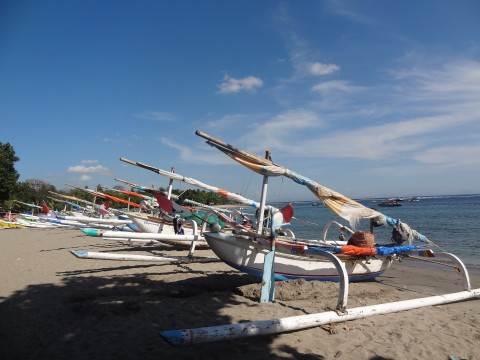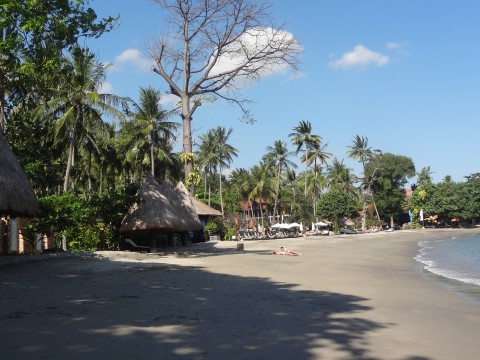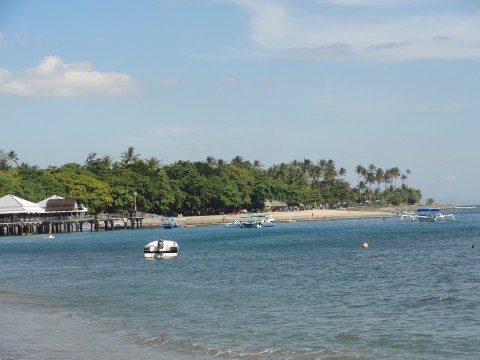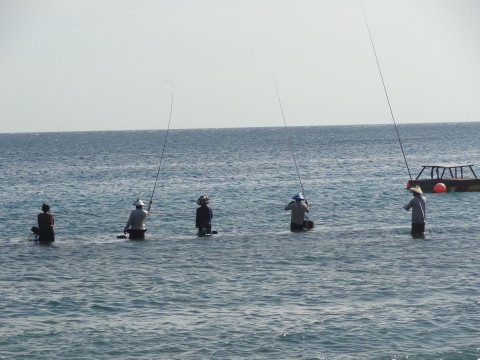 We quite liked Senggigi except for the fact that like everywhere else we have visited in Indonesia to date, pavements are a mess with often very high kerbs and/or deep drainage gullies which are usually unmarked and unprotected so form a potential deathtrap for anyone unwittingly putting his or her foot down in the wrong place. Worse still, the Indonesians must be the worlds worst for discarding litter – it is absolutely everywhere even in the otherwise most idyllic and beautiful locations. Its horrendous in places – they just don't care and the government has a major task on its hands to educate the public to change its ways which it must do if the country is to develop its tourism business.
Rubbish aside, the place reminds us a bit of Kalkan 10 years ago – very under-developed, dusty and rough and ready but with lovely hospitable people – literally everyone you pass in the street says "hello" – a word often followed by "taxi?" No doubt in 10 years time the place will be much smarter as more money is invested in the area but hopefully isn't spoilt by huge holiday developments .
We can probably expect the worse….
Whilst at Sunset Lavinia we hired a car and driver and took  a tour of the northern
end of Lombock driving through what is known as the Monkey Forest to the Waterfalls north of Mount Rinjani. Mount Rinjani is an active volcano which at 3,726m  tall is the second highest volcano in Indonesia after Mount Kerinci in Sumatra and is itself a popular attraction for trekking tours. The trekking is really a climb and is apparently very difficult but there are a number of operators providing guides, porters etc for the 2 or 3 day adventure. Unfortunately we heard and read reports from some that the views are amazing but the rubbish and s*** left all over the trail is depressing! Since our visit there have been eruptions during October 2015 and the National Park and the area around it is closed.
We enjoyed a nice day out with Wayan. We drove north for an hour or two stopping for photographs before we arrived at the start point of the walk to the waterfalls, known as Sendang Gile and Tiu Kelep Waterfalls. We paid the entrance fees (there are entrance fees to all or most National Parks) and were allocated a young guide to show us the way. It's an easy 25 minute walk to the first waterfall and a Guide isn't really necessary but we got the impression that its compulsory to take a guide to provide work for the community which we thought fair enough. In the event we were glad to have the Guide when he helped us make a few tricky crossings through a rocky and fast flowing river and he was also handy to have on the return trip to chase off a monkey which became aggressive as Ann was taking a photo.
The waterfalls were magnificent but this was a Sunday when hordes of locals
descend on the waterfalls to bathe. The place was packed with families enjoying
the day out with a swim and a picnic .We decided not to bother swimming…..
Here are a few pictures from our day tour with Wayan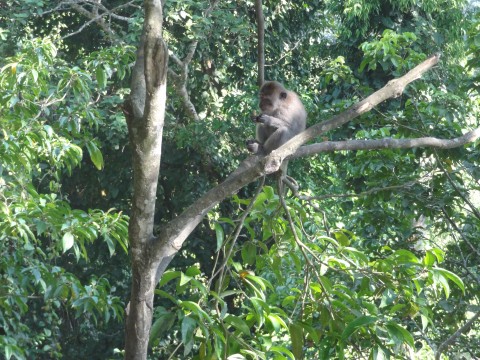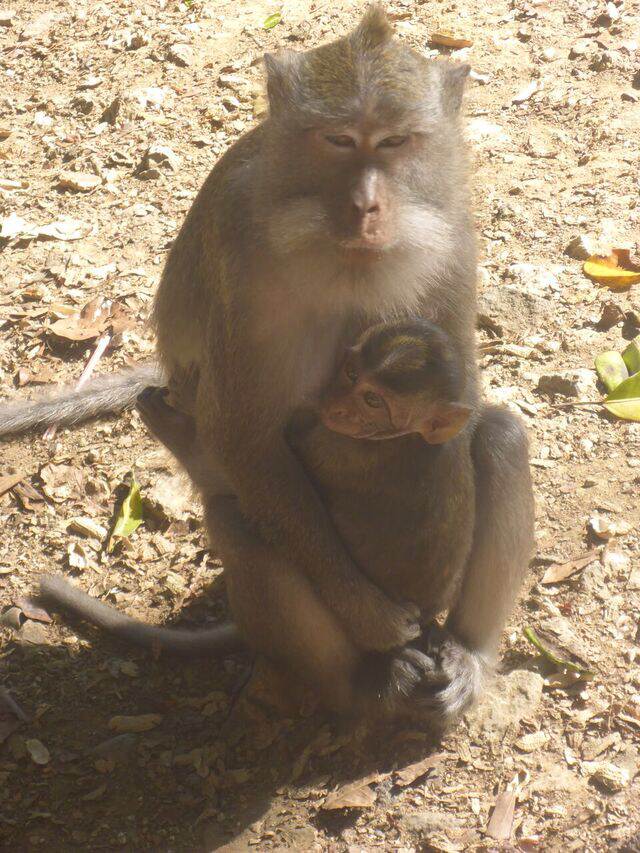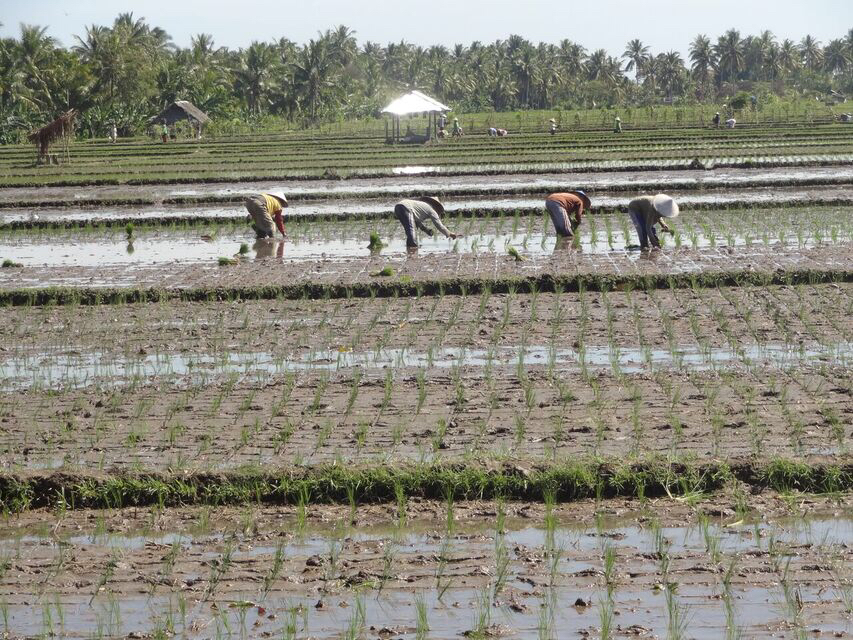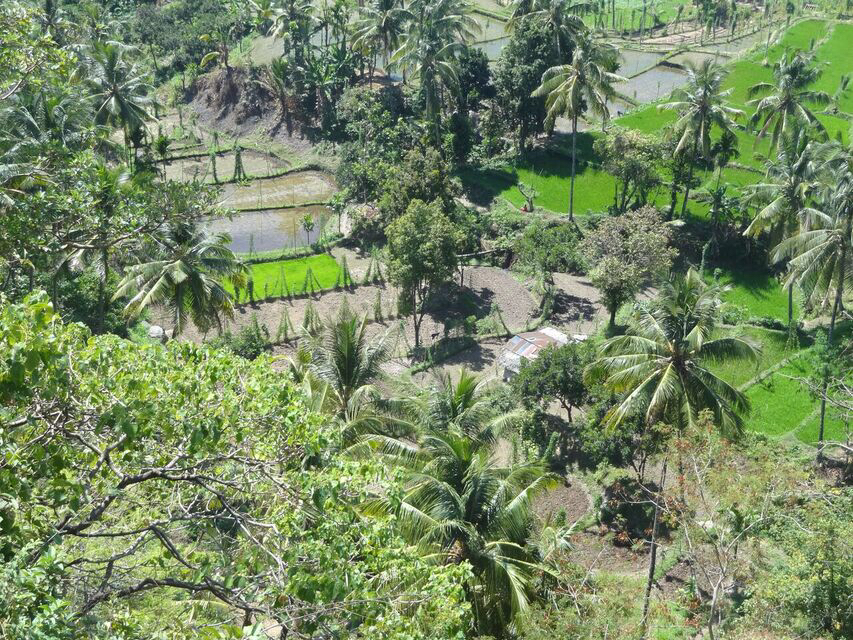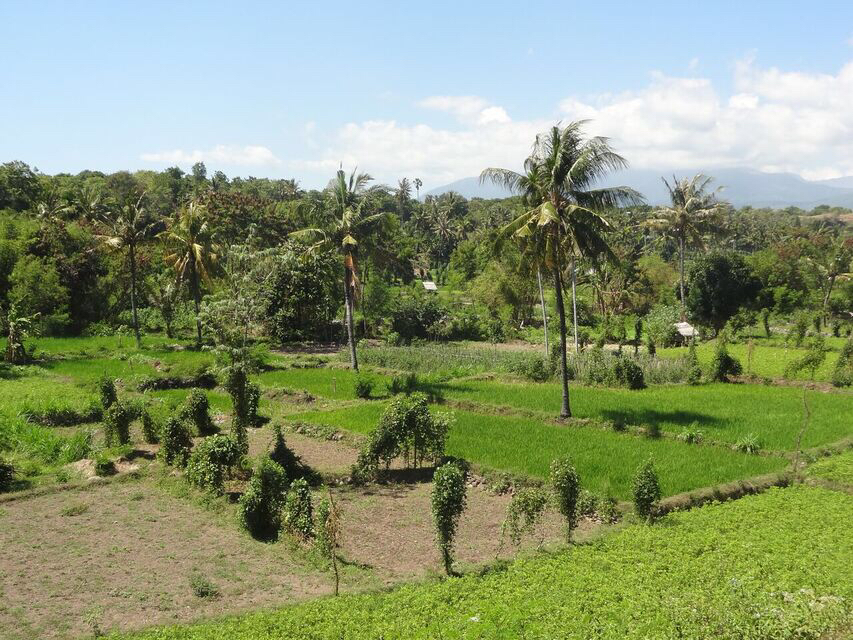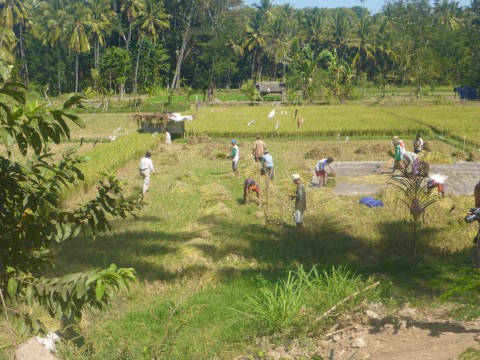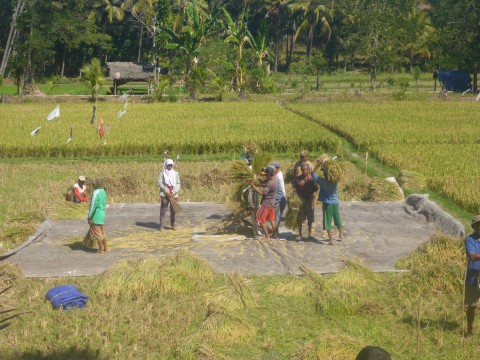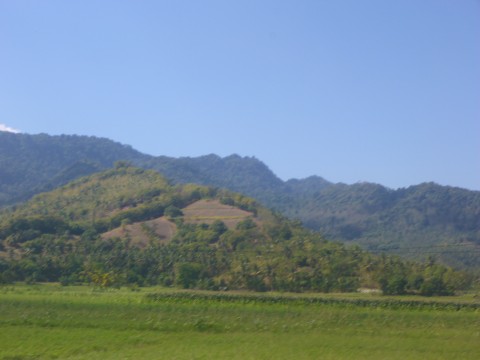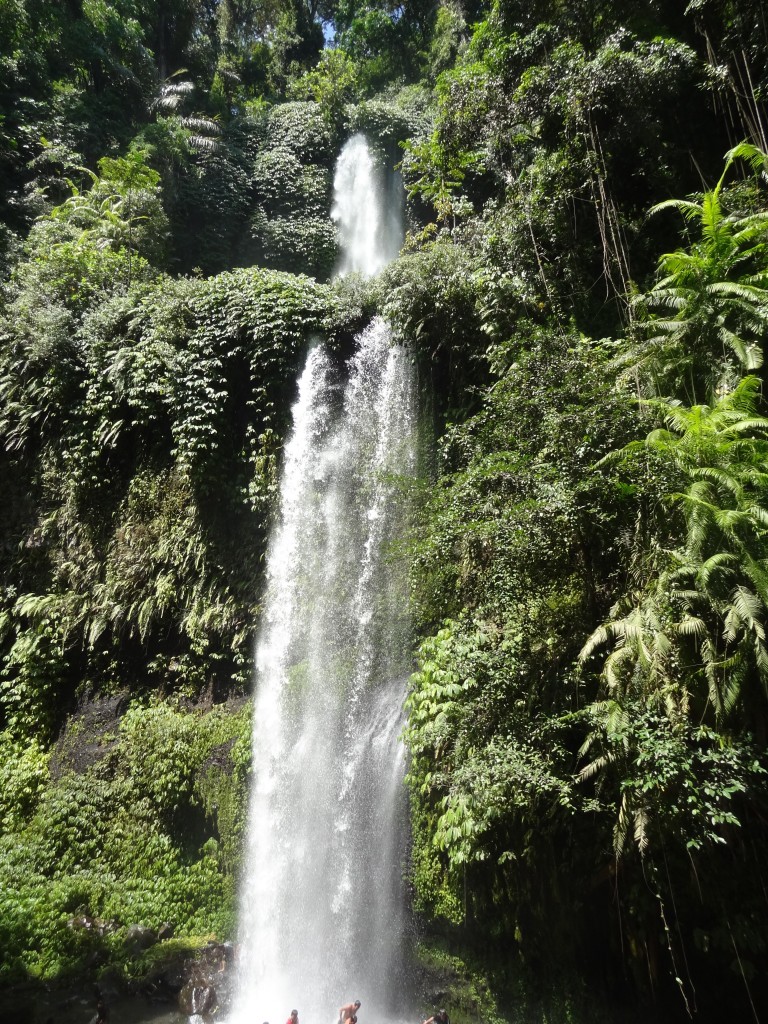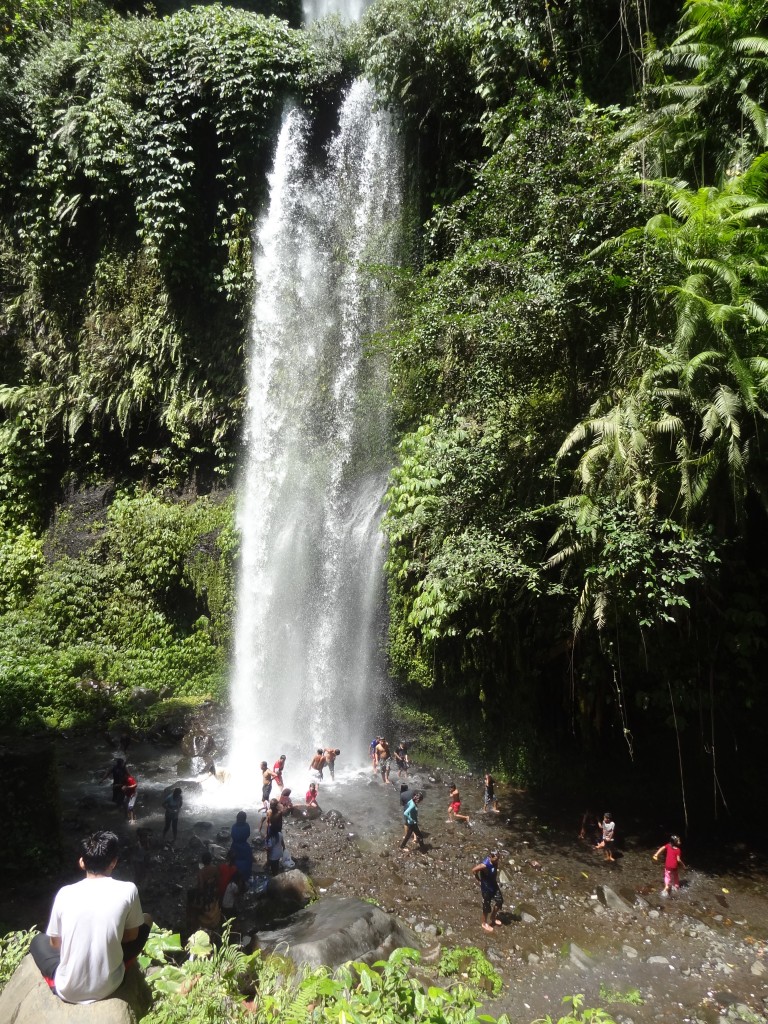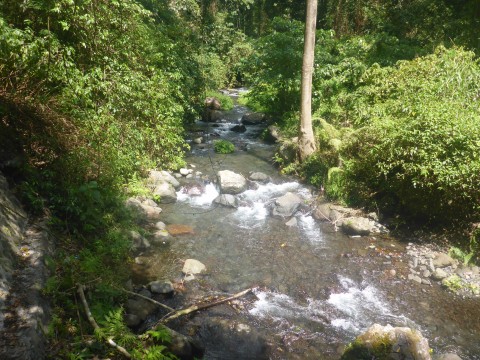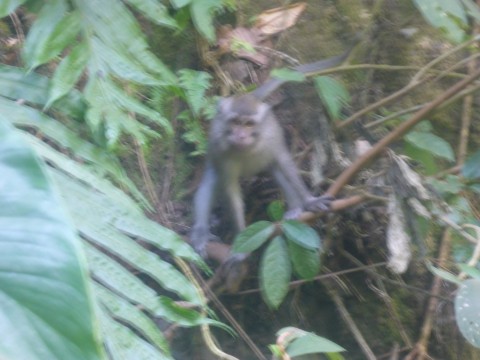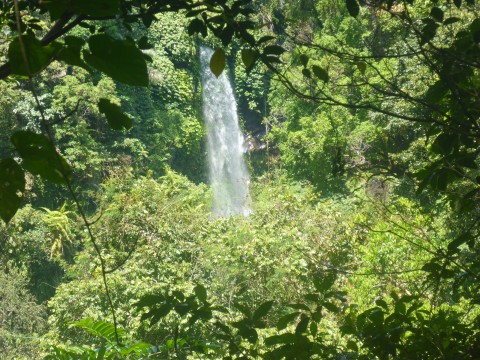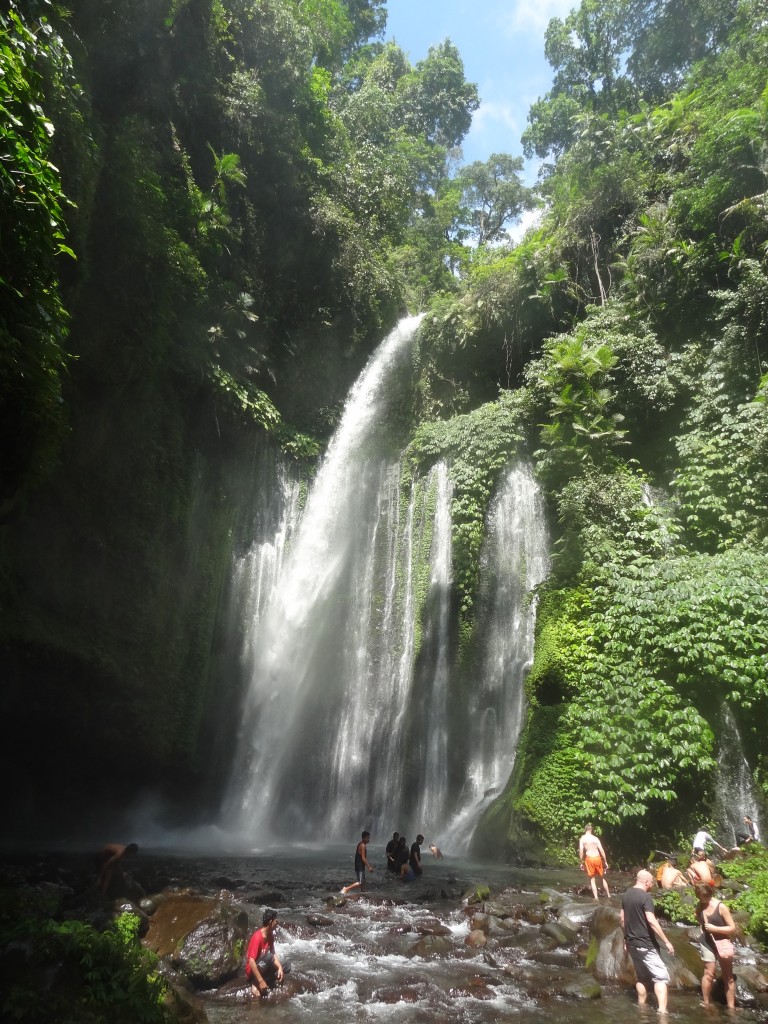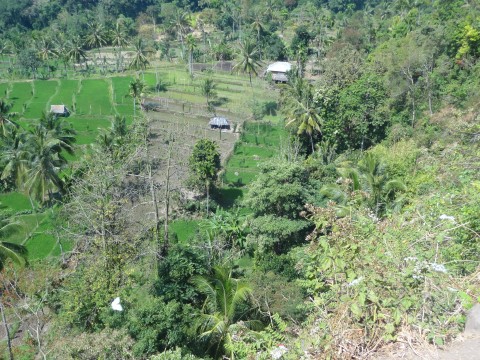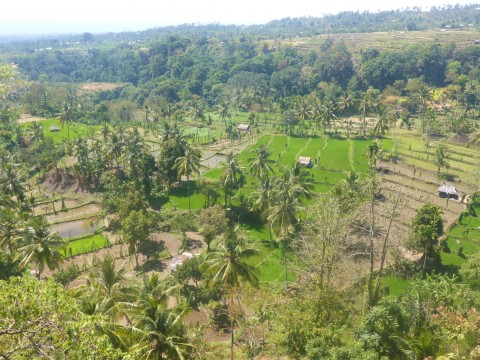 Gili Air
The Gili Islands is the name given to a group of 3 beautiful small coral islands just off the west coast of Lombok. The islands are called Gili Trawangan (Gili T ) which is very much a party island, Gili Meno which is the least developed and quietest island and Gili Air somewhat more developed than Meno with a well developed local community. We visited Gili Air.
Wayan drove us to Bangsal Harbour to catch the public boat over to Gili Air. He dropped us off a few hundred metres from the harbour itself and throughout the short walk down to the ticket office we were constantly badgered by men wanting to carry our bags. One of our travel rules is to never accept a trolly from touts at airports and never to accept offers of porterage from strange men. I had read a number of stories about touts, particularly in Asia, grabbing travellers bags to carry them a short distance to your transport and then demand an extortionate payment with menaces. These touts are everywhere and a complete pain but I'm always careful to keep a firm grip on our bags and this and a firm "NO " usually sees them off .
The Gilis have been on the backpacker trail since the 1980s and still are and most of the visitors are indeed young backpackers of every nationality – not a bad thing because my guess is that this keeps prices at a reasonable level and encourages the Happy Hour philosophy that flourishes here. Thus a lot of the accommodation here is cheap and aimed at backpackers (including divers) but there are more expensive resorts popping up here and there. Gili Air is a quiet island but, as on Lombok, we saw enough construction projects to see that the nature of the place will change over the next few years.
The islands are famous for diving and snorkelling. The coral in places  has been damaged over the years by various natural and man-made causes including  heatstroke, increased sea level due to global warming, pollution and fishing but there is a reef restoration programme in place here as in lots of other places.
We enjoyed 4 nights on Gili Air at Biba Beach Club , an Italian owned hotel and (very good) restaurant. We did absolutely nothing here other than walk and swim, eat and drink – there some very good restaurants and some very nice inexpensive accommodation. This is definitely the place for a chill out laid back holiday (I did see at least one sign offering magic mushrooms!) and we thoroughly recommend a visit before it gets too developed.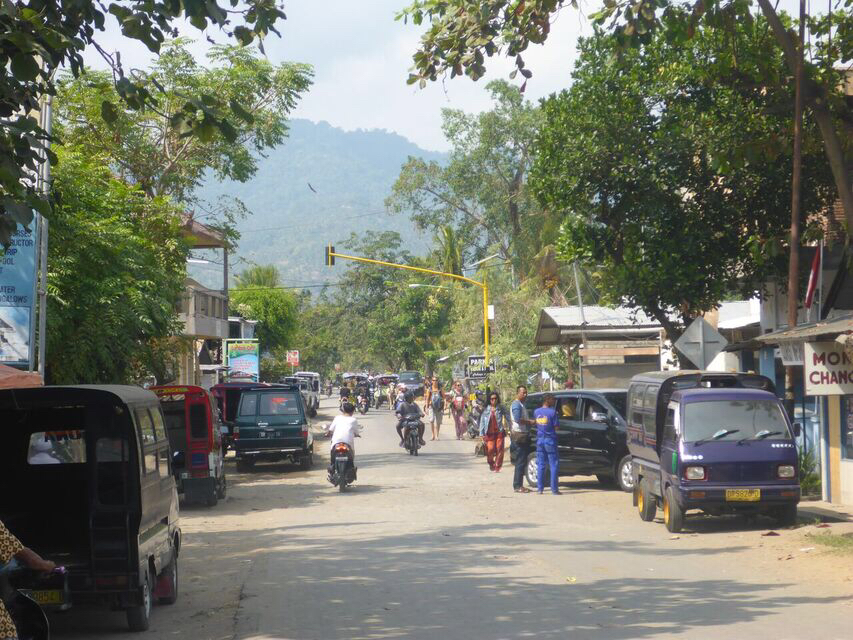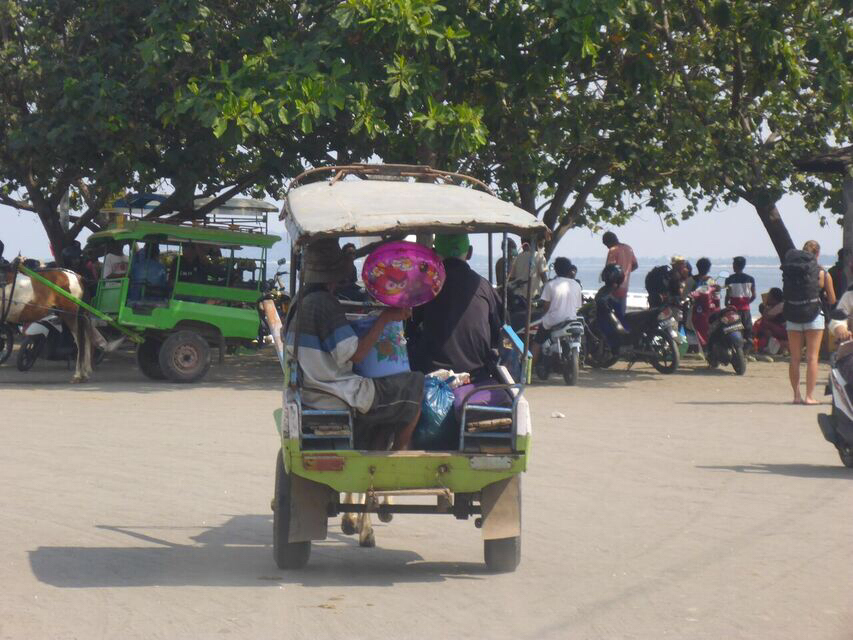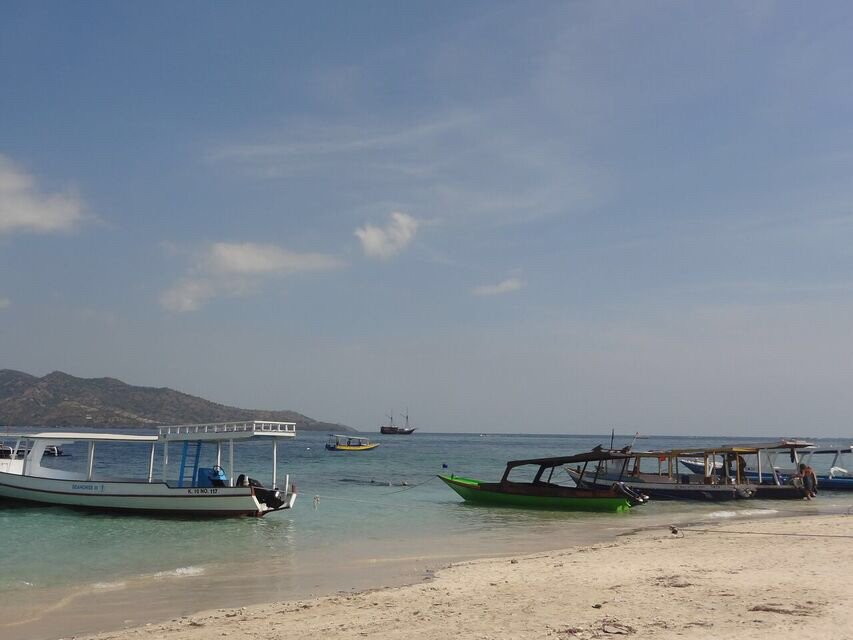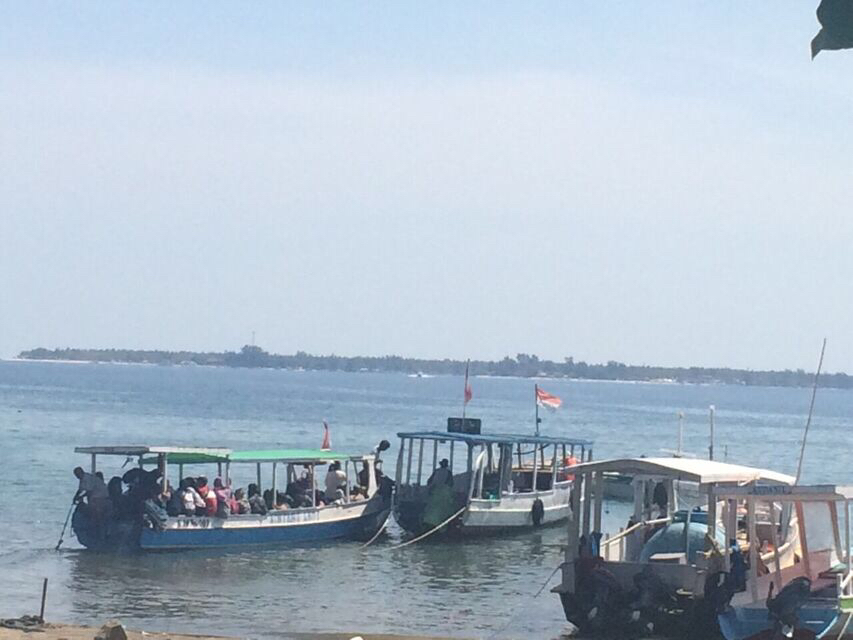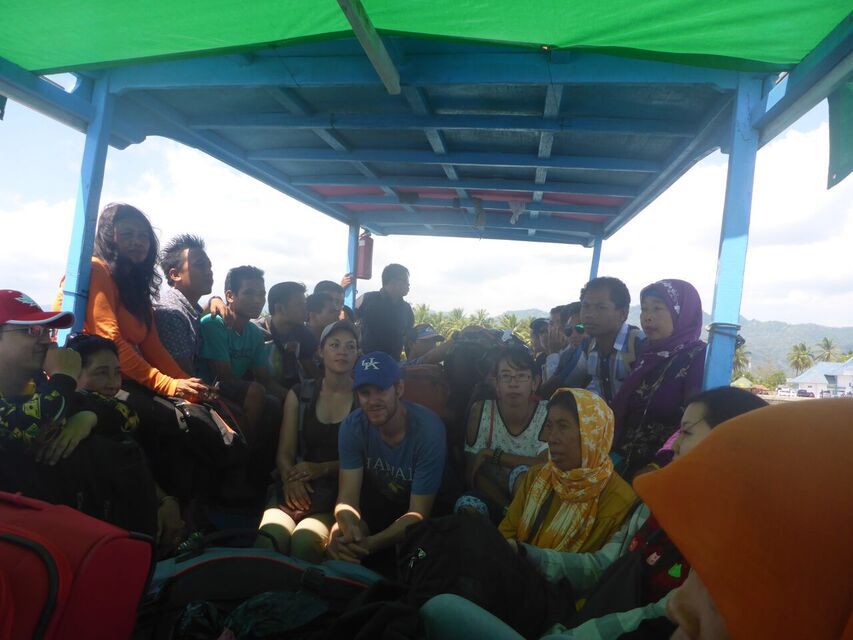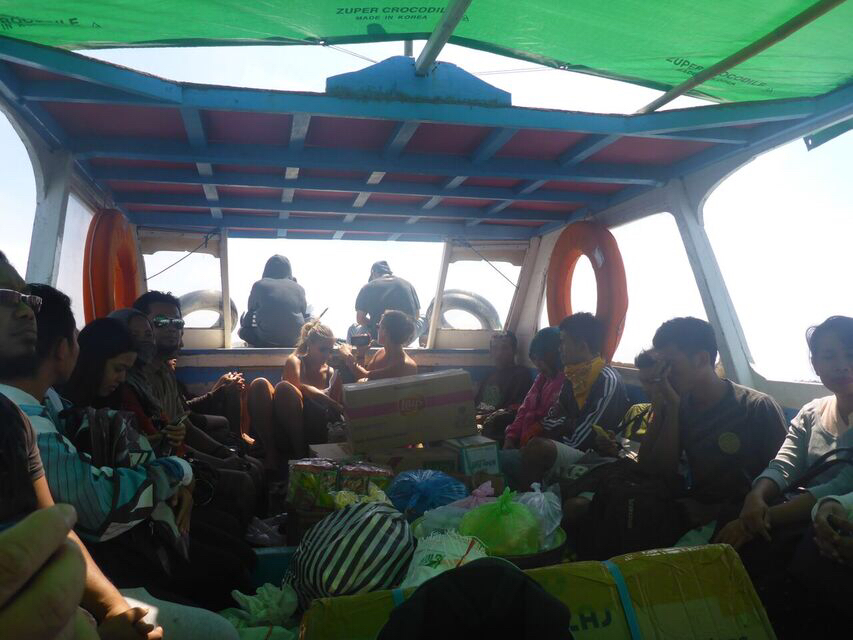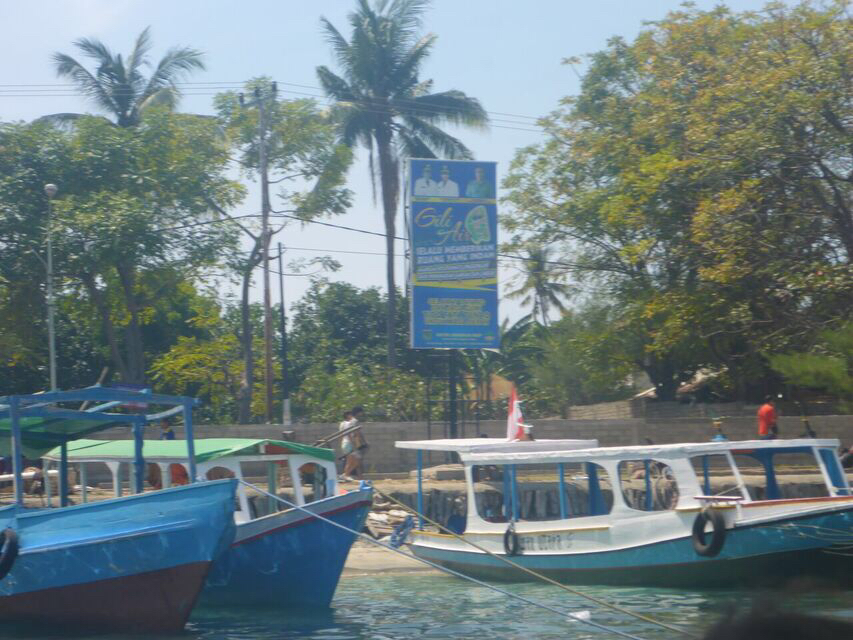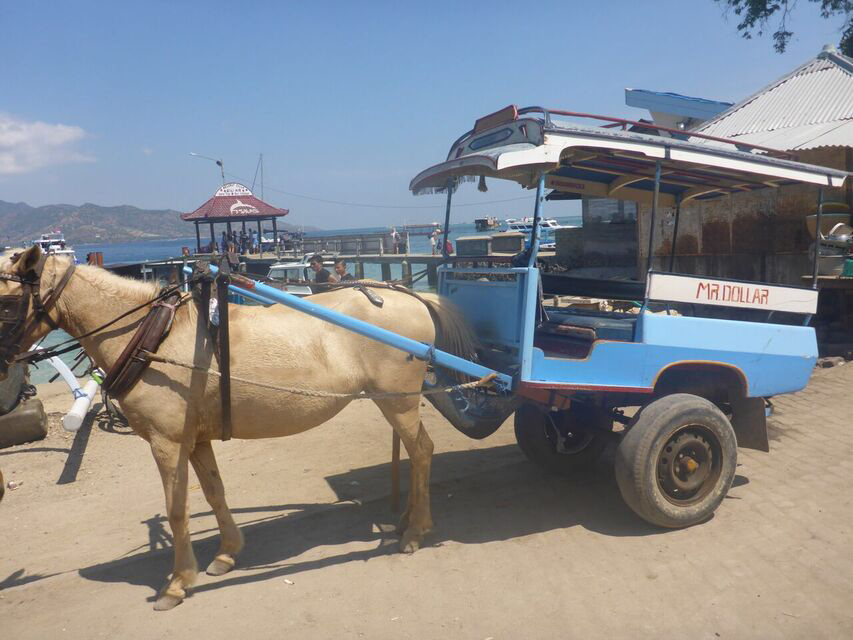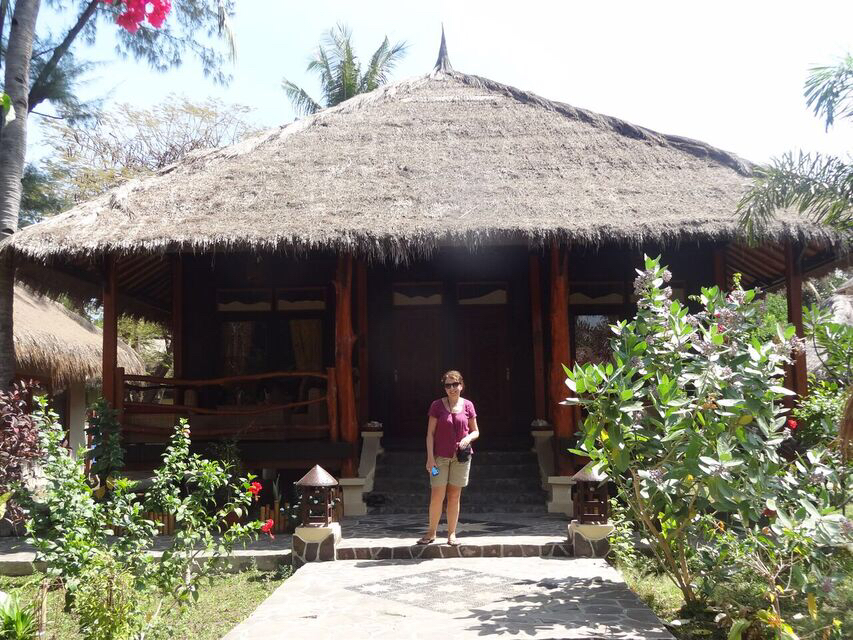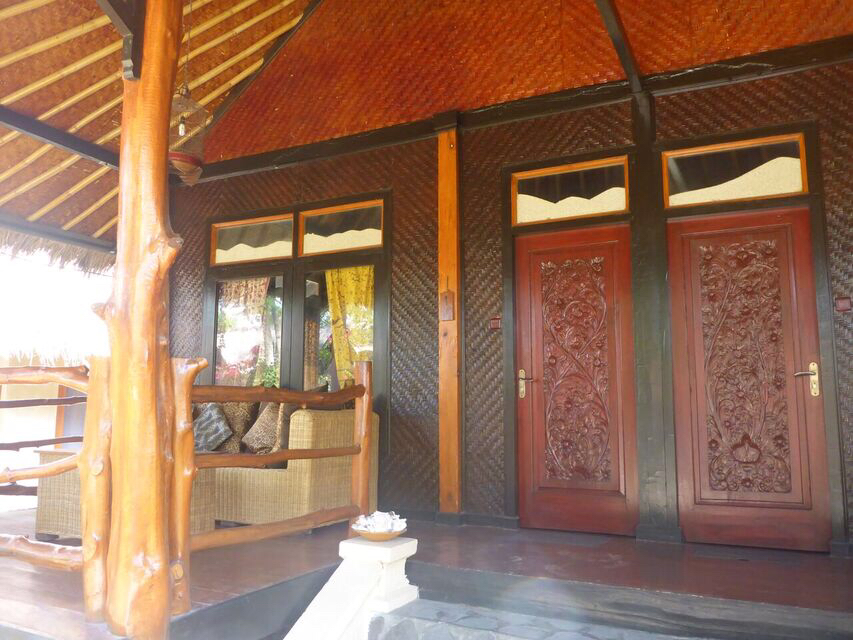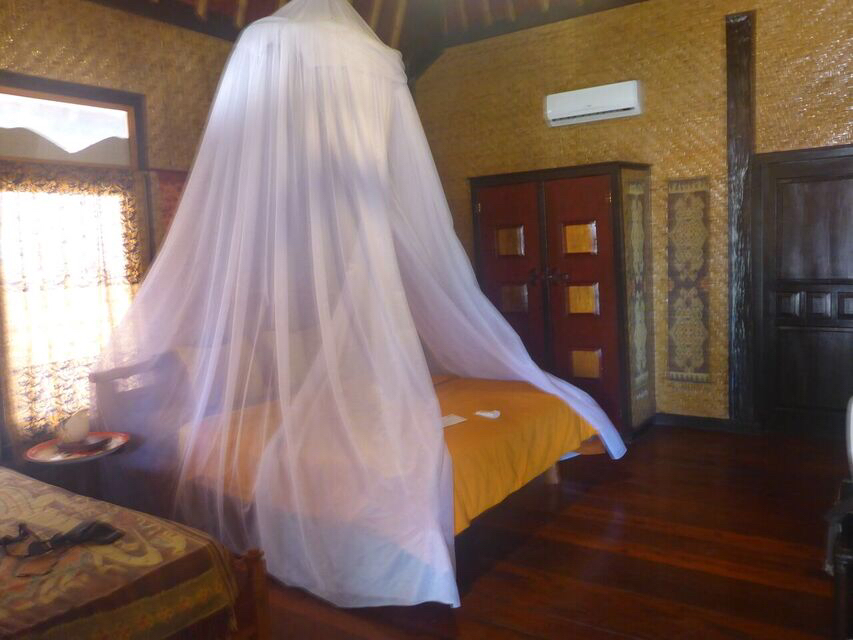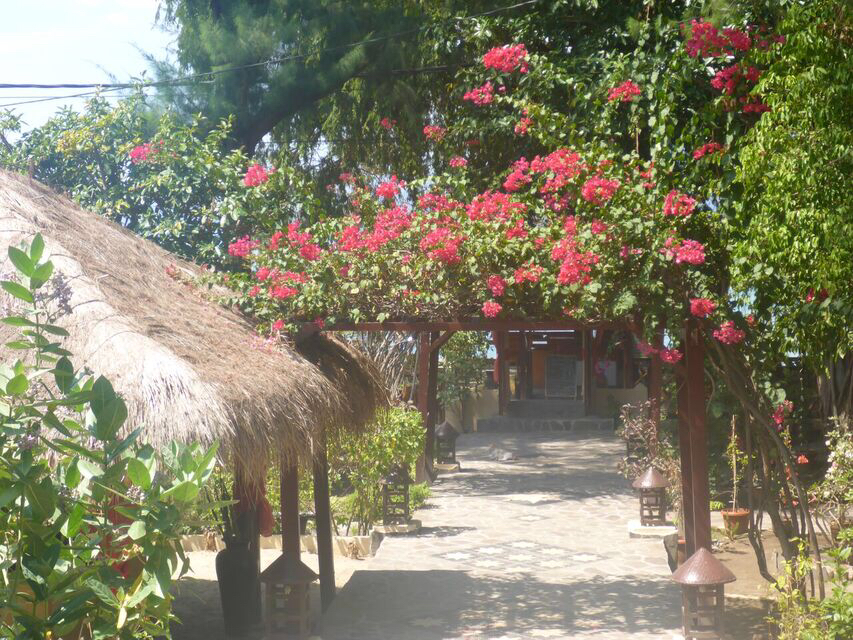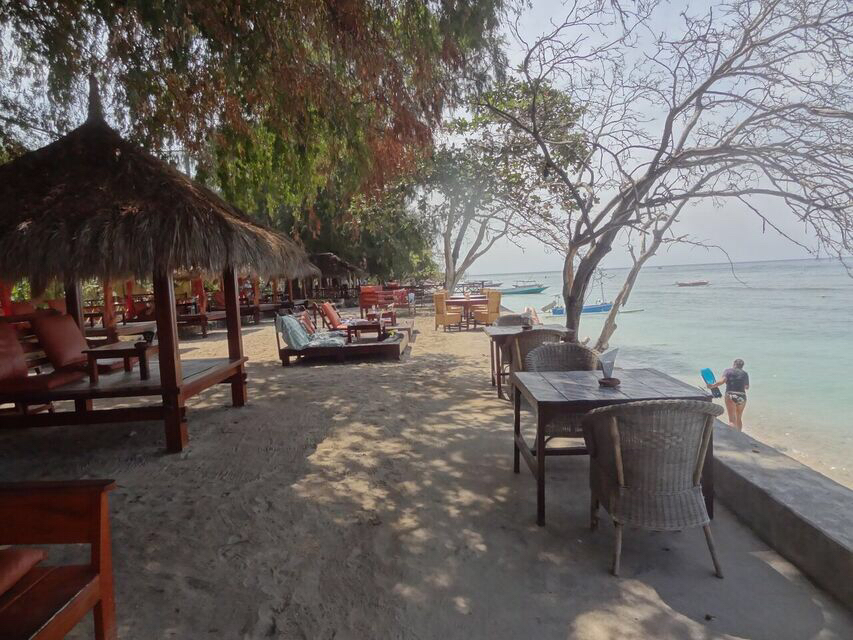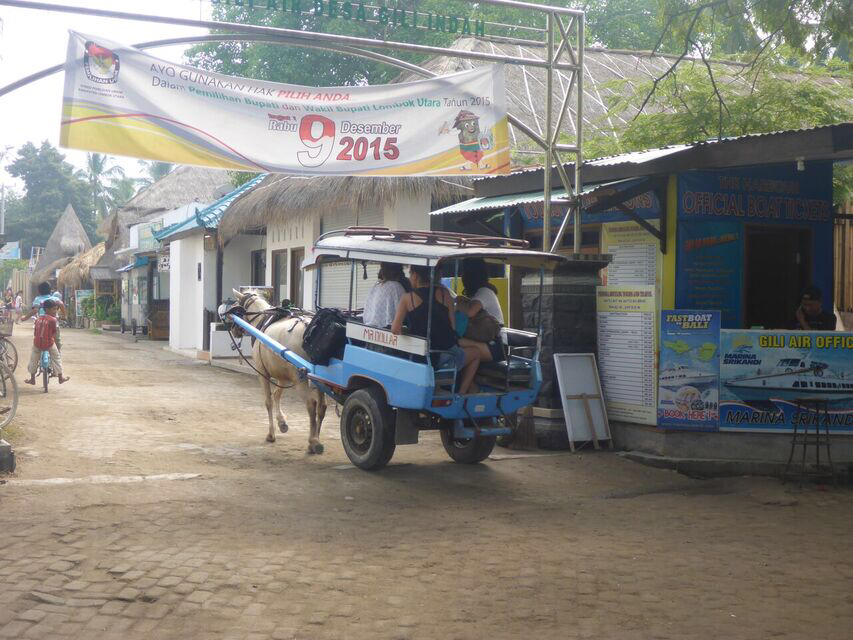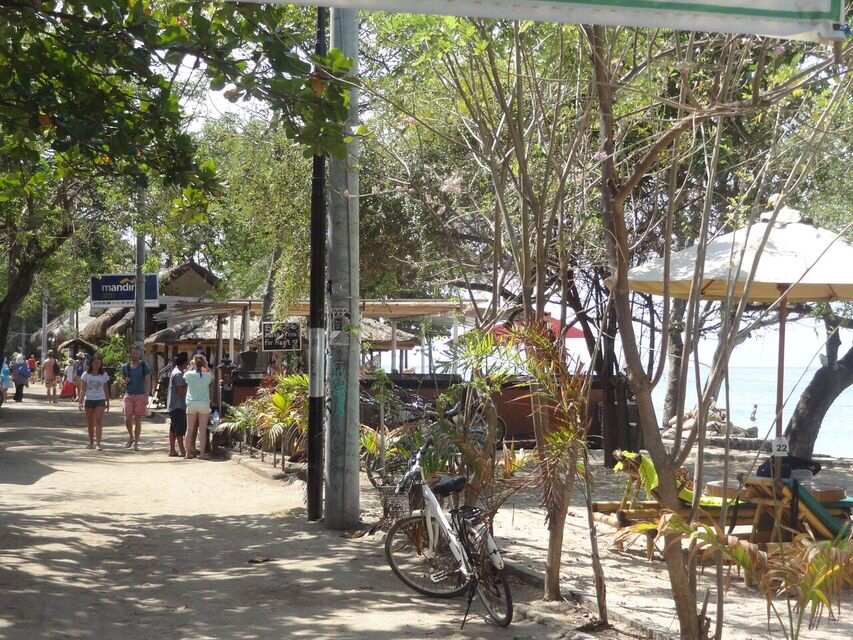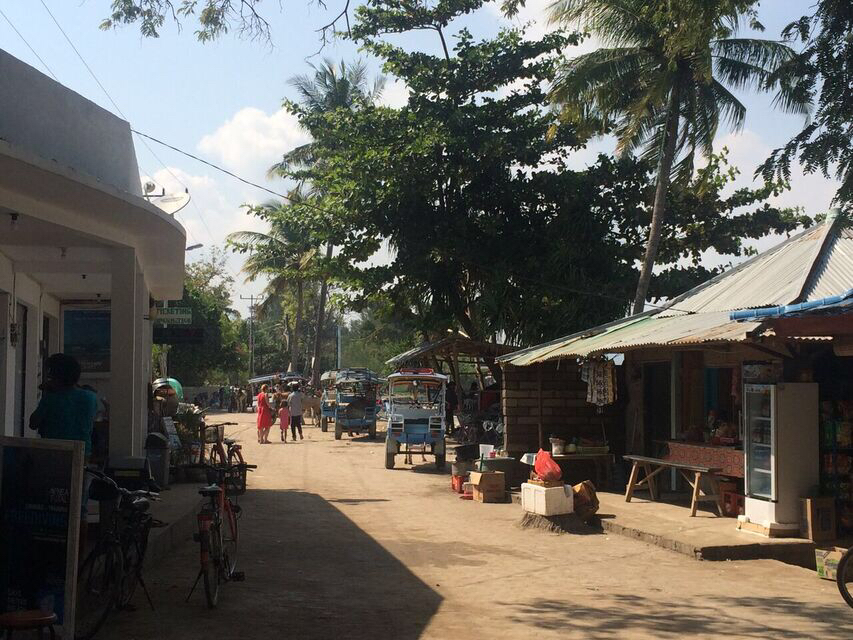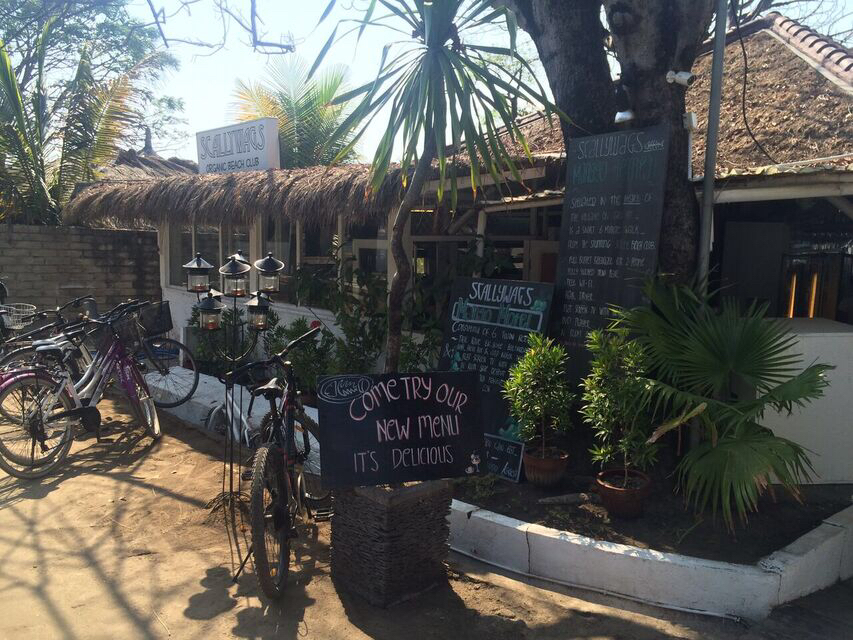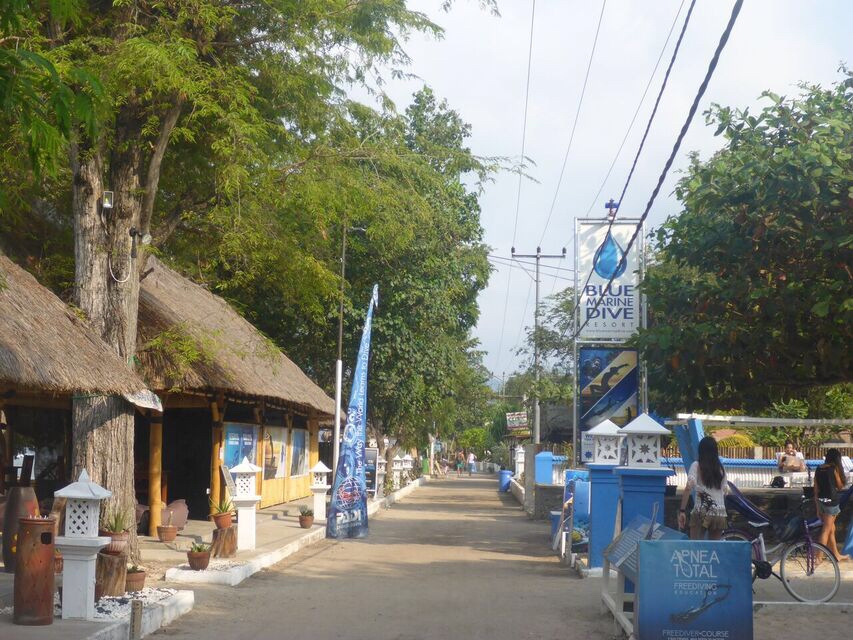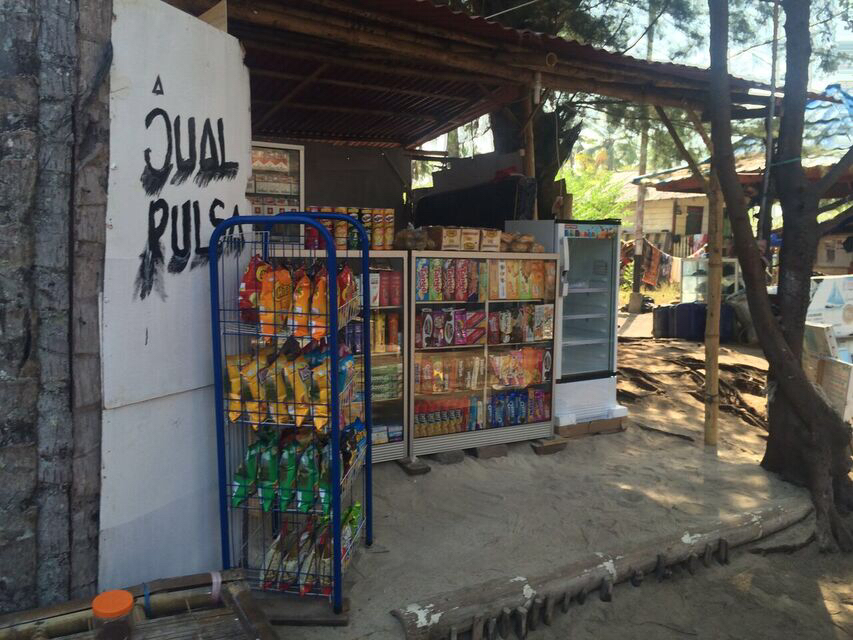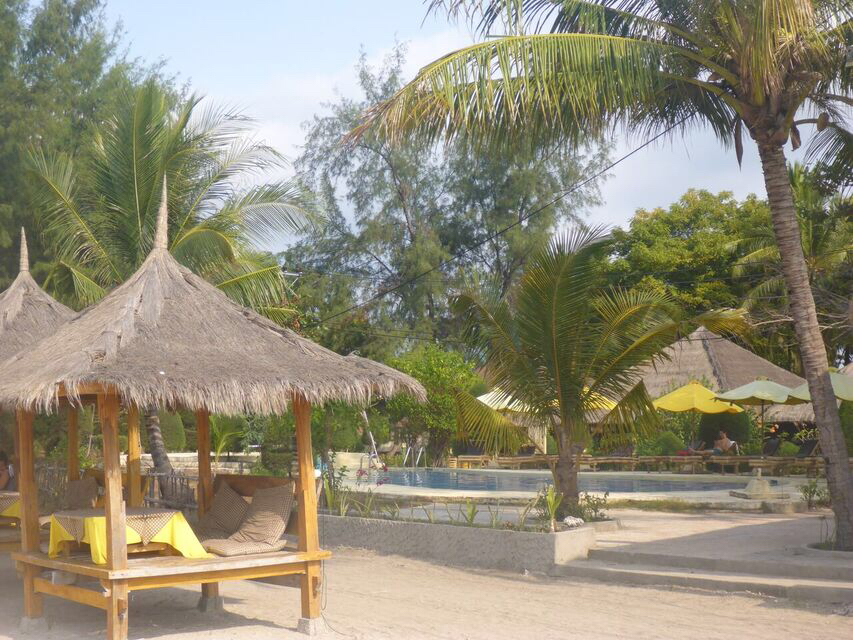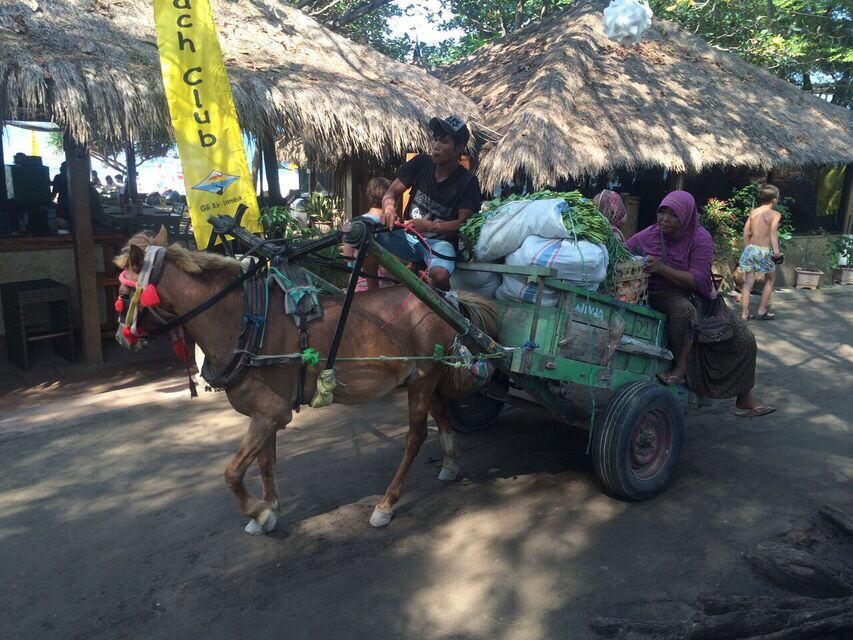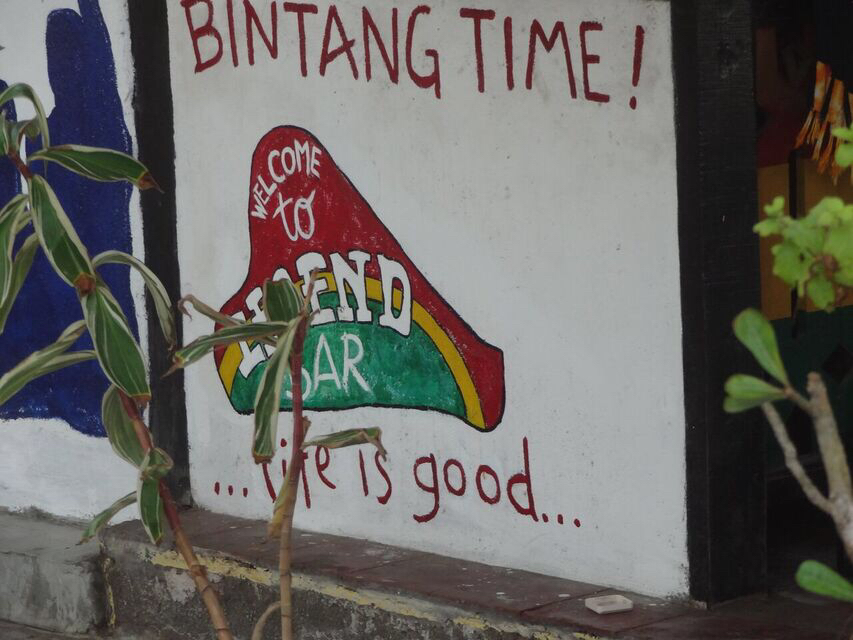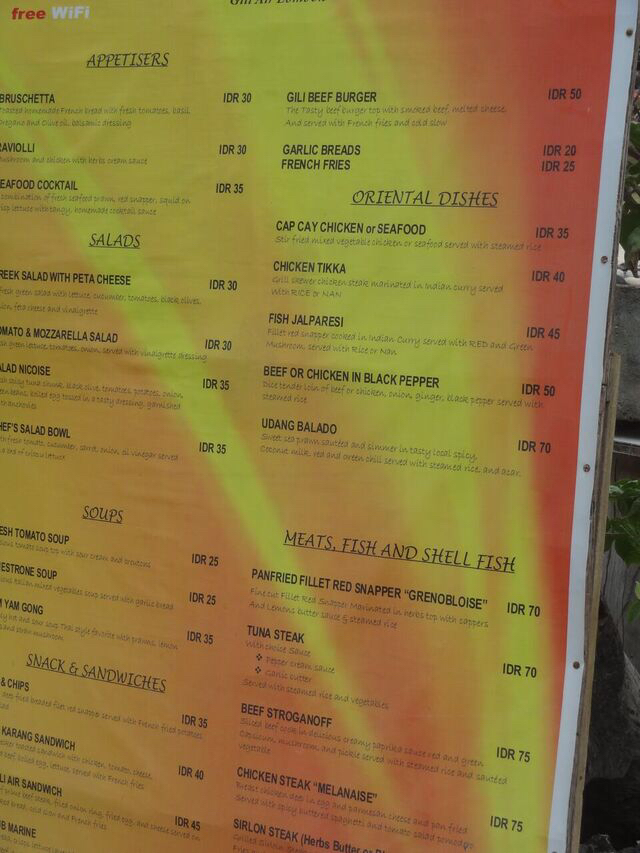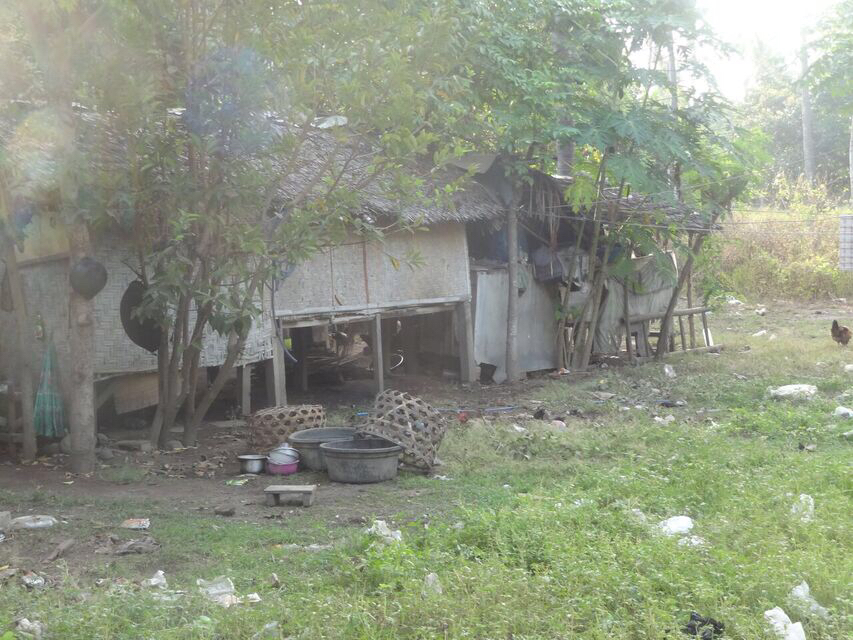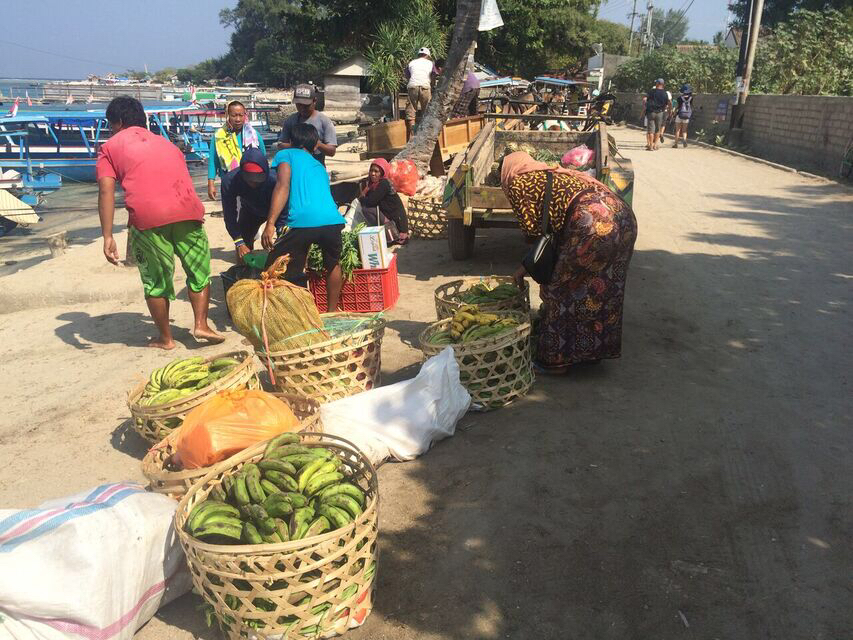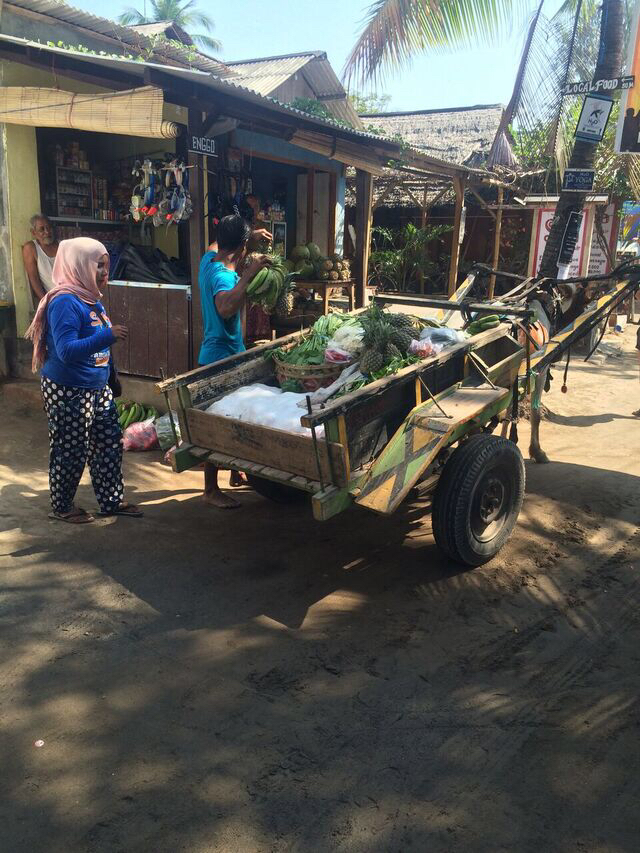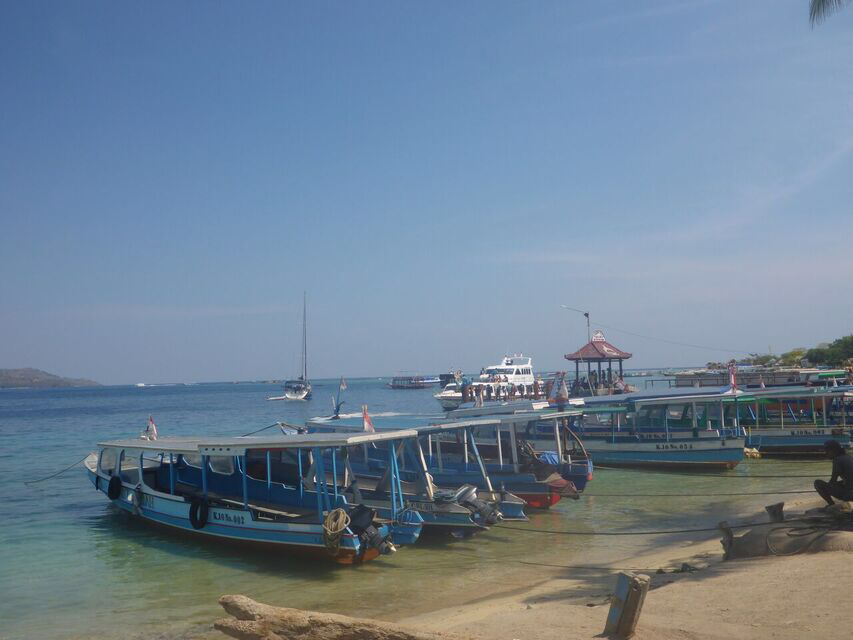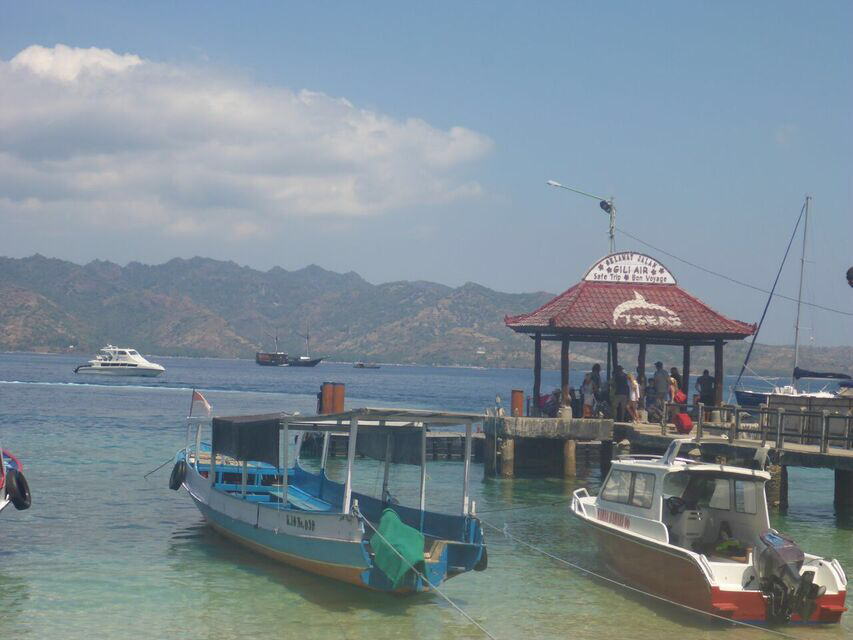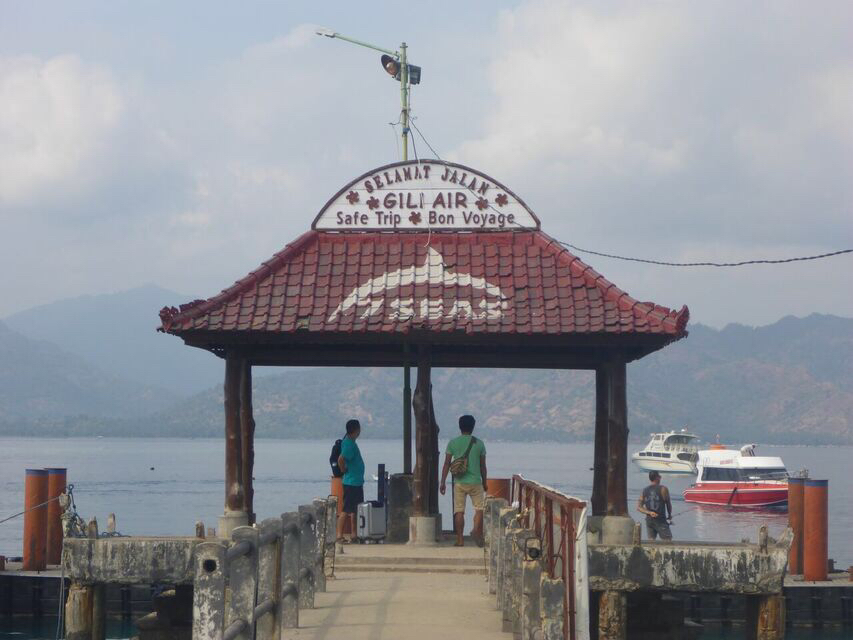 Kuta, Lombok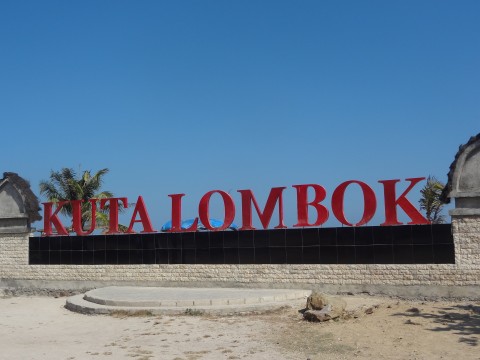 After 3 lovely days on Gili Air we returned to Bangsal Harbour to meet up with our driver Wayan. We had arranged to meet Wayan and then drive back to Lavinia Sunset Hotel to pick up our big bags (we had travelled to Gili Air with just back packs) and then south to Kuta. All went well and certainly no chance of Wayan getting lost – turns out he is buddies with Gemma and Made who run the Mimpi Manis Homestay where we would stay for four nights giving  us two full days.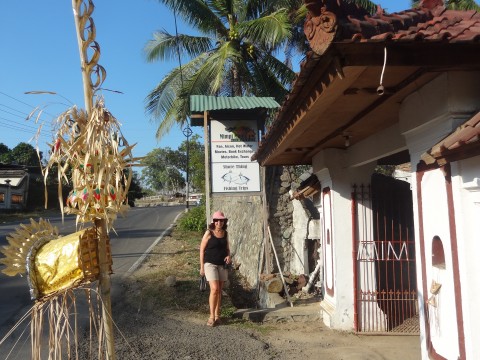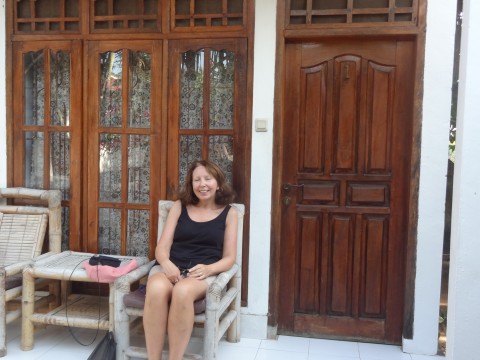 Kuta is a chill out place with spectacular pristine and largely empty white sand beaches with mountains coming right down to the coast making for some awesome scenery. It's  predominantly a  surfers destination but there's horse riding and fishing trips to be had.
The town itself is small consisting of a number of streets with dirt roads and no pavements  lined by predominantly bamboo and timber built warungs, restaurants and shops selling tourist tat, tee shirts, sarongs etc with a few travel shops selling tours and motor bike hire. The place is definitely undeveloped as far as tourism is concerned although there are a good few homestays and at least one quality hotel. Apparently there is a lot of land speculation going on and the likelihood is that the next 10 years will see a lot of development here. We heard from a few people that this is an area that has an edge to it and although we didn't have any bad experiences, we felt that edge ourselves and we were careful not to wander off  the main streets at night time  – that said none of the streets are  lit at night and so everywhere is dark. There are no taxis here (although plenty of people offering transport as always, but our hosts at Mimpi Manis kindly gave us free lifts whenever we wanted to go to the beach or into town for dinner and they also picked us up from town after dinner. Very nice folk –  Made is Balinese and his wife Gemma is English.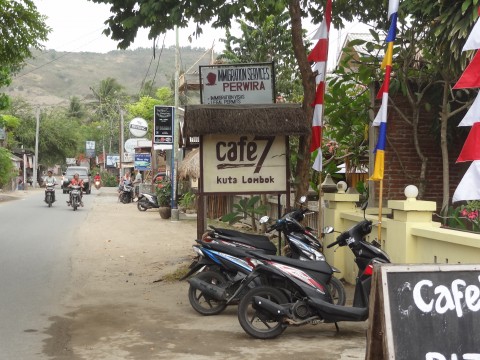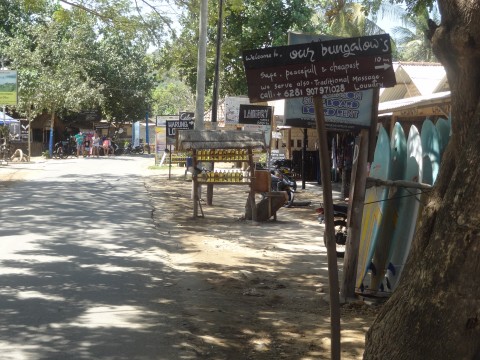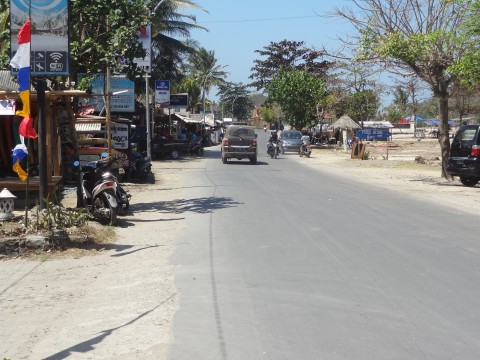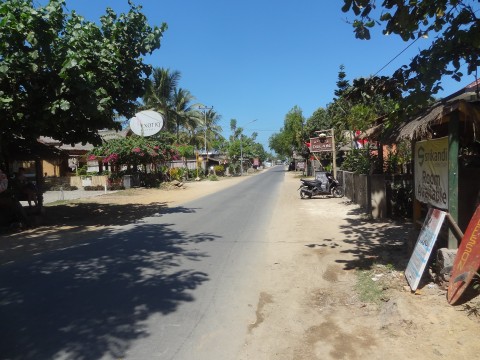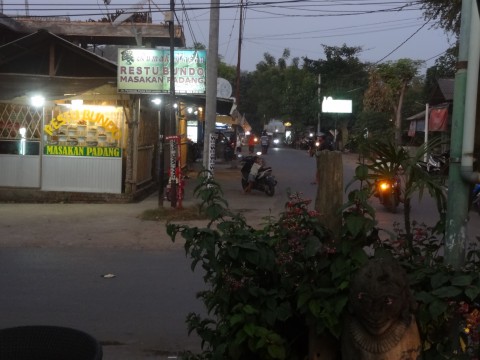 On arrival at Mimpi Manis, Made gave us a tour of the town pointing out the best restaurants and dropped us off in town late afternoon so that we could get a drink and dinner following which he kindly picked us up.
The following morning Gemma gave us a tour of the outlying area and showed us the best beaches. She dropped us off at Warung Turtle owned by friends where we were well looked after by Herman. We enjoyed some cold Bintangs and a lunch of chicken with red sauce which isn't on the menu but was recommended by Gemma and was excellent. I told Herman he needs to put it on there menu when he next re-prints!
Gemma picked us up around 5pm , returned us to the homestay for a shower and change and then dropped us into town for dinner. Great service !
Kuta Beach – this is Kuta's main beach where most of the accommodation and restaurants are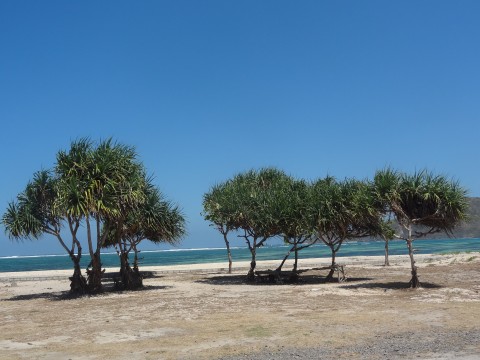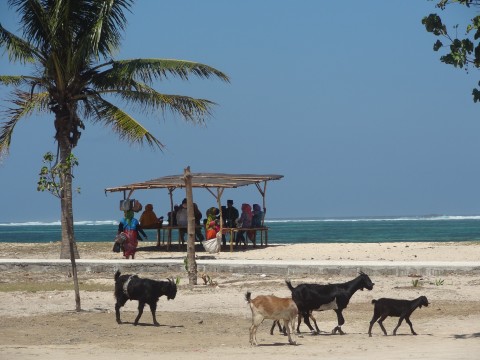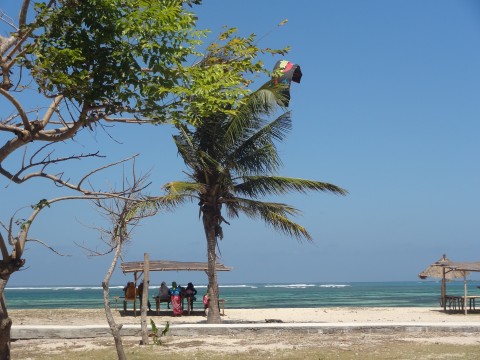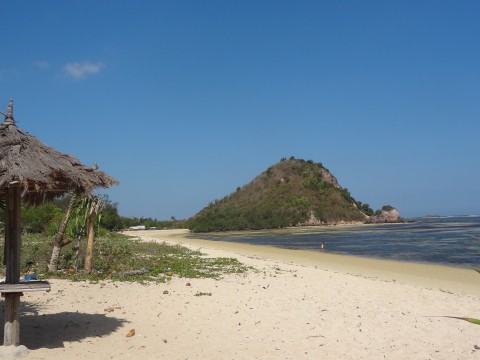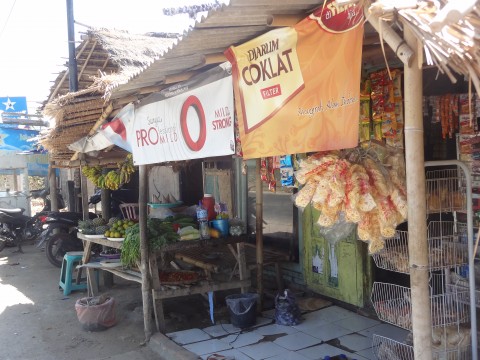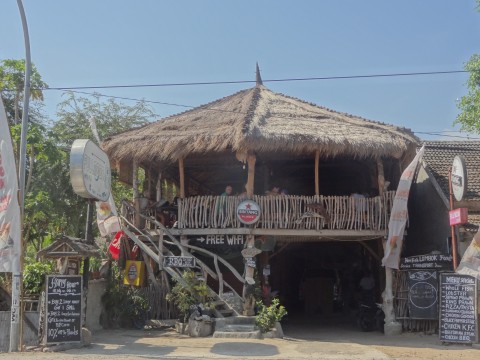 Our second full day was also spent on the beach at Warung Turtle. Gemma dropped us off again. A very pleasant lunch and afternoon on the beach  with a short walk over the nearby hills to get a look at some more fabulous beaches beyond. Gemma turned up a little bit earlier than planned and ended up having a beer and talked us through the thrills and spills of life in Lombok. She is great company and we really enjoyed our natters.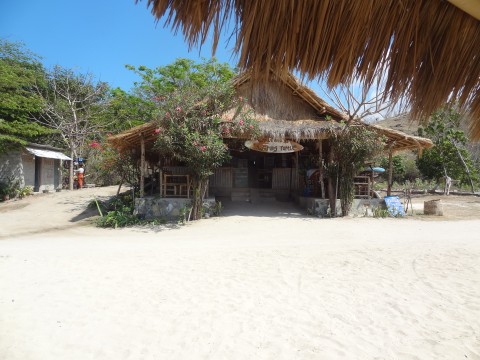 Warung Turtle is on Tanjung Aan, a huge bay with several beaches west of Kuta. The beaches are stunning and totally undeveloped except for a few bamboo sun shades and a warung here and there. Local women wander round selling their ridiculously cheap sarongs and tee shirts for a few pounds. Unfortunately, as ever, some areas were badly littered – its amazing where the rubbish comes from given very few tourists seem to make it here.
Pictures of Tanjung Aan and other beaches near Kuta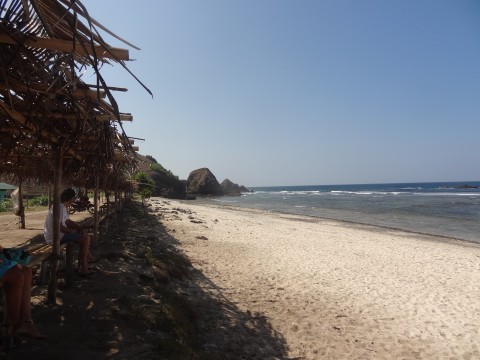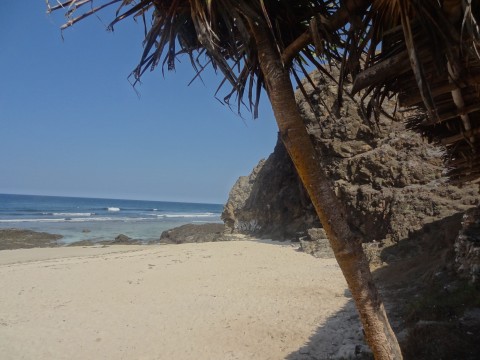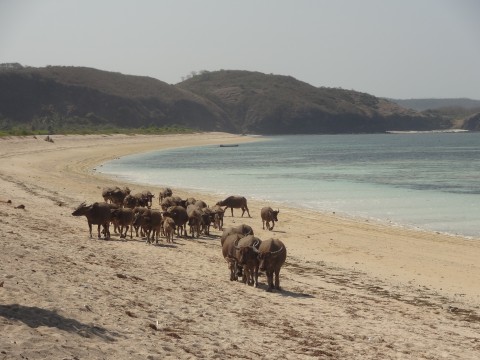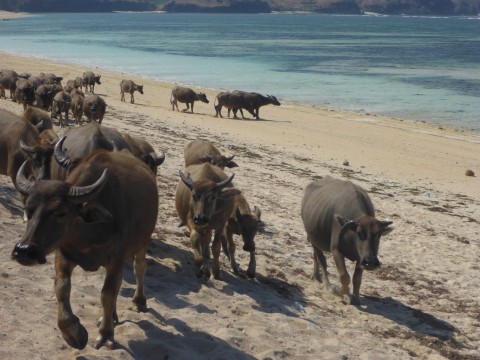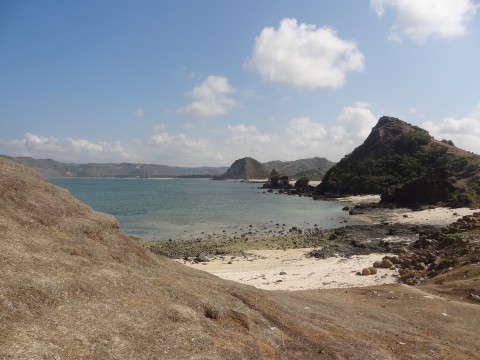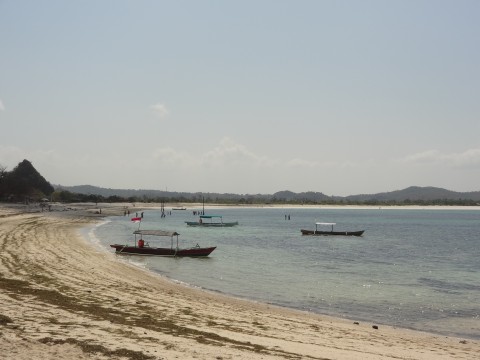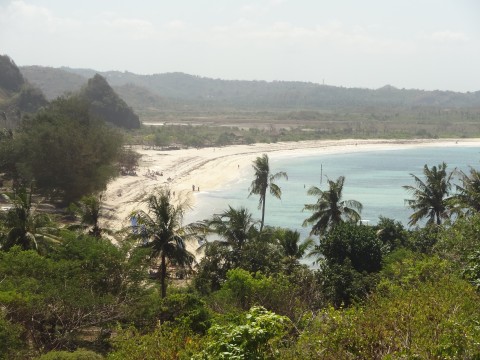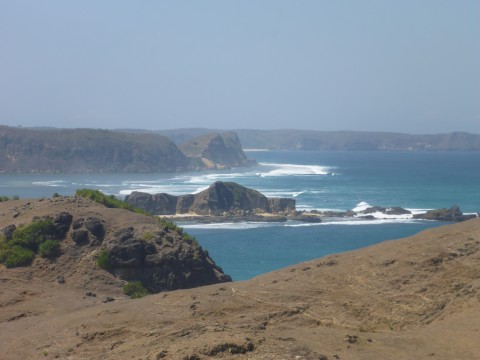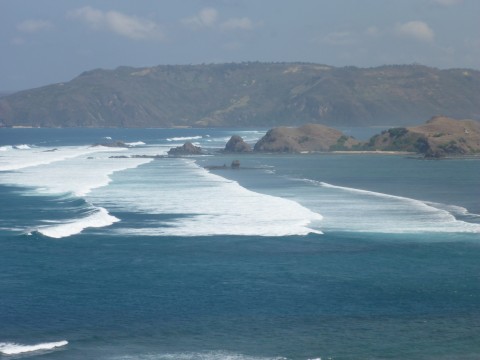 For  our final day we had arranged to go out fishing with Made but having got up and out and down to the boat around 6am, the trip was cancelled at the last minute due to high winds that started to build up suddenly. The local boats are not really built for long distance trips out to sea and certainly not in bad weather. I know that Made had a close escape in the past and he and the Captain, quite rightly, take no risks. I was gutted to say the least as Made's trips are highly recommended. We returned to the homestay and back to bed and then after breakfast, Ann and I went out to town for  a mooch around. We managed to spend the afternoon wandering around without buying everything and returned to town later for dinner at an excellent restaurant.
A few more pictures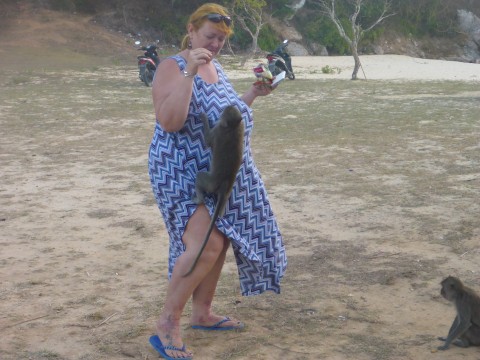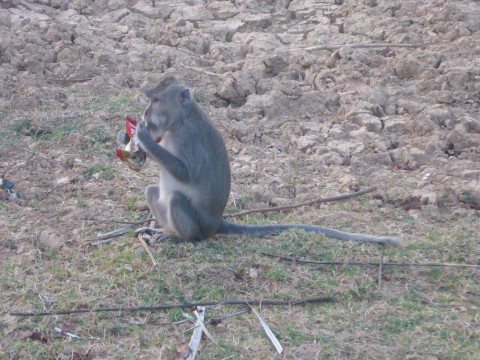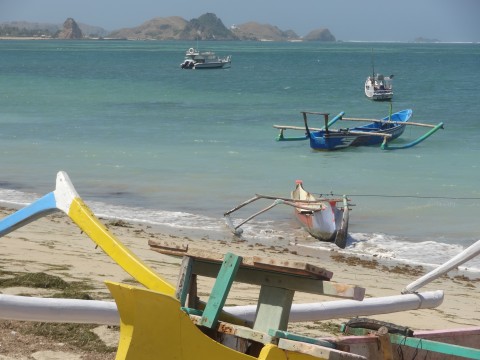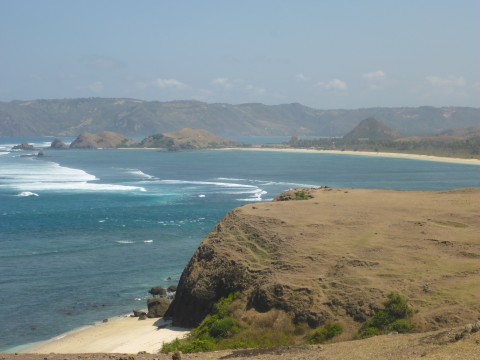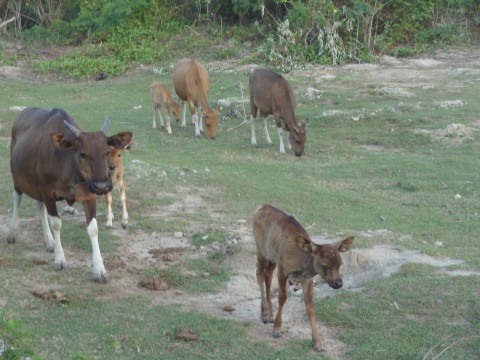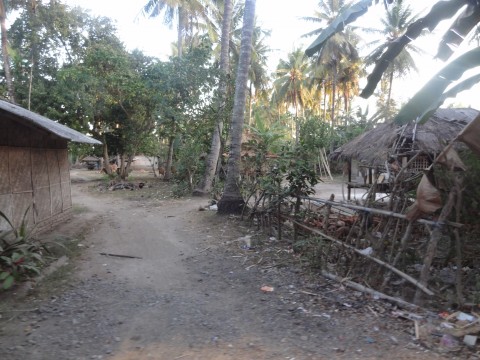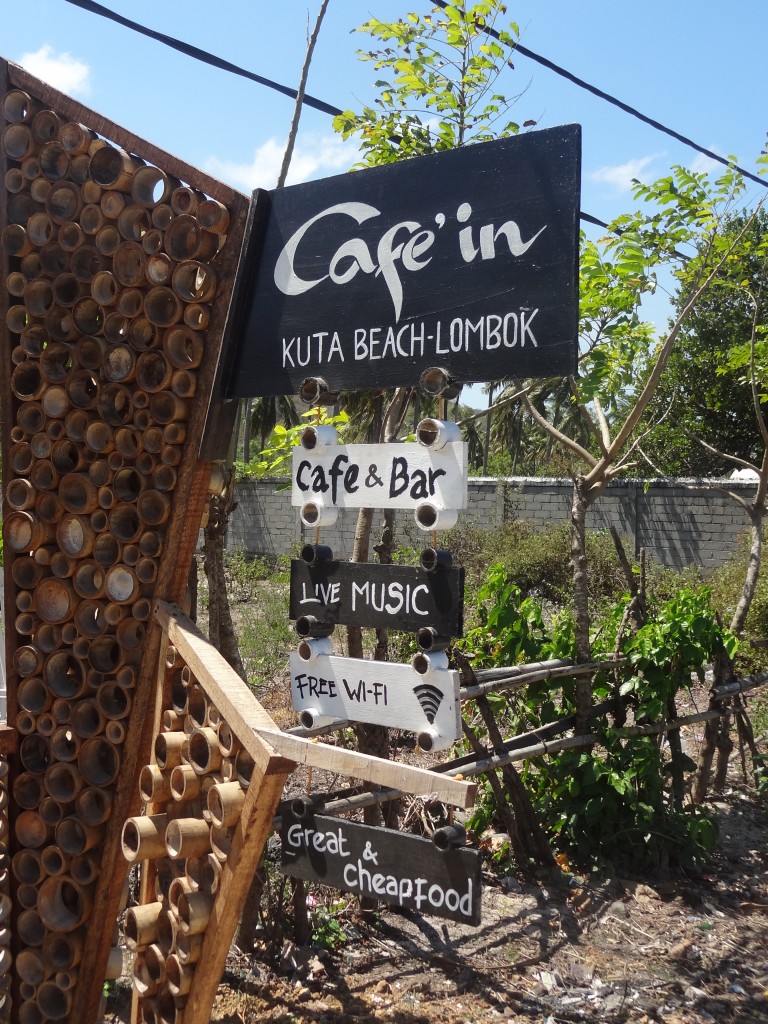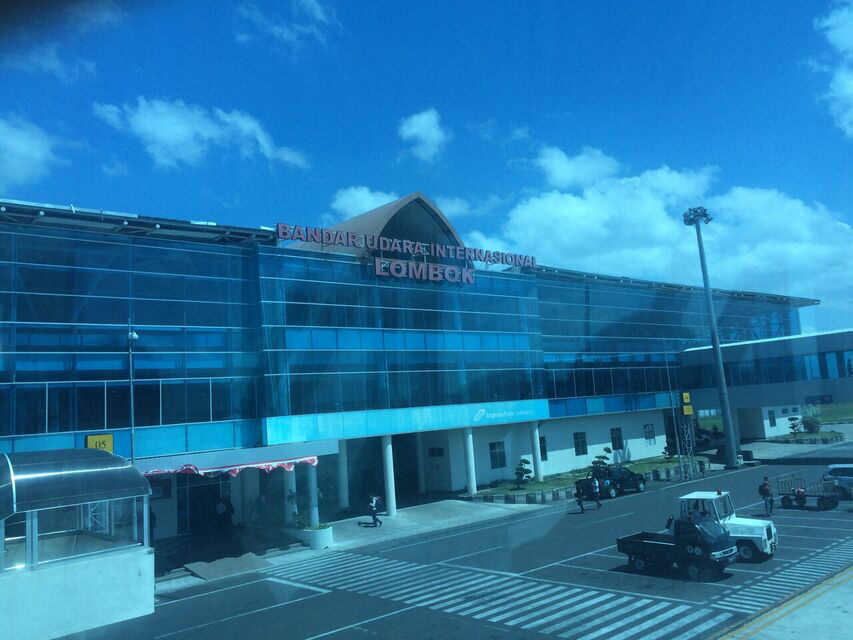 After a very restful and interesting few days in Kuta, we left to continue our travels to Malaysia on 13th August 2015. Next stop Kuala Lumpur.