INDONESIA
Flores is our first sortie into Indonesia so it's worth a few words of introduction to Indonesia itself. Here are a few facts :
The Republic of Indonesia is an archipelago of over 17,000 islands, over 10,000 of them inhabited.
Population is estimated at 255,000,000
Its capital and largest city is Jakarta with a population of around 10,000,000
There are around 300 distinct ethnic groups and over 700 languages and dialects
87% of the population is Muslim and around 10% is Christian
There are high levels of poverty with economic wealth gravitating towards  a central government based in Jakarta .
Environmental issues include large scale deforestation, much of it illegal, forest fires causing wide scale heavy smog, air pollution, traffic pollution and a general lack of  garbage removal
Alleged widescale corruption – the rich get richer and the poor remain poor
Indonesia began to be colonised by the Dutch in  the early 17th century
Japan occupied the country from 1942 to 1945
Indonesia declared independence in 1945 although it took 4 years before the Netherlanda agreed to relinquish its colony.
FLORES ISLAND
Flores is one of a string of Islands called Nusa Tenggara at the eastern end of the Indonesia archipelago which stretches from Bali to Timor. The island offers huge diversity of landscapes and cultures with a volcanic mountain range spanning the length of the island with no less than 14 active volcanoes and multicoloured crater lakes, fantastic beaches, amazing rice fields, Komodo dragons and animist rituals. Nusa Tenggara is otherwise known as the Lesser Sunda Islands.
The island has a long history but little is recorded and known about the place prior to missionaries and explorers arriving. The first settlers, long before Europeans, were Muslim fishermen from South Sulawesi who came to trade and take slaves but settled in various coastal areas. Portuguese settlers came in the 16th century and named the Island Cape of Flowers – Flores. The island was strategically significant for access to the Spice Islands in and the Portuguese were constantly under attack. They eventually were defeated by the Dutch  in 1769. Whilst the indigenous population were not exactly welcoming, the island was eventually subdued by the Dutch and a new administrative system was established. With a period of Japanese occupation during World War II, the Dutch remained until Indonesia became an independent nation in 1945.
The Portuguese influence is still very much in evidence with 85% of the population being Catholic and there are  many Catholic Churches around the Island. In the area occupied by Sikka people particularly, many of the population have Portuguese ancestors and have Portuguese names – such as our guide, Marleno Lopez. Much of the remaining 15% of the population is Muslim largely living in coastal regions, many of these people being descendants of those settlers who first came from Sulawesi.
Notwithstanding a largely Catholic population, many of these people retain traditional belief systems and effectively have 2 religions. Also, for these people, dead ancestors remain a driving force and need to be appeased with ceremonies and offerings.
There are five ethnic groups on the island with many sub-groups. A difficult mountainous terrain that made travel and communication between communities difficult or impossible until quite recently resulted in some remarkable differences in the various villages and towns to be found here. Probably the most significant is language in that there are 5 languages and even more dialects spoken on this island.
It's amazing that one can travel very short distances from one town to another and find that a different language or dialect is spoken. As elsewhere in Indonesia, where there is a language difference between the people, Barhasa Indonesian is the common language used by all to communicate with each other.
There are also many differences in the local traditions from place to place with different communities having their own sacred rituals, songs and dance. For example, there are  people still living in traditional villages in houses built of bamboo, timber and thatch and other materials gathered from the land. Visiting these places is like being on a David Attenborough film set but these are not tourist attractions although in some cases the life style is maintained with official support to ensure these traditional ways are not lost. The people living in these villages are subsistence farmers who live by growing their own produce for their own consumption but also bartering and trading with other people and villages to satisfy their needs. The community supports itself and people look after each other and share resources as necessary and of necessity in view of the high levels of poverty found here and everywhere else we visited in Indonesia.
We visited 2 traditional local villages and whilst village life apparently goes on as it has for hundreds or thousands of years, it is inevitably changing with children now going to government schools locally and further afield. As the children grow, become educated and leave to seek work elsewhere, there must be a profound effect on the villages as it will leave mainly the older people and very young people to continue village life. Nevertheless, for now at least, the local languages and traditions are still maintained, being passed down generation to generation.
Each village has a Leader and Elders who will make decisions on significant issues in or affecting the village and there will be regular meetings involving the entire village on occasions. Each village community will have its own way of giving thanks to their ancestors, celebrating a new growing season, harvest, wedding, birth, funeral etc. Often  this will involve a sacrifice of some kind which might be a water buffalo, a pig or a rooster. The beast to be sacrificed will be provided by one of the village families and it will be a matter of honour for that family. It will be a decision for the Leader/Elders as to which family has the honour  but a water buffalo is an expensive animal and so the honour is spread around the village over the years and more often than not the cost will also be shared.
Just another example of different traditions can be seen in relation to marriages. Each community has its own tradition regarding the wedding dowry that must be provided by the groom to a bride's family. In some villages a dowry of pigs will be required, in others water buffalo or even horses. Several of these animals might be required according to means and in each case there might well be a supplementary requirement of a sack or two of rice; in other cases, only a token dowry will be provided due to lack of funds. Again the cost of animals is often beyond individuals  and extended families will help out by providing an animal or two here and there with no doubt a reciprocal gift to be made to others in the extended family when the time comes. Husbands will generally move in with the wife's family following the marriage with often several generations living under the same roof until such time as the the new family have the wherewithal to buy land and build their own house or until they inherit from someone. Marriages will usually be mixed in that bride and groom will  be from different villages thus avoiding in-breeding.
Traditions such as these still apply even to those people living in towns having moved away from the traditional villages and we have since came across similar traditions in different parts of Indonesia. This really is a fascinating place. There is just so much of interest here that I could go on for ever – but I won't. If interested have a look at
Now that you know as much as us about Flores, we should explain that when starting to research where in Asia we would like to travel, we decided that we definitely wanted to go to the tourist hotspots such as Bali but we also wanted to get to some lesser touristy places as we had done when visiting Vietnam in 2013.
Whilst trawling the internet for ideas, I came across trip reports by a few people  who had  travelled over several days through Flores travelling from East to West to Labuan Bajo and Komodo Island. The more we researched this journey and this area of Nusa Tenggara the more we liked the idea of doing the trip ourselves. There is a tourist trail through these islands so we would hardly be pioneers but it would definitely be interesting to travel through villages and countryside that are still off the main tourist trail.
Looking at the map when we first started planning, I realised that  Timor isn't a million miles north of Darwin and so Plan A was that we would travel Darwin to East Timor and from there by ferries and overland across a number of islands eventually arriving at Bali.
Unfortunately after more digging around it became apparent that there are no longer any flights from Darwin to East Timor nor are there any ferries. It is possible to get to Timor West and from there to East Timor but we discounted that as a number of  travel blogs we read didn't make that sound an easy way to go.
Plan B was  to make our way to Maumere in the East of Flores and then travel west, via a number of towns and villages to Labuan Bajo and from there by boat to Rinca Island for snorkelling and to see Komodo  dragons which are apparently more prolific in number than they are on Komodo itself. I contacted  Marleno Lopez a guide based in Maumere and we agreed an itinerary and a price for him to guide us with a car and driver for our exclusive service over a total of 7 days.
So on 19 July 2015, we flew from Australia to Bali for an onward flight to Maumere the following morning to meet up with Marleno.
The Air Asia flight to Bali was fine. We landed around 9.30 pm and went through to the VISA area where we were ushered quickly through to passport control as apparently Visa on Arrival (VOA) had recently changed for UK citizens and now  gives 30 days in Indonesia  free. Ann was quickly through passport control but I went to a different officer who quizzed me on where I was going and for how long. Having established I would leave Indonesia not from Bali but from Lombok, I was sent back to buy a visa as, according to the officer, we would otherwise have big problems leaving Lombok later. We duly bought our visas at USD35 .
Once through passport control we went to pick up our luggage and were quickly through Customs and into the thronging mass that was the Arrivals Hall. We found a Simpati telecoms desk and  bought a SIM card to enable us to make phone calls and texts with some data for surfing.
We were to stay our one night in Bali at the Harris Hotel and we soon found the hotel's
driver waiting for us and were whisked away to the hotel which is literally within 5 minutes of the airport. Once checked in we were in the bar for our first Bintang within 20 minutes of leaving the airport.
Back to our room, with good internet, we spent an hour or so doing stuff on the computer and then got ready to retire. We were up and about around 9 am the next morning for a leisurely breakfast before we went back to the airport to catch our Lion Air flight to Maumere. For our first breakfast in Indonesia I went  local with rice, noodles and chicken whilst Ann played it safe with croissant and fruit. All very nice.
Back to Bali Airport we  were soon boarding the plane to Maumere. It was a prop plane but it turned out to be a very pleasant flight of around 2 hours.
Maumere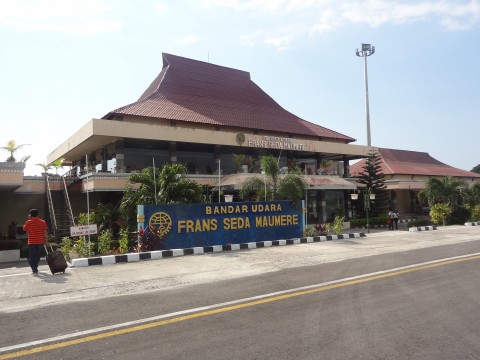 Maumere is one of those tiny airports that you love simply because you tend to get through them very quickly. We had our bags within 5 minutes and dodged the throng of taxi drivers touting for business to look for our driver from Sea World Club Hotel bearing a board with our name. He wasn't to be seen but we did spot a Sea World sign with someone else's name on it so we made a bee line for him. It turned out that the wrong names were on the board but no worries, the guy showed us to his car and off we went. A short but interesting drive from the airport through packed  local  street markets selling vegetables, fish, tea shirts, hardware etc got us to Sea World Club in around 20 minutes.
The long and scruffy driveway to Sea World Club didn't look promising but it improved when we got to the resort itself with the timber and bamboo built reception office, restaurant and beach bungalows surrounded by bougainvillea and other beautiful flowering trees and bushes.
We introduced ourselves to the Receptionist but there seemed to be some confusion over our booking and she needed our copies of the booking confirmation to resolve it. Unfortunately that wasn't the end of the confusion as we were given a standard $45 bungalow instead of the $80 Beach Suite we had booked. Eventually things were resolved and we were given, for our first night only, a premium bungalow being the only superior bungalow available. We would move into the Beach Suite we had actually booked the following day. All was good.
A few pictures of our bungalow and the resort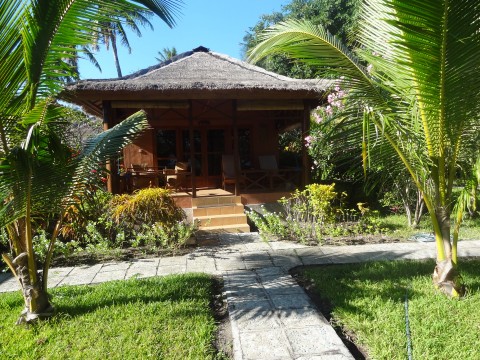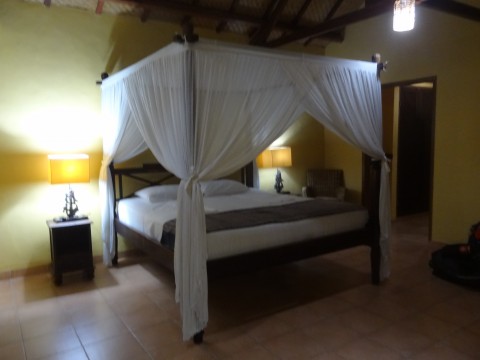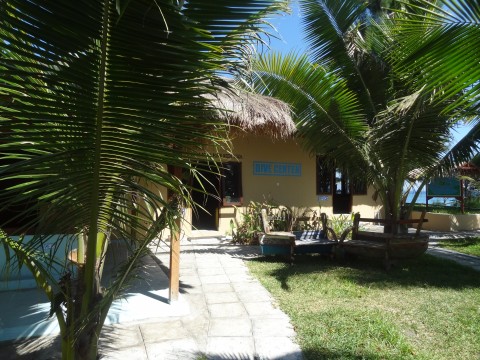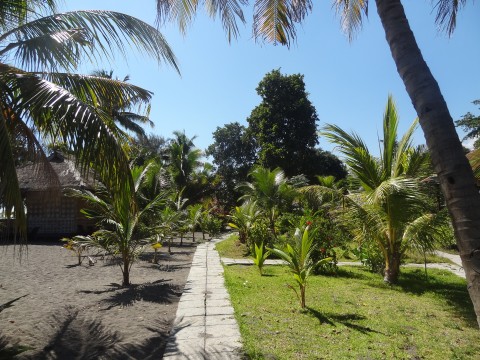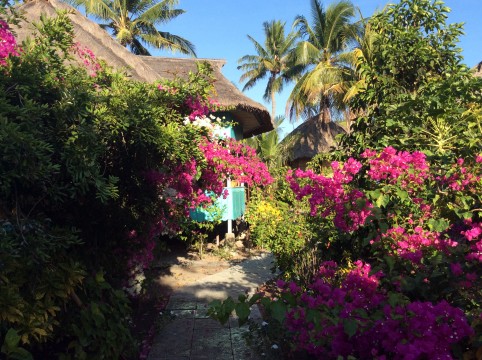 Unlike many other beaches we subsequently came across in Indonesia, the beach at Maumere was totally undeveloped and clean.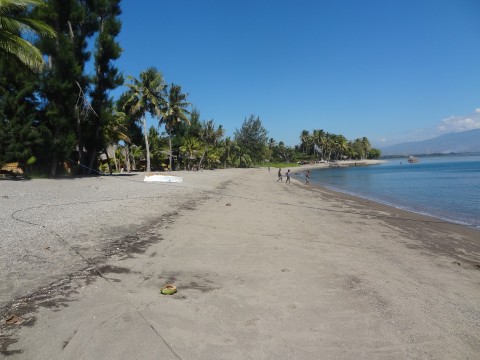 Sea World Club is a dive resort. Accommodation is  of mixed vintage with some bungalows older than others. Our unit was directly on the beach and was concrete and timber  built with a thatched roof with a table and chairs at the front on a shaded patio with a fan. It had two rooms, bedroom and bathroom. The bedroom was nicely kitted out with comfy king sized four poster bed with mosquito net, two easy chairs, wardrobe, dressing table and chest of drawers. A kettle and fridge were provided along with an electronic mozzy eradicator and the room had an efficient air-con unit and fan.
The bathroom wasn't quite so good with an old bath with shower fixed loosely to the wall over it. Hot water was provided by a small combi type boiler. The boiler was of indeterminate vintage but it was rusting and at first appeared to be not working but Ann quickly sussed that to have hot water to the bath/shower, the hot tap to the hand basin had to be turned on and left on! We had little doubt we would come across worse bathrooms during our travels.
On that first day of our visit to Sea World we spent the last couple of hours of daylight on the beach. This a lovely long beach of volcanic grey sand around a bay lined with coconut trees. The beach is totally undeveloped. The water is crystal clear and Ann had a swim whilst I had a wander around.
This is only a small resort and there was only a handful of tourists around that afternoon but near to us was a group of  local kids who were trawling for fish. Two kids set off from the beach in a long boat and dropped a long net as they rowed out to sea. After 75 yards or so they turned and rowed back to shore still dropping the net so that it formed a semi-circle. There is a long rope either end of the net and a group of kids at each end pulled the rope in to draw the net in and trap the fish in the small mesh. The picture below shows the end result – a catch of sardines  which the kids would pull from the net and throw into a hollow in the sand to stop them escaping. The fish would then be threaded through the gills onto short lengths of "string" made from coconut shell fibre and taken off either for Mum to cook or to the local market to sell.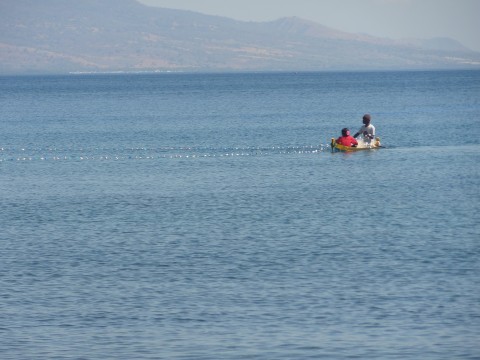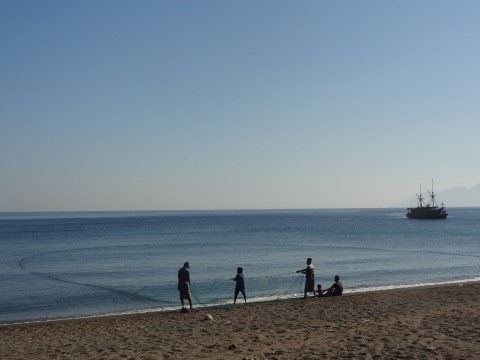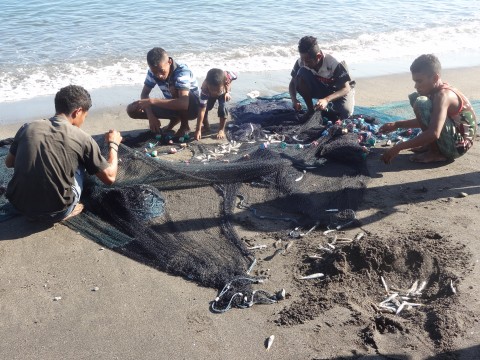 We could see another group of kids doing the same thing further along the beach and the exercise would be repeated a few times during each day with the last one being at dusk – this last trawl would be completed in darkness by torchlight right in front of our bungalow. The one pictured below also produced very few fish.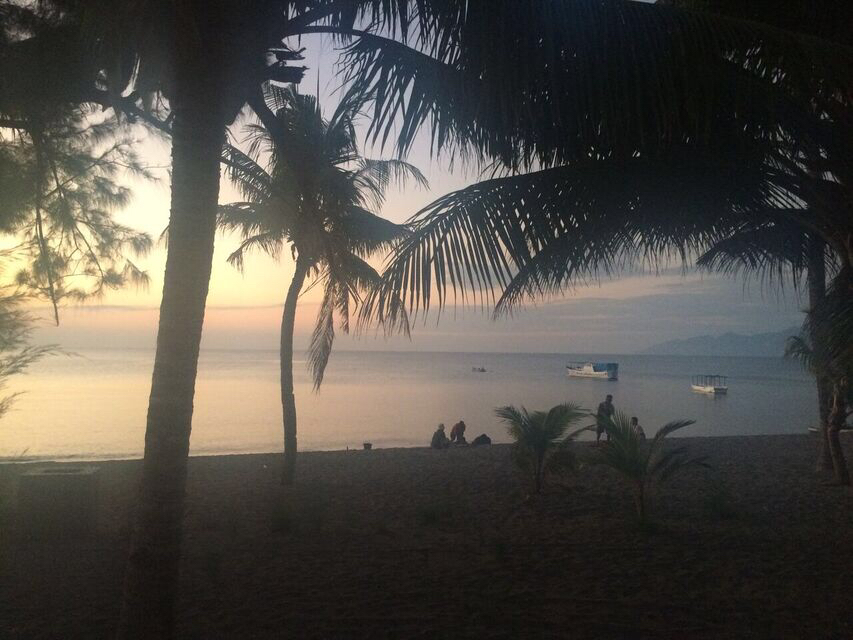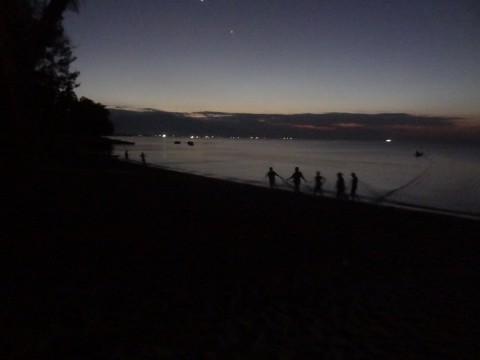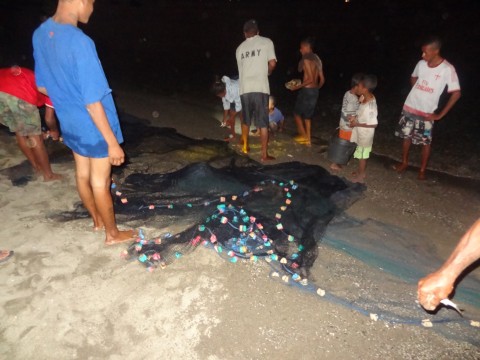 A much better catch two days later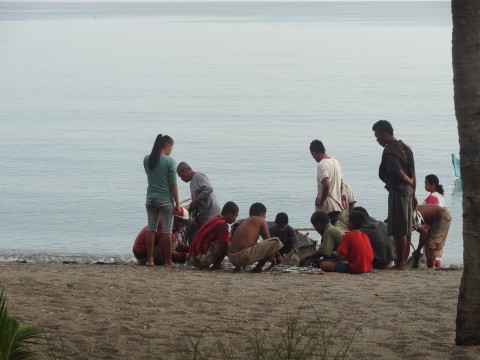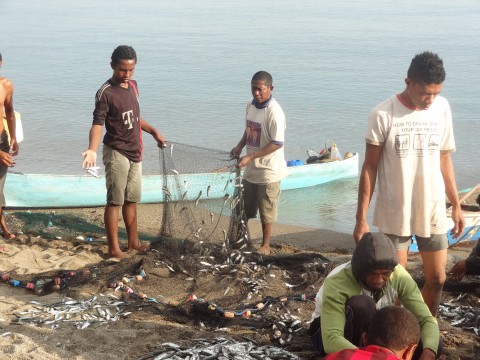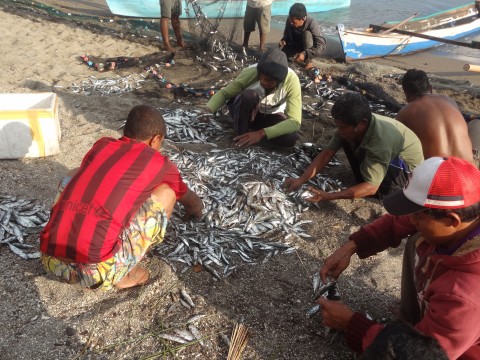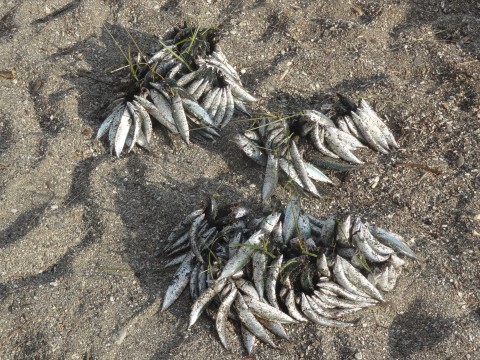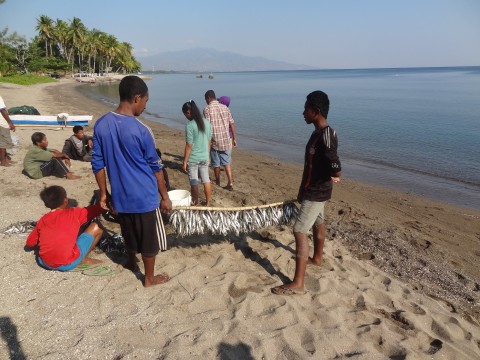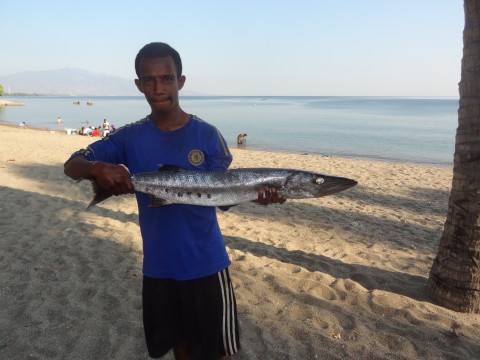 Early on our first evening at Sea World, as we had just got ready for dinner, we heard someone calling our name from outside and opened the door to meet our guide Marleno Lopez for the first time. He had called just to say hello, introduce himself and to make sure we were all set for our trip. This was Monday and we had arranged to start our trip with him on Friday but before then, on Wednesday, we were to go out with him to see some local sights around Maumere.
We dined on fish curry and sea food kebabs on this first evening. We have had worse food but it was a tad disappointing and we had to remind ourselves that we weren't there for the food. A couple of G&Ts and a few Bintang beers later, we agreed the food perhaps wasn't so bad…..
Our first full day at Sea World Club started with breakfast at 9 am, another reminder that we weren't just here for the food – pancakes and omelettes made to order with options of rice, noodles, bread, cake and fruit. There was also a platter of thinly cut smoked marlin which was actually very good – as was the coffee. Hardly a feast but we would have worse…
The rest of the day was a lazy one spent on the beach swimming, reading and researching accommodation for later in the trip. WIFI here is poor but to be fair they don't suggest otherwise and at least there is a reasonable  signal to be had in the restaurant or in the office good enough for email and surfing the web.
Dinner on our second night was much better. There had been a lot of new arrivals during the day and a buffet had been laid on. The food was varied and actually very good and a group of musicians, Sicka Akoustica, comprising three guitarists turned up to play a great mix of local and western music to a largely disinterested, mostly German and Dutch audience. Ann and I were the last to leave. We really enjoyed the band which was excellent but we also wanted to  make the most of the wifi signal before going back to our bungalow – it was past 10 o'clock when we retired – a late night for us!
Here are a few more pictures taken around Sea World Club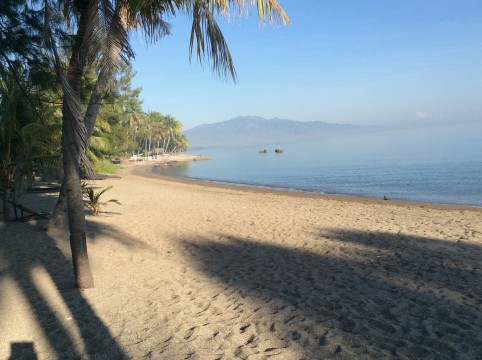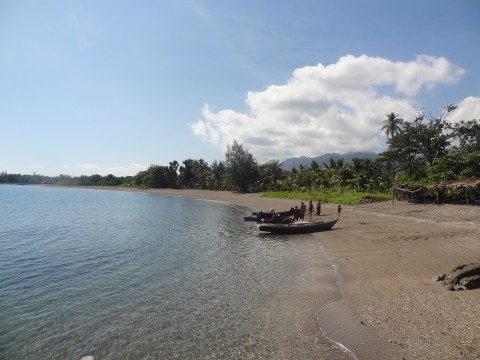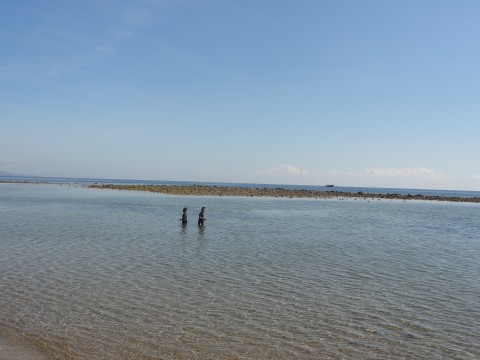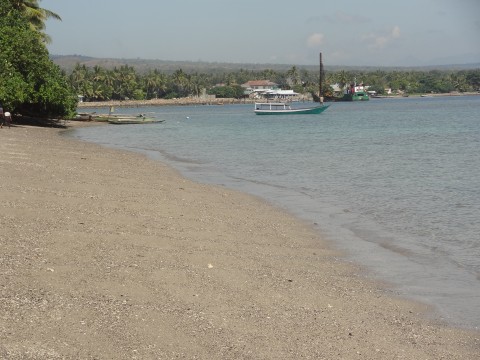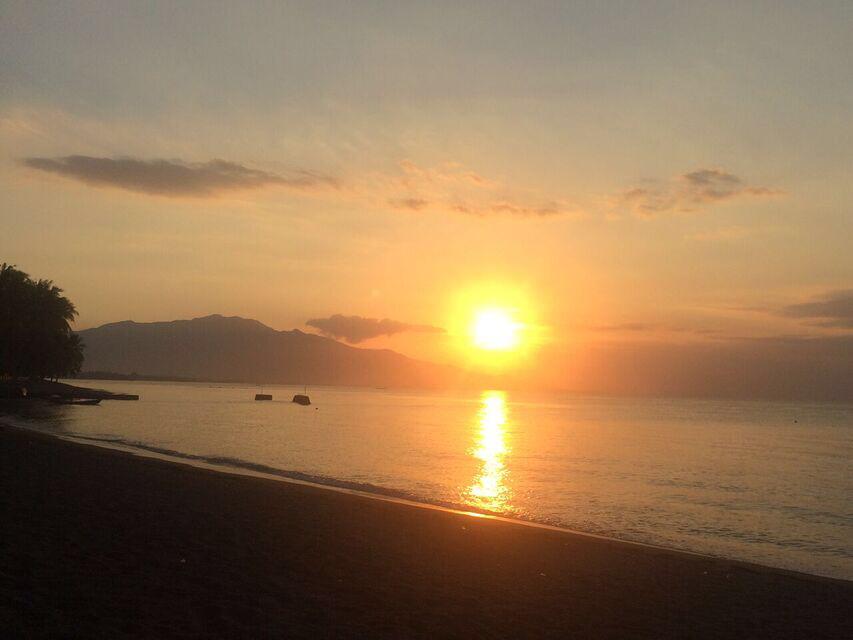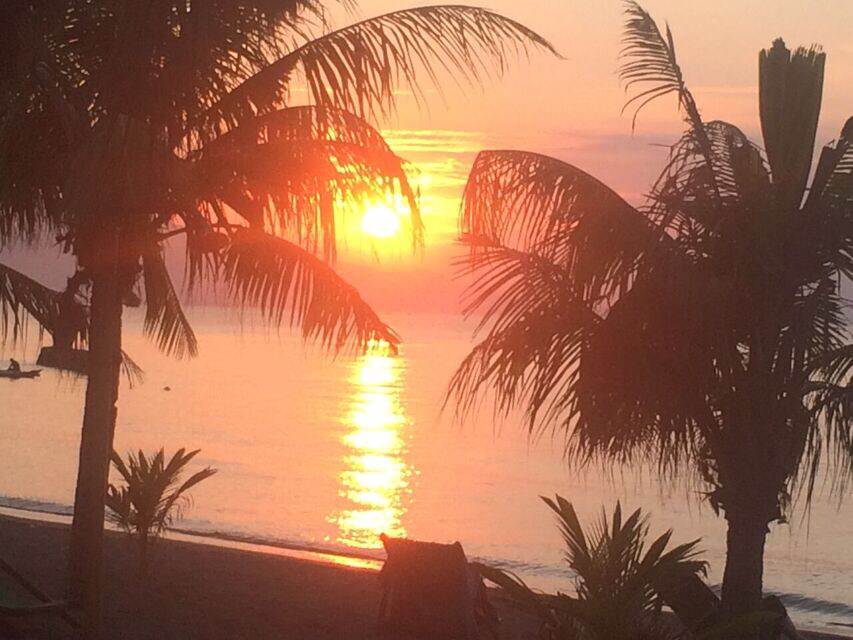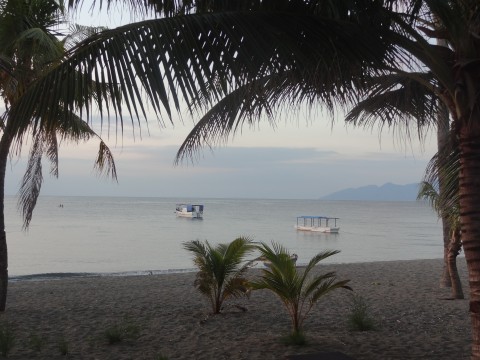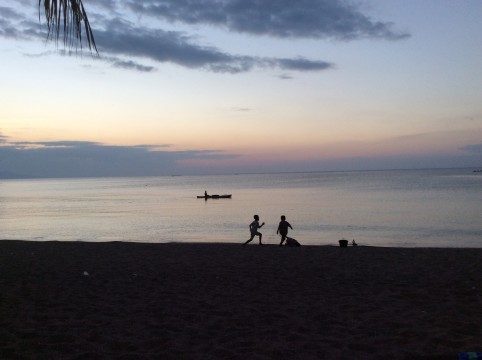 Our first day out with Marleno was spent visiting a local market , the nearby fishing village and a batik (local woven fabric) cooperative high up in the mountains.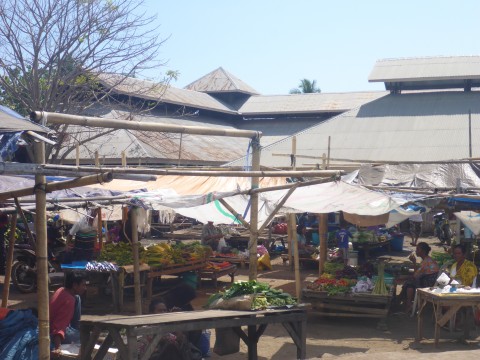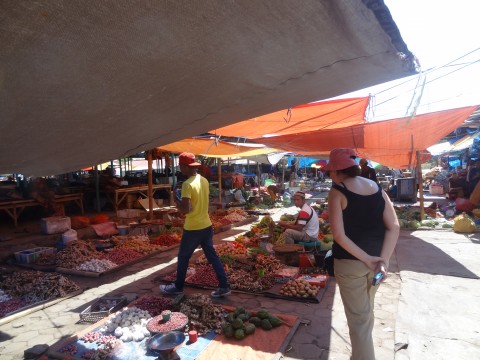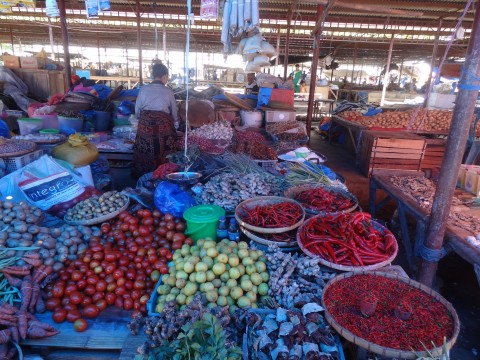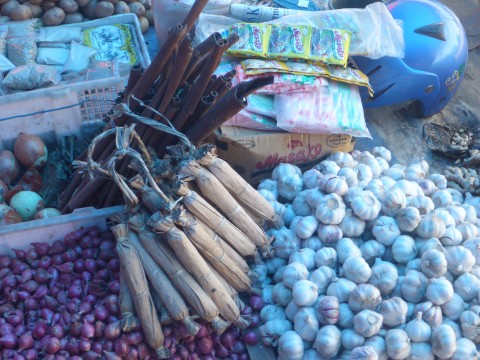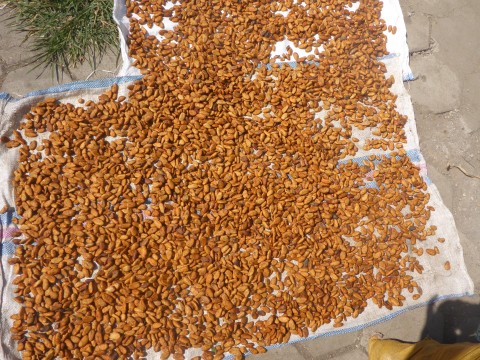 The market was as colourful and interesting as they always are with all manner of exotic fruits, vegetables, herbs and spices, coffee, cocoa, rice, with plenty of fish but little meat on offer. Needless to say there is no refrigeration; the produce comes from local farmers who bring it to market each morning. People shop every day or even twice a day to buy fresh as of course the food quickly goes off in the heat and is then good only for pig feed. Hardly anyone here will own a fridge.
Whilst the market itself made for good photos, it was sad to see areas piled high with rotting produce and litter being sorted by village kids. There was no attempt anywhere to keep the market clean and tidy and sadly we saw this everywhere we went through Flores, later on Lombok and elsewhere. Pollution generally is a major issue in Indonesia. We could stop the car in the most remote location to take a photograph and find that those who had gone before us had left drink cans, water bottles, fag packets and the like thrown anywhere.
Our next visit was to Wuring, the  fishing village we had seen along the beach from Sea World a couple of days earlier. The village is occupied by Sea Gypsies, muslim descendants of the fishermen who came to Flores from South Sulawesi. These people are actually descendants of two different tribes and two different languages are spoken – in a village of only 200 or so people!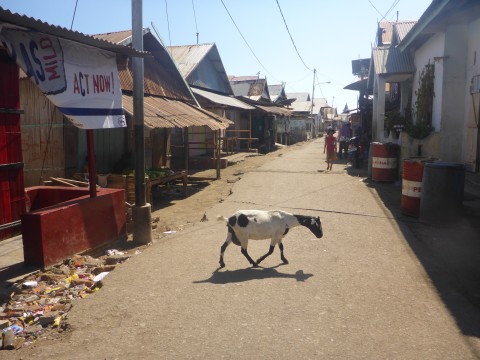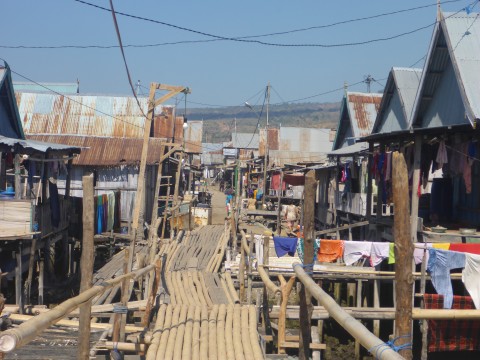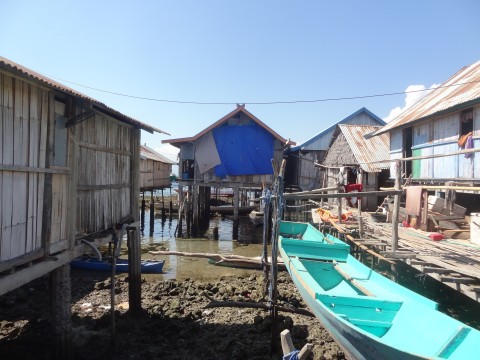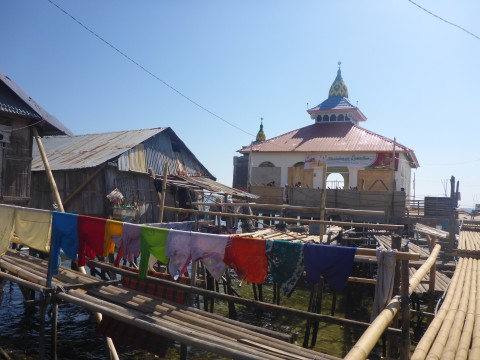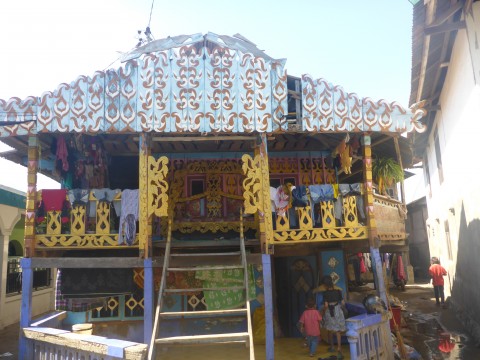 These poorest of people live in primitive conditions barely imaginable to westerners in roughly built wooden houses lining scruffy dirt streets but mostly in shacks built on stilts over shallow water in the harbour area. The water is clear but full of rubbish and kids paddle about in it with various animals including goats and at least one cow.
Strangely, whilst the houses are mostly ramshackle affairs, we noticed one or two were of a different style, brightly painted and seemingly of superior construction, presumably occupied by the elite of the village!
The people here are fishermen and live by trading their catch with farmers and others for whatever goods they need. Until a devastating earthquake and tsunami in 1992, the people lived exclusively in this sea gypsy village and were totally self sufficient but some now live inland and receive some support from government with the kids now going to local schools.
Our final visit on our first day was high in the mountains at a place called Watublapi and to get there we drove through stunning countryside with small banana plantations, coconut, fields of fruit and vegetables, rice paddies and jungle passing the odd house or hamlet here and their with people sat outside weaving baskets or other goods from palm leaves or preparing food.
Countryside scenery en route to Watublapi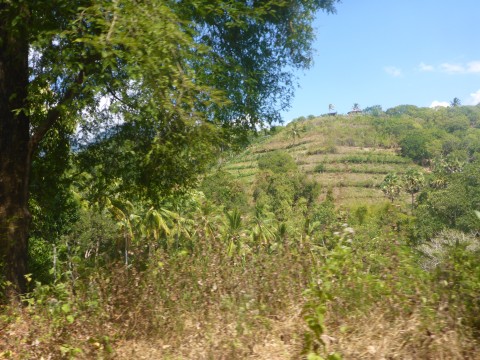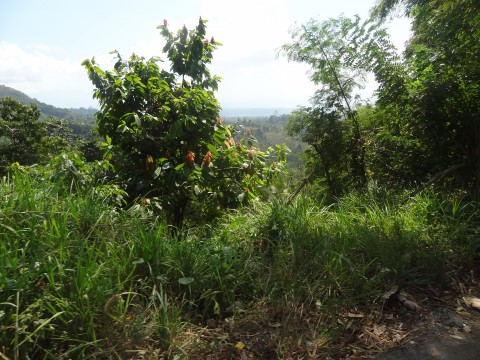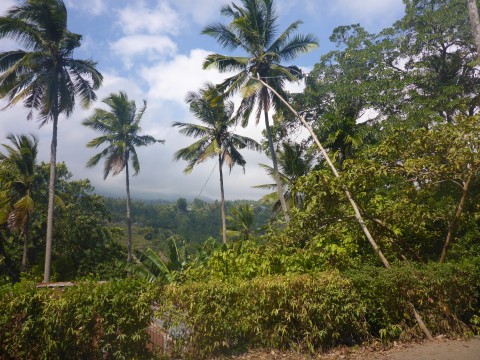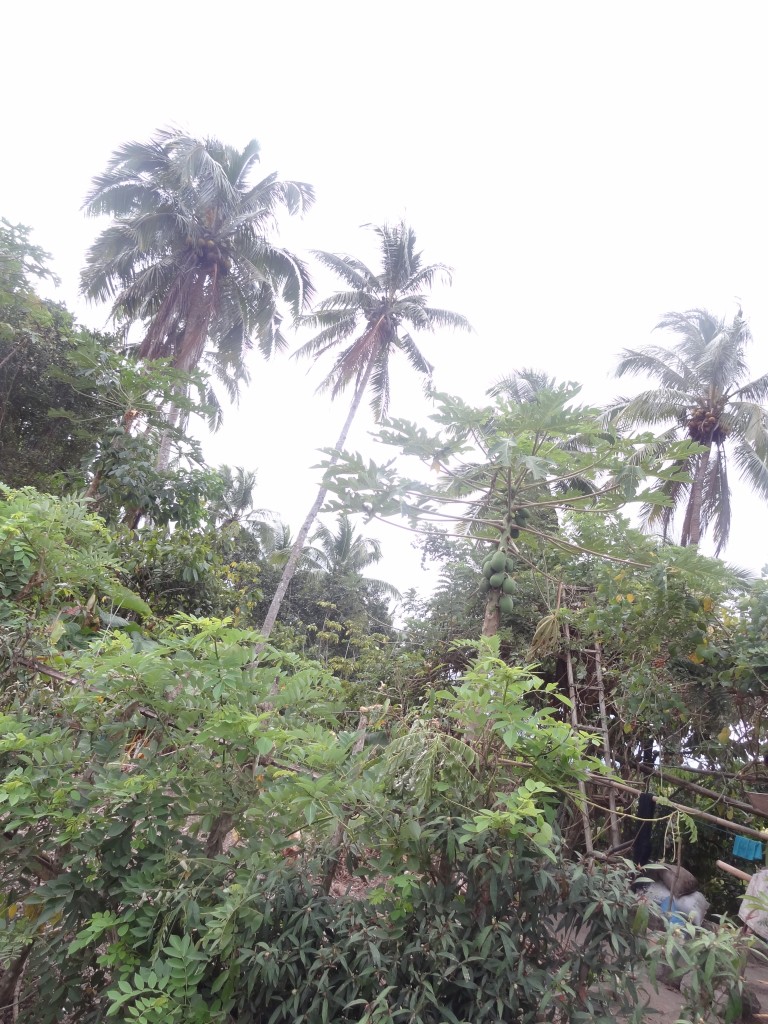 Watublapi is famous for its traditional ikat weaving. Ikat is a dyed woven material made throughout the region but whereas others have switched to industrially produced spun yarn and chemical dyes , the weavers at Watublapi still use traditional materials and methods.
The thread is obtained from 'cotton'  bushes and is hand combed, spun and woven and dyed as necessary using tree bark, roots and other vegetable products from the fields and jungle to produce different colours. A single sarong can take many months and even a couple of years for very intricate designs.
The ladies weaving this material comprise a cooperative and they put on exhibitions of their work and demonstrations of the manufacturing and this is one of the most popular attractions in the area. There was to be a performance later in the day of our visit but unfortunately it would be too late for us to stay and watch. Happily on Marleno's request, the ladies kindly agreed, for a donation, to put on a special demonstration for us there and then. Whilst the materials and methods used might be primitive and handed down generation to generation over centuries, the resulting fabric is indeed top quality with a multitude of colours and designs often depicting traditional stories in the material – the one pictured below depicts a wedding/marriage scene with the groom leading a water buffalo – his dowry.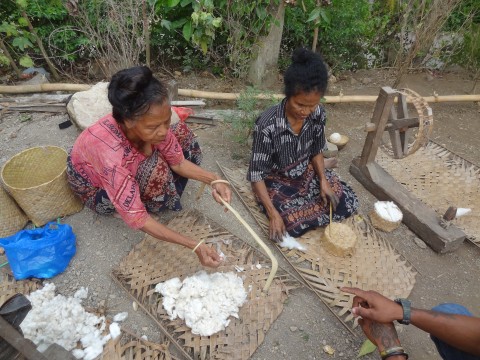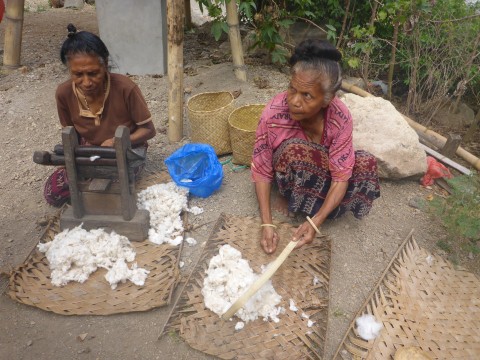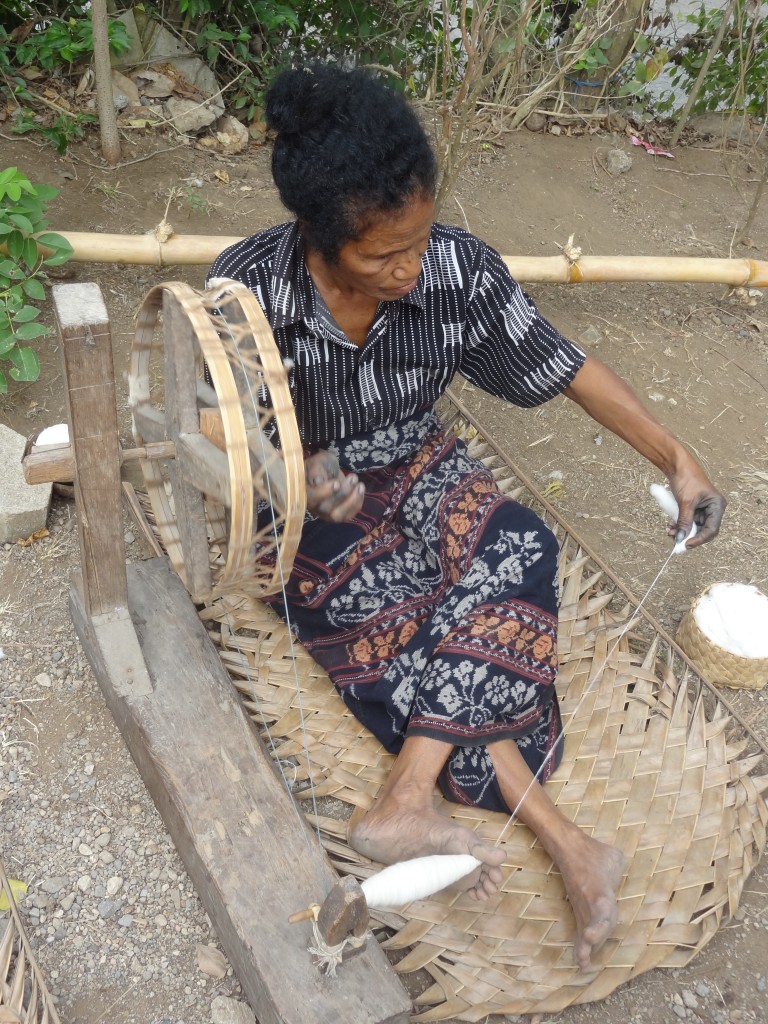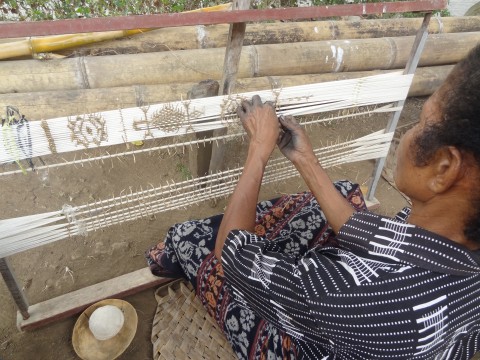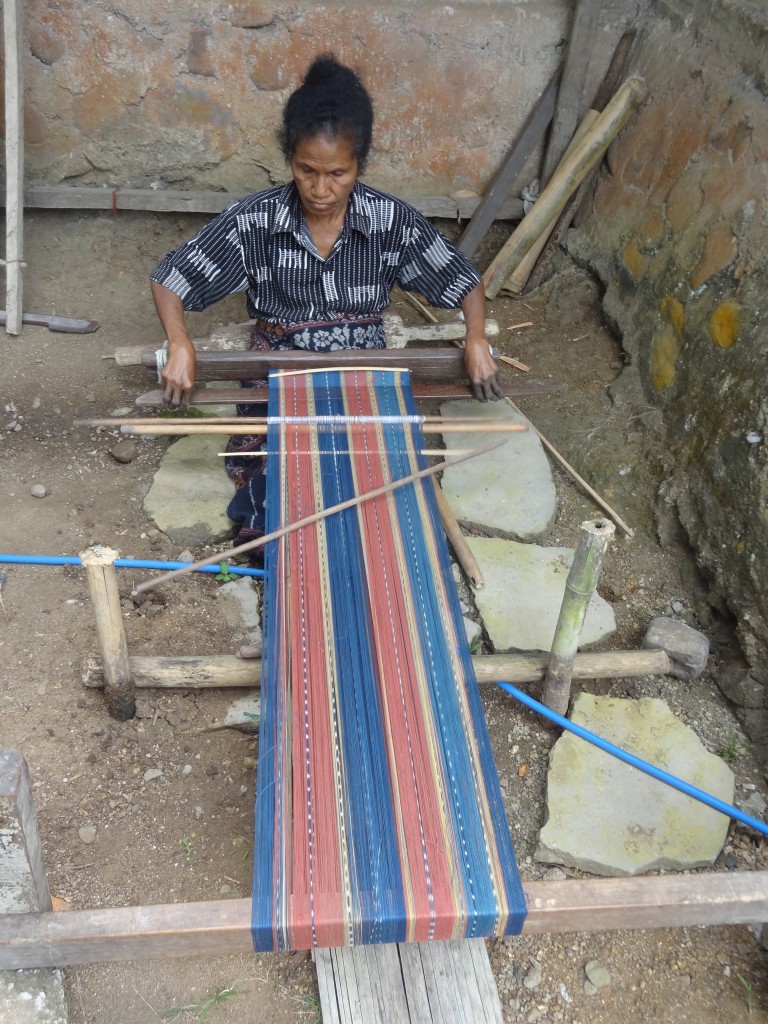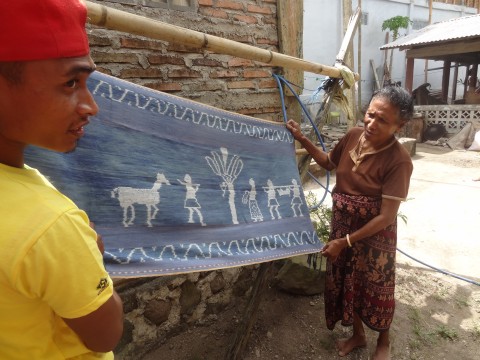 The following day , our last at Sea World Club was spent doing very little other than enjoying the beach. We had quite enjoyed this place notwithstanding the dodgy bathroom and hit and miss food. We would have no hesitation in staying here again – unless we could find better!
Maumere to Moni – July 24
On 24th July we checked out of Sea World Club and set off on our adventure with Marleno and our driver Filo. Today we would visit the village of Sikka followed by lunch at Paga Beach and finally to Moni Village and  Kelimutu National Park, which would be a highlight of the trip.
Sikka Village proved very interesting. It's about 30km from Maumere on the north coast to Sikka on the south coast but it took the best part of an hour to drive there. This was the original capital of the area (before Maumere) being the area where the Portuguese first settled and where their remaining influences are very apparent. As soon as you reach the outskirts of the village, evidence of the local catholic faith is evident everywhere you look as you drive by with small shrines, gravestones and even religious statues to be seen in many gardens. In the village centre stands the Church which is currently undergoing renovation but was open for us to see. The graveyard is full of grave stones and tombs with Portuguese names which seemed very odd in this place pretty much miles from anywhere .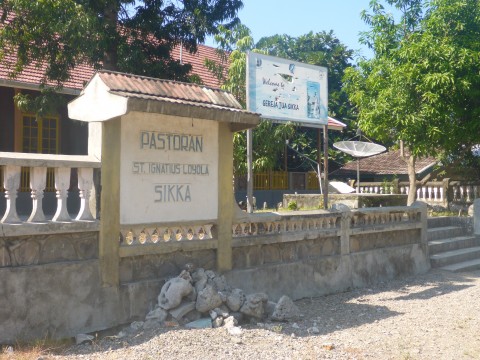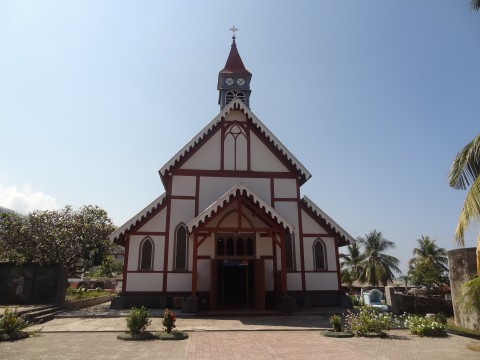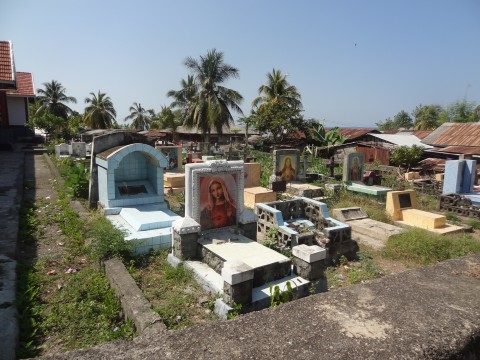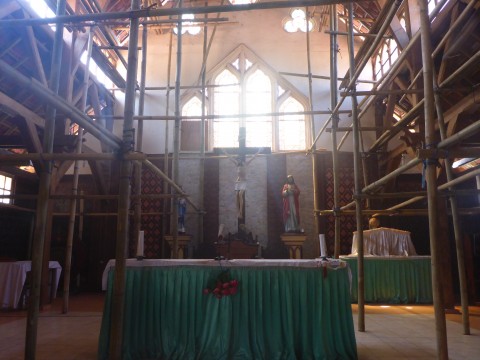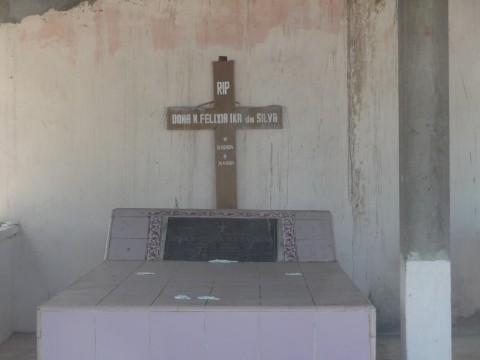 This village was the centre of the Kingdom of Sikka and home to the Royal Family. There are no longer local kings. The last King died as recently as 1954 and his grave can be seen in the village.
Back in the car after our stop at Sikka, the road took us west along the lovely south coast with a lunch stop at the rice growing fishing village of Paga.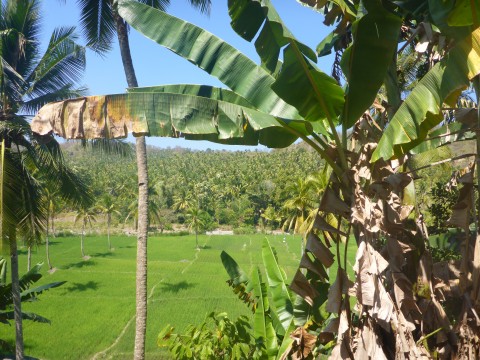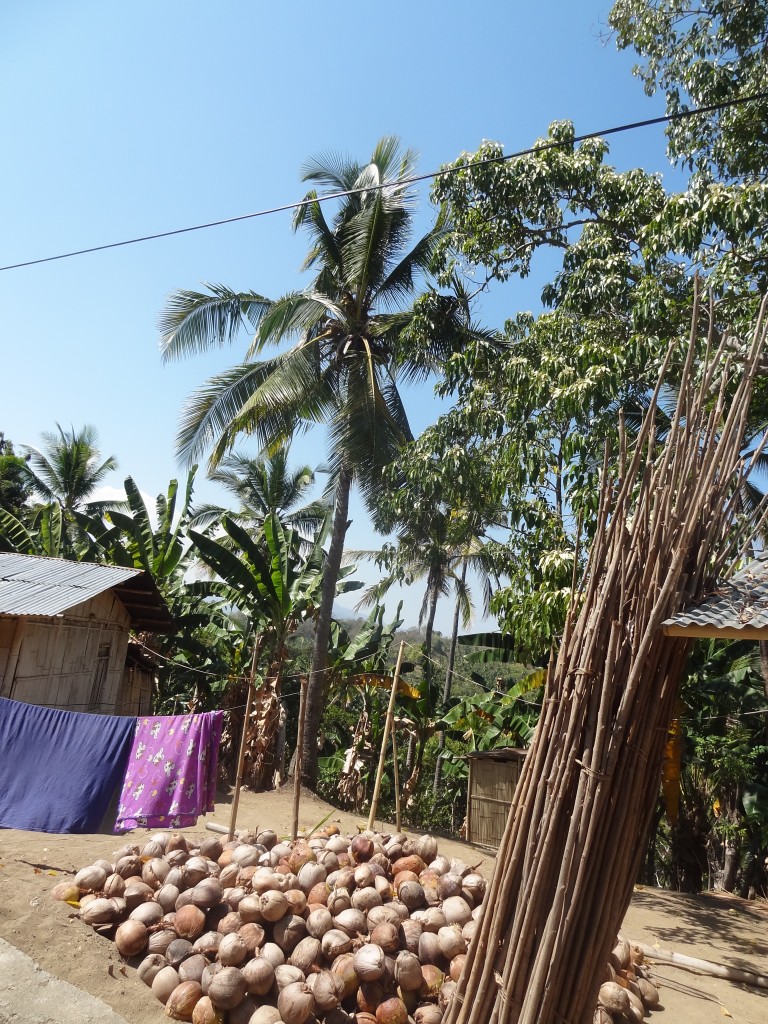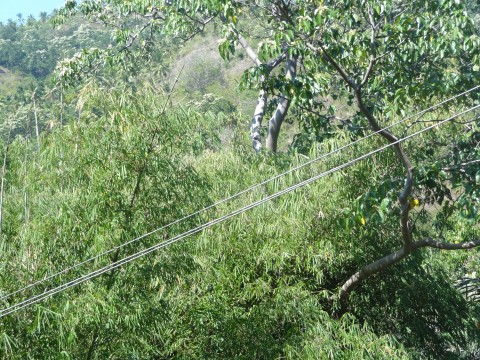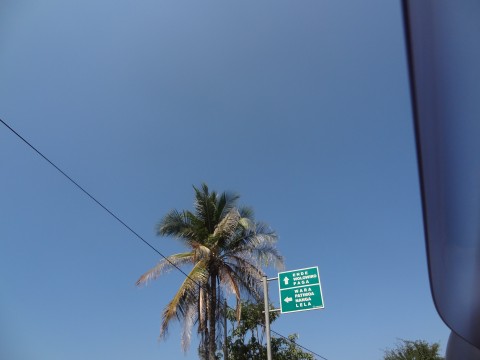 Laryss Restaurant is a tumbledown beachfront fish restaurant rated by Marleno and Lonely Planet as the best restaurant in Flores. It seems to be the only restaurant in the area and so is a regular lunch stop for travellers passing this way. The lack of competition certainly doesn't seem to encourage any effort to provide creature comforts for the customers – this place is about as basic as it gets with "facilities" best avoided! Chickens and puppies were everywhere and our fish was cooked over a wood fire between two bricks. However, we did manage to get a prime table and stools on the edge of the stunning beach, the Bintang was cold and the freshly caught marinated and grilled tuna was very good indeed.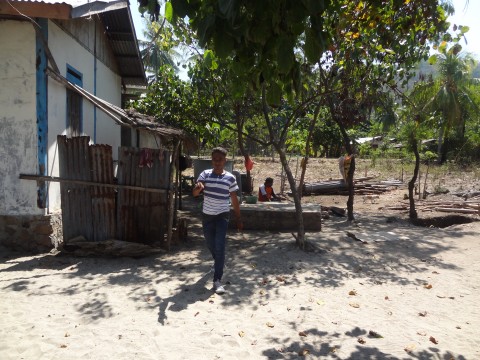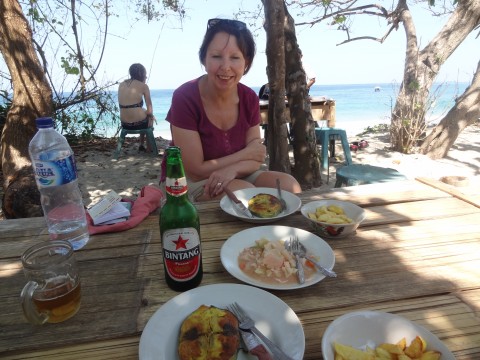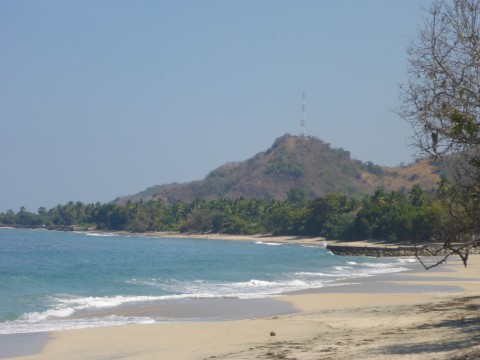 Our onward drive to Moni after lunch would take at least two hours but that was no hardship. Here are some photos taken en route: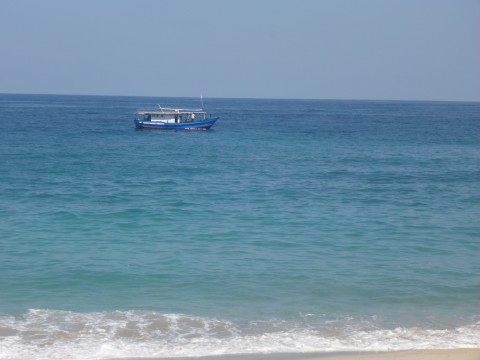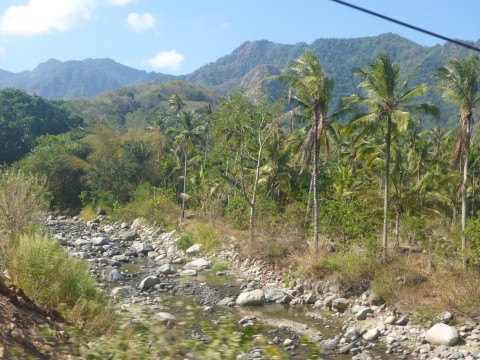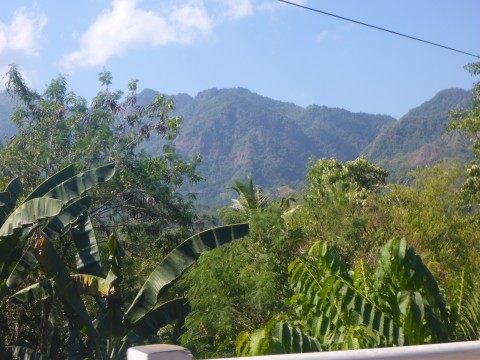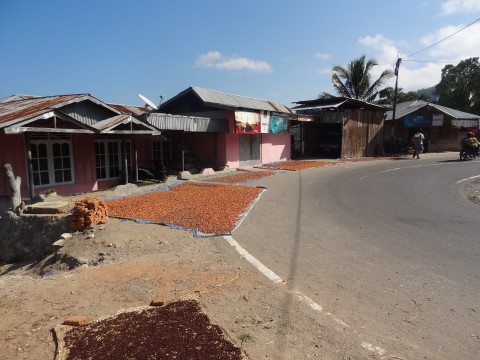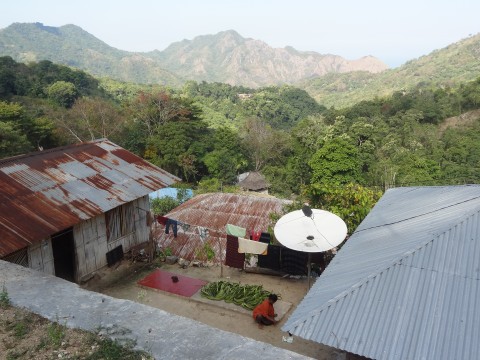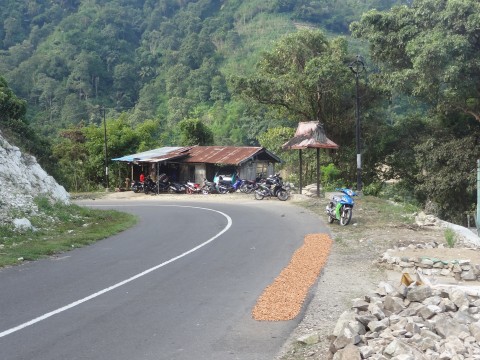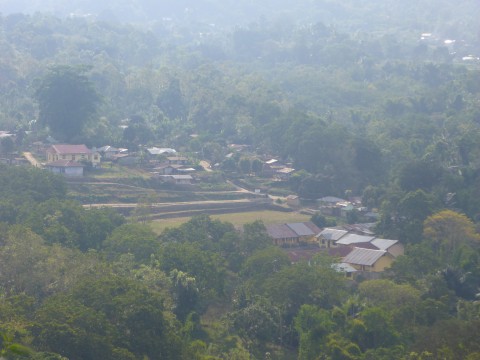 Moni Village and Kelimutu Lakes
We arrived at the village of Moni around 5pm. Moni is the gateway to Kelimutu National Park and Mount Kelimutu, famous for its multicoloured crater lakes. It's a small remote village in a beautiful location on the lower slopes of the volcano. The village is surrounded by rice fields and fields of fruit and vegetables and at this time of day there was still plenty of activity in the fields with some men but mostly women and children still working away as the day got a little cooler.
We were booked in to stay one night only at Estavana Lodge which Marleno had booked for us as our own first choice homestay had been booked up. We were greeted by the very affable owner who had little english but showed us to our room, a very basic bedroom with a queen bed along with an old plastic sofa. It wasn't great and the bathroom was awful albeit it met the minimum criterion I had laid down for Marleno in that it had a hot shower and a flushing western toilet, as opposed to the eastern style squat toilet which is the norm. Strangely the bathroom also had a mandy this being a drum (or other large container) of water with a ladle used to scoop out water  to shower or to wash following a visit to the toilet – toilet paper isn't usually found in this part of the world! Mrs Ellis was not  impressed but it seemed that we had the last available room and the rest of the town was fully booked out as this was high season. We were stuck with it but consoled ourselves with the thought  that we had to be up at 3am anyway to be ready to leave at 4am to climb the volcano in time for sunrise at 6am. We would be in the room for only a few hours…..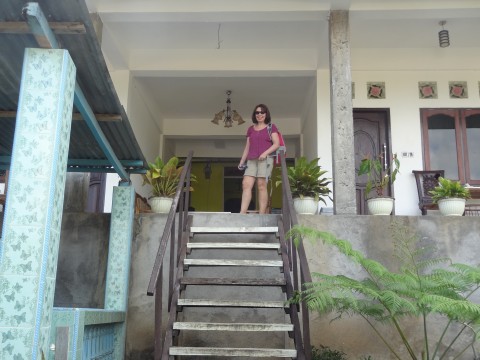 We left Marleno to chat with some other guides who were in town and arranged to meet him at the Bintang Lodge Homestay/Restaurant for dinner at 7.30pm.
We had a very pleasant amble around the village. As always here, everyone is very friendly and although there's mostly no english spoken by anyone middle aged or over, there's always a smile and a hello.
The people here who don't rely on tourism, which is most people, are poor subsistence farmers and they really do work hard. Water is obviously crucially important to these people but like many areas around here it  has good irrigation provided by gullies and ditches bringing a constant water supply from mountain streams, lakes or natural springs. This means that the farmers are able to grow a second crop of rice even in the dry season whereas areas without such water are limited to a single crop grown during the wet season from November through to Spring. Apart from rice which is the staple diet of all Indonesians (most will eat rice three times a day), all manner of fruits and vegetables are grown .
Here's a few photos of Moni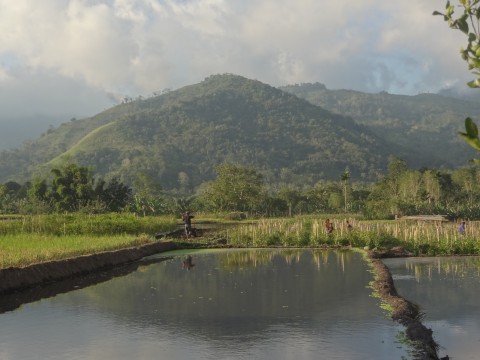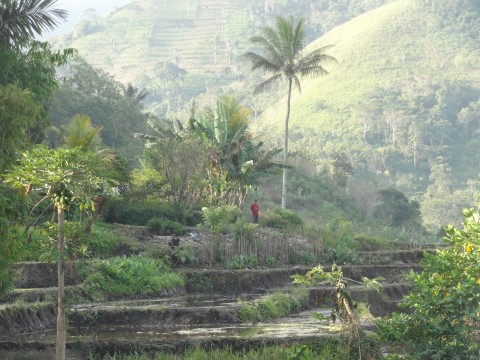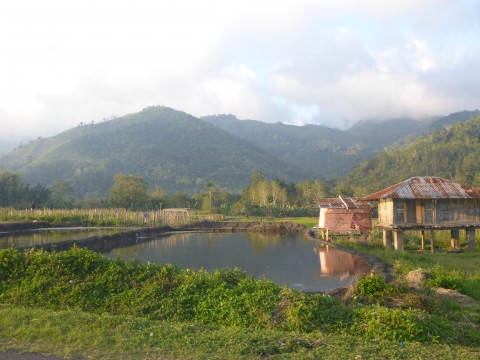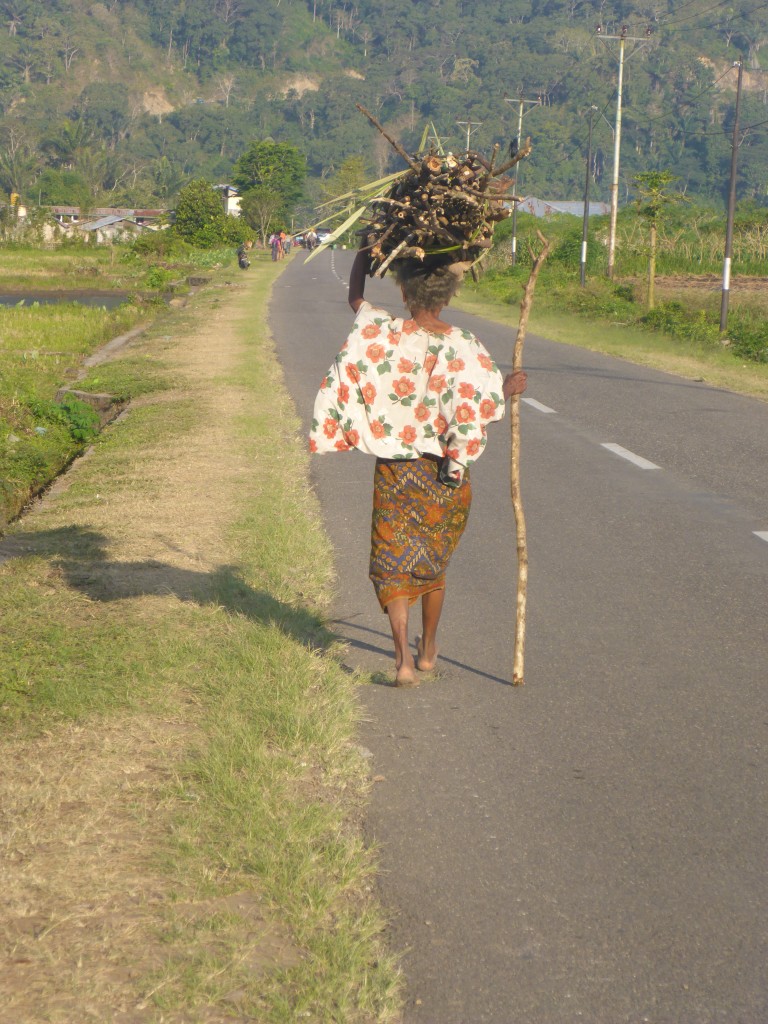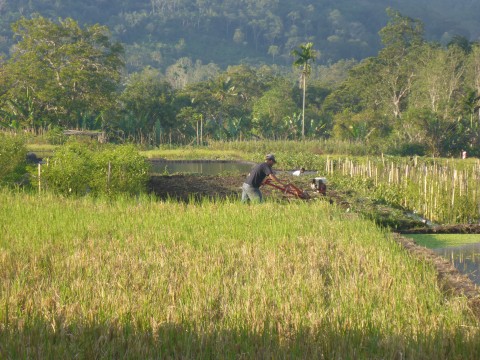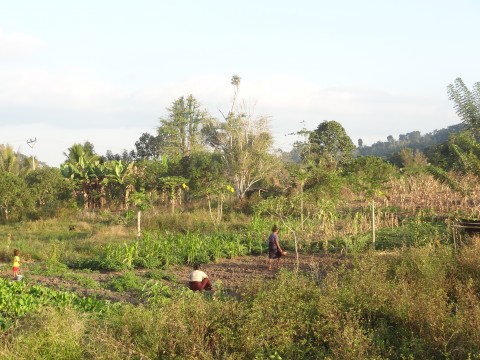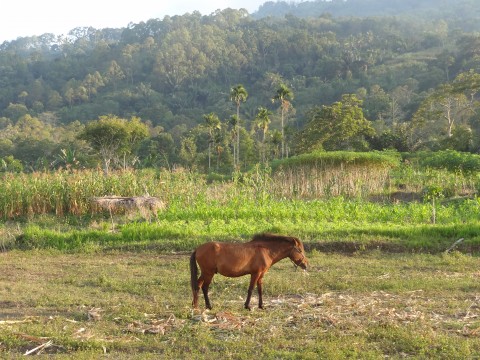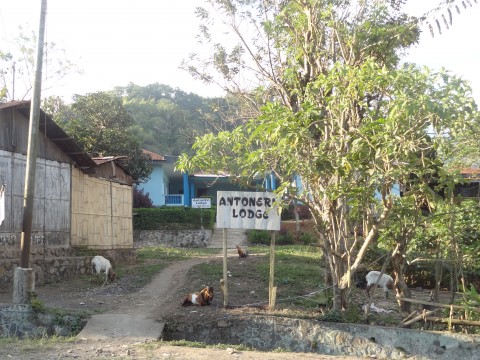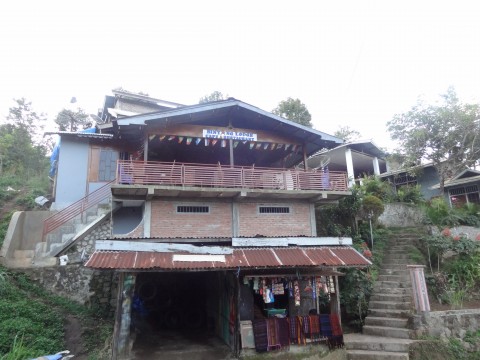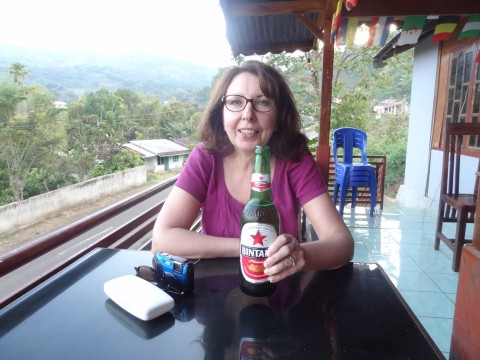 After an hour and a half or so we headed for Bintang Lodge and of course, ordered a couple of Bintang Beers. Marleno turned up but had already eaten, so Ann and I ordered  nasi goreng (fried rice with vegetables and chicken) which was so so.
After dinner and a few beers, we let Marleno return to his chums and went on a bar crawl  for a few more beers – we didn't want to return to the room too early!
Next morning, having slept  fully clothed on the top of the bed we got up  for a quick cold shower and joined Marleno and driver Fino who were already outside waiting for us at the car at 4am.
So shortly after 4am we set off for Kelimutu. It took around half an hour to drive up a dark bumpy road to get to the car park and then a short walk to the entrance where we paid our 20 rupiah (about 20p) entrance fee. We then had a half an hour walk up the mountain. It was still pitch black but we had remembered to bring small torches which many people hadn't. The walk wasn't too difficult as there was a decent track and then a lot of steps but of course it was all uphill up the mountain. Other people were walking up and set a pace which for some reason we seemed to want to match but being still totally unfit (all resolutions to get fit for this trip had fallen by the wayside) I found it quite tough but thankfully no one spoke to me and I managed to complete the climb without the benefit of an oxygen mask! It was worth the effort. It was still dark when we arrived at the summit but already a couple of dozen or so people were already sat waiting for sunrise along with 2 or 3 hawkers wrapped up in blankets selling hot and cold drinks and snacks.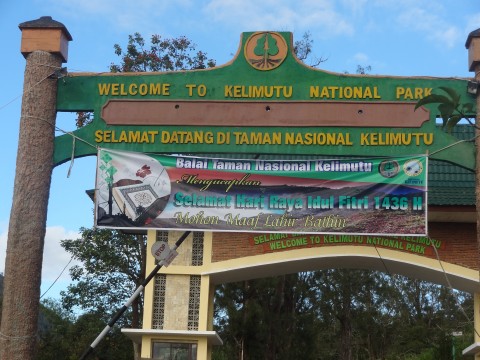 It was sunrise before we knew it and luckily the heavy cloud that had begun to build up the night before was largely gone.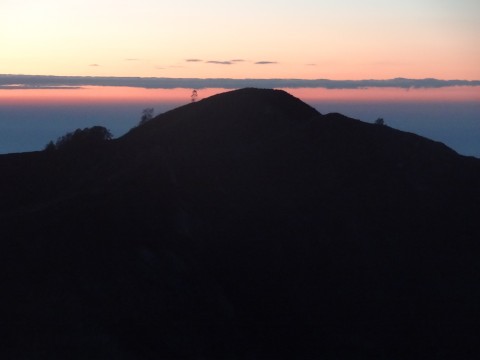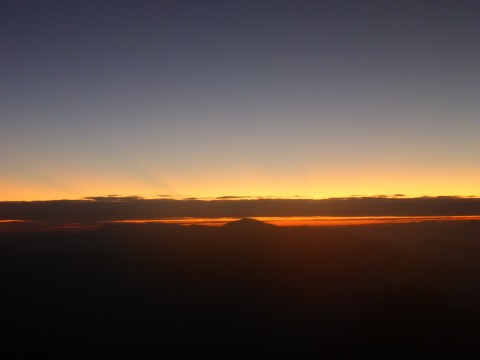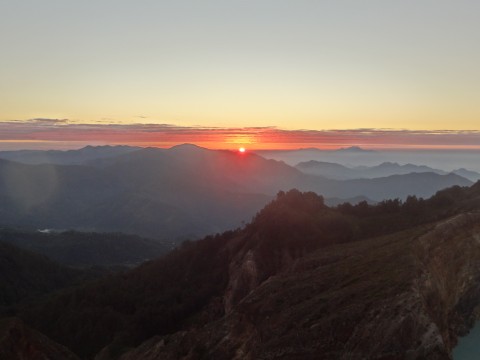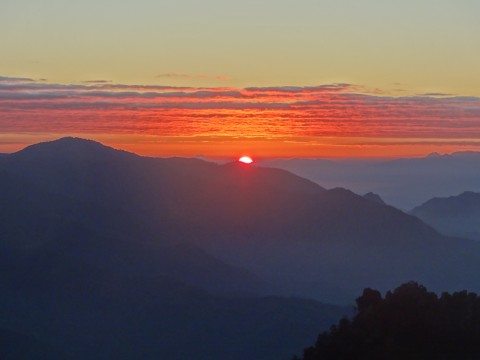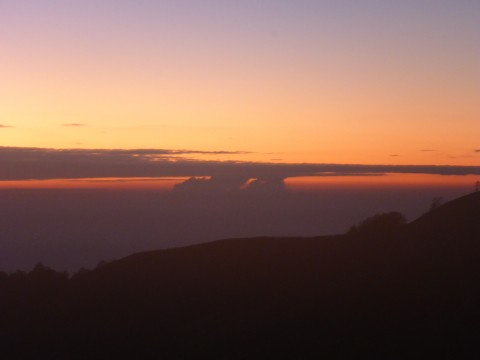 A visit to the volcano Mount Kelimutu ,which last erupted in 1968, is probably the single most reason why tourists visit Flores. It's famous for spectacular sunrises and and for its 3 crater lakes the colour of which change from time to time probably due to changes in the mineral content in the water.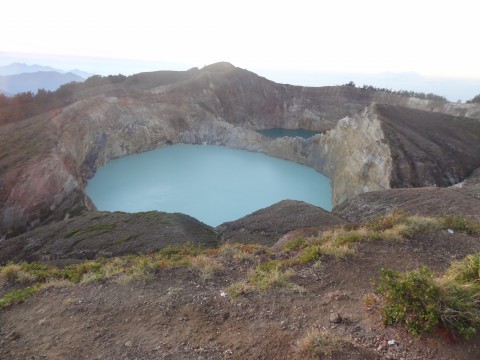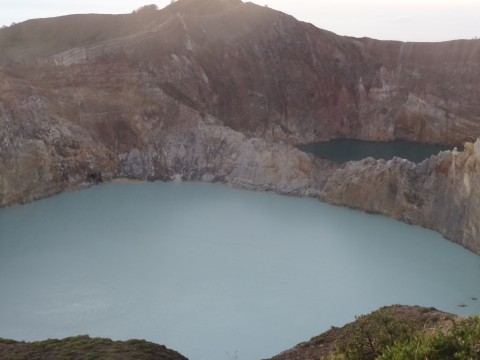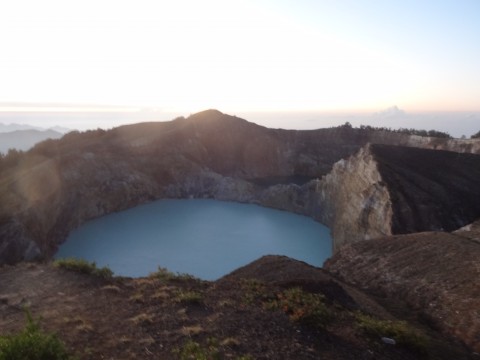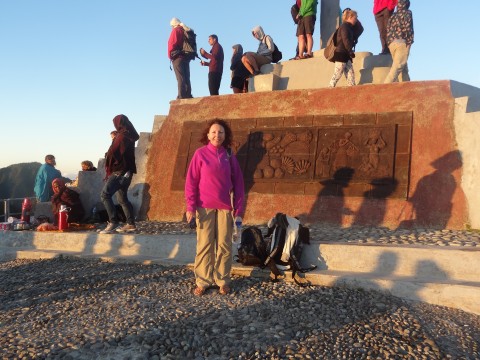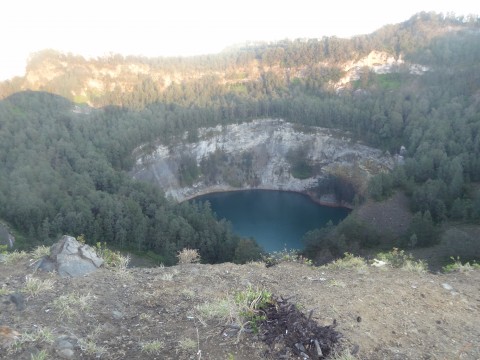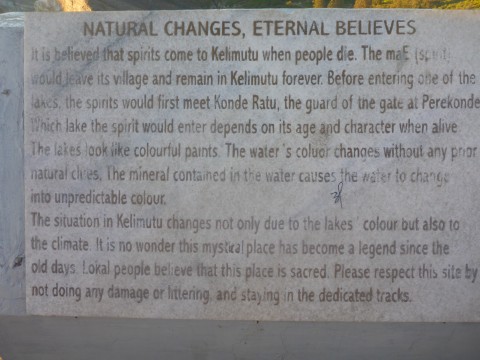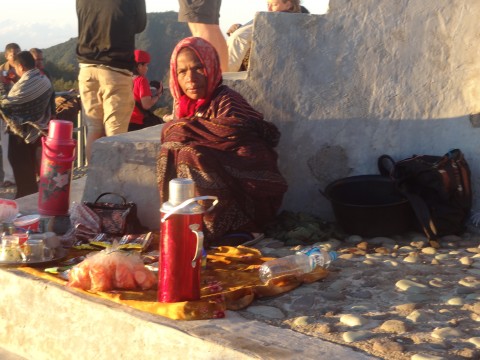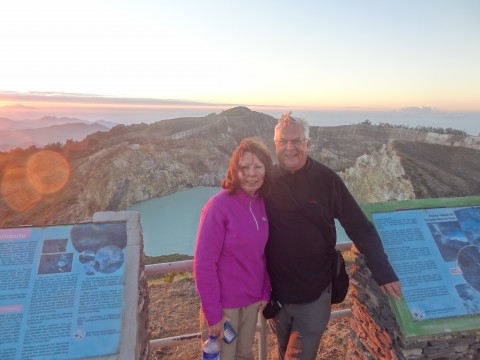 Kelimutu to Riung and 17 Island National Park – July 25
After our morning at Kelimutu, our next stop was Riung on the north coast of Flores and gateway to the 17 Island National Park. It was a long drive of over 5 hours but again this was no hardship when travelling through such spectacular scenery.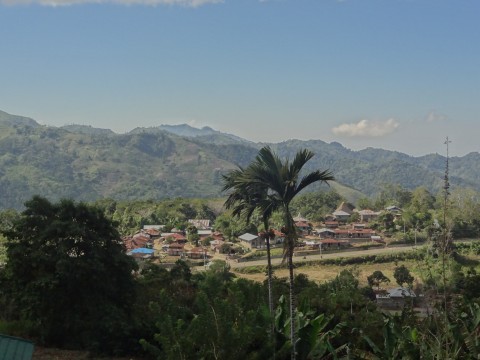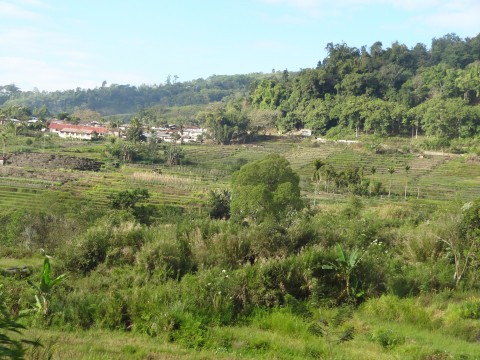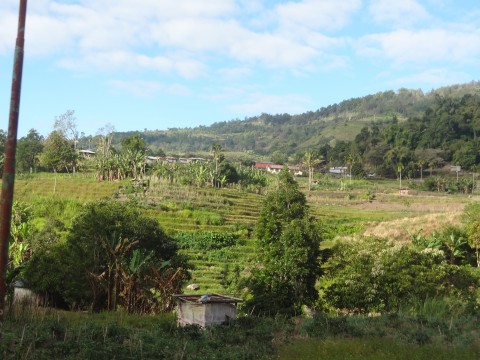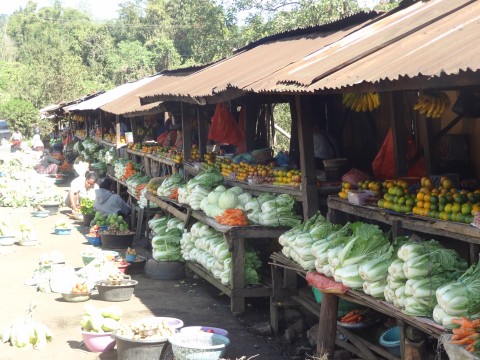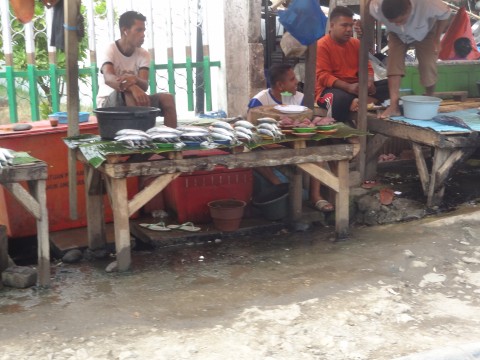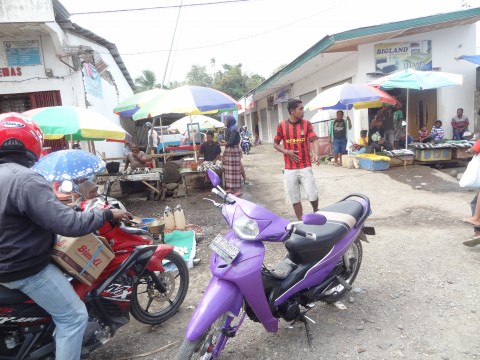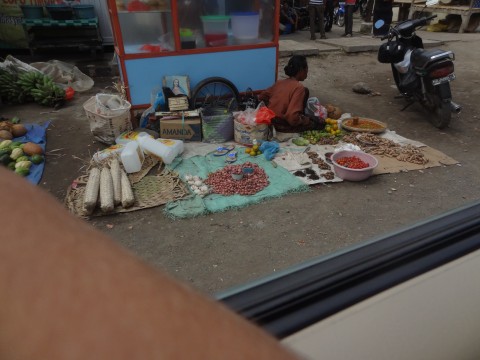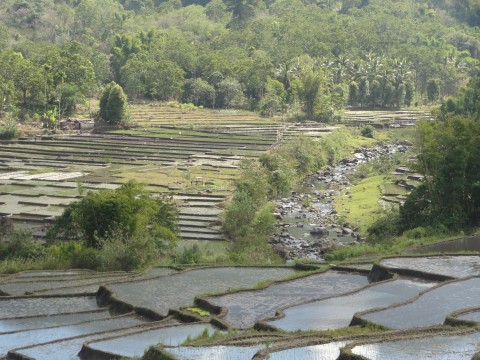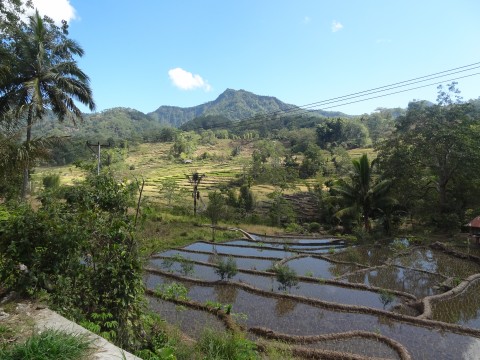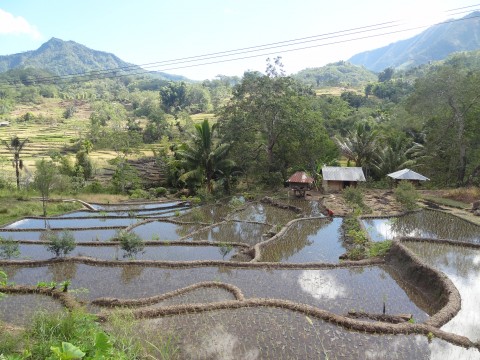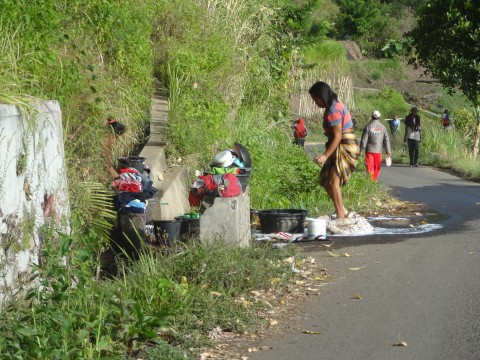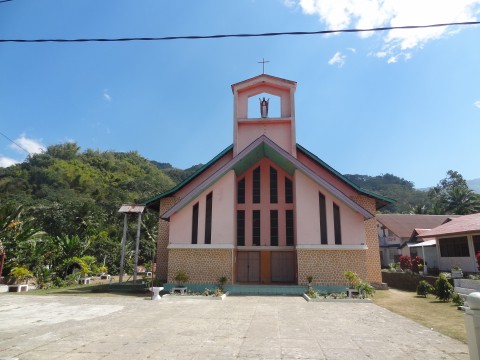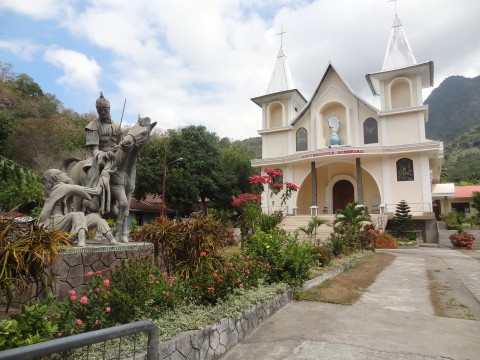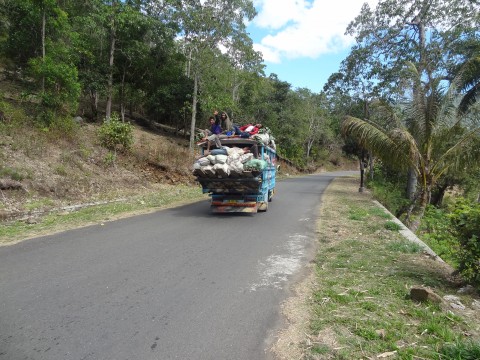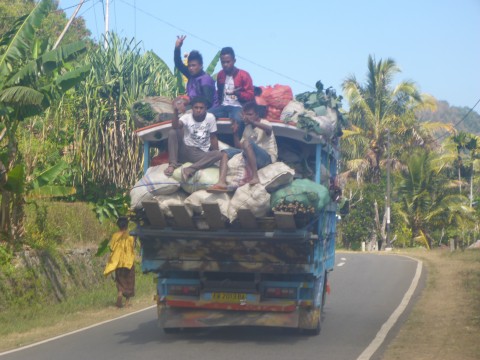 At one point we were held up for over an hour, part of a long queue of traffic, in a mountain pass where road widening work was taking place. Apparently the work had been ongoing for quite a while and looked as it would carry on for a long time to come as most of the work seemed to be done by men with shovels.
An army of women and kids from local villages had set up camp along the roadside and were selling drinks and snacks at extortionate prices (to Westerners at least) to the hot and frustrated travellers.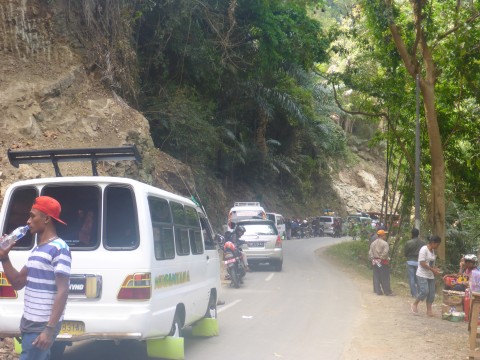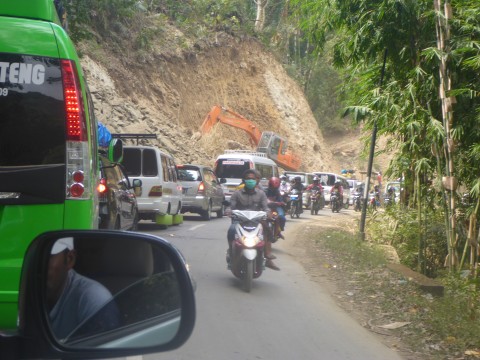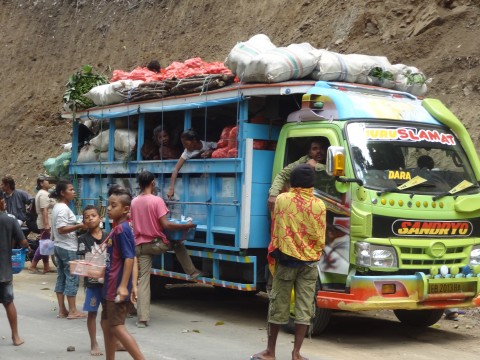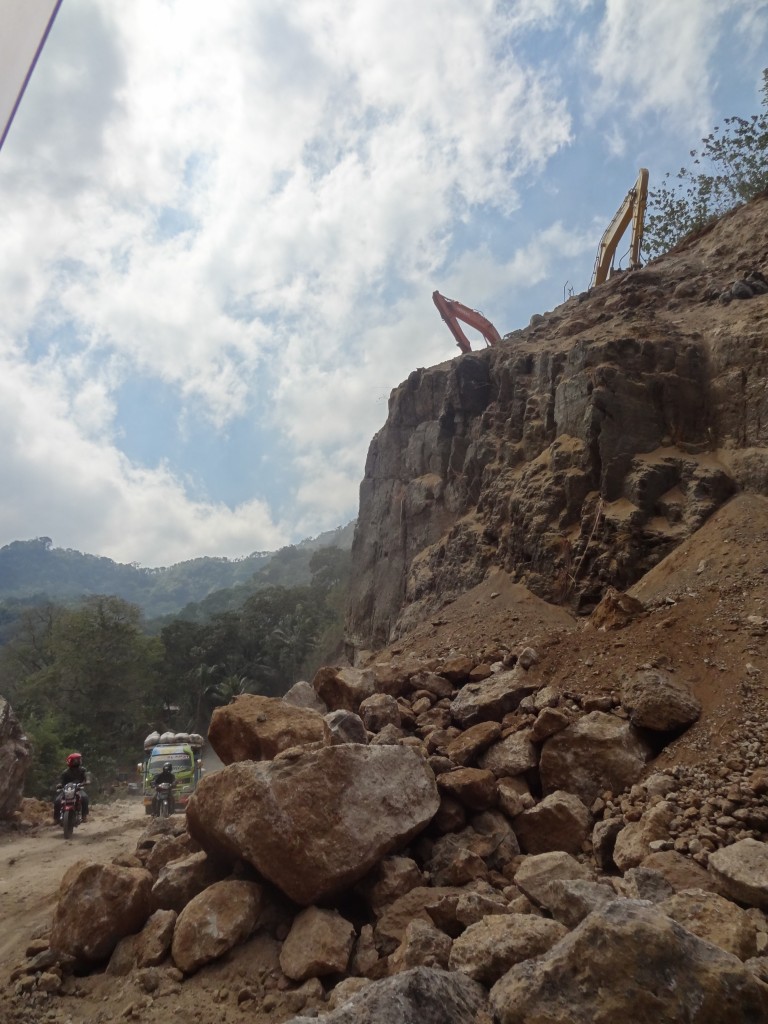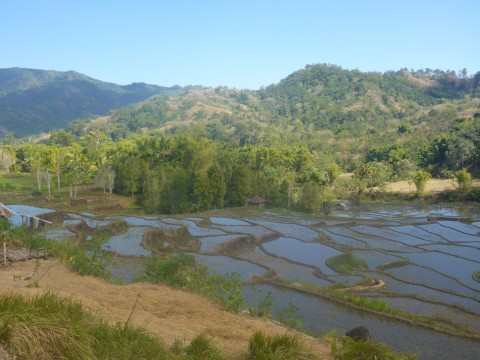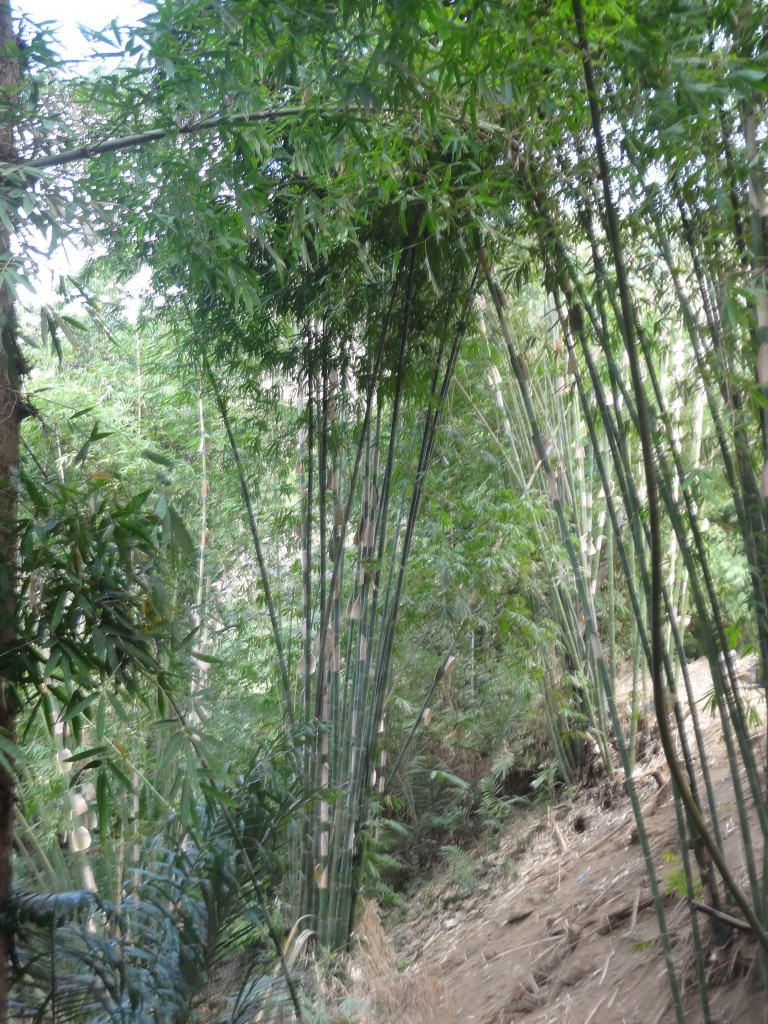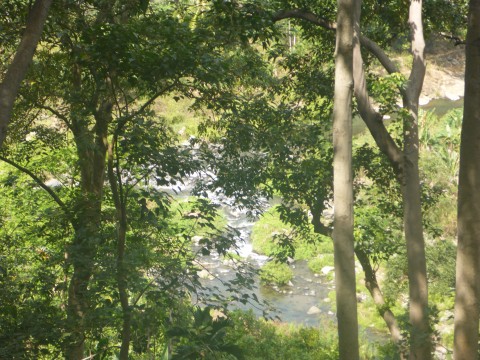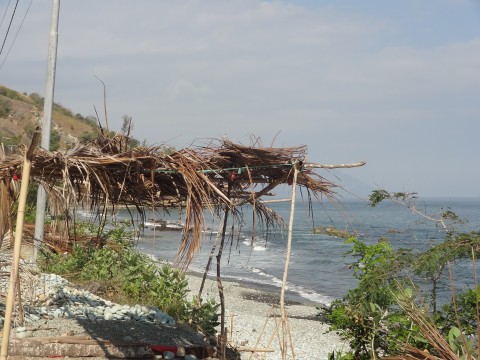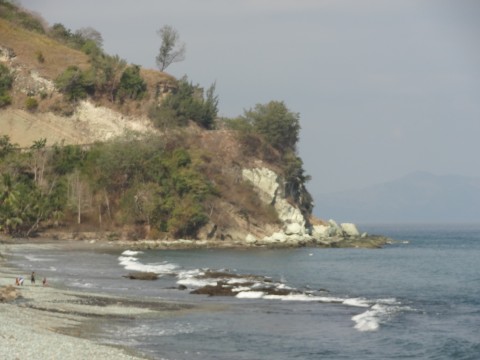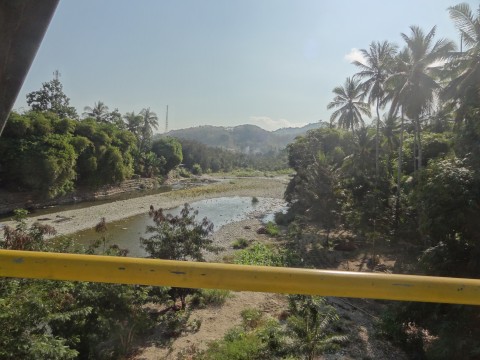 We arrived at a viewing point overlooking the 17 Islands National Park soon after 5pm and just in time to see the sunset along with half a dozen or so other tourists with guides who we had last seen in Moni – we didn't actually see a great many tourists on Flores – we just kept seeing the same ones who were following a similar itinerary to ours.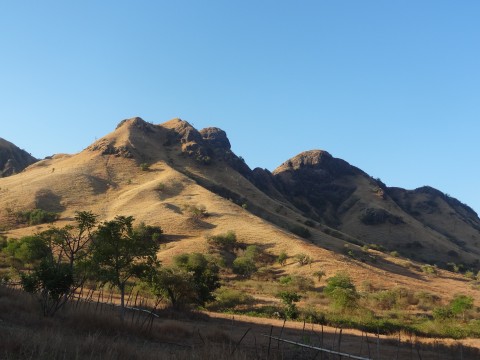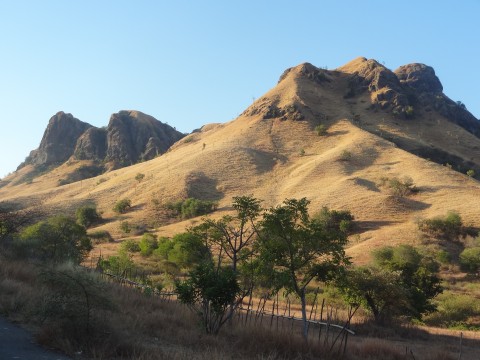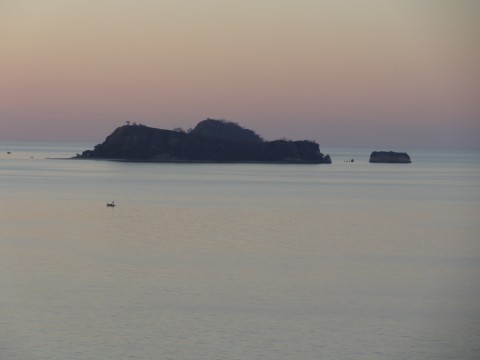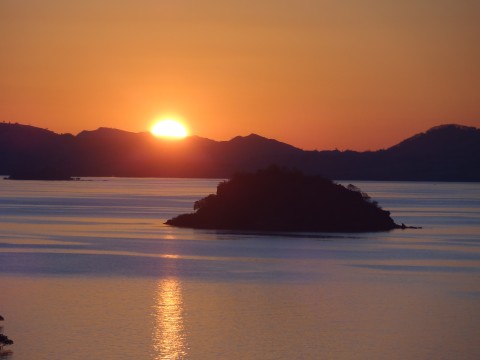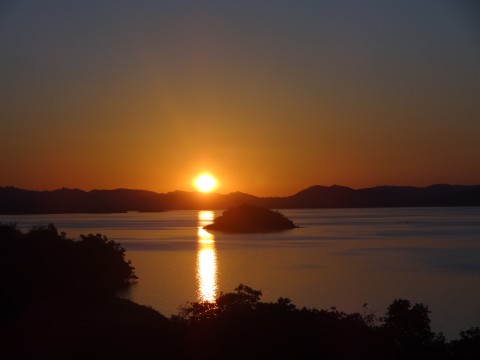 Riung itself is a very small and quiet village but as we arrived in darkness and quickly drove out of the village in the morning, we didn't get chance to see it properly. Tonight we were staying at Nirvana Bungalows, a small collection of bamboo bungalows set around a small grassy garden area complete with the ubiquitous chickens and cockerels that guarantee an early awakening wherever you might be in S E Asia. This was another homestay chosen by Marleno who had either forgotten to book or cocked up the booking of  the accommodation we had requested at the outset. In the event our bungalow was basic but clean and met our requirements of  shower, western toilet, aircon and internet and also came with a mosquito net. A pretty good breakfast brought to the sitting area outside our bungalow in the morning guaranteed this place a vote as one of our best accommodations in Flores although that really isn't saying much. Dinner in Riung was barbecued fresh barracuda taken at a nearby Warung, Cafe De Mare, which was top notch with cold beer, great music and excellent food. A really good place and contender for best eatery and meal in Flores although again there was little competition for the prize!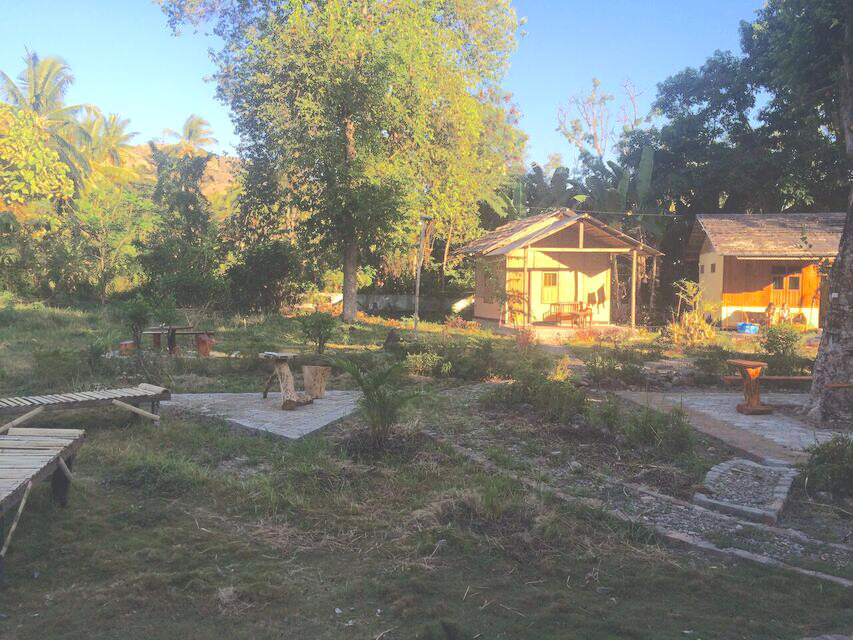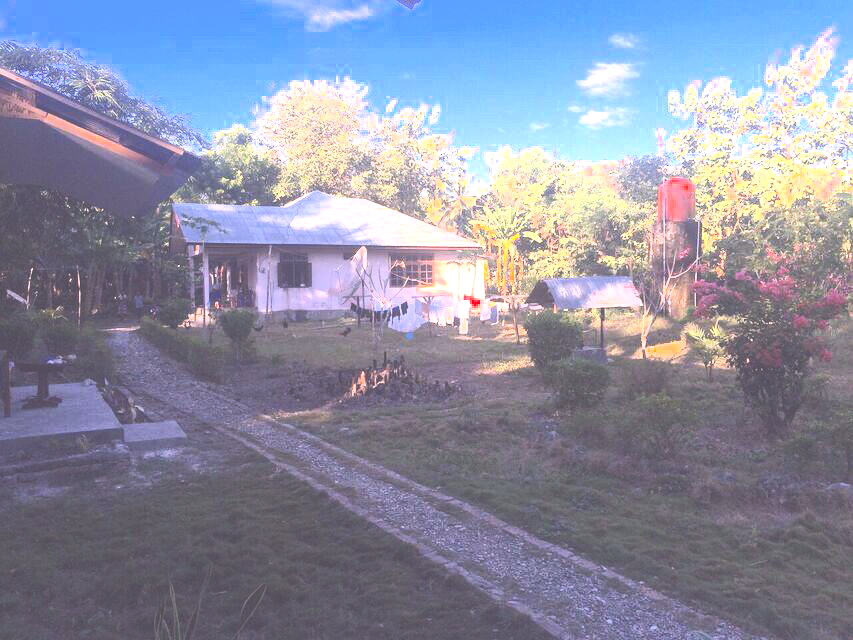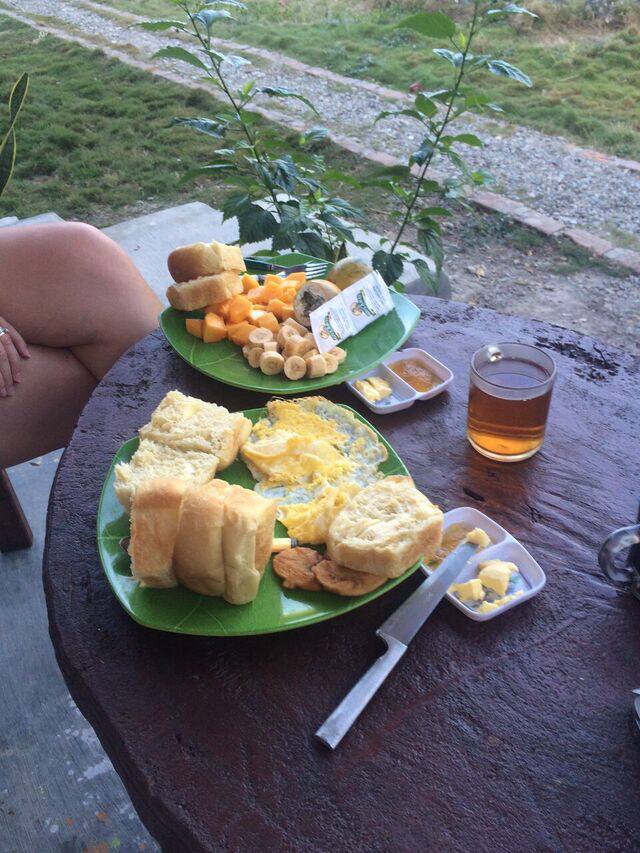 The following morning we were up early and out at 8am to go down to the jetty to catch a boat out to the islands. We had a boat to ourselves with a captain and two mates and would spend a few hours on a beach, swimming and snorkelling followed by lunch and then a long drive over to Bajawa.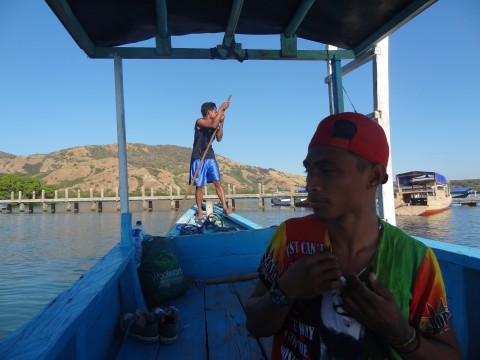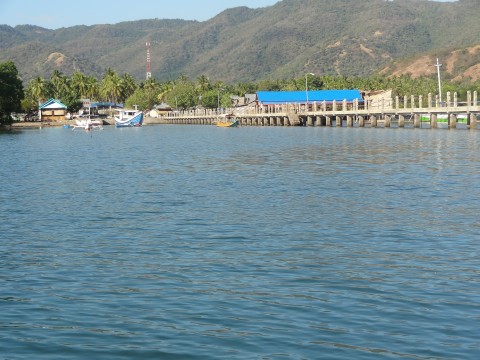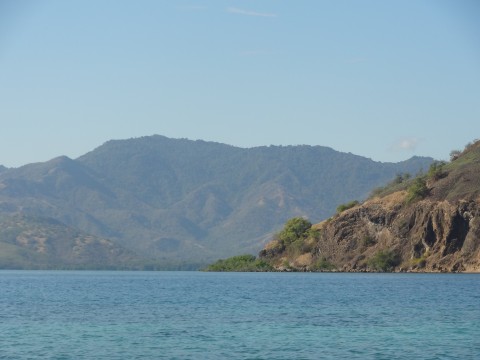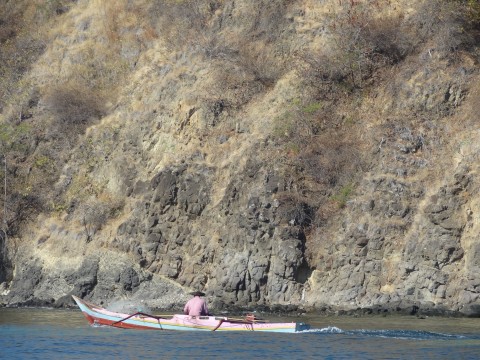 Our first stop was Ontoloe Island aka Flying Fox  Island where we saw an incredible number of  huge fruit bats blacken the sky. It was an amazing  sight with thousands and thousands of the creatures returning to roost after a night out eating fruit…….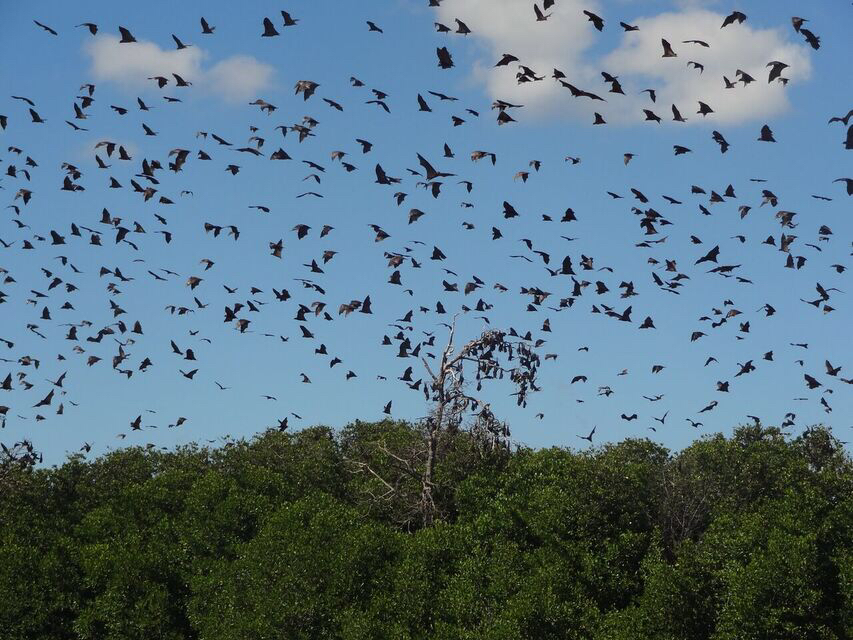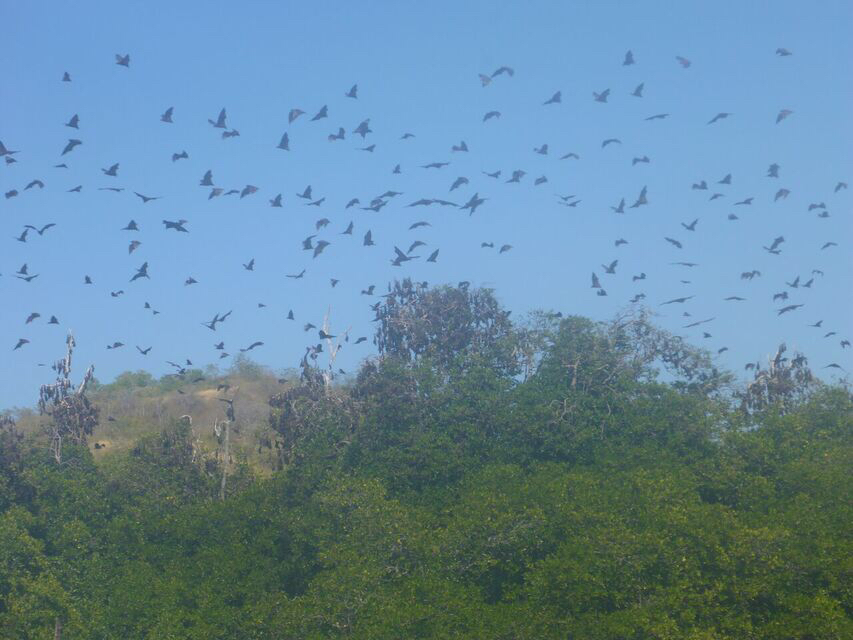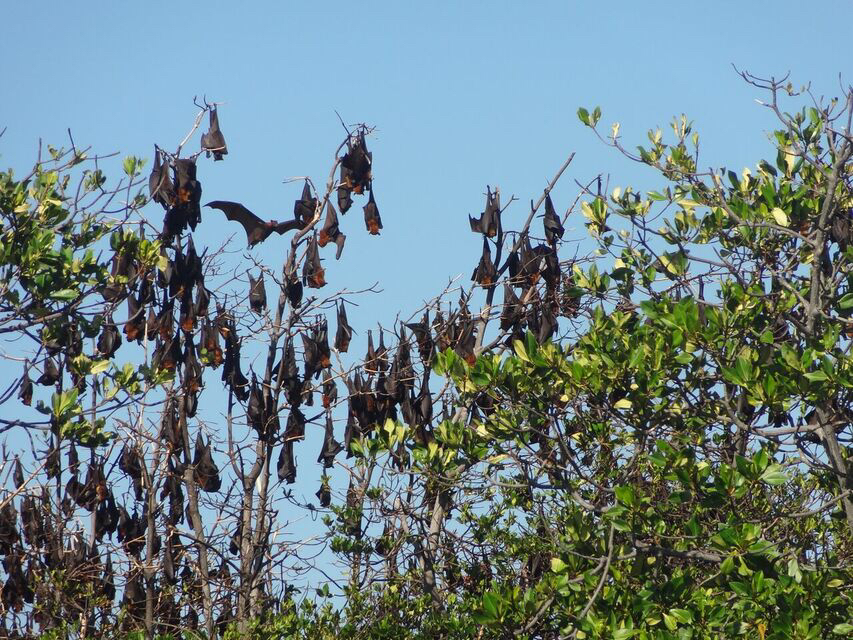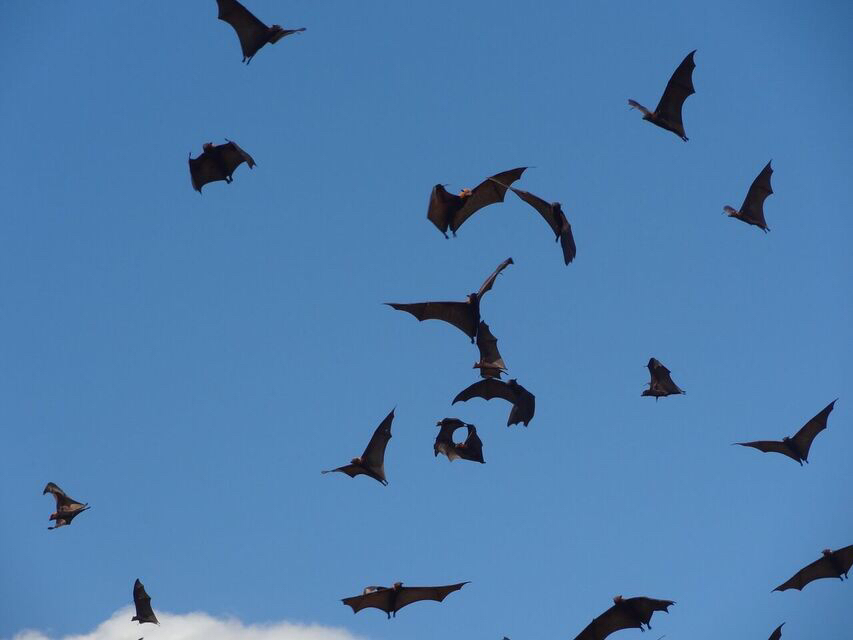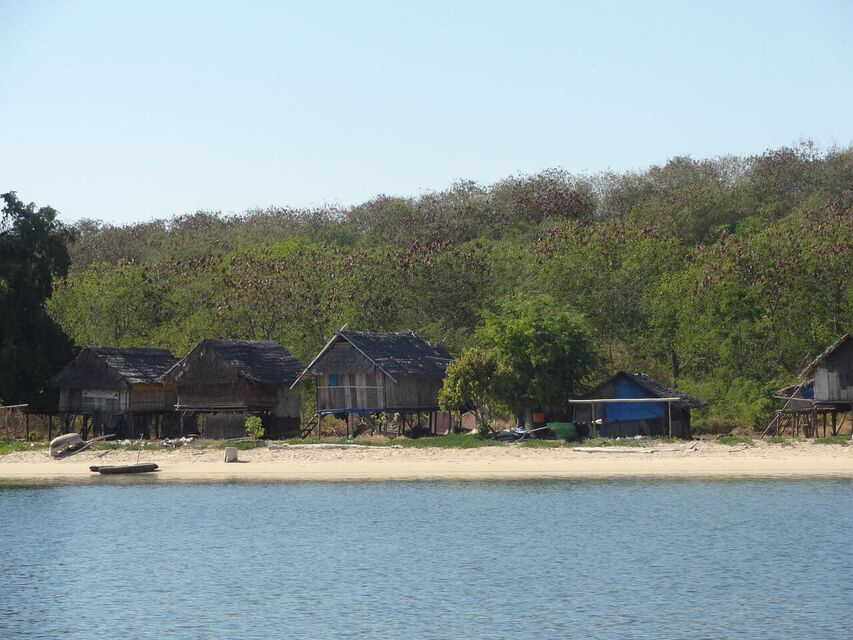 Having seen the foxes, we sailed over firstly to Pulau Tiga one of many photogenic uninhabited islands with white sand beaches and crystal clear water off the coast of Riung. We snorkelled for a while but eventually gave up as the fish, of which there were many, "attacked" and nipped at you as you were swimming along – these fish are used to being hand fed by tourists and so are constantly snapping at and nipping you looking for food – we didn't enjoy it and so we gave up, had a wander round and did some sun bathing whilst the captain got a fire going and barbecued some fish for our lunch.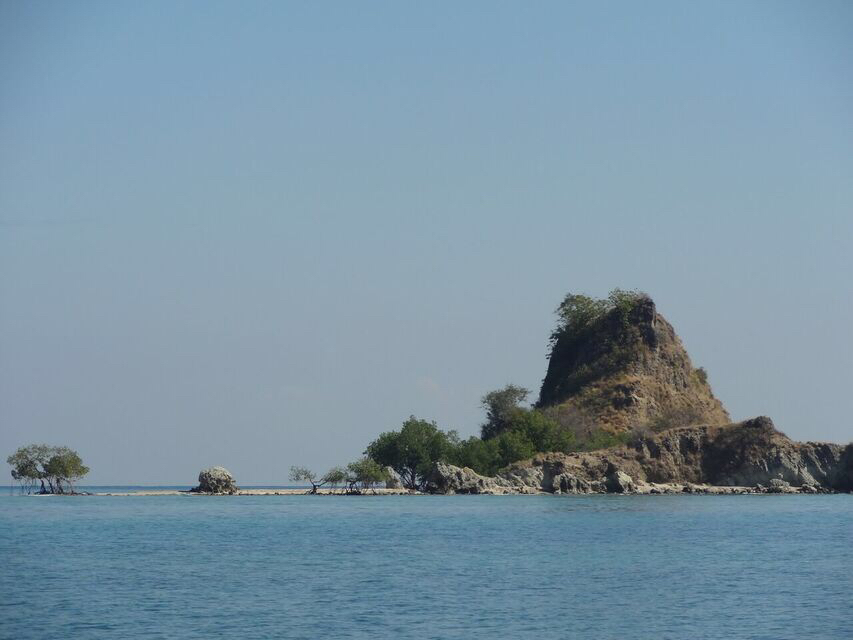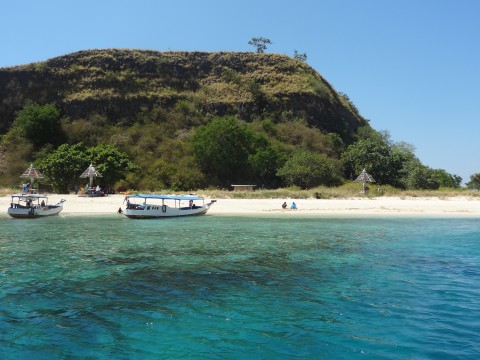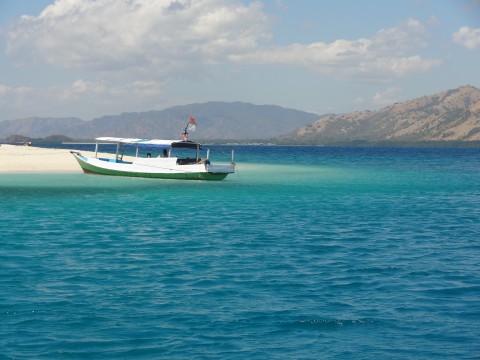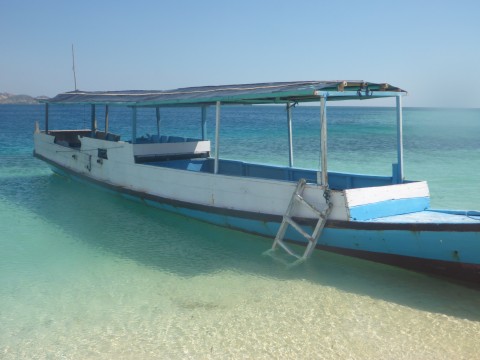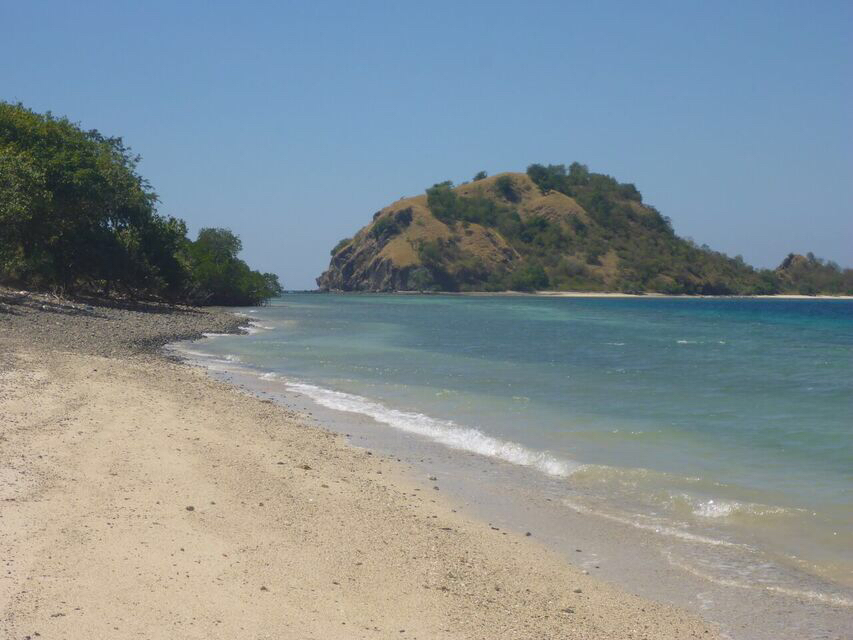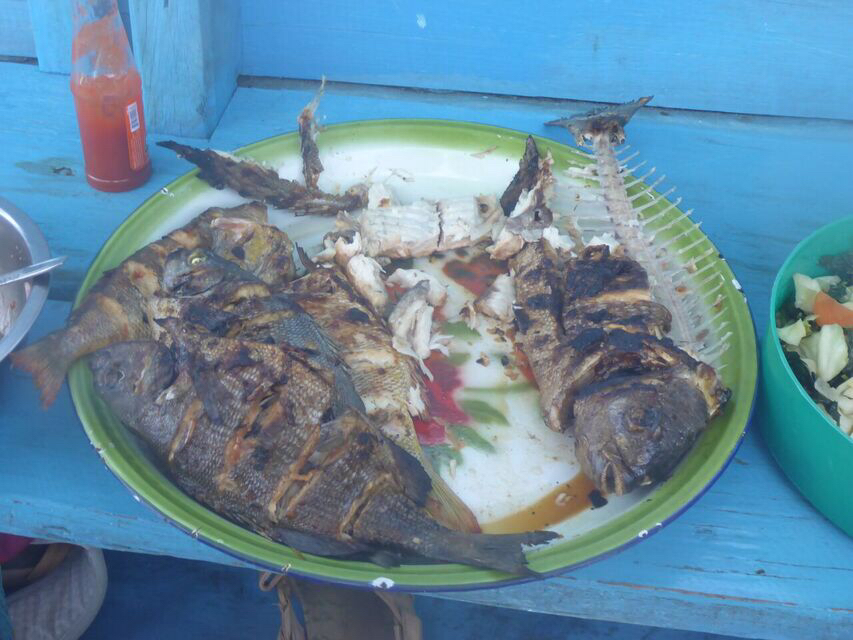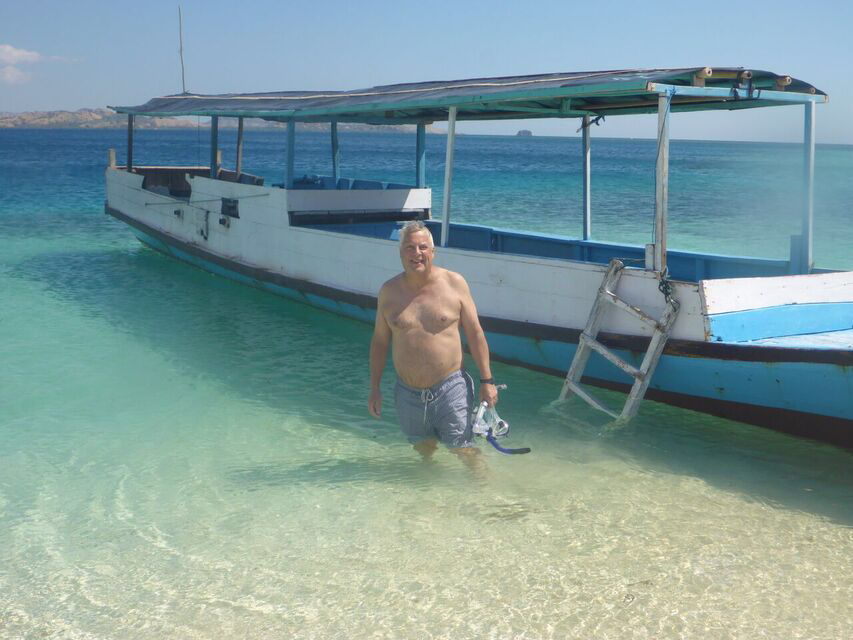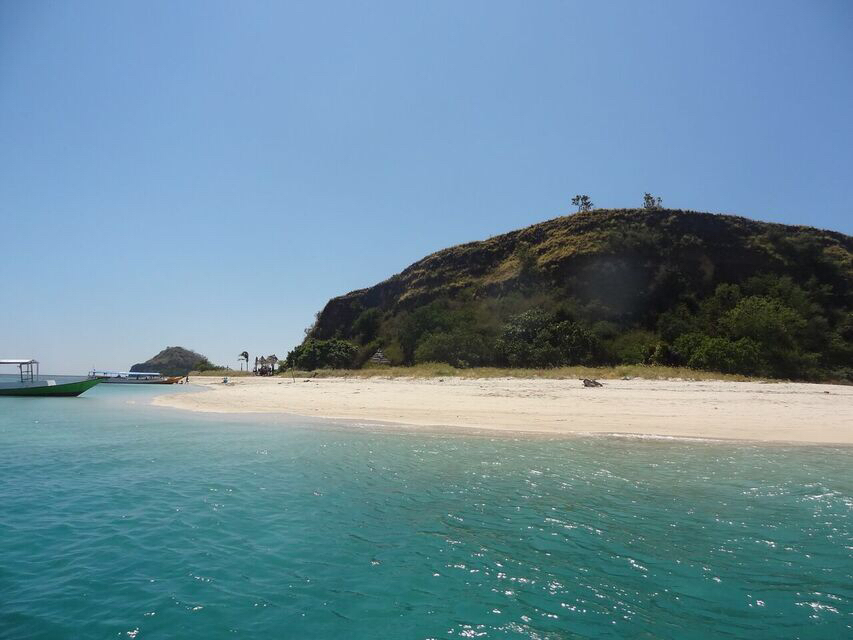 After a very pleasant meal we moved on to nearby Rutong Island for more of the same gorgeous beaches and crystal clear water.After an hour or so we sailed back to Riung for a quick shower back at Nirvana before we set off for Bajawa about 2pm.
Riung to Bajawa – July 26
The roads from Riung to Bajawa were the worst we had experienced being unsealed in many places and badly rutted. The journey is largely uphill – Bajawa is 1200m above sea level – winding all the way. The 75 km journey took us around three hours including a couple of rest/drink stops and fag breaks for Fino. We were fine with travelling slow given the scenery for which by now I have run out of superlatives. Here are some photos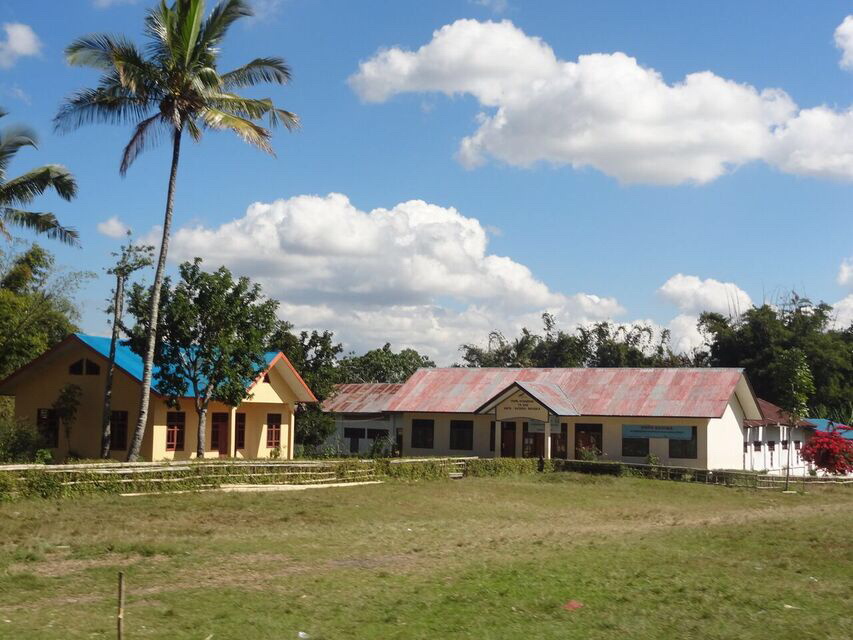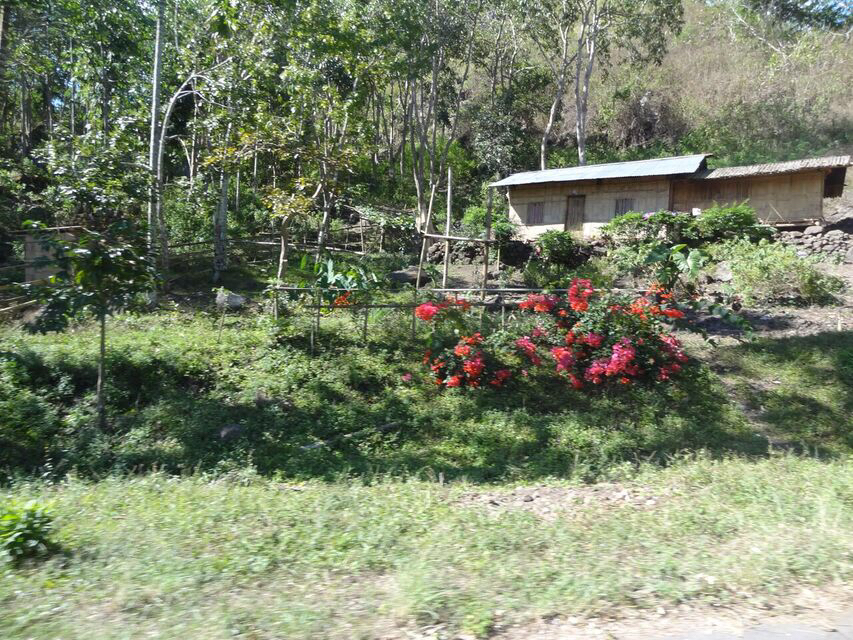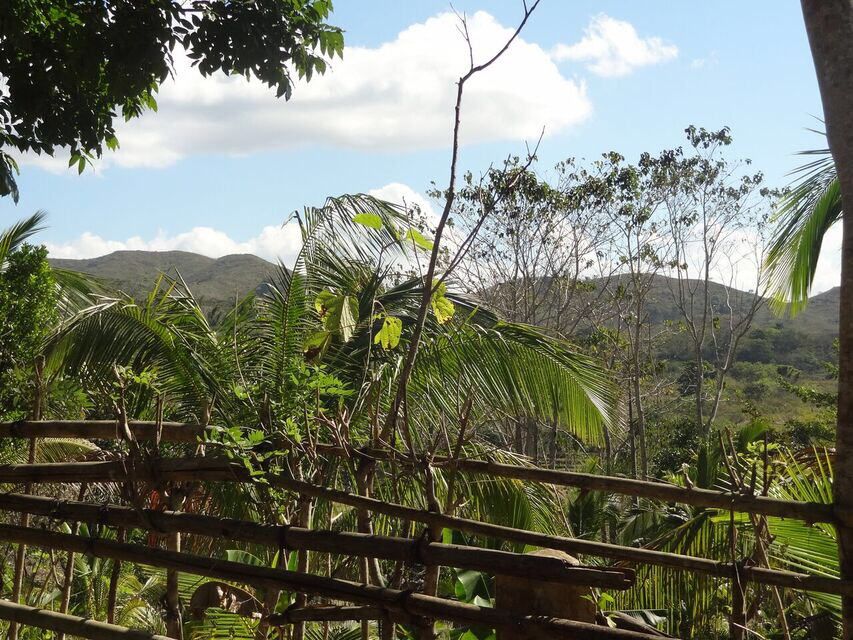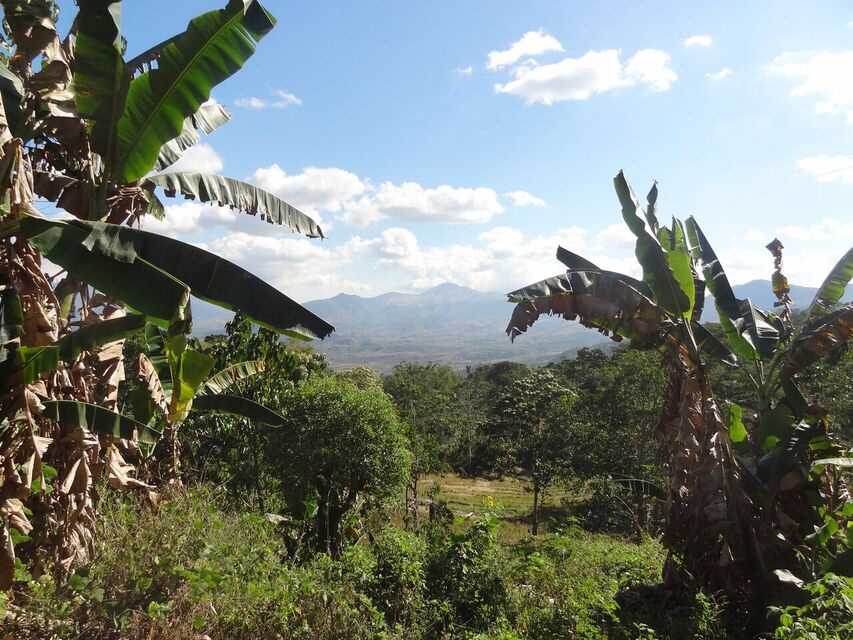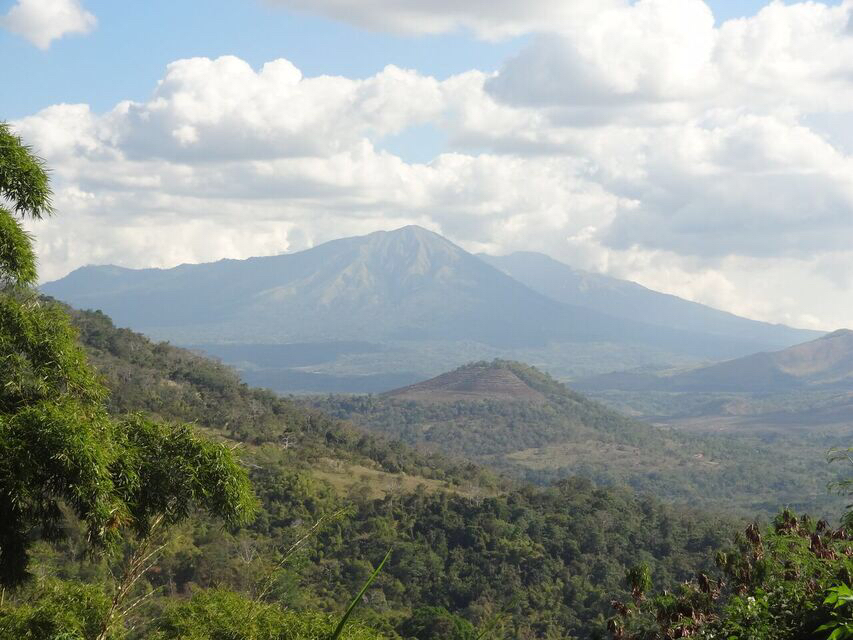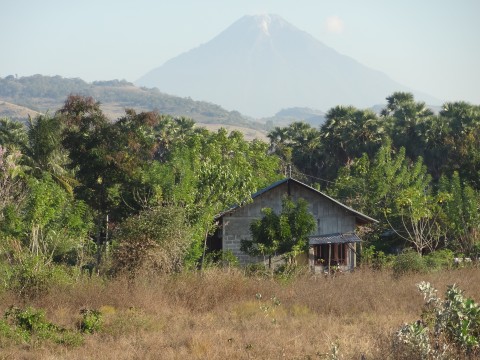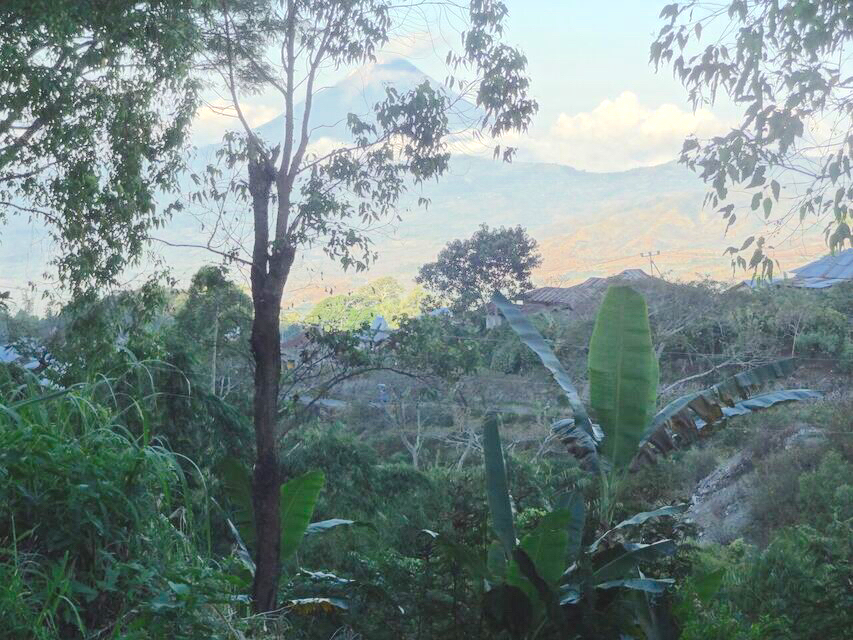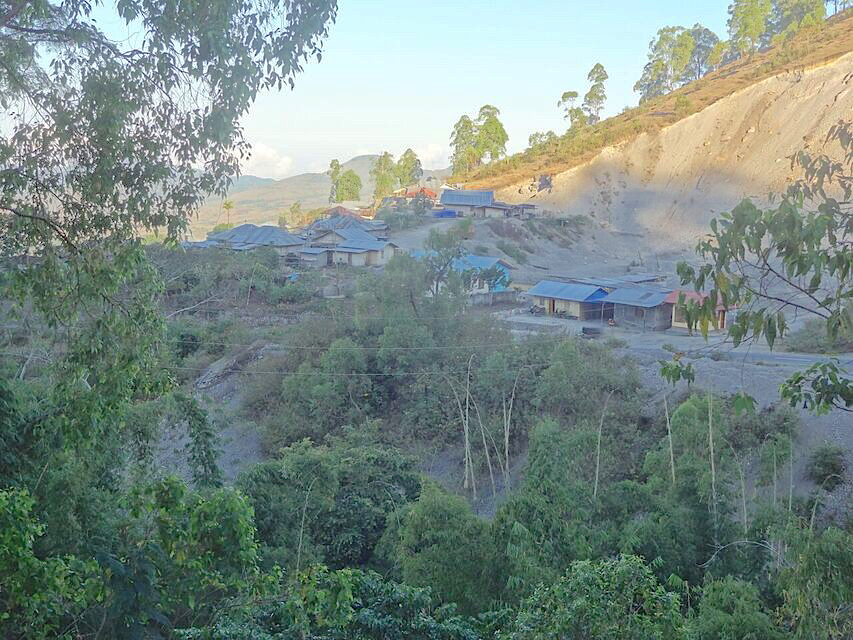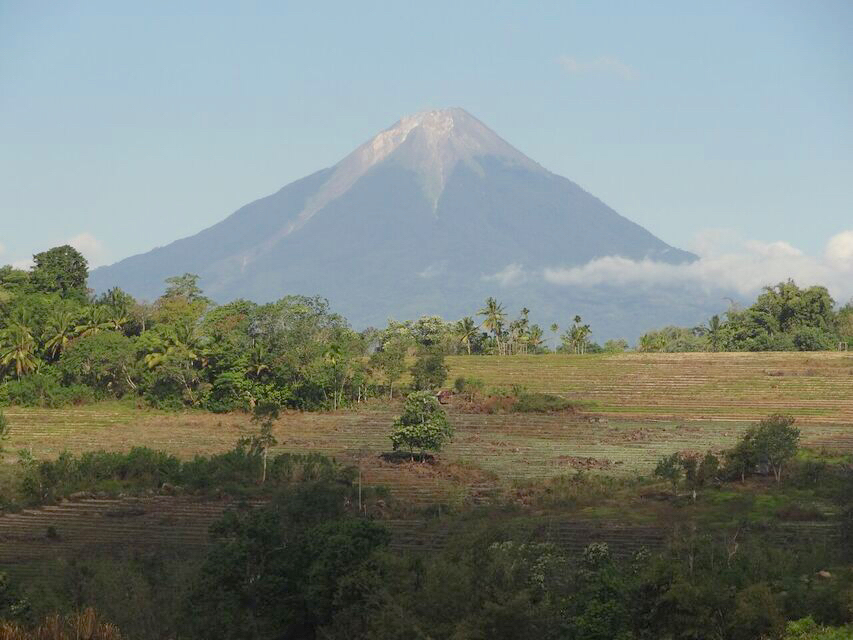 Bajawa is the capital of the Ngada Regency and we were visiting the town because we were to visit some traditional villages nearby. It's a pretty run of the mill mid-sized town with a mosque, a few banks and ATMs and the usual shops and street markets. There is nothing touristic about the town itself and there only 3 or 4 hotels. A couple of the hotels had decent Trip Advisor reviews but those were full and so we ended up staying at a new hotel, the Sanian, which Marleno hadn't used before but assured us met all our requirements as to facilities. Indeed, he booked us a VIP room meeting our requirements and more and including a minibar!  The minibar turned out to be 2 free bottles of drinking water and a teapot but the room was ok even though it did lack the aircon which it was supposed to have!
We had done a little research on restaurants in Bajawa but it hadn't taken long as there are only 5 and we plumped for Lucas  which actually turned out to be very good. Marleno and Fino dined on street food as usual  but we had a very nice meal local food accompanied by 3 or 4 other couples and their guides who had been ghosting us around the island.
A few pictures of Bajawa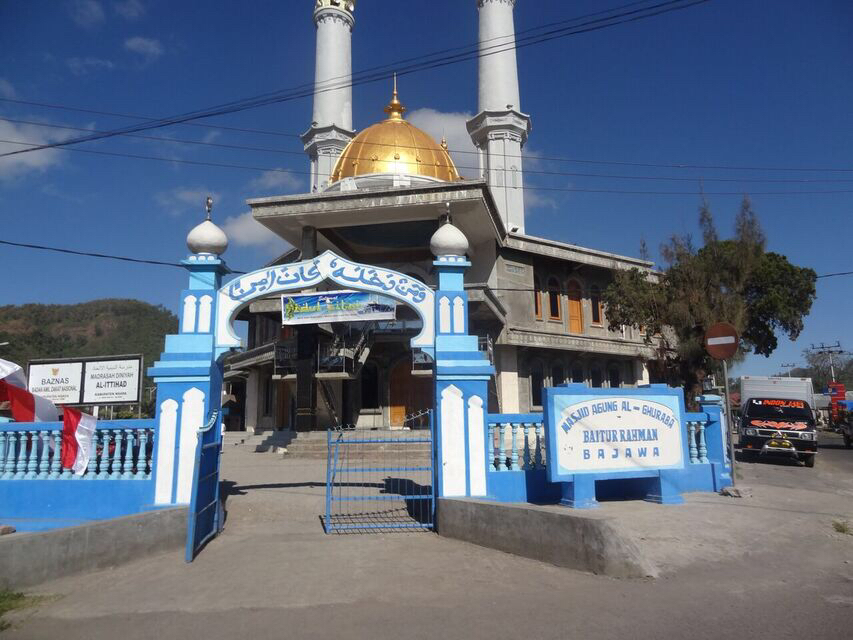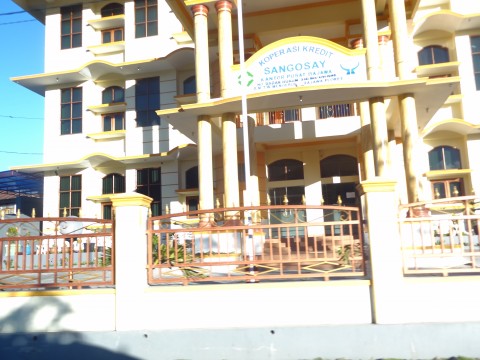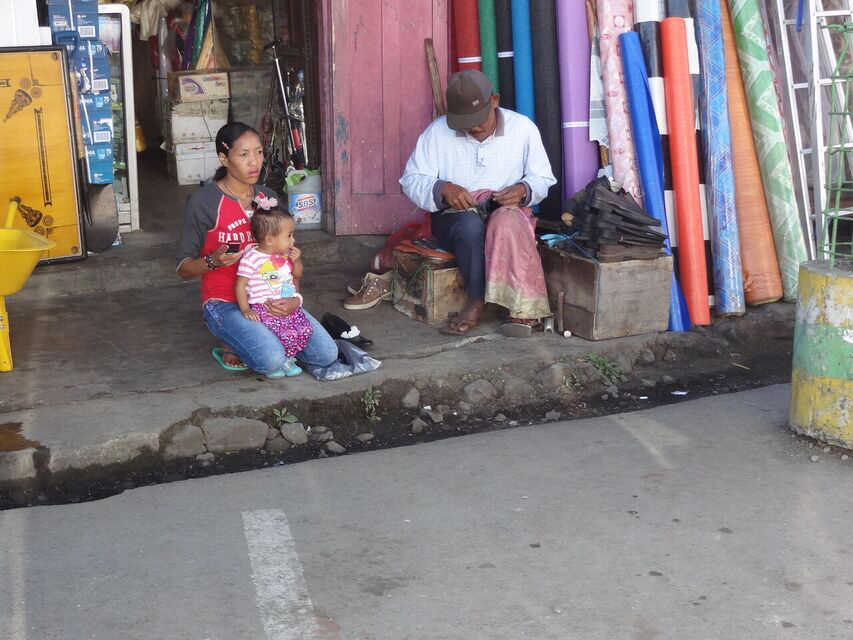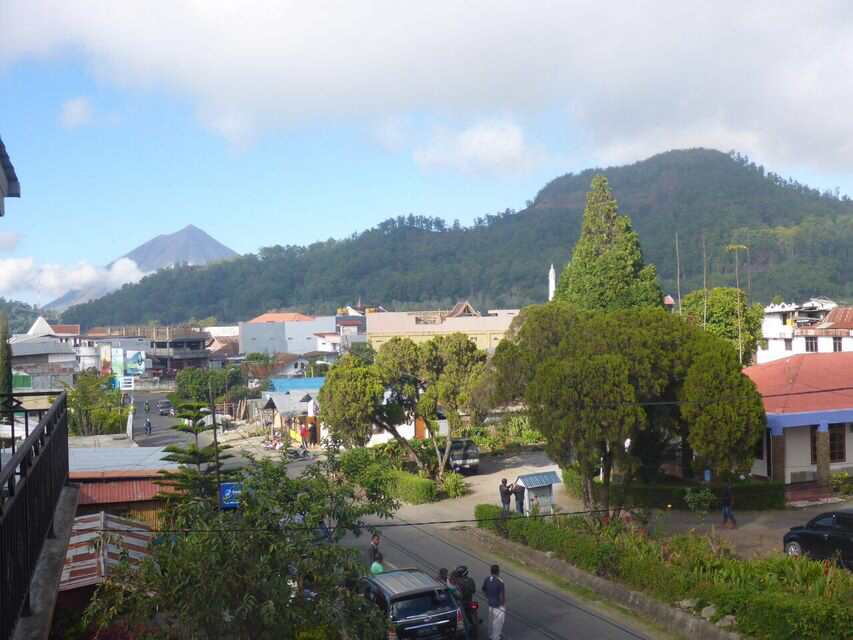 Ngada's Traditional Villages – July 27
Next morning , after a decidedly poor breakfast at the Sanian, we set off to visit the nearby villages of Luba and Bena.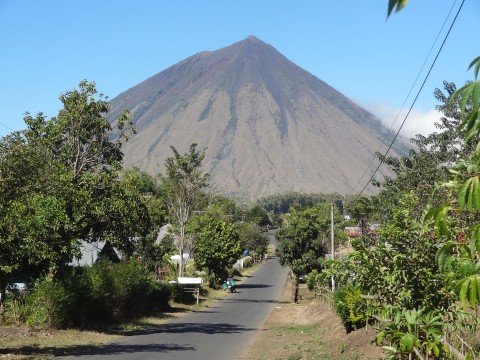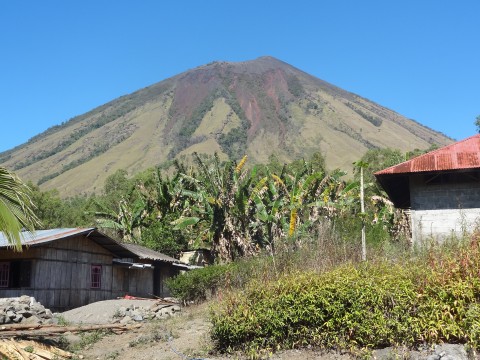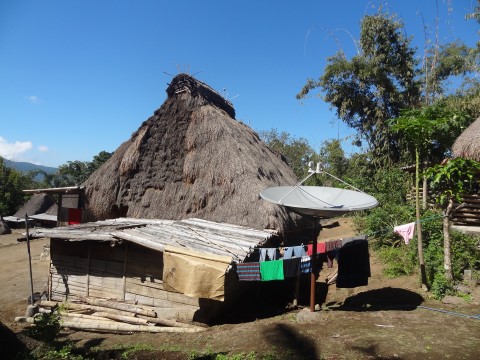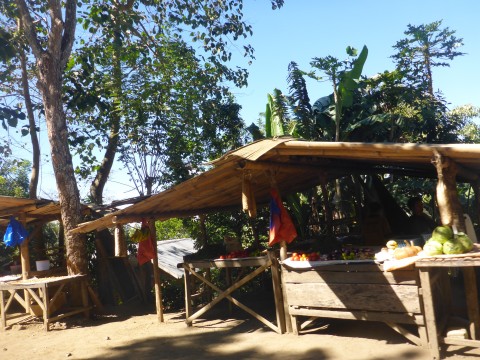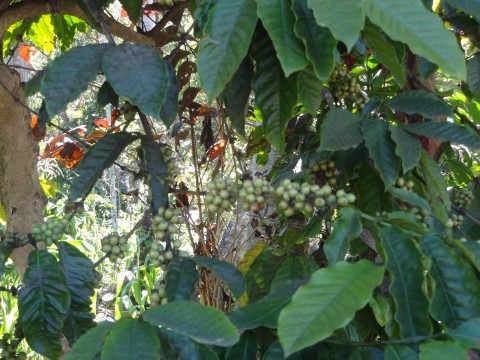 Luba Village
We visited Luba first, a very small village of about 200 hundred villagers perched on the side of a volcano with timber/bamboo and thatched houses built into the hillside on several levels.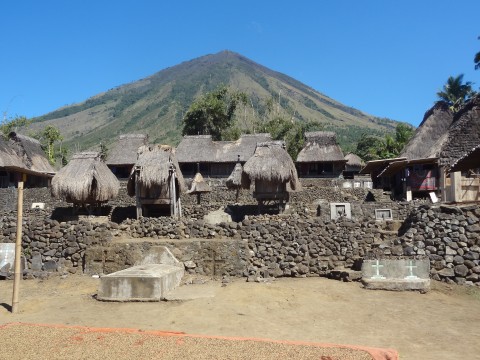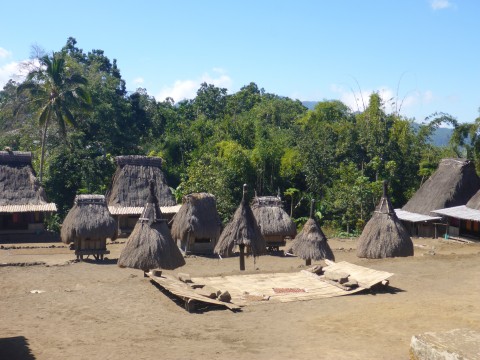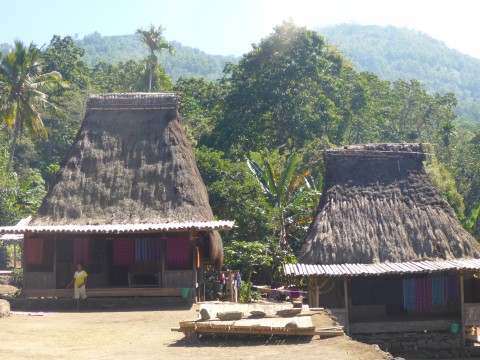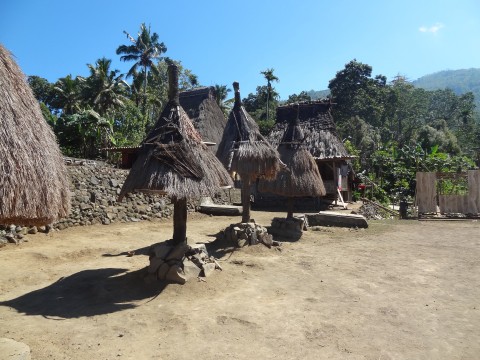 The houses themselves are basic but in good condition and the village is clean and tidy unlike most of the rest of the villages and  towns we saw in Indonesia. Satellite dishes are fixed out of view! The roofs of some houses are topped with the small figure of a man, a warrior with spear or a bow representing a male ancestor. Other houses have a small house like a dolls house fixed on the roof representing a female ancestor. Each house is also adorned with buffalo horns and pigs jaws the  remains of animals sacrificed in ceremonies but which also denote the prosperity of the household.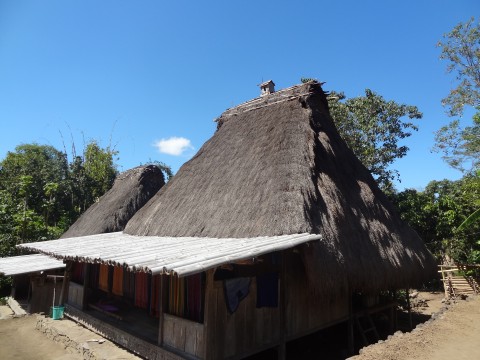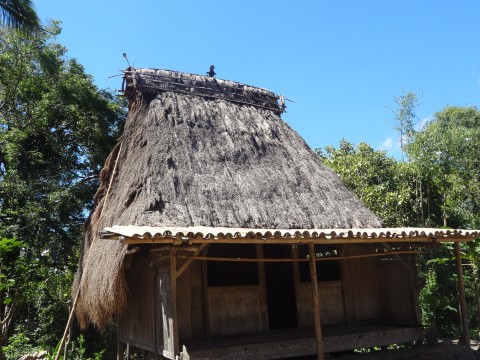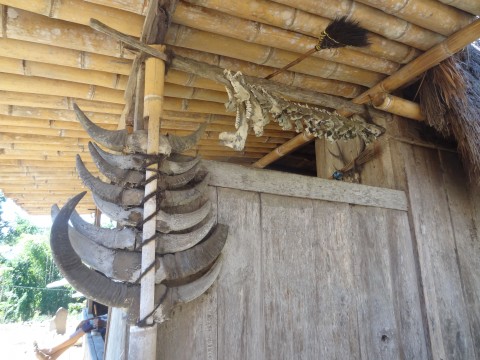 In addition to the houses themselves there are some umbrella-like structures built of carved timber poles with a thatched roof. These are called ngadhu and each one represents a male ancestor of a different clan of the village. Carvings represent virility and strength.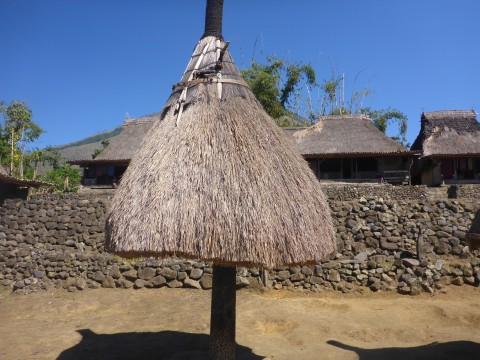 The female counterpart to the ngadhu is another structure called a bhaga which is in the form of a miniature house with carvings representing fertility.
The ngadhu and bhaga structures are connected with different ceremonies and sacrifices take place at the stone base of the ngadhu with the blood of the animal smeared up the pole of the structure.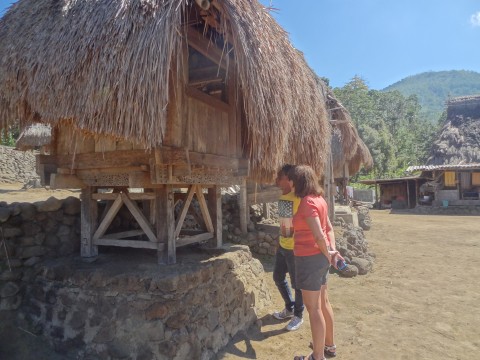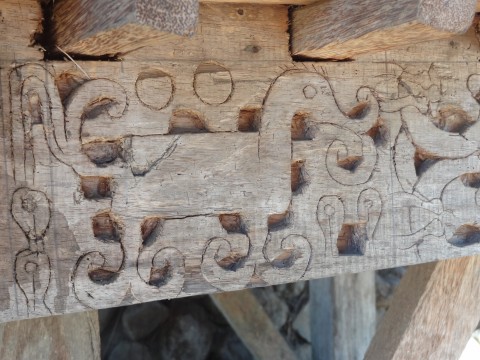 Whilst animist beliefs with ceremonies and sacrifices continue, the villagers are nevertheless catholic and it seems most odd that yards away from these religious and ceremonial structures are catholic gravestones bearing names which are a mix of European (Portuguese) and local names. The names on two of the graves in the photo below are Veronica Negora Ruba and Vransisca Nero Ruba .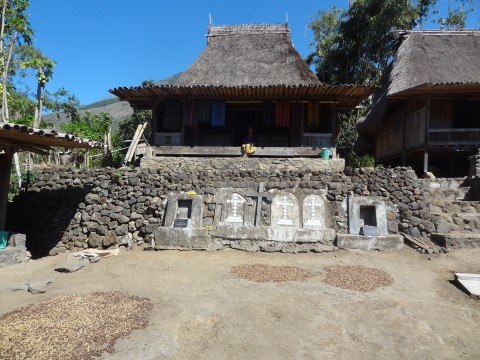 The village was very quiet when we visited. There were very few people around with perhaps half a dozen tourists and a few old women sat around talking, their teeth red from chewing betel nut. Betel nuts and some coffee lay drying in the sun on plastic sheets on the ground. One or two younger women sat weaving, an old man entertained his granddaughter and a few kids ran around playing games. Most of the villagers were out at work in the fields or in the towns or at school. There was nothing touristic about the village although there were lengths of material sarongs and blankets hung out by the weavers and obviously for sale but no sales pitch other than an invitation to us to take a look.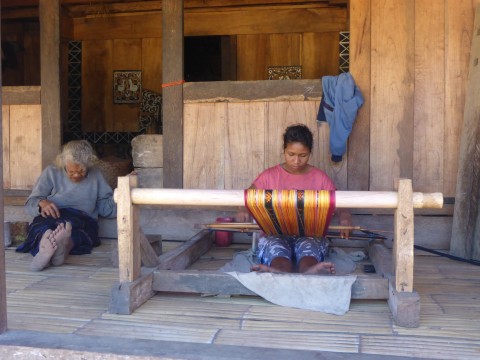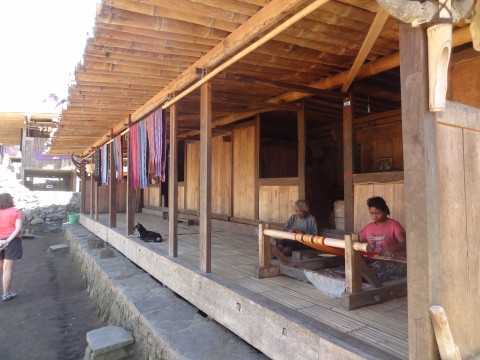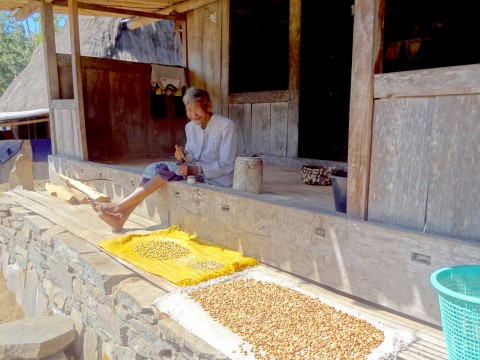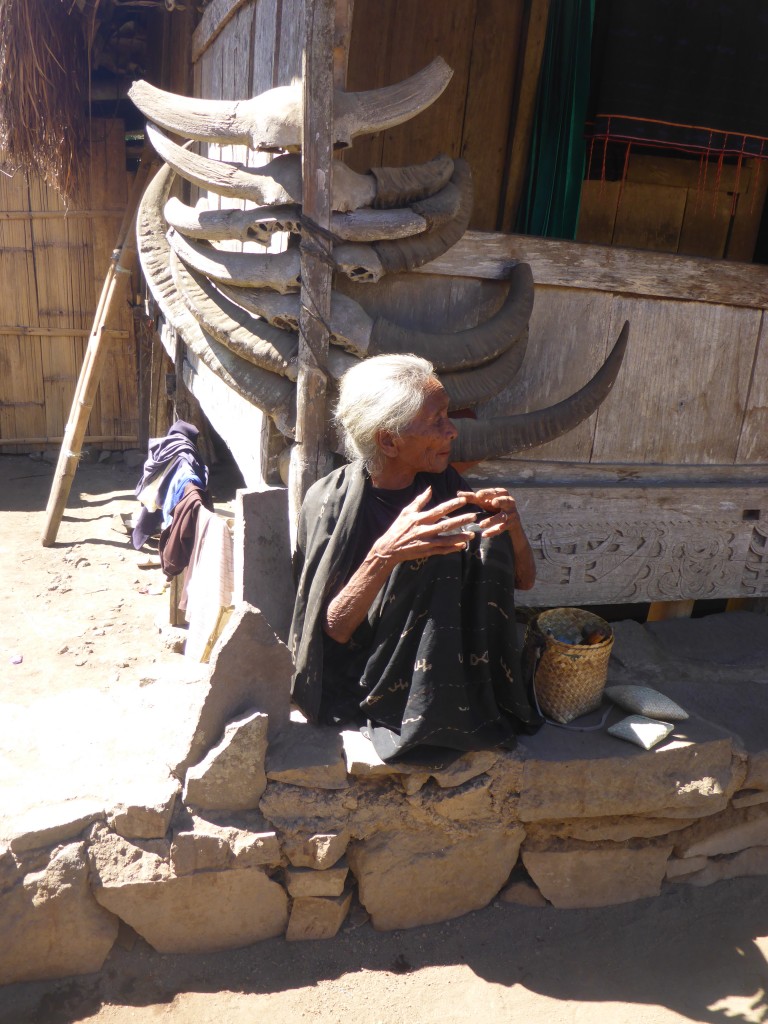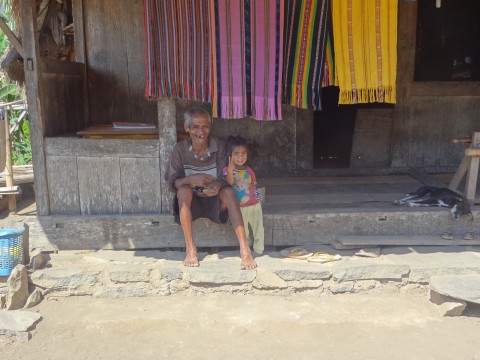 Like other communities around Flores and Indonesia, the people here continue to practice age old traditions. For example, the Ngada people are matrilineal, meaning that children are considered to be members of their mother's clan – and houses are bequeathed accordingly. It is the women of the family and community that have the power and make most of the important decisions.
Bena Village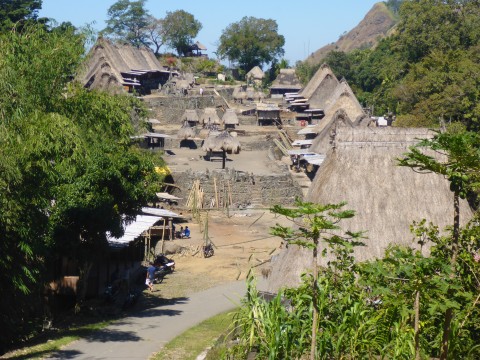 Bena village, shown above, is only a short walk of few hundred metres from Luba. The village has existed for over 1,000 years and  is in a spectacular setting overlooking volcanic valleys leading out to the sea and itself overlooked by the highest mountain in Flores, Mount Inerie, a live volcano.
Two parallel rows of houses stand facing each other with the space between containing ancient megalithic stones and an ancient stone sacrificial altar. There are also ngadhu and bhaga structures with nine tribes in this village but again evidence of the catholic faith with a shrine to the Virgin Mary at the top of the village.
The village was quite busy when we visited with a new house being built and workmen also busy making a bamboo frame for a large shelter being made in readiness for an imminent wedding.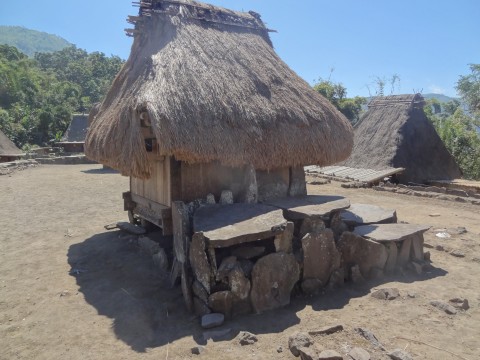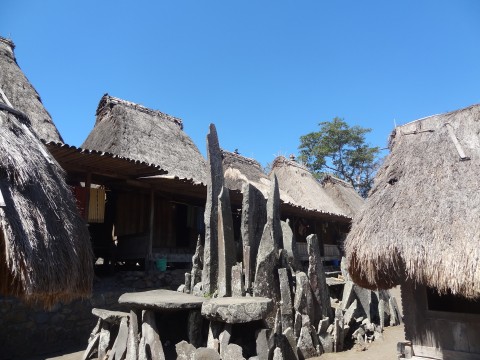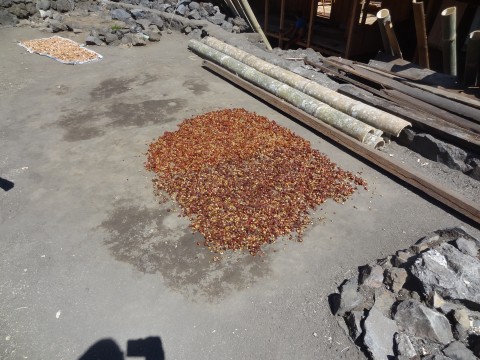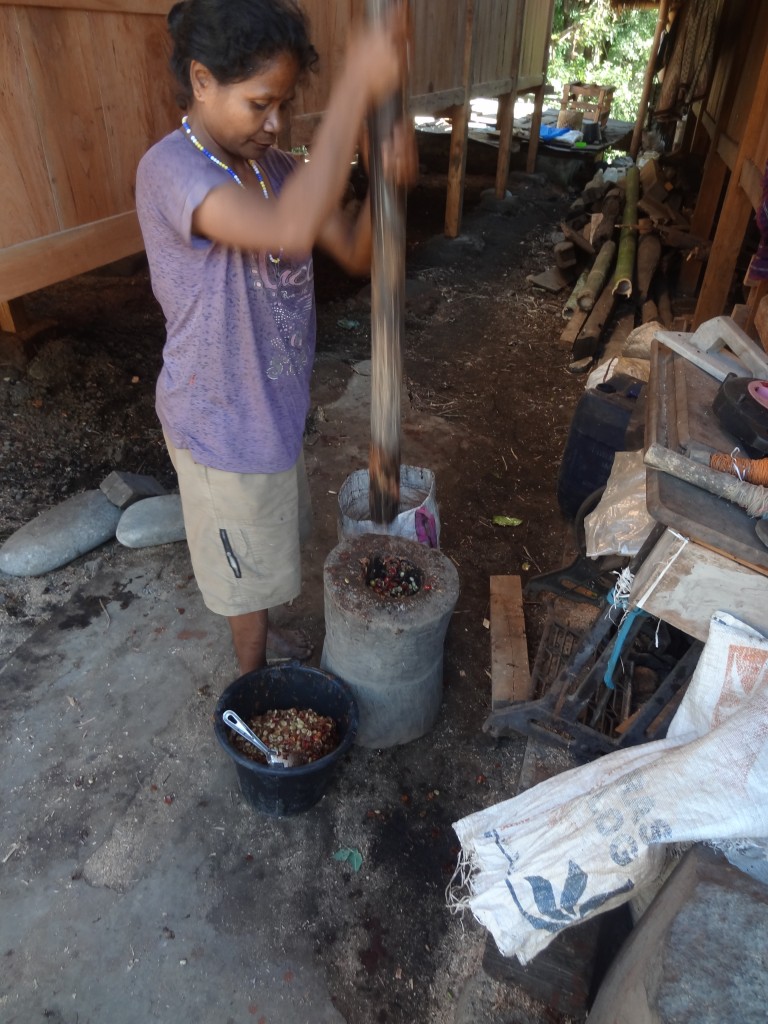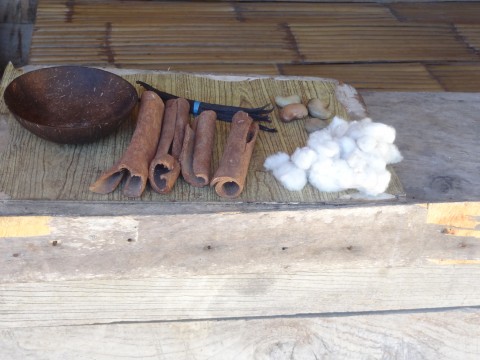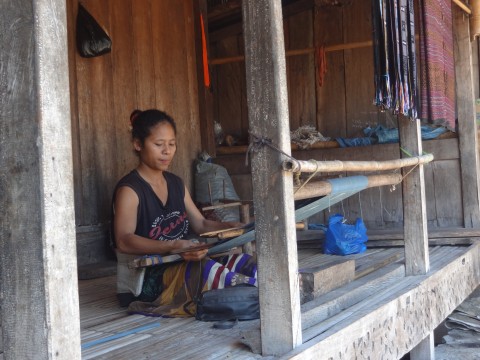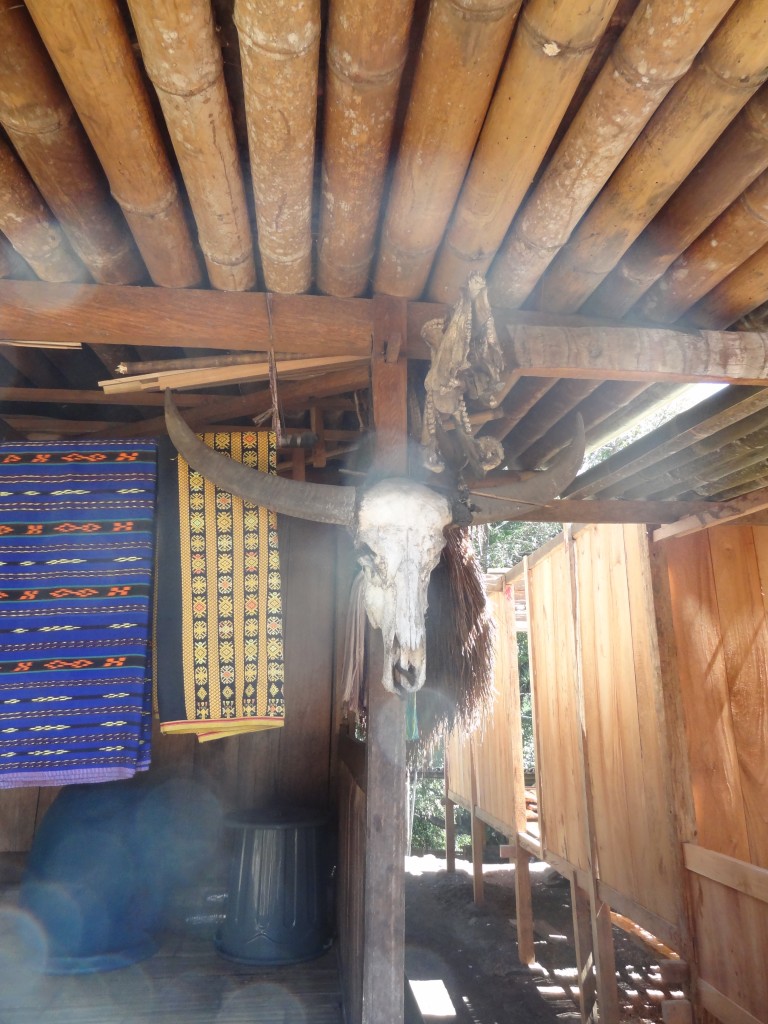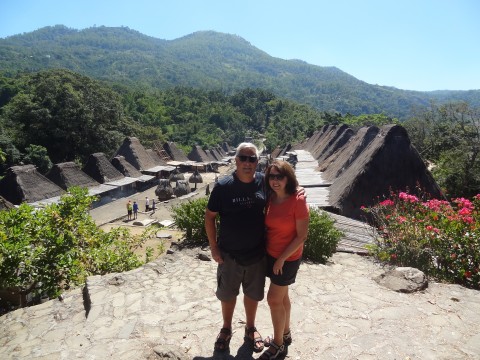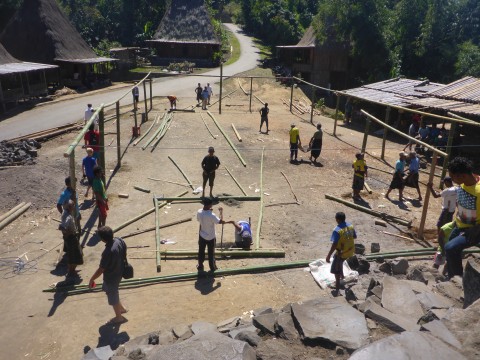 Whilst there were quite a few tourists about, the villagers went about their daily lives sat weaving it or making baskets on their porches, pounding coffee or preparing food. Inevitably there were goods for sale but again there was absolutely no sales pitch from anyone and so in that sense the village wasn't particularly touristic . I read later that the villagers are busy ensuring that traditional activities continue with the aim of securing UNESCO World Heritage status which would obviously have financial benefits. The village is already on the "tentative" list and apparently receives some financial support. Quite an amazing place – like stepping into a film set of stone age village life and an absolute  high-light of our visit to Flores.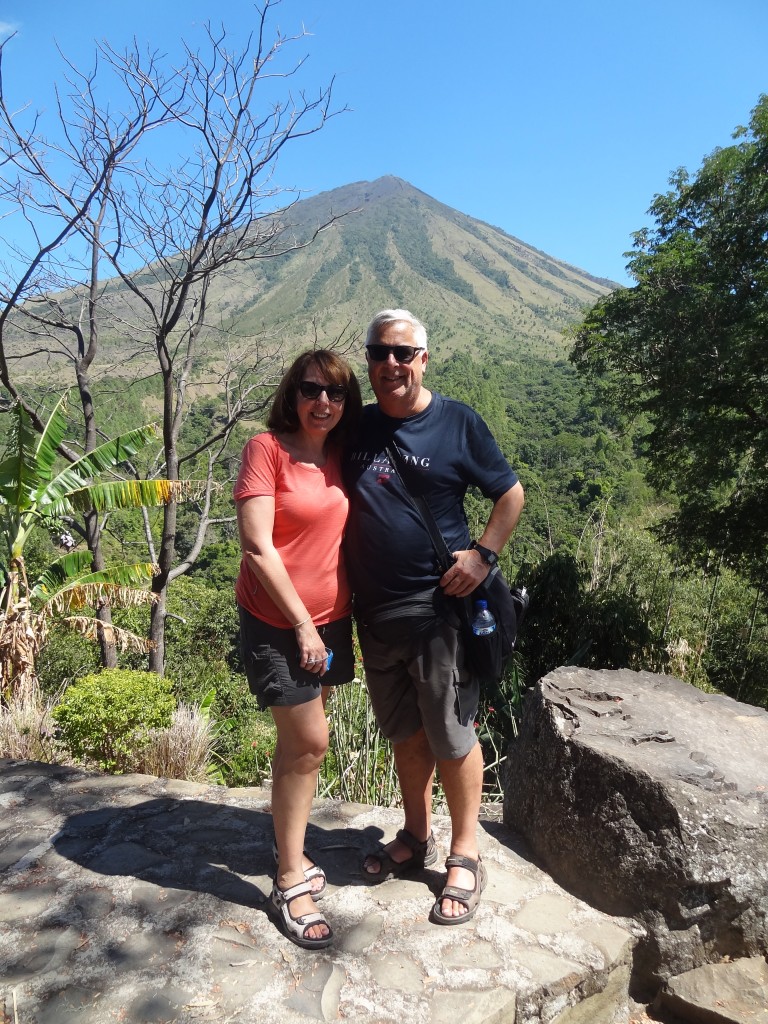 Onward to Ruteng –  July 27
We left Bena Village early afternoon on July 27 2015 for the 3 hour drive to Ruteng.
Manggarai Regency is in the west of Flores and Ruteng is its capital. It's only a small town and like most of the towns in Flores it offers nothing for tourists. It's a rough and ready place and thankfully we would spend very little time there. The only reason to visit is to see the famous and unique spiders web rice fields.
The accommodation in town is limited to 2 hotels which get awful reviews – and a convent. Maybe we should have gone for the convent! Marleno had booked us into a room out of town in what he told us was a new-ish hotel that would meet our requirements. Hotel FX72 turned out to be fairly typical and actually fell short in a number ways – no hot water, no aircon, no wifi and a very poor breakfast. Thankfully we were staying for only one night and by now we were hardened to crappy hotels and this one did at least have some lovely views.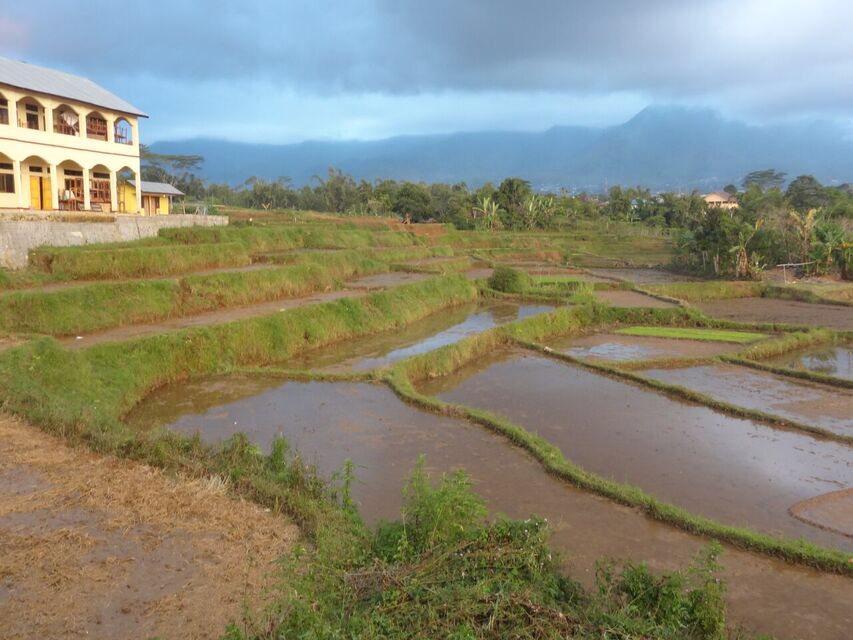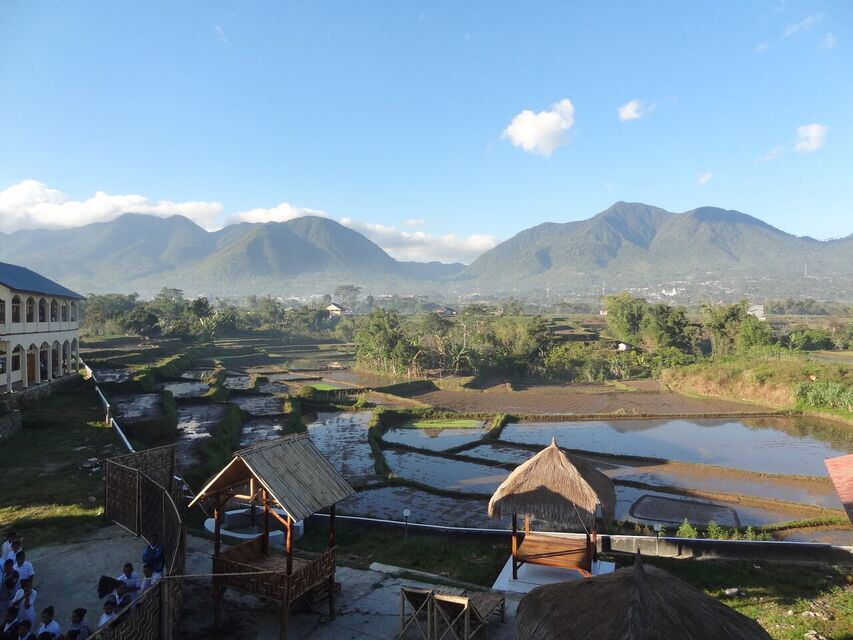 The following morning, July 28, we were up and around early due to the noise coming from a school playground next door to the hotel – from 7am onwards! We didn't bother with the breakfast of cold buttered toast and cold fried egg and so we made an early start on the 20km drive to Cancar Village and the Spiders Web Rice Fields. We arrived soon after 9am paid our IDR 10,000 each entrance fee and made the short walk up to the vantage point looking out over the rice fields.
Unlike rice fields elsewhere, the rice fields here in Cancar are unique. When viewed up close, the fields are the same as any others but when viewed from above and afar, the fields in Cancar look like a spiders web.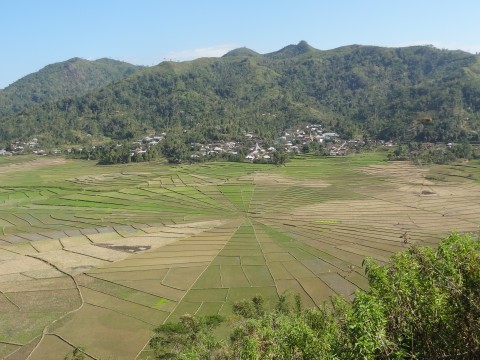 This spider web effect results from the way that the fields are divided up. The entire land is owned by the community and is divided up by village leaders between the various families according to the size of the families – the bigger the family the more land they are allocated. The division of the land is done from a central point on the land and the result is the spiders web effect.Ceremonies take place at the centre of the web at the beginning of the season and at the end as a thanks giving.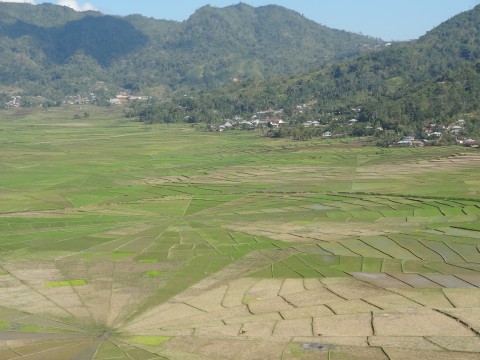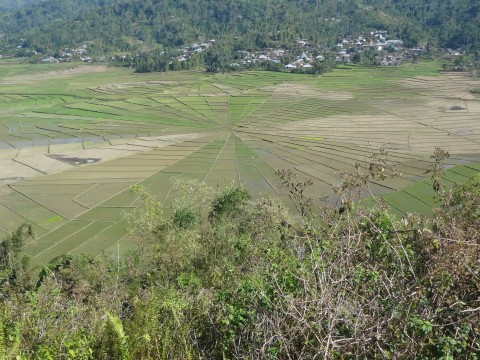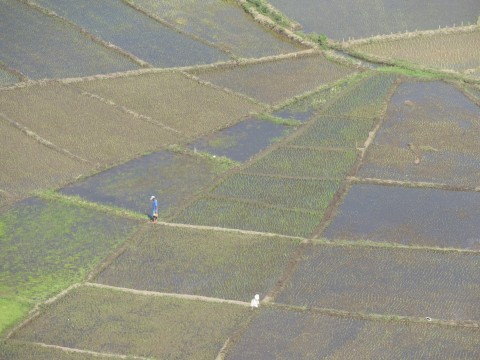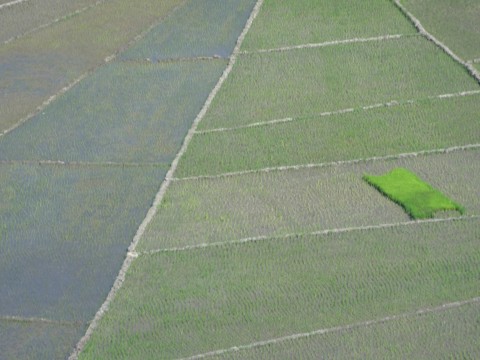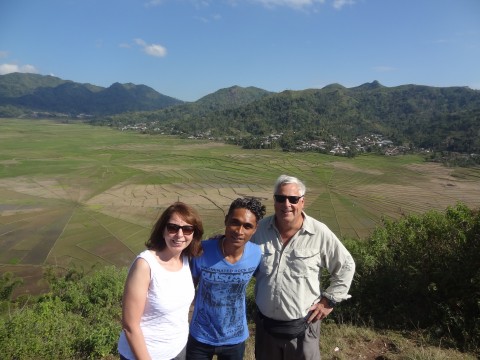 Ruteng to Labuan Bajo
Following our visit to the Spiders Web Rice Fields, we set off late morning on July 28, Ann's birthday, on the  final leg of our trip across Flores to Labuan Bajo, a fishing town on the far west coast of the Island. The journey is around 130km and took us about 4 hours along winding roads which were part good (new?) and part not so good. Scenery as good as ever with some really pretty views over the sea as we got to Labuan Bajo (or Labuanbajo).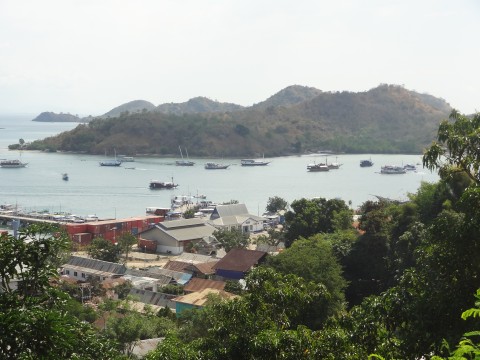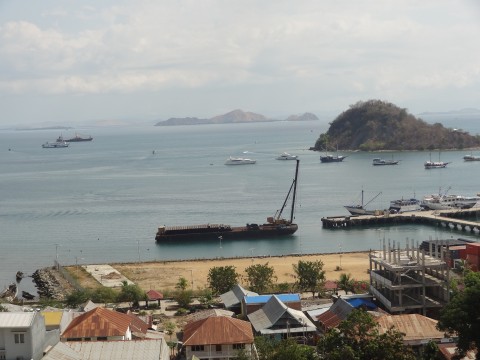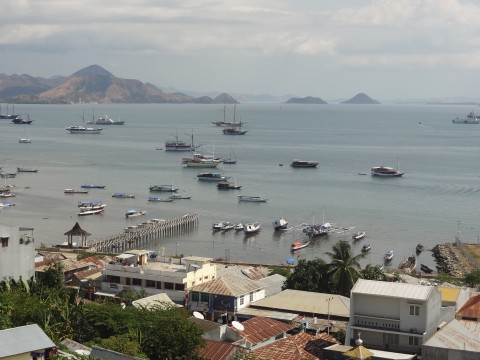 Whilst Labuan Bajo is still a fishing village, it is also a tourism centre with lots of dive operators and  trips available to Komodo, Rinca and other islands and trips – such as the cross island one that we had done. The town has its own modern airport only 2 km out of town with flights to Denpasar and Sulawesi.
We were booked into the L Bajo Hotel which turned out to be a pretty good place – this one we booked ourselves! The hotel is new and had pretty much everything we wanted (but poor wifi) with great staff who were eager to please even though they didn't always get it right. We were not too fussed when our free breakfast didn't arrive at our door on either of our 2 days but when we mentioned it en passant to the reception staff they were mortified at this and gave us a free ride to the airport to compensate.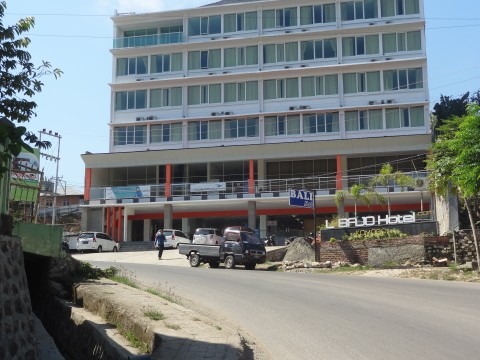 The town itself is a busy place with lots of people on the streets at all times. Everyone is friendly and says hello and you need never be without transport as every second person seems to be a taxi driver or  bemo driver (small vans with seats) or an ojec (motor bike taxi) driver. Vehicles constantly slow down and beep their horns offering "taxi?" or "transport?" and groups of men sat around talking provide a constant chorus of "taxi?" when you walk by. This is the same wherever we travelled through Indonesia, Malaysia and Thailand.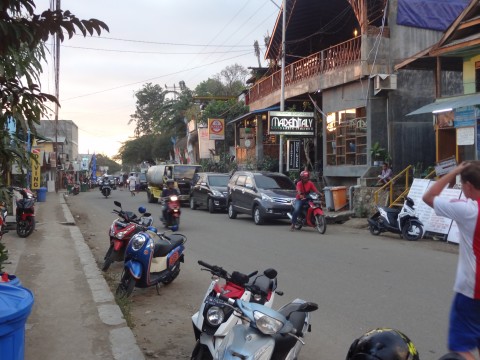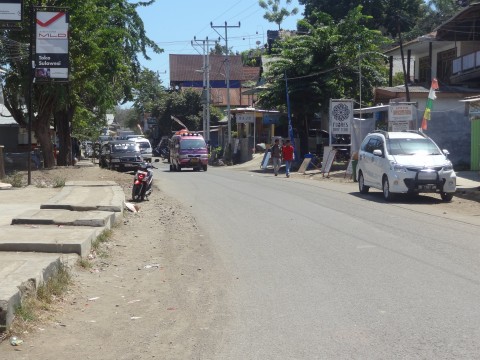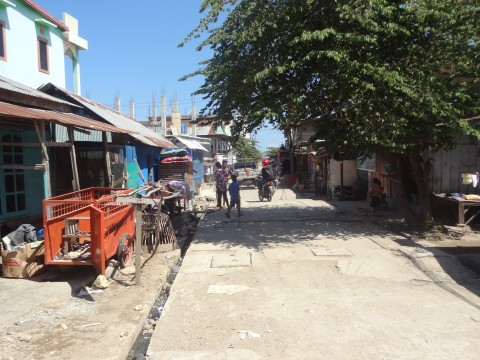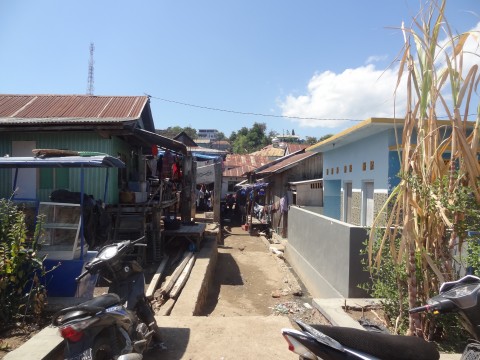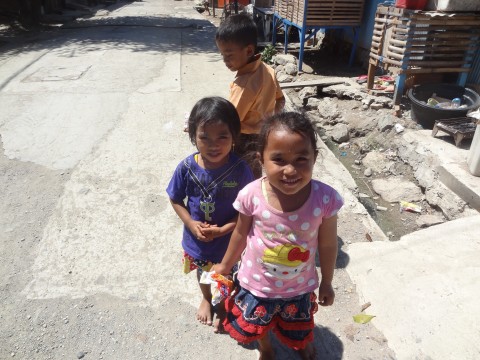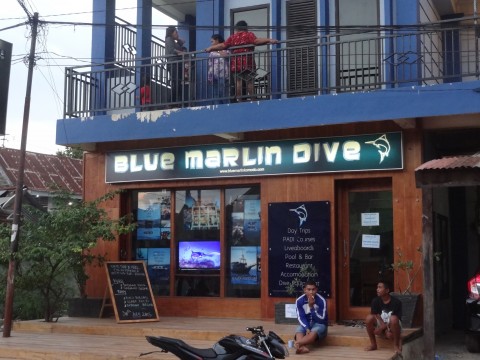 Apart from our hotel, we don't recall seeing hardly any new or newish buildings even though the town has apparently grown considerably in recent years due to the increasing  interest in diving, Komodo dragons and travel generally in Flores. That said the building methods here probably make it difficult to distinguish old from new. Truth is that this is a scruffy, ramshackle place with dusty streets with dodgy pavements or no pavements at all which are unlit (as everywhere else on the island) and with deep drainage ditches in places where you least expect them which are uncovered and unmarked and providing potential disaster for the unwary walker or cyclist at night time. Having said all that, I quite liked the place by the time we left; everyone was so nice and friendly and we had found some decent bars and restaurants which all had good wifi. Ann wasn't impressed and couldn't wait to escape….
Marleno and Fino left us to  our own devices for the evening as we wanted to have an evening on our own to celebrate Ann's birthday. We wandered through town and down to a night market which was recommended for good barbecued fish. It was certainly a nice spot and with a great sunset was a lovely set up for al fresco dining but we had decided to stick to our rule of no street food fearful of dodgy stomaches for our boat trip to Rinco Island the following morning. We had read good reviews about an Italian restaurant called Made in Italy and ended up having a really nice evening here. The food was excellent though a tad expensive by Indonesian standards.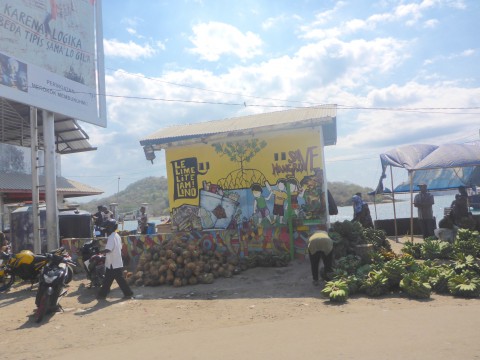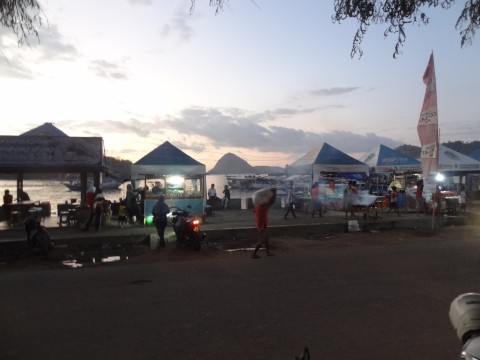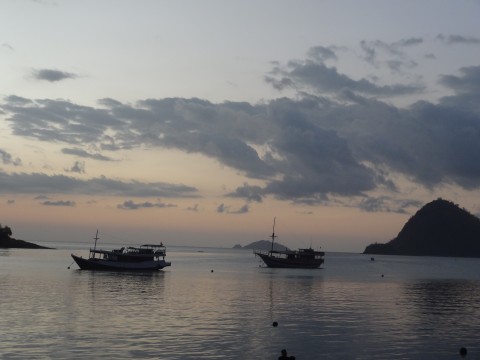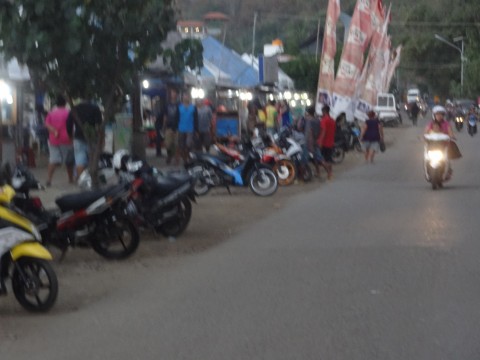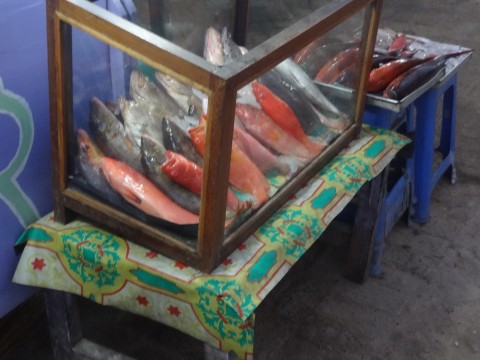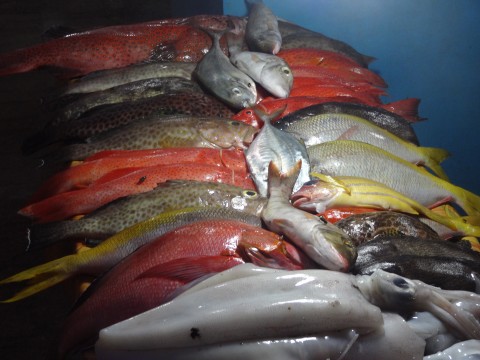 Rinca Island July 29
The reason for our visit to Labuan Baja, apart from being our exit point from Flores, was to visit Komodo National Park to see Komodo dragons in their natural habitat which means visiting Komodo Island or Rinca Island.
We did a lot of reading up on the different islands and opinions differ as to which island is the best to visit. I suppose one should ideally visit both but we chose to visit Rinca because the boat trip to Rinca is much shorter and the chances of seeing dragons and other wild life are apparently greater. It's fair to say that some people say just don't bother as they consider it is an expensive day out (seem to recall it cost us around a million IDR less than GBP50 – and we had a private boat) for the chance to see some big but pretty docile lizards; others, like us, take the view that if you are in the area then it would be a shame not to do the trip.
So on July 29 we made  our final  trip with Marleno Lopez on our visit to Rinca Island. Even if we didn't get to see dragons it would be a nice boat and a bit of a walk on the island.
Here's a few facts about Komodo Dragons :
Otherwise known as Komodo Moniters
The largest living lizards in the world
Males can grow to 3 metres and females to 1.8 metres
Found only on the islands of Komodo National Park
Their long forked tongues are used for taste and smell
They are carnivores and can eat very large prey such as water buffalo or even humans
Although they can run at 20kph , in short bursts , they hunt by stealth knocking over their prey and then use large serrated teeth to shred the flesh.If the prey escapes it will die within 24 hours of blood poisoning because the Komodo's saliva contains poisonous bacteria.
Attacks on humans are rare but they do happen and humans have been killed.
Here are some photographs of our trip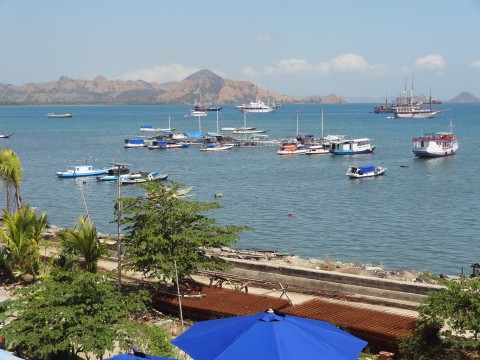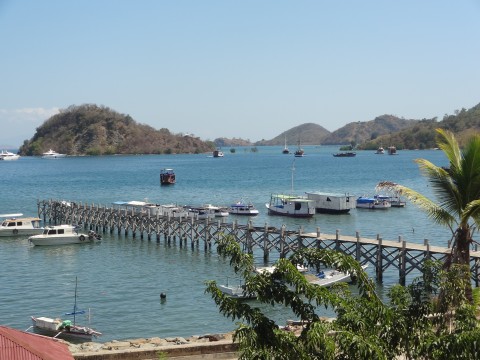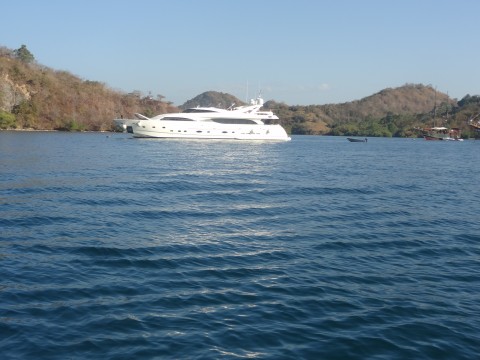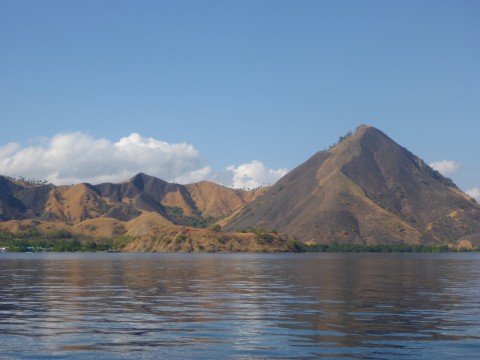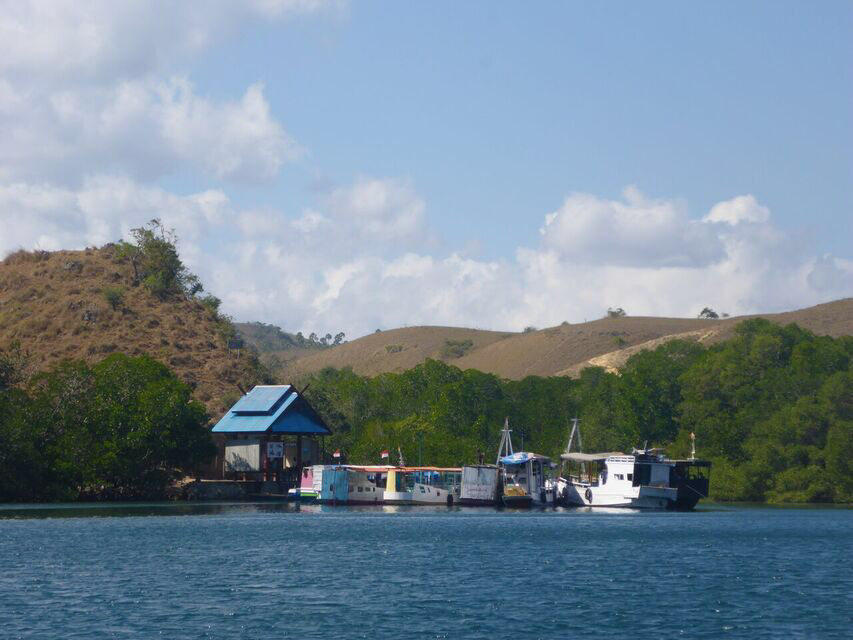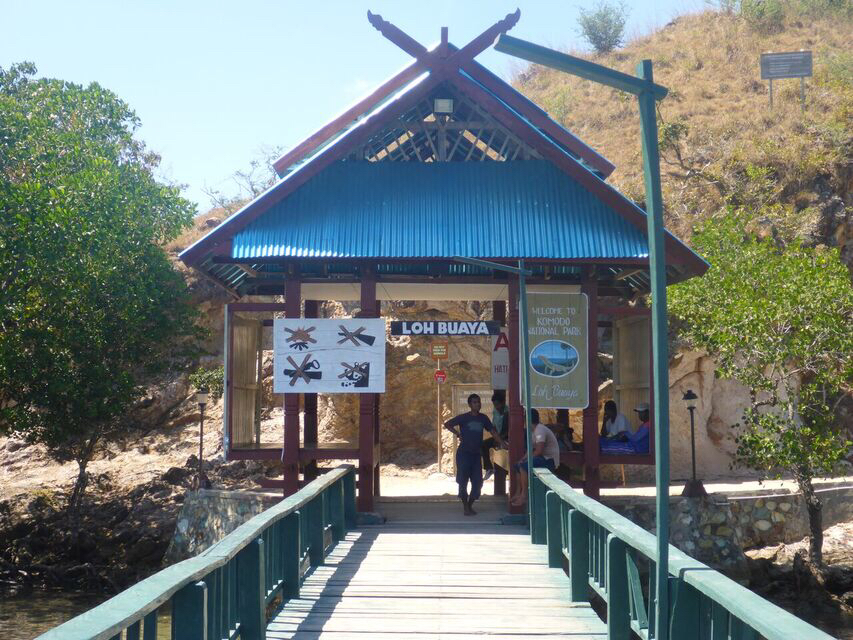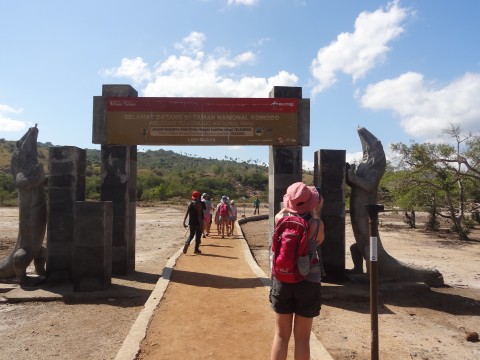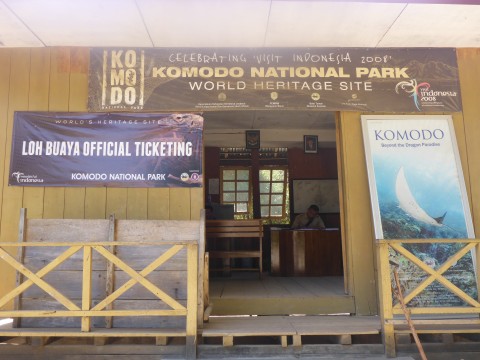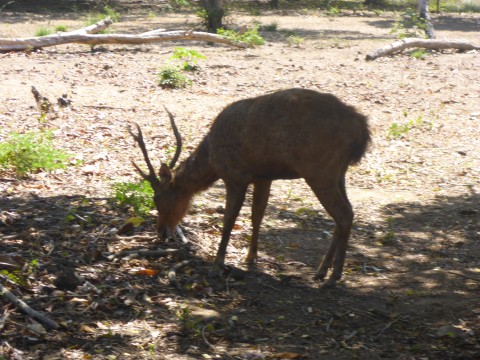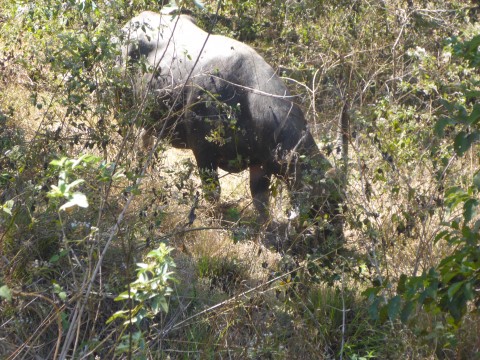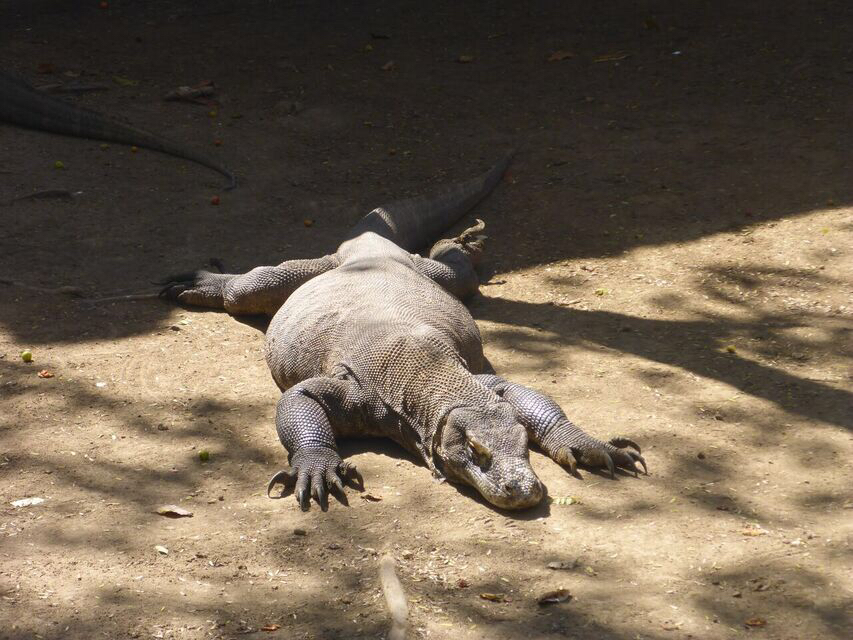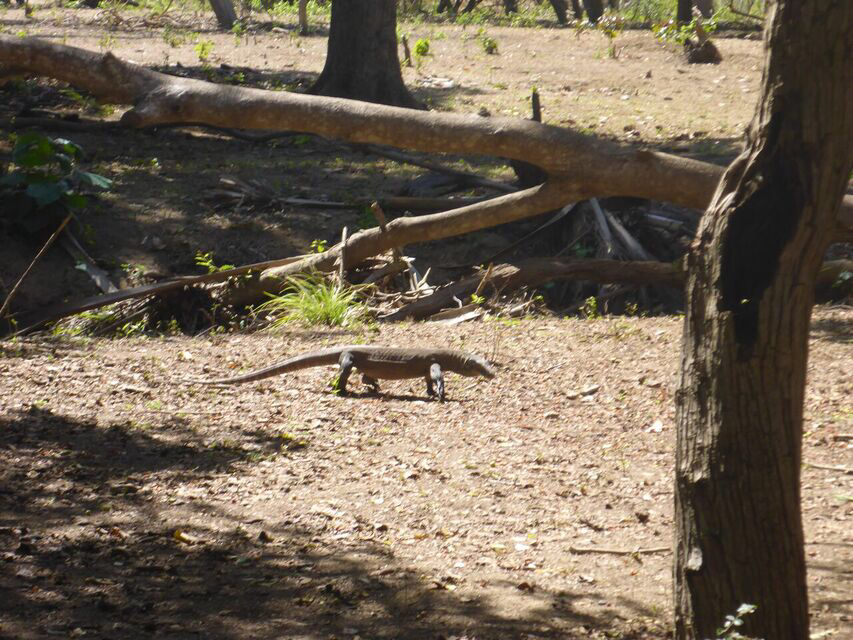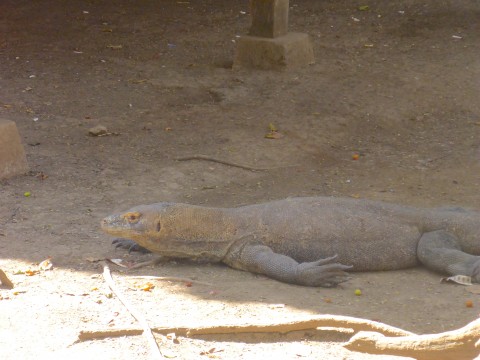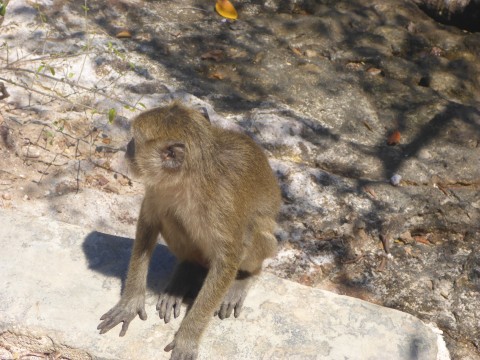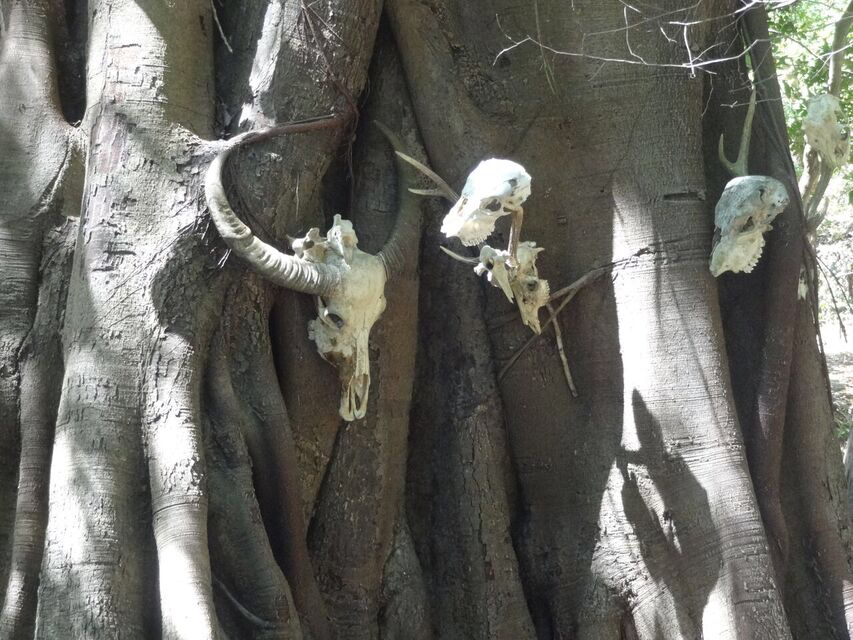 Our visit lasted around 2 hours throughout which we were accompanied by a park ranger with a pointed stick which he would use to ward off any errant dragon. Thankfully he didn't need the stick! In total we saw 5 dragons including a couple of very small ones. There are well over 1,000 dragons on the island but of course they are spread out and so theres no guarantee of seeing any although its apparently usual not to find at least one near to the rangers quarters.
In addition to the dragons we saw some water buffalo, deer and macaque monkeys and with some nice easy trekking we had a very good day.
We left Rinca not long after 1pm but a plan to go snorkelling afterwards fell foul of the weather when winds started to lift and low cloud gathered. We decided to return to Labuan Bajo before the storm arrived and got back mid afternoon. After saying our goodbyes to Marleno and Fino we went for a beer and then returned to the hotel before going out for dinner to The Lounge for another western meal for a change.
Our final day on Flores, July 30, we had deliberately left free to do absolutely nothing and we did just that. We mooched around Labuan Bajo and had a nice lunch and dinner  and not much else. We packed our bags properly for the first time in almost 2 weeks in readiness for our flight to Lombok the next day and had an early night.
On July 31st we left Flores on a 16.25 flight to Lombok via Denpasar.