We left the Smithfield Terminal of Skyrail around 3pm on July 10th. Our drive north took us back up Captain Cook Highway and then Cape Tribulation Road through the town of Mossman and a few other small settlements along the way and across the Daintree River.
The journey is around 100KM to the Daintree River Crossing. Thankfully the rain that had dogged our day so far cleared as we got further north and it turned out to be a very pleasant drive. The scenery was largely agricultural – the usual sugar cane, bananas and other fruit – with the road in parts hugging a scenic coastline. However, there was a lot of traffic on the road and it was 5:15pm with the light already beginning to fade before we arrived at the Daintree River.
Within half an hour or so we had crossed the river but already it was almost dark. Before long it was pitch black. The road is narrow and winding and although it isn't sealed everywhere. There are regular speed bumps along the 30-odd KM road to Cape Tribulation and a good few creeks to cross which add to the interest even though they are bridged. Thus it was a slow drive to Cape Trib and it was around 7PM by the time we arrived.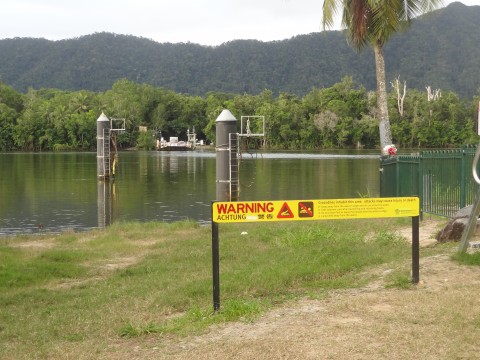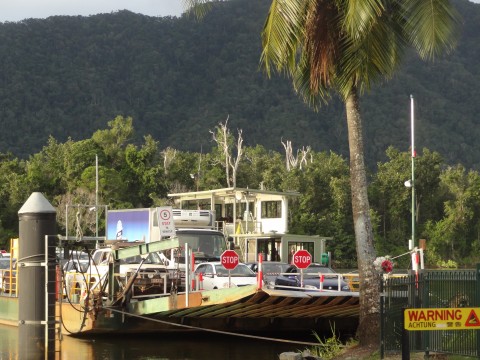 Cape Tribulation is within Daintree National Park and the Wet Tropics World Heritage area where tropical rainforest meets the Great Barrier Reef. It's as far north as you can get in Queensland without a 4×4 vehicle. In fact, the road from the south we travelled in on didn't exist until a track was bulldozed through in the 1960s and remained a track until it was sealed in 2002.
This is proper David Attenborough country; one of the oldest rainforests in the world – over 100 million years old – and contains the largest range of endangered and rare plant and animal life in the world. Over 30% of Australia's frog, marsupial and reptile species live here and there are hundreds of species of birds including 13 which are not found anywhere else in the world. And then there are the bats and butterflies!
Alongside the rainforest, separated from it by stunning beaches, lies the Great Barrier Reef. The GBR, the world's most extensive coral reef system, stretches for 2000KM and supports the most diverse eco-system known to man which has evolved over millions of years. The stats for numbers of fish species and other marine life are quite incredible but I'll leave those who are interested to check the stats for yourselves.
The road north from Cape Tribulation to the aboriginal village of Wujal Wujal is known as the Bloomfield Track. This 4×4 track didn't exist until 1984 and was completed only after years of protesting by environmentalists who blockaded the area to keep out the bulldozers. Eventually the road went through but still remains a rough track with many creeks to cross along its length. We thought all the above would make Cape Tribulation an interesting place to visit although it was disappointing (though came as no surprise) that Apex Car Hire wouldn't permit us to travel the Bloomfield track even though we had hired a 4×4. In truth our Mitsubishi wouldn't have had the clearance to tackle the track: it's deeply rutted in places and having been driven down the track by a Guide, I was quite happy not to be driving it.
This area gets plenty of visitors but isn't yet fully developed for tourism and is still regarded as off the beaten track although there are numbers of B&Bs, camp grounds, eco-resorts and the like. Many of the visitors drive straight through on a 4×4 Wilderness Adventure to Cape York – apparently a "must do" road trip for Australian 4×4 drivers and we saw many small convoys of half a dozen or so jeeps fully laden with fuel and water tanks and goodness knows what. We had booked a 5 night stay as far north as we could at the only beach front resort, Cape Tribulation Beach House, which the owners in their blurb describe as "a stunning 7 acre beach front accommodation nestled between the Daintree Rainforest and the Great Barrier Reef."
We arrived in darkness with Reception closed and a key left with a map of the site but we discovered in the morning that this is most certainly the most stunning location on and in the very edge of the pristine rainforest and on the most beautiful beach overlooking what here is known as the Coral Sea in the South Pacific Ocean.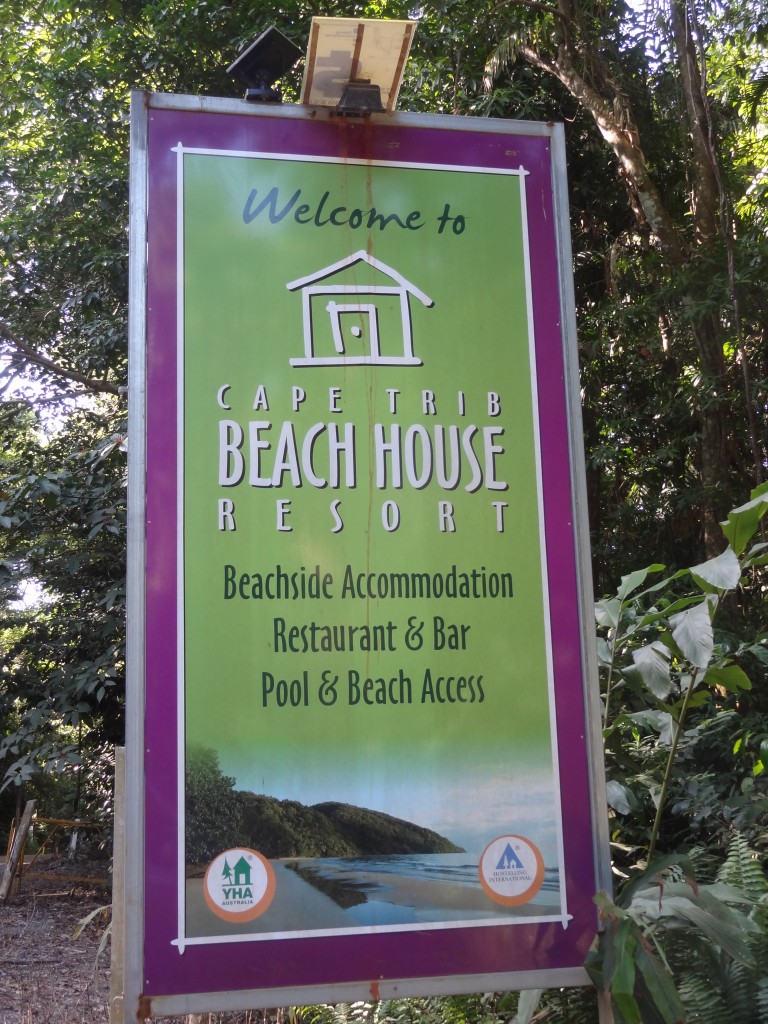 The resort caters for back packers with some dormitory accommodation and for non-back packers in rainforest cabins of a variety of styles to suit different budgets. We had one of the more expensive cabins but even so it would be best described as rustic and about as far removed from our Palm Cove resort as it could possibly be.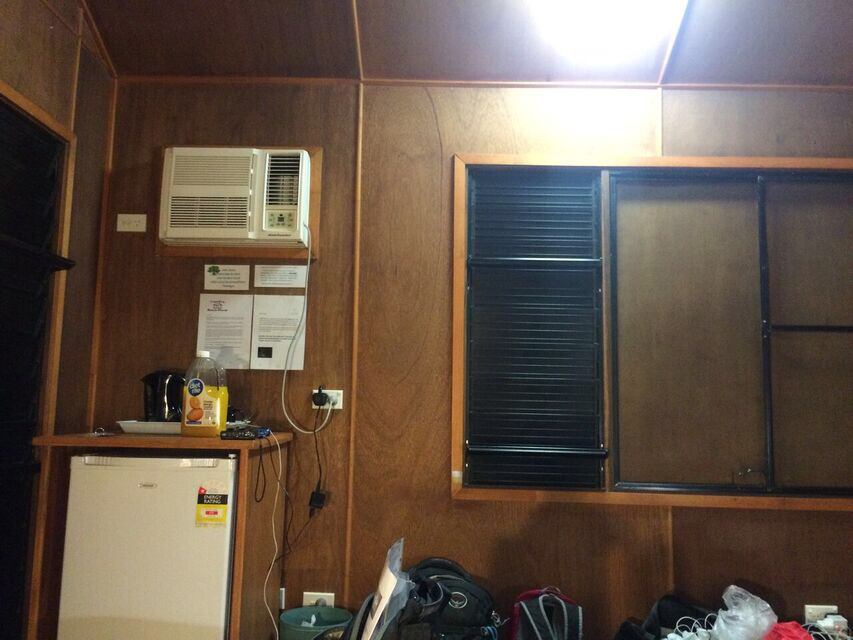 Our timber cabin (or shed) was about as basic as it gets. In addition to a bed there was an open wardrobe/shelves, kettle for a brew and a fridge. Above the fridge pinned to the wall was a notice to the effect that food must not be stored in the cabin as a small mouse-like marsupial called a Melamy is prone to enter the cabins and seek out food! Luckily we hadn't brought much by way of food as we had read there were a number of wallet-friendly establishments where we could eat cheaply, including the on-site restaurant which actually turned out to be pretty good and at backpacker prices.
There is no phone signal here and very limited WiFi available only in the restaurant which was directly opposite and very close to our cabin. Somehow we managed to get through our 4 days here although it is a pain to be cut off from the outside world particularly for Ann who manages the bookings etc for our apartment in Turkey. Our days here were spent doing nothing much other than walking the beaches and nearby tracks and reading up on our next destination, the Northern Territory. We had lunches and dinners either at the resort or one or other cafe or restaurant nearby and all were very acceptable.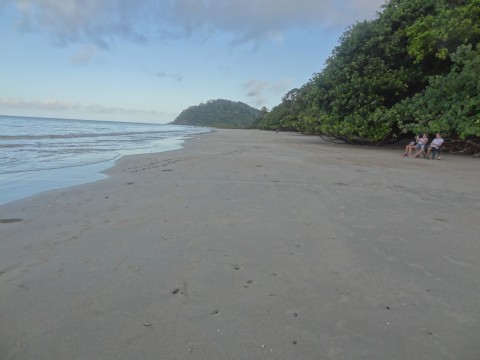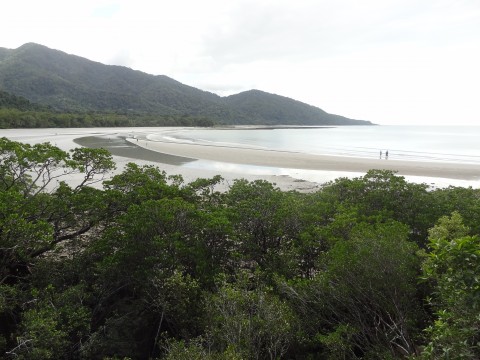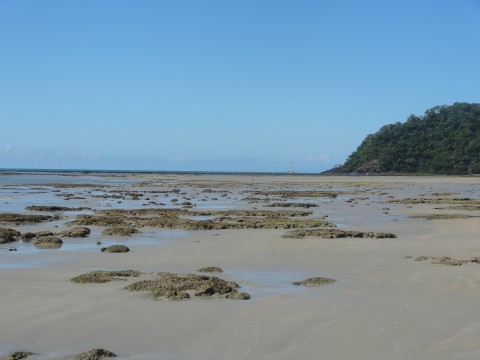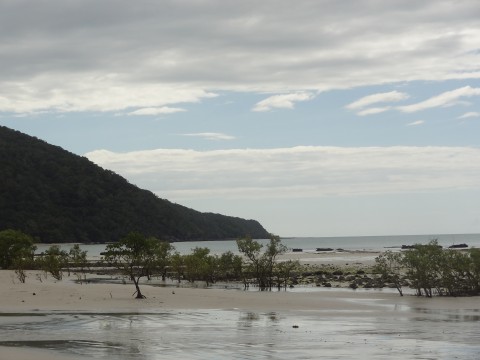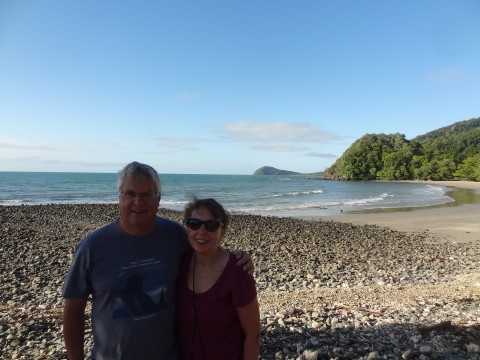 Our one and only tour here was a half day 4×4 tour with a local guide Mike D'Arcy who runs a business guiding tourists up the Bloomfield track to Wujal Wujal and beyond sharing his encyclopedic knowledge of the area with his clients. This was undoubtedly a highlight of our entire journey through Queensland.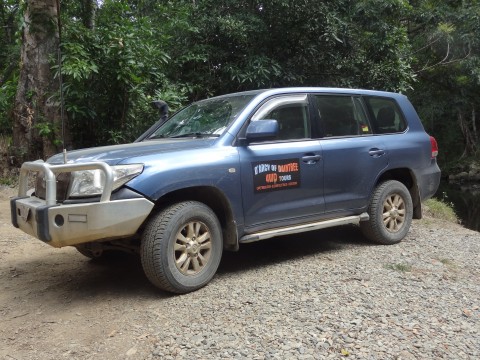 We arranged our tour with Mike for our second day at Cape Tribulation. He picked us up early doors and we started with a walk along a forest track down to the beach with Mike all the while pointing out an amazing range of plants and trees that we would otherwise have missed. There are many species of plant here that have symbiotic relationships with other plants, trees, algae or even insects. For example, the very common green ant which build large nests in fruit trees help protect the fruit of the tree by dropping down and biting anything that tries to take the fruit away. There are lots of examples of this kind of thing and Mike has a huge repertoire of interesting facts about the fauna and flora here which we found quite astounding.
Here's a few rainforest photos taken during our tour with Mike D'Arcy:
After our walk we got back in the car to drive the Bloomfield Track to Wujal Wujal a small aboriginal township about 30KM north of Cape Trib. This is a small community of around 500 people and it's believed there has been settlement here for thousands of years. It's a poor community with high unemployment. There are government initiatives to create public service work for the people who have little education and few skills to keep them occupied (and away from alcohol) – this is usually in the form of an odd day of work here and there but not permanent full time employment.
It's hard to believe this seemingly token gesture at helping this community has any real lasting benefit although we did hear that works completed in the community have had some positive effect on the township. The township is policed but seems to be largely-self governing and its leaders work hard to keep alcohol out of the township – alcohol is prohibited and visitors are barred from bringing alcohol into the township.
There is an Aboriginal Arts Centre/Community Centre here with some interesting exhibits for sale created by the local people and some of the work is really beautiful. More interesting though was our meeting with Kathleen Walker and some of her family, members of the clan which has lived here for thousands of years. Kathleen is a leading member of the community here and well respected for her work as part of the Womens' Justice Group working to keep youngsters on the straight-and-narrow and away from alcohol and substance-abuse.
Kathleen is the traditional owner of the lands here and she took us on a short walk to see one of a number of waterfalls that are sacred to her community. We were allowed to approach the waterfall but not before Kathleen had spoken to her ancestors who guard the sacred falls! This was quite an amazing experience for us as we were able to chat with Kathleen, a lovely and interesting lady, for an hour or so when she explained the recent history of her people and how she was brought up and how she reared her own children to understand the bounties provided by the land in terms of the hunting and trapping of animals and fish and the use of plants and trees and their roots for bush tucker and goodness knows how many medicinal purposes. We found it amazing that there are still communities of people in modern day Australia who continue to use such ancient natural remedies.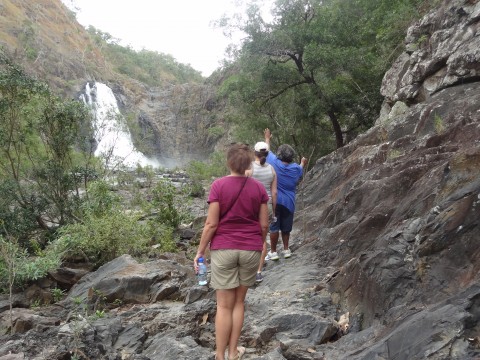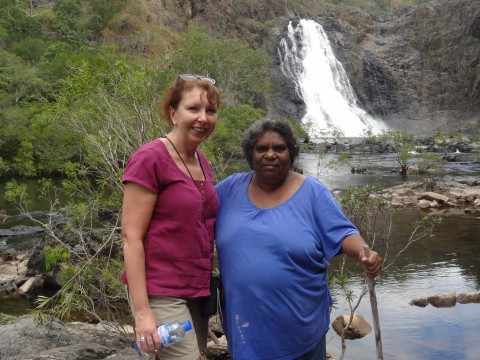 Following our visit to Wujal Wujal we continued our tour with the object of finding a crocodile to photograph. Mike took us along the Bloomfield River and sure enough before and after enjoying tea and home made cake by the river we spotted several of these prehistoric monsters although in each case the beast was some distance away on the far side of the river.
The rainforest, rivers, creeks and waterholes are quite incredible and this really was an amazing tour with an amazing guide – maybe the best tour we have ever been on and one we will definitely repeat if we are lucky enough to re-visit the area.
Here are a few are more pictures these of a riverine nature: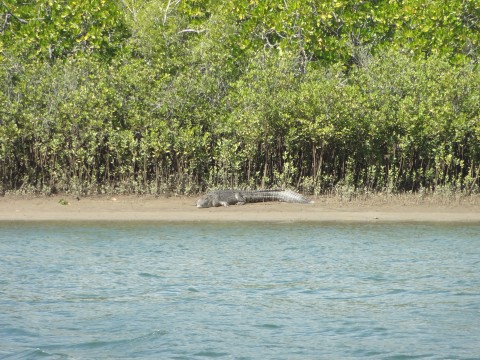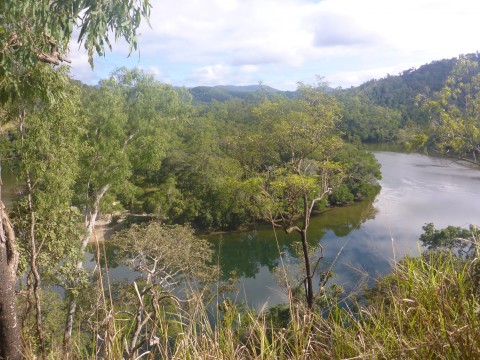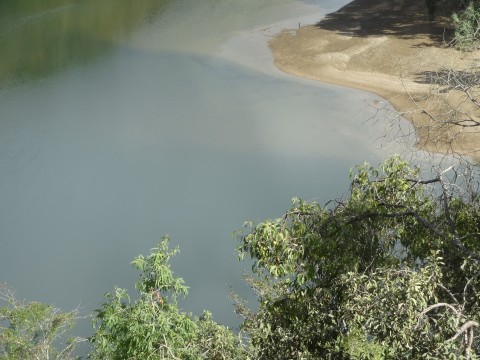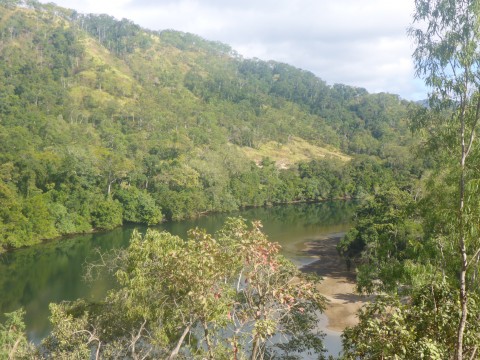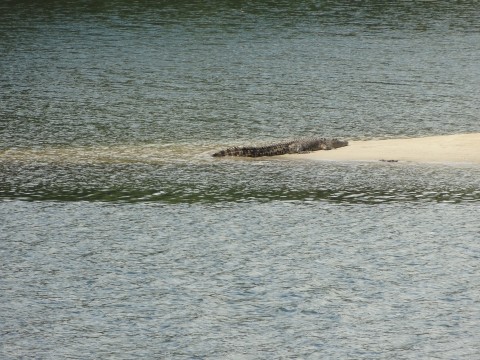 And a few more taken round about Cape Trib: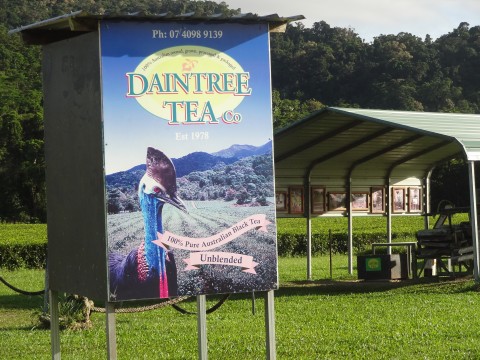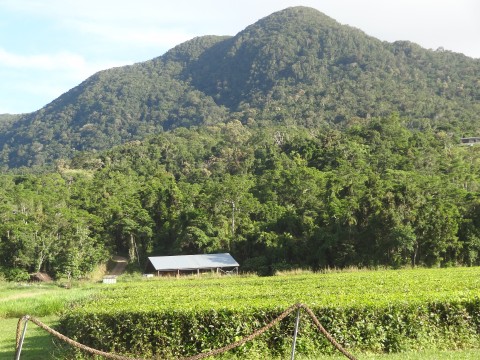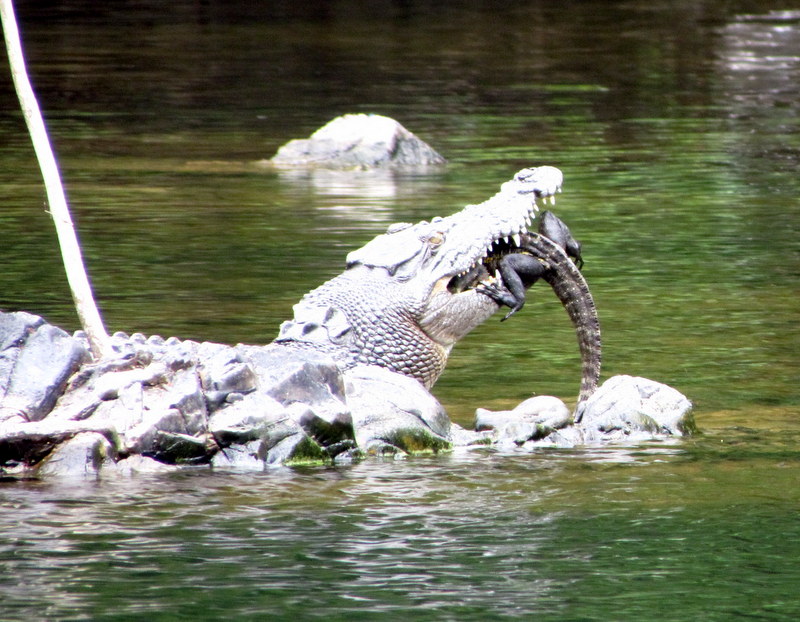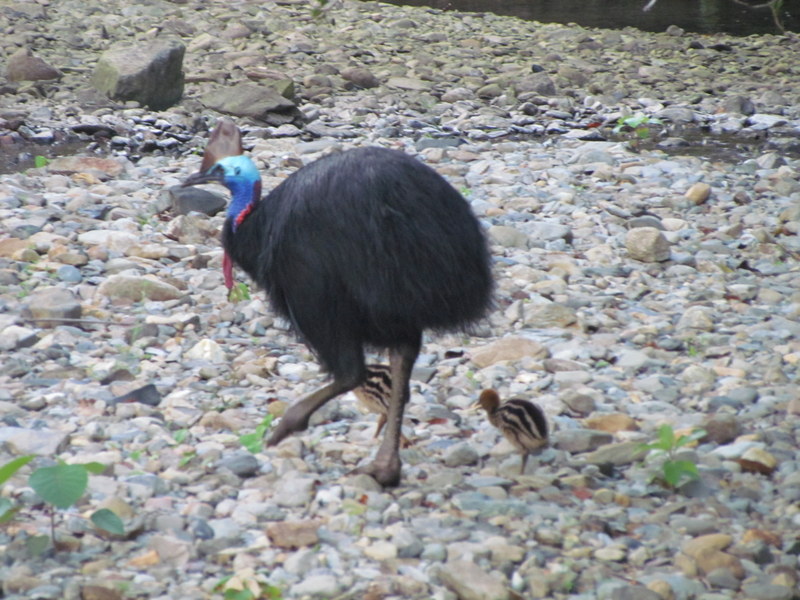 We had a great few days at Cape Trib. Another day with a guide would have been good to do some trecking but now we were looking forward to our final destination in Australia, Darwin, Northern Territory. We would fly to Darwin from Cairns and so next stop Cairns!