We arrived at our accommodation, Reef Retreat, around 1pm and checked in. This is a low rise "boutique" holiday apartment resort set in a rainforest setting only 50m from the beach. The grounds are full of palms, paperbark trees and tropical plants with a small pool and an al-fresco dining area with BBQs.
We had a very comfortable one bedroomed apartment, nicely kitted out with everything we could possibly need and more for our self catering stay. It also had good free WiFi, always a bonus.
The Reef Retreat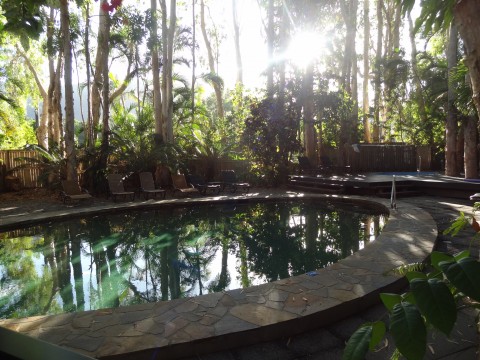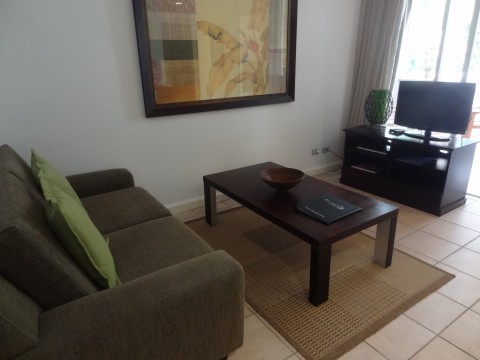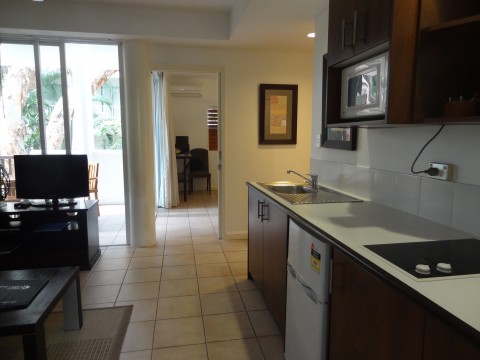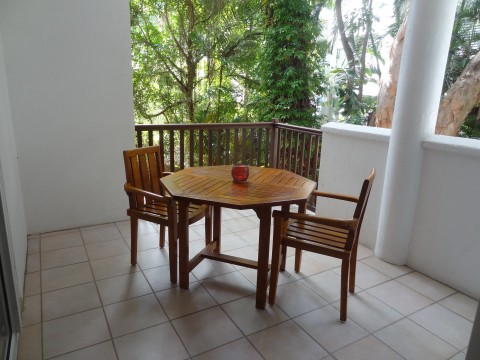 Palm Cove is a small seaside village in the northernmost part of the state of Queensland which is known as Far North Queensland. The resident population is less than 2,000 but of course that number swells in the holiday season.
The village is named after the palm trees that line its fantastic beaches and it's regarded as the premier beach resort in the area. We liked the place immediately – there's nothing not to like! With fab beaches, palm trees and some posh hotels, this is very popular as a wedding destination.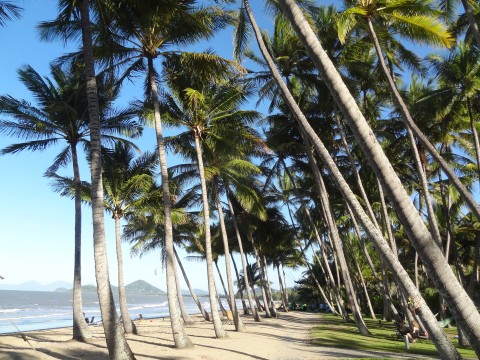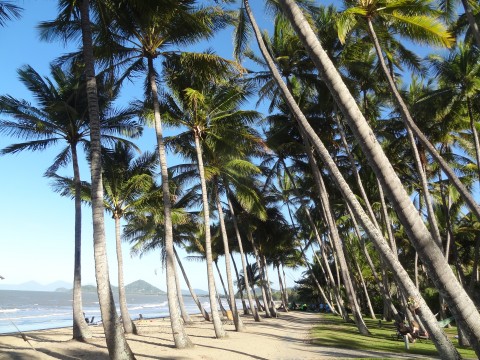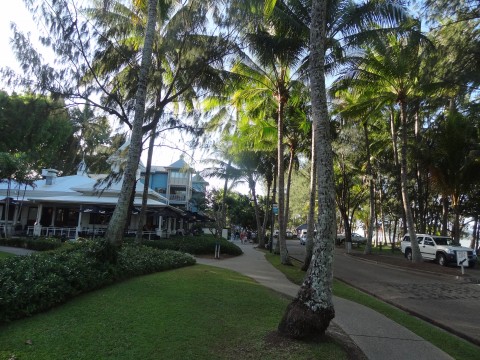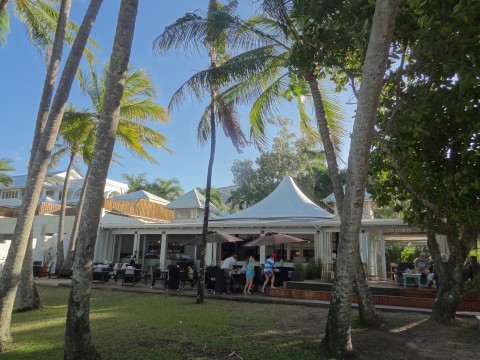 Palm Cove is an upmarket resort in an affluent area of Queensland. Whilst it is only a small village there are over 30 restaurants and cafes suiting most tastes and most budgets. A weakness is that aside from an off-license attached to a restaurant/bar,there are no grocery stores of any kind in the village other than a very nice but very expensive deli and a small mini-market. There is a very good Coles Supermarket a few minutes drive back down the Captain Cook Highway at Clifton Beach, however.
On our first day here, with no groceries bought as yet, we decided to treat ourselves to a late and leisurely lunch of fresh fish/shell fish and a nice bottle of wine at a seafront restaurant. Later we walked the town window shopping and sussing out some restaurants for another day.
The beach here really is stunning and after our wet week at Mission Beach we were hoping for some better weather. We planned a lazy week of lie-ins and late breakfasts and our only plans were to drive back to Cairns on Monday to collect my snorkel mask, our Great Barrier Reef trip on Tuesday and on Friday morning, before we left to travel north, a cable car ride up the mountains and over the rainforest canopy to Karunda, a small town back on the Atherton Tablelands.
Our weekend was as leisurely as it gets with some nice walks and a visit to Coles to stock up on groceries. A full week self-catering in accommodation with a proper kitchen is great for us as we can get back to our normal diet and not be tempted too much by restaurant treats. It also helps the budget!
Monday came and went and Tuesday was an early start for our Great Barrier Reef trip with a 6:45am pick up from our accommodation.