The drive from Yungaburra to Cairns took about an hour through some magnificent countryside. It is a fairly winding road downhill with some great views but with a lot of traffic on the road it was difficult to find places to stop and so we didn't get many photos. We arrived around 4.30PM and our trusty Garmin took us straight to our hotel although it isn't difficult to find being in a prime position just off the Esplanade.
The Pacific Hotel, Cairns is a smashing hotel with efficient and friendly service and big comfortable rooms with great facilities, including excellent WiFi. A big bonus is the free parking right outside the door.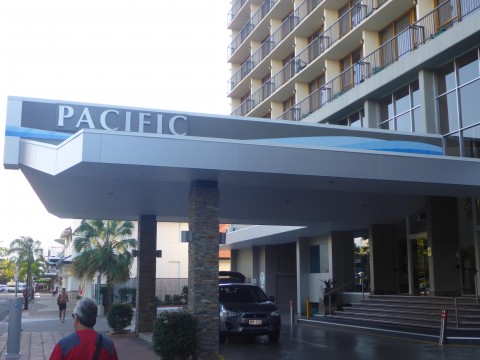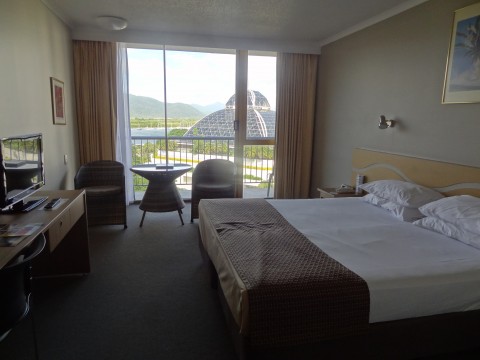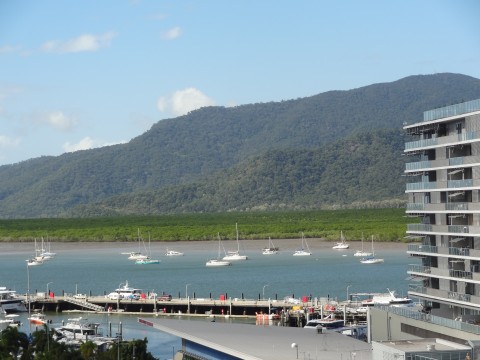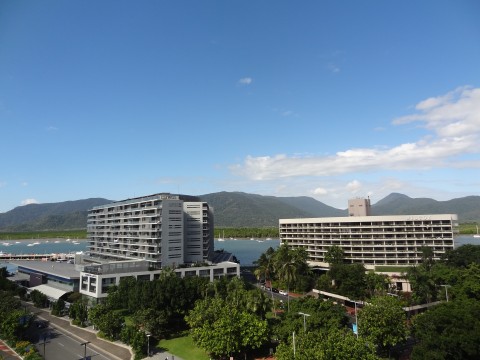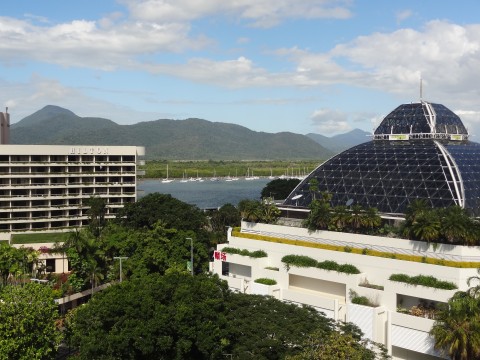 We were staying in Cairns for only one night to look around the town and to find and book a trip to the Great Barrier Reef. Everything we had read about Cairns told us that this is a fairly rowdy place at night with lots of youngsters making the most of the cheap drink available with happy hour prices, 2 for the price of 1 drinks etc, available in lots of bars. This isn't our scene and so we decided to stay in the quieter Palm Cove, 27KM north of Cairns.
In the event we liked Cairns and ended up staying here a second night at the end of our stint in Queensland. We would leave Queensland to fly to Darwin from Cairns airport and so we booked to stay another night at the Pacific at end of our stay to give us time to return the hire car to Apex the night before.
Cairns is the most popular place for trips to the Great Barrier Reef and the marina is pretty big with a huge number of boats of all shapes and sizes advertising reef trips, fishing trips and all kinds of cruises.
North of the marina the waterfront apparently was once acre-after-acre of unattractive and unusable mudflats. Nowadays there are still some mudflats but major redevelopment in recent years has created a fantastic outdoor area facing the Esplanade with gardens and a large, dazzling saltwater lagoon, perfect for kids and grown-ups alike.
The Marina is lined with top quality restaurants and the Esplanade has plenty of pubs, bars and eateries. There are endless dive shops, travel agents and tour operators along the front and all over town with many catering to the large backpacker fraternity. There are lots of backpackers of all nationalities in Cairns and once again we were amazed at the number of youngsters travelling alone, many of them girls. Also amazing was the number of British kids working in the pubs and restaurants – everywhere we went we seemed to be served by an English person.
Whilst Cairns is a decent sized city spread out over miles, the CBD and main shopping areas are adjacent to the Esplanade/Marina and it's pretty easy to find your way around. We called into the Tourist Information office next to the hotel for some advice on reef trips and then, after walking around for a couple of hours looking at the shops and sussing out likely eateries, we ended up at the Crown. The Crown is a sports pub selling well-priced pub grub of the Fish and Chips and T-Bone steak variety. They also sell some good bottled ales (the draft beer here is generally awful) including my  favourite Little Creatures Pale Ale which caused us to linger a while longer than planned.
We left to enjoy a good Indian meal in a nearby restaurant that we had earmarked earlier – our first curry since our visit to Tambourine Mountain! We retired nicely replete. The next day we would make the short trip up the coast to Palm Cove.
Here's a few photos of Cairns: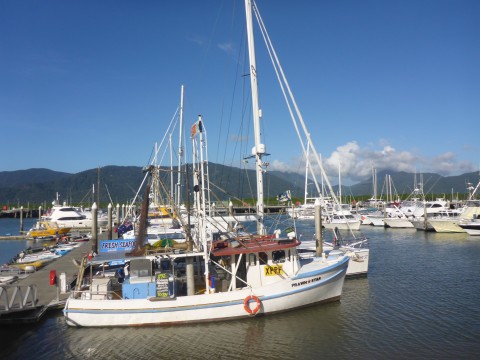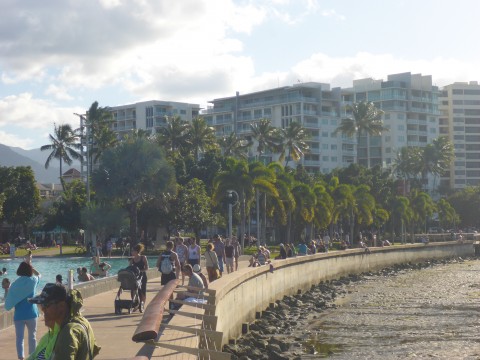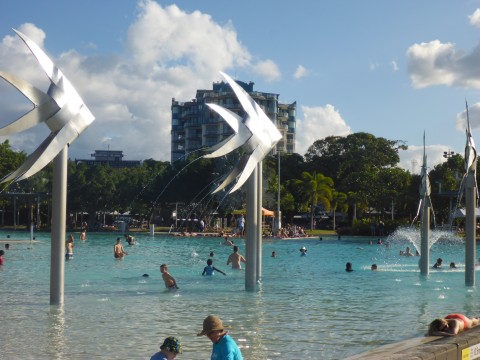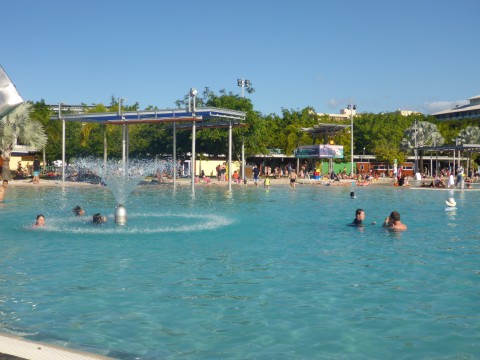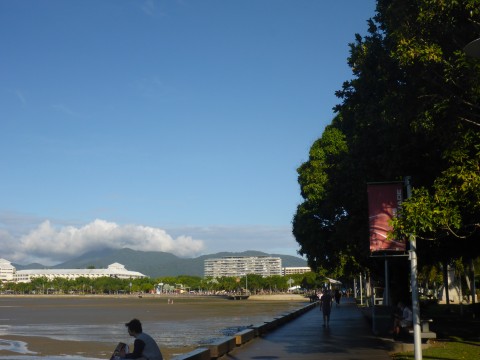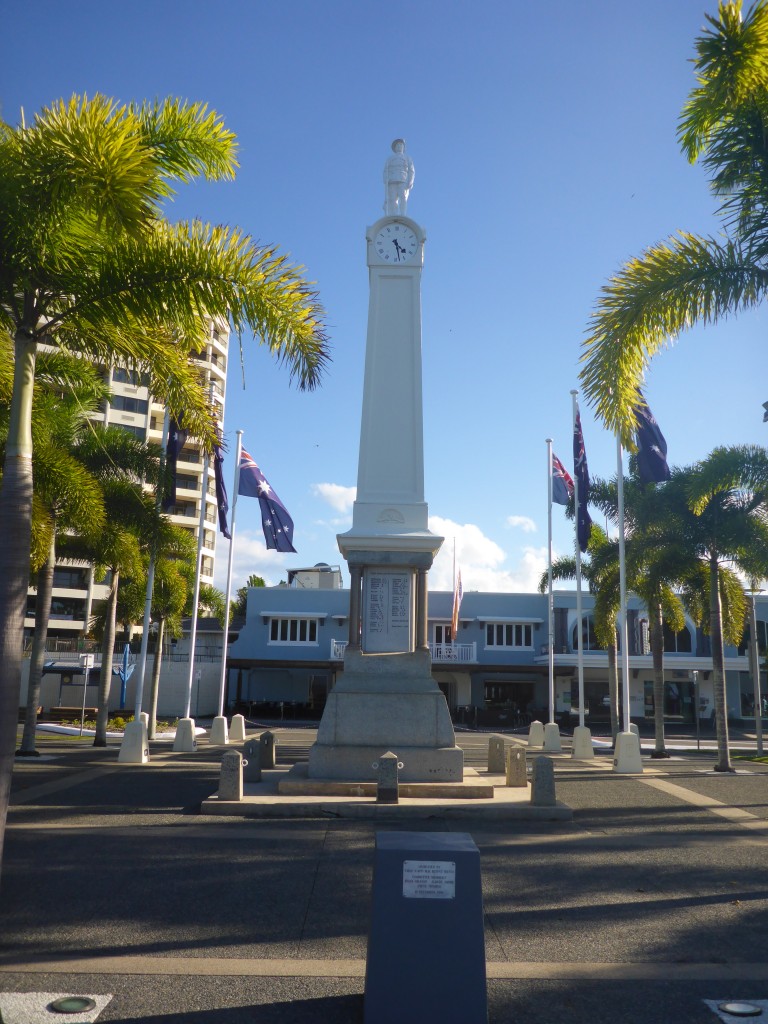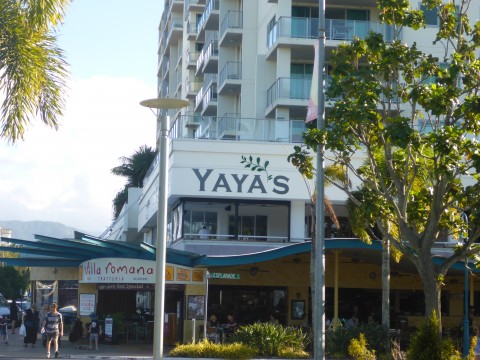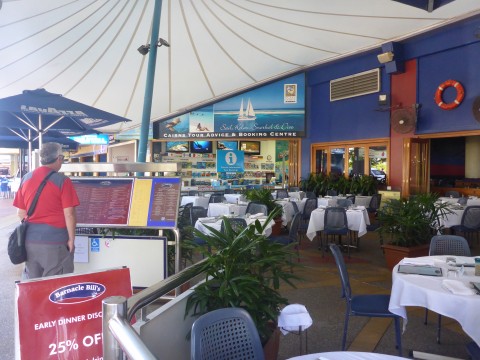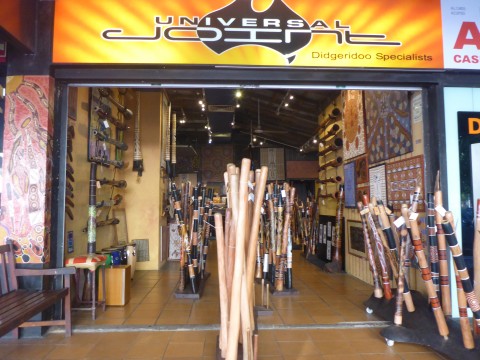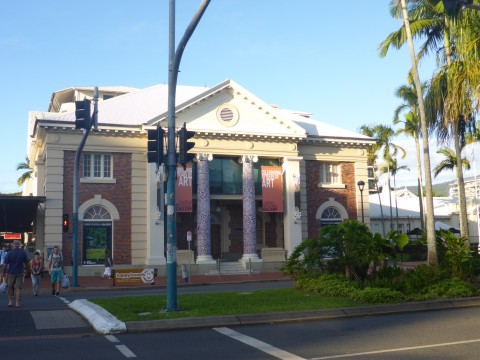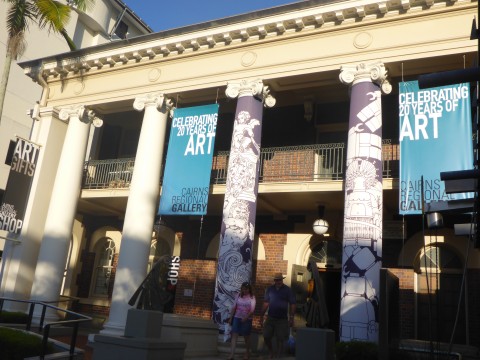 On Friday 3rd July, after a leisurely breakfast at the Pacific Hotel, we checked out and headed north. However, before we got onto the Captain Cook Highway to Palm Cove, we stopped off at a diveshop to order a prescription snorkel mask. I'm as blind as a bat without my specs and obviously I wanted to make the most of our Great Barrier Reef trip. I had nearly purchased a prescription mask before we left the UK and I'm glad I didn't; a couple of calls to shops in Cairns and I had found an expert who could sort me out.
The Guys in the shop were really friendly and helpful and within 10 minutes I had placed an order for a mask which was half the price quoted to me in the UK. The order would be ready for collection at the shop in a few days time.
Mask ordered we jumped back in the car and set off up Captain Cook Highway for the 27KM drive to Palm Cove. Given it was coming up to the weekend, there was a lot of traffic with weekenders making their way north to one or other of the resorts along the coast.