We left Mission Beach on July 2nd to continue our journey north to Cairns. This is a journey of only around 140KM going directly by the Bruce Highway coast route but we had decided to go a rather circuitous route inland to take in the Atherton Tablelands even though the weather was looking threatening.
The Tablelands cover a big area and many tourist guides suggest at least a couple of days and preferably more are needed to see it properly. There are scenic lakes, rivers and waterfalls galore and I guess you could easily spend a week there but we had decided that we didn't want to drive day after day so thought we would visit some of the main towns and places of interest briefly en route to Cairns. There is a lot of sugar cane, bananas and other fruit grown in these parts so much of the journey is plantation after plantation. Even so it's a nice trip.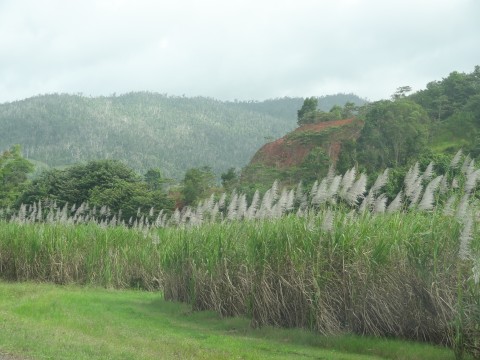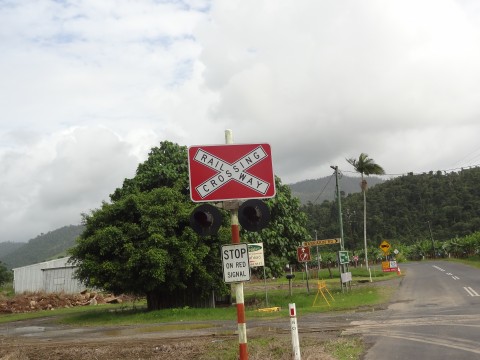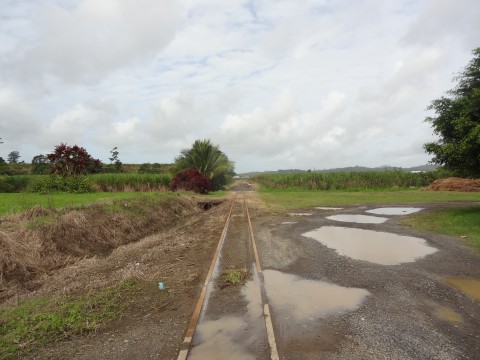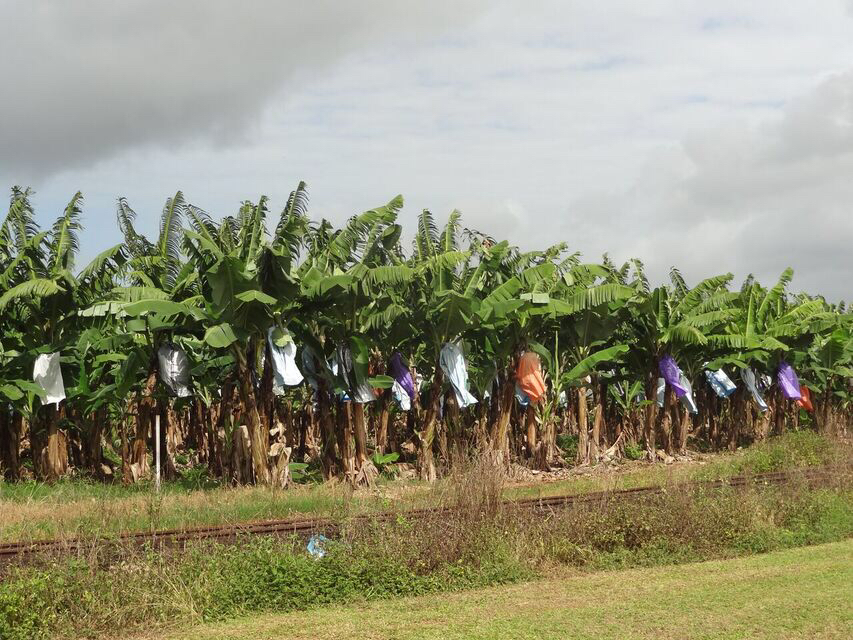 First stop of the day was Mena Creek and Paronella Park.
Paronella Park was built in the 1930s by José Paronella, a Spanish immigrant. José was a self-made man and built facilities, including tennis courts and a cinema and a ballroom in buildings inspired by Spanish castles, to provide entertainment for the public. Jose died in 1948 and since then a fire, a cyclone and several floods have badly damaged the park and buildings.
The park changed owners several times until, in 1993, it was bought by the present owners who have been restoring it to what is now a popular tourist attraction.
There is an interesting story about Jose's life and the park too long to repeat here – check out Paronella Park on Wikipedia. We didn't have time to do the tour and it wasn't a great day weather-wise anyway so we took a few snaps and moved on.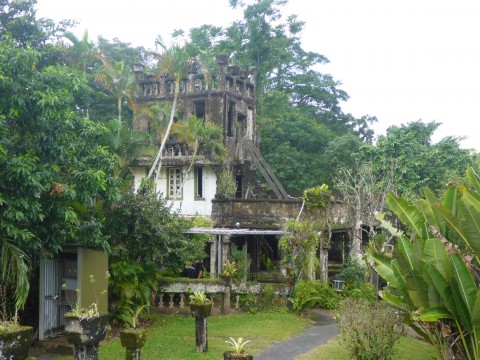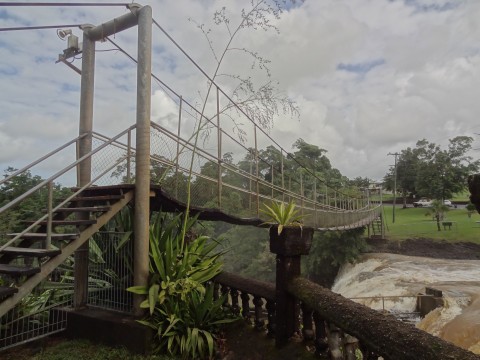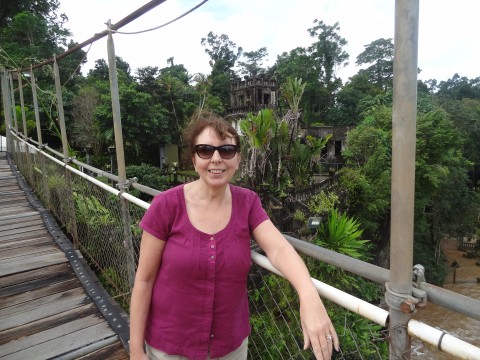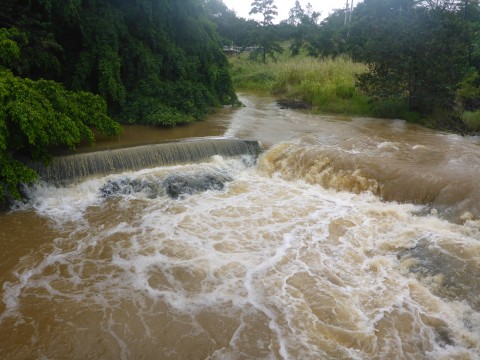 Next stop after Petronella was Millaa Millaa, a small town (population circa 400) at the centre of an area of beautiful National Parks. The town is tiny and consists of a very few oldish timber buildings which bring to mind a cowboy town. The most interesting, for those with time to kill, is the Eacham Museum containing a collection of items from bygone days most of which are not especially old but do bring back memories – old domestic appliances, on old TV and an old telephone switchboard amongst other bits and bobs – including a pot stick!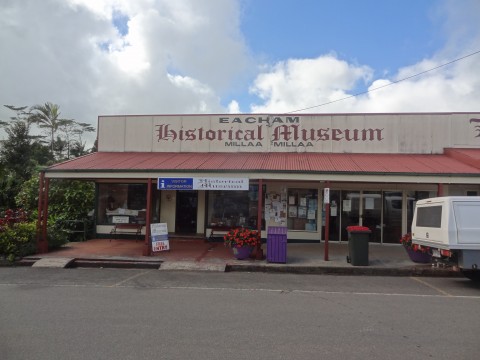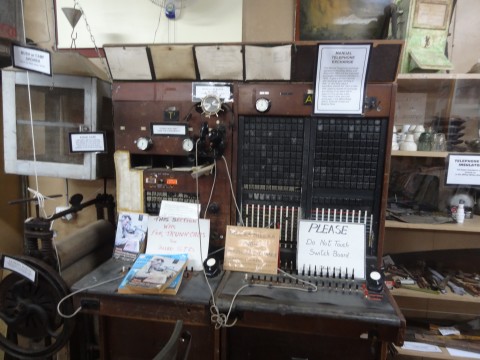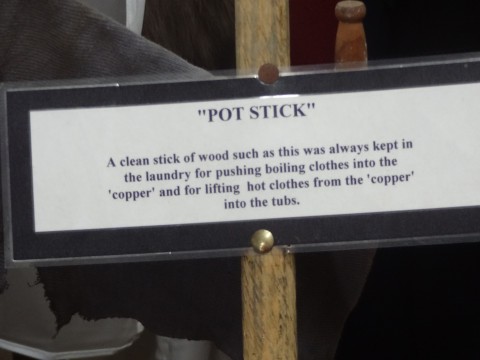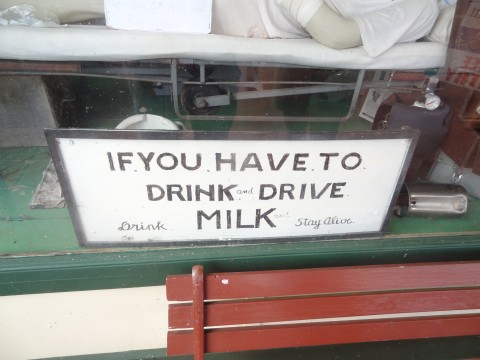 Millaa Millaa's main attraction is Millaa Millaa Falls, a waterfall a short distance away and part of a famous Waterfall Circuit. The waterfall is 18M high and so not particularly high in a league table of waterfall heights but still impressive and it's a nice spot in an area with apparently some really good walking tracks of varying degrees of difficulty. Unfortunately time precluded tackling the walks or visiting any of the other falls although we did call by at Malanda Falls near the town of Malanda but didn't find it especially impressive.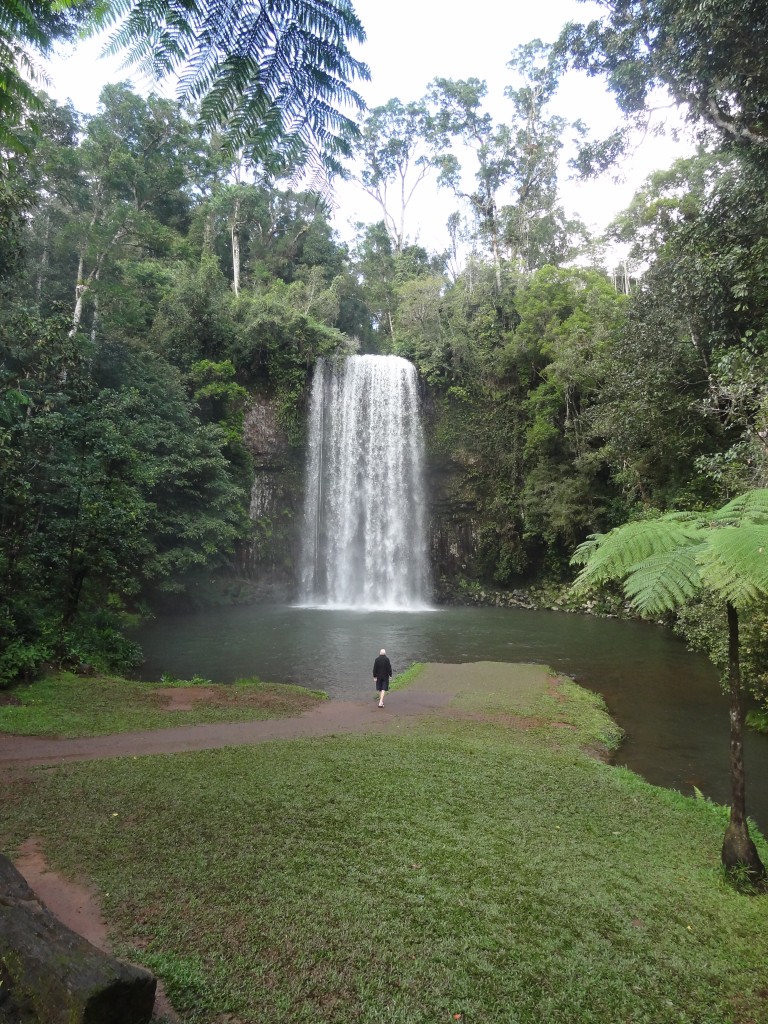 By the time we had visited the waterfall we were already behind schedule and decided to make just one more call en-route to Cairns. We would stop at the small heritage village of Yungaburra but not before we had visited Curtain Fig National Park.
We had never heard of Curtain Fig National Park and hadn't spotted it on any map but we saw  a National Park sign on our way to Yungaburra and, as it was only a few KM off our route, we decided to go and investigate. This has to be one of the smallest National Parks in the world and has this status to protect an area of threatened rainforest containing a 500 year old, 50M tall Curtain Fig tree with a curtain of aerial routes falling from the top of the tree to the bottom.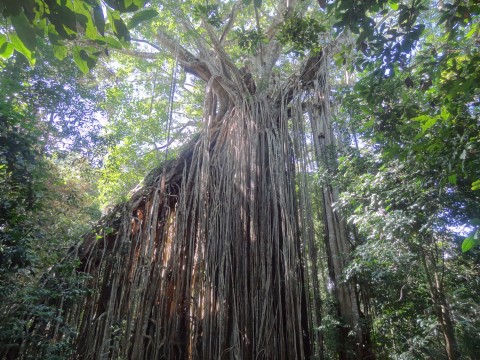 It's quite an awesome tree and although it's admittedly not the most exciting of  tourist attractions, it does add to the rich tapestry of the area and gets 4.5 out of 5 by Tripadvisor reviewers.
Yungaburra is a nice little town just south of the mighty Lake Tinaroo, a huge dam popular for fishers and watersports enthusiasts. This is another cowboy town consisting of a hotel and a collection of shops and eateries housed in some lovely timber buildings going back to early 1900s. There isn't a huge amount to see here but it's a pleasant spot. We didn't linger but spent a pleasant hour or so and then got back in the car to head for Cairns.