Back on the road north….
We caught a 9.55 am return ferry back to Townsville from Magnetic Island on Thursday June 25th and were soon back on the Bruce Highway heading North for Mission Beach.
Tropical North Queensland is a huge sugar cane growing area and the Bruce Highway is lined with mile after mile of sugar cane fields. These big plantations are serviced by light, narrow-gauge trains that connect the fields to mills which feature along the coastal strip as far north as Mossman. The trains are used to take the harvested cane to the mills for processing and the tracks cut through the fields of cane and across the main highways. At harvest time these operations apparently cause frequent delays for travellers using the Bruce Highway but thankfully we weren't travelling during the harvest.
The road travels more or less north along the coast, then inland through the small town of Ingham and then back along the coast. The scenery here is wonderful with the Hinchinbrook Range on one side of the road with the mountainous Hinchinbrook Island just off the coast separated from the mainland by the Hinchinbrook Channel, a narrow strip of water.
We stopped for lunch at Cardwell, a small seaside town, which didn't look particularly exciting except that it is located in such a beautiful area. This is the first time we came across regular signs warnings against swimming due to crocodiles and stingers (Box Jellyfish).
Like much of the Queensland Coast there is a corridor of coastal wetlands comprising mudflats, mangrove, saltmarsh or billabongs and in some places these are used for crop irrigation. These areas help contain coastal erosion and even though they might not all be wet all of the year, they do provide a coastal corridor for a diverse range of plants and animals, including some endangered ones such as the dugong and leatherhead turtle. There are many wetland walking tracks along and through this coastal strip and the unbelievably varied fauna and flora make these some of the best walking we have done so far.
Continuing our drive north we passed by a number of signs leading to swimming holes and waterfalls, including the Murray Falls, before driving by the small town of Tully. Tully is an inland town with a sugar mill complete with a giant chimney but banana plantations are also a major feature here; this is Australia's main banana growing region. It also has the reputation of being the wettest place in Australia with an annual average of over 4M and a record 7.2M recorded in 1950. Another half hour or so after Tully we arrived at Mission Beach.
Mission Beach
Mission Beach is a natural mid-way point between Townsville and Cairns in the Wet Tropics of North Queensland which are World Heritage Listed and uniquely, run parallel to another World Heritage site, The Great Barrier Reef.
The town is actually made up of four villages linked by 14 Kilometres of wide, golden beach. The villages are, from south to north, South Mission Beach, Wongaling Beach, Mission Beach and Bingil Bay. This is a thriving tourist area but because it is spread out over a long coast it doesn't seem very busy at all. It is quite a well-to-do area and there is a nice mix of restaurants of all persuasions from everyday to high-end. Trendy boutiques and art galleries all set against lush tropical rainforest. There is a very nice and friendly small town atmosphere in each of the villages.
This area forms part of the Cassowary Coast and there are road signs everywhere urging careful driving due to the presence of these famous flightless big birds. Ad-hoc signs at the roadside are frequently seen warning of "recent crossing here" but sadly we didn't see one during our stay.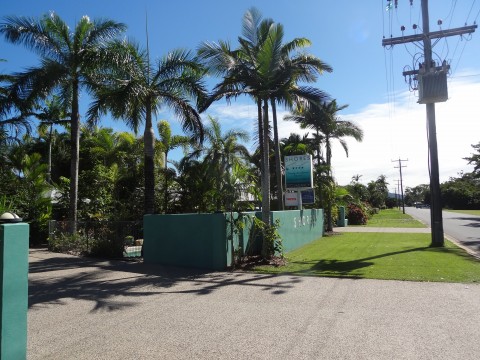 We had chosen to stay at Shores on Wongaling Beach, a very nice resort of only 5 or 6 chalets run by a South African couple. The resort stands in the midst of a small area of rainforest 50 metres or so back from the beach and each of the bungalows sits in its own area, private and unseen from the others, screened off by tropical trees and shrubs. There is a nice shaded and private outside dining area with comfy bench seats, sun beds and a very conveniently positioned private BBQ area with a great electric BBQ. It's done in a Balianes style and all very attractive and only steps from a small but adequate swimming pool.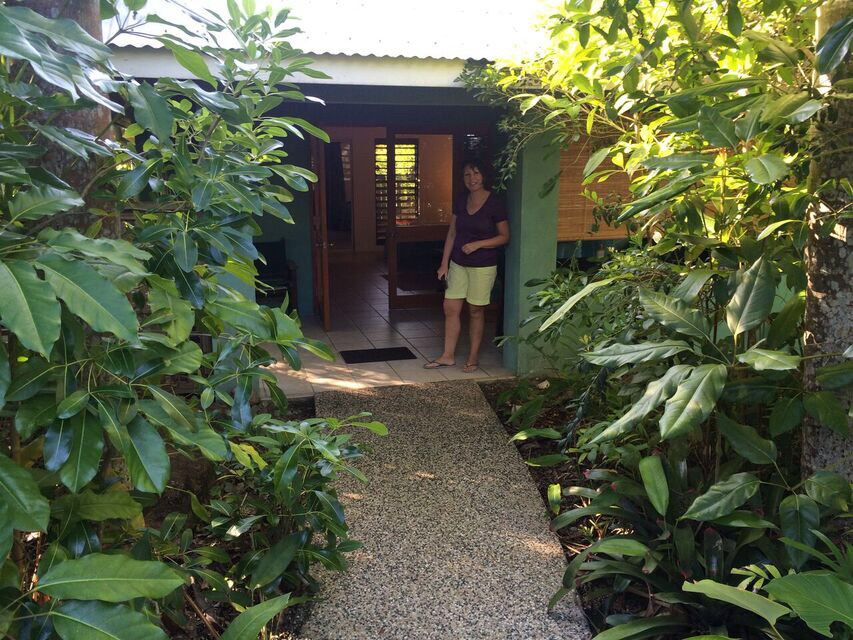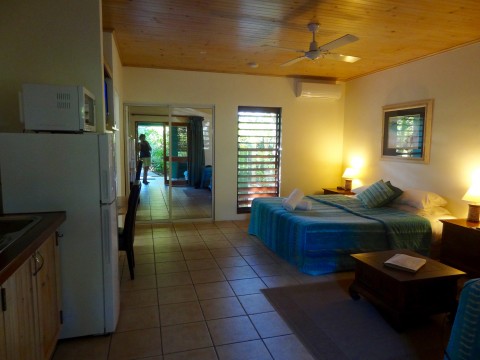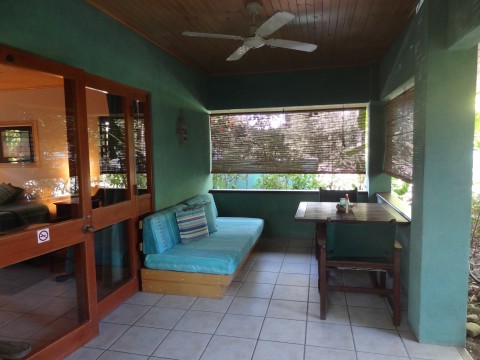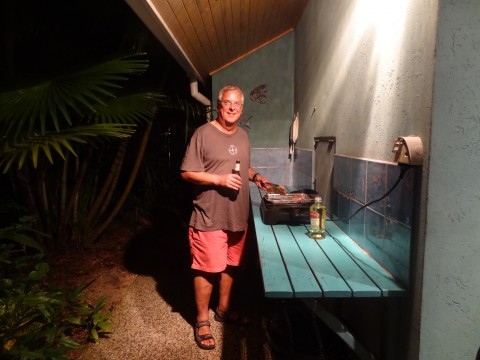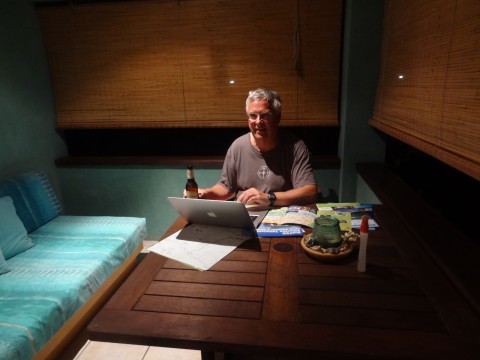 The top right photo below shows a green ant nest. Green ants can be eaten alive as bush tucker but their main use to aborigines is as a cough and cold cure. The ants are crushed and taken as a drink with water or inhaled like a vapour rub.
Apart from the usual walking, the one thing we did want to do here was to visit Dunk Island which is just off shore and apparently has some lovely walks and very good snorkelling. Neither of us had ever snorkelled but we were keen to learn and we had found an outfit happy to take out a couple of novices. After all we would shortly be visiting Cairns – the major jump off for the Great Barrier Reef – and we could hardly go there and not snorkel. Not only that but many of the places we plan to visit in Asia are also renowned snorkel and diving areas and so we really need to be able to do it.
We were warmly welcomed at the Shores by the owners Mike, a retired airline pilot and his wife Marie who thanked us for bringing good weather – we arrived in sunshine but June 2015 had been one of the wettest ever. Unfortunately the good weather wasn't to last. We enjoyed a couple of warm sunny days with the rest giving us various degrees of dampness including a day and night solid of seriously heavy tropical rain when we just couldn't get out of the house.
Throughout our week here, even on the warm and sunny days, the sea was rough with breakers and snorkelling trips were postponed. Very disappointing but there will be many more opportunities. Weather aside we had a great week at Mission Beach. There is a really good Woolworths Supermarket and bottle shop and so apart from our first night when we had pizza at Millers Beach Bar and Grill, we were able to make the most of the BBQ and self cater with salads and BBQ steaks and burgers and the like – much nicer than eating out and also wallet friendly.
Whilst snorkelling wasn't do-able this week, we did manage some good walks. Walking South, we walked a round trip of around 15km down to Lovers Beach on the Kennedy Track.
A few snaps from our walk south to the Kennedy track: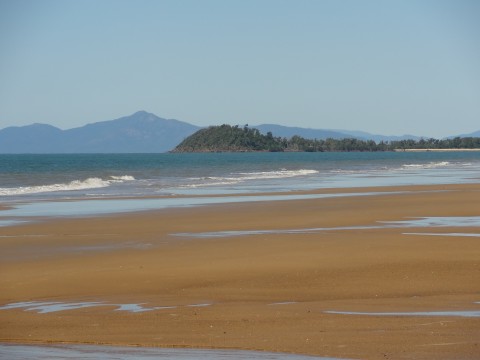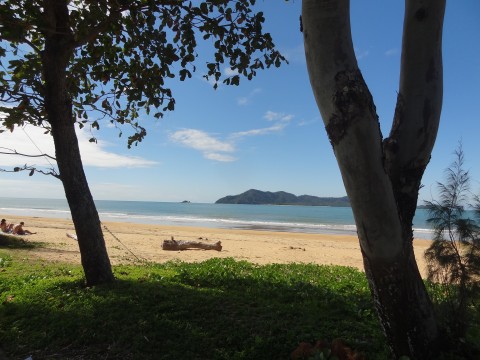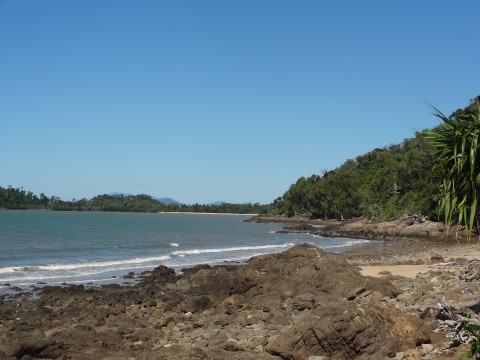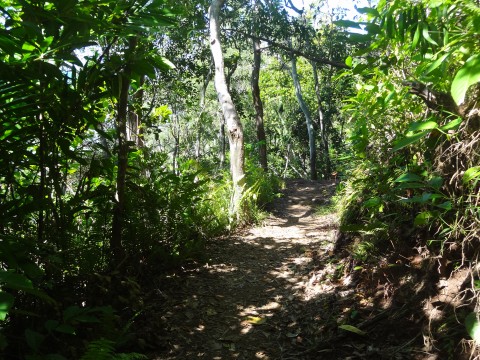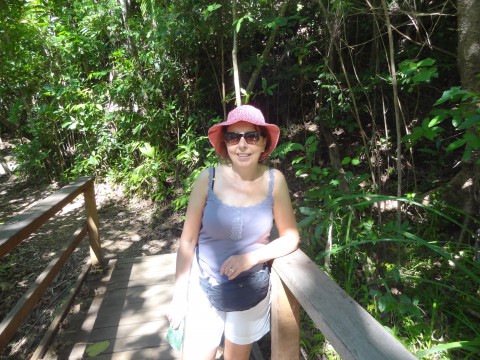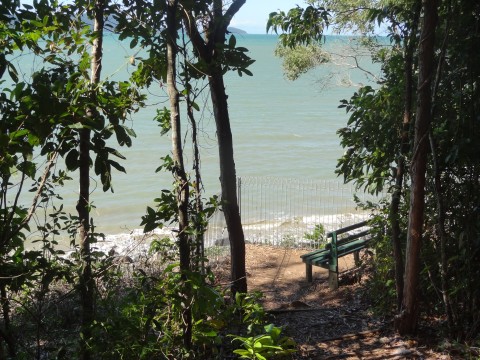 Going North, we did a similar length walk to Clump Point Jetty and with better weather enjoyed a picnic lunch.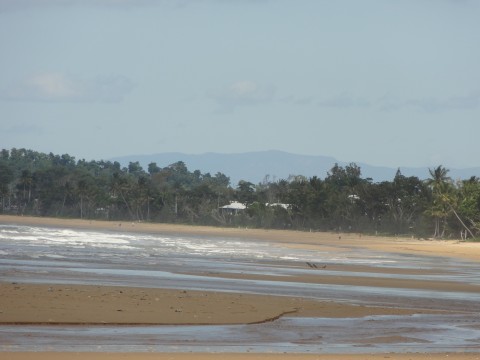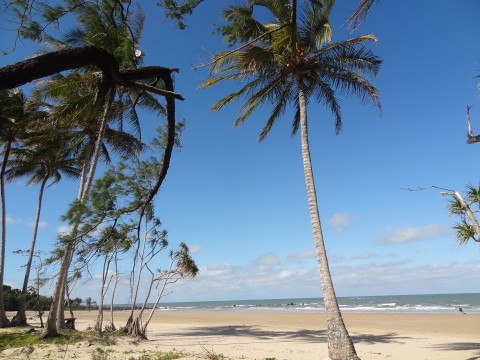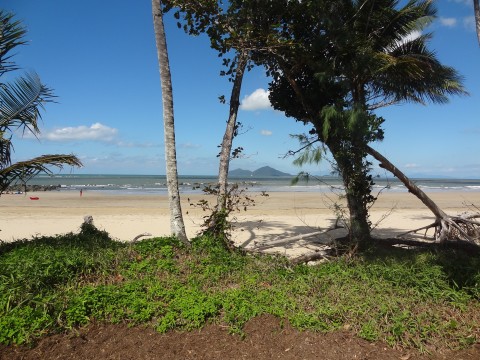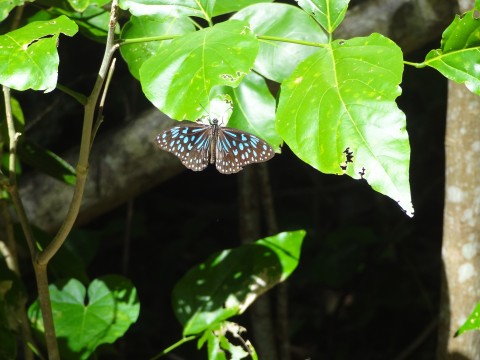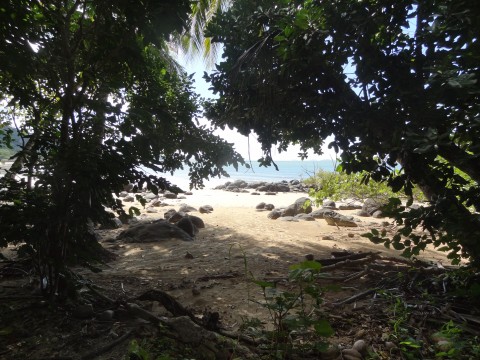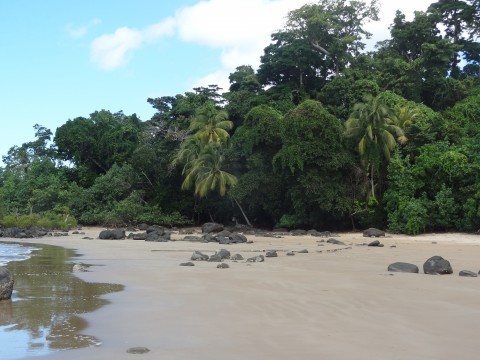 As lovely as Mission Beach is, after a week of mostly poor weather we were ready to move on. Hopefully the weather will improve as we move further North.