Magnetic Island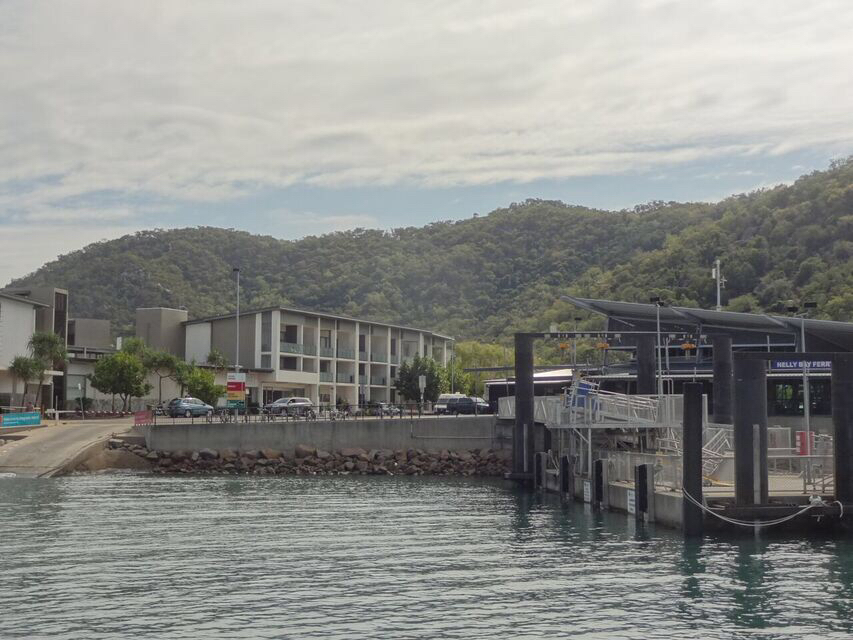 Magnetic Island in Tropical North Queensland sits in the Great Barrier Reef National Park and  is unique in that it is an offshore suburb of Townsville 8km from the mainland.
The island is triangular shaped and quite small at 52 sq miles with over half of it comprising National Park. It is 7 miles wide at its widest point and has 25 miles of coastline. Its highest point is Mount Cook at 497 m above sea level.
The name of the island came about  because of an apparent magnetic effect on the ship's compass of Captain Cook as he passed the island when sailing up the east coast of Australia in 1770. People have since explored the island with various instruments to try to establish what caused the effect that Cook reported but nothing has been discovered. The local name for the island is Maggie Island.
A sealed road follows the East Coast but there are no roads on the West coast nor much of the north coast except in the Horseshoe Bay area which is probably the most developed area on the island with perhaps 10 or so restaurants, a pub, water sports shops and a few gift shops and the like. Unlike Fraser Island, most of the roads are sealed and so we were able to take our car over to the island.
This is a World Heritage listed island with a landscape of unspoilt natural beauty. The island is hilly with massive boulders everywhere and rocky headlands creating secluded beaches which are some of the best in North Queensland. Some beaches are easily accessible by road, other more secluded ones are only accessible by sea or by foot. A fabulous place.
Over half of the Island is National Park with tall Hoop pines, eucalyptus forests and small areas of rainforest. The west coast is largely tidal wetlands and mangrove with saltwater swamps.      There is an abundance of wild life with koalas, rock wallabies, possum and bats together with a huge variety of birds – curlew are everywhere as are bush turkeys, parrots and cockatoos.
There is a resident population of around 2,500 some of whom commute to Townsville for work. We were astounded at this number of residents but the population and the holidaymakers are thinly spread out mostly along the East coast and so it never seems too busy even in high season.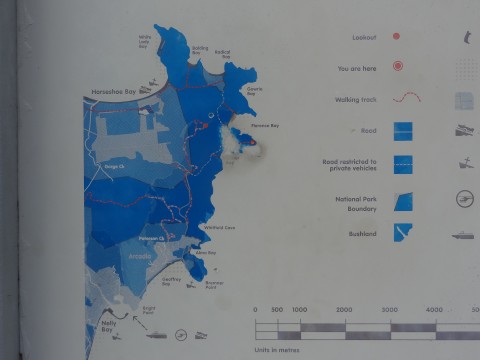 We spent 5 nights on the island staying at Arcadia Motel on Geoffrey Bay in Arcadia village. The Motel is rather confusingly adjacent to a hotel of the same name in the same complex and there is also a pub with a decent bistro, bottle shop, Italian restaurant and part time (twice a week) Asian restaurant. A top place!
The motel was fairly quiet at the time of our visit and the lovely owner upgraded us to a great upper floor family sized unit at the front overlooking the swimming pool and the beach on Geoffrey Bay. The beach here is lovely but within a few hundred meters around the corner but still in Arcadia is the stunning Alma Beach.
Arcadia Motel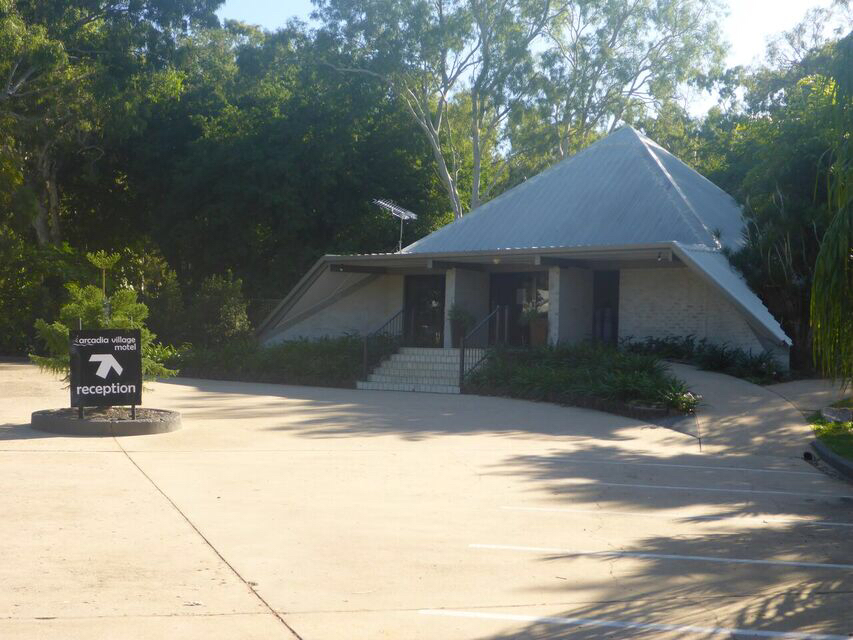 Alma Beach nearby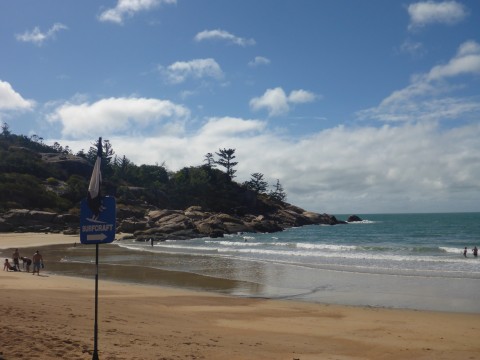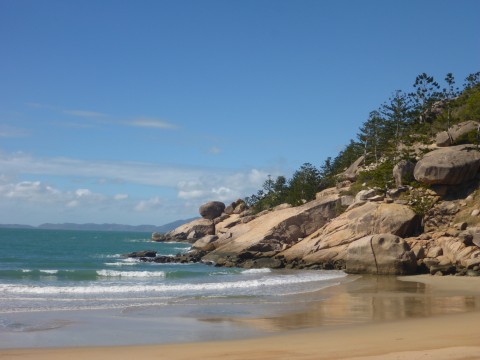 Our first full day here was spent doing not very much other than a walk around the village and a very nice Sunday roast lunch at Gilligan's Restaurant Bar nearby.
Ann was still struggling to walk any distance but it was quite a dull day and we spent the rest of it catching up on paperwork.
On our second morning here we completed the Forts Walk, an easy 4km walk up to some WW2 gun placements and look-outs. These fortifications were part of a series of defenses built along the coast to defend against Japanese invasion. There was an American base at Townsville and the town was actually bombed on three occasions but apparently the guns at Magnetic were never fired. There are great 360 degree views to be had from the look out here and it's a very popular walk.
Rain had threatened as we started the walk but we pressed on and were happy that we did as we saw our first koala bear with baby whilst walking up to the fort albeit they were so high up in a shady tree that we couldn't get any good photos.
The Forts Walk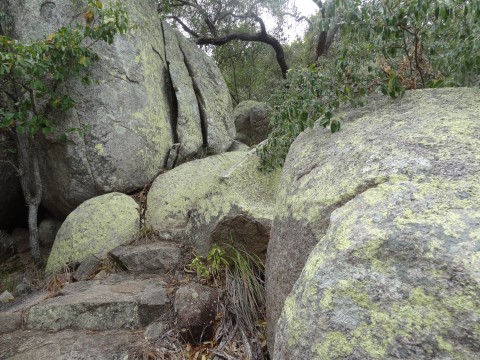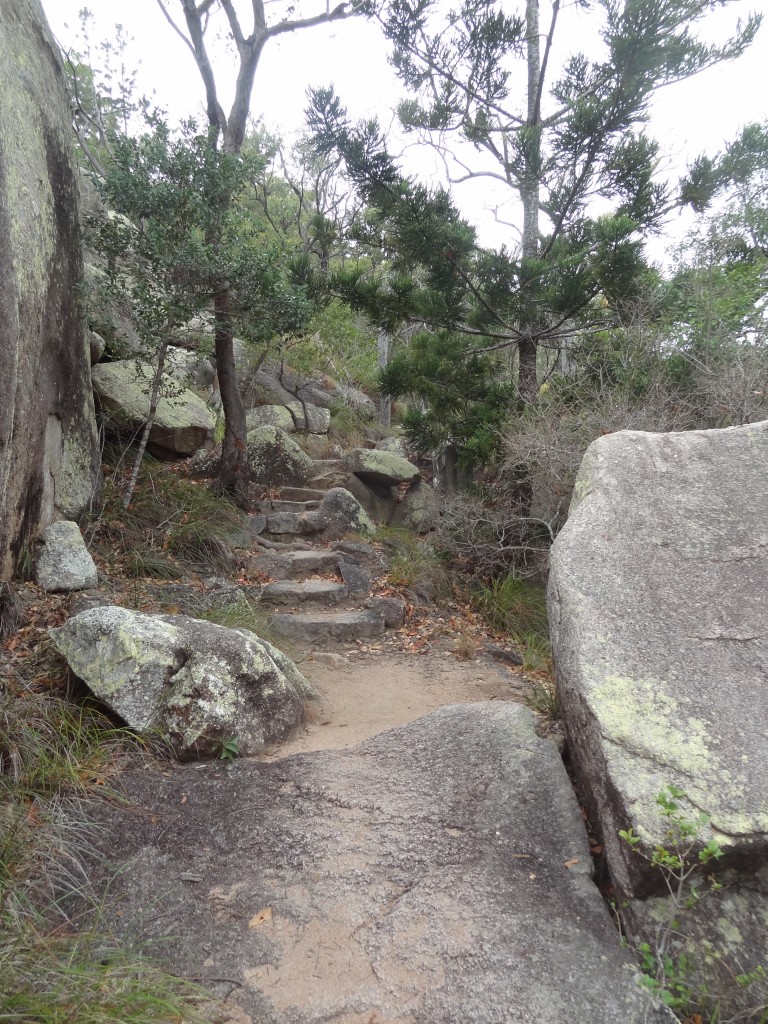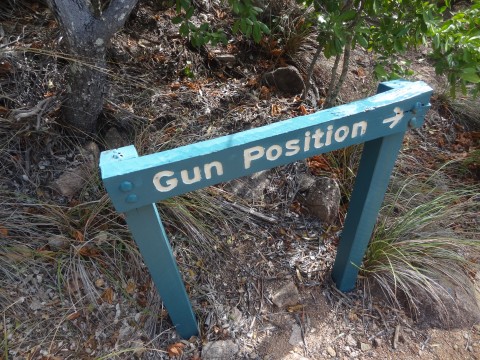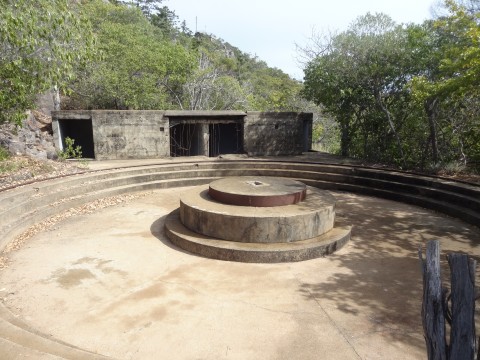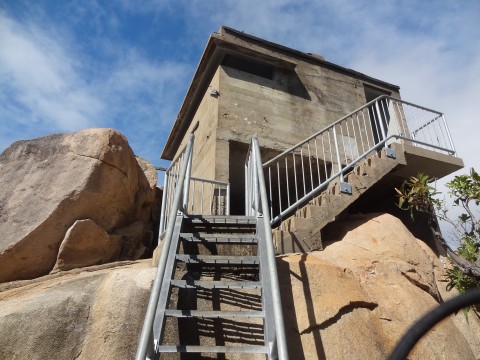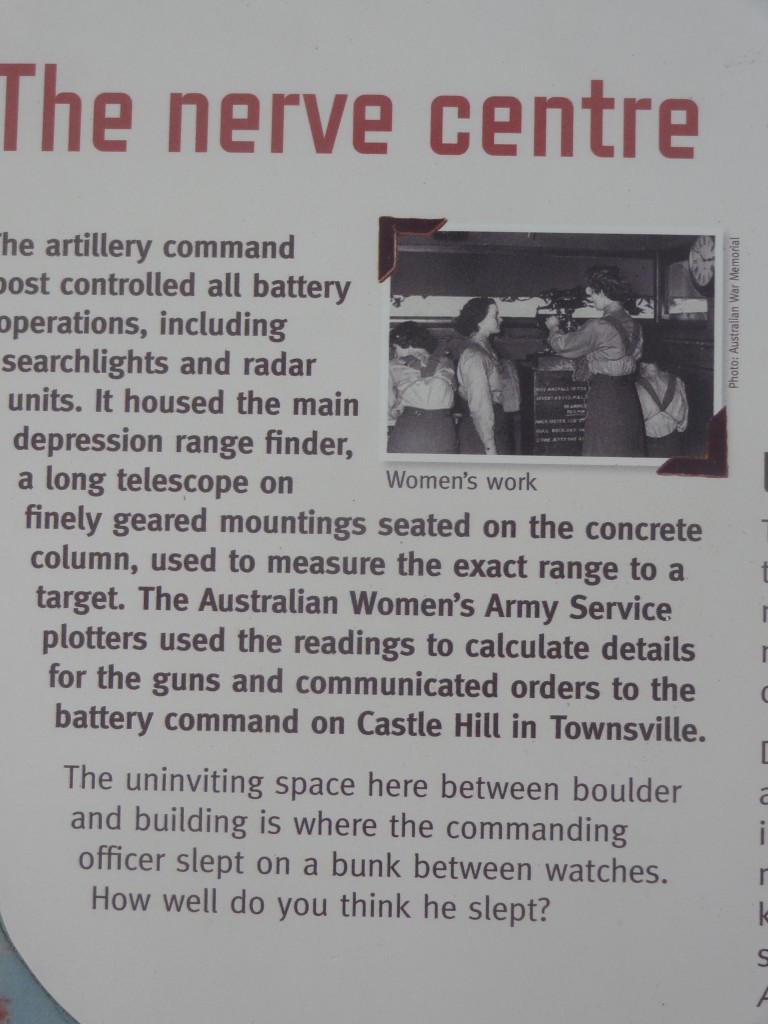 Great Views from the look out post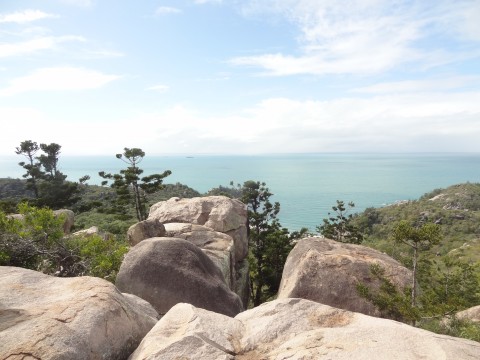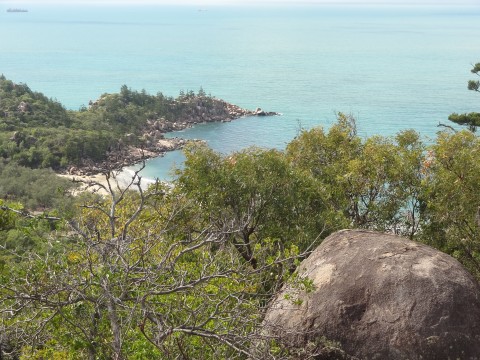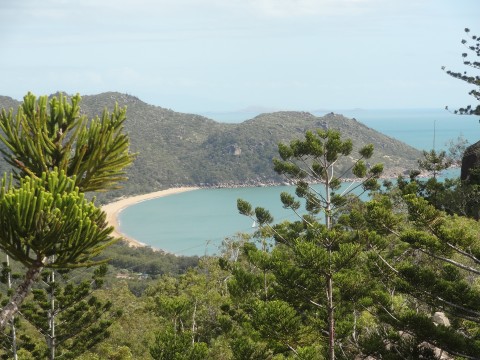 And an unexpected bonus of spotting a koala with baby (albeit we couldn't get great photos).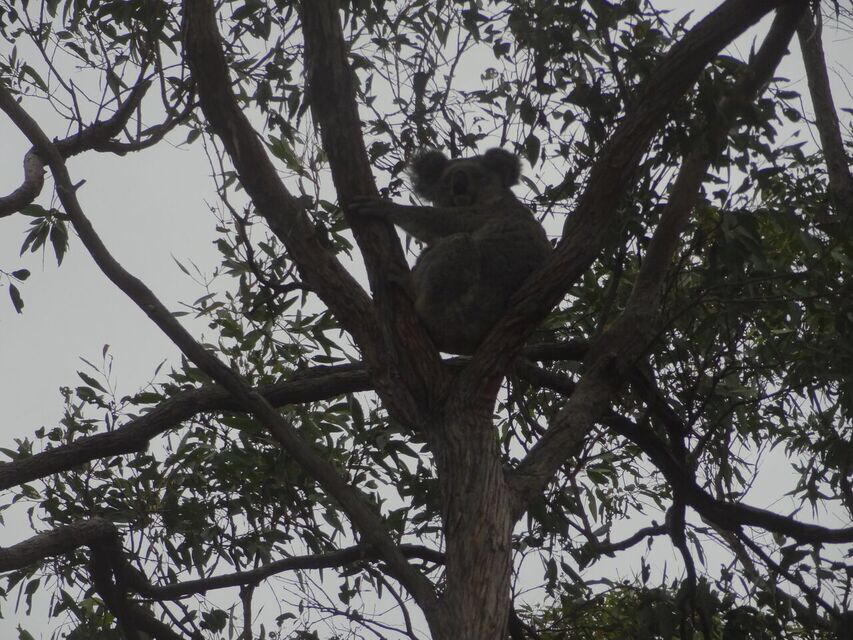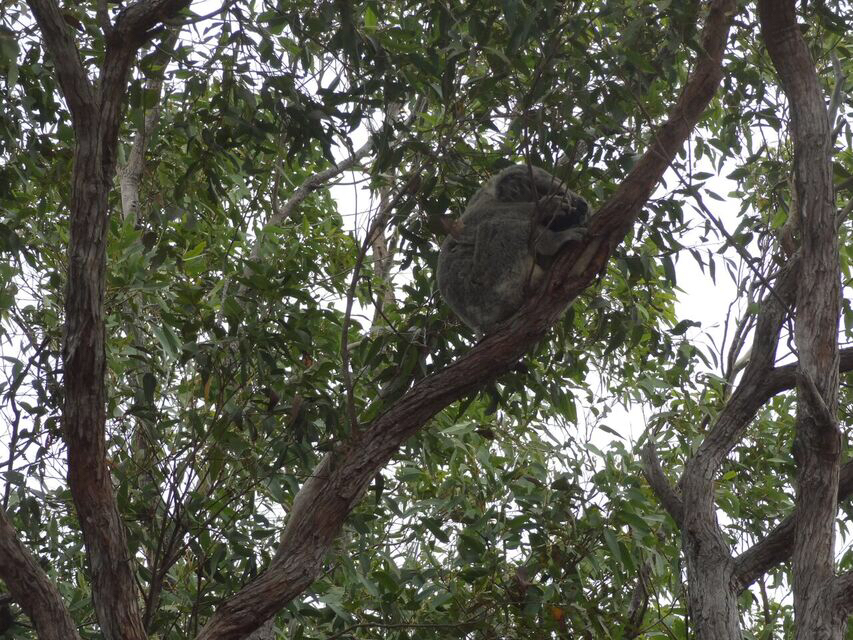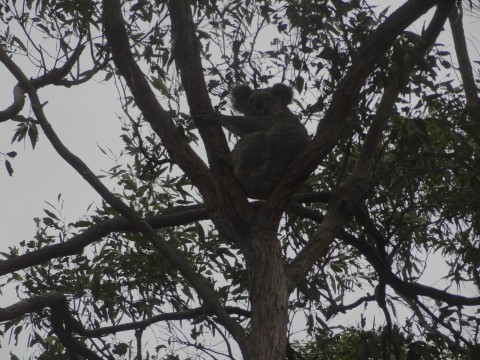 After finishing the walk we drove down to Horseshoe Bay and enjoyed a lunch of fish at the Marlin Bar which is in a great position across the road from the beach with views of the wide bay and the boats on the water. Lunch was good but just as we were finishing the heavens opened and there was a torrential downpour which happily we could sit and watch as although we had a pavement table, we were sheltered from the sun and now the rain by an overhead canopy.
Lunch over we drove back to Arcadia but before returning to the hotel we stopped off at an old disused ferry jetty at the northern corner of Geoffrey Bay where we were told me might see rock wallabies. Sure enough we found half a dozen wallabies sipping water from puddles on the ground left following the heavy rain. It seems a local resident feeds the animals and so they turn up each day for easy pickings.
Rock wallabies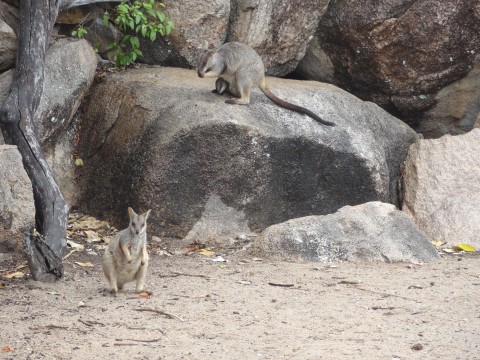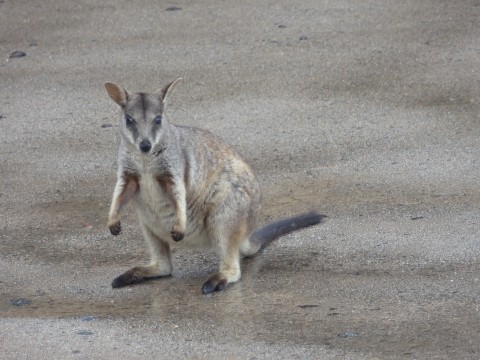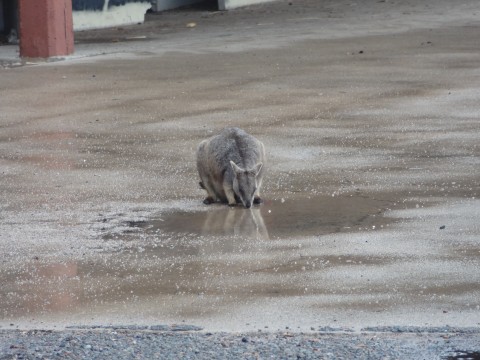 Our next day started with a drive back to Horseshoe Bay and then a half hour walk over a steep hill through some fantastic boulder strewn forest to the lovely Balding Bay. This turned out to be a nudist beach but not surprisingly, as is often the case, the only nudists to be seen were the usual type namely middle aged males – much to Peter's disappointment!
This was a really good walk to a lovely spot and we spent a couple of hours lounging on the beach -unbelievably this was the first time on this entire trip that we had actually sat down and enjoyed a beach for more than an hour.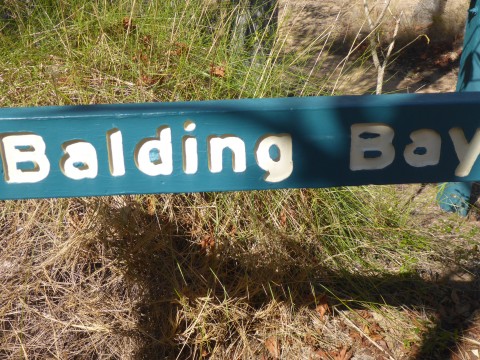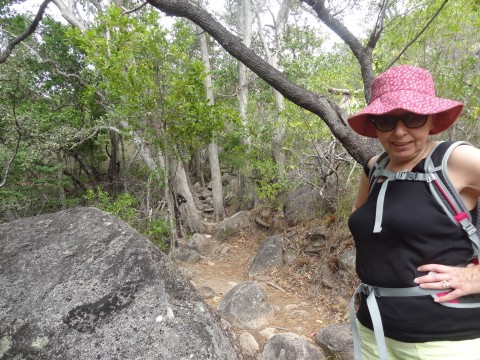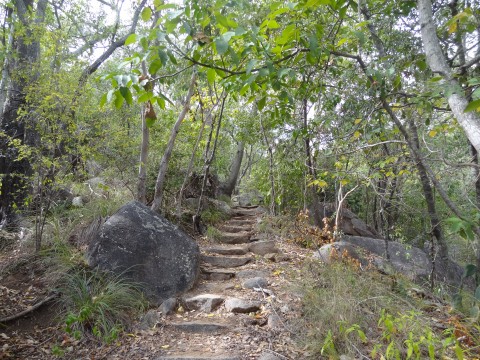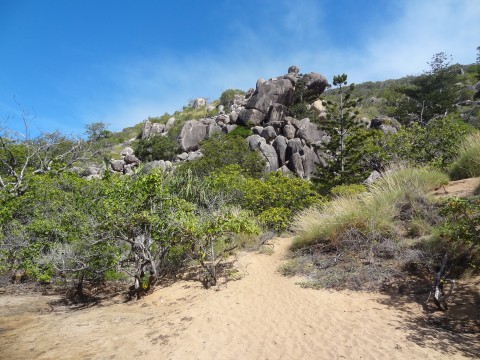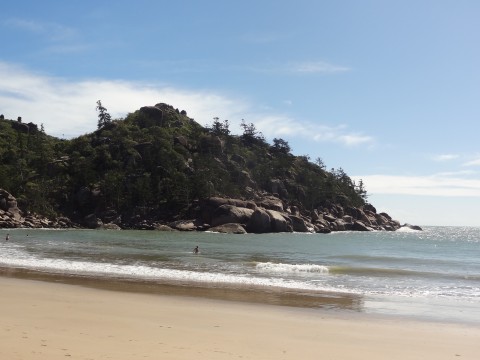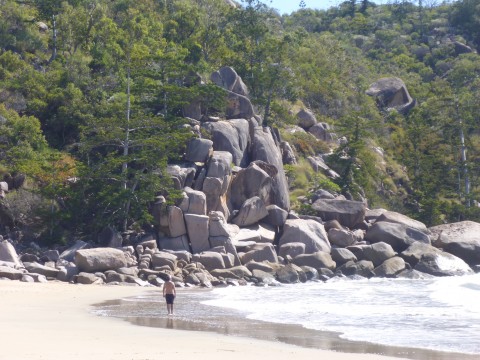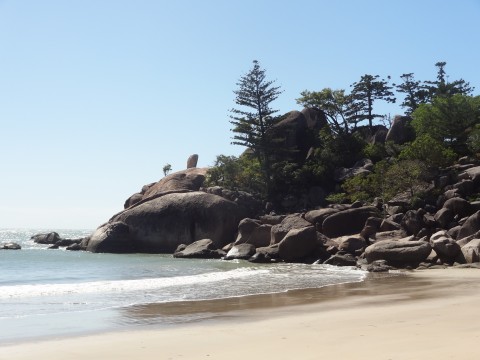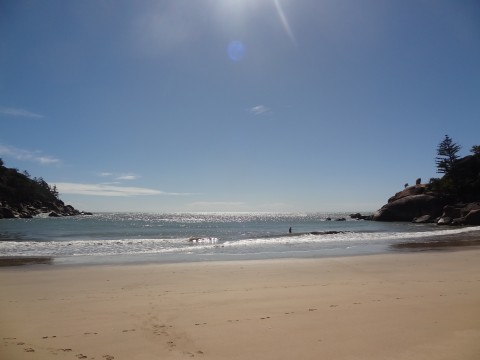 After a picnic lunch we decided to go back to Horseshoe Bay for more sunbathing and en route came across two small koalas one of which posed for photographs – we felt very lucky to see these, a second sighting in 2 days!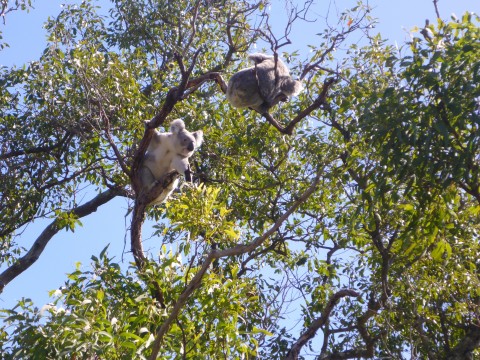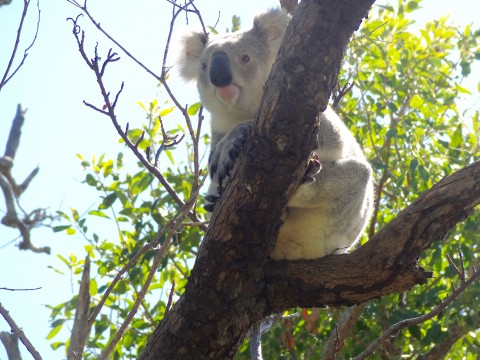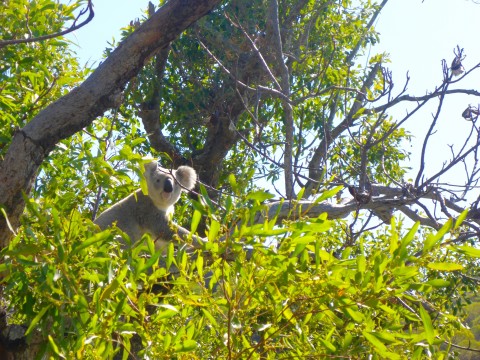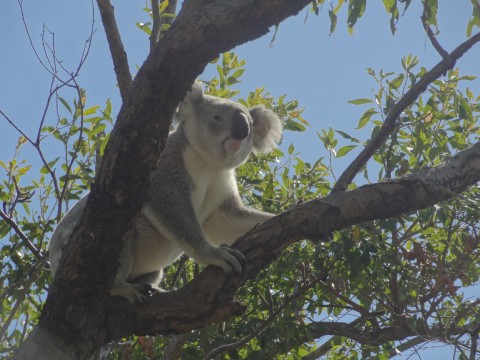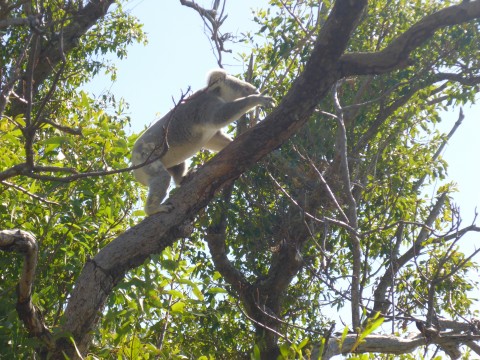 Horseshoe Bay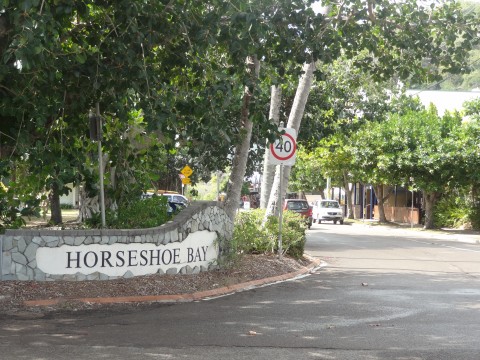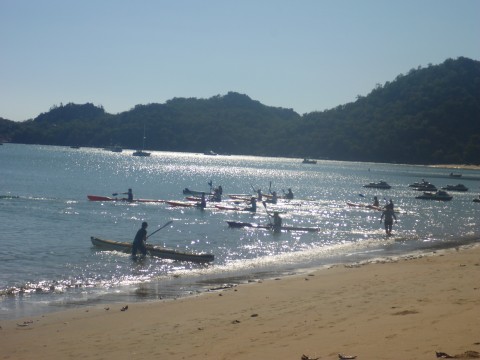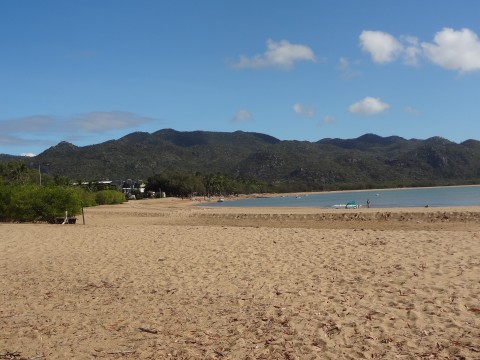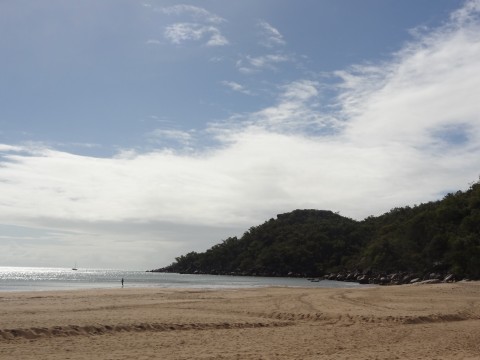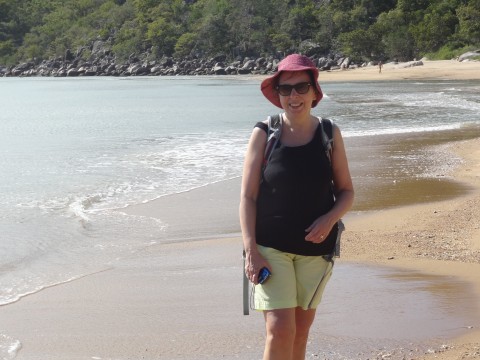 Our last day ,Wednesday ,was spent in similar fashion walking in the morning, this time to Arthur and Florence beaches, followed by a picnic lunch and then beach and fishing in the afternoon at Horseshoe. Wildlife spotted today was a sole rock wallaby on the beach at Horseshoe Bay.
Arthur Bay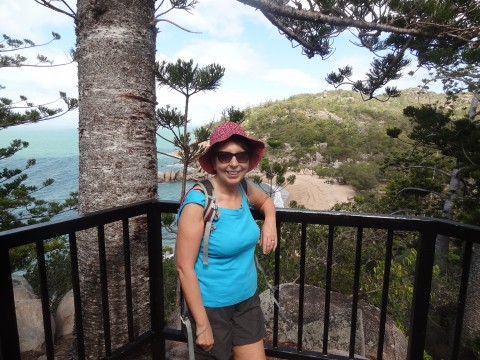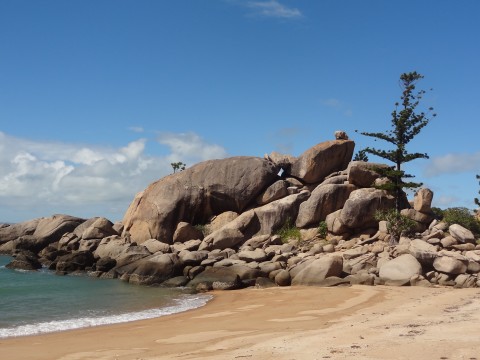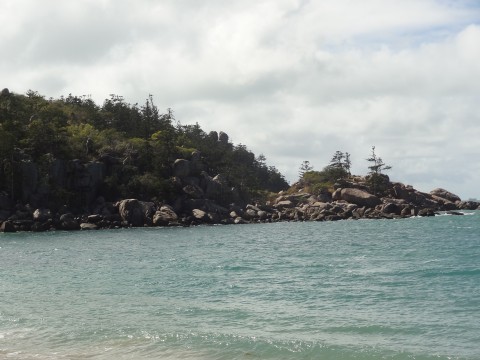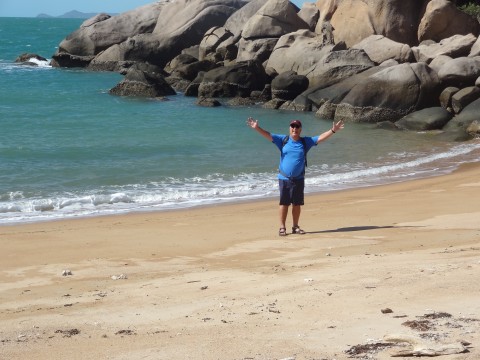 Florence Bay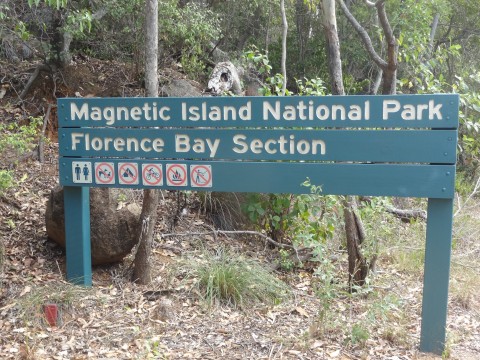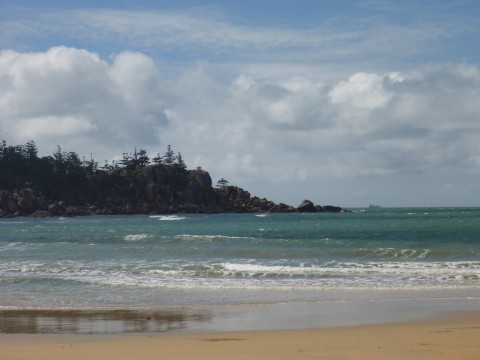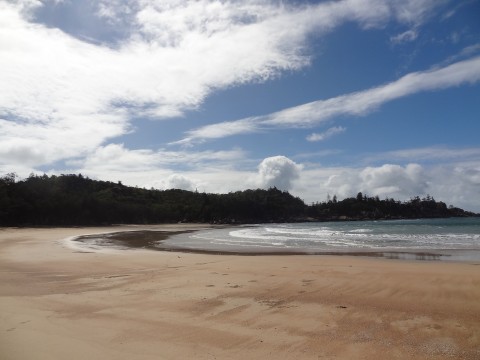 We got back to the motel for a quick shower and then had a very good Indonesian meal at the pub before an early night in readiness for the next leg of our trip.
We left Maggie Island on Thursday 25th June quite sad after a fantastic week despite mixed weather but nevertheless looking forward to our next port of call, Mission Beach.