Having left Fraser Island on the 10.30 ferry back to River Heads, we collected the car and made our way north to Gladstone, a rest point en route to Airlie Beach which is in the Whitsundays area and one of many departure points for the Great Barrier Reef.
We spent a pleasant evening in a very good apartment at Park View Motel in readiness for an early start on the 4 hour journey to Airlie. On the motel owners recommendation we ordered a chinese meal delivery which was excellent with a nice bottle of red.
Setting off at 9.00AM the next morning, Sunday June 14th, left us with a comfortable drive to get us to Airlie for a 2PM check in but I still managed to carelessly pick up a speeding ticket from a humourless police offer for driving at 92 in a 70 limit area. AUD 220. Damn it! You can be sure I was very careful to stay within speed limits for the rest of our travels!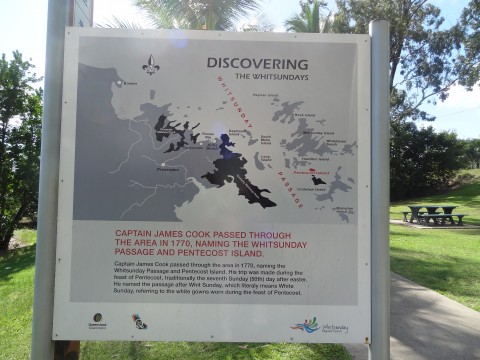 We arrived at Waterview, a luxury apartment development, in time for check in at 2PM. The apartment was lovely, clean and modern and very well kitted out and in a superb position only a few hundred metres walk to the town and with great views over the town and the sea. The landlord was a very amiable and helpful soul and gave us maps and brochures and a run through the various attractions in town.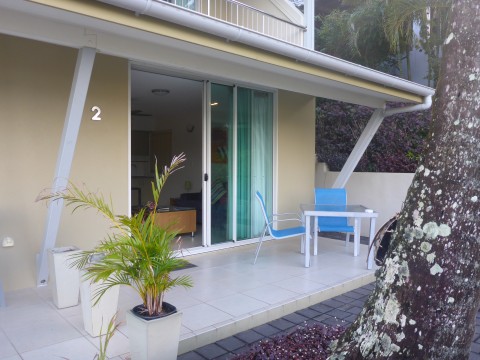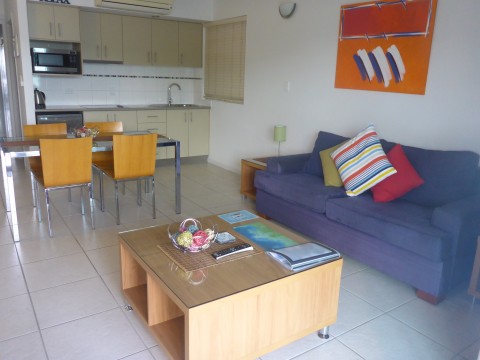 As a launching point for the GBR, this place attracts a lot of backpackers and there were lots of young Brits and other Europeans in town. Backpackers are fine by us as they are invariably good humoured and chatty and bars and restaurants set their pricing accordingly with virtually every establishment offering one deal or another of the happy hours, BYO booze or free drink with meal variety. However, with a super modern kitchen and a nice big supermarket in town we planned to cook for ourselves rather than eat out too much.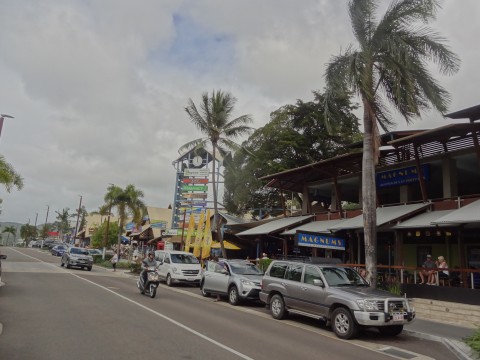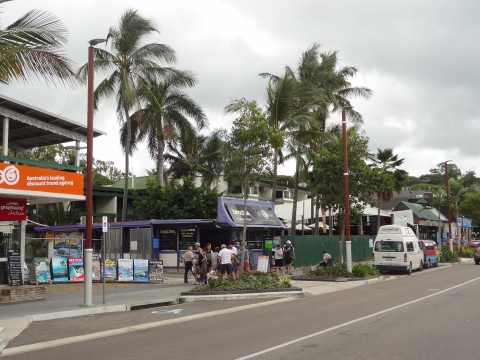 Airlie isn't a big town but with nice residential areas and a modern harbour with harbour side apartments, it has a well heeled feel to it notwithstanding the backpacking fraternity. As always, facilities for leisure are excellent. Apart from all manner of watersporrts and other activities and trips available, the town offers a free swimming lagoon which is really excellent and especially for kids. A very nice place to sit out, sunbathe, swim and enjoy a picnic or a take away from the many shops nearby. In addition, there are the usual walking tracks with park areas provided with nice seating areas and BBQs.
Apart from cooking, the only thing we planned to do was a trip to Hamilton Island but the weather was mixed with sun, wind and rain for the most part and we didn't fancy doing this in rough seas and rain; this and Ann's poorly foot led us to give up on that idea – there would be lots of opportunities for water activities over the next several weeks and of course, as we travelled north we could expect the weather to improve and the ocean to be warmer.
So we had a very lazy few days in Airlie Beach doing nothing very much other than catching up on our "household" book-keeping and paperwork and some easy walking around the area. This is a beautiful spot with a great laid back feel.
Here are a few photos: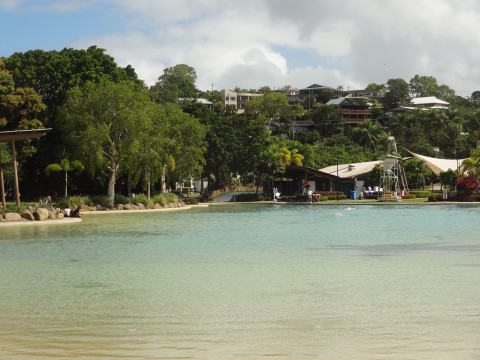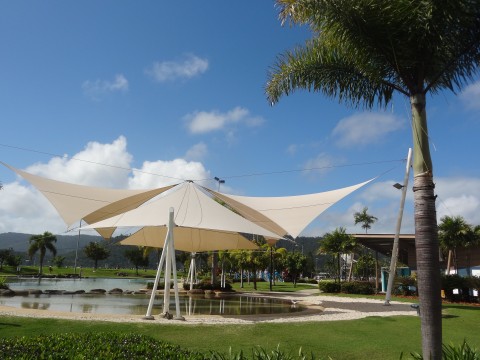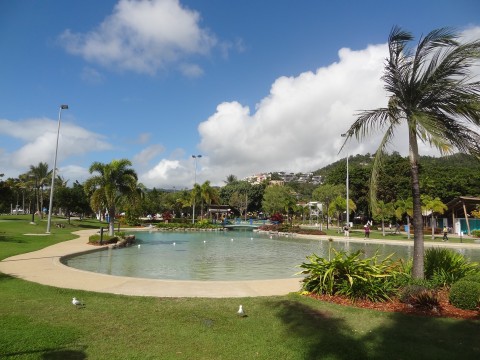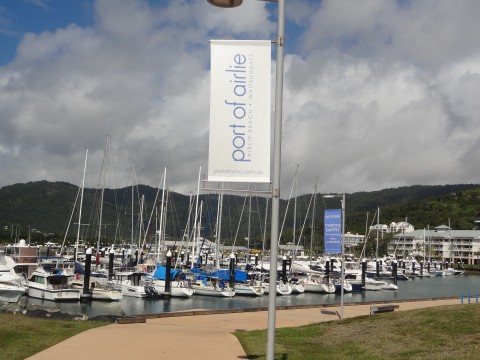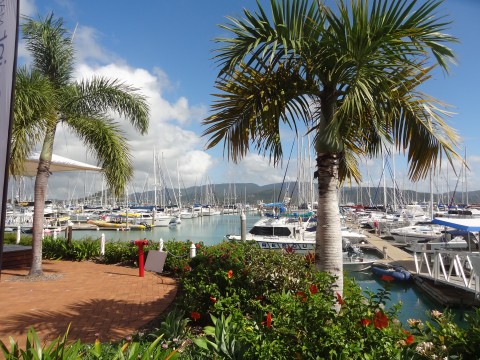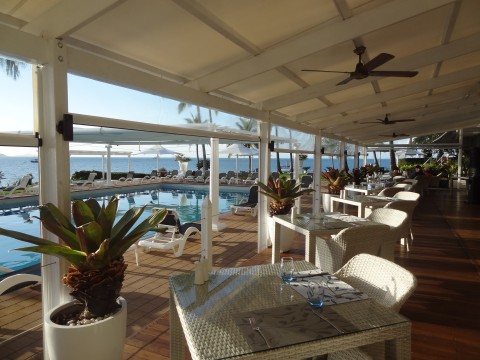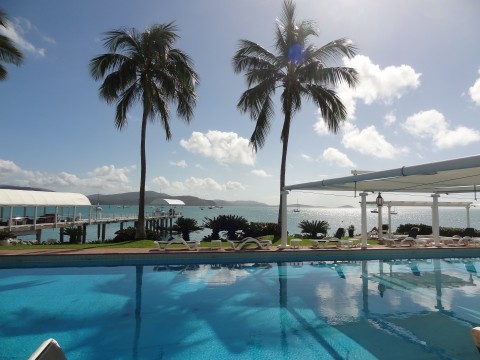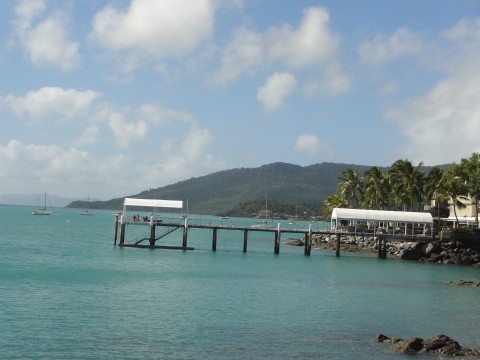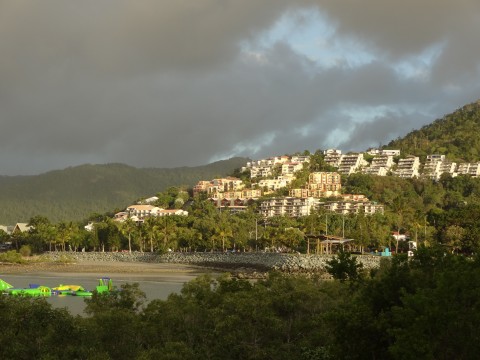 Our stay at Airlie Beach was very pleasant indeed. Yet another town on this coast we would love to re-visit one day.
Next stop Townsville for Magnetic Island!