We left the lovely Noosa for a two and a half hour drive to Hervey Bay around 8am on Monday June 8th.
Hervey Bay is the name of the bay which separates Fraser Island from the mainland by about 9 km.We would stay at the Kingfisher Bay Resort on the island and leave our car at Kingfisher's mainland long term car park at River Heads where there is also a Reception Building and a mini retail park with cafe, supermarket and not much else.
The drive was uneventful but on this route we saw our first serious road kill of kangaroo – and lots of them. It was actually pretty scary as some of these animals are big and the thought of hitting one of these critters full on didn't bear thinking about -one reason that at the outset we decided that we wouldn't do any after dark driving here – especially on the Bruce Highway, the main drag up the East Coast.
Only 4WD vehicles are allowed on Fraser Island and if you want to take your own vehicle then you need to obtain a permit in advance. Although our Mitsubishi had 4WD capability, travel to the island was excluded in the hire conditions which is a pretty standard exclusion in the car hire market as accidents are a frequent occurrence .
We parked up and checked in and waited for the shuttle bus which would take us to the ferry.Whilst waiting we made use of a cafe for a coffee and a small supermarket where we stocked up on a few bits and pieces in anticipation of sky high prices on the island.Around noon a shuttle bus took us down to the jetty and within an hour we were disembarking at Fraser Island.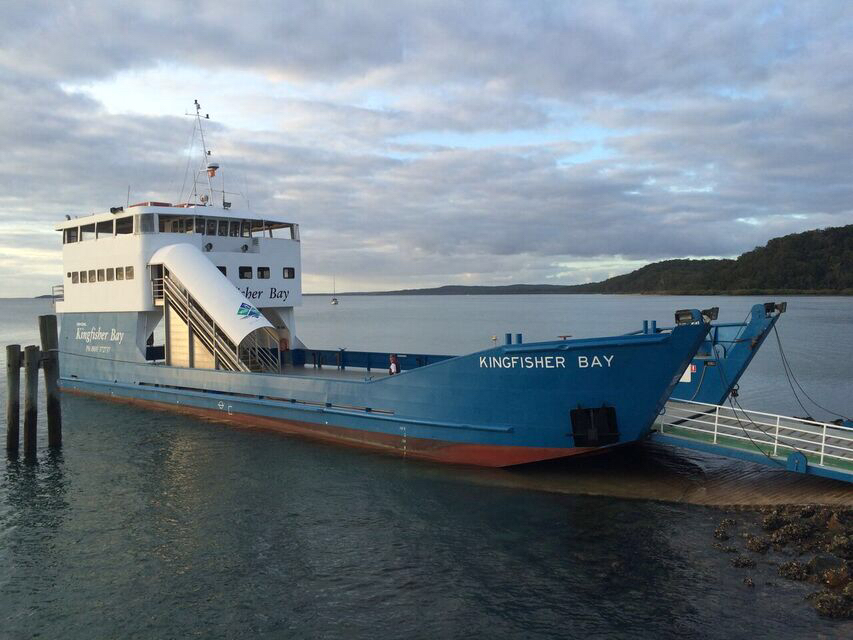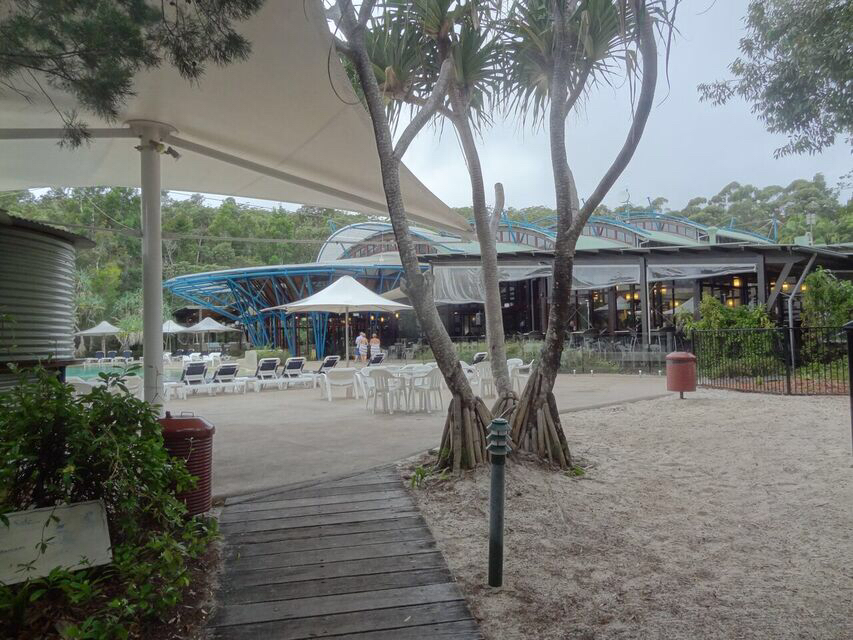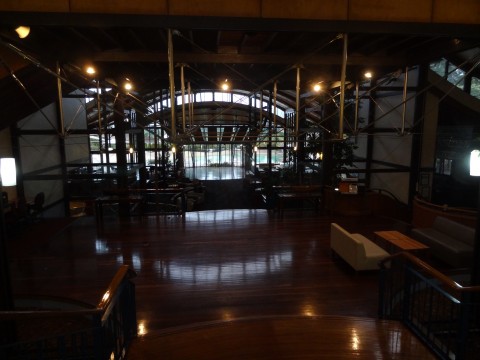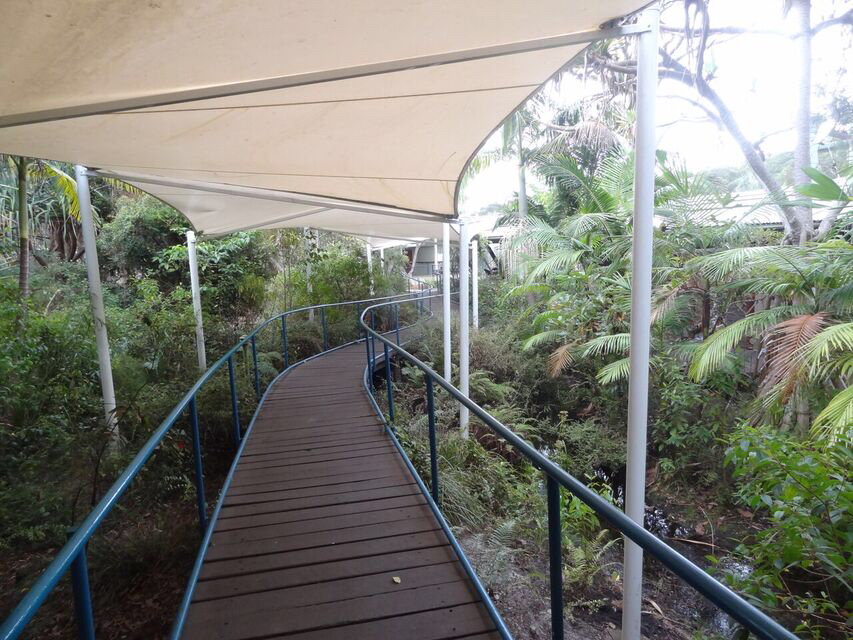 Fraser Island is an amazing place and we expected this to be one of the highlights of our trip. We were not disappointed.
Here are some facts about Fraser Island:
The Island lies just south of the Great Barrier Reef
The Island is actually the world's largest sand bar being 120KM by 15KM.
There is no soil or clay on the island and only a few rocky outcrops – and yet unlike on many sand dunes, the island is very largely covered in dense forest due to a fungi present in the sand which releases nutrients in a form that is absorbed by plants
The sand mass has accumulated over 7oo,000 years, extends up to 500 metres below sea level and it is estimated that the combined sand mass above and below the island is more than can be found in the Sahara Desert.
This is a heritage listed Island since 1992
The northern half of the island is protected as the Great Sandy National Park.
The island was named after Eliza Fraser, the wife of a ships captain and survivor of a shipwreck
A place of exceptional beauty, it has long, uninterrupted white beaches with sand cliffs, rainforests and numerous freshwater lakes of crystal clear water. There are huge sand dunes with the biggest reaching 240 metres above sea level and in places they have buried areas of tall forest leaving just the upper branchs of the trees visible to resemble petrified forests.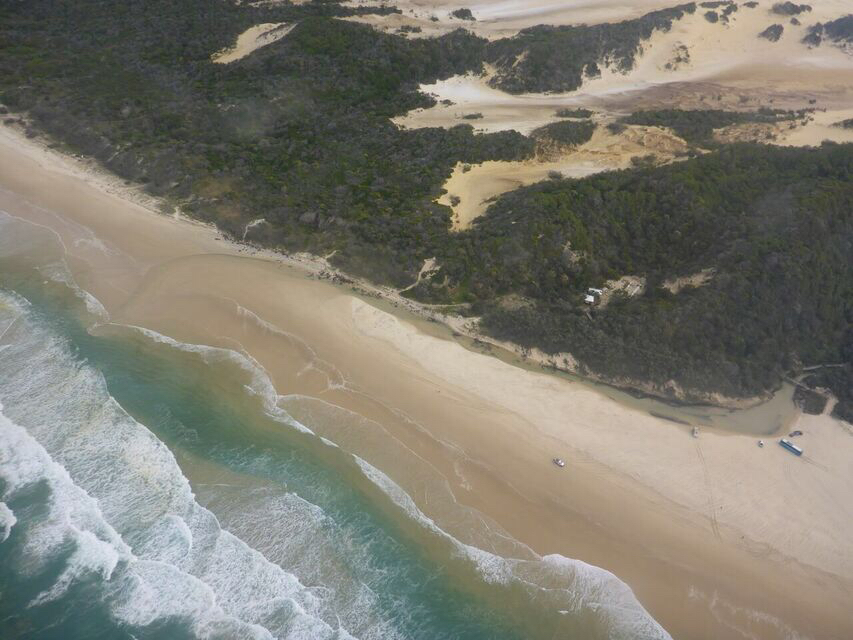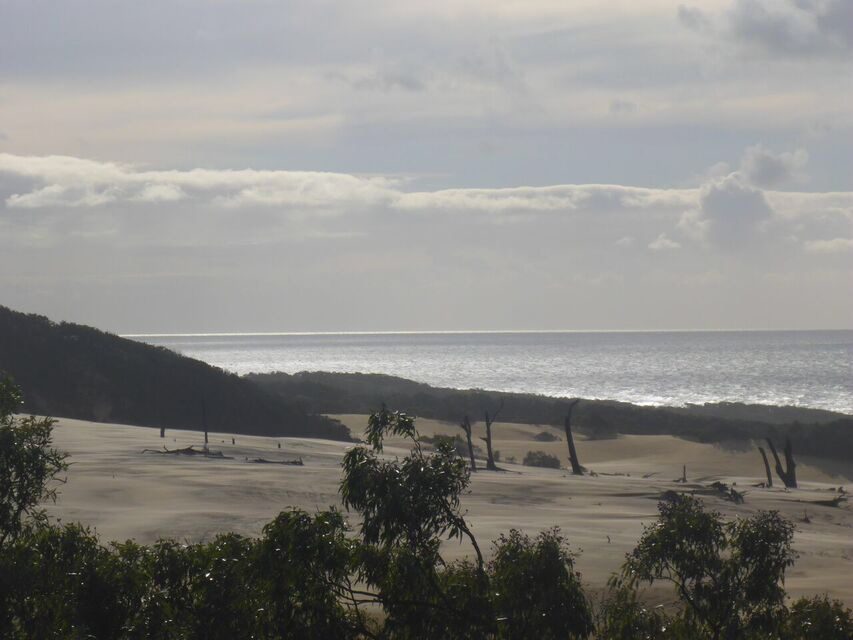 Forty perched dune lakes, such as Lake McKenzie pictured below, can be found on the island. These are freshwater lakes with crystal clear water are formed when organic matter, such as leaves, bark and dead plants, gradually builds up and hardens in depressions created by the wind.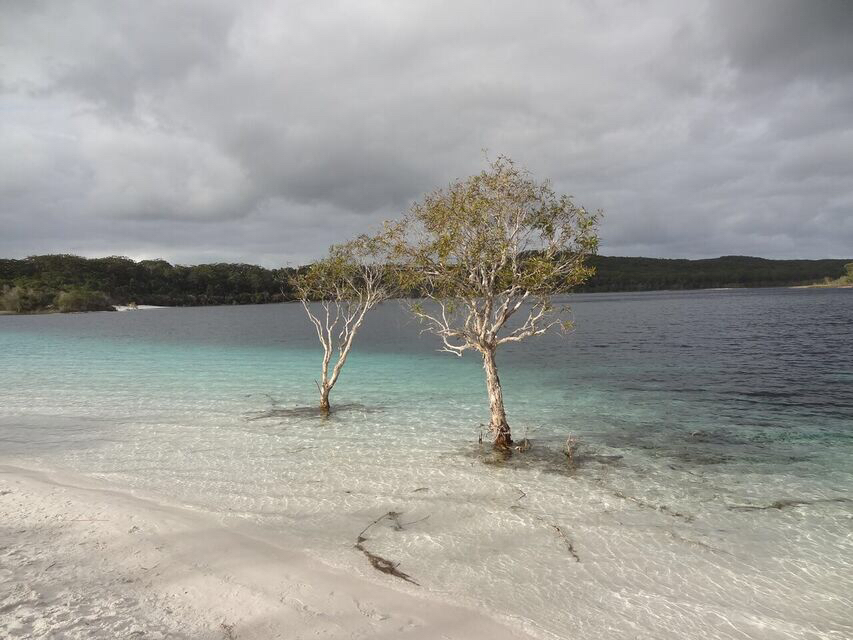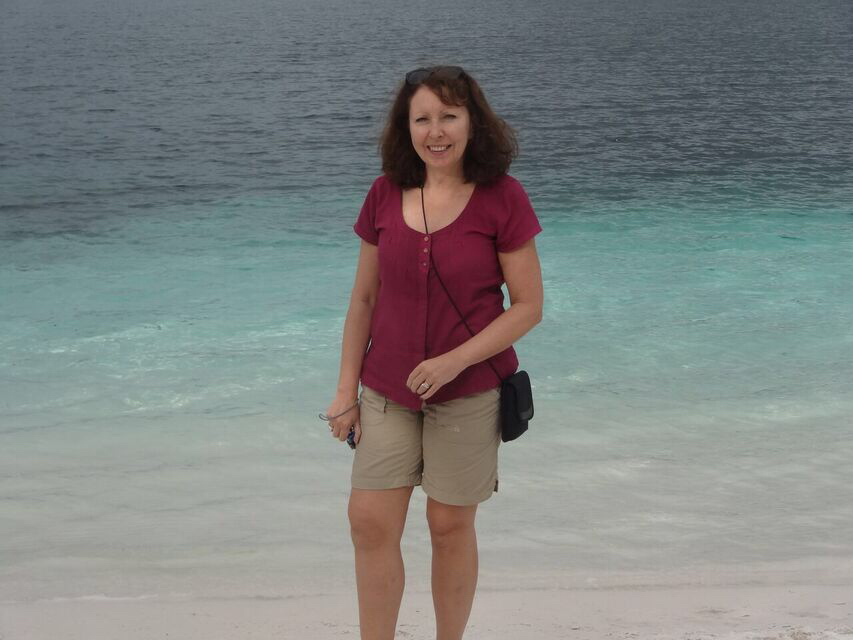 A surprising variety of vegetation types grow on the island, ranging from mangrove and coastal heath to subtropical rainforests. It is the only place in the world where tall rainforests are found growing on sand dunes at elevations of over 200 metres.
A big variety of vegetation and landscapes:
There are more than 350 species of bird, 0ver 70 species of reptiles and 18 species of snake on the island. Over 40 species of mammal include wallaby, possum, bats and the infamous dingos – there are around 200 dingos and signs everywhere warning about dingo safety. The area immediately adjacent to the resort is alive with honey eating birds feeding on a variety of plants on the wetlands but especially the different kinds of banksia which proliferate. Unfortunately these birds are so small and fast we didn't manage to get any photos !
The history of the Island is that this was aboriginal land but in the 1860s the aborigines were driven out when loggers arrived to log Satinay, a rainforest tree that only grows on Fraser Island and is valued because of its water resistant qualities. Satinay was used to line the Suez Canal. Logging ceased in 1991.
There are no sealed roads. All roads are of sand including the main road along the east coast which is actually the beach and also the "airport" as a few light planes operate from here providing scenic flights for tourists.
All the above adds up to a truly amazing place and luckily we chose to stay at Kingfisher Bay, an eco resort which would help us get the most from our visit.
Kingfisher was first developed in 1992 and comprises a large Reception, Lounge, Restaurant Building built on a forested wetland area. The resort has villas and hotel rooms all built in clearings created in the forest with a good deal of space in between the various buildings so that each villa or hotel room block is itself within the forest with the buildings connected by boardwalk. The buildings were constructed in materials sympathetic to the environment and built above ground level so that the wetlands and the flora and fauna exist as previously as far as possible. Permission was given for this development because of its' eco-friendly nature and with various continuing undertakings regarding ongoing eco-projects, provision of eco-education etc.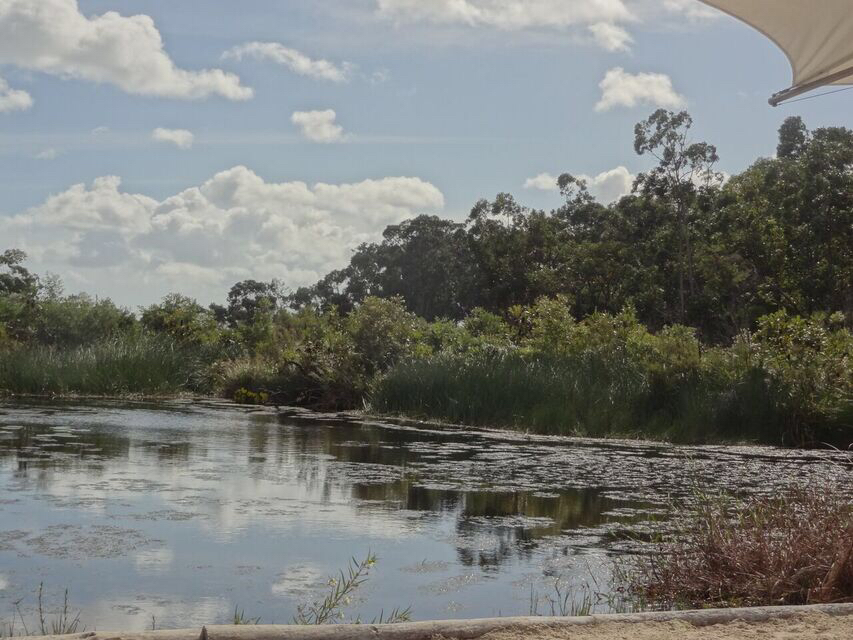 We stayed for five nights, four full days, and had a fabulous time. The weather, whilst warm, was mixed and we had a fair amount of rain.
What was so good about this place, apart from the excellent accommodation and restaurant, was the activities laid on by a team of Rangers and others. There were a couple of quite pricey day tours available but in addition there was a programme of activities throughout each day which were either free or available at nominal cost.
Upon arrival on our first day we did little other than book an island tour and a few activities for during the week.We then enjoyed a nice lunch and a wander around to get our bearings. After a late lunch we didn't bother with dinner but managed a couple of drinks on the Jetty Bar whilst watching the sunset.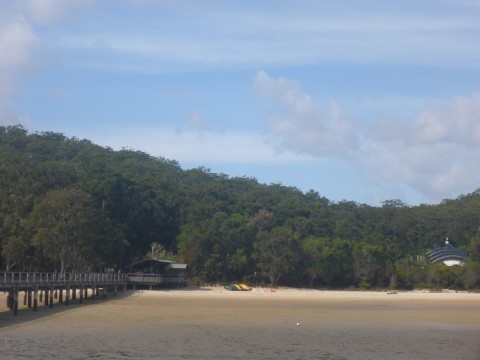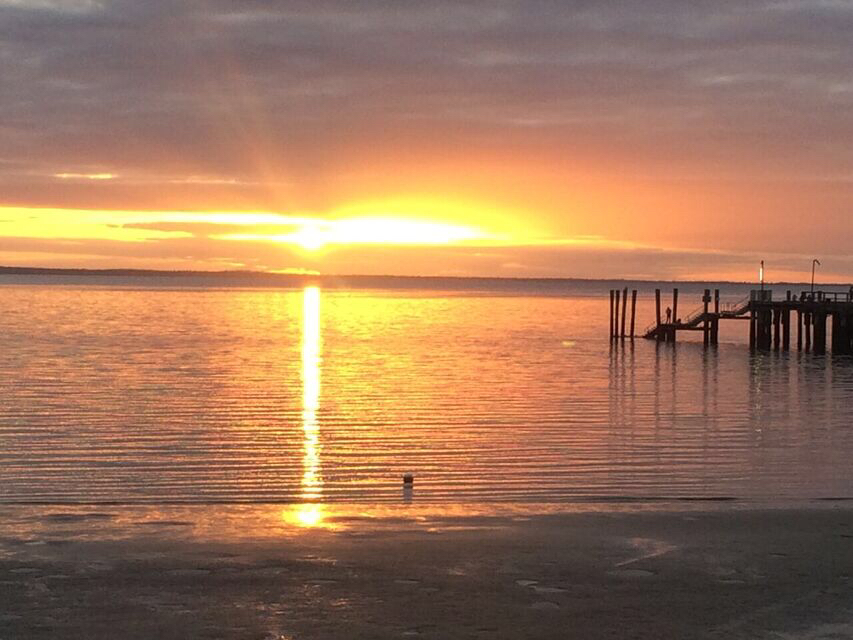 We had an early start the following morning to join a guided bird watch walk around the resort, its' wetlands and beach. Later in the day we did a Wallum Walk with a Ranger who explained the very unusual nature of the wetlands here, where banksia and other vegetation flourishes in nutrient poor sandy soils, swamp and wetlands subject to regular wildfire. Our afternoon was spent walking and fishing on the beach – a lovely day that was marred late afternoon when Ann stubbed her toe on a rock – this was still painful and difficult to walk on several weeks later.
On Day 2 we had booked a tour of the island but postponed this until our last day due to Ann's injury. So it was a lazy day doing not very much at all although we did join a Bush Tucker presentation that evening.
The Presentation was a joint presentation by the Ranger and the Head Chef and it was to give an insight as to how the resorts restaurant incorporates bush tucker ingredients into its food. Apart from wild nuts, berries and leaves we also tasted crocodile, kangaroo and emu which was cooked by the Chef before our very eyes. The presentation and food were both excellent although we weren't smitten by emu!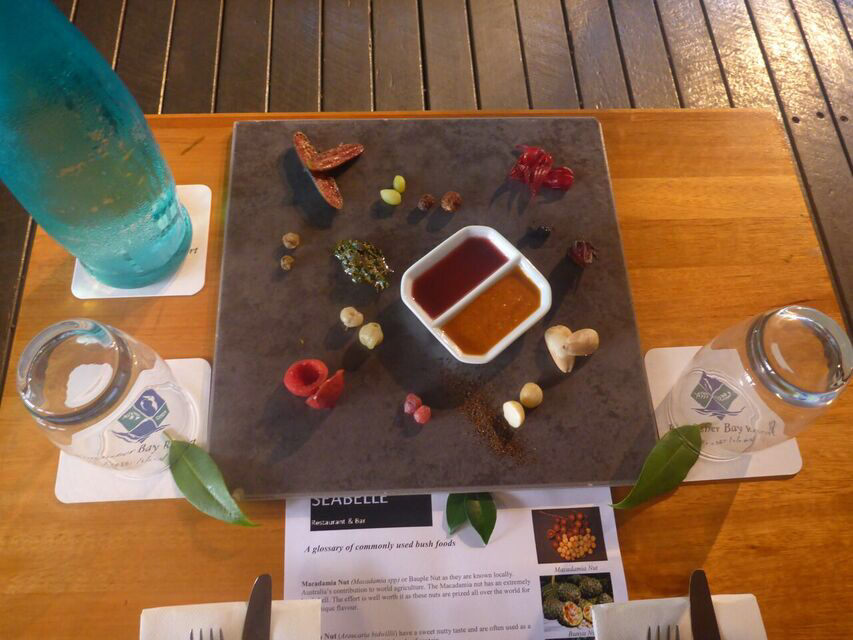 There was rain on and off throughout the day and became heavy through the evening and night. We went to bed thinking the island tour next day might but cancelled but miraculously day break brought sunshine which lasted through much of the day with only the odd shower. We did have second thoughts about doing the trip in view of Ann's injury but we went ahead and it turned out to be an excellent day both interesting and amusing thanks to a very entertaining Guide. This was one of the absolute high lights of our visit to Australia.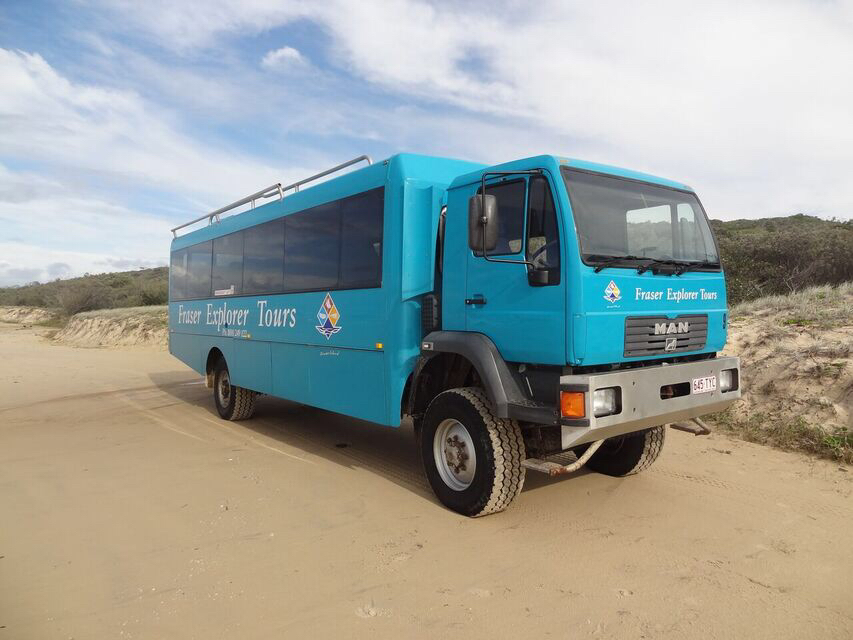 We travelled by special 4 wheel drive vehicle across to the East coast on some quite hairy 4-wheel tracks and then along the beach road north stopping to look at notable features from time to time, unusual trees, plants, sand "rocks" and of course sand blows. After a pleasant lunch Ann managed to talk me into a scenic flight over the island in a ridiculously small plane during which I managed to put aside my fear of heights and enjoy the scenery.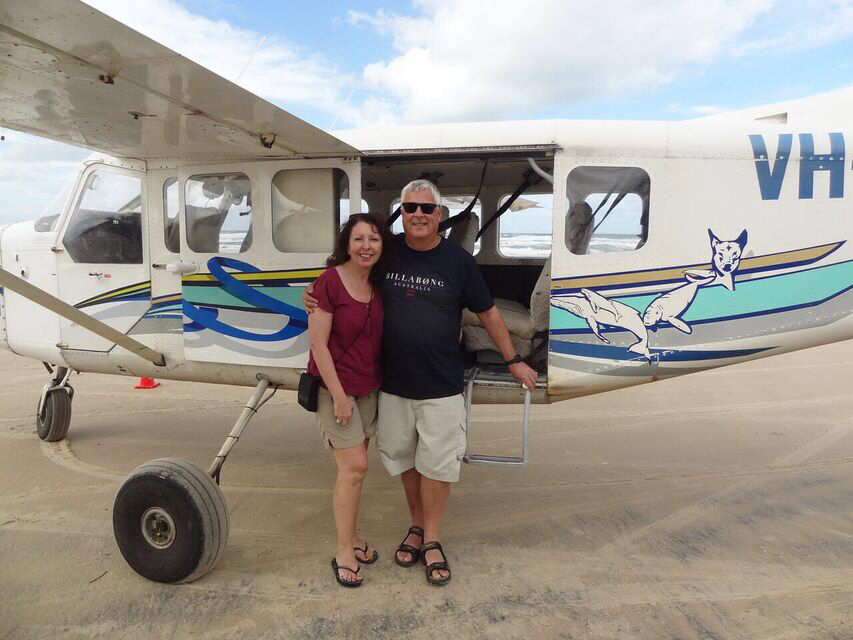 The rest of the afternoon was spent in the forest visiting and completing a short walk of an hour or so in the area known as Central Station which is the area which was used as base for the logging operations in the past. There is very little infrastructure remaining but its hard to see how many hundreds of men could be based here.
We returned to Kingfisher Bay around 4.30PM. A good day had been had by all.
We finished off our stay at Kingfisher Resort with a memorable Bush Tusker dinner comprising a multi course feast including a main course of kangaroo – all cooked using bush tucker ingredients. After a long day and a couple of bottles of wine we slept well!
Next morning we would continue our journey northwards. In the meantime, a few more random photos: