Our drive from Coolangatta to our motel in the North Brisbane suburbs was only around 90 minutes and we left in good time to get there late morning. Although our unit wasn't ready, we were able to leave the car and hop on a bus into the city at a bus stop just around the corner. We chose this location as being well outside the CBD to avoid traffic and to avoid having to drive into town as there are good transport links with bus and train services nearby and a journey time of only 30 minutes or so into the CBD.
The location turned out to be very good. Getting from A to B was indeed a doddle but unfortunately the accommodation itself proved to be the worst we had stayed in so far. To be fair the rooms were as cheap as chips and of course you get what you pay for but the villas had thin walls and were poorly fitted out and lacking any proper heating system – and by now it's getting chilly at night.
Brisbane is the capital of Queensland and Australia's third biggest city with a population of 2.3M for the entire conurbation. It's a very modern city but with some lovely old architecture too making it a very pleasant place to visit with all thats going on here.
Our bus took us into the busy Cultural Centre Busway Station around noon. The bus station is so named as it's adjacent to several significant cultural buildings such as the Museum and Science Centre, the Performing Arts Centre and Queensland Art Gallery. It's also close to the attractive South Bank area full of bars, restaurants and leisure facilities.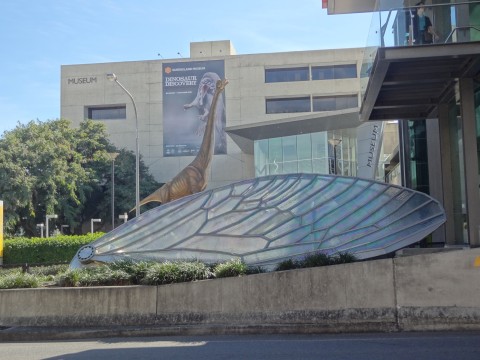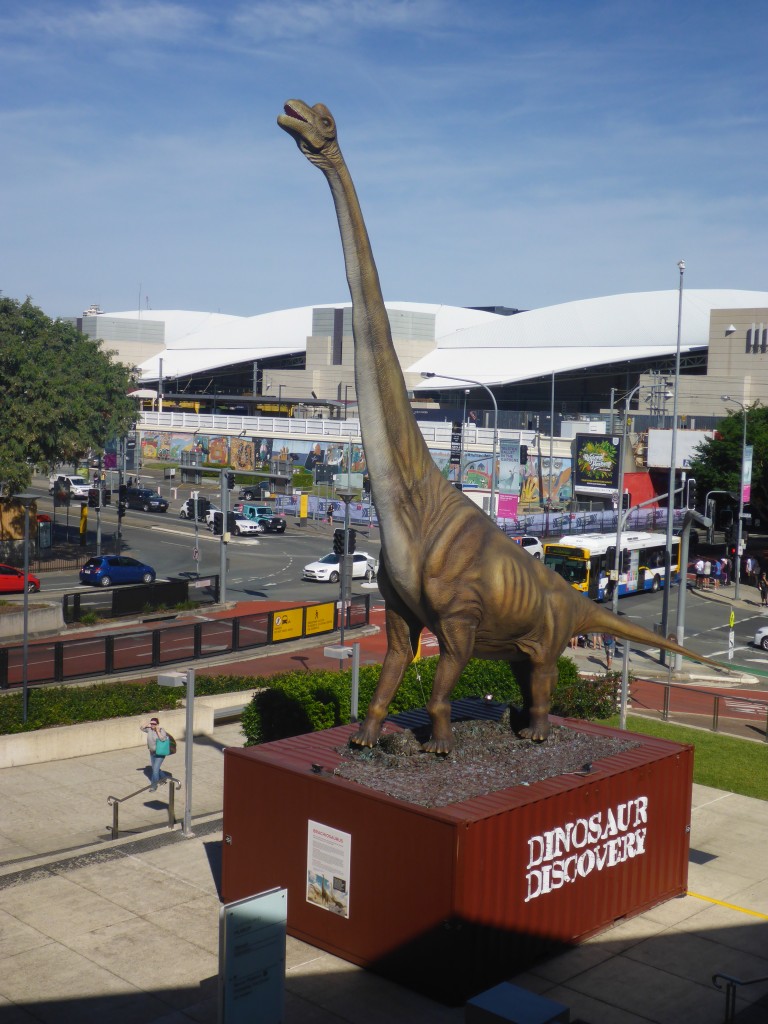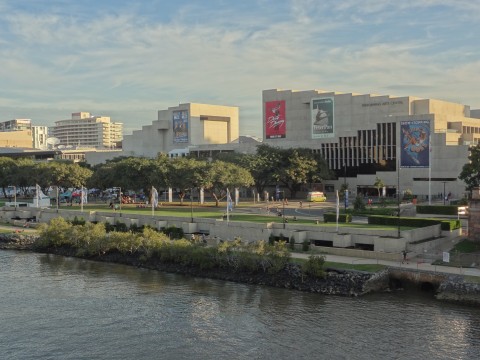 We headed off from the bus station to cross the river but just as we were doing so were distracted by loud music coming from the South Bank. We wandered down to take a look and found a huge crowd of lycra-clad women of all ages ,shapes and sizes exercising in front of a stage to music and the instructions of a fitness instructor. We discovered that this was part of a series of free fitness classes courtesy of Medibank taking place over a period of months. It all looked like good fun but of course we weren't dressed for it!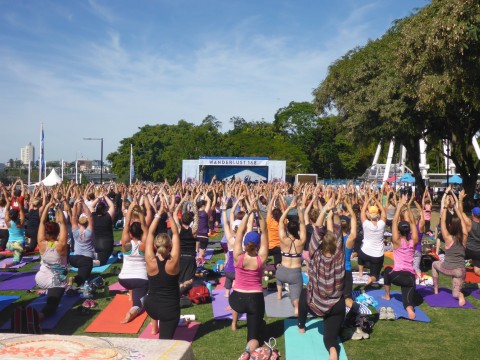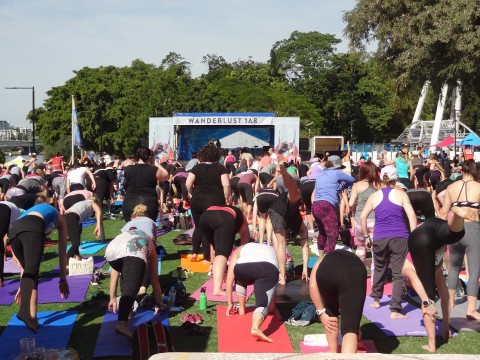 We re-traced our steps back to the Victoria Bridge to cross over the Brisbane River and the CBD first hitting Queen Street mall which is a lively pedestrian shopping area full of every type of shop, department stores, bars and restaurants. A great place to shop, eat or just hang around with a coffee to people-watch.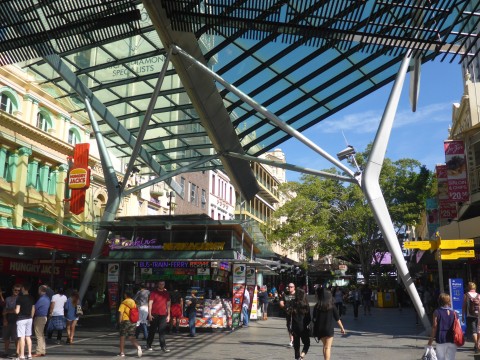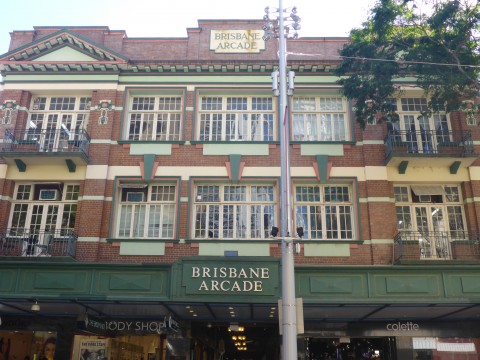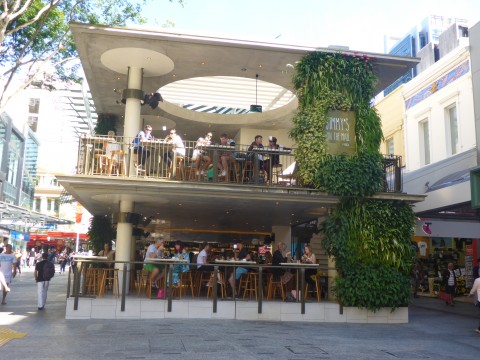 We did a quick tour of the mall until we found ourselves at the Pig 'N' Whistle pub in the very pleasant Riverside area. We stopped for a drink and ended up having lunch in this English-style pub where a signed and framed shirt of the famous England goalkeeper Joe Hart proudly hangs on a wall! We continued our wanderings after lunch and eventually, after booking seats to see Dirty Dancing at QPAC the following evening, we made our way back to our motel for around 7PM.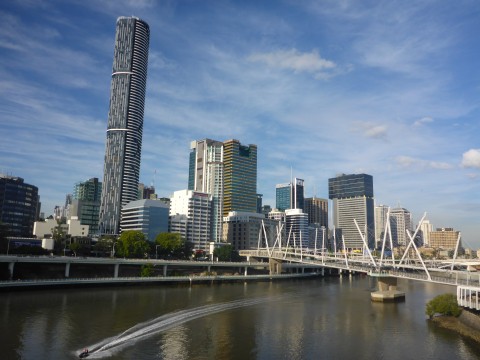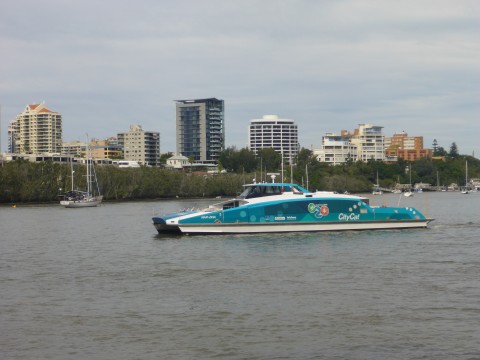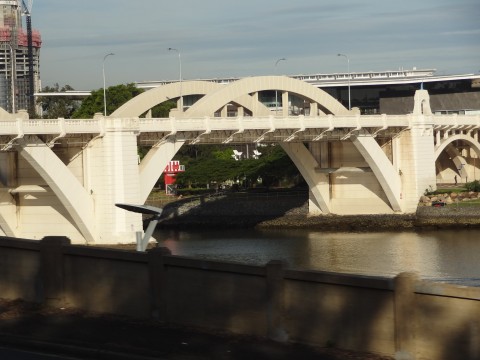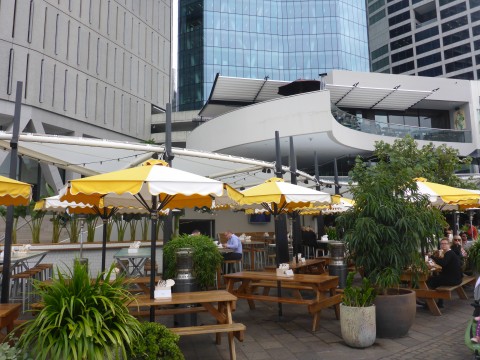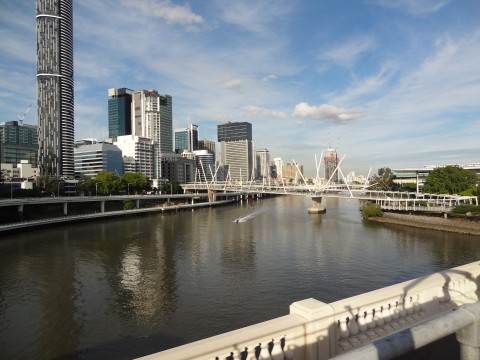 The following morning, Sunday May 31st, we made an early start into the city to do some more sightseeing before meeting up for drinks and lunch with an old friend Pete Critchley and his lovely wife Ginnine who emigrated to Brisbane five years ago.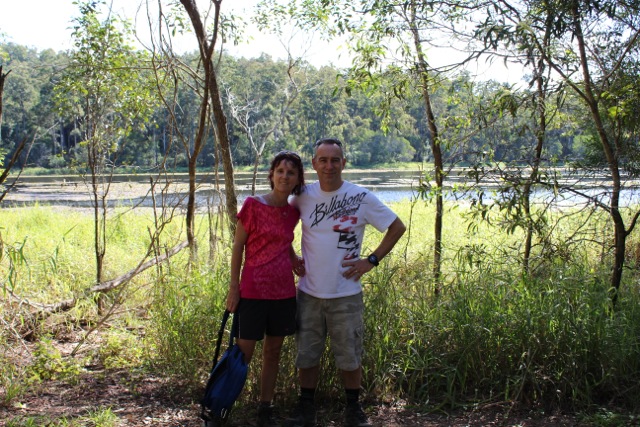 We had a super afternoon full of nostalgia. A few scoops at Riverside first and then over on the Southbank where we were treated to an excellent lunch. We then had to say our goodbyes as Ann and I went on to the theatre to catch a very average production of Dirty Dancing.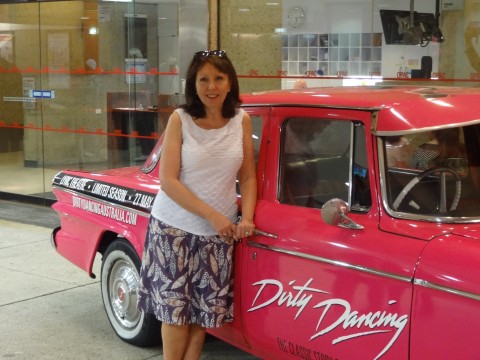 On Monday we continued our sightseeing, walking miles from one end of the city to the other. By the end of the day we felt we had pretty much seen what we wanted to see and decided to move on the next day, a day earlier than we had planned.
A few more random snaps of Melbourne:
Our decision to move on wasn't a difficult one given the evenings were now starting to get chilly and we didn't relish the idea of another couple of cold nights at the motel. We tried to add an extra day to our forthcoming  booking at Noosa which was our next destination but there was no availability and so we ended up booking a night in a  motel, the Beachcomber, at Perigean Beach a small town just a few km south of Noosa.
So Tuesday morning, June 2nd, we checked out and drove the short distance from North Brisbane to Perigean Beach. The accommodation at Beachcomber was excellent. We arrived not long after noon and walked into town hoping to find somewhere for a late lunch. In the event we were now twixt lunch and dinner and most eateries were closed until 5.30 or 6.00 so we settled for a couple of drinks in the Beach Hotel and decided to order a pizza delivery later in the evening. The pizza, from Zachary's Gourmet Pizza Bar, was delicious.
The next morning we would drive to Noosa.