We returned to Australia on a late evening flight to Sydney on May 21st arriving early on the 23rd to resume our journey north up the East coast. We caught on onward flight to the Gold Coast Airport which is just outside Coolangatta and very handily placed for our accommodation in Coolangatta itself a couple of KM away. A courtesy bus picked us up at the airport and we were in our room by noon.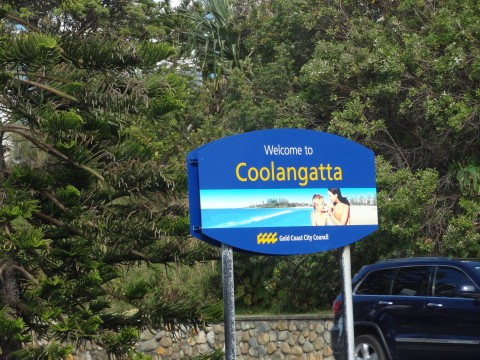 Our accommodation here was a timeshare apartment at Beach House Resort. There is a lot of timeshare on the Gold Coast which is very much a holiday coast comprised of a 35KM string of beach resorts stretching from Coolangatta on the New South Wales/Queensland border in the South up to Southport, South of Brisbane in the North.
This Gold Coast is Australia's "Party central" with Surfers Paradise being the capital. The coast is intensively developed with sky scrapers presenting a very distinctive and striking coastline and whilst surf and water sports are a major attraction, there are also theme parks, zoos, casinos, Sea World and all manner of man made attractions to keep the punters busy. It's certainly not everyone's cup of tea and isn't ours and so whilst we wanted to have a taste of it or at least see it, we had opted to stay in Coolangatta which gets a justifiably good write up as a quieter, family-friendly town.
Inland from the coast are of some of Queensland's most beautiful National Parks and so there were opportunities for sightseeing away from the busy coastal fringe.
The Beach House Resort comprises a multi-storey hotel type property with a nice pool and other leisure facilities and a bar but no restaurant. The resort is a front line beach resort separated from the beach by a road and it shares the ground floor of the building with a variety of restaurants with a very handy underground car park which is free to residents.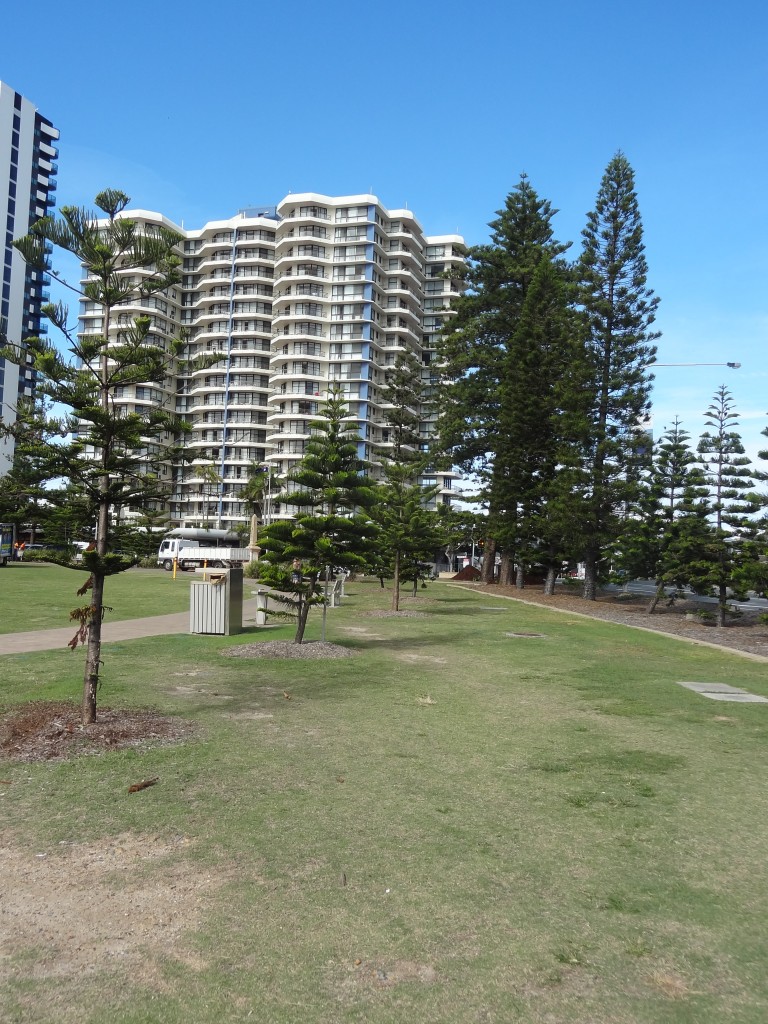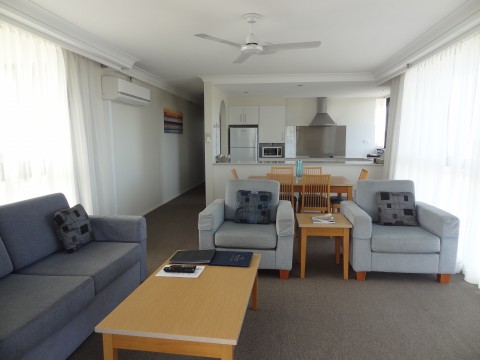 Our room was a 2 bedroom, 10th floor apartment on the end of the building with views on 2 sides over a side street on one side and the beach on the other. The room was nicely furnished and very well kitted out with everything we could possibly need. This is definitely one of the best timeshares we have used.
The beaches here are fantastic and the weather was sunny and hot and we spent the remainder of our first day walking the beach, getting the lie of the town and planning our activities for the week ahead. After a very long journey, the second within 14 days, we were feeling the effects and were well and truly shattered. After an excellent Malaysian dinner, an early night was called for and we were in bed by ten.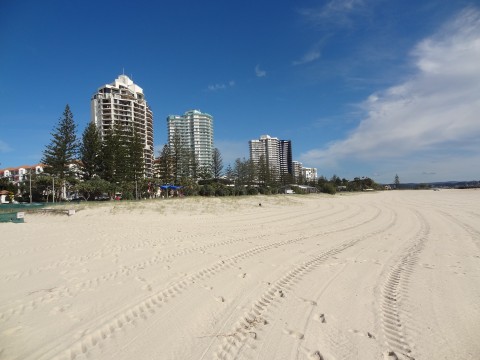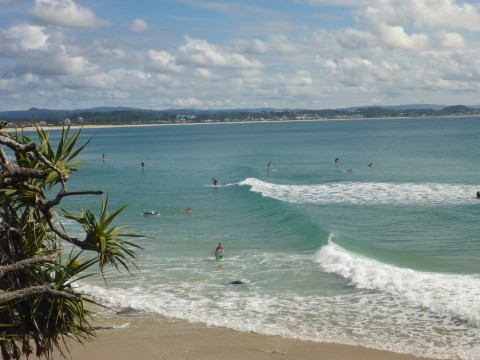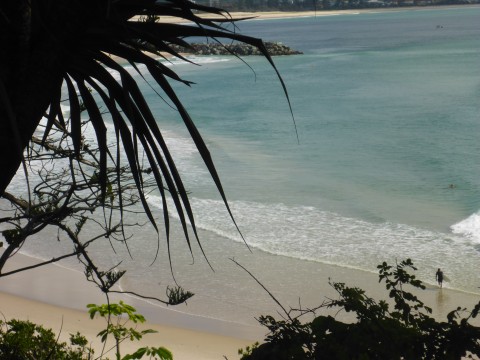 The following morning, Sunday, still feeling less than 100%, we walked the 2km or so to Apex Car Hire to pick up our chariot for the next several weeks. We had used Apex in New Zealand and had found them to be excellent with very quick and positive responses to any email queries we sent them. We had no qualms with continuing with them in Australia although the fact they are relatively new to Oz with a younger fleet of vehicles meant I would be driving an automatic rather than a manual. No worries, they did us a great deal on an almost new Mitsubishi 4WD which was a pleasure to drive. After half an hour driving the streets of Coolangatta to get used to the automatic, we parked up at the hotel. The car didn't move again until we left Coolangatta five days later.
After parking the car up we went to buy SIM cards for phone and iPad and then lunched at the Hogs Breath restaurant. By 2pm we were shattered again. We picked up some bits and pieces of groceries at Woolworths Supermarket which was conveniently only two minutes walk from the apartment and then returned to the apartment and bed.
Unfortunately Ann had been fighting flu since our flight back to Manchester and fatigued from the travelling she finally succumbed to it and remained stuck in bed for the best part of another two days until Tuesday. On Monday afternoon, just as Ann was beginning to recover, I went down with the same bug myself and spent most of Tuesday and Wednesday morning in bed. Thankfully by Wednesday afternoon I was on the mend and fit enough to take a stroll along the seafront South to the next beach, Kirra Beach where we found a number of fishermen who had just hauled in a huge catch of mullet and were just setting about sorting the catch and packing the fish into boxes. The fishermen apparently wait until a shoal of fish is spotted from a vantage point on shore and then a net is taken out to encircle them and then pulled in using trucks and jeeps. This type of fishing is done under licence in only 2 places in Queensland.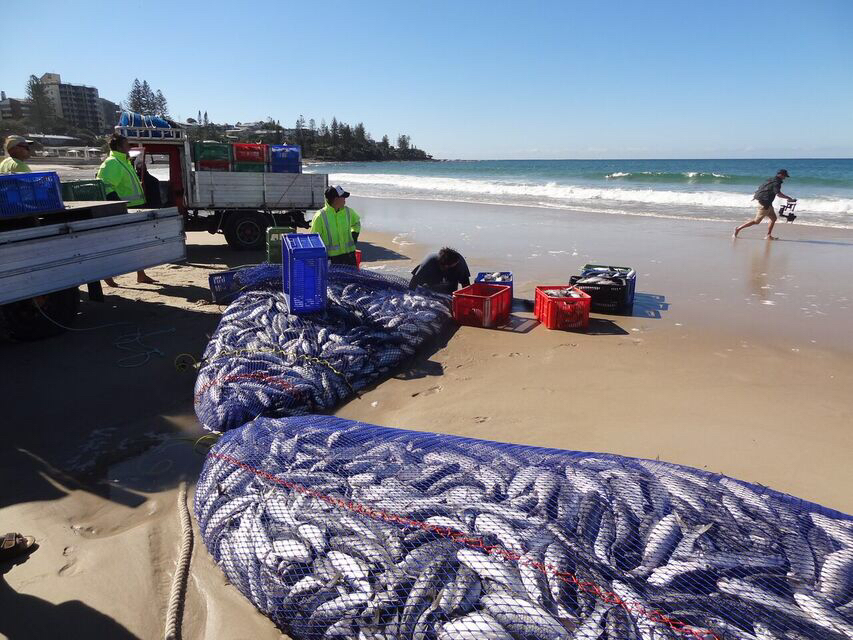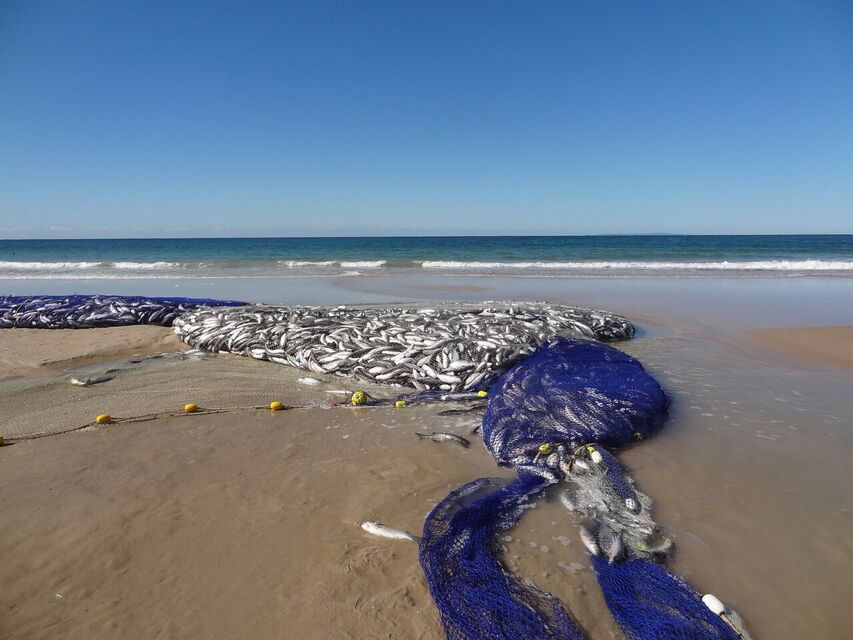 With 3 days of our week in Coolangatta pretty much written off, we fortunately recovered sufficiently by Thursday to take a trip to see some of the hinterland on an organised tour to Lamington National Park and Tambourine Mountain that we had booked via the Beach House when we first arrived.
On Thursday morning at 7am we were picked up for our tour by a Scenic Tours minibus driven by a Kiwi driver, Tom, who like most of our drivers thus far was a very affable and humorous gentleman with tonnes of knowledge and information to share.
Our experience of organised trips so far, both in New Zealand and OZ was that these were worth the expense (none of them are cheap!). Invariably we were travelling through stunning scenery often in mountainous areas with narrow winding roads with continual ups and downs and as a driver needing to concentrate 100%, you don't get to see too much. In addition, the drivers of these tours were, without exception, very experienced drivers like Tom, who provided a running commentary throughout the journey to give us a much better appreciation of what we were seeing – the landscape itself, the fauna and flora and the history of the places we drove through and visited.
Not only that but the general conversations that take place give you a much better insight on life in the areas – the good and the bad. And finally, these trips present opportunities to chat with fellow travellers who are invariably a mix of locals and international travellers.
As usual we considered our Scenic Tour to be money well spent. We were part of a group of only 8 or 9 passengers with one Australian and the remainder Chinese, Singaporean and Indian and all good for a natter. A good day was had by all.
Photos from our Lamington National Park and Tambourine Mountain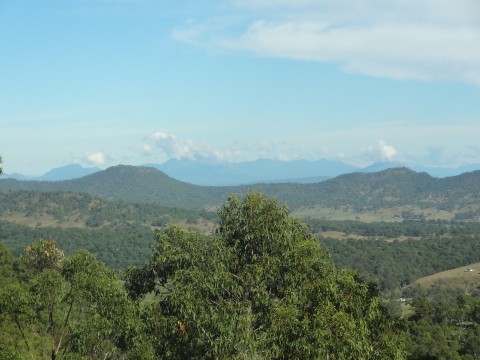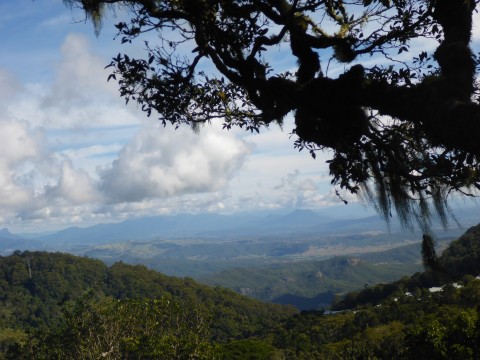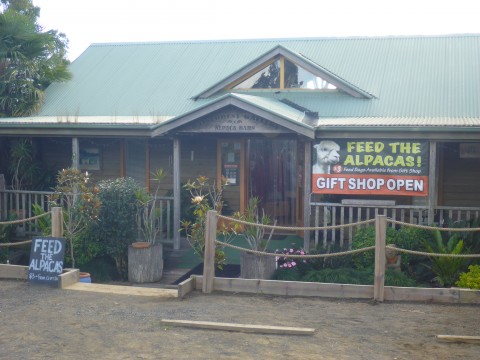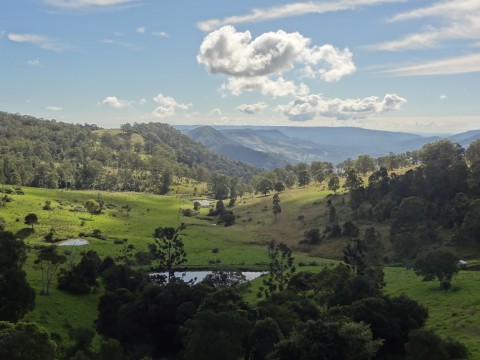 Lamington National Park was declared a National Park 4 years after the O'Reilly family took over the land in 1911. It was declared a World Heritage Site in 1994 because of its' high biodiversity in terms of its flora with various types of forest ranging from beech forest to tropical rainforest to dry eucalypt forest. There are walking tracks and and a treetop walk and lots to see and do over a day or longer if you wish to stay – there are holiday cottages for rent.
There's a fascinating history of this place and the O'Reilly family including a gripping story about Bernard O'Reilly and the Stinson airplane crash of 1937. There's a book telling the story of this crash and a dramatic rescue but a shorter version can be found on O'Reilly's website.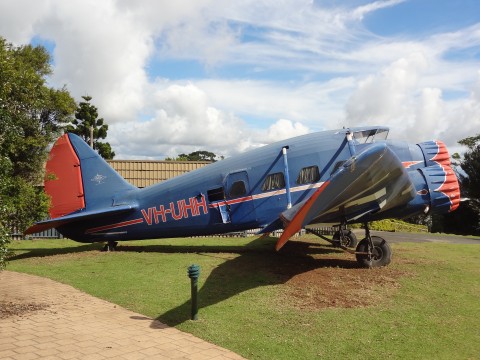 After Lamington we headed over to Tambourine Mountain, a very pleasant and affluent little town with some nice shops, restaurants, microbrewery and a winery. We didn't get to visit the brewery but did enjoy an excellent lunch at Masala Shanti.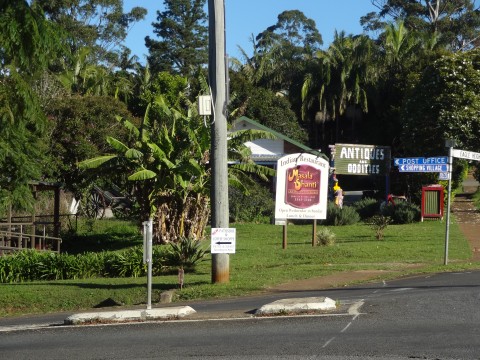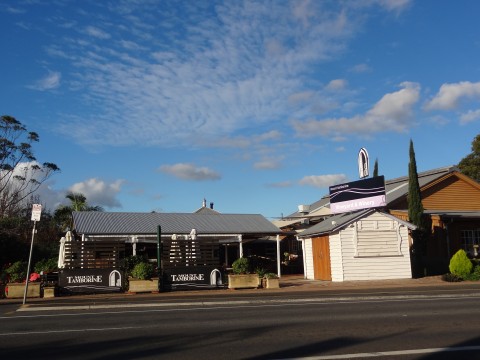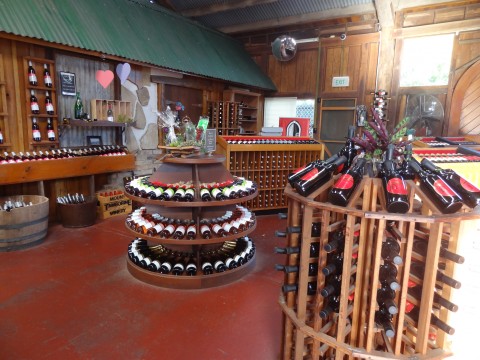 Our final day in Coolangatta, Friday, was a chill out day spent walking areas we hadn't managed to see before including some beautiful beaches South of the resort at Tweed Heads where a piece of sculpture marks the border between New South Wales and Queensland.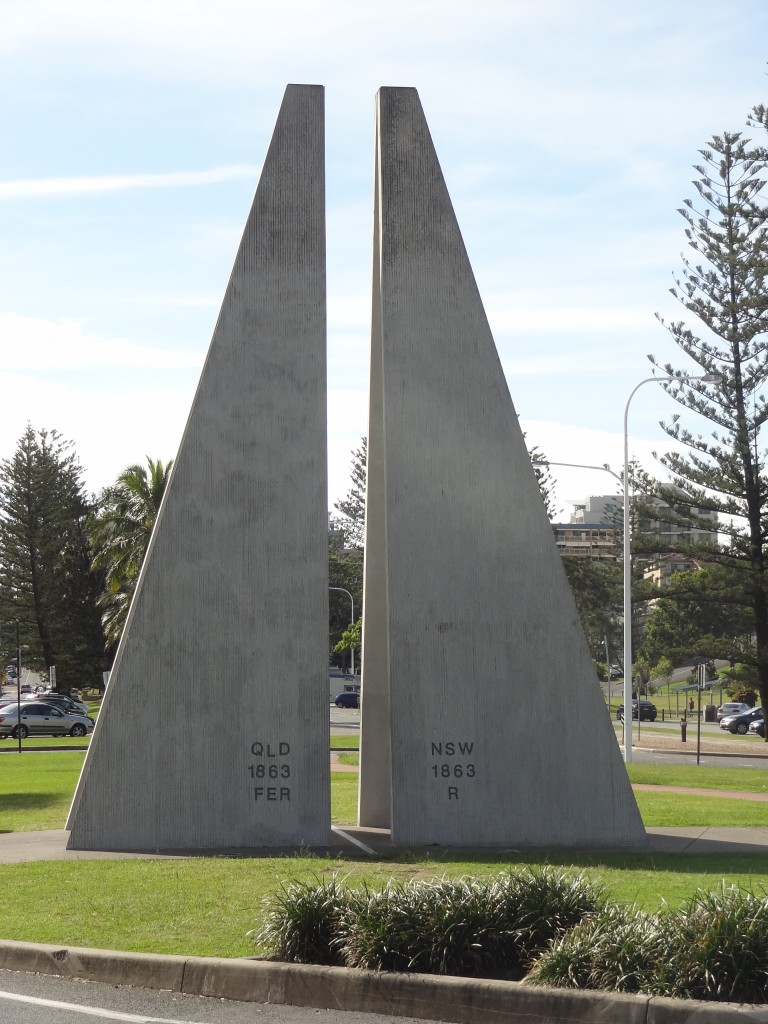 As we were about to leave Coolangatta the town was getting busy with seemingly hundreds of folk setting up Marquees and shelters and stages in readiness for a 50s and 60s music festival which was to start the next day and so sadly we missed it.
We left Coolangatta on Saturday 30th May. The week had been decimated by our flu virus but nevertheless we had probably seen most of what it had to offer. We liked the place very much and wouldn't hesitate to visit again.