Given the terrible news about Brian, we were anxious to get home to the family as soon as possible. At this point we had lost our enthusiasm for travel and indeed for this trip and we just wanted to get back but were struggling to find early flights back. We had an anxious few days but in the event the funeral was delayed until May 12 and this enabled us to find flights to get us back in time. Given this delay, with flights and hotels long booked, we decided we would continue with our flight to Australia.
We had booked 4 nights in Melbourne and 5 in Sydney. Our Sydney visit would be cut to three nights.
We left Auckland for Melbourne on Friday 1st May and landed Melbourne Airport about 5pm. We quickly found a shuttle bus into the city and got there in darkness about 6pm. The Express Shuttle provides a bus ride into the city centre and then a cab to your hotel but the rush hour traffic in the city was horrendous. Thankfully the Travelodge was only a short distance and so we made our own way to the hotel on foot.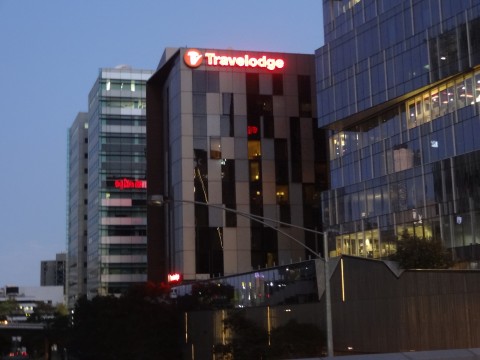 We had chosen to stay at Travelodge as it was only a short walk into the centre itself and was also well placed for transport connections with the main bus/train station, including a free city tram service, within a 5 minute walk. It was also a reasonable room price and the room was fine.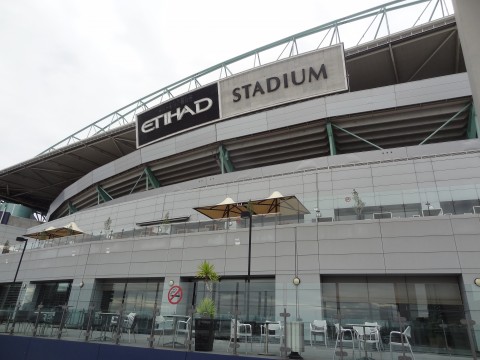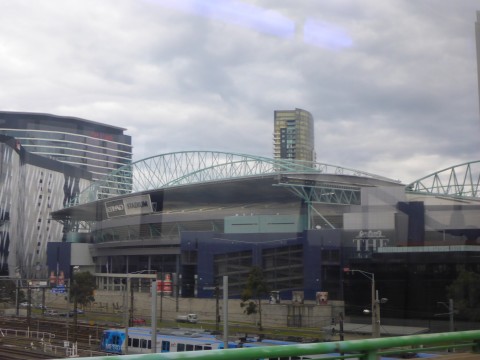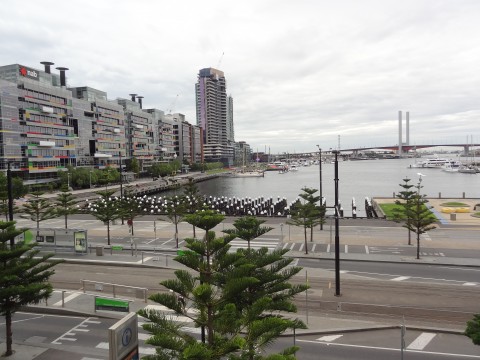 Having checked in and dropped our bags, we wandered out to find something to eat but unfortunately, although the hotel is only a short walk to the centre, it was in a fairly quiet location and we struggled to find our bearings to get us into the centre proper. In the event we found a decent pub for a couple of beers and then found a street full of asian restaurants, just what we were hoping for. Eventually we plumped for Korean for the simple reason that Ann had never eaten Korean food.
The restaurant was packed with young Koreans with an average age probably of around twenty -we were the only non Koreans in the place. Not only that but virtually every other diner was female and enjoying a good night out in various stages of intoxication and giddiness. It was all a bit surreal but it was all good fun and we had a very pleasant dinner and an amusing hour or so talking with the young Korean staff keen for us to include their home land on our tour.
With four nights booked in Melbourne we effectively had three full days to see the city but we had already booked a highly recommended day tour to the Great Ocean Road which left us only two days.
We packed a lot into our first day, starting with a bus tour around the city followed by a cruise down the Yarra River. The weather was cloudy but warm and the city was packed with people doing their thing. This city and Australia in general is sport mad and there seemed to be sports events of one kind or another throughout the city and throughout the weekend with whole families dressed in their teams colours wandering around pre and post match. It makes for a fantastic atmosphere.
Federation Square
The Federation Square area is the main hub in the city centre area. It's a big area with lots of open space including a Plaza with a giant screen used to broadcast major sports events. It includes bars and restaurants and is bounded on one side by the Yarra River. There's a nice mix of old and new architecture including the iconic Flinders Street Station, St Paul's Cathedral and the modernistic and angular National Gallery of Victoria with its Atrium entrance off Flinders Street. There's also a Visitor Centre here. This is a great area with a lot of stuff to see and we spent a few hours around here.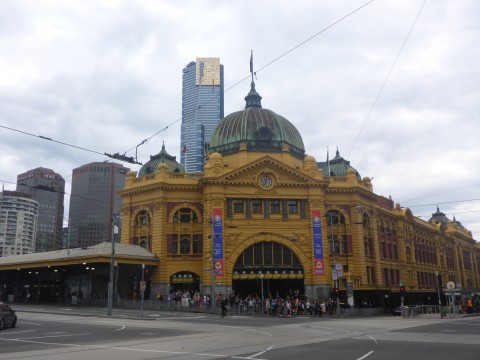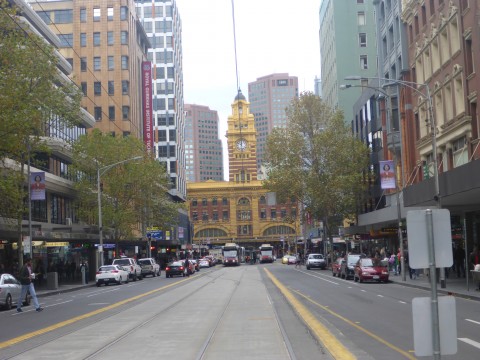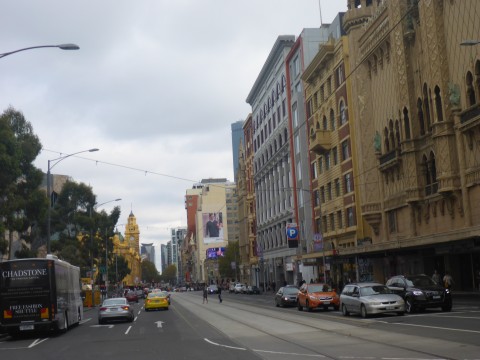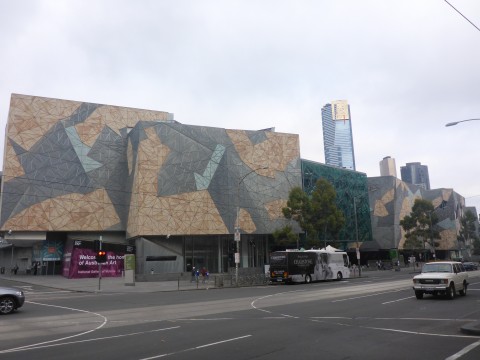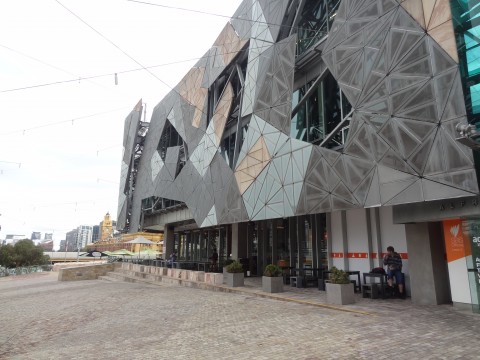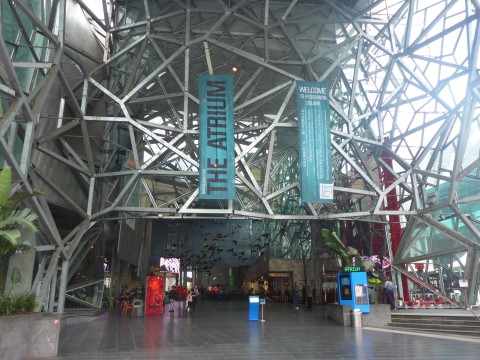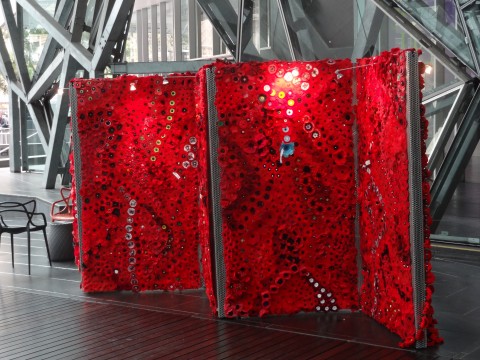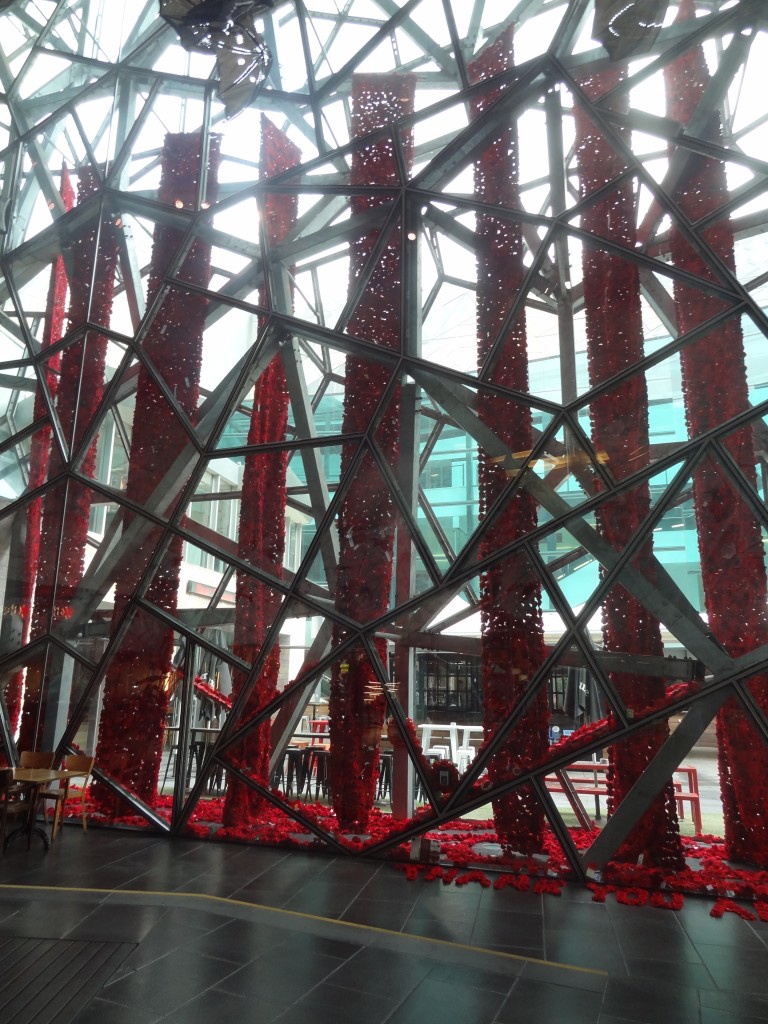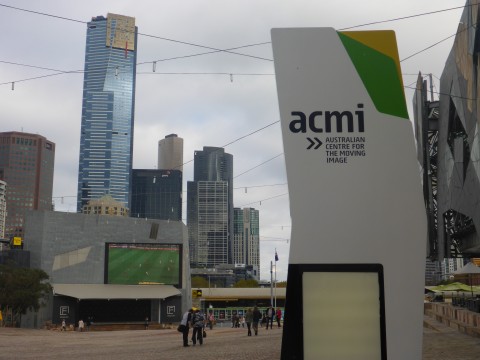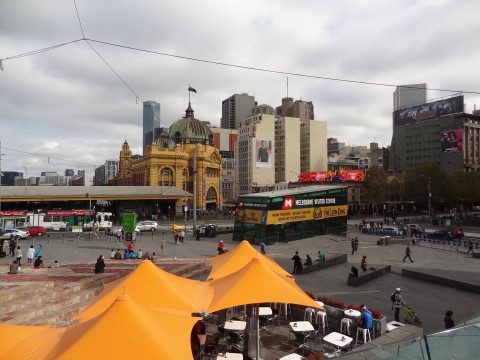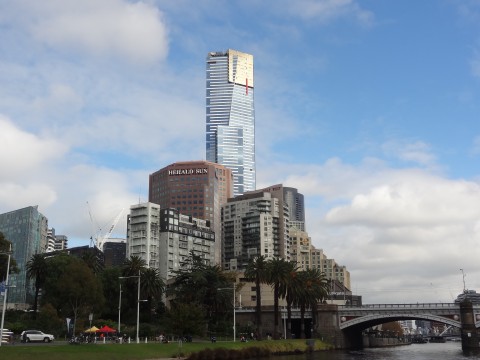 Riverside
The Yarra River runs through the city and is well developed for recreation with a trail running alongside it for walkers, runners and cyclists. The riverside is lined with restaurants and bars in the central area and on the day we visited there was lots going on with street entertainers and events and activities of one kind or another taking place. The river itself was alive with ferries and other watercraft and one could easily spend a day on the river walking and sitting and watching the world go by – but sadly we didn't have time on this occasion.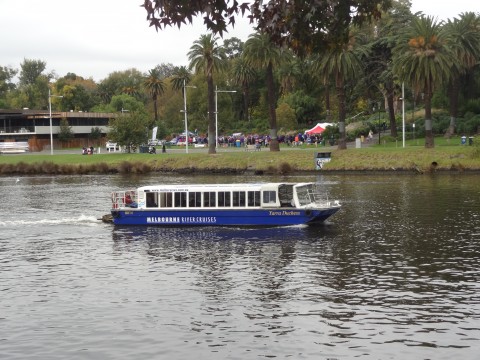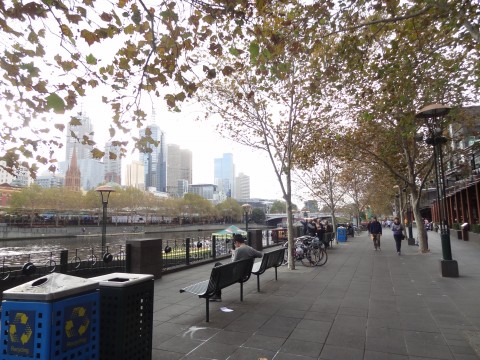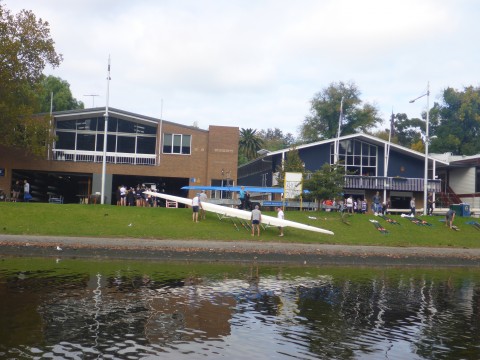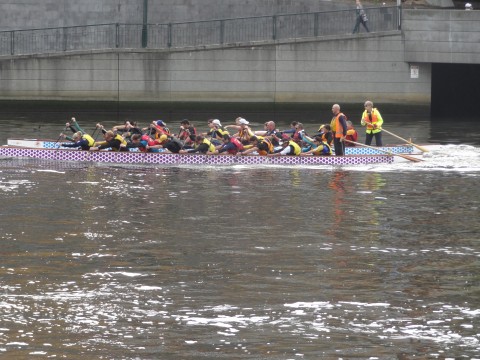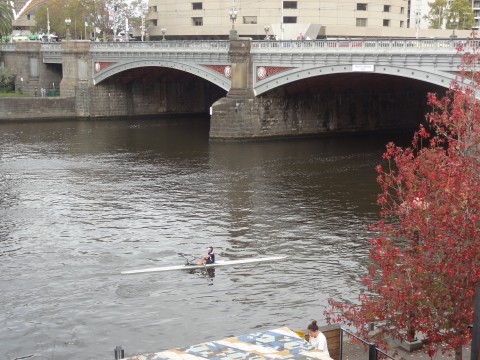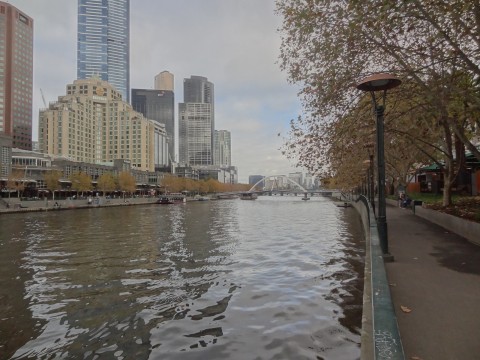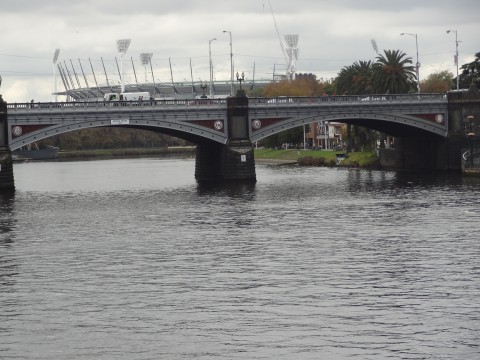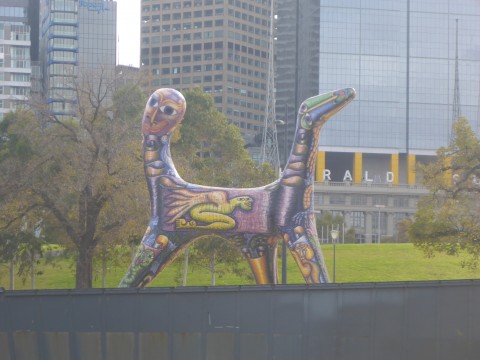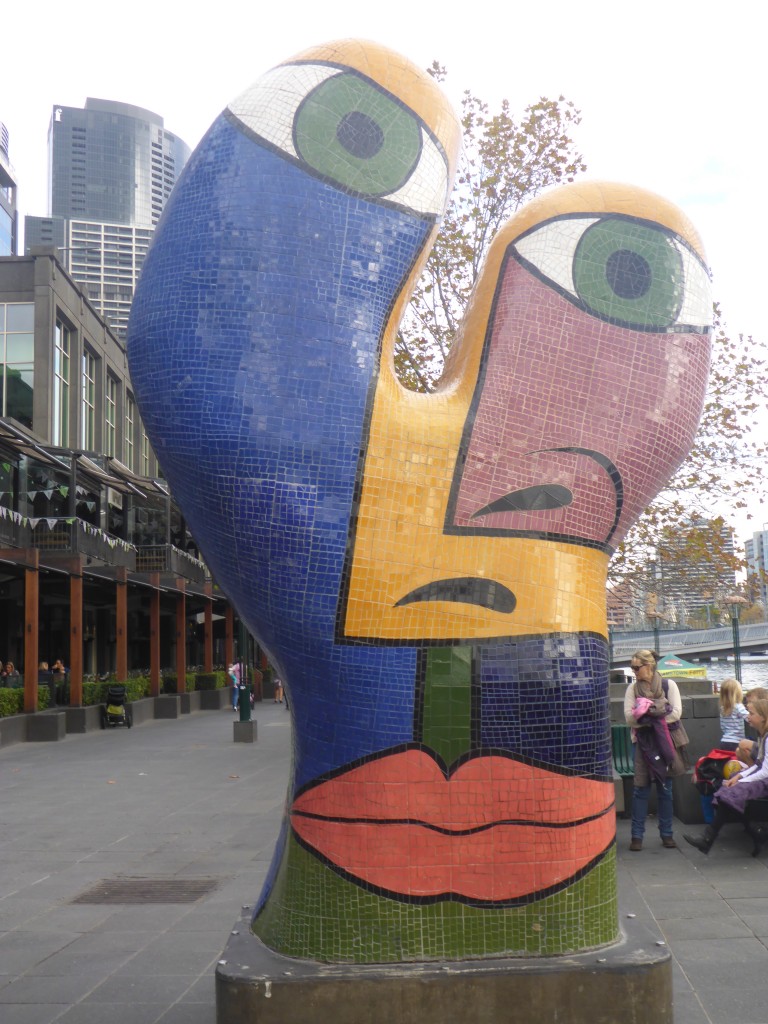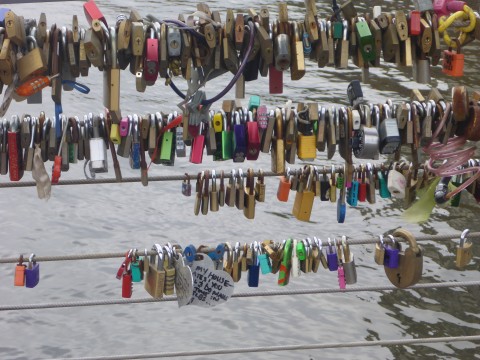 Late Saturday afternoon saw us catch a bus to suburban Melbourne to meet up with old friend Mark Potter his lovely partner Jess and their baby Eve for an evening of beer, curry and nostalgia, reminiscing about the old days in Manchester. It was great to see you and yours Mark – hope we can do it again some time in the not too distant…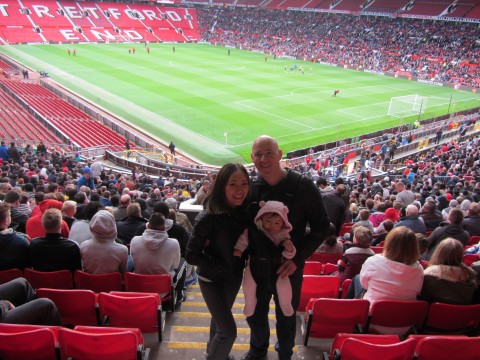 On Sunday, with a better idea of the layout of the city, we spent a leisurely day wandering around looking at some of the places we hadn't got to visit the previous day. That evening we had hoped to dine at Movida but couldn't get a table. In the event we ended the afternoon in China Town with an excellent dinner before an early night in readiness for a long day on the Tour the next day.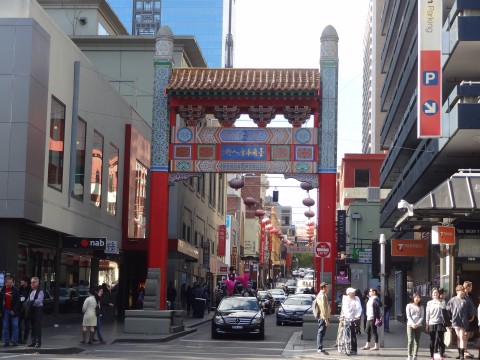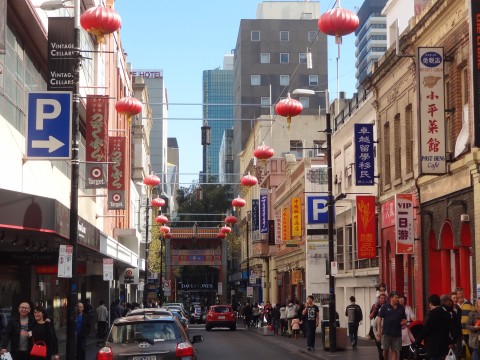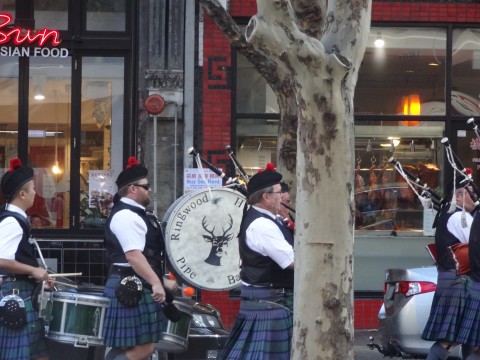 Street Art – The Lanes
This area is just off Flinders Street and is a much recommended "attraction" consisting of legal graffiti. Just a few of the works are shown below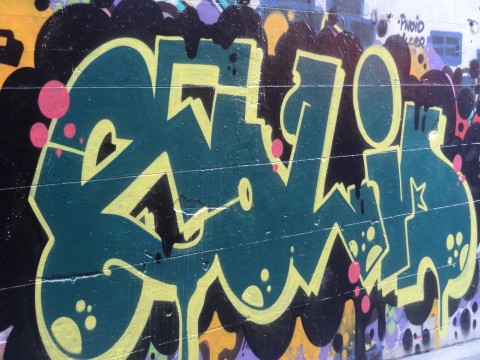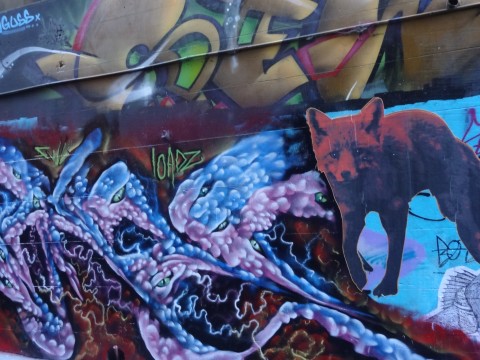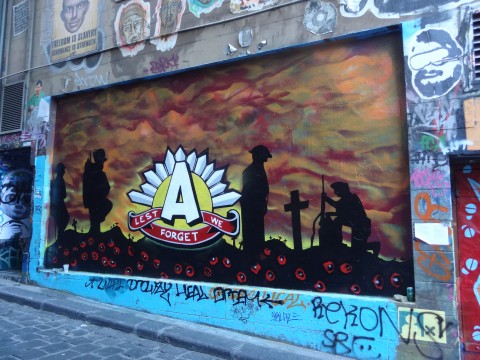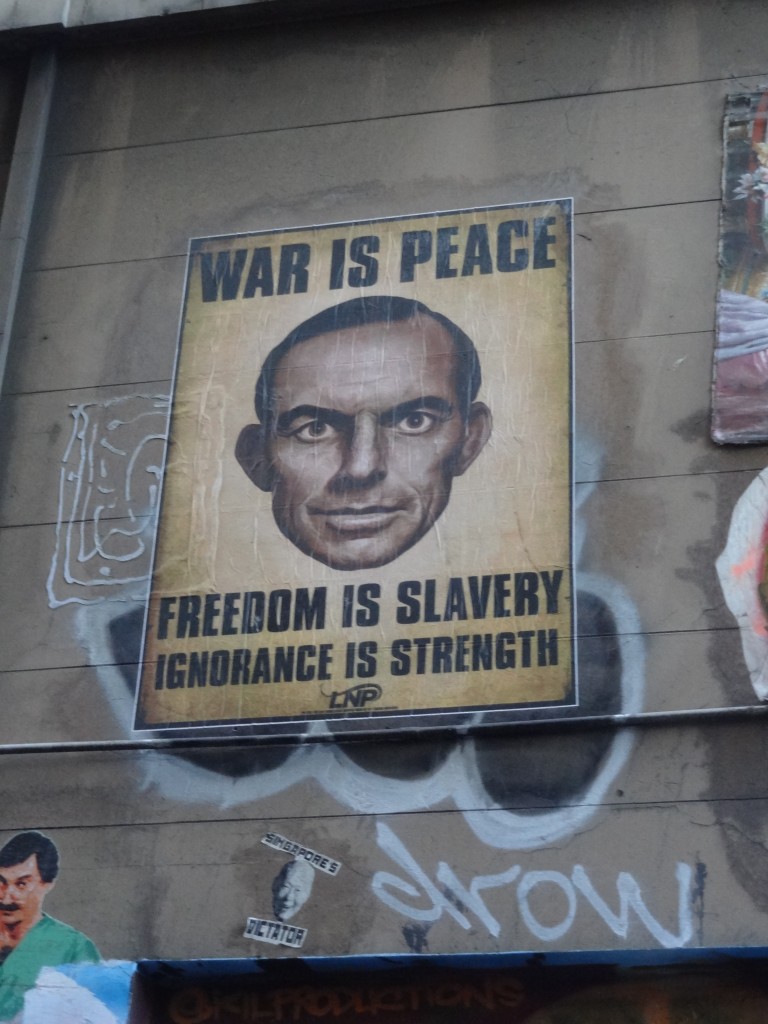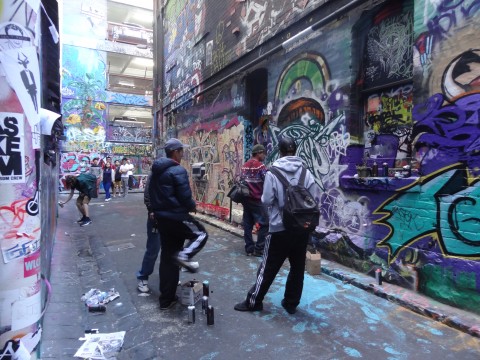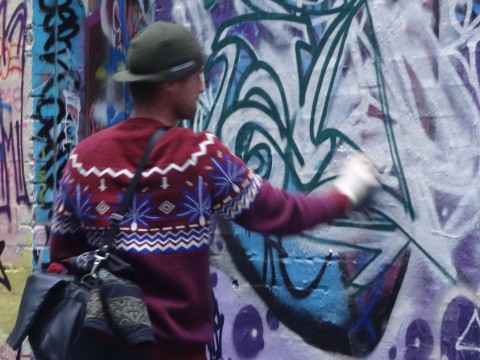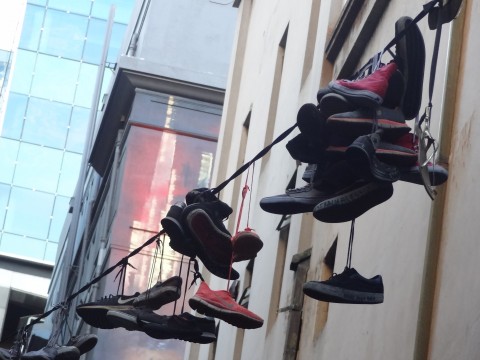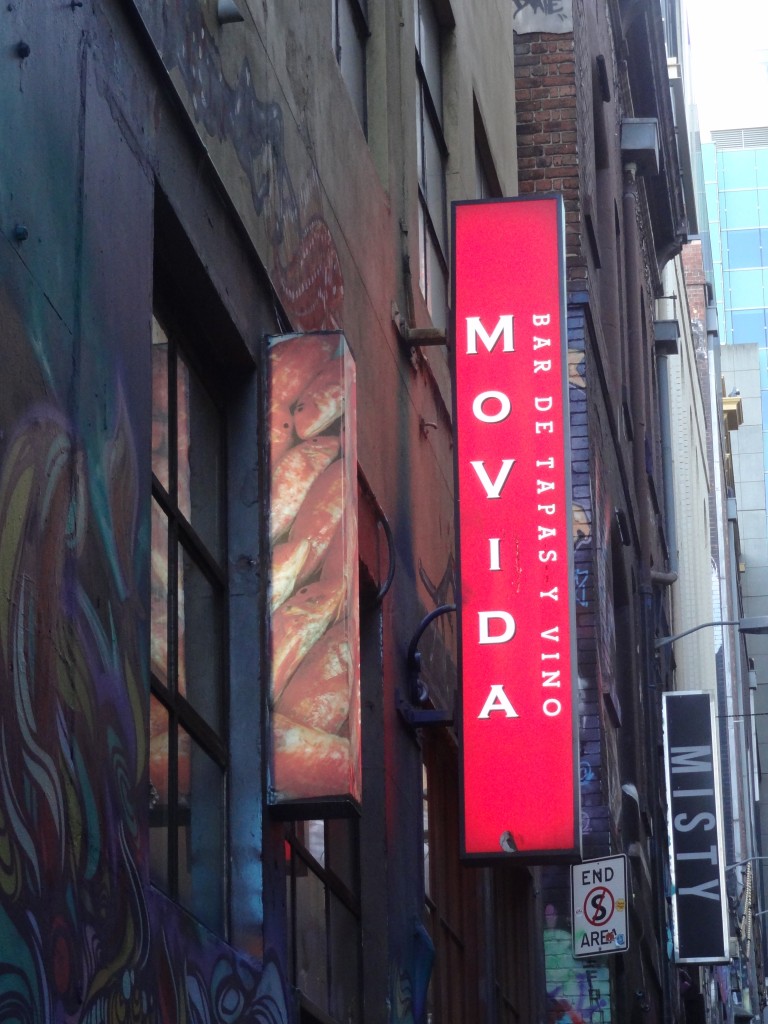 The next day, Monday 4th May, would be our last day in Victoria and we would spend it on a very long day trip on the Great Ocean Road. We were blessed with a lovely sunny day although it became cloudy after lunch which didn't help with the photos.Neverthelss this turned out to be a highlight of our trip. It was certainly a long day but plenty of stops for comfort breaks and lunch made it more than bareable.Nevertheless, if we get chance to visit this area again we would like to do this trip with a car over 2 or 3 days.
The Great Ocean Road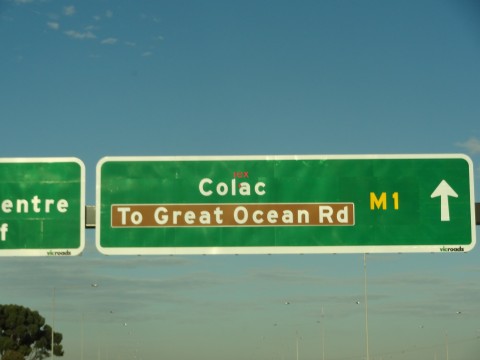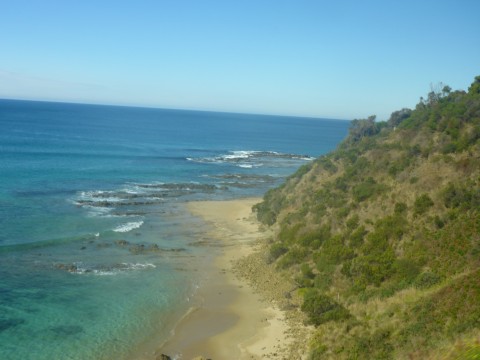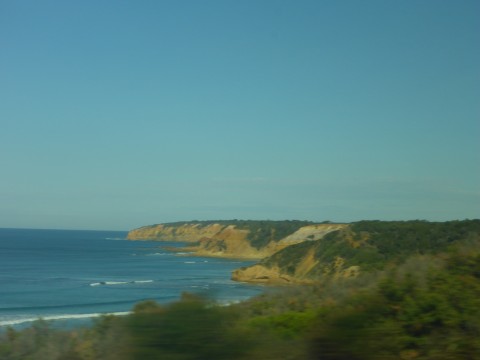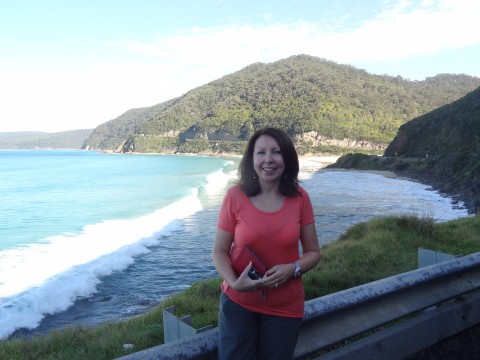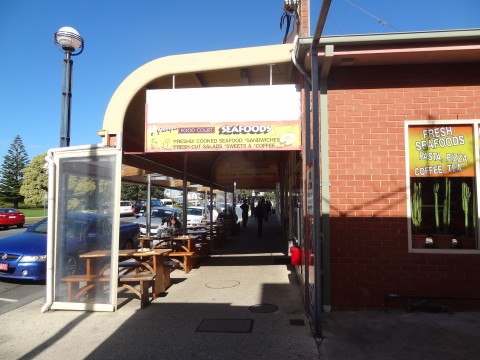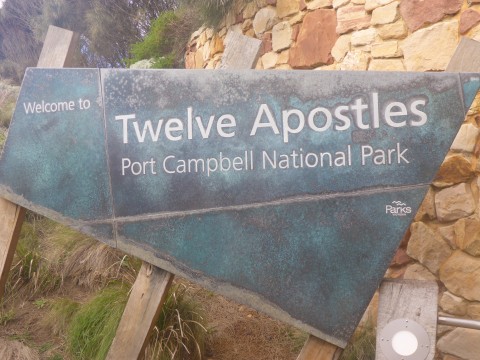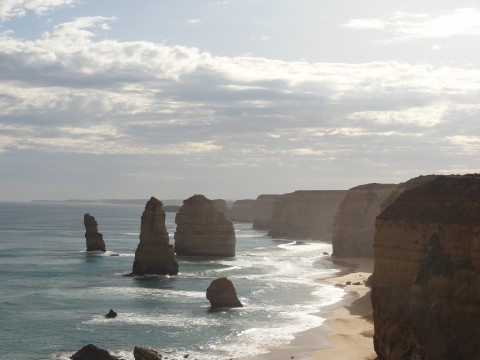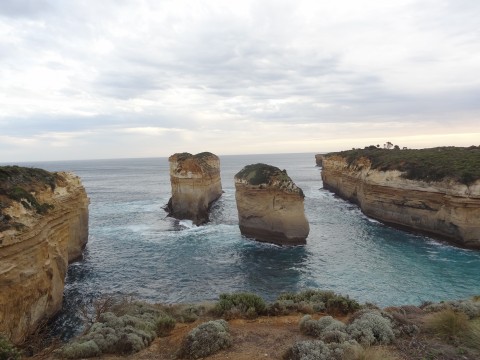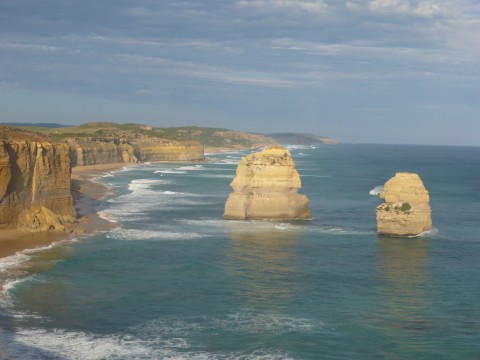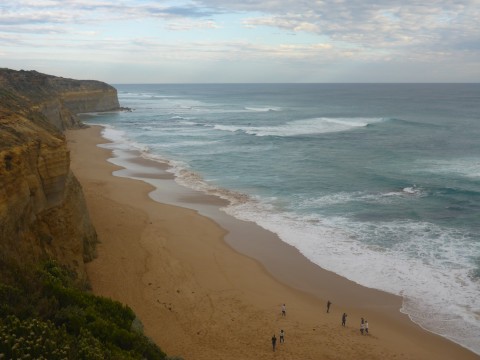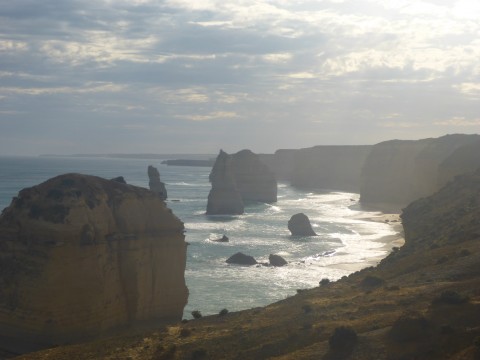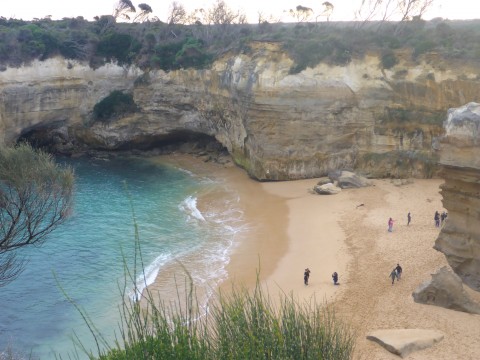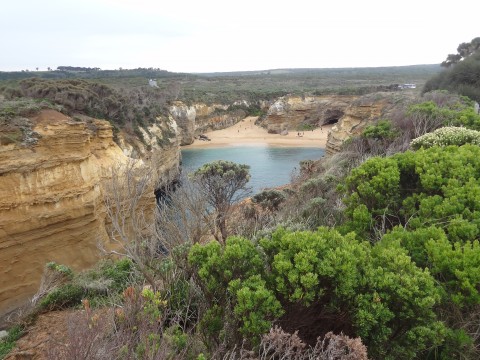 We were impressed with Melbourne which is currently Australia's second biggest city but growing rapidly and apparently destined to become the biggest within a few years. We had read that 3 or 4 days here would be more than enough for a visit but there's a lot to see and its definitely a city we would love to re-visit to see more if we get chance.