New Plymouth
Following our week in Taupo, our next stop was New Plymouth on the west coast. Ideally we would have visited New Plymouth first as we were to some extent back tracking but we had booked our Taupo accommodation early and as a Timeshare, it was the only week available to us.
In truth, our original itinerary didn't include New Plymouth. It's not a place that automatically springs to mind for would be travellers to New Zealand – we had never even heard of the place. However, to make the most of our visa days in New Zealand we still had over a week left before we left the country and didn't want to spend it all in Auckland. Thus we decided to take a look at the west coast yet another area often not visited by many tourists with limited time to spare.
So on 24th April we set off from Taupo to drive to New Plymouth. We were looking forward to the drive and it was indeed as scenic as ever but autumn was most definitely settling in now and the skies were grey. The skies got heavier as we neared the coast and the cloud was so low that we barely got a glimpse of Mount Teranaki, an active volcano which dominates the landscape and can be seen from many many miles away.
This is definitely an outdoorsy place. Its a surf coast and cycling is also popular but Teranaki National Park also provides good tramping which can include a tramp to the summit for those fit enough to do it – too tough for us sadly.
We arrived at New Plymouth around 1pm and were met by the landlord of the house we were renting for three nights. The house was perfect; a nice modern 3 bed 3 bath house very well kitted out only 5 minutes walk from the old harbour with its several restaurants and bars and half an hours stroll along a coastal walkway into the centre of the town itself.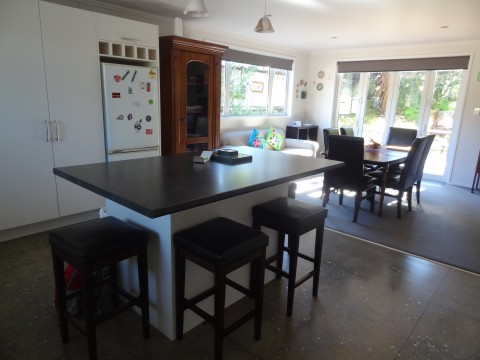 We wandered into town down the main drag for a look around but this was Friday 24th April 2015, the day before the centenary of Anzac Day (much more important here than our Armistice Day) and even at 3.30pm on a Friday many/most of the shops were already closed for the holiday weekend as Monday was a bank holiday. Restaurants everywhere except the main cities and big towns close at 2/2.30 after lunch and then reopen for dinner at 5 or 6 and so mid afternoon the town is almost totally shut down except for a couple of bars.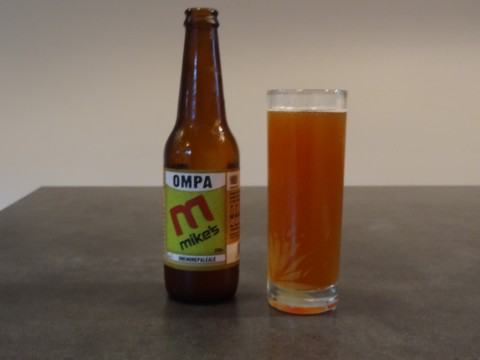 But our luck was in. We had planned to sample the beers at the Hour Glass Bar which has a big following as the craft beer place in town and fortunately the bar opened at 4pm. We actually sampled several and after a good sufficiency got a taxi back to the house for spaghetti bolognese which Ann had made the night before, washed down with a bottle of red wine, we had no trouble sleeping that night!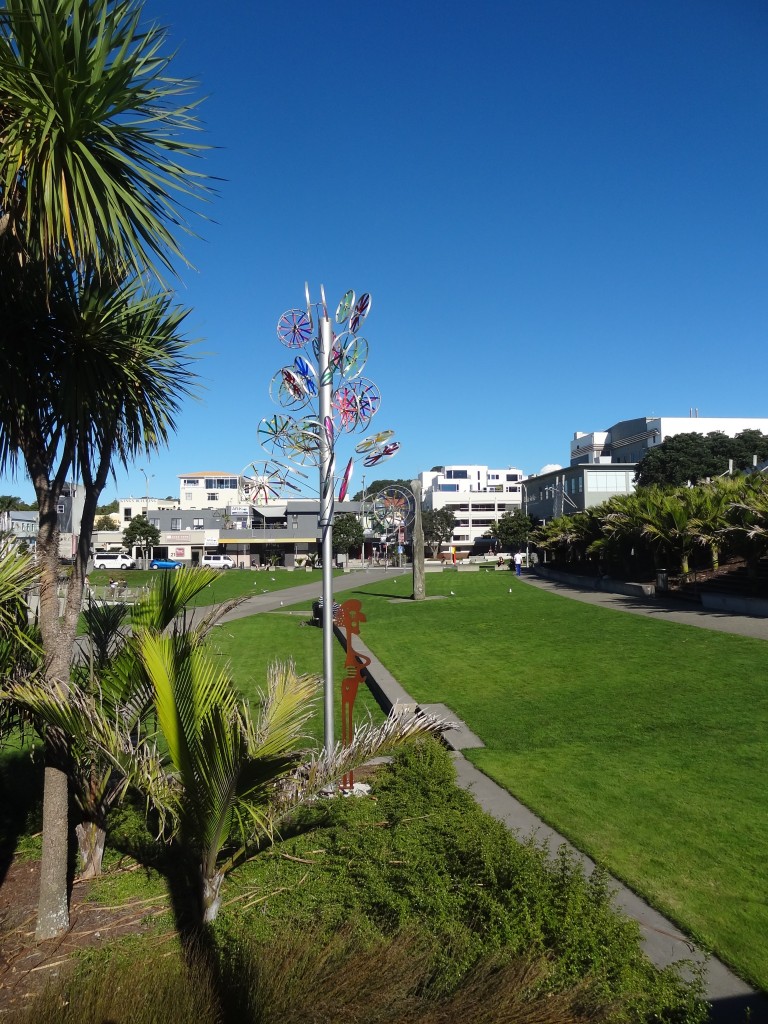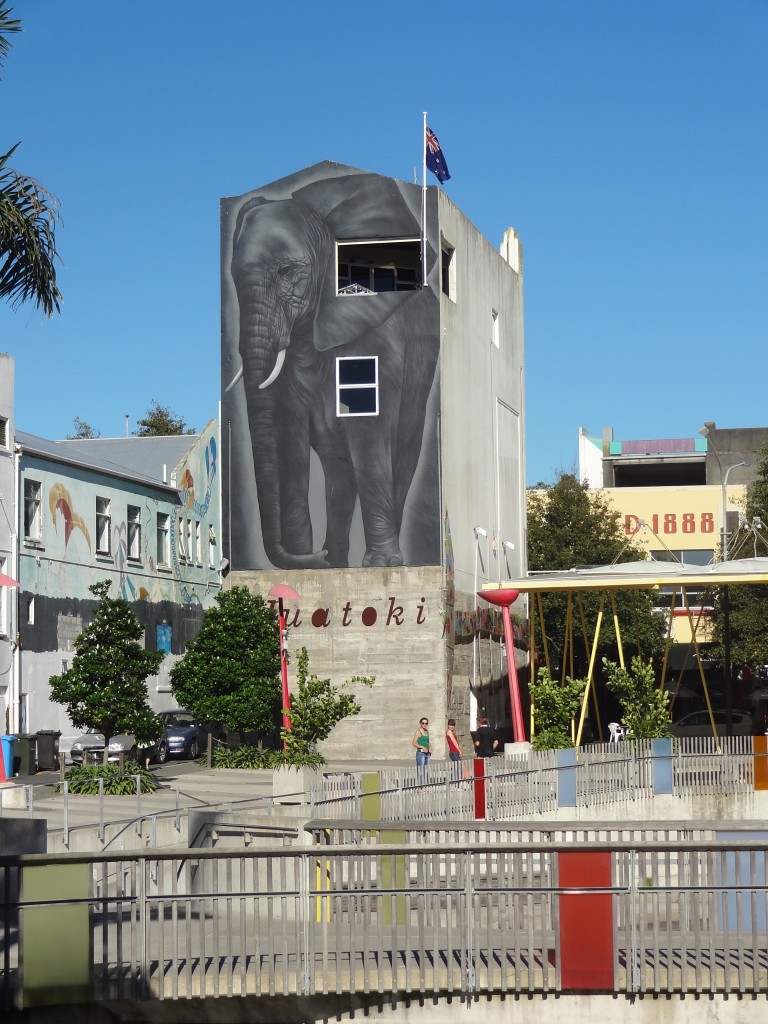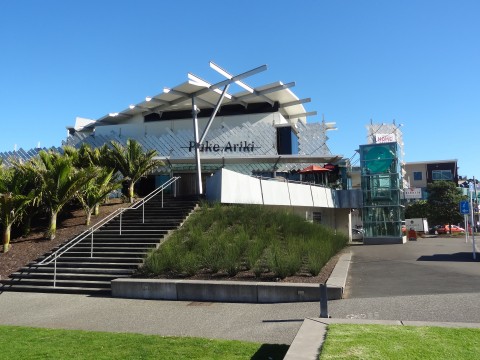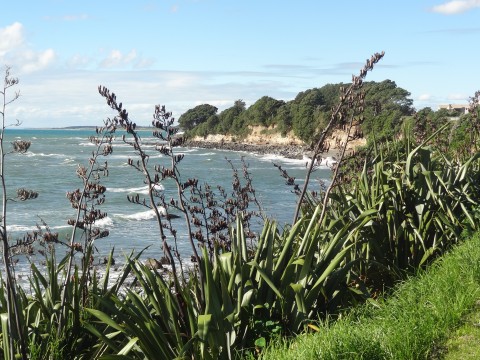 The following morning we walked into town again late morning but this time by the Ocean Walkway and walked for a couple of hours or so beyond town and then back again! Given this was Anzac Day the place was well and truly shut. We walked back to the digs and then back into town later for an Indian – we grabbed a taxi home that night!
Sunday was a washout. We did manage a short walk but were largely confined to barracks and took the opportunity to work on our itinerary and make some bookings for our trip to Malaysia and Indonesia planned from August onwards.
Raglan
We left New Plymouth on Monday 27th. The weather had put a dampener on our visit but at least we had got over to the west coast and wouldn't now be wondering about should we or shouldn't we have gone!
We loaded the car and left our rented house in torrential rain which continued for much of a three hour journey journey north to Raglan. A truly horrible drive.
The rain gradually eased off and stopped as we came to the end of our journey mid afternoon. We checked into the decidedly budget Sunset Motel, not the best, and went for a wander.
Raglan is a very small surf town with a beach that is said to be one of the best surf beaches in New Zealand. We barely gave the beach a glance given the miserable weather.
The town is actually very small but very nice and it must be lovely in summer. I read somewhere that the town had something of a reputation as being a bit wild which may or may not be true in summer when the place is doubtless packed with youngsters but this was autumn, the rains were coming and it was getting chilly at night. There were very few people around although a few brave souls sat drinking beer on the veranda of the Harbour View Hotel.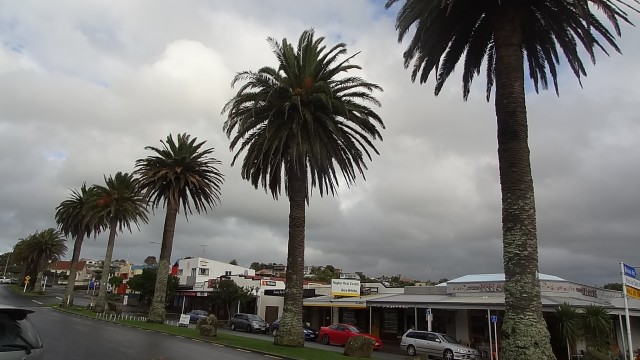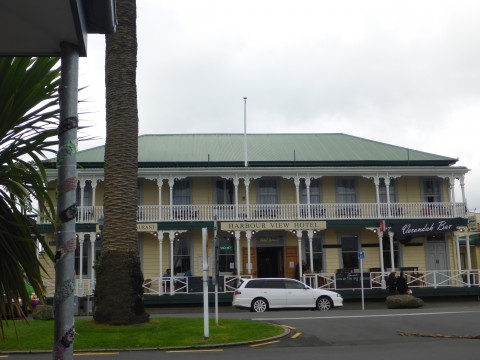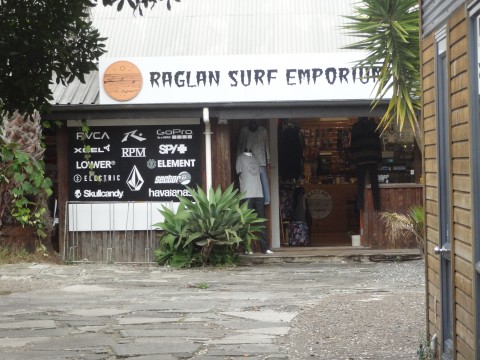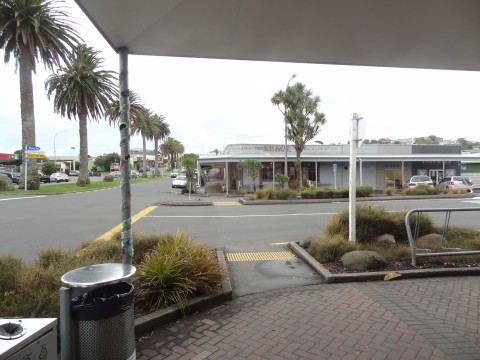 Surprisingly all the several surf shops were still open for business and there were quite a few nice gift shops and the like also open even though this was the Anzac Bank Holiday Weekend!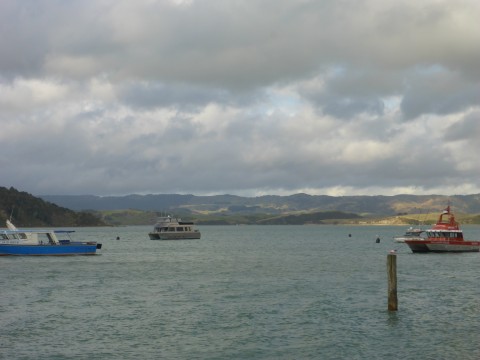 We walked for an hour or so but it rained on and off and in the end we gave up to return to our planning for Asia. Dinner was a fish supper – our first fish and chips for quite some time and excellent red snapper it was too!
Raglan was a one night only stop to break up the journey from New Plymouth to Auckland. We had read that it's a nice town and so it is. I'm sure its fantastic in summer but we were glad to leave to get on to the final leg of our journey around New Zealand.
Next stop Auckland!