On Friday 17th April, an hour or so after leaving Pipiriki and the Whanganui River for the 125KM drive to Taupo, we got our first sight of Great Lake Taupo from afar. The weather was a bit grim and not great for photographs (and that applied most of our week in Taupo) but the picture and stats below show the scale of it:
Maximum length: 29 miles
Maximum width: 21 miles
Surface area: 238 sq miles – about the size of Singapore
Length of shoreline: 120 miles
Average depth: 360 feet
It's the biggest lake in New Zealand and the second biggest fresh water lake in Oceania – second only to Lake Murray in Papua New Guinea.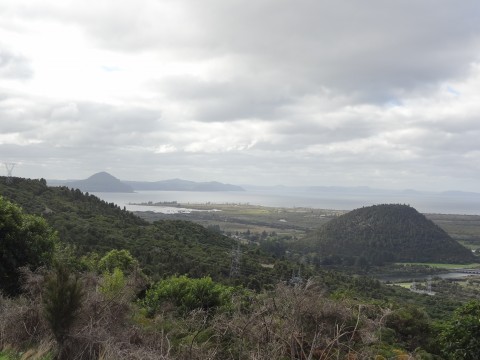 We would be staying at a small timeshare resort in Taupo, Ika Nui, which is on the lake front. We arrived mid afternoon on Friday 17th April and were soon checked in and shown to our unit which was a one bedroom first floor apartment. The resort is not the most modern we have stayed in but it was in a great location, clean with an excellent full and well kitted out kitchen with open plan lounge, separate bedroom and a spacious bathroom. The staff were excellent – very helpful and friendly.
With bags dropped in the apartment we walked around town to check local eateries for dinner and came across a craft beer pub called Rose on Roberts almost next door to where we were staying. Having sampled a few of the local brews in the Rose,we managed to drag ourselves away and moved on for dinner at the Master of India which was highly rated in Trip Advisor and quite rightly so.
A few random scenes around Taupo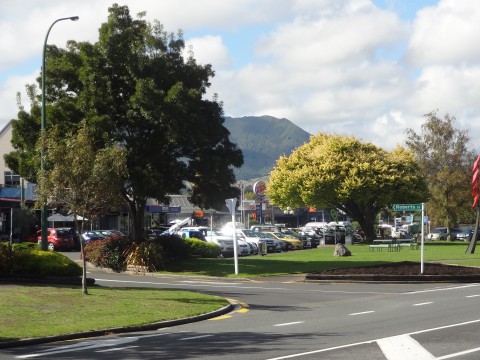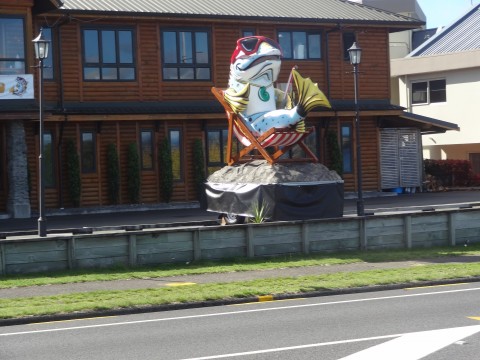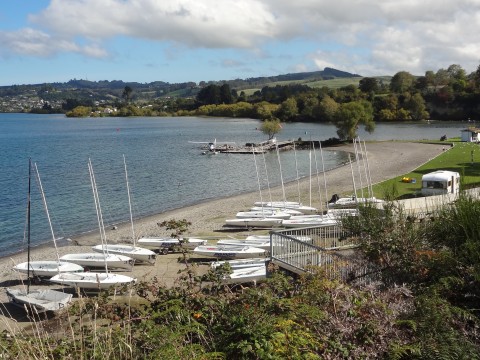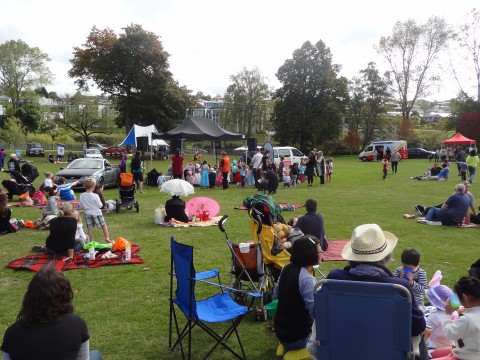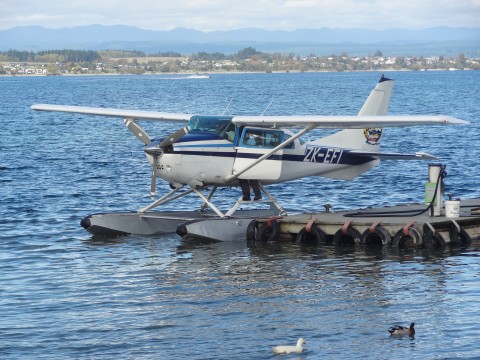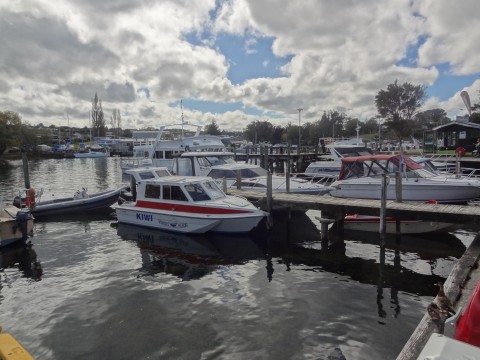 Saturday was quite a miserable day so we didn't venture far and took the opportunity to do some more research for our travel planning. In the evening we went to Rose on Roberts for some great craic with the excellent bar folk and a very chummy Kiwi couple who were on holiday touring with their van. Dinner was excellent. The Rose became a daily fix!
With mixed weather my plan to fish for hours on end in the Mecca Of Trout Fishing was kiboshed and a line was barely wetted. Conditions for fishing were poor and we saw less than a dozen people fishing all week – this on the biggest lake in New Zealand.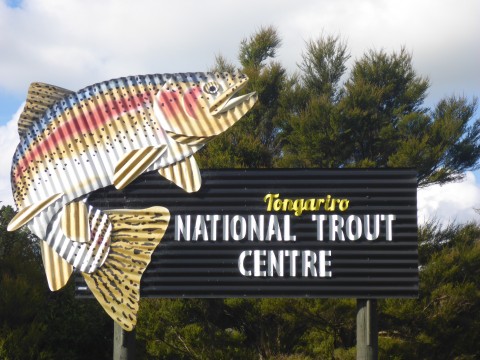 Notwithstanding the weather, we did get to visit Turangi and the National Trout Centre on the Tongariro River which was a very pleasant excursion. The Centre has a freshwater aquarium, visitor centre, museum and historic Trout hatchery.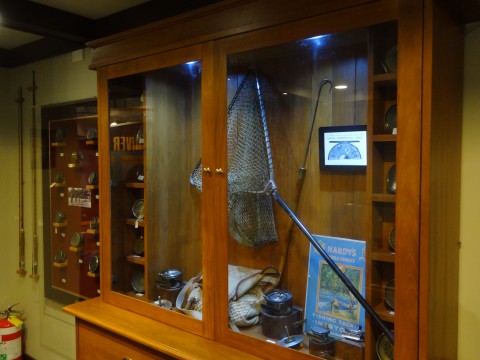 There is also a childrens fishing pond where we saw half a dozen or so kids having a lesson in fly fishing. Each one caught a fish and of course were tickled pink.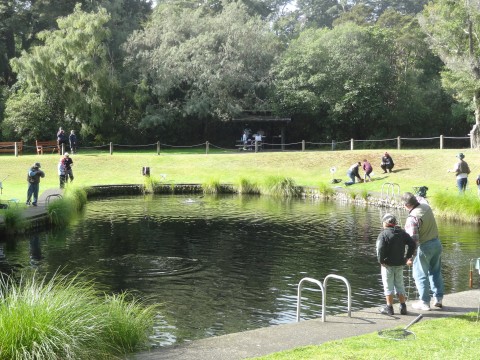 We did manage to include a couple of decent walks during our week in Taupo and one was to Huka Falls, a popular local beauty spot. The weather was kind and we extended our walk by an hour or so and went on to the Aratiata Rapids Walk. This track continues along the river to the Aratiatia Dam and Rapids and luckily we arrived at 12.30 just in time to see the dam doors opening.
Photos along our walk to Huka Falls and beyond to the Aratiatia Dam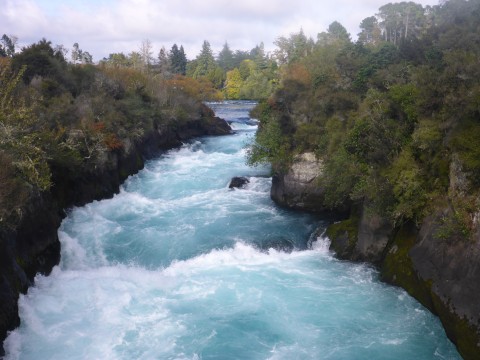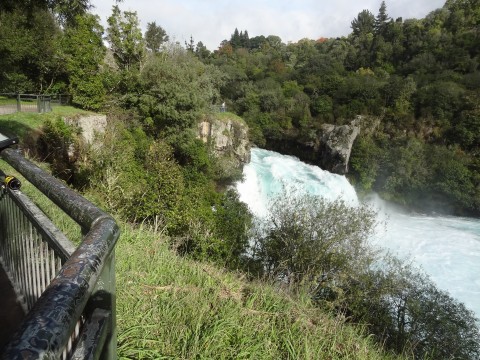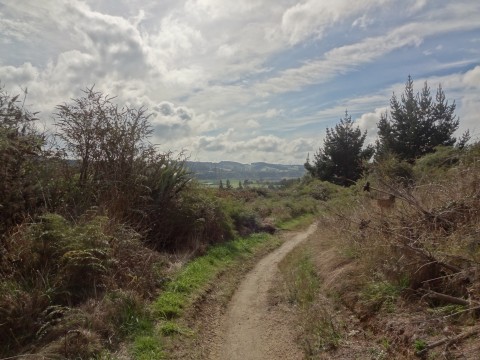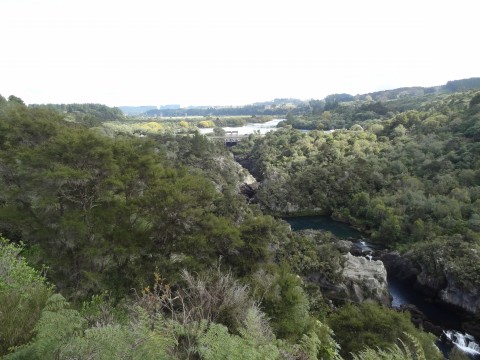 Rotorua and Wai-O-Tapu Thermal Springs
One seems steam rising from the ground and from water everywhere in this part of New Zealand but we couldn't miss Rotorua.
Rotorua is a popular town for tourists to visit in mid North Island and, of course, is famous for its lake and especially its geysers and hot springs. It's only 80Km from Taupo, about an hours drive, and we had decided to visit the town from Taupo rather than stay in Rotorua.
We visited Wai-O-Tapu Thermal Wonderland near Rotorua and then drove on to spend an hour or two in the town itself.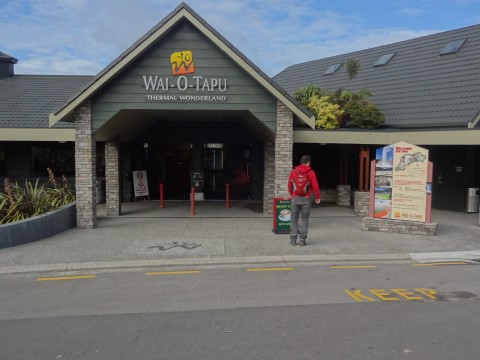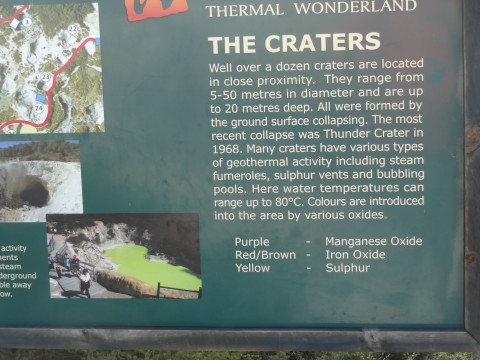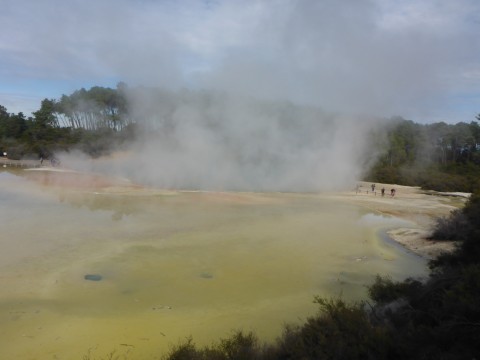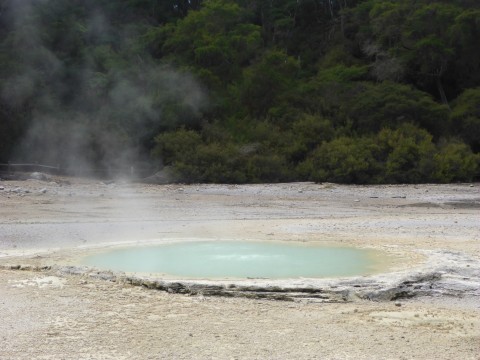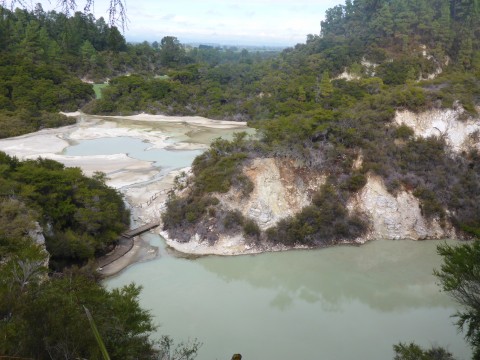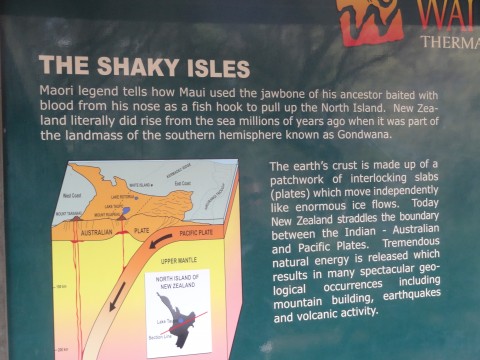 At Wai-O-Tapu, in addition to the multi-coloured thermal pools, boiling mud and volcanic craters, we saw a geyser, the Lady Knox Geyser, being activated by the addition of a surfactant which causes it to erupt. This is a daily event at 10.15 am and visitors can watch from a natural amphi theatre. A water spout up to 20 metres results that can last up to an hour.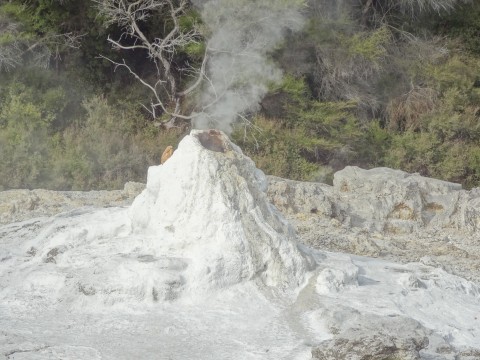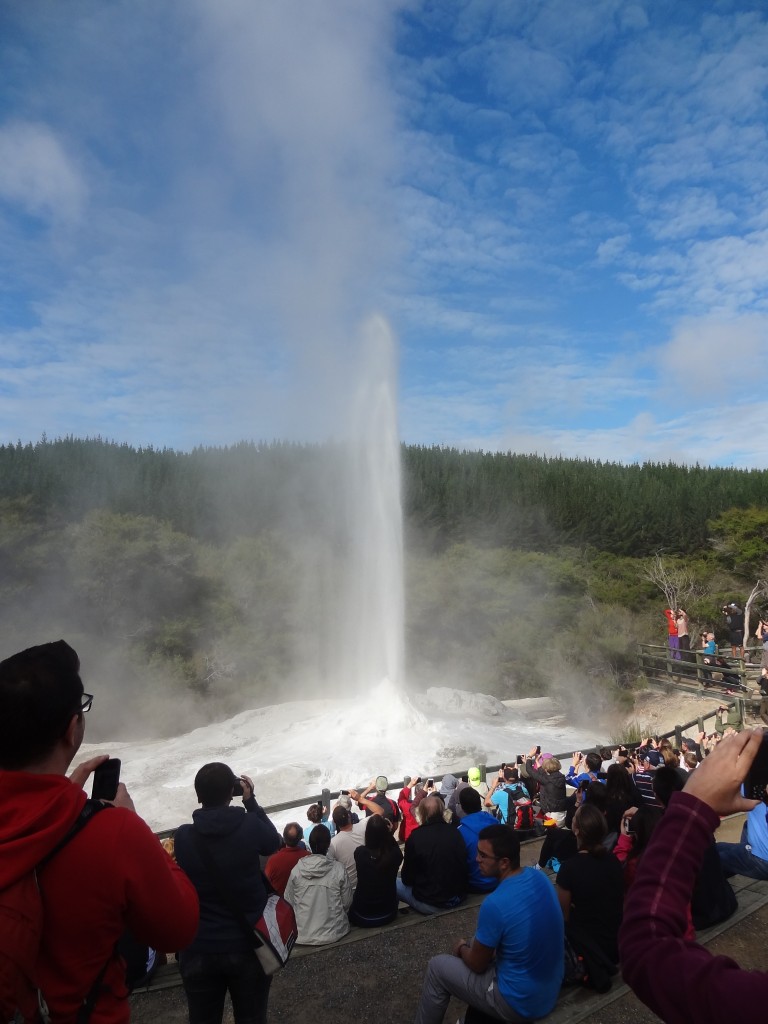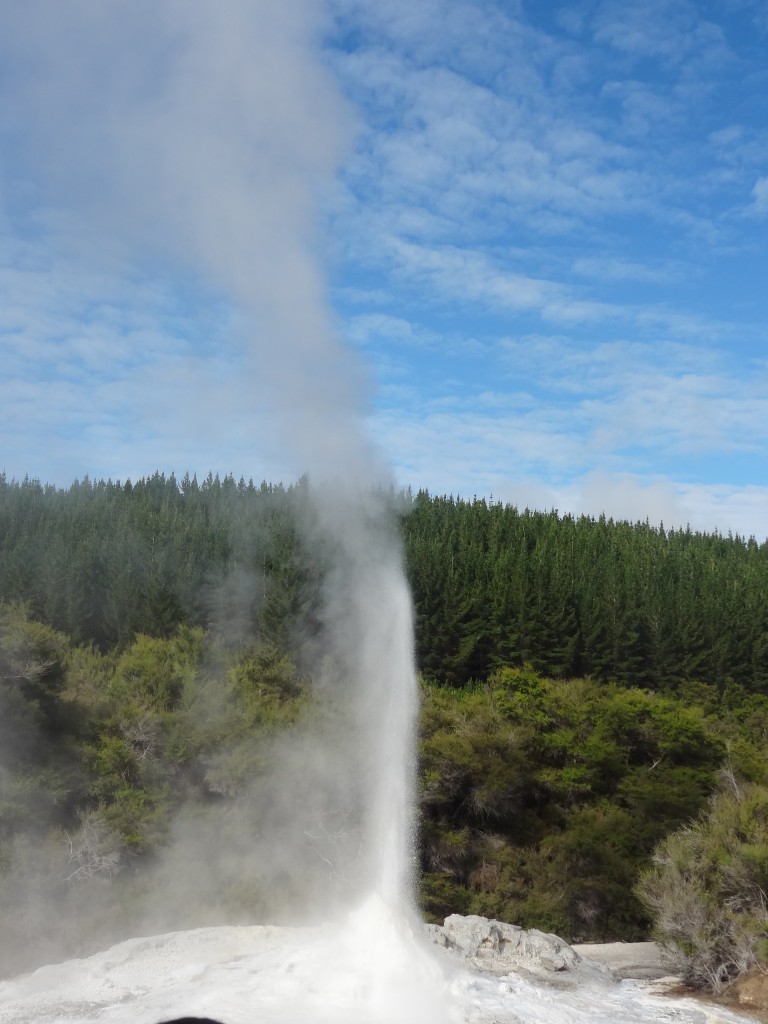 We called into Roturua and walked around for an hour or two and enjoyed a nice lunch of Sushi. It's a largish town like many others and we didn't linger too long.
On our last day in Taupo we walked the Great Lake Walkway which follows Taupo's lake edge all the way to 5 mile bay. It's a lovely scenic walk with some great views and as always there are picnic tables and BBQs provided for the public. Also as always everywhere is spotlessly clean and all the grassed and landscaped areas on the lake edge are beautifully manicured. What is weird though is to come across small streams flowing into the lake which have steam rising from them with warning signs to beware hot water!
Scenes around the lake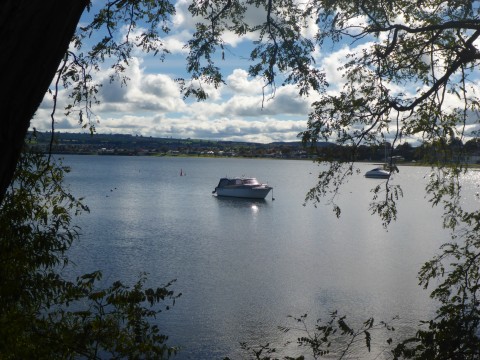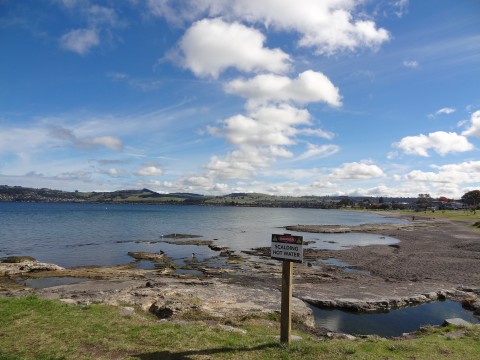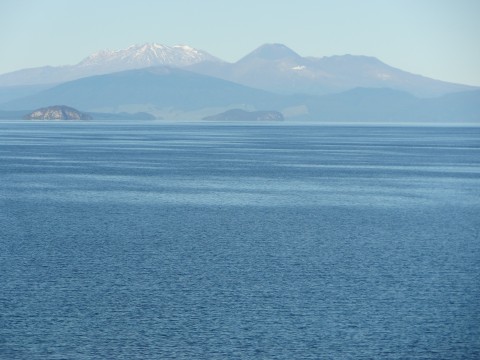 We left Taupo on Friday 24th April. We hadn't had the best of weather and so we didn't actually take many photographs but we managed to get out and about and make the most of the dry days we had. We loved the town and with better weather there's a lot more to see and do if ever we get chance to return.