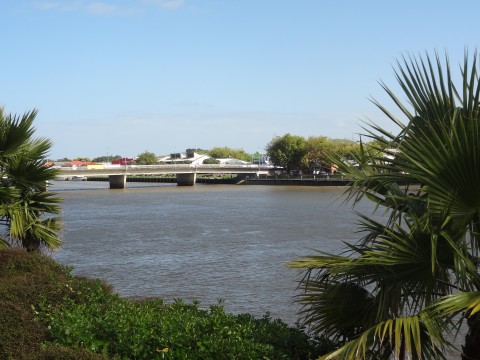 The Whanganui River  pictured above is very wide but becomes much narrower quite quickly as you travel north following the Whanganui River Road which runs alongside it.
We left Whanganui for Taupo after breakfast on the morning of 17th April. It was a lovely sunny morning – but it wouldn't last.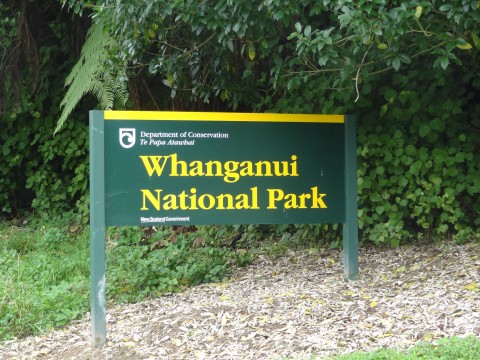 There are two possible routes from Whanganui to Taupo – the quick route or the scenic, Whanganui River Road route . We had initially discounted the longer scenic route because we had read it can be dangerous in bad weather being very winding and unsurfaced in a lot of places but as we reached the turn off for the river road the weather was still clear. We had a rush of blood and changed our minds at the very last minute. We turned off the main National Highway to take the river road which would take us through the Whanganui National Park up to Pipiriki. From Pipiriki we would travel inland via Raetihi to Taupo. As it happens, the road wasn't too bad at all and in fact there was a team of men carrying out surfacing work soon after we got on to the road.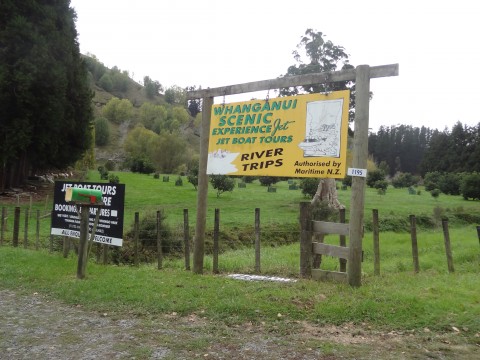 Whanganui to Pipiriki is about 80km. The road follows the river pretty much all the way and there is some lovely if not jaw dropping scenery – doubtless it would have been very much prettier with decent weather but it became a cloudy murky day once we got on to the River Road  and headed into the hills.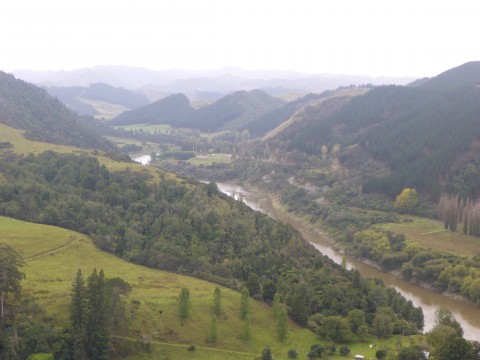 The road to Pipiriki has a number of small settlements and communities along its length and there is lots of Maori and European history in the area. Soon we had come to a sign for Pungarehu Marae which is around 20km north of Whanganui. This is apparently the site of an ancient pa (fortress ) but the Marae itself is around 100 years old and appears to be in very good condition and well maintained. We stopped to take a look but whilst visitors are normally welcome to enter when invited, the place appeared to be deserted and so we took a few snaps and left.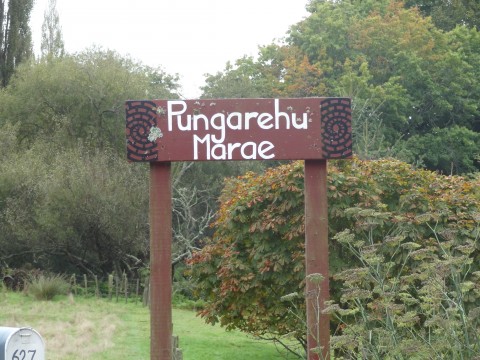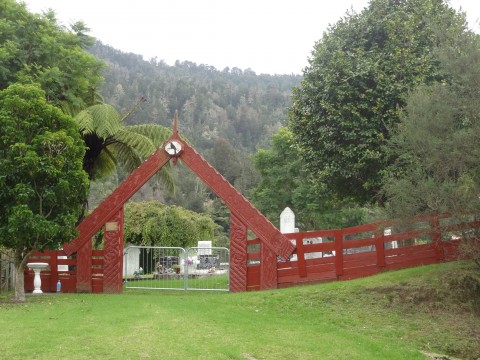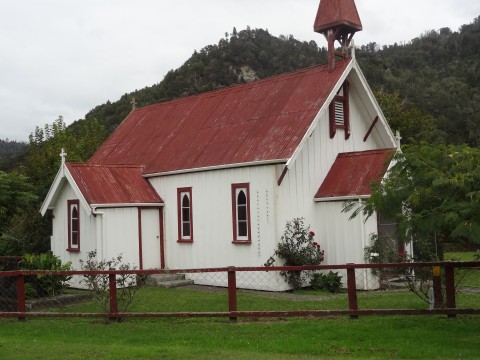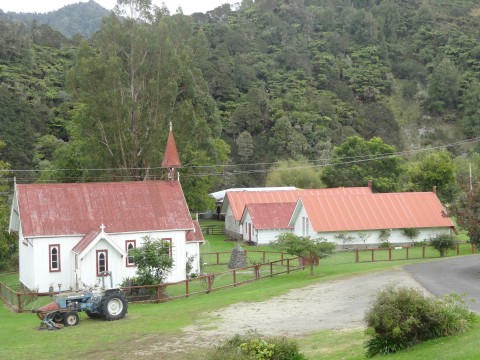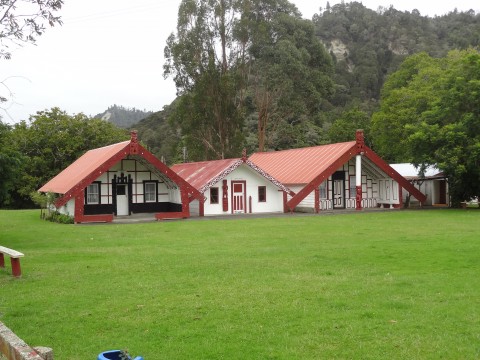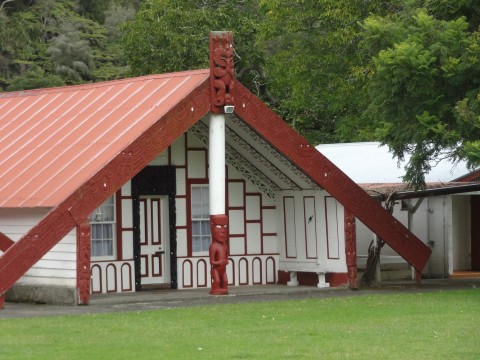 We passed by other settlements and an old flour mill at Kawana before arriving at Jerusalem, one of a number of places  on the river which has an English name with Maori translations. The English names were usually given by missionaries and others include Atene (Athens) and Koriniti (Corinth).
Its hard to believe that this tiny place was once an important fishing village on the river. It's also the site of a Catholic Mission established in 1854 and later in 1892 Mary Mother Joseph established the Sisters of Mercy which are a  well known charitable/nursing order.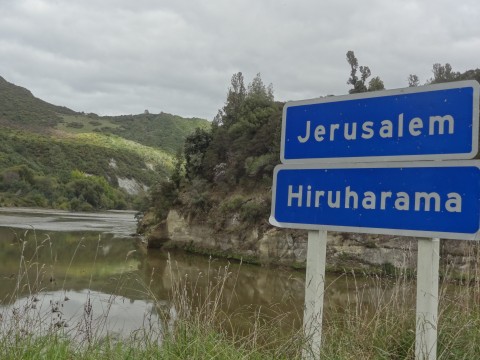 There is a lovely church here (replacing another church that had burned down in the 1880s) and a convent.  There must have been many more people here in the 1800s but the church, convent and Sisters are still here and the buildings and grounds are  immaculately maintained.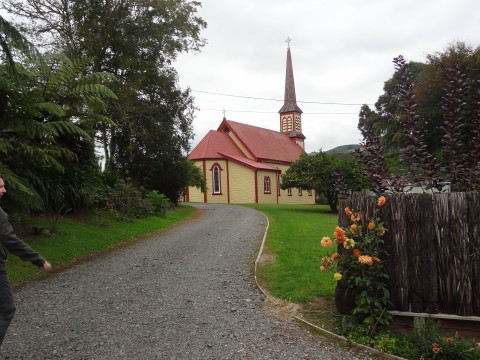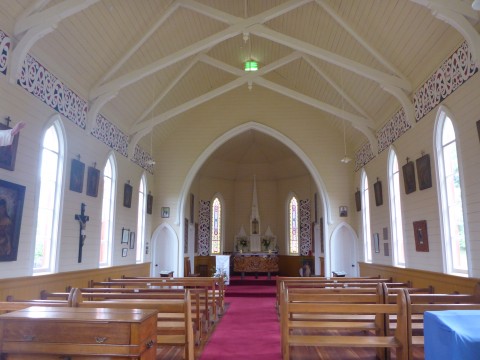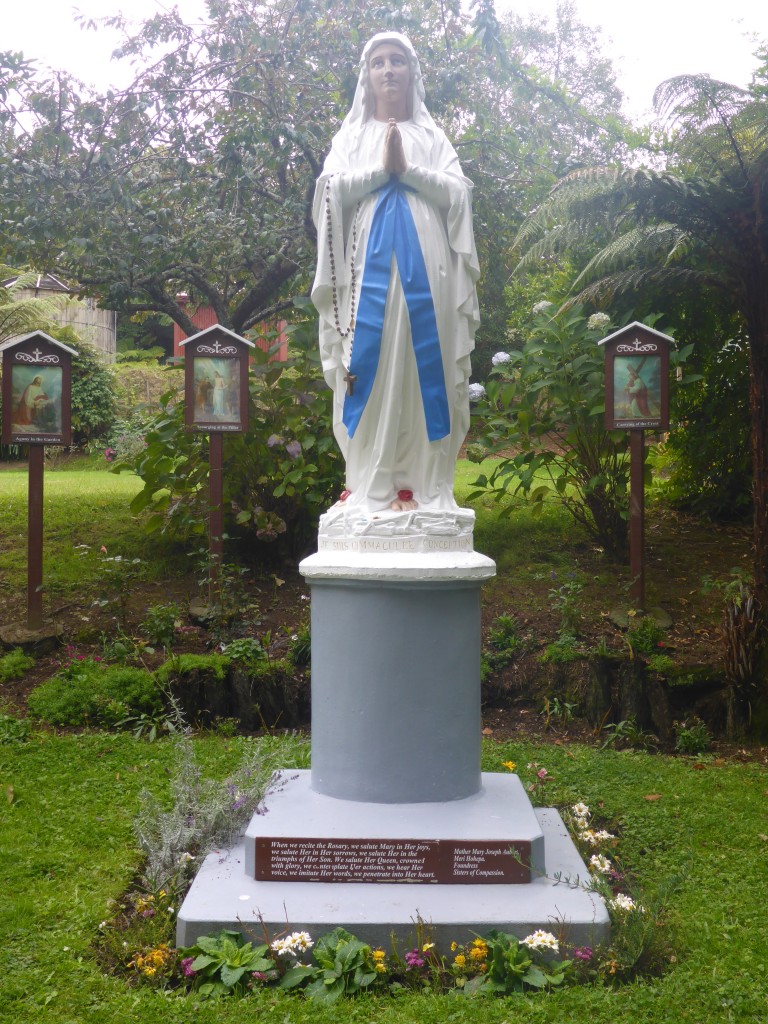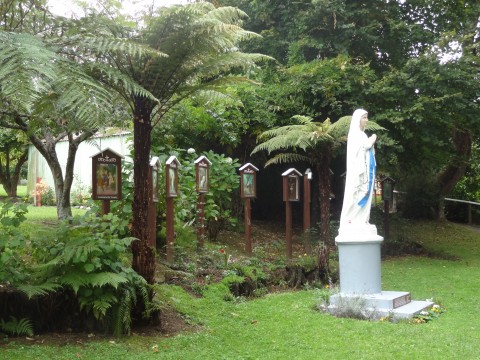 A famous New Zealand poet, James K Baxter and his followers established a community in Bethlehem in the 1970s and Baxter is buried here. You can read about him here :
http://www.nzhistory.net.nz/people/james-k-baxter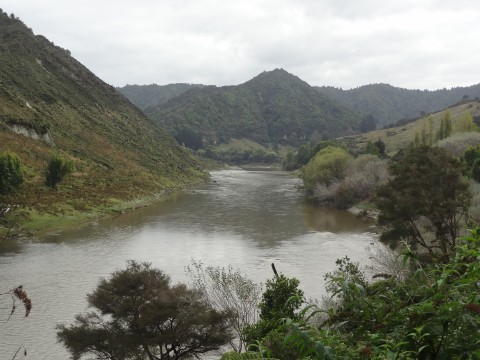 The river communities here are inextricably linked with the Maori land issues and in 1864 at Moutoua Island on the river,  a battle was fought between the upriver iwi (tribes) who were anti the European settlers and the lower river iwi from the Whanganui area who supported the European settlement. The battle was short lived and the northern iwi retreated but the fighting had resulted in hostilities even within family members and apparently the resulting bad blood still remains in some quarters.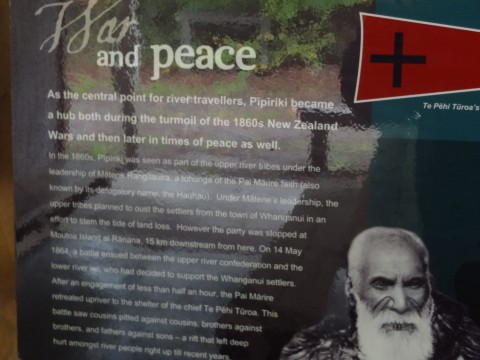 We arrived at Pipiriki about 1pm. We expected to find a small touristy village but there's nothing to speak of other than a river boat operator, a coffee shop, a derelict hotel and a DOC Toilet Block/Shelter with some interesting Information Boards about the history of the area.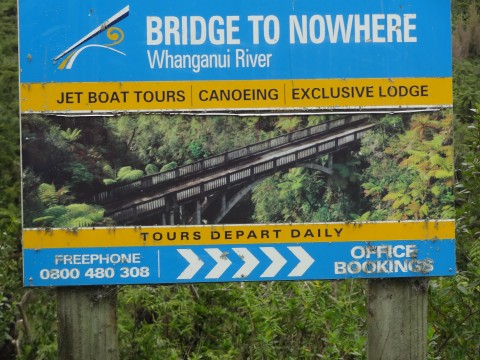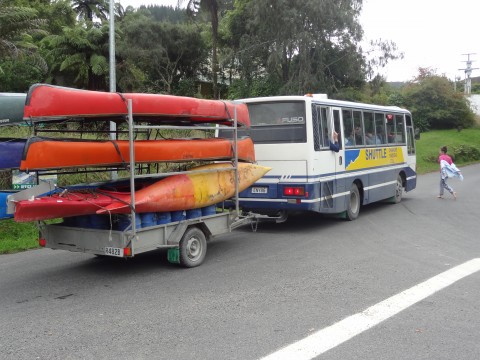 Pipiriki is the end place for most kayaking trips from up river. One trip that we would have liked to have done but didn't combines tracking and kayaking to the Bridge to Nowhere. This is a bridge that was built across the deep Mangapurua Gorge to provide access to an area where the government was opening up land in 1917 for pioneering farmers, mainly soldiers, who had returned from World War I. The intention was to build roads to it later, but the area proved to be so remote and unsuitable for farming that the venture failed and the farms reverted to native bush. Thus the bridge became a white elephant but remains a curiosity and apparently an interesting hike/boat ride.
We had our packed lunch, made use of the DOC washroom facilities and carried on inland via Raetihi and over the hills to Turangi and then to Taupo on Great Lake Taupo.