On 12th April we set off from Napier to Wellington on what should have been a scenic drive of around 300 KMs. In the event the day was wet and windy and our chosen route via the Manawatu Gorge was closed due to road works. There was a major diversion by way of what is known as the Saddle Road which itself was undergoing huge civil works with road widening taking place km after km and we crawled along for ages eventually arriving at the Capital View Motor Inn late afternoon. As usual we dropped our bags and went straight back out to have a quick reccy of the town.
I was really looking forward to visiting Wellington due in no small part to its claim as the Craft Beer Capital of New Zealand. The Motel was handily placed for the city centre with the main restaurant and bar street, Cuba Street, only a couple of hundred yards down the road from our digs.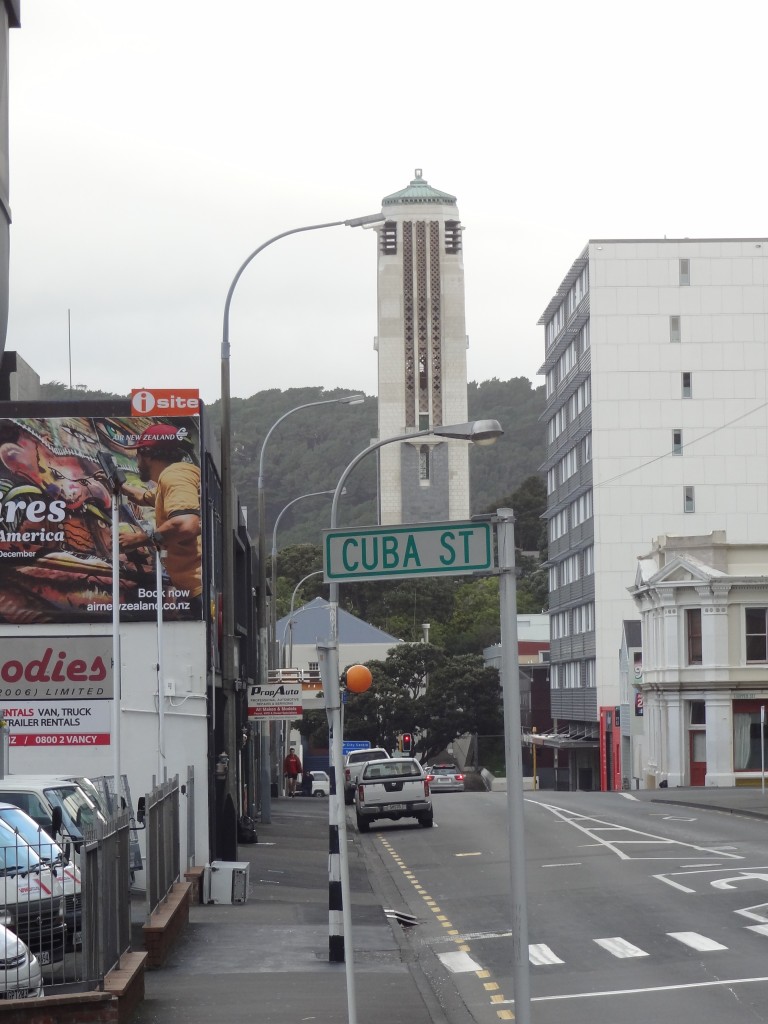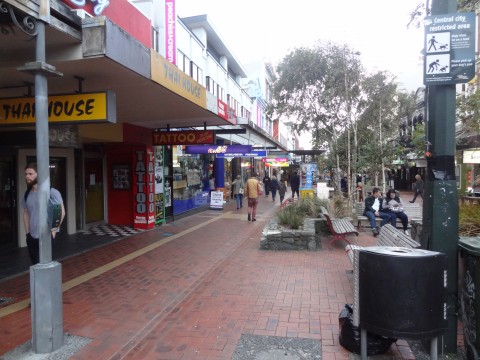 We had read rave reviews about this street but I have to say we weren't especially impressed at first. It does seem to have every type of restaurant you can imagine but we thought it much the same as many an old city centre street in Manchester or Birmingham UK with wall-to-wall cafes, bars and restaurants to suit every taste and budget in less than smart surroundings for the most part. Many or most of the establishments are aimed at the backpacker fraternity and indeed there is a lot of backpacker accommodation in the vicinity. Manicured it is not but despite this, after walking up and down the street several times during our visit, the place grew on us.
After an hour or two traipsing around the city centre and gagging for a beer, we happened to come across the excellent Goldings Free Dive Bar in an old converted warehouse building. For those familiar with Manchester, this is a very Northern Quarter type area with lots of ethnic and other restaurants along with the ubiquitous Macdonalds, Burger King and Subway shops.
We both loved Goldings Bar which was a proper craft beer pub with 8 or 9 different craft beers on tap and multitudes of others available in bottles. There is no food but you can order a pizza which comes from a pizza outfit next door – and very nice they are too! The staff were friendly and the place was never too busy – we ended up in this bar at some point on each of our three days in Wellington and I managed to work my way through the draught beer list other than for one or two rocket fuel concoctions which I chickened out of.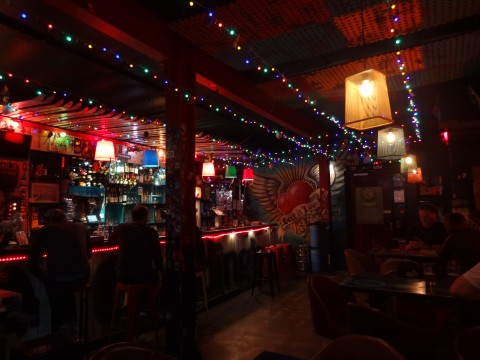 On this first night, after several beers in Goldings, we went to an Indonesian restaurant around the corner and enjoyed an excellent Rendang and Nasi Goring and a nice long natter with the lady owner of the place.
We had booked three nights at the motel as our research of Wellington told us that a couple of days would be plenty of time to see the main attractions of the city and whilst I guess thats not far from the truth, we both would have been happy to stay an extra day or two. We liked Wellington a lot.
On the first of our 2 full days in Wellington we caught a shuttle bus to Zealandia.
Zealandia: The Karori Sanctuary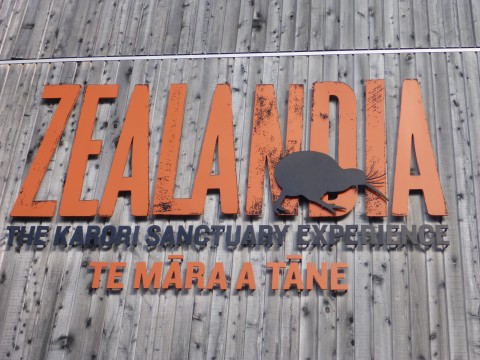 We read that this place is one of the top attractions in Wellington and so we thought we would take a look. We were glad we did as this turned out to be a really interesting day out. Essentially this is a sanctuary aimed at re-creating the conditions and the fauna and flora of New Zealand as it was when New Zealand broke away from the supercontinent Gondwana 80 to 100 million years ago or MYA as the historians/geologists and others say.
First its helpful to understand a bit about the geological history of New Zealand and how it affected its flora and fauna.
It's believed that only one continent existed 250 million years ago. Then, over time, the land mass separated into two continents – Laurasia in the North and Gondwana in the south. New Zealand, Africa, South America, Australia and Antartica formed part of Gondwanaland but broke away between 80-100 million years ago and started to move to its present position. The Tasman Sea was formed and since that time NZ has developed a unique flora and fauna.
About15 million years ago a quiet period ended with NZ experiencing significant tectonic activity when moutains and basins were formed and since then alternating glaciations and warmer periods have had their own effects.
NZ is still in a period of geological events and the level of tectonic activity remains high. Mountains are eroded and the waste is deposited in river valleys and elsewhere. Each major earthquake has a large effect: in 1855 the coastline of Wellington Harbour was uplifted 1.5 metres and in 1931 the Napier earthquake resulted in 40 sq KM of sea bed becoming dry land!
When NZ separated from Gondwanaland it took with it some of the flora and fauna of the supercontinent with it and some of NZ's oldest species have evolved from common ancestory elsewhere. For example, the NZ kiwi is related to the Rhea of South America, the Ostrich of Africa and the Cassowary of Australia – there are many other examples.
Around the time that New Zealand separated from other land masses, some event took place which resulted in the mass extinction of the dinosaurs and other species. The nature of this event is unknown but could have been a meteor or some huge volcanic event. Whatever the cause, NZ was left with a land dominated by birds and insects. The only mammals remaining were 2 species of bat!
With no predators other than other birds, many birds lost the need and thus progressively the ability to fly and became largely flightless ground dwellers. Many avoiding flighted predators such as eagles by becoming nocturnal.
This process has made NZ unique. Nowhere else on the planet has such a range of bird life and insect life.
It was only around 800 years ago that humans from Polynesia settled in NZ. Hunting large birds, some of the species became depleted but at the same time the Polynesian rat, the Kiore arrived. The Kiore ate fruit seeds, small invertebrates, bird eggs, chicks, etc. They could hunt on land and in trees and in the dark and as a result, by the time Europeans arrived a number of species were extinct and others were greatly reduced.
European sailing ships brought with them the Norway rat, the ship rat and mice which killed off more native species of birds and bats. Over time, other pests arrived either under their own steam or were deliberately introduced by man. Rabbits were introduced in the 1860s but by the 1870's they had become a pest and so stoats were introduced to control them. Unfortunately the stoats found that flightless birds and their eggs and chicks were easier pickings and before long the stoat had spread throughout the country and is still present and eating its way through New Zealand's birdlife.
Another animal deliberately introduced in the mid 1800' was the Possum. The Possum was introduced to develop a fur trade but by now there are millions of them throughout New Zealand and they have become Public Enemy Number 1.
The Possum also feeds on eggs and young birds but is also a deforestation expert. They kill trees by stripping them of leaves, fruit and seeds. When larger trees are gone scrub takes over and many native creatures are unable to find food and shelter. Other animals introduced which are now pests include deer, goats and pigs. All these animals have changed and are changing the fauna and flora landscape of NZ and this is where conservationists are working to restore the countries natural fauna and flora.
There are lots of conservation projects around New Zealand often involving many overseas visitors, youngsters who see it as a way of seeing the country with food and lodgings provided. The Karori Project otherwise known as Zealandia is a particularly successful project.
The Karori Valley was originally forested but was turned into farmland in the 1800s and then, following a short-lived gold rush, the area was set aside as a water catchment for Wellington. Through the second half of the 1800s the valley was mined, farmed and suffered major forest fires. Eventually a dam was built to provide water for Wellington in the 1870s and a second dam was built in 1908 to give more capacity. In 1978 the dam was deemed to be an earthquake risk and the lake behind the dam was reduced. Later, in 1991, the second dam was decommissioned.
Around 1990 Jim Lynch had a vision that this valley could be restored to its original state for the benefit of Wellington and New Zealand itself and the decommissioning of the dams was timely. Support for the plan was gathered from other like minded conservationists and eventually won the approval and support of the Public Authorities. In 1995 the Prime Minister established a non-profit charitable trust the nature of which would allow the community to participate in the development of the Kaori Sanctuary. By December 1998 all the necessary public approvals had been secured and funding raised and work began on a 8.6KM fence to enclose the valley.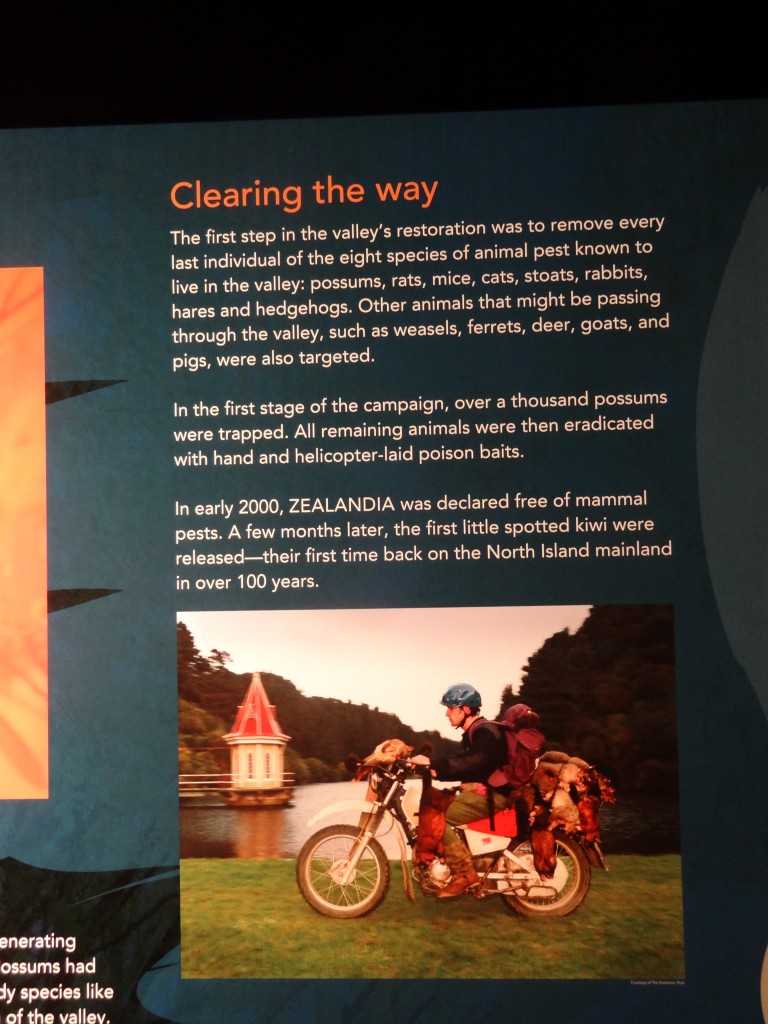 The fence was built as a secure barrier in such a way that neither humans nor even the smallest mammal could access the enclosure either by digging beneath or climbing or jumping over. Once the fence was in place, a process of eradication began to rid the enclosure of all non native mammals, domestic and otherwise. The eradication process was completed in 2000 and although there was an intrusion by stoats post-2000, this issue was resolved. The process of re-forestation, the removal of all non-native species of trees and plants and restoration of wetlands is now ongoing but it's estimated that it might take 500 years restore the land to its original pre-human date. In the meantime many species of birds, reptiles and plants have been reintroduced and are thriving. Work continues mostly by volunteers.
So this was a really interesting day even though the weather wasn't great. One of the original volunteer Guides who has been involved with the project since its inception took us in hand and spent over an hour walking us around the place explaining the project and helping us with our bird spotting. We saw lots of native birds and one or two foreign ones although we didn't get as many photos as we would have liked nor did we get to see any of the reptiles as the weather was quite cool and grey.
We could easily have spent the entire day at Zoolandia but had other fish to fry and hopefully there will be a chance to re-visit!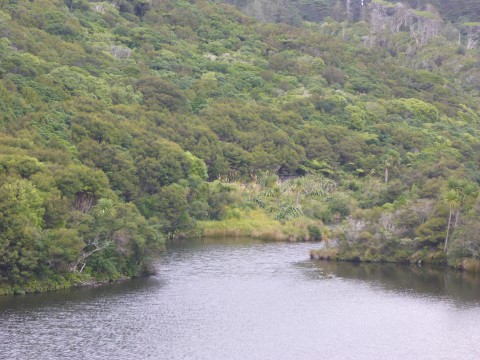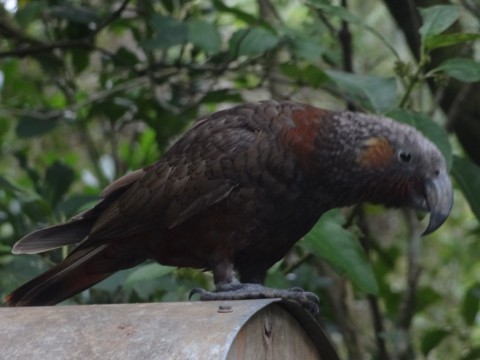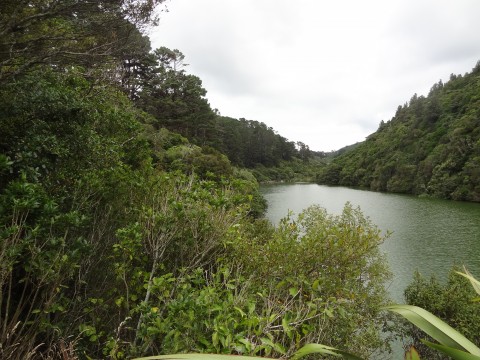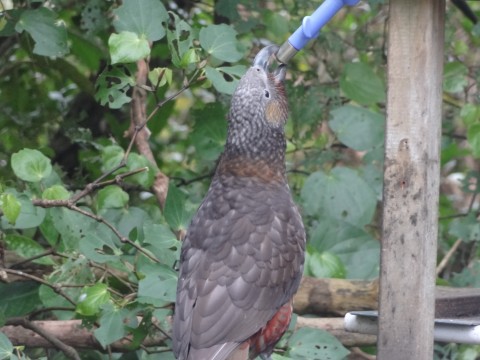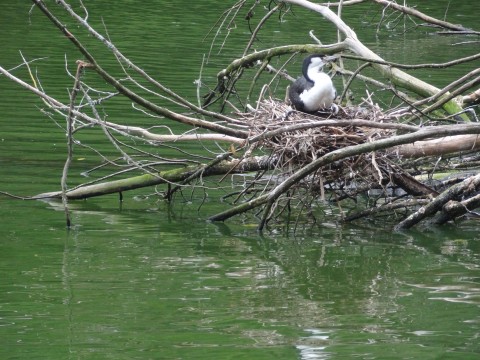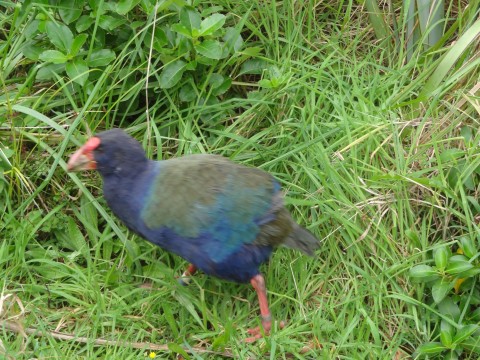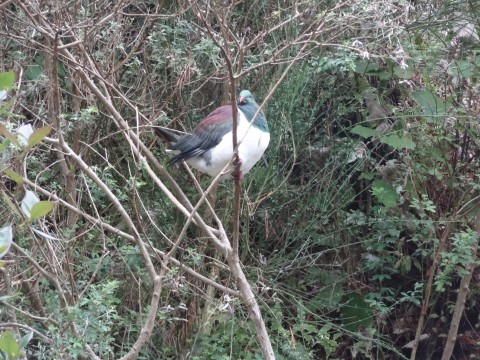 Leaving Zealandia, we walked back into town to the waterfront area. This entire area has been re-developed and is a very pleasant part of Wellington with museums, theatres, exhibition halls, bars and restaurants and large open areas for events. It's a nice place to visit.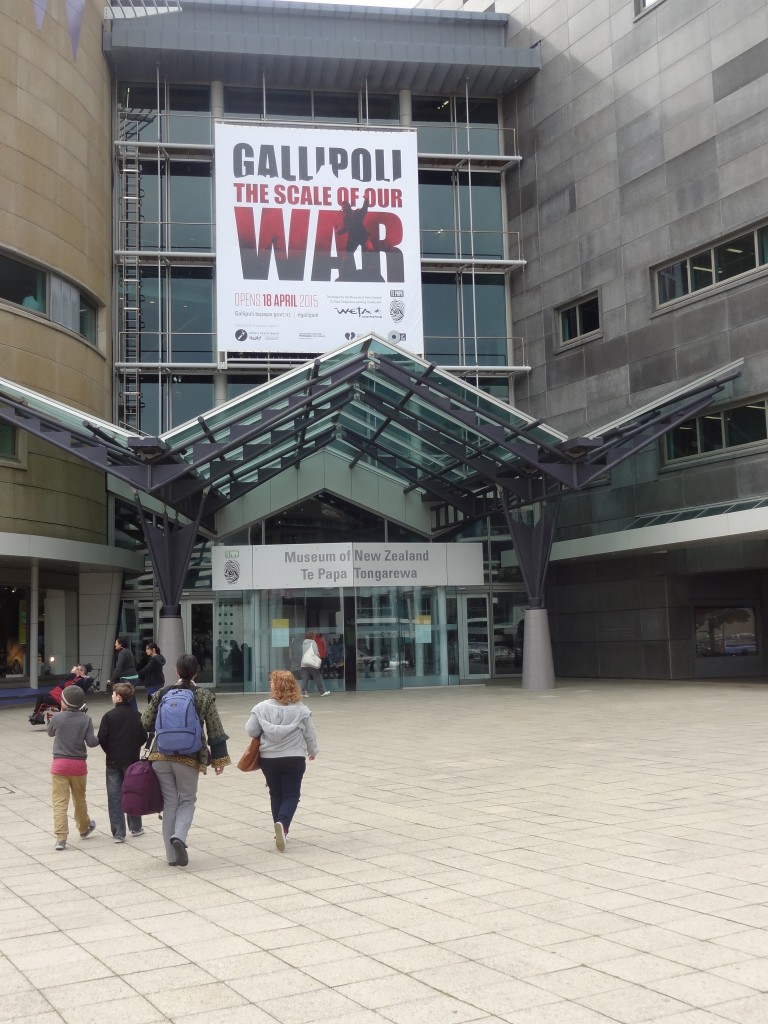 Te Papa Museum is a must see attraction here. It contains lots of interesting exhibits old and new with a lot of inter-active exhibits. Inevitably there is a great deal relating to the indigenous people but there's much much more besides. Unfortunately we missed the main Gallipoli Exhibition which was being heralded at the time of our visit and is now receiving rave reviews. One could easily spend a full day here; we stayed for a few hours and as a result missed a visit to the Maritime Museum which had closed for the day. We had had a quick peek into the Maritime Museum as part of our historical walking tour in the morning. Definitely one to visit if time permits.
On the second of our two full days here we signed up for a walking tour of the city at the excellent ICentre (New Zealand's tourist information centre – at least one of these can be found in most towns.) We can't remember the cost of the tour but it was modest for a tour with an excellent Guide that covered all of the main city centre and lasted a couple of hours. Here are a few pictures: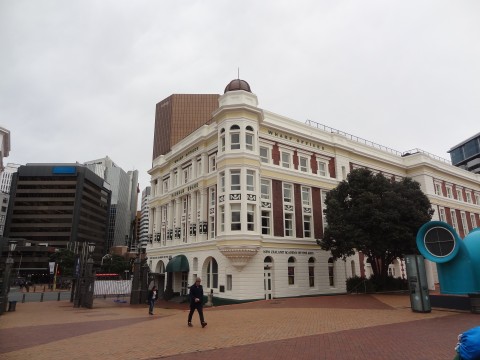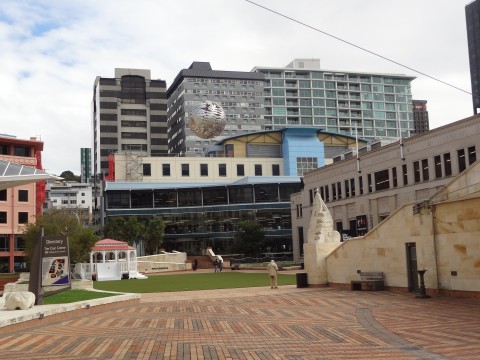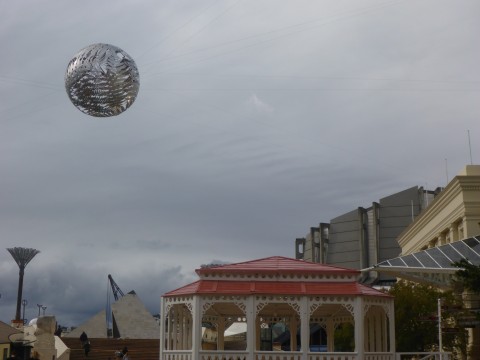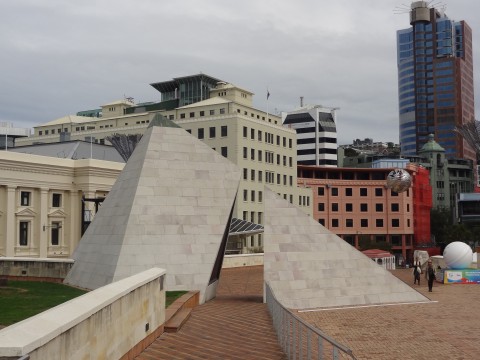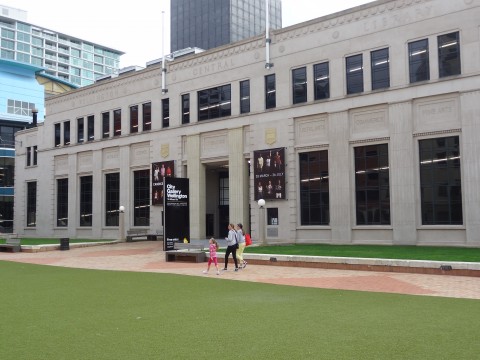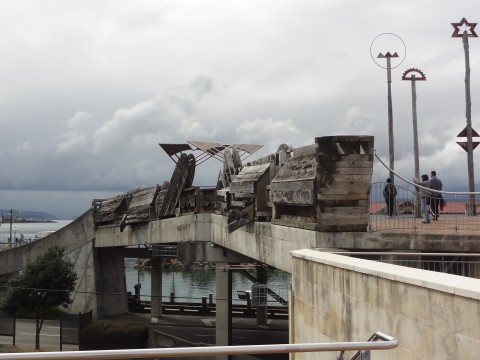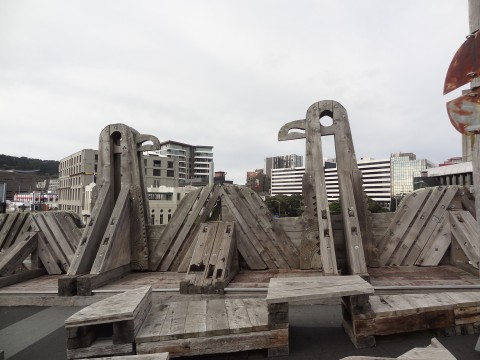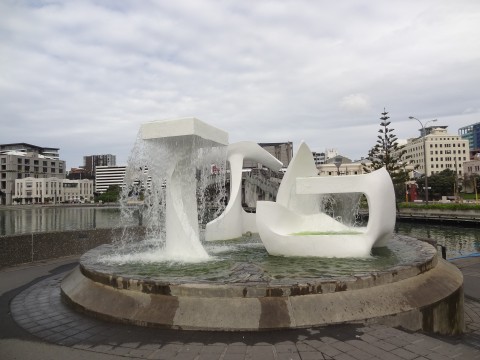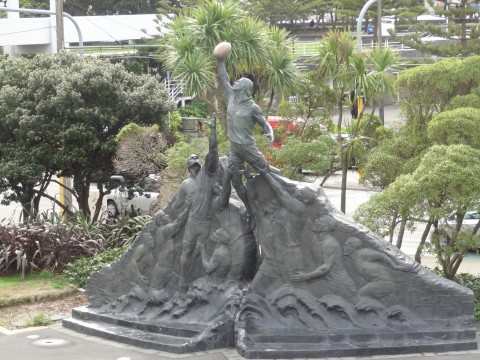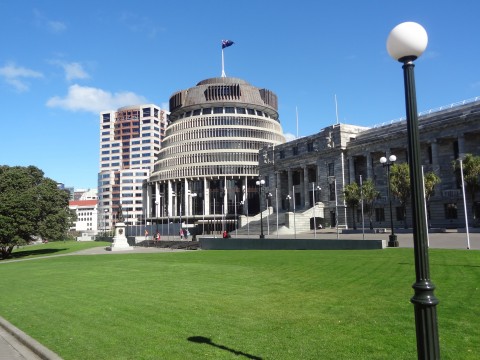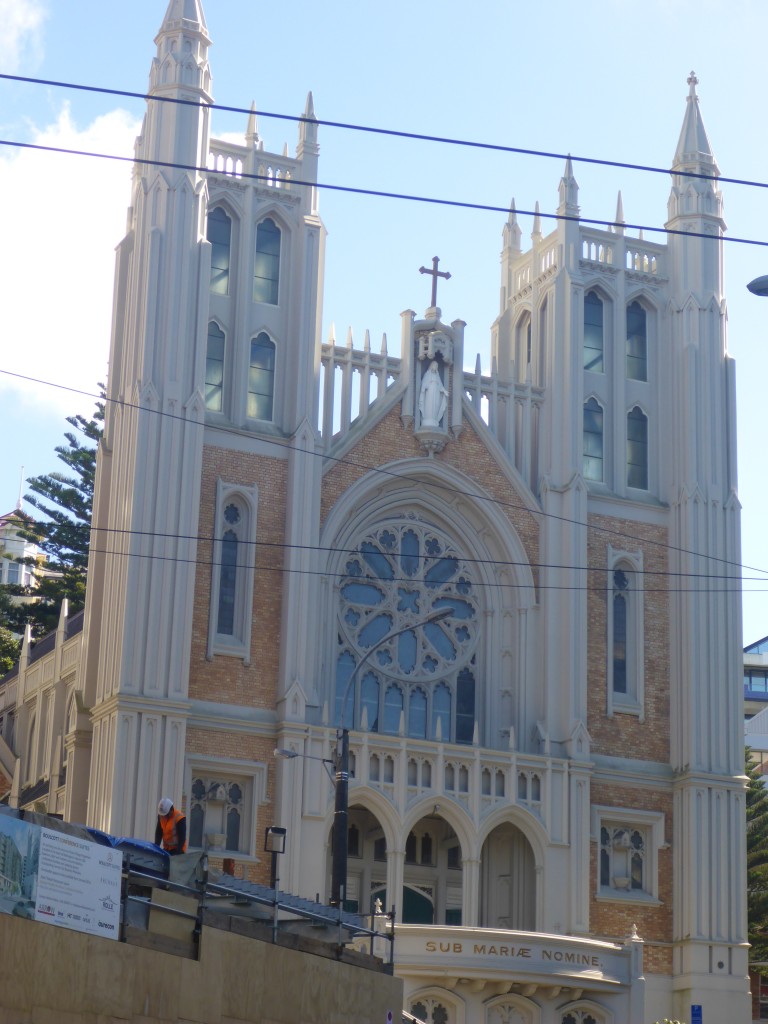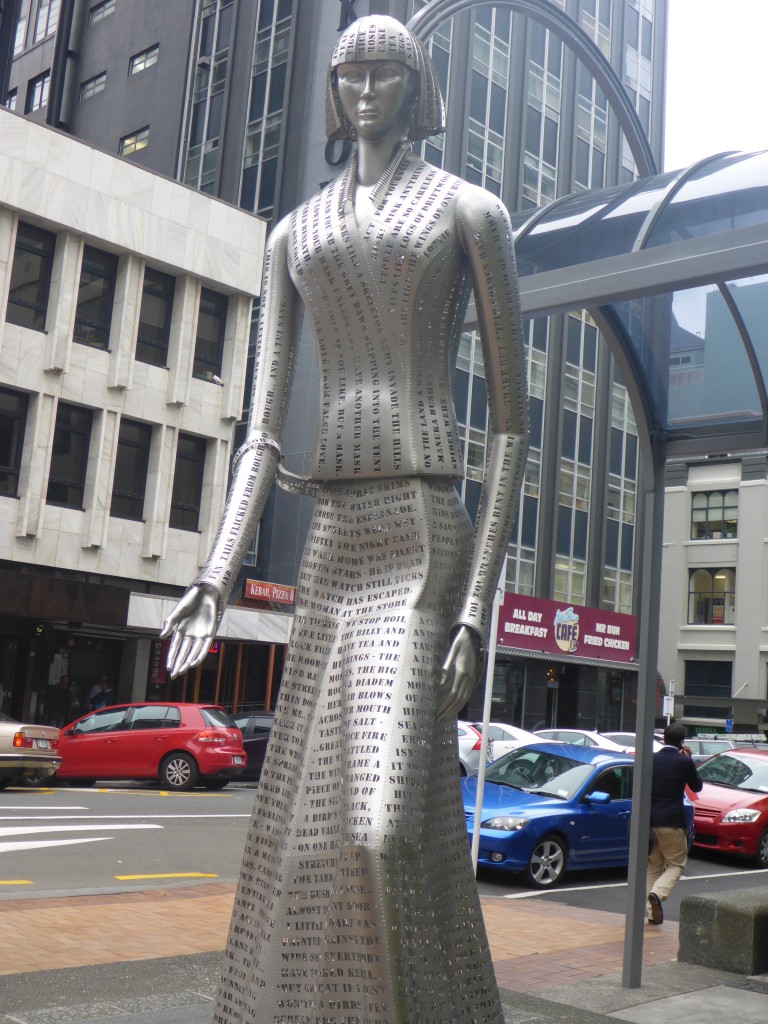 With an early start and only a banana for breakfast we were both starving after all the walking rather extravagantly decided on an Indian meal for lunch. After lunch we re-traced some of the steps we had taken in the morning to visit the excellent Te Papa or to give it its full title: Museum of New Zealand TE Papa Tongareru which is the Nation Museum and Art Gallery of New Zealand.
Replete from our lunch, we jumped on a bus to Mount Victoria which is a prominent hill just out of the centre of Wellington. There's a look which gives prominent views of the city but we had planned to give it a miss in view of the grotty weather. In the event, whilst the the weather was still grey, the clouds cleared for a while and we were able to take a few photos: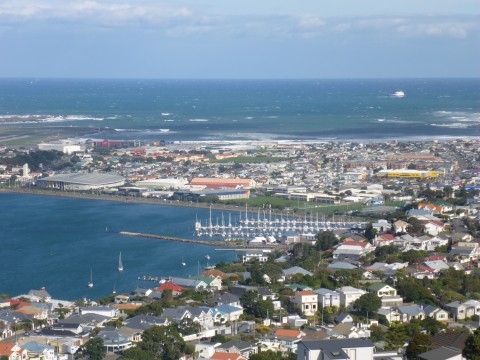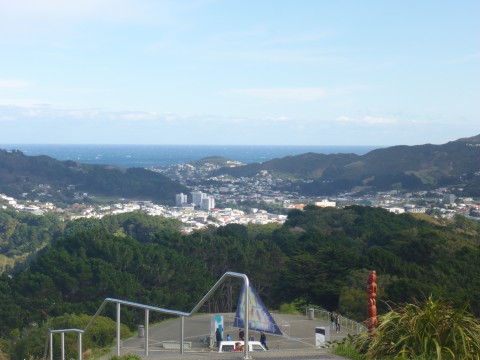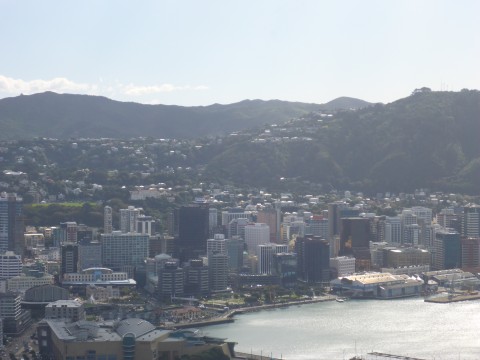 Autumn was certainly on its way – it was actually pretty cold up on the hill. We didn't linger and set off downhill to walk back to town. Dinner on our last night was Pizza in Goldings – we couldn't leave without saying goodbye…