Following our week on the Coromandel, our next New Zealand "must visit" was to be Napier but we had decided to stop off en-route at the beach towns of Mt Maunganui and Whatakane on the Bay of Plenty to break up what would would otherwise have been a very long drive indeed. We also wanted to visit Gisborne, a town with some history and the "Chardonnay Capital" of New Zealand en-route.
Mt Maunganui and Whatakane are actually quite close to each other and we could have stayed at just one or the other but couldn't decide which as both seemed to have their attractions. Not being rushed for time, we spent a few days at each!
Mount Maunganui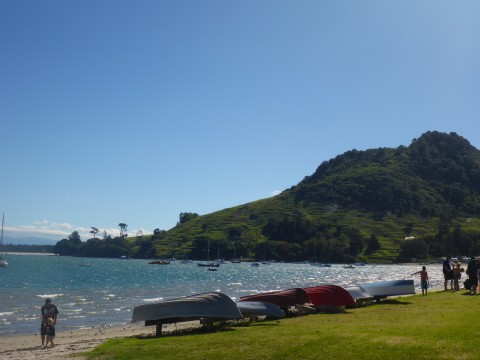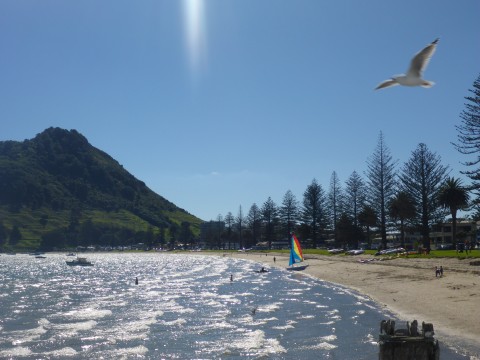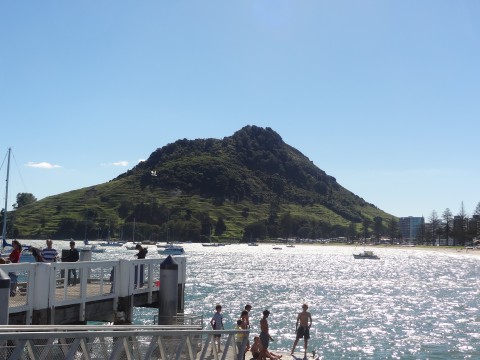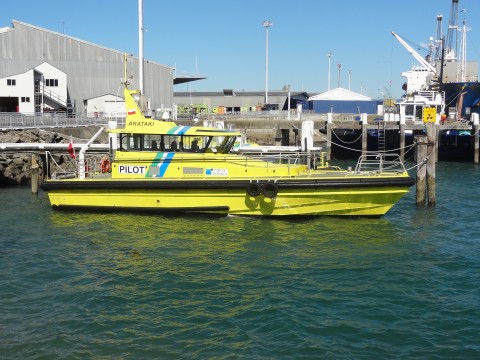 We loved Mt Maunganui. It had such a great, laid-back atmosphere helped no doubt by the fact that this was the Easter Weekend and with great weather the town was packed with locals and holiday makers.
We arrived on Good Friday with all the many shops and supermarkets closed. But whilst the shops were closed, there are lots of bars, cafes and restaurants which mostly open on to the street and these were well and truly open open for business although being a public holiday we found it was impossible to buy a drink in a bar unless you bought a meal – and in most places there was a 15% Public Holiday surcharge on prices which we found applies on all Public Holidays in New Zealand.
There was a great buzz about the place and we ditched self catering for this long weekend and enjoyed a few drinks and nice meals including excellent Turkish, Thai and Indian – we really were spoilt for choice.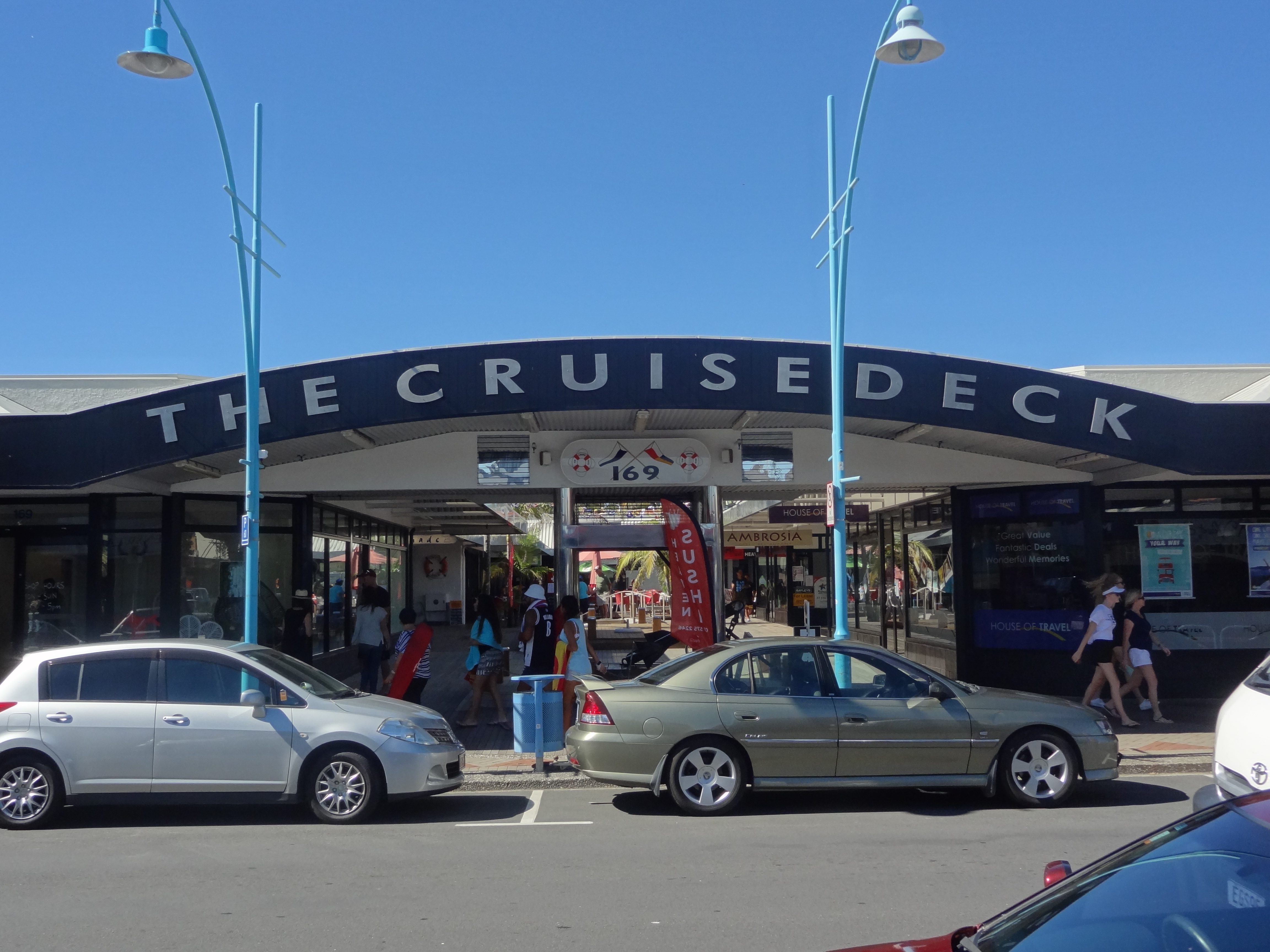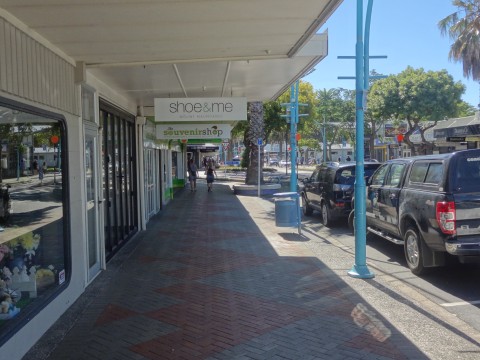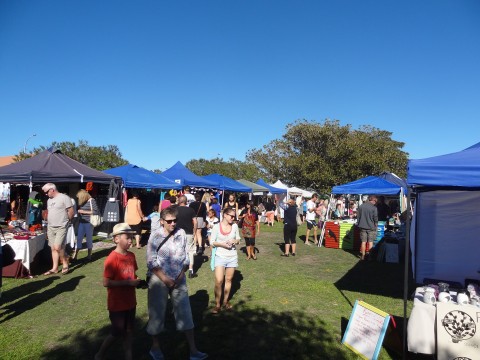 Views from the Mount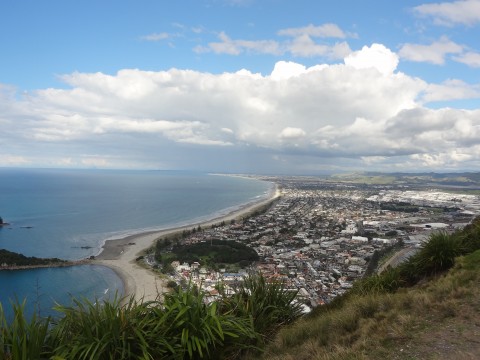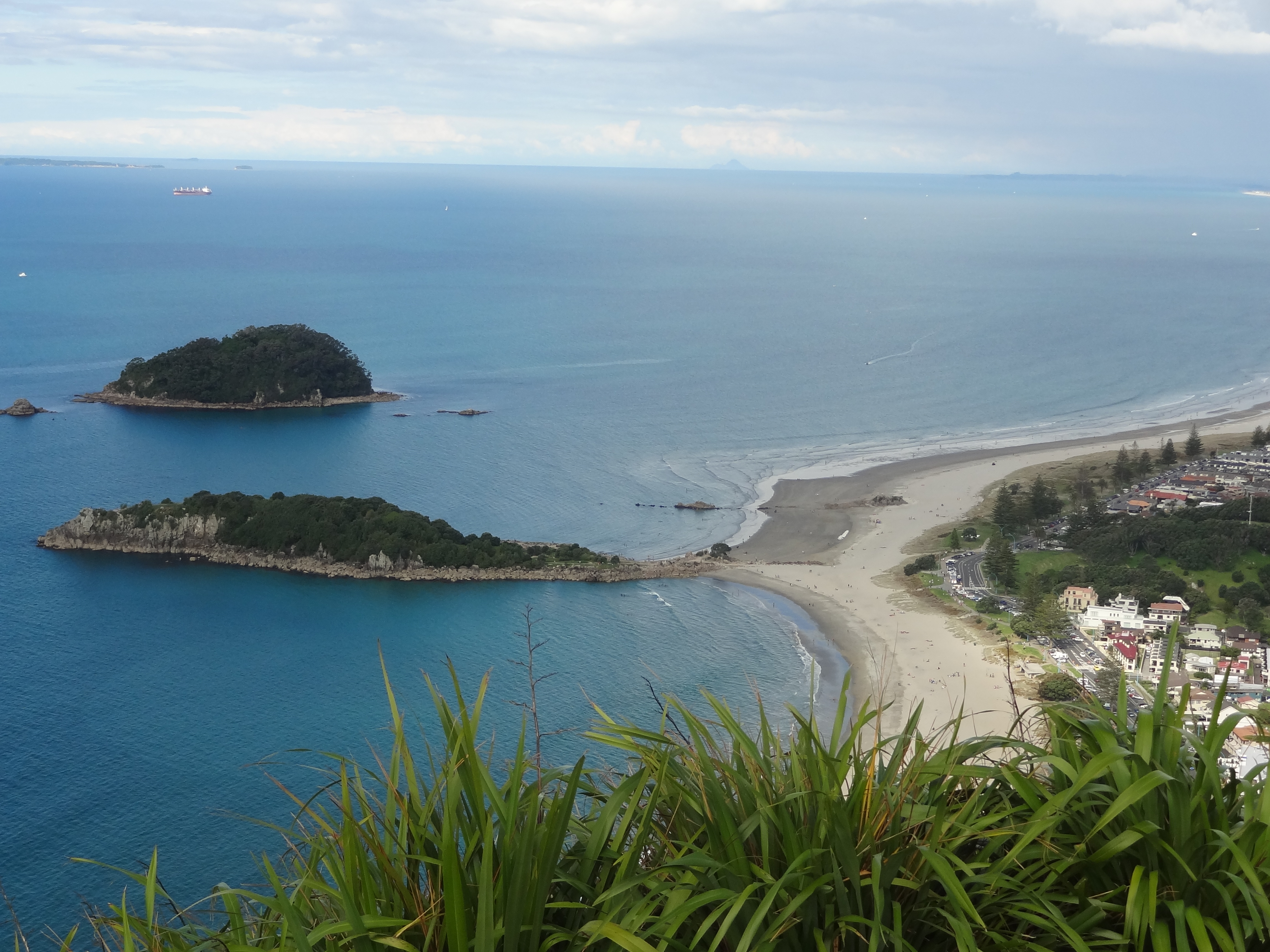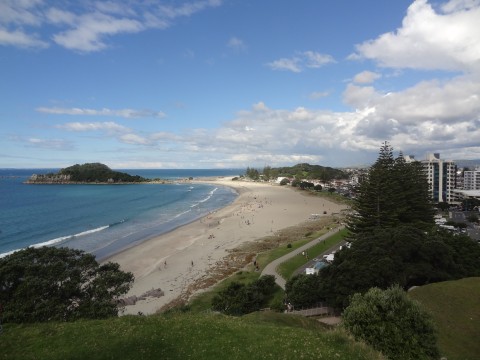 Mt Maunganui lies on a peninsular in the Bay of Plenty and the Mount is actually an extinct volcanic cone at the end of the peninsula. The Mount stands at 232 metres to the summit and provides some nice walking with a couple of tracks winding around it. It's an easy climb and provides some great views and it's actually Tripadviser's number one thing to do in town.
There are great beaches here popular with surfers and families alike. The beach seems to stretch on for miles but even on this beautiful Easter weekend, the beach was nicely busy but still far from crowded. As we found in most towns in this country, there are first class facilities here for its citizens and visitors to make the most of the outdoors with ample toilets and picnic areas, etc. provided with public barbecues and showers for washing off sand.
Whatakane
After three nights at the very good Mission Belle Motel in the centre of Mt Maunganui we drove on around 90 ks to Whatakane which claims to be the Sunshine Capital of New Zealand with its main beach, Ohope Beach, apparently voted New Zealand's most popular beach. No doubt these facts are true but sadly the weather took a turn for the worse as we arrived and we had a cloudy and rainy few days here and as a result decided not to visit White Island, New Zealand's only active marine volcano. White Island is 50kms off the coast and gets rave reviews for its flora and fauna but this wasn't a cheap trip and it just didn't sound attractive in such grotty weather.
Weather notwithstanding we did manage a decent half day walk with a few hours beach fishing. Otherwise we made good use of the wet weather managing to get a few chores done including haircuts and a visit to Specsavers where Ann ordered a year's supply of contact lenses at a terrific discount price which we would collect at another location a few weeks ahead.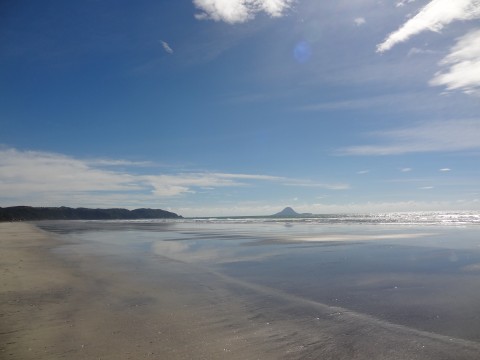 We left Whatakane for Gisborne via the Pacific Coast Highway on 8th April. We had decided to travel via the remote East Cape, the most easterly point in mainland New Zealand,a trip of well over 300kms which doesn't get much tourist traffic as it's so far off the beaten track but it gets rave reviews as one of the best scenic drives in New Zealand. On the day we thought twice about taking this route as the weather forecast had been for continuing heavy rain but in the event it seemed to be clearing and our friendly motel keeper convinced us we should do the long drive as it was "not to be missed." The drive was indeed awesome with the first 150km or so being along the coast with a mix of rocky headlands and mostly dark sand beaches. There is then a long stretch of road inland passing remote hill farms and nothing much else other than a place making Manuka honey before the road hits the ocean again at Hicks Bay.
This really is a remote drive. There are very few settlements.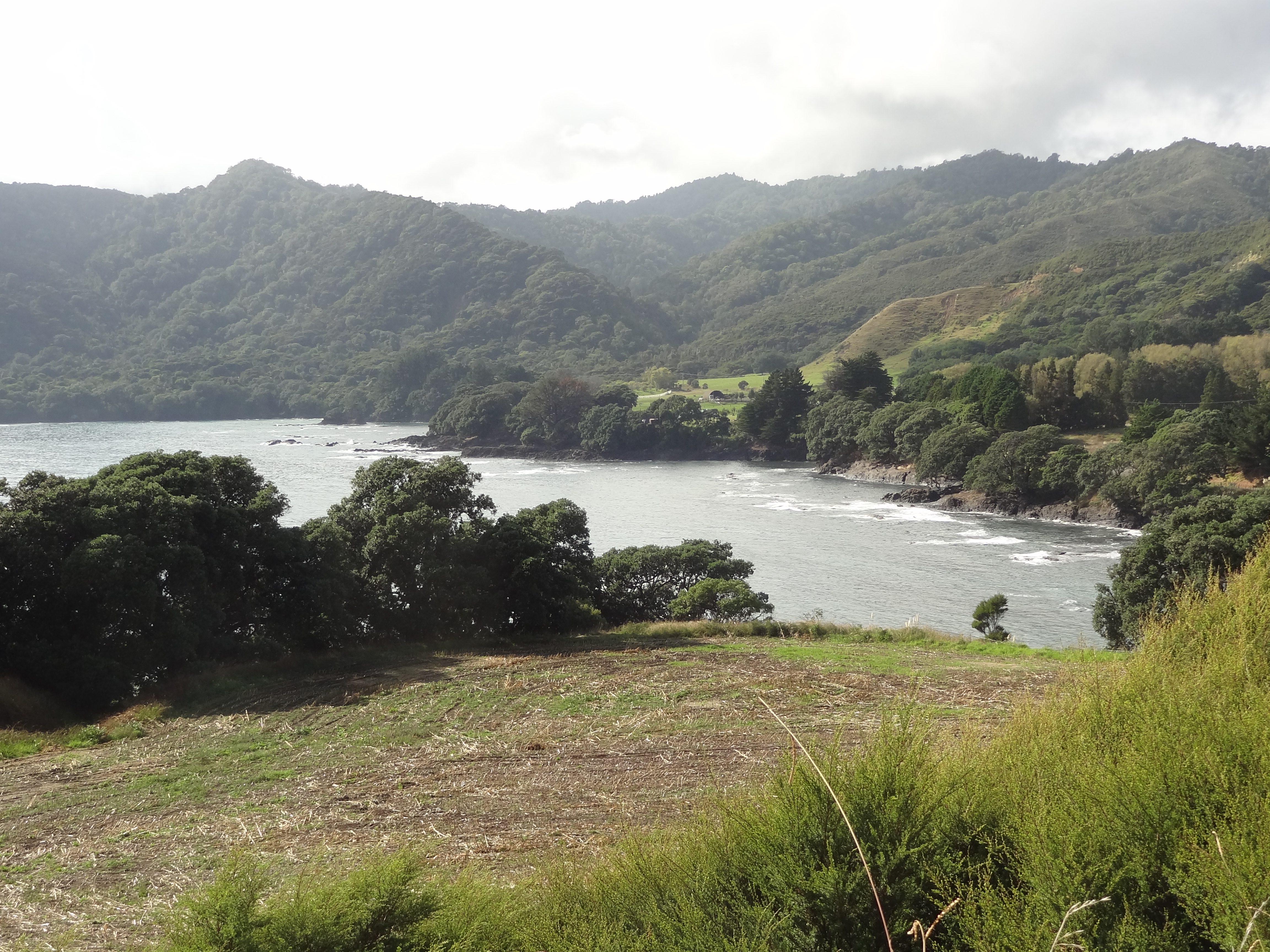 On the Motelier's advice we had planned to stop for lunch at Te Araroa, the biggest settlement in the north with a population of approximately 600, around 20kms or so south of Hicks Bay and the gateway to the Cape itself. In the event we didn't find Te Araroa the most attractive lunch stop. It consists of a collection of half a dozen shabby buildings including the omni-present Four Square Supermarket, a police station and a cafe overlooking a scruffy beach which seemed to be undergoing some kind of drainage works. It wasn't pretty and worse still we discovered that the 22km one way road to the Cape point lighthouse was mainly unsealed. We didn't much fancy a very slow round trip of almost 50kms on rough roads and decided to give it a miss and drive on to look for a more agreeable stopping place.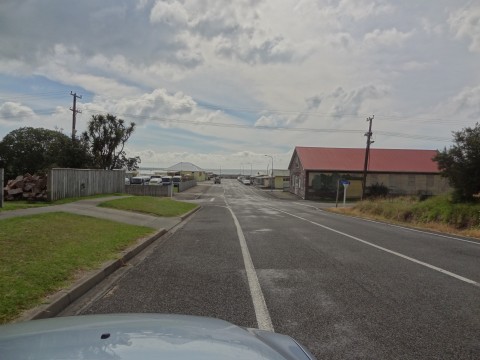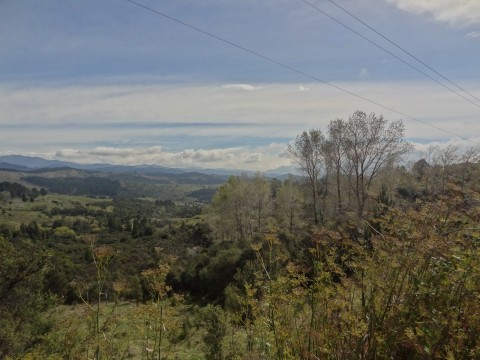 Typically there are picnic stops galore in New Zealand but like everywhere you can never find one when you need one. We ended up driving quite a distance and eventually stopped at the larger town (population c750) Ruatoria a further 40km south. This town, like each of the settlements we passed through in this area was clearly predominantly if not entirely Maori. In truth it was definitely a tad "rough and ready" – we saw two police cars in the town when we hadn't seen a single one anywhere along this route. But at least we found some picnic tables to make up and enjoy some sandwiches for lunch.
We saw lots of Marae and pou and other evidence of Maori culture in this East Cape area. Marae are buildings used by Maori tribes for community use, meetings, celebrations, etc. and pour are tall, carved and coloured poles like totem poles which mark land boundaries or have some cultural or ancestral significance to the community. The people in this area are the descendants of some of the original Maori settlers who landed here from East Polynesia in the 13th Century. At one village where we stopped for an ice-cream, the signs in the Four Square Supermarket were entirely in the Maori language, something we hadn't seen before.
More photos en-route to Gisborne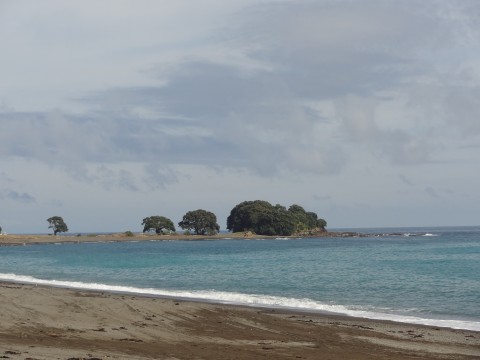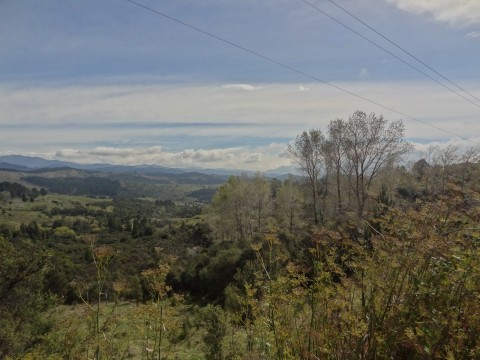 Much of the road after Ruatoria down to Gisborne is inland until the last 15 or 20KMs when the road opens up to the ocean again with some magnificent huge beaches with big rolling waves but unfortunately the rain was such it wasn't worth stopping for a photo.
We arrived at Bella Vista Motel, Gisborne late afternoon. Bella Vista is some kind of a franchise arrangement and there are many BVs around New Zealand. We stayed in a few and the standard is consistently good.
The motel was a couple of KMs out of town but we needed to stretch our legs after being in the car all day so we walked in to look for somewhere to eat. We struggled.
Gisborne is quite a big town in New Zealand terms. The population is over 35,000 but it seemed almost deserted by 5.30pm. It isn't peculiar to Gisborne but we have found that in most towns shops close at lunch time and close for the day at 5/5.30pm if not earlier. A few takeaways and cafes were open but nothing appealed. Eventually we came across a nice wine bar but although we were able to get a drink, the only available tables for dinner were outside and on a coolish evening that wasn't for us. It was dark by now and we were getting desparate to find somewhere when we spotted a big Irish pub that offered food. We had a beer but the menu didn't excite and the food didn't look great. We settled for cheese and wine in the motel!
We awoke to rain the following morning but it cleared for a while and we risked a riverside walk of an hour or so into town via the town's Botanical Gardens which were very nice even on a wet day with a great array of plants and an aviary. Taking the river walk into town brought us to the harbour area of town. The harbour is very much a working harbour albeit with a lot of boats offering fishing trips but it's not an unattractive place and has some decent looking restaurants and bars including the ubiquitous Sportfishing Club – every coastal town seems to have one of these.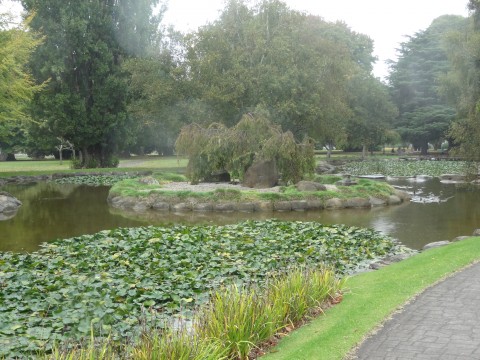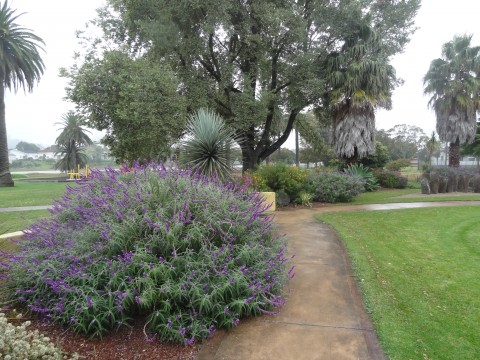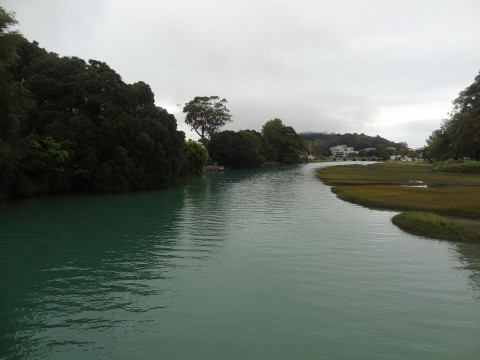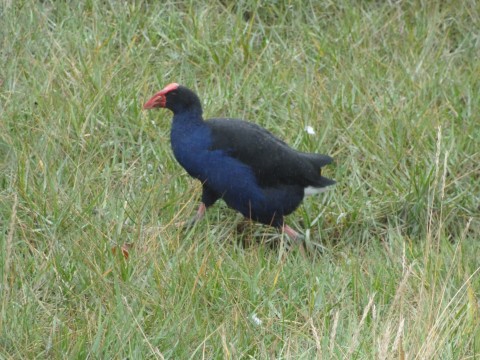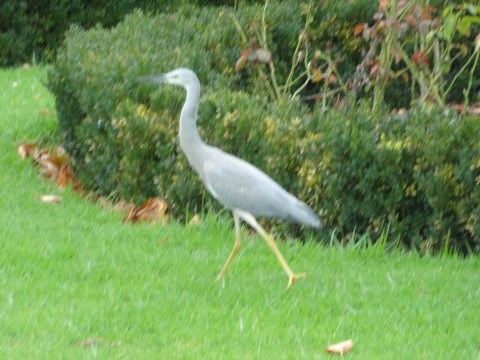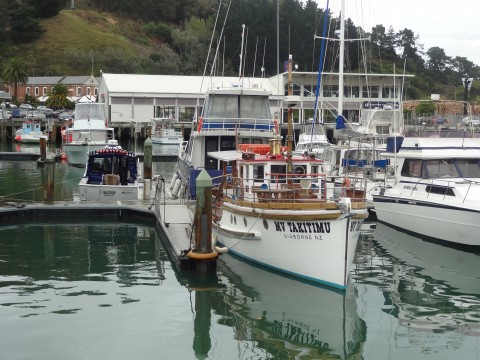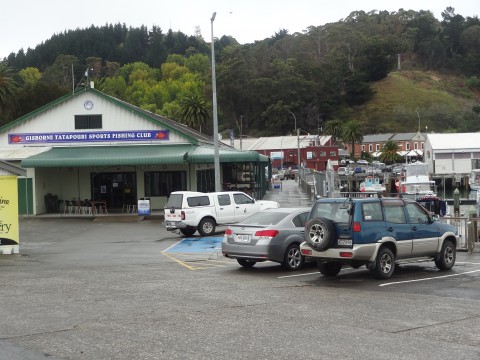 The weather turned showery as we reached the harbour and we completed a tour of the town in double quick time. Its' fair to say we didn't see this place at its best in the dismal weather but we found little of attraction and nothing that would draw us back to the place even though the Botanic Gardens, riverside and harbour areas are pleasant enough and of course there are over 40 wineries in the area!
However, the town does have an interesting history. Maori first landed here in the 1300s and 400 + years later, in October 1769, it was here that Captain James Cook first set foot on New Zealand from his ship Endeavour. There are memorials to Captain Cook and also to Young Nick, a 12 year old crew member who was the first to spot land from the mast head.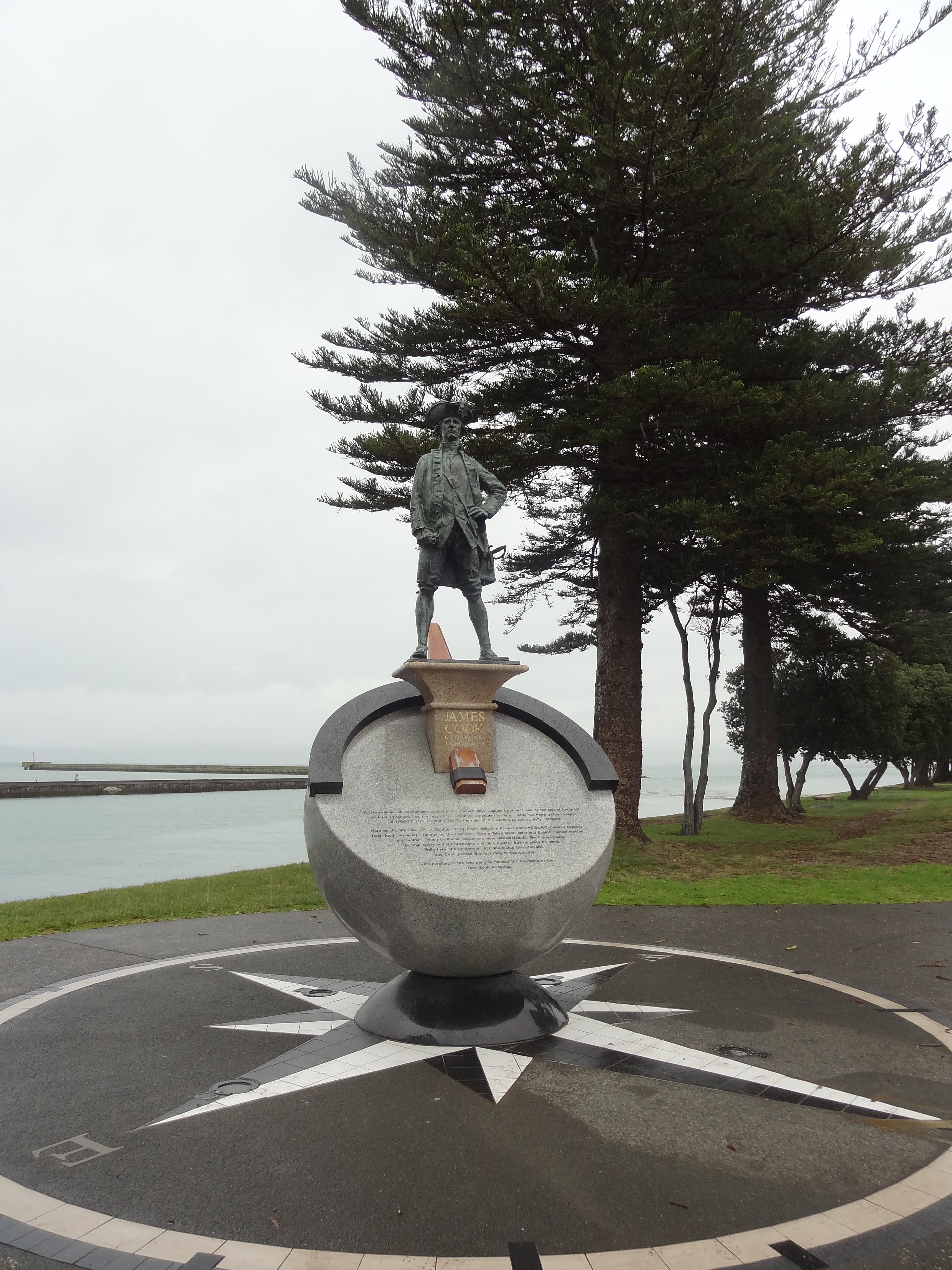 After our quick tour of the town we retired to the comfort of an excellent Indian restaurant for a leisurely late lunch and then returned to our motel late afternoon, nicely mellow, for a catch up on paperwork. The following morning we would move on to Napier.