A short flight from Christchurch saw us arrive in Auckland, North Island, New Zealand mid-afternoon on 19th March. This would be a fleeting visit as our plan was to spend a few days here when we left for Australia at the end of April.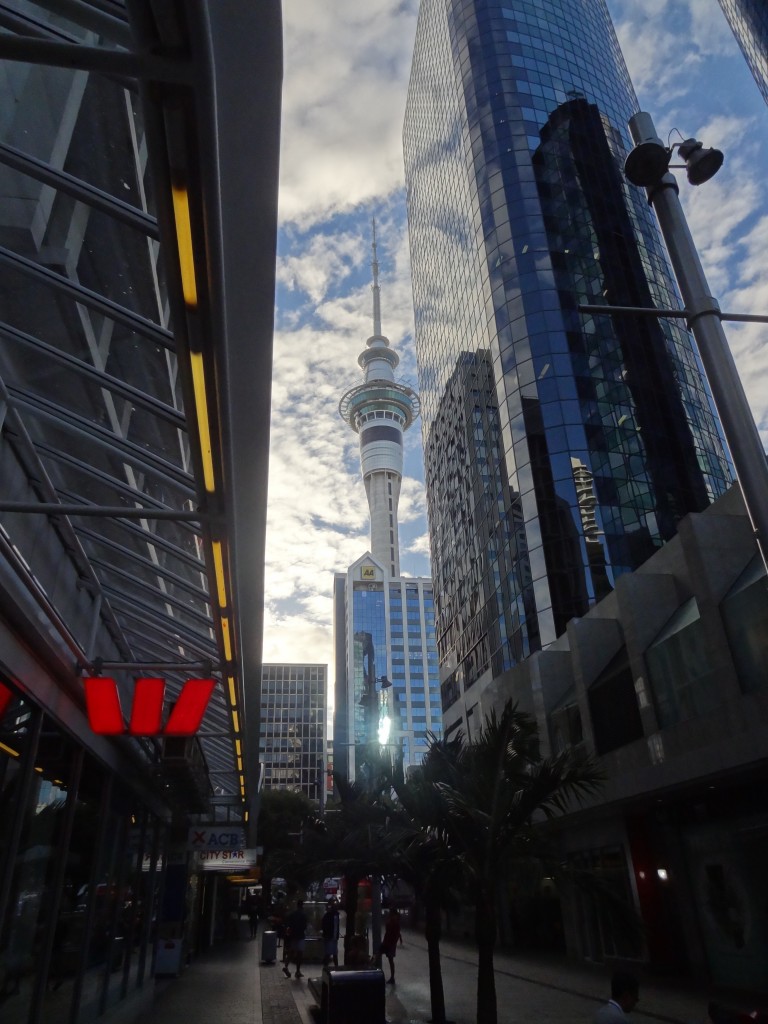 We caught the very efficient Airbus Express from Auckland airport to the city and checked in at the decidedly average but cheap and conveniently-located Great Western President Hotel on Victoria Street West. We had a few hours to spend wandering around the city and were rather impressed with the place. The cruise ship Queen Victoria was in town and walking downhill down the main shopping Street, Queen Street, we were a bit shocked to see this huge vessel seemingly parked up at the end of the street. This is the heart of the city and of the harbour area and the combination makes for a fantastic vibrant area which was of course extensively re-developed for the Americas Cup in the 1990s. The re-development became a legacy and the area is truly stunning. Restaurants, bars and shops overlook the waterfront which is busy with ferries and other watercraft constantly on the move. It all makes for a great city centre and a lovely place to be even if just sitting and watching the world go by.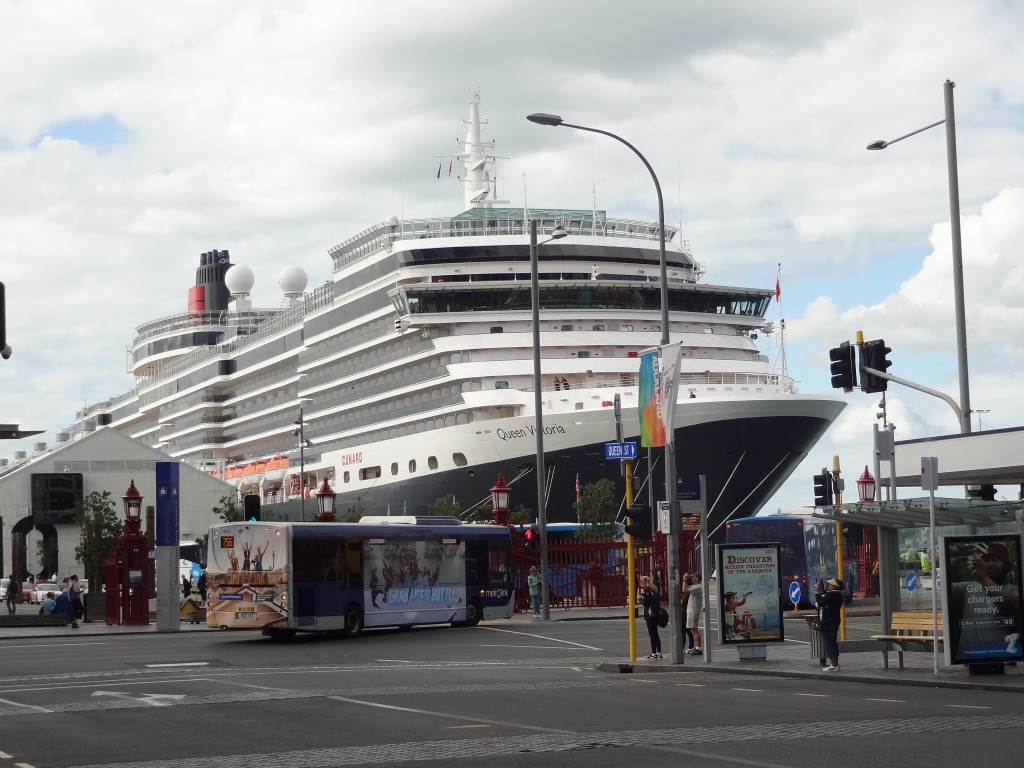 Although Auckland isn't the capital city, it is New Zealand's largest city with a population of around 1.2 million people out of a total population of 3.2 million on the North Island.
South Island, by the way, has a population of only 1 million and so NZ has a total population of 4.2 million with 25 per cent concentrated in the Auckland area.
It seemed like most of them were in the city this day but there was a friendly, laid back feeling to the place and at 5pm as in most cities, the bars were already full with office workers enjoying an after work beer. We came across the very excellent Corner Bar, part of Debretts Hotel on the corner of Shotland and High Street which sells a variety of excellent draught and bottled craft beers and wines and parked ourselves up for a couple of hours enjoying the buzz. Eventually we dragged ourselves away and wandered off to find somewhere to eat and before too long we came by and agreed upon Elliott's Stables fairly quickly.
Elliott's Stables is an eatery in an old warehouse conversion in the heart of the CBD, on Elliott Street funnily enough. The place describes itself as an epicurean village and is essentially an upmarket food hall with a dozen or so restaurants plying their trade in a single large room. The restaurants, include Spanish, Japanese, Indian, Mexican and Spanish and all looked pretty good. In the end we enjoyed a Cajun meal before retiring to our hotel a block or two away.
The following morning, Friday 20th March, we checked out of the President leaving our bags for collection later. We were to be picked up by our car hire firm late morning and had a couple of hours to kill which we did with an incredibly awful breakfast in a McDonald's type of place on Queen Street followed by some more walking around making the most of the good weather by taking as many photographs as we could.
At the allotted hour our friendly Car Hire Executive collected us with bags at the President and drove us down to the Apex Car Rentals depot on Beach Road. We quickly had the paperwork done, bill paid and we were off – this time with a blue Ford Focus of some vintage and slightly battered.
Our first destination on North Island was to be Paihia in the Bay of Islands, around 230 KM and three hours drive in the far north of the Island. The drive was straightforward although the initial KMs were along multi-lane motorways the likes of which we hadn't seen before in New Zealand. There was a lot of traffic as this was Friday afternoon with weekenders heading north up the coast for a long weekend. We soon came to a point where I wasn't convinced we were heading in the right direction but happily Ann kept her cool as I dodged from lane to lane in the heavy traffic getting hot and bothered not helped much by the fact that our vintage jalopy seemed to constantly want to veer off to the left of its own accord. Thankfully it soon became clear we were on the right road and as we got further and further north the traffic pressure reduced and I became less and less stressed.
Eventually we arrived at Paihia around 4pm and soon found our accommodation, Paihia Club.
Paihia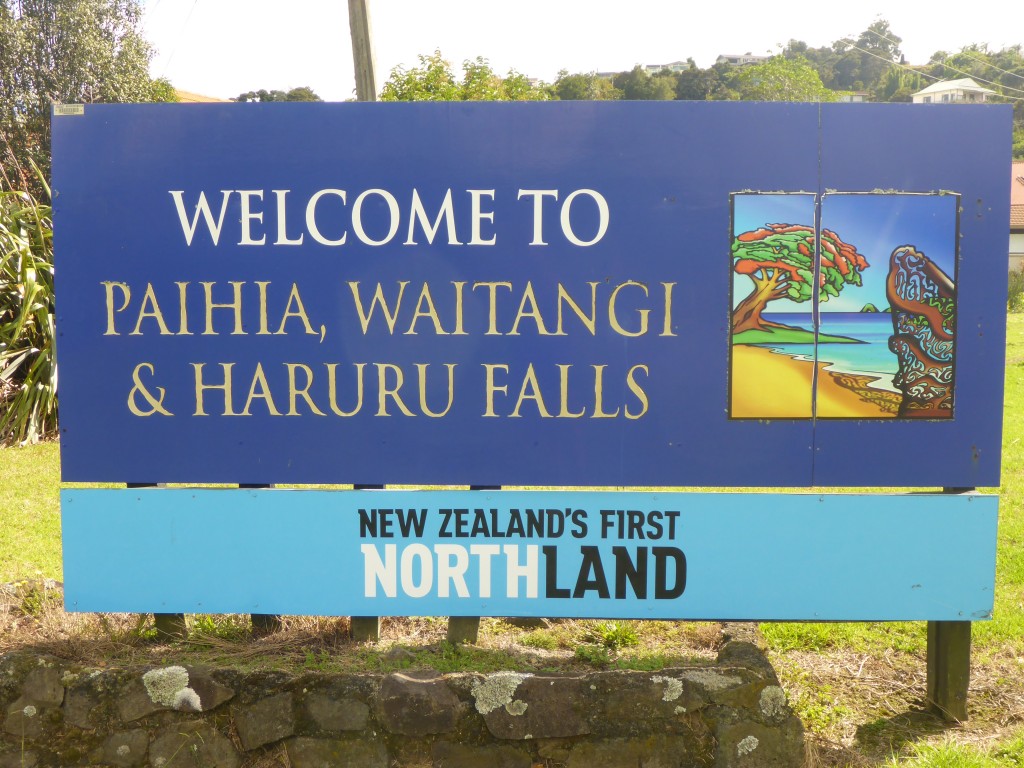 Paihia is the main tourist town in the Bay of Islands, a remarkably beautiful area in the far north. It's a popular though small seaside resort with a resident population of less than 2,000 although of course that increases considerably with holiday makers. The town is close to a number of historic settlements notably Waitangi and Russell.
We were staying in a timeshare accommodation, Club Paihia, a small resort surrounded by native bush and perched on a hill overlooking but only a few hundred yards from the centre of town. It was a great location and we had a lovely unit very nicely and comprehensively kitted out, with our only gripe being an almost total lack of Wifi! Wifi is provided free of charge but only for a very very limited number of hours and available only in the club house when the club house is open. In this day and age its unforgivable that any type of accommodation provides such poor internet access. It's fair to say that our digs thus far throughout New Zealand have been very acceptable but Wifi provision and signal strength has often been a real issue for us. This wasn't going to improve quickly as our travels continued.
Paihia town itself is a very pleasant place with plenty of bars and restaurants, some very nice independent shops and a couple of small supermarkets. The waterfront is lined with eateries with a small pier like construction carrying a couple of nice bars and restaurants and a boat jetty itself lined with a take-away or two and an outfit selling tours and ferry tickets. Within a few yards, Fullers Tours have a large booking office for cruise tours and in addition there's is a helicopter pad with an operator selling scenic flights.There are nice beaches either side of the pier/jetty area with opportunities for decent walks in either direction away from town.
Some Paihia street scenes: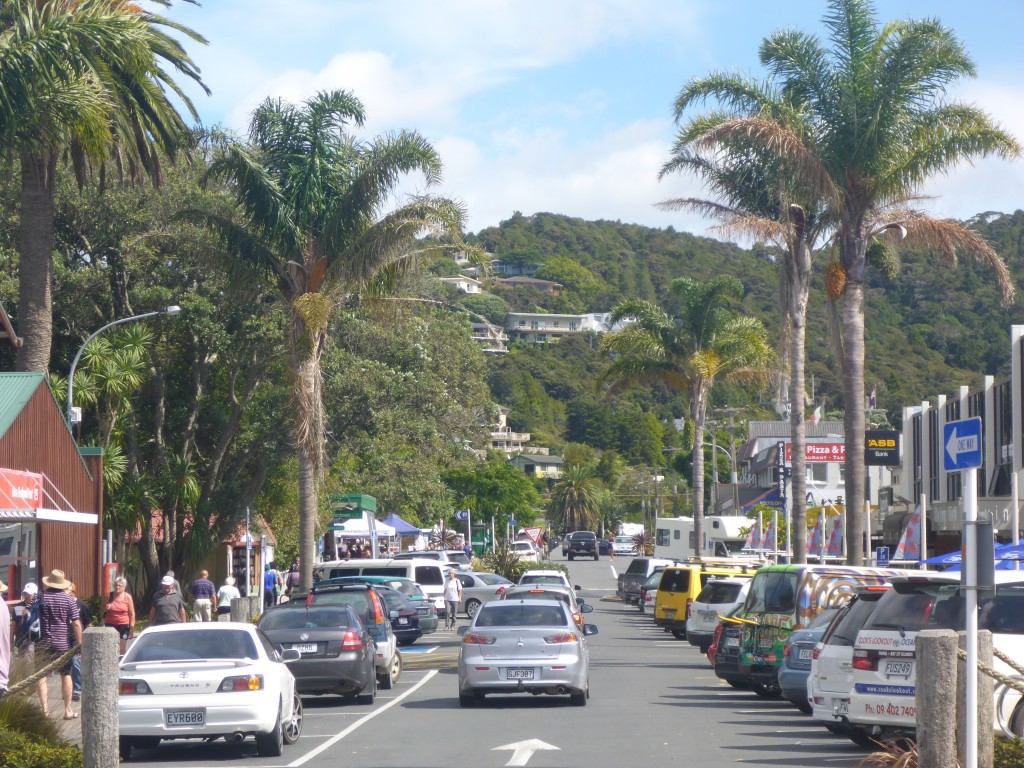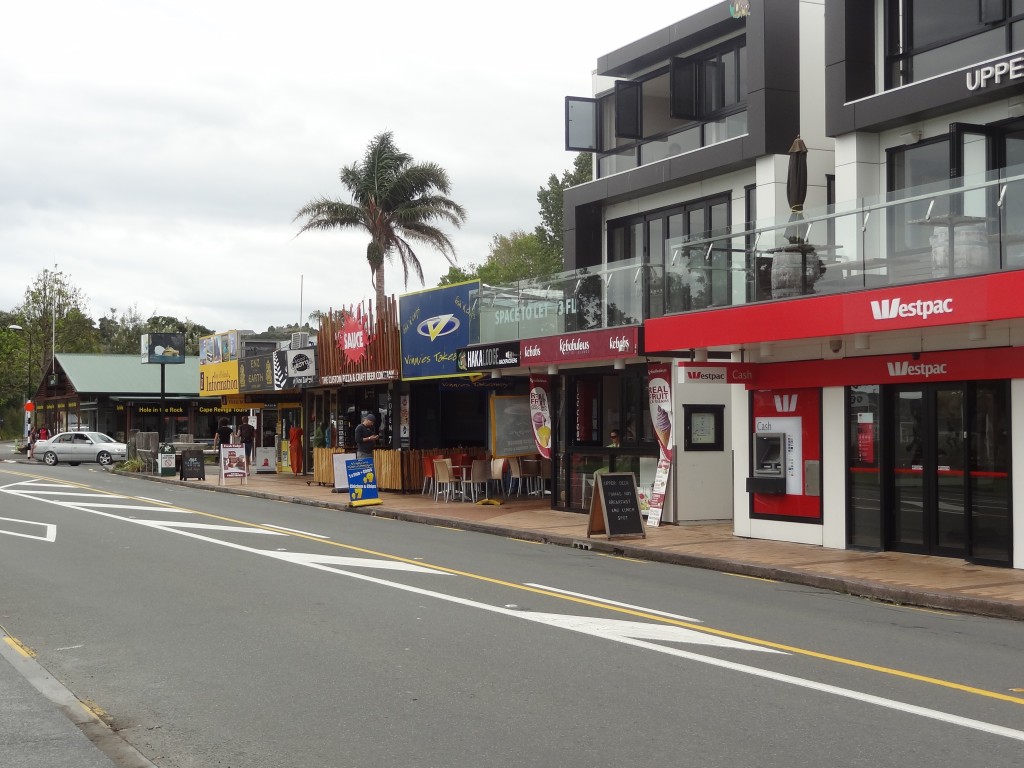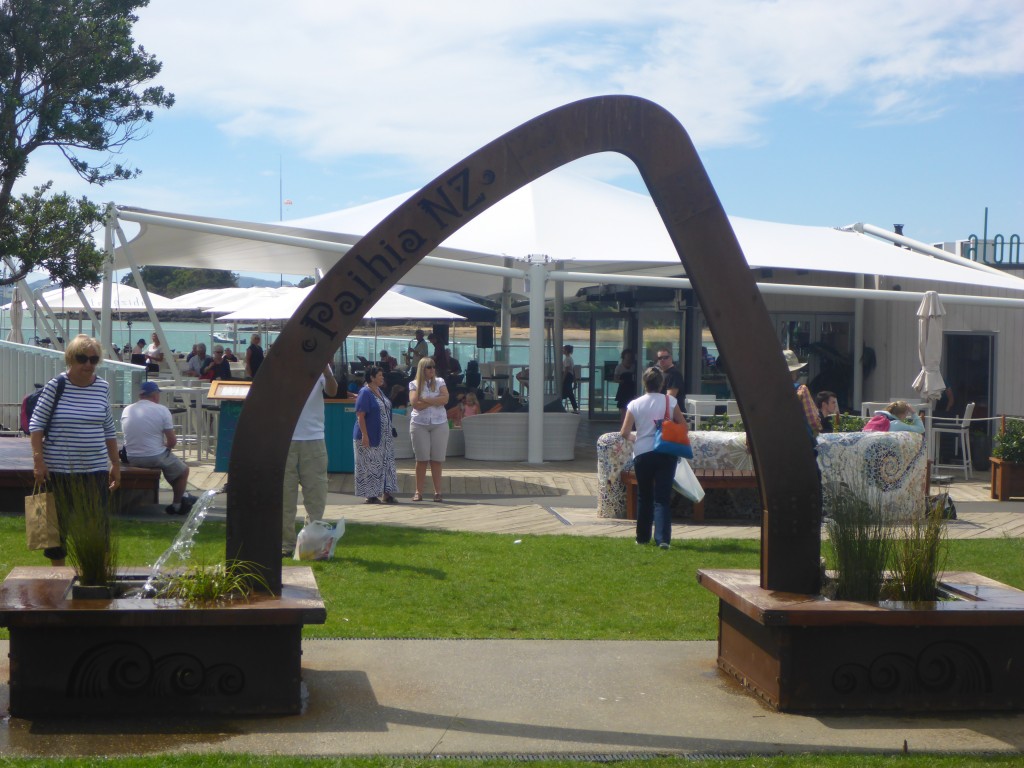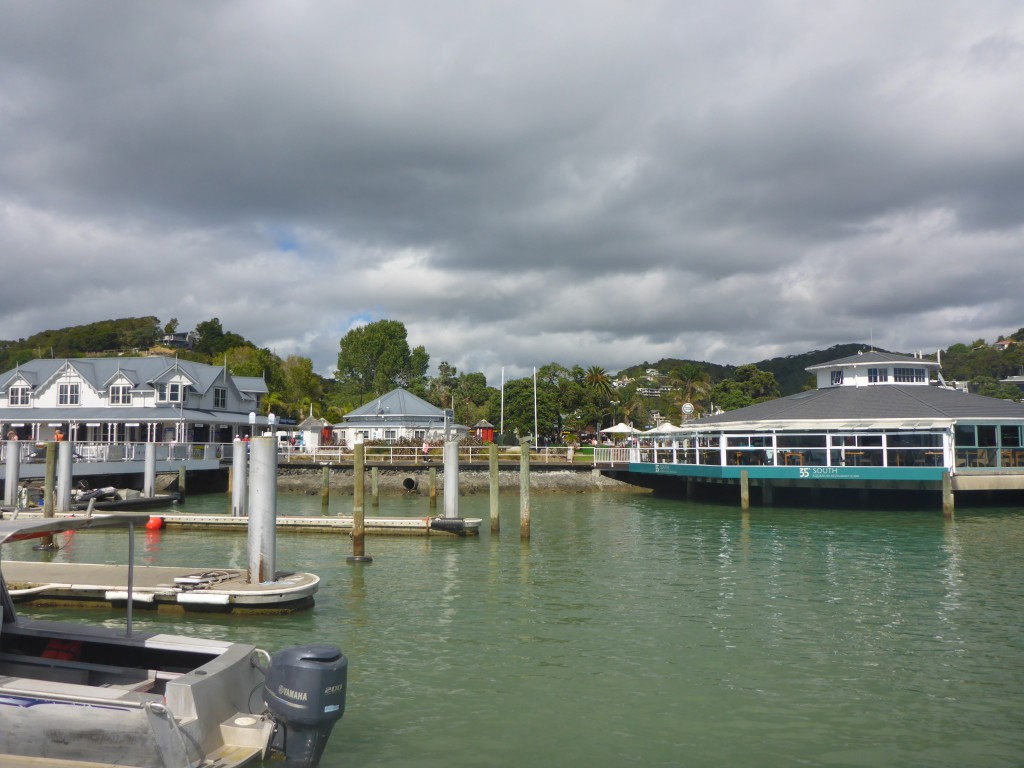 Our week at Paihia was mixed in terms of the weather with a few sunny days, some cloudy ones and some rain at times. Nevertheless we managed to do some walking and were stuck in the apartment only for a couple of half days.
Highlights of this week were a day cruise around the bay, visits to Russell and Waitingi and a day on the ocean fishing for snapper.
Sea fishing from a boat isn't my favourite fishing and already I had resisted Ann's urgings to go for it. On this occasion, since I'd not been able to get much other fishing done, Ann convinced me I should give it a go whilst she spent the afternoon at the hairdressers!
On my fishing day, a rainy morning cleared as I walked down to the jetty and I went out with half a dozen other Guys and had a thoroughly pleasant day extracting plate-sized red snapper from the sea, sufficient for us all to go home with more than enough fillets for a meal. Mine was cooked up into a generous two course meal by the King Way Chinese restaurant and very nice it was too!
The Hole in the Rock Cruise
The "Hole in the Rock" is sometimes known as Piercy Island. It was named by Captain Cook in honour of one of the Lords of the Admiralty at the time.
The island's Maori name is Motu Kokako and it is of great cultural significance to the Maori Ngāpuhi iwi (tribe) as it was said to be the first landing place of one of the ocean going canoes, Tūnui-a-rangi, which brought the original Polynesians in the 14th century. The hole has been created by erosion by the sea over centuries and numerous boat trips tour the bay and if conditions are favourable, will sail through the hole. Needless to say conditions were not favourable for our visit.
It is probably the most important island in the Bay of Islands in conservation terms, being in near pristine condition, with no evidence of introduced animals. A 1987 survey of the island found 99 different types of flora, and noted the presence of two types of petrels and lizards.
Our day cruise around the Bay of Islands with Fullers Tours didn't start off too well. It had poured with rain throughout the night before our trip and this was a wet and miserable morning and we wondered whether or not we should go. But we had already paid and didn't fancy our chances of getting our money back were we to cancel and so we donned our waterproof jackets and wandered down to the jetty. It was raining when we we arrived and still raining as we boarded. The Captain announced that the trip would go ahead. He did expect the rain to clear but couldn't guarantee it and offered to refund any monies if passengers wished to cancel. A few took up the offer but we didn't as we weren't sure we would get another opportunity to make the trip before we moved on.
The murky conditions persisted for most of the morning which was a shame (this wasn't a cheap tour!) but we managed to get a few reasonable photographs as below.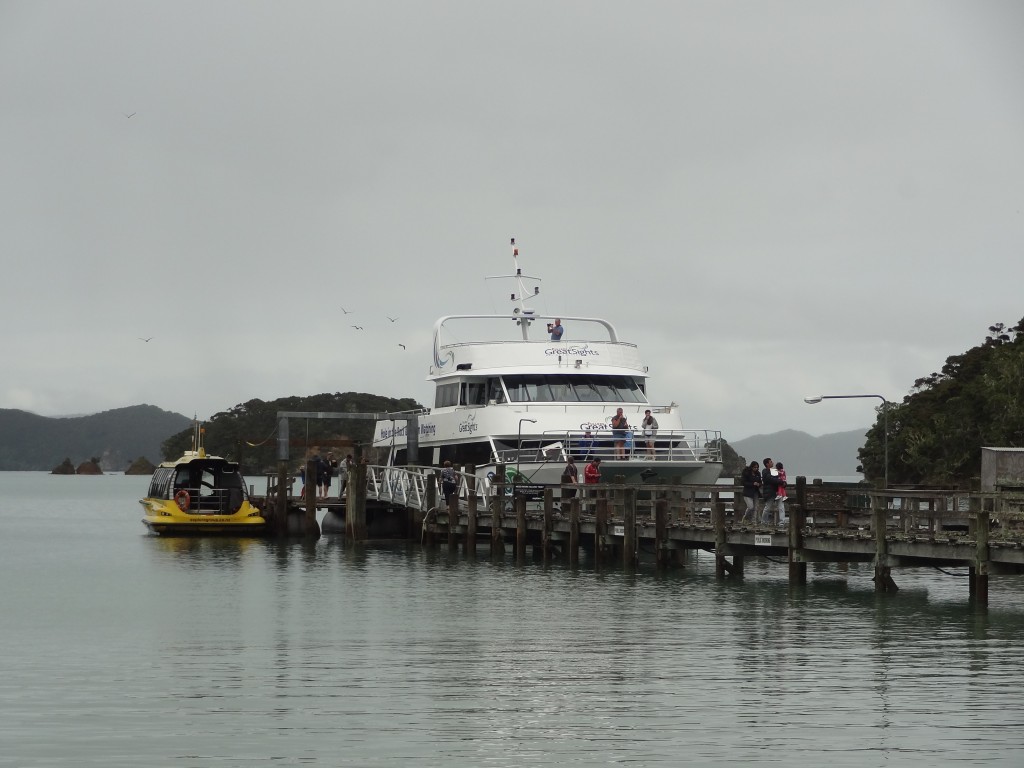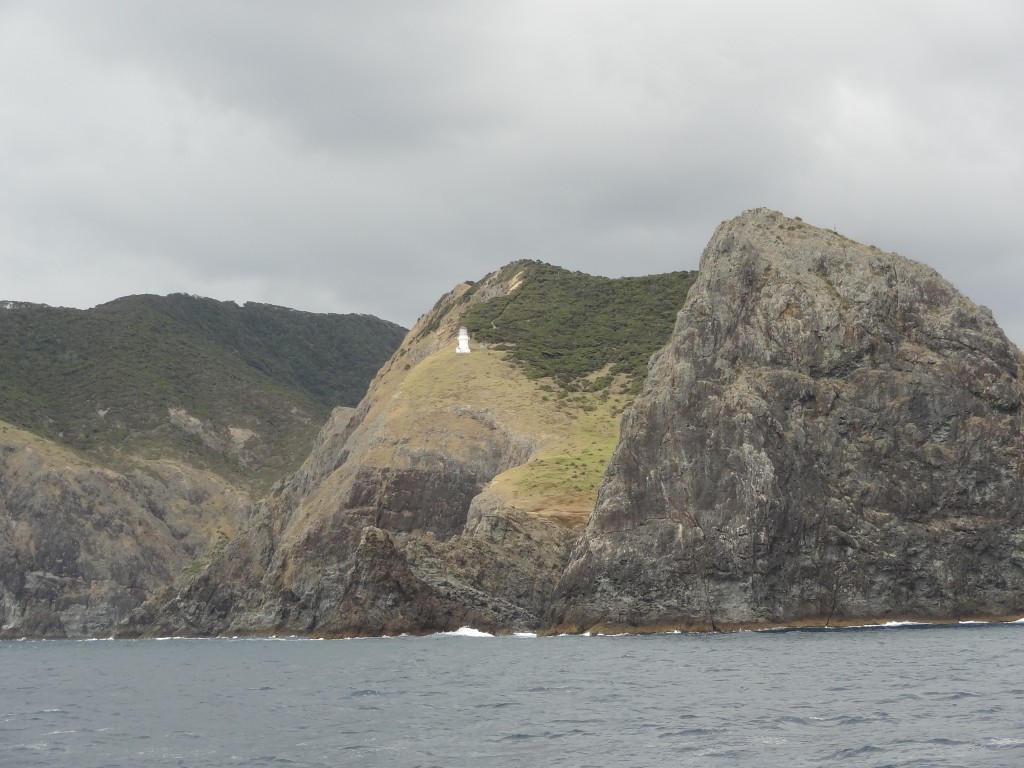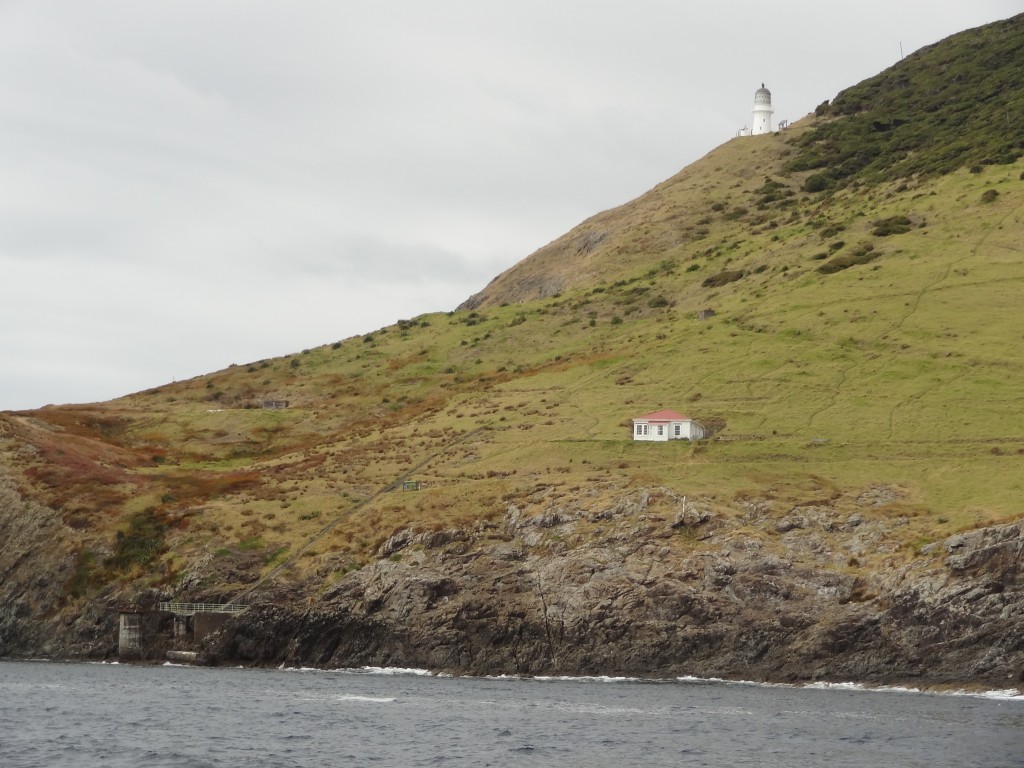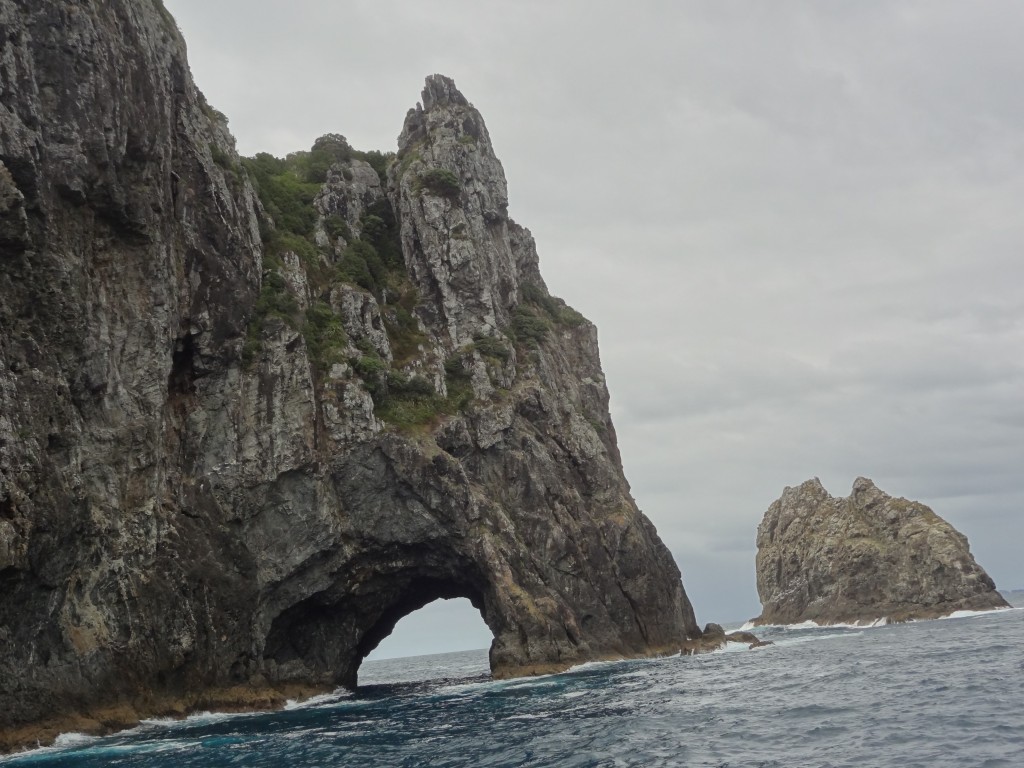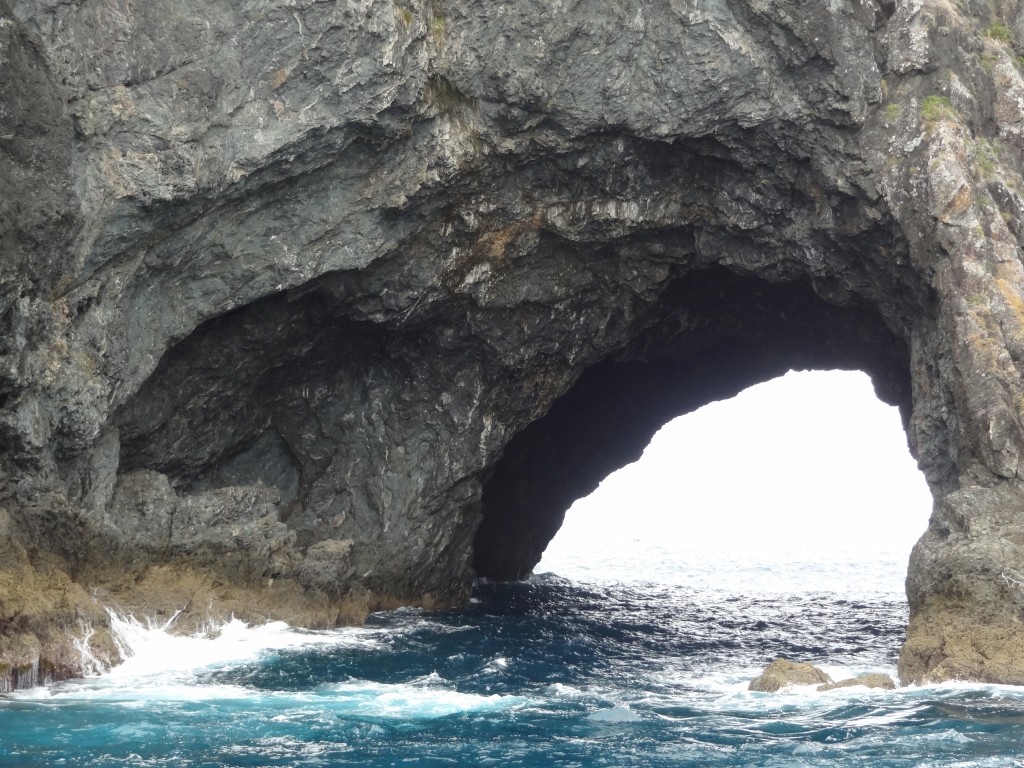 Around lunchtime, the boat called at Russell, a town across the bay from Paihia, to drop off passengers who had been picked up there earlier. We were given the opportunity to get off the boat to spend some time at Russell and were given a "free" ferry ticket to return back to Paihia later in the afternoon.
Russell
Our decision to get off the boat here was a good one. The weather had dried up and although still cloudy, it was warm and dry and eventually the sun broke through. We enjoyed a seafood lunch outside at a waterfront restaurant with a table only a few metres from the sea.
Russell is a small town (population less than 1,000) but with a big history. It was the first permanent settlement for Europeans in the 1800's and became the main supply centre for whaling and sealing. The indigenous Maoris, hungry for guns and alcohol, traded timber and other produce with the Europeans and the town grew significantly to became known as the Hell Hole of the Pacific, rife with prostitution and lawlessness. In January 1840 the Colony of New Zealand was founded and Russell was to become the capital but the Governor Lord Hobson decided thats its reputation was such that this was inappropriate and Auckland was chosen instead.
Today Russell is a pretty village comprising a few streets of timber cottages with attractive restaurants and shops mostly lining the sea front.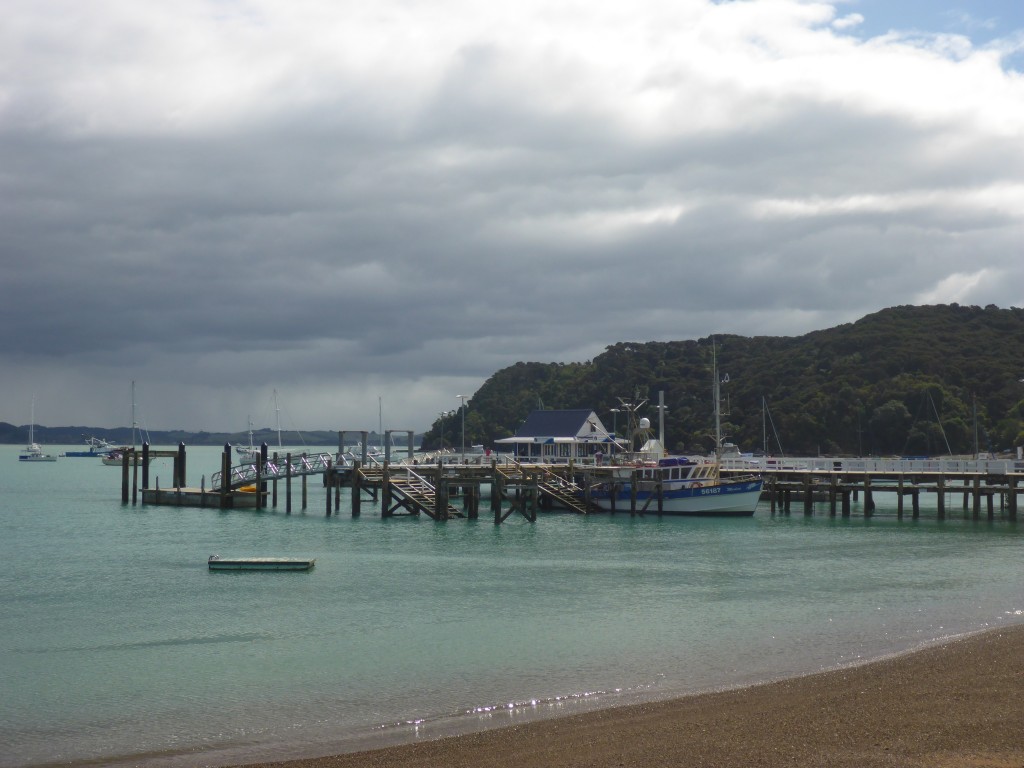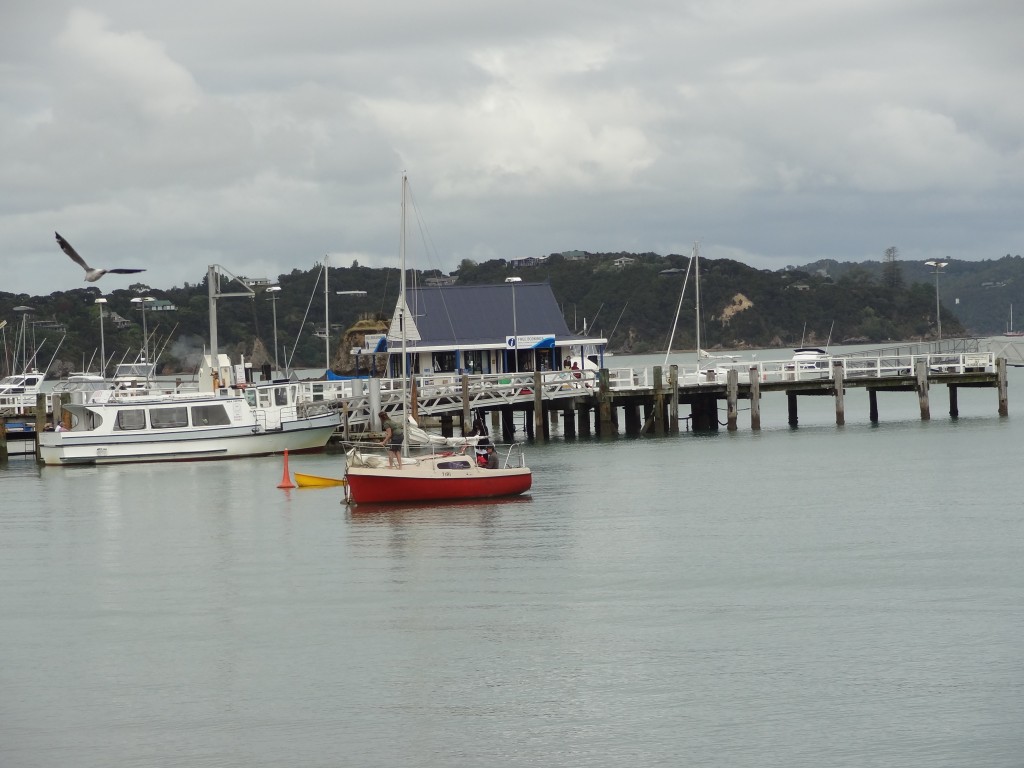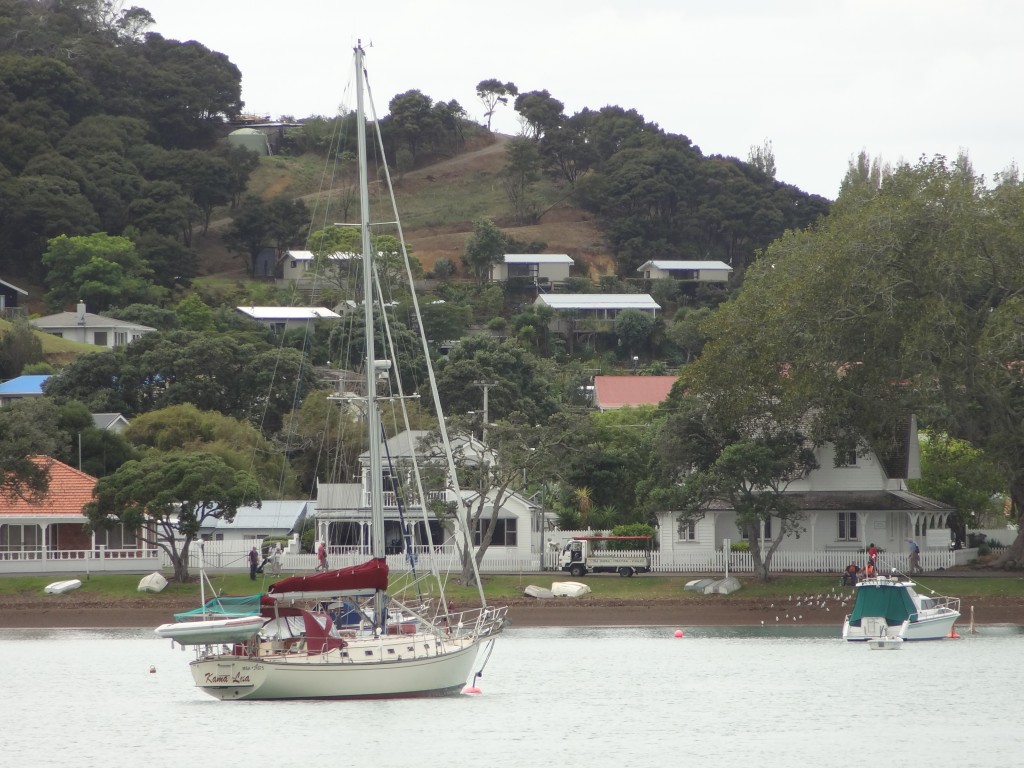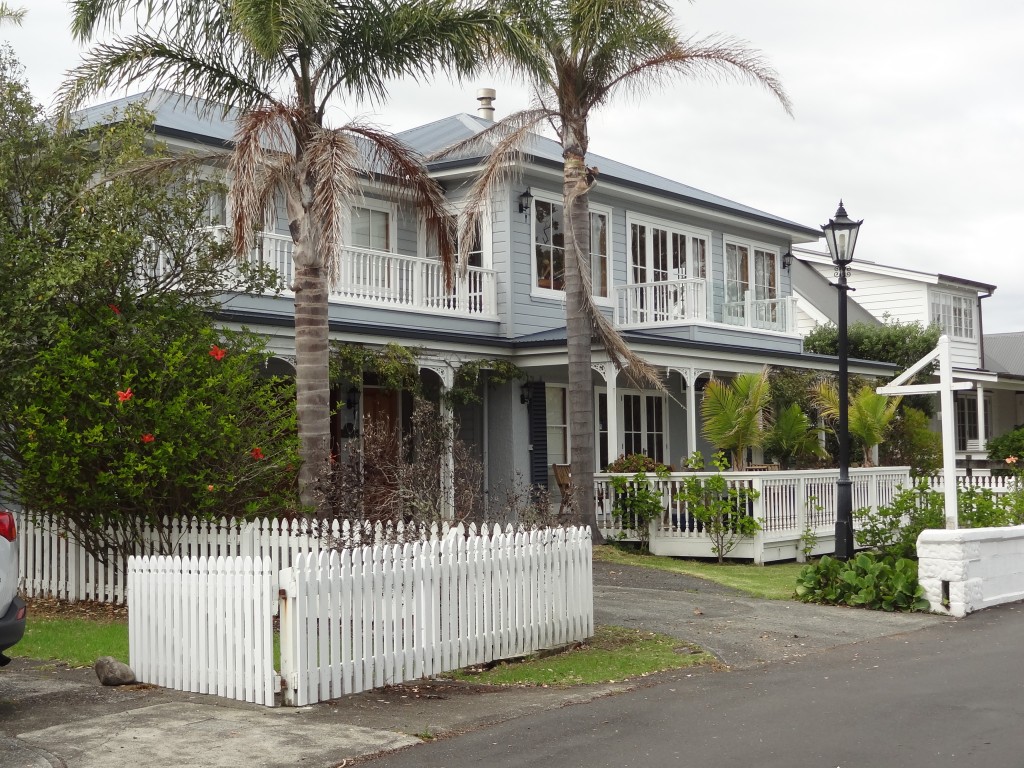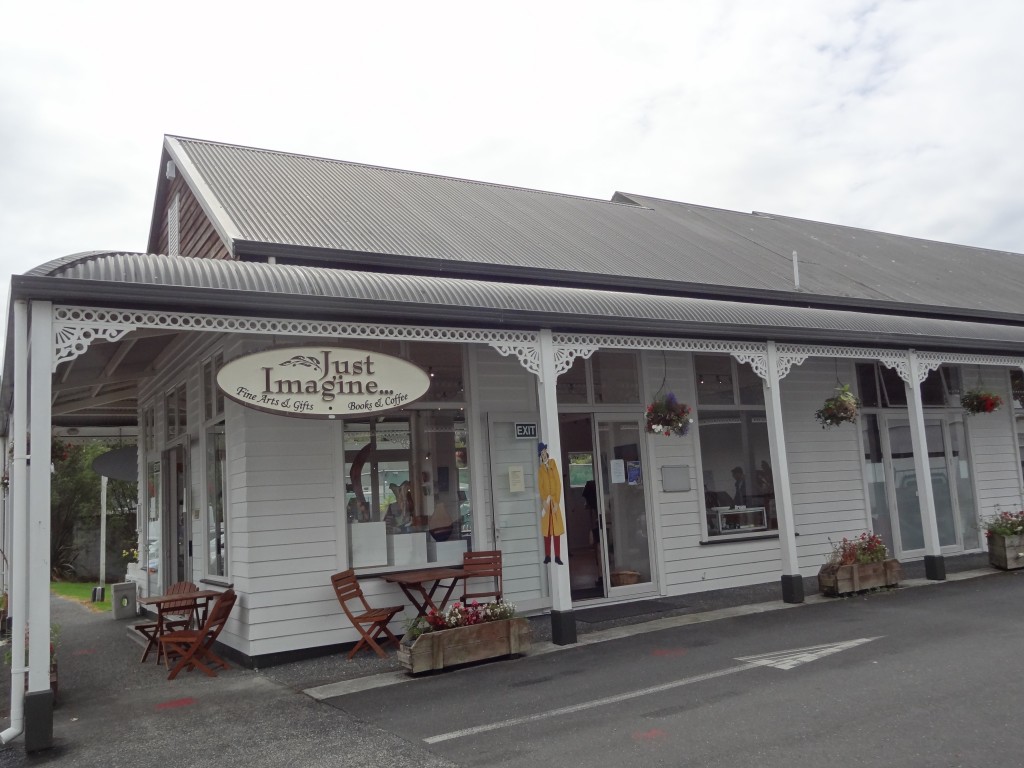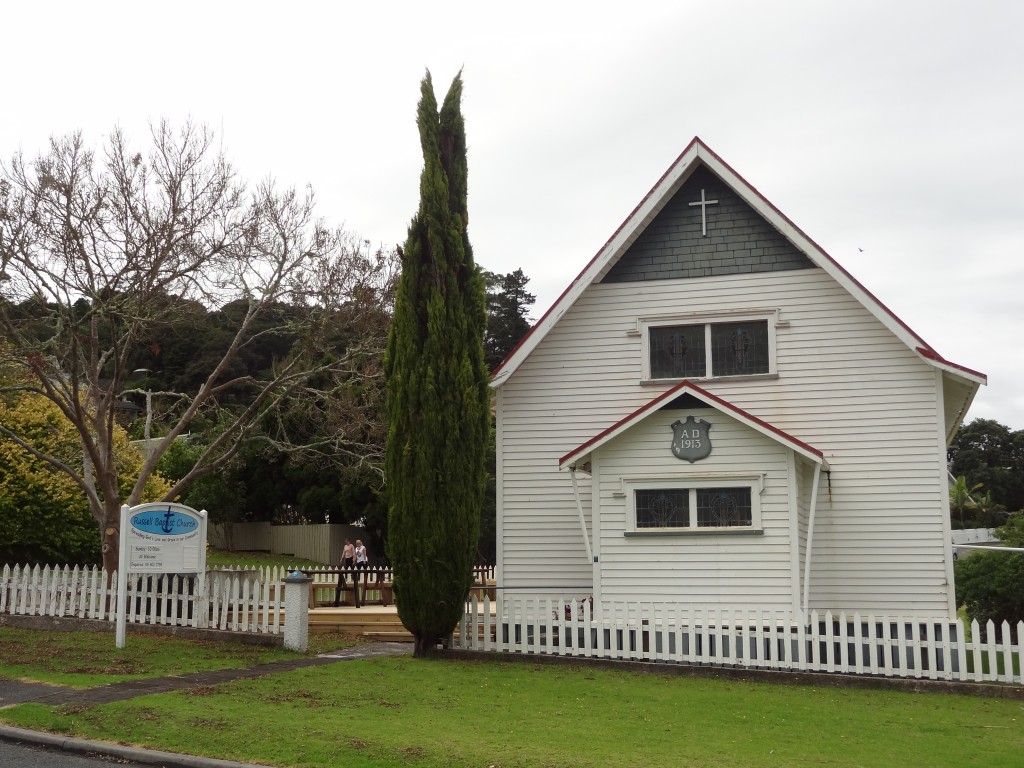 Waitangi Treaty Grounds
Waitangi is a settlement north of Paihia in the Bay of Islands. It was the scene of perhaps the most significant event in the modern history of New Zealand and the indigenous Maori, the signing of the Treaty of Waitingi in 1840.
As the presence of British citizens in New Zealand grew so did the trading relationship with Maori as more and more land transactions took place. This and the growing lawlessness of the place and an apparent interest by France, prompted the British Government to propose a treaty to the Maori whereby they would come under Crown sovereignty and thus enjoy its protection. There were around 540 Maori tribes in New Zealand at the time and around 500 of their Chiefs attended a gathering at Waitangi on 6th February 1840 and signed the treaty. The other Chiefs signed later.
The Treaty Grounds contain the Treaty House which was the residence of the Governor of the time, a carved Meeting Room and a ceremonial war canoe (waka) which is 35 metres long, weighs 6 tonnes and requires over 70 paddlers.
There is an excellent museum and some beautiful grounds to tour with a foreshore facing Russell across the Bay. We chose to buy a ticket which includes a performance by a resident group of Maori song and dance which includes the famous haka – it's an interactive performance with some audience participation and great fun.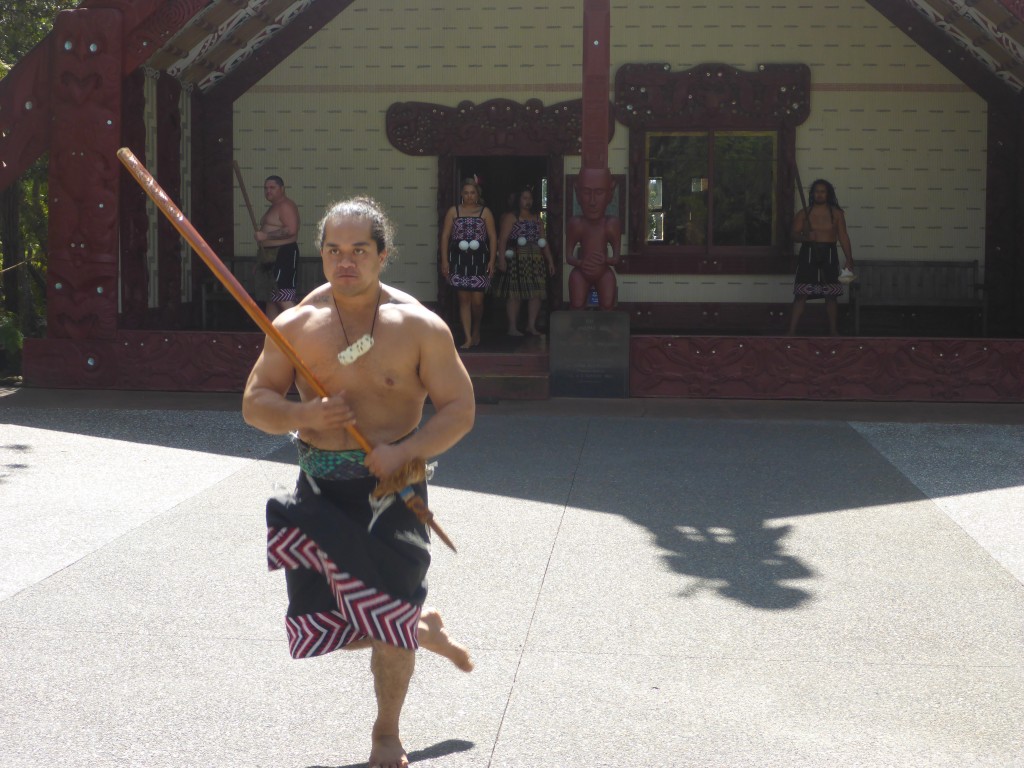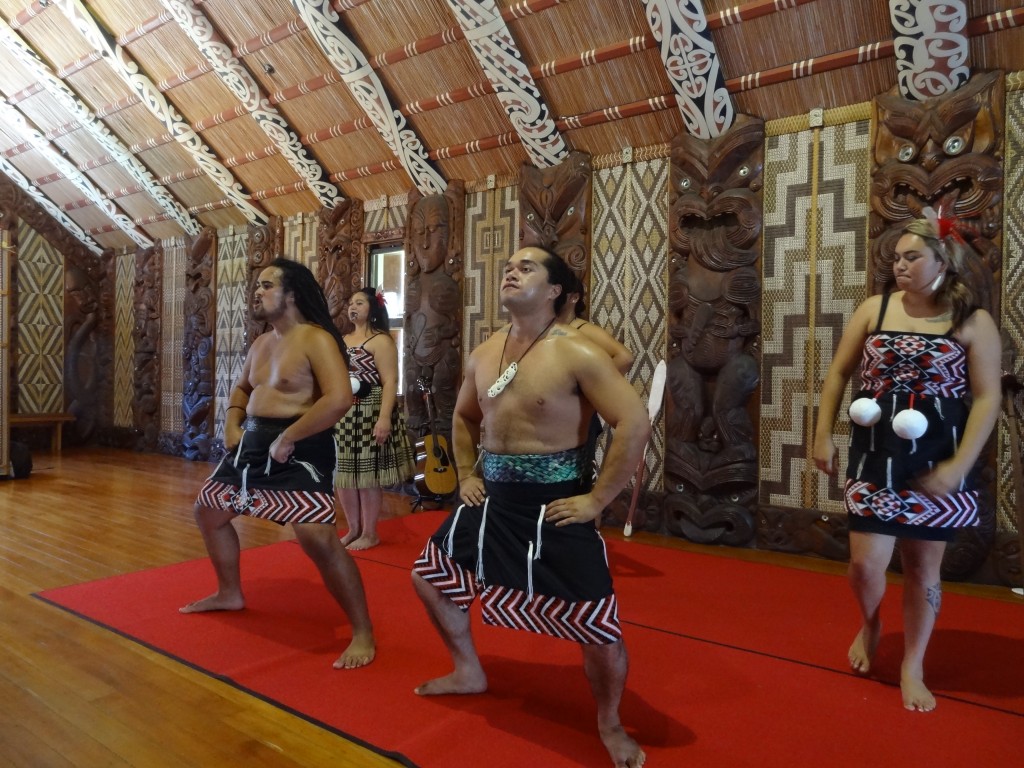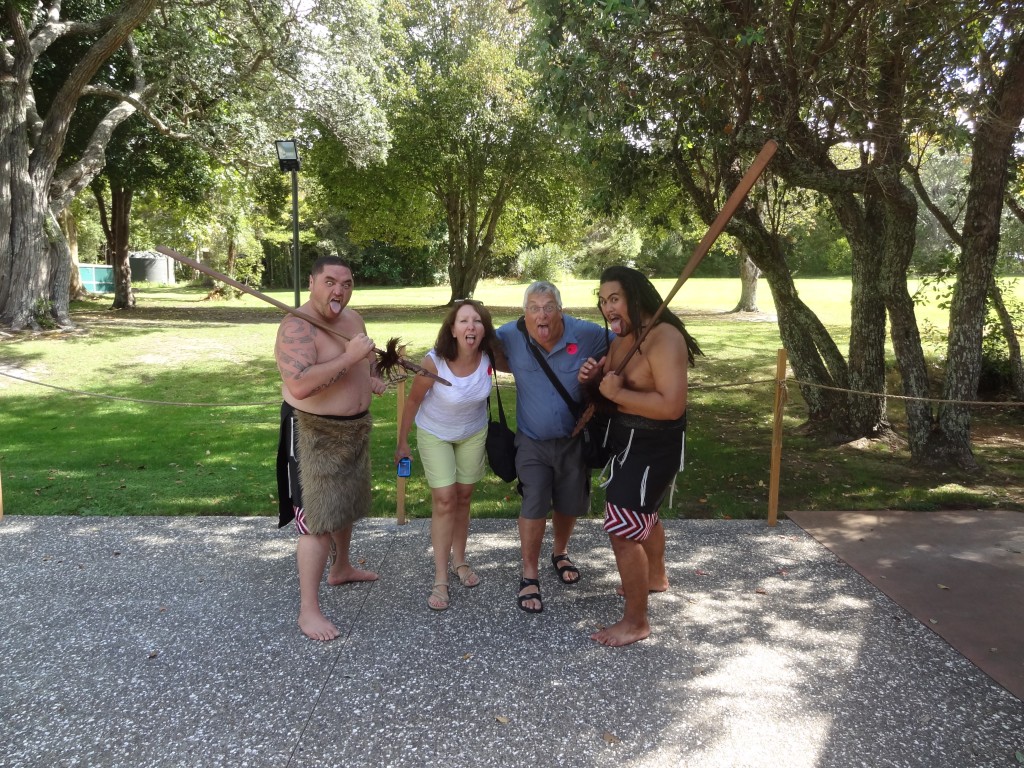 Waitingi was one of the real highlights of our trip to New Zealand. The history is fascinating and without exception the Maori we met here as everywhere else were warm and friendly with a great sense of humour.
P.S. For those observant ones amongst the readership, although the welcome sign to the Bay of Islands area shown above mentions Haruru Falls, at the time of our visit we were told that the waterfall was a shadow of its normal self due to the drought conditions prevailing in the recent months and so we didn't bother to visit.