We left Dunedin on 12th March. The direct route to Mt Cooke from Dunedin is a drive of only three and a half hours but it didn't look a particularly interesting drive and we had decided to take a very circuitous route over a couple of days via Hyde and Ranfurley and then South West to Alexandra, before turning North again, skating by Cromwell to Omarama and on through Twizzle and Tekapo to Aoraki Mt. Cook. None of these towns are of any size but we had read many a travel blog and Tripadvisor thread recommending the areas as places to visit due to their history.
The road from from Dunedin to Hyde passes initially through suburban Mosgiel but swiftly hits open countryside, and within an hour or so the small town of Middlemarch, population circa 300, a country railway town which is the end of the Taieri Gorge railway line from Dunedin.
We wouldn't have chance to travel the railway line on this visit but it is apparently well worth a trip for its spectacular scenery and for travellers without cars this could be part of a rail/bus trip from Dunedin west to Wanaka or Queenstown which I reckon would be a lovely way to make such a journey.
Otherwise Middlemarch, which sits at the foot of the Rock and Pillar Range of hills is the start point of the Otago Central Rail Trail, a 150 km walking, cycling and horse riding trail which runs from Middlemarch to Clyde following the old railway route of that name.
From Middlemarch the road passes through the Rock and Pillar Range with its strange rock formations until it reaches Hyde.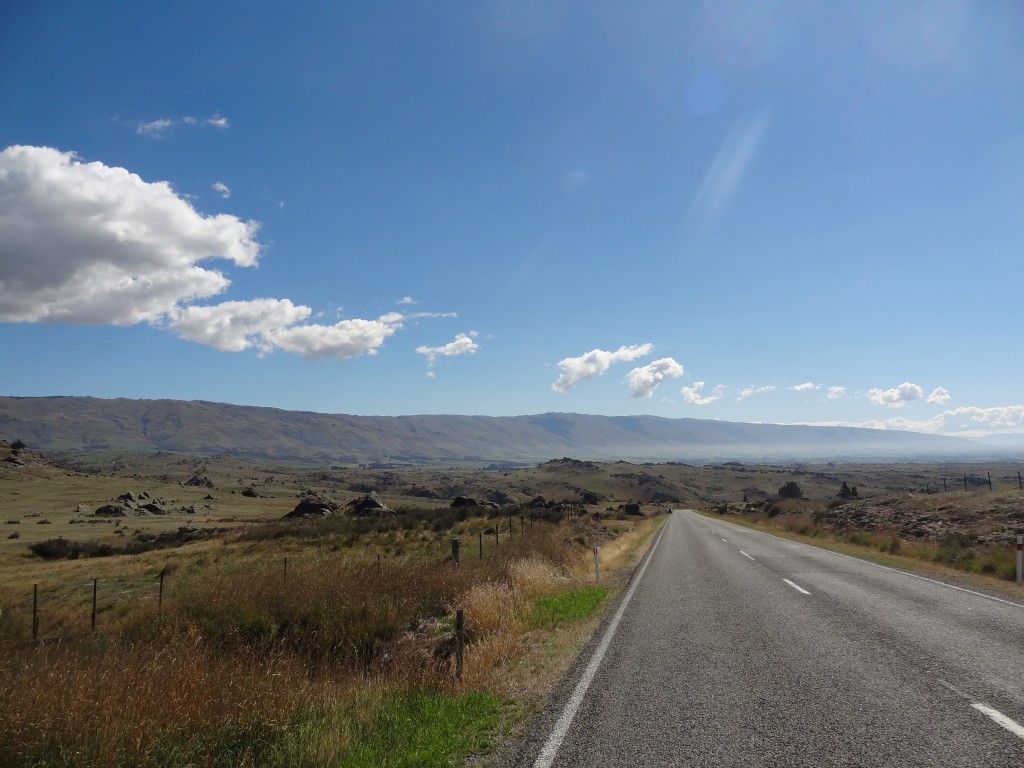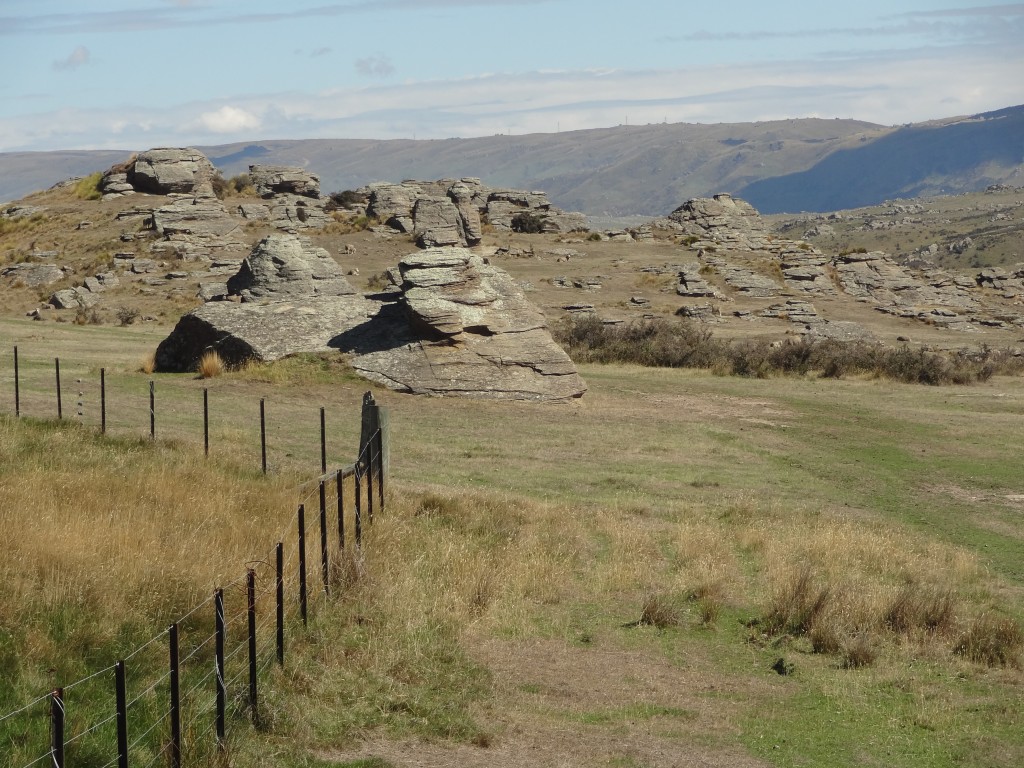 Hyde is a small settlement established in the 1860's gold rush period and is most famous as the scene of a railway disaster in 1943 in which 21 people were killed when a train came off the rails at high speed in a cutting near the town. This remains New Zealand's second worst rail disaster.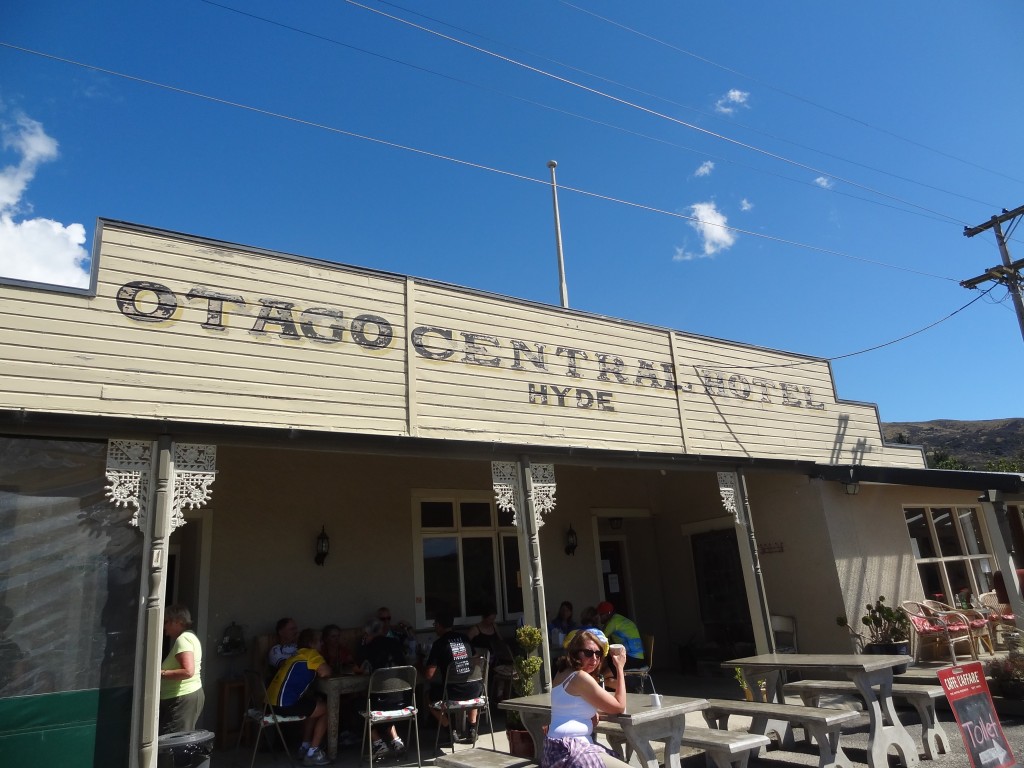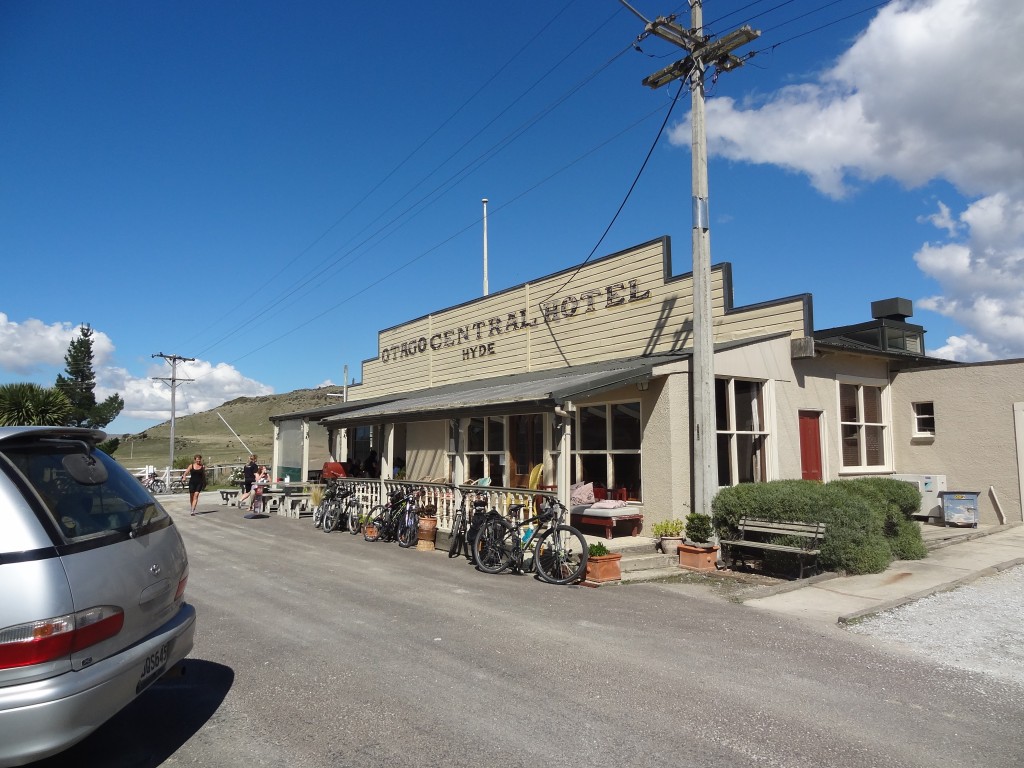 The place is now enjoying a re-birth as a stop on the Central Otago Cycling Trail where cyclists and others can stop for refreshments or even an overnight stay at the Otago Central Hotel and we stopped ourselves for coffee and cake…
After Hyde, we stopped at Ranfurly. Established as a town proper in 1898 following the gold rush period, the town was built here as it was at the end of the railway line to Dunedin which had been built to transport people and produce from this isolated area to the port city of Dunedin. Thus Ranfurly became the hub and service centre for the small farming communities of the region which is known as Maniototo.
The town experienced a building boom in the 1930s, some of which apparently resulted from suspicious fires. This was the period of Art Deco and the town is is well known for the many Art Deco buildings which remain from that time. The buildings have been retained and well preserved and are celebrated each year with a festival. There is a small Art Deco museum amongst other attractions and being once connected to the rail line with various accommodation options for travellers, the town is another stopping place for travellers including those on the Otago Central Rail Trail. We thought it a very attractive place to stop off
Whilst the town was established and grew on the back of the rail connection built in 1898,the line was closed in 1990 following de-regulation which opened the door to freight being moved by road transport.
Art Deco at Ranfurly, Central Otago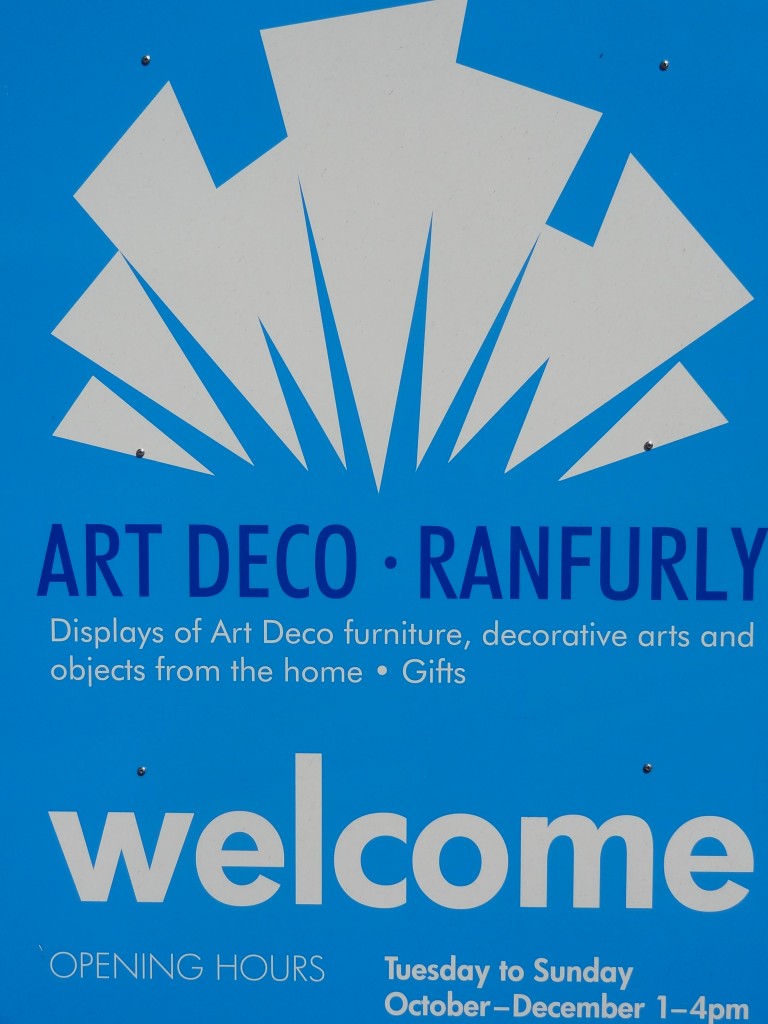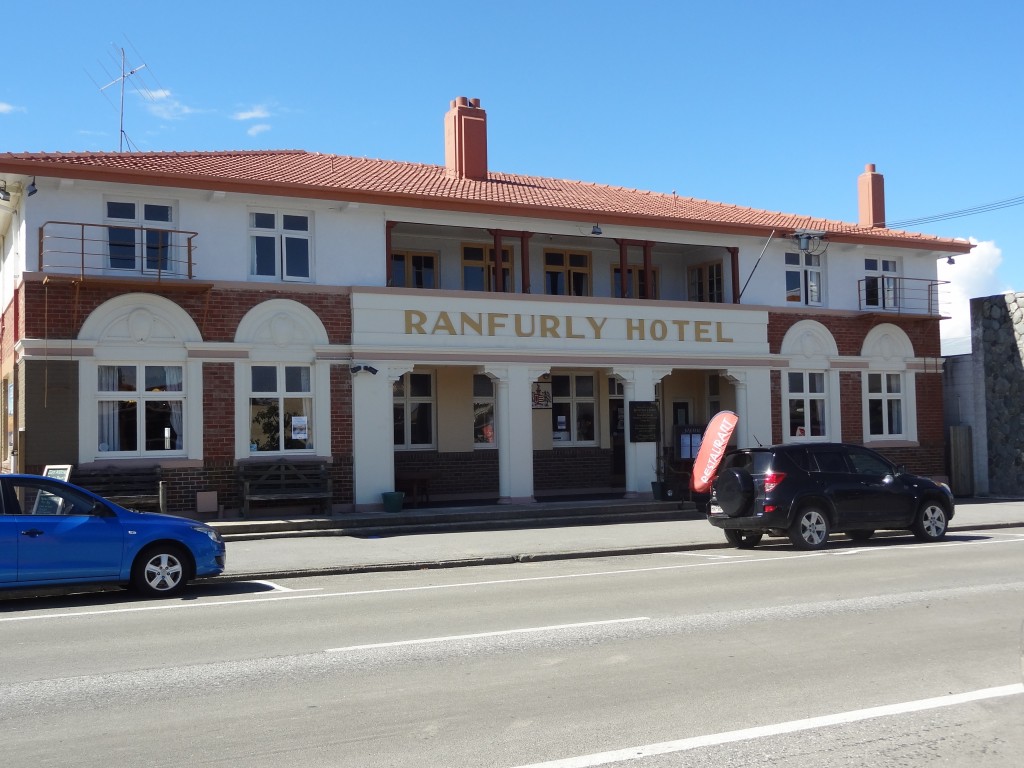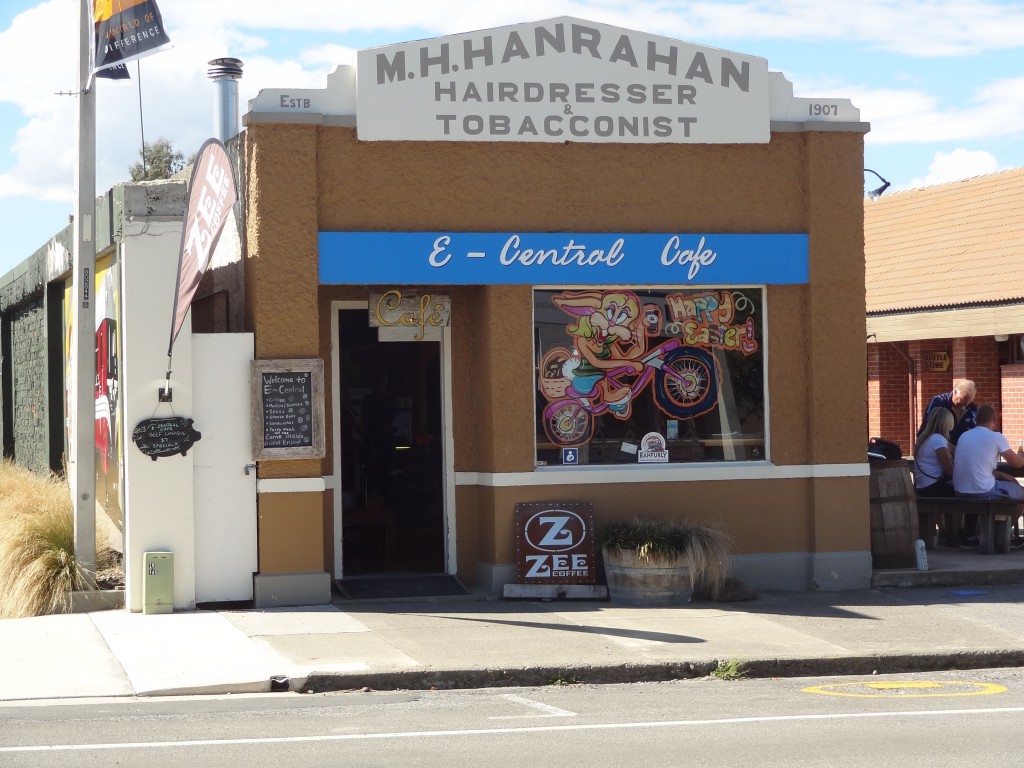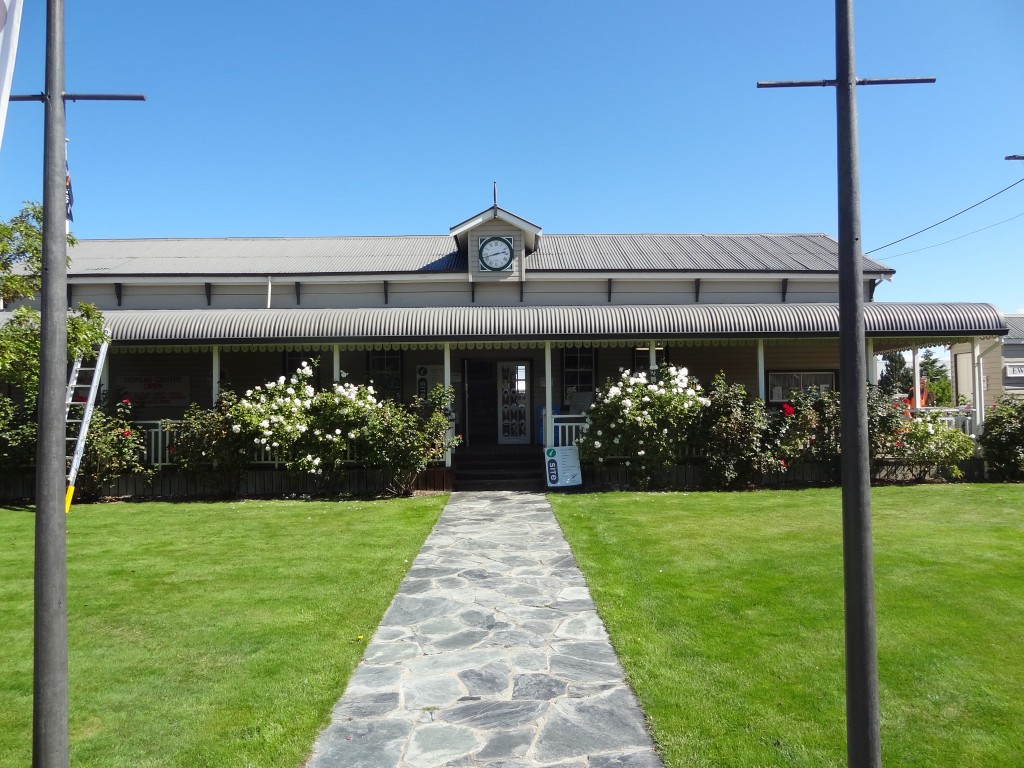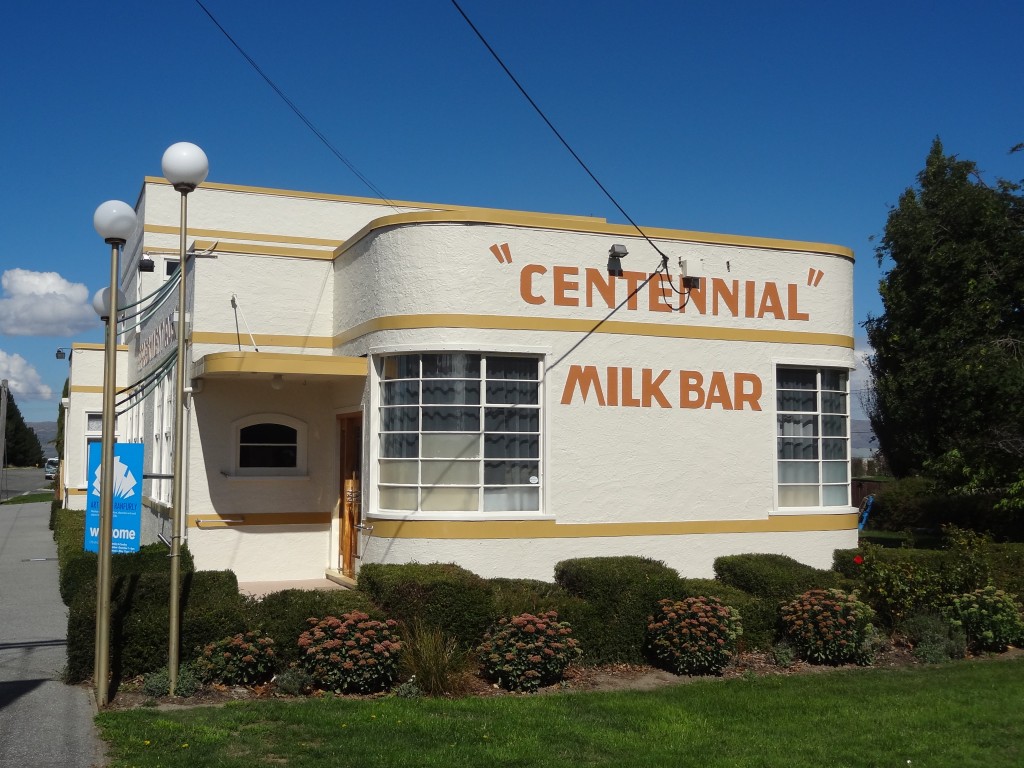 Alexandra
Next stop, this time with an overnight stay at the excellent but oddly named Nangari Studio Unit was in Alexandra, yet another small town founded during the Otago gold rush period of the 1860's.
Alexandra is known as the hottest, driest and coldest place in New Zealand and with four distinct seasons is a popular tourist town with tourism based on outdoor activities such as walking, climbing, cycling or water based activities with the town sat on the mighty Clutha River
In truth, the town was not as we imagined given its write up. The hills overlooking it appeared strangely barren to us and we thought unattractive. We thought them reminiscent of spent wasteland left behind by the mining activities but I guess they are yet another part of New Zealand's rich tapestry.
The town is otherwise quite non descript though not unattractive but whilst the tourist blurb describes it as having many eateries, we arrived late afternoon to find only a handful still open. It's true that our visit wasn't in the peak tourism period but nevertheless we were surprised to find only the iCentre (actually a very nice iCentre) and a couple of shops still open by 5pm. With most of the eateries closed or about to close, we struggled to find anywhere nice to eat that wasn't a take away but eventually, with the help of Google, found an excellent burger restaurant which was ironically about to close that evening – for good! We had excellent $10 dollar burgers (a special price on their last night) and a couple of beers before retiring to our "Unit" which formed part of the owners residence just outside the town centre.
Happily it was no hardship to return early to our excellent accommodation with good wifi here but I'm afraid we found this town to be a very dull place and hard to believe its something of a holiday resort!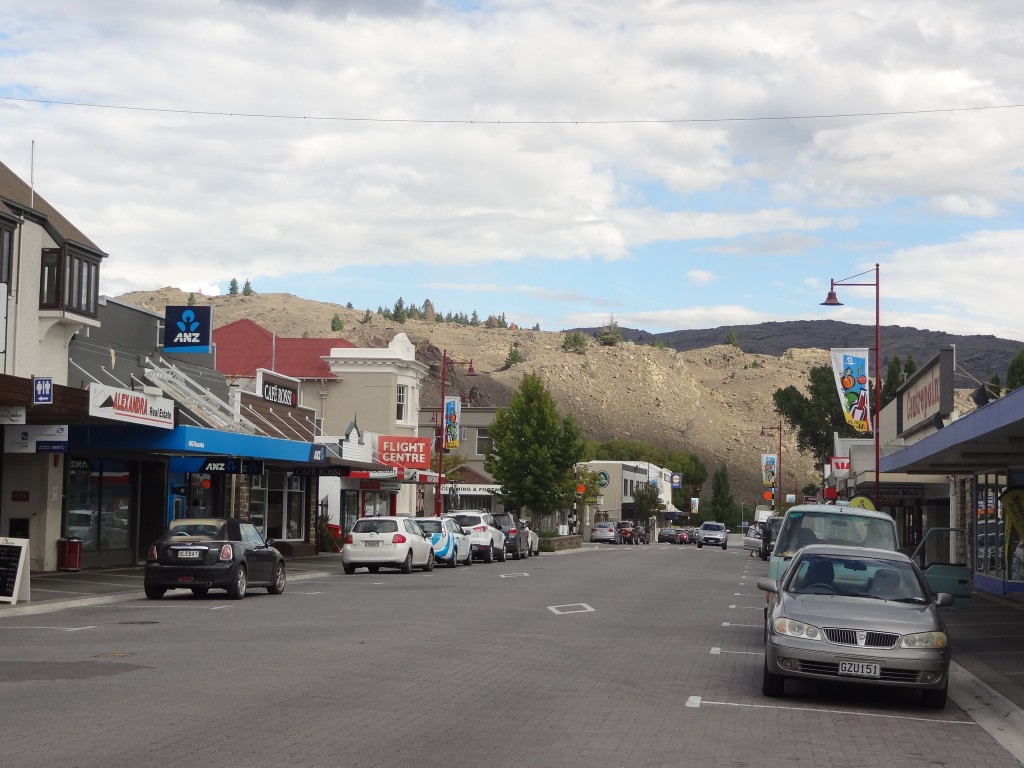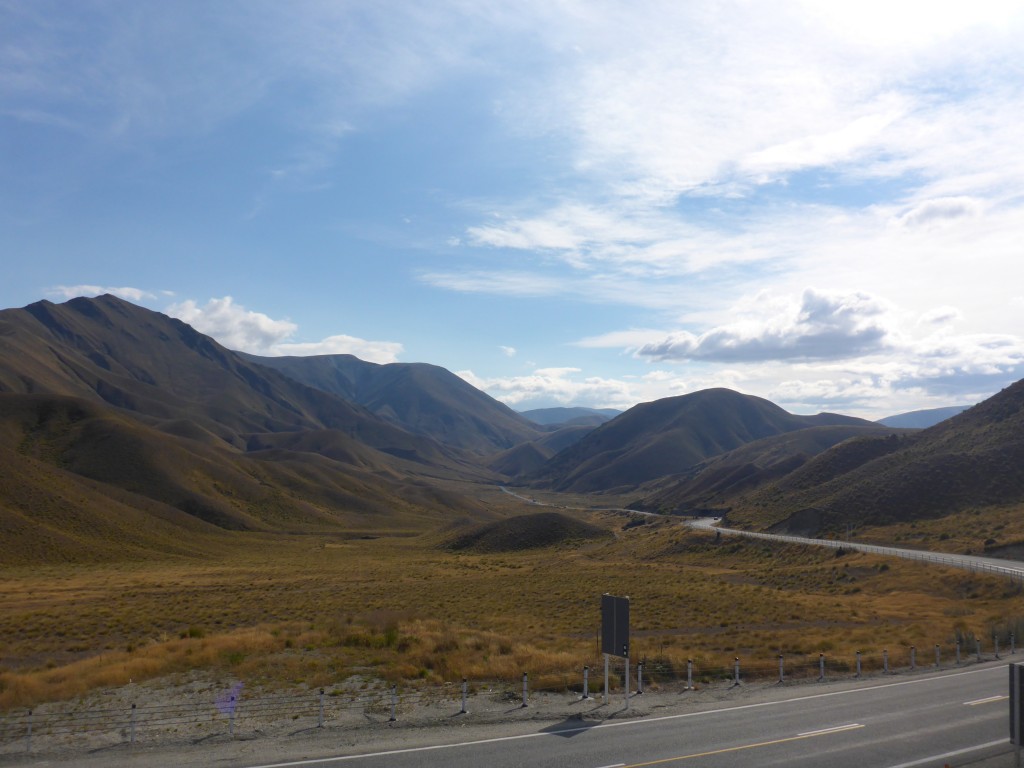 Omarama
Omarama is a small town with a population of only a few hundred serving the farming community and tourism at the head of the Waitaki Valley en route from Christchurch to Queenstown. Its attractions, as ever, are the great outdoors with lovely mountain scenery, lakes and the river system which makes this a big place for trout fishing. It is also a place known f0r its spas with hot tubs supplied from pure mountain water!
Apart from hunting and fishing, cycling, trecking, 4X4 driving et al, the town is also a popular place for gliders and scenic flights being so close as it is to Aoraki Mount Cook but I think many of the visitors travelling hither and thither from around central Otago, Wanaka, Queenstown and all points north east and south,use Omarama, as we did, as a convenient stopping point before Mt Cook.
Now this is a small place with a population of only a few hundred souls. Apart from a couple of hotels and motels (we stayed at the the Asure Sierra which was very acceptable) there is a
Four Square Supermarket, a gas station, 2 or 3 shops selling outdoor clothing, merino and possum products, a couple of eateries and an antiques/junk shop!
We arrived around lunchtime and had a very pleasant lunch at the Rinkly Ram restaurant which isn't just a restaurant and wine bar but a centre for all things lamb merino and other products and featuring a daily sheep shearing exhibition in addition to its retail opportunities. Sadly we missed the sheep shearing.
After a leisurely tour of the few shops and a short walk along the river, rain began to fall and we took shelter with a few beers at the Omarama Hotel until retiring to our motel for an early night. Next morning we would drive on to Aoraki Mount Cook.