Our next port of call was Kaka Point, an out of the way small town on the South East coast and we would follow the Southern Scenic Route to get there. We left Te Anau around 8am on 9th March for the drive South to Invercargill, New Zealand's most southerly city. Te Anau to Invercargill is around 160 KMs. With an early start and virtually no traffic on the road, we made good time. The weather was fine and the scenery as pleasant as ever with a constantly changing landscape; through forest one minute then hill farms, sheep and cattle and occasionally deer or goats and eventually long straight roads through wide glacial valleys. There are very few settlements on this route but one that we were looking forward to was Tuatapere, Sausage Capital of New Zealand. We hadn't had a fry-up since we stayed at Shady Rest in Takaka several weeks ago and so the thought of some gourmet sausages was quite appealing. We were quite excited as we came into Tuatepere but sadly our hopes were dashed and our hearts sank when we found the shop closed and no sign of opening hours. Gutted!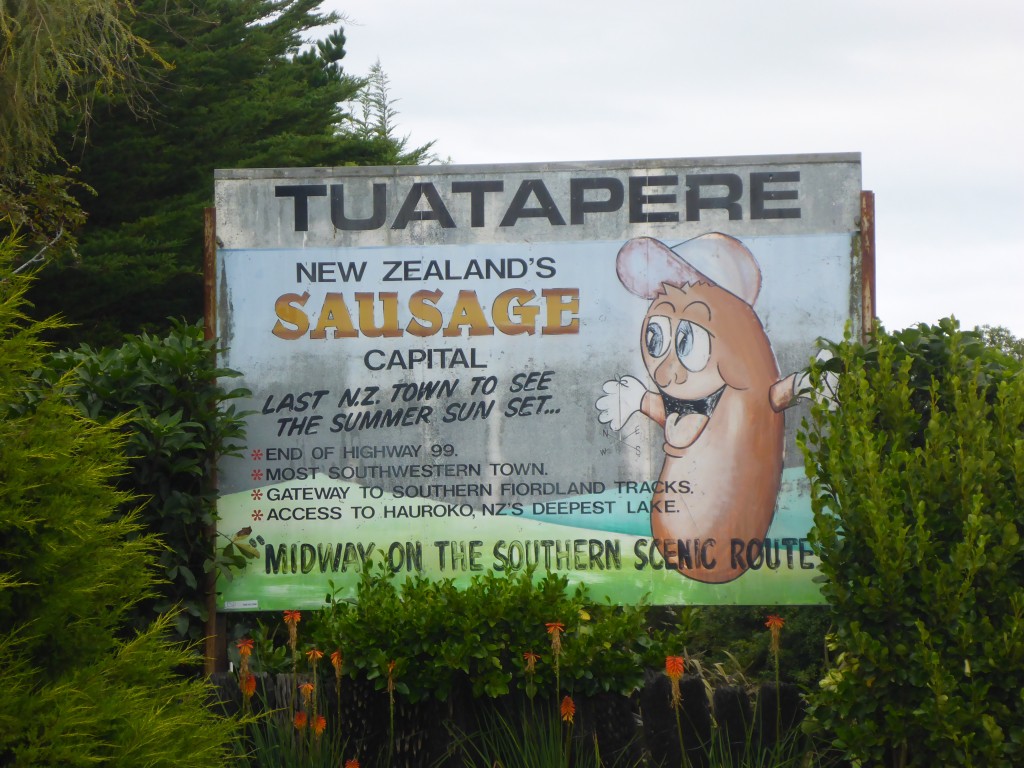 We carried on to Invercargill stopping only for fuel. We had been advised that there would be nothing to keep us in what was a fairly large but uninteresting town and so we went straight through getting to the Catlins around 1pm and ready for some lunch. The Catlins is a largely agricultural area with lovely hilly countryside and lots of rivers. There were a number of small settlements on our route to Kaka Point but most of these settlements comprised a small cluster of houses and nothing else – we couldn't find a cafe, restaurant or shop anywhere and before we knew it we had arrived at Curio Bay famous for it's 18 million year old petrified forest. This was one of the places on our "to visit" list. The weather was changing by now and at this point rain had started to fall but we decided to look at the petrified forest rather than make the journey back at some other time. Sadly conditions were not good for photography and also the tide wasn't fully out which meant that we couldn't see the old logs at their best – nor did any penguins show up!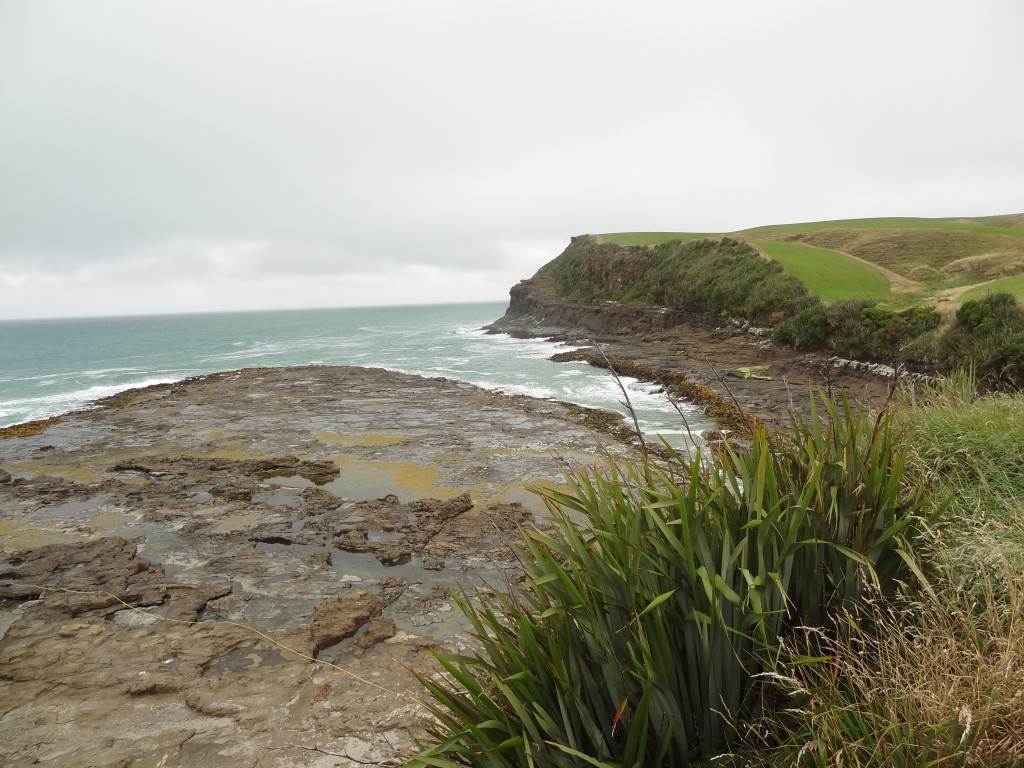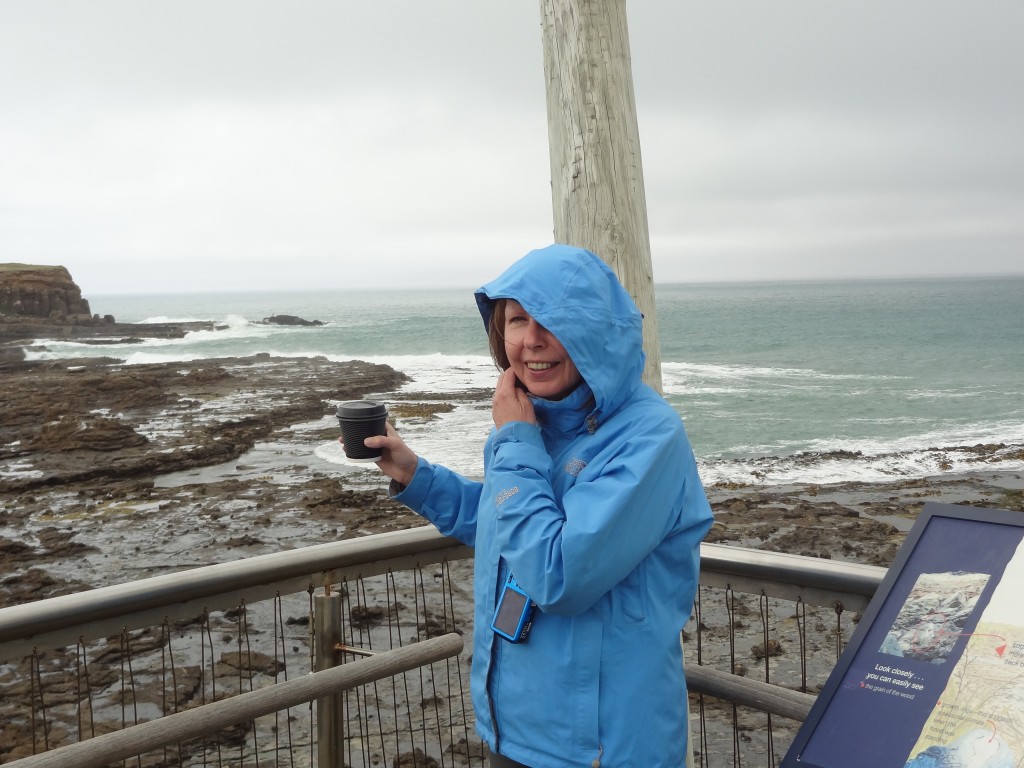 We got back in the car and pressed on. An hour later we still hadn't found an eatery but found ourselves passing a sign for Purakaunui Falls, another of our "must see" places in the Catlins. The rain had stopped and despite our hunger pains we decided to take a look. Sure enough it's a lovely spot but not really something to go out of your way for. We were glad to be able to tick this off as done rather than drive back later. After waiting for several minutes whilst a group of Japanese tourists rudely hogged the viewing area and view by posing, re-posing and re-posing, we eventually managed to get a snap.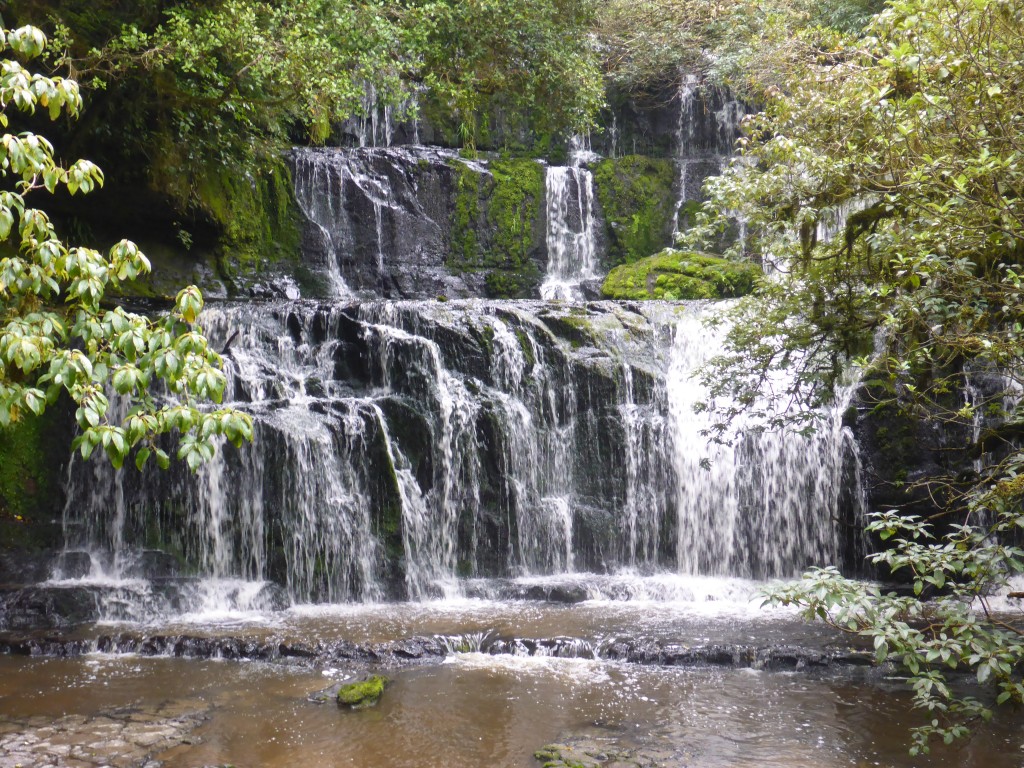 By 2pm we were within a short distance of our destination, Mike and Jenny's Unit at Kaka Point ahead of schedule, needing an ATM and lunch – we paid a visit to Balclutha where we enjoyed our best curry so far at the Raj Restaurant. Balclutha is the largest town in the Catlins and has nothing out of the ordinary but it is one of the main trout fishing centres in South Island with a number of famous fishing rivers in the area. Unfortunately on this occasion we didn't have time to cast a fly as we had to get on our way. Replete with our Jalfrezi and Madras, we headed for Kaka Point and Mike and Jenny's Unit – which in this case was a one bedroom apartment underneath their home. The unit was a tad old fashioned in its furnishings but spotless and very comfortable and Jenny gave us a very warm welcome. I had noticed her vegetable garden and greenhouse as we parked the car at the front of the house but once we got to the back of the house, we were gob smacked by the view – absolutely stunning. As we unloaded the car, Jenny asked if we liked fish. Having confirmed in the affirmative, she offered to cook an evening meal for us which was delivered to us late in the evening. An excellent meal with fish they had caught that morning with potatoes and salad including edible flowers – everything freshly picked from their garden. One of the best meals we had on this trip to date. At the end of our first evening we were already regretting the fact that we hadn't booked longer than two nights.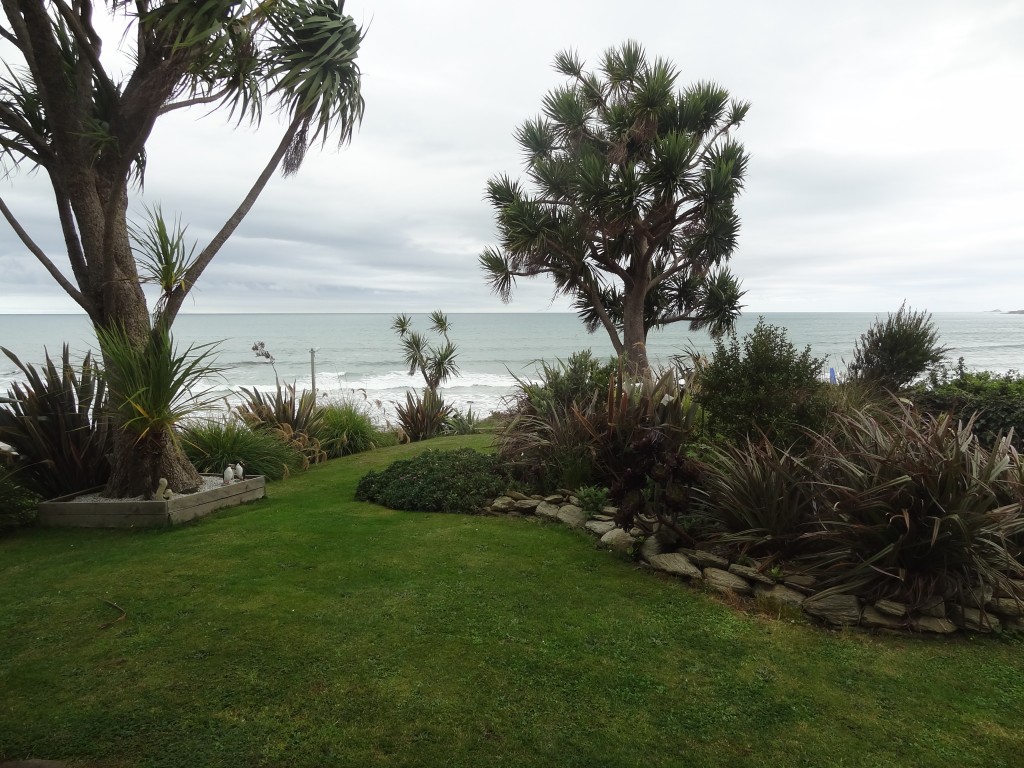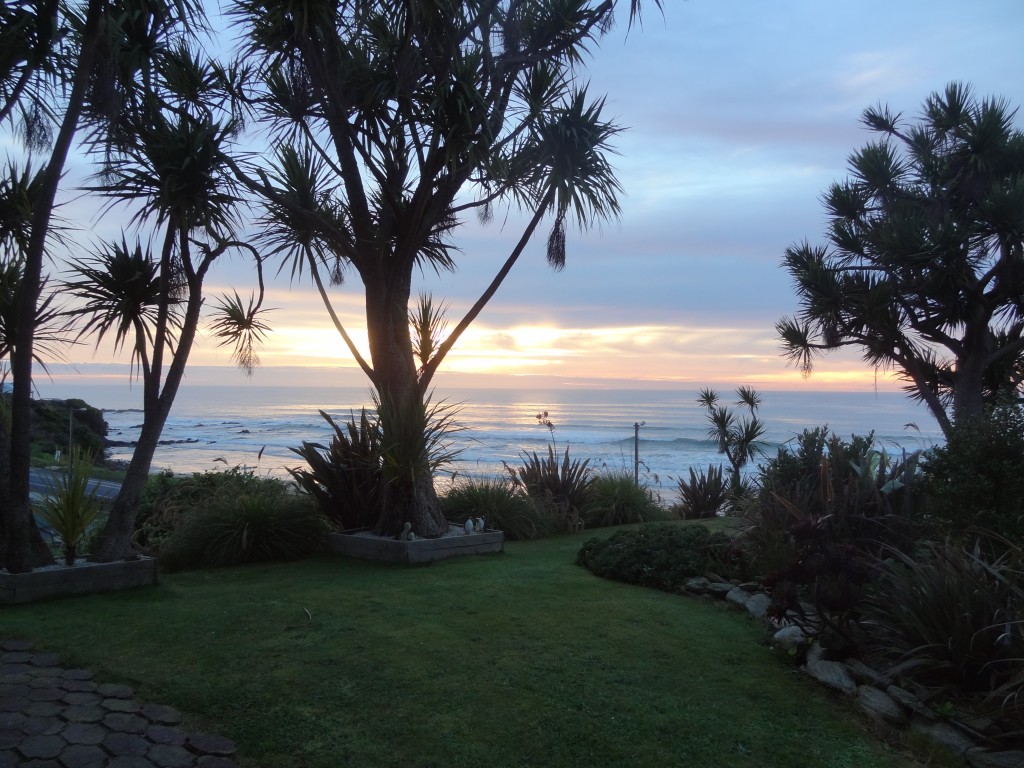 Essentially we had only one full day at Kaka Point and so it was as well that we had managed to see Curio Bay and the waterfall the previous day. The other must see was Nugget Point Lighthouse where penguins can be seen in the early evening as they return from the sea to their nests as night falls. We had already researched this beforehand and decided that we would not drive the dirt track to the lighthouse as a number of reviewers on-line had described this as dangerous. We had decided to walk even though this would mean that we would not get to see the penguins, hey ho…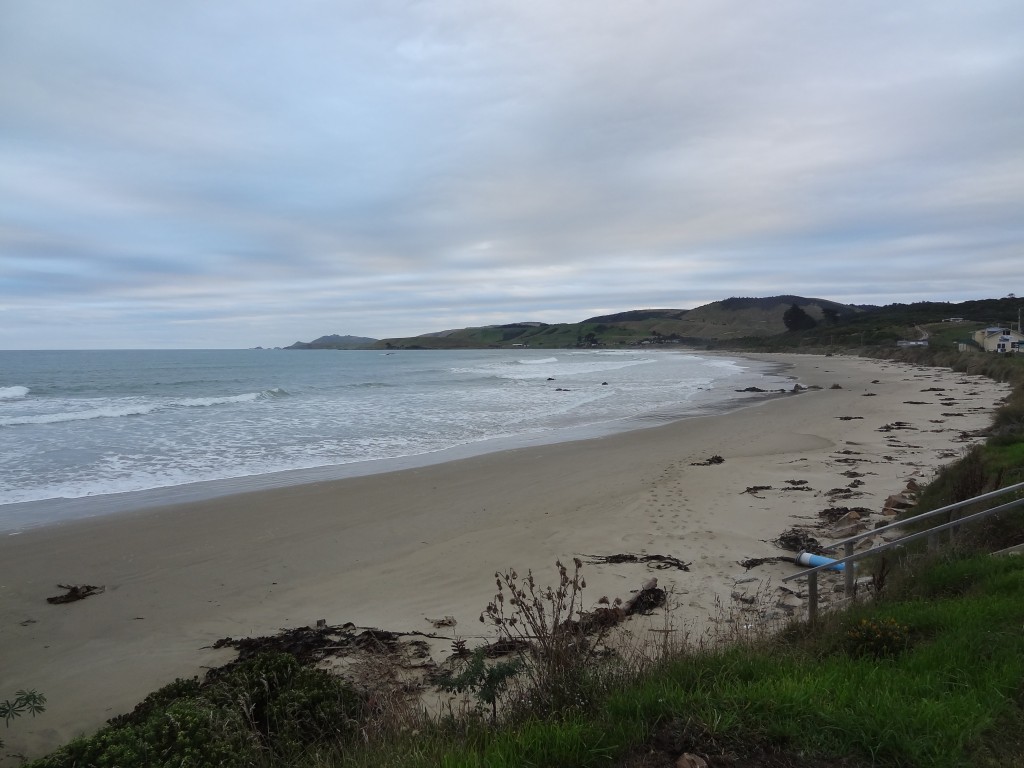 So most of our one day at Kaka Point was spent walking to and from Nugget Point, a total of 16KM. We packed a picnic and were lucky to have a nice day for our walk although it did threaten to rain on and off. We walked almost the entire walk on the beach but in some places where it's necessary to get up onto the road to continue. On the first of the road stretches we spotted a car that had gone off the road and over a rocky edge onto the beach below. On the next stretch a little further on, a car had also gone off the road and rolled down the beach turning over onto its roof; this had happened within minutes of us reaching the scene and the Japanese family, seemingly all unscathed but very much in shock, were struggling to get their belongings out of the overturned car. The police had been called and a local was looking after them so we continued on our walk thinking we had made the right decision to walk rather than drive.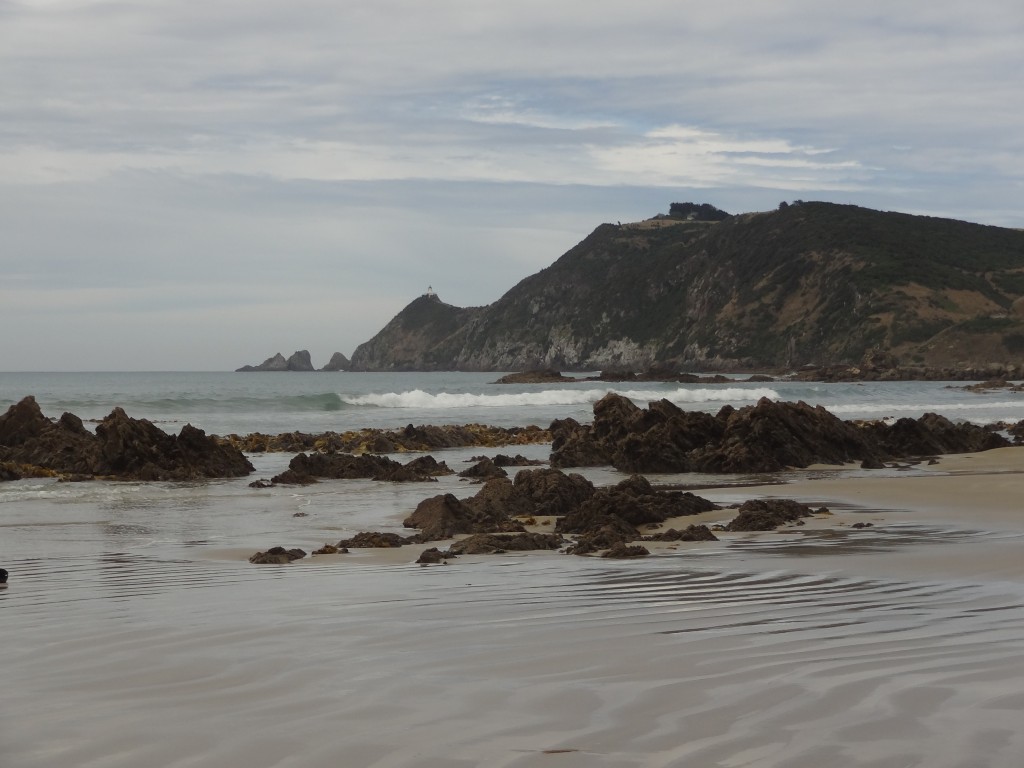 Our walk otherwise was without incident and at different spots we were lucky to see a couple of sea lions that came out of the sea on to the beach as we were walking along – amazing. There is also lots of bird life (mostly unidentified by us) and we saw plenty of fur seals on the rocks far below the lighthouse but alas no penguins…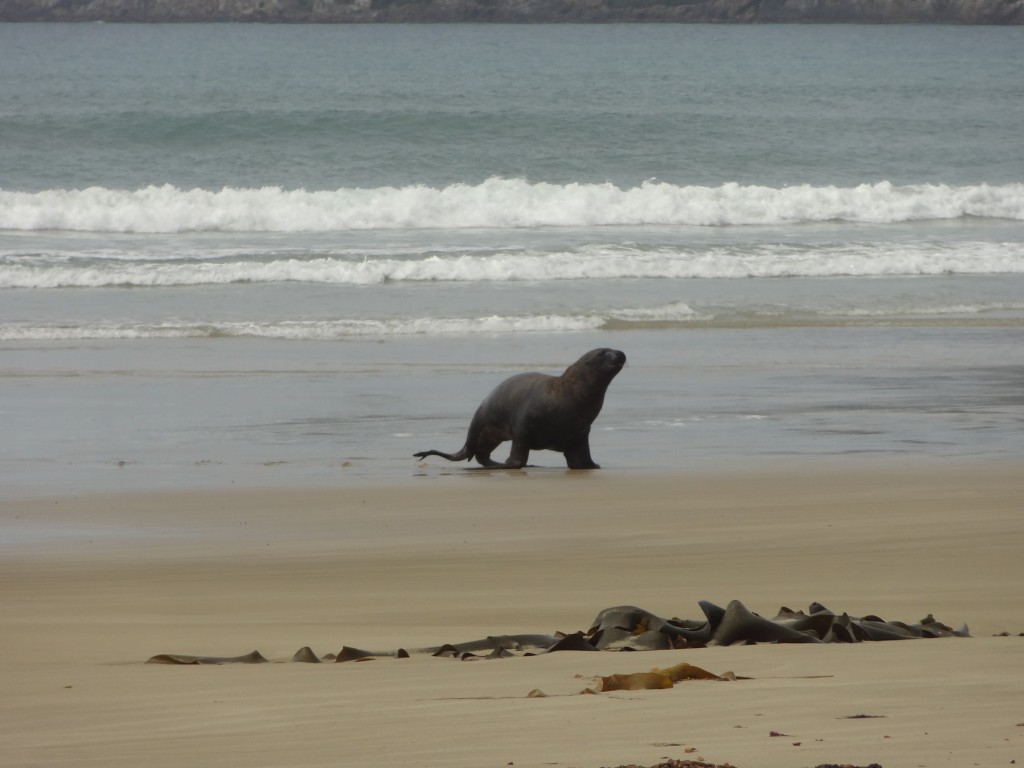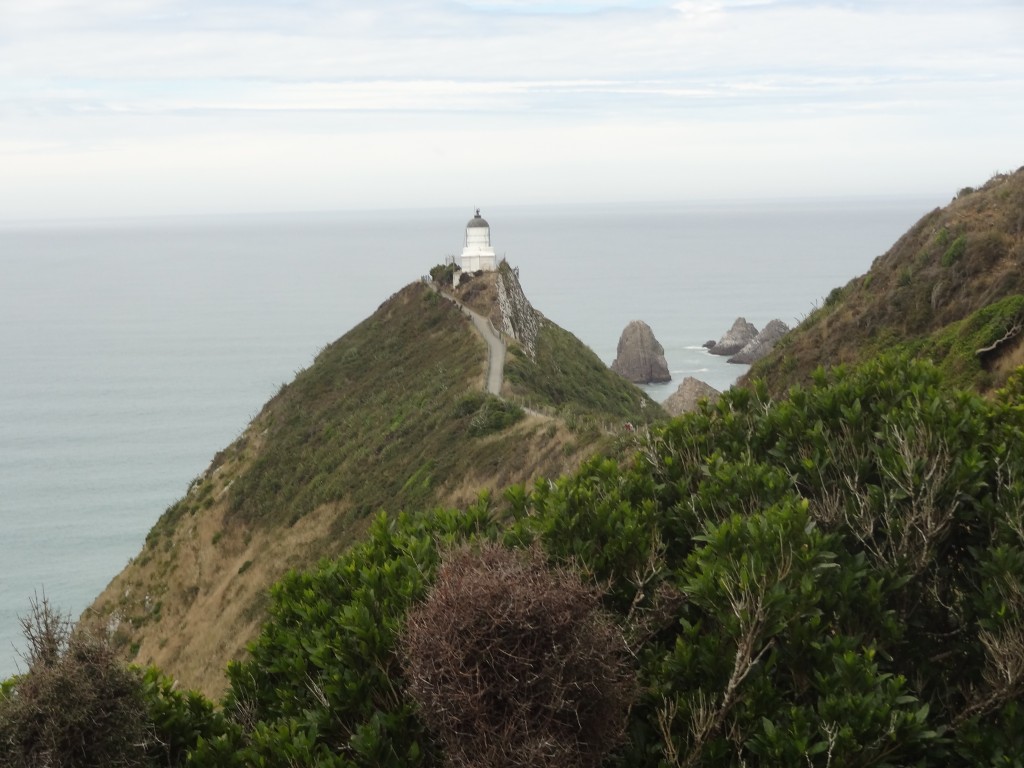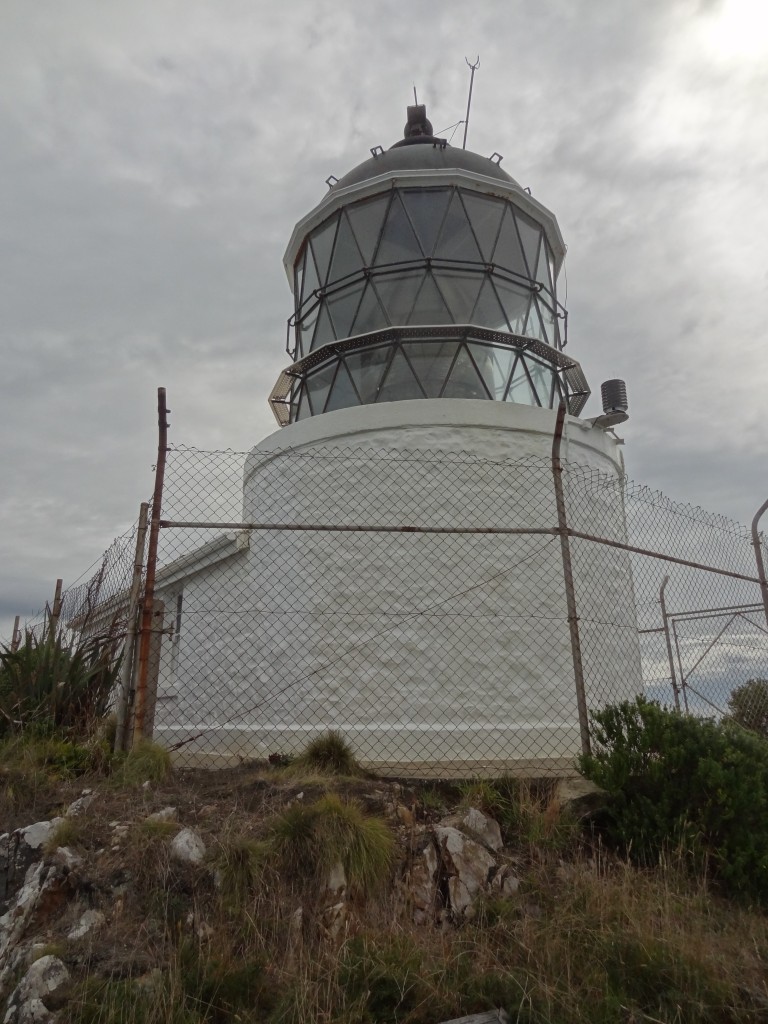 We lunched at the lighthouse and walked back to find a vehicle recovery contractor removing one of the wrecked cars from the beach. He had already removed the first one. Seems he is regularly called out. He told us that the Japanese family we had spoken to earlier were already on a bus to Queenstown to continue their holiday! We enjoyed a couple of beers at the pub/restaurant next to the the Unit and retired, knackered, for an early night mindful that we were back on the road the following morning. Next stop Dunedin.