Following our trip North to Bay of Islands we were to travel around North Island in a clockwise direction first of all re-tracing our journey back down the  Pacific Coast Highway to and through the outskirts of Auckland and then East to the Coromandel Peninsula, a very popular area for Kiwi family holidays. We would then travel the coast along the Bay of Plenty, then the East Cape drive around to Gisborne and then Napier to Wellington in the south  before wending our way back to Auckland.
En route to the South we stopped by an electrical superstores where we had ordered a Garmin sat nav device over the phone the day before. It proved to be money well spent and especially so in Australia.
The next couple of weeks would be very much a beach holiday hopefully doing not a lot  other than a bit of sight seeing and walking.
We had booked  an apartment for a week in Whittianga, a small town around midway up the east  coast  of the Coromandel  which would be a good base to get around.
The apartment at Marine Park Apartments was close to the Marina and turned out to be perfect for our needs, spacious with a full kitchen so that we could self cater properly when we wanted to and with a balcony providing some outside space. There was also an outdoor swimming pool which we did make use of one afternoon.
Here are a few photos of Whitianga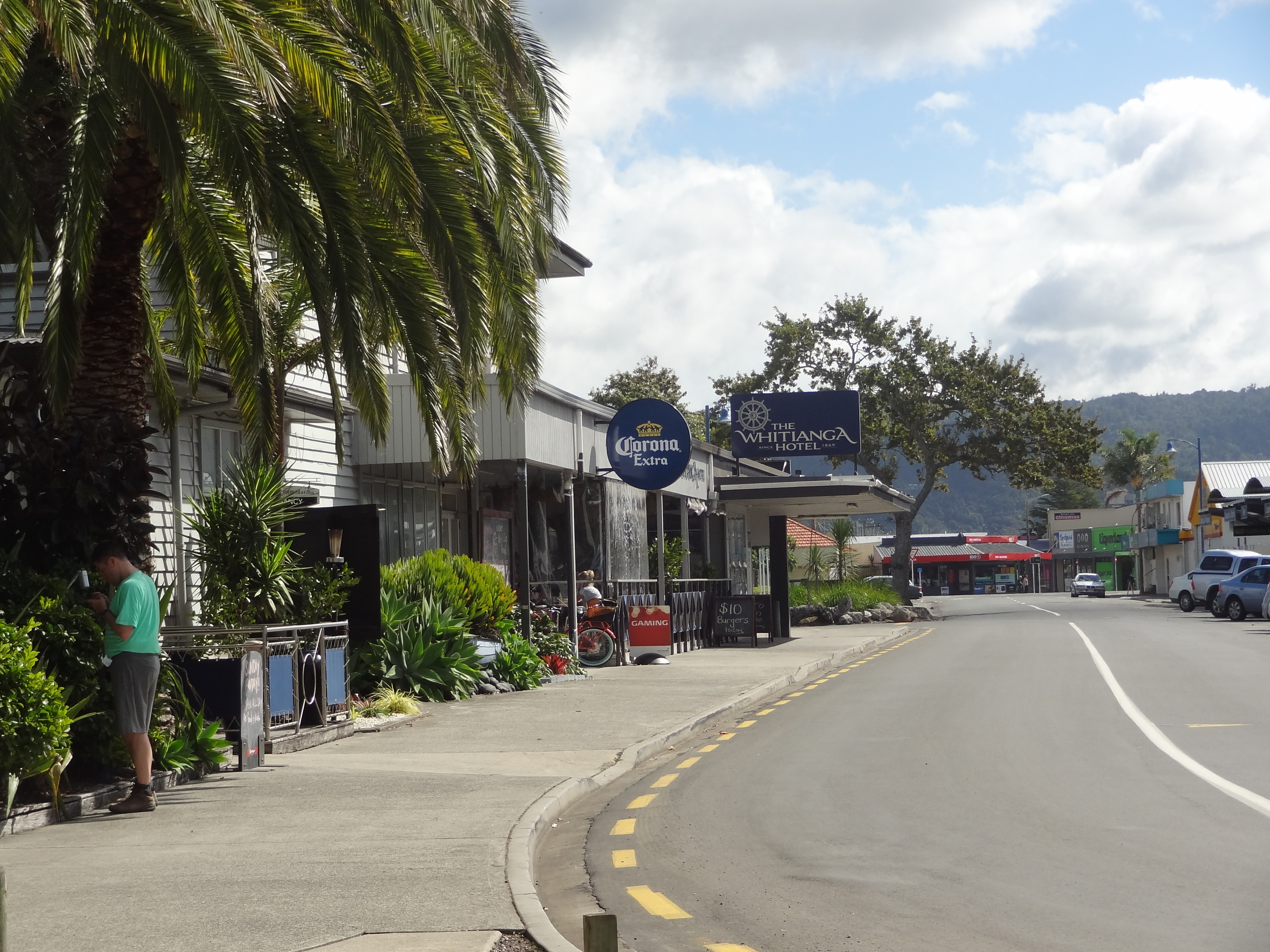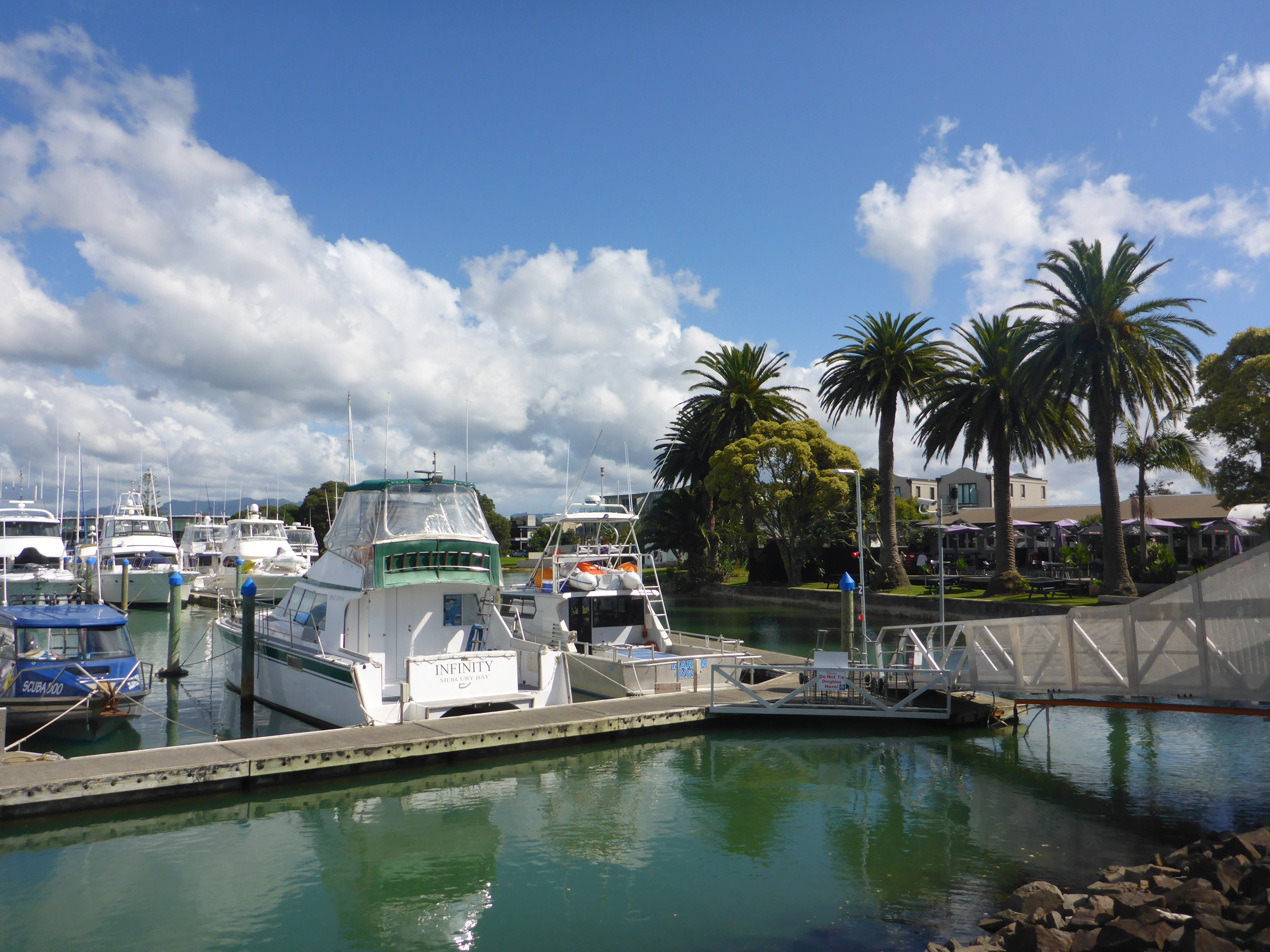 The weather was rainy as we arrived but cleared up and was kind for most of the week although we did have a couple  days of rain which are actually quite handy on occasions as it forces us to get on with some planning or do a  budget review and chores which otherwise get put off.
The Coromandel has some truly spectacular scenery with the usual often narrow roads winding through thick forest and then along rocky coastline with many a dog leg and horseshoe bend to keep the mind focussed on the road. Unfortunately however, the weather turned greyer and greyer as we drove East and we drove much of the road north to Whitianga in a thick mist and it was damp and miserable when we got there. Indeed our first impressions of the town in this weather were not good as we felt the  main street has a kind of  dowdy look but our impressions improved as the weather got better and indeed once off the main drag, there are some nice streets with good shops, bars and restaurants leading down to the waterfront. We came to like the place.
Whitianga is a small town sitting on the 5km long Buffalo Beach  in Mercury Bay, so named by Captain James Cook who visited in 1769  during his expeditions to observe the transit of Mercury. Buffalo Beach itself  was named after the ship HMS Buffalo which loaded with timber was wrecked in a storm whilst at anchor in the bay in 1840. The ship had a varied history being used at  times to carry timber, as a convict ship carrying convicts  to Australia and transporting emigrants  to Australia, New Zealand and elsewhere. It was also a quarantine ship. The wreck, or at least some of her timbers, remain in the bay and her anchor stands as a memorial on the beach front.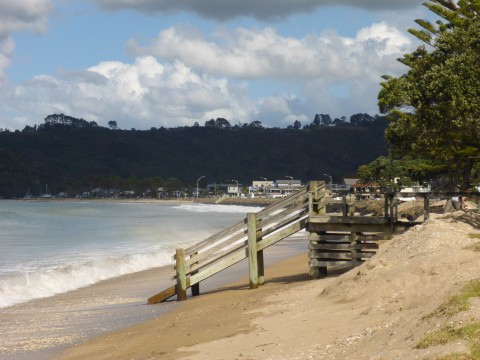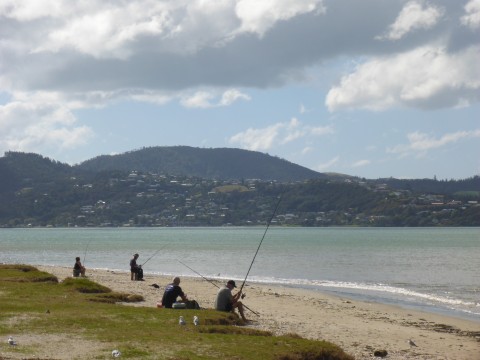 The area has a long Maori history and European settlers arrived in the 1700's. The town was originally founded on timber,  boat building and with the gold rush of the 1860's, gold mining.
Now the economy is  based on agriculture and tourism. Our time here, when not rained in, was spent walking or on day trips up and down the coast.
One of our trips from here  was to Coromandel Town in the North West of the peninsula, a 45km drive from Whitianga. It's a small town on an inlet forming a natural harbour and was named after HMS Coramandel which called at the port in the early 1800's. The town was originally built on the timber industry with huge forests of kauri trees felled, milled and exported from here. The kauri forests  were decimated although some ancient trees remain in areas which were too difficult for the loggers  to reach in the olden says. The trees are now protected and as in many parts of the country there are large areas of regenerating forest  including some kauris. In the 1850's gold was discovered here and began to be mined in the  1860's and in it's heyday the town had a population of over 12,000 but is now less than 2,000.
This town's economy  is now based on tourism and mussel farming. It's small and quaint with galleries and arty shops in some nice Victorian buildings, a small mining museum which was closed when we visited and some nice community gardens. In truth there isn't a huge amount to see but on a nice day it's well worth an afternoon just for the fantastic drive through  magnificent scenery with spectacular coastal views to be had from various points along the route. We had a perfect sunny day for our trip and lingered for lunch. We  couldn't resist fish and chips from a proper fish and chip shop down by the harbour and Ann tried the muscle fritters which are popular here and elsewhere in New Zealand.
Here are a few pictures of Coromandel Town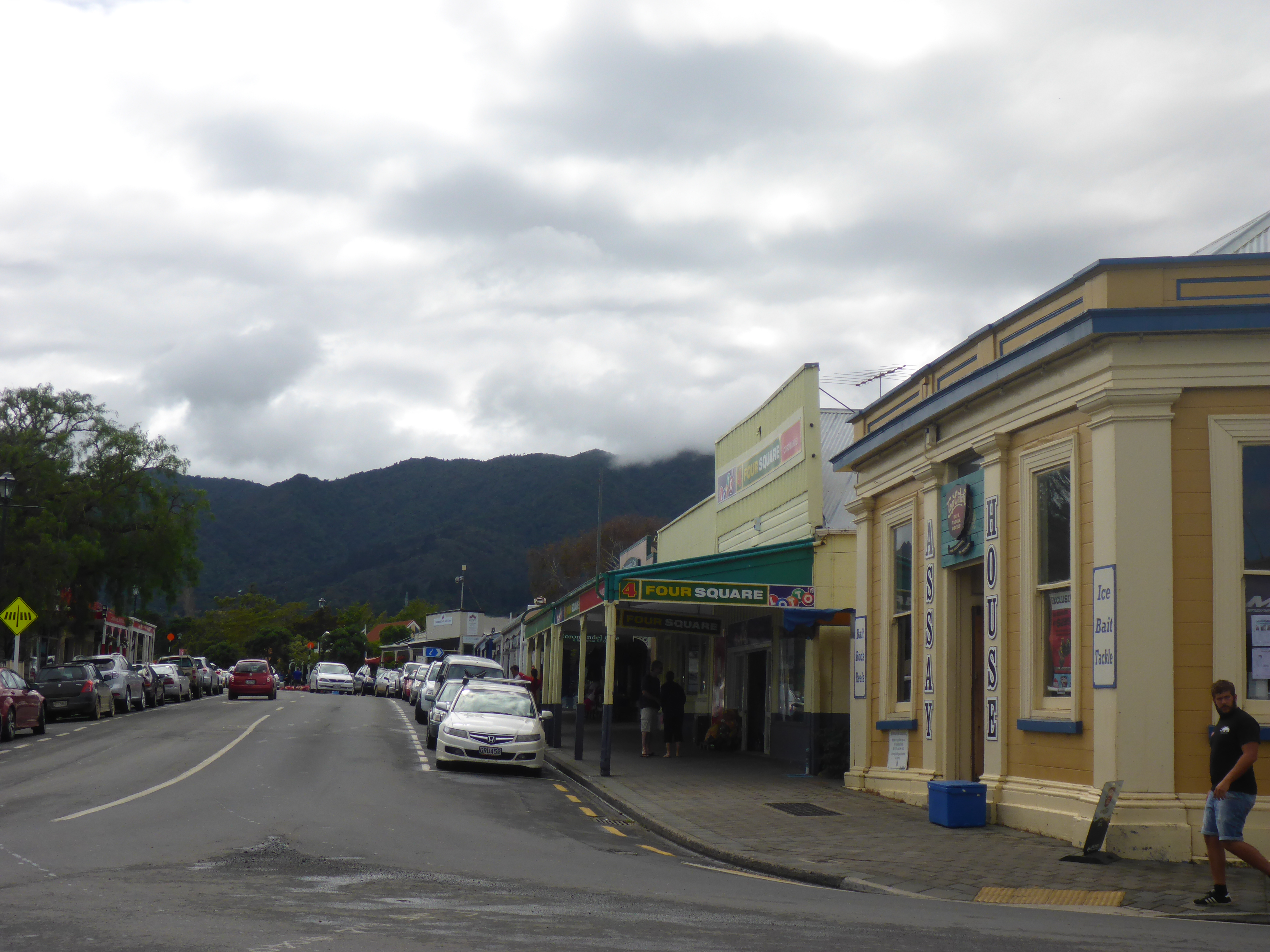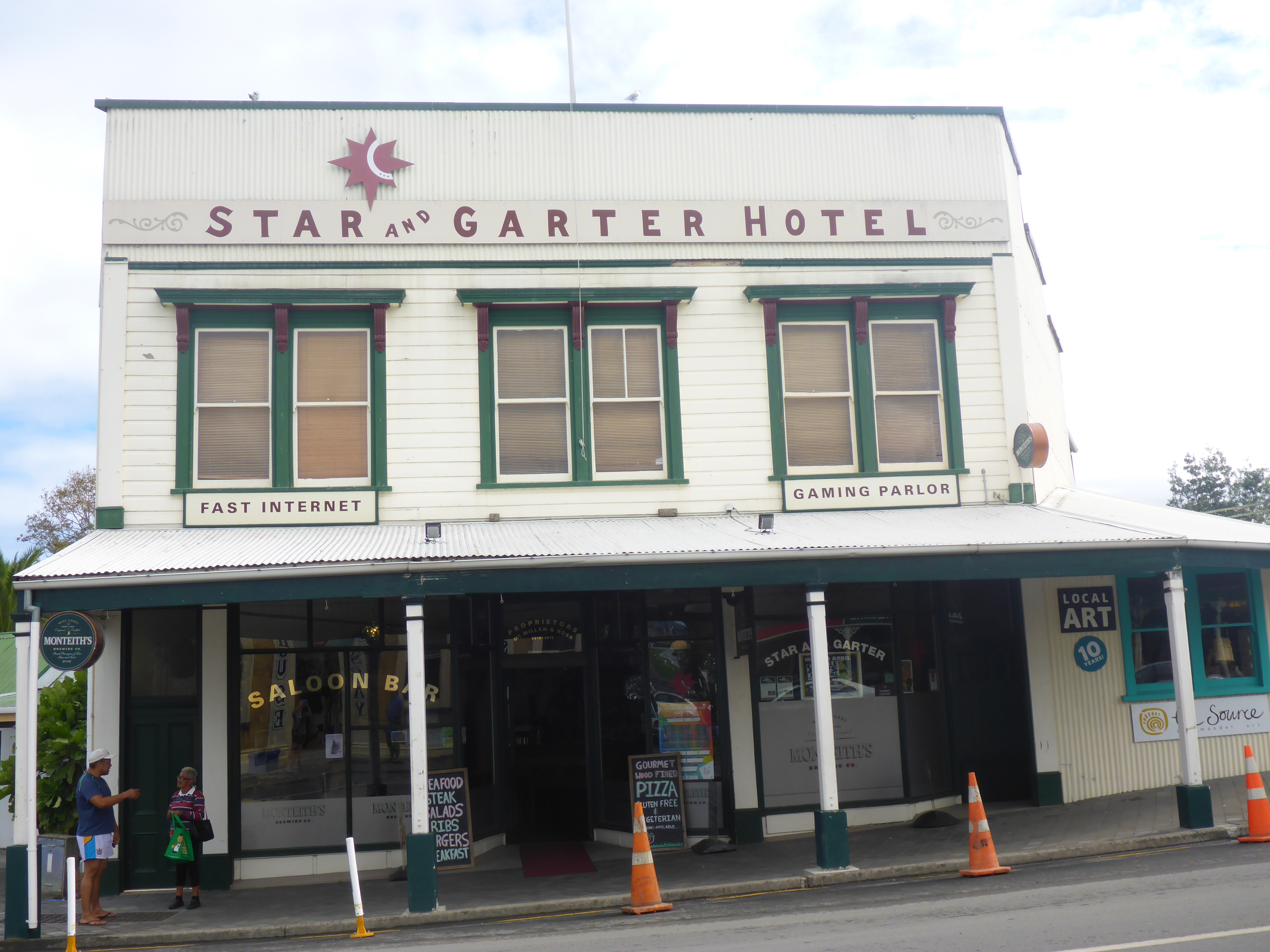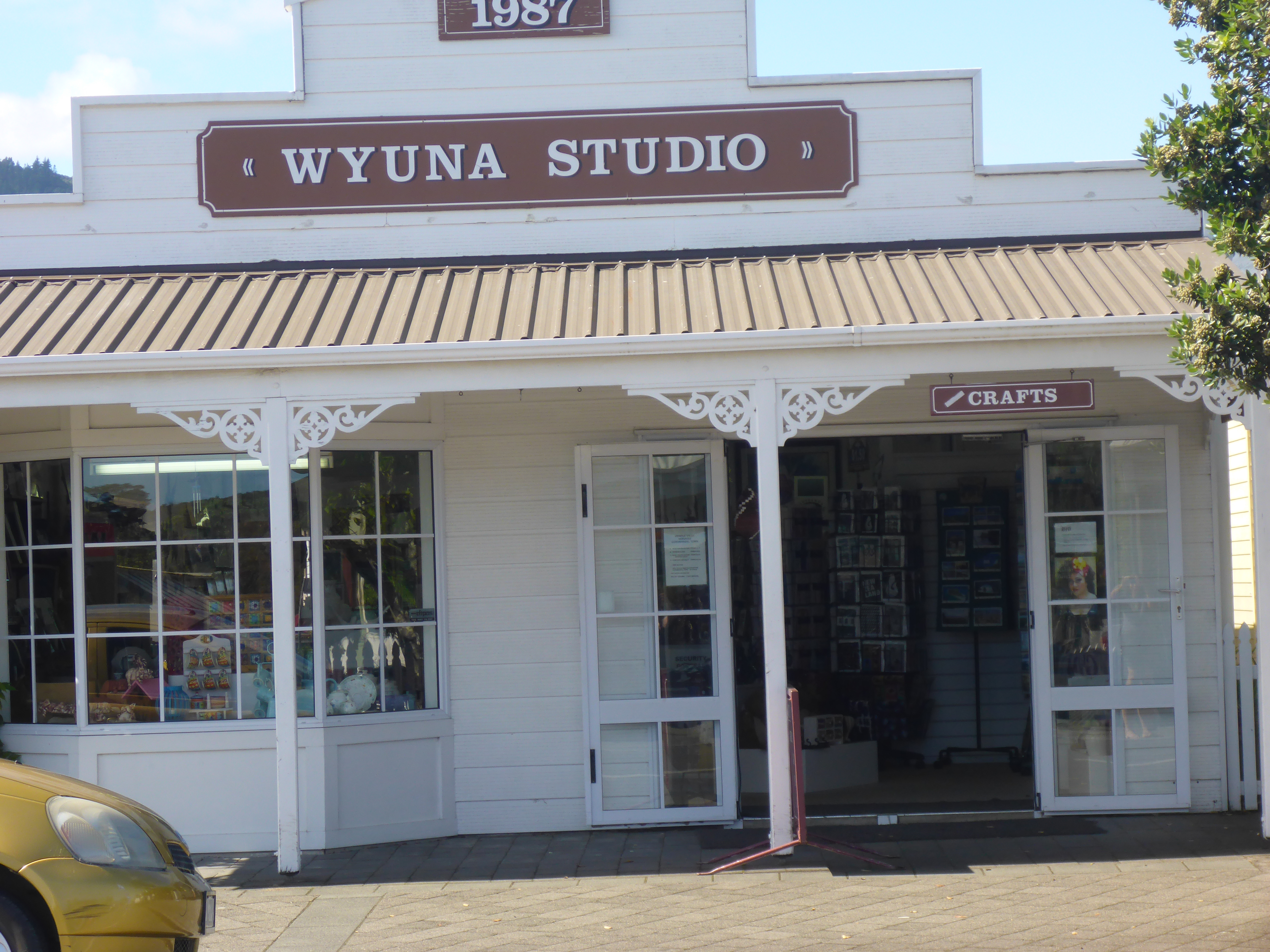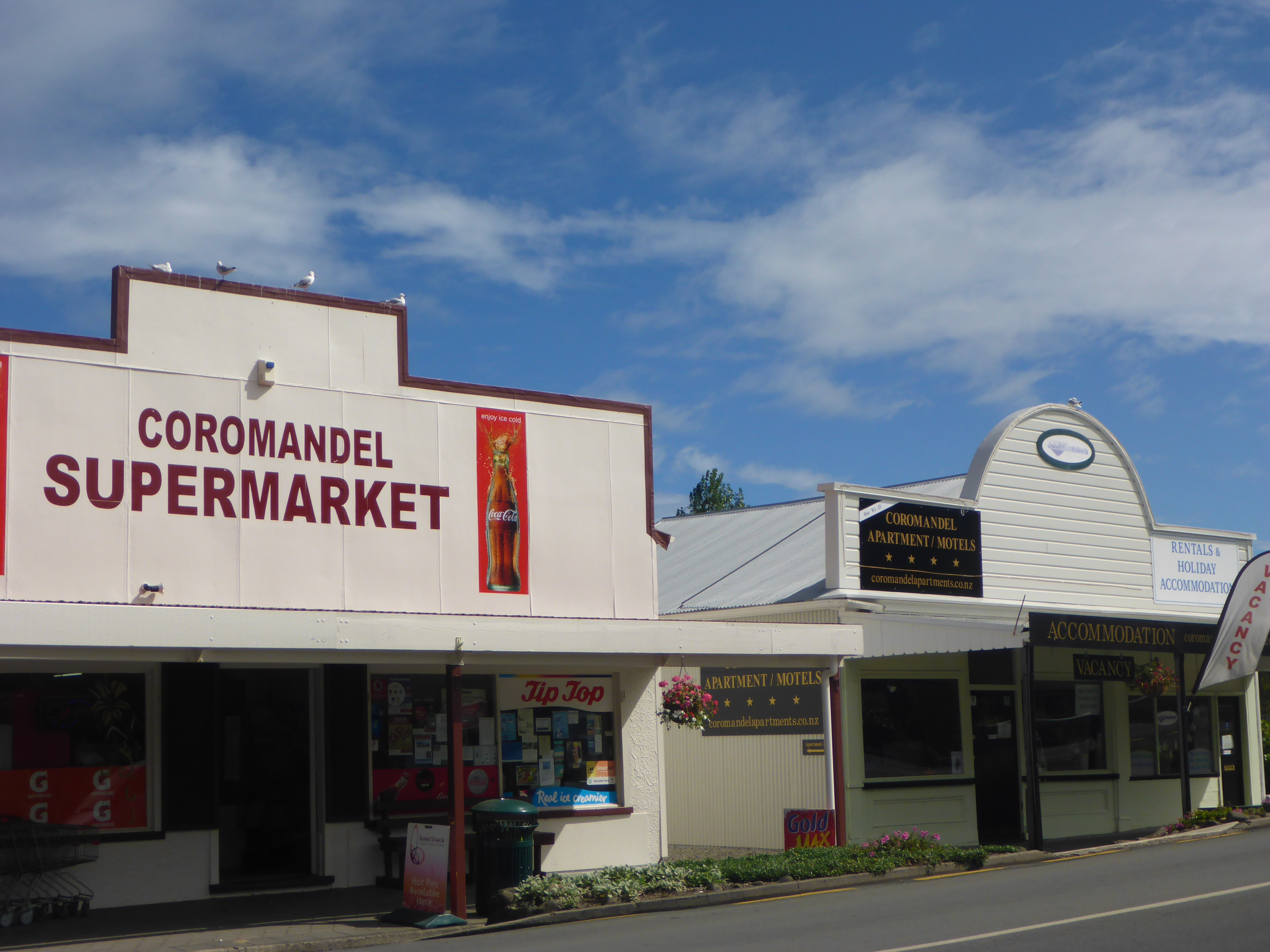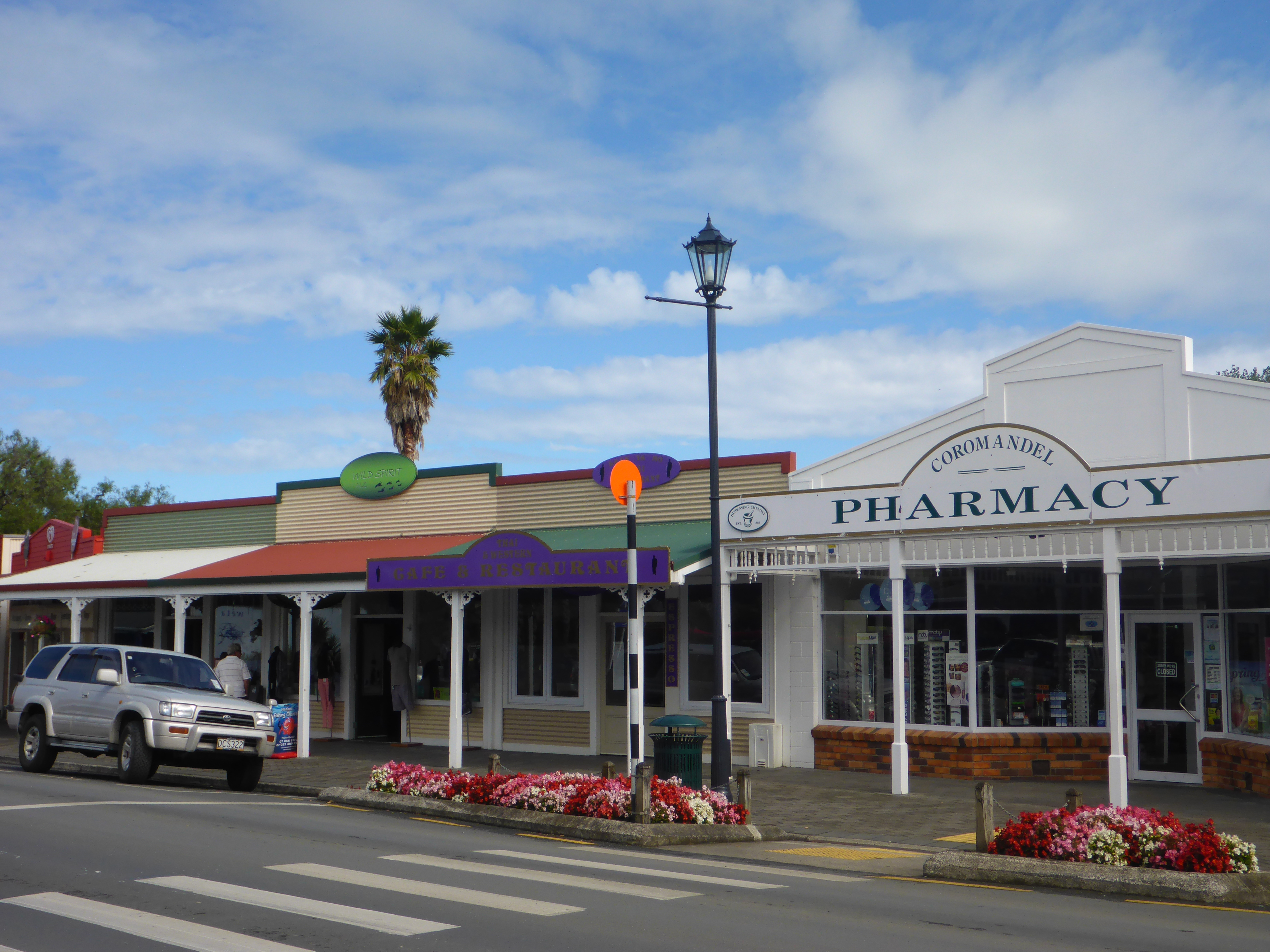 And here are a few pictures showing some of the views en route up the coast….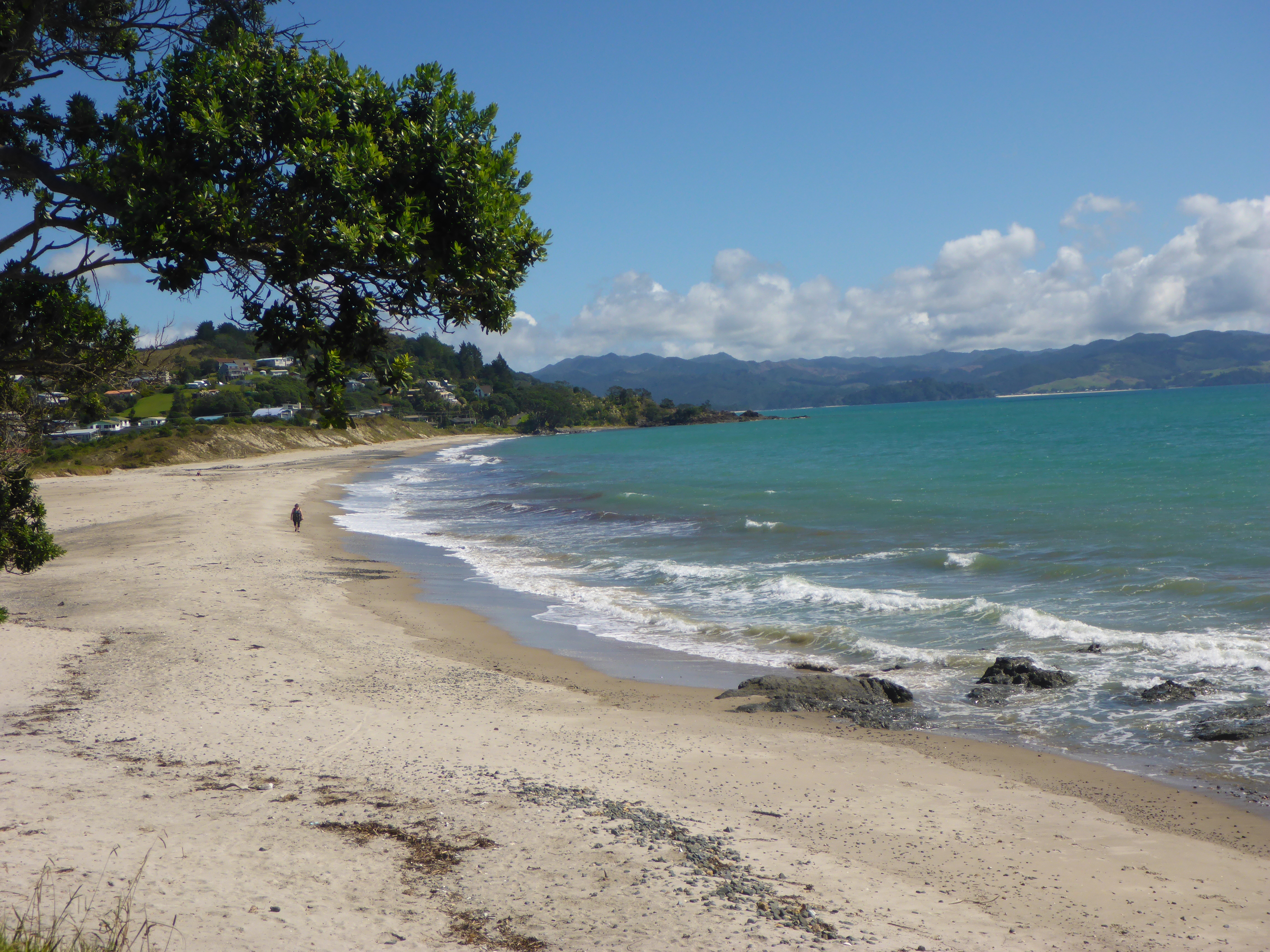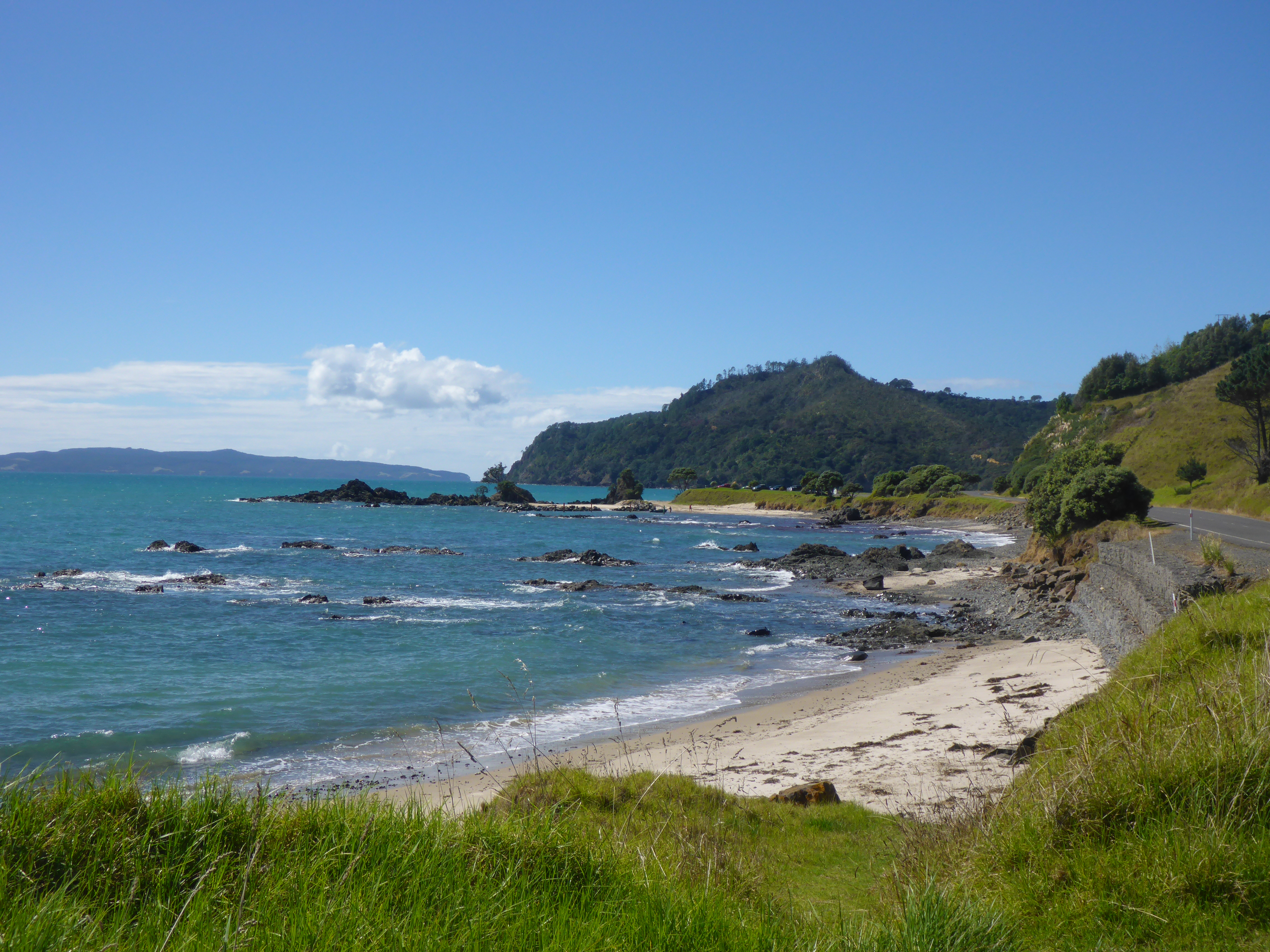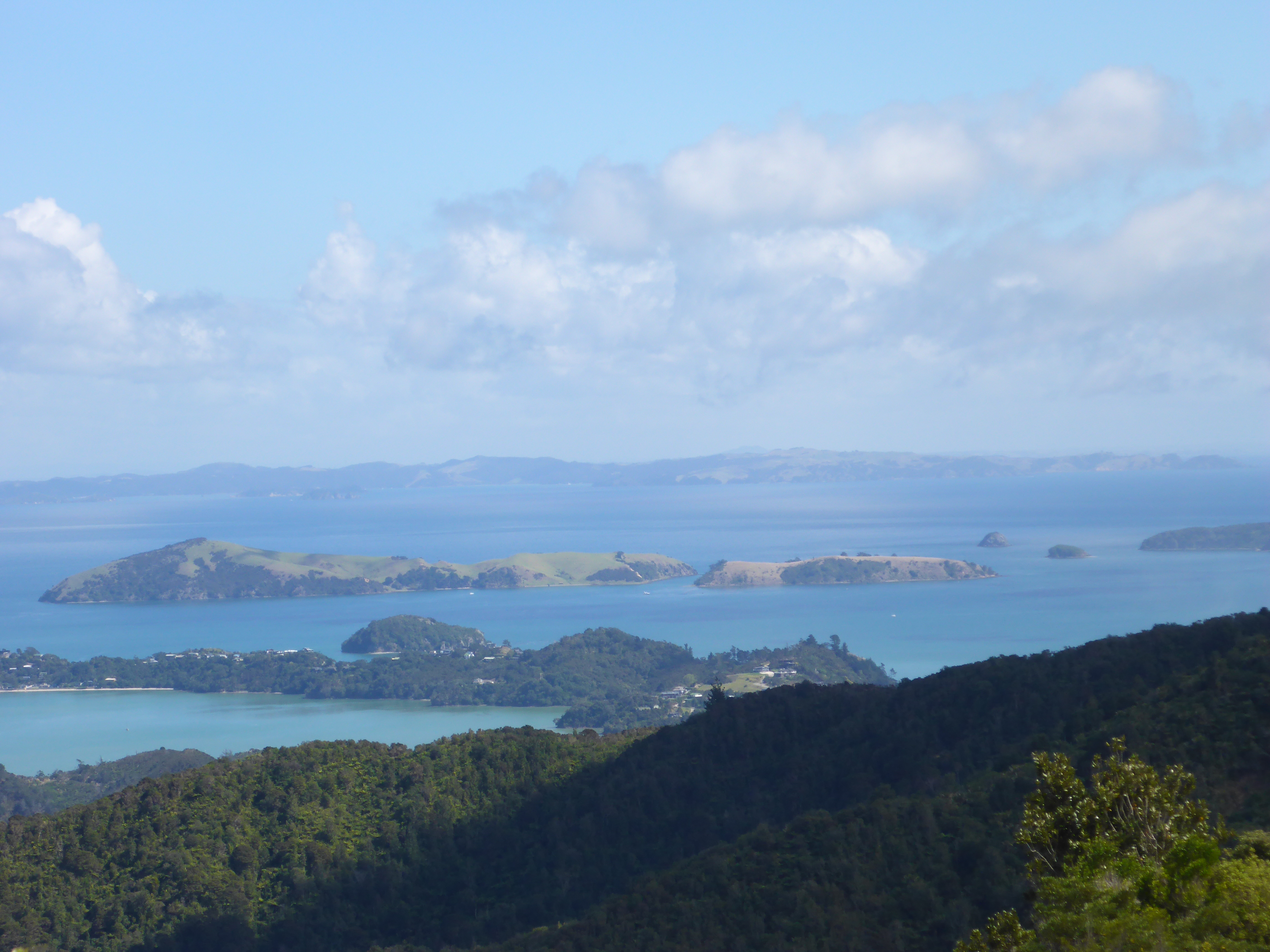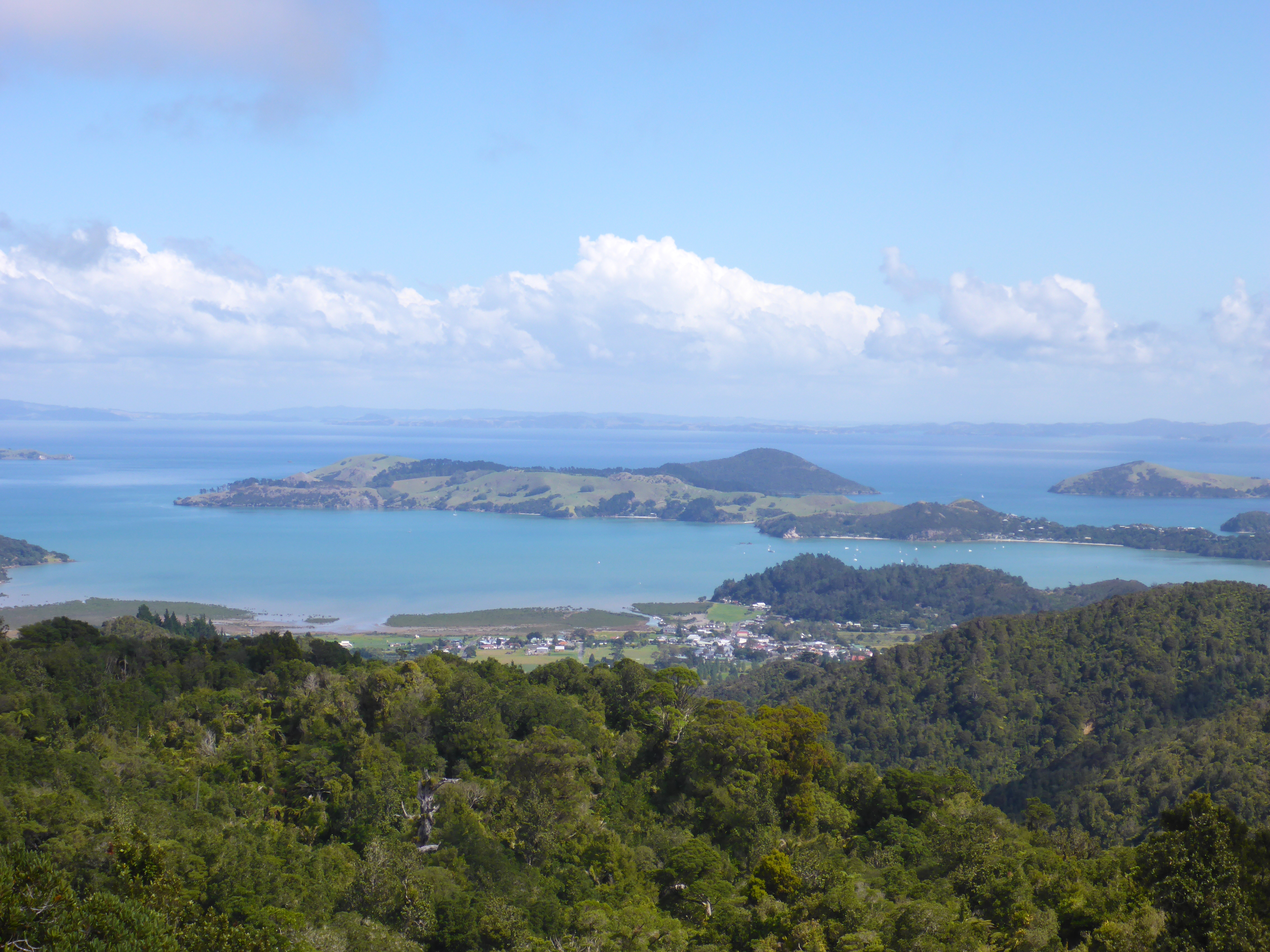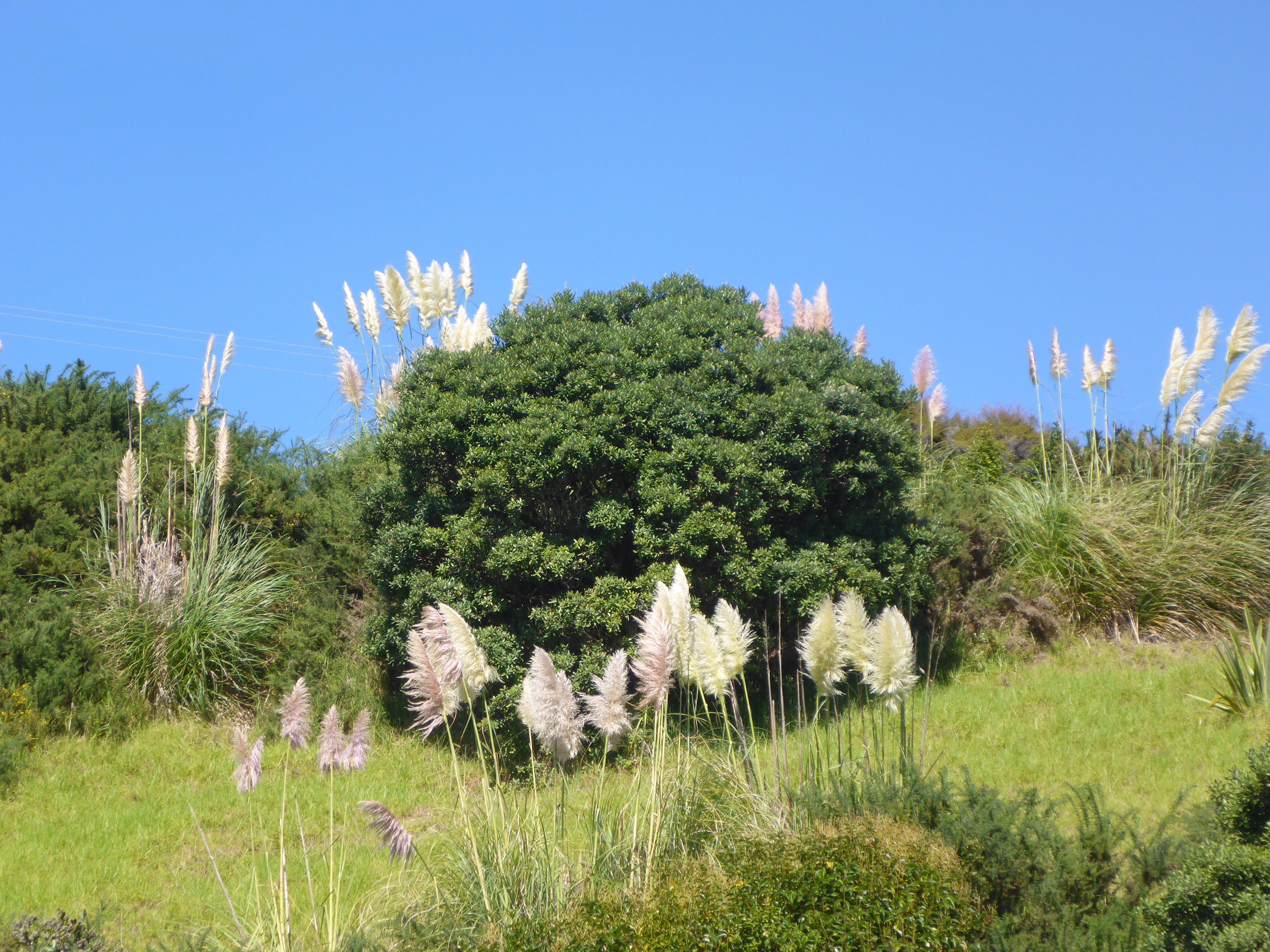 Another "must see" part of the Coromandel is the Hei/Cathedral Cove area south of Whitianga where there are lovely beaches which  in some cases , including Cathedral Cove itself, can only be reached on foot or by boat. Cathedral cove is so named after the cathedral like archway which divides the beach and there is some excellent walking here along tracks which take you to these and other beaches in the area. We did the walk over to Cathedral Beach and then back to Hei  where we had a swim on a lovely sunny afternoon. We also took the short drive to nearby Hot Water Beach which takes its name from the hot water springs which bubble up from the sand; locals and tourists turn up in droves with spades to dig holes in the sand to release the hot water to make hot water pools. Needless to say there is a thriving trade in spade hire here ! We passed by the opportunity on thiss occasion.
Heihi Beach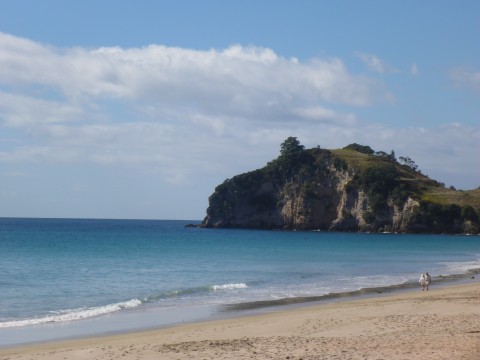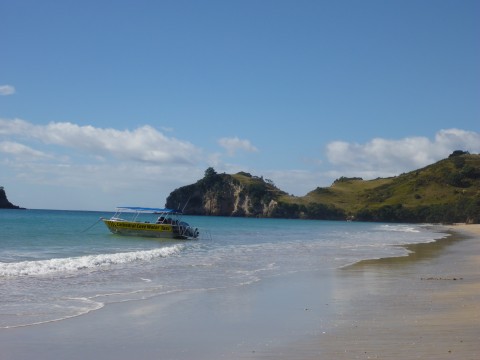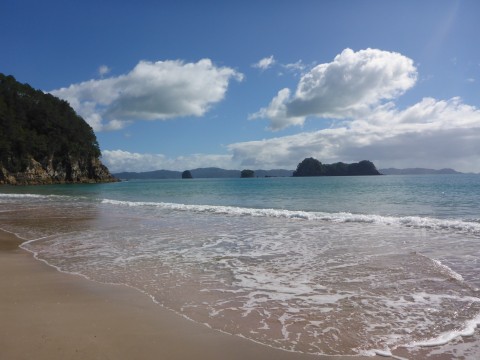 The walk to Cathedral Cove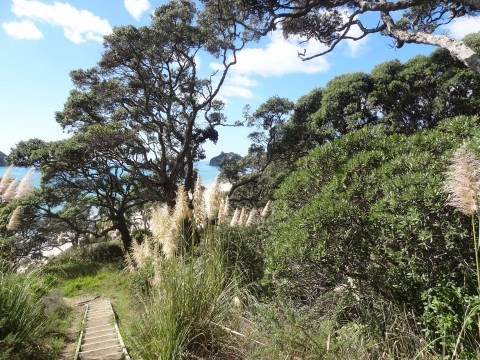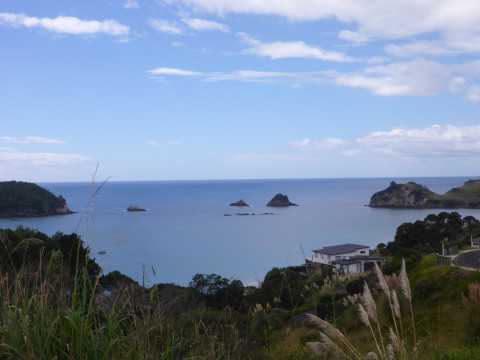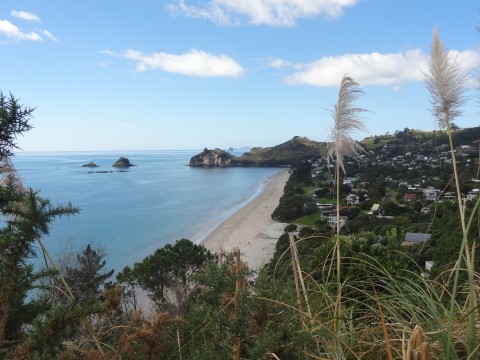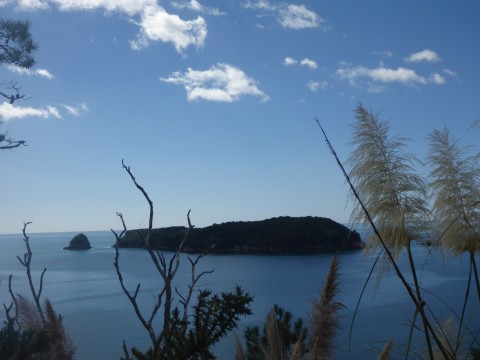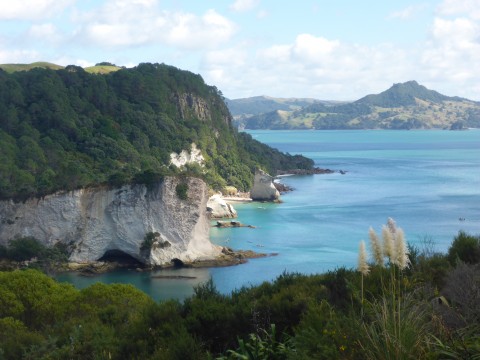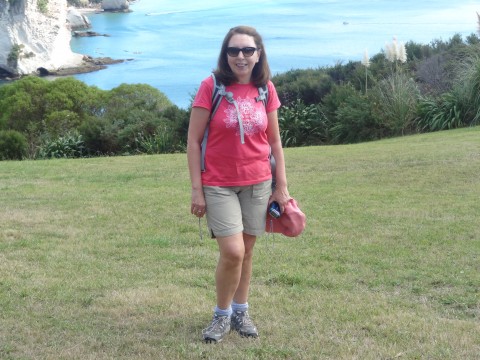 Cathedral Cove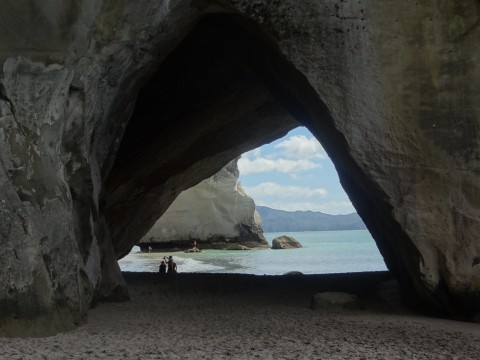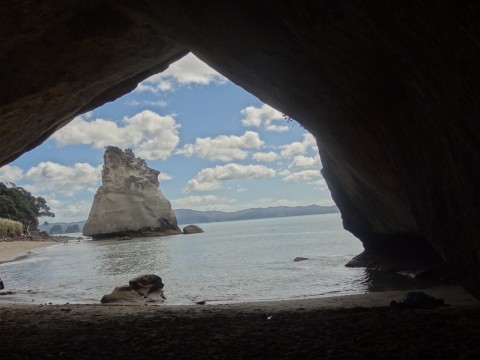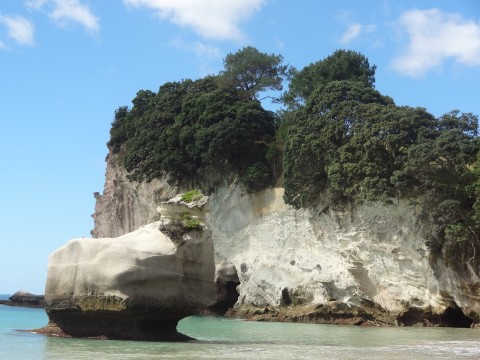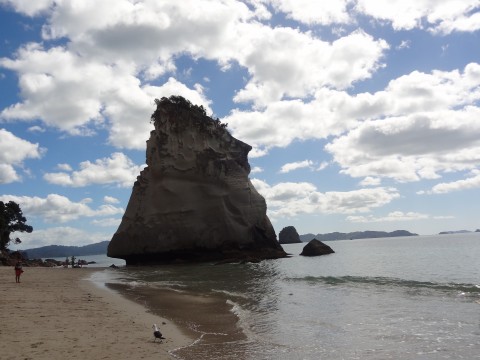 On another day we visited  New Chum Beach, a half  hour drive north of Whitianga. This beach has apparently been voted one of the world's top 10 beaches .It's a little bit more out of the way and is accessed from Whangapoua Beach in Wainuiototo Bay by crossing a creek at low tide then a  walk of half an hour or so across a beach which is covered in slippery black rocks and then along a track through the bush. As we intended to spend an hour or two on the beach I bought some bait and took a fishing rod along and managed to catch a couple of red snapper which I kissed and put back in the water.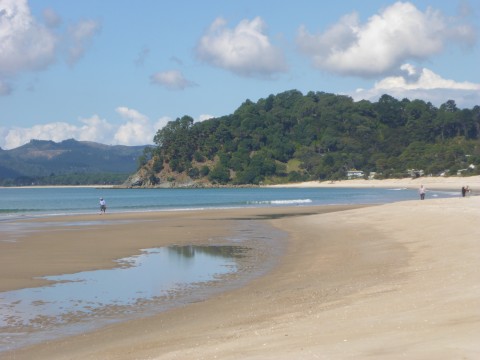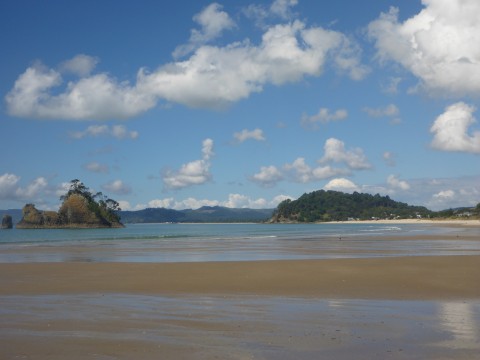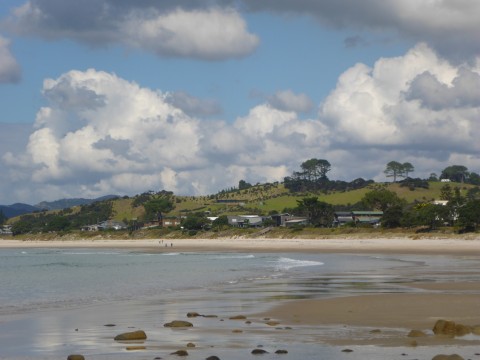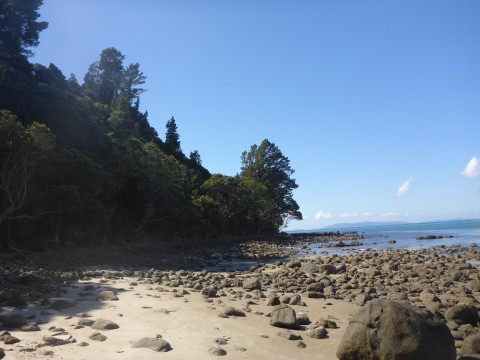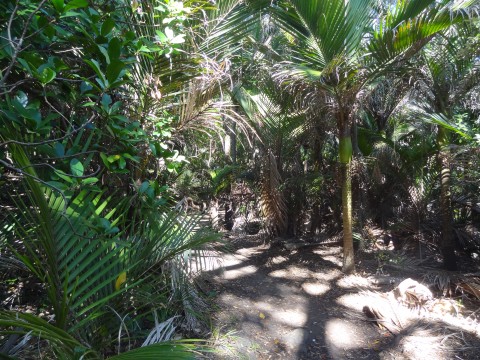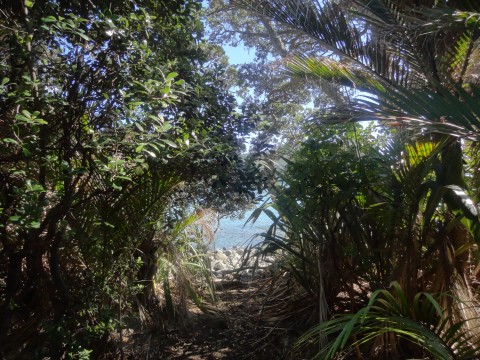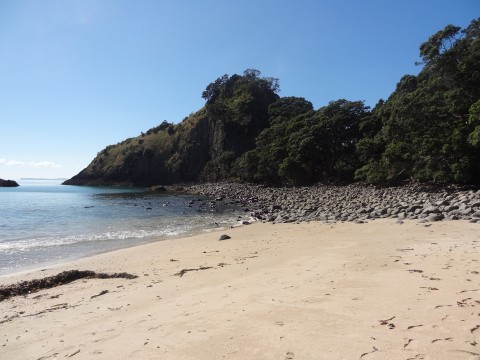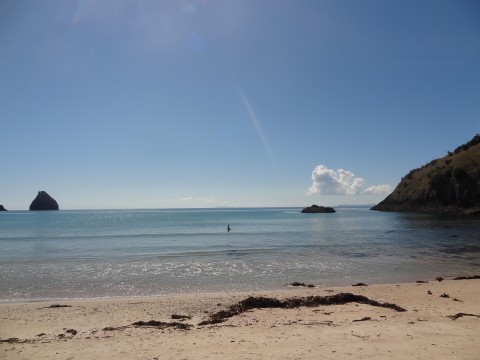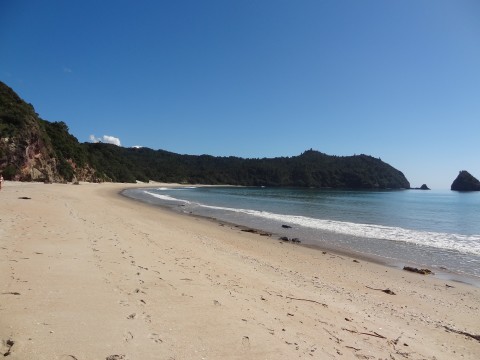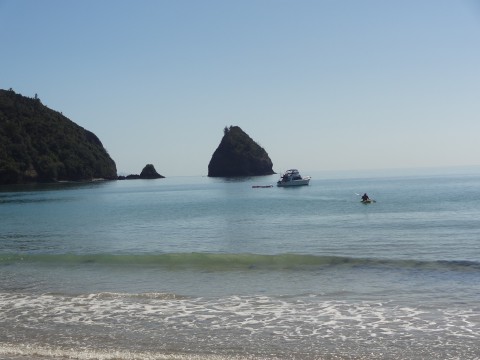 We celebrated a nice day out with a few drinks and a meal in a very lively sports bar in town where locals were watching  Australia v New Zealand  in the cricket World Cup  – the beers were flowing and  there was a great atmosphere – although the Ozzies won in the end
On 3rd April, after  a week on the Coromandel, we  set off on another scenic drive 170kms or so down the coast to Mt Maunganui.