We arrived at Wanaka 24th February and checked into Lake Wanaka Lodge, dropped the bags and went for a stroll.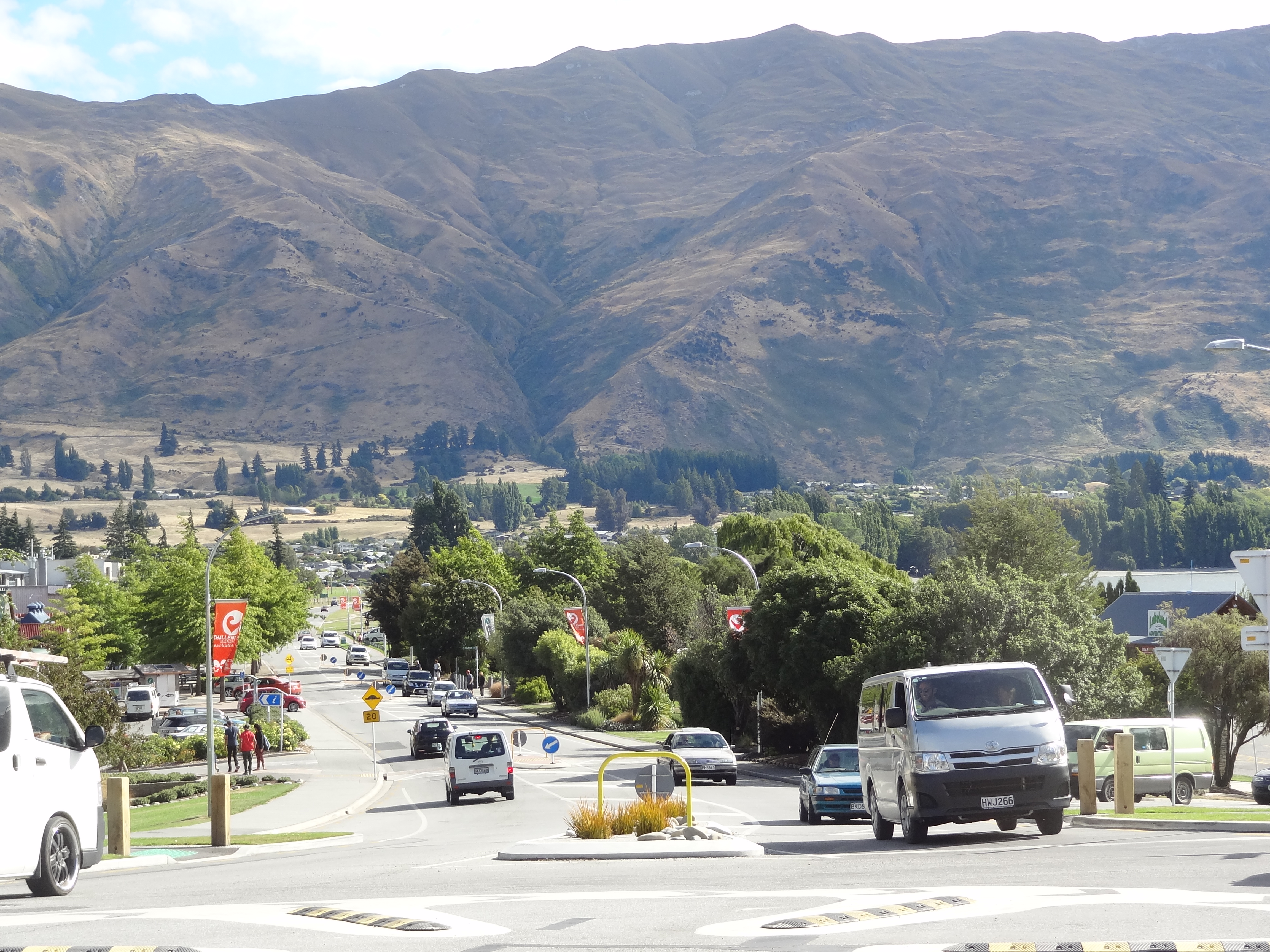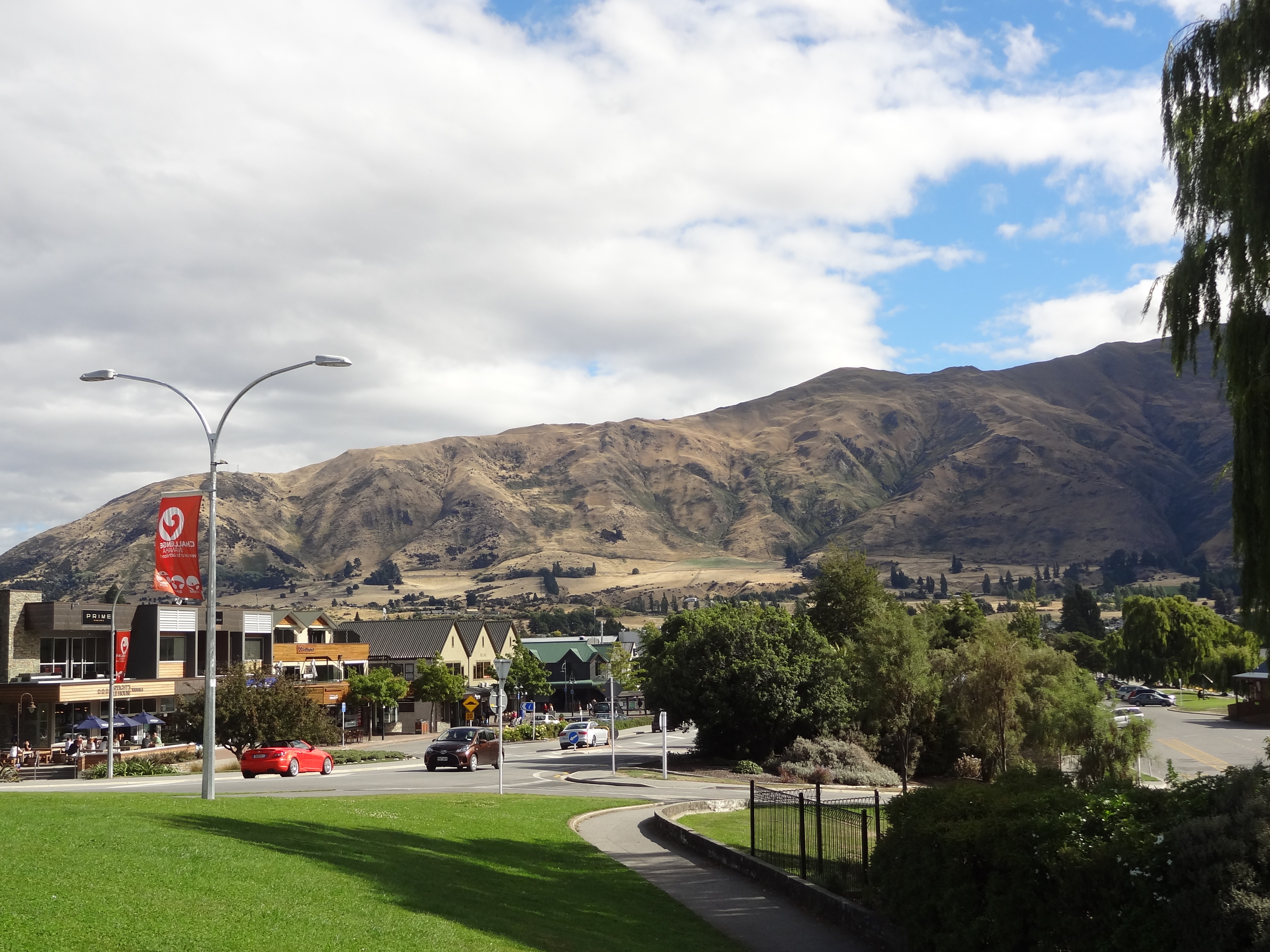 It was a glorious day and town was busy with lots of people about, pavement restaurants and bars full. Kids were playing on the beach and swimming in and jumping into the lake from the jetty. There are rivers and lakes everywhere in New Zealand and its normal to see folk bathing in them – this took some getting used to coming from the North West of England where it's definitely not the norm.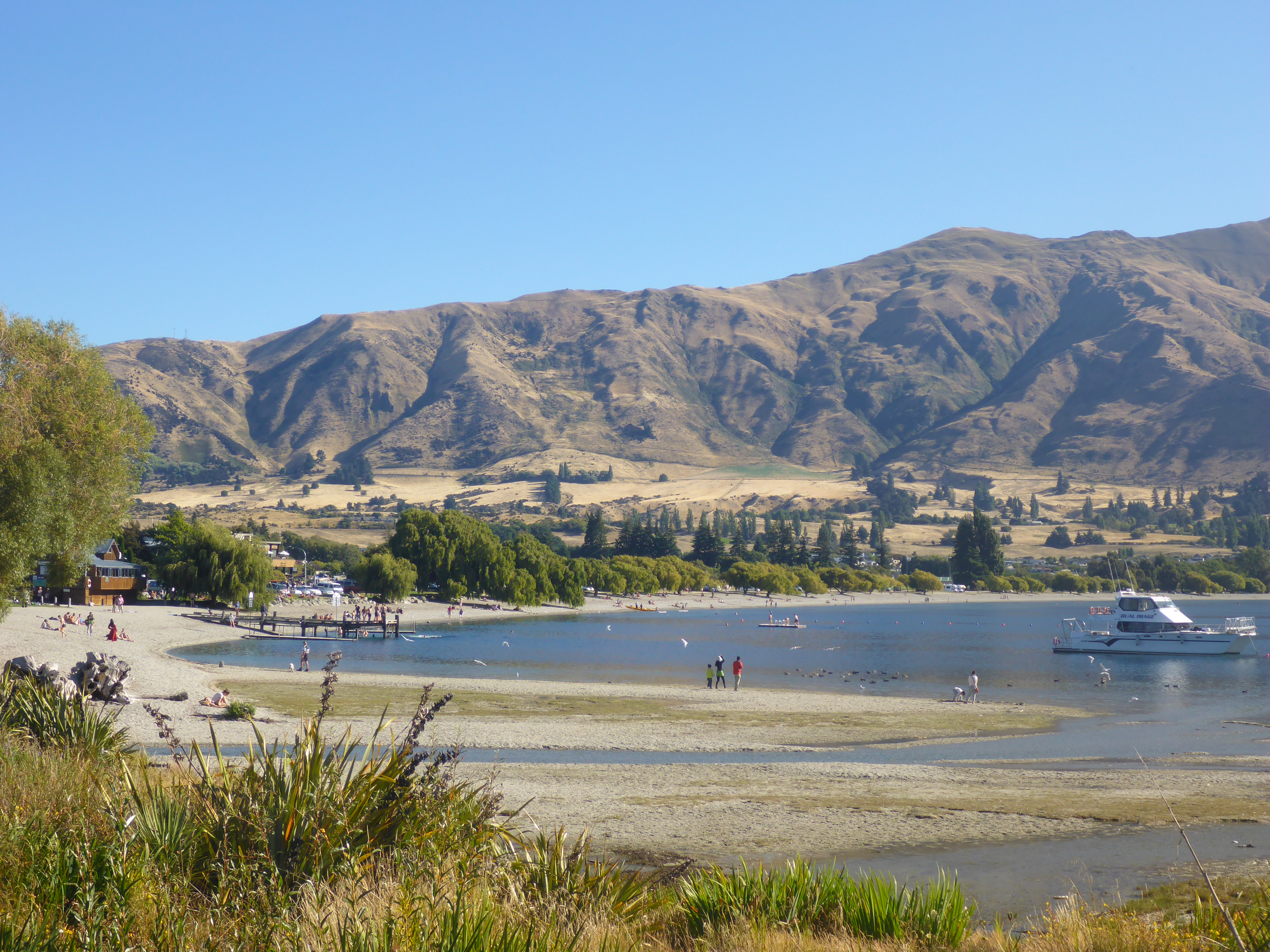 There was a really good vibe about this place. It's very laid back and like everywhere else in NZ, people tend to have a smile on their face and time to have a friendly conversation. We liked it immediately and even more so when we discovered a number of budget friendly bars with Happy Hours. With judicious planning it was possible to drink, responsibly of course, at happy hour rates from 4pm to 7pm.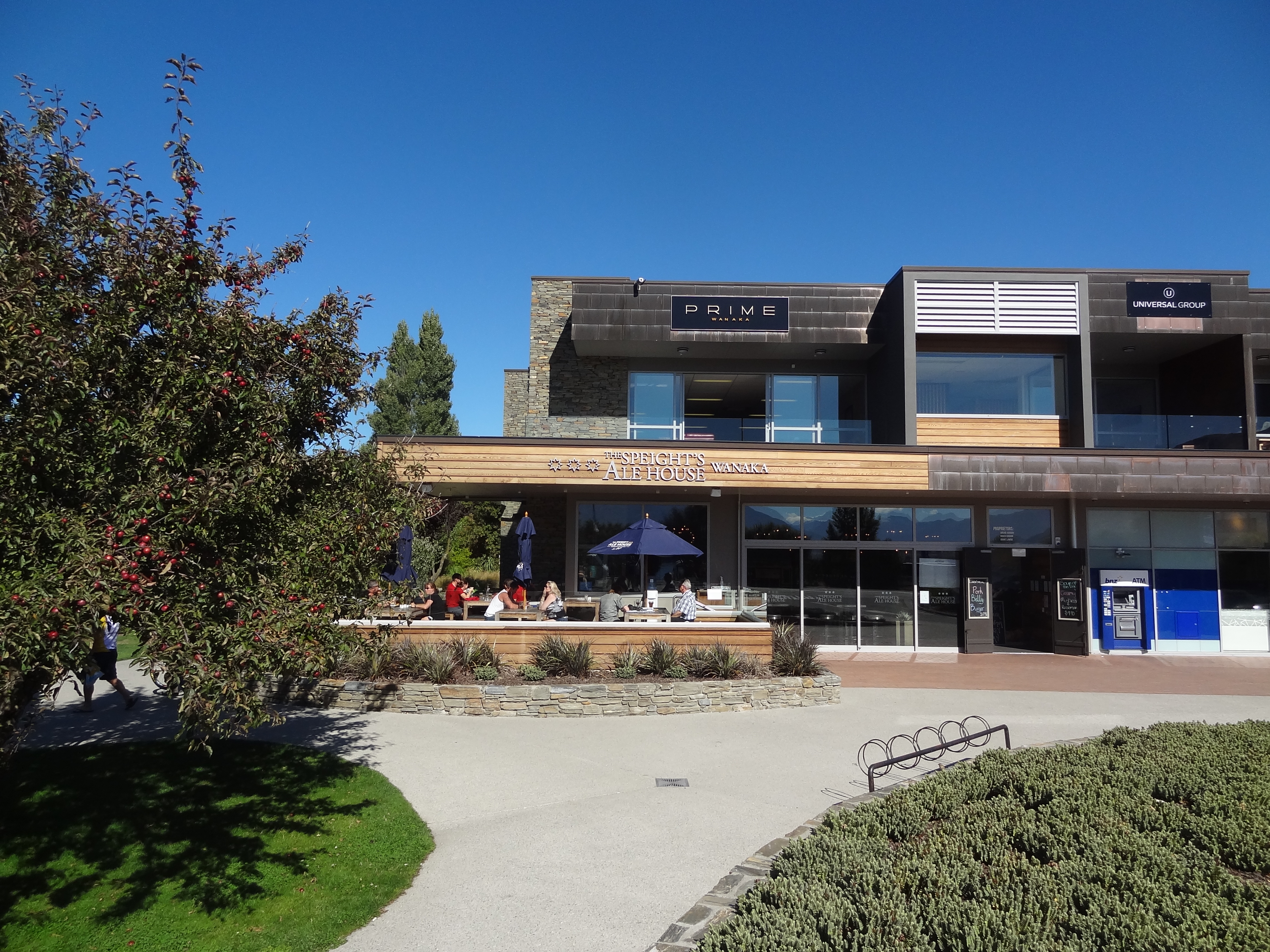 Our first late afternoon and early evening was spent in Speights Ale House and then, too tired to bother with a proper meal, it was cheeses and biscuits back at the ranch – a regular light repast when its too much trouble to cook.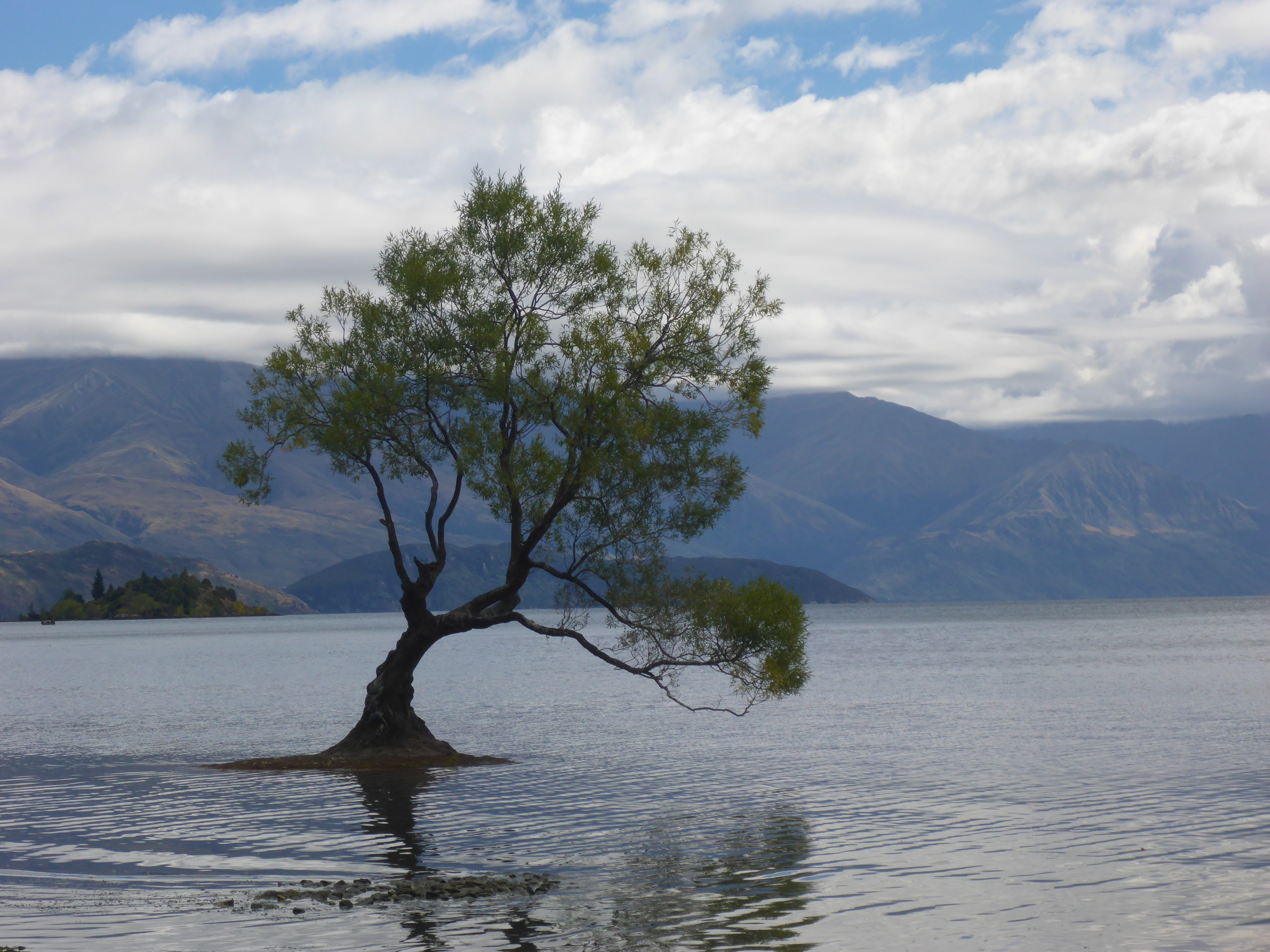 The next day, we decided on an easy lakeshore walk to Waterfall Creek which took us past the Rippon Vinyard. We packed a picnic and set off directly from Wanaka around the lake shore and passing the winery to Waterfall Creek. It was nearing harvesting time and as we passed we watched nets being laid over the rows of vines to protect the grapes from birds. We had seen these nets covering vines and fruit trees all over New Zealand and thought what a big job it must be and sure enough even with a machine to draw the net along and over the rows of vines, it still took three people to get the job done.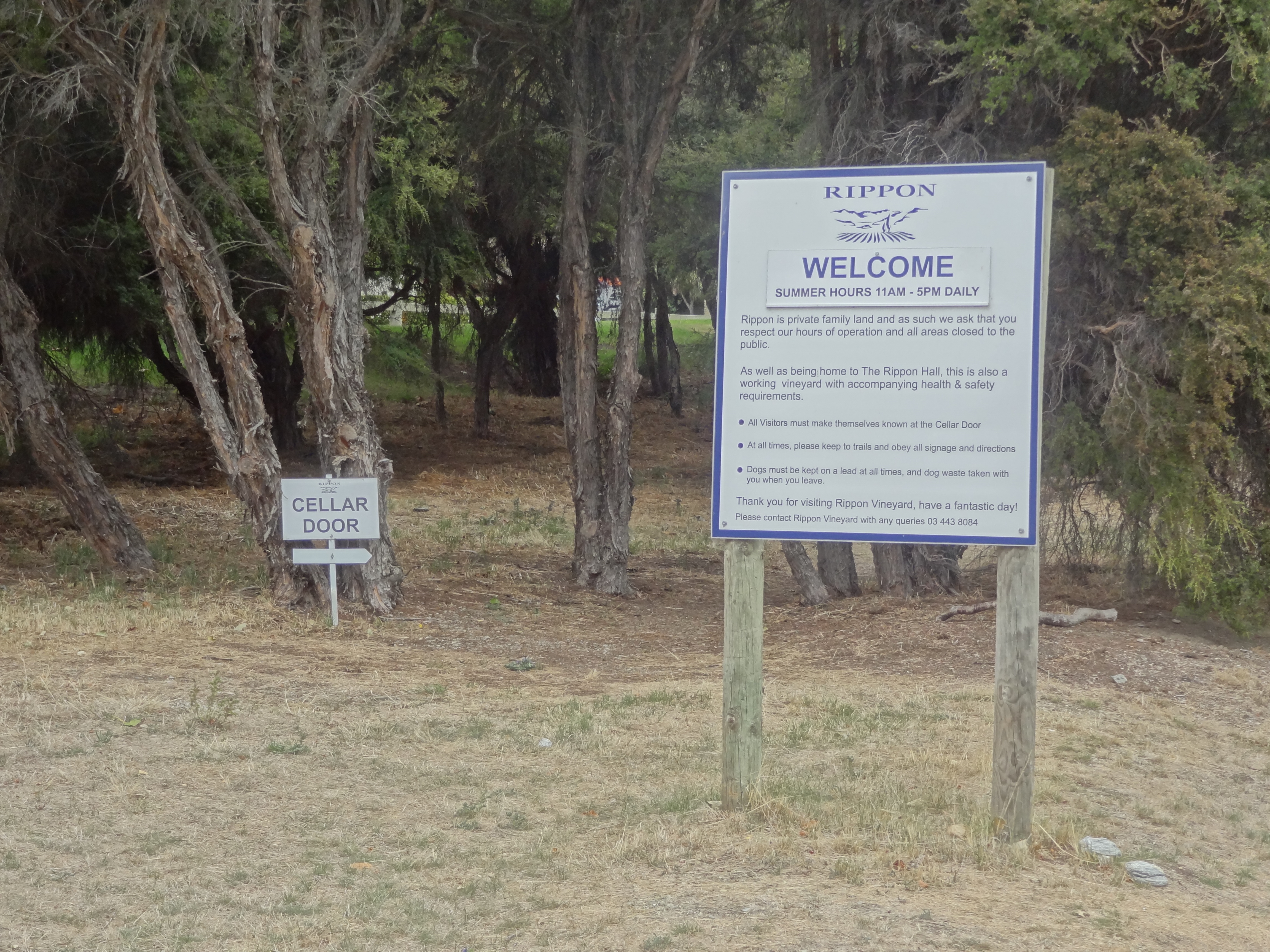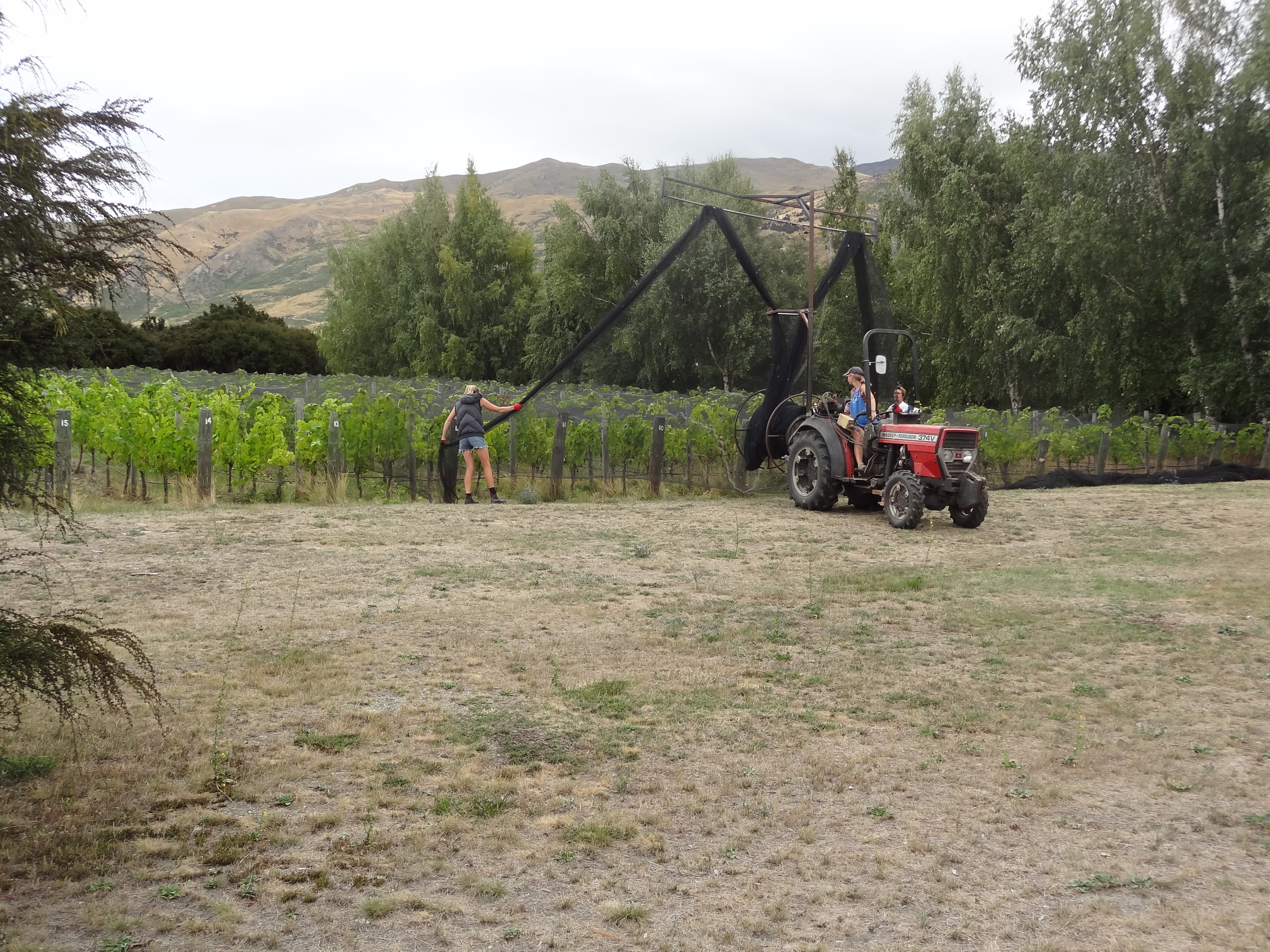 The following day we set off in the car to do the Rob Roy Glacier Walk which is apparently a fantastically scenic walk, quite tough in places but leading to the most picturesque view points of the glacier. Annoyingly, having driven quite some distance and with many miles still left to drive, the road became unsealed and corrugated and so we gave up on this walk for fear of wrecking the car. Instead, we drove back towards Wanaka to do the Diamond Lake Walk. This wasn't a particularly long walk in itself but we then continued above and beyond the lake to a viewpoint high above Wanaka providing fantastic views of the surrounding area. Truly stunning!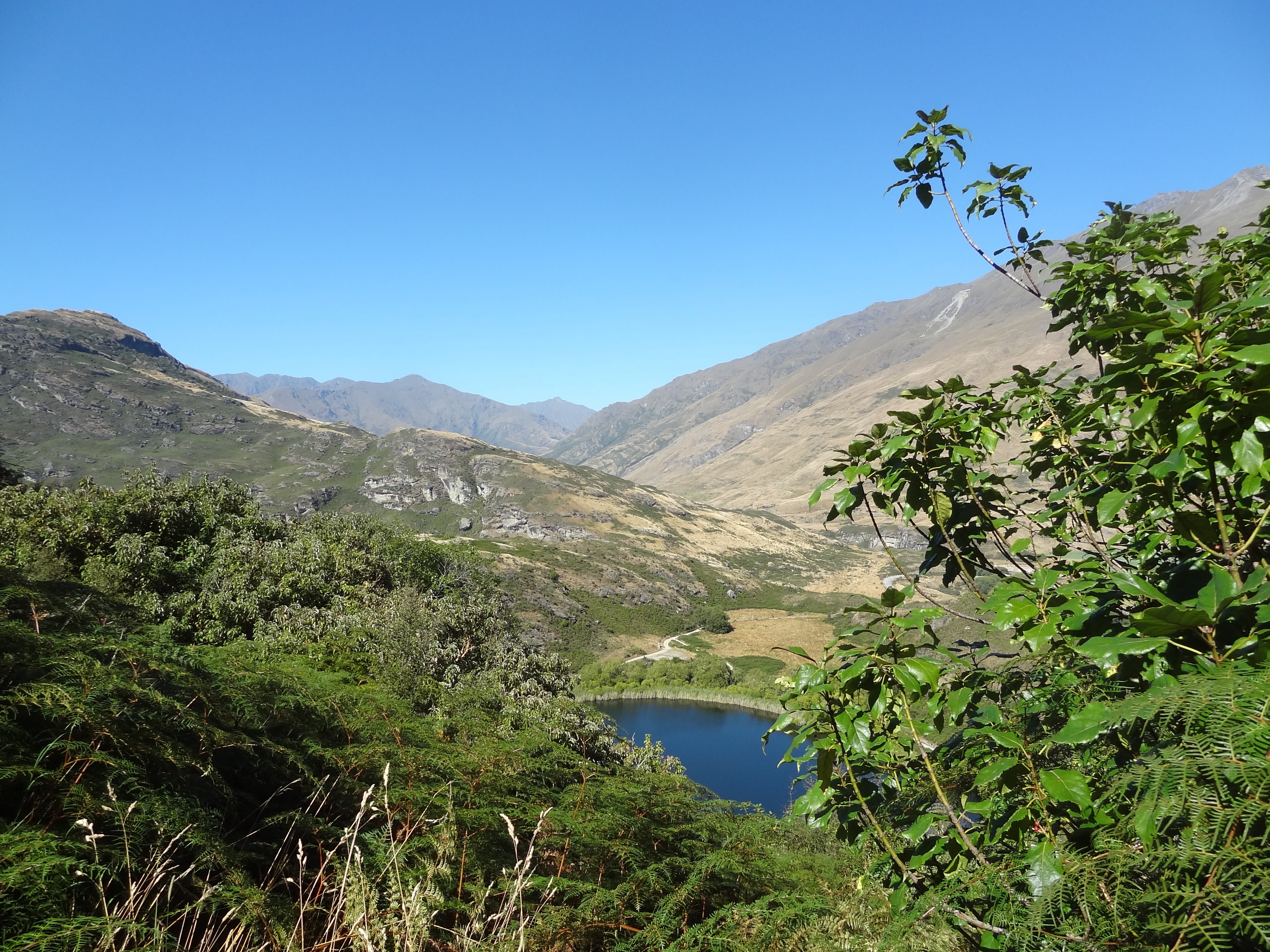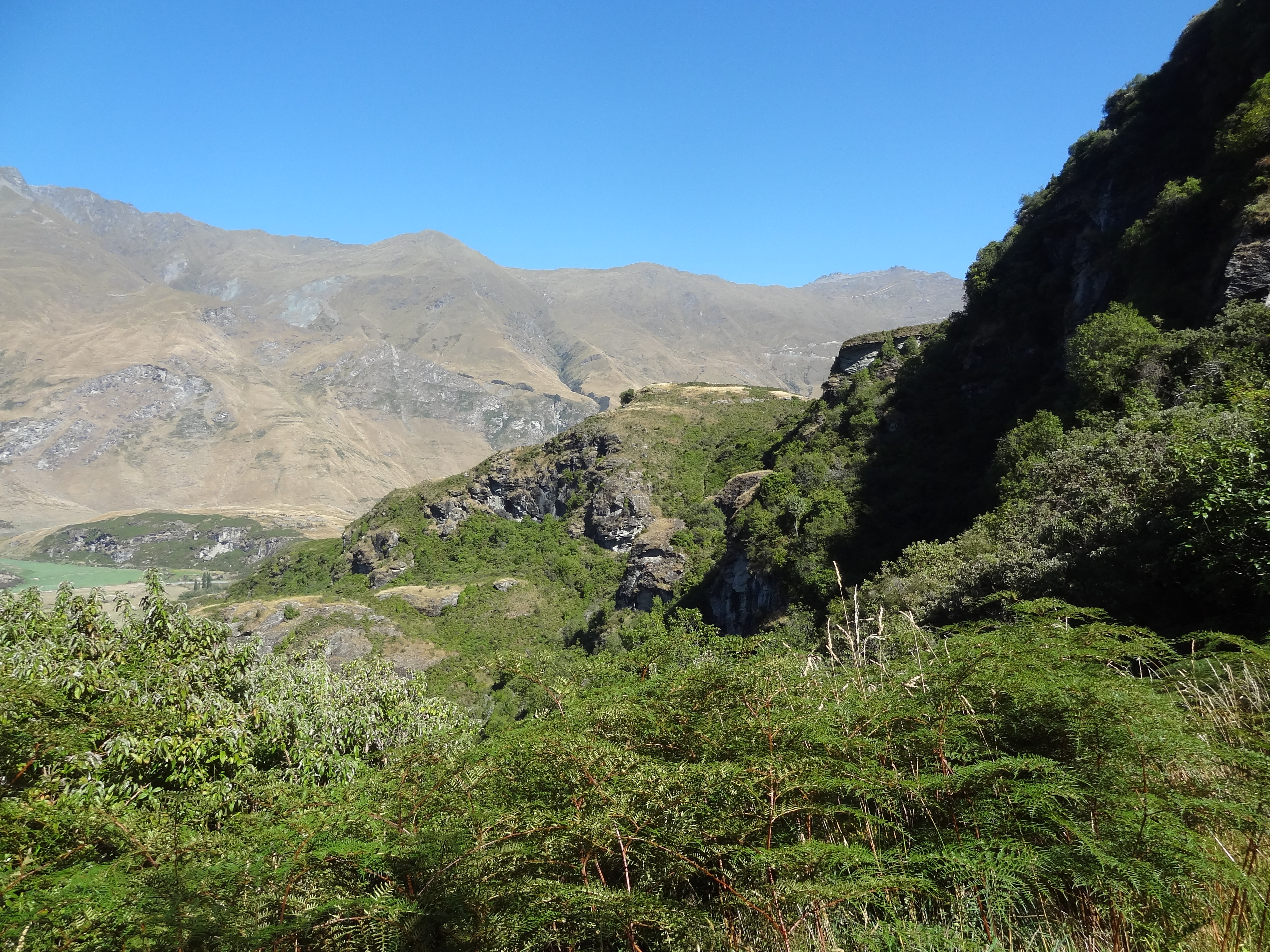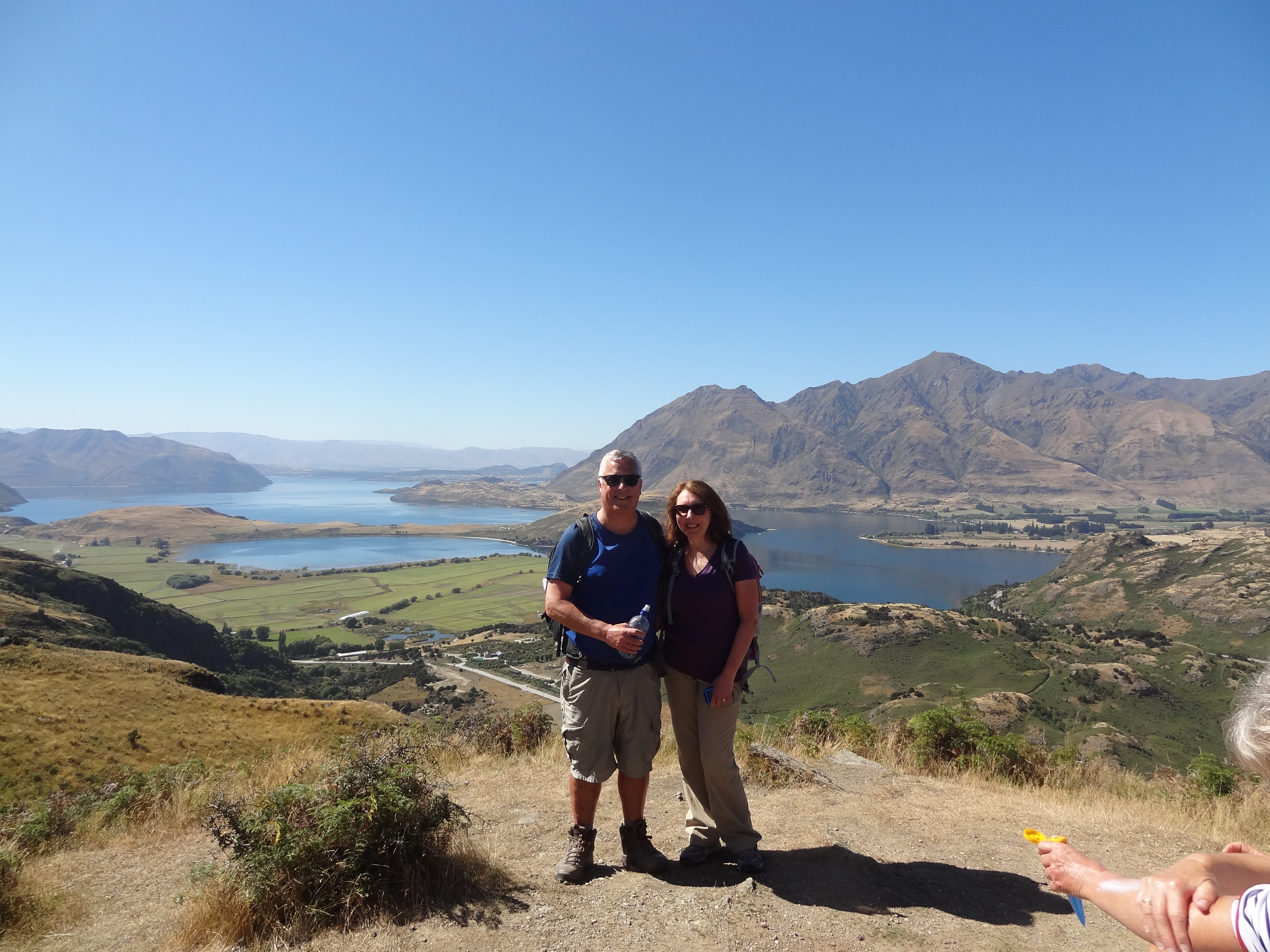 Wanaka Lodge was a very pleasant motel owned by a very nice Japanese family. Breakfast and dinner could be taken at the motel but the rooms have no cooking facilities – a real pain.
The general quality of the motels we have used so far has been very good, even excellent in a couple of cases. However the accommodation usually consists of a single en-suite room often not particularly spacious and often without any outside space. There may or not be a kitchenette and even if there is, facilities often comprise only a microwave and toaster.
As much as we love bars and restaurants, eating out becomes quite tiresome – not to mention expensive – after a few weeks of travel but we were also beginning to feel the confines of a single room motel accommodation a bit claustrophobic – a good job we decided against travelling by camper van!
So at this point we started to re-look at all the accommodation that we had pre-booked (but not yet paid for) for the weeks and months ahead in New Zealand and Australia, the idea being to cancel any bookings for accommodation which didn't include cooking facilities and book new places which had. Also, whilst we had pre-booked most of our accommodations for a minimum of 3 nights to give us at least 2 days in most locations, we did have some two night bookings and the odd single night booking made to break up a long drive. We decided we should try where possible, without changing our basic itinerary, to find alternative self-catering accommodation, ideally holiday houses or apartments and book for a minimum of 3 nights.
Back to Wanaka, we had two full days at here and loved it. We would have been happy to stay a week.
The town is quite small but has some nice shops, bars and restaurants and is clearly an affluent place. The main street overlooks the lake separated from it by a road and then gardens and grassy areas. As everywhere, the gardens and grass are lush (they do get a lot of rain in NZ), well manicured and the streets are litter free. The Main Street is lined with shops, bars and restaurants, many with tables out on the street and overlooking the lake – a great place to sit and enjoy watching the world go by.
The restaurant and bars, like most places here, depend a great deal on youngsters who are working their way around the world and many are Brits or Irish. The ambience is great and in such a friendly convivial atmosphere conversations are easily struck with locals and visitors alike whilst enjoying a pint or two or a meal.
This is a very very pretty town where activities, as ever, are of the outdoor variety. Tramping, cycling, climbing and watersports dominate the tourist activity but of course there are plenty of opportunities to shed £s on other activities – boat trips scenic helicopter or aeroplane flights and the like. In the wintertime this is a winter sports resort with skiing, snowboarding, snow-trecking and the like all on offer and so its a place that has an appeal in all seasons.
Wanaka is most definitely one of the highlights of our trip so far and definitely a place we would re-stay for a week or longer if we get chance to return.