On,20th February 2015, following our visit to the far north of South Island, we left Takaka to continue our anti-clockwise tour.
Our next destination, another "must see" location, was Franz Josef Glacier and it was a must see for more than one reason.
Firstly, Franz Josef is on any visitor's bucket list due to the simple fact that it is a glacier; not something you see everyday. It is located in an area of outstanding natural beauty but also remarkably, it's a glacier that runs from ice-capped mountains down into lush, temperate rainforest at less than 300 metres above sea level. This phenomenon apparently occurs only in two other places, one being Fox Glacier a few miles south of Franz Josef, the other being the Perito Merino Glacier in Argentina! The second reason why it's a must see is that global warming is having such an effect that the glacier is shrinking quite rapidly to an extent that it's quite likely that it will be impossible to see in the future other than from the sky.
But we had some travelling to do before we reached FJG. The drive from Takaka to FJG is over 500Km and almost seven hours of driving with few notable places to stop en-route other than the Pancake Rocks at Punakaiki.
When building our itinerary we tried to limit any drive to three hours whenever possible and so we had decided to break the journey firstly at Westport, named after one of our favourite towns in the West of Ireland (like many of the towns and streets in the south island that don't have a Maori name) and then again at Hokitika which would leave us with an easy final stint of less than two hours to FJG.
All or at least most of our journeys from area to area have been truly scenic, but the drive from Takaka to Westport is the best so far. Starting with the return journey back over Takaka Hill we then hit Motueka and travelled along the lush Motueka Valley, a very pretty valley, through agricultural land growing grapes, apples, hops and other fruits.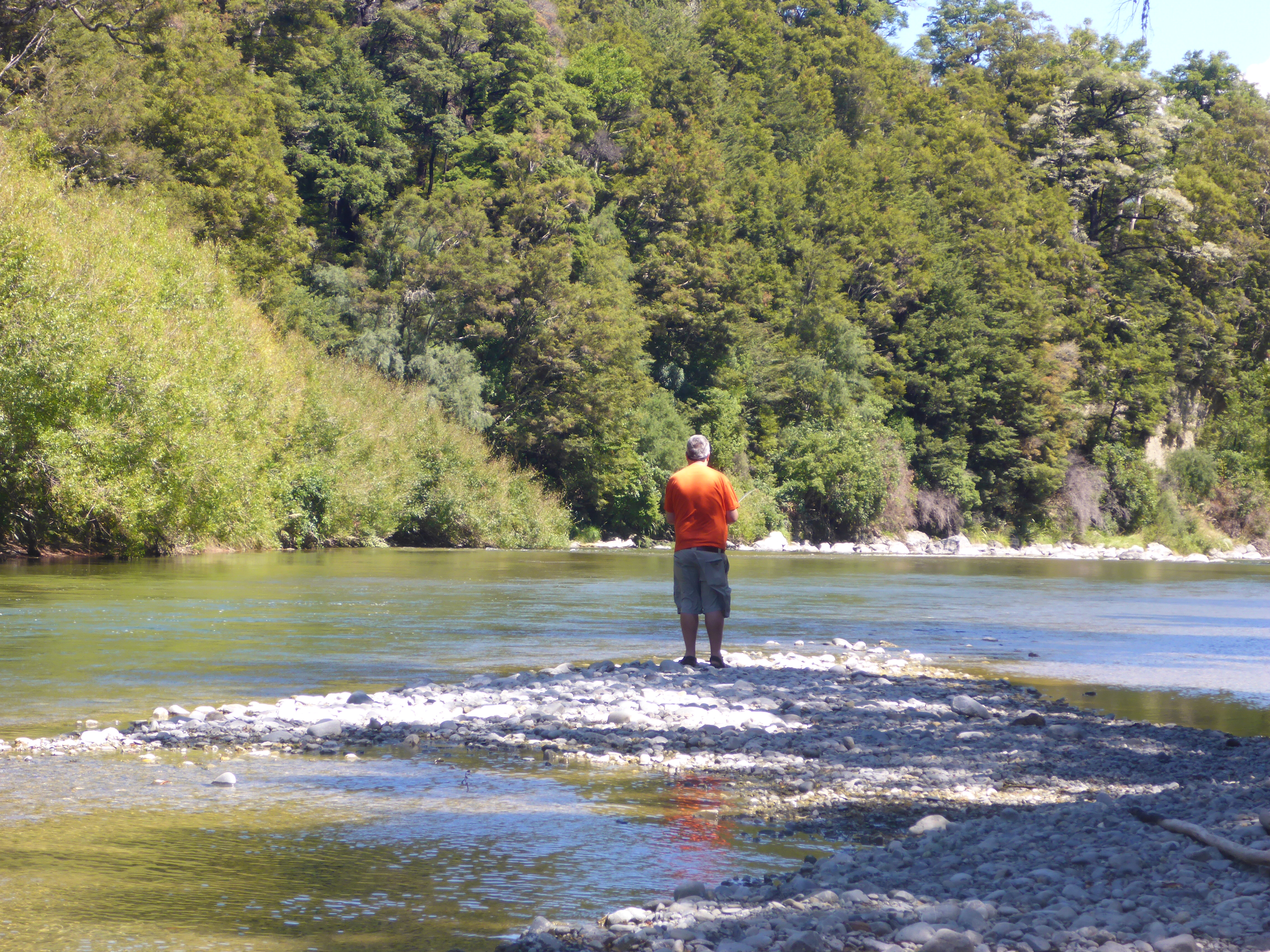 En-route we stopped to wet an unproductive fly in a lovely wilderness trout stream (Gowan River) and called at Lake Rotoroa intending to walk a few kms and cast a few more flies but we were bitten mercilessly by the dreaded sandflies and beat a hasty retreat to the car, leaving within minutes of arrival.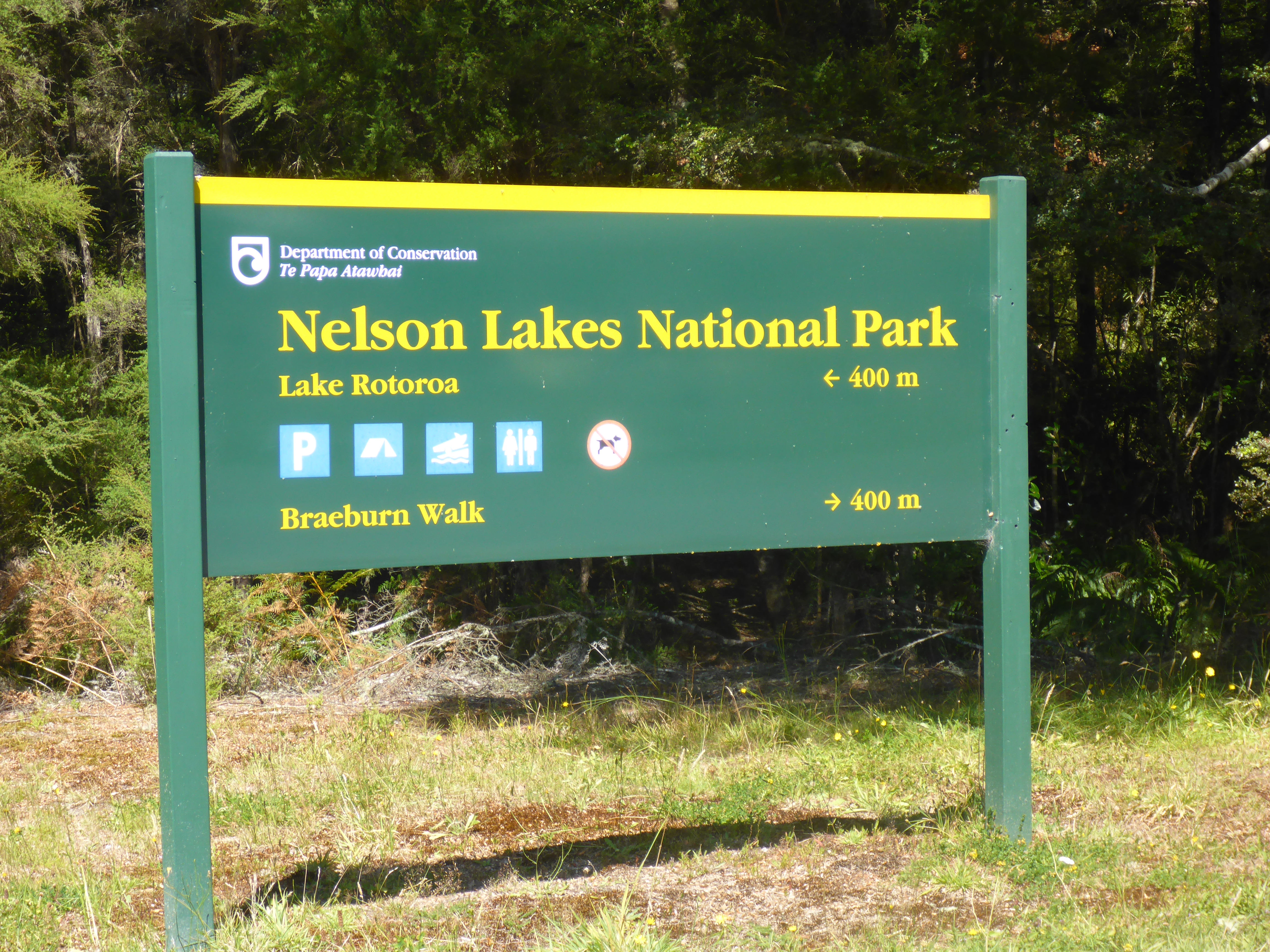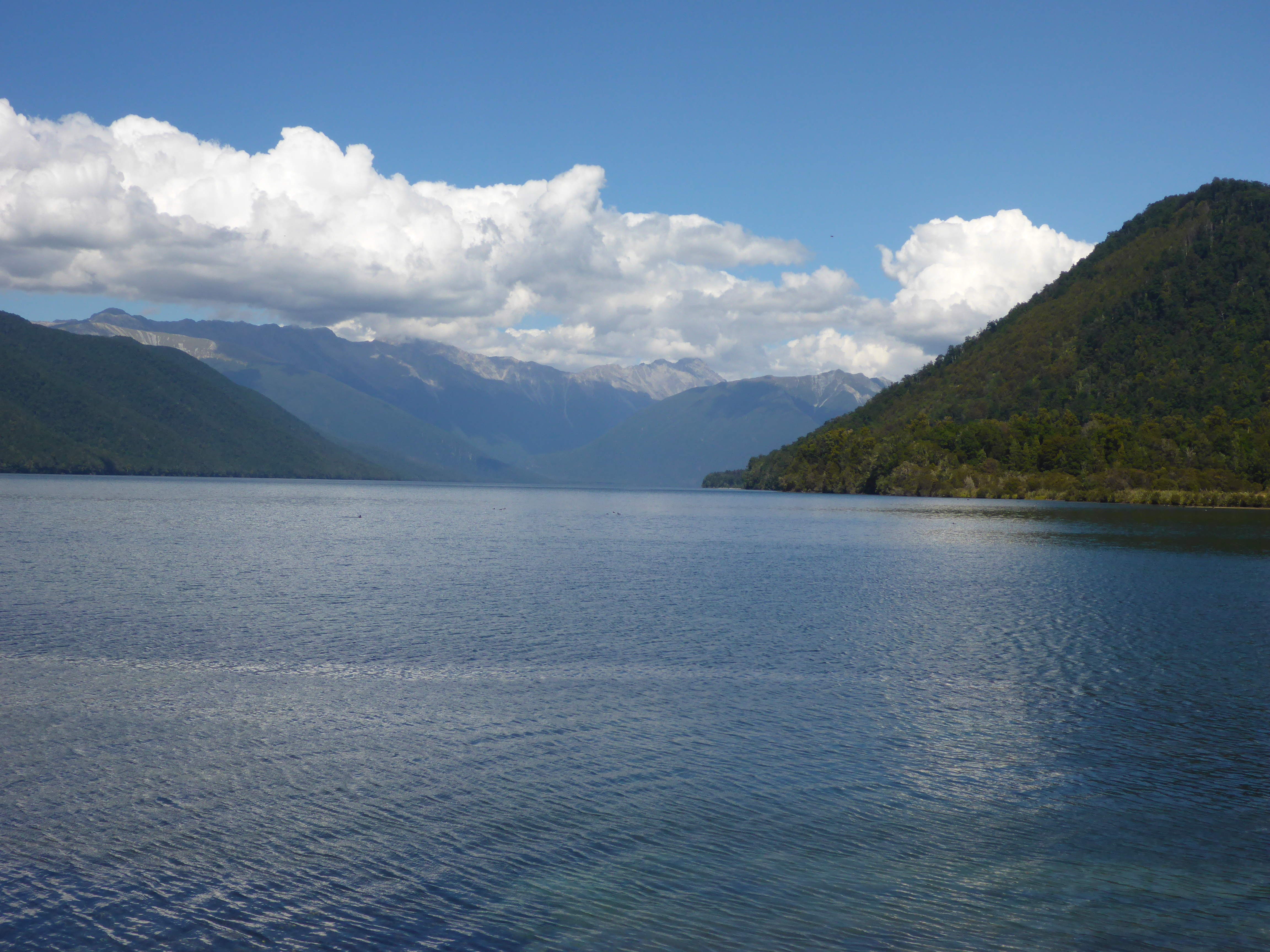 Our next stop was Murchison, a town founded in the gold rush but now apparently famous as the Whitewater Capital of NZ and a fishing and tramping centre. It comprises a couple of streets only in the middle of nowhere but isn't unattractive. Ann would and did call it a One Horse Cowboy Town.
From Murchison the journey continued through the truly awesome Buller Gorge. This provides fantastic scenery with a seriously big river running through a deep deep gorge with the road winding along its length high above the river. The river runs for 170 km to Westport and in parts the road is a single lane literally cut into the rock of the mountain side. We stopped at one viewing point to look down; like many of the rivers here the water is gin clear and even from a distance of perhaps 50 metres above we could see large trout in the river. Awesome. A memorable drive.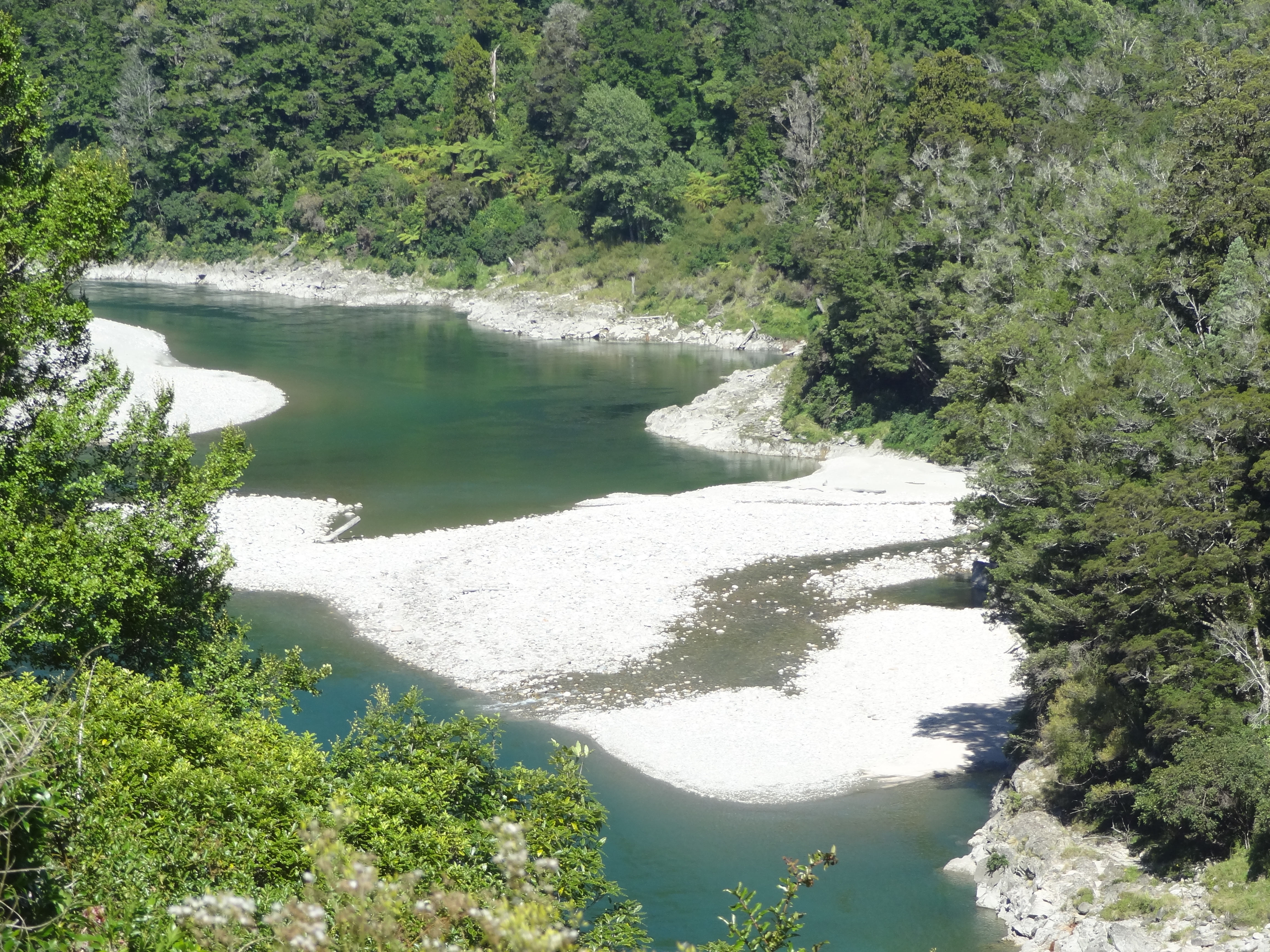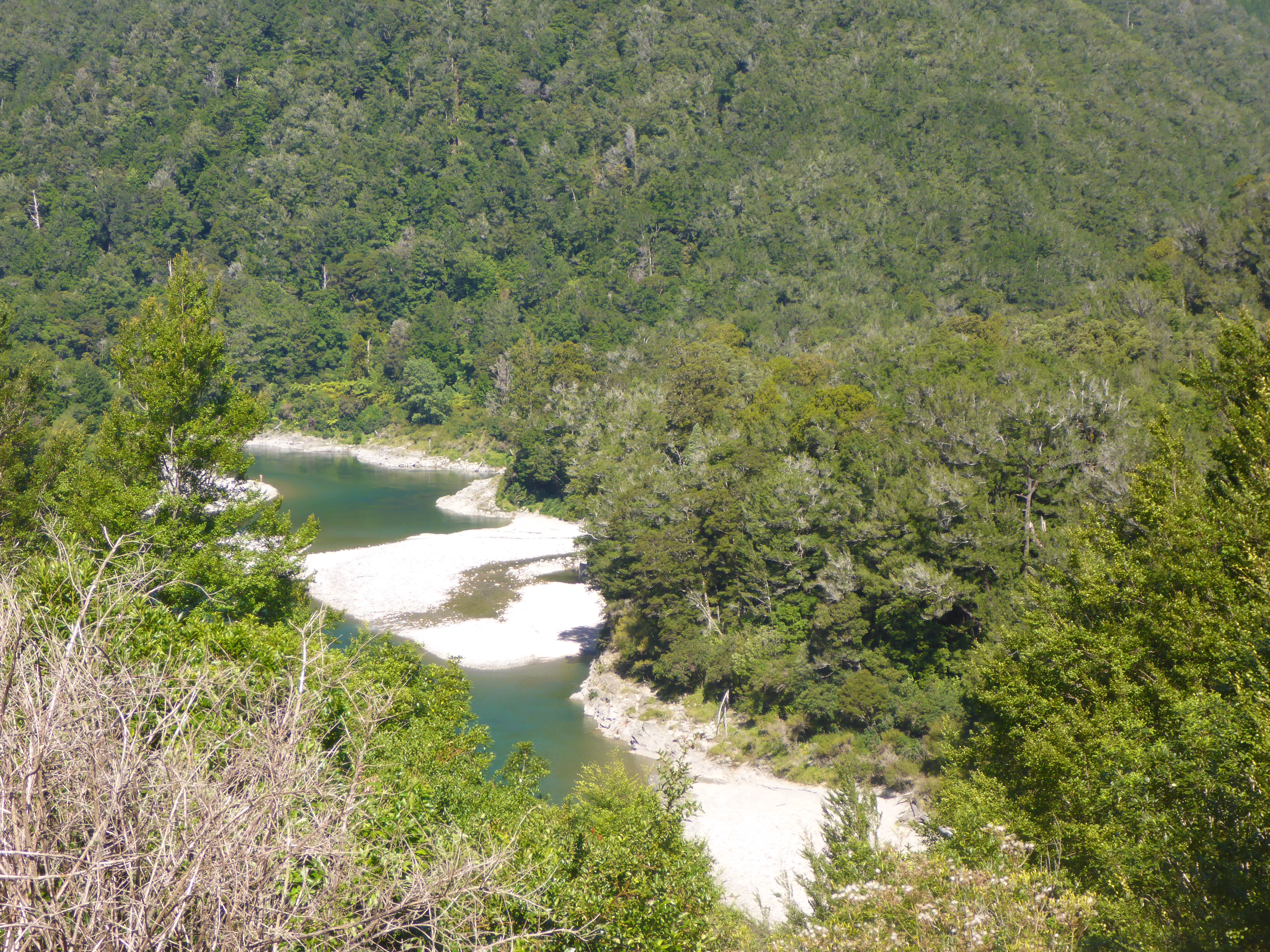 Westport
The end point of this section of our journey, Westport, sadly bears little resemblance to its namesake in West of Ireland. Maybe the inhabitants enjoy weekend shindigs at the local RSA Club (Returning Services' Association) every bit as good as a night at Matt Molloy's in Ireland but I doubt it, although in all fairness, as of yet, I've still to persuade Ann to risk a visit to an RSA Club. It has to be done though…
We didn't find Westport NZ a particularly pretty town although there is a modern art deco style civic hall and what is apparently an excellent coal museum – which wasn't open at the time of our visit. The town, like many NZ towns, was established fairly recently in the 1860s following the discovery of gold in them there hills. Subsequently, good quality coal was discovered and is still mined here. The town is also well known for its Seal colony nearby.
We enjoyed a take away and a beer and retired early.
Punakaiki
Our journey continued the next morning via the Great Coast Road, named by Lonely Planet as one of the top 10 drives in the world. The scenery is varied all along the coast down to and beyond Franz Josef and seems to change every five minutes; up and around narrow and winding mountain roads, limestone cliffs, long deserted beaches and dense ancient forest.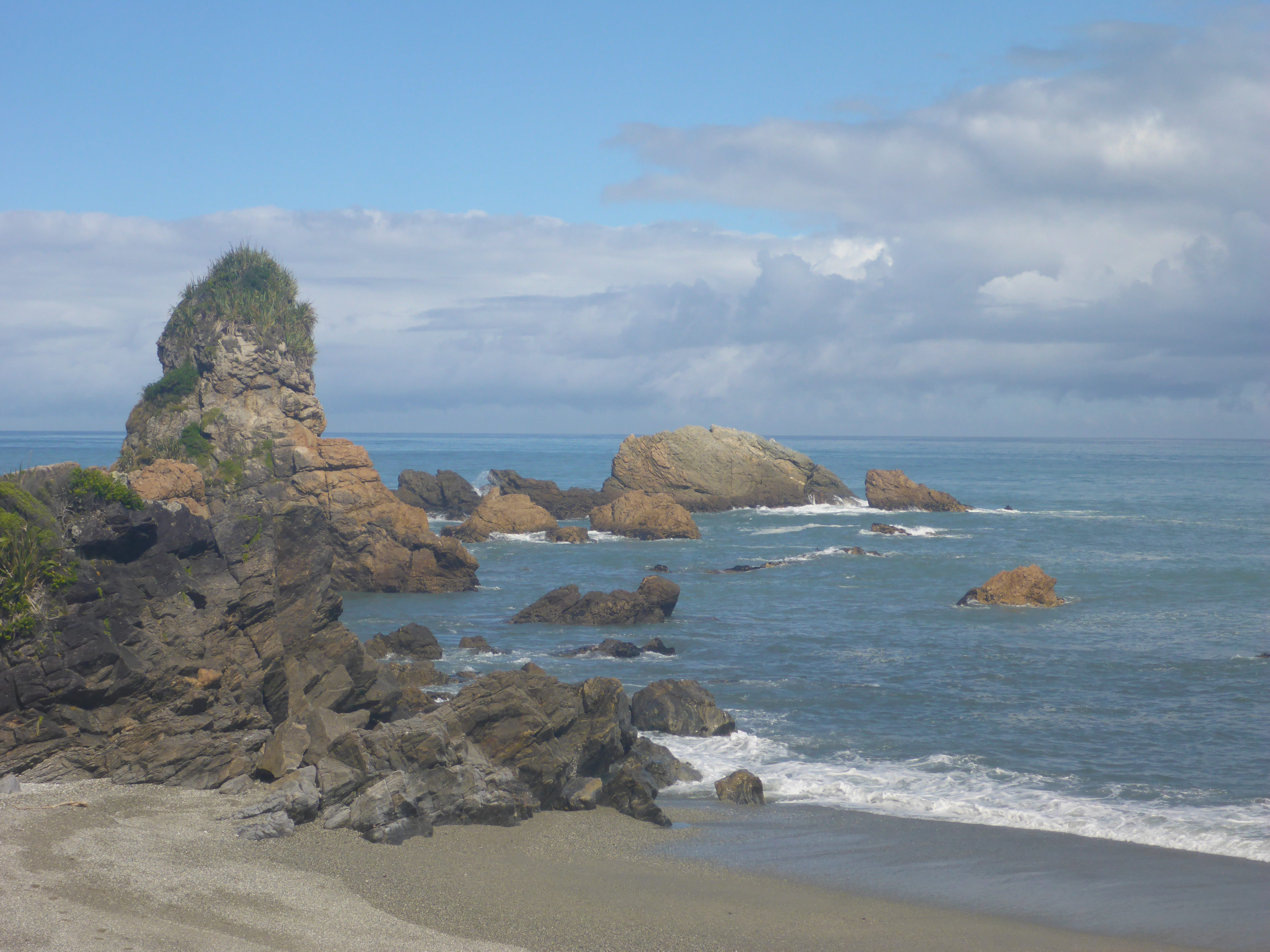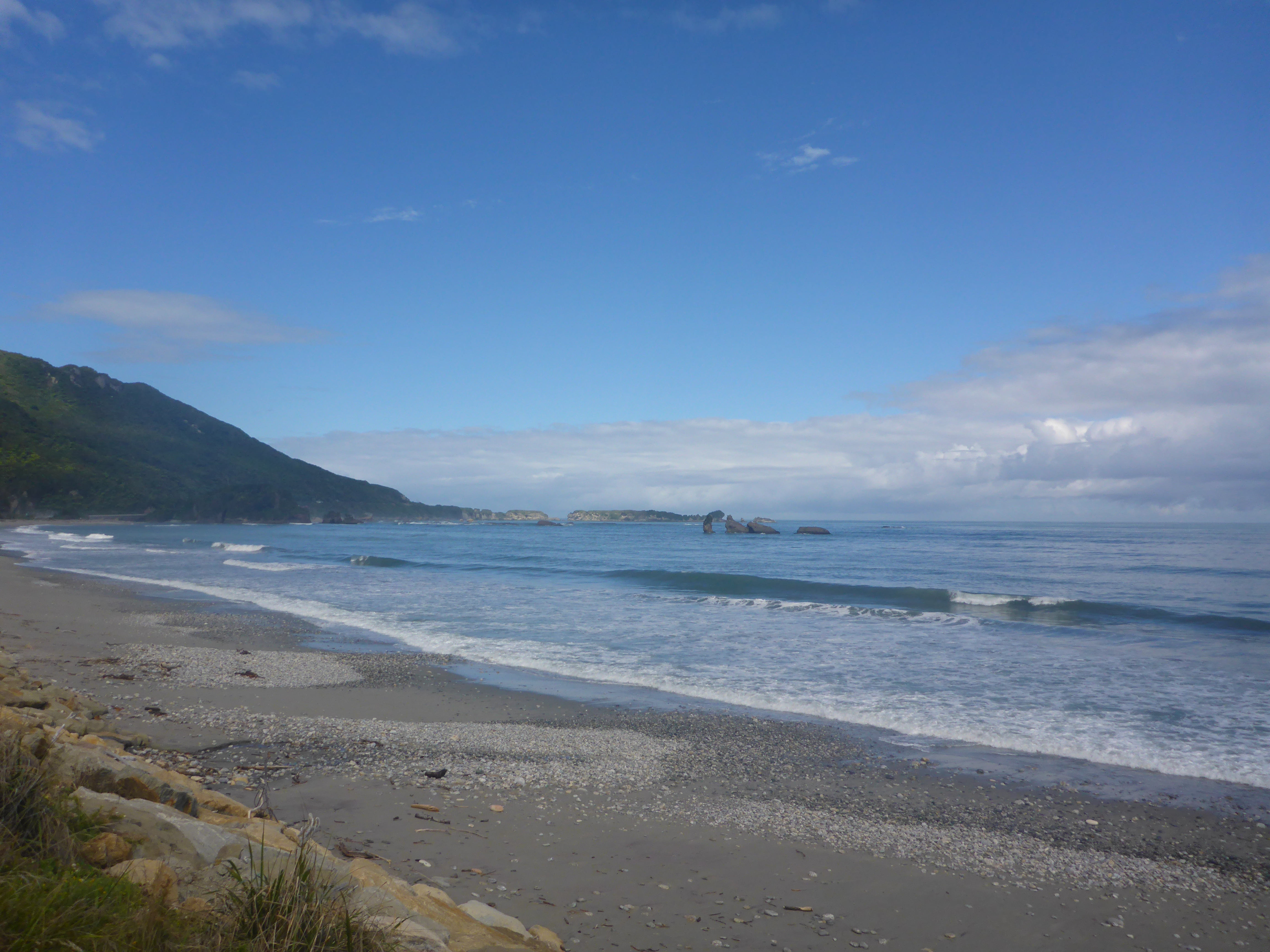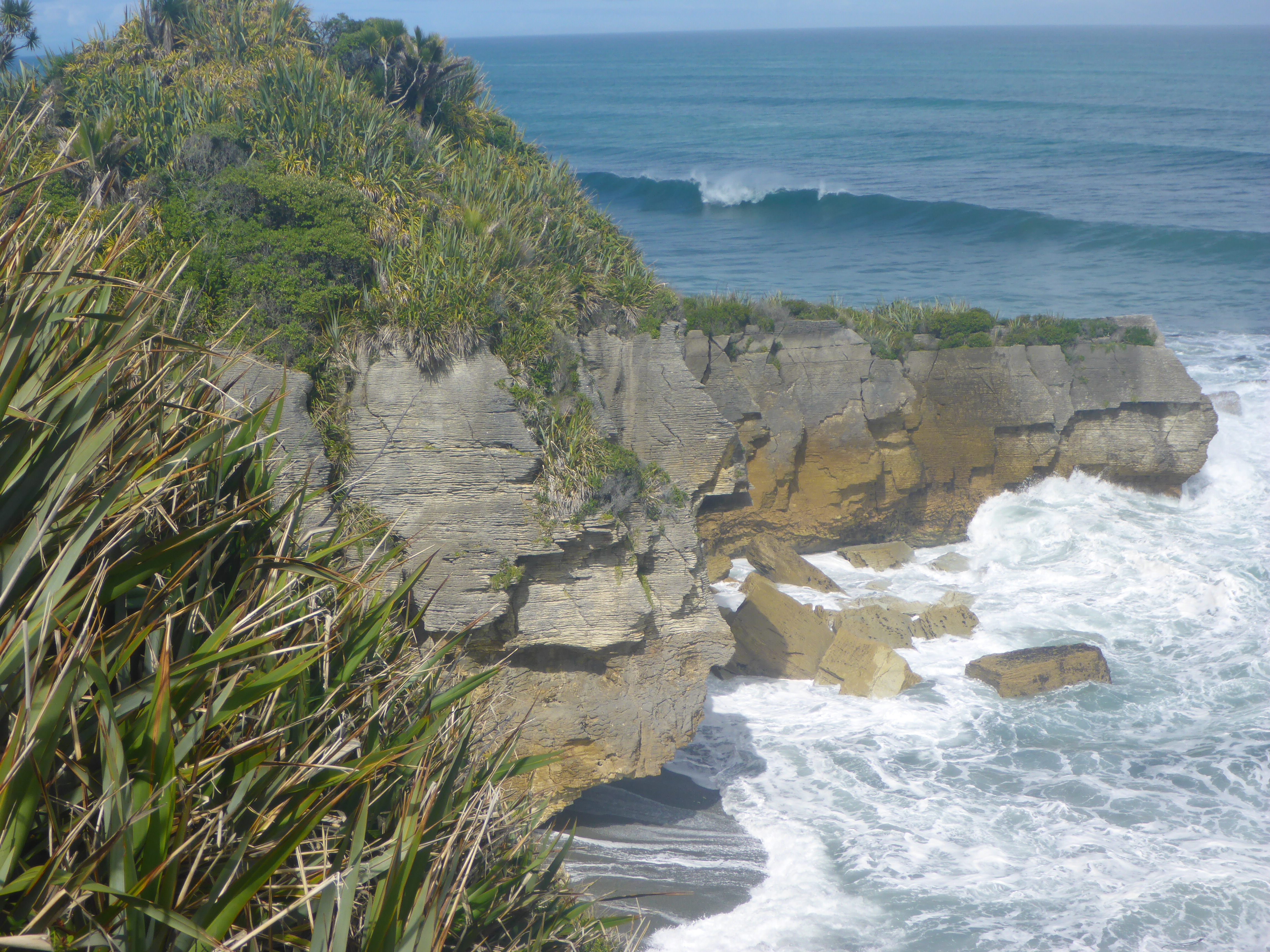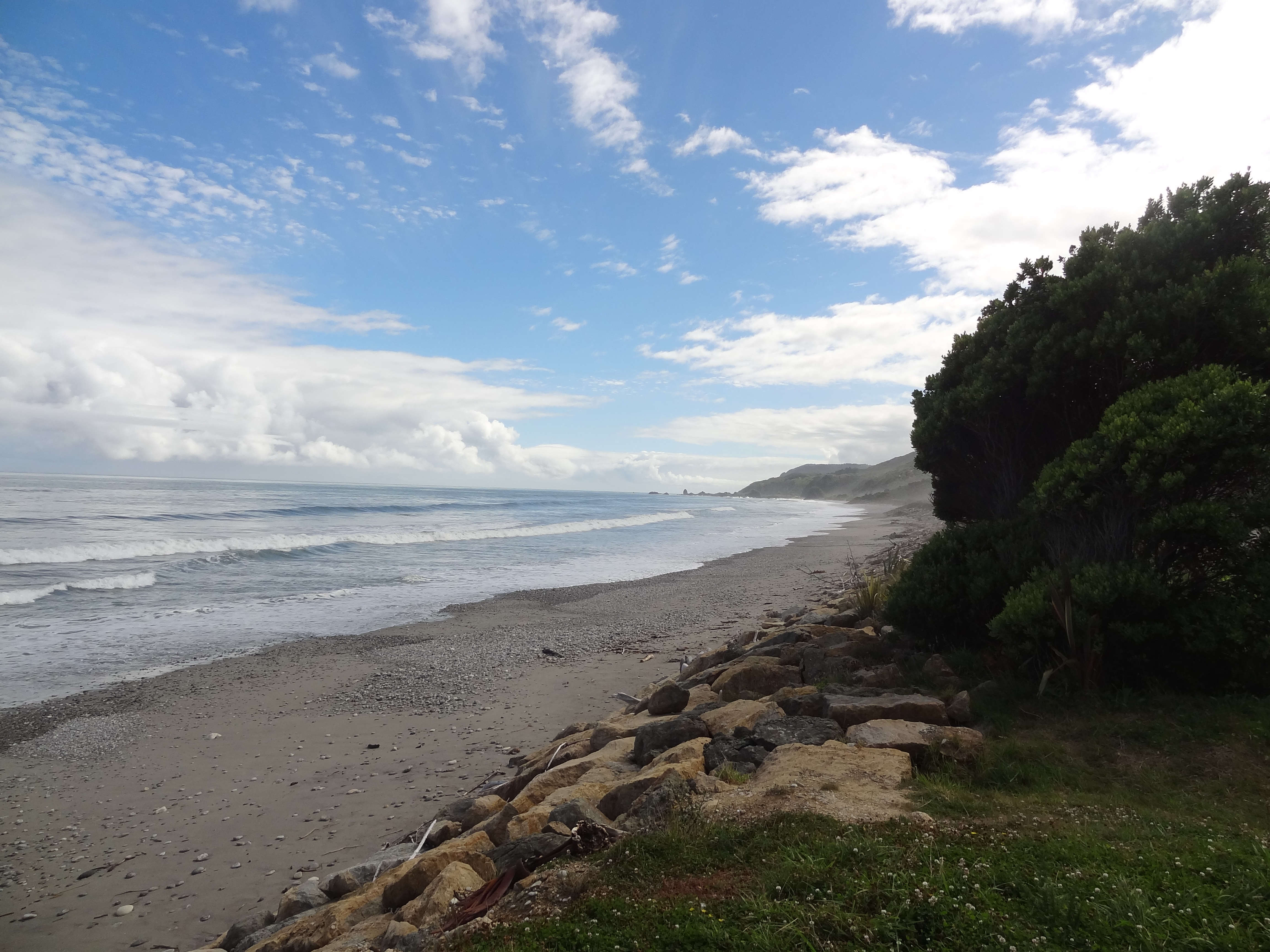 Greymouth is the next town south after Westport but after the briefest of stops we drove on. Greymouth's attractions are the activities that are available in the area, white water rafting, cave rafting and other adrenaline-charged activities but also gold panning, an attraction that is on offer at various places along this coast and many places in South Island. Otherwise, unless we were going to avail ourselves of such attractions, Greymouth had been described to us as dull and so it seemed during our briefest of stops.
Our next stopover before we finally hit Glacier Country was Hokitika but on the way we would stop at the world famous Punakaiki.
Punakaiki is a small community on the edge of Paparoa National Park and is a very popular tourist destination due to the existence of the Pancake Rocks. As far as we can tell the community has come to exist only to service the National Park and to feed/feed upon the constant flow of tourists visiting the Rocks.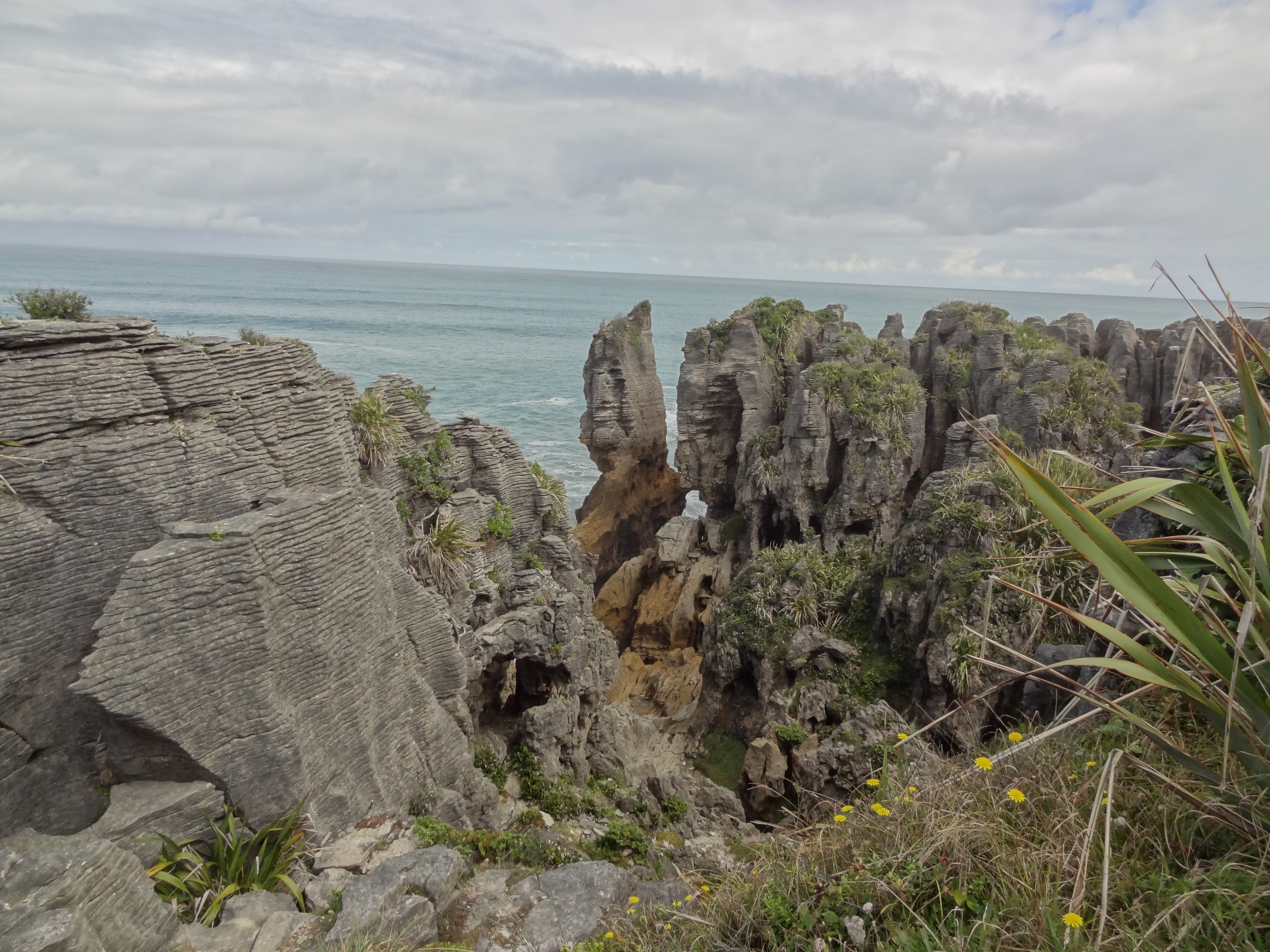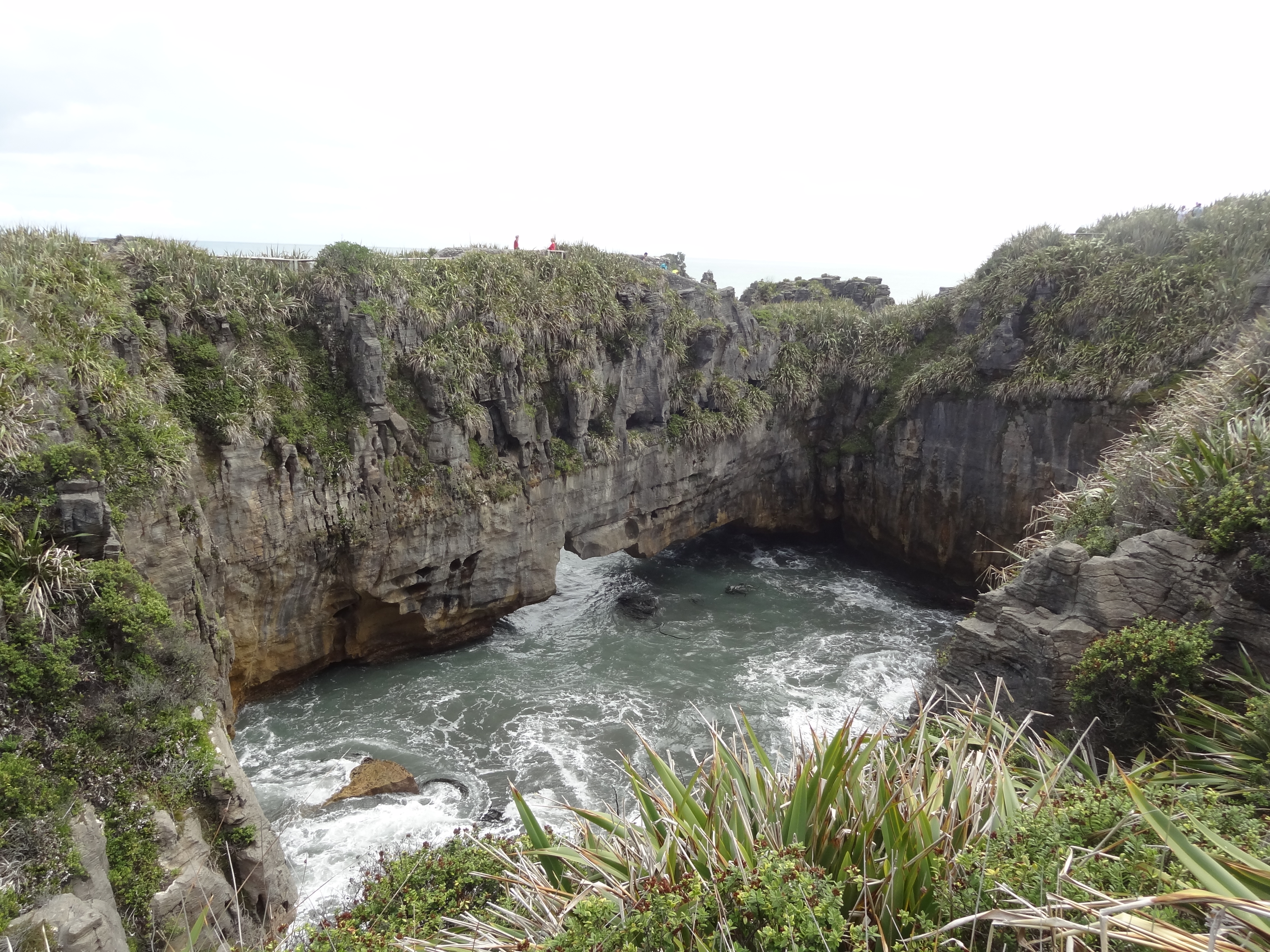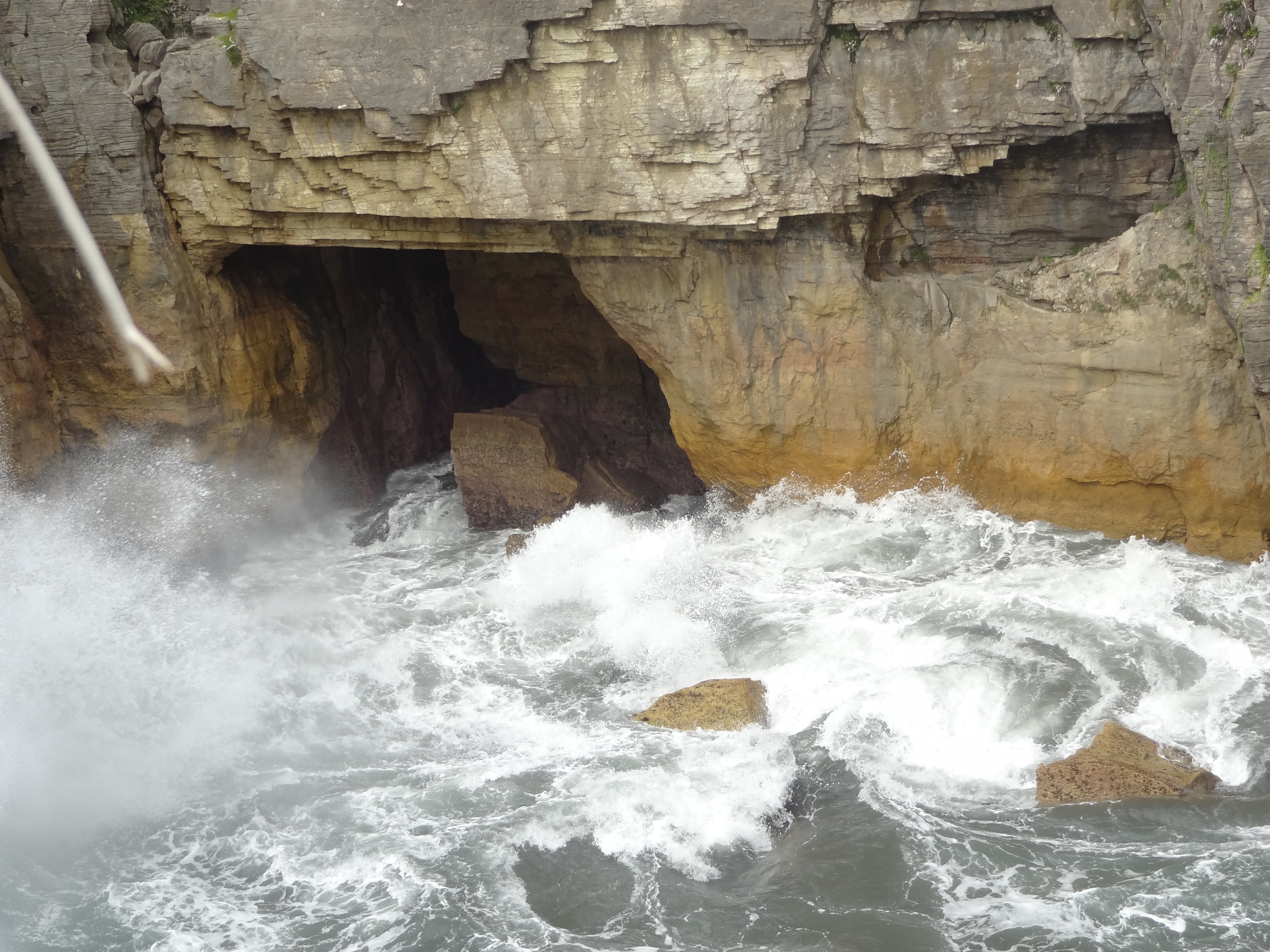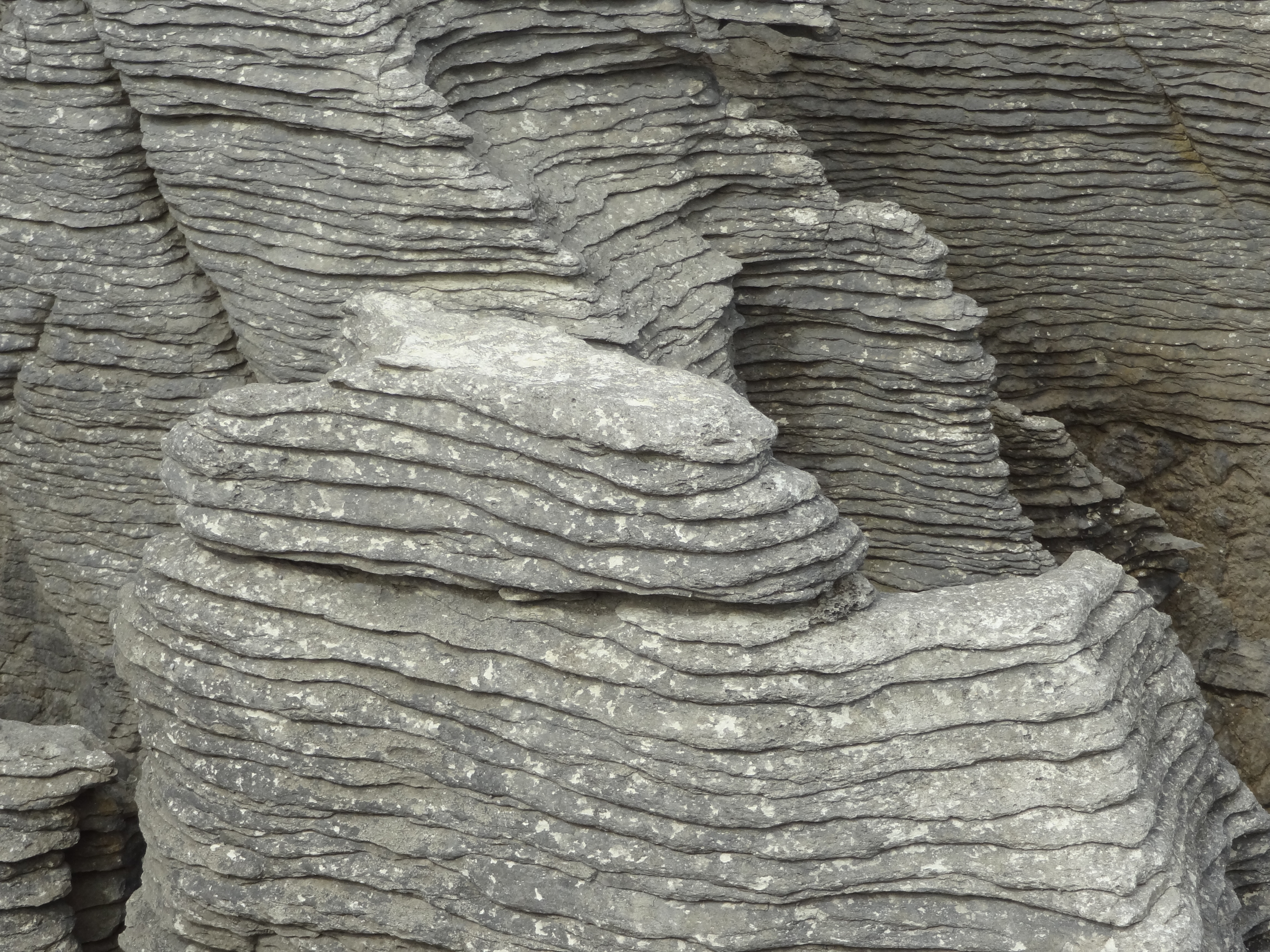 The Pancake Rocks is an area of heavily eroded sandstone where at high tide the sea bursts through vertical blowholes. The rocks comprise layer upon layer of limestone formed by the immense pressure on alternating hard and soft layers of marine and plant sediments. The rock formations are indeed fascinating but sadly our visit didn't coincide with the high tide necessary to see the blow holes in full force!
Hokitika
We arrived Hokitika early afternoon. Hokitika is another town founded on gold mining in the 1860s and at one point was ranked the premier port in New Zealand, a fact which seems incredible when you visit the place today. By now the town's economy is tourism-based but the carving of greenstone (pounami) remains an important local industry. The town was really quiet with many of the shops closed but as usual a couple of gaming bars doing good business.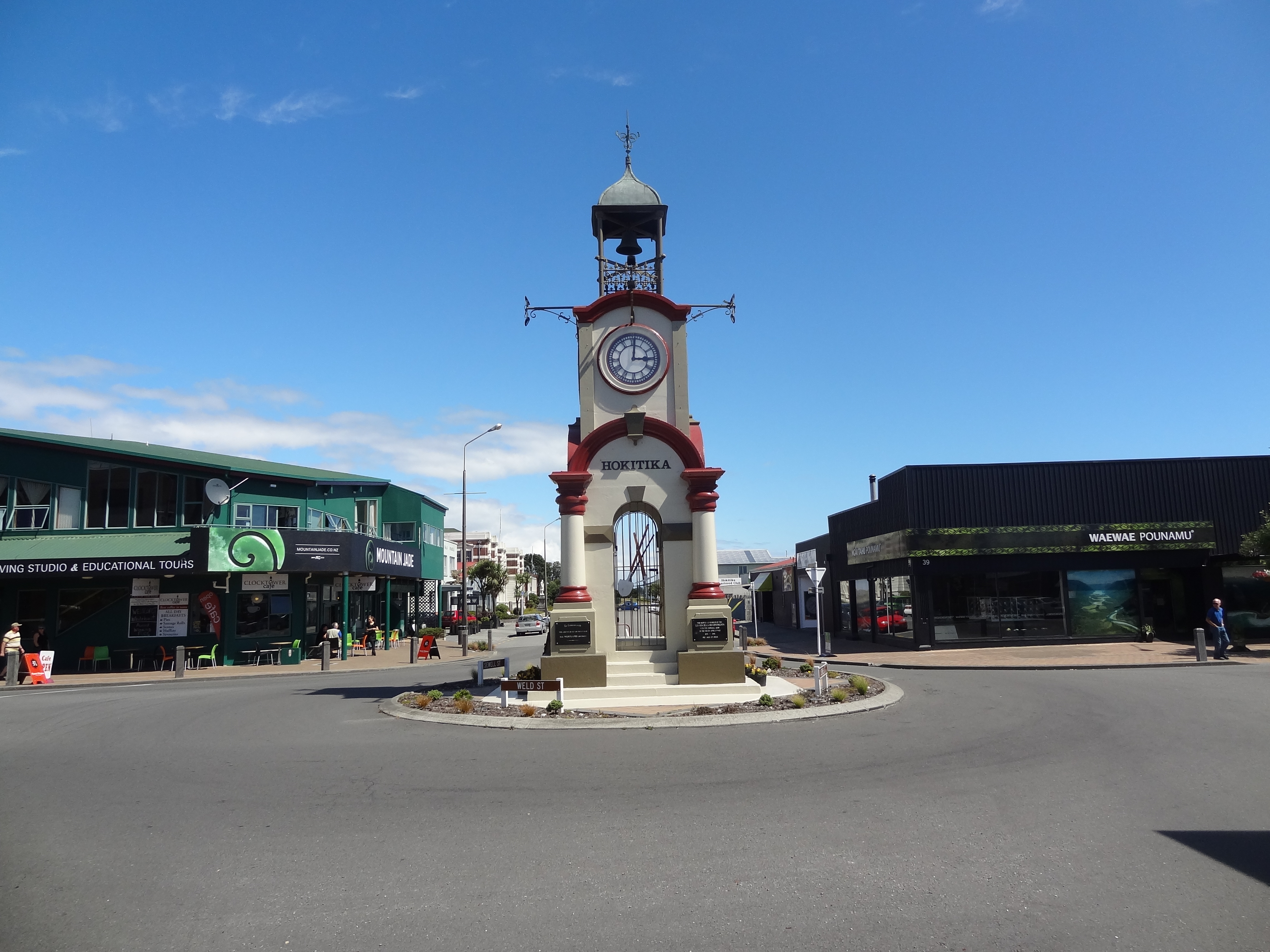 The town comprises a small complex of uninteresting, pretty characterless streets of mostly modern one storey construction with the usual collection of day to day and tourism shops including those selling marino wool and possum derived products, a very large gold shop or two and several Greenstone shops. Our tour of the town was done within an hour and following a brief visit to the beach, we then killed time before a so-so Indian meal by stocking up at the Four Square Supermarket ahead of our visit to supermarket-less Franz Josef next day.