On Saturday 14th February we arrived at Collingwood, a small seaside town in Golden Bay which is at the end of State Highway 60 in the north west corner of the South Island.
Golden Bay is part of the Tasman Sea and access is on foot via the multi day Abel Tasman Track to the East or Heaphy Track to the North, by water taxi or plane or for most folk by road over Takaka Hill.
I must admit that I was a bit fearful of the drive over Takaka Hill which is a steep and windy road over from the more populated Tasman Bay to Golden Bay. I'd seen many references to Takaka Hill in my research and it didn't sound a particular safe or pleasant drive with many hairpin bends up to a height of 791 metres above sea level.
The hill, known locally as the Marble Mountain, is formed of marble and limestone and over the millennia has weather into many strange shapes like karsts with many sink holes and caves. It was the location for a number of the Lord of the Rings scenes.
In the event the drive was less fearsome than I anticipated and Ann loved it as the weather was good and the views are spectacular. As everywhere here in N.Z., stopping places and viewing points are provided frequently to give some great photo opportunities.
Golden Bay is sparsely populated but is a popular holiday destination for Kiwis because of the climate and the beaches which come one after another as you drive along after the descent from The Hill and through the small town of Takaka –  it's not difficult to find your own beach for an afternoon.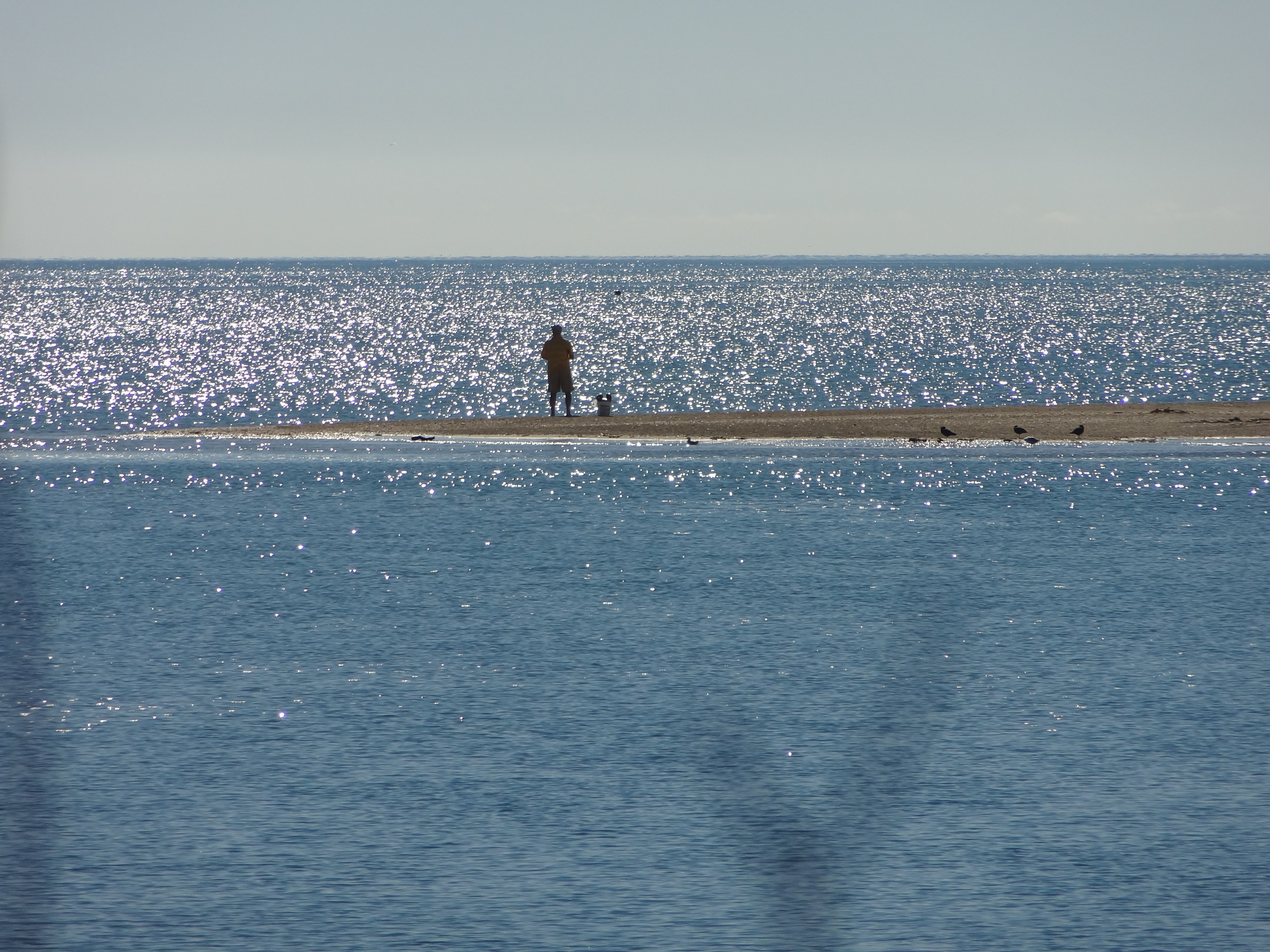 Takaka (population about 1,100) and Collingwood (circa 250) are the two main townships in Golden Bay and, as they were quite different, we had decided to stay for a few days in each place starting first with Collingwood.
Collingwood
Collingwood, which is the most north westerly town in the north of South Island is a former gold town of the 1850s. It is a tiny town  but is an ecotourism destination being at the mouth of the Aoere River, gateway to Karurangi National Park, the last town before the beginning of the Heaphy Track (one of the Nine Great Walks) and the base for catching an Eco tour to Farewell Spit.
The town is pretty and very old fashioned and, like many of the small towns here, has an Old England feel to it. There are a number of hotels and motels, a pub/diner, a number of cafes and takeaways and the usual tourist shops and all, or most, are timber built. There are very few old buildings as a number of fires in the late 1800's and 1900's devastated the town.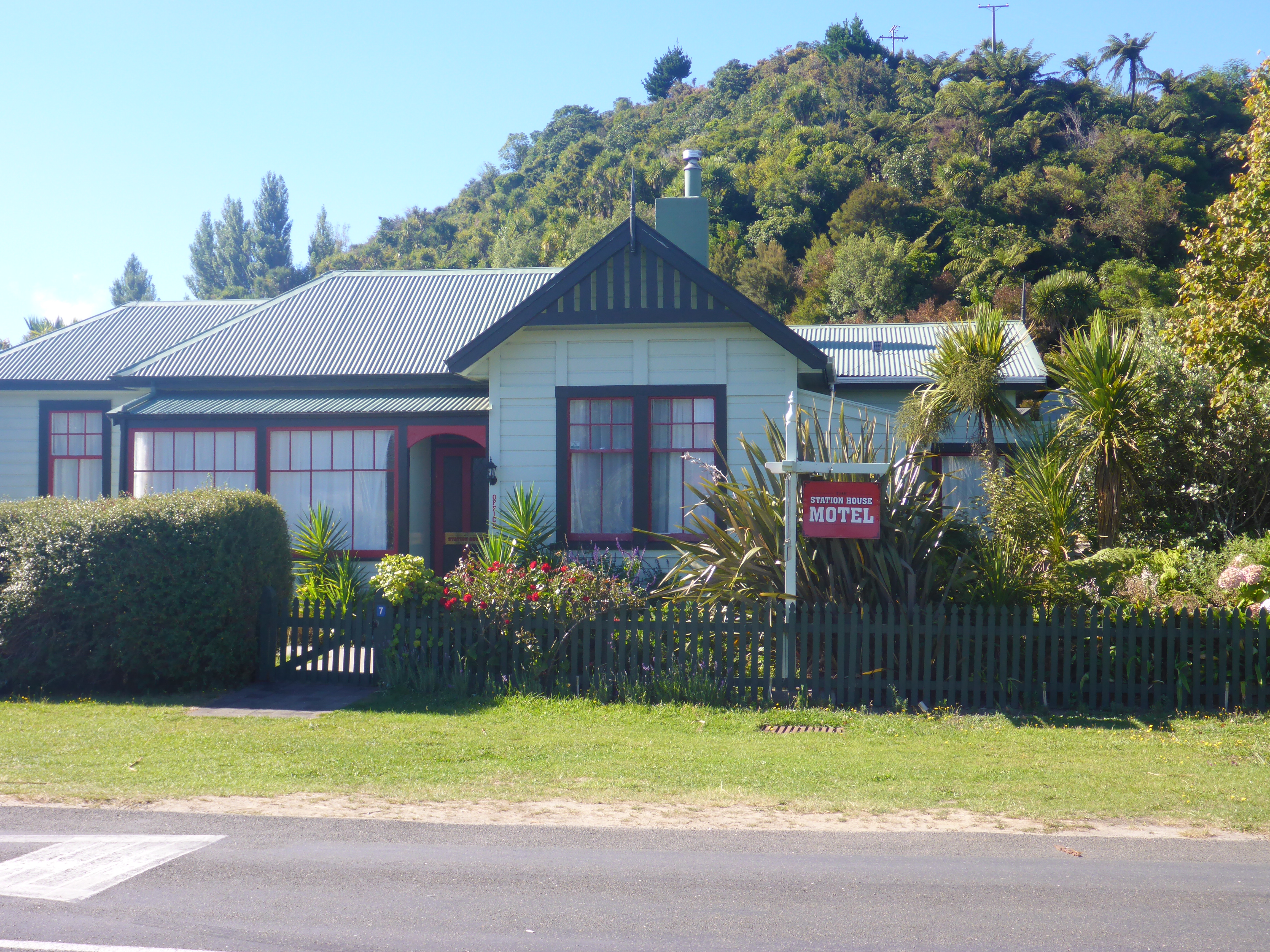 We stayed at the Old Station House Motel (originally the old police station) where we had a lovely room with French doors which opened out into to a lovely garden area with BBQ facilities. Very old fashioned but clean and with the all important decent WiFi.
Like everywhere in New Zealand, tourism is largely based on the outdoors whether it be land or water based; tramping (hiking), hill climbing, fishing or watersports. Elsewhere the more  adventurous pursuits such as bungee jumping, skydiving, canyoning and the like can be done.
We were blessed with great weather during our stay and managed to complete some great walks and an excellent guided excursion.
Whaririki Beach – Awesome!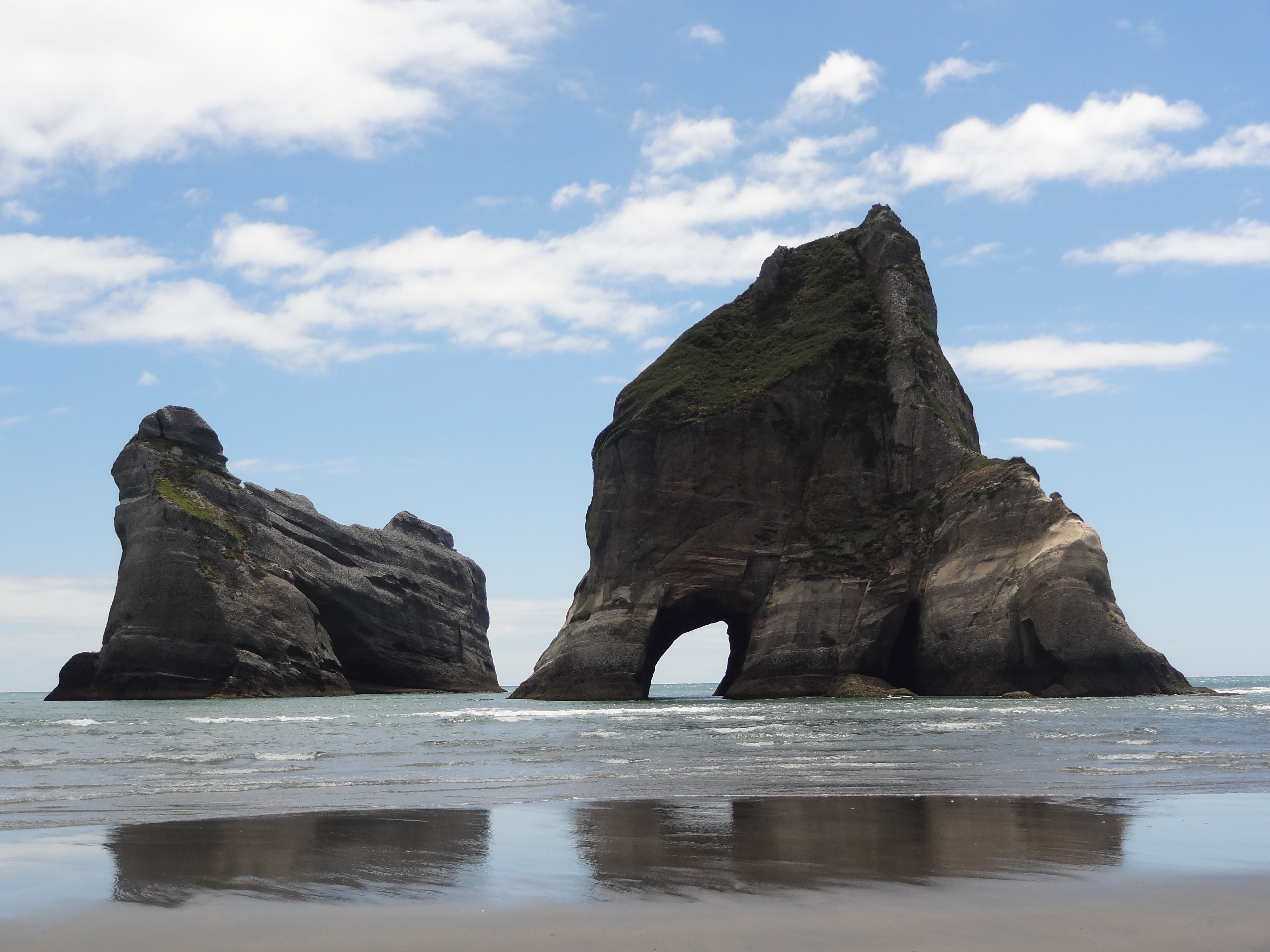 One of the highlights of our stay here was a visit to Wharariki Beach. This is son Matt's favourite beach and is on a stretch of spectacular coastline with a long stretch of white sand with sand dunes and backed by forest. There are huge cliffs and rock karst like formations off shore which over the millenia have been eaten away by the sea, creating arches, stacks and caves. The beach  can only be accessed by foot; a short walk through sand dunes from a farm paddock or a longer walk via farmland and forest. We chose the longer forested track and although we managed to get lost and walked twice as far as needed, we were rewarded with some stunning scenery and the sight of black swans and other unidentified bird life.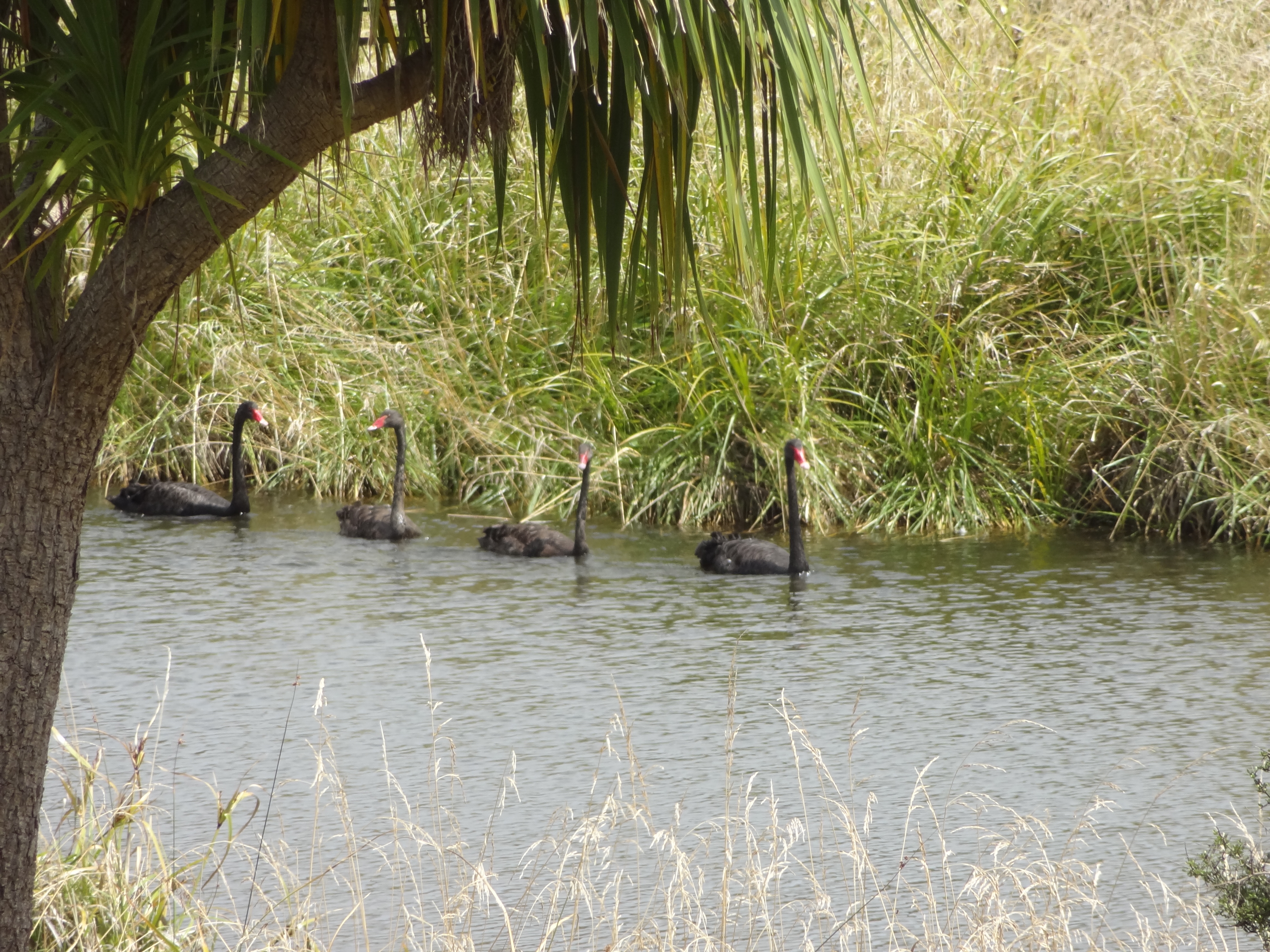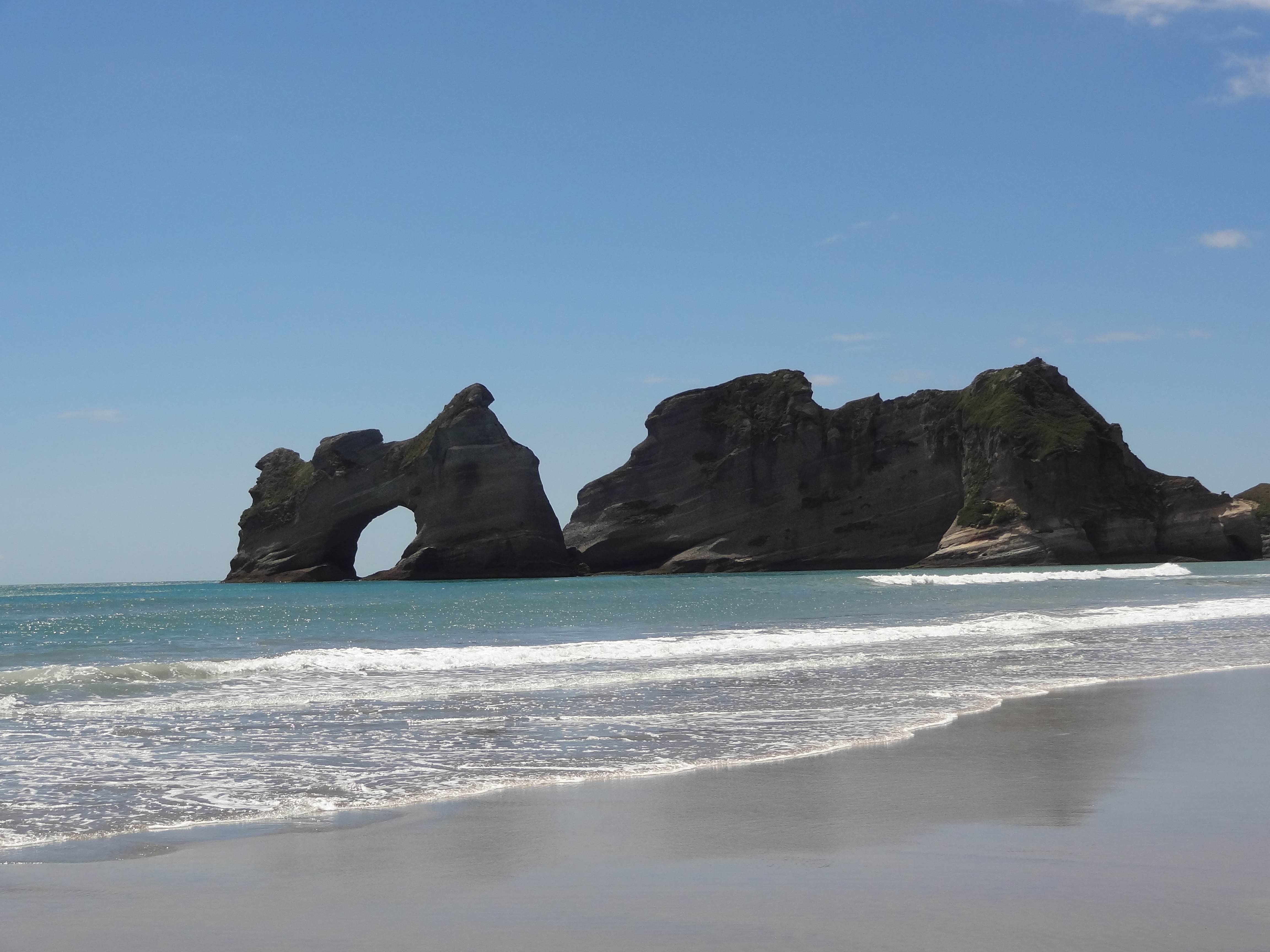 Whilst Wharariki was definitely the beach walk of all beach walks,  we completed a number of  other interesting walks including Waikouropuu Springs where the largest cold water springs in the Southern Hemisphere can be found.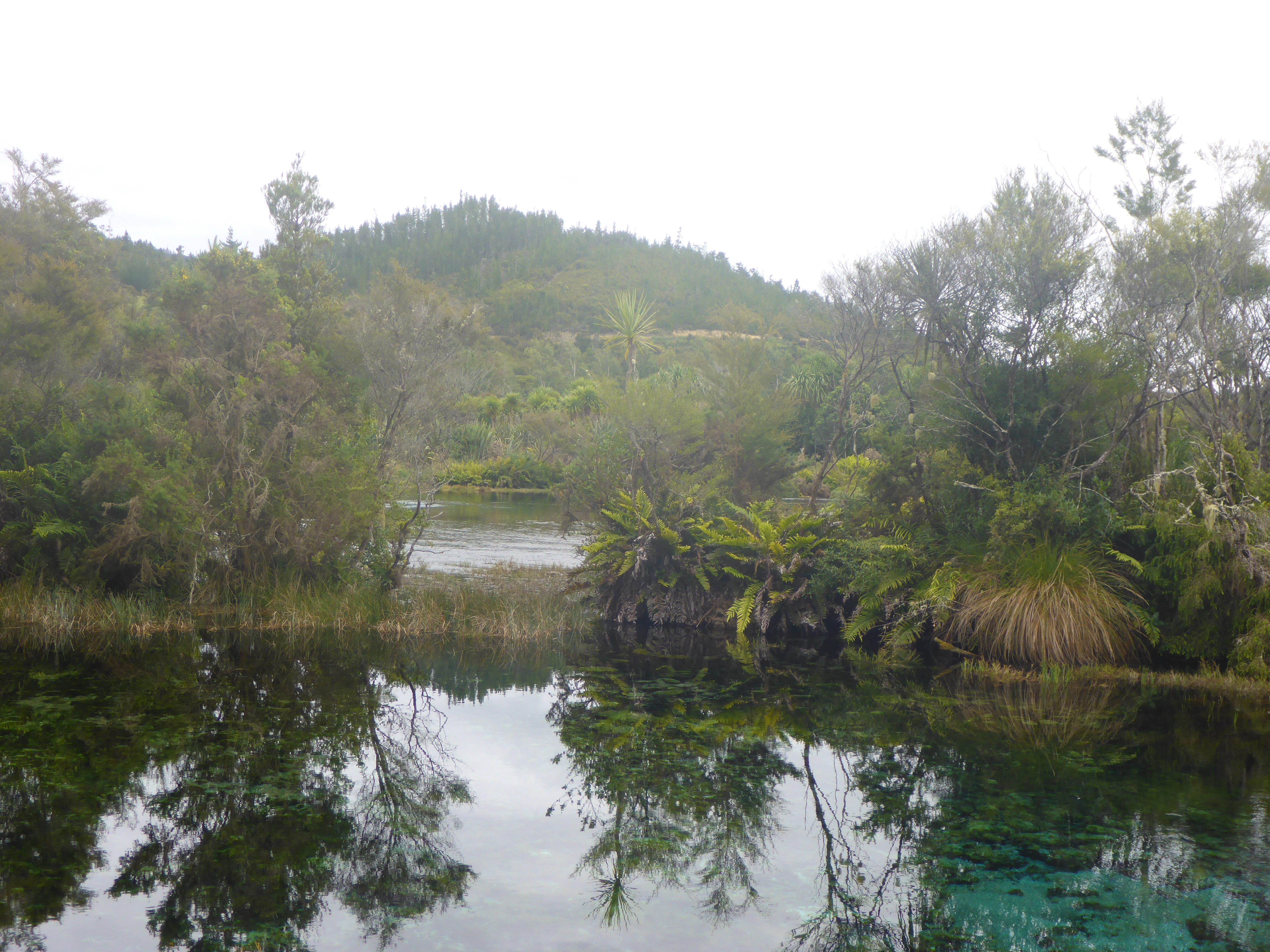 Farewell Spit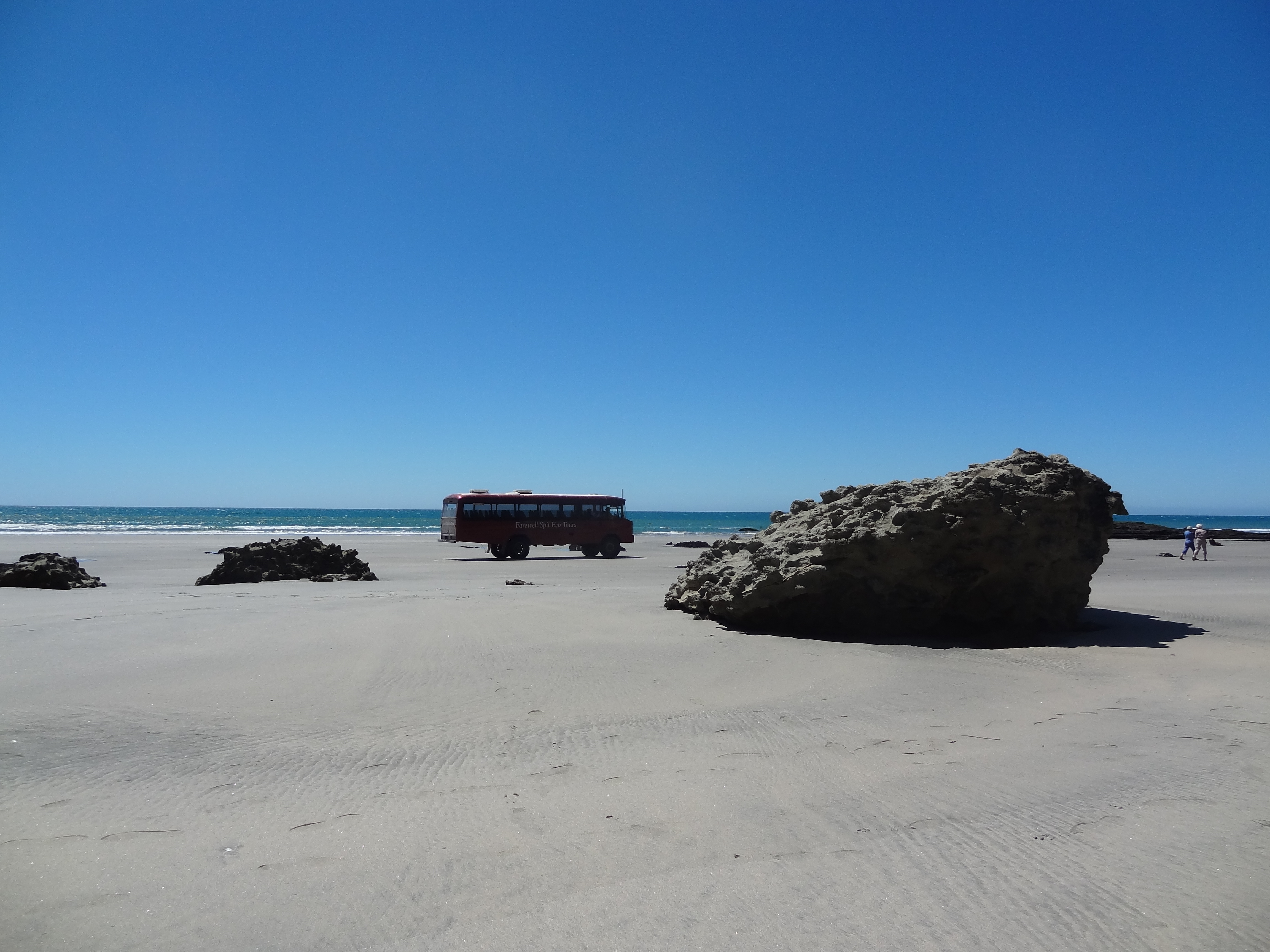 The other highlight of this area was a bus  tour to Farewell Spit. This is a narrow sand spit at the extreme northern tip of the South Island which stretches more than 30km into the Tasman Sea. It is the longest natural sandbar in the world and an internationally renowned bird sanctuary. It is protected by the DOC and access is only permitted for this organised tour or for research purposes. Sadly, Farewell Spit appears on international news from time to time because over the years it has been the scene of a number of mass strandings of pilot whales. The whales become beached at low tide for reasons not really understood. Only a week or so before our trip, there was a mass stranding of almost two hundred whales which we thought might scupper the tour. Hundreds of people from the area flocked to try to help re-float the animals but whilst a few were rescued, most died.
In the event, the whale carcasses were removed by the Authorities in a matter of days and Tourism resumed and our tour went ahead. Our tour, on a specially constructed vehicle to ride the sands, started with a visit to Cape Farewell, the most northerly point on the South Island. It was discovered by Abel Tasman and named by Captain James Cook in 1770 – the last land seen by the crew as they departed on their homeward voyage. It provides some stunning views over clear blue sea in which we spotted sting rays and baby seals during our visit.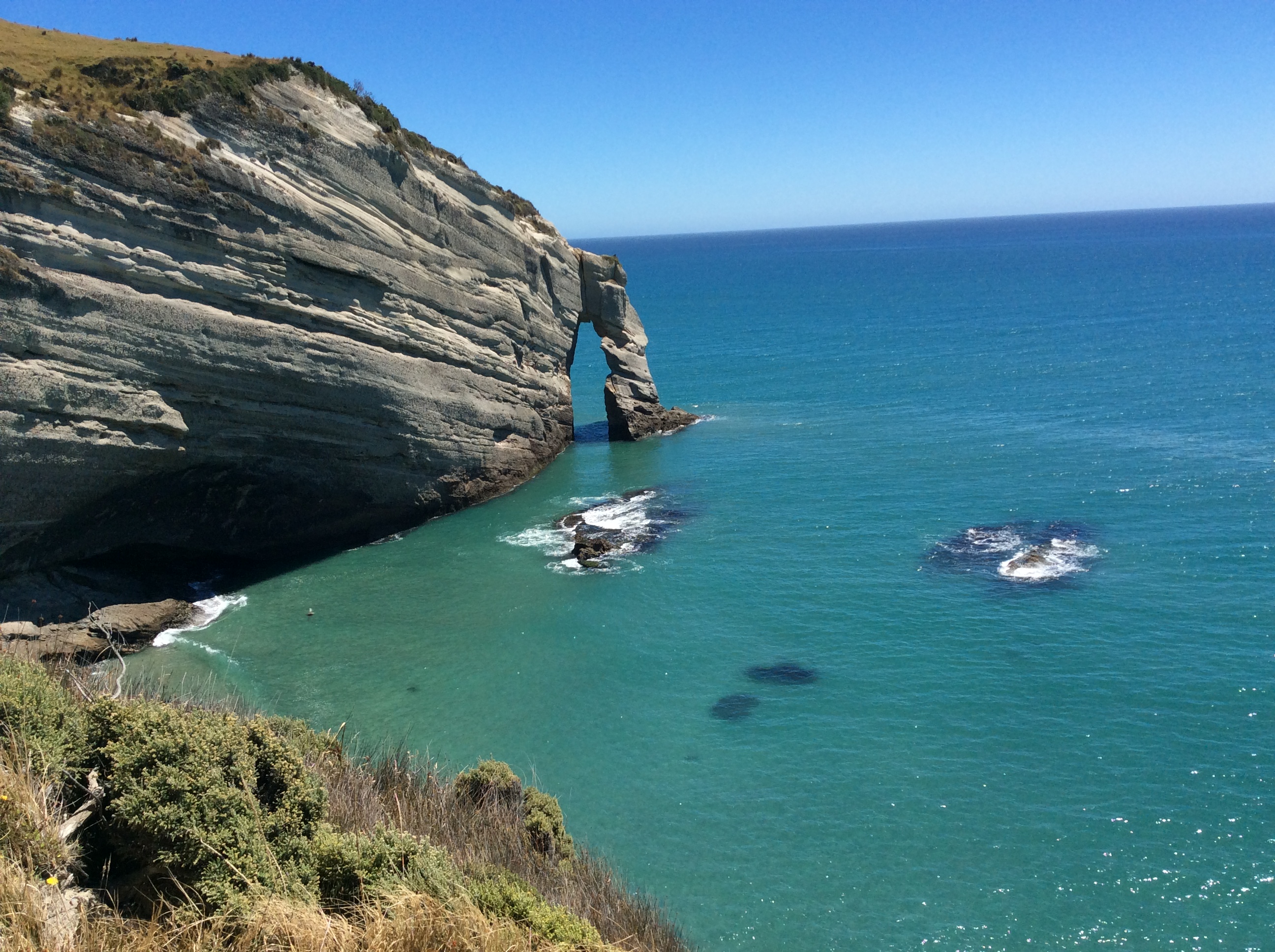 Our trip continued along Farewell Spit to the end where there is a gannet colony – unfortunately we couldn't get too close on the day but we did see many breeds of birds and fur seals en route and the trip included a visit to the  historic lighthouse.
A bit of homework for you: Google Farewell Spit lighthouse history for the interesting story of the lighthouse and the people who manned it.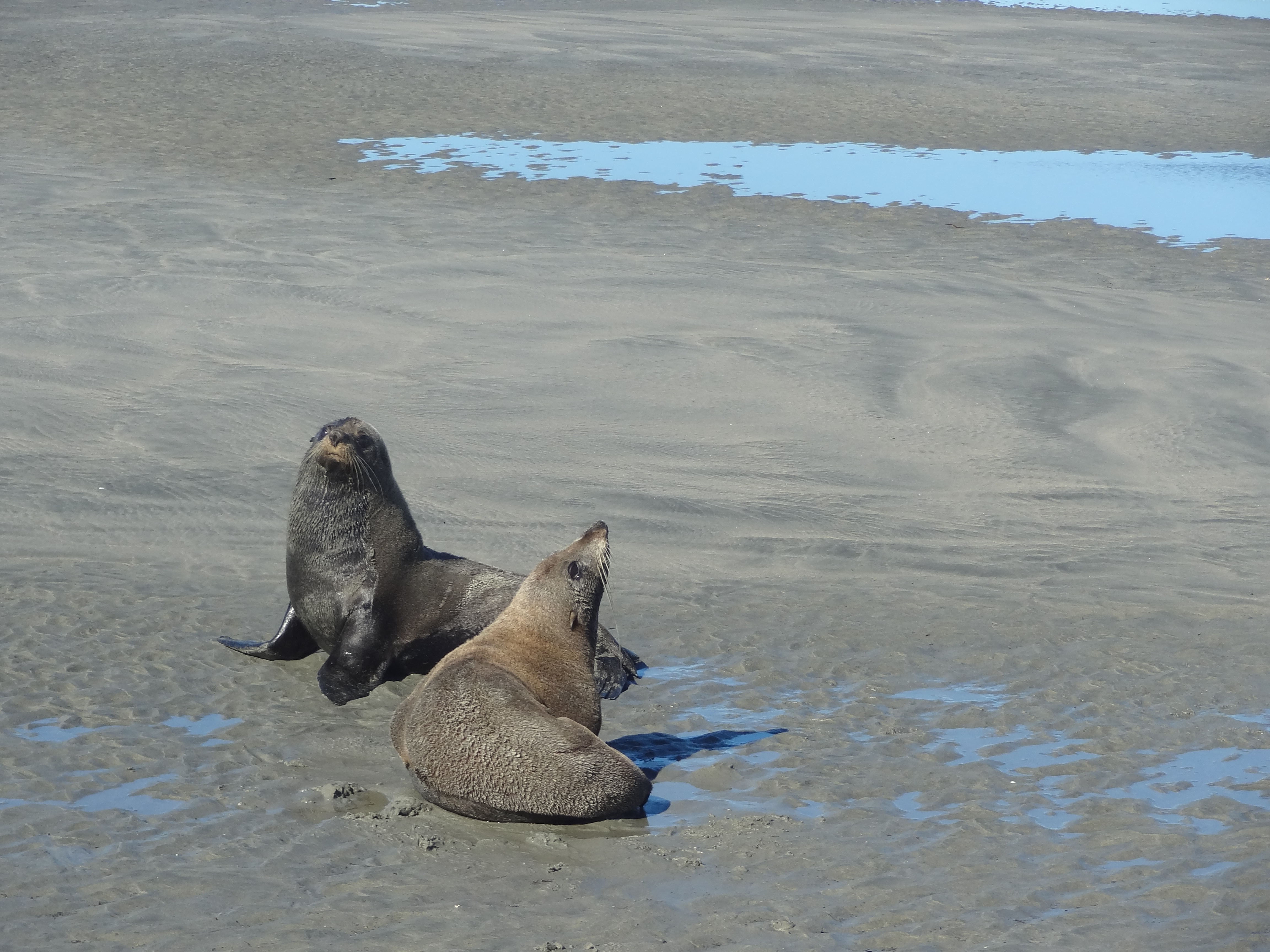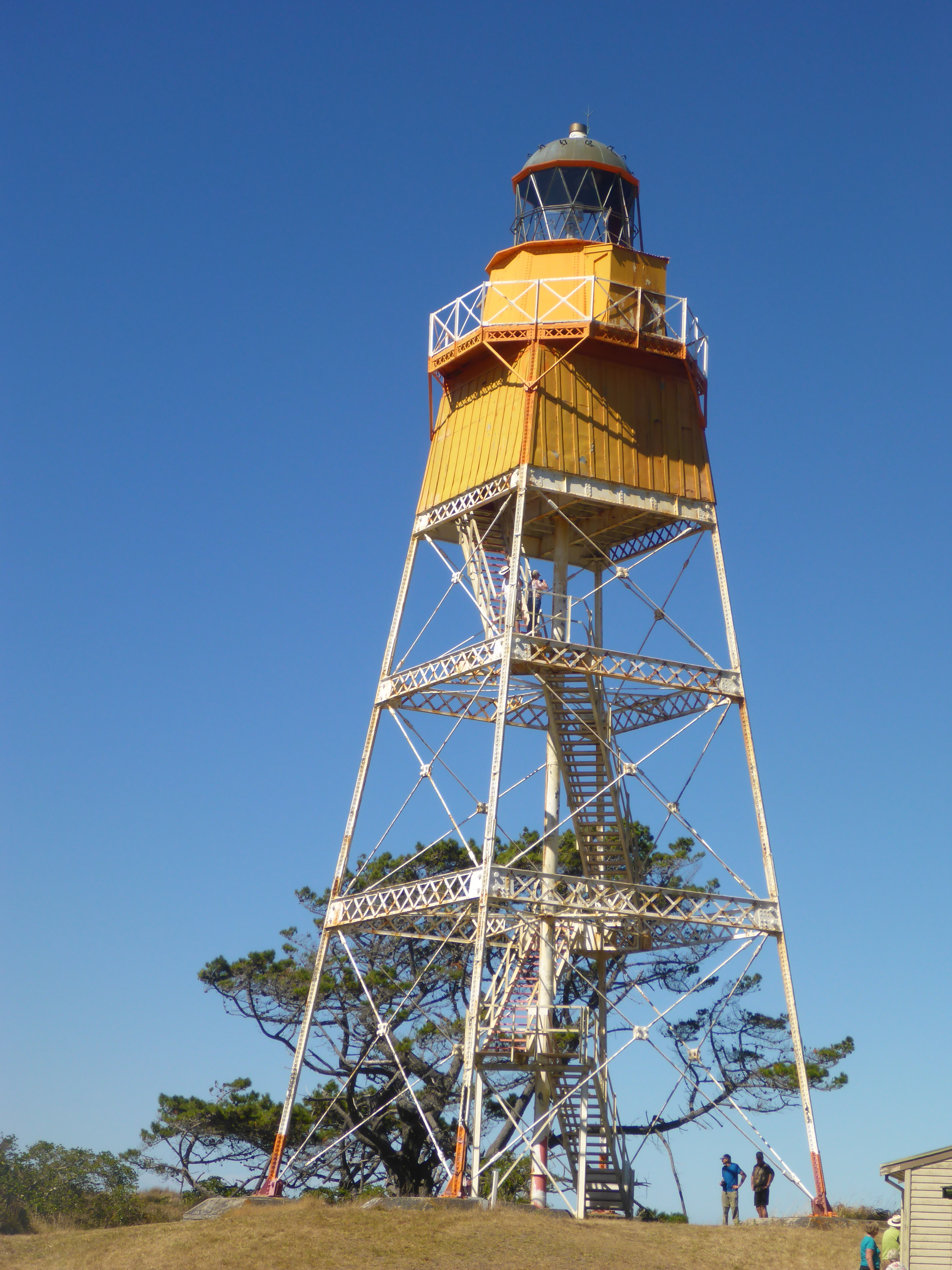 This was a great  6 hour outing with an excellent driver/guide who was very knowledgable and very entertaining which made for  a very enjoyable experience.
Takaka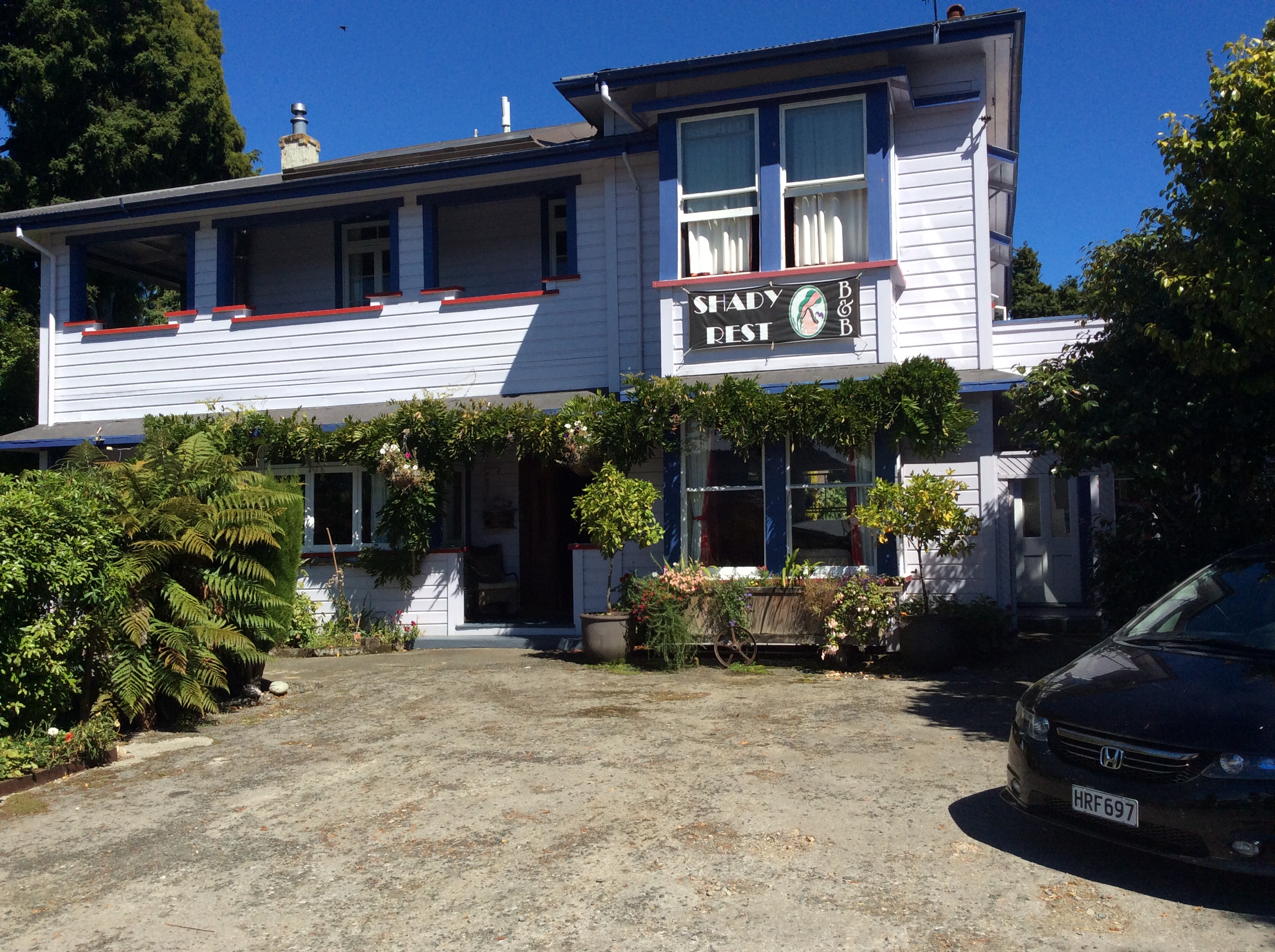 After 4 nights in Collingwood we moved back along Highway 60  to Takaka to spend a couple of nights of bliss in a B&B, the Shady Rest. Takaka is  another place close to Matt's heart and he has a number of friends in the area including his former landlady Pauline and friend Mark, an Englishman who owns and runs the Shady Rest, a fabulous old house originally a doctors house and surgery which Mark has lovingly restored to its former glory over a period of years. The rooms are amazing and there is a fantastic garden to enjoy, including an outside bath in a secluded part of the garden if that sort of thing appeals. Breakfast is served in the big open plan kitchen which is great and leads to a very convivial atmosphere – Mark is a great host.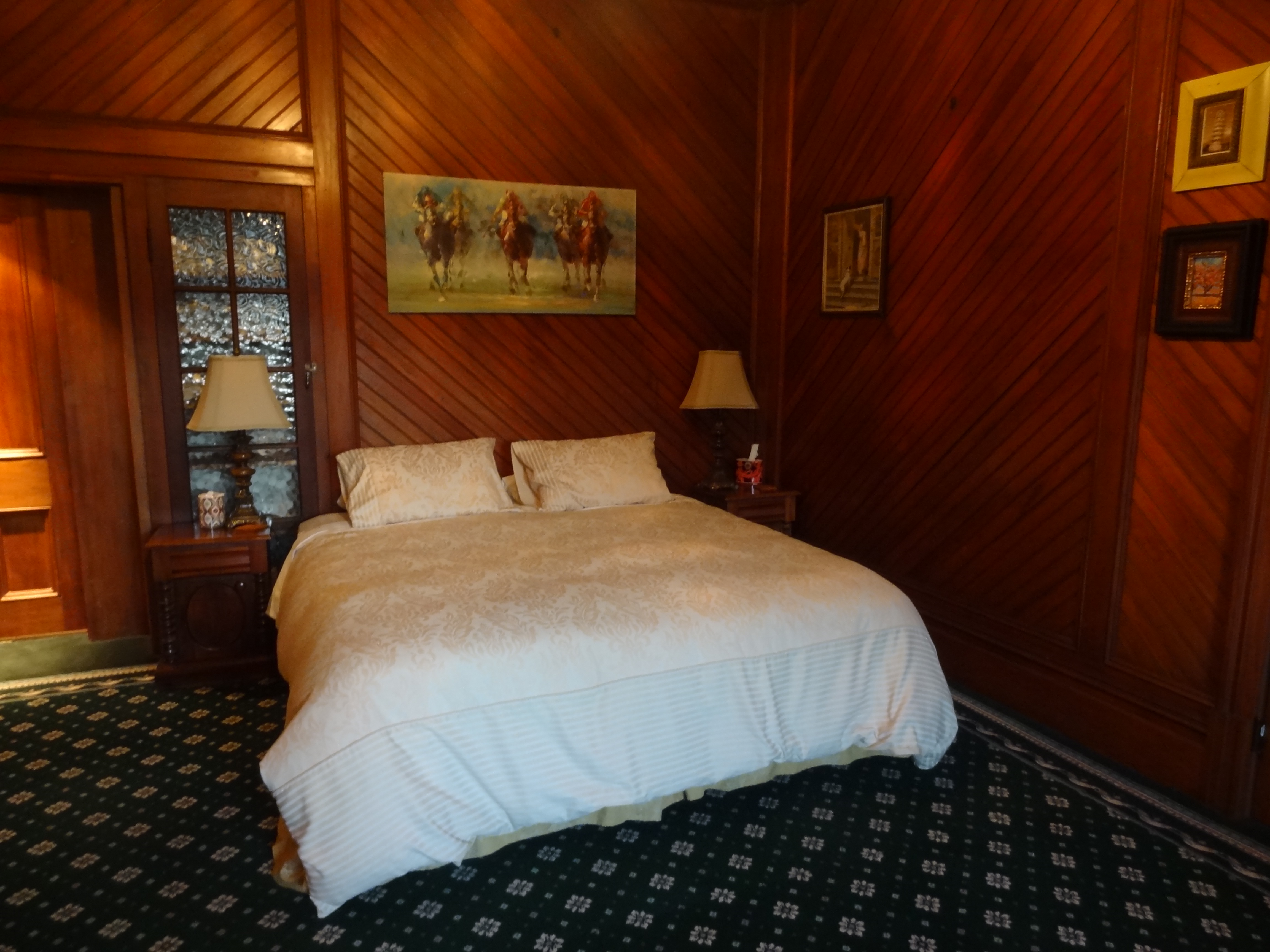 Takaka is a very interesting and pleasant town with a very different feel about it. It is more laid-back than even your average laid back New Zealand town due to the fact it has a long established community of alternative lifestylers (aka hippies) and there are lots of little arts and craft type shops, whole food and organic food shops and it a very bohemian feel. Notwithstanding it seems quite an affluent place.
Our two days here flew by in very pleasant fashion visiting various local beaches and sights but happily we got chance to have a cuppa and catch up with Pauline, who we had met previously in the UK and we also enjoyed an hour or two of post pub craic and excellent home brew with Mark. This was our first catered stop in New Zealand where we enjoyed proper beautifully  cooked breakfasts on two consecutive days! We can highly recommend Shady Rest and hopefully we will get chance to return before too long…