The Abel Tasman is New Zealand's smallest National Park but a very popular one. It consists of a coastal area between Golden Bay and Tasman Bay. This is forested hilly country with a coastline of beautiful bays and coves of golden sands. The Abel Tasman Coastal track is one of New Zealand's famous nine "Great Walks" which brings many visitors to the country. The track is considered a 3-5 day tramp and as for other walks there are a few DOC camp sites and huts placed strategically along the route. Whilst this is a multi-day route it is possible, as for other walks, to do part only of the route for a day in this case by taking a boat trip or water taxi from one of the nearby towns and getting dropped at one location along the track and arranging for the boat to pick you up at another point later in the day.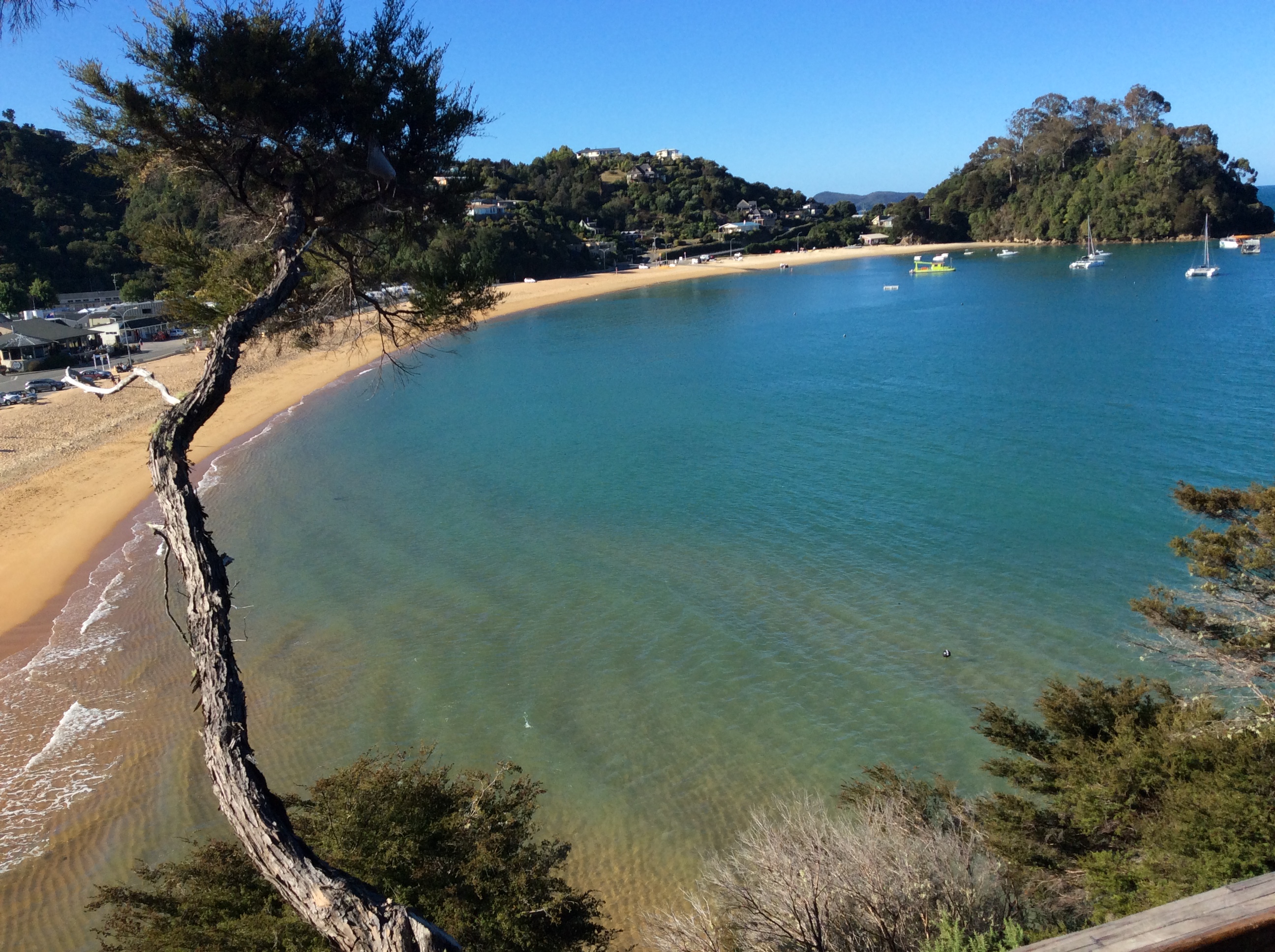 Kaiteriteri is a very small beachside town with a population of only around 700 residents. It has one of New Zealand's most beautiful beaches – the sand is gold in colour and is a popular holiday destination. Close to Marahau which itself is the gateway to the Abel Tasman, we chose to stay there in the hope of completing a section of the walk. We arrived on 11th February in glorious sunshine.
We stayed at the Torlesse Motel which has fairly typical motel accommodation consisting of a large-ish open plan room with bed, a couple of armchairs, dining table and chairs and kitchen/kitchenette with an en suite bathroom. Invariably, to date, the motels we have used have been very clean and tidy with good showers other facilities and helpful, friendly owners. Inevitably some are bigger than others; some have separate bedrooms, some have outside space/balconies and some are more modern than others. Kitchens/kitchenettes are either full kitchens or limited to a toaster/microwave/kettle/fridge. A separate laundry facility is usually available at extra cost but our Torlesse room included a washing machine much to Ann's delight!
Our motel was actually in Little Kaiteriteri just over the hill, a 20 minute up and down walk away from the hustle and bustle of Kaiteriteri itself. The hustle and bustle of this small town comprises a small supermarket, a takeaway, couple of gift shops and a hotel/restaurant plus 3 or 4 booking offices for companies offering trips, water sports etc.
The motel was only a few hundred metres from the small bay with a beautiful golden sand beach which was invariably as good as deserted apart from a handful or two folk.
We spent 3 nights here giving us 2 full days to explore. On arrival, we took a walk over to and around the town to get our bearings and picked up one or two requisites from the supermarket. Dinner was whitebait fritters courtesy of Trevor and Brian.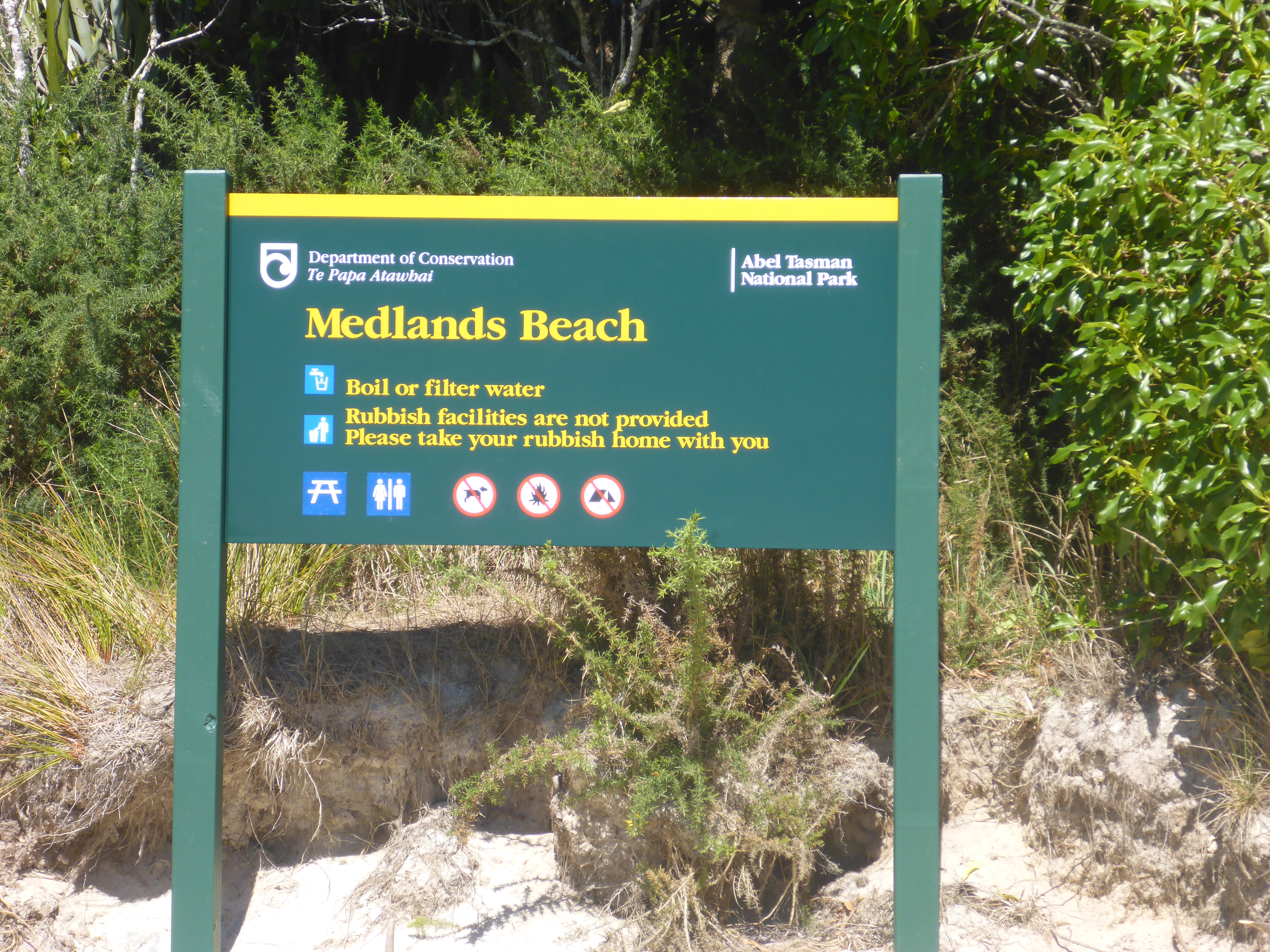 The next day we booked a boat ride to the top end of the Abel Tasman with a drop off at Medlands on the return route. We would then be picked up after a 16K tramp at Anchorage. The walk was excellent and we enjoyed it a lot. It was a fairly easy tramp being graded as Easy to Moderate by DOC and included a walk across a swing bridge. There were however a lot of ups and downs sufficient to get the heart pumping. Much of the walk was through forest albeit with regular glimpses of the sea and at times the route drops back to sea level at one of the many stunning beach along this coast line.
The next day we explored the local Kaiteriteri area by taking walks to St Stephens Bay, Maori Pa Site and Bay View lookout. Later in the day, knackered, we spent a couple of relaxing hours on the beach enjoying the sunshine.